As a blogger, you're always looking for effective ways to monetize your site. So you may be wondering, what's the difference between affiliate marketing vs. MLM?
Both methods can be lucrative, but in our experience, there's only one winner here. In this post, I'll examine both options so you can decide which is the best choice for you.
But first, let's make sure we're on the same page.
Table of Contents
Affiliate Marketing vs. MLM: There's Only One Clear Winner, IMO
What Is Affiliate Marketing?
Affiliate marketing is promoting other companies' products or services on your blog. You earn a commission when you send merchants qualifying leads, traffic, or sales through your affiliate link.
It's a great way to make money online without creating products to sell. It's also a low-cost option for anyone who wants to start a side hustle.
You can start affiliate marketing from anywhere, and you only need a few hours per week to do it.
It's been our primary business model for over a decade and is the #1 reason we built Lasso. Affiliate marketing worked so well we needed to optimize our websites for it.
How it works
Affiliate marketing involves two parties:
The merchant selling the product (aka the vendor)
The affiliate marketer promoting it (aka the blogger, publisher, or digital marketer)
It's performance-based because you only get paid if a sale is made (or your referrals take a specific action).
The income potential with affiliate marketing is nearly limitless.
The amount of money you can make depends on the quality of your content and your website's traffic numbers. The more traffic you send to the merchant, the higher income potential you'll have.
Read this thread written by Lasso founder Andrew Fiebert, where he unpacks how he built two sites that generated $2.6M in under five years.
I have built two niche sites that have generated over $2.6M million in *just* affiliate revenue since Jan 2018.

That's an avg of $51.4k/month for 4+ years. 🤯

I'm going to share what I've learned.

My first thread 🧵👇

— Andrew Fiebert (@andyfieb) June 6, 2022
But let's look at another example.
Ever heard of The Wirecutter?
It's the G.O.A.T. of affiliate sites and one of the most referenced on the internet. It generated $150 million in eCommerce sales and was sold to the NY Times for $30 million.
How do they monetize?
Write product reviews
Include their affiliate link in every post
Rinse and repeat
Take a look at the below screenshot. It's from a post about the best workout headphones. People searching for this keyword have strong buying intent.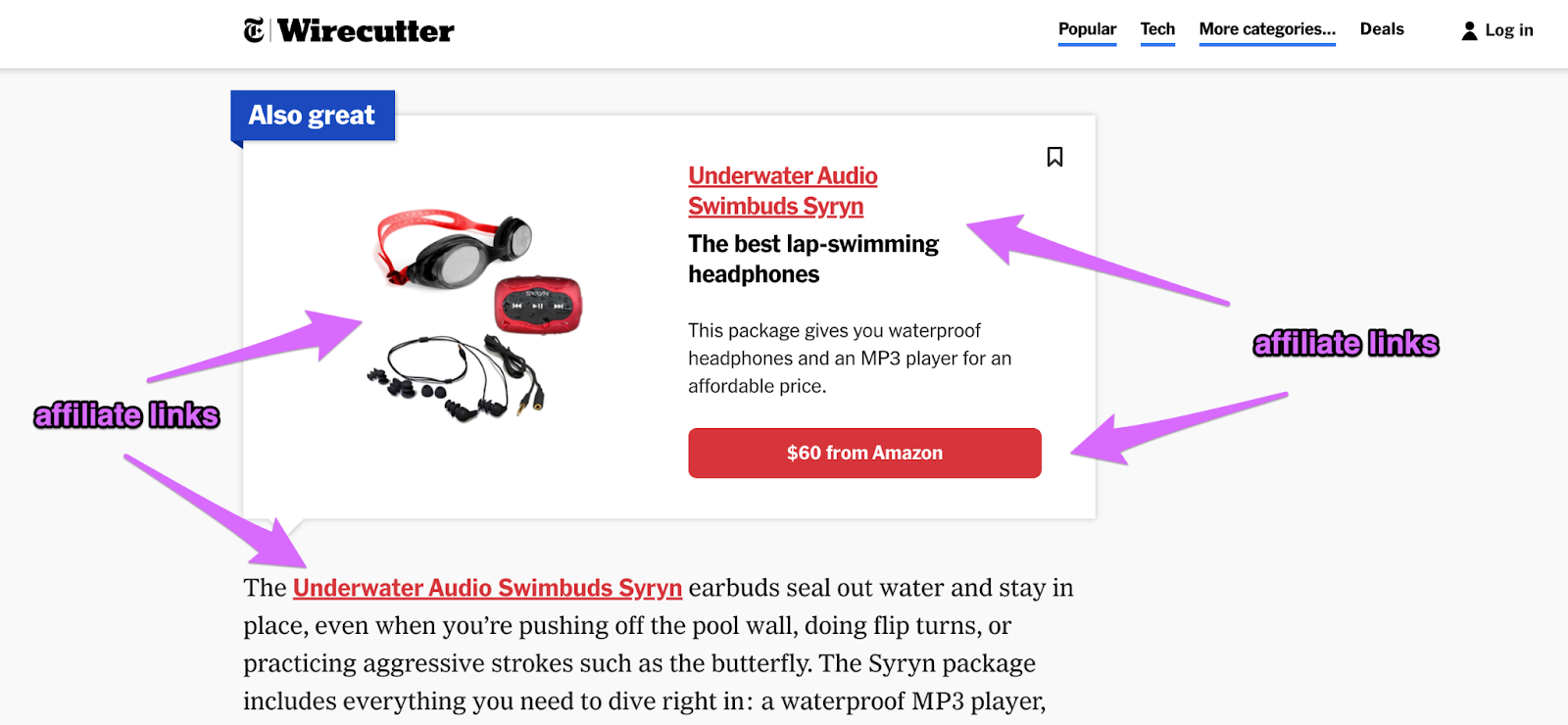 All The Wirecutter did was create a detailed review about their top picks and add affiliate links. If the searcher finds what they're looking for in the article, they'll click a link and buy.
Et voilà!
The Wirecutter earns a commission.
That's a simple example of how you can earn money with affiliate marketing.
Sidenote: One reason the site converts so well is because they use product boxes (like the one in the above screenshot). That's a feature we baked into Lasso's functionality after testing it on our sites and tripled our affiliate commissions.
What Is Multi-Level Marketing (MLM)?
Multi-level marketing (aka network marketing) is the process of selling products using a pyramid of independent sellers (aka distributors or 'huns').
The higher up the pyramid, the more commissions you earn as revenue flows to the top.
MLMs encourage members to recruit more sales reps as this is how they'll make more money. Recruits are referred to as the sponsor's "downline" and also collect a portion of their commissions.
These "non-salaried" workers sell items directly to would-be customers rather than getting their products into retail locations.
Sidenote: Sellers got the nickname "huns" because of their direct sales approach to prospects, often ]using the word "hun" before diving into their pitch (e.g., "Hey hun, you got a minute? I'd love to talk with you about a life-changing opportunity.")
Multi-level marketers are notoriously known for throwing "parties" with family and friends that turn into product demos where they look to recruit and sell to them.
How an MLM program works
An MLM is structured in a way that encourages company members to acquire more people. Once recruited, the initial salesperson gets a percent of the new recruit's sales.
Simultaneously, you can also earn commissions from selling the company's products.
Many sellers will also set up their own business within that company, operating as independent business owners (IBOs).
How the money's made: Through the vast reselling network of distributors who earn commissions from:
Business licenses
Their downline's sales
Direct sales to consumers
MLMs' business models rely on word-of-mouth referrals from co-workers, friends, and family. As a result, sellers with larger teams working beneath them earn more commissions.
However, the commission structures get complex. Arrangements can vary, and other factors come into play, including:
How much product your network sells
What level you are within the network
The number of recruits you have in your downline
Despite the notoriety MLMs get, many have been investigated by the FTC for "alleged" pyramid schemes and paid millions to settle outside of court.
Further Reading:
When An MLM Might Be An Illegal Pyramid Scheme
You should beware that when you enter into an MLM, it's already pretty close to a pyramid scheme.
The big differentiator?
According to the Federal Trade Commission (FTC):
When promoters emphasize recruiting new distributors for your sales network as the real way to make money rather than focusing on product sales.
The emphasis is on recruitment, not sales. There's your red flag.
This article by Forbes goes on to say, MLMs must adhere to the 70% rule, which says at least 70% of all goods sold must be bought by non-distributors.
In other words, the people buying the product must be from outside the organization, not the distributors themselves stocking up on inventory.
That's where the term "Garage Qualified" comes from.
When the reseller buys so much of the product to keep as inventory, their garage is filled with merchandise so they can qualify for team status.
Sidenote: This report published on the Federal Trade Commission's website studied the business models of 350 MLM companies in the United States and said 99% of people who join MLM companies lose money.
Why We're Not Fans of Multi-Level Marketing
Bottom line: very few people in the MLM hierarchy earn enough money to live off of.
They're known for targeting specific demographics that are easily lured into the organization with the bulk of their income coming from distributors for "essential materials," including:
Business fees
Buying inventory
Paying for sales courses (The courses usually suggest they buy more inventory)
They pitch themselves as the fast track to financial freedom but the reality is that ~1% of people who belong to MLMs earn above minimum wage.
Affiliate Marketing vs. MLM: What's the Difference?
Here are some of the key differences between multi-level marketing and affiliate marketing.
1. You Decide Which Products to Promote
With affiliate marketing, you can pick which products to recommend. Whatever your niche, choose items that align with the needs of your readers and help them solve a problem.You have complete control over your promotions.
MLMs require you to sell their products, leaving little room for much else.
9 simple ways to find affiliate products in any niche.

(that your readers will LOVE)

🧵👇

— Lasso (@LassoWP) June 17, 2022
2. Free to Join
While affiliate programs are free to join, MLMs require you to pay various fees before gaining access. You may need to purchase a "starter kit", pay membership dues, or buy inventory to achieve an "active" status.
Sidenote: Our database has over 8,300 affiliate programs categorized by niche; you can check out here.

3. No Pressure to Sell
One thing that sets affiliate marketing apart is how there's no pressure on you to close the sale. You're the middleman, connecting buyers with merchants.
Your only job is to:
When your reader finds something that will benefit them, they'll click your affiliate link.
Multi-level marketing places high stakes on making the sale, since you only get paid once you sell your inventory.
If you sell nothing, you earn nothing, and you'll often lose money.
Further Reading:
4. No Need for Recruitment Parties
Affiliate marketing gives you complete control over your products and how you decide to market them (e.g., social media, SEO, or email marketing).
You can scale your business as you see fit without needing downline distributors, and everything is done online.
MLM companies are primarily in-person, direct sales where you're marketing to friends and colleagues at social functions.
Further Reading:
5. No Monthly Resets
Building a successful business with affiliate marketing will continue paying dividends for years to come.
It remains an asset that puts money in your pocket. Our sites still pay us generous monthly affiliate commissions from the content we created years ago.
MLMs reset monthly as the sellers must recruit new people and hit new sales goals. If you miss your target, you can lose rank and commissions or be removed from the business entirely.
That's why those scrambling to make sales will buy the products themselves to avoid getting penalized (remember the term "Garage Qualified" from earlier?)
Further Reading:
How to Build Your First Profitable Affiliate Business with Lasso
You can get started with affiliate marketing pretty quickly. We wrote a detailed post about how you can do it for only $3.
But in a nutshell:
Create a free website with WordPress and sign up for hosting. WordPress is free, open-source software used by 43% of the web.
Start with a niche you care about and find products to promote. Consider your experiences and interests when deciding.
Conduct keyword research. This will help you know whether people are searching for your topics on the internet.
Create quality content consistently. This is the #1 reason people will want to visit your website. Just show up and help your audience every day.
Sign up for affiliate programs. This is how you'll make money from your blog.
Of course, it's a bit more complicated than that, and you'll have to put in work, but at least the FTC won't accuse you of "questionable" business practices.
Further Reading:
Is Affiliate Marketing Worth It?
Yes, affiliate marketing is definitely worth it.
There are many reasons to give it a shot, like our tremendous success with this business model (recall our sites earned $2.6M in under five years?).
We love teaching others how to do the same. Lasso has hundreds of customers in dozens of  niches earning full-time incomes with their affiliate websites.
In case you're still not convinced, affiliate marketing spending will hit $8.2 billion by 2022 (a nearly $3 billion increase from 2017), with 81% of brands relying on affiliate marketing programs to drive traffic and sales.
Further Reading:
FAQs
Here are some frequently asked questions about affiliate marketing vs. MLMs.
​​Is affiliate marketing a pyramid scheme?
No, affiliate marketing is NOT a pyramid scheme. Instead, it's performance-based marketing where you create content that drives readers to merchants.
The higher quality of your content, the higher chances of traffic to your affiliate links because you've built trust with your audience.
When readers click your links and buy, you earn a commission.
Can you start affiliate marketing with no money?
Yes, you can start affiliate marketing with no money. But for just a few dollars, you can build a site and start recommending products to your readers.
This pales compared to multi-level marketing, where you might need hundreds of dollars to "buy in" to the business.
Further Reading:
Can you be successful with affiliate marketing without social media?
Yes, you can. Contrary to what people may think, you don't need a social media following to start affiliate marketing.
We've found success creating simple websites in niches we love and recommending products to our readers.
Growing an audience takes time, but in our experience, it is worth it if you're serious about building a revenue-generating asset over the long term.
Final Thoughts
There you have it! Hopefully, this post lets you walk away with a better understanding of affiliate marketing vs. multi-level marketing (and why we feel the way we do).
Finding legit MLM companies is tough – they have a bad name for a reason.
We built Lasso out of our experiences in the affiliate marketing industry, and we've learned through trial and error what works.
And now we're continuing to learn from our customers.
Ready to dive deeper into how we can help you build a profitable online business with affiliate marketing? Read this.
Our creations in your inbox, weekly.
We've built multiple six-figure online businesses that our moms are proud of.
We'd like to help you do the same.