Everyone's trying to make money blogging. But not everyone knows how. With so many options, it's unclear which method works best. One tried and tested tactic is to write product reviews. We know because we've done it. We'll tell you exactly what you need to do to become a rank-worthy product review blogger and give our best monetization tips.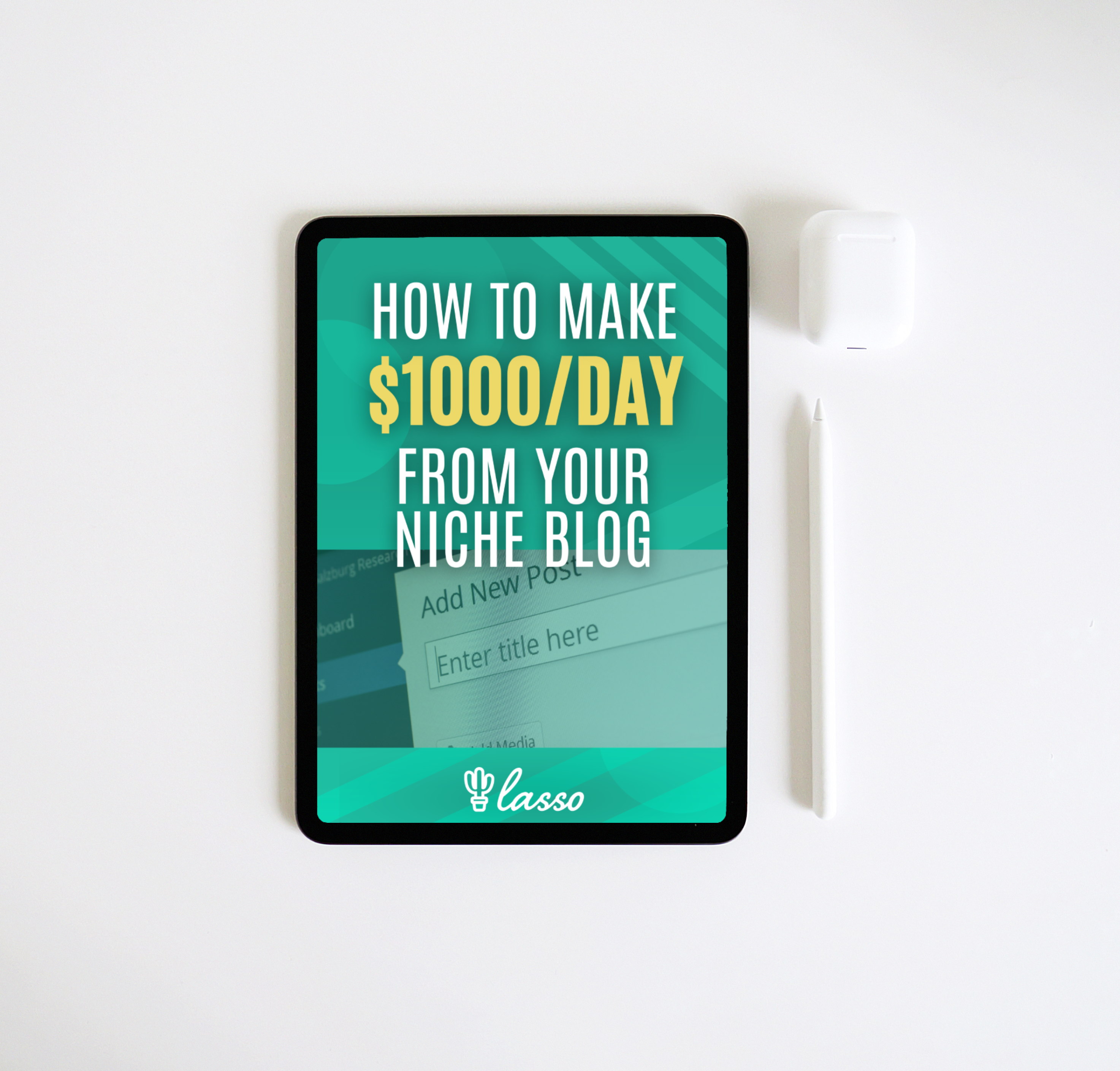 Get Your FREE 20-Page Guide To Making $1000/Day From Your Niche Blog
What Exactly Is A Product Review Blogger?
A product review blogger is someone whose website focuses on creating product reviews for their audience (or has a portion of content dedicated to it). Nowadays, so many people turn to the internet to conduct product research, and writing these articles is an excellent way to help them.
These should be honest reviews of the product that give value to the reader. Many base their buying decision on what you say, so it pays to be genuine.
If you break their trust, they likely won't return.
An excellent product review walks the reader through what the product is, how it works, special features, and FAQs (more on that below).
How Product Review Blogs Make Money
Ever heard of The Wirecutter?
It's one of the most referenced affiliate marketing sites on the internet, and for a good reason. The tech gadget product review site generated $150 million in eCommerce and sold to the NY Times for $30 million. So, yes, product review blogs make money. 
They did it using affiliate marketing. Here's how it works
They wrote detailed product reviews 
Every product had an affiliate link to a merchant where the reader could buy
The Wirecutter earned a commission every time someone made a purchase using their affiliate links.
Once you start getting blog traffic, it's simply a matter of scaling and tapping into your industry's revenue potential.
While you may not sell your site to the NY Times for $30 million, you can easily earn a steady income by writing product reviews using affiliate marketing.
Look at this screenshot from Google Trends for the keyword "affiliate marketing" for the past five years.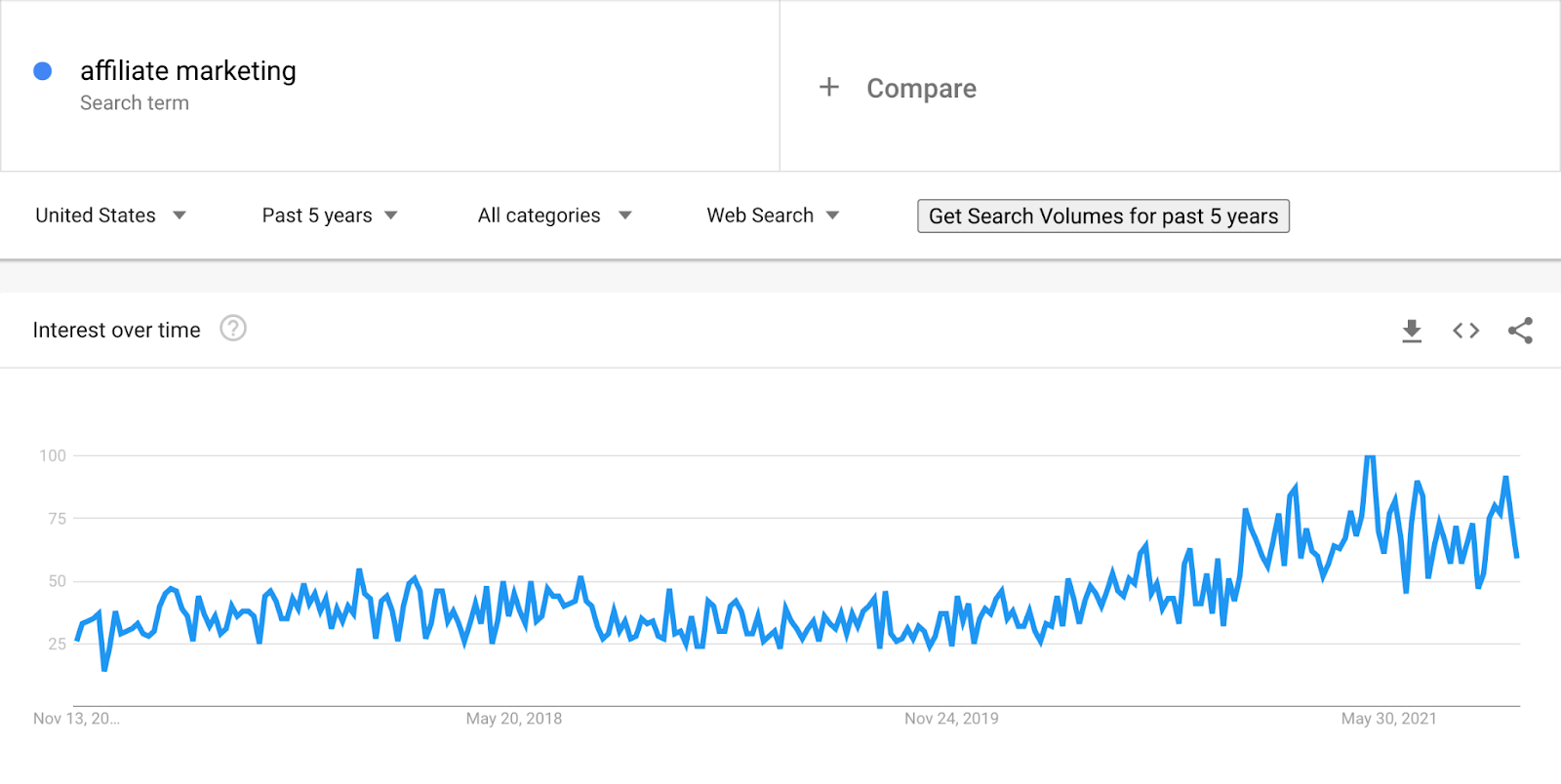 It's trending up. While Statista says affiliate marketing spending will hit $8.2 billion (a nearly $3 billion increase from 2017).
It is a fantastic way to earn money because so many brands rely on it. And writing product reviews lets you apply this business model to your blog.
Another reason it's a great way to make money?
You're promoting products. These attract people already looking to buy. We've seen our reviews convert 5%-10% higher than our informational content.
You can also get free products from brands when writing product reviews (more on that below).
How to Get Started As A Product Review Blogger
Here are a few tips to get started.
#1. Pick A Niche That Will Make Money
When exploring what to write about, there are three things to consider:
Interests
Experience
Income potential
We've found the above intersection to be a suitable medium for building any blog.
Since most websites won't start making money initially (e.g., you may not earn any commissions from your reviews for six months), it's a good idea to write about things you're interested in or have experience with.
Then consider the income potential. For example, writing tech gadget reviews will bring you more revenue than writing book reviews because products in the tech industry cost more.
But writing book reviews will earn more than writing about things to do for free.
Further Reading:
#2. Conduct Keyword Research
Once you've determined your niche, find review topics with high search volume that people are looking for. Then, you'll have a good idea of what to create based on what you see in search engines.
Compare keyword difficulty between niches; perhaps you might have an easier time ranking for one versus another.
Sidenote: If you see big sites like The Wirecutter and TechRadar dominate the SERPs for one niche, perhaps consider an alternative.
For example, when you Google "Betterment review," brands with high domain ratings like Nerd Wallet, Forbes, and Investopedia hold the top-ranking spots in the personal finance niche.

But, in the snowboarding niche, you see lower-ranked sites when you Google the renowned brand "Burton Hometown Hero" review.

So, you may find quicker success writing about snowboards.
Further Reading:
#3. Create Content That Gets Traffic and Clicks
Commit to a publishing schedule. Every piece you publish works like compounding interest with search engines.
The more you create that consistently brings traffic, the faster your site grows. SEO boosts aside, it also positions you as a thought leader.
Once you're getting long-term traffic matching search intent, focus on getting clicks. One way to do it is to showcase your affiliate links in visually appealing ways.
We've found promoting our affiliate offers in product displays gets far more clicks than text links alone. So we built an affiliate marketing WordPress plugin, Lasso, that helps bloggers drive more conversions – from beginners to seasoned pros.
You can add any URL to Lasso, and it'll convert it into an affiliate link so you can promote it using custom product displays.
Lasso co-founder Matt Giovanisci tripled his affiliate income using Lasso displays like the one below (his Amazon affiliate link conversion alone increased by 20%).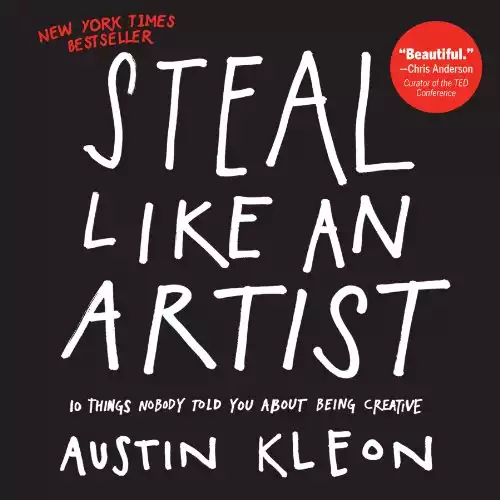 We earn a commission if you make a purchase, at no additional cost to you.
#4. Optimize Your Site for Search Engines
When you make it easy for search engines to find you, your odds of ranking on page one of Google improve. Craft short, keyword-rich URLs, eye-catching headlines, image alt text, and meta descriptions.
Then, head to Google Analytics > Acquisition > All Traffic > Source Medium to see your top traffic sources. Then, double down on what's working or discover another channel to invest time and resources.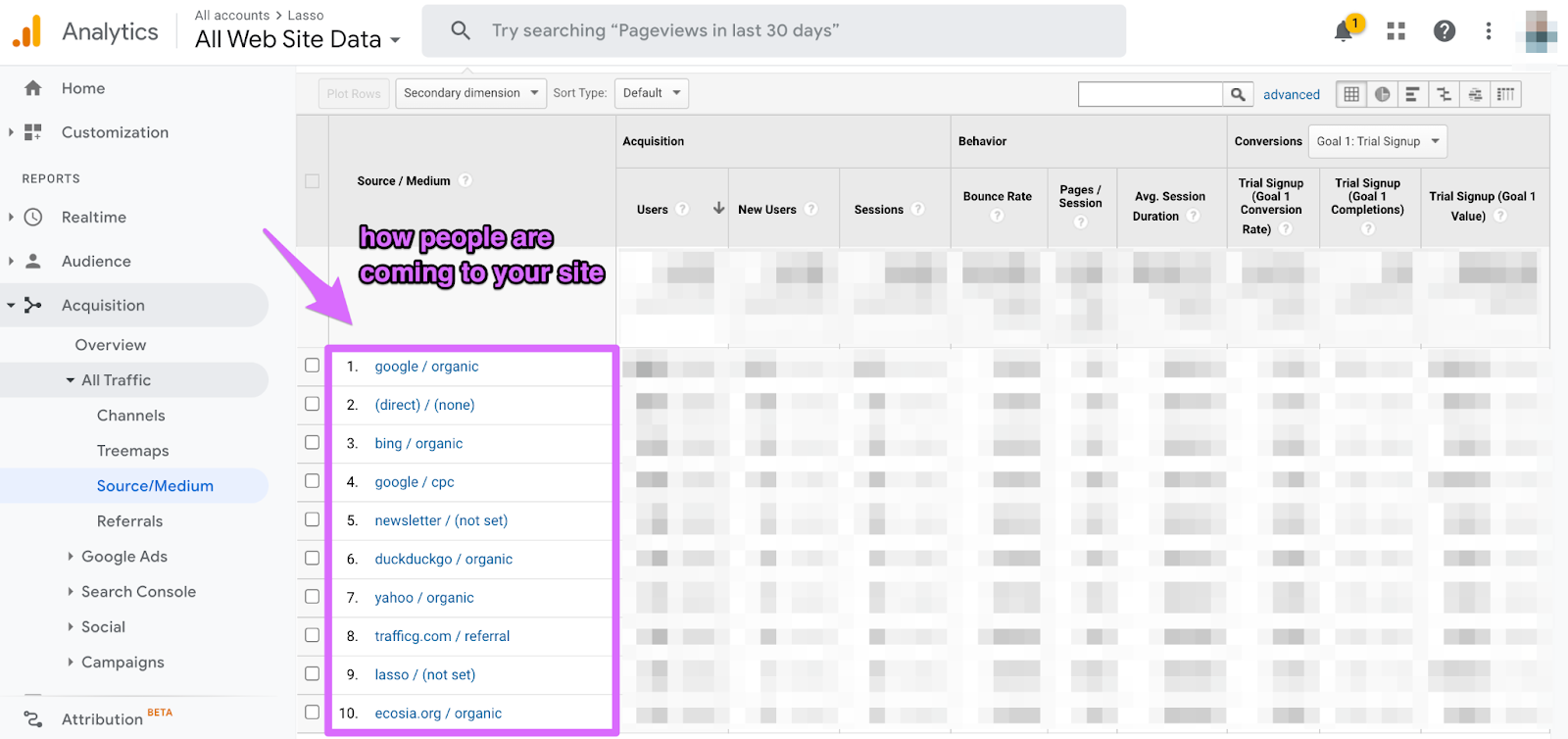 Further Reading:
#5. Sign Up for Affiliate Programs So You Can Start Earning Money
You'll need to join affiliate programs of the brands you promote to earn commissions. You can find these programs with a simple Google search.
Try using the term "brand product + affiliate program." This should easily connect you with the merchant's signup page in the SERP.
For example, "BlueHost affiliate program" in the web hosting niche or "REI affiliate program" in the outdoor rec niche.
Alternatively, you can find affiliate programs using our free database. We have thousands categorized by niche you can sign up for.
And if you're using our plugin, Lasso, we make it easy by scanning your site for domains you already link to and suggesting programs in the Opportunities dashboard.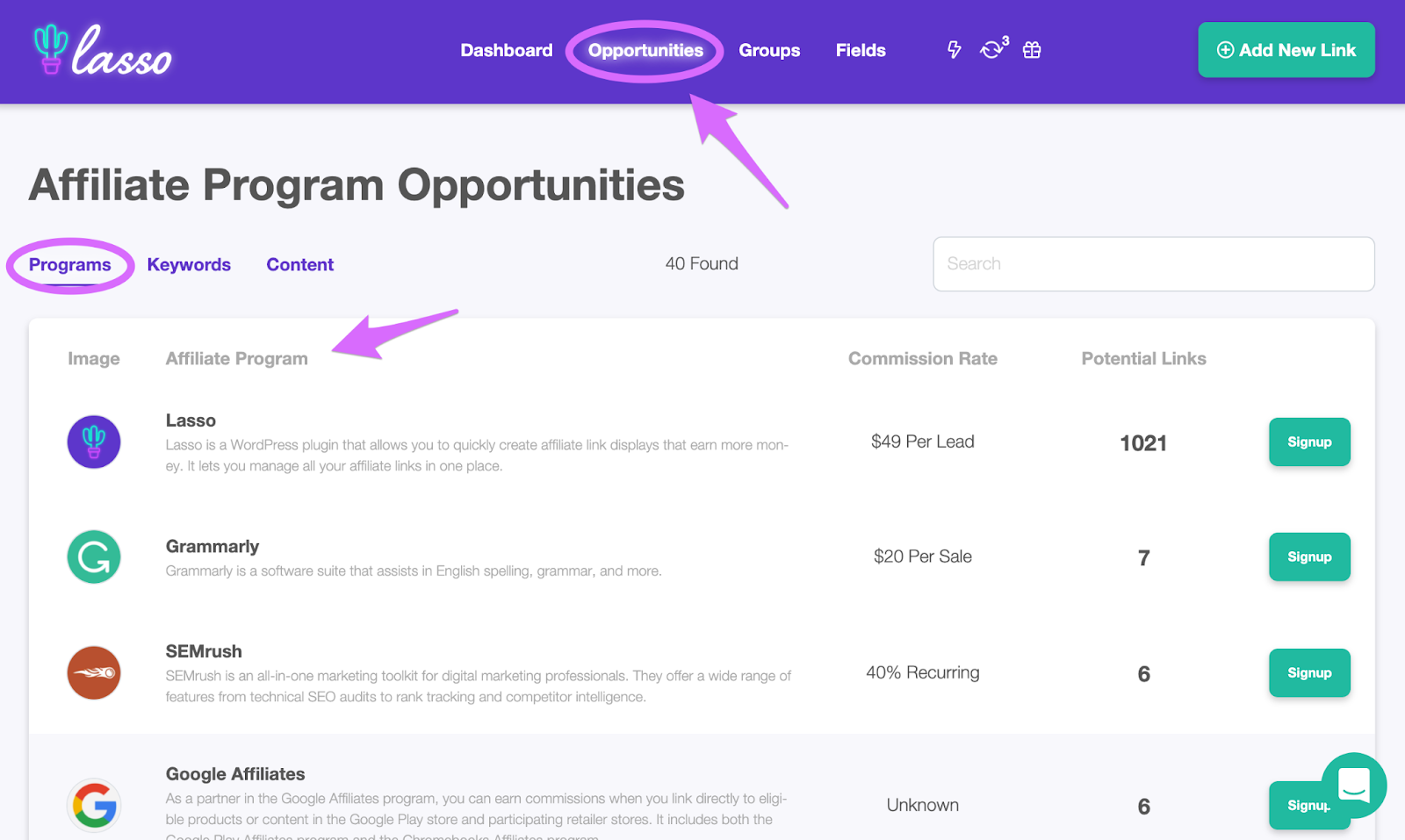 Lasso shows you the following:
Commission rate
Direct signup link to the brand's program
Number of affiliate programs you can sign up for
Potential links across your site where you can add affiliate links
For example, in the above screenshot, Lasso found the affiliate programs for Grammarly, SEMrush, and Google Affiliates. Those are all domains we currently link to on our site that are unmonetized.
You can explore our affiliate program database here.
What Should A Product Review Blogger Review?
The short answer: find the best products relevant to your audience that helps them solve a problem. This will vary by niche.
Reviewing a Black & Decker drill is irrelevant to your readers if you run a cryptocurrency website. Pick a lane and stay there. 
Since you know your industry well, solving your audience's pain points with helpful product recommendations is a great start.
To make money online, you could also review your favorite products or tools that you know will help them succeed. If your readers see you as an authority, these reviews will convert higher.
Tip: Focus on audience solutions. Approach it with a "serve-first" mindset. Typically, these are things they have problems with.
For example, if you're a personal finance site and your audience is looking for types of robo advisors to invest their money, you could write a review of your favorite.
Alternatively, if it's a new product, review it, then give your honest opinion about why you would (or wouldn't) use it.
If you wouldn't recommend it, add an h2 titled "Alternatives" and add your suggestion with an affiliate link.
If you're an established blog with an email list, ask them. Then, reach out on social media to get their feedback. What do they need help with? Or, find industry forums where your target audience hangs out and scroll through the comments.
Look at your bank statements along with things you own. Is there anything you could write a review on?
Further Reading:
Check Out Popular Products On Ecommerce Sites
Ecommerce sites have a substantial amount of products. So, you could head to popular online stores in your niche and look for ideas.
Amazon is a good starting point because they sell everything. But what about other stores?
For example, you could Google "bar tools" in the home bar niche and see what displays in the SERPs. If you run a fitness blog, Google "vitamin supplements." Use broad keywords for more results.
When I try "bar tools," I get alternative stores, including :
Kegworks
Sur La Table
Cocktail Emporium
Or, try using filters.
When Google displays the "Popular Products" carousel, sort by category or price in the search results.
For instance, I'll click the "Over $70" capsule since I'm looking for high-end bar tools. Experiment with this to see what you get.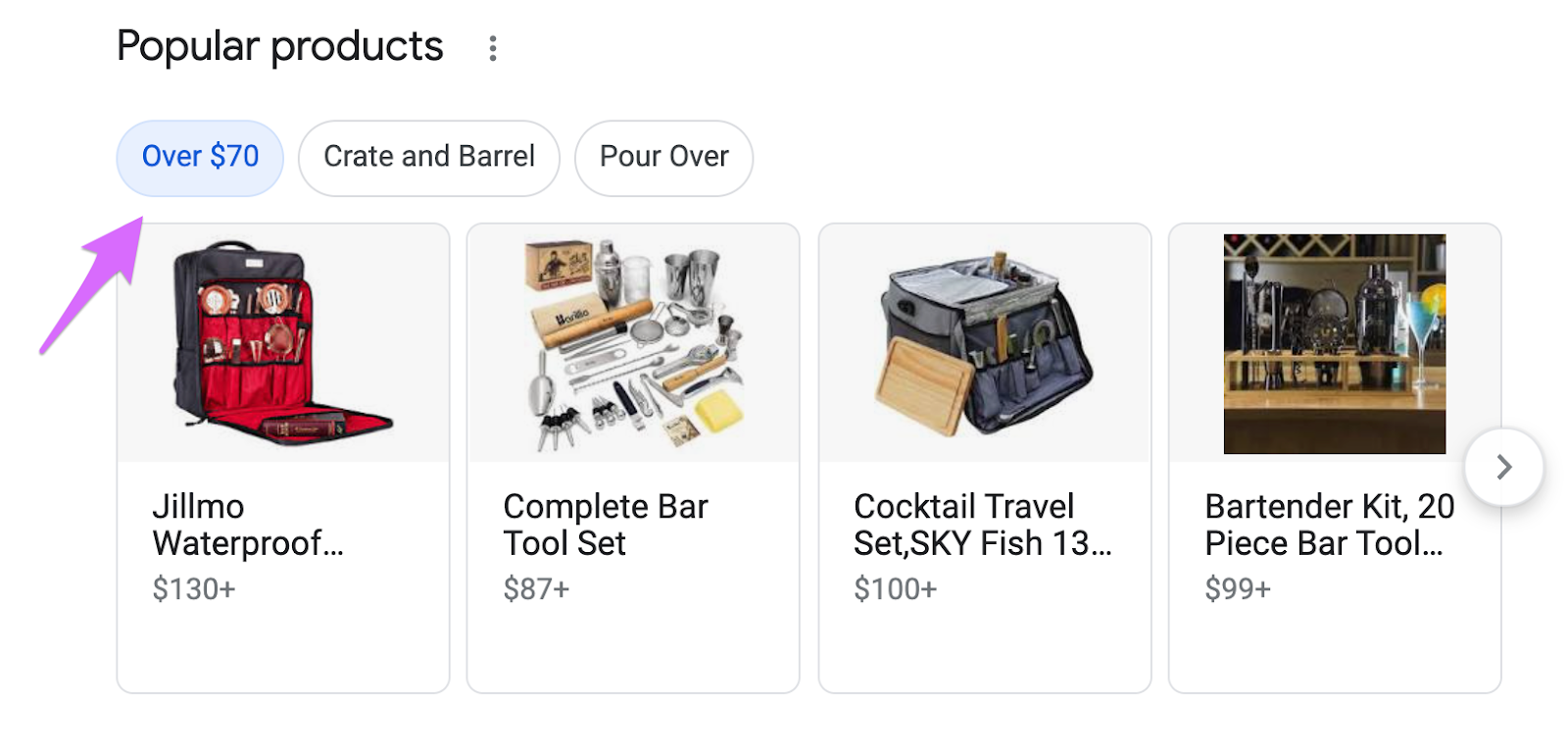 How to Write A Product Review On A Blog
Establish authority as a trusted reviewer by empathizing with your readers and giving them the solution.
It can also involve telling readers your criteria when you review products. For example, it could include your research, rigorous product testing, real-world experience, etc.
We've also found key components worth including in your post. First, establish trust by including a photo of yourself at the top of your review. When people see a human face in front of them, it feels more comforting. Search engines also favor a photo of the person who wrote the content.
You can build empathy by addressing their pain points from the start. It shows you clearly understand the problem. Copywriting techniques like Problem Agitate Solve should work well here.
Then, transition into what the product is and how it works. Finally, showcase notable features and give them solutions. They're looking for you to help them decide.
Sidenote: If you're writing about a bad product (e.g., it has many negative reviews), link to a preferred alternative and tell your readers why. Explaining yourself goes a long way.
We mapped out our entire review process in the below article.
Further reading:
4 Tips for Monetizing Your Product Review Blog
We use tried and tested methods on our sites that earned $380k in a single 30-day period and reached 11 million people last year.
#1. Include A Summary Box at the Top of Your Post
We do it with every product review on our personal finance site. Our summary boxes sit beneath the headline and include the following:
Pros/cons
Special features
A brief product description
CTA buttons with affiliate links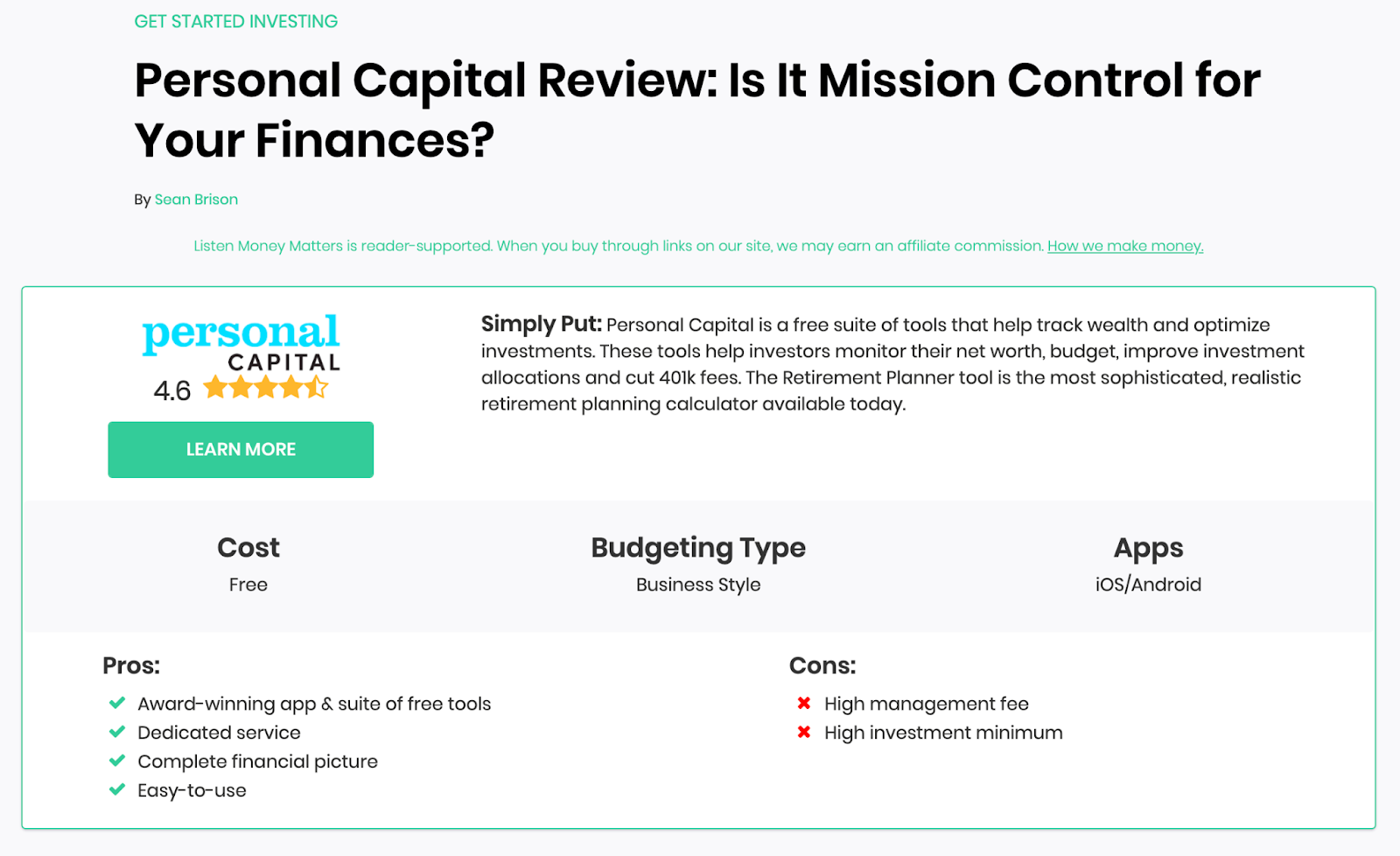 Include your affiliate link at the top and weave it throughout your content using text links and product displays (read #2 below to learn about product displays).
Sidenote: If you don't have access to a developer, get a WordPress product review plugin that integrates with your CMS.
Product review plugins make your site more SEO-friendly and can earn you enhanced search results features. These can be star ratings, the number of reviews, and the pros/cons displayed in the SERP.
Try Googling "best WordPress product review plugin." There are different types, so be sure to read the features until you find one that aligns with your business goals.
You can read this from Google Search that explains tips for optimizing your posts for the Review snippet.
#2. Drive Conversions with Product Displays
Using text links is a good start but not nearly as effective as promoting your affiliate products in visually appealing displays like this. 💥👇
Essentialism: The Disciplined Pursuit of Less
The Way of the Essentialist isn't about getting more done in less time. It's not about getting less done. It's about getting only the right things done. It's about the pursuit of the right thing, in the right way, at the right time.
Pros:
Will make you more effective.

Quick read and highly actionable.
Cons:
You have to be open-minded.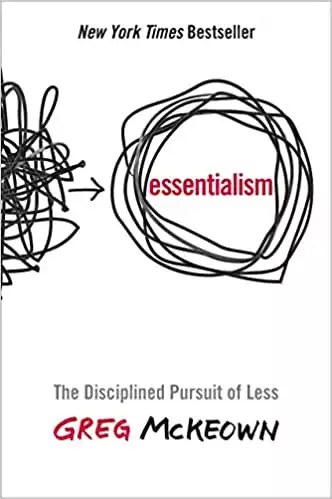 We earn a commission if you make a purchase, at no additional cost to you.
Since implementing product boxes into our reviews, we've seen a substantial increase in clicks and commissions. It's the reason we built our WordPress plugin.
#3. Add Trust Badges & Secondary CTA Buttons
Complementing your products with additional information for your readers helps increase click confidence.
It can also help steer them to making a purchase, signing up for a trial, or creating an account with the products you promote.
Trust badges are one way to enhance a display with your recommendation. Badges also "think" for your readers. Instead of succumbing to decision fatigue, they're more likely to click a box with a badge that reads, "Our Pick."
Secondary CTA buttons give your readers another buying option. Perhaps they prefer shopping at Walmart over Target. That's the problem the second button solves.
Or, if your website has an affiliate program, link to that as your secondary CTA.
Tip: Something we've done to boost conversions is adding a Resources page for our favorite tools. We'll add a primary CTA button linking to the affiliate program and a second button linking to our product review. We've found that the people who start on our Resources page and migrate to our product reviews convert higher.
You could also create a tutorial for a specific feature and link it to your product review. This way, you're sending "warm leads" to your product review with greater odds they'll click your affiliate link.
#4. Use Concept Keywording to Find Unmonetized Opportunities
Lasso has a feature called "Opportunites" inside the dashboard.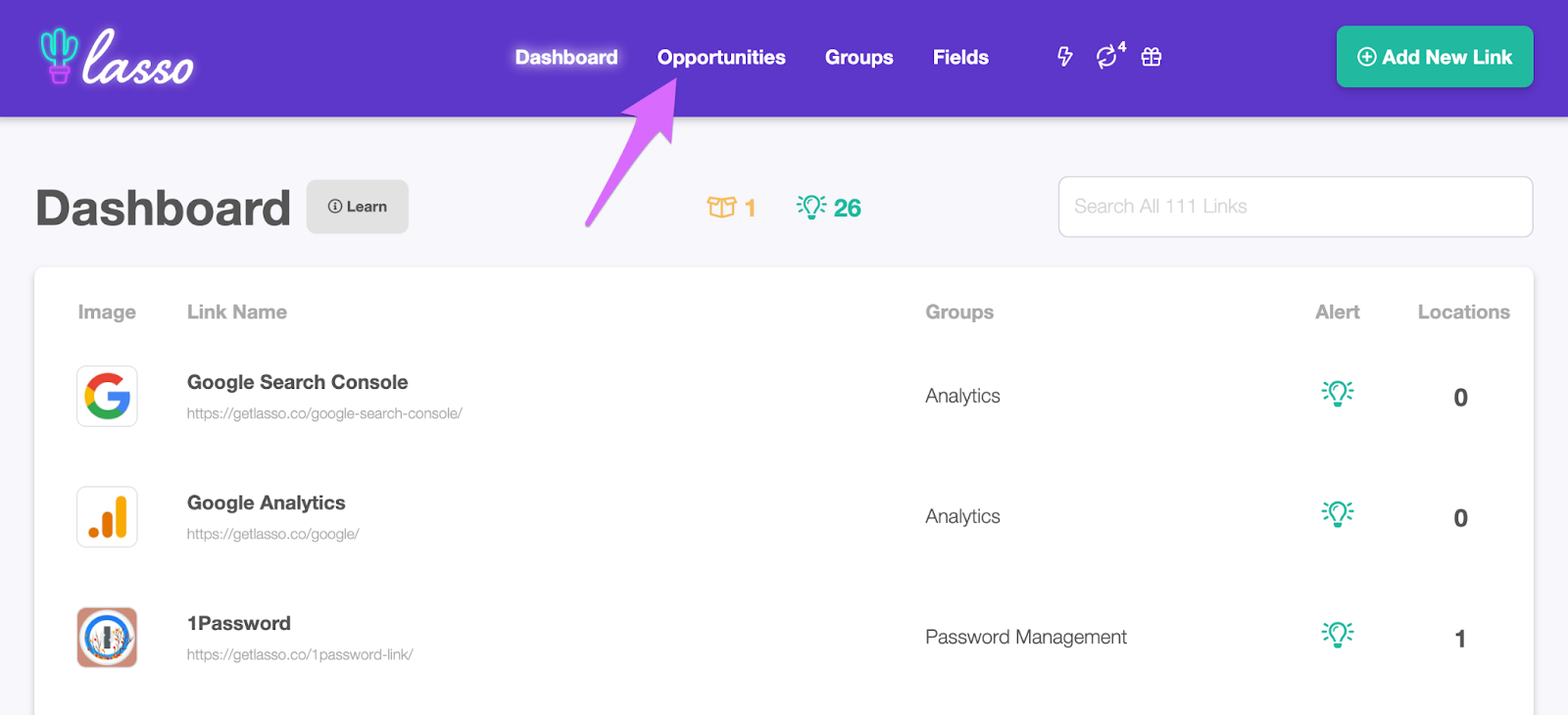 To access Concept Keywording, head to Opportunities > Keywords.
You'll gain access to its detection engine so you can find more ways to make money with your online business with terms you've already used. This is where you'll go if you want to find unmonetized mentions of products across your site. For example, if you want to monetize with WP Engine's affiliate link.
First, you'd add the keyword "web hosting" to Lasso and click "Add Keyword."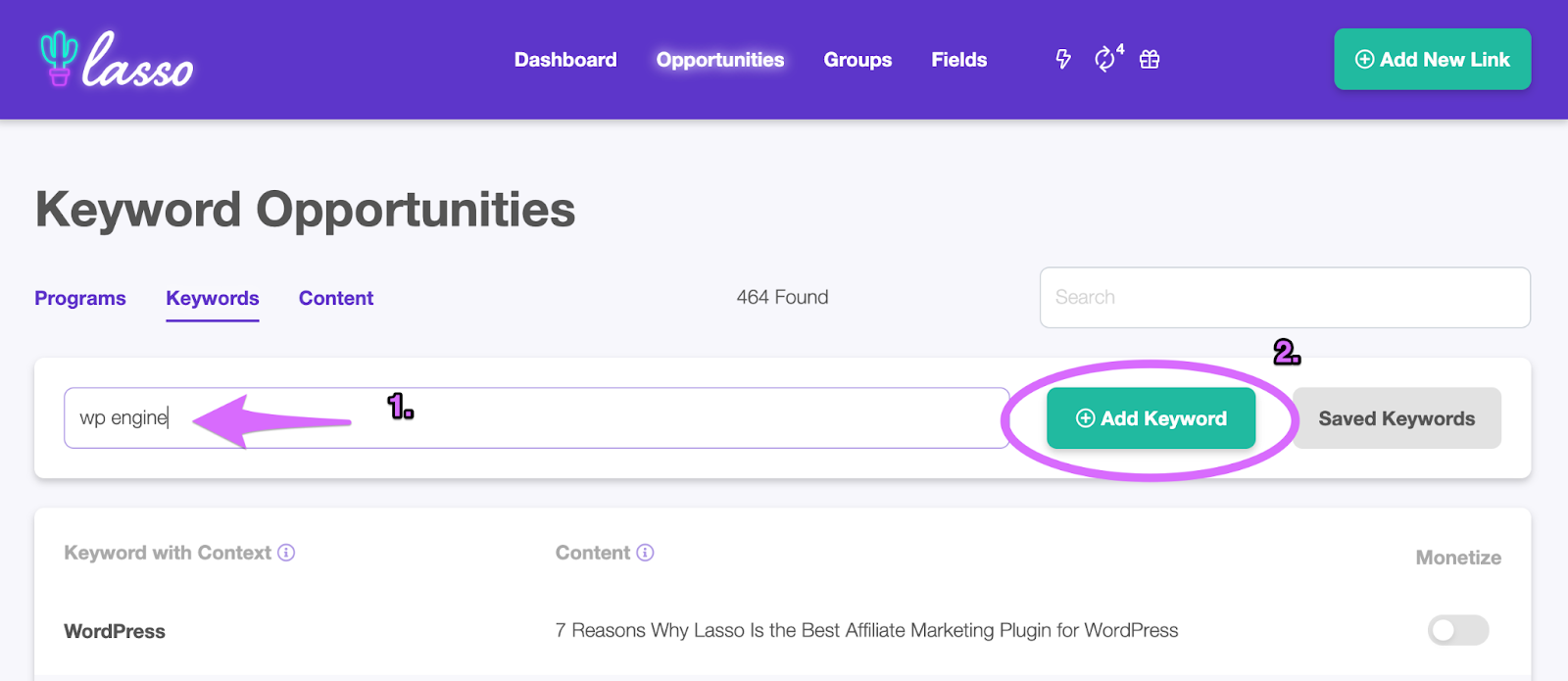 Then, to find every time you've used the phrase "web hosting" across your site, enter it into the search field.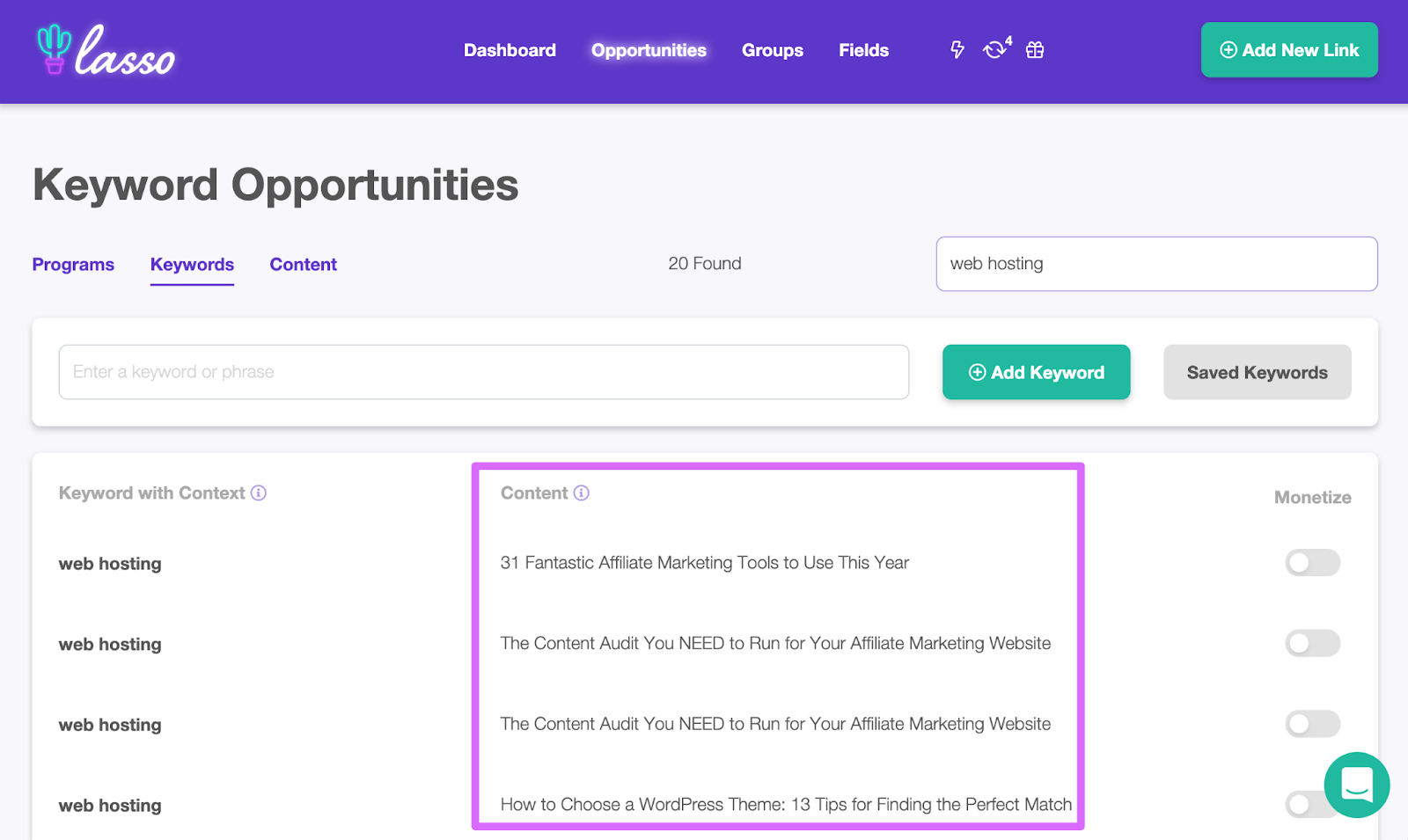 Lasso displays every piece of content you've written that mentioned "web hosting." From here, you can decide which articles to monetize.
Further Reading:
Become A Profitable Product Review Blogger Right Now
I hope you've understood better what a product review blogger is and how you can make money doing it. A good review boils down to trust, credibility, and good content. That's what will grow your readership (and your bank account).
Want to learn how Lasso can help you grow and scale your online business to six figures? Join our newsletter, The Monday Marketer. 
Our creations in your inbox, weekly.
We've built multiple six-figure online businesses that our moms are proud of.
We'd like to help you do the same.