A resources page is one of your website's most essential parts, especially if it contains content marketing. Whatever niche your site falls into, you need a resources page. That page can become the most trafficked and best-converting page on your entire site no matter how great your content may be. Does this sound like something your website is missing? Do you have time to spare? Great! We'll show you how to create a resources page with Lasso in under 10 minutes.
Why did you start your website? Maybe you started it as a hobby. You had a particular interest that you wanted to write about and share with other people.
And maybe as time went on and your site started to get some traffic, you figured it makes sense to monetize your blogging with affiliate marketing.
Perhaps you never wanted to be a blogger but wanted to build an online business and found that creating monetizable content was the perfect idea.
Whatever the category, you want your site to make money and operate easily. Affiliate marketing is meant to be passive income, after all.
Lasso has lots of ways to help make your site profitable (or increase its profitability). And one of those ways is by creating a great resources page in less time than it takes to drink a cup of coffee!
What Is a Resources Page?
A resources page is a reference page that helps your readers easily find things on your site, sort of like the chapter index at the beginning of a book.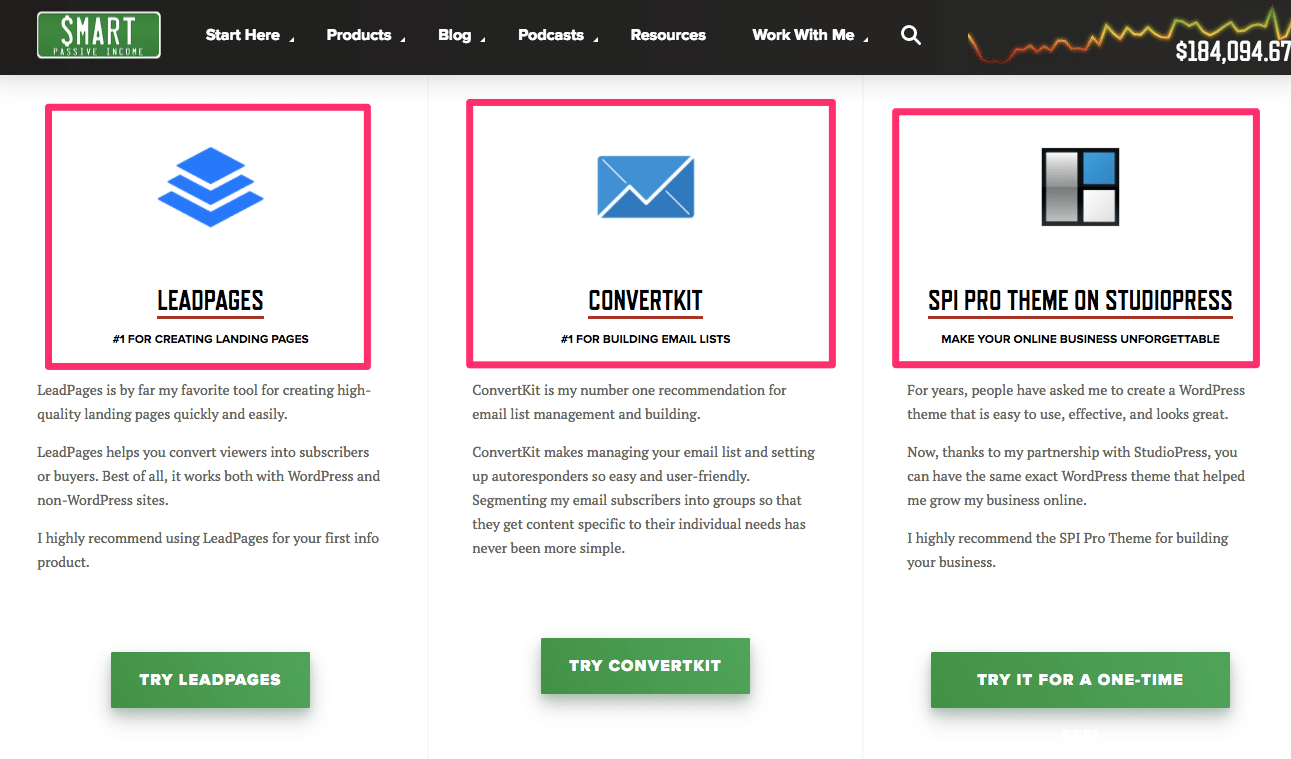 This is an example of a resources page. It's from the Pat Flynn site, Smart Passive Income. It shows the software and products he uses and a list of affiliate links to them.
Why You Need a Resources Page
To make your site more profitable, but that's not the only reason!
Unbury content: If you've had a site for a long time, you may have hundreds of posts. Eventually, some of those posts get buried. A great resources page can help unbury content floating around in your site's ether.
Boost conversion rates: A resource page can also boost the conversion rate for your affiliate links and email list.
Create a better user experience: Readers have come to your site for a specific reason, typically they need some kind of information. Resources pages help readers find that information quickly.
Keyword-rich: Much of your traffic probably comes from Google searches. People type keywords into a search engine and boom! Your page comes up in the results. You can load your resource pages with keywords that will drive more traffic to your site.
Sharing is caring: Your site has a niche, and that niche has fans that look for information on it. A great resources page is filled with the kind of information your audience wants. They may share it on their social media pages and pages they're members of that are fan sites for your niche. New traffic for you.
Build authority: When readers can find high-quality, easy to find, and well-organized collections of information on your site, it helps build your site's authority within your niche, and authoritative sites rank higher in search results.
Types of Resources Pages
Okay, you're convinced you need some resources pages. What types of content should you include?
Affiliate Products and Advertisers
If your site includes affiliate marketing, you should include a resources page that lists them (and advertisers too for those of you with a podcast). You may have dozens or hundreds of affiliate links, but don't overdo it on your resources page. List those that you like the best and will be most helpful to your readers.
Your Best Content
Face it, not every single thing on your site is high-quality. We all strive to make it so, but some things stand out above others for various reasons.
Help readers find your very best stuff quickly and easily.
Your Toolbox
Whatever topic your site covers, some tools go along with it. A toolbox resource page allows you to show your readers what you use (and what they can use).
If you're a cooking blog, you can list things like your favorite cookbook, or the cookbook you wrote, the knives, and cookware you use. And of course, a toolbox is perfect for affiliate links.
Start Here
A Start Here page is a road map for new readers. It can help them not only better navigate your site but the topic as well.
If you have a personal finance page, you don't want new readers to tackle investing before they've tackled credit card debt, for example.
Individual Topic Page
If your topic has a wide range of subheadings with several articles on each subhead, a single topic resources page can help readers. A wellness blog, for example, could have individual pages on:
Mindfulness
Health
Food
Beauty
Social Good
Parenting

Not everyone interested in the main topic, wellness here, will be interested in all of the subjects you cover. Someone looking for food information might not be interested in parenting.
An individual topic page lets a reader find precisely what they're looking for without navigating your whole site.
All Content Page
An all content page can be like the ultimate index to your site. It will let readers find more specific information on all the topics you've covered.
Examples of Resources Pages
Here are a few useful resource pages for inspiration.
Budget Byte$: A cooking blog for those looking to save money on their grocery bills.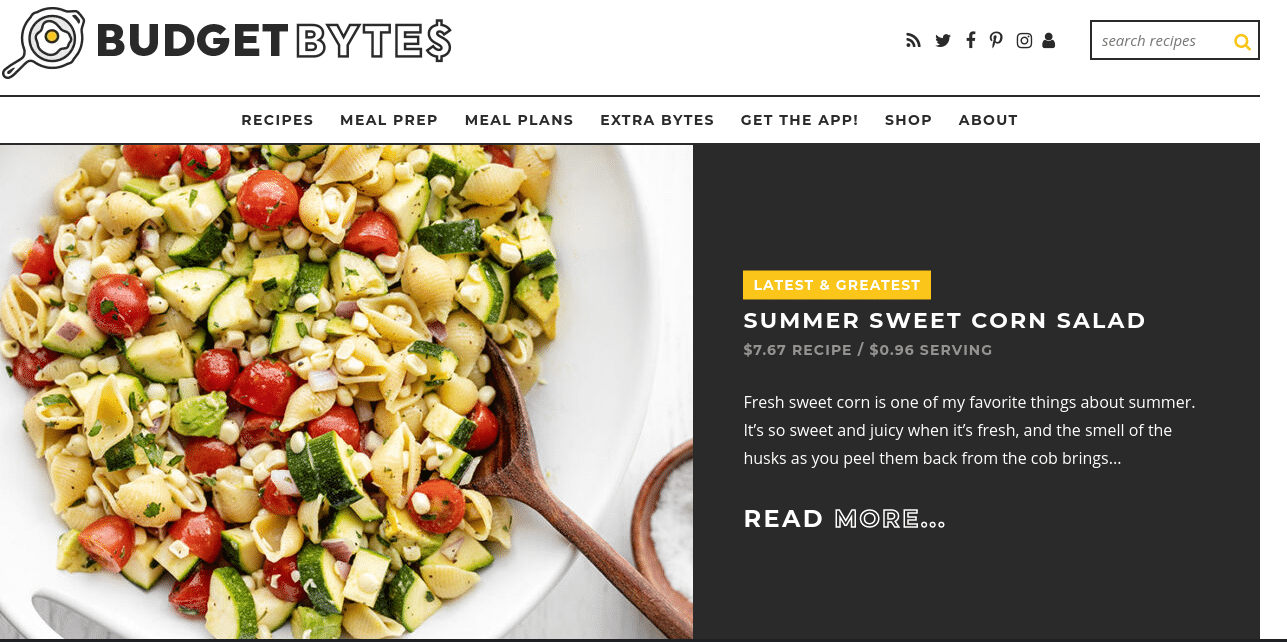 Messy Nessy Chic is a little hard to explain, but it's eclectic, and if you're a Francophile, you'll love it.
Nerd Wallet is a personal finance site.
How to Build a Resources Page
Did you think I was going to bore you with a step-by-step guide to building a resource page? Au contraire.
I'm lazy, you're lazy. Well, maybe not lazy but we want to use tools that do the heavy lifting for us right? Because there's more to life than working.
So how do you build a resources page? Easy. You don't.
Let Lasso Do It For You
If you want to create resources pages for your site, you can custom design and code them yourself. Or you can let Lasso do it for you, and keep them updated without ever having to touch a line of code or edit them yourself.
And So Much More
Lasso will not only help you create top-notch resources pages quickly and easily, but it will also be your ultimate affiliate marketing plugin.
You want to create custom link displays that people won't be able to resist clicking? Lasso can do it. Do you want to find new affiliate opportunities and triple your Amazon affiliate commissions? Of course you do, and Lasso can help.
Do you want seamless Amazon integration? Get Lasso.
We're bloggers who make a living through affiliate marketing. We wanted a product that would make our lives easier and our wallets heavier. So we created Lasso for us and you.
Our creations in your inbox, weekly.
We've built multiple six-figure online businesses that our moms are proud of.
We'd like to help you do the same.