If you're wondering how to add Amazon affiliate links to your WordPress site, you've come to the right place. While there are multiple ways to do it, this post shows you the only three you'll need to know.
Because once you've created your Amazon Associates account, you'll have your tracking ID and gain access to their affiliate dashboard.
Now you're ready to start adding links.
Let's go!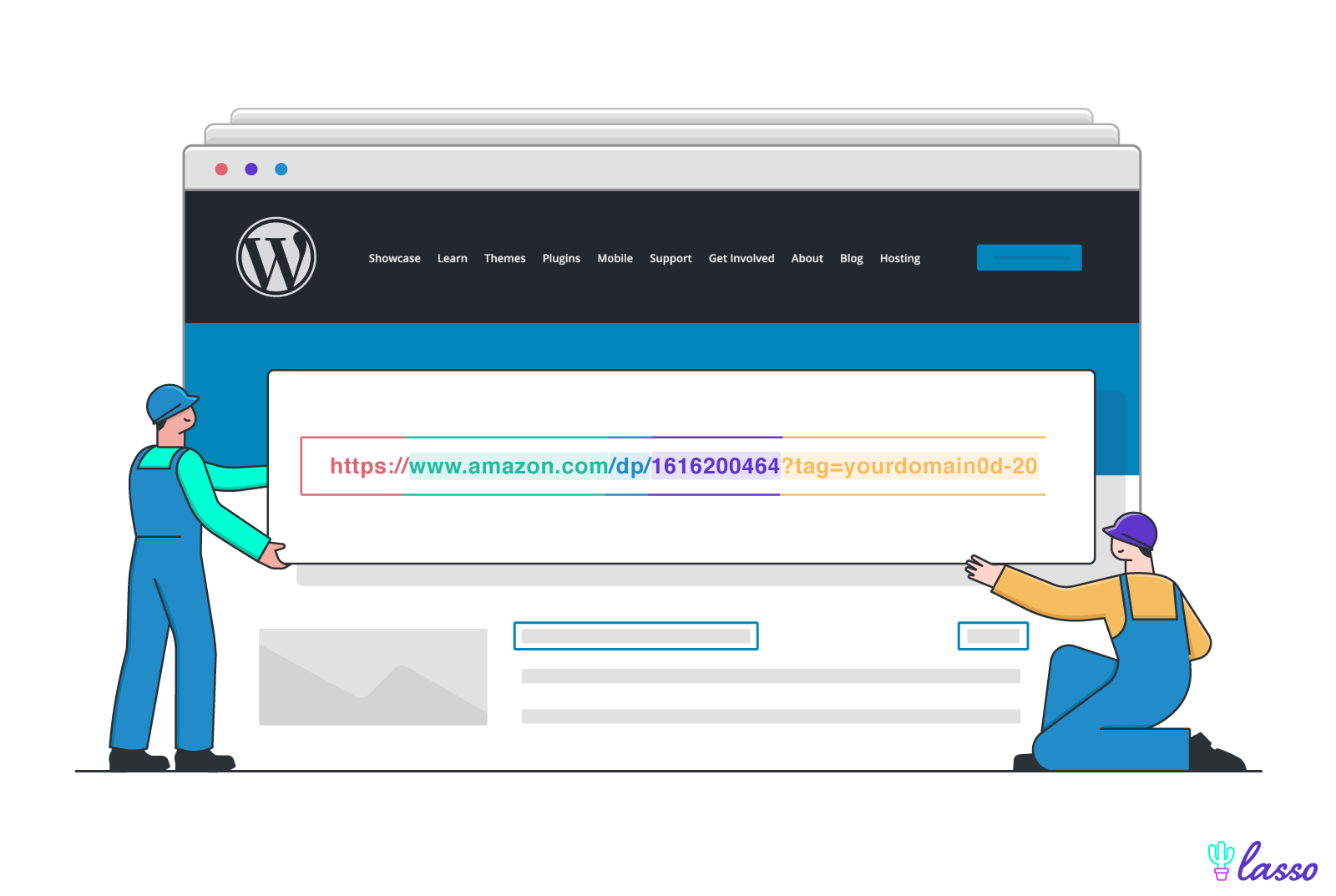 Table of Contents
How to Add Amazon Affiliate Links to WordPress
How to Add Amazon Affiliate Links to WordPress
Adding Amazon affiliate links to your WordPress blog isn't as hard as it sounds.
The process is straightforward, so after reading this post, you'll be able to add links and monetize your site lickety-split.
Method #1: Use Lasso
Best Plugin For Affiliate Marketers
Lasso
Lasso is the best WordPress plugin for affiliate marketing. If you want to earn more affiliate income and grow your niche site, you need Lasso!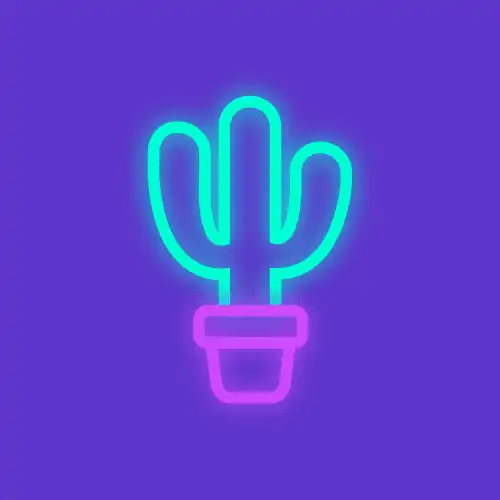 Our preferred method is to use our WordPress plugin Lasso. It'll save you time because it automates the entire process.
We've also seen a boost in affiliate income (more on that later).
First, copy and paste the product URL directly from Amazon's website into Lasso.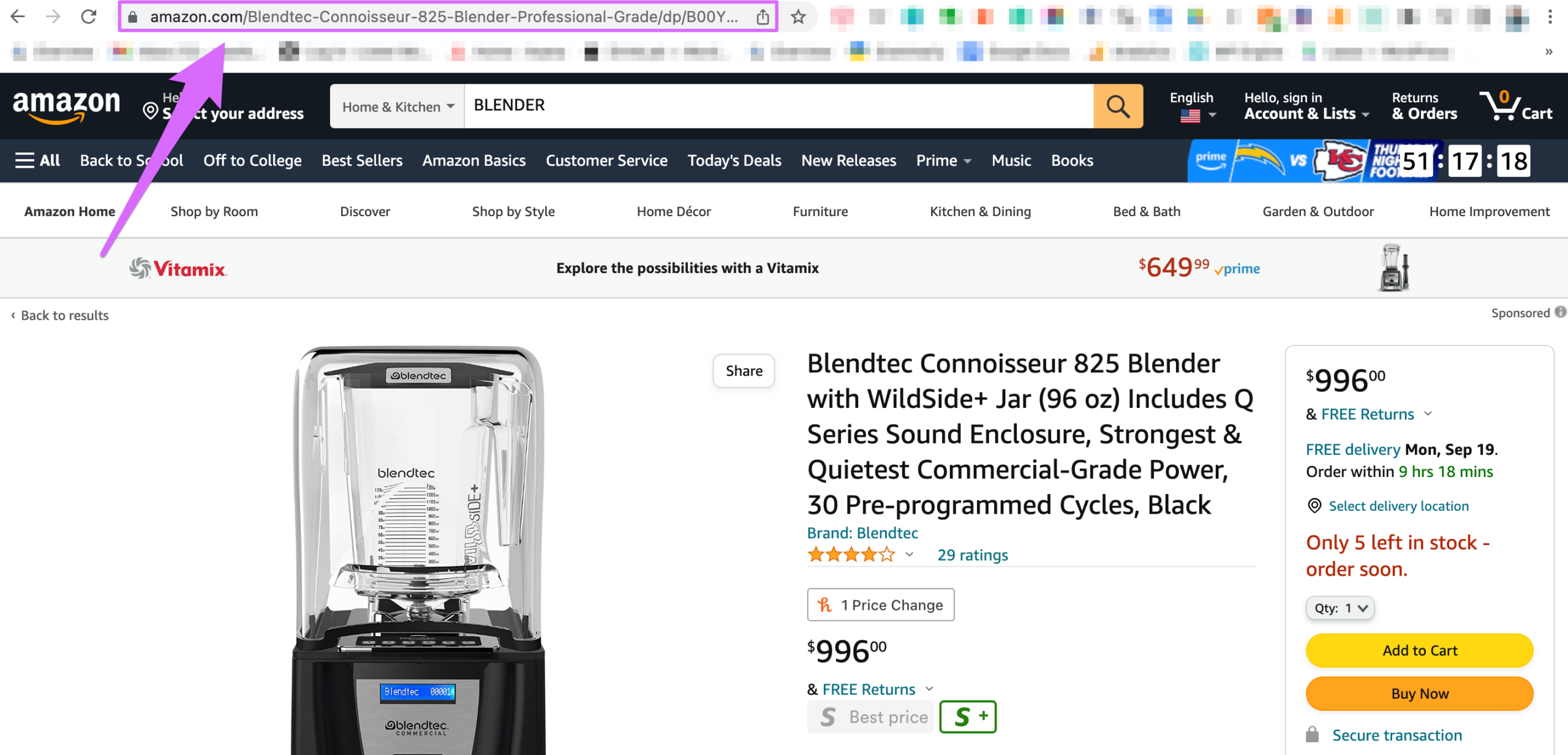 Head to your Lasso dashboard and click "Add New Link."
A pop-up window appears. Paste the Amazon product URL directly into Lasso.

Lasso auto-populates all of the link's data (with image and pricing) into a Link Details page, and your Amazon URL automatically converts into a ready-to-use affiliate link.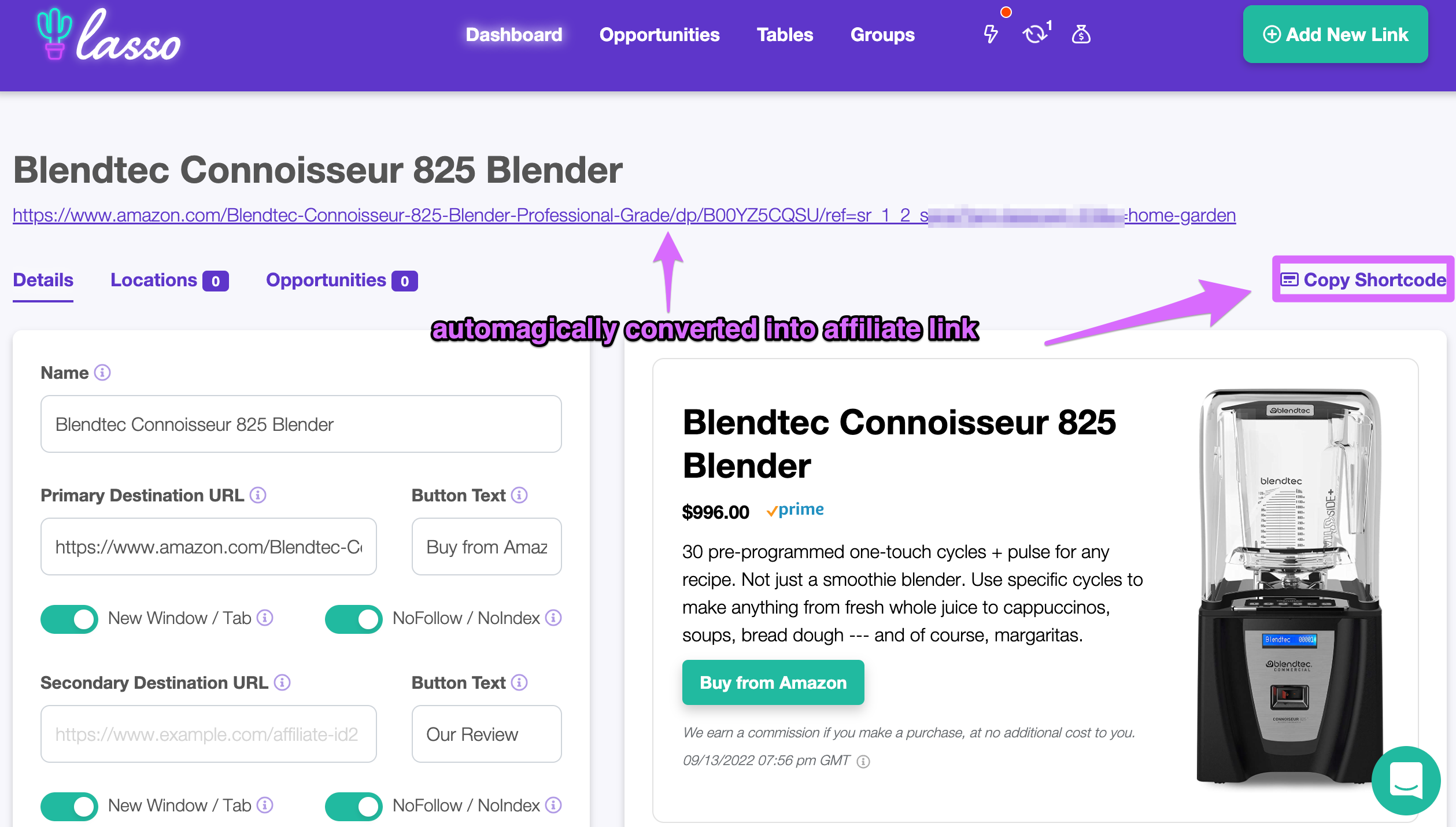 Lasso won't automatically cloak Amazon links, so you stay compliant with its terms of service.
If you want to add a text link, you'd do it the same way you'd include any link to your WordPress posts.

Type the product of whichever Amazon affiliate link you want to add in the search bar.
Sidenote: The word "Lasso" displayed on the far right side denotes URLs you've pasted into Lasso that are now affiliate links.
If you want to add a product display, select the cactus icon.

This prompts you to enter a display type.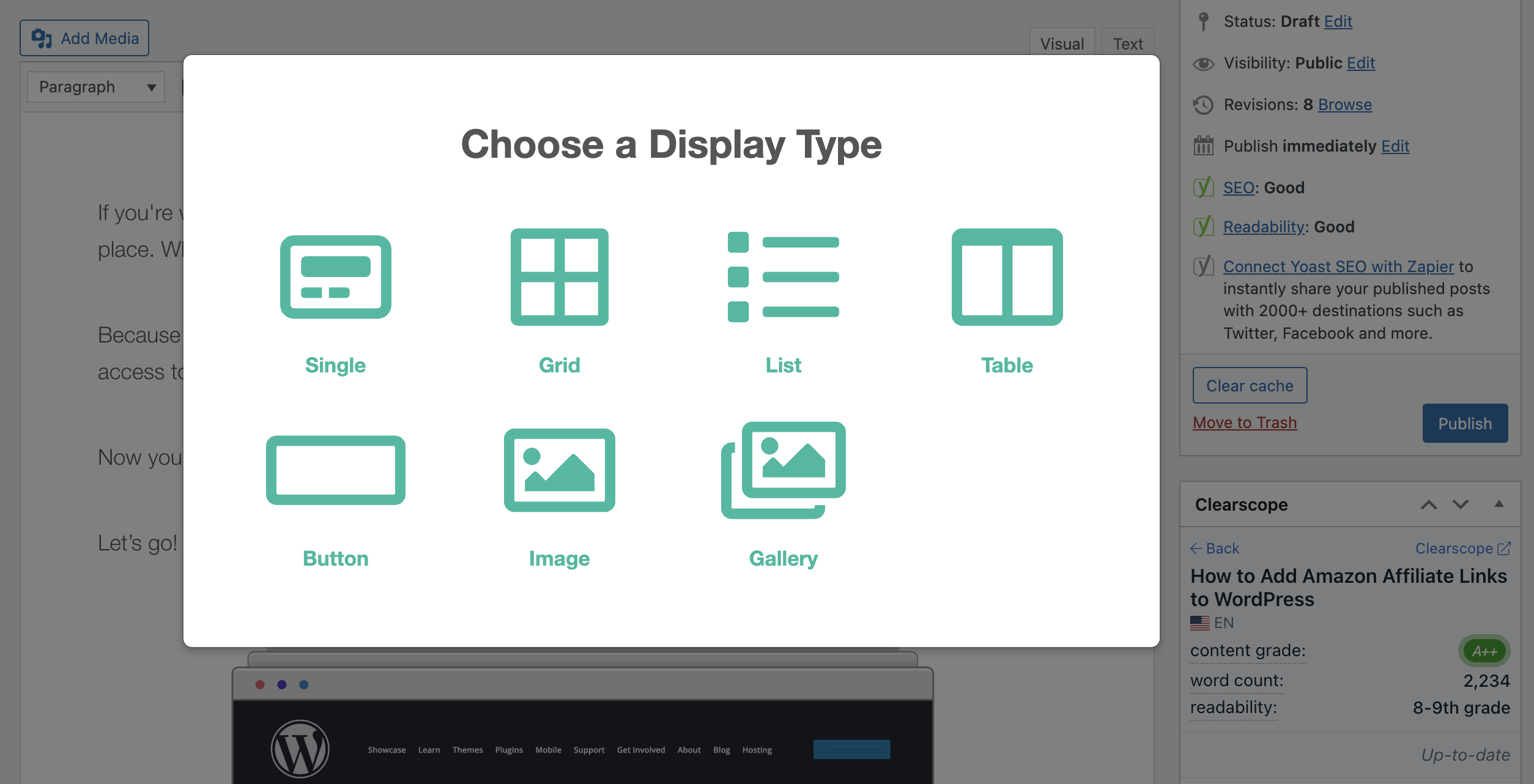 You have seven display options:
List
Grid
Table
Single
Image
Button
Gallery
After choosing your display type, Lasso adds a shortcode to your post instantly (without having to leave the WordPress editor as you write).

Here's what our Blendtec Connoisseur 825 blender looks like after a few shortcode customizations.👇
Our Pick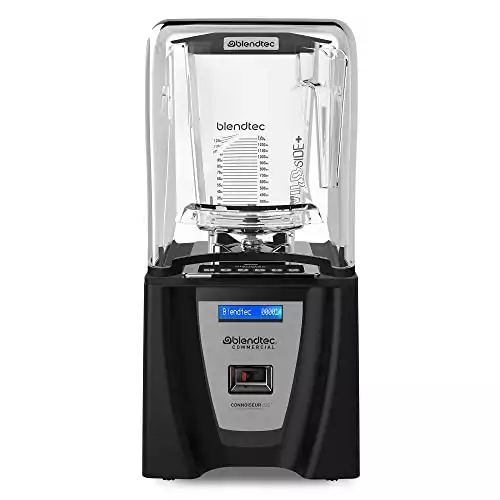 Blendtec Connoisseur 825 Blender
30 pre-programmed one-touch cycles + pulse for any recipe. Not just a smoothie blender. Use specific cycles to make anything from fresh whole juice to cappuccinos, soups, bread dough --- and of course, margaritas.
Buy from Amazon
Read Our Review
We earn a commission if you make a purchase, at no additional cost to you.
You can add badges, star ratings, secondary call-to-action buttons, change themes, and more to your product displays.
You'll still be able to add Amazon affiliate links without API keys. Lasso pulls data from Amazon's Product Advertising APIs, so you won't need to update pricings manually.
The process will vary slightly if you're building an Amazon affiliate store.
For example, if you're a blogger also running an eCommerce shop, you'll most likely be using additional plugins (like Woocommerce). And you'll probably use a WordPress theme designed specifically for online store owners.
No matter which business model you choose, Lasso works for either scenario.
Further Reading:
Method #2: Use Lasso Lite
The second method for how to add Amazon affiliate links to WordPress is using Lasso Lite.
Best Affiliate Plugin For Beginners
Lasso Lite
Lasso Lite is the best WordPress plugin for affiliate marketers who are still working on making their sites profitable. Single product displays and link management features give you the foundation to build a real business.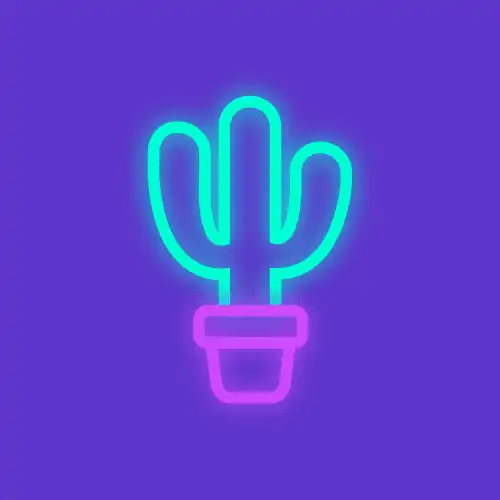 Lasso Lite (formerly called Simple URLs) is our free version of Lasso. It offers bloggers a budget-friendly alternative. You'll still add Amazon affiliate links to WordPress the same way you would, as shown in the premium Lasso version above; you'll just have fewer display options.
But you still get access to Lasso's core features, including:
Affiliate text links
Single product displays
Link management & groups
Lasso Lite is ideal if you want to start with a free version before going premium.
You can download Lasso Lite for free inside your WordPress dashboard the same way you'd download any plugin.
Head to Plugins > Add New and type "Lasso" into the search bar.
That's it!
Also worth noting:
While this post is about adding Amazon affiliate links, Lasso Lite does create branded cloaked URLs with your site's domain for non-Amazon links, the same as Lasso Premium.
Tip: If you want to see the number of clicks your Amazon affiliate links get, hit "Switch to old UI" in the sidebar.

Et Voilà! Now you can see every URL and the number of times a reader clicked a link.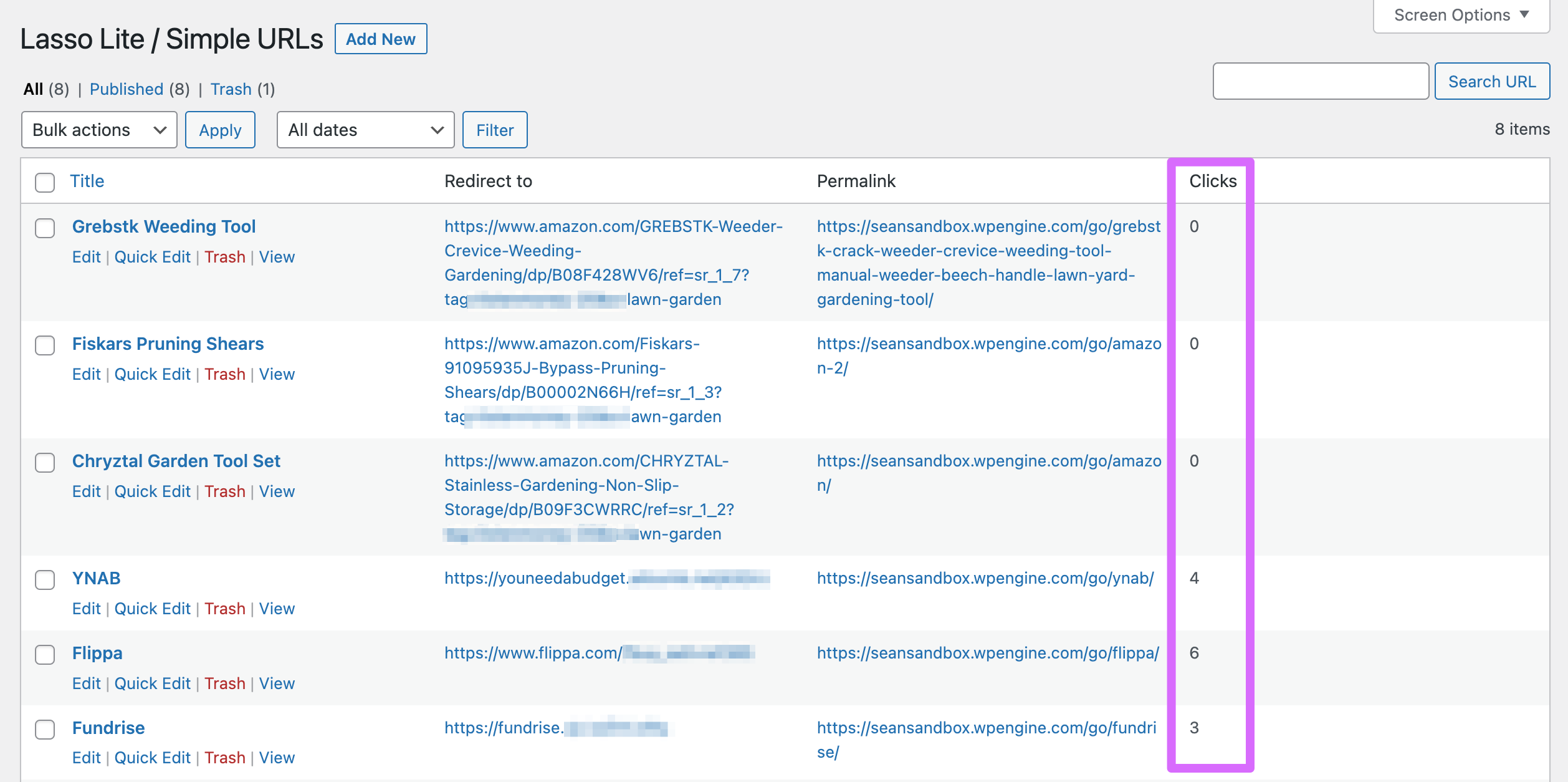 This helps you measure what's popular with your audience and where you're making the most affiliate commissions.
Why do we advise using an affiliate link plugin?
Because it makes managing and promoting your affiliate products infinitely easier.
Sidenote: As your site grows, it gets harder to manage every link across your site. You'll slowly lose sight of what performs well, broken URLs, and where every link is located. Updating (or switching) affiliate programs quickly become time-consuming. Promotion becomes a nightmare.
We speak from personal experience building seven-figure affiliate sites. You can learn from our mistakes.
Further Reading:
Method #3: Use Amazon Associates Site Stripe
The final method for how to add Amazon affiliate links to WordPress is simply pasting the link directly into your post.
First, you'll need to fetch the link from Amazon. You can do this using Amazon's tool, Site Stripe. The Site Stripe toolbar displays at the top of every page on Amazon's site.
You'll see it as long as you're logged into Amazon with the same credentials as you do for your Associates account.
Here's how it works.
Head to the page you want on Amazon and click the "Get Link: Text" button.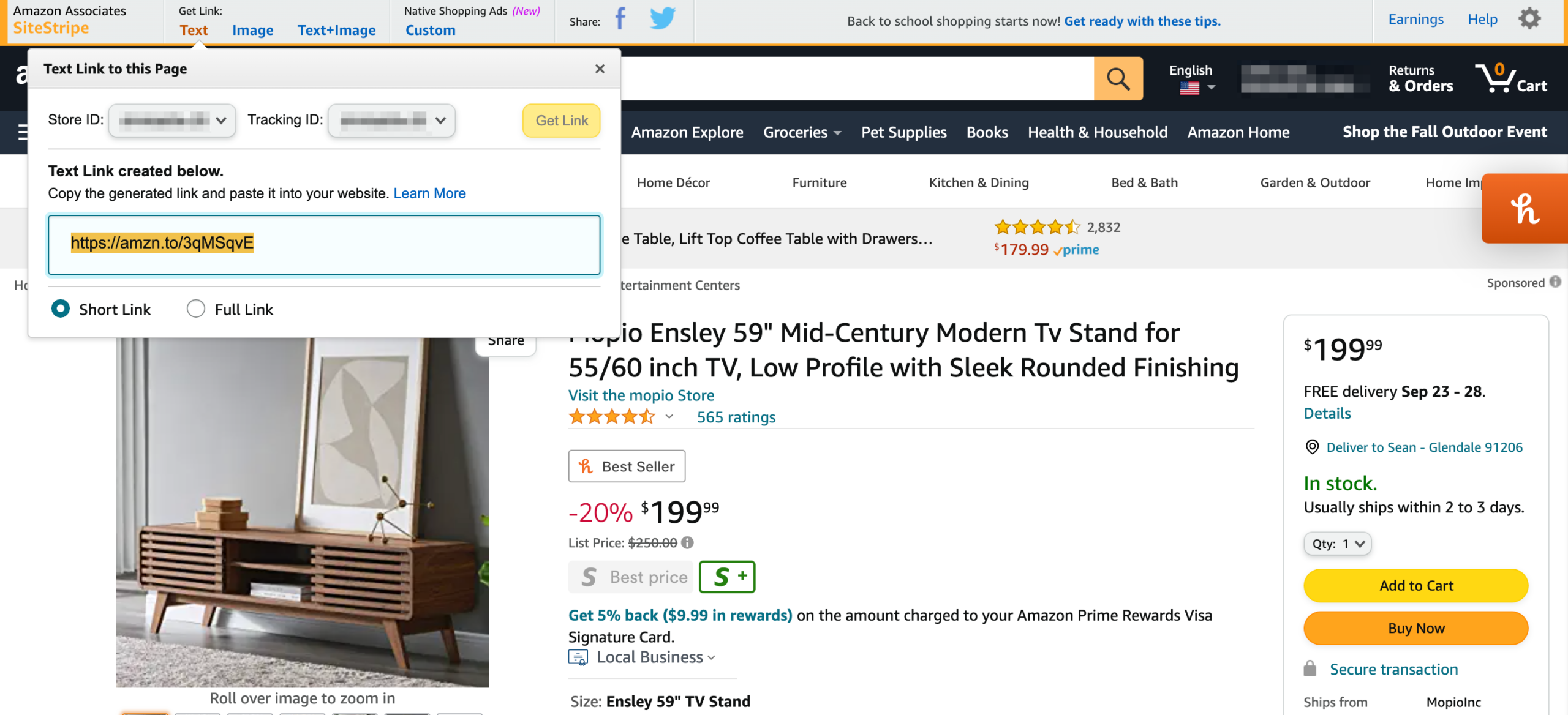 Paste the link in the dropdown menu into your WordPress post the same way you'd add any text link.

You also have the option of adding:
Image links
Text + image links
Sidenote: Adding "image" links or "text + image" links with Site Stripe requires pasting the HTML code and embedding it into your post.
For example, to add an image affiliate link, select "Get Link: Image."
Now, go to your WordPress post HTML (Text) editor and paste the code into your post. Here's how it'll look. 👇

That's it!
The link includes your affiliate ID, so Amazon knows to pay you for the referral. You can also use its link checker tool to test whether your links are valid. Once you've pasted it into WordPress, you'll see how it displays on your site.
Amazon also allow you to use their product images on your site in this way. For more specifics, read our article on whether you can use Amazon product images on your affiliate website.
Along with adding links into the body of your posts and pages, you can also add sidebar widgets if your website features that functionality.
SiteStripe also provides social media shareability if you plan to promote on platforms outside of your blog.
Further Reading:
Amazon Affiliate Marketing Tips
It's no secret that Amazon is an eCommerce giant. Remember last year? In the first quarter, their revenue topped $108 billion!
Why? They're actively PROMOTING and SELLING products. And their site is optimized to convert visitors.
So, what can you, as an Amazon affiliate, do? We explain a few commission-boosting tips and a couple of best practices below.
Leverage the "Frequently bought together" hack
Scroll down any product for sale on their site, and you see this:

Here's how you can do the same with a Lasso grid display.
Let's say you're writing a tutorial about how to use the spellcheck app Grammarly. Then, somewhere near the end of your post, mention two other tools you use to optimize your writing content.
For example, we use Clearscope and Yoast.
So, you'd create a Lasso display showcasing those three tools as part of your SEO Content Writing stack.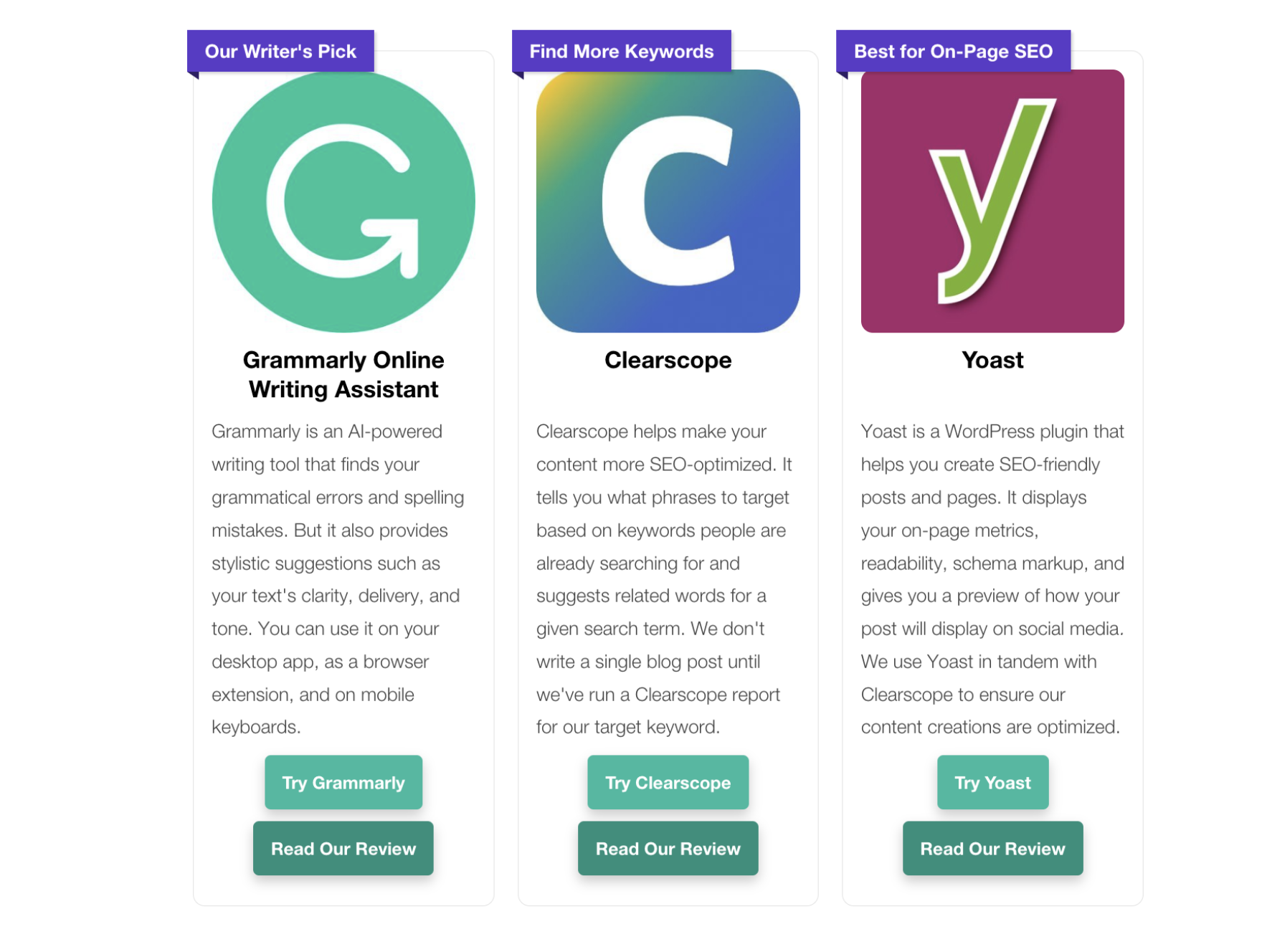 Further Reading:
Show the 'Strike-Through' price
FOMO is real. People don't want to miss a deal – they love a discount.
There's psychology baked into this tactic. When people see the strike-through price next to the less expensive one, they're more likely to click.
Lasso does this for your Amazon displays automatically.👇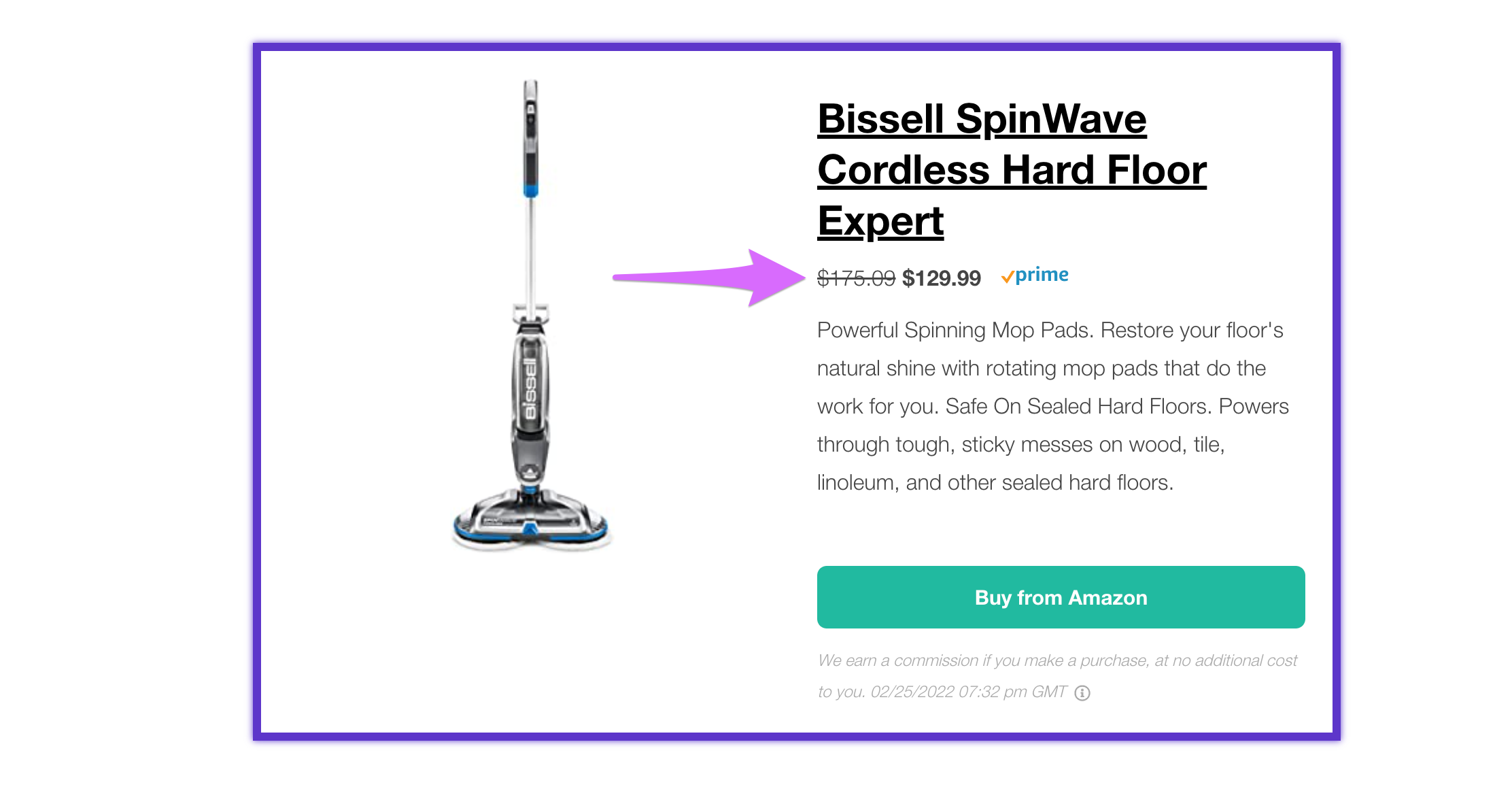 Display the Amazon Prime badge
Another tip is showcasing the Prime badge with your Amazon product displays (you can see it's enabled in the above Lasso display).
Prime members are loyal and shop Amazon more than non-Prime members.
User Stats: 49% of Prime members shop once a week compared to 13% of non-Prime. Leveraging the Prime platform increases your potential customer base. There are over 150 million Prime members worldwide.
When using Lasso, you can show your Prime logo with the flick of a toggle.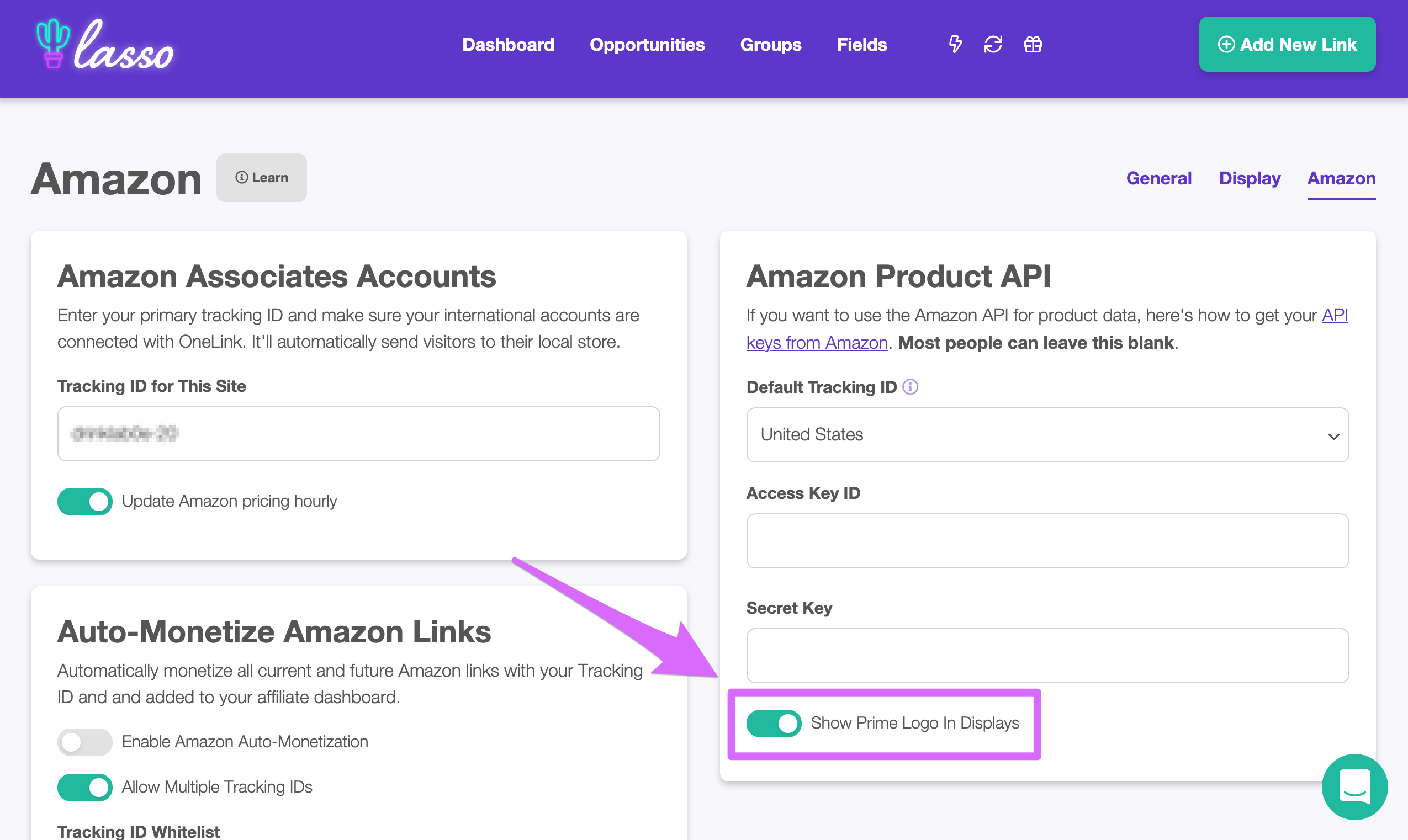 Include Your Amazon Affiliate Disclosure
Per the Amazon Associates Program Operating Agreement (and FTC), you'll have to place a disclosure on your website once you start adding affiliate links.
It helps to be 100% transparent that you may earn a commission when someone clicks your product links. Amazon says you must comply with the agreement to participate in the Associates Program and earn income.
There's a simple model you can use which says, "As an Amazon Associate, I earn from qualifying purchases."
Lasso includes a default affiliate disclosure but feel free to write your own. It's essential to inform your audience that you're in a paid relationship with that company or product.
Failing to do this puts you at risk of being fined and kicked out of the affiliate program.
Further Reading:
Fix Broken Links and Replace Out-of-Stock Products
Items become unavailable on Amazon frequently. You'll often have busted links on your site and not even realize it.
Just one more reason why we advocate for using an affiliate plugin.
For example, Lasso sends you link alerts inside your dashboard if they're broken or linking to out-of-stock products.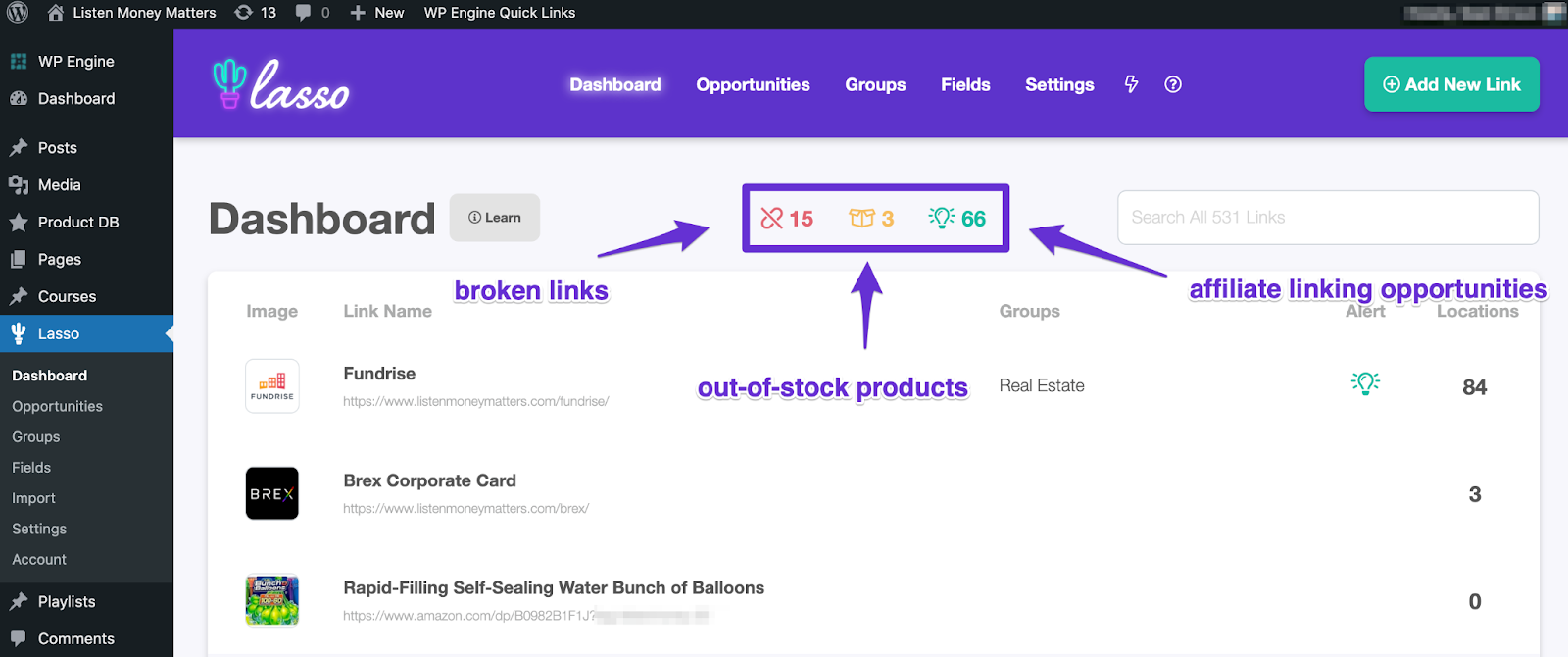 So, rather than send your visitors to "product-unavailable" pages or ones with broken links (and lose money), you can replace them.
Last Words
Adding Amazon Affiliate Links to your WordPress blog isn't too complicated. You can paste the link directly into your post or get the help of our affiliate plugin, which quickly automates the process (while making promotion and link management super simple).
If you're ready to take Lasso for a test drive, you can try it here.
Our creations in your inbox, weekly.
We've built multiple six-figure online businesses that our moms are proud of.
We'd like to help you do the same.