Looking for ideas on how to promote affiliate links? Perhaps you're feeling overwhelmed by the infinite number of ways? You're in good company. We've been there.
This article lists the strategies we use to increase awareness with our audience along with popular methods others have found successful.
It ultimately boils down to how your affiliate marketing business interacts with its customers.
Some techniques will make more sense.
Let's dive in.
How to Promote Affiliate Links with Blogging
You can use your blog to drive traffic to your website. Each time you create valuable content, think about how you can position a product or service (with your affiliate link) that would benefit your readers.
For example, if you run an outdoor blog, you could write a product review (more on that in a minute) about a specific camping tent.
Or you could create a product showdown between two or more tents and how they compare.
If you're using a tool like Lasso, you can promote your affiliate links in customizable display boxes that integrate with your site, like the one below.
Our Pick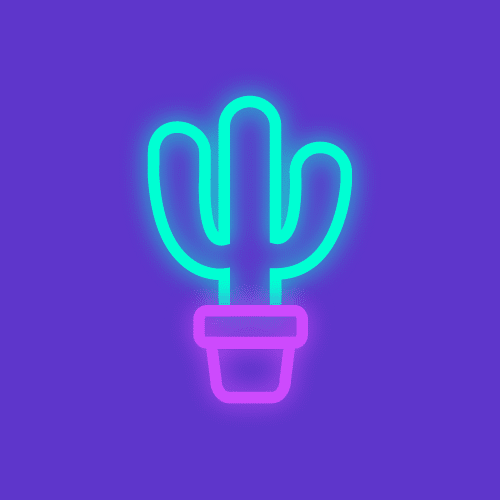 Lasso works with every affiliate network on the planet.
If you're optimizing for search engine optimization (SEO) with every post, you'll also increase your site's visibility.
Guest Posting to Access Other Potential Customers
Piggybacking off of blogging, you could write guest posts. You'd write for another website to leverage their audience.
Plenty of bloggers have gotten more eyes on their blog from guest posting. The larger the audience, the better.
If you have no idea where to start, head to Google search, and try entering terms like these:
[keyword] "write for us"
[keyword] "submit a guest post"
keyword "guest post"
For example, if you blog about pet care, you might try searching like this: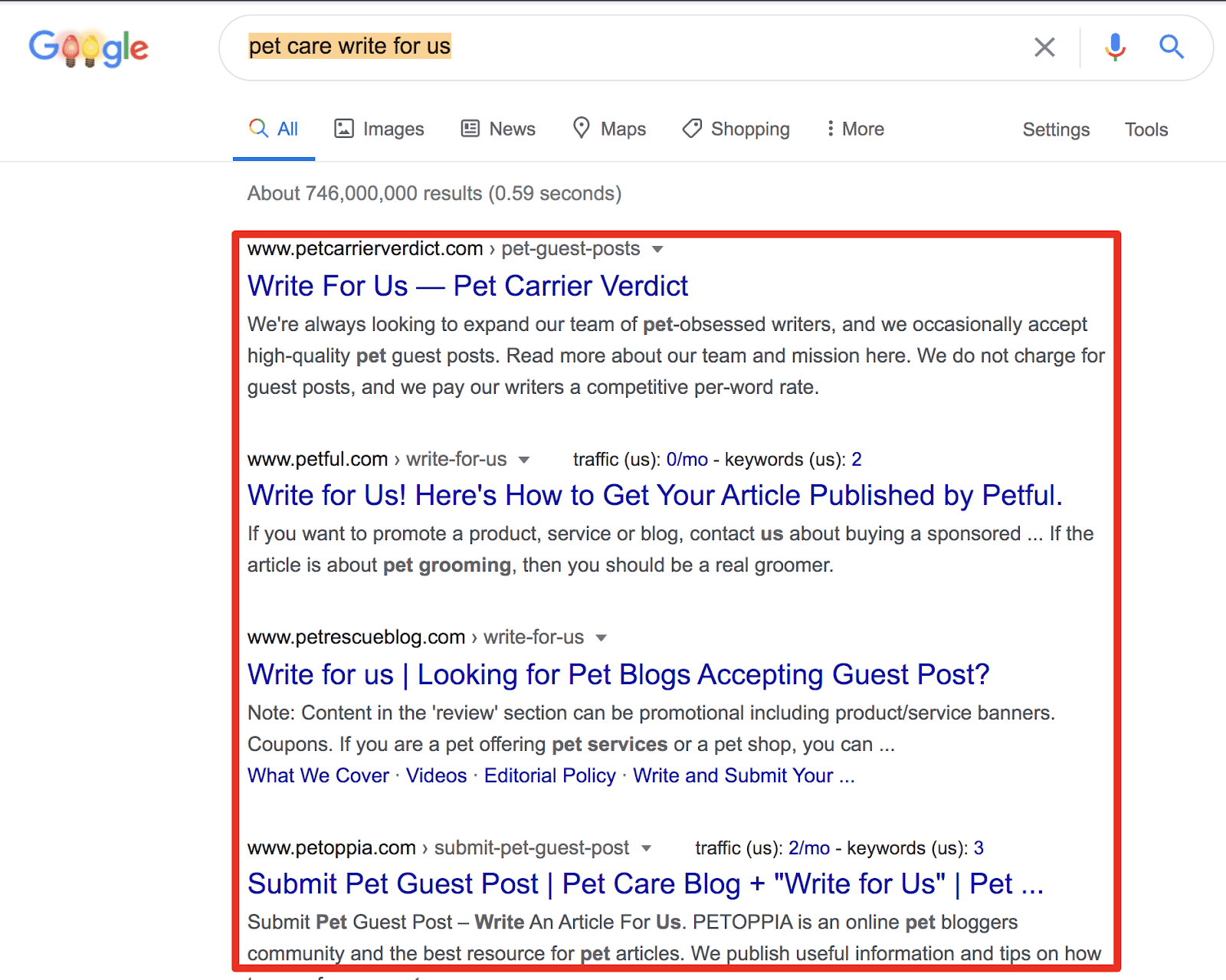 You can see there is an infinite number of results showing up in the SERPs.
If you already have a website or blog in mind, try this advanced Google search:
site:examplewebsite.com keyword phrase
Putting it into practice…
Let's say you're a travel blogger and you want to find out if PracticalWanderlust.com is accepting guest posts; you could do this:
Or, if you belong to numerous industry email lists, try your Gmail inbox search bar:
I have a "burner" email address where I sign up to random websites to examine their email marketing strategies.
Sometimes, those companies will message their list regarding accepting guest post submissions.
That was how I started writing for our site.
If none of those terms yield any results, you may need to tweak your search.
For example, adjusting your search terms to "hiring." It's part art, part science 😉
You could end up becoming a contributor to a website and earn a backlink.
You can apply this same search method to Facebook groups, Linkedin, forums (e.g., Quora), and any other place your industry hangs out.
Product Reviews & Comparisons
Establishing trust and authority through informational content is one part of the equation. The other is targeting keywords where your audience is in "buying" mode.
In an Ahrefs blog post, Head of Content Josh Hardwick breaks down the four types of search intent:
Informational
Navigational
Commercial investigation
Transactional
When your reader falls into the commercial investigation category:
The searcher is in the market for a specific product or service but has yet to make a final decision on which solution is right for them.
Whatever your website is about, I'm sure there are a few products you could write reviews for that would provide valuable insight for your audience (while adding your affiliate link in the process).
For example, our co-founder Matt runs a blog about homebrewing and creates detailed guides linking to relevant products that his audience finds useful.
Product reviews account for over 20% of our affiliate commissions at Listen Money Matters.
When writing reviews, you can also improve your content's SEO-friendliness with a WordPress plugin.
These increase your website's visibility with search engines. One example is optimizing for rich snippets in search results.
Notice the star rating, votes, cook time, and calories displayed in RecipeTinEats compared to the other results on this page?
Rich snippets include more information in the search, which can set your website apart from other brands on the SERPs and more attractive to the person conducting that query (and more likely to get clicks).
Review plugins include specific features like a pro/con section, star ratings, summary boxes, and more.
Need help creating yours? We created a product review template you can steal.
In-Depth Tutorials & Beginner's Guides
Another way to serve your audience is to write insanely actionable tutorials on using a specific product.
For example, we wrote about how to start a blog, detailing everything our audience will need (and what to expect), including:
Getting started (with tools)
Your creation strategy
Its growth trajectory
How you will fail
Takeaways & FAQs
You can follow a similar model on your website.
We also include affiliate links of the products we use to run and grow our online businesses in that post because:
It's relevant
Useful
Provides value
For example, we use WP Engine for website hosting, so we mention them with our affiliate link using Lasso in that post:
Our Pick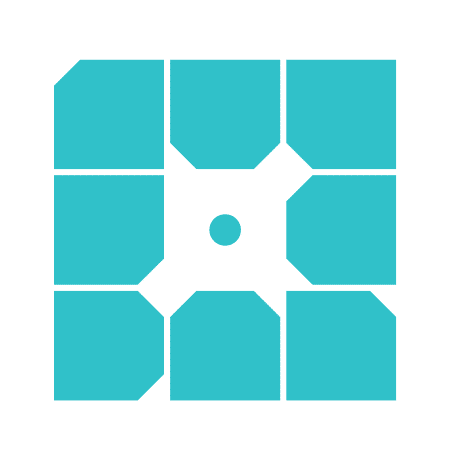 WP Engine
We host all of our sites with WP Engine, nuff said. They are the best WordPress managed-hosting service that we've found. And we've tried most of them. Nothing beats the power and ease of use of their admin tools.
Try WP Engine
Affiliate Program
You can also create beginner's guides and then link to specific affiliate products serving your readers.
Head here for more ideas about blog post templates.
Email Marketing
Using your email list is the BEST way to connect with your audience and superior to any other platform (e.g., social media). We've found it's also the quickest way to get customer feedback with the most volume.
As an affiliate marketer, you can reach your subscribers and direct them to your blog, a landing page, or an affiliate product.
Plus, your email list isn't affected when social networks crash. Why?
Because your list belongs to you and nobody else (e.g., Facebook).
It's a simple process:
When people visit your blog, they can opt-in to your email list using a form on your website
You stay in touch with thank you and welcome emails, website updates, affiliate products, digital products, and more
The trick is to be strategic and not include affiliate links with every email you send — that's spammy.
Podcast
There are several ways you can monetize your podcast to generate revenue. We've tried several and have seen a healthy amount of affiliate commissions from it.
The trick is using easy to remember (and speak into the mic) URLs.
For example, if you were promoting your show through a referral sponsorship with Betterment, you'd say, "This episode is brought to you by Betterment. Visit listenmoneymatters.com/betterment for a link in the show notes."
See how easy that was to say?
That's an example of a cloaked affiliate link.
Cloaking your affiliate URLs makes them easy to share and remember. If you're using a tool like Lasso, it'll cloak your URLs automatically.
I mentioned referral sponsorships, but you can also try:
Selling your own products
Traditional sponsorships
Sell your guest's products (as their affiliate)
Head here if you want to become a Lasso affiliate and explore our Preferred Partner program.
Online Courses
Creating digital products (e.g., online courses or ebooks) is great for adding affiliate links and another way to generate passive income.
For example, if you're a photography blogger, you could create a course detailing how to become a better photographer.
Then, inside the course, recommend the tools you've used to take better pictures with an affiliate link attached.
It's not salesy if you approach it with a "serve-first" mentality and your offer is relevant.
Your audience will see your authenticity behind it as you're creating value with high-quality material (as opposed to just trying to clock a referral).
We have multiple personal finance courses where we've placed affiliate links recommending the tools and resources we use (more on that below) to help keep our financial house in order.
People are willing to pay for things that make their lives easier.
Your courses could be about anything from creating a successful e-commerce site to digital marketing to dressing better, and people will pay.
YouTube Videos
YouTube video content does insanely well as a promotional engine for just about anything. It's still on our shortlist of something Lasso could do.
Our co-founder Matt has had outstanding results using only basic animated videos in generating course sales and affiliate income.
Check out an example of how he does it here.
Notice how he promotes his offers in the comments below the video 👇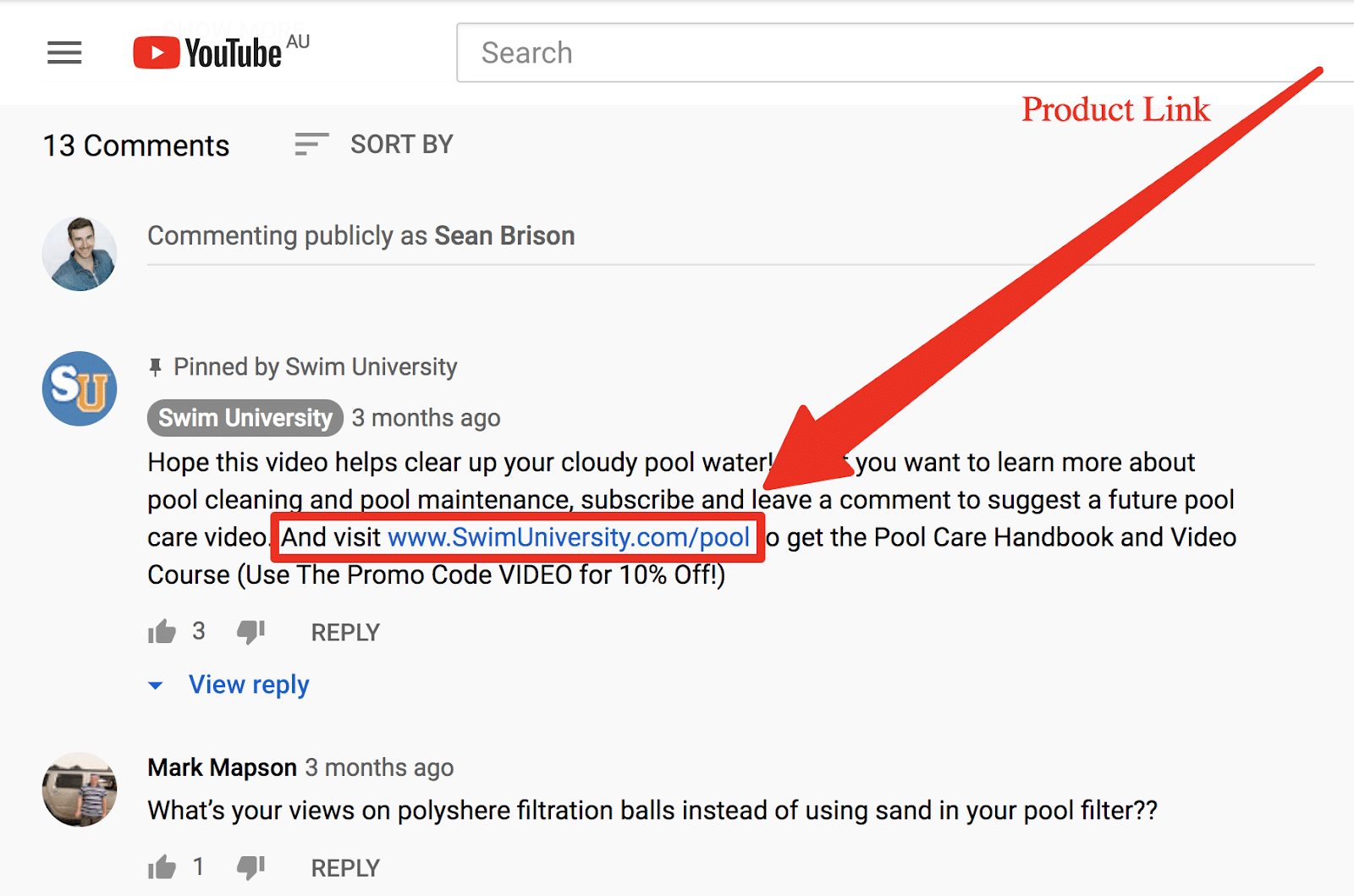 Placing your link in the comments can also help to start a conversation with your customers.
The more comments a video has, the more YouTube sees people like it (potentially helping increase visibility with its search engine).
The opportunity on YouTube is more significant than search SEO, but the drawback is it's more labor-intensive.
The other thing is Google owns YouTube.
So, you could potentially increase your space of SERP real estate by doing well in both Google AND YouTube's organic search engines.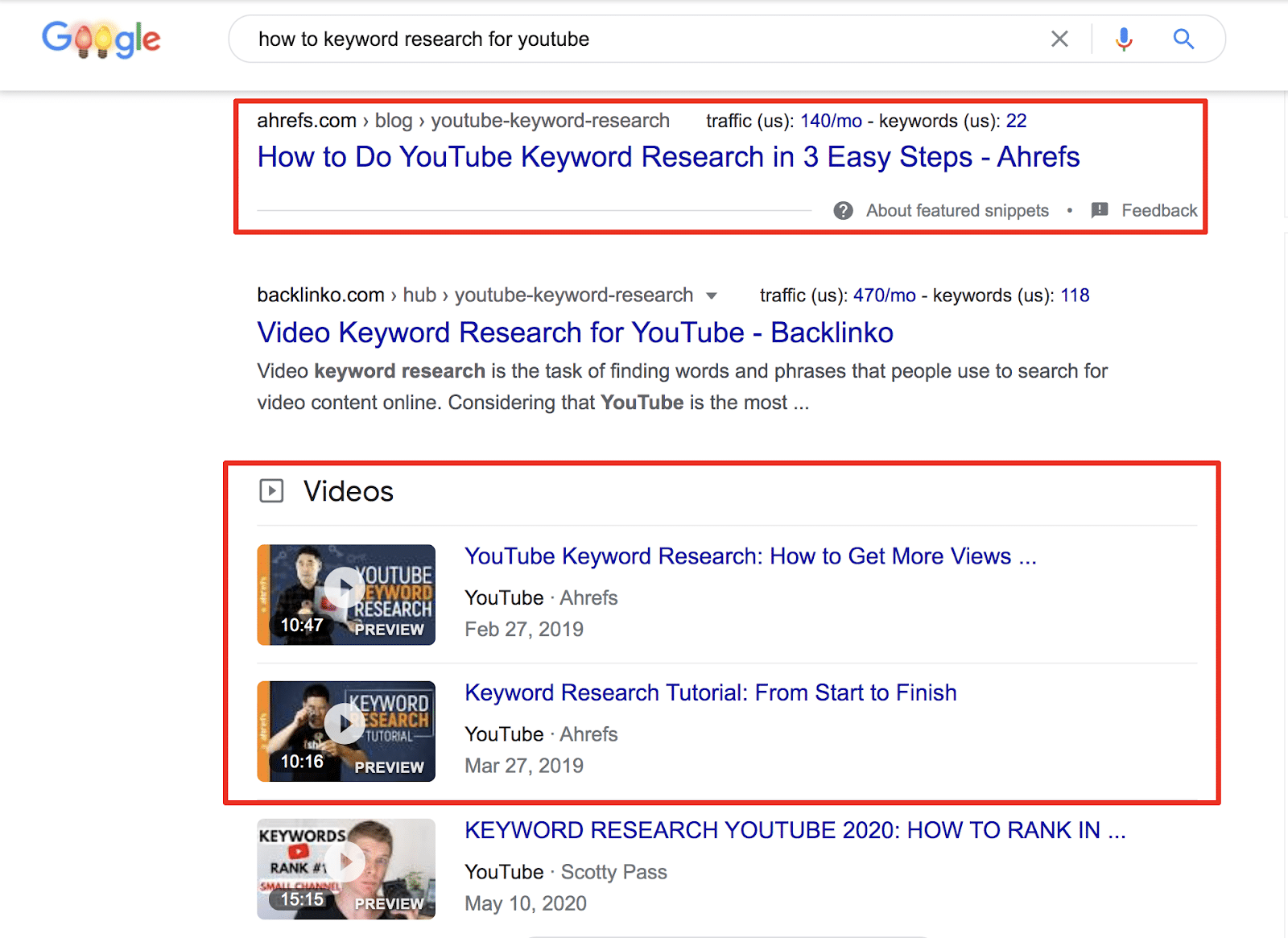 For example, when I enter the keyword phrase "how to do keyword research for YouTube" above, Ahrefs occupies multiple spots on page one from its video content and blog posts.
The more space you occupy on page one of an organic search can lead to a boost in conversion rates.
Webinars
Webinars are similar to your email list in that it's intimate. These are people who have already signed up to hear what you have to say.
And much like remote work, you can lead a webinar from your sofa.
You can also create a sense of urgency for it by telling your customers it's a one-time-only event.
Other ways to increase FOMO could be exclusive content for your attendees in the form of:
Tutorials
Guides
Product reviews
You can build a landing page solely for your attendees with a special access link (equipped with a course or affiliate offer).
Or, link to it for those who can't attend on another date with an "in case you missed it" link. 
This quote from Ry Schwartz sums up how you should approach it (and all of your marketing in general):
Hard sell the TRANSFORMATION so you can soft sell the thing that provides it
A benefit of webinars is you'll get to know them by answering their questions, which can make it an attractive medium for affiliate promotion. How come?
Because you can make your case in favor of your product.
Our Lasso co-founders held one with a small-but-highly engaged audience. They had a ton of great questions, ideas, and suggestions for Andrew and Matt.
It was a colossal win, and we want to do more of them.
Ads
Leveraging ads on social media platforms is another useful approach. These can include:
Facebook ads
Quora
Linkedin
Many digital marketing strategies are leaning more towards native ads as a traffic source generator.
They blend seamlessly within the content you're already reading (you may not even realize what you're reading is an ad).
Here's one example from Quora's site: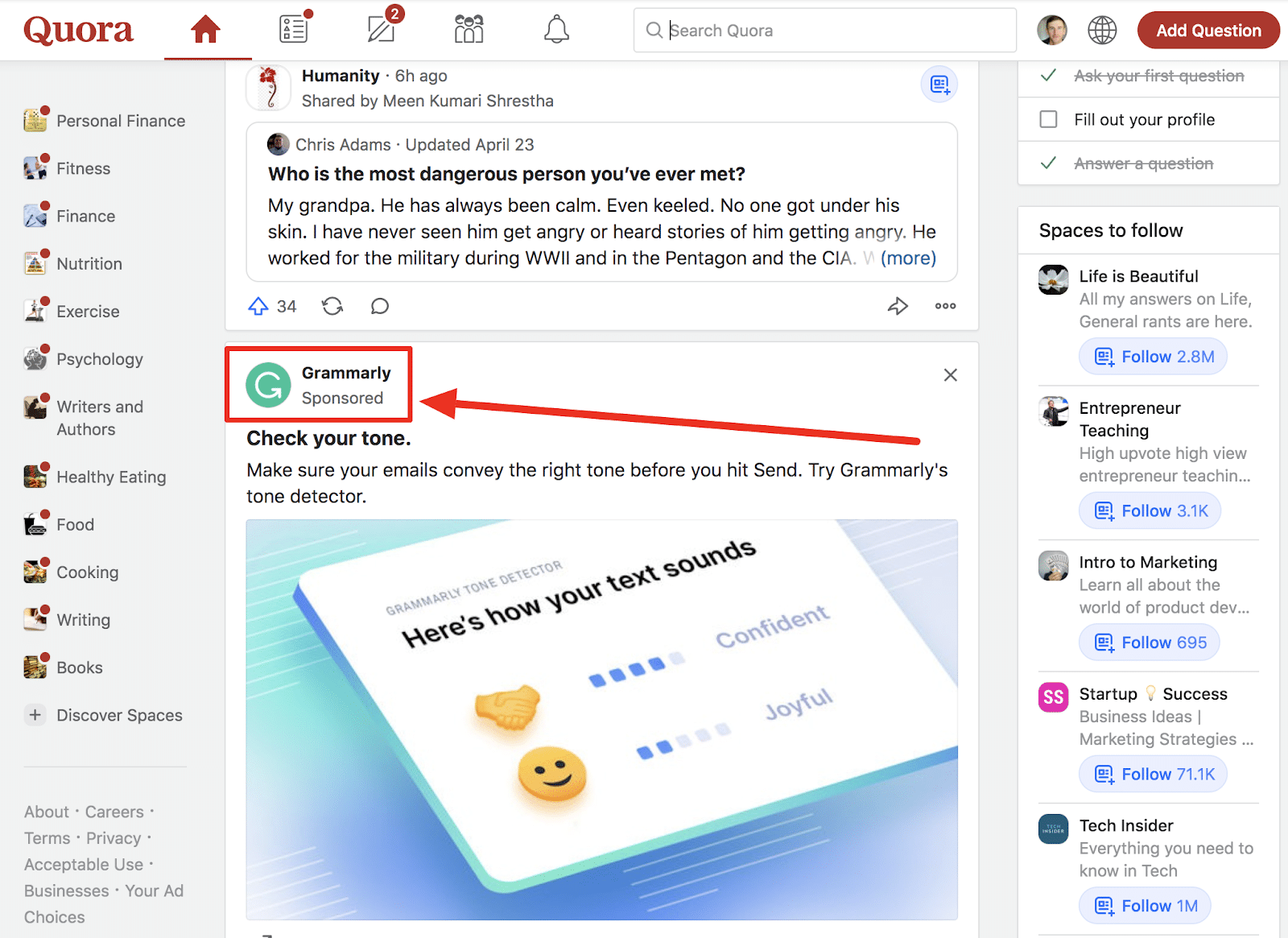 The only distinguishing factor here is that it reads "Sponsored" at the top. But make no mistake, it's an ad.
Native advertising is less intrusive than a banner displaying across your site.
This stat from ShareThrough reveals consumers look at native ads 53% more than display ads while also having:
An 18% higher lift in purchase intent
32% more people are likely to share a native ad versus only 19% for a display ad
Resources & Tools Pages
Tools and resource pages are HUGE. Our toolbox page generates 10% of affiliate income on our site alone.
For a short video explaining how you can create one in under ten minutes, head here.
Our personal finance site also earns income through digital courses, which we've placed on the same page.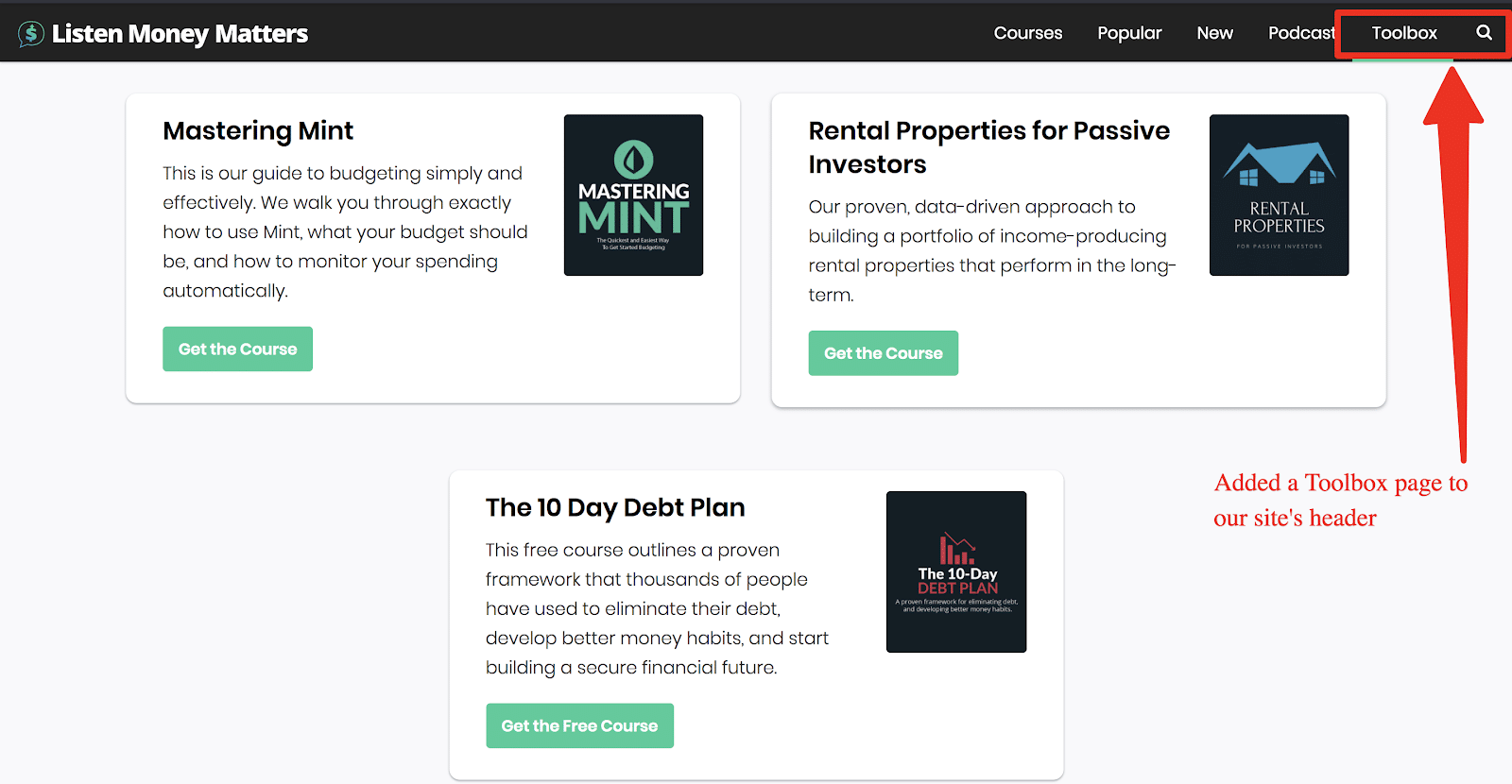 You can create a Resources page with Lasso directly inside your WordPress site.
Include Your Affiliate Disclosure
We wrote an in-depth blog post detailing the numerous ways you can include affiliate disclosures (with scripts) right here.
You must show your audience that you're in a paid relationship with your website's products that earn you affiliate commissions.
It's also vital to comply with the FTC. Why?
Because you don't want to get fined, violate its terms of service, and get kicked off of an affiliate program.
Add your disclosure before you start adding affiliate links.
Promote Affiliate Links Ethically
Your success as an affiliate marketer boils down to trust. The more informative your content is, the more trustworthy you're seen.
And the greater the chances that a reader clicks a link and buys a product. Approach your customers with a need to serve them as if your life depended on it.
Use Multiple Strategies to Boost Affiliate Commissions
When you diversify your affiliate channels, you'll increase the odds of getting clicks.
If that sounds like too much, focus only on one before moving on to a second (then a third, etc.).
Don't make the mistake of only using one method indefinitely.
For example, you might want to only concentrate on writing product reviews for your blog before creating videos and then moving to Facebook ads.
Last Words
This post includes many ways on how to promote affiliate links. There are more tactics, but I think this list will get you going.
And with affiliate marketing spending set to hit $8.2 billion by 2022, it's a proven way to make steady money. People will pay you for driving traffic to their business.
Check out our 1,200+ database of affiliate programs.
Or, read how to use Lasso's Reports so you can see all of the domains you already link to (and then check whether they have a program you can join).
Our creations in your inbox, weekly.
We've built multiple six-figure online businesses that our moms are proud of.
We'd like to help you do the same.