Have you run out of ideas on how to promote affiliate links? Let's fix that. Yes, text links in a blog post are one way, but there are various alternative options you may not have considered.
This post shows you strategies we've used to monetize our websites and popular methods we've seen others pull off with wild success. Not every approach listed here will make sense for you, so take it with a grain of salt.
But first, let's make sure we're on the same page.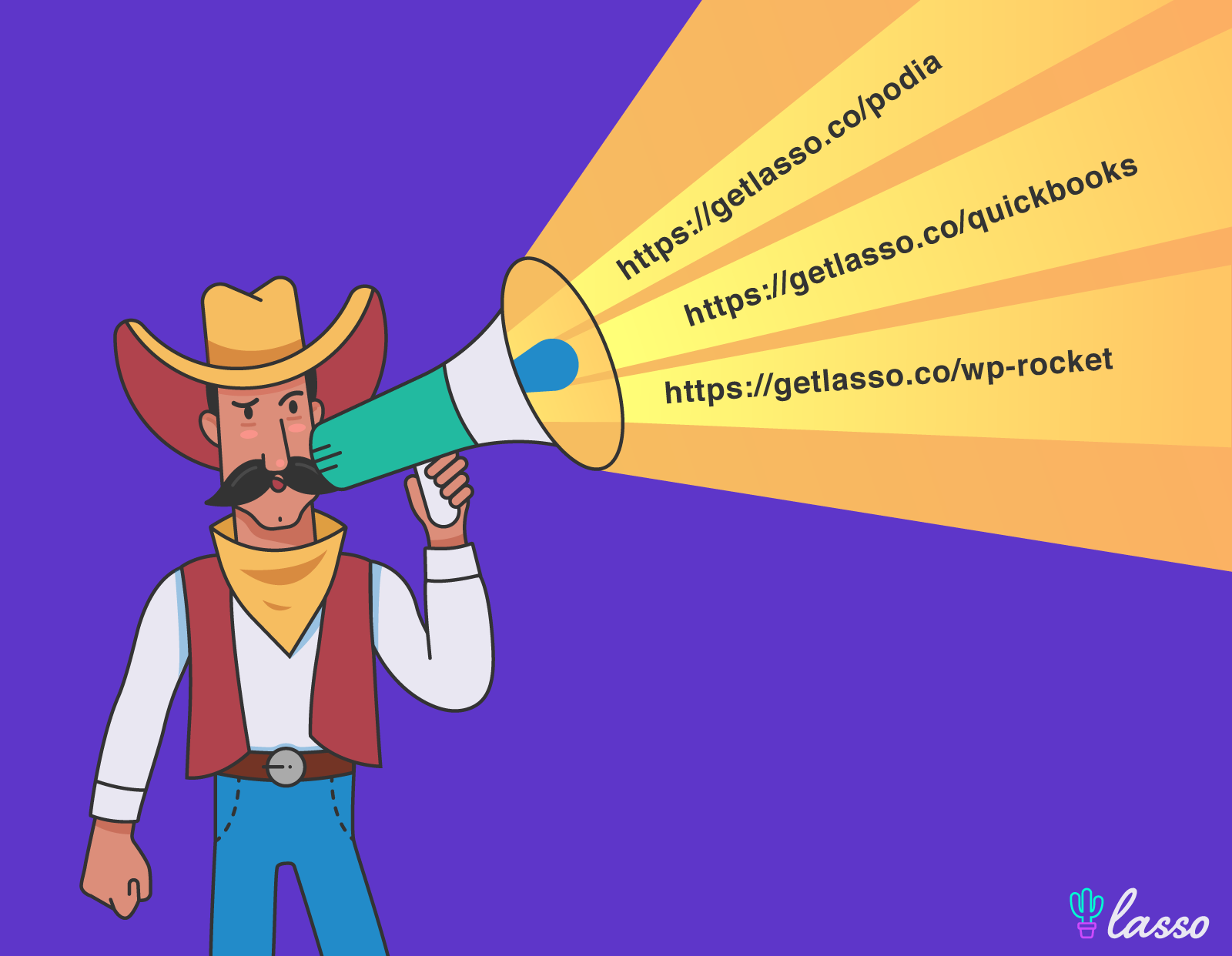 What's an Affiliate Link?
An affiliate link is a URL with a unique tracking ID that tells the seller who sent them the sale. It's the only way to get attribution for sending the merchant qualified traffic.
They're a string of numbers, letters, and characters containing specific product information baked into the link.
For example, below is an illustration of an Amazon Associates link. Typically, these links contain the following:
Affiliate ID
Product info
Merchant's domain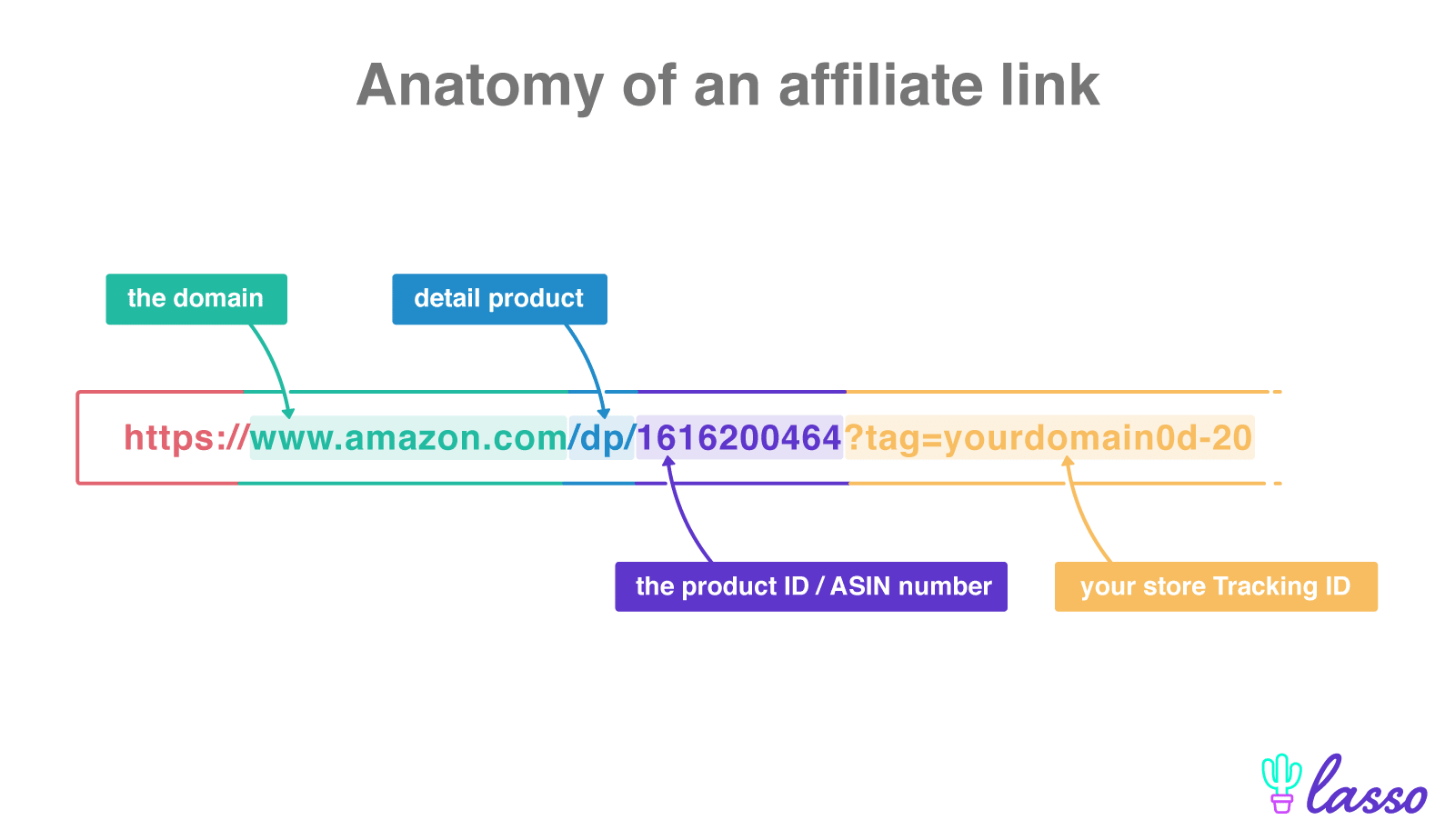 How Much Do Affiliate Links Pay?
There are various elements at play regarding how much affiliate links pay. That will depend on the program you join and its payout structure.
Some programs have a higher commission rate than others; some have one-time payouts, while others are recurring.
The industry also dictates how much you'll earn in affiliate sales.
Digital products tend to pay more than physical ones because the overhead is lower. At the same time, platforms like Amazon pay more to Associates in particular niches (e.g., beauty at 10% versus home improvement niche at 3%).
Further Reading:
11 Ways How to Promote Affiliate Links 
Here's a short list of tactics you can try to boost income beyond simple text links and banner displays on your affiliate website.
1. Product Reviews & Comparisons
Establishing trust and authority through informational content is one part of the equation. The other is targeting keywords where your audience is in "buying" mode.
The best way to attract qualified readers to click your links is to create content for people in the "commercial investigation" crowd.
These are people who have narrowed their search but haven't made a decision yet. That's where product reviews and comparisons come into play.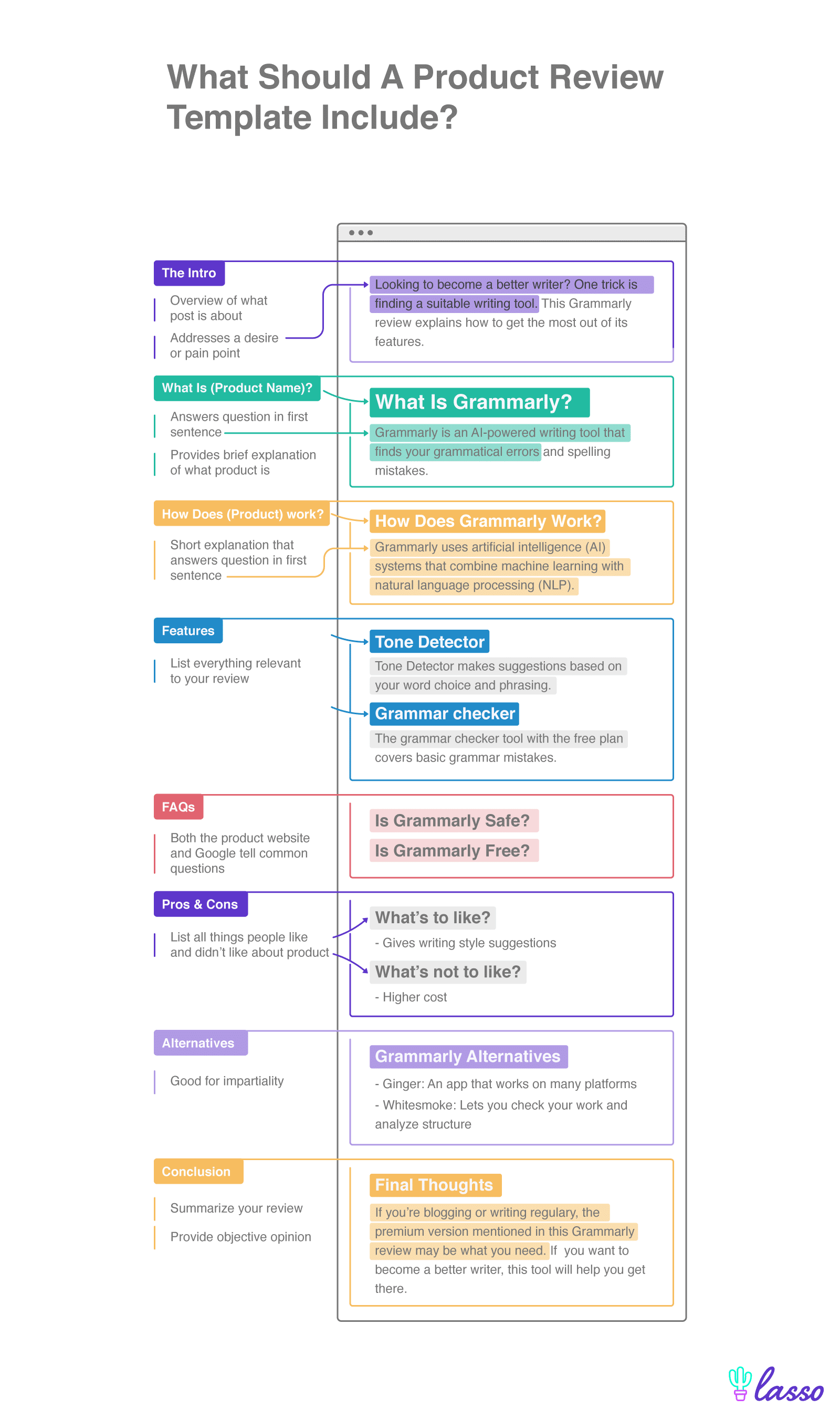 Whatever your website is about, I'm sure there are a few products you could write reviews for that would provide valuable insight for your audience (while adding your affiliate link in the process).
For example, our co-founder Matt runs a blog about homebrewing and creates detailed guides linking to relevant products that his audience finds valuable.
Product reviews account for over 20% of our affiliate commissions on our personal finance site, Listen Money Matters.
Showcase Your Affiliate Links In Single Product Displays
Simple text links and sidebar widgets aren't enough. When we tested our site to learn how visitors interacted with it, we found that people would scroll right past our affiliate links often.
But, they'd stop and click when we started promoting those same links using product displays. Using Lasso, you can create custom product displays to match your site's theme.
For example, let's say you wrote a product review about WP Rocket. Instead of promoting your affiliate link in the text, you could showcase it like this 👇
Our Pick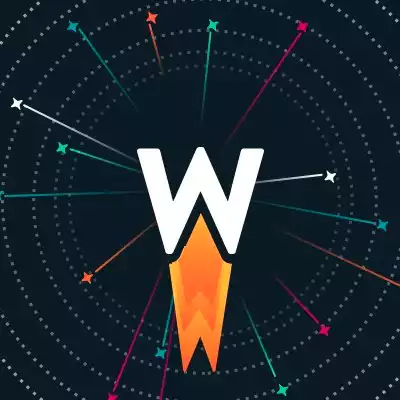 WP Rocket
Make your site load faster in a few clicks. WP Rocket is recognized as one of the most powerful caching plugins for WordPress. We use it specifically for image lazy loading.
🚀 Cache My Site
Affiliate Program
We earn a commission if you make a purchase, at no additional cost to you.
Or, if you wrote a product comparison, you could showcase the winner as we did in our WordPress vs. Wix post.
Winner and Best Overall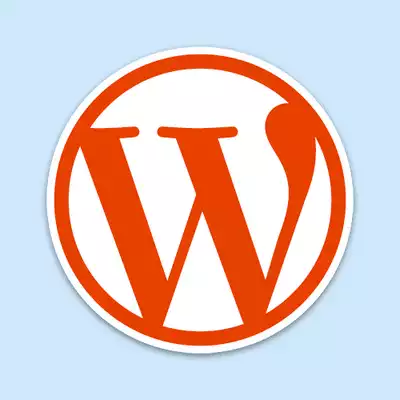 WordPress
WordPress comes out ahead thanks to unlimited flexibility, powerful themes, and awesome plugins (like Lasso) available through the community. There's a bit of a learning curve for new WordPress users but the platform's raw power more than makes up for it.
Pros:
eCommerce & SEO-friendly

Flexible hosting options

Extensive template library
Cons:
Lacks "official" customer support team
Explore WordPress.org
Once you've pasted your link into Lasso, you can create your display while seeing a real-time preview.
Below is what building the WP Rocket display looked like in Lasso's dashboard (aka its Link Details page).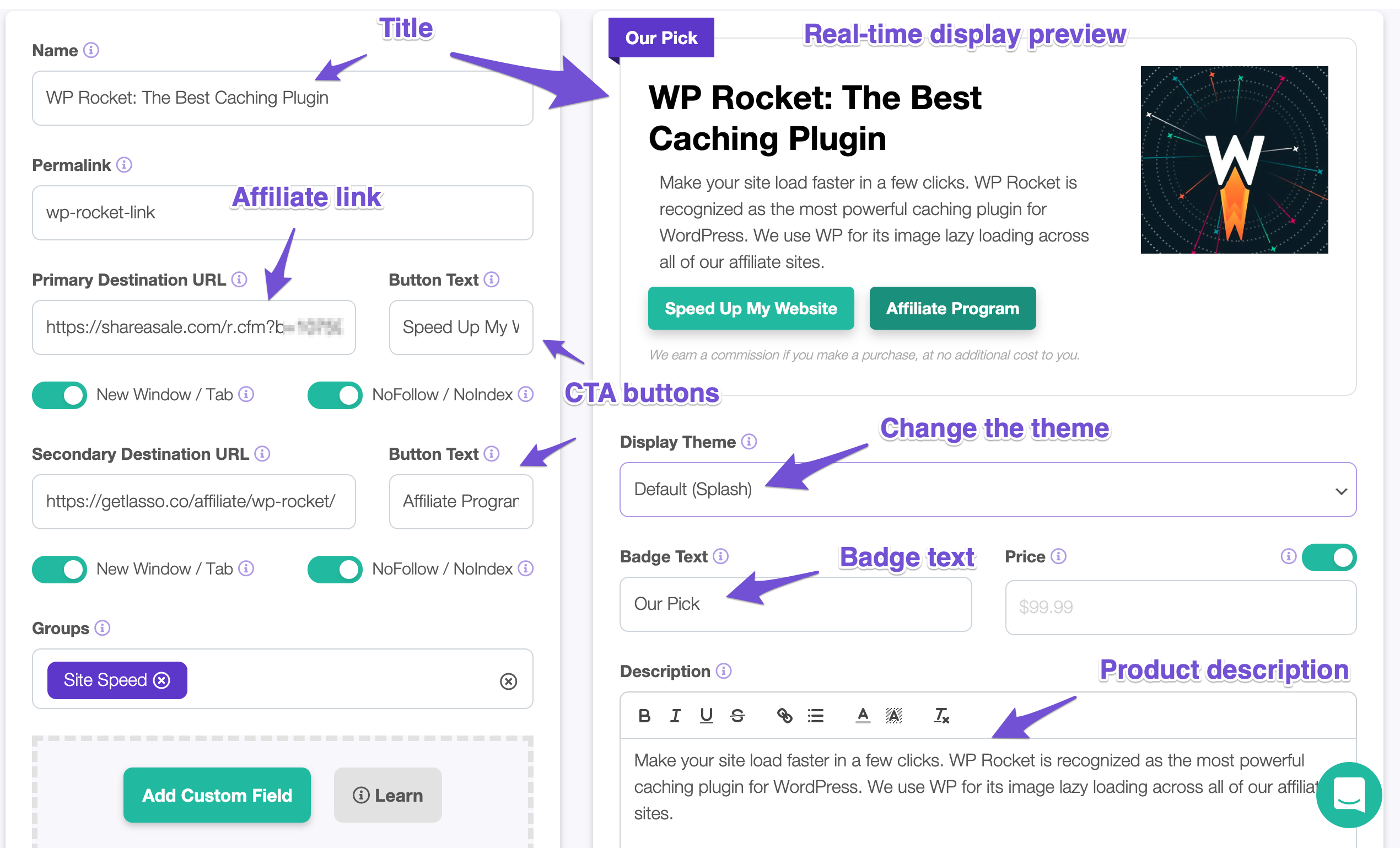 Further Reading:
2. How-to's & Beginner Guides
Another way to serve your audience is to write tutorials on using a specific product (step-by-step guides).
For example, we wrote about how to start a blog on our other site, detailing everything you'll need (and what to expect), including:
How you will fail
Takeaways & FAQs
Its growth trajectory
Your creation strategy
Getting started (with tools)
Website monetization best practices
We also include affiliate links to the tools we use to run our online businesses in that post because it's relevant, helpful, and provides value.
For example, we use WP Engine for website hosting, promoting them in a Single display with our affiliate link in that post. You can also create beginner guides and then link to specific affiliate products.
Tip: Try writing a guest post for a site that shares a common audience with yours. You can reference your affiliate links to potential customers.
3. Email Marketing
Using your email list is the BEST way to connect with your audience and is superior to any other platform (e.g., social media).
We've found it's also the quickest way to get customer feedback with the most volume.
And when using affiliate marketing, you can reach your subscribers and direct them to your blog, a landing page, or an affiliate product.
Plus, your email list isn't affected when social networks crash. Why? Because your list belongs to you and nobody else (e.g., not Facebook's). It's a simple process:
When people visit your blog, they can opt-in to your email list using a form on your website
You stay in touch with thank you and welcome emails, website updates, affiliate products, digital products, and more
The trick is to be strategic and not include affiliate links with every email you send — that's spammy.
4. Podcast Show Notes
You can promote affiliate links in the show notes of podcast episodes. Then, when you complete the recording, revisit the transcript and add affiliate links to the tools or resources you referenced on the show.
For example, if your episode was about productivity, and you mentioned how you use ToDoist and Headspace to help manage your day, link to them at the end.
Check out how Pat Flynn adds affiliate links in the show notes of his podcast episodes with a full disclosure.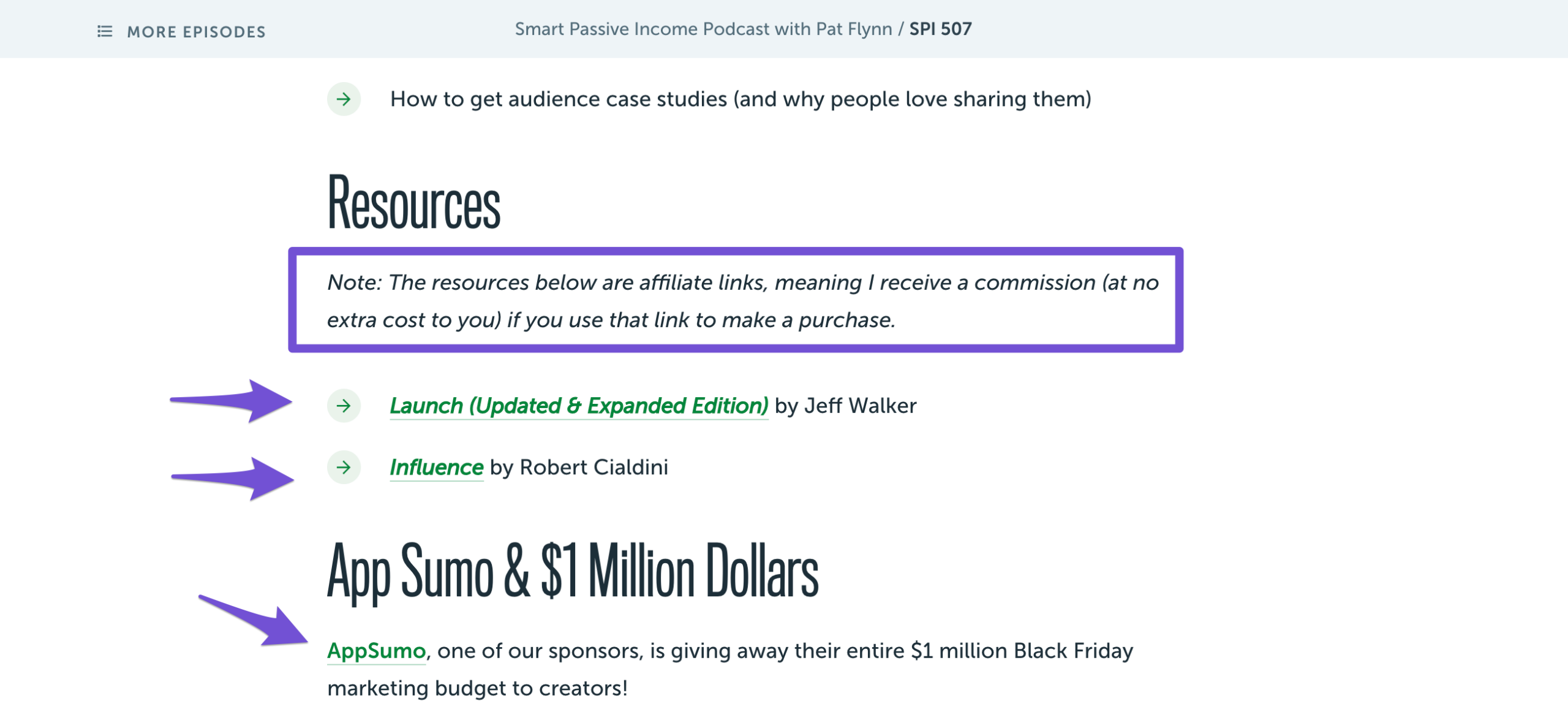 Another trick is using easy-to-remember (and say) URLs.
For example, if you were promoting your show through a referral sponsorship with Betterment, you'd say, "This episode is brought to you by Betterment. Visit listenmoneymatters.com/betterment for a link in the show notes."
See how easy that was to say?
That's an example of a cloaked affiliate link. Cloaking your affiliate URLs makes them both memorable and shareable.
If you're using a tool like Lasso, it'll cloak your URLs automatically. I mentioned referral sponsorships, but you can also try selling your guest's products (as their affiliate).
Further Reading:
5. Digital Products & Online Courses
Creating digital products (e.g., online courses or ebooks) is excellent for adding affiliate links and another way to generate passive income.
For example, if you run a photography blog, you could create a beginner's photography course with an affiliate link for a Canon DSLR camera that's perfect for beginners.
It's not salesy if you approach it with a "serve-first" mentality and your offer is relevant.
Your audience will see your authenticity as you're creating high-quality material (as opposed to just trying to clock another referral).
Our personal finance site has multiple courses with affiliate links to the tools we use (more on that below). People are willing to pay for things that make their lives easier.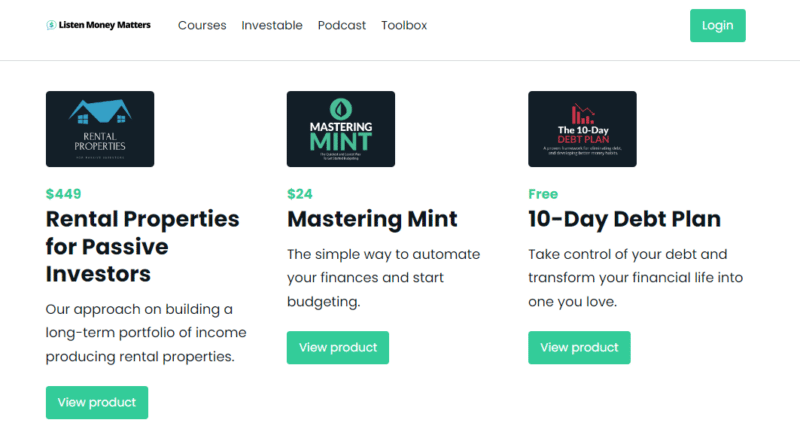 Your courses could be about anything from creating a successful e-commerce site to digital marketing to dressing better, and people will pay.
6. YouTube Videos
YouTube video content does insanely well as a promotional engine for just about anything. So it's still on our shortlist of something Lasso could do.
Our co-founder Matt has had outstanding results using only basic animated videos in generating course sales and affiliate income.
Check out an example of how he does it here. Notice how he promotes his offers in the comments below the video 👇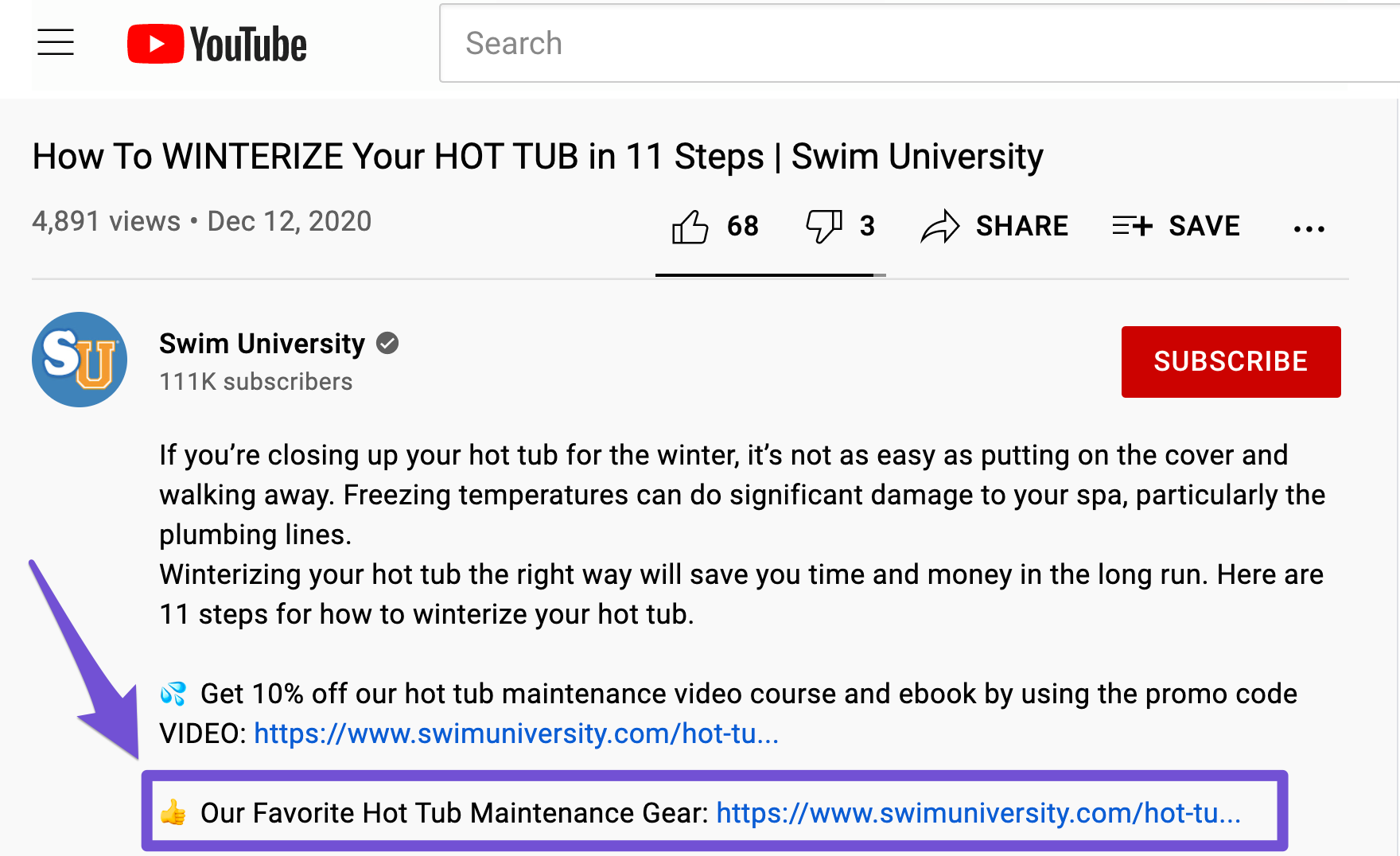 Placing your link in the comments can also help to start a conversation with your customers.
The more comments a video has, the more YouTube sees people like it (potentially helping increase visibility with its search engine).
The opportunity on YouTube is more significant than search SEO, but the drawback is it's more labor-intensive.
Google owns YouTube. So, you could potentially increase your SERP real estate by doing well in both Google AND YouTube's organic search engines – an SEO win.
For example, when I enter the keyword phrase "how to do keyword research for YouTube," Ahrefs occupies multiple spots on page one for both video and blog posts.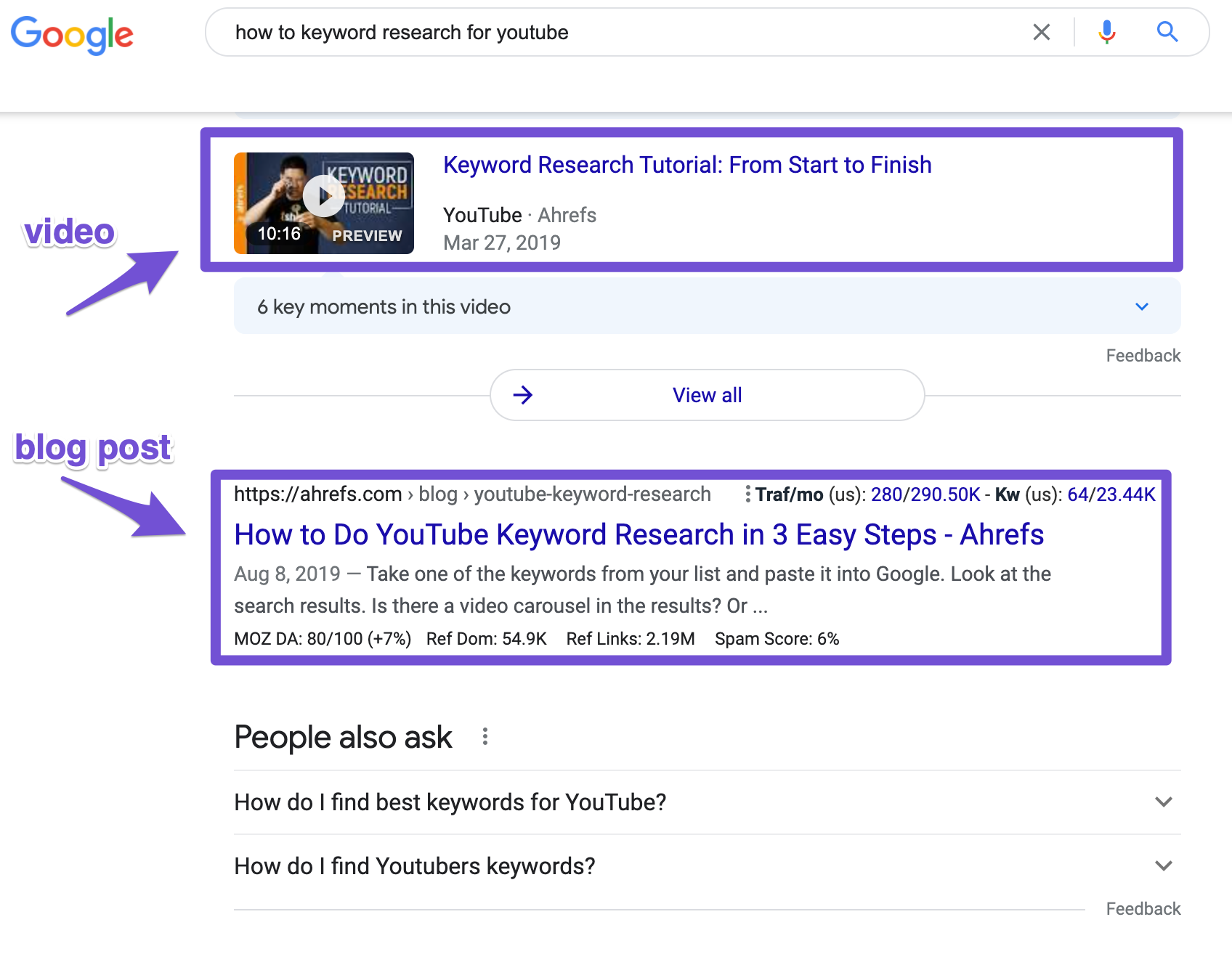 Tip: If you're looking for more ways to share video content, try TikTok.
7. Webinars
Webinars are similar to your email list in that it's intimate. These people have already signed up to hear what you have to say.
And much like remote work, you can lead a webinar from your sofa. You can also create a sense of urgency for it by telling your customers it's a one-time-only event.
Other ways to increase FOMO could be exclusive content for your attendees in the form of:
Tutorials
Guides
Product reviews
You can build a landing page solely for your attendees with a unique access link (equipped with a course or affiliate offer).
Or, link to it for those who can't attend on another date with an "in case you missed it" link. This quote from Ry Schwartz sums it up best:
Hard sell the TRANSFORMATION so you can soft sell the thing that provides it
A benefit of webinars is that you'll get to the attendees by answering their questions, making them an attractive medium for affiliate promotion.
Our Lasso co-founders held one with a small but highly engaged audience. They had many great questions, ideas, and suggestions for Andrew and Matt. It was a colossal win, and we want to do more of them.
Click here to watch the lastest Lasso Webinar.
8. Paid Ads
Leveraging ads on social media platforms is another helpful approach. These can include:
Facebook ads
Quora
Linkedin
Many digital marketing strategies lean more towards native ads to drive affiliate marketing traffic.
They blend seamlessly within the content you're already reading (you may not even realize what you're reading is an ad).
Here's one example from Quora's site: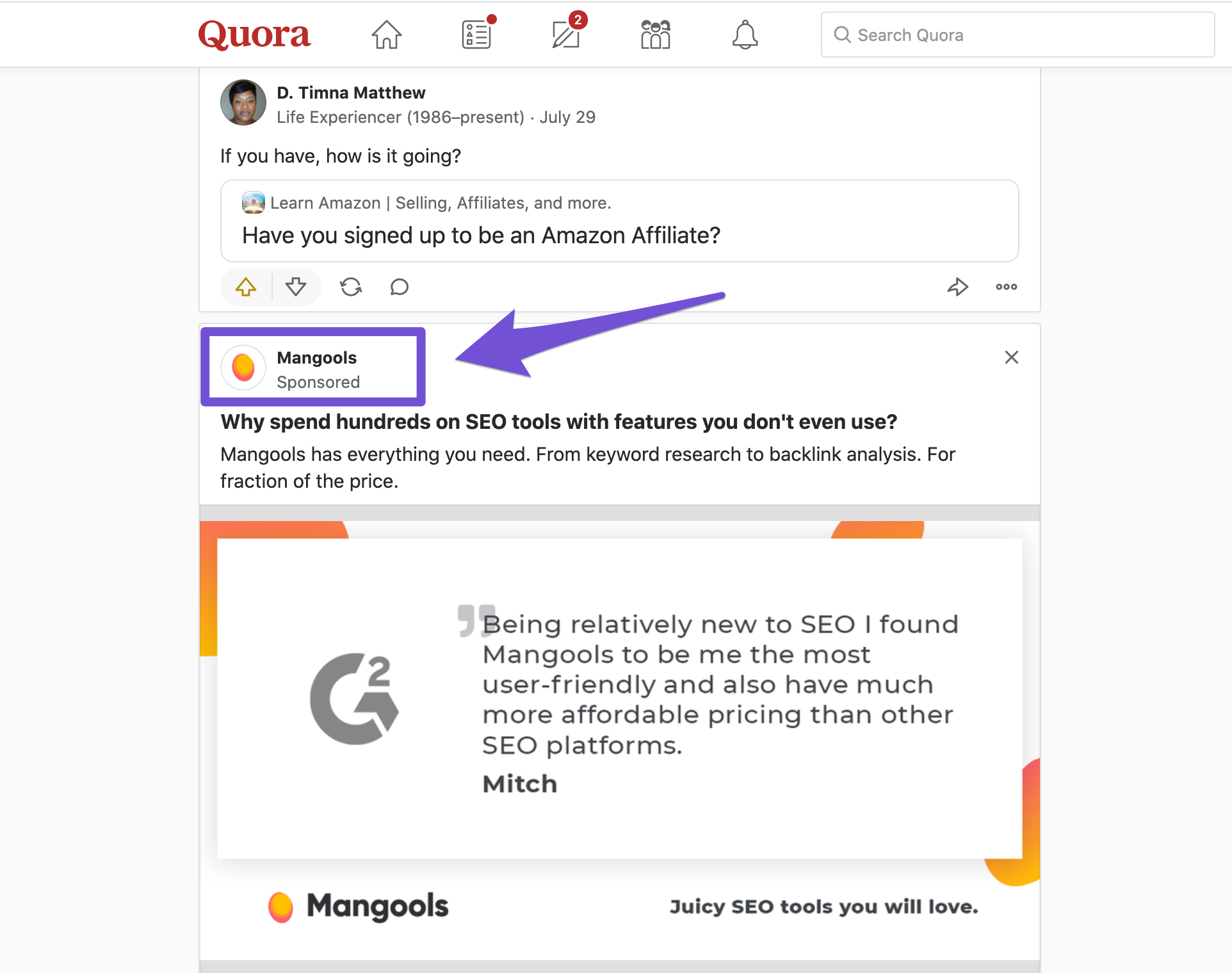 The only distinguishing factor is that it reads "Sponsored" at the top. But make no mistake, it's an ad. Native advertising is less intrusive than a banner displayed across your site.
This stat reveals consumers view native ads more than display ads while also having:
53% more views than display ads
A CTR 8.8x higher compared to display ads
If you want higher conversion rates, native ads might make more sense.
You can also access the same social media forums listed above and promote affiliate links when it makes sense. The trick is to be selective about where you place your link and to use it sparingly.
9. Resources & Tools Pages
Tools and resource pages are HUGE. For example, our toolbox page on our personal finance site generates 10% in affiliate income – and that's only from a single page.
It also earns income through digital courses, which we've placed on the same page.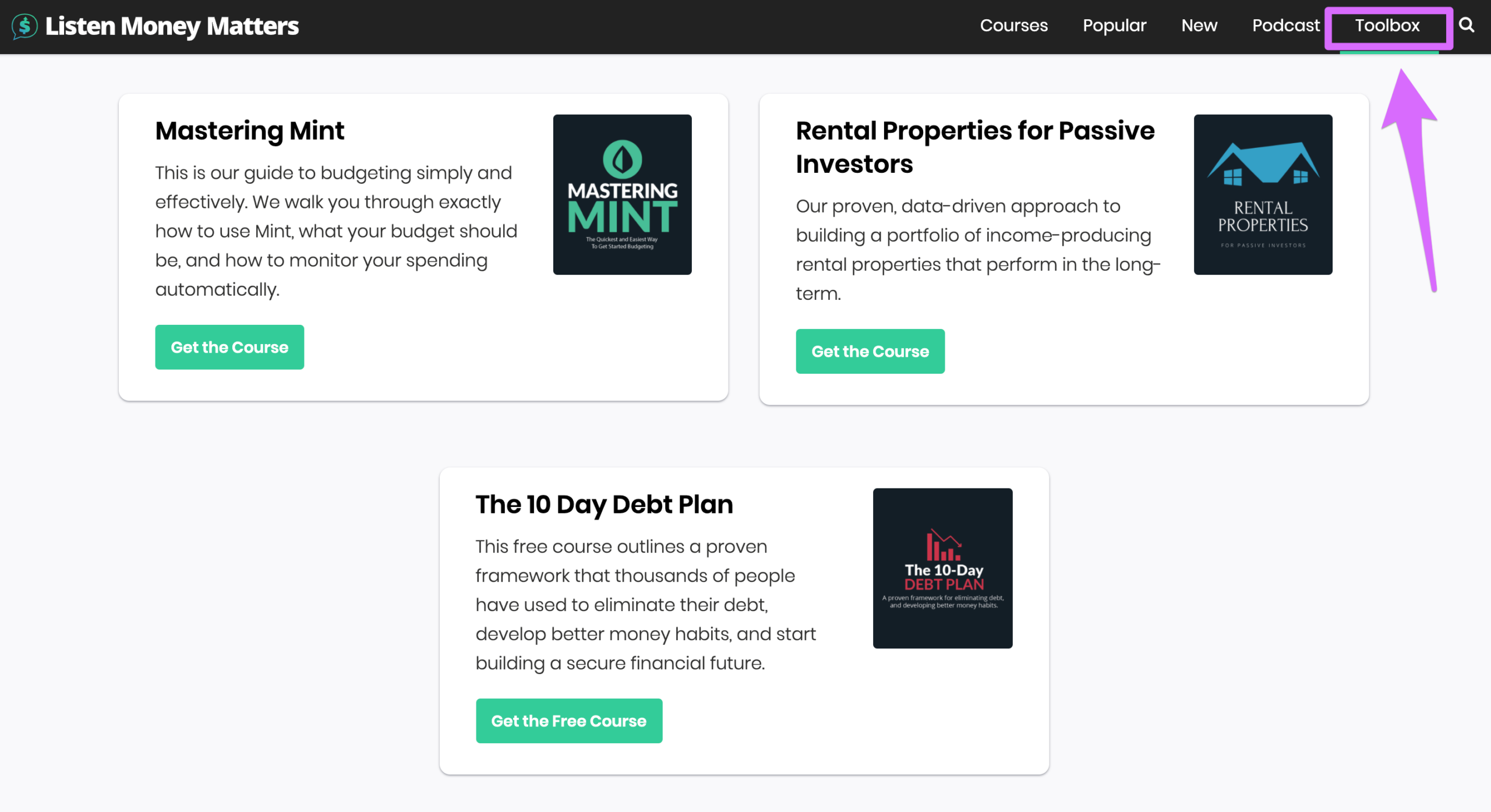 Further Reading:
10. Instagram
Many bloggers and influencers use Instagram to connect with their audience. While you can't link to products with each image you post, there are a few ways of bypassing this.
First, you can add links to your bio. For example, if you're a brand ambassador and always link to the same product, you can set it and forget it.
If every post features something different, you'll have to update your bio with the most current link. The drawback is that someone clicking an older post will wind up on a different product page, so this method isn't perfect.
The way around this is creating a shoppable Instagram gallery with a link in your bio. This is similar to creating a Resources page on your blog. You can include all of your affiliate links in one place.

Solutions like Bazaar Voice's Like2Buy let you build a virtual storefront where your followers can see your recommended products.
If you have 10k followers, you can add affiliate links to Instagram stories.
This method can have a high ROI because you've taken the time to build trust and authority with your followers, who you're now leveraging at scale.
11. Facebook Pages
Create a Facebook account (either personal or business) to engage with your audience. Then, when it makes sense, include affiliate links to products and tools you recommend.
Try creating a Facebook group focused on a single topic to qualify your readers. You'll find this audience segment more engaged with what you're promoting.
Don't make the mistake of using Facebook as a "selling" platform.
Focus on creating value for your readers with every post, build trust, and don't spam them with irrelevant links.
If you've already built a large community but haven't considered promoting on the platform, now's the time.
Affiliate Marketing Best Practices
If you're trying to level up your affiliate marketing game, the below tactics will help you get there. These are the best tips to boost trust with your readers (and commissions for your bottom line).
Include Your Affiliate Disclaimer
We wrote an in-depth blog post detailing how you can include affiliate disclosures (with scripts). You must show your audience that you're in a paid relationship with your website's products that earn you affiliate commissions.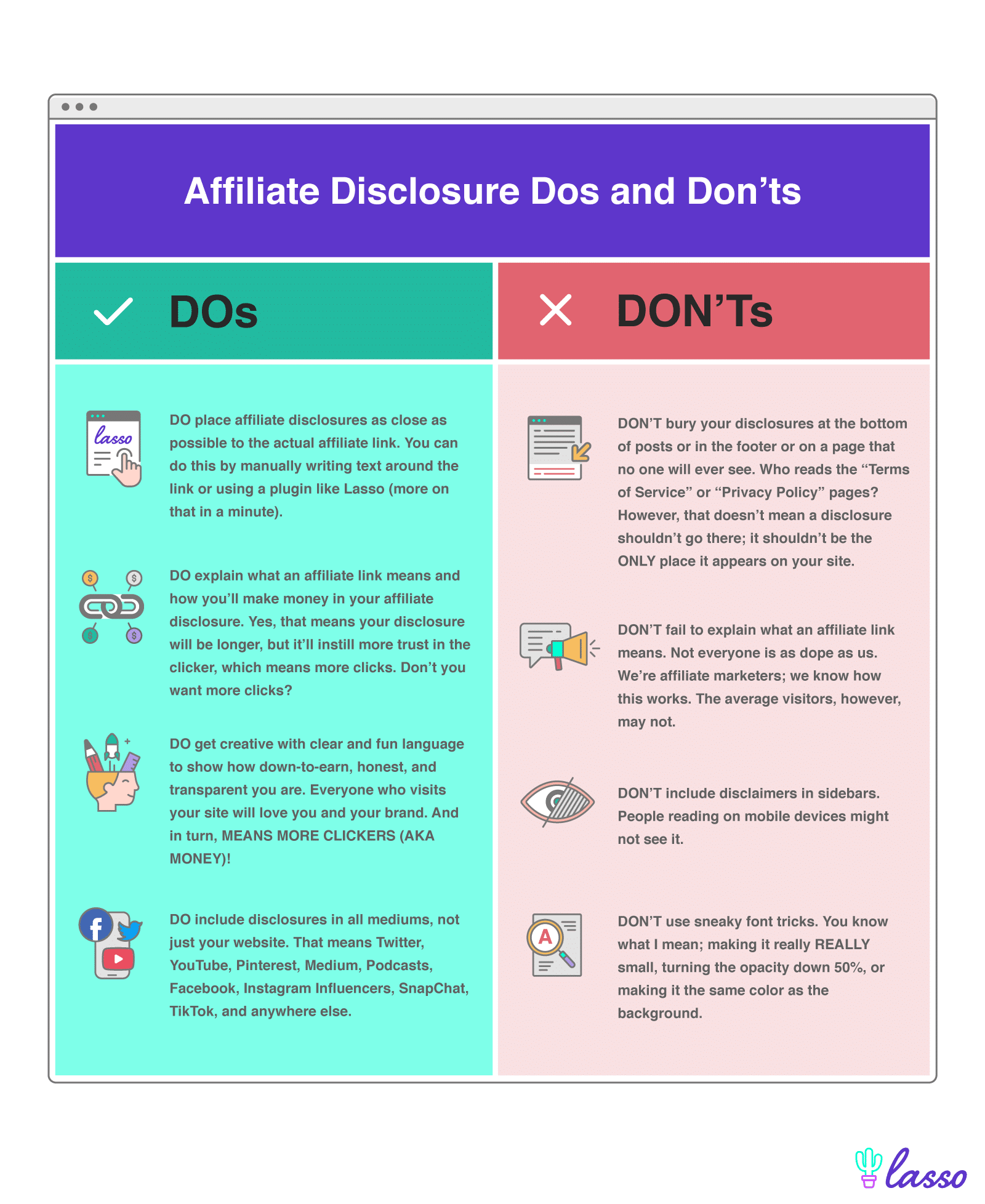 It's also vital to comply with the FTC. Why?
Because you don't want to get fined, violate its terms of service, and get kicked off of an affiliate program.
Tip: Add your disclosure before you start adding affiliate links.
Further Reading:
How to Get Affiliate Links
You'll need to join an affiliate program to get your links before you can get paid for promoting products on your site.
There are several large affiliate networks you can start with, including:
Clickbank
ShareASale
Impact Radius
Here's what that looks like…
Let's say you joined Impact Radius and want to monetize your affiliate site with a merchant link via their platform.
You'd copy the link from the merchant you're promoting and paste it into Impact's dashboard.
Here's a screenshot of what it'd look like to paste the product link from Drizly (a merchant found on Impact's network) into Impact's dashboard.
Impact generates an affiliate link for you.

Then, for example, if you're using our affiliate plugin Lasso to promote your links, you'd click "Add New Link."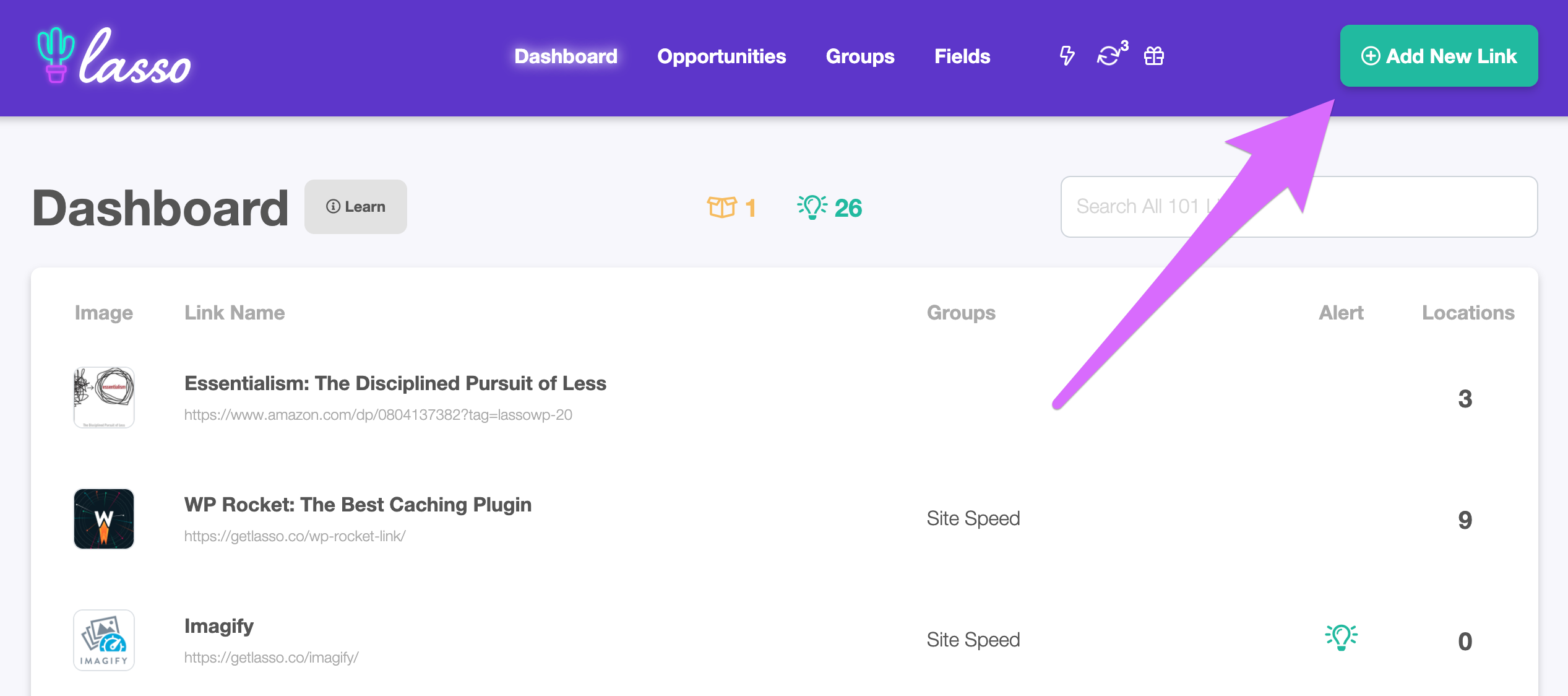 Then paste your Impact link into the dashboard.

Your affiliate link is now added to Lasso!
Next, when writing your article inside WordPress, click the cactus icon in the menu bar.
Lasso will give you the option to choose a display type.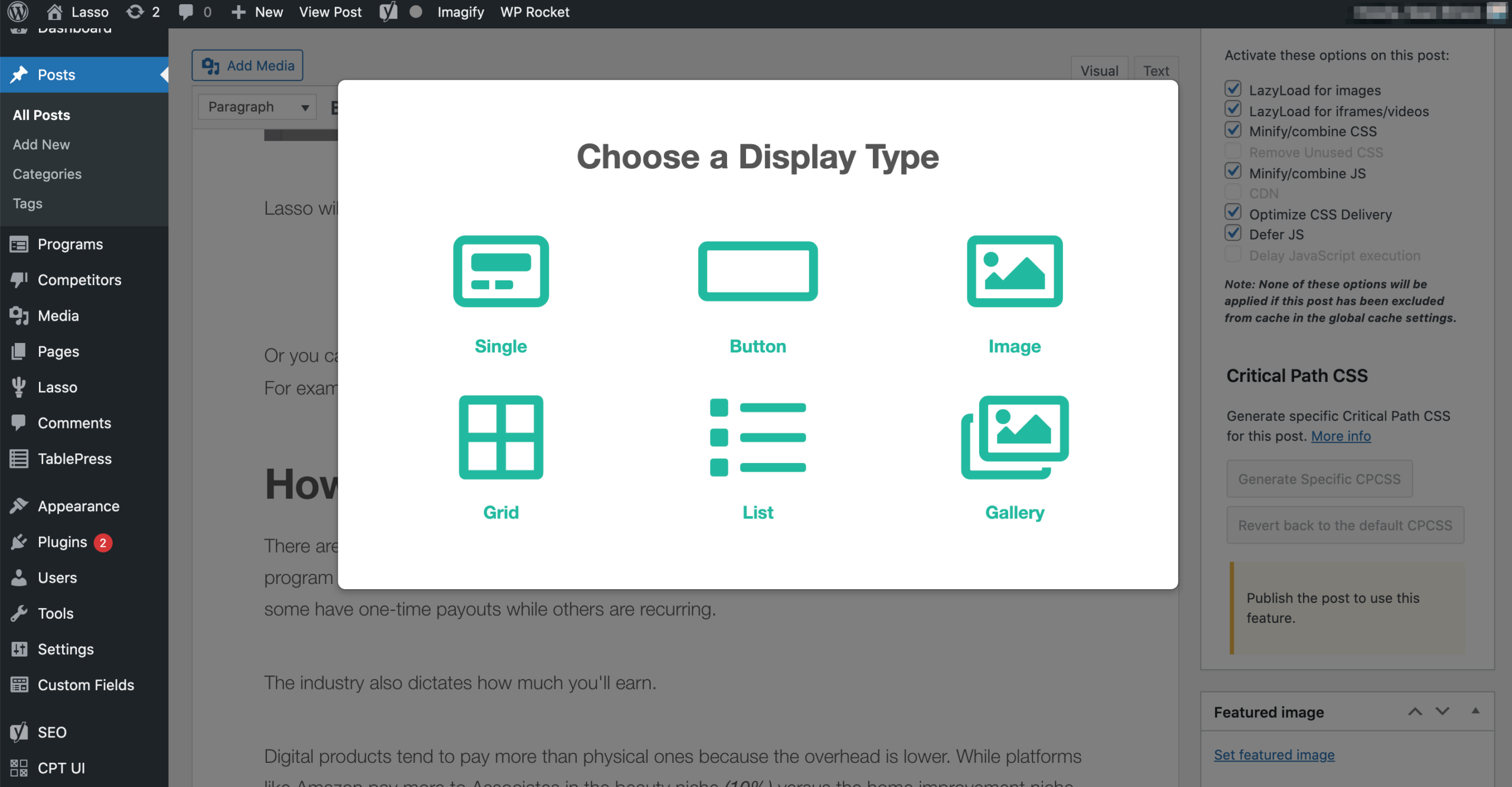 Finally, select how you want to promote your link and you're set (be sure to keep reading to see our "Single" display in action).
You can also bypass large affiliate networks like Impact and sign up for the merchant's program directly.
For example, if you wanted to join Lasso's affiliate marketing program, you'd sign up on our website.
Tip: Befriend your affiliate managers. A healthy partnership equals a healthy marketing campaign.
Further Reading:
How to Track Your Affiliate Links
It's a best practice to track your affiliate links because you need to know what's performing well and what's not. There are many ways to do it.
We've found the best success with connecting Lasso to Google Analytics (GA). Once you've copied and pasted your GA tracking ID into Lasso, you can see metrics like your click data.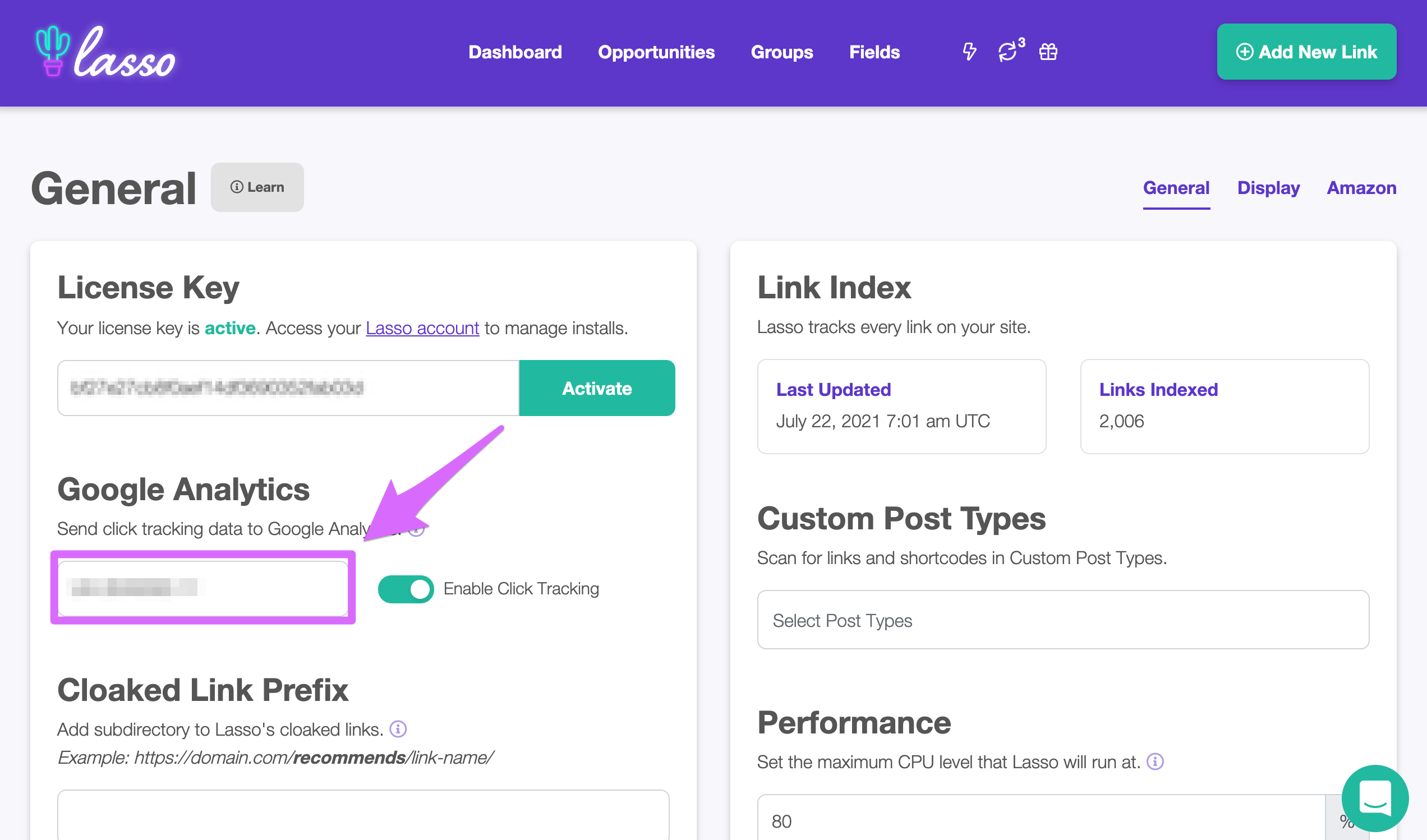 Then, head to GA and view your top Events by page or product. To do this, go to:
Behavior
Events
Top Events (shows the most clicked products on your site) or Pages (top-clicked products in each blog post)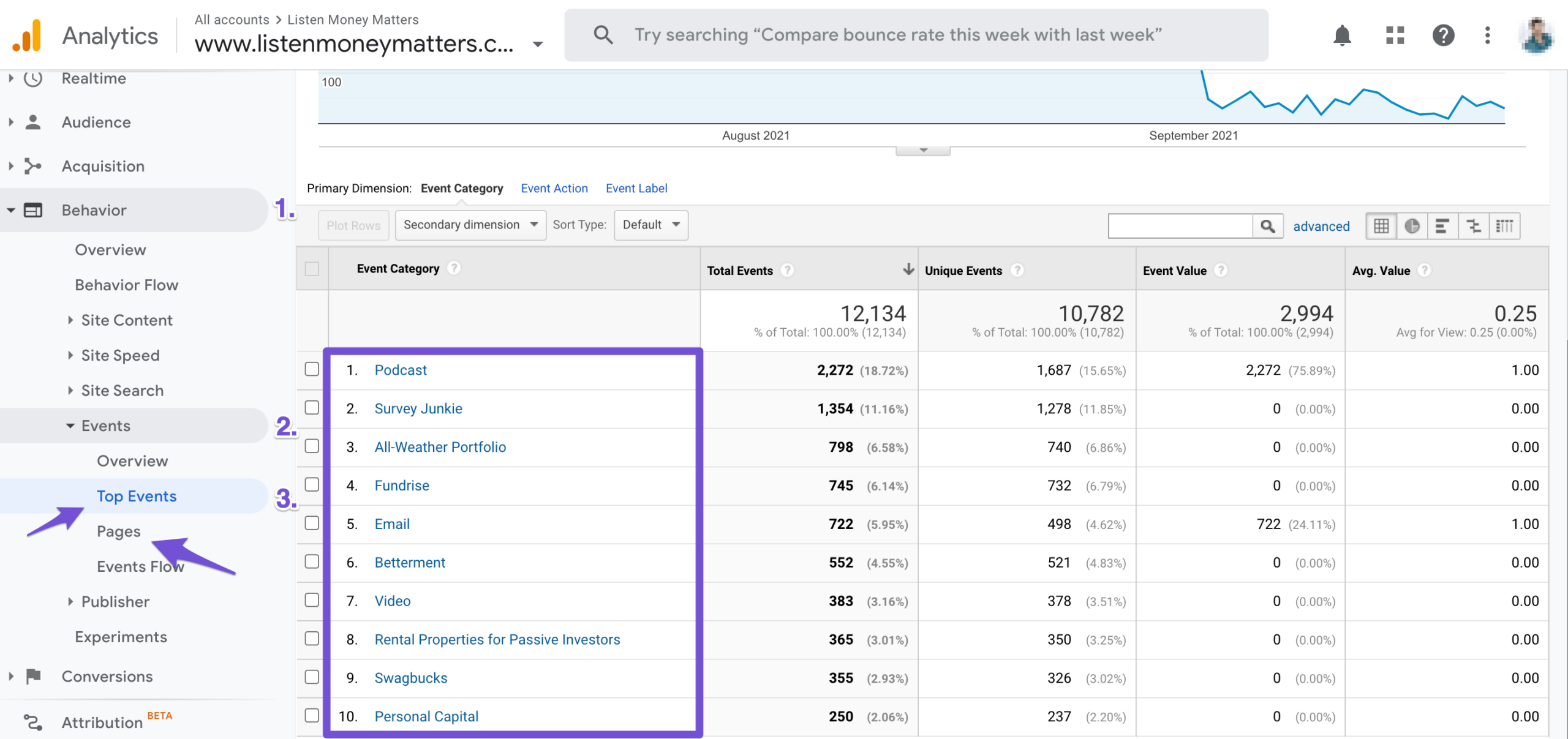 You can also append sub IDs to your affiliate links for enhanced tracking.
Promote Affiliate Links Ethically
Your success as an affiliate marketer boils down to trust. The more informative your content is, the more trustworthy you appear.
And the greater the chances that a reader clicks a link and buys a product. Approach your customers with a need to serve them as if your life depended on it.
Use Multiple Strategies to Boost Affiliate Commissions
When you diversify your affiliate channels, you'll increase the odds of getting clicks.
If that sounds like too much, focus only on one before moving on to a second (then a third, etc.). Don't make the mistake of only using one method indefinitely.
For example, you might want to only concentrate on writing product reviews for your blog before creating videos and then moving to Facebook ads.
Does Affiliate Marketing Work?
Yes, affiliate marketing works. When looking at the data for the term "affiliate marketing" over the past five years, it's trending up.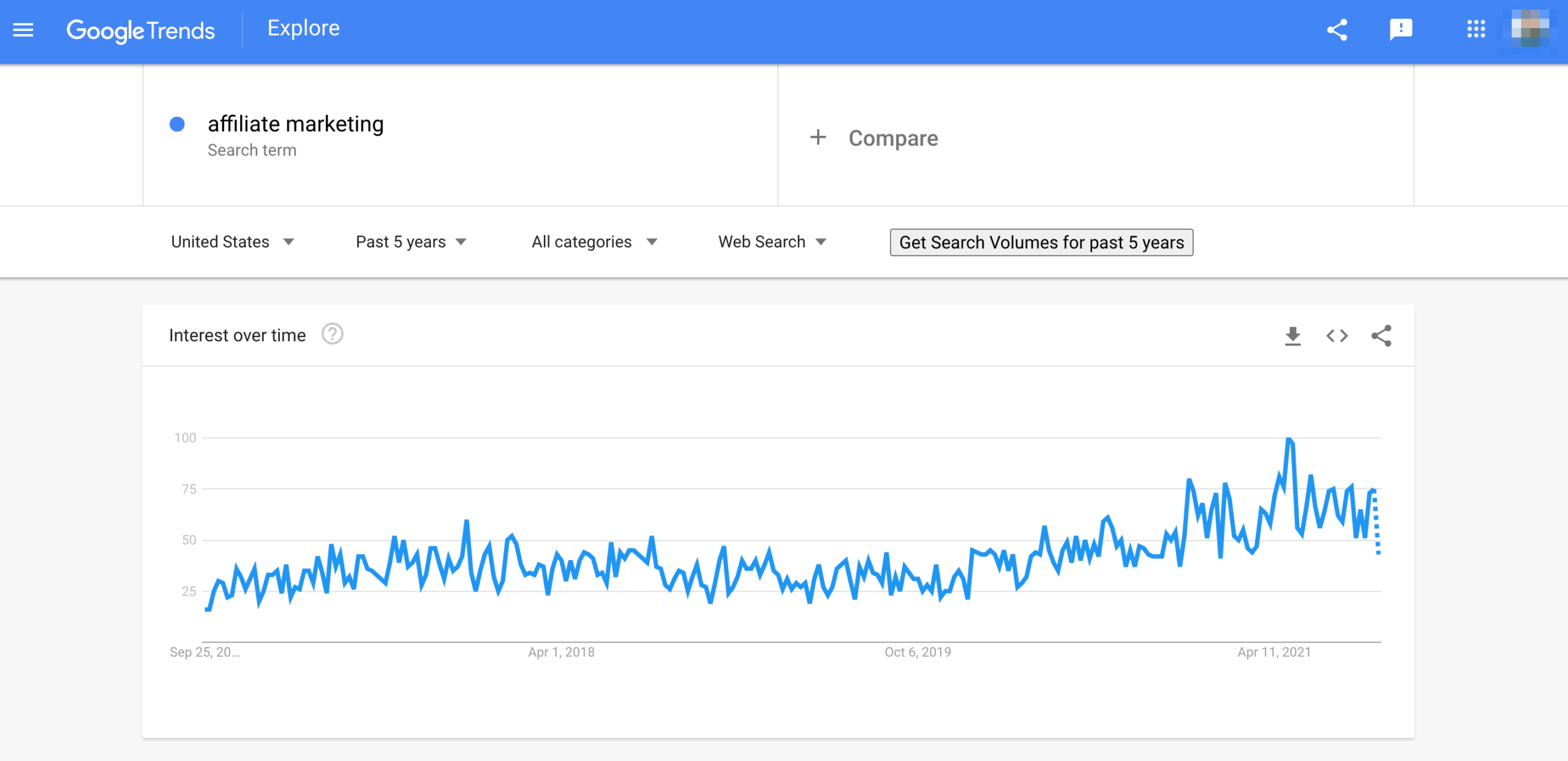 And these below stats confirm that the industry is still on the rise with high income potential for creative, hard-working individuals.
Last Words
You don't need to use every method on this list. In fact, we advise against that because you don't want to spread yourself too thin. The alternative is to focus on one channel, test, and track your results.
This will help you eliminate methods that don't work.
Promoting affiliate links doesn't have to be complicated. Ready to find out how Lasso will help grow your business? Sign up for Lasso today.
Our creations in your inbox, weekly.
We've built multiple six-figure online businesses that our moms are proud of.
We'd like to help you do the same.