Table of Contents
How The Largest Product Affiliate Marketer in the Netherlands Uses Lasso To Make $1m+ Per Year
Snapshot
Niels Zee runs a portfolio of affiliate sites, and is the largest product affiliate SEO in the Netherlands. With over 4900 Lasso displays across his sites, Lasso saved him and his team hundreds of hours of time creating displays manually, and the Lasso displays improved CTR (clicks to affiliate links) by around 50%, and increased conversions – earning him more money.
Intro
Despite being such an accomplished affiliate marketer now, the roots of the story trace back to having trouble sleeping.
"My name is Niels, and I was a very bad sleeper. I slept 5 hours a night, and was very frustrated around getting to bed and grumpy most days due to a lack of sleep. 
"With my SEO experience I wanted to set up a site, and it seemed perfect to immediately blog about sleep while learning about sleep! 
"That's how we founded our first affiliate website slaapwijsheid.nl. It was a topic I was deeply concerned about and very interested in. It kept me motivated, even when after 6 months of launching the site I'd only get 40 visitors per month."
Just as we saw with in our previous case study about how Lasso helped Shawn Hill, passion about the topic was key to the eventual success.
"We started with lots of informative content and a few product reviews. And by measuring the visitors, clicks and revenue per page, we quickly saw that every product review we published would rank. We were 'lucky' that with COVID a lot of people were sleeping badly, and would sit inside spending their money on every product possible.
"A year later, I got myself a cat and discovered how much stuff you need to buy to keep the cat happy and healthy. So we started happy-animal.nl. Then we quickly bought our first two affiliate sites, debestekeukenmachine.nl and debesteblender.nl."
Using his passions, Niels quickly expanded his portfolio. But, he had a key problem.
Niels's Problem
"We quickly found that the biggest lever in getting more clicks to products as an affiliate is how you display the product. 
"We were non-technical marketers with very basic CSS knowledge. We had a solution, but for each product we had to edit the HTML block to insert the image, which is a lot of work and error prone. 
"Creating a great, professional looking product display was out of reach for us."
This echoes what other successful niche site SEOs we speak to feel all the time. 
Shawn Hill felt the same when he was making displays manually. It's a frustrating feeling when you can't present your passion project as a legitimate brand, and when you want to have the same professional aesthetic as the larger companies in the space.
Thankfully, Niels found a solution.
The Solution: Lasso
"When we found GetLasso, we immediately had a 'this sells' feeling. It was more professional and easy to implement. 
"We tested it on the site and we saw a CRO & CTR improvement, that's when we implemented it to all our sites. The display was also intuitive. 
"It also had all the requirements needed (easy to implement, no BS, reliable, support that responded fast, and custom settings like being able to not display things like the price)."
This is a clever strategy whenever testing a new tool. Do a first test on one website, or on a selection of pages, and measure the results. Then, if it works, expand it to your portfolio.
We love it when we hear customers want to test Lasso against another option they're currently use it, and we welcome being benchmarked! 
As affiliate marketers ourselves, we want to make sure you're getting the best results, and we want to be put through our paces to prove we can deliver you those results.
"4 years later, now we have 7 affiliate websites doing 6 figures/month in affiliate revenue. We've bought 4 websites, and started 3 from scratch. We'll never start sites from scratch anymore because it takes too long for them to rank and buying sites front-loads a lot of work and results.
"We have around 700 product reviews with each around 7 products which equals over 4900 GetLasso snippets on our websites.
"We're currently the biggest product affiliate company in the Netherlands and we use GetLasso."
This is an extraordinary achievement by Niels Zee and his team, turning his difficulty sleeping into a 7 figure per year business empire. And we're elated that Lasso was able to help Niels on his journey in our own small way.
For more details, here's the exact results:
The Results
"We use GetLasso because with it, we're sure we've 100% maxed out our product displays performance regarding CTR (click-through rate) & CRO (conversion rate optimization), and can focus on things like great content and product testing instead of struggling with unreliable product displays.
"It was easy to implement. We just created an SOP and outsourced it to our Philippine VAs (shoutout to them!).
"After only changing the product snippets to GetLasso snippets we saw this result in a month time on one of our sites, a 16.79% increase in organic traffic:

"Logically, we scaled it up to all our sites that are on WordPress."
Most interestingly, while organic traffic did increase, the total events on the page increased by even more – 23.03% from a 16.79% increase. 
This means that adding the Lasso displays increased the number of clicks to affiliate displays (which show up as Events in Google Analytics) by almost 50% versus the previous displays!
What else have you found helpful with Lasso?
"What I found helpful with GetLasso is that you can track Click Events with it automatically in Google Analytics which is a must-have for affiliates."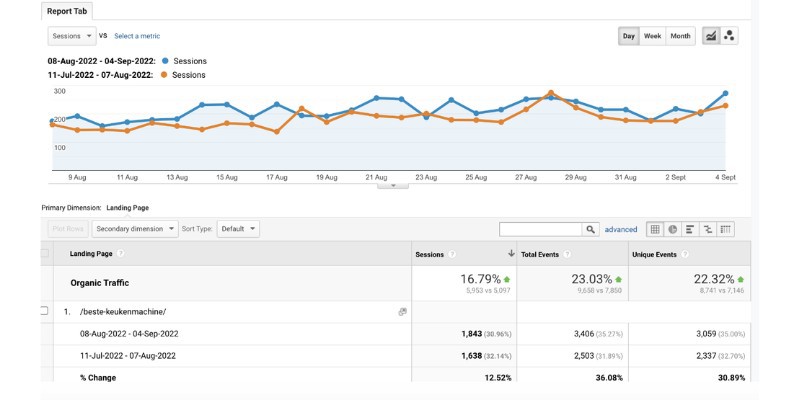 You can read more about Event tracking that Lasso does for you in our Click Tracking Analytics feature page.
From what you've learned, do you have any advice for other niche site owners looking to earn more?
"I notice that most affiliates are SEOs. All they think about is more content and more links. 
"It's stupid, because with great product displays, overview tables, good converting CTAs and A/B tests, you can really squeeze out twice as much conversions out of the same amount of visitors."
We're delighted to have helped Niels Zee's portfolio of excellent affiliate sites to become the biggest product affiliate marketer in the Netherlands. 
His experience echoes what a lot of our customers feel: 
How Lasso saves them time and maximizes their conversion rates, so that they can focus on the most important things: creating incredible content for their readers.
You can follow Niels on Linkedin here to read more about his success.
Our creations in your inbox, weekly.
We've built multiple six-figure online businesses that our moms are proud of.
We'd like to help you do the same.