Barron Cuadro runs a men's style website called Effortless Gent. It helps guys look sharp (effortlessly) with a lean, minimalist wardrobe.
He and his team publish tons of style tips, outfit and buying guides, product reviews, and comparisons.
Barron started EG eleven years ago as a side project.
He wanted to combine his day job skills (design and web development) with his love of writing and a deep interest in clothing.
At first, it was just a blog.
But over the years, he refined his approach and started to create hyper-focused, targeted content.
Barron quickly discovered there were a number of ways to generate revenue in his niche, including:
Display ads and affiliates (if you're a niche website)
Sponsorships (if you're an influencer on YouTube or Instagram)
1:1 client work (e.g., a personal stylist)
It really depended on what he wanted to focus on.
In the beginning, Barron concentrated his efforts around digital products. The first thing he sold was a $27 eBook back in 2010.
Since then, he diversified his income to include brand sponsorships, 1:1 personal styling, and an entire course on how to build your wardrobe.
Nowadays, the bulk of his revenue comes from display ads, brand sponsorships, and affiliate revenue.
Note: Affiliate revenue has only recently become more of a focus for Barron the past year. The bulk of his income has been mainly display ads and brand sponsorships. But since using Lasso, it has helped with his affiliate revenue immensely.
The main struggles for someone starting out as Barron describes are:
There are so many content creators now, and there always seem to be more
Because there are so many ways to generate revenue, you don't always know which path to take, (especially in the beginning).
Finding a way to stand out has always been a struggle for content creators of all types.
But Barron's been forging a path for over a decade and his site now averages 73K monthly visitors (closing in on one million annual visitors last year).

His monthly affiliate revenue across all of his different platforms averages out to $1,122.
Table of Contents
This Affiliate Link Strategy Will Boost Commissions (Lasso Case Study)

Life Before Lasso
Barron's experience using other link management systems was minimal.
I mostly used Skimlinks before branching out and using other affiliate platforms, so I used to just copy the Skimlinks link and put those directly into posts.
Note: Skimlinks is an affiliate platform with an easy sign-up process, and lets you bypass getting the approval of mainstream affiliate networks.
However, they do take a 25% cut of your commissions for using their services.
And for those who've used Skimlinks before, you can imagine how chaotic it can become with hundreds of links across your site with no way to know whether they're still working.
I probably have hundreds of broken affiliate links on the site now!
Which can be frustrating without a proper link management process.
Barron cited not having any good link management strategies in place before using Lasso, which is why it's now become an ongoing task of updating old affiliate links and getting them "Lassoized."
The Problem?
Barron wanted one place to see all of his links and also be able to update them as needed.
For example, if he wanted to recommend a specific pair of jeans in various articles, he'd need to create a new affiliated shortlink every time he recommended it in a new post.
You can imagine how messy that is on the back-end, with no efficient way of tracking or being able to update links.
The Solution
Now, Barron creates a single Lasso link for those jeans and uses it across every post as needed.
The best part about that is if it does sell out (the pair of jeans), he can easily update all of his links in one place within the Lasso dashboard.
If you're in an industry (like Barron's) where products selling out is a common occurrence, you'll always need to update those links.
For example, below represents a warm winter coat that Barron recommends on his website using a Lasso single display: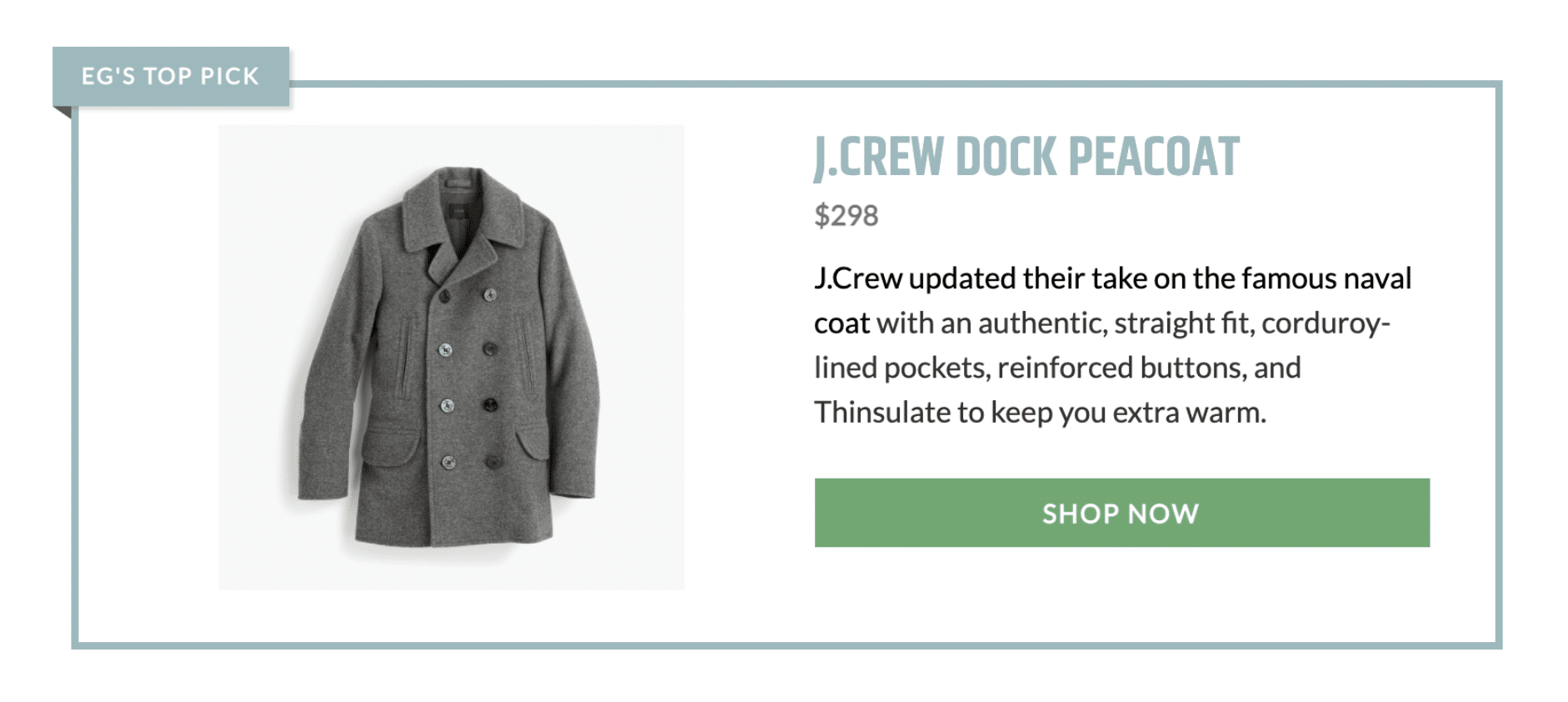 When inside his dashboard, it displays 15 mentions of this coat.

Before Lasso, if this link broke (which it does every year as J Crew seems to change it annually), he'd have to find each link and manually fix it.
Which was inefficient and impossible. Also, a reason why Barron said he has a ton of broken shopping links.
Now I don't sweat it. If I or my editor discover it's broken, I only have to update it one spot and press 'Save.'
He also enjoys the EG's Top Pick badge in his displays for products he uses and recommends repeatedly.
Because Lasso automatically sends you alerts inside your dashboard, you'll see which links are broken and which products are out-of-stock.

Barron primarily uses single displays on his site because he talks about so many products individually.
However, sometimes he uses the grid displays, as shown below in his Best Seiko Watches post: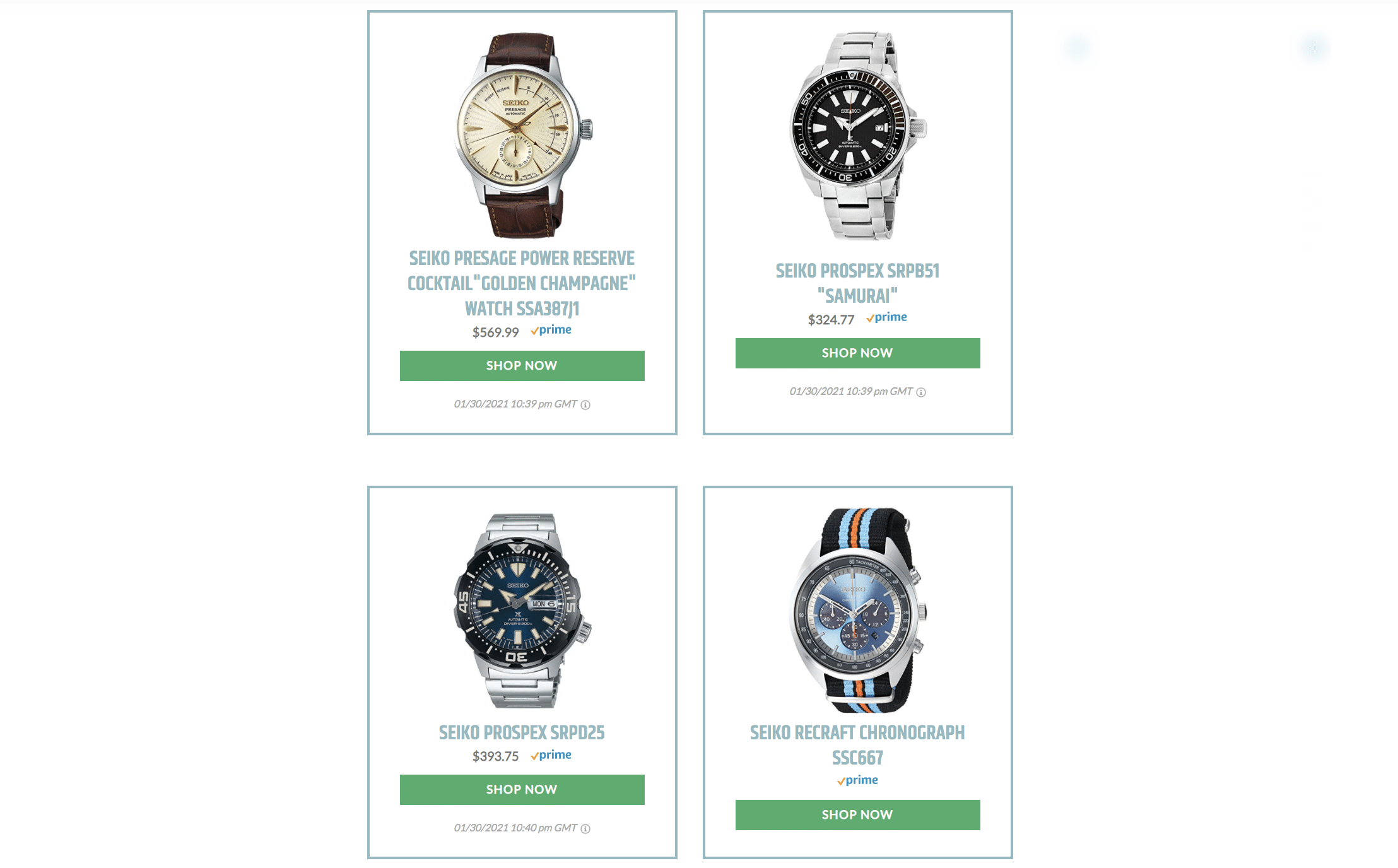 His 'Best Seiko Watches' post is one of his top-ranking pages.
He uses the grid display at the top (to preview the products) and then single displays in the breakdown of the different watch models when you scroll down the page.
Takeaway: Try using grid displays at the top of posts (like Barron) so visitors who don't want to read the entire post have all the shopping details immediately.
Barron also recently started using List Displays here, which he likes because they feel a bit more compact: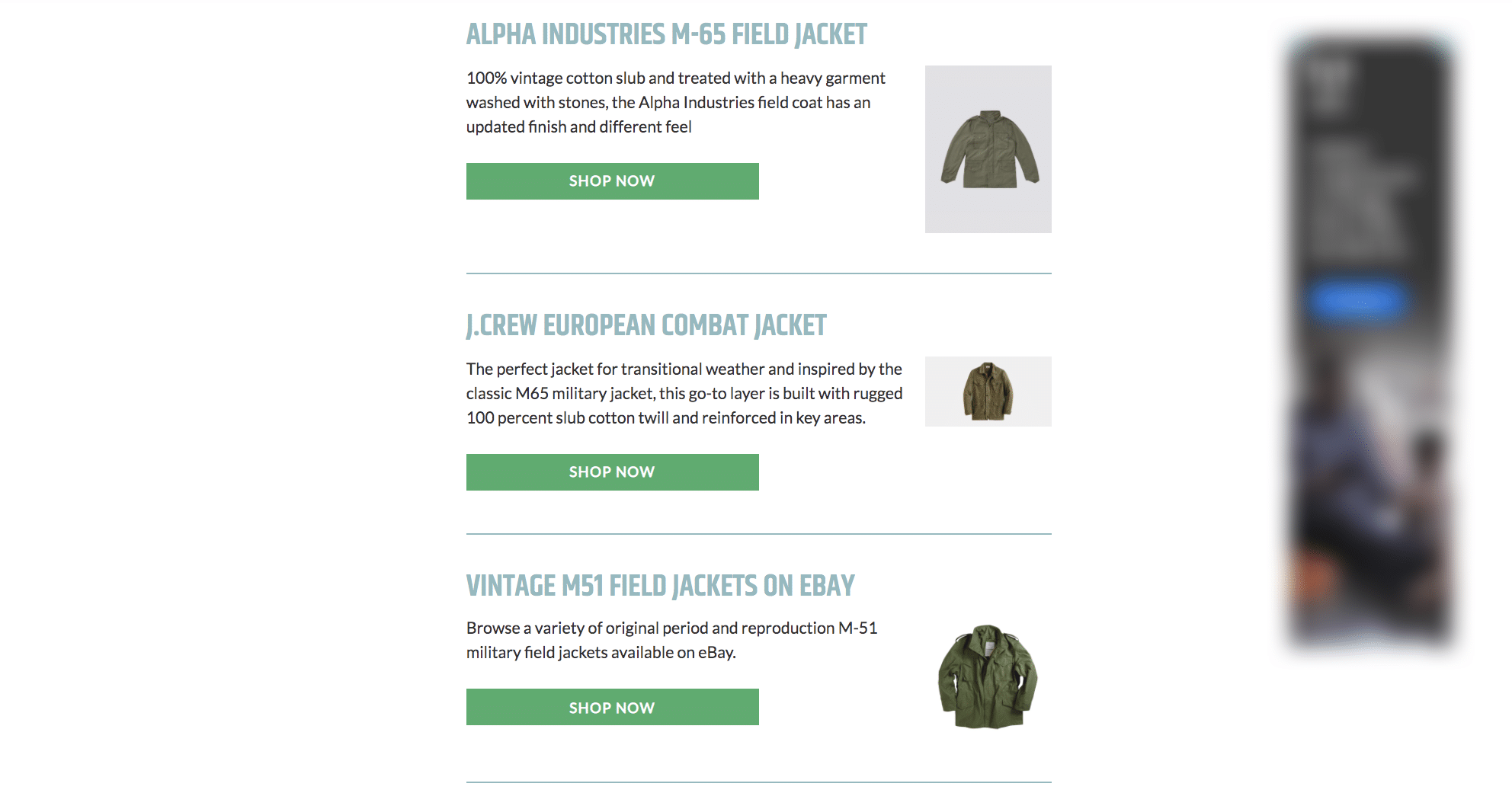 He plans on creating buying guides where the entire post is essentially a Lasso List display (with the exception of the intro and conclusion sections). 
Why Lasso?
Barron cited several reasons for why he continues to choose Lasso over the competition, including:
Using the Lasso dashboard, Barron can easily monitor all of his affiliates in minutes, without ever needing to dive into specific pages.
Lasso's notifications (e.g., broken link alerts and out-of-stock products) let him put his affiliate links on autopilot – he no longer needs to manually check which links are working – Lasso does this for him.
And because Lasso lets him present his affiliates in attractive, clickable displays, his clicks have increased.
I really love the shopping displays, and being able to visually present an item with two different call-to-action buttons to shop for has been super helpful. The displays are clean and easy-to-read. I love the automatically updated price with timestamp at the bottom, plus the integration of the Prime badge, which Lasso does automatically.
Of course, he wants his readers to shop at Amazon, but he likes including that secondary button in case his readers prefer to shop elsewhere.
Barron said there was little work involved in building the Orient Ray II watch display below since Lasso pulled the price and image from Amazon automatically.
He just grabbed the affiliate link from Jomashop and pasted that into the affiliate details on Lasso's backend.
As a Lasso subscriber, you can create primary and secondary call-to-action buttons to give your audience more buying options.
An example of how Barron uses the primary and secondary CTA buttons on his site:

You can also showcase custom badges and image-only affiliate displays.
The below screenshot is another example from Barron's website: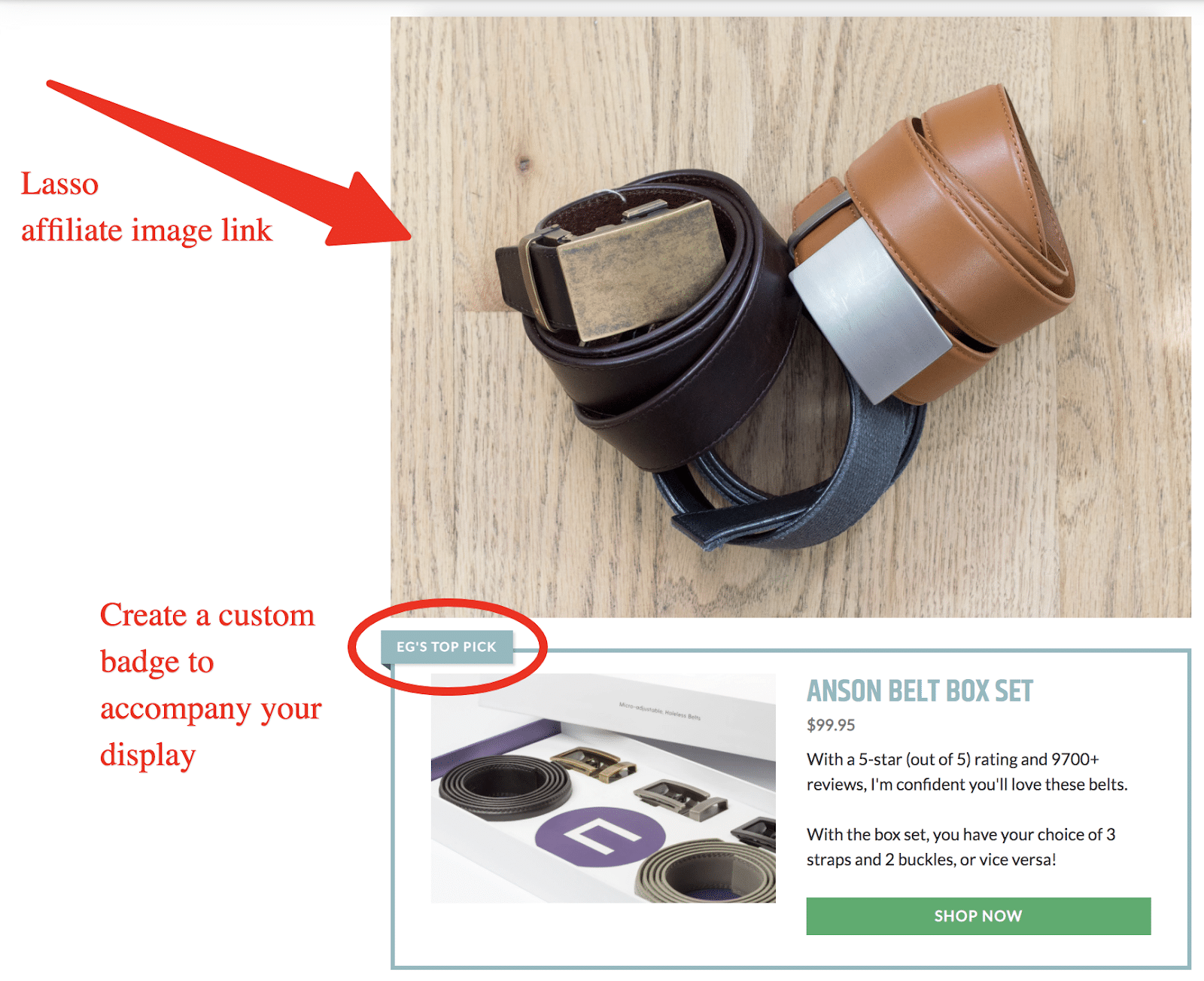 Barron has also seen a modest increase in affiliate revenue.
I know that creating better content includes having visually attractive shopping displays, which Lasso does for me easily. I have no doubt it's helped improve conversions.
How Does Lasso compare?
Barron mentioned creating some affiliate displays can require a bit more work as he creates custom images, product descriptions, and goes to each individual affiliate program to grab the affiliate link before pasting it into Lasso.
Some of his buying guides feature 10-15 products. 
But, the nice thing is, once you create it, you can use it over. And what I love about Lasso is managing those links is easy. If anything is broken or out-of-stock, I can simply go update the link (in my dashboard) and it updates all the displays across my site. And adding displays into a post is super simple, especially with the Gutenberg block layouts. I thought v1 was an incredible product already, but it gets better and better with each release.
If you run a website, create content regularly, and participate in any sort of affiliate program, Lasso is a game-changer.
It's super intuitive, efficient, and constantly improving.
Wait until Barron sees our next upgrade.
Curious to read more? Check out how Lasso user Elizabeth Harrin from A Girl's Guide to PM uses displays to earn more revenue on her site.
Our creations in your inbox, weekly.
We've built multiple six-figure online businesses that our moms are proud of.
We'd like to help you do the same.