Riley Adams runs the personal finance website Young & the Invested. It's a community where young adults can improve their financial literacy and learn to invest, manage, and plan their money confidently.
The site lies at the intersection between long-term convenience and immediate fulfillment. As he states on his "About" page:
As a Millennial, I don't get excited about delaying my gratification and saving consistently to reach some eventual goal many years from now.
Young & the Invested positions itself as an alternative to the traditional financial advice many of our parents and grandparents adhered to years prior.
Riley started Young & the Invested back in July 2018 as a newly-minted CPA. While transitioning into a Senior Financial Analyst role with Google, he decided to start Y&I, seeing it as both a challenge and opportunity.
It was meant to provide his peers with a roadmap using his financial independence and entrepreneurial journey as an example.
He's been running it for two-and-a-half years, and it currently averages ~30,000 monthly visitors.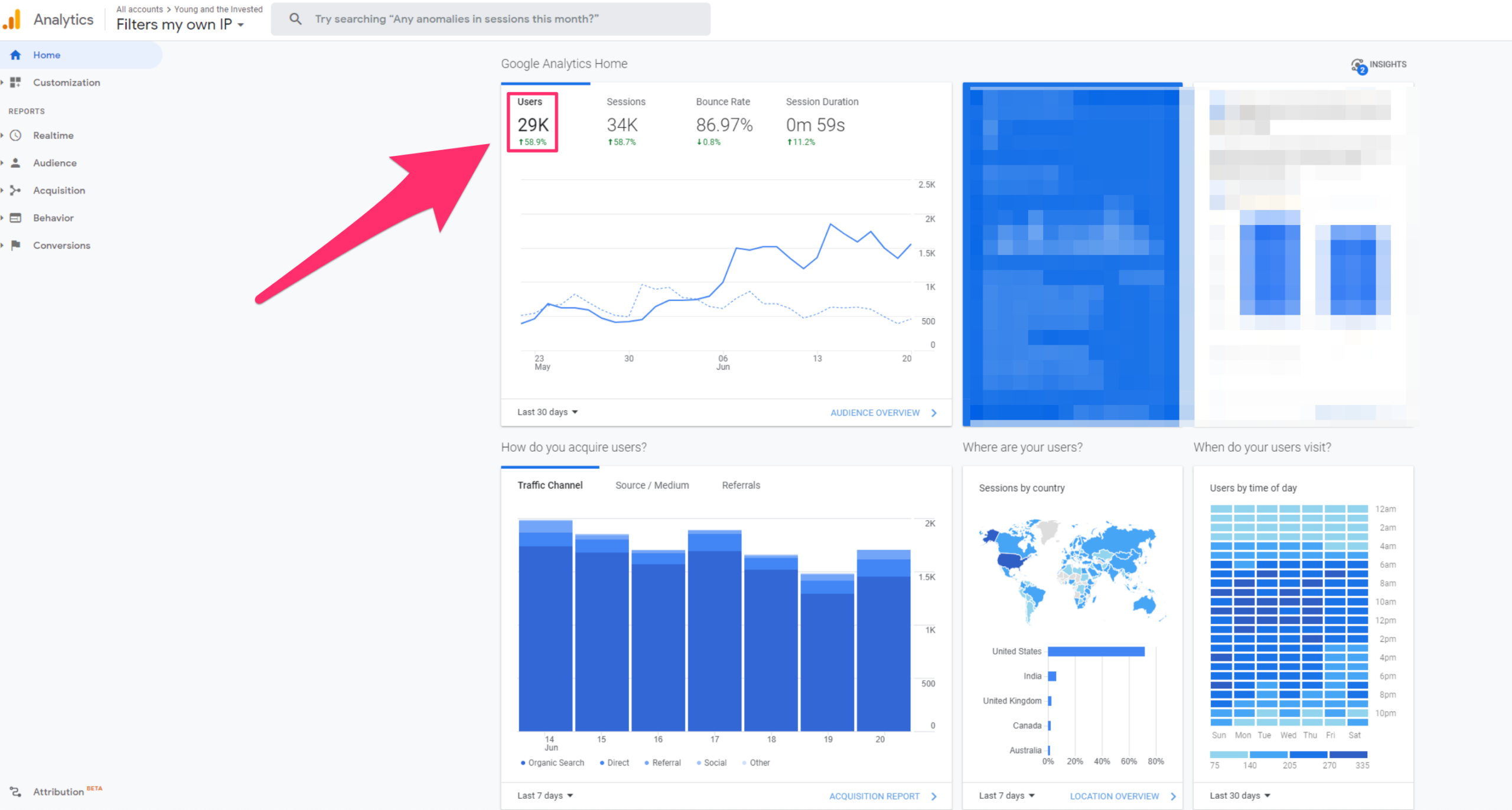 Riley's affiliate earnings have also been gradually trending upward. Y&L brings in $2,000 a month in affiliate revenue.
Currently, 90% of his site's income is from affiliates.

The other 10% comes from ads.
Tip: Riley turns his ads off on content containing affiliates to avoid distracting his readers.
He only leaves them turned on in articles providing informational content. That's a good rule to follow as you don't want to appear like every page is a cash grab.
Young & the Invested is not that 😉
Table of Contents
Boost Your Affiliate Earnings Like This (Lasso Case Study)
Before Lasso
Riley had no previous experience with a link management tool. And his only means to manage links was via the Redirection plugin.
Redirecting affiliate links has its place, and there are reasons to do it. Most of you are already aware of how awkward and messy affiliate links look. They're even harder to say out loud (e.g., on a podcast).
Because most affiliate links are a long, jumbled mess of text and characters, you'd want to clean it up. Which a redirect plugin allows.
Another reason for using one is to track clicks.
The downside here is that redirecting is only a single function, so you'd need other plugins for doing different jobs (e.g., promoting links using product displays).
And while Riley said Redirection worked fine for this task, he didn't have an easy process to manage affiliate link insertions while writing in his WordPress composer.
For example, he'd have all of his affiliate links set up through Redirection, but they wouldn't appear when inserting affiliate links in his content.
Lasso does this automatically when I highlight text and begin typing the affiliate partner's name. See the below screenshot: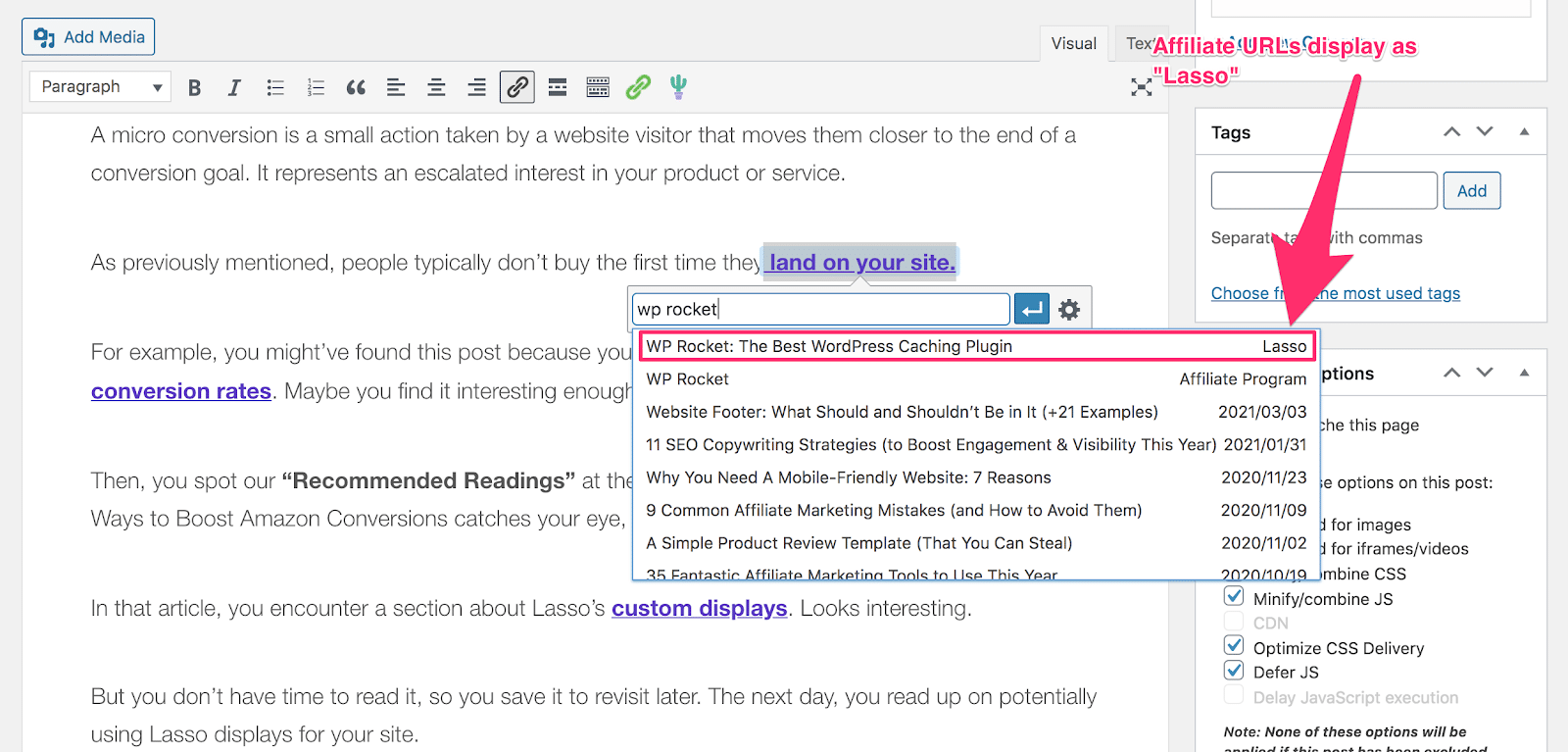 Lasso also automatically "nofollows" links and prompts them to open in a new window. Riley said this saves him five to ten minutes per post.
In the beginning, his process for improving clicks was cloaking links through his Redirection plugin – and using text-only links to display his affiliate URLs.
SEO Myth: If you run an affiliate site, Google won't rank it because it supports affiliate links. That's one reason why people invented link cloaking – to hide their links from Google.
The Problem
The problem for Riley was threefold. He was looking for a tool that could:
Manage his affiliate link inventory
Track his affiliate links (to monitor performance)
Provide eye-catching product displays to draw quick attention from readers.
A friend had mentioned Lasso could help solve all of these, so Riley signed up.
The Solution
Riley started using single, custom Lasso displays across his site, with many of his listicles.
These articles make great places to include affiliate links as readers are more likely to be in buyer mode as people are looking for a list of potential products.
On his informational content (trust and authority pieces), he uses displays sparingly with little "selling."
Getting started required a considerable amount of work upfront (essentially having to untangle all of his cloaked links via his Redirection plugin). Still, he's since scaled his entire link inventory using Lasso, and now it's become an easy-to-use tool.
Dissecting a Lasso Display with Riley
Some of Riley's best displays appear in articles like "free stocks," "best Robinhood alternatives," and "income-generating assets."
For the displays appearing in these posts, Riley uses the Lasso Money theme featuring a shadowed border.
Adjusting your theme in Lasso is simple to do.
Head to Settings > Displays > Choose your theme.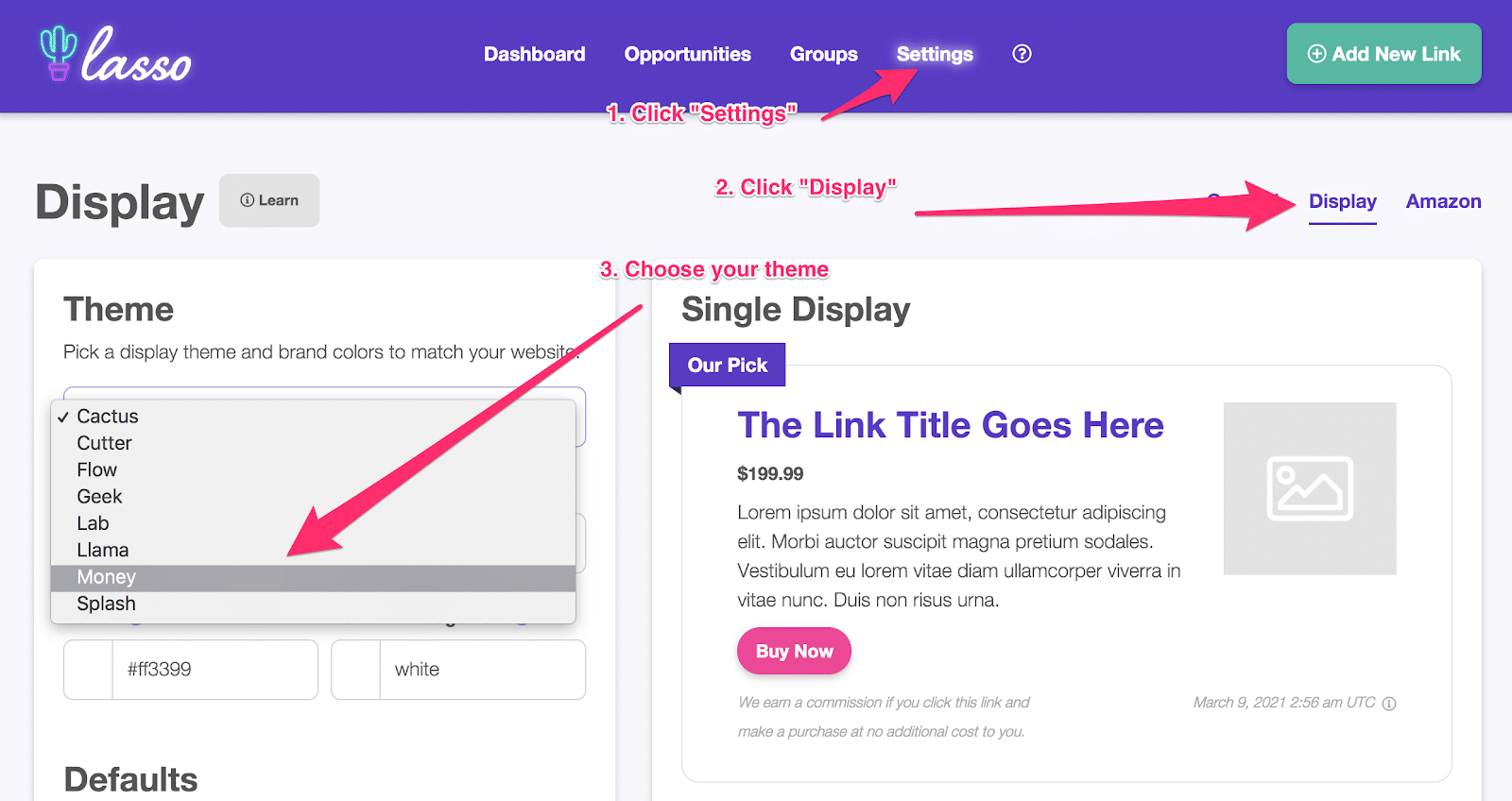 His single displays feature:
a logo 
a badge
both single and double CTA buttons
bulleted descriptions
You can see the anatomy of two displays, both with and without badges.
Tip: Badges are an excellent way to personalize product recommendations.
This first example features a display without the badge. However, it has two CTA buttons. You can see this display in his article, "Best Robinhood alternatives," linked to above: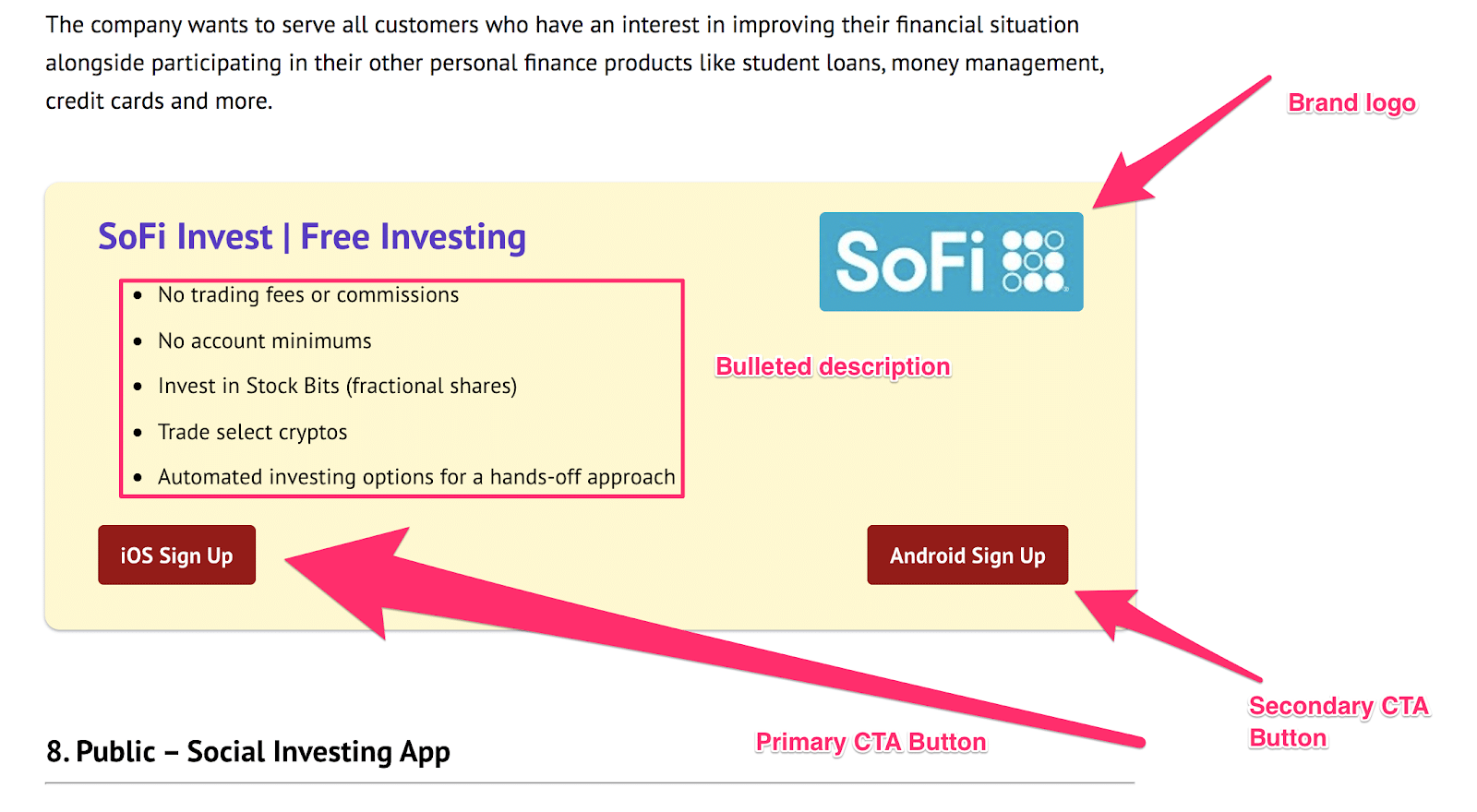 Riley wanted to give his readers more options as not everyone uses an iOS. He knows that some of his audience use Android.
Adding a secondary CTA button lets you give your readers more options.
You also give yourself the chance to earn more affiliate commissions in the process (by including the Android-using segment of your audience).
For more, read our short tutorial on using primary and secondary CTA buttons in your articles.
Use Caution: Some affiliate programs don't let you use their image and product details alongside a secondary CTA button linking to another store. Be sure you understand your affiliate program's rules.
Using the product descriptions, you can choose to use a bulleted list or a simple paragraph to describe your affiliate products.
Inside your dashboard, under the product's affiliate URL, you can complete the description box as you see fit.
Here's an example from inside the Lasso dashboard: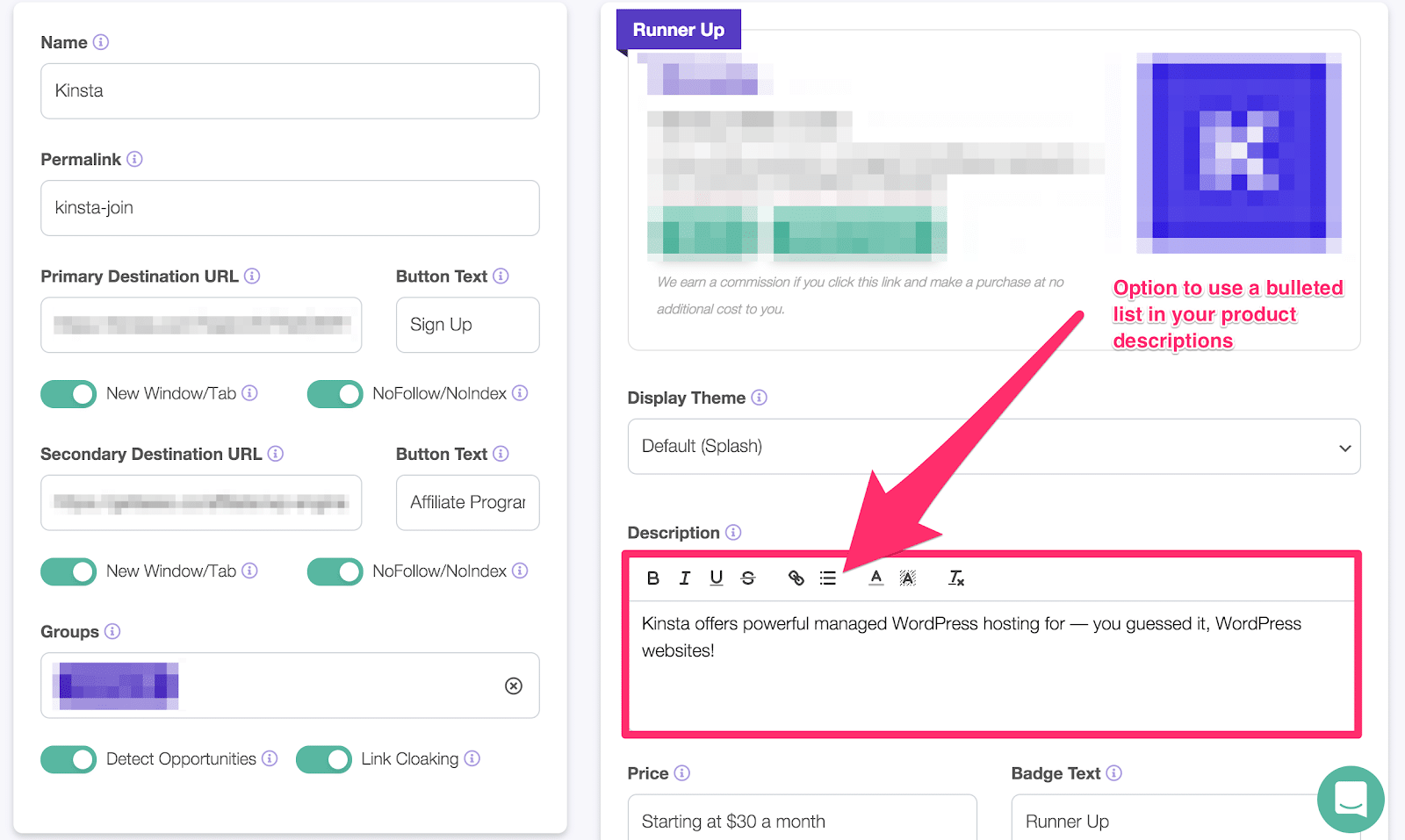 Add a Badge
Riley's also had success using badges. The badge lets you personalize recommendations to products you think your readers may benefit from most.
Here's one from his free stocks article mentioned above: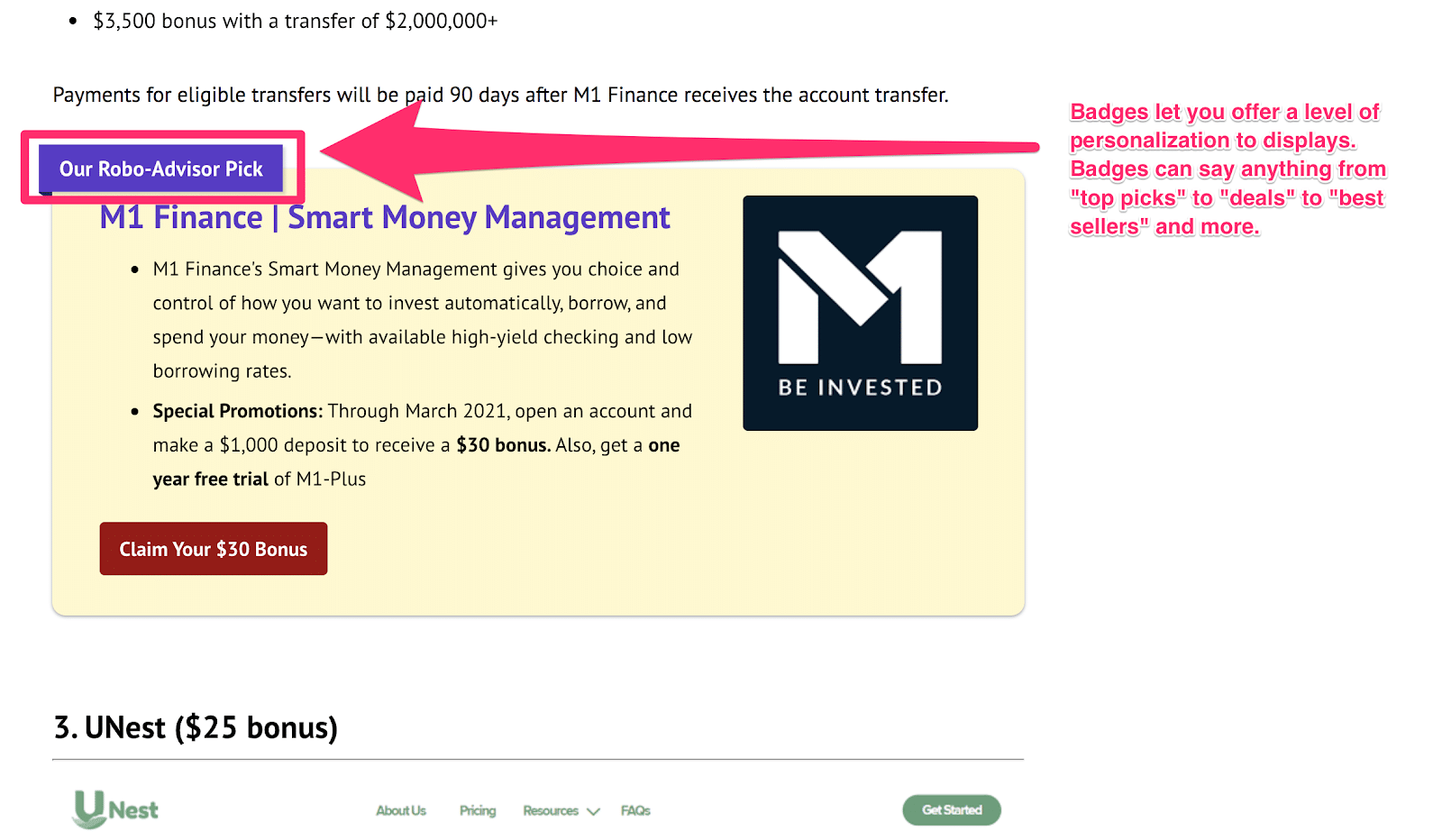 Adding an "Our Pick" badge boosts trust. Your audience may be more inclined to choose the one product with the badge since it's "your pick."
Read How to Add Badges to Displays for a quick tutorial.
Or, head here to learn how you can use Lasso's extended functionality further to customize your displays in our Shortcode Reference Guide.
Pro Tip: Riley will also include one text link for the affiliate CTA to capture anyone not keen on pressing the button(s) shown in the display box.
Further Reading:
Why Lasso?
The favorite part of Lasso for Riley was not having to include a new product description every time he added a display box to a new blog post.
It saves him a lot of time while providing essential user information.
This can become tedious and time-consuming when doing it manually.
Now, all he has to do is click the Cactus icon, and Lasso adds the display shortcode automatically (without having to write new descriptions each time – you only have to write it once).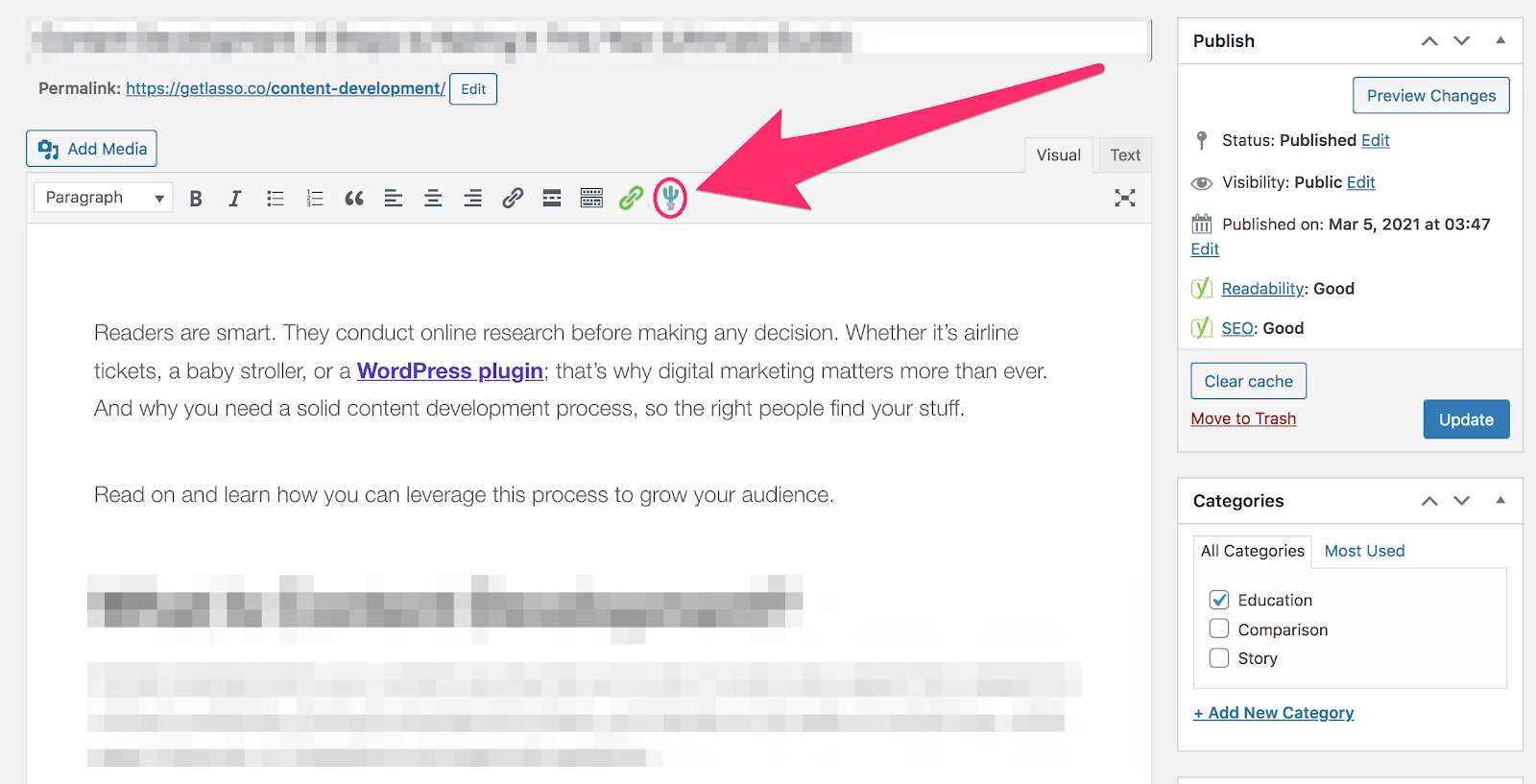 How Does Lasso Compare?
Riley mentioned it took him three months from installation to migrating every link and feeling comfortable with Lasso. Now, he writes articles and creates display boxes for new affiliates as he goes.
User Note: Lasso does feature plugin import for new users (i.e., people who have links from other plugins) that can accelerate your onboarding process. 
Riley mentioned his site now looks and feels more "professional-looking" while also seeing a modest increase in affiliate revenue.
It has also allowed him to become more organized, effective, and efficient at running his website. Now he's no longer:
Writing product descriptions every time he wants to add the same affiliate link to a new post
Hassling over manual affiliate link insertion because they won't appear when writing inside WordPress
His link inventory is well-organized from the dashboard, he's tracking click performance with Google Analytics, and most importantly, he's saving time.
Ready to test the waters with your affiliate site? Discover all the ways Lasso can help your online business and sign up today.
Curious to read more case studies? Check out how Elizabeth Harrin from A Girl's Guide to PM uses Lasso displays to earn more revenue.
Our creations in your inbox, weekly.
We've built multiple six-figure online businesses that our moms are proud of.
We'd like to help you do the same.