Link cloaking is a technique used to hide the link's destination URL, usually an affiliate link, behind a shorter and more visually appealing link. Then when clicked, this link redirects to the original link destination.
Cloaking sounds nefarious, but it's not! It's standard practice in the affiliate marketing industry, and very useful. Link cloaking helps affiliate marketers increase the CTR of their affiliate links, and makes it easier to measure and track affiliate link performance. We built link cloaking into our plugin for this exact reason.
For example, a cloaked affiliate link to buy a coffee machine link such as:
yourcoffeesite.com/coffee-machine
Looks a lot friendlier and clickable than:
https://shareasale.com/r.cfm?b=14f2ewefw&m=asdawdd3a&urllink=product
You can even check redirects from shortened or cloaked links using tools like Wheregoes: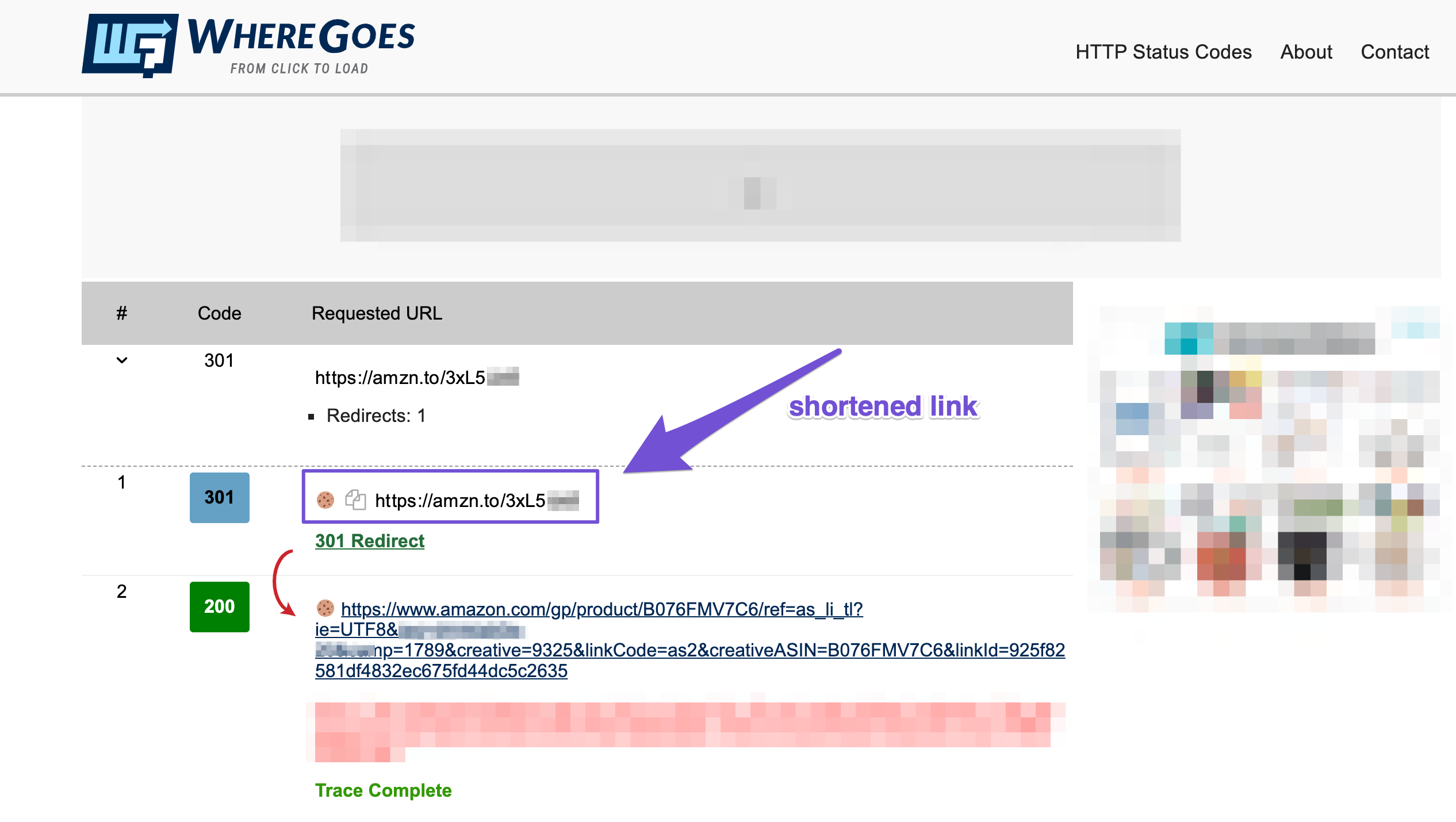 Table of Contents
What is Link Cloaking? How It Works & How To Cloak Affiliate Links
How Does Link Cloaking Work?
Link cloaking works by displaying a shorter, more user-friendly link instead of the standard link. They add a 301 redirect in to the original link location, so when when clicked, this link redirects to the original link.
They also work by hiding your affiliate tracking ID. In the past, hackers used malware to target sites that showed their affiliate ID to change this to their ID and hijack your commissions, but this is not an issue now. Some still prefer cloaking for this reason though.
The Difference Between Link Cloaking vs Link Shortening
Link shortening is only about shortening an affiliate link, whereas link cloaking makes the link more user-friendly, and easier to manage and track. Link cloaking generally also shortens URLs, but this is not the main goal, and therefore they are different.
The goal of link shortening is simply to reduce the number of characters in the link, for example to stay within Twitter's character limits. A link shortener is not designed to make the links brandable or easy to remember – that is link cloaking.
Often, shortened links look like this:
bit.ly/sdf4fs8
While this is short, it's not easy to remember, and does not inspire trust to click the link (you have no idea where you're going to!). Cloaking looks professional, and makes people trust the link to click it.
Benefits of Link Cloaking
The main benefits of affiliate link cloaking are:
Increases CTR as readers trust the links more

Easier to manage

Easier to track performance

More shareable and easier to remember
Let's take a more detailed look at each.
1. Increases CTR from reader trust
If your visitors see a clean URL like: 
listenmoneymatters.com/betterment
Then they're more likely to click that link, as they know where it's going to send them (in this case, to Betterment). It's less scary, and more professional and branded.
These increased click-through rates (CTR) means more affiliate clicks, and more affiliate sales and commissions.
2. Improves Affiliate Link Management
Affiliate link management is much easier when you can instantly tell where the link is sending visitors to. For example, if you have the following affiliate links:
domain.com/lasso-homepage

domain.com/lasso-pricing

domain.com/lasso-link-cloaking-page
It's much easier to manage these at a glance, than if they were random strings of numbers and letters.
As an affiliate marketer, this is the biggest advantage for me. And at Lasso, we built link management as a main feature in our affiliate marketing WordPress plugin, that lets you see every affiliate link across your entire site in a single dashboard, along with our other advanced tracking capabilities.
We've even built features so you can add your affiliate links to different categories and groups, so you can organize your affiliate links across your entire site in intuitive ways that save you time.
Then, if you need to change this link across your entire site, you can do this in a single click in our dashboard. This has personally saved me dozens of hours on my affiliate sites. You can see an example below: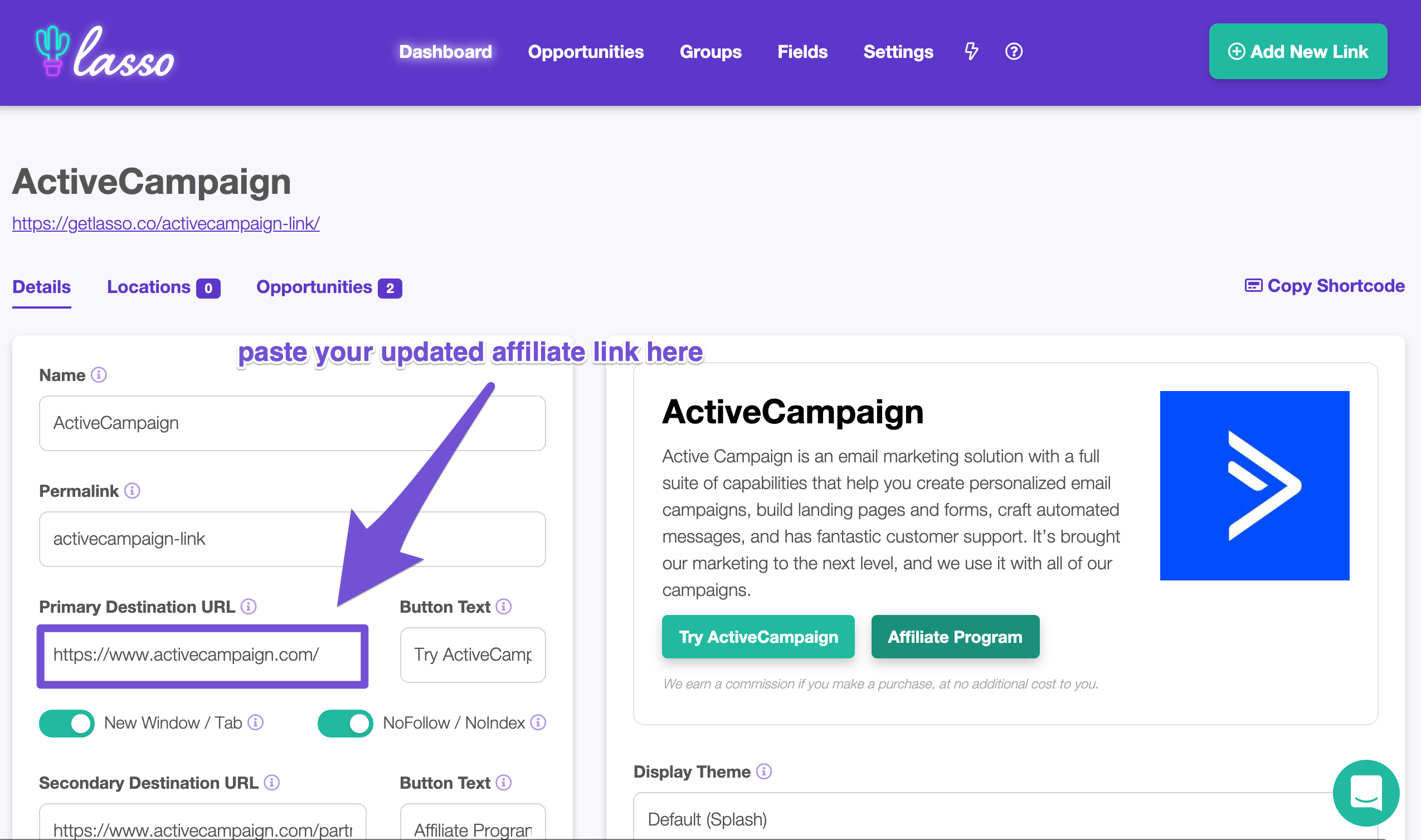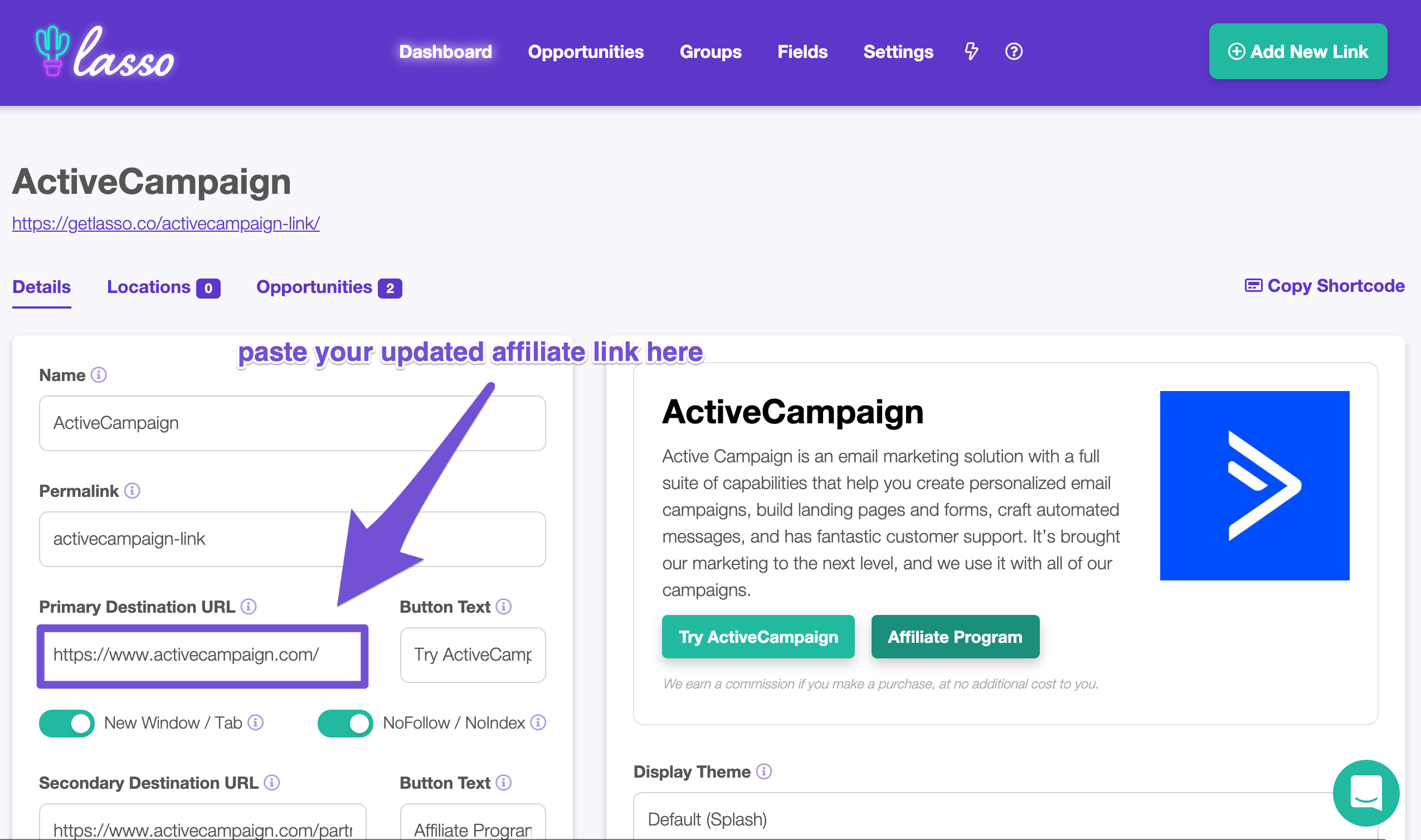 3. Easier to track click data
Link tracking through the outgoing traffic via cloaked links is much easier. And the better your measurement, the more you can optimize your CTR and conversions. 
There are also tools in our Lasso plugin that automatically register all affiliate link clicks as Events in Google Analytics (including GA4) so you can track this instantly.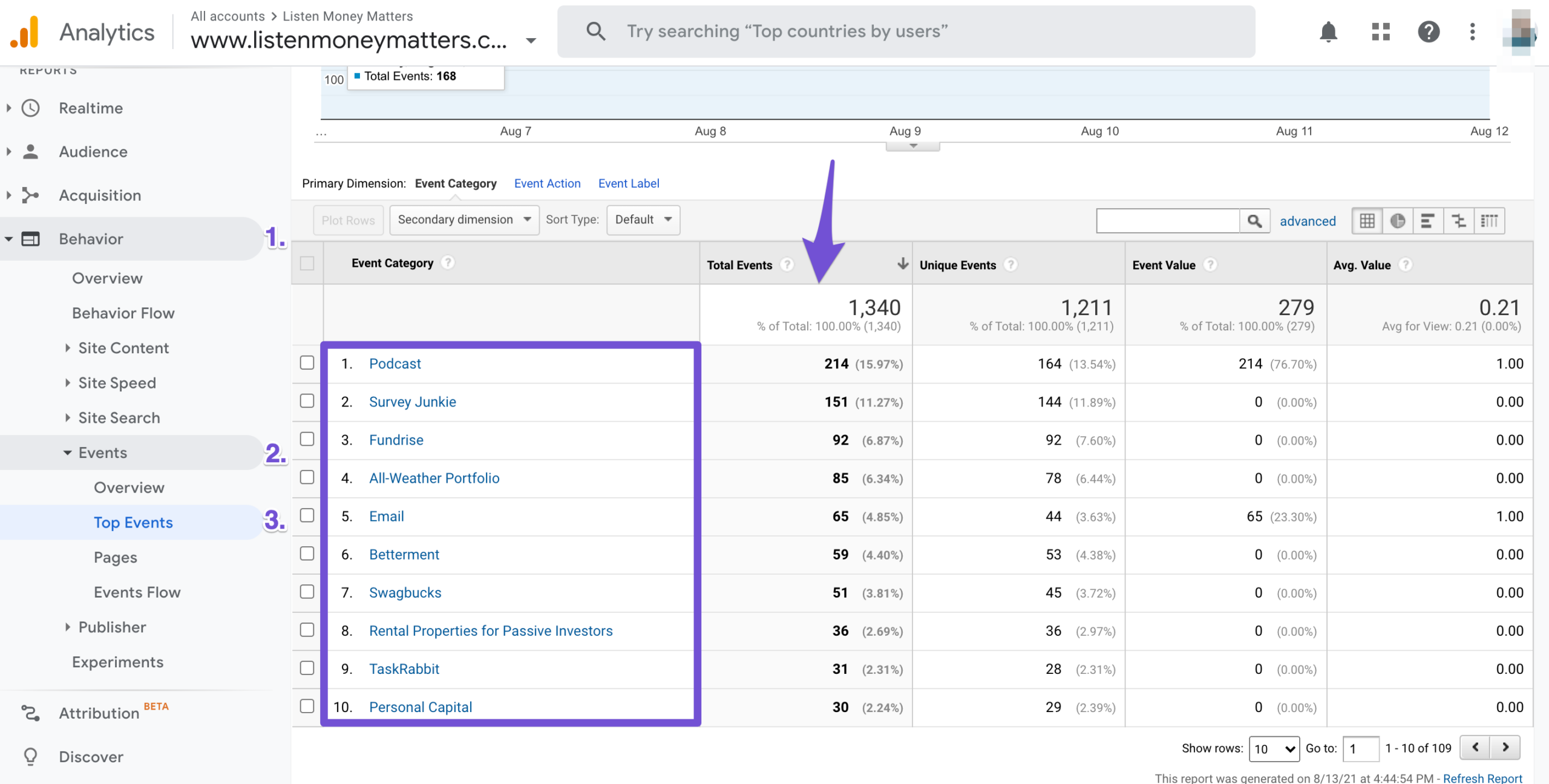 To find out more about affiliate link tracking in G Analytics, you can read about our analytics features. 
4. More shareable and easier to remember
Clean URLs are easier to remember, share on social media and in emails.
I recommend following this formula for affiliate link cloaking:
domain.com/merchant-name
An example of how a cloaked link appears on one of the Lasso team's websites:
listenmoneymatters.com/roofstock
This is absolutely essential if you're mentioning affiliate links on a podcast. It's a lot easier to tell people to type "listen money matters dot com slash roofstock", than getting people to correctly type in a random set of numbers and strings.
How To Cloak Affiliate Links – The Easiest Way
If you're looking for how to cloak links, and the best WordPress plugins for URL masking, then I have a clear recommendation for you.
It's super simple: Lasso automatically cloaks your affiliate links except Amazon links, as Amazon doesn't allow cloaking.
Here's how:
Install the Lasso plugin if you haven't already. (Skip this step if you're a customer!)

Paste your affiliate URL into your link details page. 

By default, Lasso cloaks all non-Amazon links automatically. And if you want to uncloak your links for any reason, then just toggle this in the plugin and it'll switch back to the direct link to the affiliate network.

To choose the exact slug, or URL, you want the link to have, just change this in the display editor.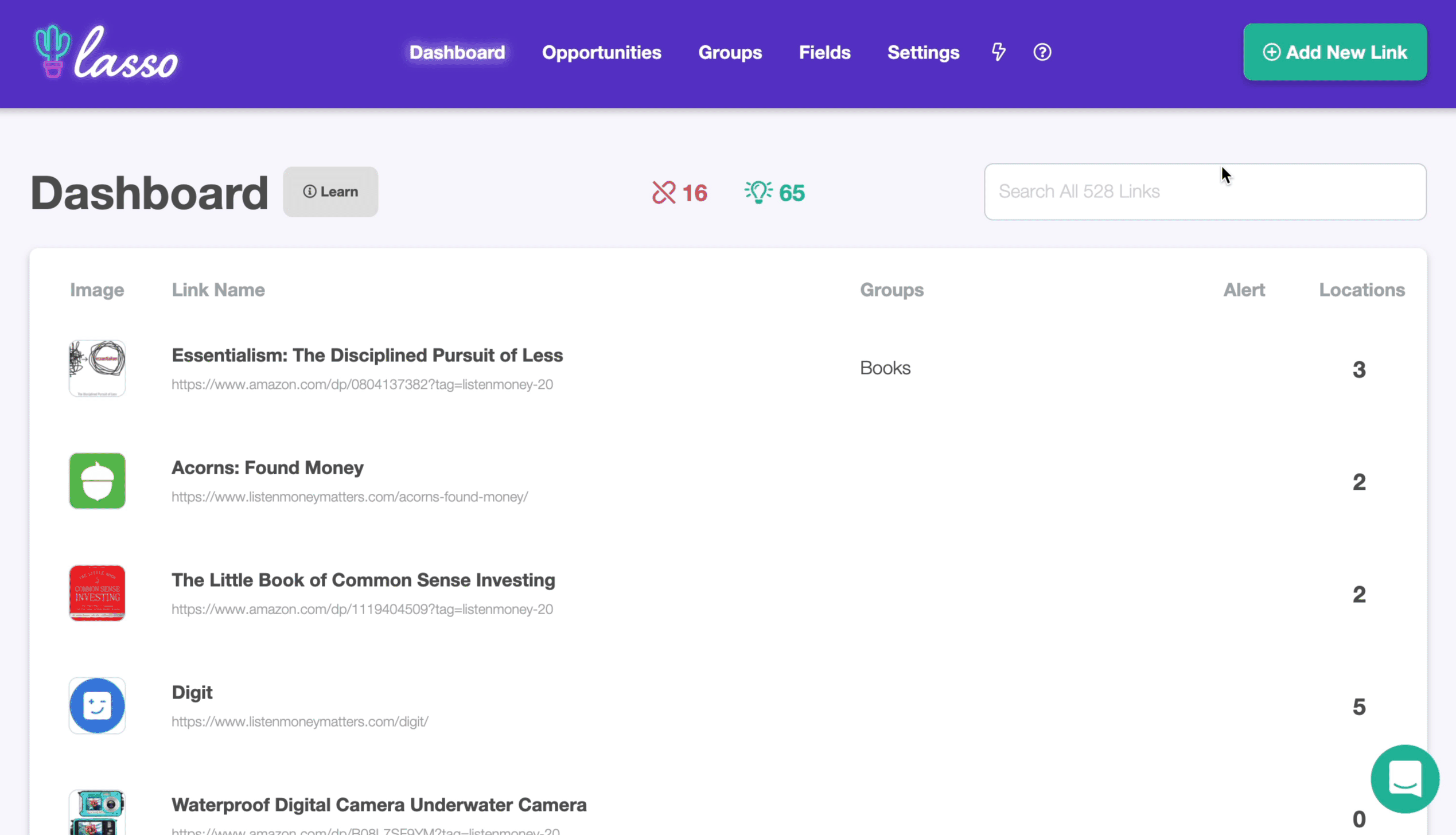 And then your links will be cloaked, and you can edit them to whatever you want! In terms of affiliate link cloaking plugins, ours is the fastest.
The Best Link Cloaking Plugin
Lasso
Lasso is the best WordPress plugin for affiliate marketing. If you want to earn more affiliate income and grow your niche site, you need Lasso!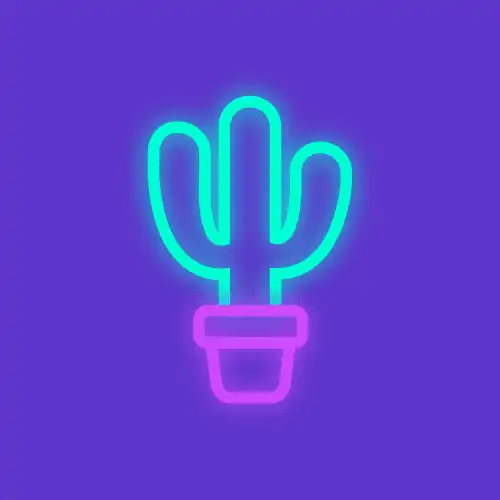 And if you want to read more about the link cloaking tool within the Lasso plugin, you can read more here.
Or, Here's A Free Link Cloaking Alternative
Simple URLs
Simple URLs link management system lets you easily organize your affiliate links and track every click without the complex setup, while its cloaking feature makes them memorable and shareable. Quickly find any URL you created in the search bar. Unlike other legacy plugins, this free WordPress plugin works with both Amazon and non-Amazon products.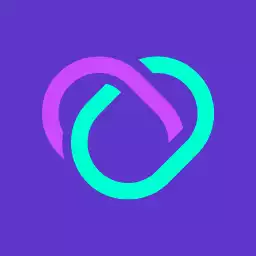 Alternatively, Simple URLs is a free WordPress link cloaking plugin that uses custom post types and 301 redirects. Yes, it's an unlimited free version.
It lets you create, manage, and track outbound links from your WordPress site. Once you download the plugin and install it, it'll display as a custom post type in the sidebar.


Inside the admin panel, you can see your link's:
Number of clicks 
Affiliate link redirect
Permalink (i.e., the cloaked link)
You've got nothing to lose with this free plugin! You can check it out here.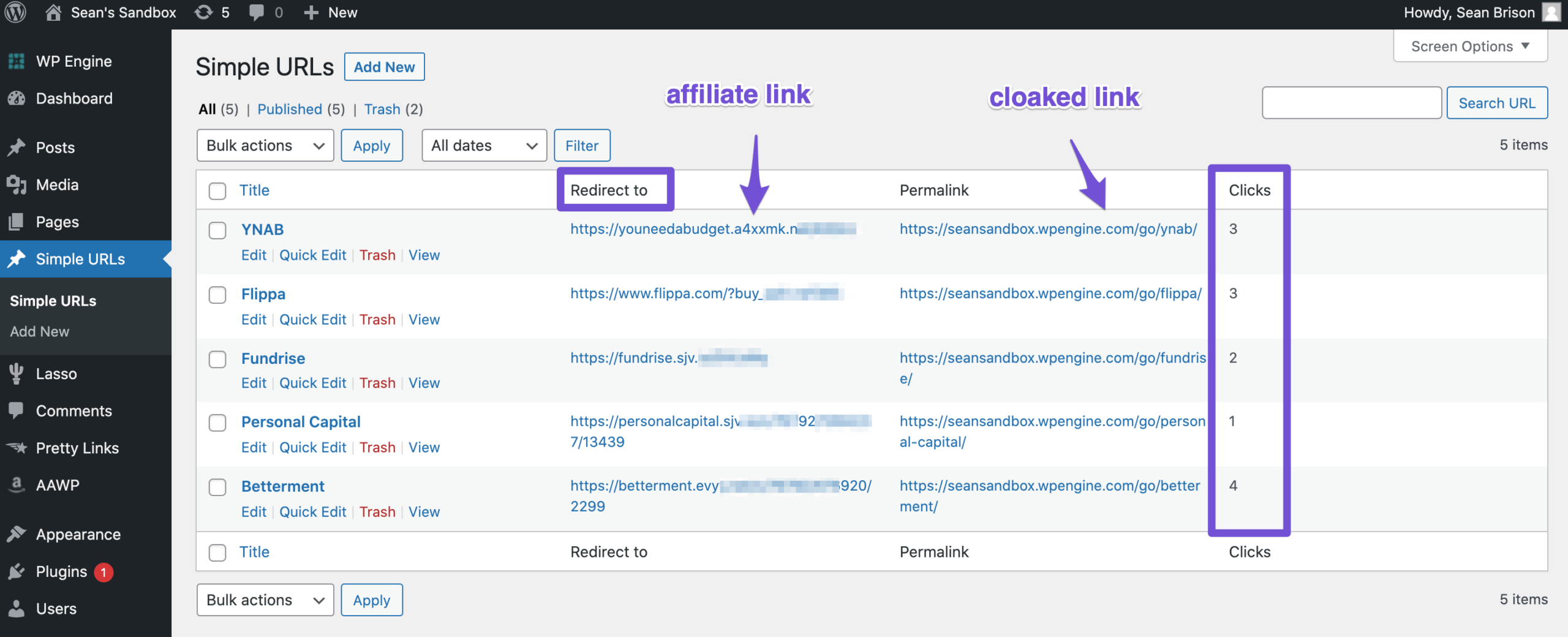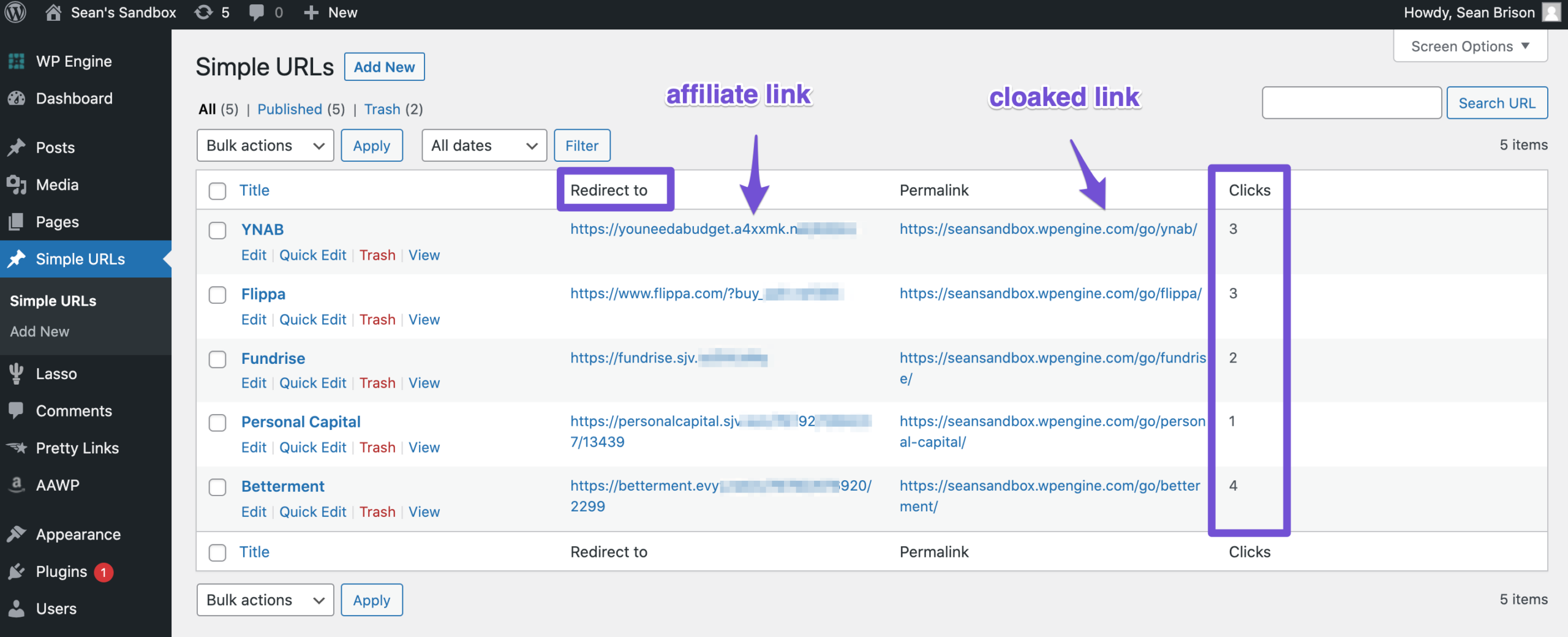 Simple URLs is our free plugin if you're only looking for a basic cloaking option for your affiliate site.
Best Practices for Cloaking Links
Choose URL slugs that your visitors will understand where they lead to, so they get more clicks.
Also choose URL slugs that you'll instantly understand, so tracking links is easier.
Never cloak Amazon affiliate links – it's against their terms of service.
Don't mislead your visitors. For example, don't show a link that looks like it goes to book a holiday, but actually takes them to buy website hosting.
Test your links often to make sure they work, so that you aren't losing potential sales. Lasso's out of stock and broken link detection automatically does this for you.
FAQs
Can You Cloak Amazon Affiliate Links?
No, you can't cloak Amazon affiliate links per their Amazon Associates Operating Agreement. Anytime you obscure the referring URL, you violate Amazon's TOC, potentially getting you kicked off their affiliate program.
From Amazon:
You will not cloak, hide, spoof, or otherwise obscure the URL of your Site containing Special Links (including by use of redirecting links) or the user agent of the application in which the Program Content is displayed or used such that we cannot reasonably determine the site or application from which a customer clicks through such Special Link to Amazon site.
Amazon says you can't obscure the link. If it's not obvious you're sending web page visitors to Amazon, then you're in trouble
Does Link Cloaking Affect SEO?
No, link cloaking does not negatively affect SEO, because search engines are able to follow and understand the redirected links. If link cloaking is used for legitimate purposes, such as improving user experience or tracking marketing campaigns, rather than spammy or deceptive reasons, it will not affect SEO.
It is recommended to use the rel="nofollow" tag, and Google's John Mueller has suggested also using the rel="sponsored" tag for affiliate links. If you use the Lasso WordPress plugin, it automatically adds both nofollow and sponsored tags onto all outbound affiliate links, cloaked or not.
Google also recognizes the bulk of affiliate networks and will not index these links found inside your posts.
Should You Cloak Affiliate Links?
Yes, cloaking your affiliate links helps improve click-through rate (CTR), makes your site appear more professional, and lets you better manage affiliate links, and track them better to further increase your affiliate income. It's highly recommended to cloak your links if you have a plugin that can easily do this.
Last Words
When you cloak affiliate links on your web pages, you present them in a visually appealing way, gain click confidence, and increase their shareability. It's an insanely powerful method to manage your monetized links.
We built key link cloaking software tools into Lasso because we understand how important it is for your affiliate marketing success.
We'll cloak all your links at the click of a button (except Amazon – we keep you safe within all ToS), and help you manage every affiliate link on your site within one central dashboard.
Ready to find out how Lasso will grow your business? Give us a try.
Other blog posts for further reading:
Our creations in your inbox, weekly.
We've built multiple six-figure online businesses that our moms are proud of.
We'd like to help you do the same.