Affiliate links are complex alphanumeric URL strings. They're indecipherable and ugly. They're also difficult to say, impossible to remember, and horrible for branding purposes. Using a link cloaking tool helps solve all of these problems.
This post details what link cloaking is, why you should do it, how Lasso can help, and more. Let's get to it.
What Is Link Cloaking?
Link cloaking hides the destination website's URL behind a more visually appealing link. When a person clicks the cloaked link, they're redirected to an alternate location. 
They're common in the affiliate marketing industry for tracking a publisher's sales, referrals, or affiliate commissions.
Sidenote: Link cloaking is similar to link shortening, but technically the two are different (more on that in a minute).
A URL redirection occurs with a cloaked link and sends your visitors to the non-cloaked version (i.e., the intended destination).
Cloaked links are more user-friendly than their complex, un-cloaked counterparts.
Link cloaking also conceals your affiliate ID. Hiding it protects you from malware or other malicious software used to hijack commissions.
However, those occurrences are rare and shouldn't scare you. As you might already know, Amazon doesn't let you cloak links, and it's one of the largest affiliate programs on the planet.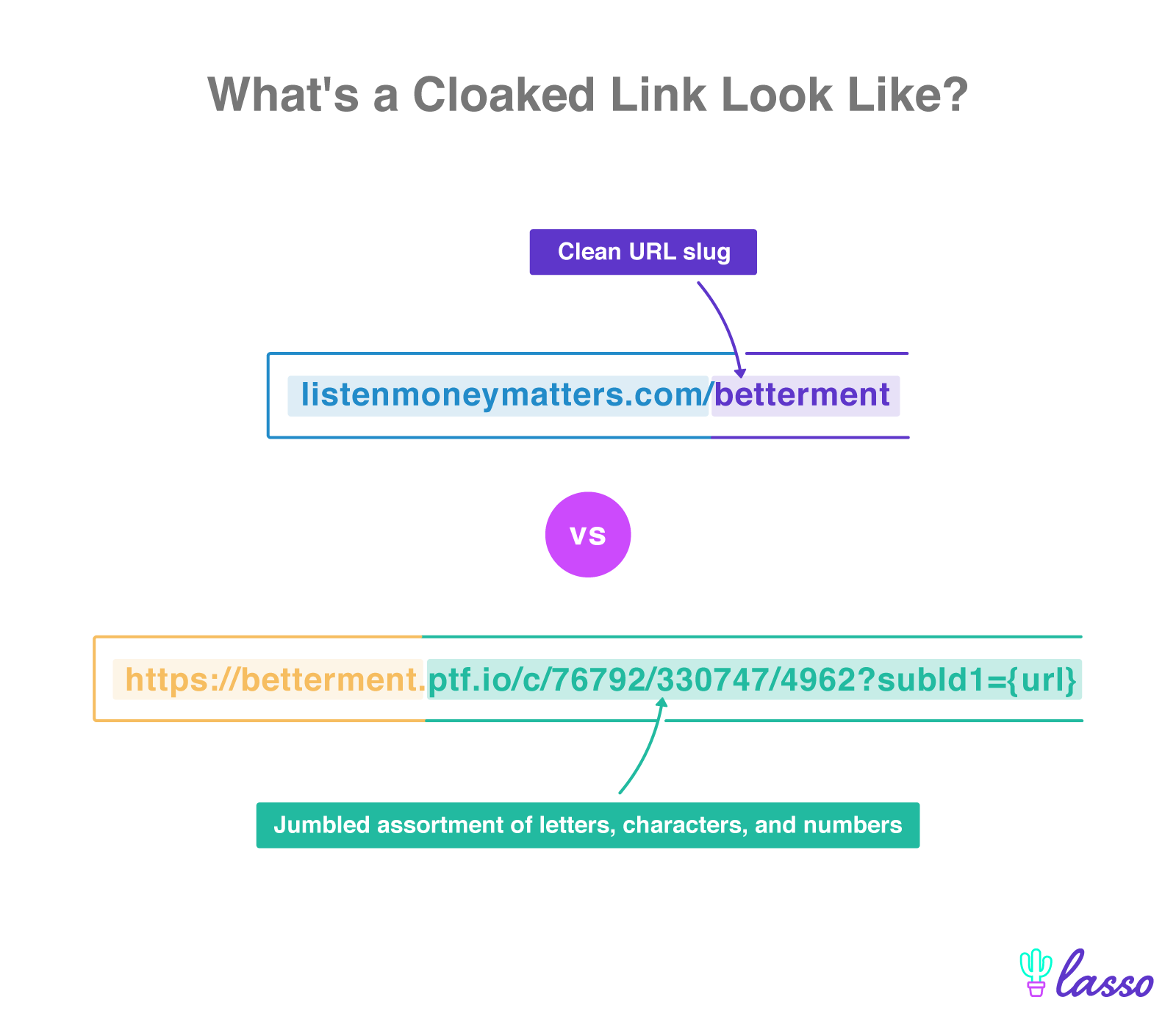 In the above illustration, the top "clean" URL slug is the cloaked link. The bottom link is the affiliate URL hidden behind it and sends traffic to Betterment's sign-up page. 
One drawback regarding uncloaked affiliate links is they don't always include your domain name, which serves as your business card across the internet. 🤔

Cloaked links let you display it, and that's a marketing advantage.💥

— Sean Brison (@heyseanbrison) August 14, 2021
Sidenote: You can see our cloaked affiliate link in the illustration includes our domain, listenmoneymatters.com, which is a great way for our brand to reach more people.
Whether you're blogging, using social media, or a featured guest on a podcast, it's easier to say, "listen money matters forward-slash betterment" than the alternative.
Benefits of Link Cloaking
It would help if you cloaked links 99.99% of the time. There are instances where you may not need to (or want to cloak them).
For example:
External tracking: You may have your own analytics platform that works in conjunction with its own tracking system.
Your link is already memorable: You may have products on your website that already have clean URLs. For instance, www.example.com/link-cloaker
However, in most cases, you'll want to use a link cloaking tool. Many plugins that manage affiliate links will do this for you already (Lasso included).
1. Increases Click Confidence
The single most important thing bloggers can do is build trust with their audience. If you're playing the long game, you understand that building a relationship takes time, and the way you do it is by ethically promoting products.
And, once your visitors see a clean URL like: listenmoneymatters.com/betterment, they're more likely to click that link as they know where it's going to send them.
You'll see improved click-through rates (CTR) with a cloaked link, especially one that's on-brand with your website. Increased CTRs result in higher conversions, which is what you want as an affiliate marketer.
Further Reading:
2. Improves Affiliate Link Management
Many link cloaking plugins provide you with link management as part of their features. For example, our tool, Lasso, lets you see every affiliate link across your entire site in a single dashboard.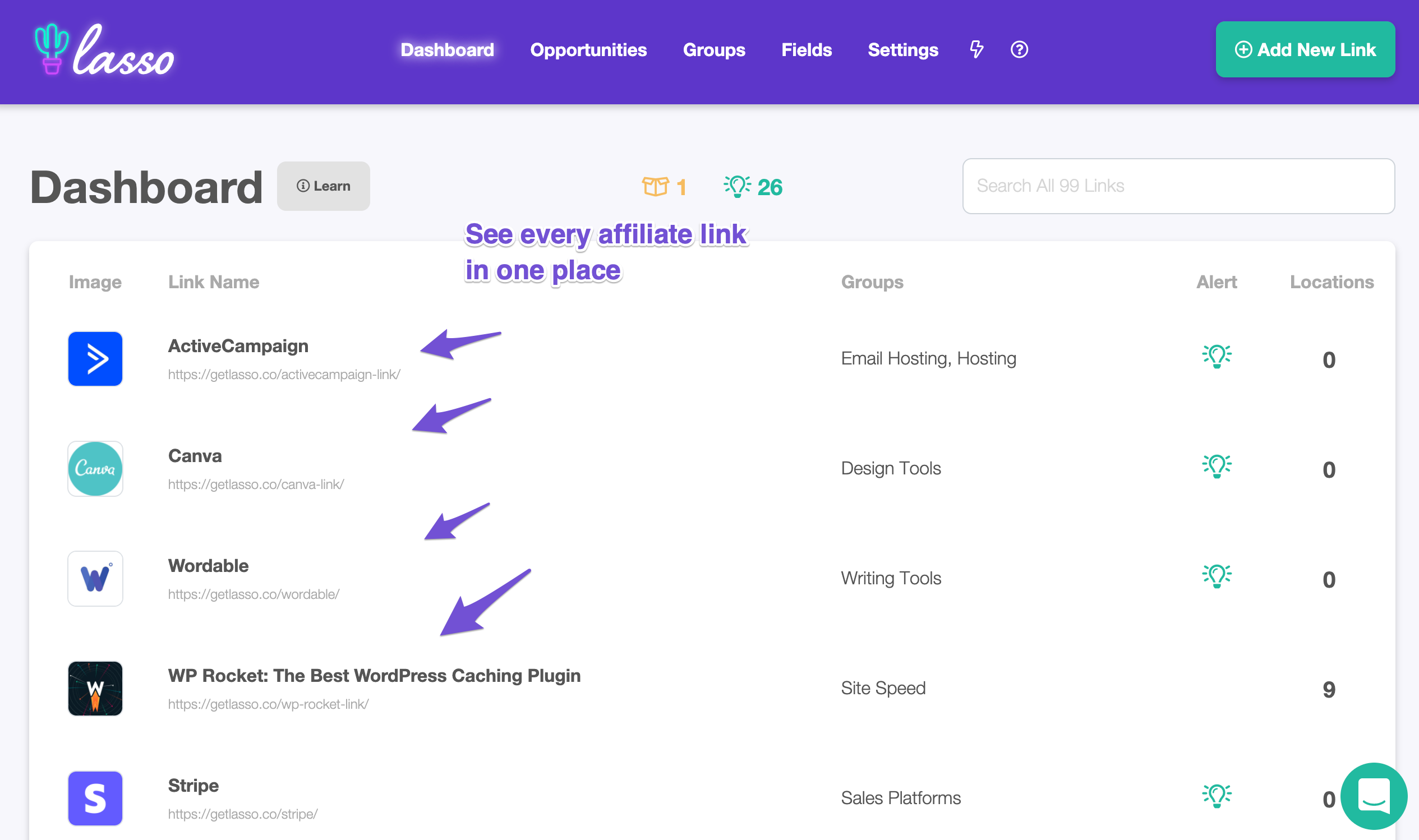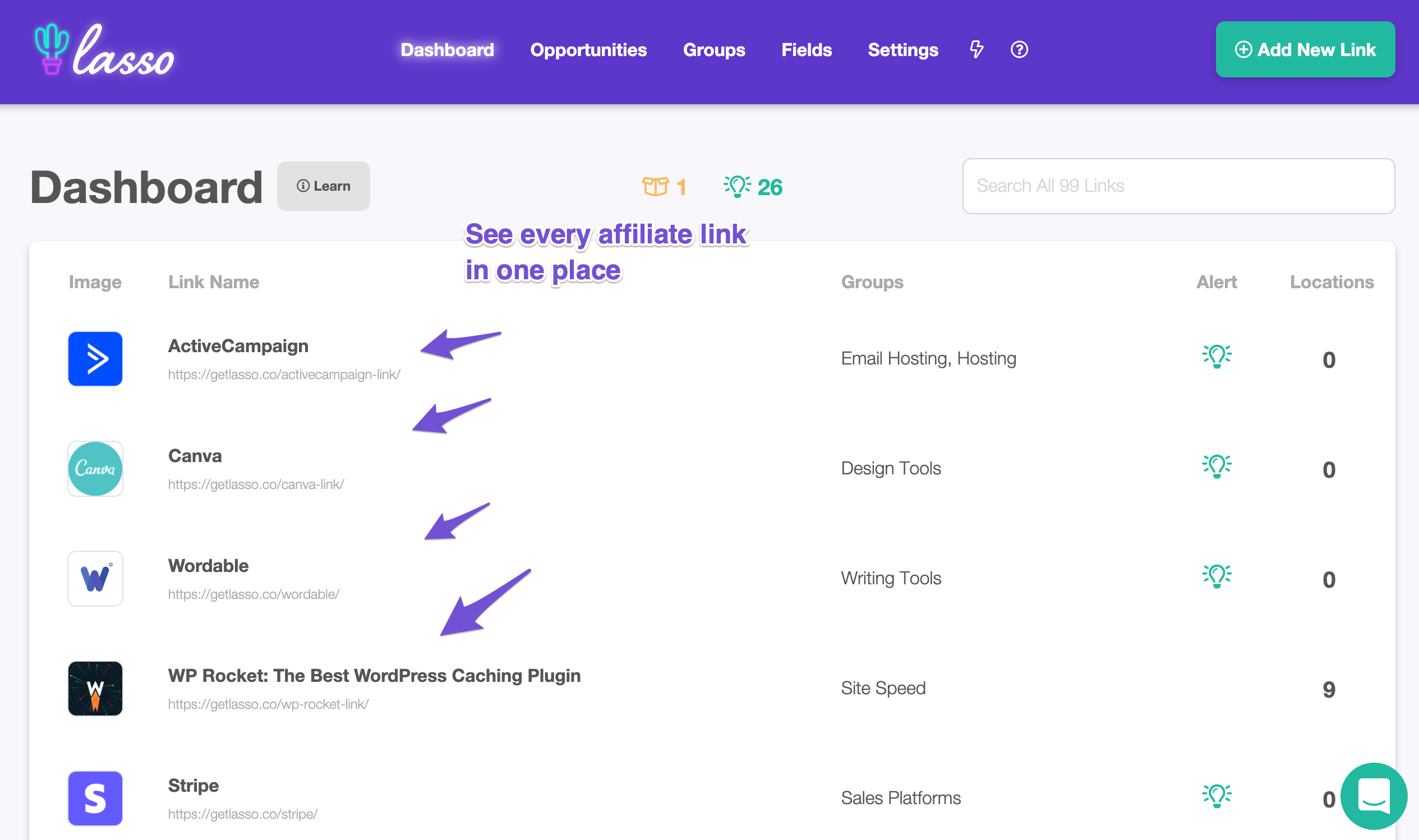 What makes it easier is you can organize your links into groups (or categories). 
For example, our personal finance site's toolbox has several links grouped by category. We've organized them by "debt," "courses," "investing," and more. 
However, if you have thousands of links to manage at scale, a tool designed with that purpose is what you need.
And you've probably experienced your partners jumping between networks like ShareASale and CJ Affiliate. When they switch, it's easier to manage when they're in one place.
When you need to update any URL in Lasso, head to that specific link details page and paste in the new version.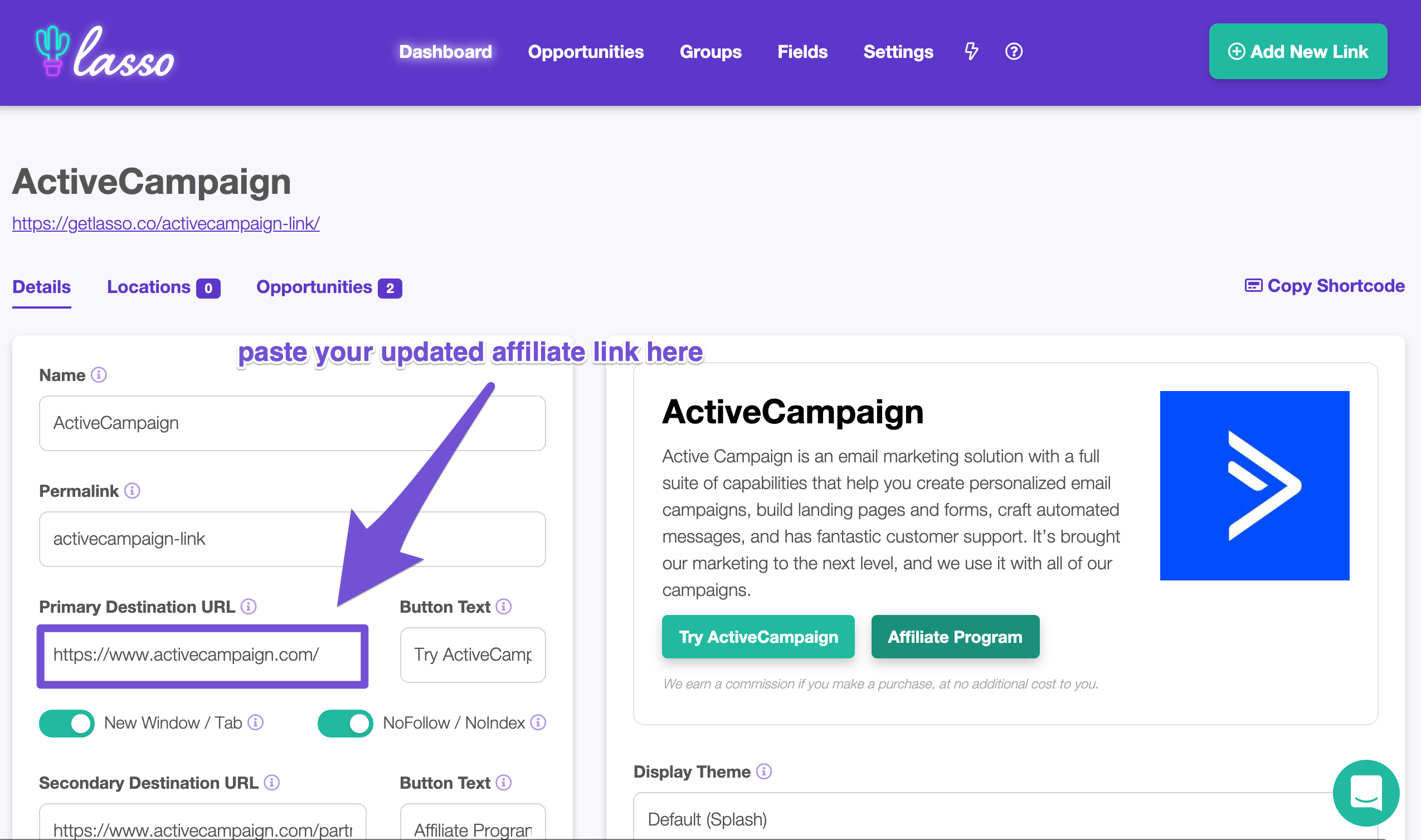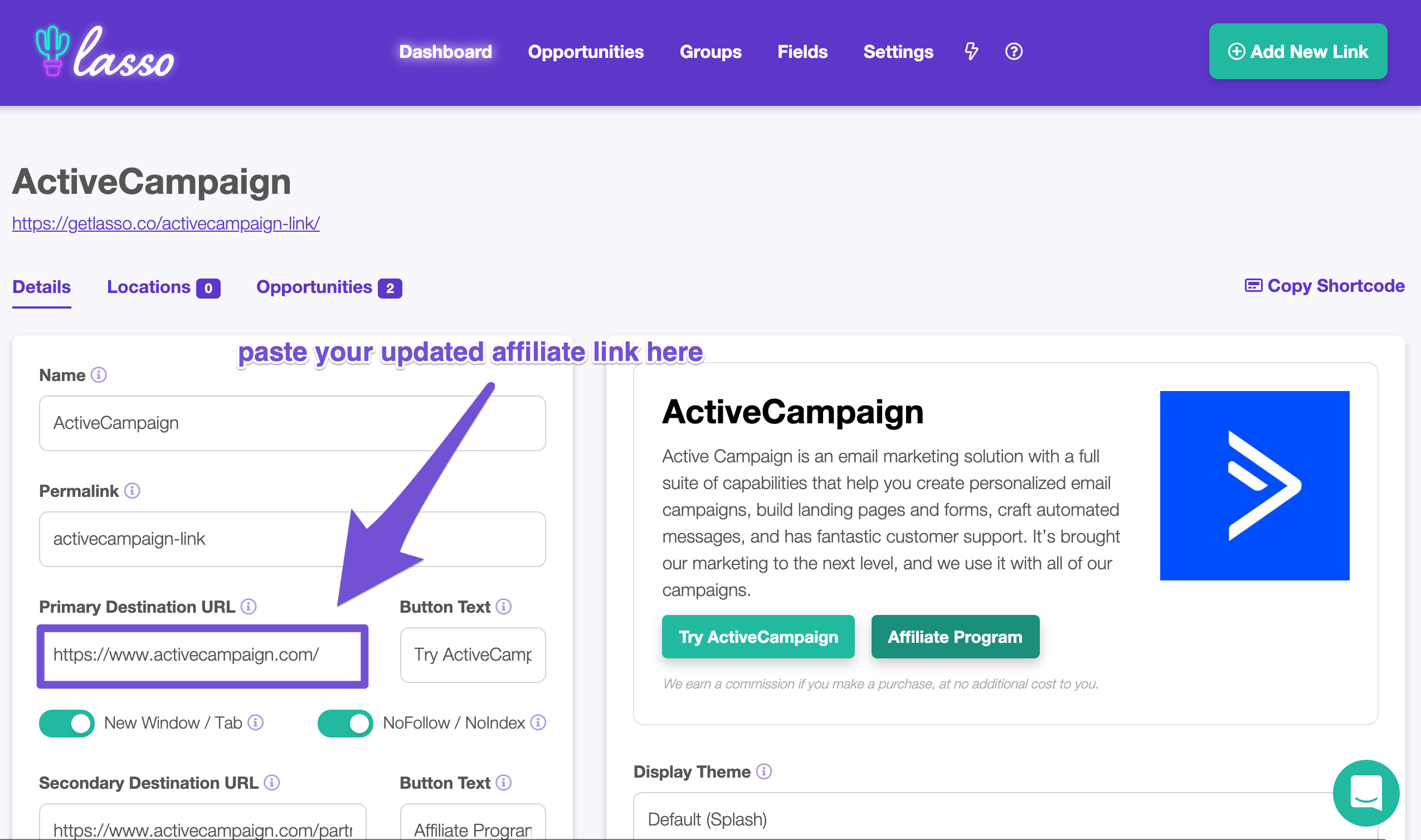 Or perhaps you built affiliate relationships during your website's later years, and now you need to monetize your blog posts long after their creation. Maybe you've changed your mind about a product or service and want to use another affiliate partner. 
Case in point: When our site switched from recommending SoFi to Earnest for refinancing debt. We needed to replace the SoFi affiliate link with Earnest's.
3. Reaches A Wider Audience
Clean URLs are easier to remember, share on social media and in emails. In many instances, you avoid having to manually dive into your dashboard and look up what your affiliate URL is if yours follows a simple format.
For example, our personal finance site follows this formula:
Something like this is far easier to share with other partners or potential brands you'd like to build relationships with. And they're easier to say on a podcast or interview.
4. Tracks Click Data
Keeping tabs on your best-performing links gives you greater control of your income. If using Lasso, you can test different display types. Just click the Cactus icon in the top menu bar.

Then, choose your display: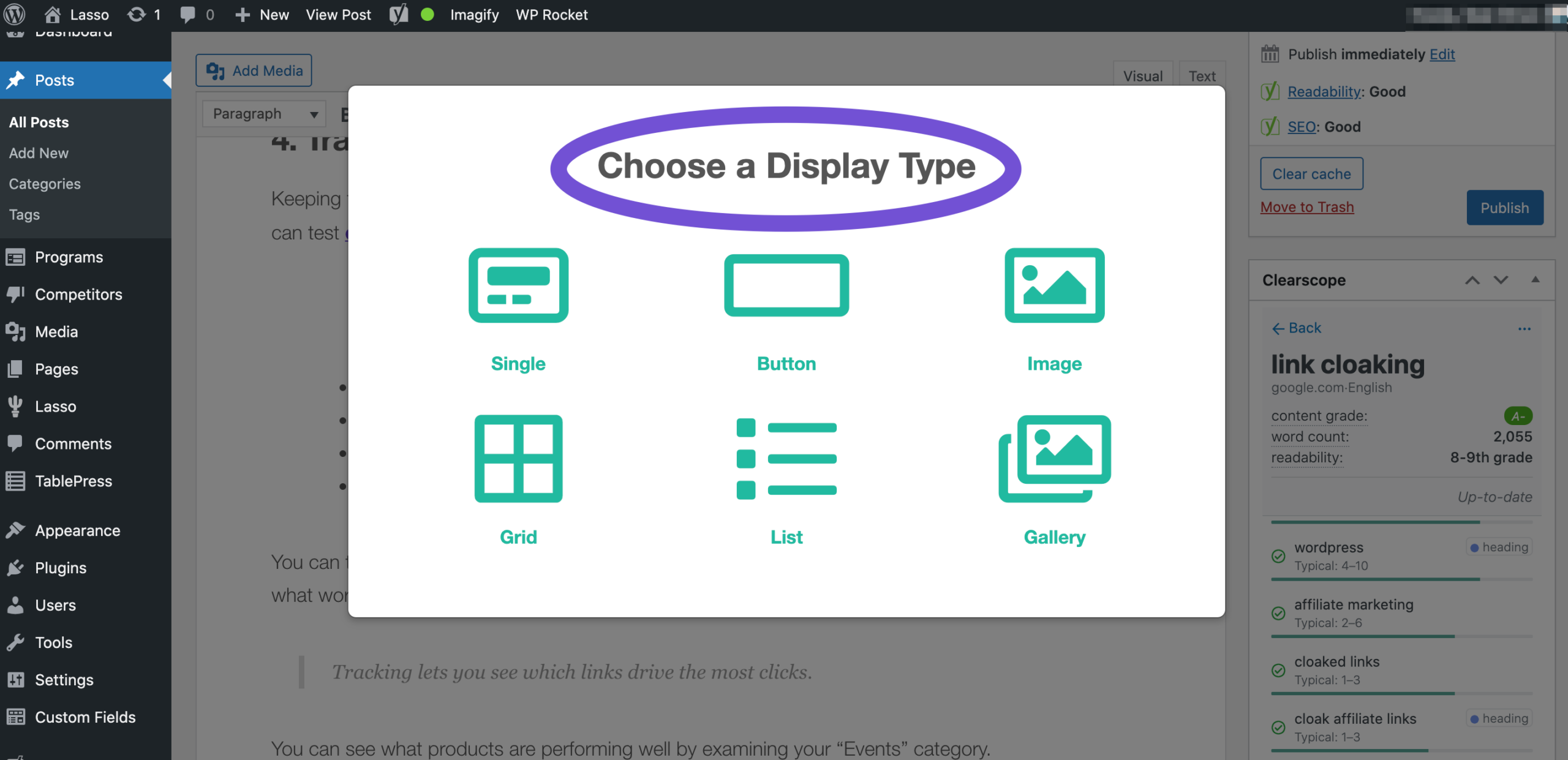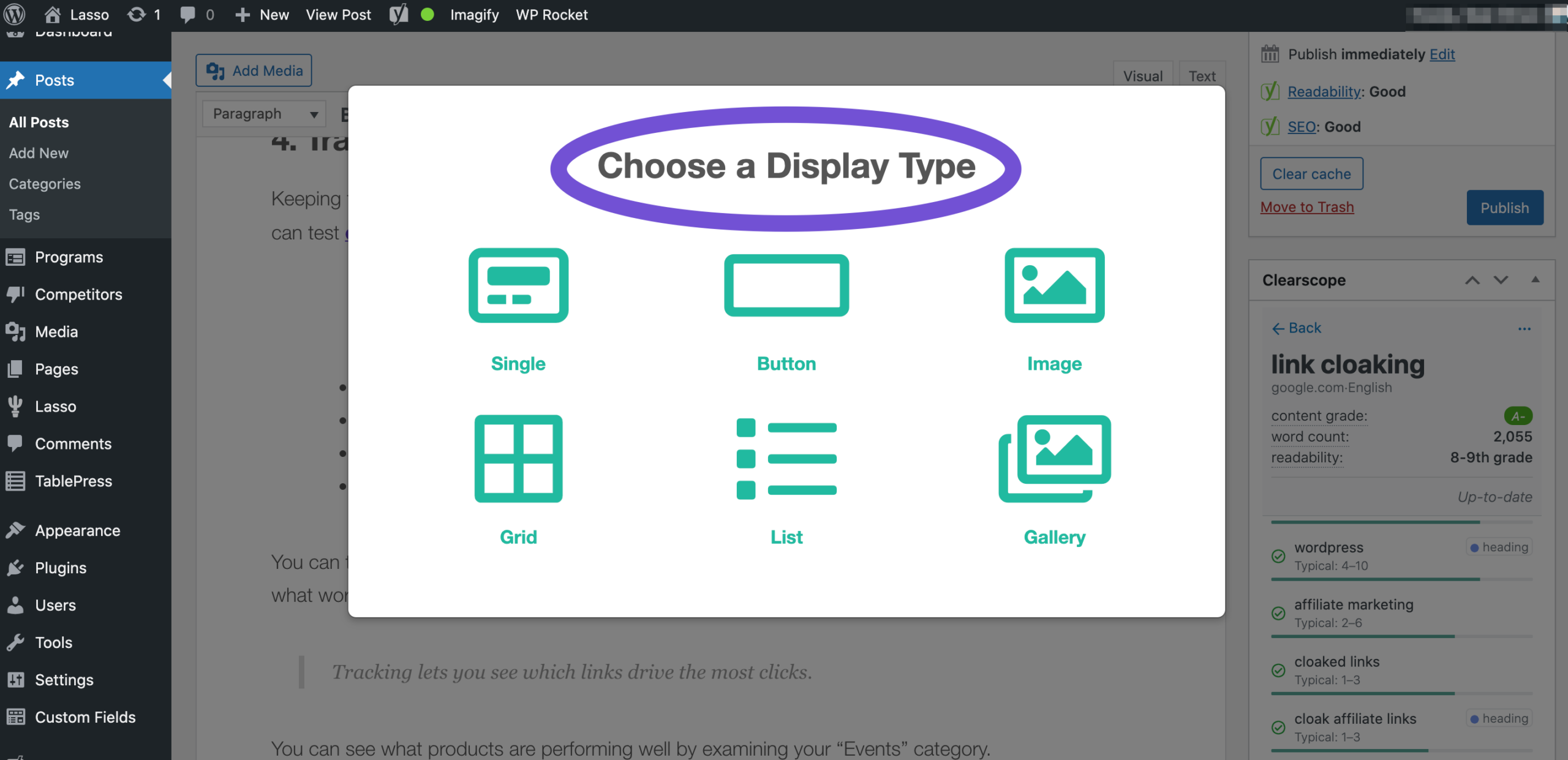 You can then track affiliate links with Google Analytics to refine your marketing approach and see what works with your audience (and what doesn't).
Tracking lets you see which links drive the most clicks.
You can see what products are performing well by examining your "Events" category. First, head to Behavior > Events. To see your top-performing products site-wide, click "Top Events":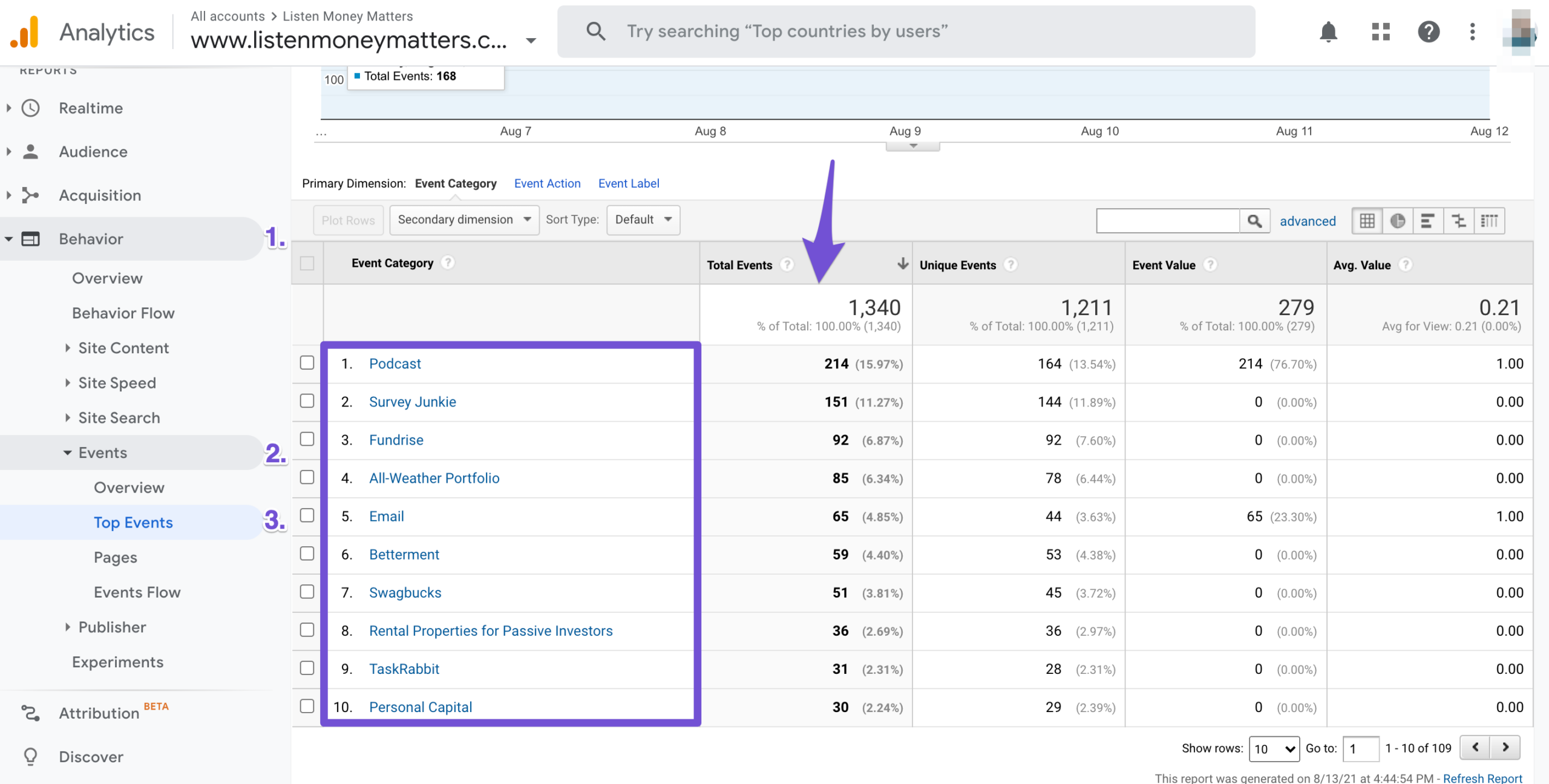 If you want to see what affiliate URLs are doing well on a page level, click "Pages."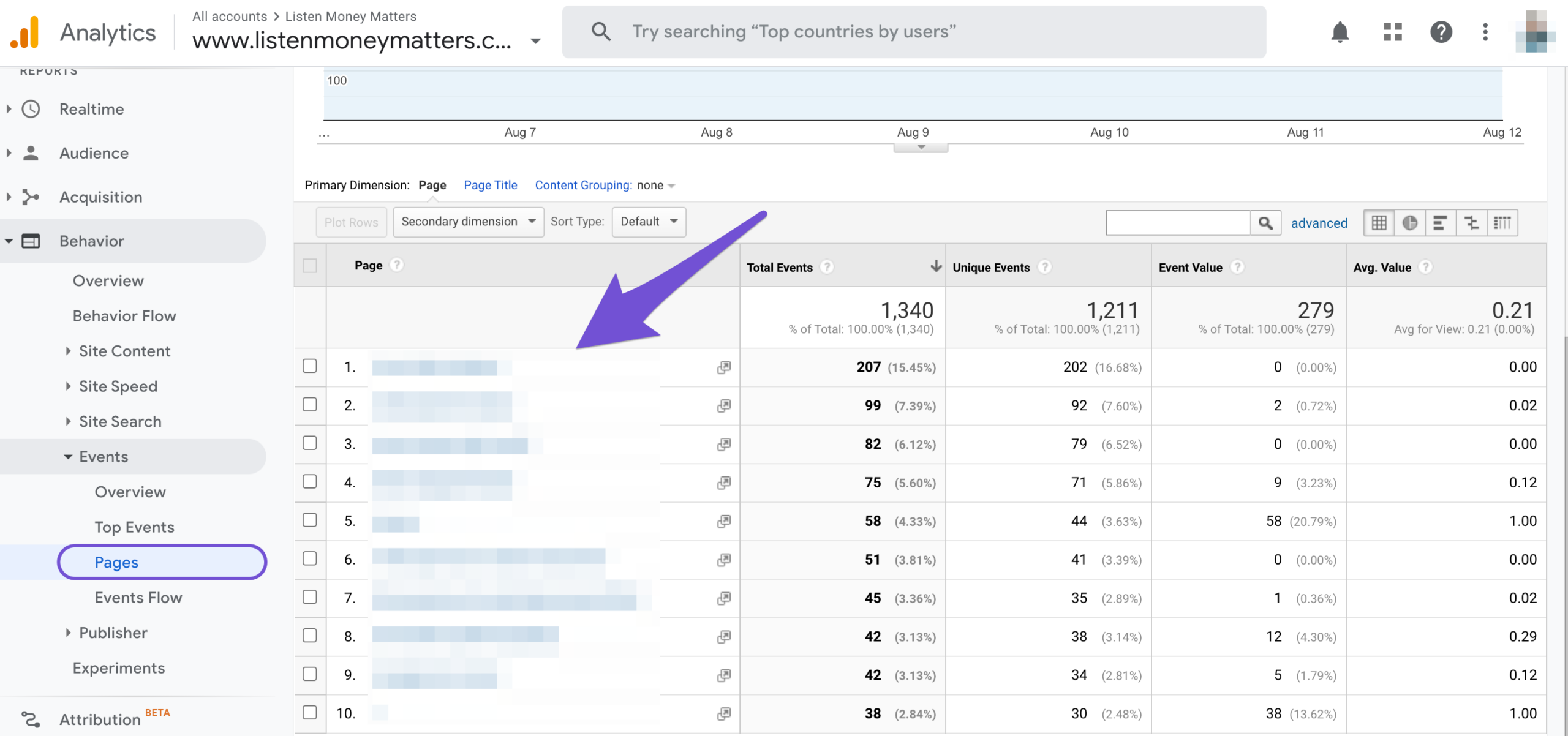 Further Reading:
How to Start Cloaking Affiliate Links Using Lasso
The Best Link Cloaking Plugin
Lasso
Lasso is the best WordPress plugin for affiliate marketing. If you want to earn more affiliate income and grow your niche site, you need Lasso!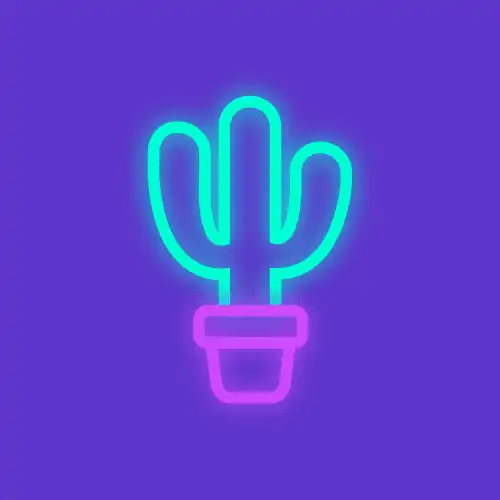 If you're using a WordPress plugin like Lasso to cloak your links, it's pretty straightforward. First, you'll install the plugin.
Then, paste your affiliate URL into your link details page. By default, Lasso cloaks all non-Amazon links automatically.
Below is one example from our personal finance site uncloaking an affiliate link with the flip of a toggle. This GIF shows you five things:
Clicking the "Add New Link" button
Pasting your affiliate URL into Lasso
The cloaked version by default
Scrolling down and toggling off "Link Cloaking"
The final uncloaked version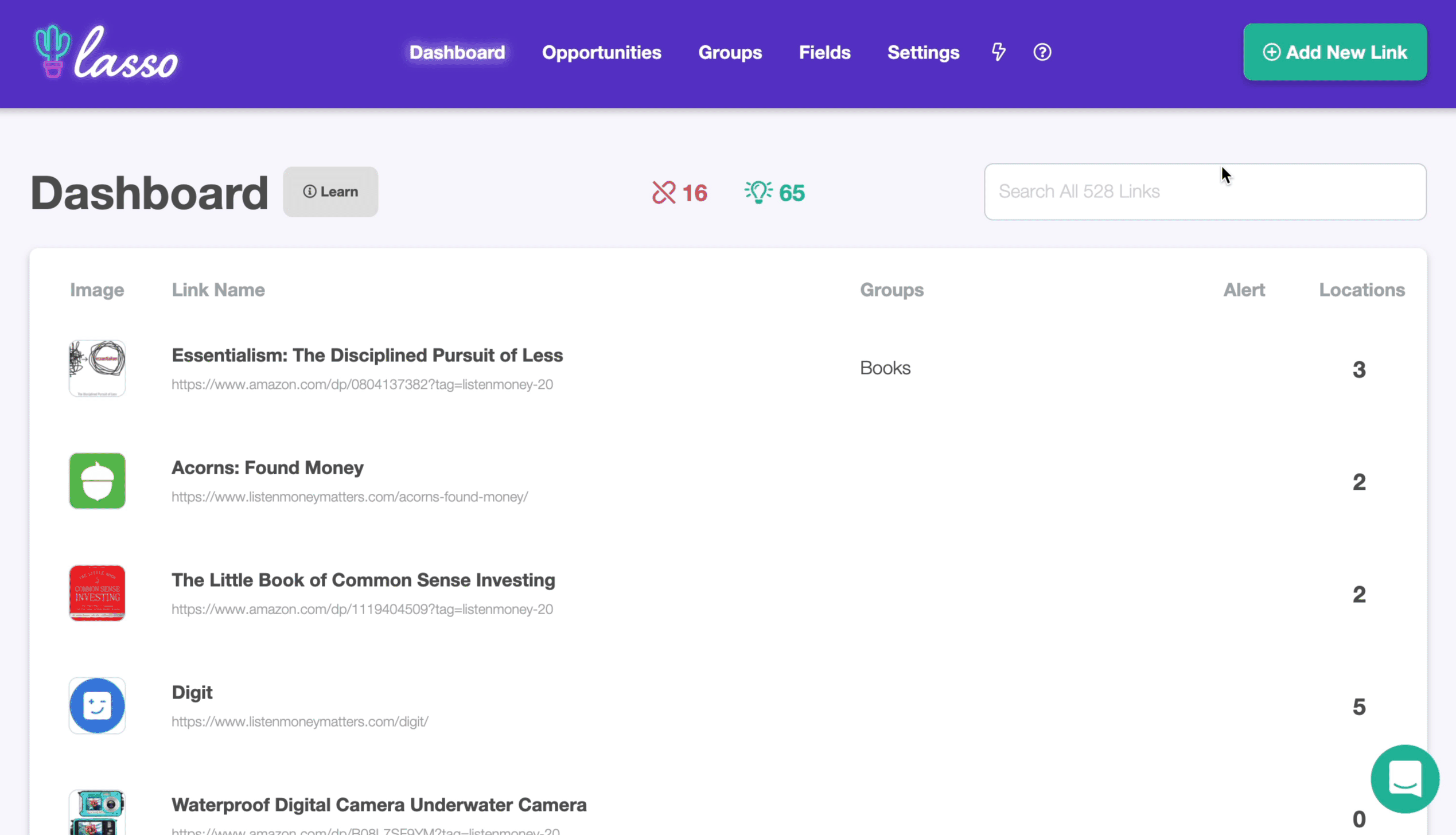 Cloak Links Automatically
When you're inside your affiliate link details page, simply toggle it to the "Off" position to uncloak any link. Uncloaking links in Lasso means that Lasso won't print or display the cloaked permalink (slug) on your site.
Sidenote: The permalink will still work if you say it out loud in some form of media.
Free URL Cloaking
Simple URLs
Simple URLs link management system lets you easily organize your affiliate links and track every click without the complex setup, while its cloaking feature makes them memorable and shareable. Quickly find any URL you created in the search bar. Unlike other legacy plugins, this free WordPress plugin works with both Amazon and non-Amazon products.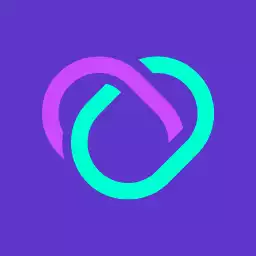 Alternatively, there are affiliate link cloaking plugins that offer a free version. If you're only looking to cloak links and nothing else, Simple URLs is an installable WordPress plugin that uses custom post types and 301 redirects.
It'll let you create, manage, and track outbound links from your WordPress site. Once you download the plugin and install it, it'll display as a custom post type in the side bar.


Inside the admin panel, you can see your link's:
Number of clicks 
Affiliate link redirect
Permalink (i.e., the cloaked link)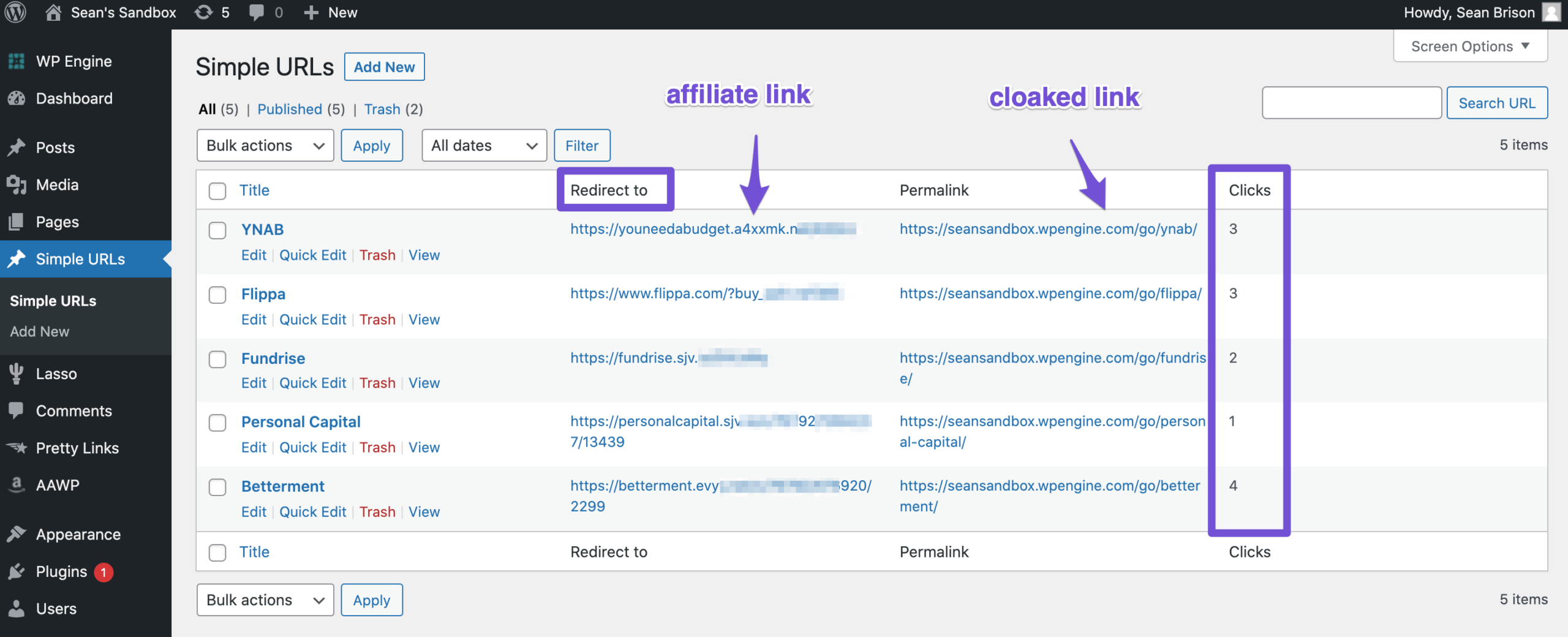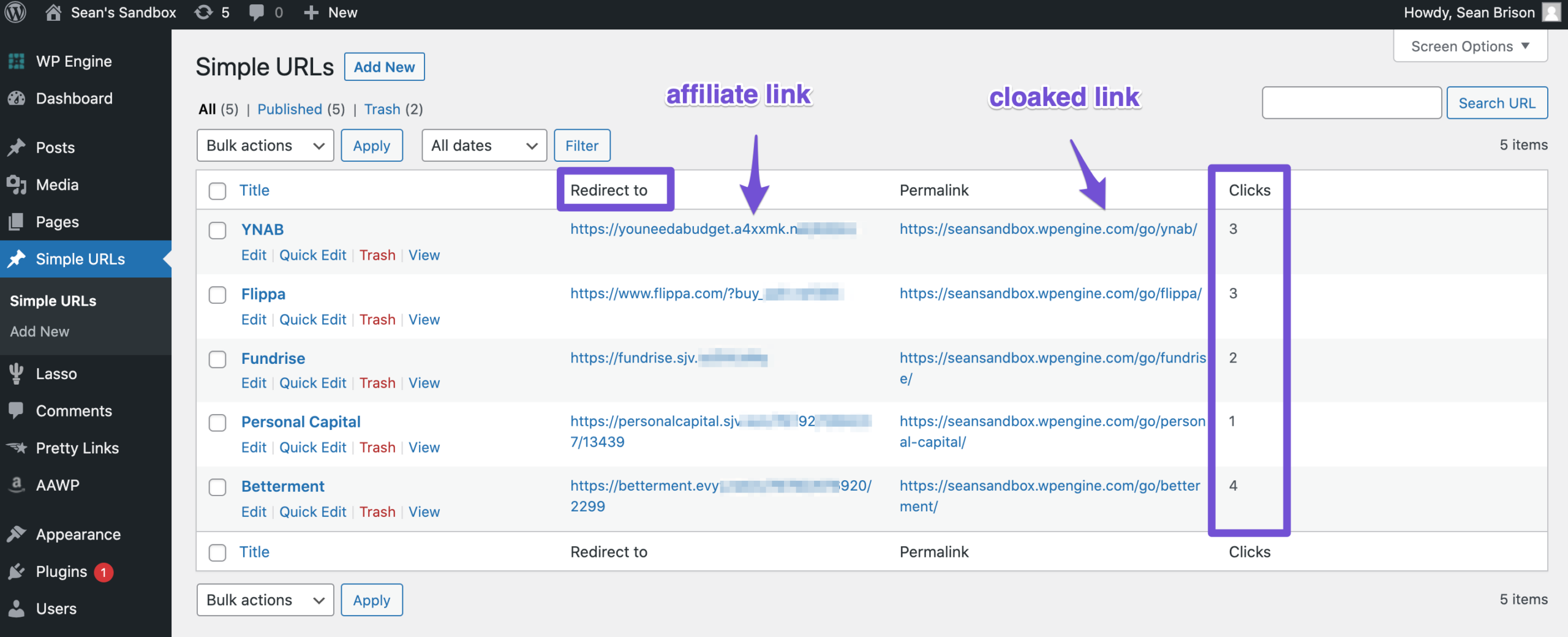 Simple URLs is our free plugin if you're only looking for a basic cloaking option for your affiliate site.
Further Reading:
Can You Cloak Amazon Affiliate Links?
You can't cloak Amazon affiliate links per their Amazon Associates Operating Agreement. Anytime you obscure the referring URL (e.g., your blog post link), you violate Amazon's TOC.
That could potentially mean getting kicked off their affiliate program.
From Amazon:
You will not cloak, hide, spoof, or otherwise obscure the URL of your Site containing Special Links (including by use of redirecting links) or the user agent of the application in which the Program Content is displayed or used such that we cannot reasonably determine the site or application from which a customer clicks through such Special Link to Amazon site.
Amazon says you can't obscure the link. If it's not obvious you're sending website visitors to Amazon, then you're in jeopardy.
The only tool I know of that lets you cloak Amazon links is with GeniusLink because they have a direct relationship with Amazon. However, using GeniusLink to cloak your links won't make them "pretty links."
Further Reading:
Do Affiliate Links Affect SEO?
Affiliate links don't affect SEO because search engines don't index them and should have a "nofollow" tag. Adding the 'nofollow' tag informs search engines that those are monetized links.
Google says to qualify your outbound links, so it understands the relationship between your website and the external link on that page.
There are three rel values:
rel = "sponsored"
rel = "ucg"
rel = "nofollow"
"Sponsored" refers to any paid link; "UGC" refers to User Generated Content (e.g., forums), and nofollow catches everything else.
Google's John Mueller has even suggested using rel = "sponsored" for affiliate links, so it's clearer what kind of nofollow tag it is (although "nofollow" is still good).
Lasso uses rel= "nofollow" as a catch-all for all monetized content (which you have the option to toggle on or off to indicate it's an affiliate link).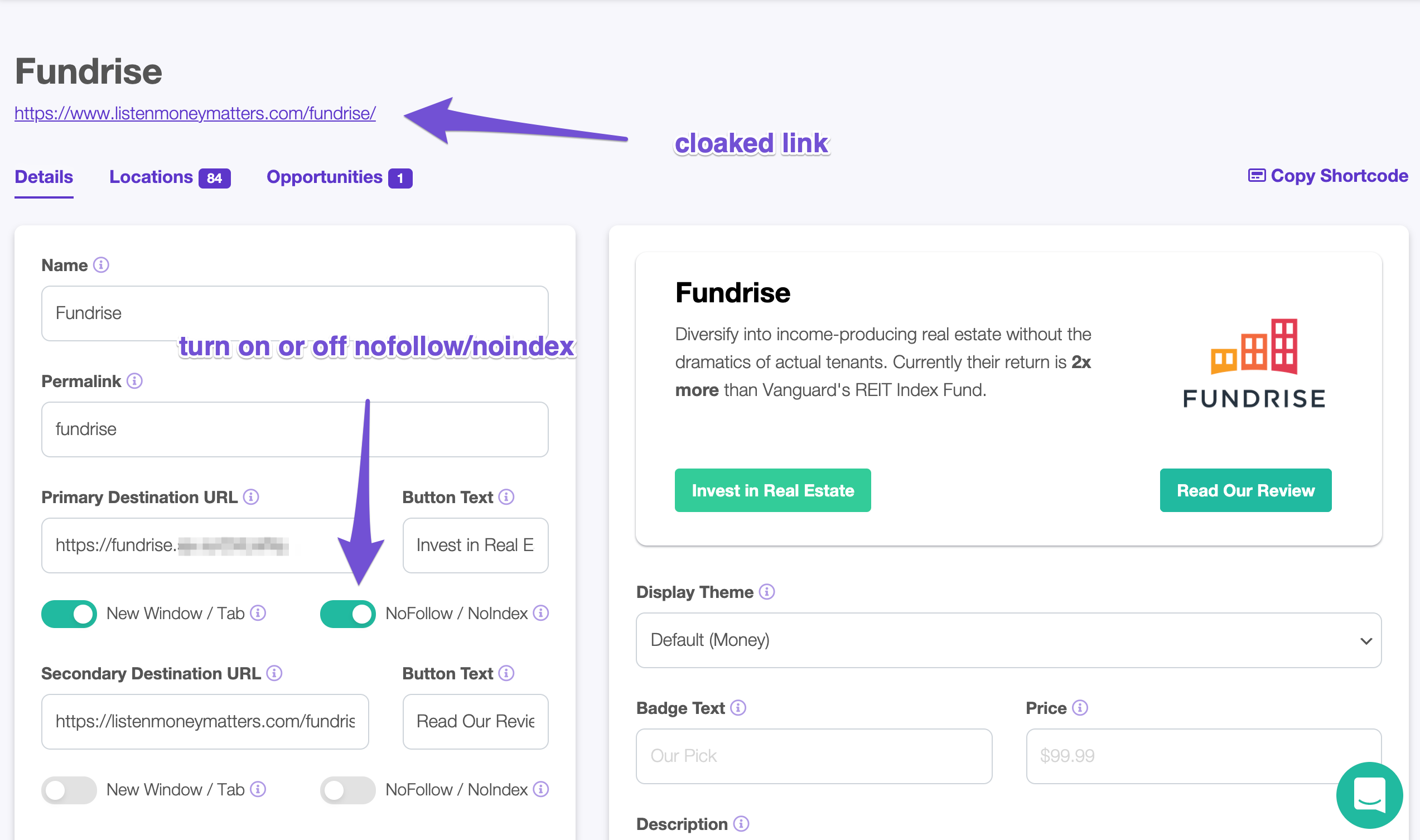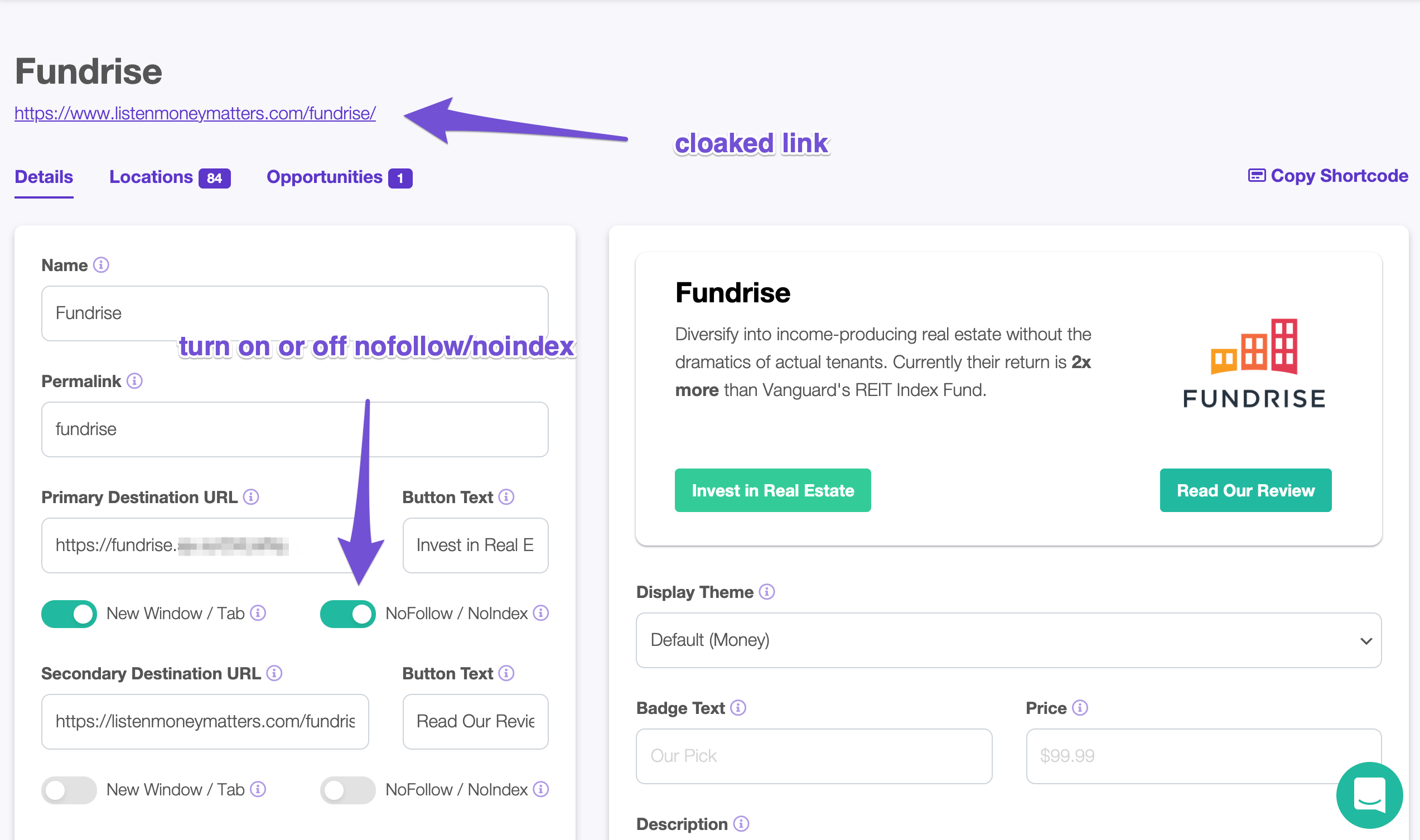 Google also recognizes the bulk of affiliate networks and will not index these links found inside your posts.
Cloaked URL vs. Shortened URL
Link shortening refers to shortening an affiliate link. It's incorrect to call a cloaked link a shortened link as the two are different. Cloaking links are used for tracking and branding.
Link shortening does come in handy, specifically with social media (e.g., Twitter) but can still be unwieldy and are unmemorable.
What's worth remembering when using a link shortener is:
Your domain gets replaced with the link shortening tool's domain
The permalink (aka slug) gets replaced with a string of numbers and letters
For example, using bit.ly's link shortening tool would take the domain:
drinklab.co/best-coupe-glasses
and replace it with:
bit.ly/ef9lpk7
So, it's shorter but still cumbersome to say and difficult to remember. Looking at that link, you can't tell whether it's monetized either.
The workaround is using a custom domain to leverage some brand equity. For example, CoSchedule's Twitter feed uses cos.sc/3kRNwJr as its homepage link.

But, it's still an extra redirection.
Also, if you're using a link shortener with your Amazon affiliate links (i.e., amzn.to), it gets visitors to their destination URL slower. You can see a shortened Amazon link has an extra redirect when testing with Wheregoes.com: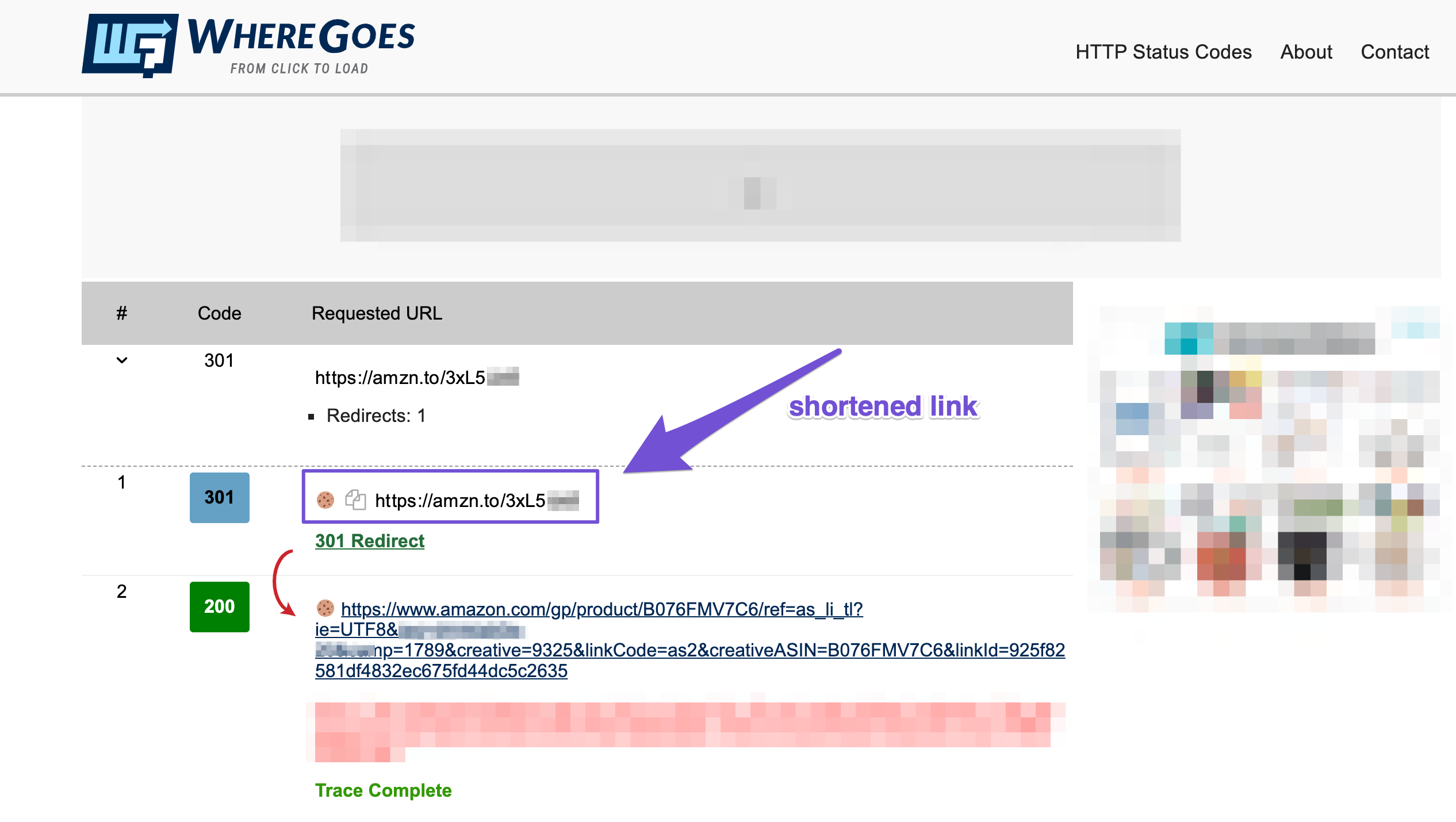 Short links used to be a big deal back in 2015 when Twitter counted the number of characters when placing a link into a Tweet, but that's no longer an issue. Twitter (and almost every other link shortener tool) does this for you automatically.
A URL of any length posted to Twitter will be altered to 23 characters.
Takeaway: The difference is URL shorteners shorten your link. Cloaking was designed to show search engines one thing while your website visitors saw another. Both use redirects to "forward" the person clicking to another URL destination.
A Simple Template for Cloaked Links
In 2005, however, many WordPress plugins were created that made it easier for affiliate marketers to make their links look less like an affiliate link.
Essentially, removing the merchant's info and giving your readers a preview of what's behind the click. Simple cloaking nowadays looks like this:
For example, Lasso cloaks all non-Amazon links using the above formula. An example of how a cloaked link appears on our website:
listenmoneymatters.com/roofstock
Your readers see a descriptive URL without sacrificing either your brand's or the product's name.
Last Words
When you cloak affiliate links on your web pages, you present them in a visually appealing way, gain click confidence, and increase their shareability. It's an insanely powerful method to manage your monetized links. 
Ready to find out how Lasso will grow your business? Give us a try.
Our creations in your inbox, weekly.
We've built multiple six-figure online businesses that our moms are proud of.
We'd like to help you do the same.