You're reading this because you want to make more money from your blog, and you're probably wondering: Is affiliate marketing worth it? We think so.
That's because we've been wildly successful in pursuing it. Did it allow us to walk away from our day jobs? Yes. Have our sites made millions? Yes. But none of that matters.
Here's the real question: Is it what you should do?
Consider this:
Statista revealed a $3 billion boost in affiliate marketing spending since 2017 and projects it'll hit $8.2 billion by 2022.
That's a lot of money.
So, maybe you're a new blogger, or perhaps you already have a site with good traffic, and you're looking for ways to monetize it. Whichever category you belong to, this post gives the hard truth about whether it's right for you.
We'll look at the numbers, hear from our customers using this business model, and when you should consider it.
Here we go.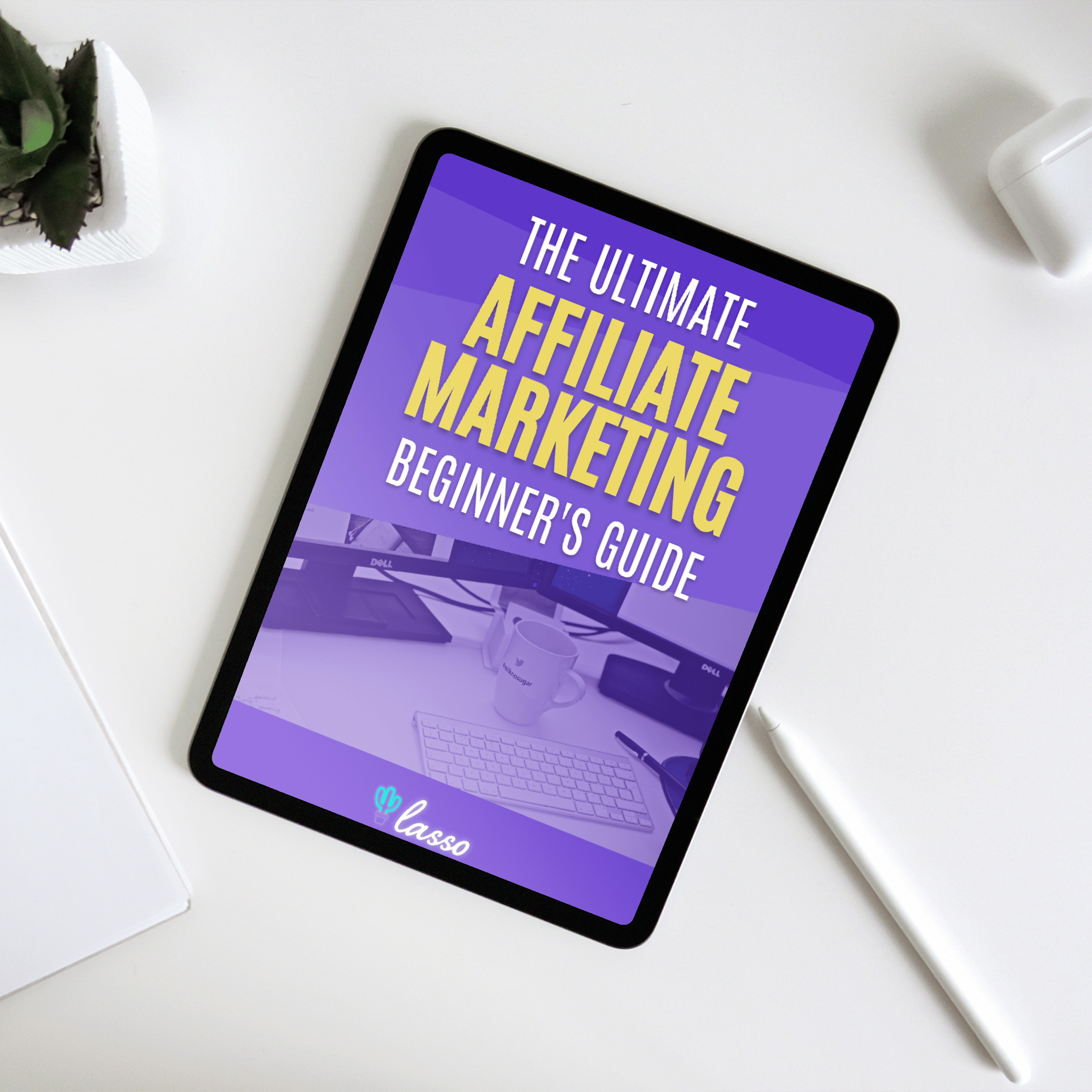 Get Your FREE 30-Page Affiliate Marketing Beginners Guide And Grow Your Site Today
Table of Contents
$2.6M In Affiliate Marketing Commissions (Here's Why We Think It's Worth It)
The Affiliate Marketing Industry By the Numbers
Data is unbiased, so let's first examine a few stats that paint a picture of why this whole affiliate marketing thing might be a good idea.
Take a look at Google Trends.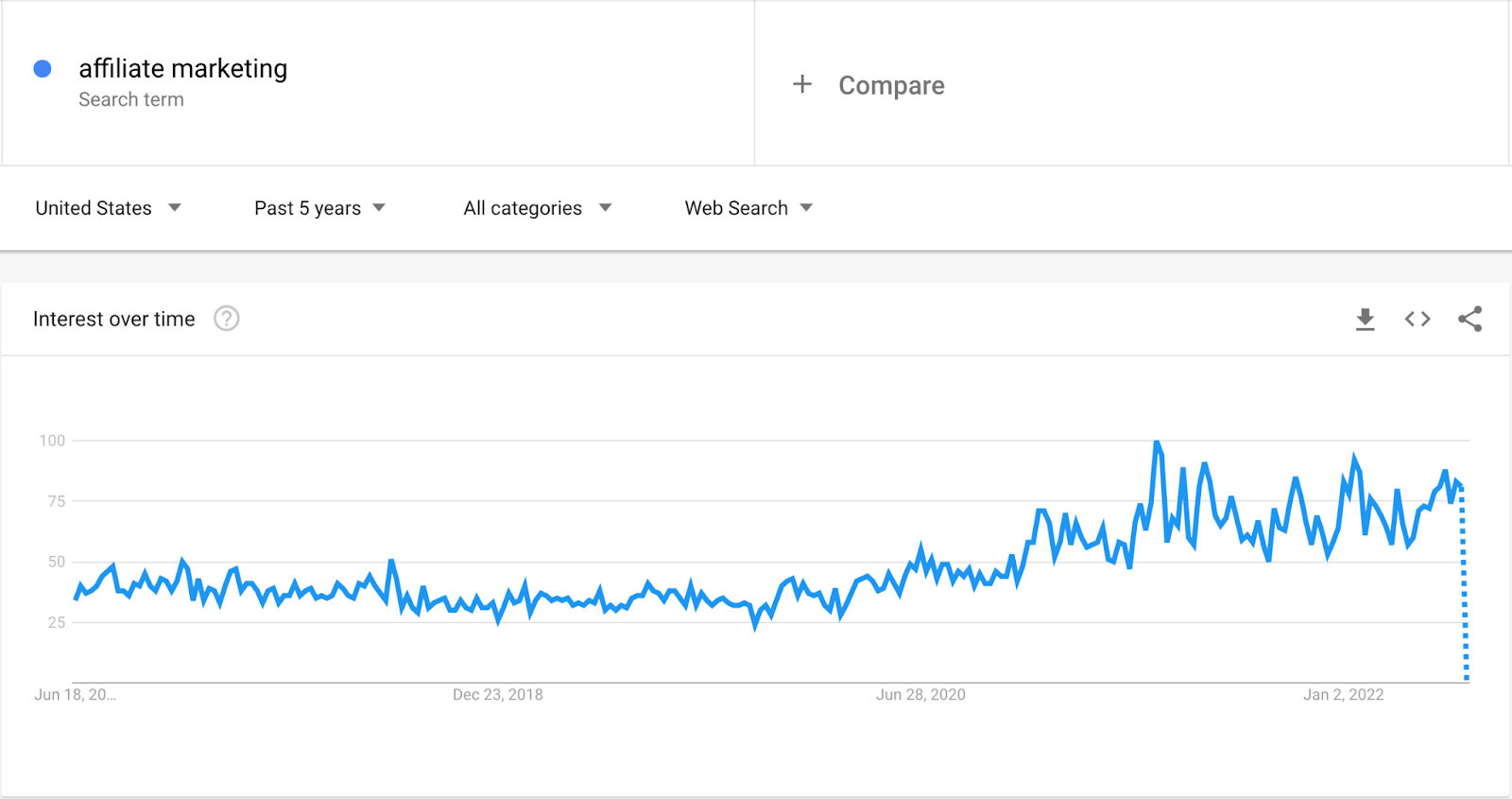 Google Trends shows over a 200% search interest increase for the term "affiliate marketing" over the past five years.
But that's not all.
Blogging is the biggest method for affiliate marketers to generate sales, with search engine optimization (SEO) being the number one traffic source.
And here's the kicker.
Did you know 81% of brands use affiliate marketing programs (us included), while 15% of total digital advertising comes from affiliates?
And with so many programs available, 71% of publishers use multiple affiliate networks to diversify their earnings.
Businesses are pouring money into this marketing channel, which is good news for you.
Can You Actually Make Money with Affiliate Marketing?
Yes, you can absolutely make money with affiliate marketing.
It's how Lasso co-founders Matt Giovanisci and Andrew Fiebert walked away from their 9-5s, turning their online businesses into full-time incomes.
Matt has been earning a living from affiliate marketing for over a decade with three websites across various industries which earn a combined $250k annually.
Andrew Fiebert's personal finance site earned over $400k per year.
Now before we dive into the details, here's a quick refresher on how the affiliate marketing business model works.
You promote a company's products or services on your site
Your recommendations have a unique tracking ID embedded in the product's URL
When you send merchants qualifying leads, traffic, or sales through your affiliate link, you earn a commission.
Traditionally, online marketing used simple text links to promote their products.
But here's where it gets interesting.
Matt and Andrew discovered more people clicked affiliate links when showcased in eye-catching product displays (like this one below).👇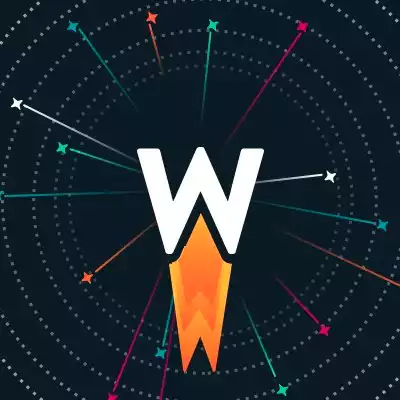 WP Rocket
Make your site load faster in a few clicks. WP Rocket is recognized as one of the most powerful caching plugins for WordPress. We use it specifically for image lazy loading.
🚀 Cache My Site
Affiliate Program
We earn a commission if you make a purchase, at no additional cost to you.
This resulted in higher affiliate commissions for them.
So, they did more testing. What if they used more product boxes to promote their offers instead of text links?
Case in point: When Matt rolled out product displays across his first site Swim University, his income tripled from $40k to $140k in a single year.
Andrew did the same and saw gains in click-through rates and conversions, doubling affiliate sales in two months.
You can read this thread about his approach.
I have built two niche sites that have generated over $2.6M million in *just* affiliate revenue since Jan 2018.

That's an avg of $51.4k/month for 4+ years. 🤯

I'm going to share what I've learned.

My first thread 🧵👇

— Andrew Fiebert (@andyfieb) June 6, 2022
But don't take our word for it.
Read our case studies.
Website owners like Barron Cuadro successfully created custom shopping displays for products focused on men's style.
Or Khris Steven, who educates marketers on the latest tools, trends, and strategies to scale revenue.
If you're still unsure, Google "blog income report."
You'll probably encounter stories from bloggers like Adam Enfroy who generated over $800,000 per year ($600K was strictly passive income from affiliate revenue).
But it's not all rose-colored Lambos, Bentley's, and booze.
Building a successful affiliate marketing business requires:
Now, let's explore when affiliate marketing might be a good idea for you.
Further Reading:
When Should You Consider Affiliate Marketing?
Is affiliate marketing worth doing? Here are a few thoughts based on a decade spent in the industry.
1. You Care Deeply About the Topic
First, don't worry about your niche.
We have customers in various industries and the successful ones share a common trait: they care deeply about their topic. Your passion and curiosity will sustain you when others quit.
As a byproduct, you'll become the go-to source.
2. You Can Build Good Relationships
Building a successful online business involves work, but nobody gets to the top without help.
Whether you're forging relationships with affiliate managers or getting to know your readers on a deeper level, you're only as good as what you give.
If you believe in what vendors sell, rally behind them. When you find solutions to your readers' problems, make it your priority to tell them. It's not salesy when you're helping someone.
Your bubbly personality paired with useful content is what brings traffic.
Takeaway: Make many friends, burn zero bridges, and don't be a d*ck. Helping people is your growth accelerant.
I forgot where I read this and take no credit for the quote (which I'm sure to butcher), but here it is:
"Don't think about making a million dollars; instead, think about helping a million people."
3. You Know the Product Well
Selling is easier when you know what you're selling.
Perhaps it's a tool you use daily to run your business. But, on the other hand, maybe your experience with it comes from a hobby you pursue on the weekends.
Either way, you're familiar with the product.
And when you know and believe in it, recommending it comes naturally. It's easier to have conversations with your readers about it.
Leading with value drives more clicks (that and a stunning product box).
Particular niches (e.g., web hosting) have higher commission rates, so consider your industry. The payout may surprise you.
Perform a Google search for products in your niche to see their rates. It might be worth sprinkling a few affiliate links into your content.
Sidenote: You can search our database of over 8,000 affiliate programs categorized by niche here.

4. You Have High Traffic On Product-Focused Pages
Perhaps you haven't considered affiliate marketing yet, but your traffic numbers are growing.
And some of your product-focused content (e.g., tutorials and product reviews) have many pageviews.
High pageviews signal two things:
Pageviews, and more specifically, link clicks, are votes by your target audience in favor of what you produce. And an engaged audience is a sign you're doing something right.
What if you monetized that content with affiliate links?
When using Lasso, you can connect it to Google Analytics and see which product links get the most clicks.

Tracking links is crucial for measuring a specific affiliate program's success. So, take a look at your analytics and look for patterns, then ask:
Which are you popular pages?
What products get clicked often?
Where are the products located on the page (e.g., near the top or at the bottom)?
Further Reading:
You don't need 100,000 monthly visitors to make money with affiliate marketing either (but it helps 😉).
To put this in perspective, my site (still in its early days with little traffic & content) made $56 as an Amazon affiliate in 30 days and only had 459 pageviews.
That's peanuts.
Now compare that to one of our established sites, Listen Money Matters.
When Andrew wrote "Learn How to Start A Blog That Earns Over $400k A Year," it got over 500k monthly visitors.
Those are both extreme affiliate website examples:
You can earn a modest amount of money with few visitors
You can be financially free with boatloads of traffic in a high-paying niche
Or you can fall somewhere in the middle, earning a full-time income from your site's affiliate commissions alone.
Further Reading:
5. You Have Your Own Products That Complement Your Affiliate Recommendations
Here's how to make affiliate marketing work and accelerate your earnings:
Create a product for sale on your site, then bundle it with a complimentary affiliate product.
For example, we use the turnkey platform, Roofstock, for locating rental properties (we're avid rental property investors).
We loved them so much that we became an affiliate.
Later, we created an online course about our rental property investing approach on our finance site.
It goes into great detail about how we use Roofstock's platform to determine whether a rental will yield a positive cash flow.
The people who buy the course need to sign up with Roofstock (since that's the tool we use).
So, we earn revenue two ways:
Course sales
Affiliate commissions from Roofstock
6. You Don't Need the Money Immediately
Yes, you can make a substantial amount of money with affiliate marketing, but it takes time.
If you aren't strapped for cash and generate revenue elsewhere, then it's definitely worth pursuing.
However, you don't want the added pressure of trying to make money to pay bills because that's not how this game works.
Affiliate marketing isn't a shortcut to riches, and there's no substitute for hard work.
7. You Have the Time & It Supports Your Goals
Like I said, it takes time to build a successful business.
The only way you'll get there is if you make time to work on it. An even faster way is to align it with your business goals. That ensures you WILL work on it regularly.
Start small. Schedule five hours per week on your calendar. Slow and steady builds alternative revenue streams every time.
3 Affiliate Marketing Red Flags
If you encounter any of the below, walk away. It's not good business and there's plenty of fish in the sea.
It's a Poor Product or Cash Grab
These can go hand in hand. For example, some companies try to lure you over to their camp with high commission rates (despite having a horrible product).
Don't be swayed. A high payout isn't worth it. Your reputation is on the line with everything you recommend.
It's your endorsement for that product so don't attach your name to something you wouldn't personally recommend to your own mother.
It's the quickest way to lose credibility.
The solution?
Lead with value. Ask yourself this question every time, "Does this product bring value to my target audience?"
The answer should always be a resounding "Yes!"
Plus, affiliate programs can change frequently, so if you're always chasing the next big payout and swapping out one product for another, your readers will see through it.
Further Reading:
You Have ZERO Interest In the Niche
If you're only doing it for the money and you don't care about the topic, it'll come through in your content.
It's ok not to care, just be upfront about it before you start. Sooner or later, something will come along that gets your attention and pulls you away.
Plus, you likely won't care about the people you're supposed to help.
Doing it strictly for profit is unsustainable.
Shady Affiliate Partners with Questionable Programs
While most affiliate programs are good, some aren't.
Some don't share their program details, while others may not pay on time (or worse, run out of funds).
There are ways to investigate your vendors.
Sidenote: Some networks display how long merchants have been active on their affiliate platform. ShareASale goes a step further and indicates merchants with low funds.
To see this, head to any seller's affiliate program page and click "Status History." This also displays how long they've been online.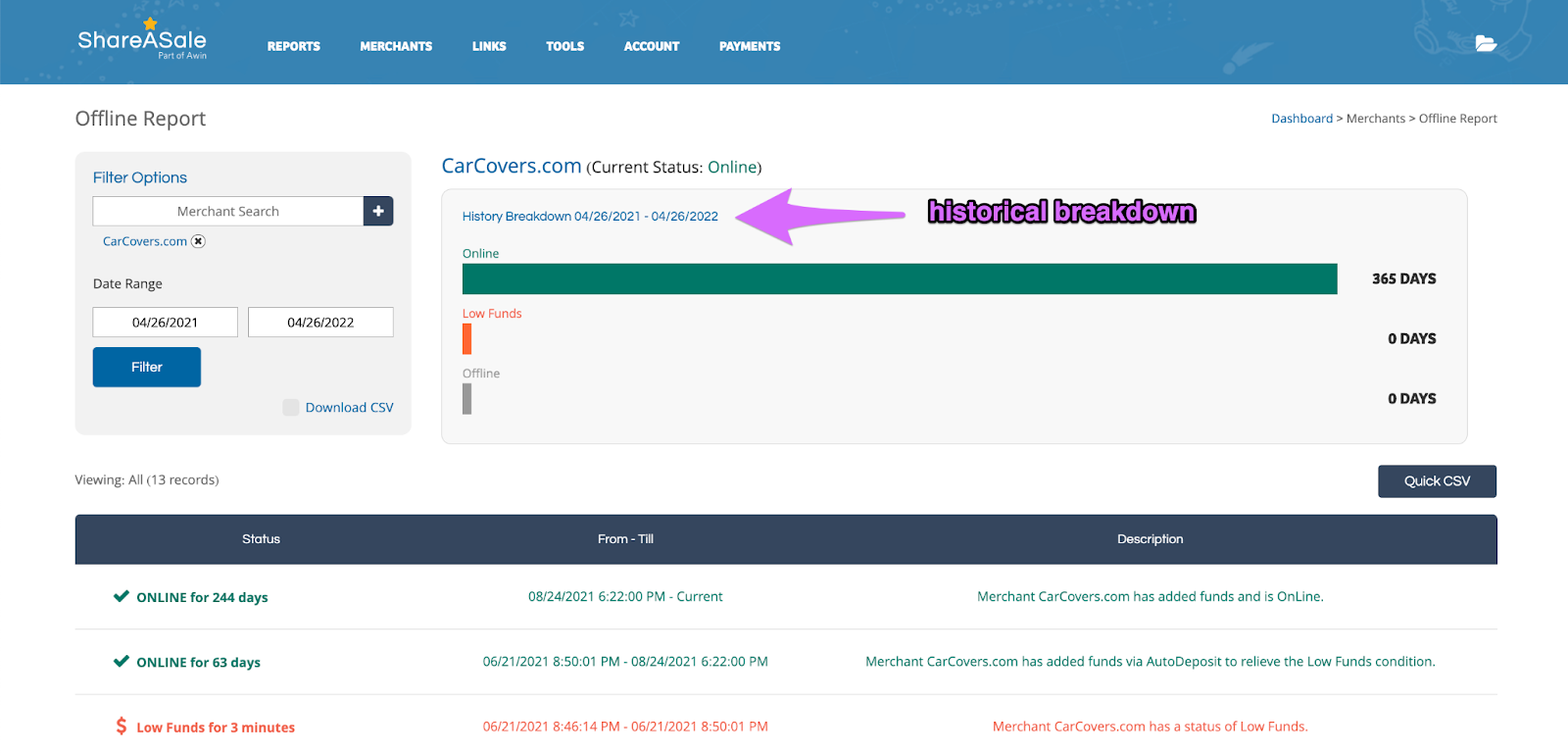 You can see:
Merchants with low funds
How long they've been on the platform
If you spot some that are on and offline frequently, it might indicate management or liquidity difficulties with referral partners.
A few other things to be aware of:
Weak affiliate tracking software
You can't monitor your payments
Their affiliate terms aren't listed in writing
Affiliate Marketing Types
Here are the three common types of affiliate marketing strategies people use most.
Unattached: These are pay-per-click (PPC) campaigns where you're running ads to affiliate links, but you have no relationship with readers. It's the quickest way to make money but you have no authority in the niche.
Related. You promote relevant products on your site, but you haven't used them before. These are "related" niche items (which is why it makes sense to promote them). For example, including several links to a fitness product on your health blog.
Involved. You actively use the product or service and are intimately familiar with it. Pat Flynn is a prime example of involved affiliate marketing. Watch this from his YouTube channel, where he talks about making over $1M with only five products.
Which Affiliate Marketing Programs Are Worth Promoting?
There are several to choose from, but these three will yield the best results.
High Ticket Affiliate Marketing Programs
High ticket affiliate marketing is promoting premium products for higher payouts. It could be top-shelf online courses, luxury goods, or high-quality software.
Whatever the case, you stand to make a lot more money than you would only sticking to Amazon Associates.
The reward is worth it if you do it right.
This business model does carry a few perks, such as:
Fewer sales
More income
Fantastic ROI
Further Reading:
Recurring Affiliate Marketing Programs
Recurring programs are excellent because you make money for as long as the person you refer remains a customer.
Since most people sign up for something for months (or years), you continue to get paid. This can yield better income over the long term (compared to a one-time payout).
Evergreen Affiliate Marketing Programs
These are the products that never go out of style.
For example, nutrition or financial products. Think of terms people always search for, such as "how to make passive income" or "how to lose weight." Then pick products you can position as the solution to those queries.
People will always search for terms like those. Then create complementary evergreen content.
To quote Buffer's former VP of marketing, Kevan Lee, ask yourself before writing:
Will people read this and think it's still interesting a year from now?
Evergreen content is relevant no matter what day it is. So, look at your industry and review the topics people always ask about; those are your evergreen affiliate products.
Then, sign up for those affiliate programs.
How Does the Affiliate Marketing Business Model Work?
We already mentioned you make money from promoting other people's products or services. When they buy using your affiliate link, you earn a commission.
But it doesn't always have to happen on your website. You can promote products wherever your target audience hangs out.
In addition, try these digital marketing tactics:
Webinars
Newsletters
YouTube video content
PPC (pay-per-click) ads
Email marketing campaigns
Social media posts and influencer partnerships
Frequently Asked Questions About Affiliate Marketing
Here are the most common questions we encounter regarding affiliate marketing.
Why Do Affiliate Marketers Fail?
There are a variety of reasons why some fail while others don't. Here's a short list:
You give up or burn out.
Suffer from lack of focus (aka shiny object syndrome)
Write things nobody cares about because you don't perform keyword research.
These aren't the only reasons, but they're the most common. Simply showing up weekly puts you light years ahead of "hobbyists."
How Long Does It Take to Make Money with Affiliate Marketing?
That depends on your business model.
If you're running ads to affiliate links, you may make money quickly. But that's not the path we carved for ourselves that allowed us to quit our day jobs.
Creating content for your blog can take six months to a year before you hit $1k in monthly affiliate income. It all depends on how much time you spend on it.
Building an engaged audience takes time; it doesn't happen overnight. And creating a full-time income stream that lets you walk away from your 9 to 5 can take years.
This tweet from Matt sums it up nicely.
Here's a realistic expectation about building an online business no one will tell you.

It takes at least 4 YEARS of consistent output!

Think of it like getting a college degree. Show up, put in the work, & graduate.

— Matt Giovanisci (@MattGiovanisci) June 7, 2022
What's the Best Affiliate Marketing Program?
There's no honest answer to that question because there are too many variables.
It depends on what kind of niche you're in, the level of your business, your goals, etc.
Look for businesses and products whose mission you believe in, are ethical, and make quality products that you would happily promote for free (because they're so good).
And, of course, companies that reward their publishers with decent payouts.
Consider cookie duration, commission rate, and how often you're paid. Check out our post below that covers it in greater detail:
How to Start Affiliate Marketing
So, now you know you can make money with affiliate marketing and when it's worth it.
Are you curious to take your learning to the next level and learn our approach to building profitable niche sites that have earned millions in revenue? Read this.
Our creations in your inbox, weekly.
We've built multiple six-figure online businesses that our moms are proud of.
We'd like to help you do the same.