I've been earning a living with affiliate marketing for over a decade. I own three websites in different industries. Combined, they make over $250,000 annually.
It took me about six years of on-and-off work to build up my site before it was profitable.
When I finally figured it out, it took off like a rocket ship. I had a formula for success. And I tested that formula on two more websites and was able to make money faster.
That's what this post will teach you: How to get started with affiliate marketing.
Let's dive in.
What Is Affiliate Marketing?
Affiliate marketing is making money by promoting other company's products or services on your website. When you send merchants qualifying leads, traffic, or sales through your affiliate link, you earn a commission.
It's a way to make money online without creating your own products to sell. It's great for beginners or people who don't want to deal with customer service requests.
Neil Patel, a top web influencer and marketer, gave this affiliate marketing definition:
The idea behind it is that you promote other people's products, often through an affiliate network, earning a commission if people actually end up buying thanks to your marketing.
Oftentimes, vendors have a product they want to sell, so they'll pay others to do their marketing. In many ways, it's a cheaper form of advertising because affiliates only earn money based on how much traffic they send and the quality of their content marketing.
Poor quality content doesn't generate sales. If the affiliate doesn't drive traffic, they don't make money.
Affiliate marketing is growing in popularity as more and more businesses use it. Take a look at these stats:
How Does Affiliate Marketing Work?
Affiliate marketing involves two primary parties: the merchant (aka the product creator) and the affiliate marketer. Other groups come into play which we'll get to shortly.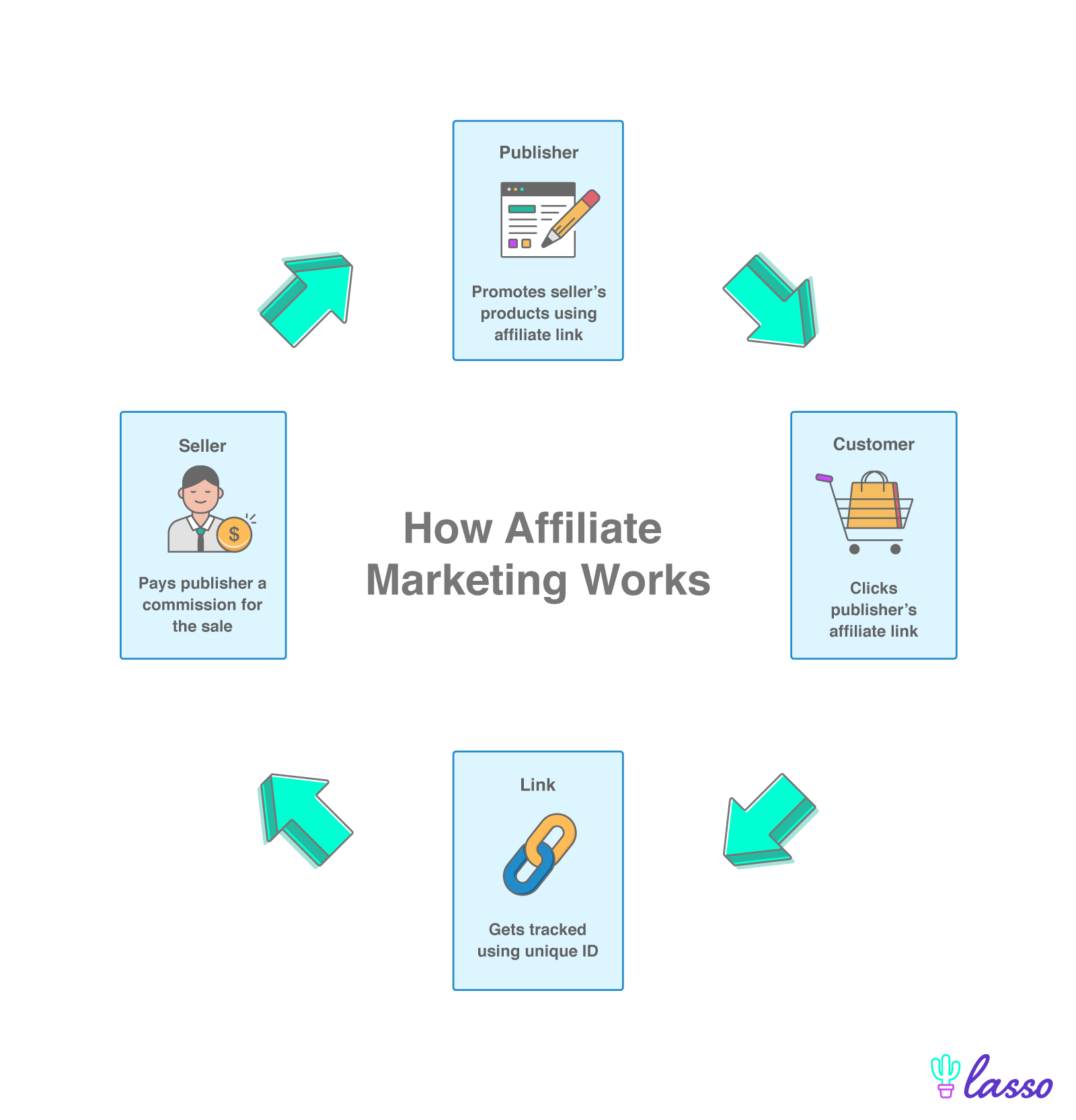 But first, let's get to know the groups taking part in the affiliate equation.
Meet The Affiliate Marketing Players
There are 3 (sometimes 4) players in the game. We'll start with you.
The Publisher (that's you). Your job is to tell your friends or readers about the product or service via a special link provided to you by the Seller or Affiliate Network.
The Seller is the company or person selling the product or service you want to promote to your friends or readers.
The Affiliate Network (optional) is the technical service that connects you to the Seller or multiple Sellers. But sometimes, the Seller(s) runs their own affiliate program.
The Customer is the friend you told to click a special link to buy that product or service from the Seller. When they click and buy, you earn a commission.
In short, you recommend products from the seller to the customer through a special link provided by the middle player: the affiliate network or program.
Takeaway: When a customer buys a product through your link, you earn a commission. So, all you have to do is recommend products and you earn money if they buy.
How Do Affiliate Links Work?
When you join an affiliate program or network, every product or affiliate website will issue you a special URL with a unique ID tag of some sort. If you don't use this URL exactly as it's written, you won't be credited for the recommendation and you won't make money.
Case in point, two years ago, I updated all the Amazon affiliate links on my pool site. But I was missing ONE LETTER from my unique ID tag and I lost about $10,000 in a high-traffic month.
It took me 30 days to figure it out and it wasn't obvious. Check your URLs and unique ID tags and make sure you're using the right ones.
What Do Affiliate Links Look Like?
Affiliate URLs are a string of letters, numbers, and characters. They're tough to remember, and impossible to say aloud (e.g., promoting your link on a podcast). 
Here's an example of an Amazon affiliate link: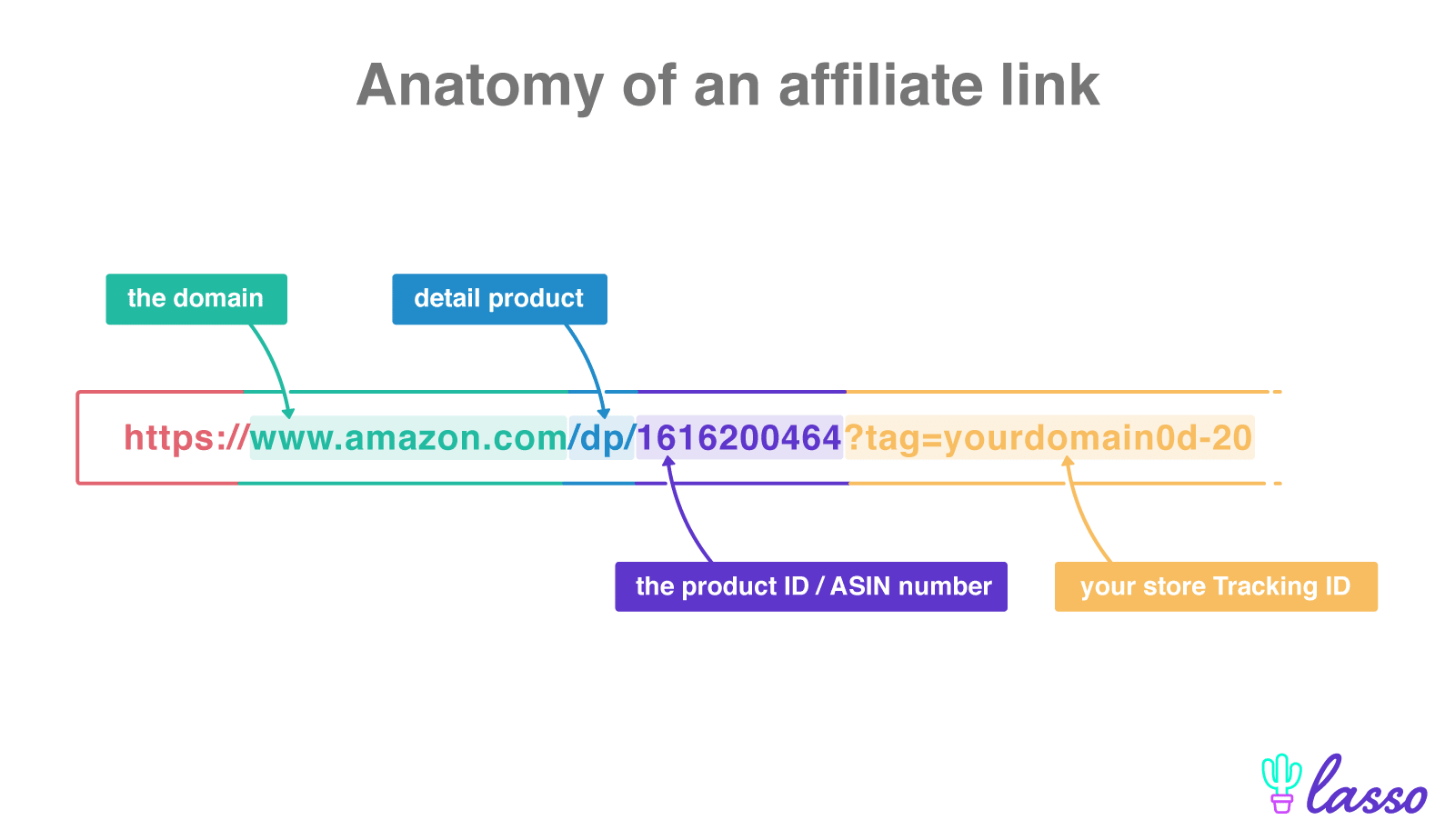 The seller will know your link was used to sell a product because your unique ID tag in the URL will be stored in the customer's browser when they buy the product.
Then, it's up to the seller to keep track of this and pay you out for your credited affiliate sales.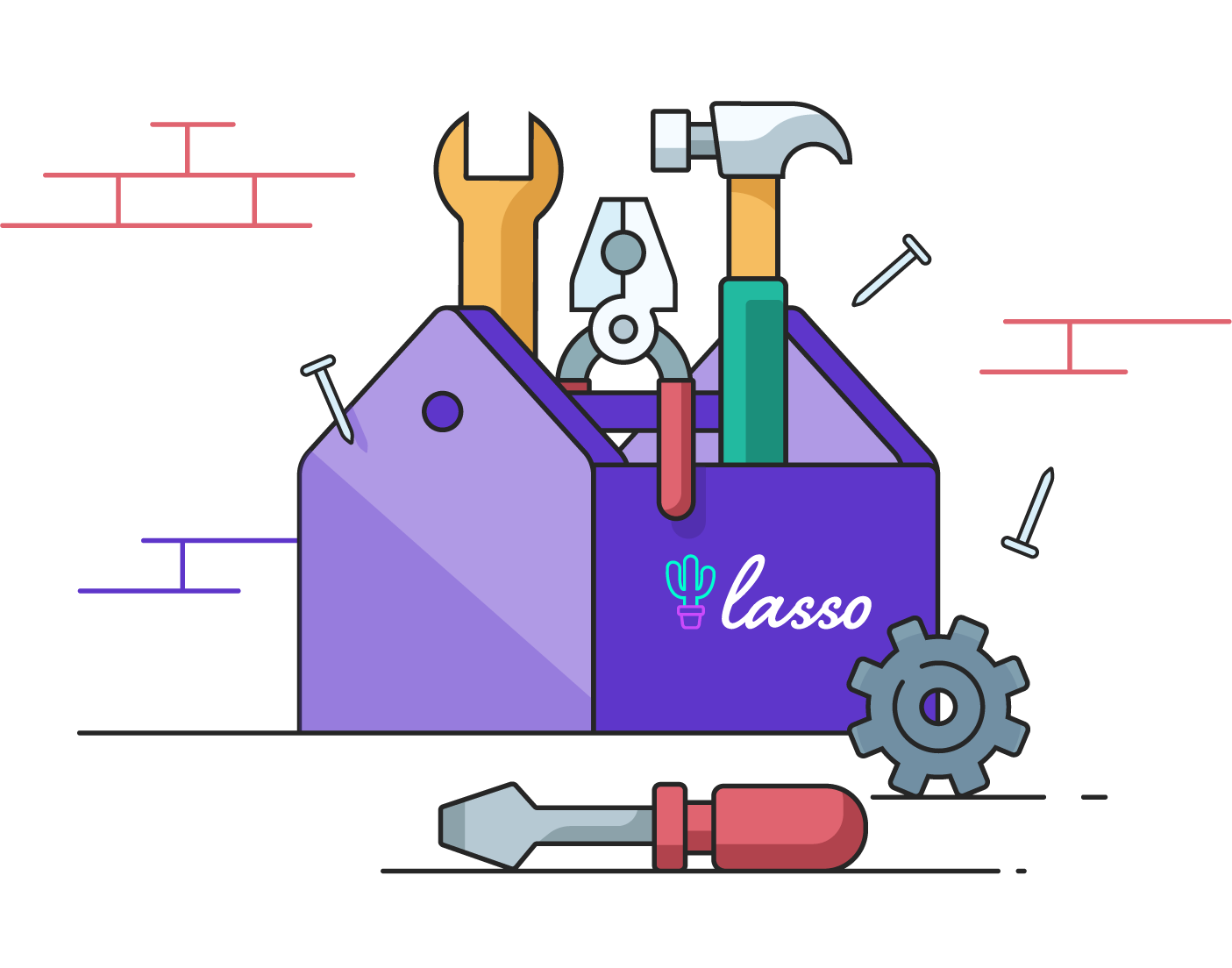 Get our FREE toolkit and checklist for writing articles that convert.
How Do Affiliate Marketers Get Paid?
Merchants pay affiliate marketers a commission based on the number of qualifying sales, traffic, or leads they send. The higher the number, the greater the commission.
Affiliate Marketing Commissions: How Money Is Earned
Different sellers with different products run different affiliate programs. All of that is to say, it depends on what you recommend to your readers.
For example, you can recommend Amazon products. And if one of your readers buys through your link, you earn a percentage of that sale.
So, if a reader buys a book you recommend from Amazon that costs $20, and the commission rate is 5%, you would make $1.
Granted, that's the low end of the possible commission rates. But some of the best affiliate programs can pay up to 50%. They'll more likely be digital products since the margins are much higher than physical products.
Here are some ways you can make money with affiliate marketing:
| Payment Model | What It Is |
| --- | --- |
| Pay Per Sale | Pays a percentage when someone buys a product or service. For example, I recommend you use SEMRush if you're a digital marketer. If you click that link and buy their service, I earn a percentage. |
| Pay Per Click (PPC) | Pays you for the number of times someone clicks an ad on your marketing platform. The more traffic you send to the merchant's website from that advertisement, the greater you're compensated. |
| Pay Per Lead | Pays based on the number of converting leads you send the merchant. Lasso's affiliate Preferred Partner program follows this model. |
| Credit | Instead of money, you could get free access to a digital product or store credit. |
| 2nd Tier | Recommending other affiliate programs and earn a commission based on the number of sign-ups. But you also earn a second commission when those sign-ups recruit others to join. |
| Prizes | Sometimes affiliate programs offer prizes (often cash or products) to the people who perform the best. |
Recurring vs. One Time Commissions
Recurring commissions are great for the obvious reason of getting paid repeatedly. Typically, the person you referred signs up for a monthly subscription service and you earn a percentage for every month that person remains a customer.
One-time commissions are just that: you get paid once per person who makes a purchase or completes a desired action (e.g., starts a free trial).
One-time payouts can pay more but stop overnight.
The downside with recurring commissions is that you may see less money upfront compared to a higher one-time payout. But, the recurring model usually produces greater long-term, passive income.
How The Money Enters Your Bank Account
Every seller and affiliate program is different. But basically, you have 3 options to get your money:
Direct Deposit: The best and fastest way to get paid. If a program offers this, take it.
PayPal: A close second to direct, the money enters your PayPal account. This way, you can either use the money to spend directly via PayPal or transfer it to your bank account.
A Paper Check: While it's always nice to get a check in the mail, then you have to go to the bank or use a banking app to deposit it. This is my least favorite option as it's a lengthier process to getting paid.
How Often You're Paid and When
You'll find that most programs pay out monthly. But you may not see your money for a few months.
For example, I made $48,502.24 in May through the Amazon Associates program. That money won't enter my account until the end of June. It takes about two months.
Note: That may seem like a lot of money in a single month, and it is. But I run a pool website that sees more traffic in the summer than other months. In fact, May is the peak month for this website. On average my site earns $13,291.36 a month according to the data from Amazon.
Also, some programs have a threshold or a payment trigger.
It means they won't pay out until your commissions reach a certain amount. Sometimes this is mandatory and sometimes you have the option to choose your own.
You may have to wait a bit longer to get paid.
Further Reading:
How Much Can I Make Affiliate Marketing?
The short answer: it depends on the types of affiliate products you promote, your niche, and how hard you work.
For example, my friend and business partner, Andrew, runs an affiliate site called Listen Money Matters. It has gone on to generate over $400,000 per year.
Blogger Adam Enfroy generated over $800,000 ($600K was strictly passive affiliate revenue). And, renowned tech gadget product review site, The Wirecutter, made $150 million.
If you wanna make money with affiliate marketing, you need a healthy combo of a few ingredients. The goal of which is to build a large, consistent audience of readers who trust what you say.
And that all starts with high-quality, content. For instance, I have a swimming pool maintenance website.
I wrote an article about getting rid of pool algae which turns your pool green. This is a common problem for pool owners, especially in the spring.
This article now ranks in Google for 587 keywords according to Ahrefs.com. This brings in a lot of traffic.

One of the strategies I write about in this article is using pool shock: a chlorine-based chemical that kills algae. So naturally, I recommend a brand of shock that I really like to my readers via an affiliate link in my post.
When a reader clicks that link and buys the shock I recommended from Amazon, I make money (two months later).
But let's look at a very real example of this situation for the month of May on my pool site. Then, we'll compare it to the other ways I make real money with affiliate marketing products.
Further Reading:
Make Money from Physical Products (Real-World Example #1)
In May, my pool algae article received 17,086 unique visitors via Google search. I know from the Google Analytics goal reporting I've set up, that the page made $840.17 in affiliate commissions.
Now, let's look at the earnings report for that exact pool shock product from this article for the month of May.
The product (at the time) cost $39.99. According to Amazon Associates, I sold 71 items with total revenue of $2,839.29. I received a commission of $227.20. That means, my commission rate on that particular product in Amazon was 8%.
That's high for Amazon. But beware, their commission rates differ depending on the type of product.
Here's a look at their fixed commission income rates:
While that's a pretty good chunk of change, it's not earning me a living. But that's just one single product on a large website with many affiliate links.
It's good to have a mix of low and high-priced products across your site to diversify your earnings.
NOTE: High-priced physical products will earn you more money, but you may see fewer sales. Not everyone buys expensive products impulsively. So when you add products like that, it's in your best interest to add more details to your article to support the recommendation.
Make Money from Digital Products (Real-World Example #2)
The best part about recommending digital products is the high commission rates. Because there's very low overhead in selling an ebook, course, or software product, the rates tend to be higher.
Also, some subscription services offer high one-time payouts per customer. That's AMAZING and here's a real-life example.
This site is built on WordPress and hosted with WPEngine. I've been using them to host my site for the last two years. I used to use Hostgator (and many before that), but WP Engine's services are superior, and here's why:
They have live customer support chat with people who understand how to fix WordPress site issues.
A free CDN and aggressive caching for increased page speed.
They have a staging platform so you can test tweaks to your site before going live.
To get started with WPEngine, it'll only cost you (the customer) $35. But as the affiliate (me), I get $200.
Now granted, if you stick with them, they'll make more than $35. But I got a hefty affiliate fee for promoting a low-cost product.
Our Pick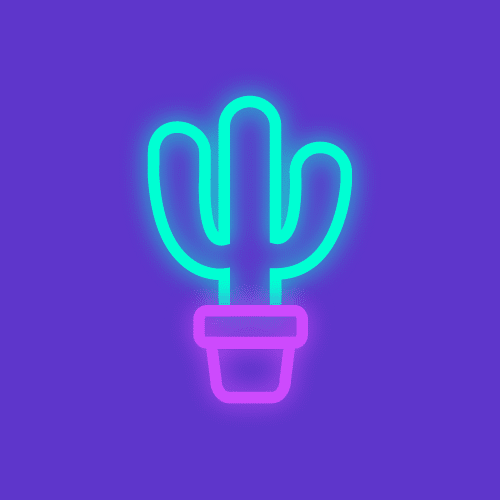 How to Get Started with Affiliate Marketing in 6 Steps
I've made a lot of mistakes building my affiliate marketing empire over the last 10 years. But I learned heaps. Here's my specific blueprint for building a website that'll make you money indefinitely (as long as you keep it going).
1. Find a Topic
I started four sites in the last few years around topics I knew really well. As they say, write what you know.
My first website was about swimming pool maintenance because that's what I knew.
Then, making coffee at home because I drank it every day and was pretty into it (I've since sold this site).
Then, online business, which is what I've been studying and practicing for the last 10 years.
And finally, homebrewing beer because I've been a homebrewer and all-around beer geek since I was 17 years old.
In 2004, I got some horrible advice.
I was told to write down a list of things around my house and research which niches had "low-hanging fruit" keywords. Then, write a bunch of 350-word articles to rank and watch the affiliate commissions roll into my account.
Here's the thing:
It didn't work because I started writing about topics I had zero interest or knowledge in.
So, pick something you know and are willing to write about. You only have to think of a few ideas and then figure out which has the best chance of earning money.
Which Topic Works Best for Affiliate Marketing?
I have a formula for picking the right website to start based on the topic. Go through each one and ask yourself these questions:
Can I write 50 detailed articles on this topic?
Are there products I could recommend (that have an affiliate program) that are over $100?
Are people searching for it?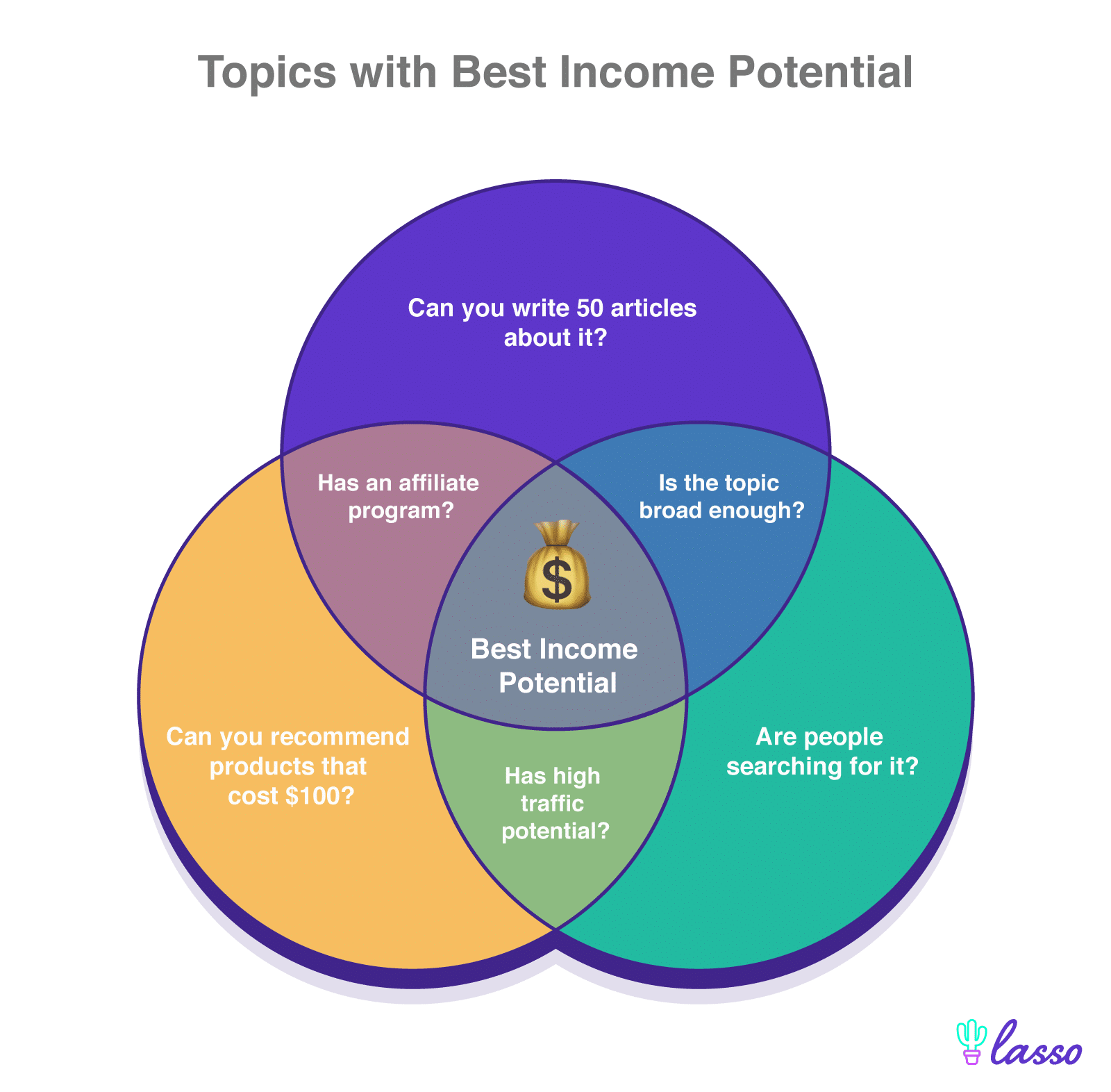 Takeaway: I recommend using software like Ahrefs.com to see how many people are searching for your main topic. You only need a simple yes or no answer.
Here's a quick look at the search volumes for a few seed keywords for my pool site when running a search in Ahrefs.

For example, terms like "hot tub maintenance" and "swimming pool maintenance" have high search volumes and instantly tell me that people are looking for these specific topics (I'll avoid "swimming pool care" as there are only 80 monthly searches).
How to Pick Affiliate Products to Recommend
Now that you have a website and you're ready to start publishing, you need to pick products to recommend so you can make money.
But which products are gonna work? Which products will make you money and get lots of clicks?
The name of the game is helping people out.
And since you know your topic well, only pick products you used or would use yourself. Or products you would tell your best friend to use.
DO NOT pick products that'll make you more money.  Earn your reader's trust. It's the only way you'll become successful.
Some other things to think about when picking affiliate links:
Can my readers afford this? It's important when promoting high-priced products
Many products you recommend will come naturally as you're writing the article. But sometimes it's not so obvious.
More Ideas for Affiliate Products and Services to Recommend:
Walk around your house and write down every product that would be a fit for your website.
Review your order history on sites like Amazon. What have you purchased that makes sense to promote? What have other people bought and the related products?
If you already have a website with content, go through your more popular posts and see if you've recommended a product but didn't include an affiliate link.
2. Join an Affiliate Program (Plus Tips for Finding the Best Ones)
An affiliate program is usually run by a single company. The most common programs are run by tech companies and bloggers. However, you might find an e-commerce store that runs its own too.
To join, you need to apply, get approved, and keep track of your login information. Otherwise, here's a way for you to find a fantastic affiliate program on your own.
The Company's Site: You'll find the affiliate program link at the bottom of the site labeled "Affiliates." From there they should provide you with all the info you need.
Google: Enter the search query "[company name] affiliate program" into Google.
Ask Your Online Friends: Email a friend who's in the same space as you and ask if they're a part of any affiliate programs. And if they're close to them, ask if they'll intro you.
Ask The Company: For instance, I have an affiliate program for Money Lab, but I don't advertise it. I get emailed all the time asking if I have one. And I usually invite them to join via email.
Advanced Tip: Watch this short video to learn how you can use Lasso's Domain Report to find new affiliate programs to join.
Another easy way to find affiliate programs is to look at what you've already bought or currently using. For instance, if you recently bought an excellent online course, ask the creators if they have an affiliate program.
What hosting company or email service provider do you use? Chances are they have an affiliate program and you may already be signed up automatically.
How Long Does It Take to Join An Affiliate Program?
It might take a while for the affiliate program to approve you depending on its size. Since I personally run my own, I know it'll take a while to approve an application or respond to an email.
But, if it's taking too long, here are some ways to speed it up:
| Tactic | How It Works |
| --- | --- |
| Sell Yourself | I'm more likely to jump on your approval if I see you're going to recommend my stuff to a significant amount of people. That's an income opportunity for me and I'd be an idiot for procrastinating. |
| Email the Affiliate Manager | For my company, that's me. I might not respond right away. After you've given me enough time, just send me a nice follow-up. |
| Re-Apply | If you're not accepted into the program, no worries. Maybe it's all new to you or you didn't sell yourself. Wait a few months, build up your brand, and apply again. Persistence pays. |
What Makes A Good Affiliate Program?
There are a ton of available affiliate offers. But, instead of joining them all and driving yourself crazy, ponder these questions before hitting a billion "Join Now" buttons:
How much money can I make? Look for programs with high commission rates and easy for customers to buy. Find out if it's one-time commissions or recurring. Recurring commissions are ideal.
How long does the cookie last? When a reader clicks your affiliate link, a cookie is placed on their browser with a time limit. If they don't buy within the timeframe, you'll lose credit for the sale. So it's best to choose programs with a long cookie duration.
What are the rules? Some programs have few rules and restrictions on how you can promote. But I use Amazon Associates and they have many rules. For example, you can't put affiliate links in emails and PDFs. So make sure you know the rules or you could be kicked off the program and lose money.
Is the affiliate program easy to use? If you find an easy one, hold on and don't let go. Many of them aren't user-friendly. 
Are they trustworthy? Would you buy from them? It's why even though Amazon Associates doesn't offer the highest commissions with the longest cookie length, people trust them. So, customers are more likely to buy.
Takeaway: You're looking for a trustworthy affiliate program with a good commission rate and long cookie duration.
Affiliate Program vs Affiliate Network?
There are thousands of affiliate programs and networks you can join to recommend products. But you either join a bunch of small affiliate programs or one large network (e.g., ShareASale). There's no limit.
However, the more you join, the more you need to manage.
An affiliate network is a collection of affiliate programs all in one place. From there you can browse their massive list of sellers and find one that fits your topic.
Joining a network can require more involvement from you as opposed to a simple affiliate program. However, since this is what they do, it should be easy.
That's one of the benefits of joining a network. But it'll depend on the types of products you're recommending.
Benefits of Joining Lasso's Affiliate Program
Lasso offers fantastic benefits with our program. Here's what you get as a Lasso affiliate when you recommend our services:
One-time $35 commission for every customer who signs up through your affiliate link (Preferred Affiliate Partners get $49)
A 30-day cookie from the time one of your referrals lands on our site for them to make a purchase and credit you for the sale.
Quick, direct deposit via PayPal
Our affiliate area provides you with detailed reports, options, and settings so you can monitor your earnings and payouts.
Custom pages and creatives available to promote exclusively for your audience.

The Top Affiliate Programs for Beginners
We've already written about the best affiliate programs for beginners, so I won't get into too much detail. Read The Best Affiliate Programs for Beginners (7 Worth Joining Now) so you can start monetizing your site.
3. Create an Editorial Calendar
To be successful and gain traffic, you need to run your website like a magazine (i.e., you need to publish something regularly). 
But, unlike a magazine where you're writing about a variety of things, go deep on a single niche topic.
To start, come up with a list of article ideas to plan your editorial calendar. The following is a quick outline of what you should do.
Since you know your niche well, write down every question you know someone will ask.
Write down questions you have about your topic.
Use Ahrefs.com to see what your competitors are ranking for and outrank them by creating better content.
Search popular forums like Reddit and Quora, and niche forums around your topic to find what people are asking about.
Look at Google's Searches Related To and People Also Ask in the SERP.
Try a free tool like Answer the Public or UseTopic to find other questions to answer.
Once you have a list of about 50 article ideas, you can use a tool like Headline Analyzer to craft awesome headlines for each one.
Tip: Write out 20 headline ideas per article for best results. Then pick the highest scoring one.
Now prioritize them sorting by low keyword difficulty and high traffic potential.
You can easily do this using a tool like Ahrefs. In the Keywords report, try this:
Set the KD score to a max of 20
Set the search volume with a 1,000 minimum

It's a quick way to find topics that will be easier to rank for. Experiment with your keywords and filters to find what makes the most sense for your niche.
The above terms all have low keyword difficulty scores with high monthly search volumes.
And, if you need help setting up your editorial calendar, I created a course called Asana for Bloggers on how to do it using Asana's free version.
4. Produce High-Quality Content That Helps Your Audience
Before writing a single word, ask yourself how your article serves your readers. That's the best advice I can give. You address their biggest pain points with every piece of content.
Then, start writing your articles in the order you set and publish them on a pre-determined day. When creating your content, include affiliate links where it makes sense.
My site, Swim University, teaches people the art of thoughtful pool and hot tub care. This is an industry I know well and enjoy sharing my expertise.
It also allows me to place affiliate links across my site with products I use and recommend.
For instance, I have an article called Pool Cleaning 101 which explains how to clean your pool. That article mentions eight products that I know will help people become pool cleaning pros.
Every product mentioned in that blog post includes an affiliate link. It's a simple way to monetize your website.
Steal from Our Case Studies
Or, take Lasso user Barron Cuadro.  He runs a men's style site called Effortless Gent to help guys dress sharp.
He has several articles related to style tips, grooming, and accessories. One of his articles describes his favorite warm winter coats. Throughout that article are several well-placed affiliate links (using Lasso displays) for the aforementioned coats.
His audience loved it. And it made sense to place links in that article because people wanted to learn what were his winter coat recommendations.
If you want to be successful with affiliate marketing, be strategic about where you include links and only place them where it's helpful. 😉
Further Reading:
5. Get Traffic to Your Affiliate Site
Slow and steady wins the race. You're going to be publishing and promoting forever. And in the beginning, you'll hear crickets. That's normal.
Keep at it. It's an investment.
Imagine if you bought one share of Apple every month when it started. You'd be a bajillionaire. This is the same thing.
Every article you publish is stock in your own company which compounds long-term. And writing AMAZING articles every time is like buying ten stocks a month.
There are many ways of driving traffic to your site, but the one that matters most is:
Organic Traffic
Organic traffic via search engine optimization (SEO) is what I use the most and recommend. It's free and costs nothing. You only need to create high-quality content that people are happy to share.
Eventually, your posts start appearing in search engines to specific queries. Every click to your site is a vote in its favor. The more people cast votes for your article, the higher it ranks.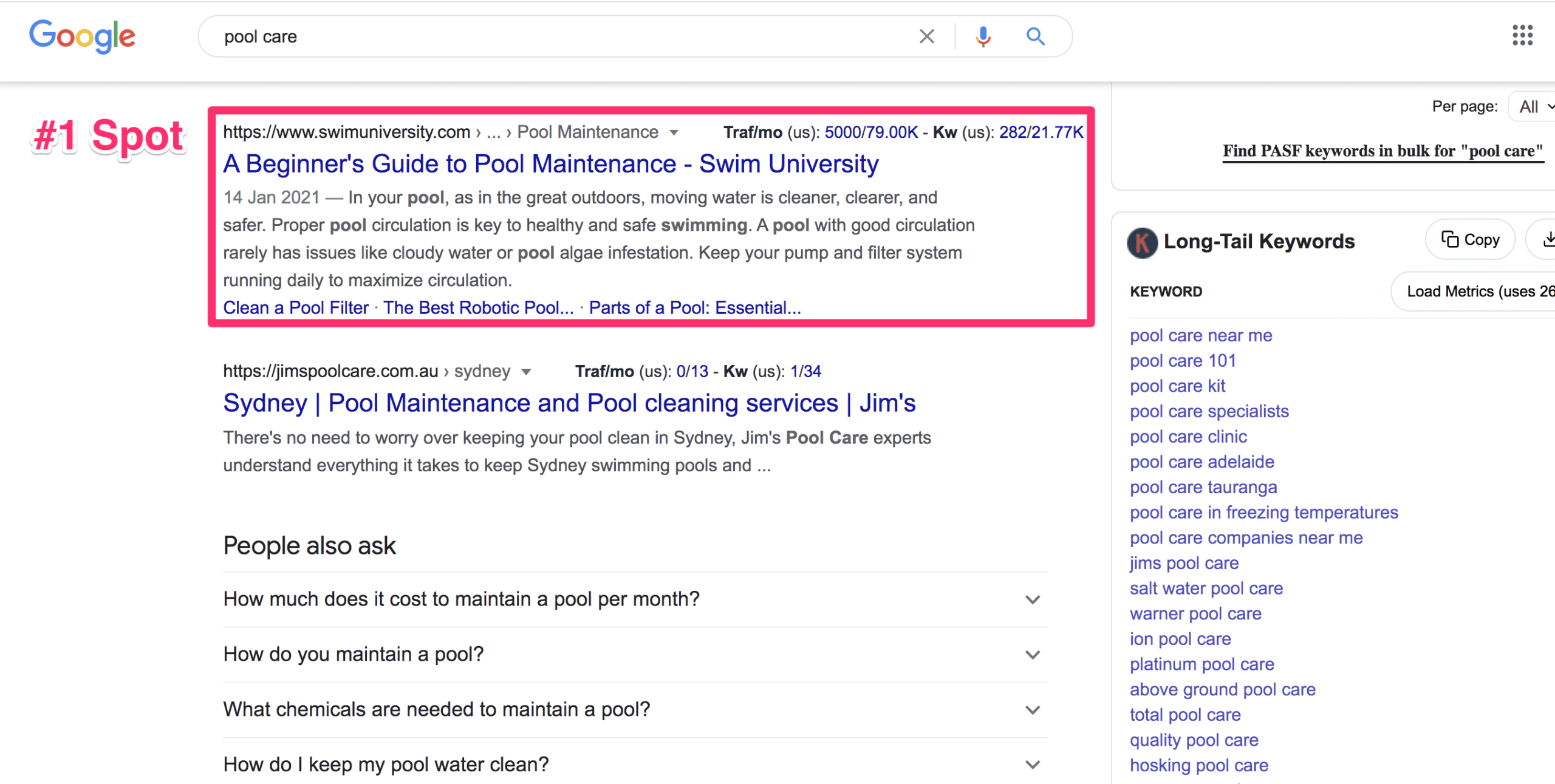 For example, my site still holds spots in the top three for terms like "pool care," "pool maintenance," and "best pool vacuum."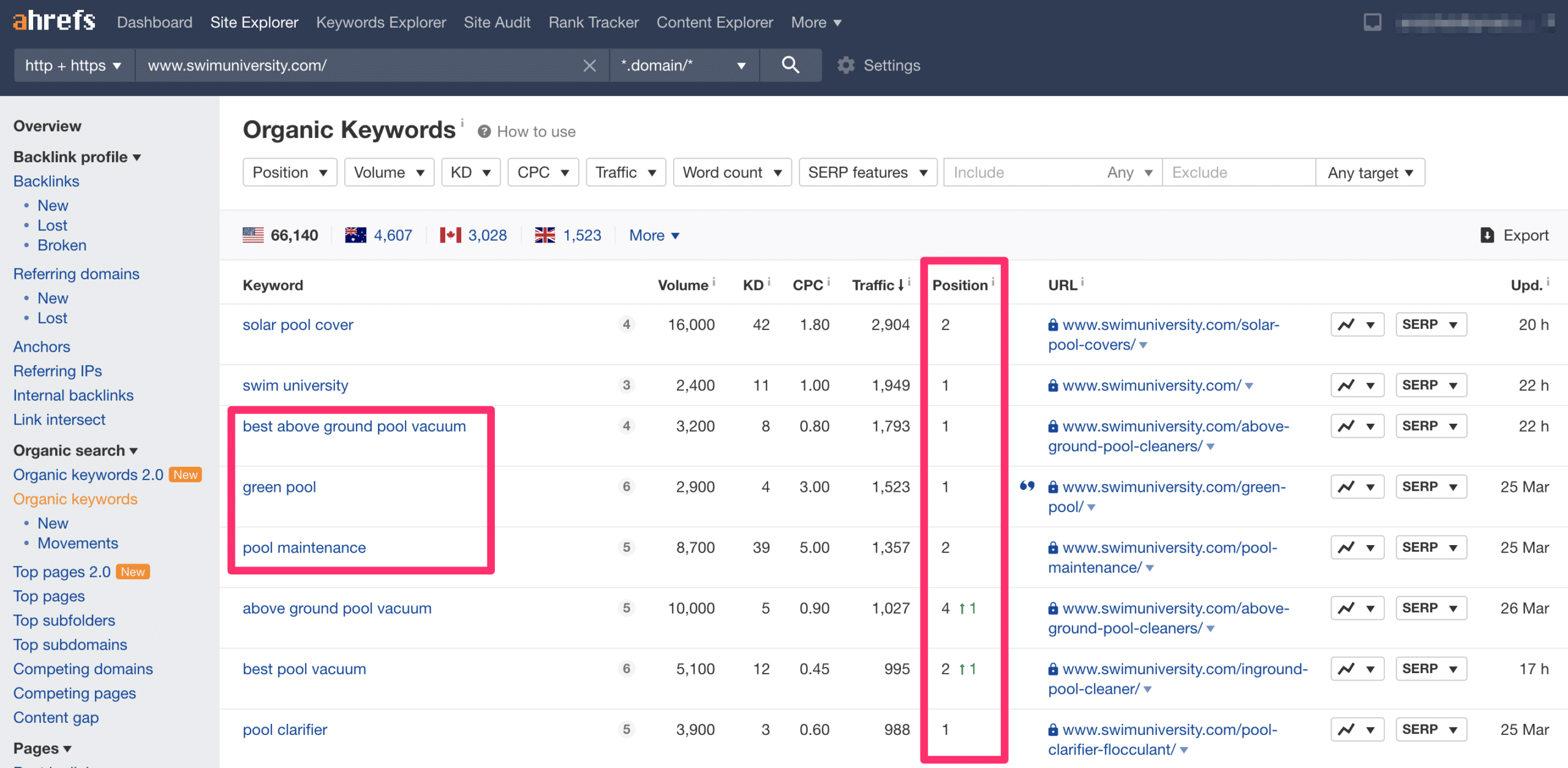 The downside to organic traffic is it takes time to grow. And is the biggest reason why bloggers quit before seeing results (and profits). But, with time, you'll find success through long-term passive traffic.
In fact, I didn't create a single new article for my site BrewCabin for nearly a year and its traffic INCREASED without me ever lifting a finger.
Paid Ads
The other way to start ranking is using paid ads. These appear at the top of search results targeting specific keywords. You'll post an ad on a platform (e.g., Google) and pay that platform whenever someone clicks your ad.
The upside to this traffic source is your blog posts display at the top of an organic search for specific queries. And landing at the top of page one in a Google search is HUGE.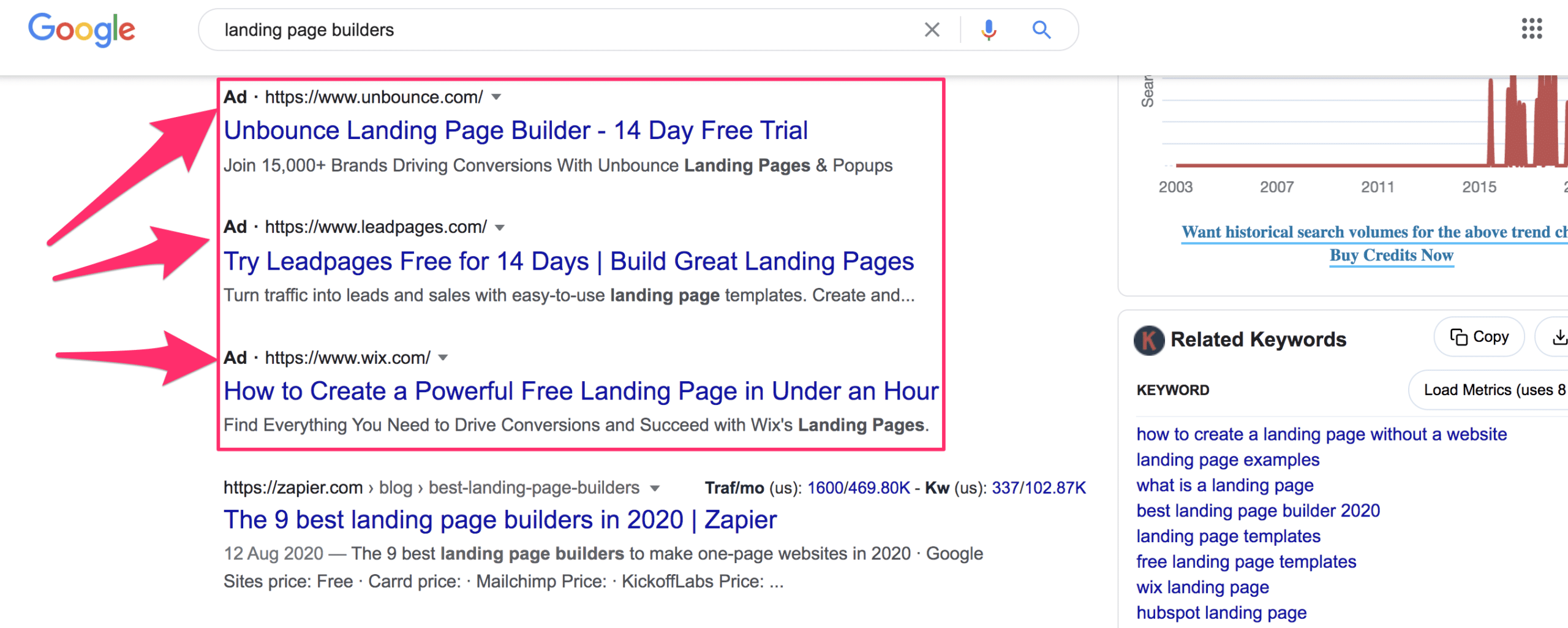 That's a substantial amount of eyeballs on your ad.
The downside to this strategy is it's costly. Running ads eats profits. And once you run out of money, you lose the top spot.
Further Reading:
Leverage Social Media
The common advice out there is to set up a Facebook, Twitter, Instagram, Pinterest, YouTube, Snapchat, Google+ account, and post your content everywhere.
That's a nightmare and rarely works.
Pick ONE external area to promote as part of your content development process. And choose wisely. For example, my audience on my pool site is mainly older people. Where do older people hang out? Facebook.
Every time you publish, promote it to your external marketing channel. And nurture it so it pays off.
6. Use Lasso to Attract More Clicks
My business partner, Andrew and I, built Lasso to help affiliate marketers make more money. And to make money, you need to promote your products in the most visually appealing ways.
Lasso lets you create custom affiliate displays to match any WordPress theme.
The more product information you give, the more likely they'll click your link. Instead of using text-only links, provide readers with detailed product descriptions, images, and CTA buttons.
You'll not only gain their trust, but you'll also increase click confidence.
Read our guide filled with advanced strategies for getting the most out of Lasso with your affiliate site.
Check out other ways you can promote affiliate links and increase conversions here.
Best Practices for Sharing Affiliate Links
I've mostly talked about adding affiliate links to articles. However, there are other places you can add affiliate links and make money.
But be careful because this can go against the rules of certain affiliate programs.
For instance, you cannot add Amazon Associate links to emails and PDFs. Just make sure you read the rules before adding affiliate links willy-nilly.
Other Places to Share Affiliate Links (Besides Your Website)
Email List: If you use email marketing through a service provider like MailChimp or Convertkit, you can add affiliate links in your campaigns. Or use banner ads provided by the affiliate program as a "sponsor" for your newsletter.
Social Media: You can add your affiliate links to Facebook, Twitter, and Pinterest. Pinterest is built for adding affiliate links. Try a tool like Buffer to manage your social media posting.
Say It Out Loud In a Video or Podcast: You can say your affiliate link on videos and podcasts, but you'll probably need to shorten it so people can remember.
Video and Podcast Descriptions: If you're recommending several in a video or podcast episode, add those affiliate links to the description so you get paid.
Courses and eBooks: I recommend only doing this if you're distributing these things on your own platform. For instance, you can't add affiliate links in Kindle ebooks.
Remember to Add a Disclaimer
Let your readers know that if they click and buy a product using your link, you earn a commission. Read our post on affiliate disclosure best practices (with examples and FTC-compliant guidelines).
Is Affiliate Marketing Easy?
In order to earn a living with affiliate marketing, you need substantial website traffic. It's not a get-rich-quick thing. It's a get-good-money-slowly thing.
Like anything, there are pros and cons. I want to talk about all the things I've learned from practicing affiliate marketing versus other ways I've tried making money online.
The Pros of Affiliate Marketing
Passive Selling: You don't need to be a high-pressure salesperson. With affiliate marketing, all you have to do is recommend great products in a helpful article to make money. And since it's performance-based marketing, your income potential is unlimited.
Fast and Low-Risk: Joining an affiliate program takes but a few mouse clicks. If it doesn't work, you lose nothing, and your startup costs are minimal.
No Customer Service: You don't have to build a product, a sales page, a funnel, an e-commerce platform, deliver it, or answer customer service questions. You'll have no interaction with the consumer either — you're simply connecting them to the seller.
Convenience: Affiliate marketing lets you set your own hours, work from anywhere, and be your own boss. You decide the products to promote while choosing your own business goals.
Low Barrier to Entry: You don't need to have a marketing degree to start. There are no gatekeepers, interviews to nail, or bosses to defer to like you'd find with a traditional job.
The Cons of Affiliate Marketing
Requires Patience: Before you can start making a living off your affiliate marketing site, you need to build an audience. It takes time. You need to consistently create great content and promote it. It might take a year or more before you have a full-time income.
It's Not Your Product: If you recommend a poor product or service, it makes you look bad. Also, you don't get buyer's information for future use in your promotions.
Everybody's Doing It: Everyone in your industry is promoting the same product simultaneously. Since everyone's doing it, the competition is high, which means your content needs to stand out.
No Revenue Guarantee: As I mentioned in the pro section, affiliate marketing is performance-based. So, if your content doesn't link enough buyers to sellers, you won't earn any commissions.
Restrictions and Penalties: If you don't follow the rules of a given affiliate program, you could get banned. This is horrible when you're earning good money. So when you join an affiliate program, read and follow the rules.
5 Tips for Affiliate Marketing Success
There are some strategies you can use to stand out ahead of the pack as you build your affiliate website. At this stage, I'm going to assume you've got a great website and you're already making decent money with affiliate marketing.
Now you're ready to treat it like a business instead of a side project.
1. Track Your Affiliate Clicks
Tracking your affiliate clicks is the best way to see how your links perform. You can use a tool like Lasso to track every link. Lasso records every click as an event in Google Analytics.
Further Reading: Check out our post on click tracking to get the most from your users' data.
2. Create Product-Focused Content
How-to articles and essays work fine for promoting affiliate products. But if you wanna crush your conversion rates, there are three types of posts you should dominate:
Best Lists
Product Reviews
Comparisons
These post styles focus on promoting products. When people search and click on them in Google or social media, they're usually ready to buy.
That's why they're researching things like "best website hosting platforms" and "MailChimp reviews."
Best Lists include a list of the best-recommended products in a single category. I have a post like this on my pool site that converts 10% higher than my other content (and makes me the most money) – it's how I know it works!
I've also done this with my other site Brew Cabin.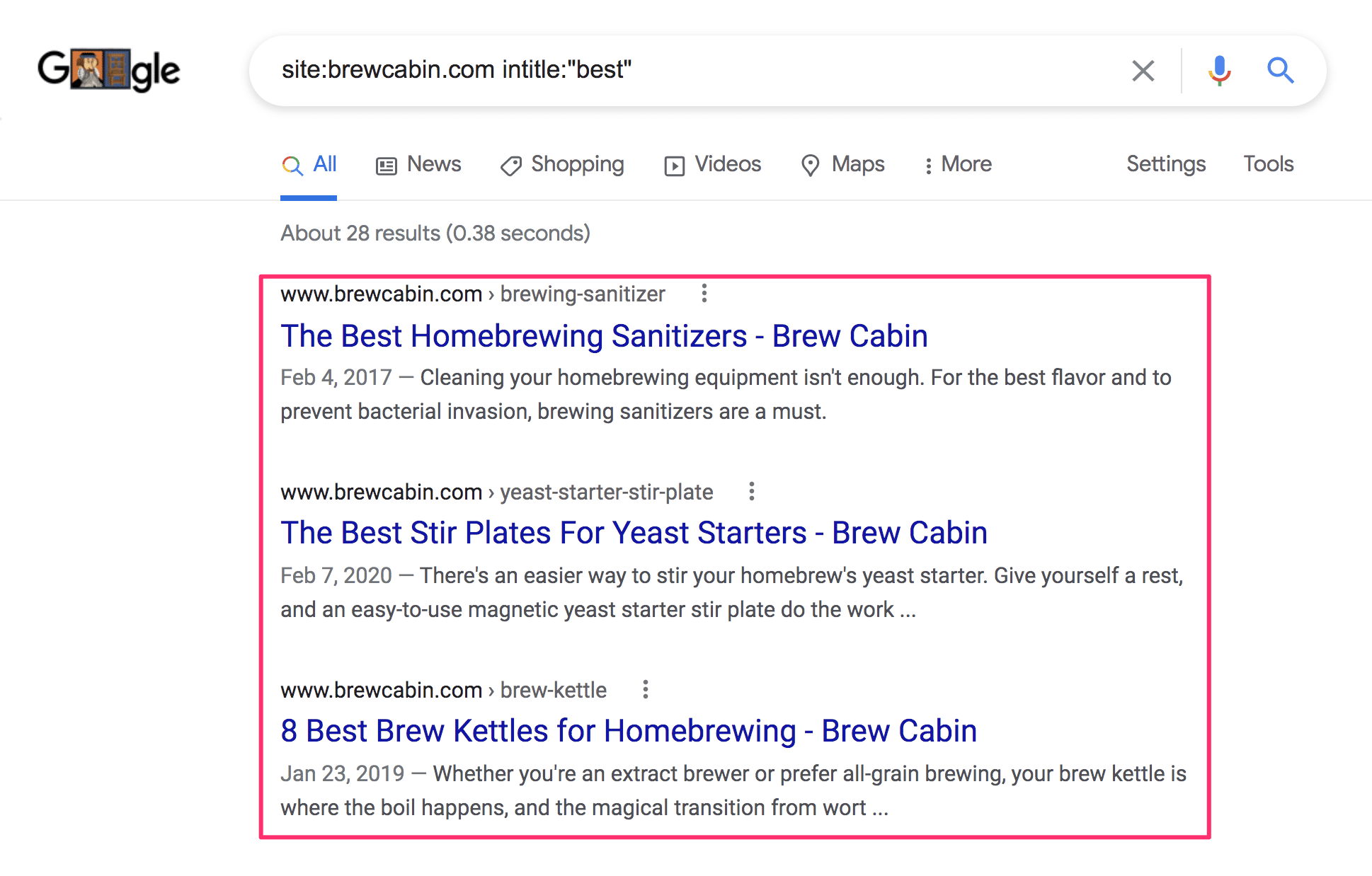 Product Reviews focus on a single product and are recommended through personal experience (by either getting the product for free or purchasing it yourself). When you create a great, detailed review, you're helping people make a decision about whether they should buy.
Chances are, they will, using your affiliate link for being so helpful.
Comparisons pit two products against each other and weigh the pros and cons. For example, a person running a Google search for "Samsung S21 vs. iPhone 12" is much closer to making a purchase. Compare that to, "how to transfer data from iPhone to Samsung."
The former has likely narrowed their investigating down to these two products. A thoughtful comparison article should nudge them in one direction. They'll be more likely to buy via your affiliate link if your post provided them with enough information.
But the most important reason these Content Types are worth creating is that they help attract qualified readers to click your affiliate links.
These are the most lucrative content types for affiliate marketing and should be just as helpful as any how-to guide or research you publish.
Further Reading: 
3. SEO Copywriting
SEO copywriting is when you create content that performs well with search engines, appeals to people, and gets them to take action.
This is a skill you'll need to see a huge spike in earnings. I had a hard time believing this myself until I started testing headlines on my sales pages.
I use Google's free A/B Testing tool called Google Optimize. You need to have Google Analytics linked to your site to use it effectively.
To start, take your best performing post and test its copy in these places:
Affiliate link anchor text
Call to action text leading up to affiliate links
Title of affiliate links
Affiliate link descriptions
Call to action buttons
Effective copywriting helps improve your overall writing style making things more enjoyable to read (and as a side effect: buy what your pitching).
Here are the two best copywriting books I've read:
4. Befriend Your Affiliate Managers
You can (and should) build relationships with affiliate managers of companies you support. They can be an ally in your effort to make money online.
Because if you win, they win.
I've asked affiliate managers to increase my commissions, which worked. And even offered marketing advice on ways to improve their sales pages (which they took action on).
I've also asked for discounts and promo codes specifically for my readers, which adds more credibility and a sense of urgency for people to buy immediately.
Note: It's easier to make friends with these people if you believe in the product(s) they sell.
5. Have Multiple Income Sources
When you rely ONLY on affiliate commissions, you're leaving money on the table. There are several ways you can generate more revenue when you build a unique, online business serving a dedicated audience.
In addition to affiliate income, you can make money from:
Digital products
Physical products
Services
Ads
Sponsorships
Explore these avenues to see what resonates with your readers. For example, I've built several digital products for my pool website and homebrewing site.
If creating digital products isn't your thing, consider selling your services. There's good money to be made as a consultant. Or, partner with other influencers in your niche and run sponsored posts.
The sky's the limit.
For more info, check out our posts:
Your Challenge
That was a beast! Thanks for reading this ridiculously long article. If you found it useful, please do share it with your pals on Twitter.
I spent over 150 hours researching, writing, and editing this guide (that's the equivalent of a month's work at a 9-5 job!), so it'd be nice if a few people read it. 😉
We have 10+ years of affiliate marketing experience.

Combined, our sites have earned millions in revenue.

We condensed everything we know into a single thread.

When you finish reading this, you'll learn how to build a niche site & start making money online.👇 pic.twitter.com/ExMAe8OaUv

— Lasso (@LassoWP) May 11, 2022
Special thanks to Sean Ogle, Amy Lynn Andrews, and Pat Flynn where I got some ideas. All fantastic people to learn from.
When you produce amazing work on the Internet, you're rewarded. Not only by Google, but by actual people who read, share, and find value from it.
So now it's your turn to create something useful and awesome. A place real people will want to live and learn. An asset that'll earn you a living for the rest of your life.
If you'd like to read more, check out our post on building an Amazon affiliate site.
Our creations in your inbox, weekly.
We've built multiple six-figure online businesses that our moms are proud of.
We'd like to help you do the same.