If you're curious to know more about Amazon's affiliate commission rates, you've come to the right place. Chances are you're considering monetizing your site with their affiliate program but wondering whether it's worth it.
In this post, you'll learn: 
What items qualify for commission income
Commission rates by product category
How Amazon Associates get paid
How to use your earnings reports to find more products to promote
Where to find Amazon affiliate program alternatives
FAQs and more
But before we dive in a quick refresher.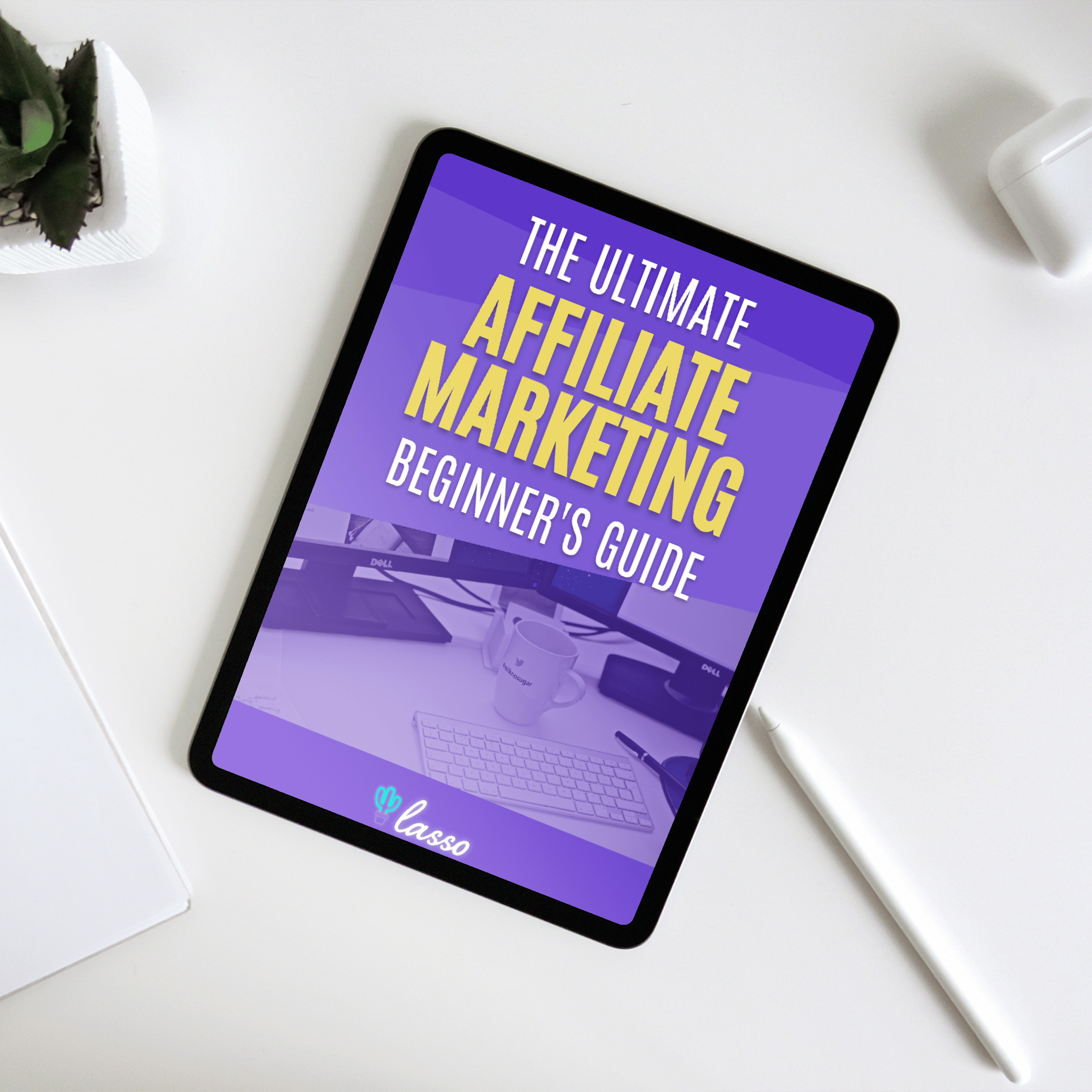 Get Your FREE 30-Page Affiliate Marketing Beginners Guide And Grow Your Site Today
What Items Can You Earn Amazon Commission from?
You earn commissions when visitors click your affiliate product links from your site, visit Amazon, and buy something. Your unique referral link is how Amazon knows you sent them traffic and credits you for the sale.
Here's the current breakdown of Amazon's fixed commission rates in 2023 by category:
Product Category

Commission Rates

Special Conditions

Amazon Games

20.00%
–

Premium Beauty

12.00%

(1) LinkCode: assoc-rails-rate-card-link-code-tw3

(2) LinkCode: assoc-rails-rate-card-link-code-tw3

Video Game Downloads

10.00%
–

Luxury Stores Beauty | Premium Beauty

10.00%
–

Clothing & Accessories

7.50%
–

Cell Phones & Accessories | Home | Kitchen & Dining

7.00%
–

Camera, Photo & Video | Office & School Supplies

6.00%
–

Office & School Supplies

5.00%

(1) LinkCode: assoc-rails-rate-card-link-code-tw3

(2) LinkCode: assoc-rails-rate-card-link-code-tw3

Beauty & Grooming | CDs & Vinyl | Digital Music | Handmade | Video On Demand: Rent or Buy

5.00%
–

Automotive | Books & Textbooks | Computers, Tablets & Components

4.50%
–

Computers, Tablets & Components

4.00%

(1) LinkCode: assoc-rails-rate-card-link-code-tw3

(2) LinkCode: assoc-rails-rate-card-link-code-tw3

Amazon Fashion Private Brands | Blink Devices | Echo Devices | Echo Look | Fire TV Devices | Fire TV Edition Smart TVs | Fire Tablets | Jewelry | Kindle E-readers | Luggage | Luxury Stores Fashion | Ring Accessories | Ring Devices | Shoes, Handbags, Wallets, Sunglasses | Watches

4.00%
–

Fine Art

4.00%
–

Amazon Coins | Baby & Nursery | Business & Industrial Supplies | Furniture | Headphones | Home Improvement | Musical Instruments | Outdoor Recreation | Patio, Lawn & Garden | Pet Food & Supplies | Power & Hand Tools | Sports & Fitness | Toys & Games

3.00%
–

Blu-Ray & DVD

2.50%
–

Video Games

2.00%

(1) LinkCode: assoc-rails-rate-card-link-code-tw3

(2) LinkCode: assoc-rails-rate-card-link-code-tw3

Home Entertainment: TV | Video Game Downloads

2.00%
–

Amazon Fresh | Grocery & Gourmet Food | Health & Household | Video Games

1.00%
–

Amazon Gift Cards | Appstore for Android | Kindle Unlimited Memberships | Other Gift Card Brands | Prime Memberships | Wine, Spirits & Beer

–
–

All Other Categories

4.00%
–
However, you'll notice that there's one tier with eight types that pay 0% commission. The rest is a mix-match of rates.
The highest paying niche is Amazon games at 20%, while Amazon gift cards get 0%. At the same time, digital video games, health, and personal care earn a low commission of 1%. Then other categories like automotive and kitchen fall somewhere in the middle.
You get paid the fixed commission rate depending on what the product category is.
So, for example, if you're promoting PC components, you'll earn 2.5%; if you're promoting home improvement items, it's 3%.
But it doesn't only have to be an individual product details page; you can send traffic to search results pages, the home page, or any related page on Amazon's site.
The below screenshot shows how you'd add Amazon affiliate links pointing to various locations on their site. You'll notice this gives you the option to send your visitors to:
Favorite destinations
Search results
Any page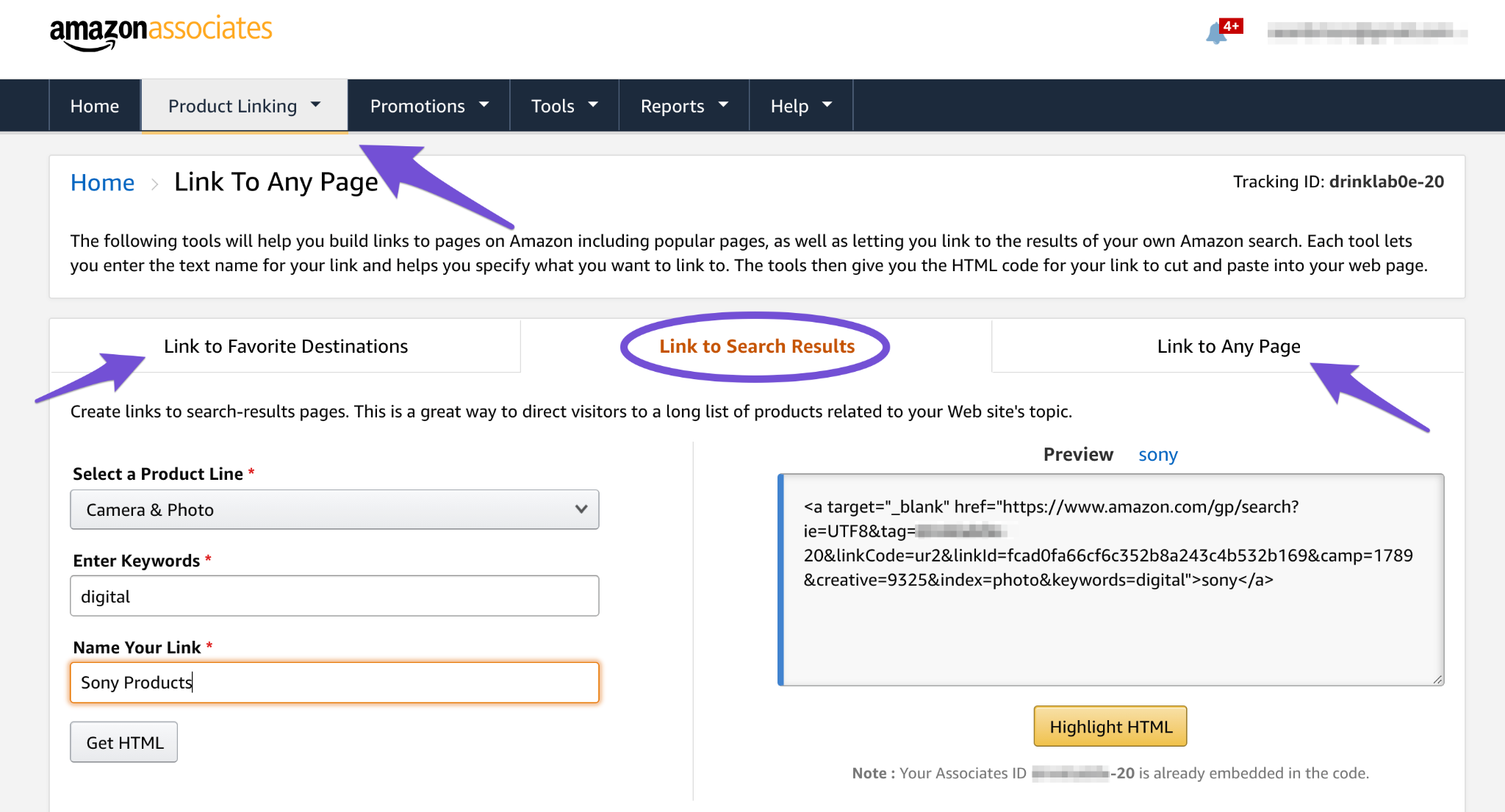 There's also the option of placing a product search box on your site.
But before you get excited, remember Amazon's low commission rates. Just because you're linking to a product page or a search page doesn't mean you'll earn money hand over fist.
Sidenote: Lasso co-founder Andrew Fiebert has a simple hack to amplify your Amazon commissions. Read his thread below. 👇🔥
Sell a lot of a particular item you promote on Amazon?

Let's 8-15x your payout on top of your Amazon Associates income. It takes less than 10 minutes to do per product and can seriously change your business.

🧵👇

— Andrew Fiebert (@andyfieb) June 20, 2022
Further Reading:
Putting the Amazon Affiliate Commission Rate In Perspective
The eCommerce goliath does good business, with Q1 earnings for this year topping $108 billion.
At the same time, Prime Day alone produced $6.8 billion in gross sales. In addition, many bloggers send Amazon substantial traffic, which is partially the reason behind its success.
However, when you trace their program's history, you see a payout trend gradually decreasing over the past decade.
Check out this stat from Geniuslink's historical guide:
The average commission rate for Amazon affiliates peaked in mid-2012 at 9.25% and has fallen to nearly a third of that.
They used to offer affiliates a volume-based commission structure until 2017, letting affiliates who drove more traffic to Amazon earn more.
Takeaway: But that's no longer the case. Now the program has a fixed structure with marketers earning a flat commission rate.
And then, most recently, Amazon slashed its rates in April 2020 as the coronavirus pandemic was on the rise. These rate changes saw publishers take a massive hit:
Furniture, home improvement, lawn & garden, pets products, and pantry decreased from 8% to 3%
Health & Personal Care went from 5% to 1%
Headphones, beauty, musical instruments, and business & industrial supplies decreased from 6% to 3%
Outdoors and tools were cut from 5.5% to 3%
Sports and Baby Products cut from 4.5% to 3%
Amazon Fresh was cut from 3% to 1%
Now that we know the history, let's dive into what kind of money you can make from your Amazon affiliate site.
Further Reading:
How Long Do You Have to Earn Amazon Commissions after A Visitor Clicks Your Affiliate Link?
You have 24 hours to earn a commission from Amazon once your visitor clicks an affiliate link. However, you can get credit for any sale when an item is placed in a shopper's cart within 24 hours and then bought from their cart within 90 days.
Sidenote: You earn a commission on everything added to their basket, not only the product link your visitor clicked.
For example, if they clicked your affiliate link, added the item you were promoting to their cart, and then added three other products unrelated to your website, you'd get the commission for the entire purchase – not only your item.
This has the added benefit of scooping up other commission rates attached to whatever's in their cart.
Let's say your product links to a $25 toy carrying a 3% commission, but your visitor also bought $150 worth of luxury beauty items at 10%; you'd get both your regular 3% rate and the higher 10% rate for the beauty items.
So, you'd get a $15.75 commission for the entire sale:
$25 toy at 3% = $0.75
$150 worth of luxury beauty items at 10% = $15
Can You Use Your Affiliate Link for Personal Use to Make More Money?
You can't earn commissions from purchases you make with your affiliate link, nor can you gain from giving it to friends and family.
Amazon explains they're an advertising program, not a discount program. Its number one goal is referring new customers and growing the business.
They also haven't disclosed how they know that it's your link:
According to Amazon:
Due to the proprietary nature of the way we determine if the order was personal, we can't share the full list of criteria by which we detect these ineligible orders.
Sidenote: If you're already an Amazon Prime member, just sign up for their Prime Rewards Visa credit card. It'll earn you 5% back.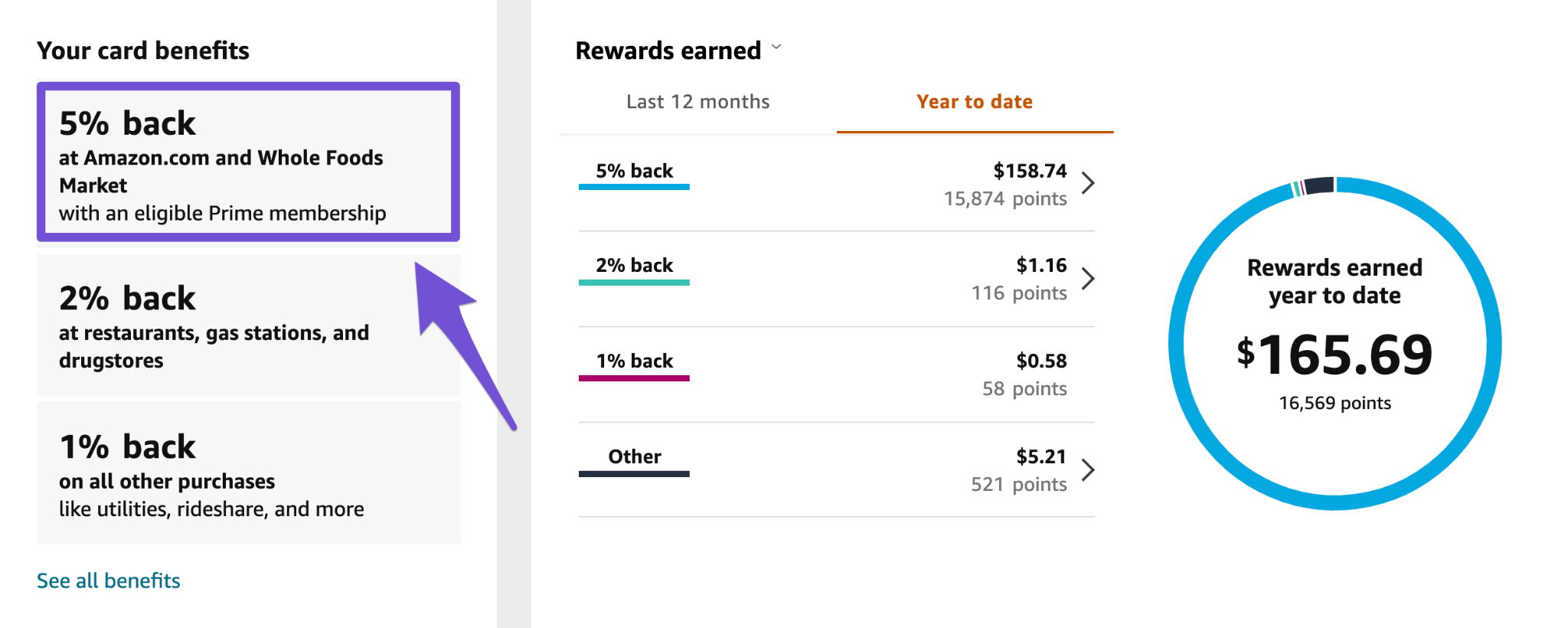 How Do Amazon Associates Get Paid?
Amazon pays its associates one of three ways:
Gift card
Direct deposit
Physical check (carries a $15 check processing fee)
Sorry, no PayPal.
Their payment schedule is Net-60. This means the money you earn in 30 days won't hit your bank account for 60 days. So, for example, the money you make in March won't reach your bank until May 30 or June 1.
To see this in action, head to Reports > Payment History.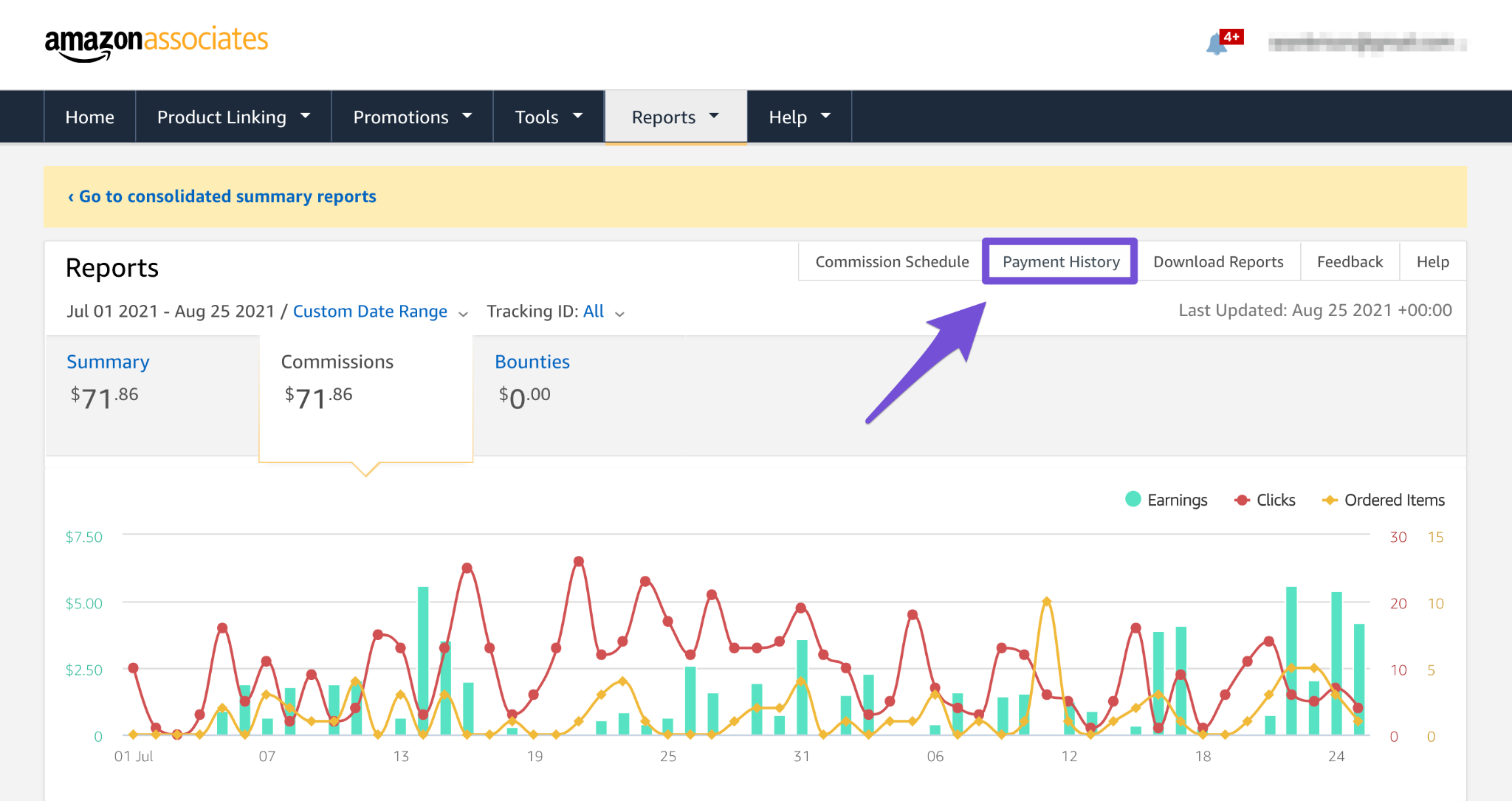 Here, you can see your monthly earnings followed by your direct deposit date: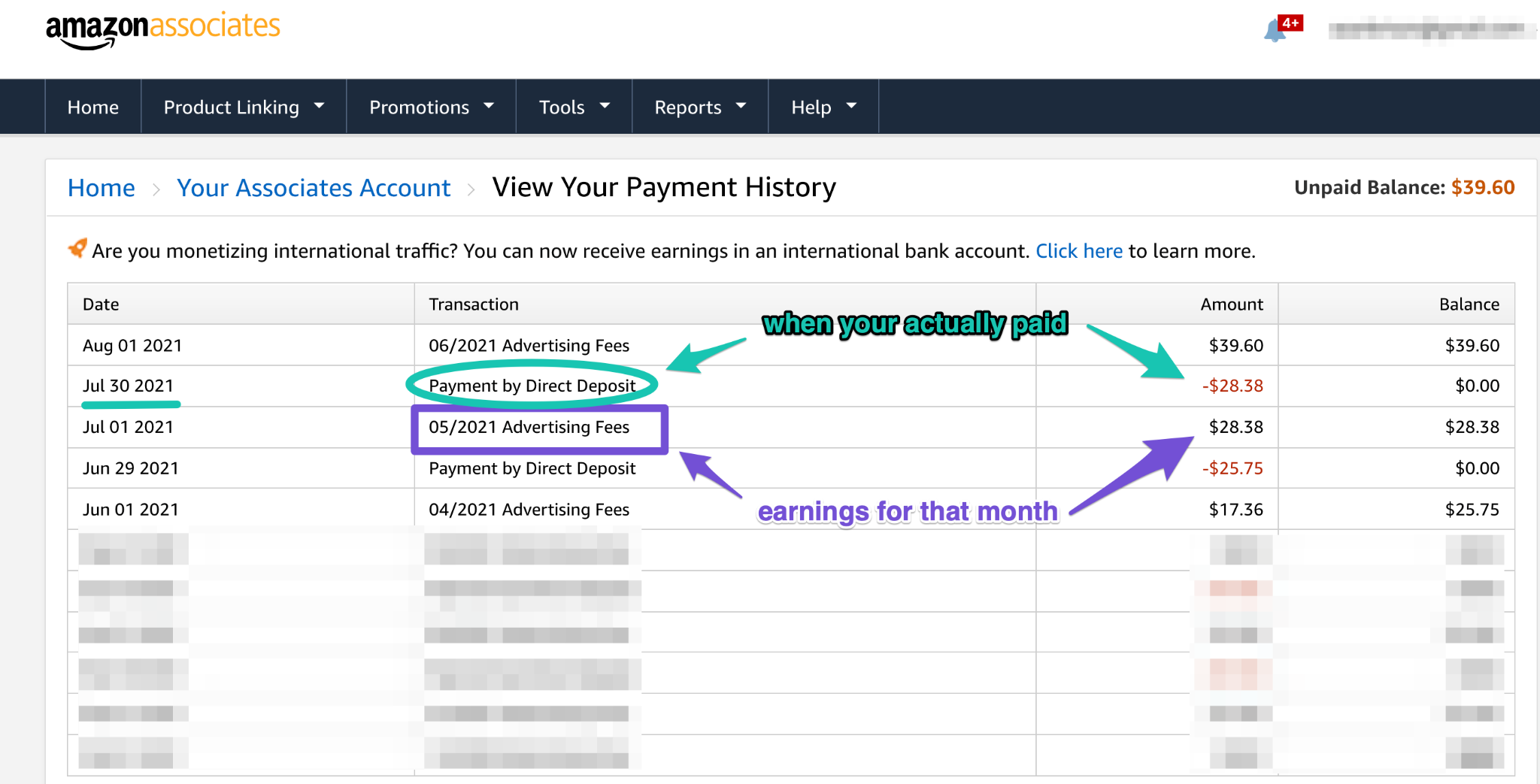 It's listed as an "Advertising Fee" because Amazon views this as a fee it must pay its publishers (e.g., bloggers).
Tip: Sign up for direct deposit as it's the easiest and quickest way to get paid.
Further Reading:
Minimum Payment Thresholds
Regardless of how Amazon pays you, you must earn the minimum amount before they send you money. If you're getting paid via direct deposit or gift card, it's $10; by check, the minimum is $100.
If you don't meet the minimum payout threshold, it gets rolled into next month's payment.
So, let's say you only earn $8.50 for June and then $11 for July. Amazon will pay you $19.50 for July. 
Viewing Your Earnings Reports
Here's a basic rundown of what you see when scrolling Amazon's reporting. At the top, you'll see your earnings with a row of data at the bottom, including:
Clicks
Conversion rate
Total earnings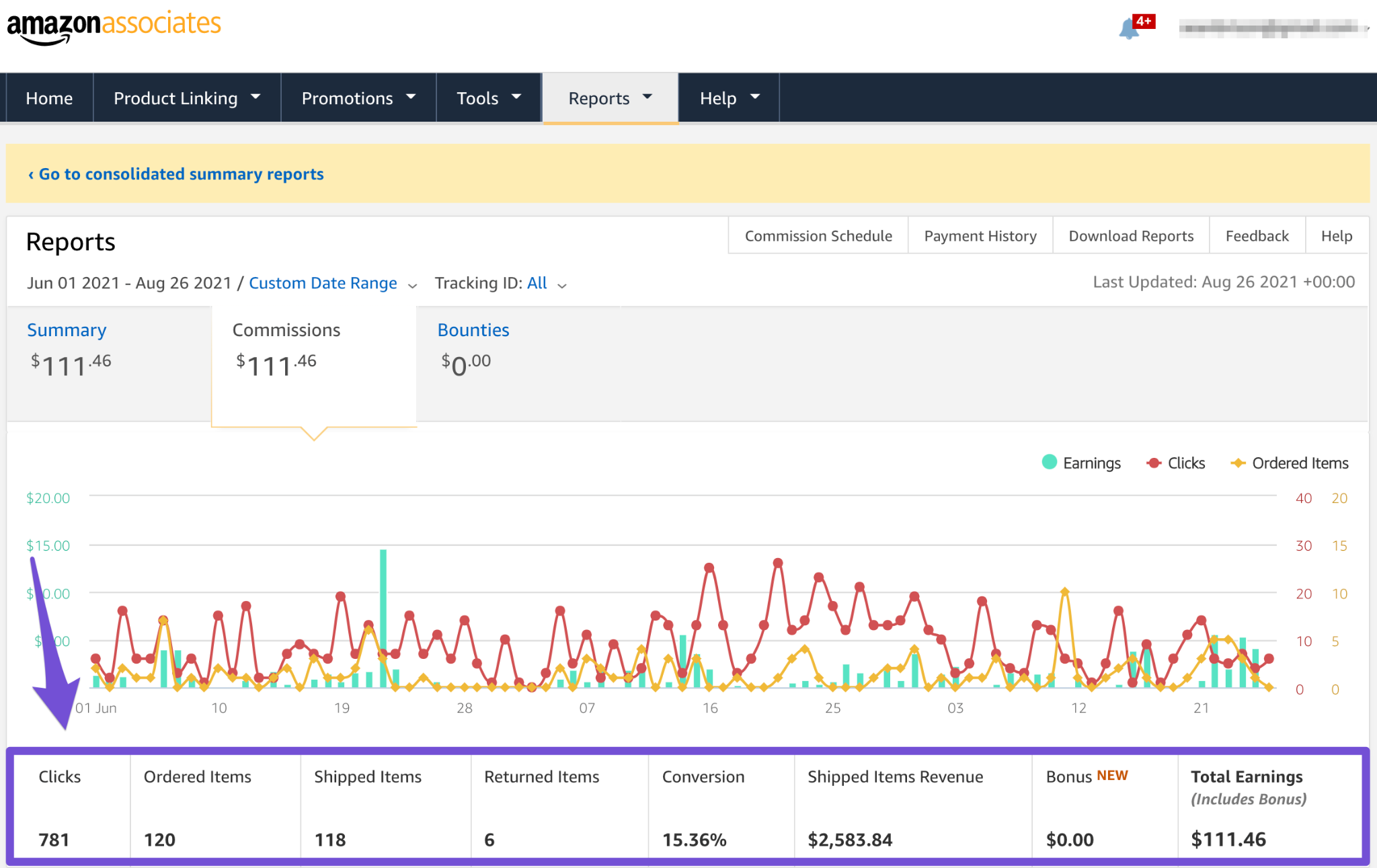 Calculating Your EPC
Here's where you can calculate your earnings per click (EPC):
First, divide your profits by the number of clicks.
For example, based on viewing this report, you can see the EPC is $0.14 per click:
$111.46 total earnings / 781 clicks = $0.14 earnings-per-click
Your EPC indicates how well your affiliate links perform and how well you're earning in your niche. For example, if you have a high number of clicks and conversions but a low EPC, it might be time to re-evaluate how much the affiliate program is paying you.
Sidenote: Don't be swayed if you ever see a high "average EPC" and think you're going to crush conversions – average EPC considers every affiliate marketer in that program. Some do better than others.
It's like being included in the median net worth bracket as Jeff Bezos: clearly, he's earning more money than the rest of us but still gets included in the "average net worth of people between X age" bracket.
A good EPC is tough to define because it's only as good as the quality of your monetization strategy.
Further Reading:
Making Sense of Your Earnings Reports to Improve Your Linking Strategy
The second screenshot below is your ordered items. Here, you can explore the data a bit more. Amazon's data isn't as detailed as Google Analytics, but there are a couple of things you can do with it.
In the top left corner, it's divided into:
Earnings
Ordered items
Link-type performance
You can group the data by tracking ID, product category, or date in the right upper corner.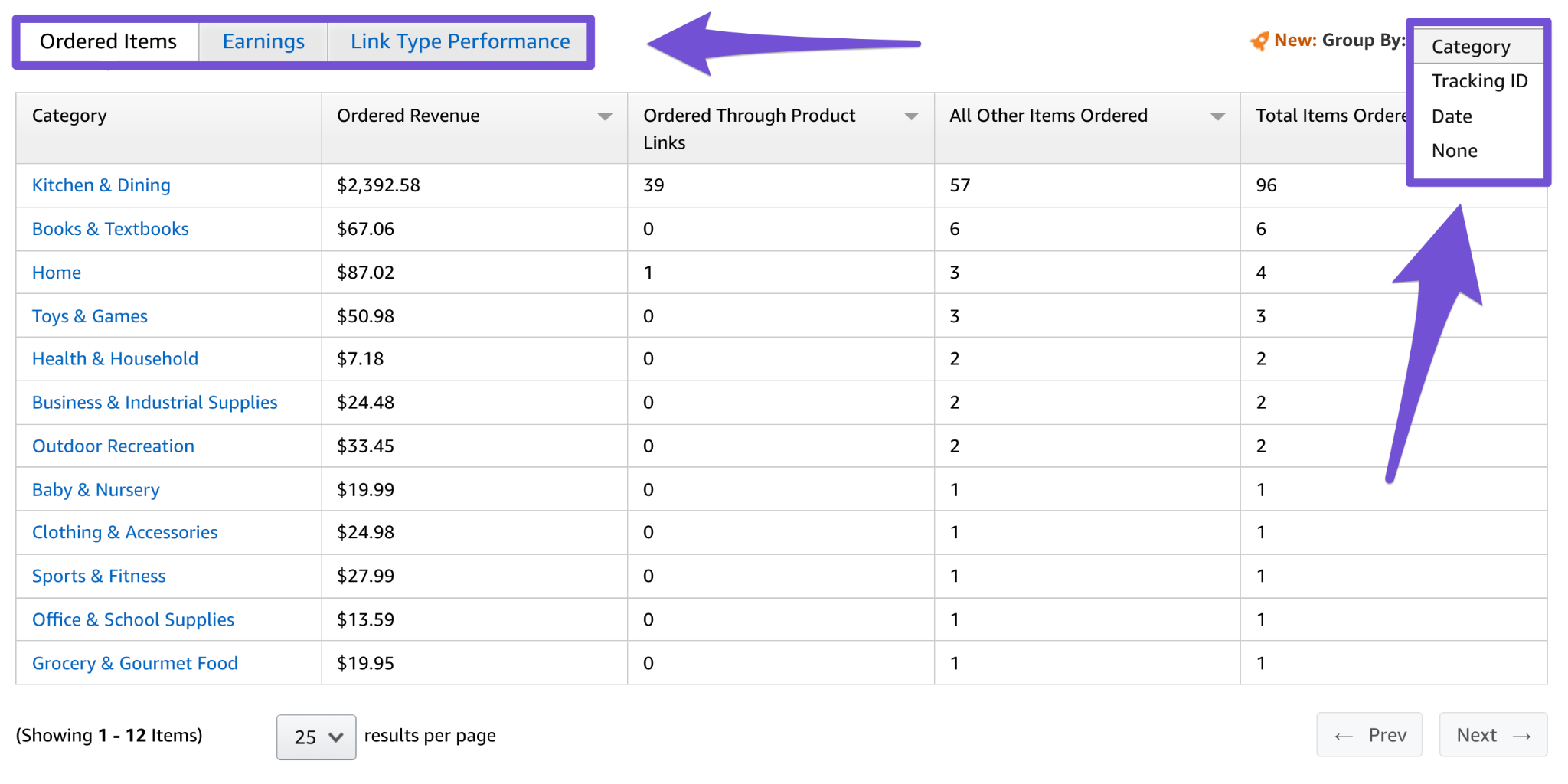 While limiting, let's see what data we can extract.
How Do You See What Product Links Visitors Click?
Grouping by category, Head to "Ordered Items," then click on any product category, and you'll see two things:
Items ordered through your product link
All other items ordered (i.e., your unique link that brought them to Amazon)
Here's the thing:
They may not have even bought the product you were promoting. Maybe once they landed on Amazon, they decided not to buy it.
But then realized they wanted something else, and so they bought that.
For example, looking at this earnings report for this affiliate website, you can see a high-ticket item falling into the column "All other items ordered."
But, the shopper didn't buy the original item; they clicked from the affiliate.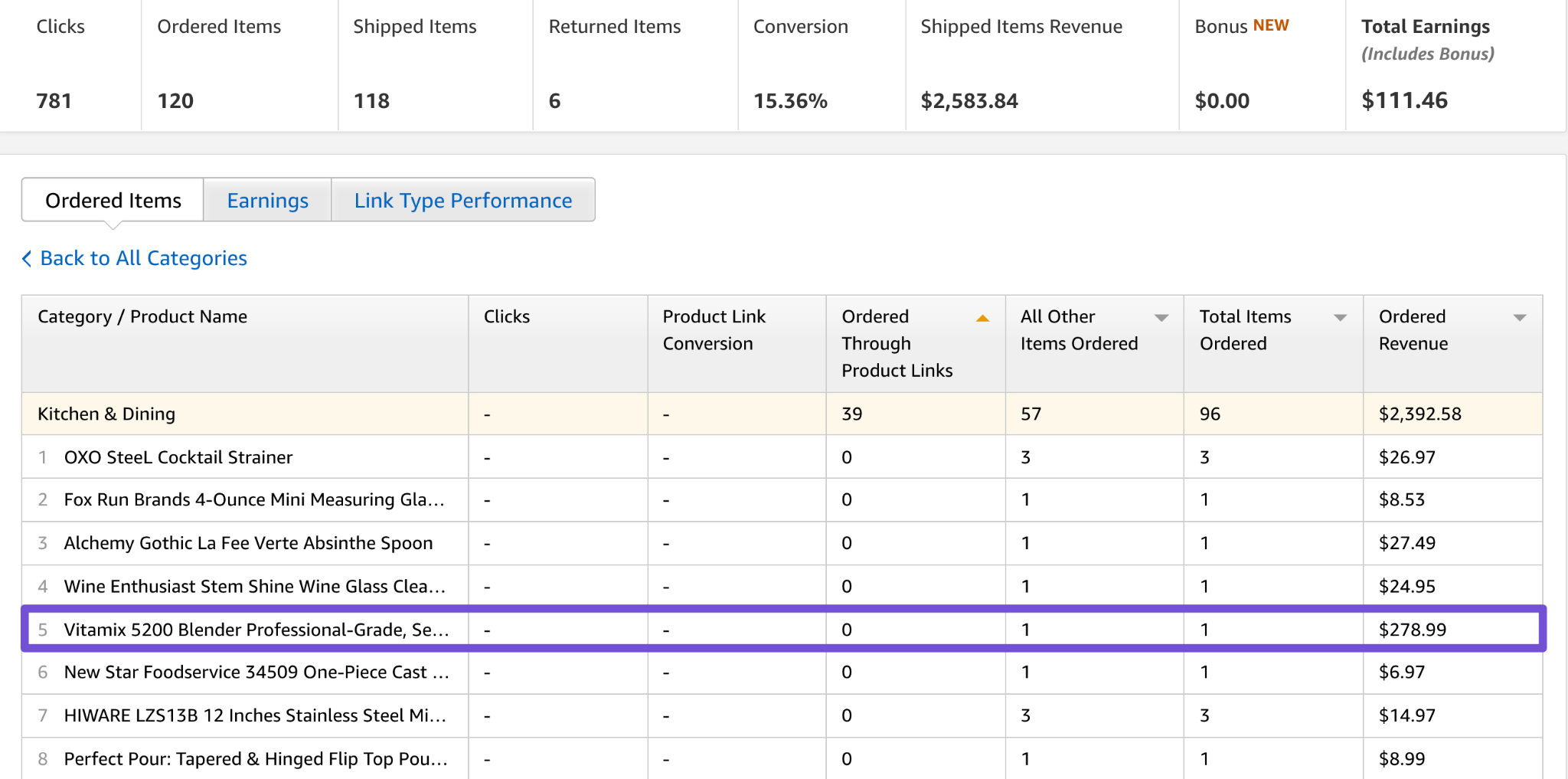 But they did decide to buy something else worth $279 using the affiliate link.
Sidenote: There are five stores where this wouldn't be the case in Europe. Amazon is rolling out a volume-based program. These changes apply to traffic referred to Amazon.co.uk, Amazon.de, Amazon.fr, Amazon.it, and Amazon.es. For example, if you send most of your clicks to pages other than the product details pages, you'll earn less than directly linking to the product page.
Using a tool like Lasso, you can see which products get clicks, your top-performing affiliate products across your site, and which pages attract the most clicks. Open up Google Analytics and head to Behavior > Events > Top Events.
How to Use Your Reports to Find More Product Linking Opportunities
You can find different products to link to when filtering by "Group." Here's how to do it.
Select, Group by Category > Ordered Items:

Once you've done this, return to the column "All Other Items Ordered." Look for patterns. You can set custom dates to target your search.
The idea is to look for anything relevant to your site's content that people continuously buy. If you see this with certain products and don't promote them, consider doing so with a product review or comparison.

You're looking for a high number for a given product in this column. For example, this one has 27 total clicks, with the highest number at three.
Now, this site is new and isn't getting the volume that some of the other well-trafficked sites get, but if you were to see an item getting 100+ clicks (and it's not being promoted on your site but relevant to your niche), consider adding it if it helps your readers.
So, the two qualifying metrics here are:
100+ clicks for a product
It's a product that serves your audience
Further Reading:
Group by "Earnings" to See Commission Income Rates by Category
Let's say you want to see your commission rates by product category. Set the filters to "Group by Category" and "Earnings."

Now you can assess your commission rates and income across product categories. Seeing this data lets you determine your:
Earnings-per-click for every category
Total earnings from commissions
Look for trends in your shopper's history. You see a bird's eye view of items bought. For example, you might start seeing a product category selling more in the "Items Shipped" column.
If so, this could indicate that particular products are growing in popularity, so you might want to reconsider your linking strategy and include more of those.
Now that my top category is Kitchen & Dining, let's see what else we can promote.
How to Use Amazon's Advanced Search Filters to Promote More Products
Amazon has its own search engine and search filters. So, what you could do is after you see your top-selling product category, you could experiment and head to Amazon and dig into a specific type.
For example, using the Kitchen & Dining niche, I'd investigate Kitchen & Dining > Bar Tools and Drinkware > Glassware & Drinkware.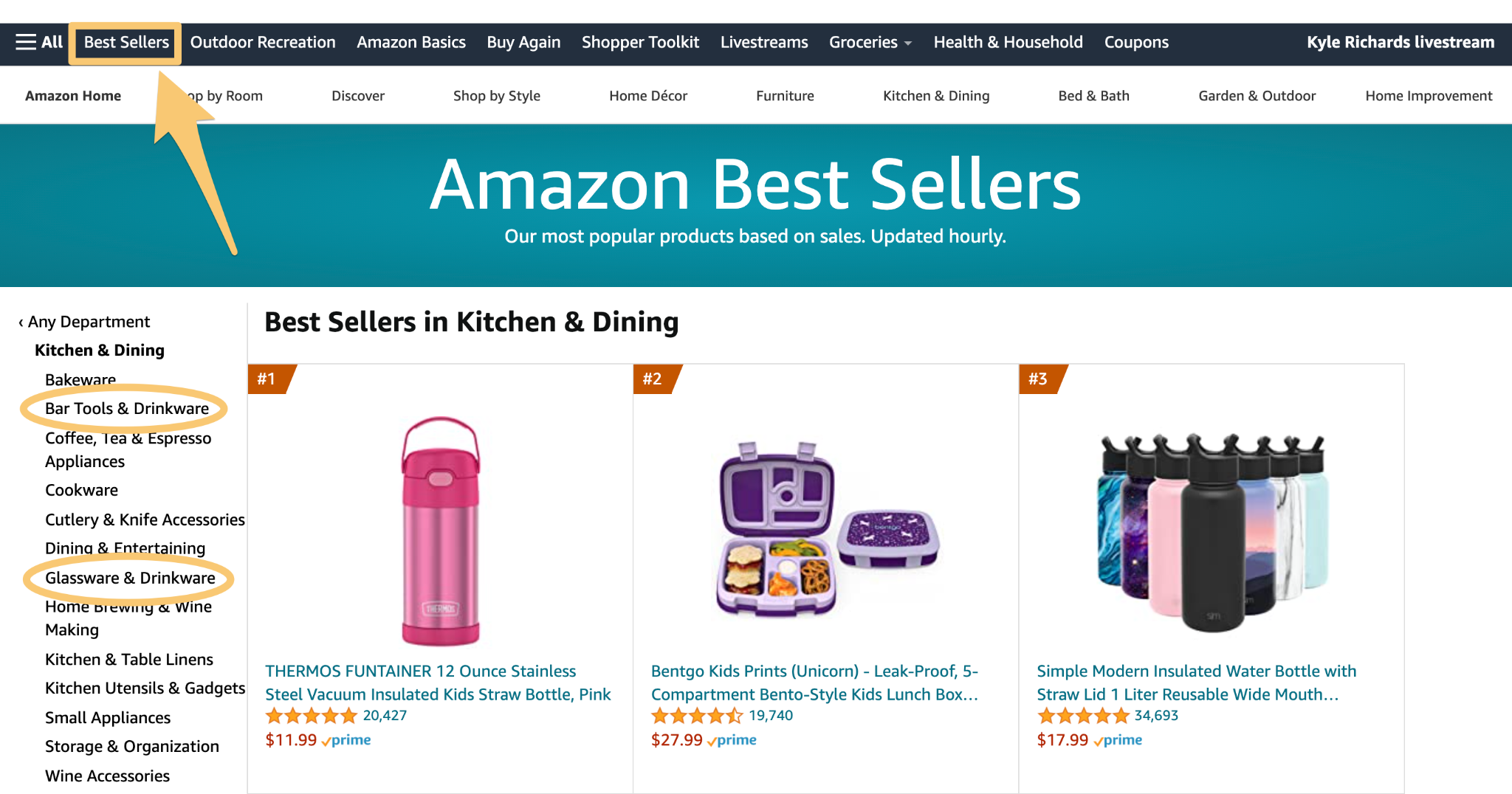 Or if you're shopping by department, in the same category (not in "best sellers"), you can filter to find products by:
Prime eligibility
Number of reviews
Using these two filters is a good starting point because people tend to buy more when they see the Prime badge. And when you go by the number of reviews, the "Average customer review" has four stars or more.
If you want, you can get even more granular and set them by:
Brand
Color
A specific price range
Doing this will help you find quality products. You don't want to promote a product that's got awful reviews.
Understanding Link-Type Performance
In the same report, under "Link-Type Performance," Amazon shows you which types of links got clicks, but the data is pretty weak.
Below, you can see it groups all of my text, image, and text & image links into one category and groups the links I've created myself (using Lasso) into another type titled "Basic Product."

When I inquired about what this meant, here's the reply from Amazon's support team:
Typically, this is referring to links that have been constructed manually by you, the Associate. Any link created that was not made using our specific tools such as Text, Image, or Text+Image links is considered a Basic link.
Since my site uses Lasso to get affiliate links, it'll remove any additional tracking parameters Amazon adds, so the only thing that remains is a "clean" URL (i.e., your tracking ID used for monetization).
Sidenote: Lasso is a WordPress plugin built by affiliate marketers to help you make more money from your existing creations.
Further Reading:
What's the Consolidated Earnings Report?
The Consolidated Summary of the earnings report gives a bird's eye view of all your accounts in one place. This applies to both domestic and international Amazon Associates accounts.
Your affiliate commissions get combined across all store IDs in a single view. It applies to the Amazon Associates program, Influencer program, and Amazon onsite associates program.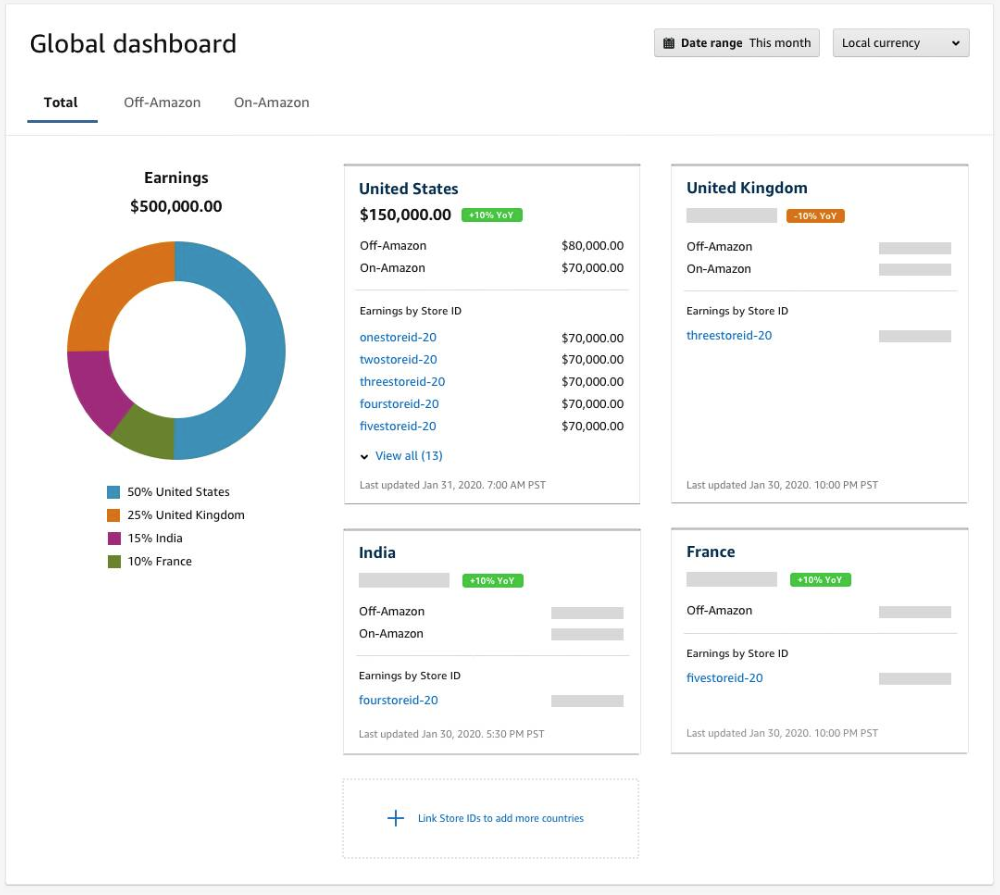 Then, if you want to zero in on a specific country, click that country to see your data.
Sidenote: "Off-Amazon" earnings are referrals sent to Amazon from content not appearing on its website (e.g., bloggers or social media). "On-Amazon" refers to published content from Influencer storefronts.
If you haven't already, you can link your stores so you can see all of your data in "Account Settings":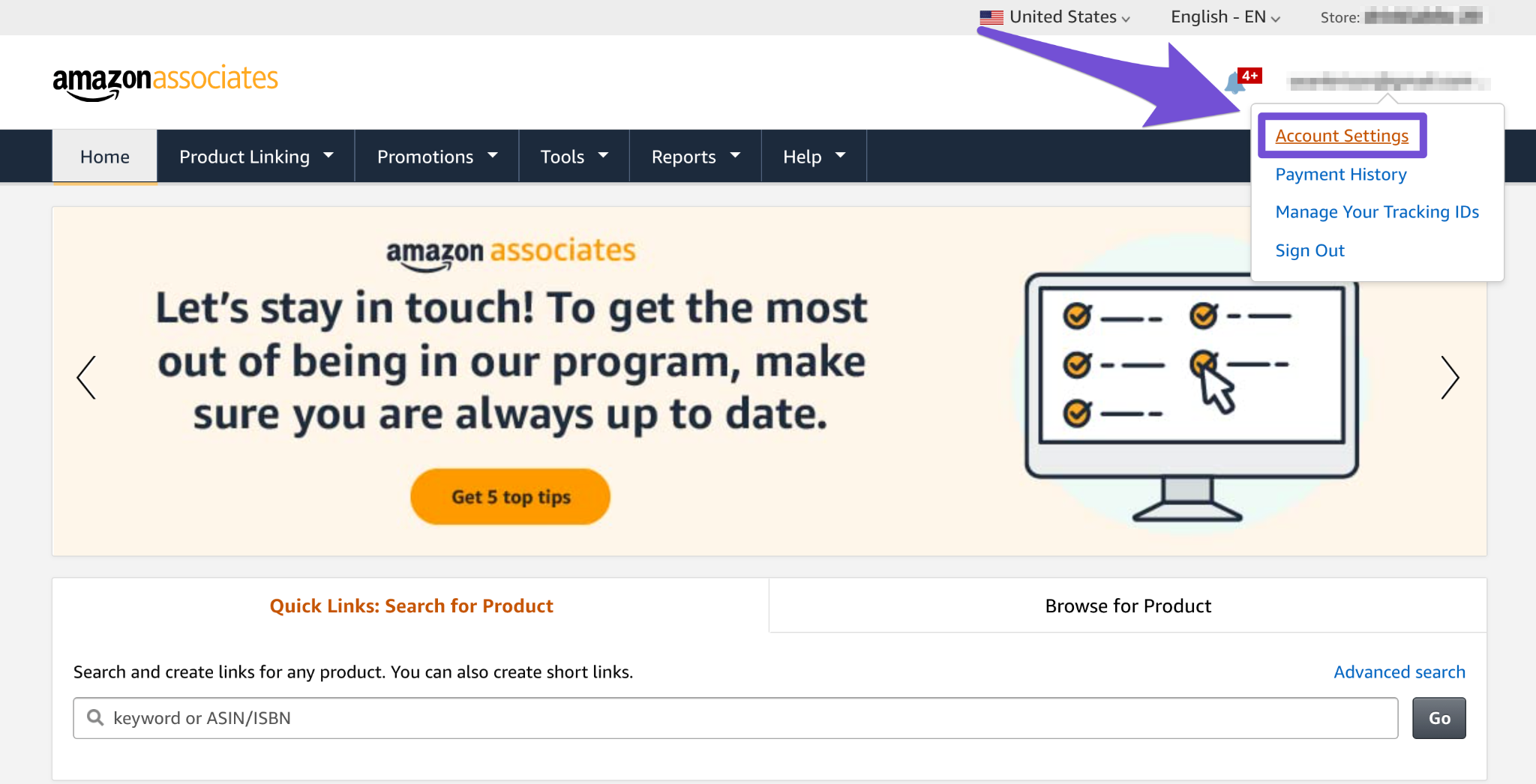 Then click "Link Store IDs":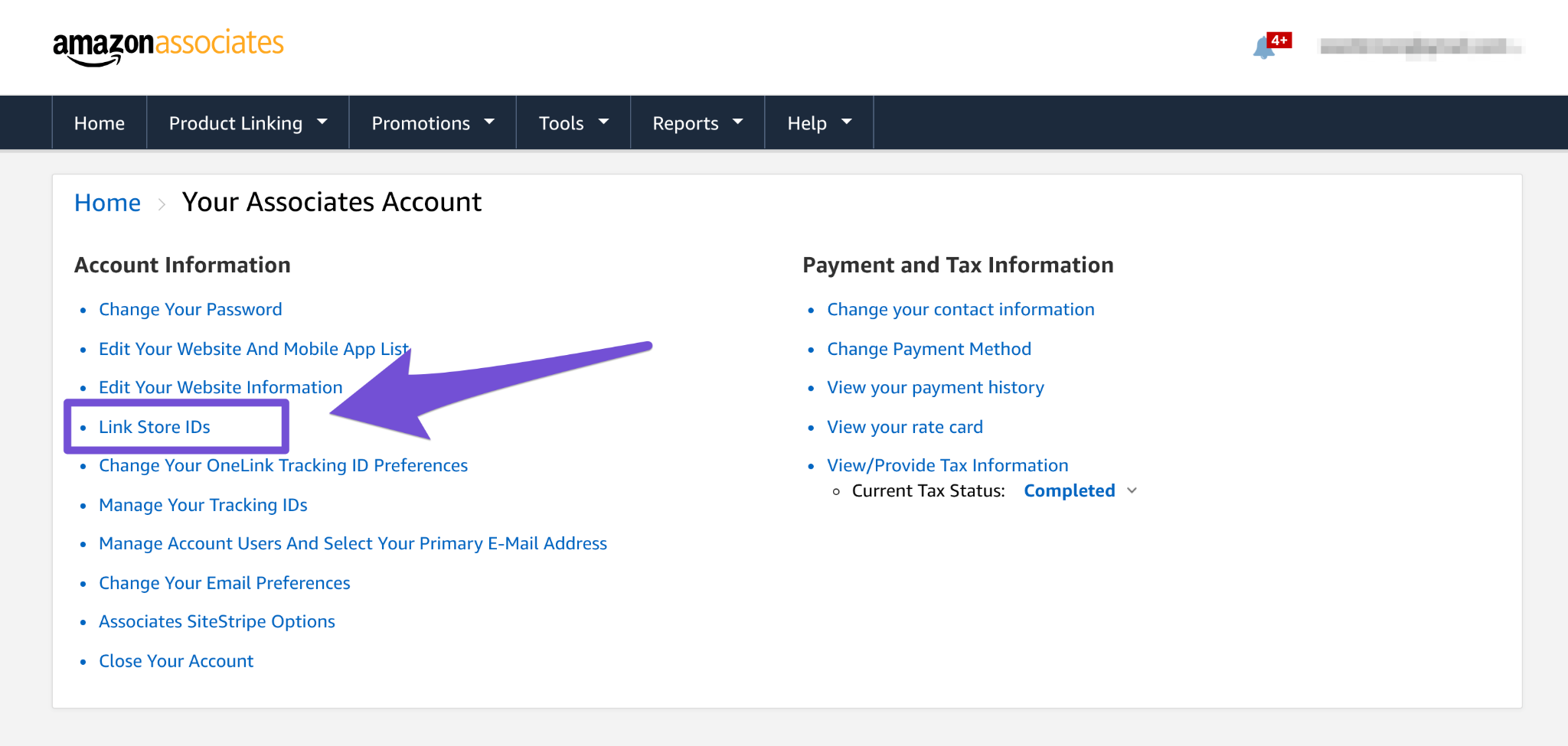 Then, add which stores you want to include: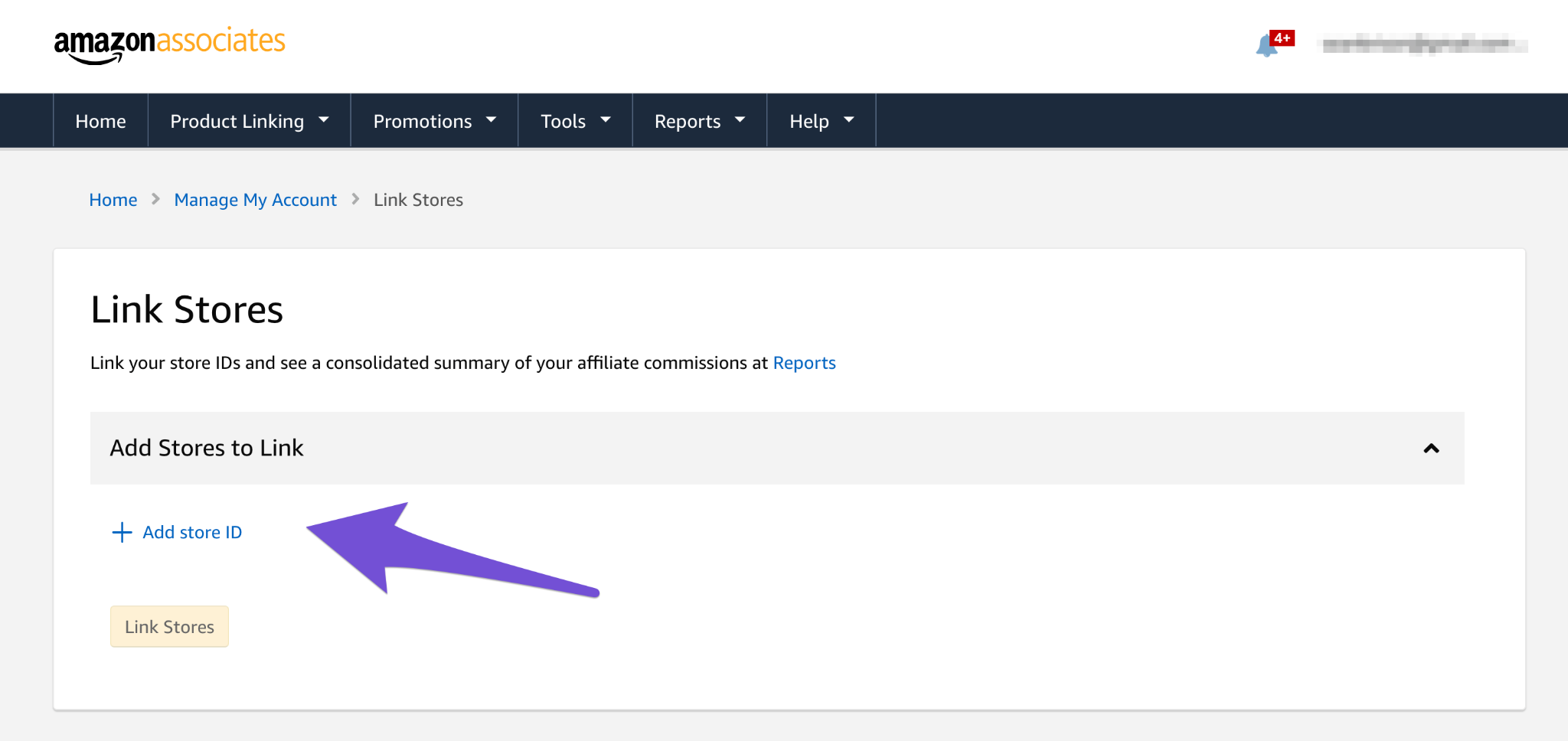 You'll get a success message once they're linked.
U.S. tracking IDs end in "-20" to indicate the region (i.e., North America for U.S.-based Associates). You'll have to sign up for each country's Amazon affiliate program before you can link your stores.
Using Geniuslink to Boost International Commissions
Chances are your site gets traffic from more than the U.S. If you're unsure, head to Google Analytics > Audience > Geo > Location:
Sign up for whichever countries drive traffic to your site if available. For example, sign up for their affiliate program if you get lots of traffic from Canada. Why?
Because even though Amazon OneLink supports international traffic from Canada, if you're not signed up for Canada's program, you won't earn a commission.
Amazon OneLink can help you monetize traffic but only from 13 countries currently. So, if you get traffic that's not on their list, you're losing money.
So if you're using a tool like Geniuslink, it'll cover every country – including those not yet supported by Amazon. 
For example, if you get traffic from a country unsupported by OneLink, you'll be unable to monetize it without a third-party tool. If you happen to get lots of international traffic, Geniuslink can help you out significantly.
Amazon Affiliate Program Alternatives
Despite the low barrier to entry with Amazon and the massive sales volume they ship daily, they're not the only thing available.
Takeaway: Don't feel like you can't use other affiliate programs to monetize your site – especially if the alternative pays more.
Play to the value you provide to your audience and let the commission rates take care of themselves. Consider alternatives as one approach if you have high clicks and a low EPC.
For example, let's say you have a blog about dogs, and you promote and review specific products. You're leaving money on the table if you're promoting pet products on your site ONLY with Amazon's 3% commission rate.
Here are five programs better than Amazon's you can sign up for right now from our affiliate program database.
| Affiliate Program | Commission | Cookie Duration |
| --- | --- | --- |
| Chewy | $20 per sale | 15 days |
| Petco | 8% | 7 days |
| Rover | 15% | 30 days |
| BarkBox | $18-$20 per sale | 7 days |
| Ollie | $60 per sale | 30 days |
This is only one example. You can scroll through our database (seen in the below GIF), find your niche, and compare other rates in your industry.
Once you've done that, replace Amazon's affiliate program with the alternative in the Fixed-Income Rate column from the earlier Earnings report.
If you're a Lasso user, you can find new affiliate program opportunities in your dashboard (Lasso even helps you sign up). Head to Opportunities > Programs.
You'll see the program, commission rate, and possible linking opportunities across your site.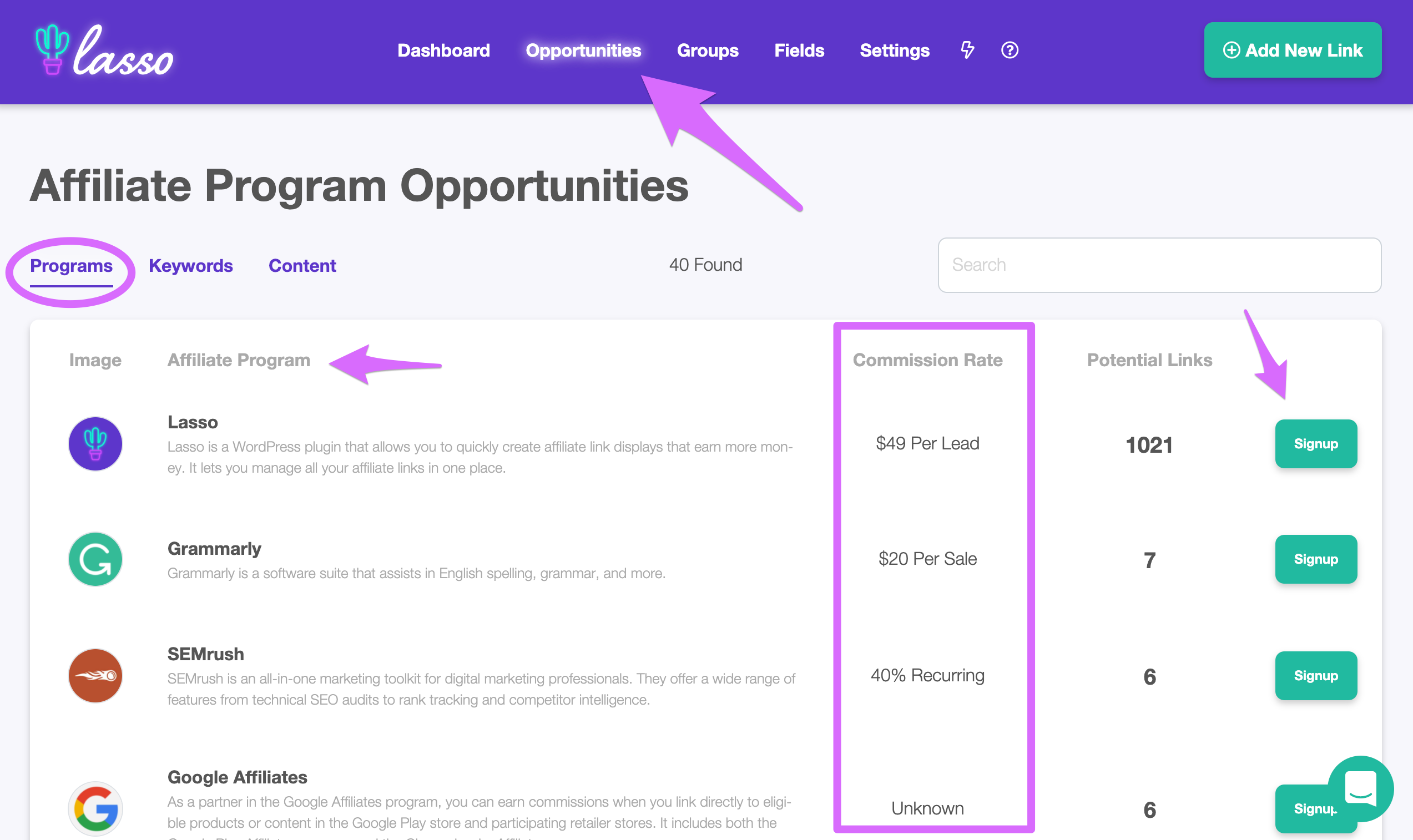 What would an 8% commission rate mean for your bottom line? What about 15%. The point is to be strategic with your linking strategy.
You want to find programs that will yield the highest ROI for your efforts.
Amazon Affiliate FAQs
Below are some common questions I encountered while researching this article.
Does it cost anything to become an Associate?
It costs nothing to become an Amazon Associate per their operating agreement. Signing up is free and takes only a few minutes.
Amazon collects no money from its publishers either – you pay nothing to sign up, nor will you pay anything once you're part of the program.
There are no prerequisites. You don't even need a required minimum number of page views.
Does Amazon's affiliate program pay per click?
You will not earn money from Amazon by the number of clicks your site gets.
Amazon's affiliate program is commission-based and pays its Associates a percentage of all qualifying purchases per its standard income rates.
Why does Amazon change its commission rates?
Amazon's commission rates change for a couple of reasons. One is because they're trying to sell more in a particular product category.
For example, if they want to sell more pet products, they could increase the commission rate in that category to make it more appealing for promotion.
Amazon also says they change rates to stay competitive with the broader industry.
How many countries have an Amazon affiliate program?
Amazon affiliate programs operate in 19 different countries.
You can visit Amazon's site to see the complete sign-up list.
What are the benefits of participating in the program?
Amazon's affiliate program is free to join, millions of people trust them, and many buy on the platform.
There's also no minimum amount of website traffic needed for approval. Some programs won't accept you if your numbers are low.
Is my Associates ID and Tracking ID the same thing?
Your Associates ID isn't the same as your tracking ID. The difference is you only get one Associates ID. However,  you can create up to 100 tracking IDs to monitor various links or pages.
If you only have one site, you may have the same Associate ID (your store ID) and tracking ID.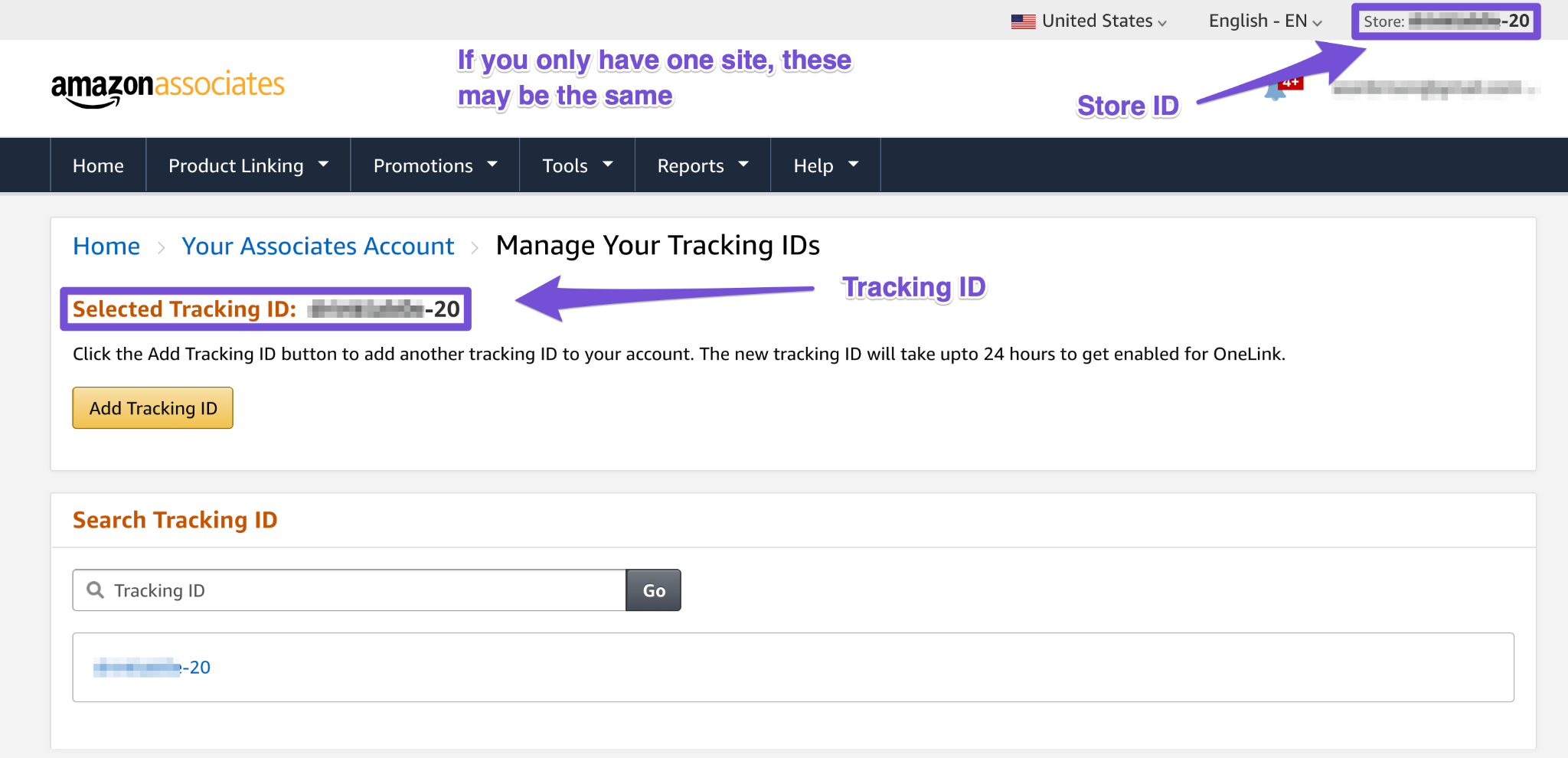 Let's Wrap This Up
If you're considering monetizing your site but are curious about Amazon's affiliate commission rates, this guide should help.
But unfortunately, affiliate marketing is a tricky business and requires a lot of effort before you find success.
Hopefully, this article has shared some insight into Amazon's rates and alternative monetization approaches. As website owners, it's our job to find the best bang for our buck.
Want more tips?
Join our newsletter, The Monday Marketer, and get actionable affiliate marketing + SEO advice sent straight to your inbox. 
Our creations in your inbox, weekly.
We've built multiple six-figure online businesses that our moms are proud of.
We'd like to help you do the same.