Thinking of becoming an Amazon affiliate but unsure about the rules? You're in the right place. This post explains what the program is, how it works, and the best strategies to make money.
Let's go.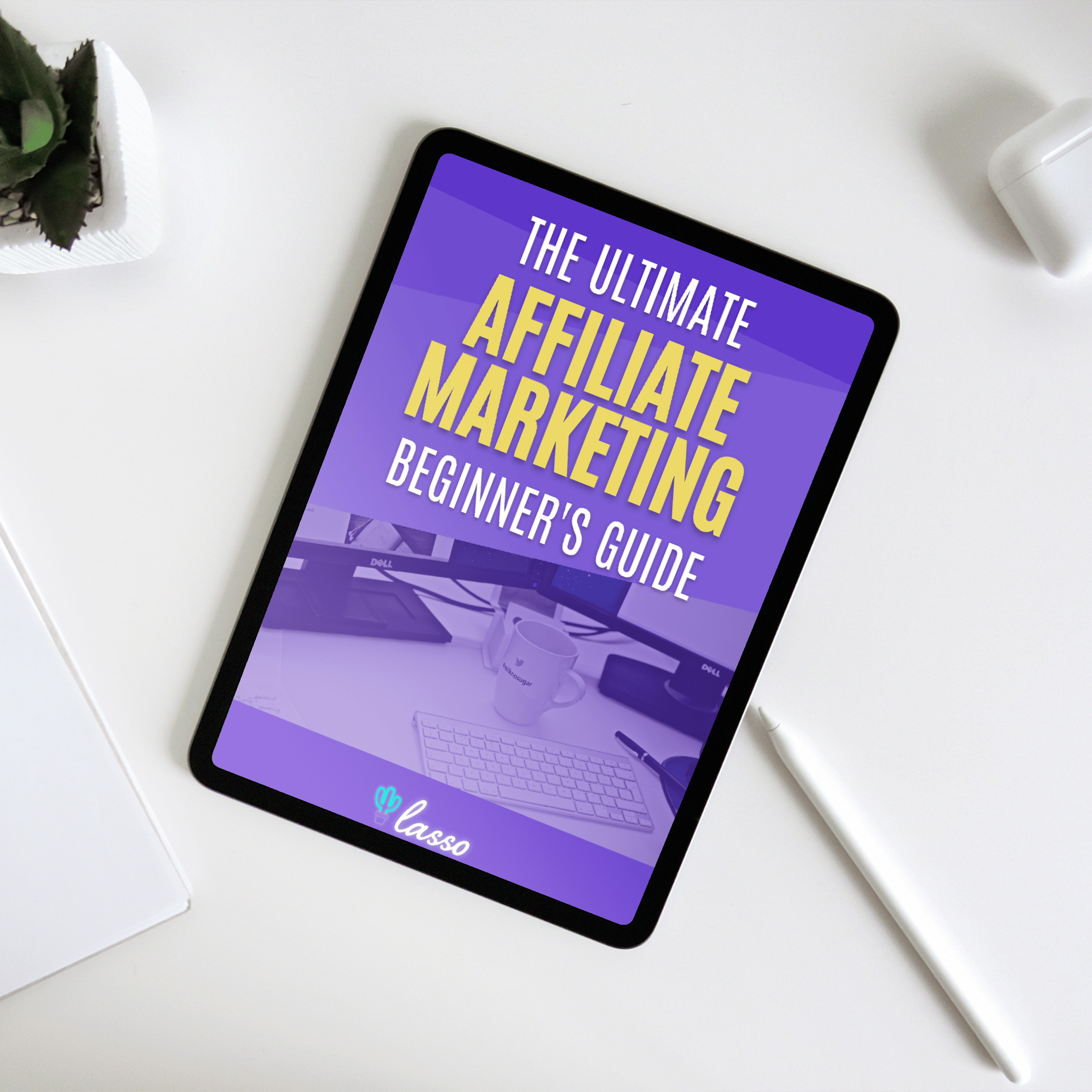 Get Your FREE 30-Page Affiliate Marketing Beginners Guide And Grow Your Site Today
What Is the Amazon Affiliate Program?
The Amazon affiliate marketing program (aka Amazon Associates) lets you make money for driving sales to Amazon. It's one of the largest affiliate programs on the planet, which is why it's so appealing as a gateway into affiliate marketing.
An Amazon affiliate site promotes products selling on Amazon. You'll create content for your website and then place Amazon affiliate links in it. Whenever you send merchants qualifying sales through your affiliate link, you earn a commission (aka a referral fee).
Sidenote: Your site doesn't have to promote Amazon products exclusively to start making money from their affiliate program. Many website owners use it to supplement a portion of their income.
Why try Amazon's affiliate program? Some stats for you:
Millions of people use, know, and trust Amazon. With such a substantial buyer pool, it's easy to promote products and make money.
How Does the Amazon Affiliate Program Work?
Amazon's affiliate program works when you create affiliate links for products you want to promote on your website. In a nutshell, you:
Is It Hard to Become an Amazon Associate?
Becoming an Amazon Associate is easy. To start, head to their sign-up page here and create your account. Once your account is created, you'll begin the application process.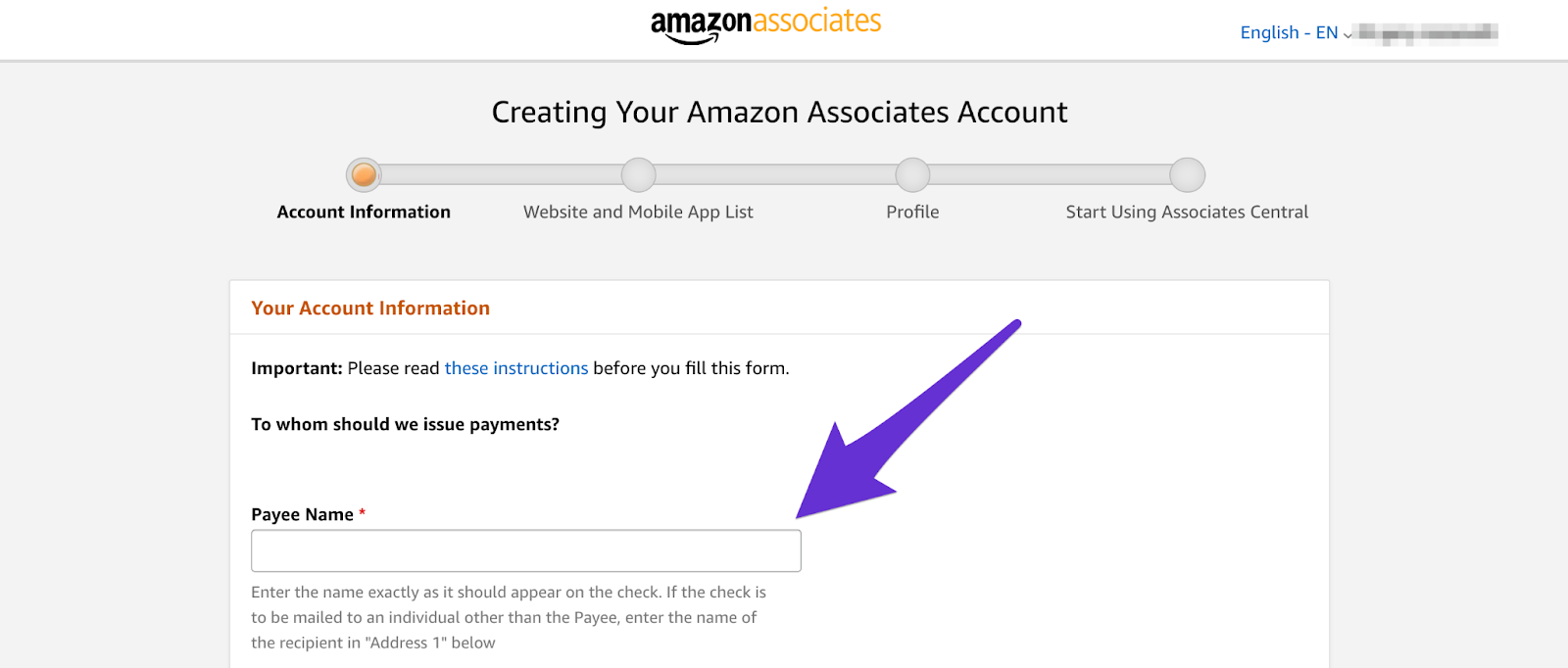 First, you'll enter your contact information (i.e., name, address, and phone number). Then, you'll enter the websites or apps you plan to promote Amazon products.

In the next step, you'll complete your profile information by telling Amazon what your site is about and how you'll monetize it: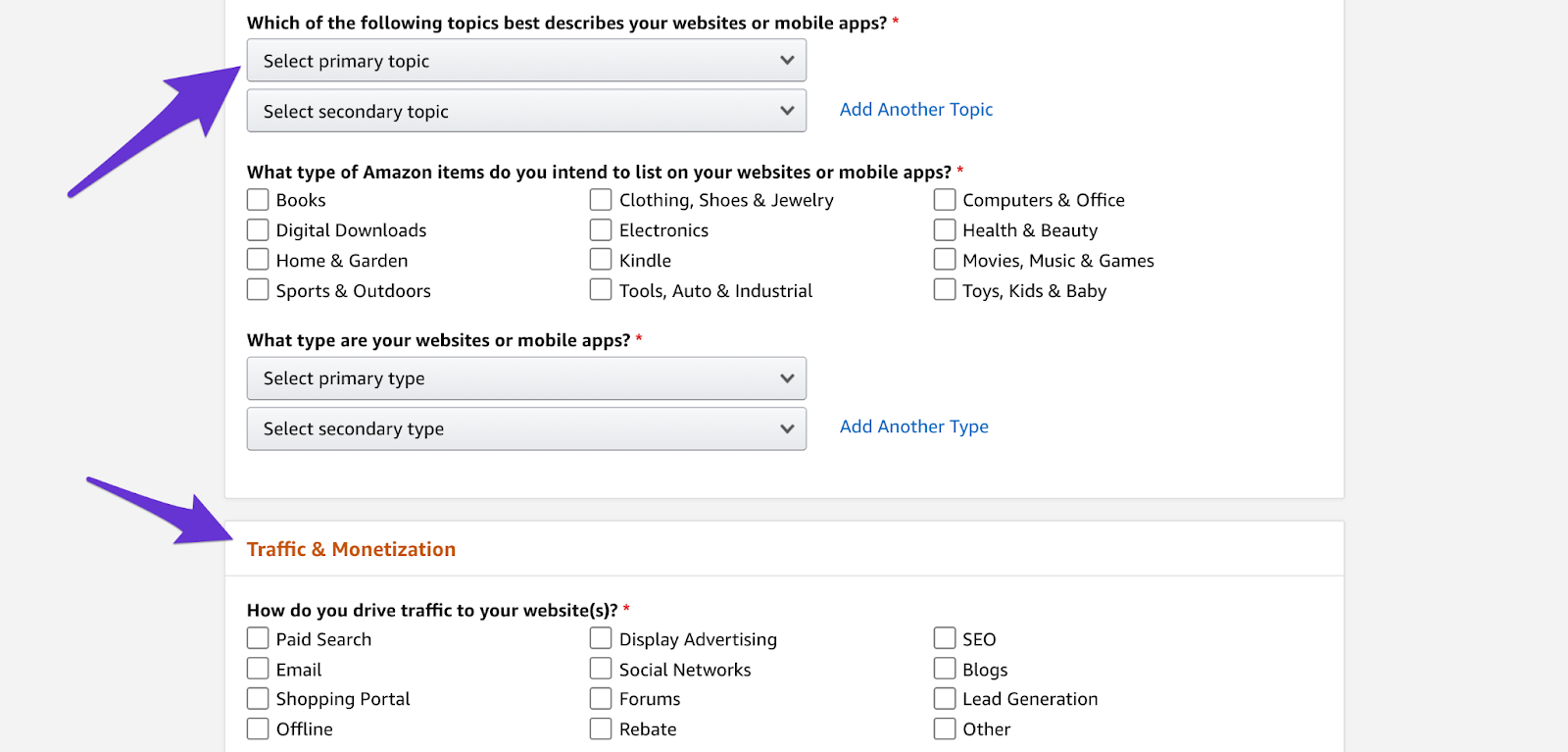 Finally, you complete the process and get your unique tracking ID.

With your affiliate ID, you can start promoting products on your website and earn commissions.
But, before doing that, scroll to the bottom of your "Congrats" page and tell Amazon how you want to get paid: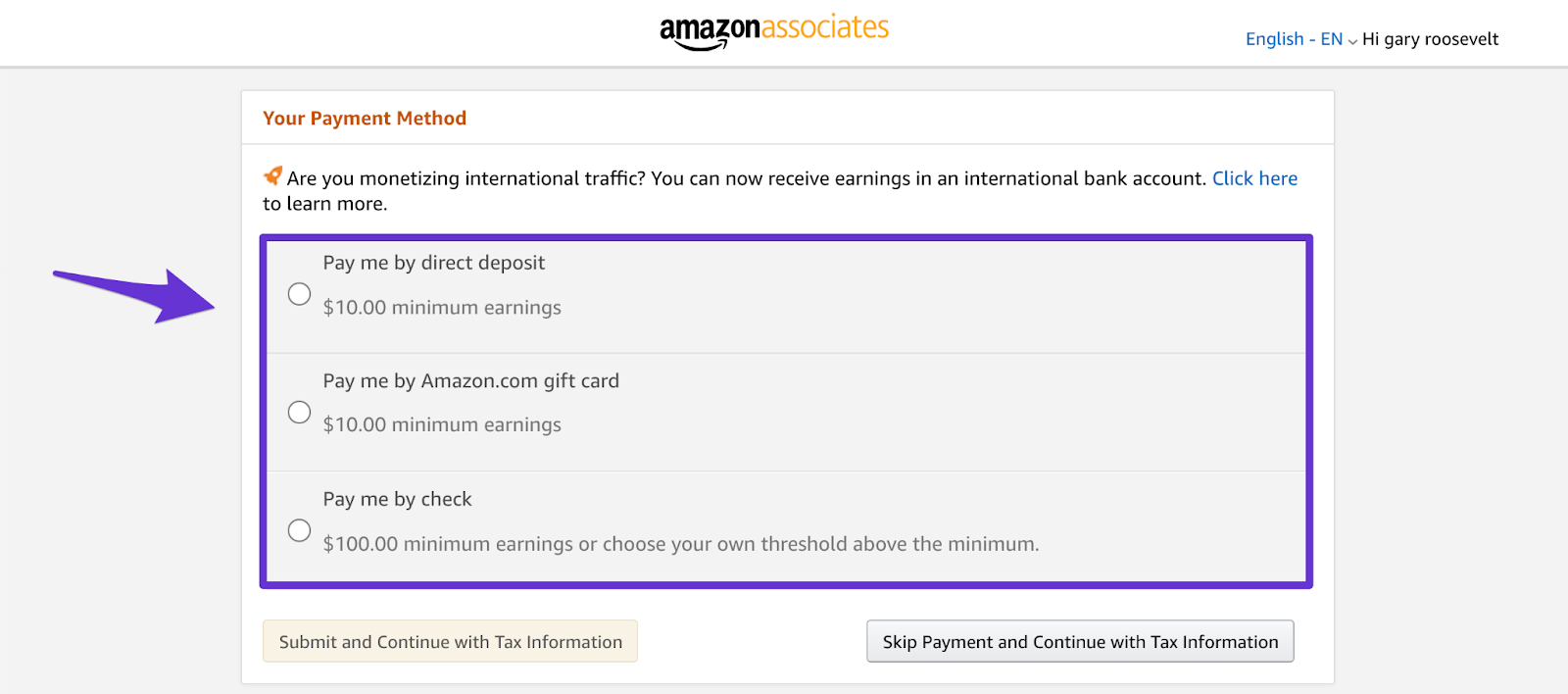 How Do Amazon Associates Get Paid?
Amazon pays its associates one of three ways:
Direct deposit
Gift card
Physical check (carries a $15 check processing fee)
Sorry, no PayPal.
Their payment schedule is Net-60. This means that the money you earn in a 30-day period won't hit your bank account for 60 days. For example, the money you make in March won't reach your bank until June 1.
Tip: Sign up for direct deposit as it's the easiest and quickest way to get paid.
How Much Do Amazon Associates Make?
The amount of traffic you send to Amazon determines your earnings. So, for example, if your site is new and gets little traffic from search engines, then you'll make less in commissions (versus a large site generating substantial amounts of traffic).
It's a numbers game. The more traffic you send to Amazon, the more money you'll make. You can also get a better idea of how much you'll earn based on Amazon's commission rates.
Amazon Affiliate Commission Rates
Amazon affiliates earn anywhere between 1%-10% of qualifying sales; different products carry different rates. To find Amazon's commission income statement, head to Help > Commission Income Statement on your Associates home page: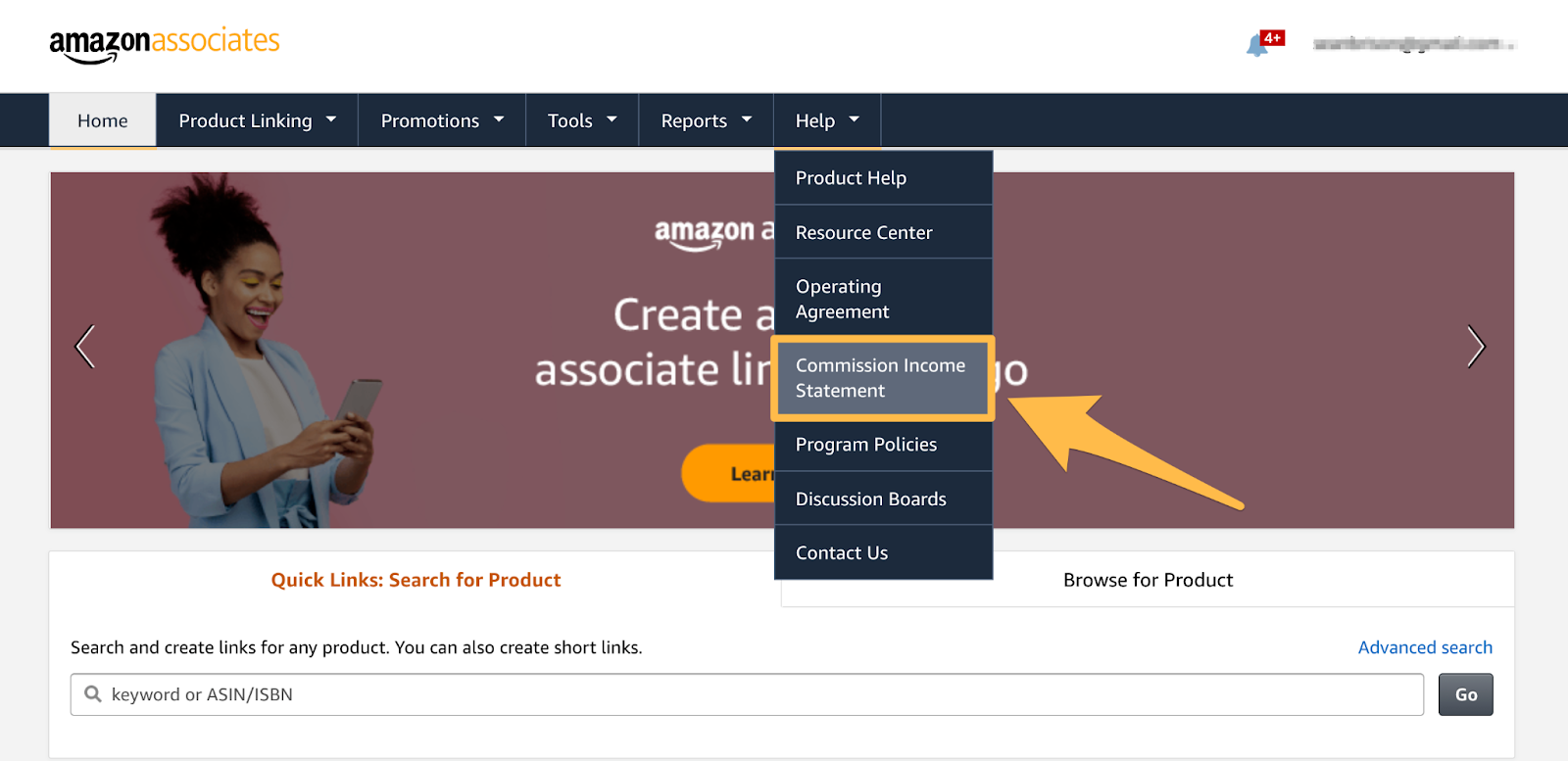 Click here, and you'll see the complete commission structure: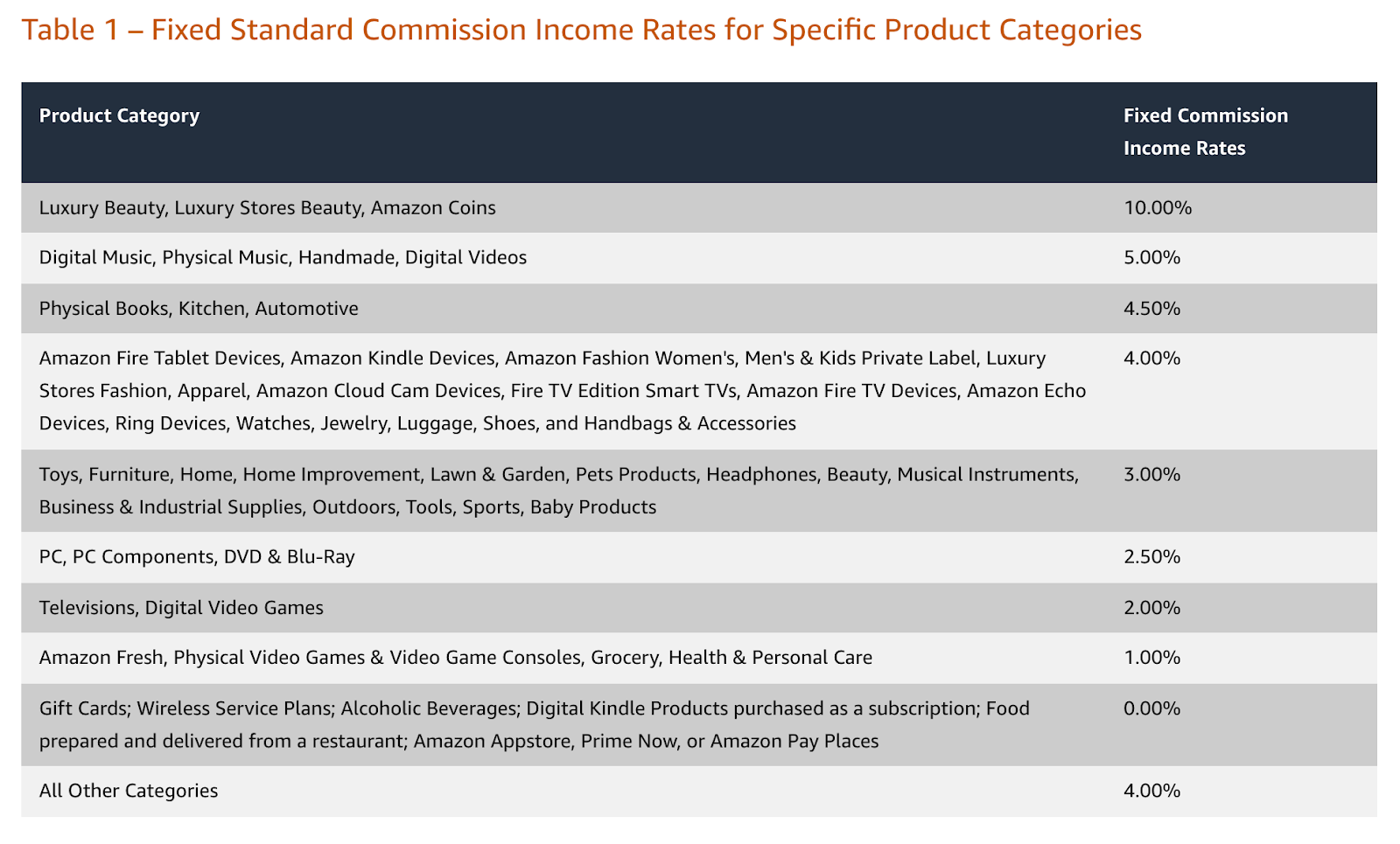 You'll make between 1%-10% in commissions based on the product category.
I know some bloggers who earn five figures per month and others earning less than $100. How much you earn also depends on:
Content quality
Amount of content you produce
Consistency
How you promote your affiliate links
Further Reading:
Amazon's Bounty Program
The Amazon Bounty program pays you a fixed commission when your visitors sign up for Amazon programs and services.
For example, you get a $3 bounty (commission) for every Amazon Prime customer you drive to ship their first Prime wardrobe box.
Other bounties could include getting $5 for every person you get to sign up for an Audible Plus free trial and a $10 bounty for every person that converts to an Audible Plus membership.
You can head here for the complete list.
Further Reading:
Amazon Associates Program Terms & Conditions: 5 Things to Know Before You Sign Up
Becoming an Amazon affiliate is quick and easy. You can create your account in under five minutes, set up how you want to get paid, and start promoting.
As an Amazon Associate myself, these are things that I've found to be the most eye-opening about their program:
It's a net-60 payment schedule. So, for example, the commissions you made in February won't get deposited to your bank until May 1.
You must disclose that you're an affiliate per Amazon's and the FTC's guidelines (we wrote an entire post about affiliate disclosures which you can read here).
You can't cloak Amazon links. So we wrote an entire post about link cloaking and why it matters.
You must make at least three qualifying sales within 180 days of signing up, or Amazon will close your Associates account.
You can't promote your links in emails. So, if your email list is huge and you're thinking about blasting out affiliate offers to your readers, you can't do it.
To read their operating guidelines in full, head here.
Further Reading:
How to Create Amazon Affiliate Links
There's more than one way to create your Amazon links, and I'm going to show how you can do it three ways:
From inside your Associates account
Using SiteStripe
With our WordPress affiliate plugin, Lasso
Creating Links From Inside Your Associates Account
This is by far the most time-consuming way to do it, but it's good to know your options. From your associate's home page, head to Product Linking > Product Links: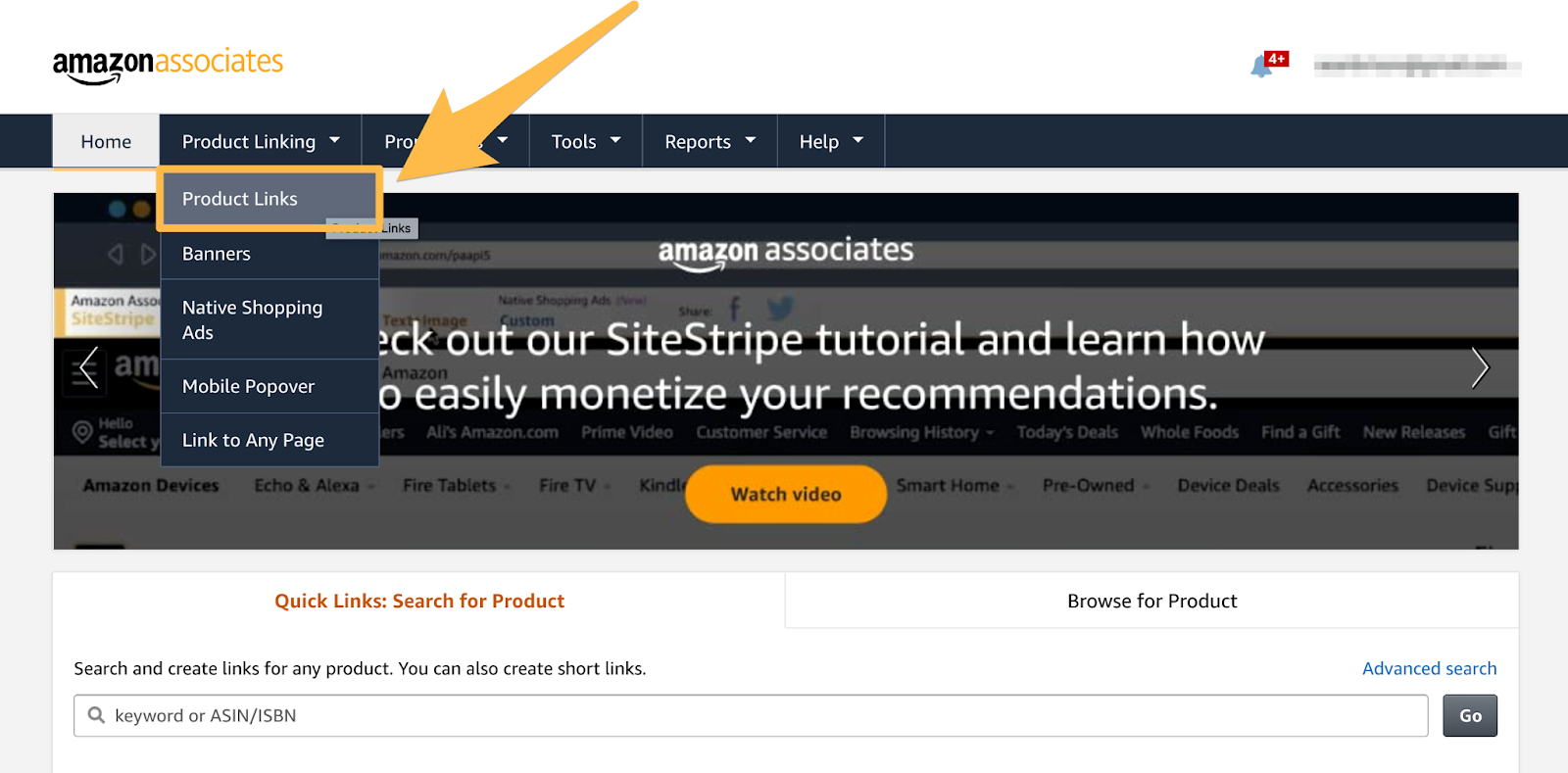 Once there, you can search Amazon for products to promote by ASIN/ISBN, category, or keyword: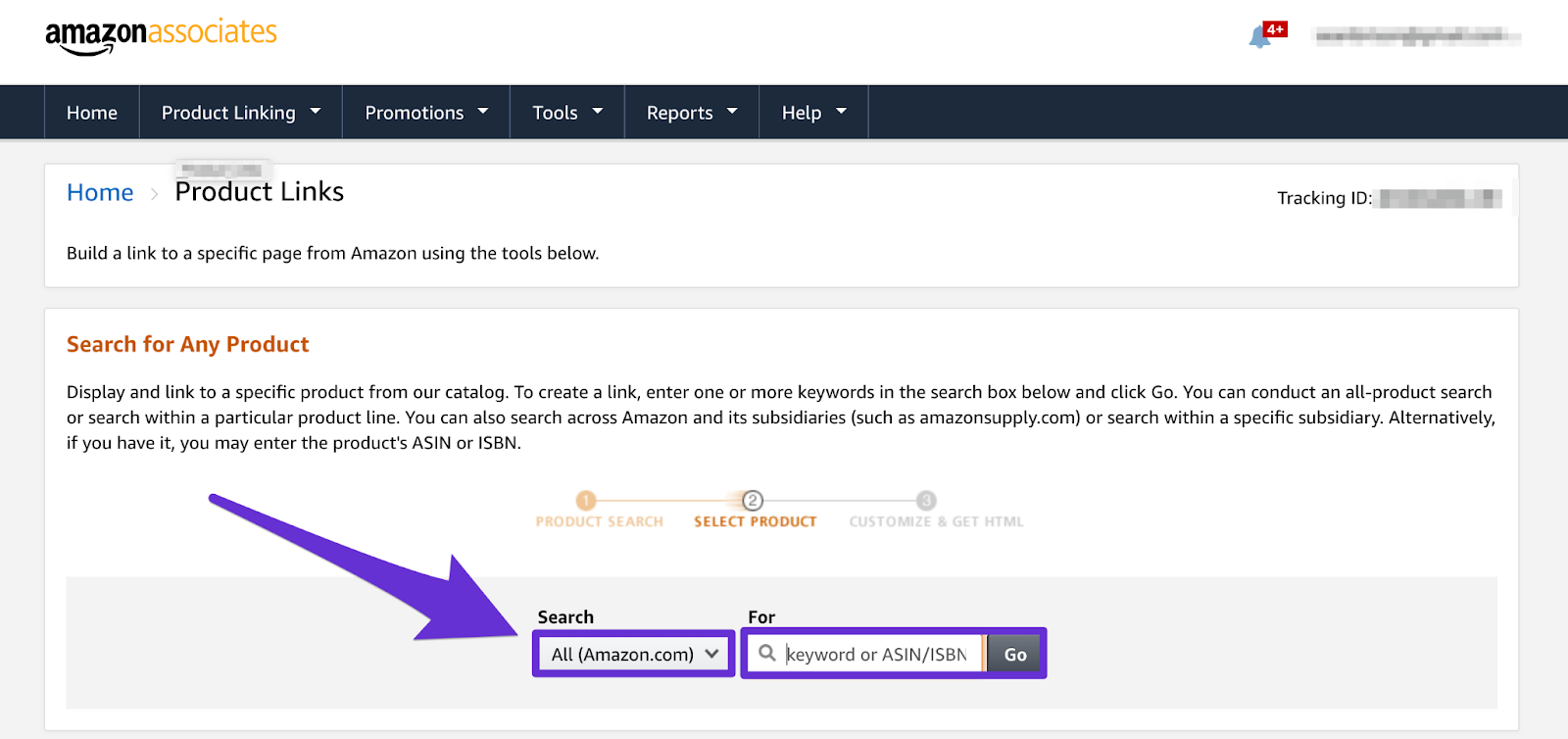 Let's say you had a tech website about computer gadgets and you were searching for desktop memory kits. From the fields, you'd select:
Search: Computers, Tablets, and Components
Refine by: Computer components
For: Desktop memory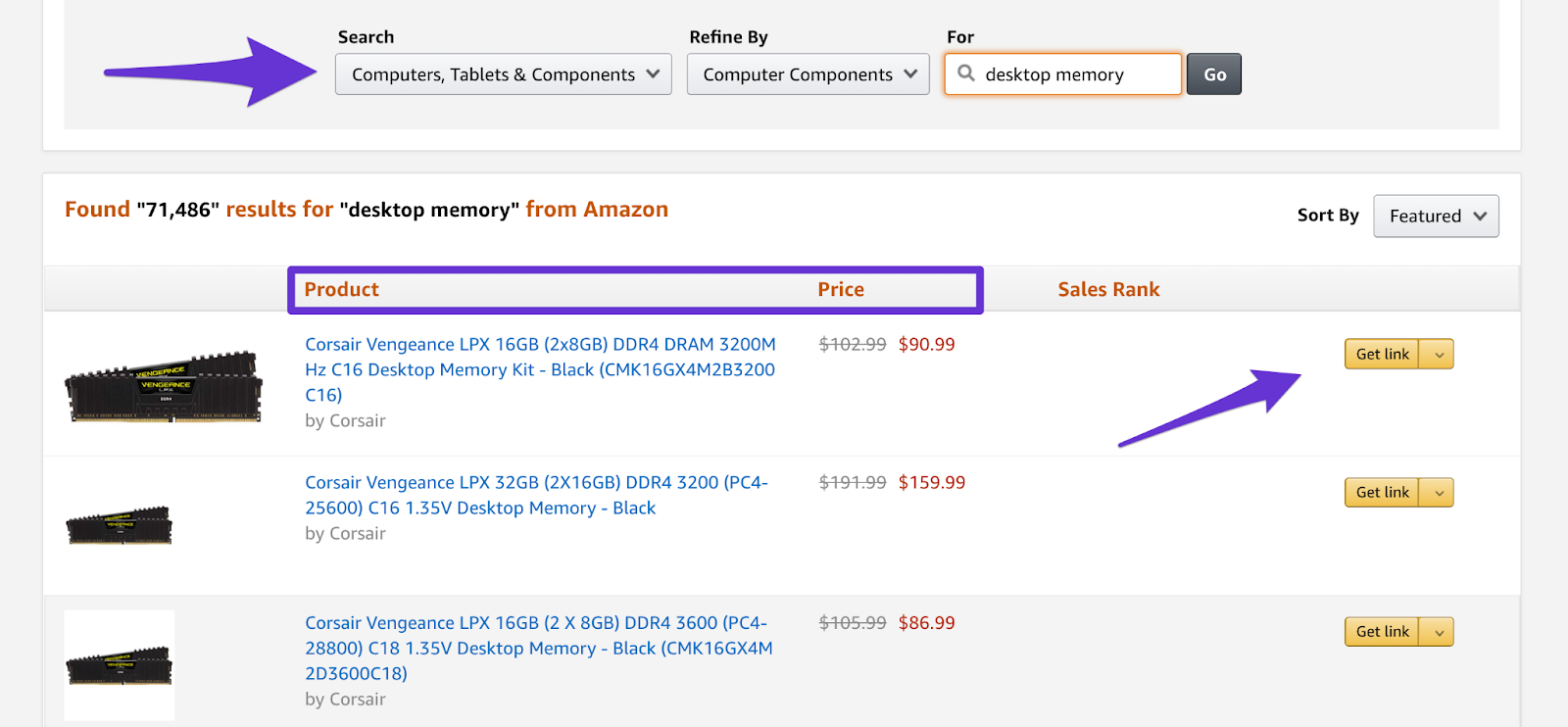 Amazon presents you with products matching your search. Then when you find the one you need, you click "Get link."
Next, you'd choose whether to get a:
Text and Image link
Text link
Image link
In the below example, we'll use a text link:
Then you'd add that URL which already has your affiliate tracking ID embedded in your post, the same way you'd add any text link in WordPress.
You can also shorten that link by choosing "Short Link."

  Shortened Amazon links typically display like this:
If you wanted both the text and the image, you could build it directly inside your Associates account by choosing:
Then, you'd paste the HTML Amazon provides (same as the previous example) into the code of your website.
Building Affiliate Links with SiteStripe
Amazon launched SiteStripe, which displays at the top of your screen whenever you're logged into Amazon. The tool makes it slightly easier to get your affiliate link without diving into your Associates account.
To use it, select your link type in the toolbar titled "Get Link:" and follow the same steps as the previous example.
Sidenote: You can also turn off SiteStripe by clicking the gear icon in the upper right corner of your screen:

Creating Amazon Affiliate Links with Our WordPress Plugin Lasso
Here's a quick alternative for turning Amazon product URLs into affiliate links.
Using Lasso:
1.  Copy the Amazon product URL
2. Then head to Lasso and click "Add New Link."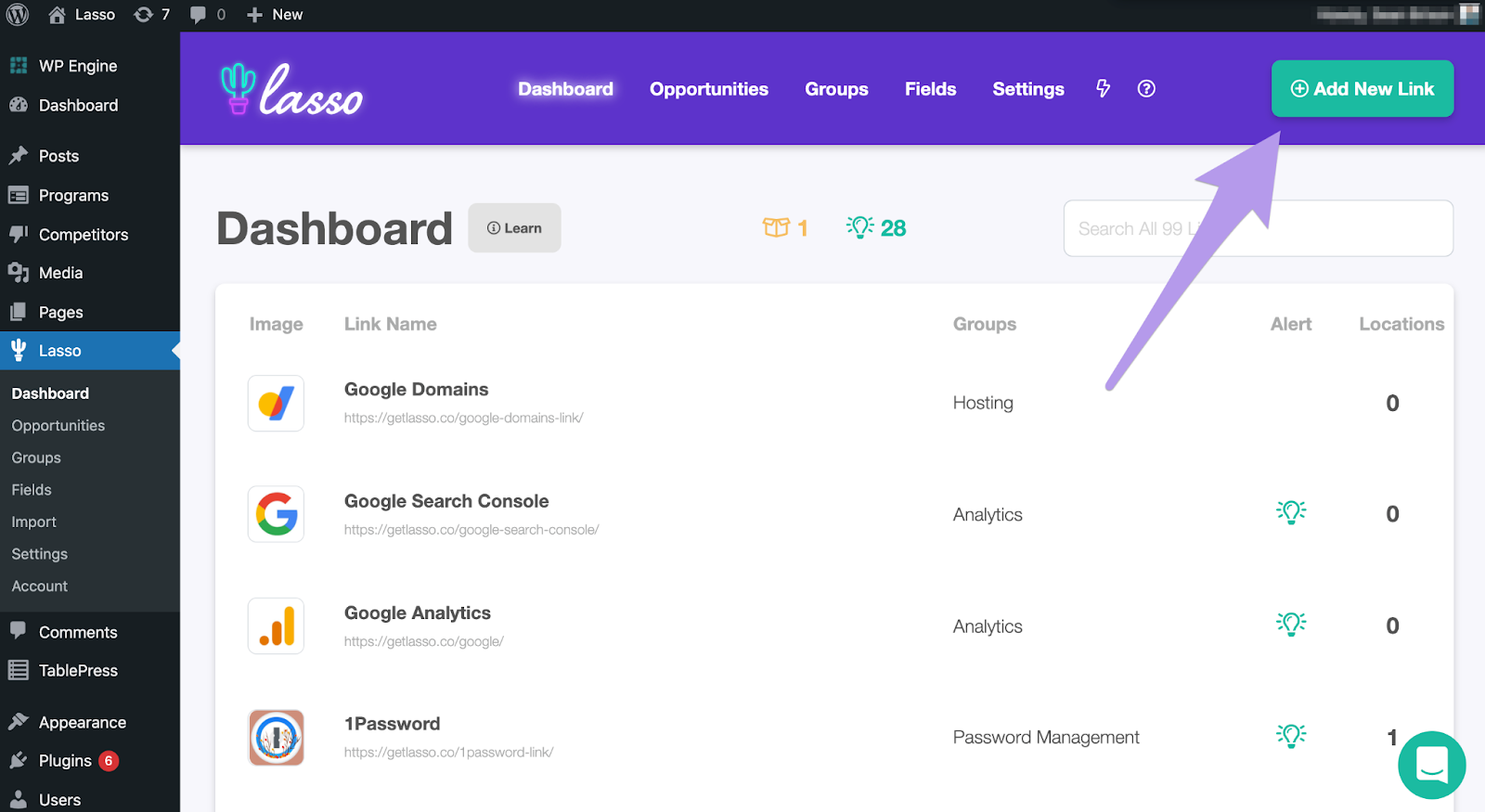 3. Paste the Amazon URL into your dashboard and click "Add Link."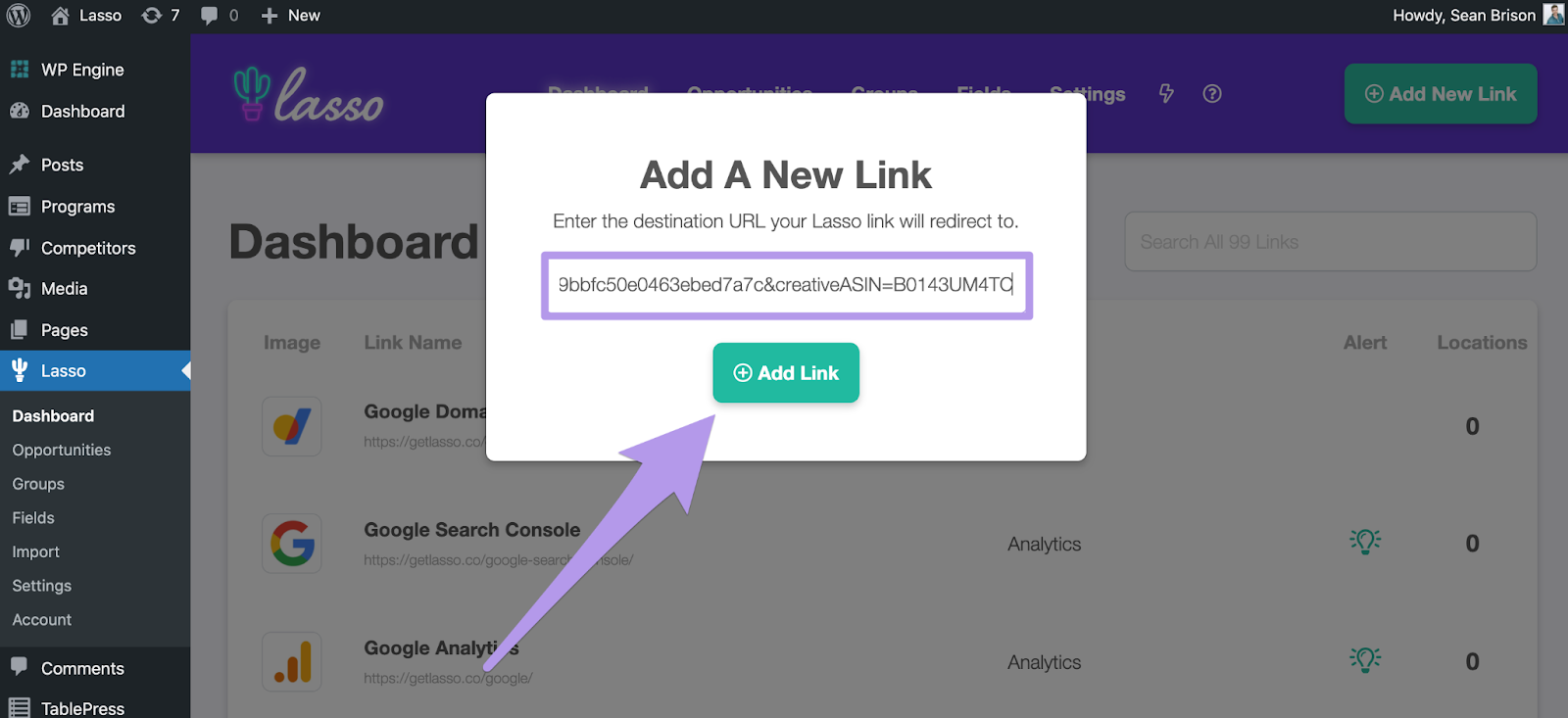 4. Lasso instantly creates an affiliate link with a matching product display you can customize to match your site's color scheme in its link details page: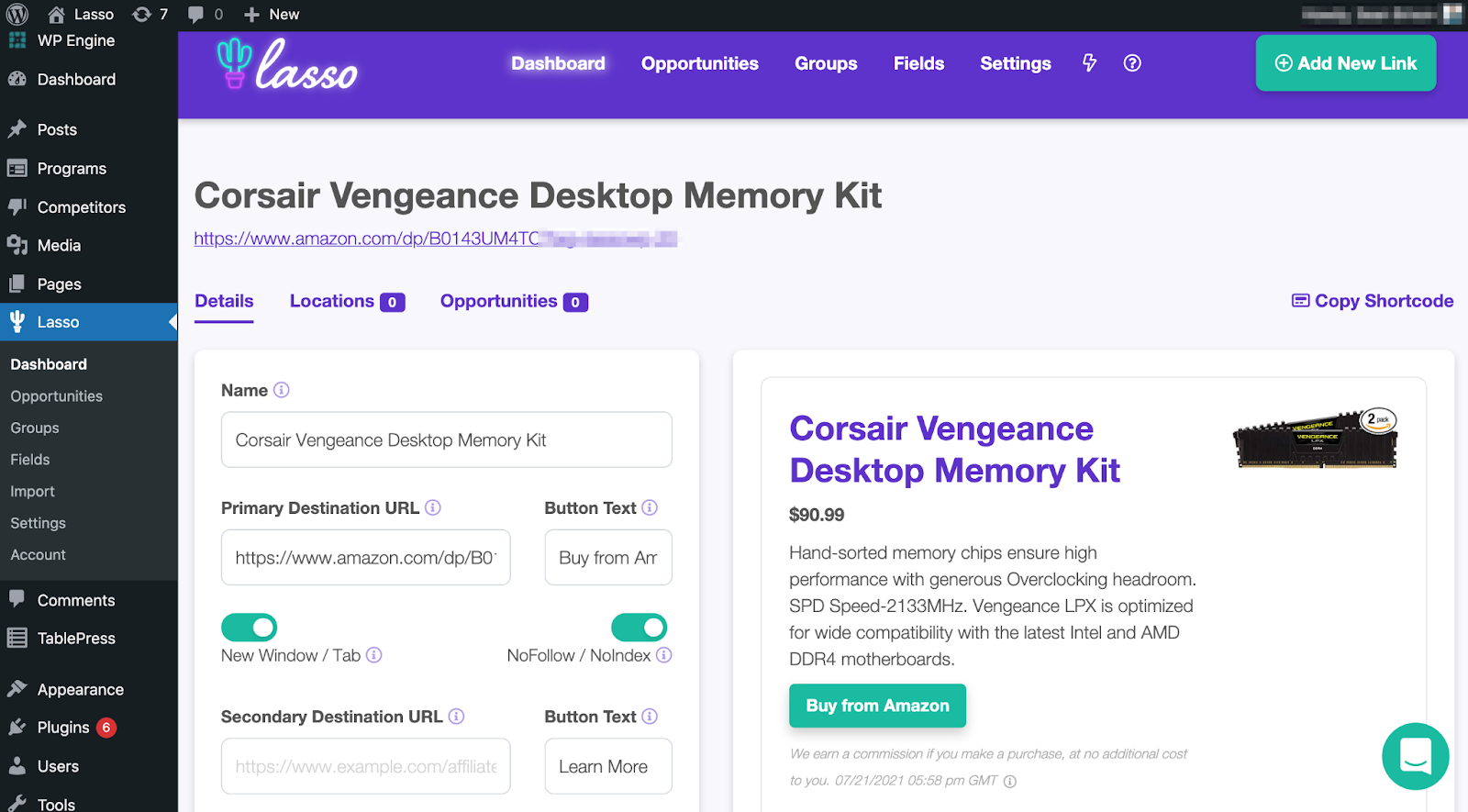 If you want to add that affiliate link as a text link, you will do it the same way you'd add any link in WordPress:

And if you wanted to add it as a display, you'd click the cactus icon in the top menu bar of your editor:

Next, you'd choose the display type (for this example, we'll use a single product display):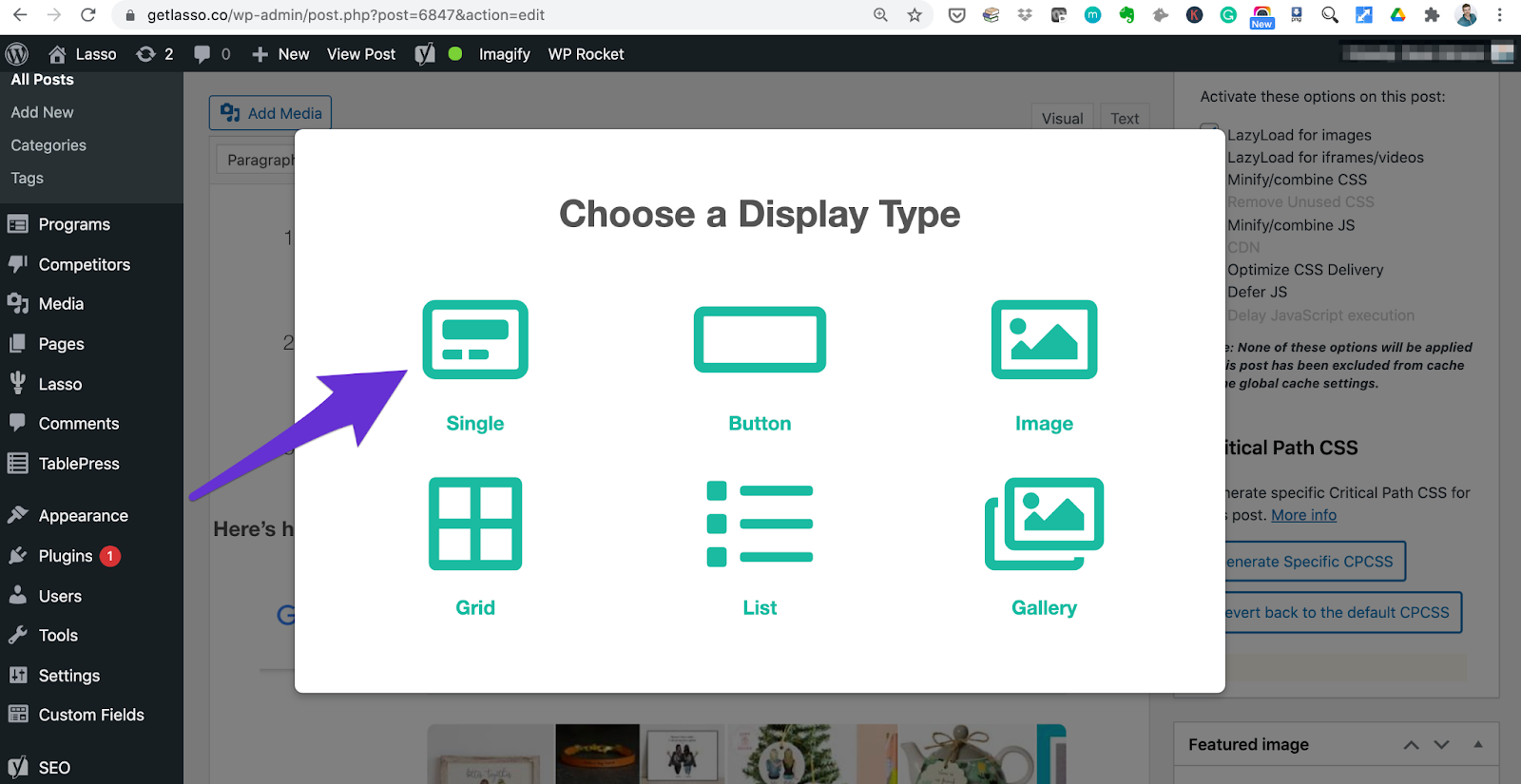 Select the affiliate link to add to your post: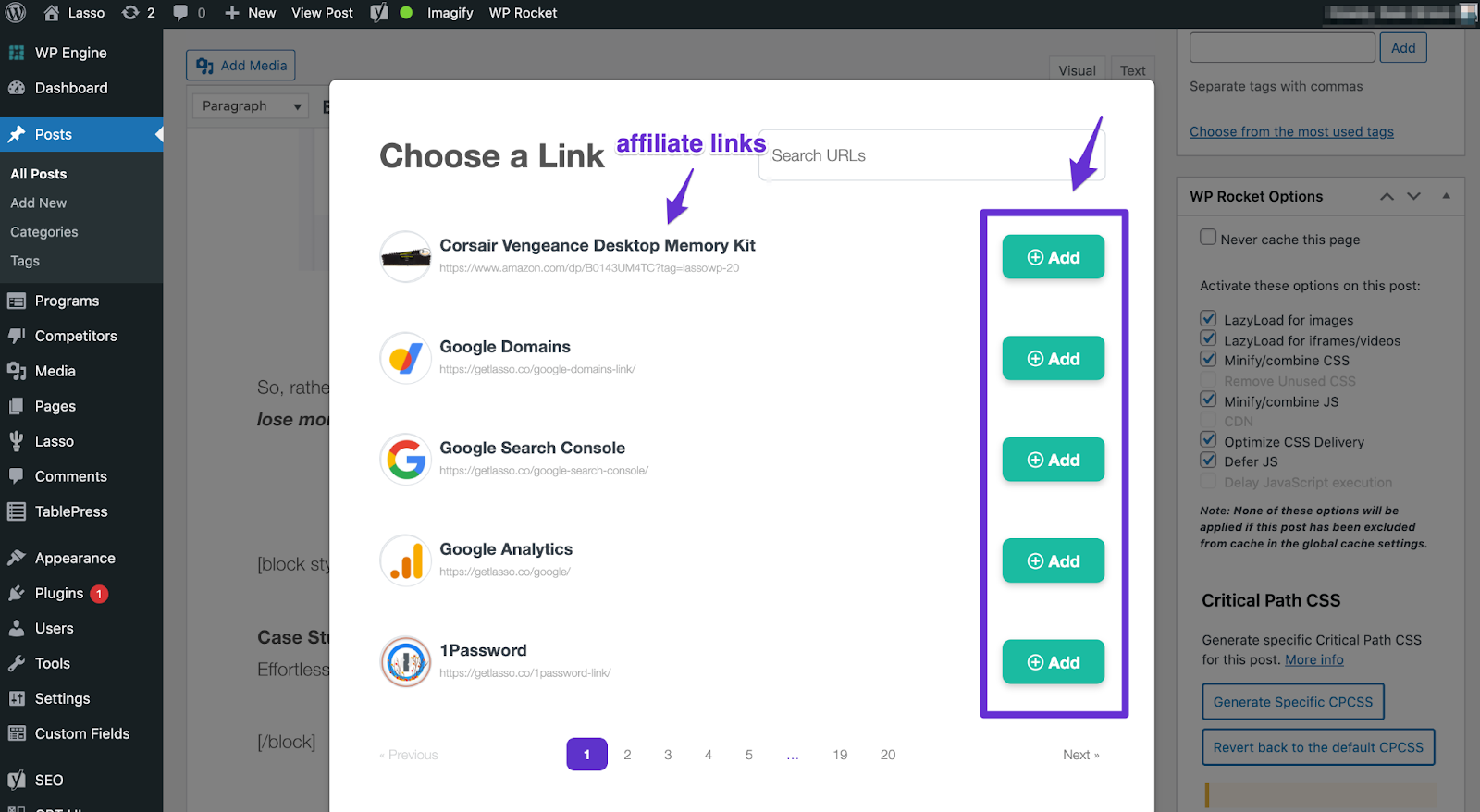 And Lasso automatically adds a shortcode to your article in WordPress:

Sidenote: Lasso automatically pulls the product title, price, and image without needing API keys.
Further Reading:
Creating Banner Links
You can add banners to your site and choose to promote products in two ways:
Rotating promotional announcements on Amazon
By product category
From your Associates account, head to Product Linking > Banners: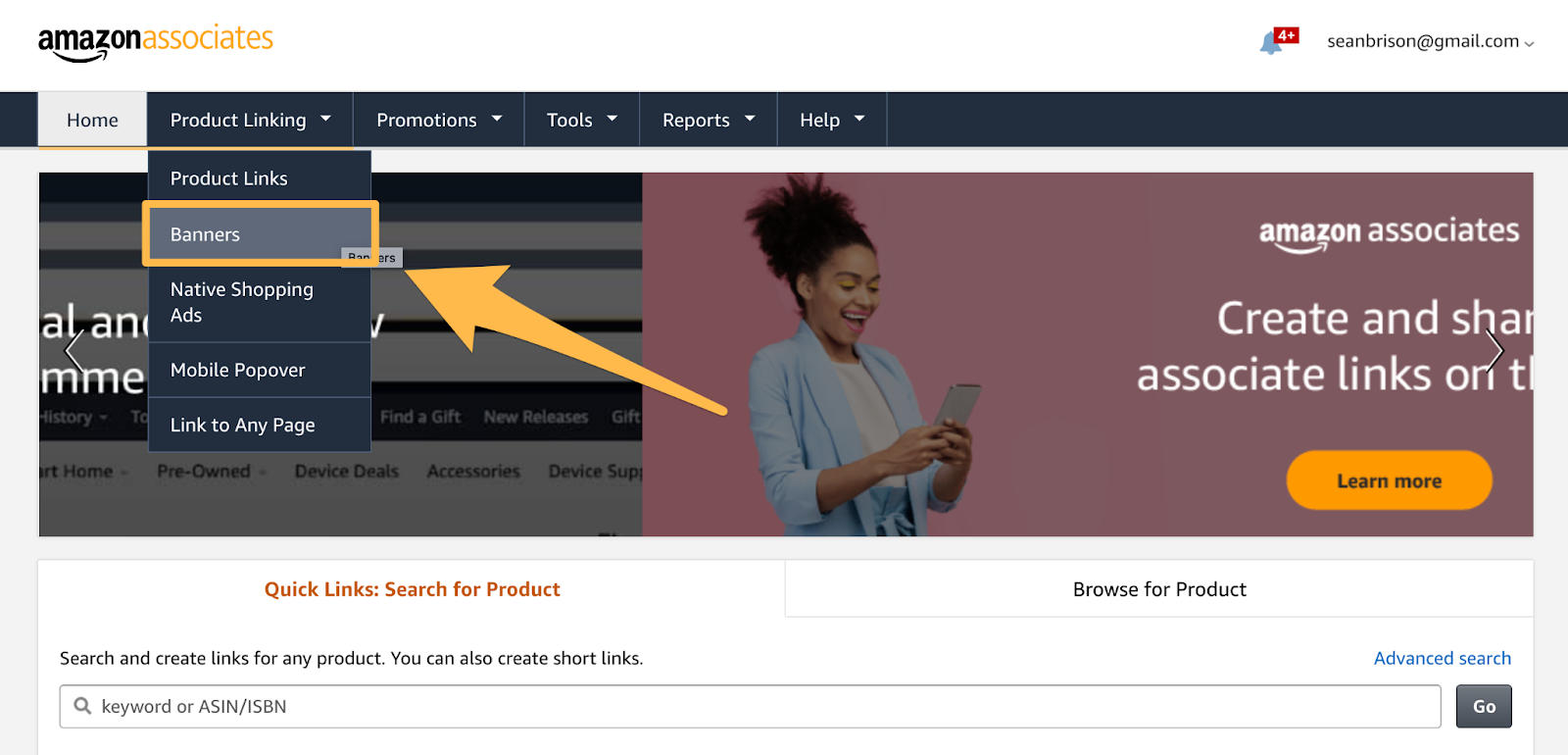 Then, choose your banner option: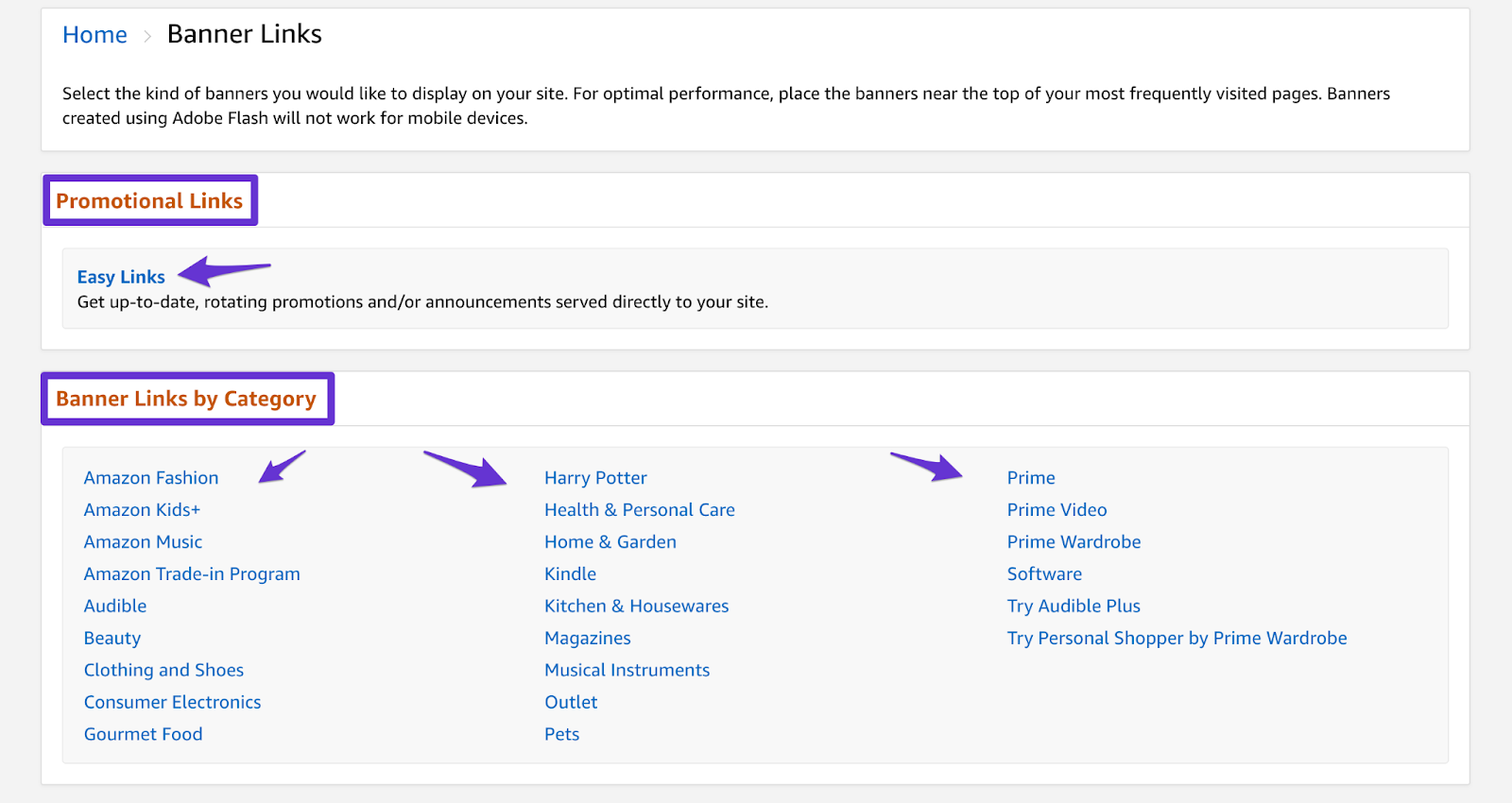 For this example, let's choose "Links By Category > Kitchen & Housewares." If you're running a niche site, this would be the better choice as it's related to your site's content.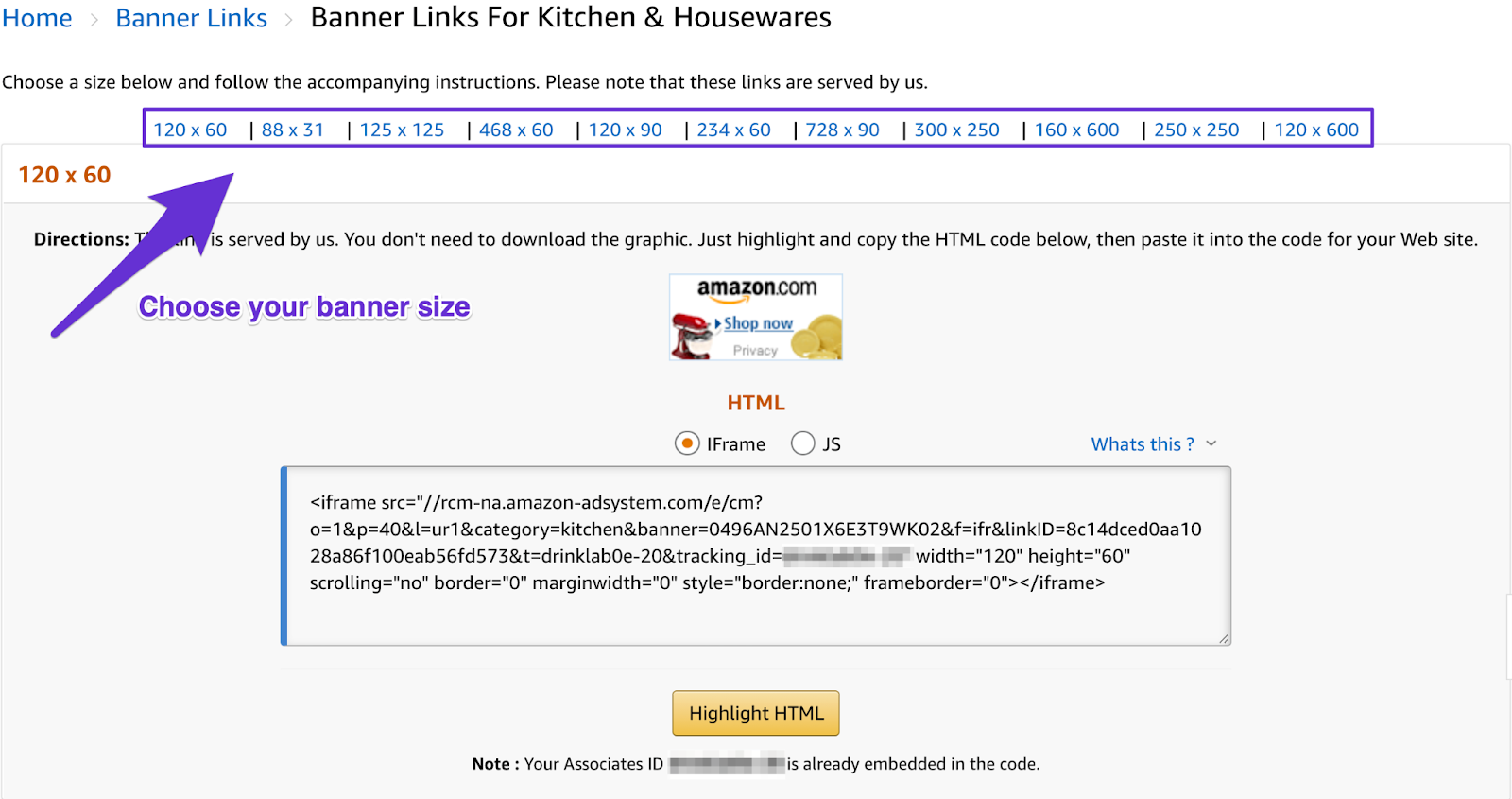 Once you select the size, you'll embed the code into your text editor.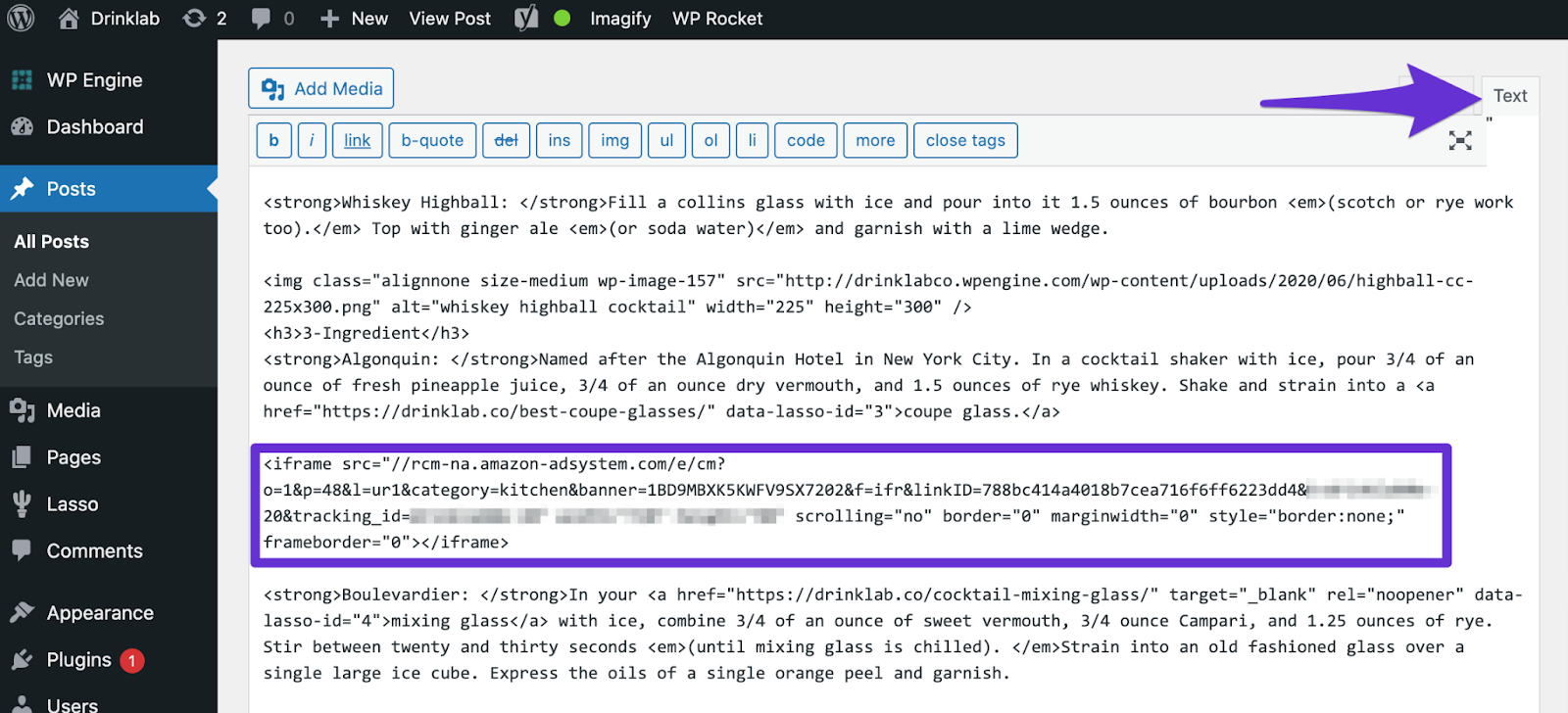 Finally, you'll see how it displays in your post:

Using Native Shopping Ads
Native ads are meant to be less intrusive to your visitors because they blend in with your site's theme. You can use native ads on your site by choosing to display:
Recommendation ads: these display relevant product recommendations from Amazon based on your page content and visiting users
Search ads: these include product recommendations based on search phrases your visitors use
Custom ads: these are curated product lists that you create and place into your content
To get started, head to Product Linking > Native Shopping Ads
Next, select the type of ad you'd like to create. For this example, we'll use a Recommended ad. Then, head to the bottom and click "Create Recommendation Ad."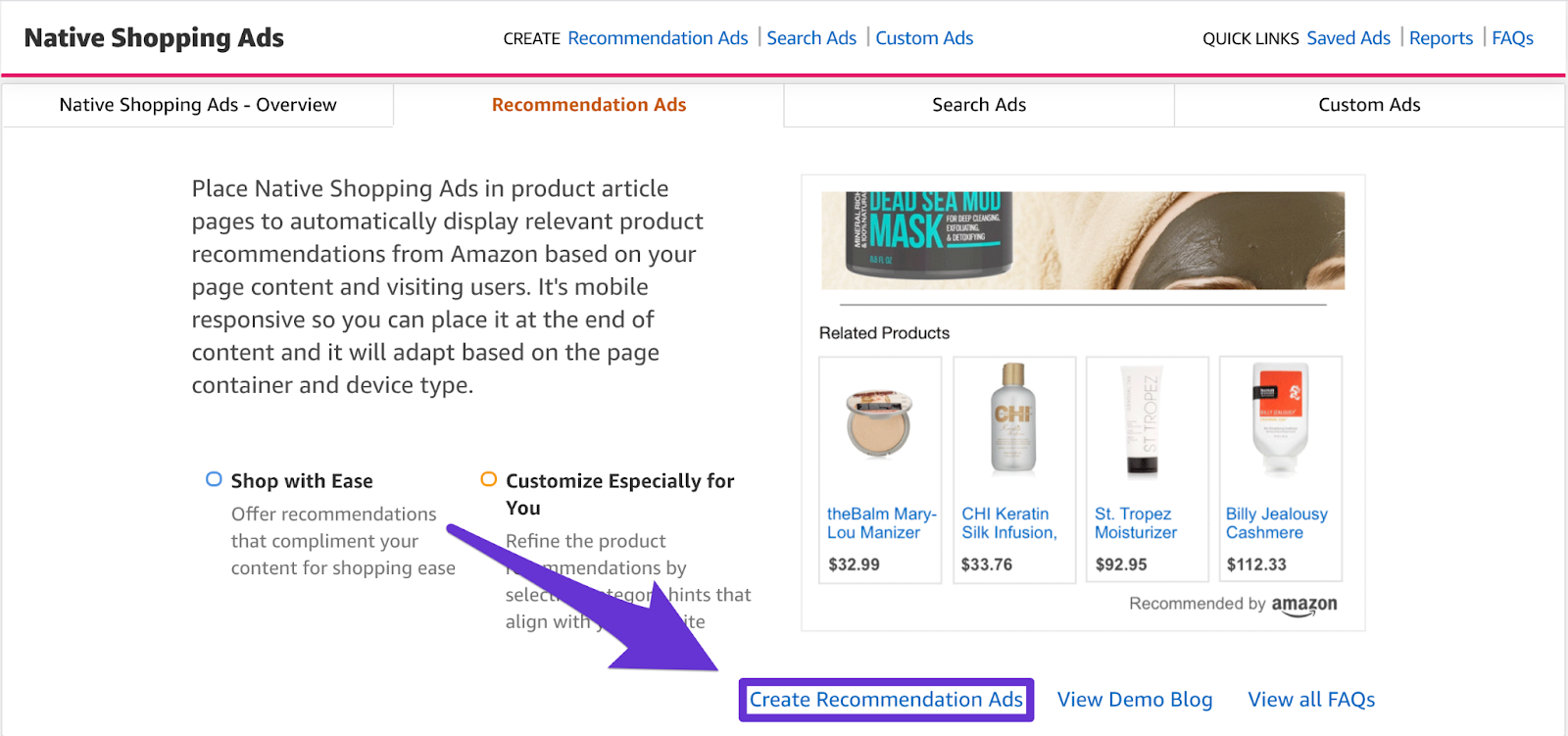 You'll give your ad a name and select a product category, default category, and search keyword. Once you've done that, hit "Save," and you'll be able to get your ad code to insert into your post:

Then copy and paste the code into your text editor inside WordPress:
Here's what it looks like within my content: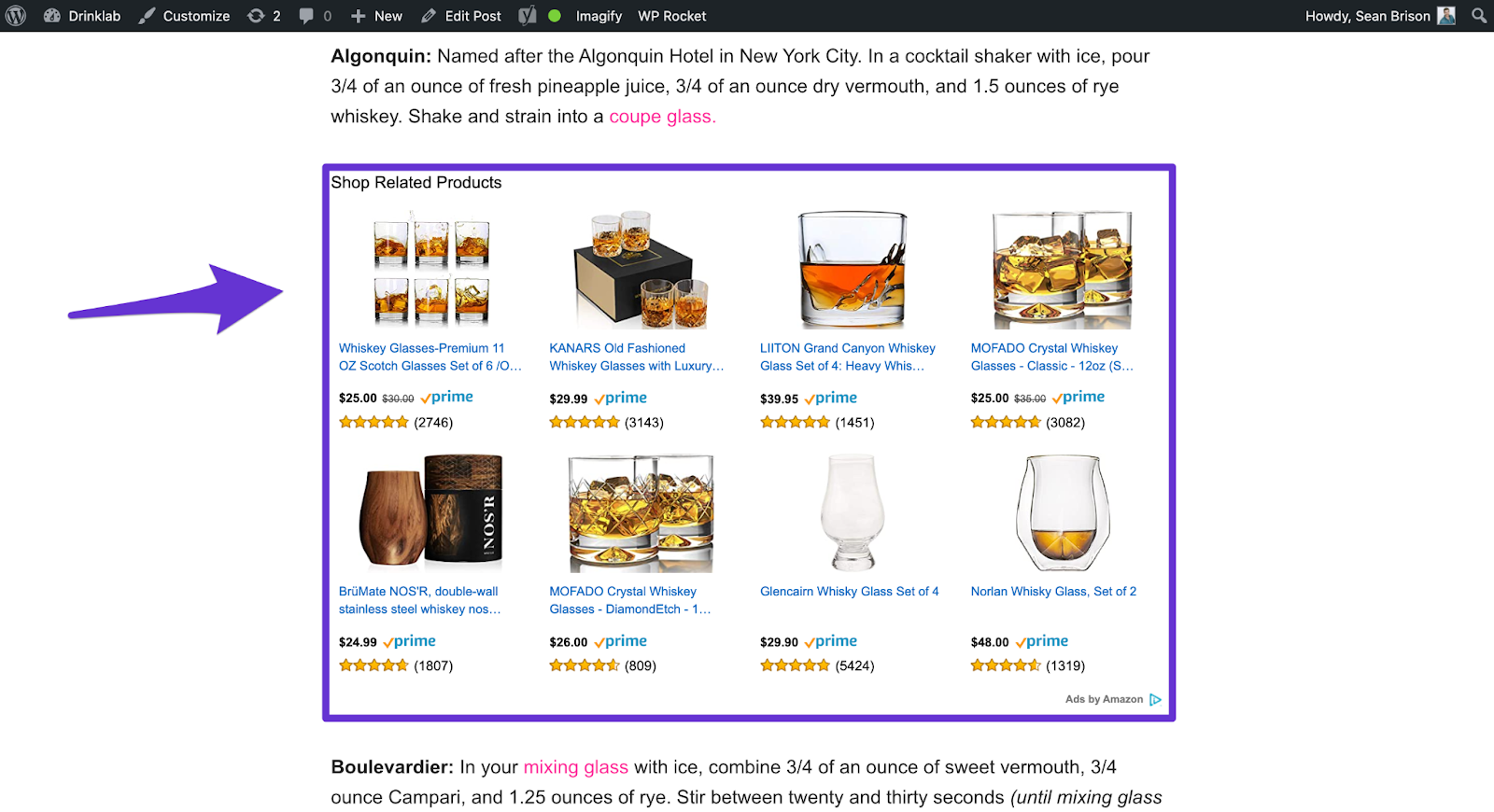 However, despite being a native ad, it still feels very much like "Amazon" on my page. These are the other options Amazon gives to Associates to promote affiliate links.
Takeaway: Out of all of the options available regarding product promotion, we've found that linking directly to specific products with single displays works the best. Banner links, native ads, and linking to category pages do work, but less so.
How Long Does the Amazon Cookie Last?
The Amazon cookie lasts 24 hours. When a website visitor clicks your Amazon affiliate link, a piece of tracking data (aka a "cookie") gets added to their browser. This action triggers a 24-hour countdown to make a purchase.
You earn commissions on any items bought from a customer's shopping cart within 24 hours of landing on Amazon's site via your link. Once your visitor completes their order, the 24-hour window closes.
However, if your visitor clicks your referral link, adds an item to their shopping cart, and then leaves without paying, you'll still earn a commission if the customer returns to their cart and makes a purchase within 90 days.
Further Reading:
Monetize International Traffic with OneLink
Amazon affiliates can also make money from their international traffic. Currently, there are 13 Amazon locales with supporting programs. If you generate revenue from any of them, sign up.
Amazon's standalone tool, OneLink, uses geotargeting (aka link localization or geolocation technology) to send shoppers to their local Amazon online store.
Previously, website owners needed to insert an HTML Javascript code snippet (called OneTag) in their site's footer to redirect international traffic.
This is no longer the case.
Sidenote: Our plugin, Lasso, redirects all of your international visitors supported by Amazon OneLink, and you can monetize traffic from all 13 countries.
Maximize your earnings and sign up for every country's Amazon Associates program. To check where your visitors come from, use Google Analytics.
Head to Audience > Geo > Location.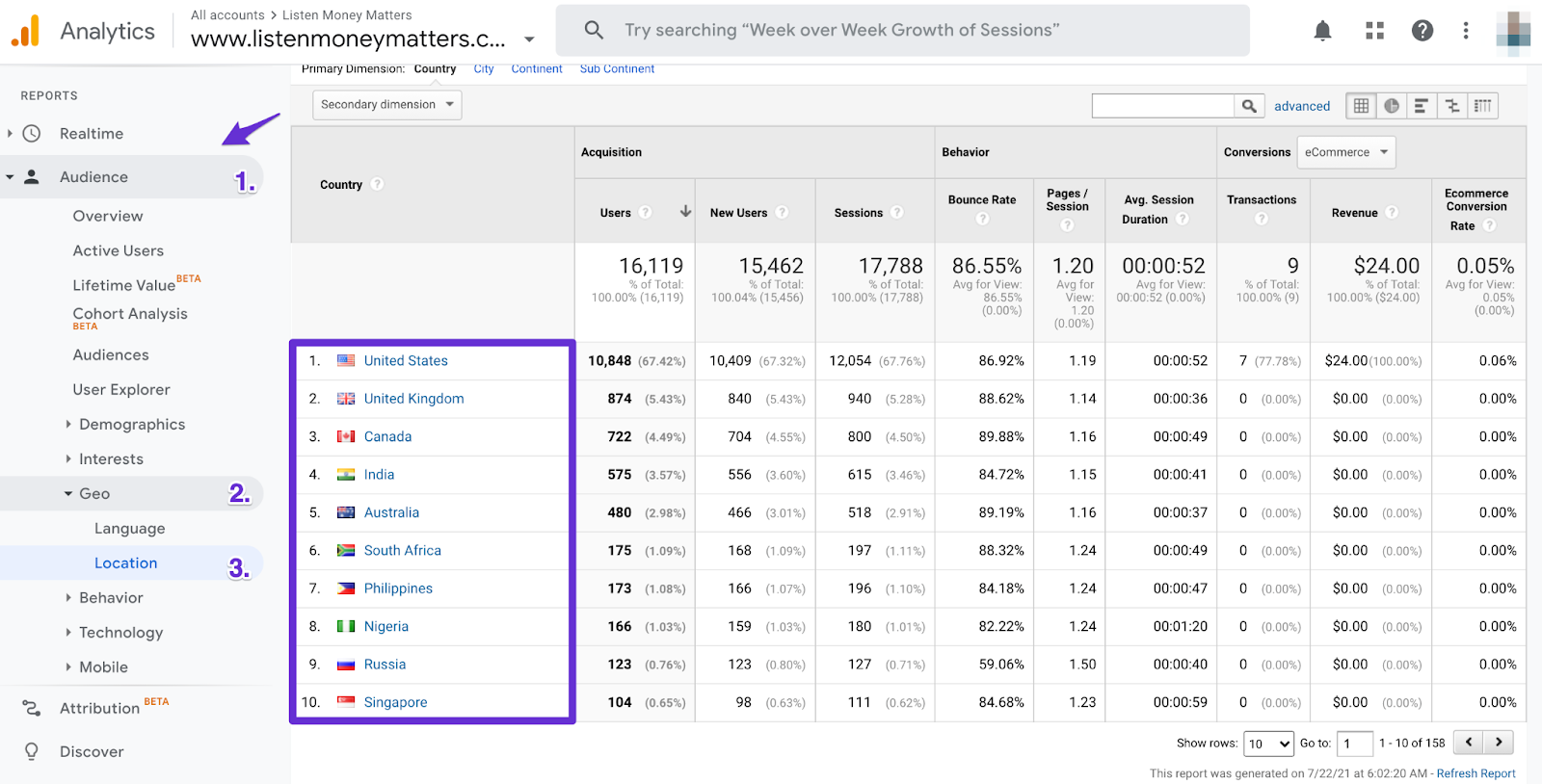 You'll see all of your sessions by country. Once you know who they are, sign up for those relevant programs. Your international Associates accounts link to your Amazon store's ID, so no further action is needed from you.
You can find out more about OneLink on Amazon's site here.
View Your Earnings Reports
Amazon lets you track earnings from inside your Associates account. From the Home page, head to Reports > Earnings Report.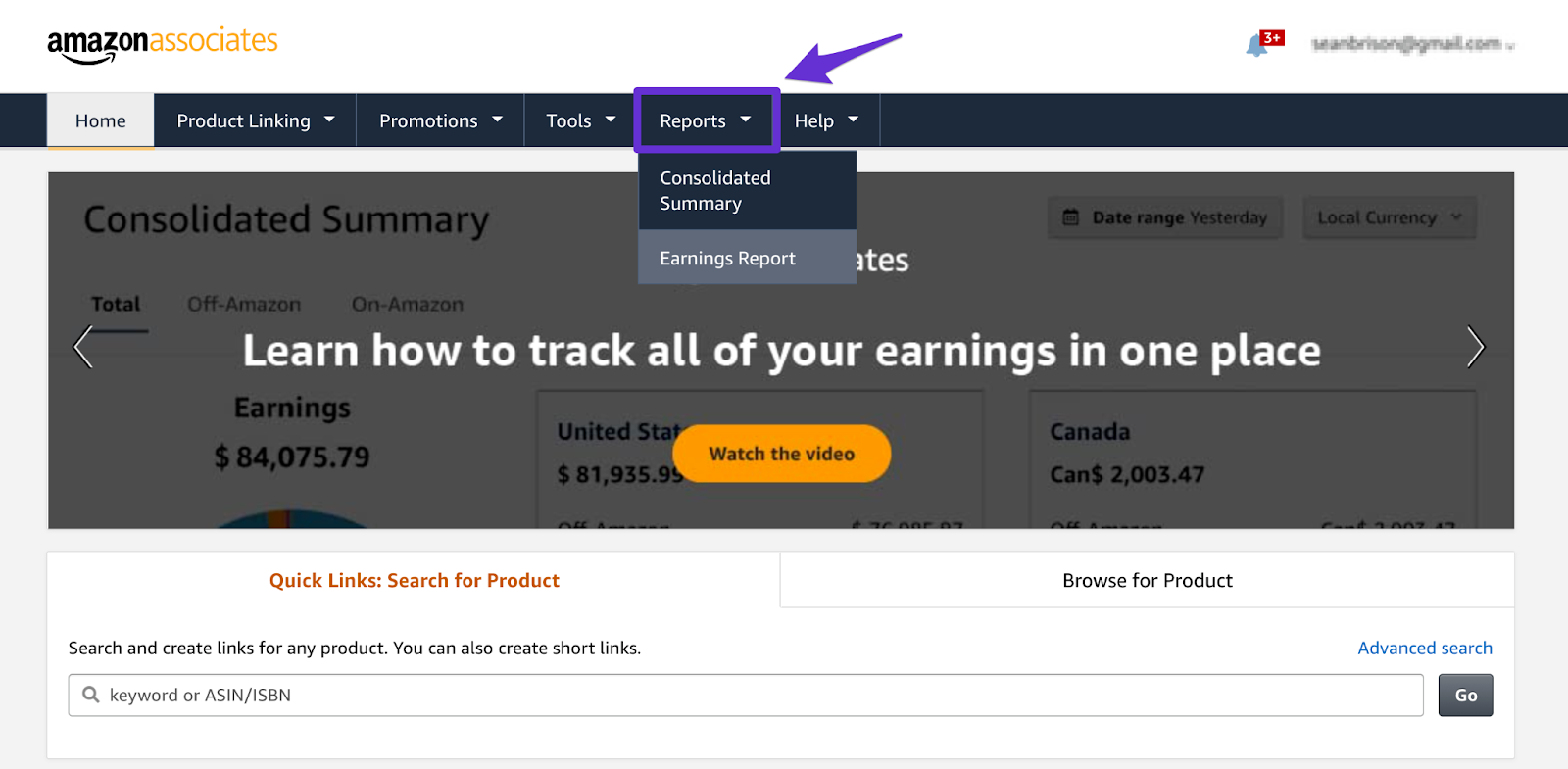 You can see your commissions, bounties, and summary – even view your payment history: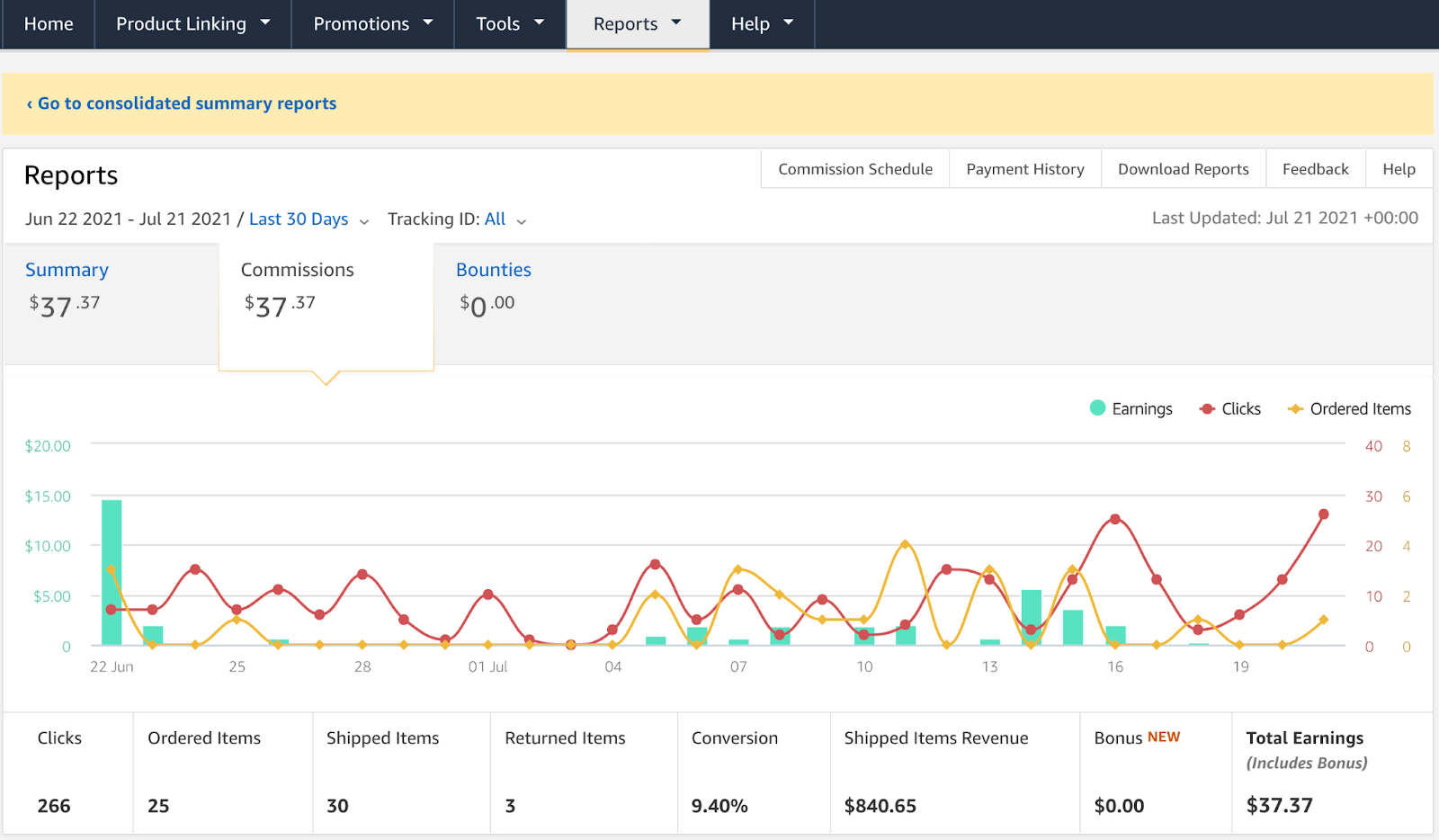 When you scroll down, you can filter data by:
Ordered items
Earnings
Link type performance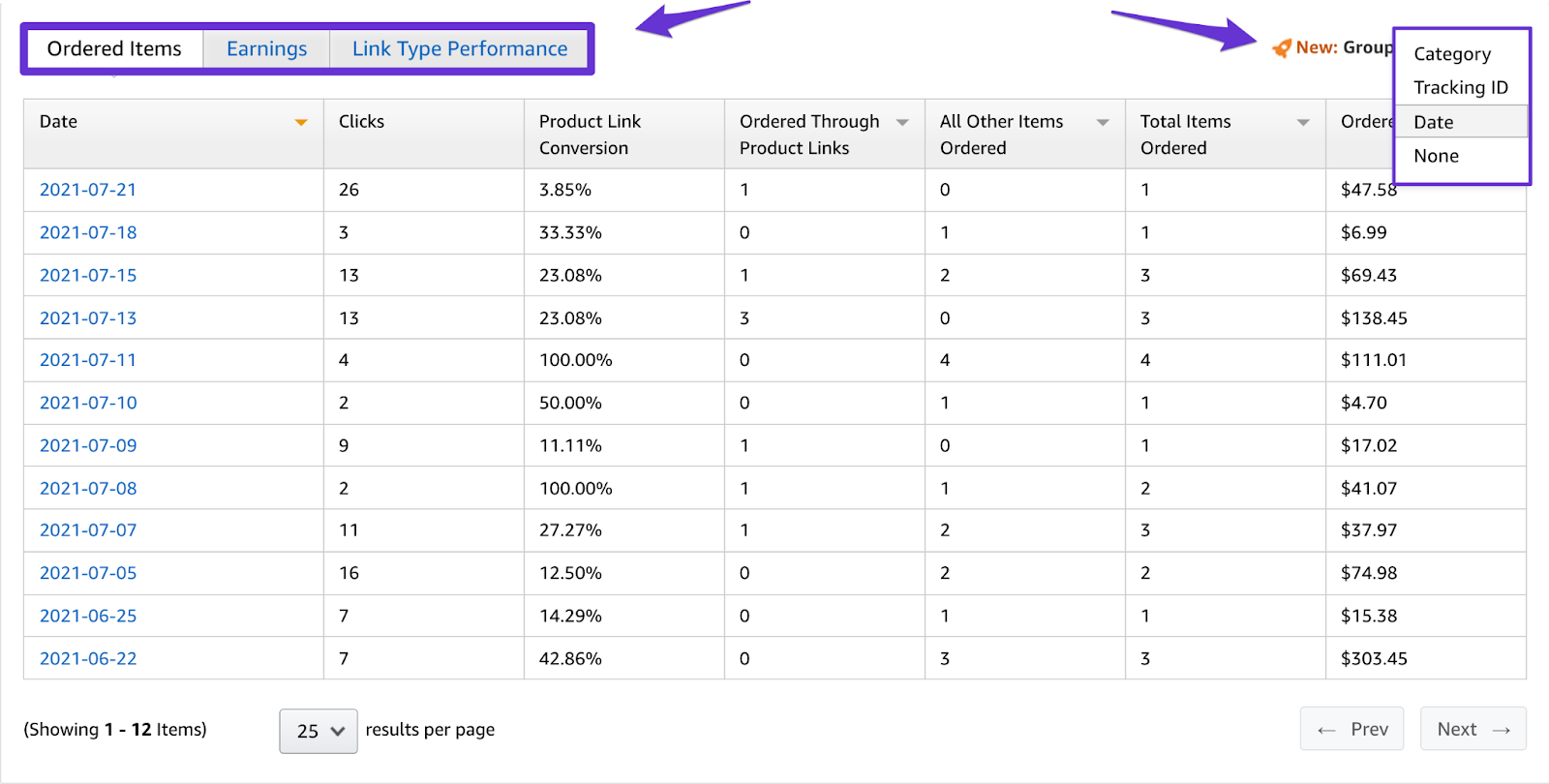 There's also a new feature that lets you group by:
Product category
Tracking ID
Date
How to Make Money with the Amazon Affiliate Program
We've written several posts on how you can make money with Amazon's affiliate marketing program (which we linked to at the end of this section).
However, here's a short list of things you can do. Be sure to read to the end for detailed guides on ways you can earn more.
1. Use Custom Product Displays to Increase Amazon Conversion Rates
Product displays have proven to drive more clicks and increase revenue beyond placing simple text links in your posts. The more info you can provide for your reader, the higher the click confidence.
If you're using a tool like Lasso, you can create custom product boxes to match your site's theme (like the one below 👇)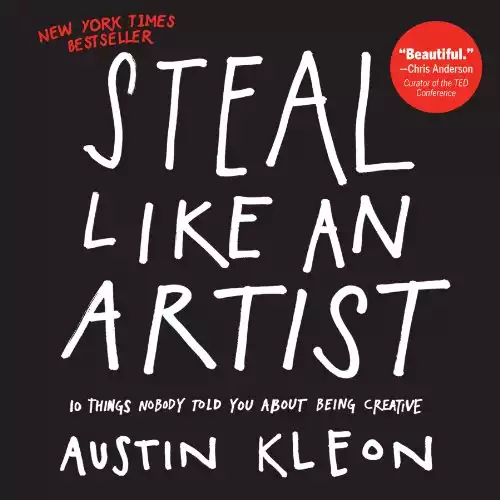 We earn a commission if you make a purchase, at no additional cost to you.
Lasso automatically pulls the product title, image, price, and description.
Sidenote: You don't need to generate the URL from Amazon Associates or SiteStripe. Your tracking ID is also included when you copy and paste the Amazon URL into Lasso.
Further Reading:
2. Increase Your Affiliate Link Real Estate
Text-only links are the first start. But what if you could add your Amazon affiliate URLs in other places on your page? When you're writing posts (specifically 'Best List' posts, e.g., best glassware), tastefully include your affiliate links in as many places as possible.
That means your h2s and images, along with your CTA button. If you have more than one place your reader can click, your odds of earning a commission improve.
We've found clicks increase when placing them in multiple places – without leaving our websites feeling cluttered or providing a poor user experience.
For example, instead of using a single text link in your list post, try this instead: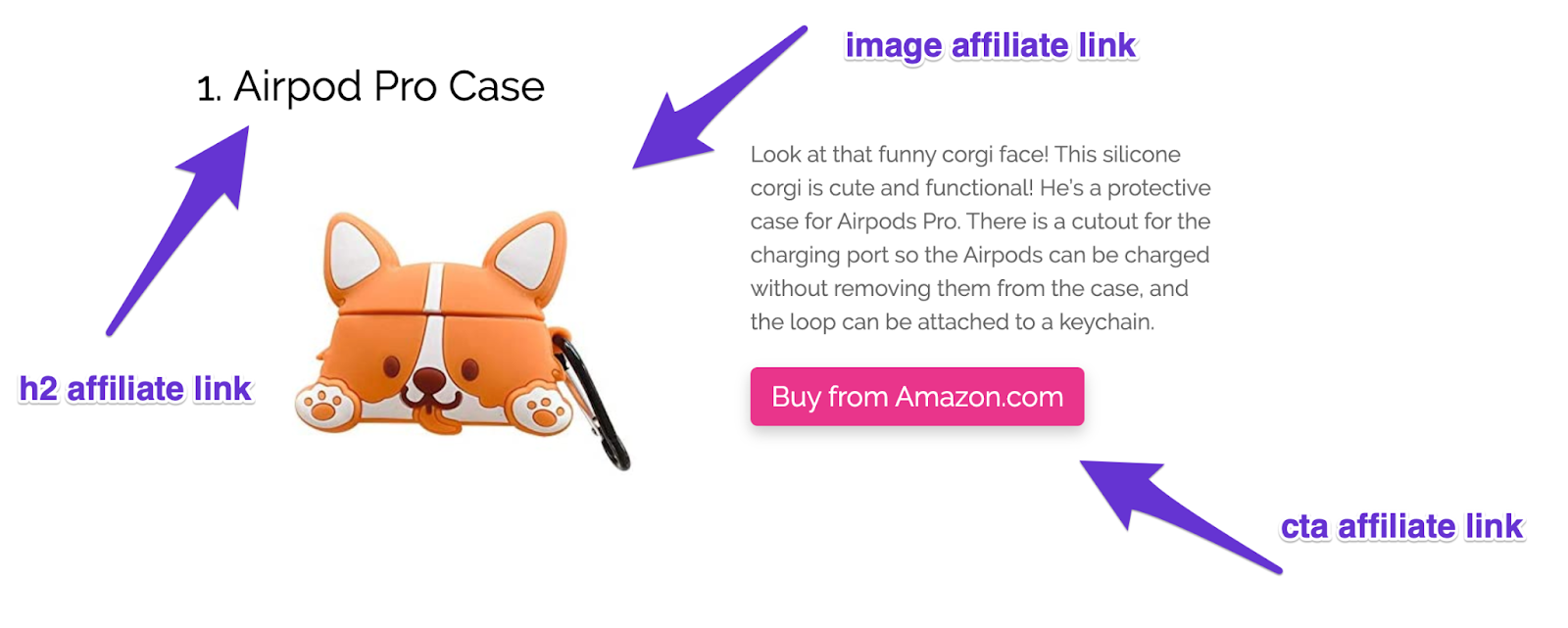 This post has affiliate links in three places for a single product listing, including the:
h2
Product image
CTA button
3. Showcase the Amazon Prime Badge
Prime members are loyal and shop Amazon more than non-Prime members.
User Stats: 49% of Prime members shop once a week compared to 13% of non-Prime. And 84% of Prime members said they value being able to shop at Amazon compared to 52% of non-Prime.
Prime has its perks with free, two-day shipping. Shoppers can even use the Prime filter when searching products online, like the below screenshot: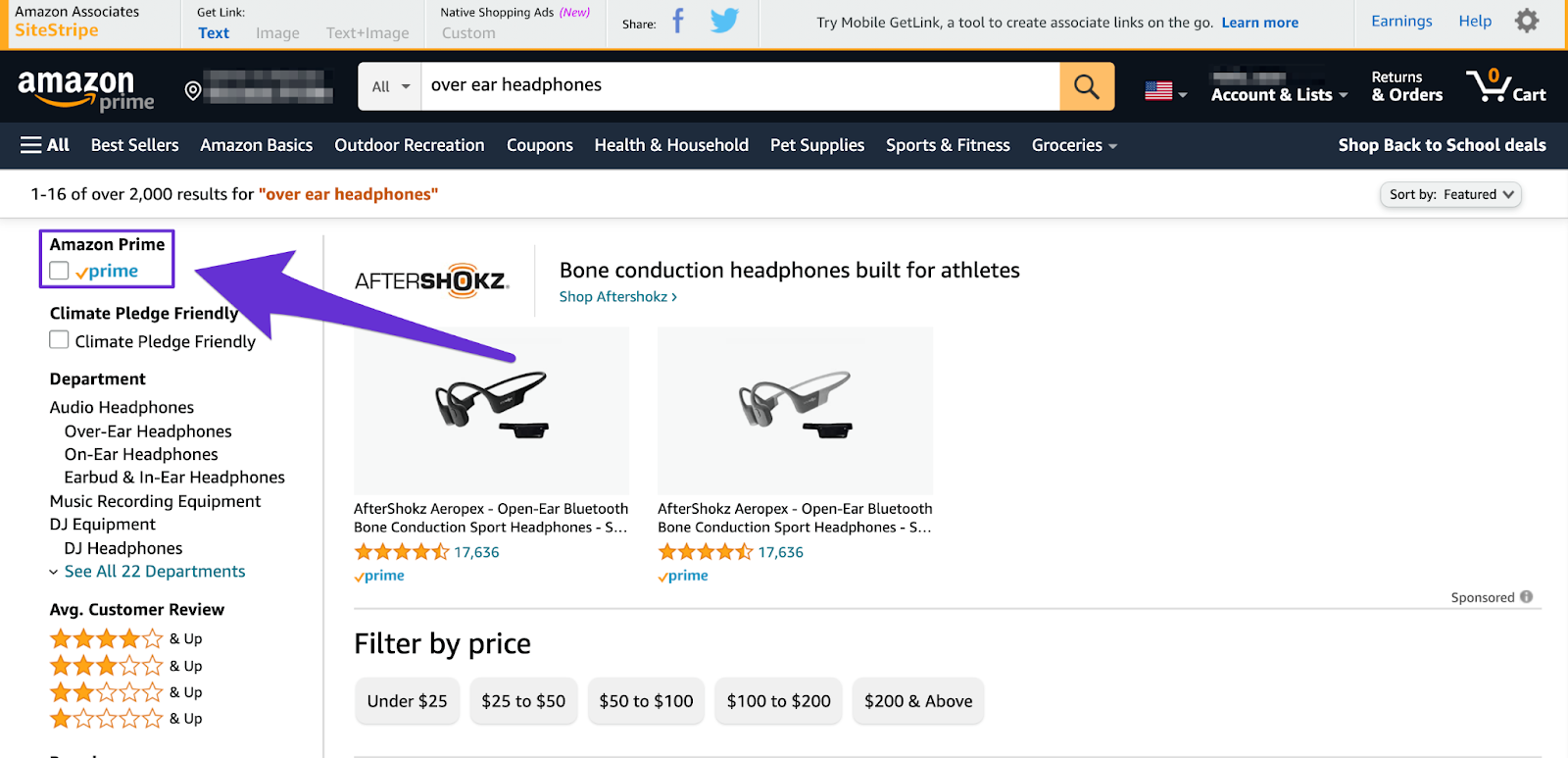 Leveraging Prime increases your potential customer base.
There are over 150 million Prime members worldwide. As a result, more people use it versus non-Prime members. This means more people are likely to buy from a product that features the "Prime" badge.
Many plugins make it easy to display. For example, when using Lasso, you can showcase it in displays with the flick of a toggle.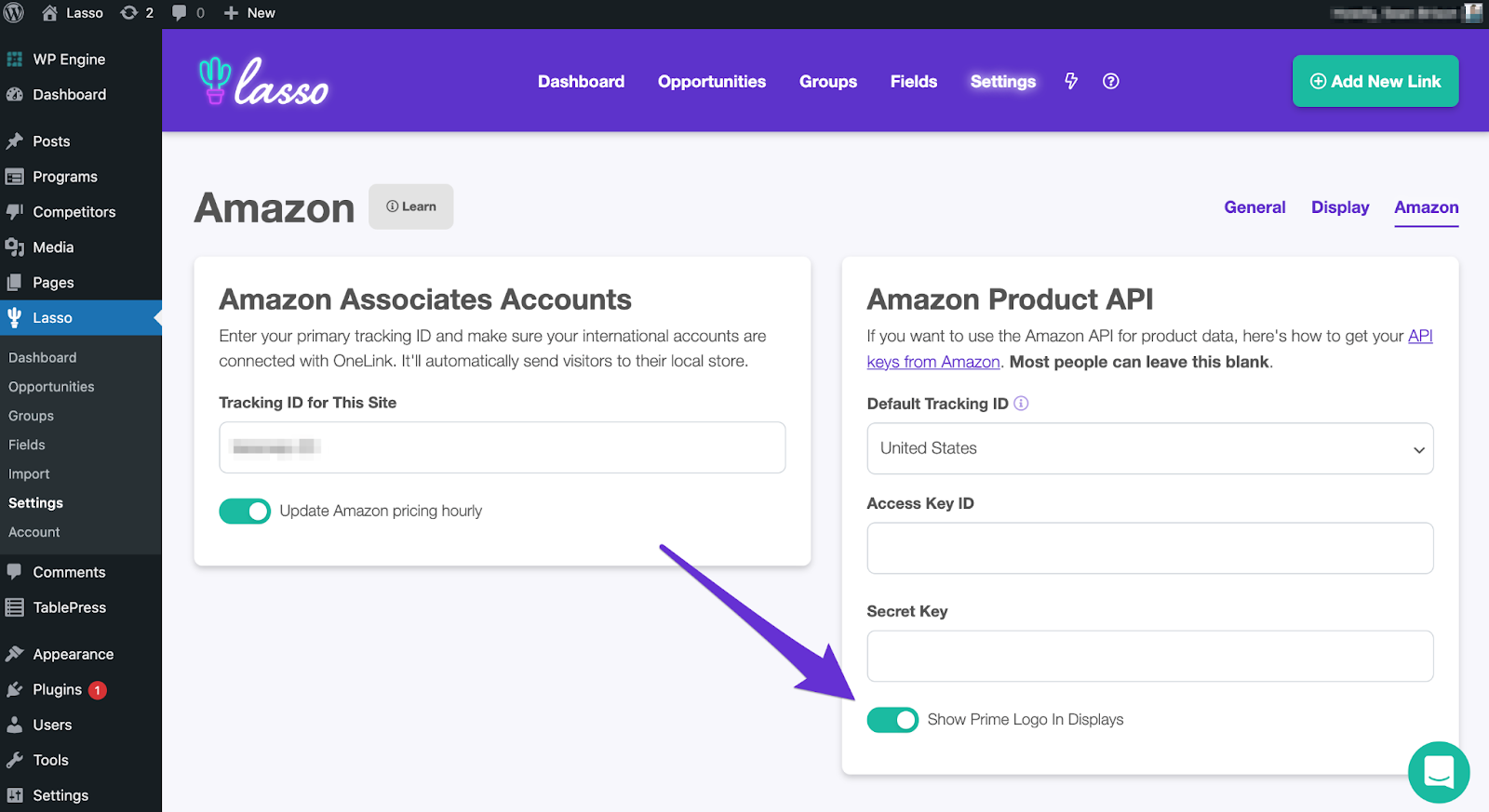 4. Create A Resources Page
Resources pages are one of the best ways to boost your affiliate earnings. We've seen it happen with our sites. We generate 10% of income from a single Resources page.
It can be anything, including:
A list of your favorite tools
Showcase favorite products
Popular or best-selling items
Creating this could potentially boost revenue in a matter of weeks, depending on your website's SEO strength, how you build links and monthly traffic.
For example, you could create a Popular Products Resource page using Lasso by grouping your affiliate links into categories.
Below is an example of a small grouping we created for site speed set to display on our Toolbox page: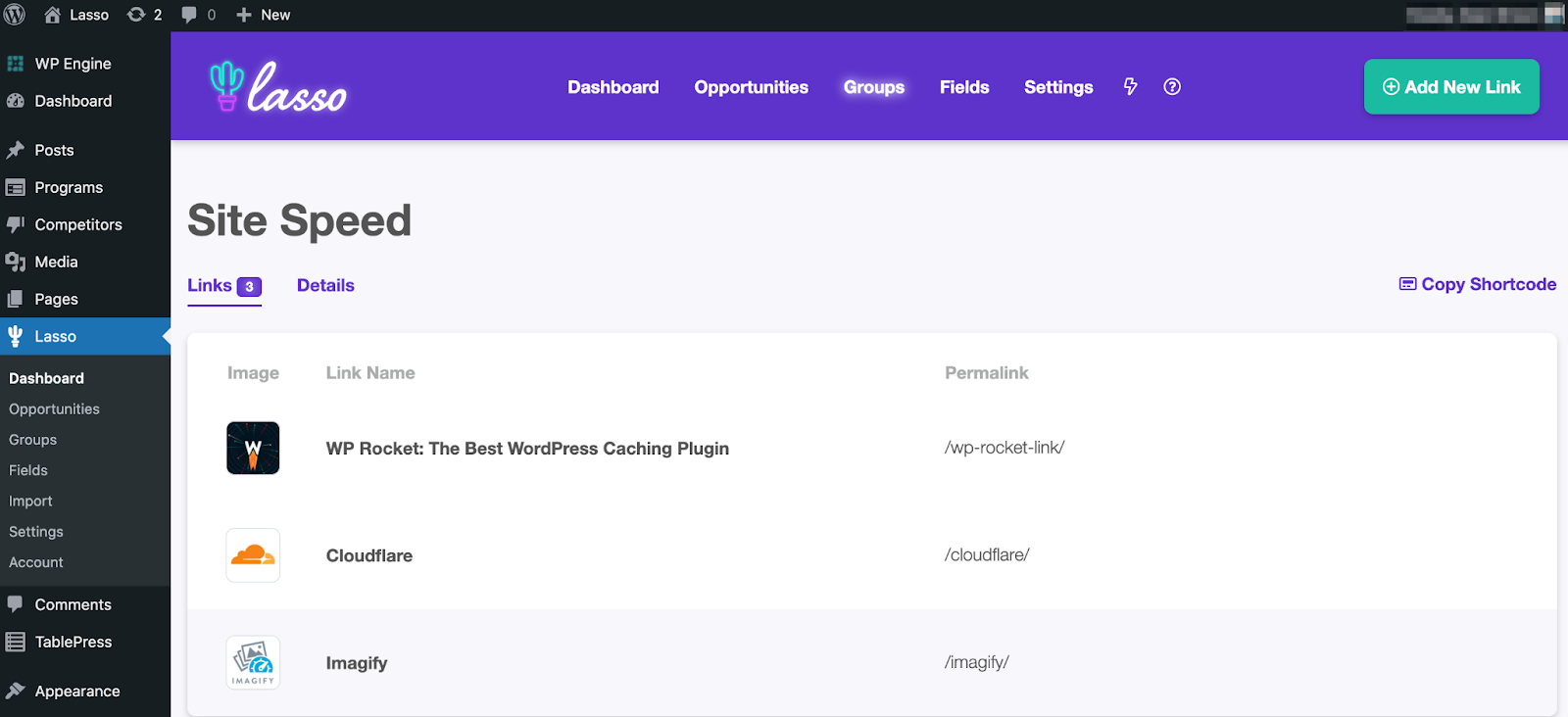 If you have new products in your industry (e.g., tech gadgets), you could create an Amazon New Products or Best Seller page where it makes sense.
Further Reading:
5. Write Product-Focused Content
How-to articles and essays work fine for promoting affiliate products. But if you want to crush your conversion rates, there are three types of posts you should dominate:
Best Lists
Product Reviews
Comparisons
These post styles focus on promoting products. Then, when people search for them, they're usually ready to buy.
That's why they're researching things like "best organic coffee" and "MacBook Pro reviews."
Best Lists include a list of the best-recommended products in a single category. This post style can convert 10% higher than your other content (and will make you the most money). We've done it and have seen others do it (that's how we know it works!).
Product Reviewsfocus on a single product and are recommended through personal experience. When you create a detailed review, you're helping people decide whether they should buy. If your reader found it helpful, chances are they'll make a purchase using your affiliate link.
Comparisons pit two products against each other and weigh the pros and cons. For example, a person running a Google search for "Samsung S21 vs. iPhone 12" is much closer to making a purchase. Compare that to "how to transfer data from iPhone to Samsung."
The former has likely narrowed their investigation down to these two products. A thoughtful comparison article should nudge them in one direction.
But the most important reason these content types are worth creating is that they help attract qualified readers to click your affiliate links.
These are the most lucrative content types for affiliate marketing and should be just as helpful as any how-to guide or research you publish.
Further Reading:
6. Fix Broken Links and Replace Out-of-Stock Products
Items become unavailable on Amazon frequently. Many times, you'll have busted links on your site and not even realize.
A plugin can help with this. For example, if you're using our tool, Lasso, you'll get link alerts inside your dashboard if they're broken or linking to out-of-stock products.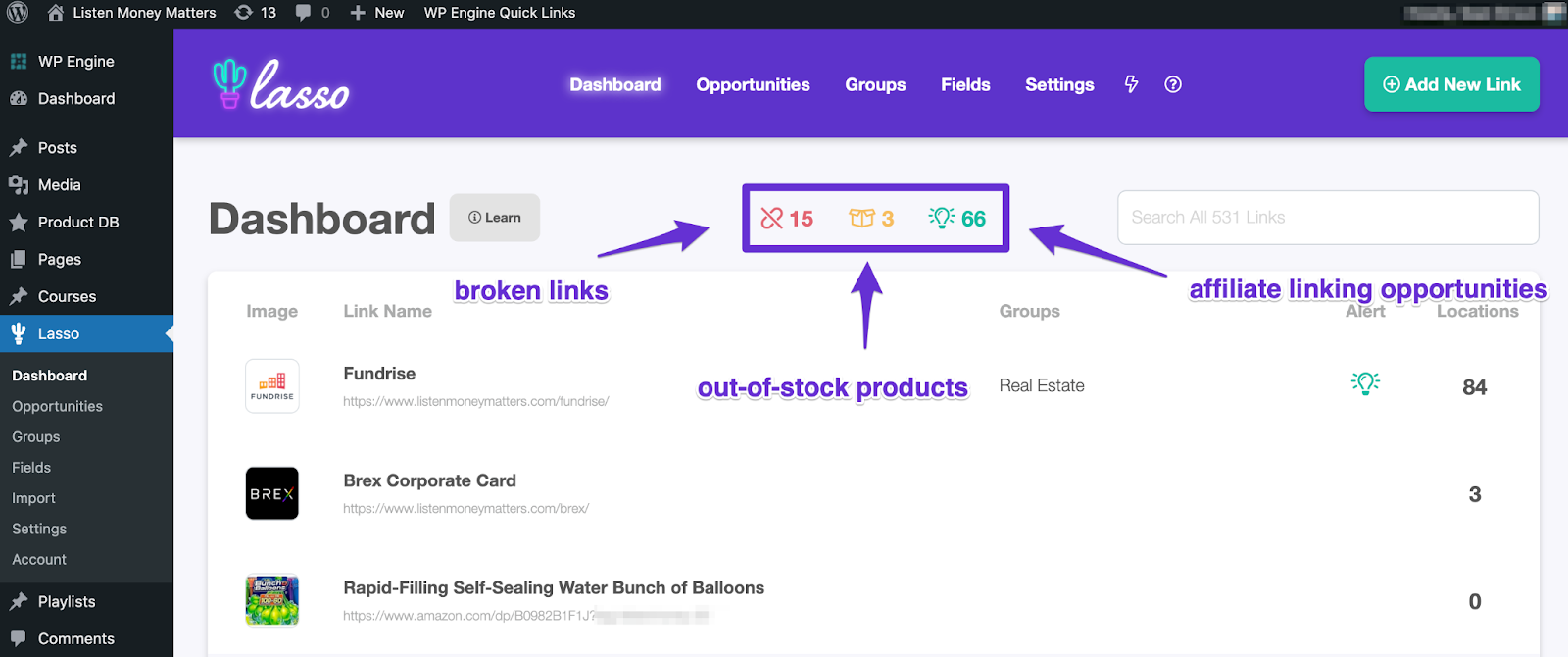 So, rather than send your visitors to product pages where the product is no longer available, or broken links (and lose money), you can replace them with something else.
Case Study: You can read how thankful Barron is for getting broken link alerts on his men's style site, and how he uses Lasso here.
7. Keyword Opportunities
Lasso has a feature that lets you find keyword mentions of brands, terms, and phrases across your site and monetize them.
For example, you might have an affiliate link for a favorite product that you've mentioned dozens of times.
To find it, create a keyword for it in Lasso, and it'll scan your site for every mention of it.

Once Lasso scans your site, it displays every place you've written about it and lets you monetize accordingly.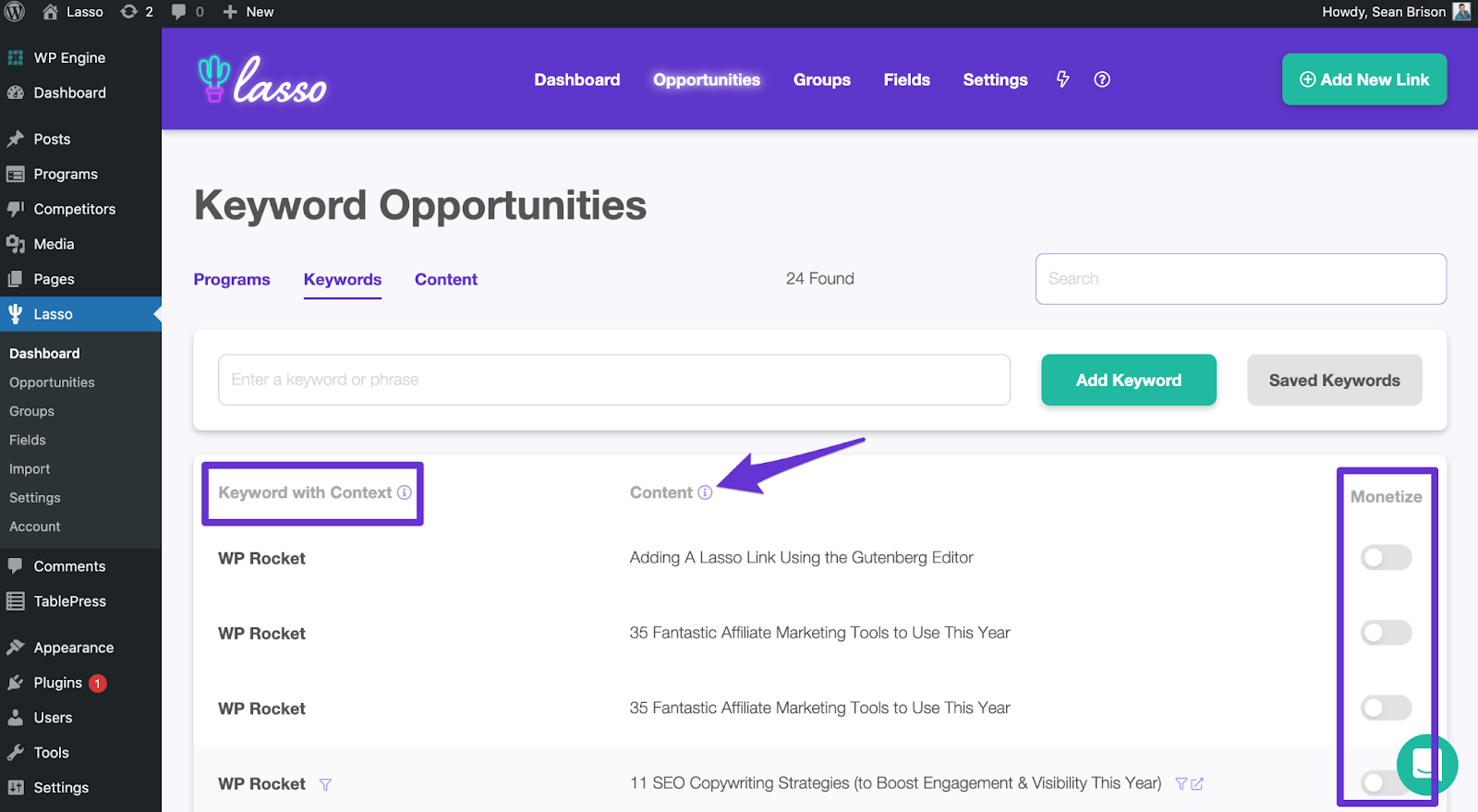 In the above example, it found every mention of the product WP Rocket and where it appears.
Our niche site used the automation and displays from Lasso to earn $1.2M in affiliate income in under five years.

Here's how to generate more revenue from your blog using our 'Keyword Opportunities' report.

🧵👇

— Lasso (@LassoWP) June 24, 2022
Further Reading:
8. Track Clicks
See which items get clicked the most and create more content around them (or move them to the top of your post if they're near the bottom).
To start, create yourself an Event URL spreadsheet to optimize your post's links. URLs that don't drive clicks, replace with ones that will.
Open a spreadsheet and create four columns:
Event URL (your affiliate link)
Total events (# of clicks)
Percent of total clicks on the page
Notes (for yourself)
For example, the affiliate links in the green you'd want to keep. But once they start transitioning from white to red, consider replacing them.
You can track your clicks with Lasso. Simply connect it to Google Analytics (GA). Lasso sends click data to GA, and every click gets tracked as an "Event."
Connecting is easy; just copy and paste your GA tracking ID into Lasso: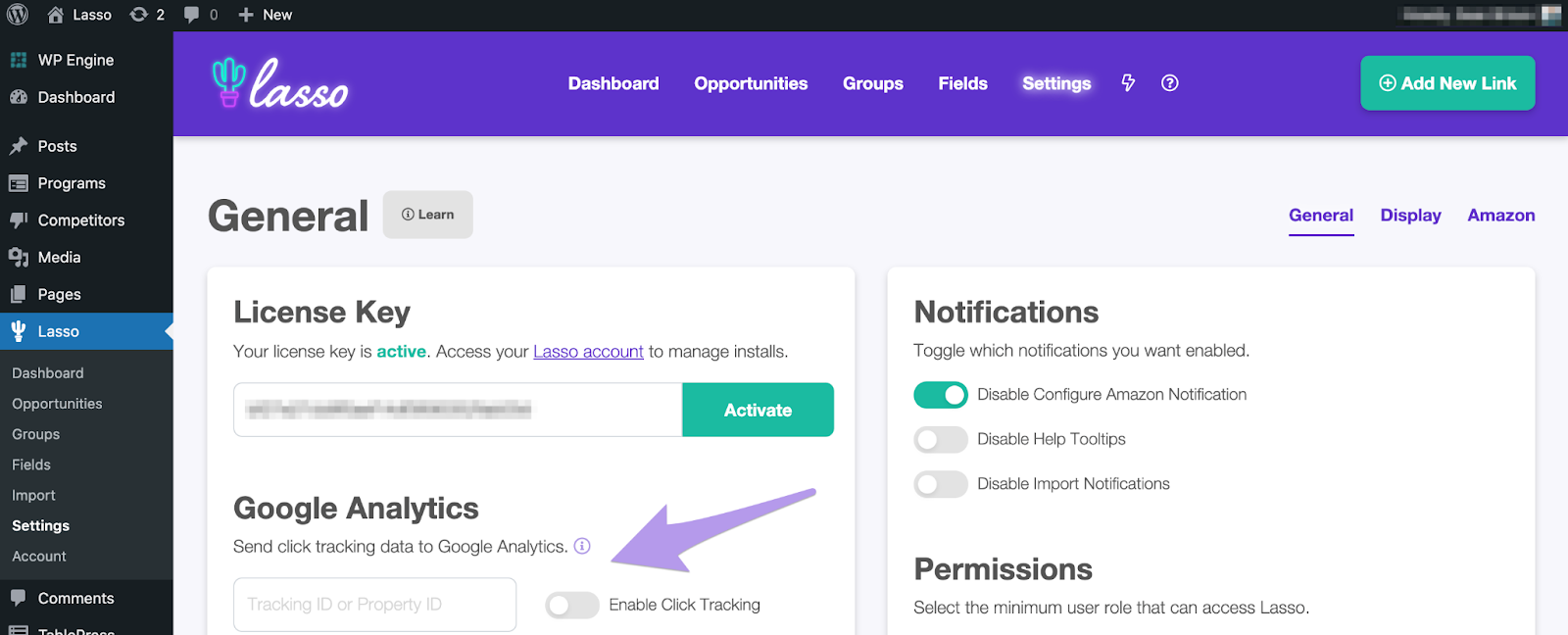 Head here to see how to do it. For more detailed ways to help you earn more with Amazon, below are some suggestions.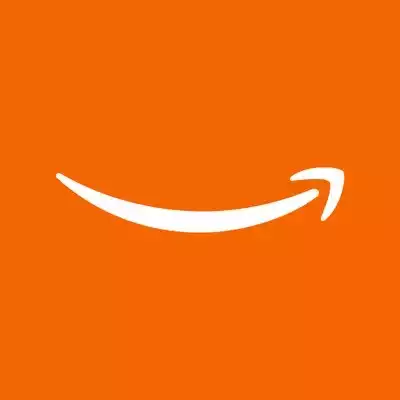 Further Reading On Ways to Earn More:
Amazon Associates FAQs
Here are some common questions people have when getting started as an Amazon affiliate.
What happens to the affiliate link if the product no longer exists?
When a product no longer exists, if a person clicks your product link, they'll either get a message saying the product is no longer deliverable or get an error page.
Amazon suggests checking your links regularly to ensure you don't lose money.
Tip: You can easily avoid this with Lasso's "Link Alerts" feature.
Am I allowed to use the Amazon Associate program on social media?
Yes, you can use your affiliate links on your social networks as long as you remain compliant with Amazon's terms of service. There's even a function on SiteStripe that lets you share your Amazon link to Facebook and Twitter.

Amazon also has an influencer program that lets you establish your own presence on Amazon. You can find out more about that on Amazon's site here.
How long will it take for my registration to be approved?
The application process is fast, and most Associates can get their affiliate account and tracking ID from Amazon within 24 hours. After that, you're free to start promoting your affiliate links.
But you'll need to drive at least three qualifying sales within 180 days. Otherwise, you could lose access to the program.
Is there a payout minimum for the Amazon Associates Program?
The payout minimum varies depending on how you're paid. You must earn at least $10 in a 30-day period to get paid via direct deposit or Amazon gift card. If you're getting paid by check, the minimum bumps to $100.
Sidenote: There's also a $15 check processing fee.
Further Reading:
Last Words
Whether you're blogging or running an eCommerce site, the Amazon affiliate program can be a nice income stream. What's worth remembering is that building a successful website takes time.
But if you understand Amazon's rules and how its program works, you're already in a better position than 90% of people trying to make money online. So, stick with it!
Want more affiliate marketing tips? Read this.
Our creations in your inbox, weekly.
We've built multiple six-figure online businesses that our moms are proud of.
We'd like to help you do the same.