If you're a blogger wondering which affiliate marketing traffic source is best, you've come to the right place. Of course, we all want to make money from our creations, but without visitors, your efforts would be in vain.
The key is picking the right places where your audience already hangs out. Luckily for you, I will show you exactly where to look. So if you're searching for the BEST ways to get more pageviews on your posts, build an audience, and grow your business, read on.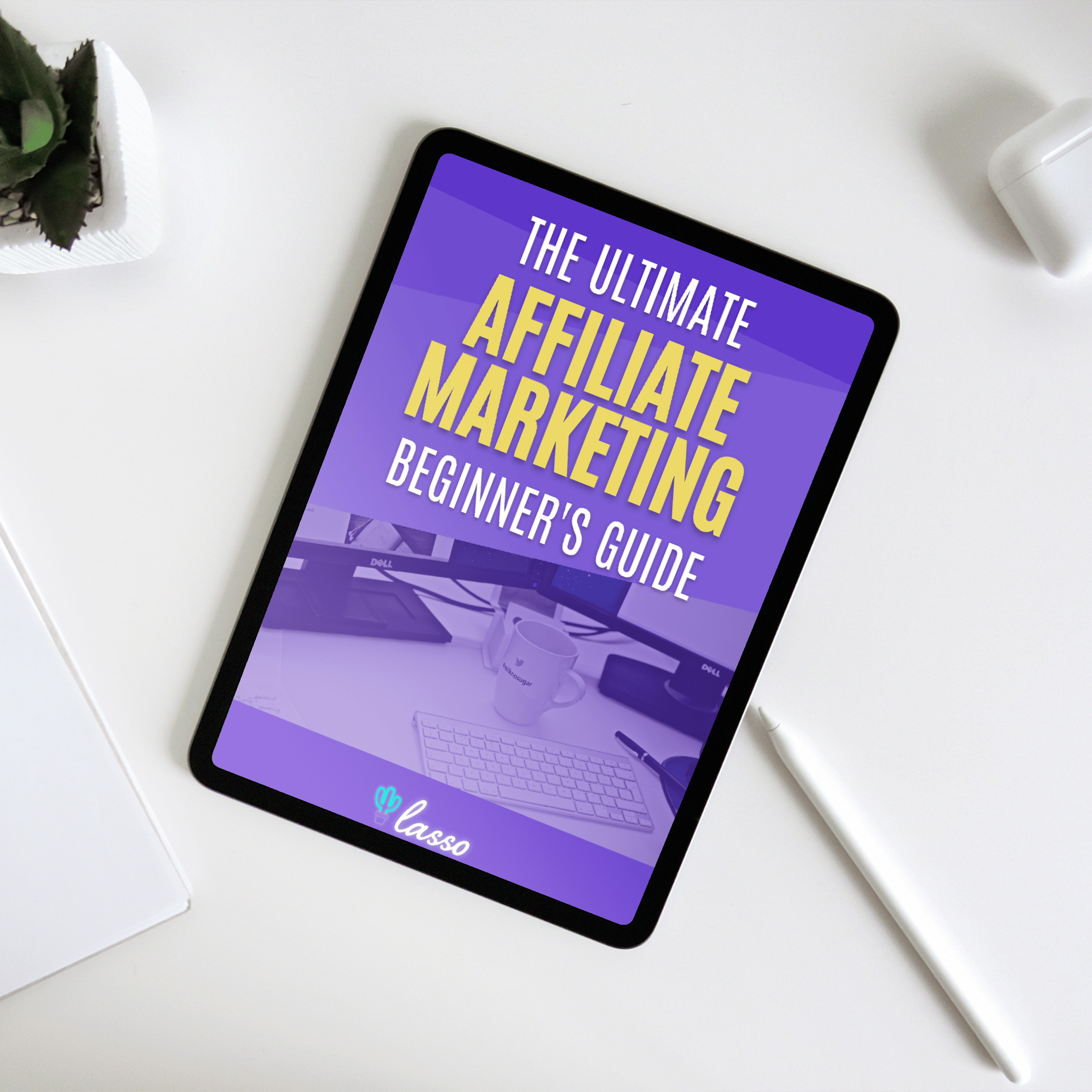 Get Your FREE 30-Page Affiliate Marketing Beginners Guide And Grow Your Site Today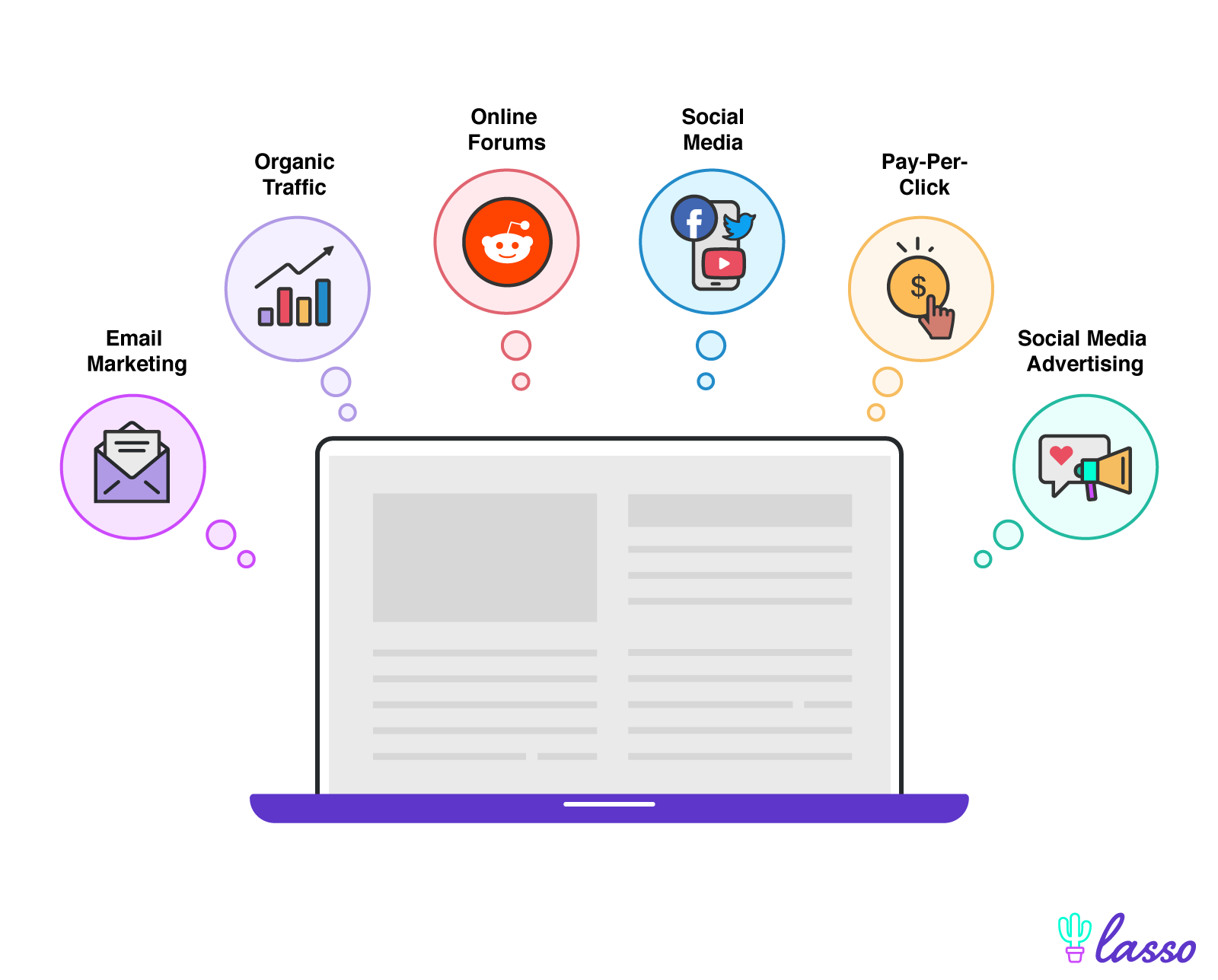 The Top 9 Affiliate Marketing Traffic Sources
Understanding the affiliate offers you're promoting plays a substantial role in your chosen traffic source. The better you know where your audience hangs out, the better you'll know where to focus your efforts.
Pay attention to who's visiting your site and monitor their:
Age
Gender
Location
Language
Time of day
You'll also want to note which devices your customers use (e.g., tablet, mobile traffic, desktop, laptop), browser (e.g., Chrome, Firefox, Safari, etc.), and operating system (e.g., Android, iPhone).
Google Analytics can help you figure these things out.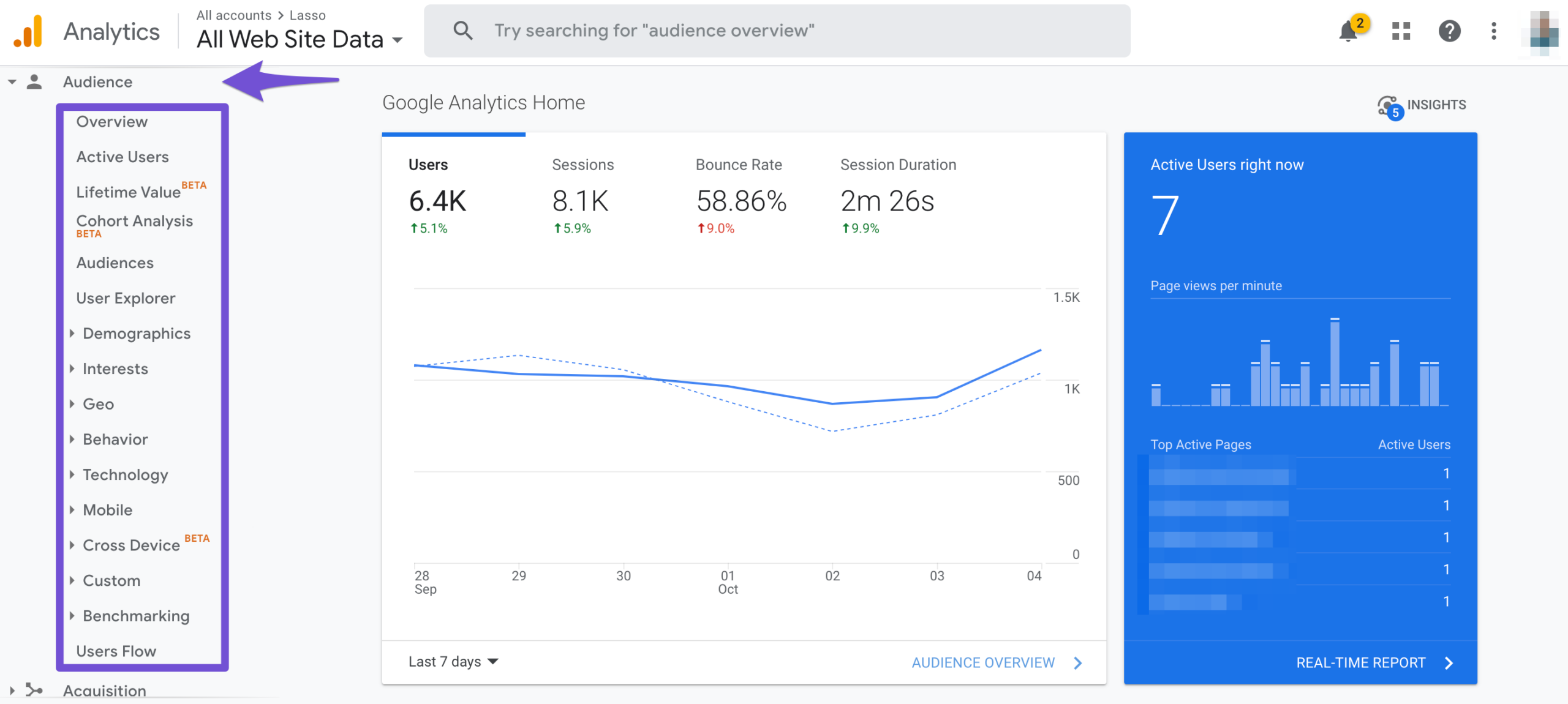 Log into your GA account, click "Audience," and a dropdown menu appears with a list of targeting metrics.
From here, scroll down to see more reports, including:
When users visit
Sessions by device
Sessions by country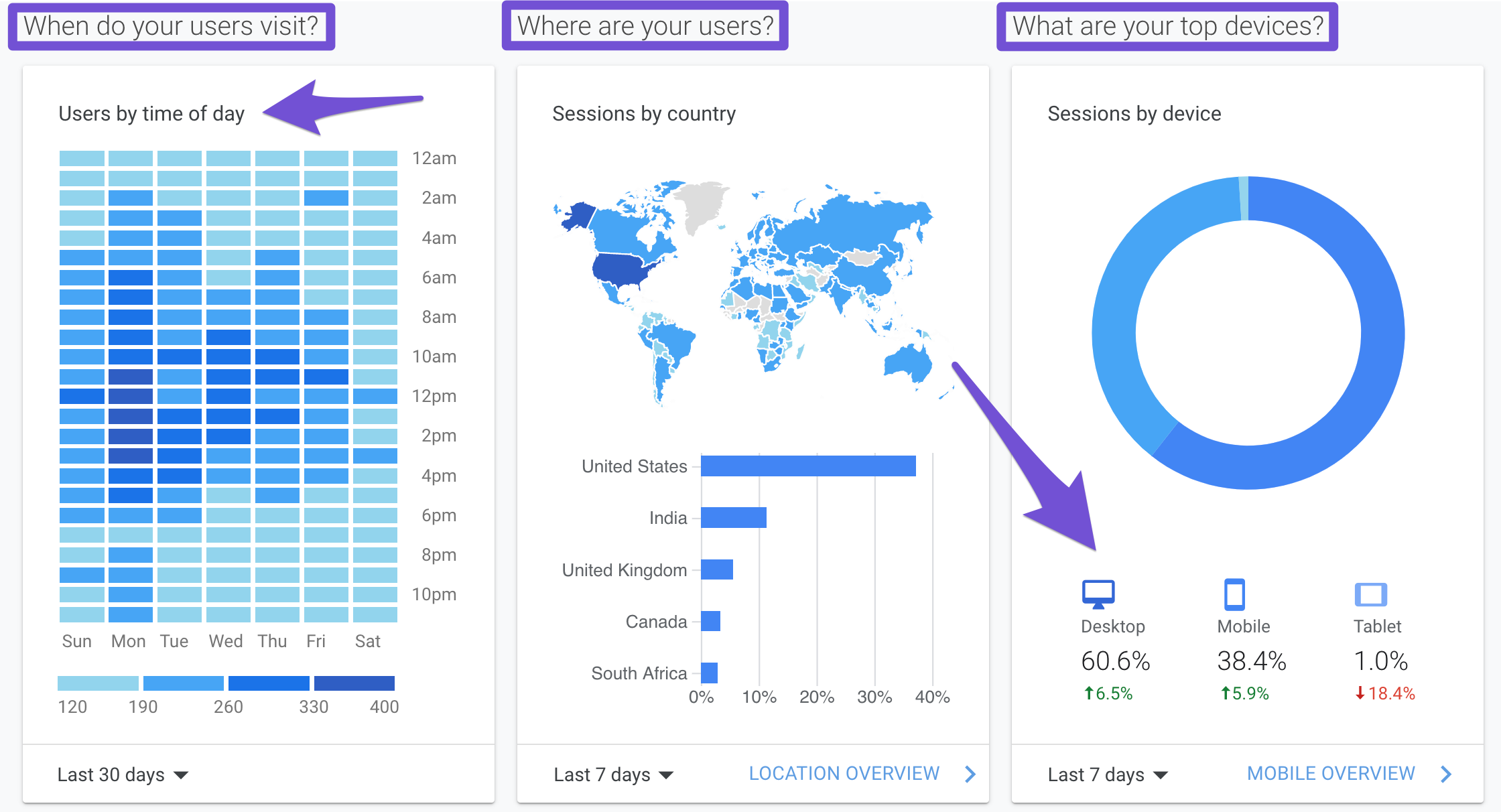 Once you determine how people find your site (i.e., the best traffic sources for your business), you can refine your targeting options and create campaigns to position your affiliate products better.
This data will help you to monetize your website more efficiently. Become proficient in one traffic source before moving on to another. You want quality traffic that converts.
The two traffic "buckets" are free traffic and paid traffic. But, of course, both have pros and cons. So let's unpack what's available to bloggers and affiliate marketers.
1. Organic Traffic 
Organic traffic is free and costs nothing. That's one of its upsides. The downside is it takes time to build. It's also super-competitive, so your content should be high-quality if you want to build backlinks, gain shares, or earn "likes."
Search Engine Optimization (SEO) is when you optimize your website's posts and pages to make it easier for search engines to find (e.g., when someone runs a Google search).
It also measures the pulse of your website's health. SEO involves many other factors, including:
Performing site audits
Executing link-building strategies
Which keywords to target (that match a user's search queries)
Josh Hardwick from Ahrefs mentions keyword research is more than only looking for low-competition keywords, writing a blog post, and stuffing it full of affiliate links.
The process involves:
Finding keywords with lots of searches you can rank for
Blog posts where you can naturally plug product recommendations
Then decide which of the four best types of affiliate keywords to target (general comparisons, branded comparisons, product reviews, or T&A keywords).
Once you've determined these factors, creating content that provides value to your readers and performs well in organic searches gets easier.
Ensure to update your content regularly when using organic search, as search intent or search engine algorithms can change.
Further Reading:
Use Specialized Affiliate Tools to Promote Links
Once you've decided what you'll promote, a tool like Lasso can help drive traffic to your affiliate links using custom displays.
This, along with more information in the display box, can help gain your visitor's trust and increase conversion rates. Take the below example we created for the book, Essentialism. 👇
Essentialism: The Disciplined Pursuit of Less
The Way of the Essentialist isn't about getting more done in less time. It's not about getting less done. It's about getting only the right things done. It's about the pursuit of the right thing, in the right way, at the right time.
Pros:
Will make you more effective.

Quick read and highly actionable.
Cons:
You have to be open-minded.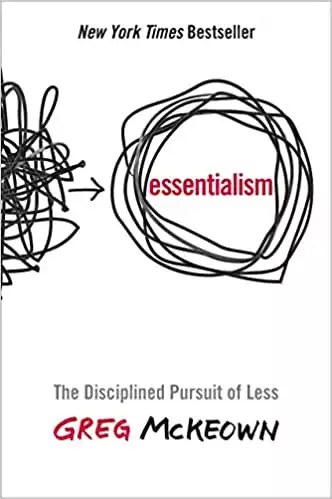 We earn a commission if you make a purchase, at no additional cost to you.
You'll also want to optimize your posts and pages for things like headlines, meta tags, and internal and external links.
The secret to creating high-quality content is to help people solve their problems like your life depends on it.
Further Reading:
2. Email Marketing
Email marketing lets you foster relationships with your audience, promote content, and boost sales by sending them information straight to their inbox.
When someone visits your website, have them sign up for your newsletter via some type of opt-in form (offer them something for free like a checklist or lead magnet).
Once you have their email address, you can use it to build a deeper relationship with your readers.
And similar to using social media management tools, you can automate your email marketing campaigns.
There are a variety of ways you can use automation, including:
Welcome emails: Thank your customer for signing up, welcome them, and give them a preview of what to expect over the coming days. You can also tease them with upcoming offers.
Lead Nurturing: Send targeted info to select groups on your email list based on previous actions they've taken.
Newsletters: Keep your audience updated with events happening on your blog, promotions, or upcoming sales.
These are ways to maintain engagement without worrying about when to send emails because you've prepared.
When social media sites crash, you'll always have your email list. Building an email list is one of the most crucial aspects of your job as an affiliate marketer.
3. Social Media 
Social media is excellent for engaging your target audience, raising your brand's awareness, and increasing sales.
There are currently eight primary social media platforms where you can deploy marketing efforts:
TikTok
Twitter
Linkedin
Pinterest
Snapchat
Facebook
Instagram
YouTube videos
This section outlines how you could use social media sites for marketing.
Social Media Marketing 
Like building an audience organically with search engines, creating a substantial following on social media takes time. It requires active engagement with your readers, but it can yield massive results when done correctly.
Sharing content can be as simple as promoting a blog post or a video.
You'll want to pay attention to what your audience talks about, post comments to maintain active engagement, and measure what's working.
Think about the content you want to publish. Pictures? Use Instagram. Blog posts? Try Facebook or Linkedin.
Social networks also serve as:
Community-building
Customer support to address concerns and answer questions
For example, one of our brands uses its Facebook group community to answer questions, promote new content, and ask for ideas.
If needed, you can run hyper-targeted social media ads to specific demographics (more on that below).
Social media management tools like Buffer or Hootsuite can help automate this process. You can plan and choose the date and time you want to publish content.
Check out Buffer's Social Media Marketing guide for a deeper dive.
4. Social Media Advertising
Social media ad campaigns let you connect with your target audience at scale. The process is also quicker.
Before putting money on the table to get targeted traffic, determine which networks your audience hangs out on before running your campaign.
Running Facebook ads is one of the most commonly used, so many start there because of its diversity.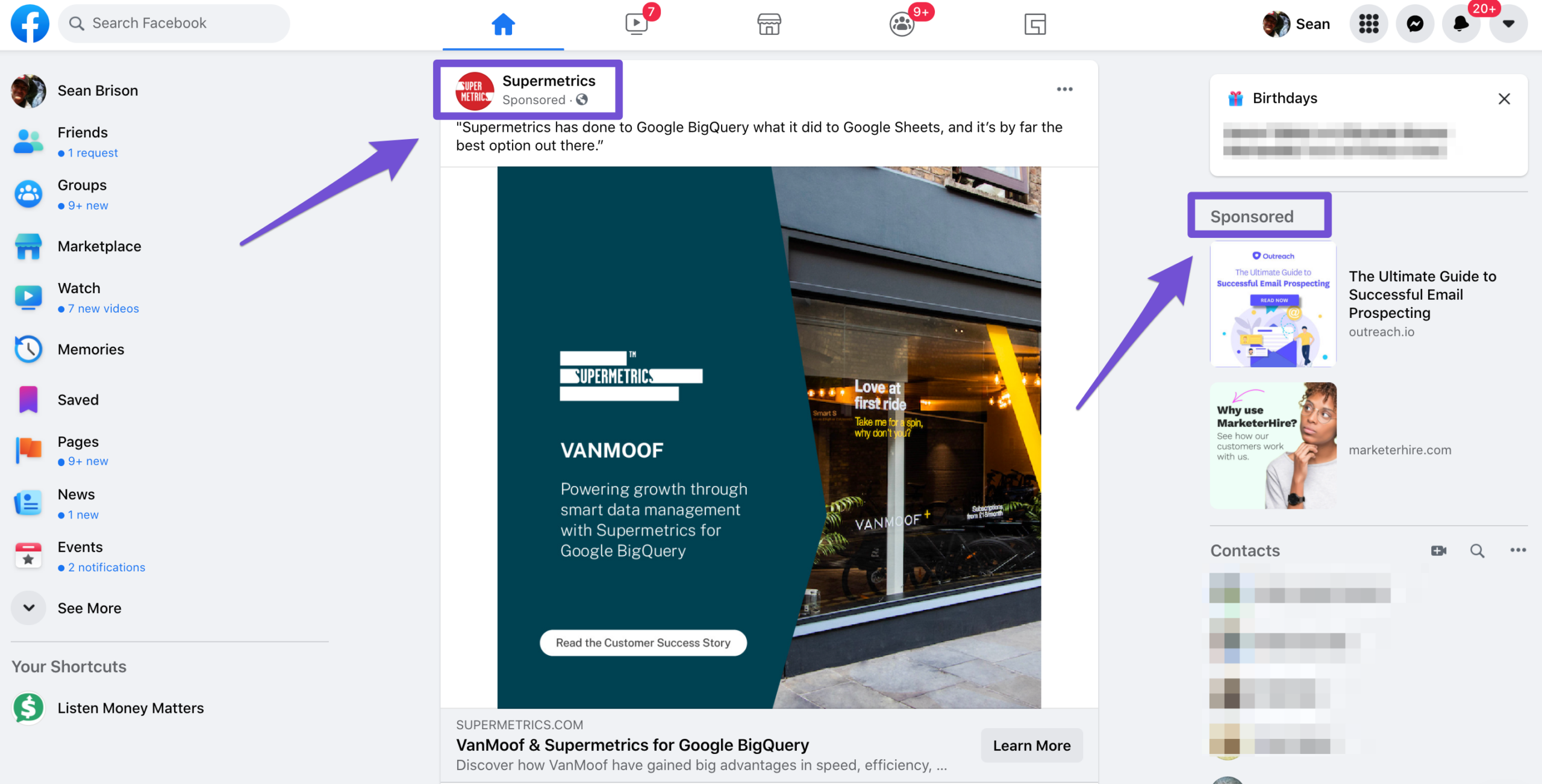 You can leverage video ads, photo ads, story ads, carousel ads, and collection ads. And Facebook is only one example.
There are eight major social networks to consider. You can run ad campaigns to display on feeds like Facebook, Instagram, and Twitter.
Further Reading:
5. Online Forums
Leverage online forums by answering questions relevant to your industry. You'll build authority as people start seeing you as the expert.
The more consistently you answer questions, the more your authority grows. Quora and Reddit are two of the largest platforms for executing this strategy.
Reddit
Reddit is a powerhouse, with over 1.7 billion visitors in May 2022. So, if you want to leverage that, head there and look for terms related to your affiliate website and view the comments.
Look for ones with lots of engagement for the most amount of traffic. You can post your comments with links to your website as long as you do it ethically.
You're in good shape if you're helping them solve a problem. Use Reddit's keyword research tool, Keyworddit, to find keywords related to your niche.

Enter the subreddit's name, and Keyworddit finds all related keywords in that subreddit with monthly search volume and context.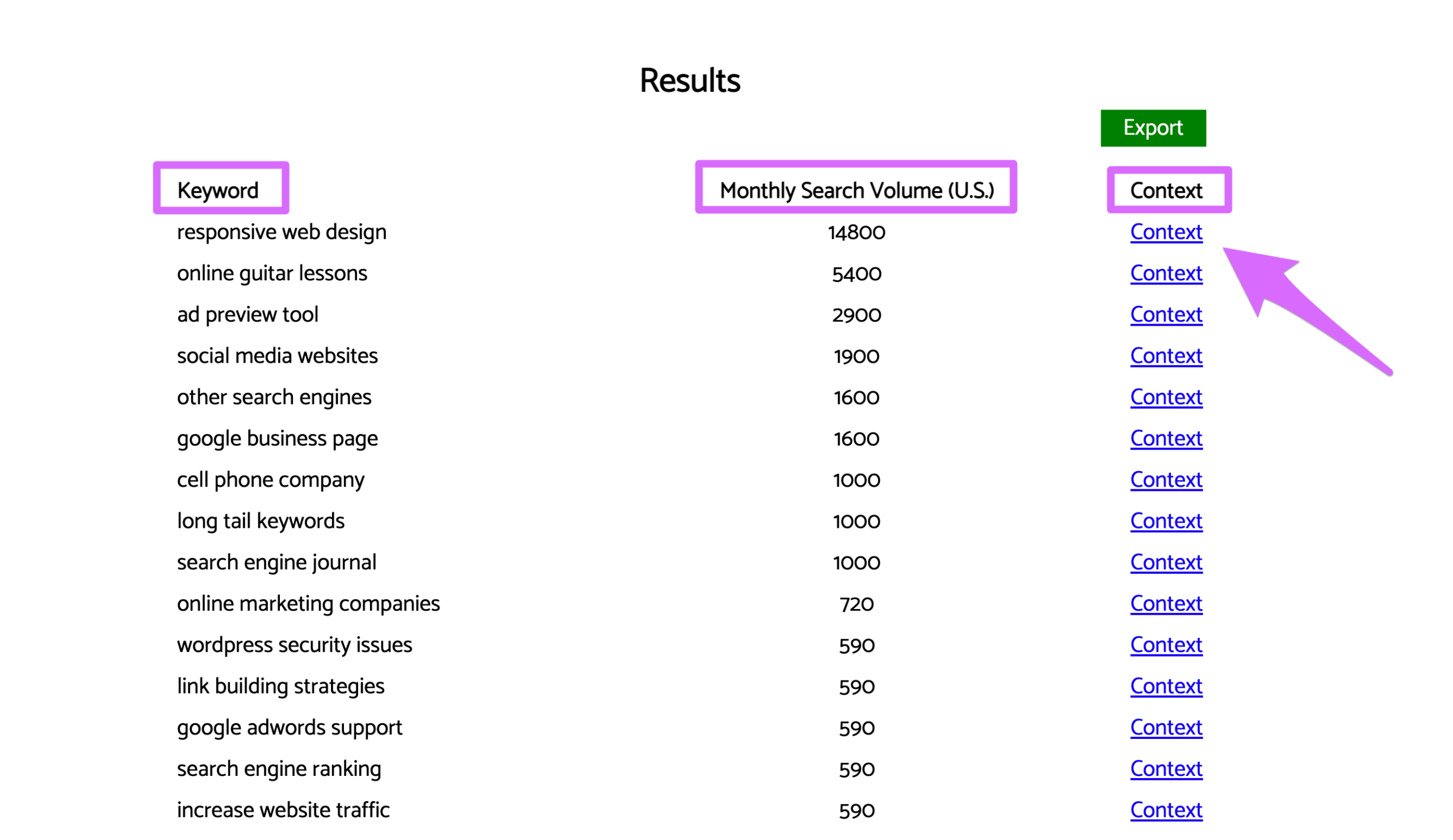 When you click 'Context,' you're taken to the SERP page with all corresponding results for that keyword.
Here's what I get using the first keyword at the top of the list, "responsive web design":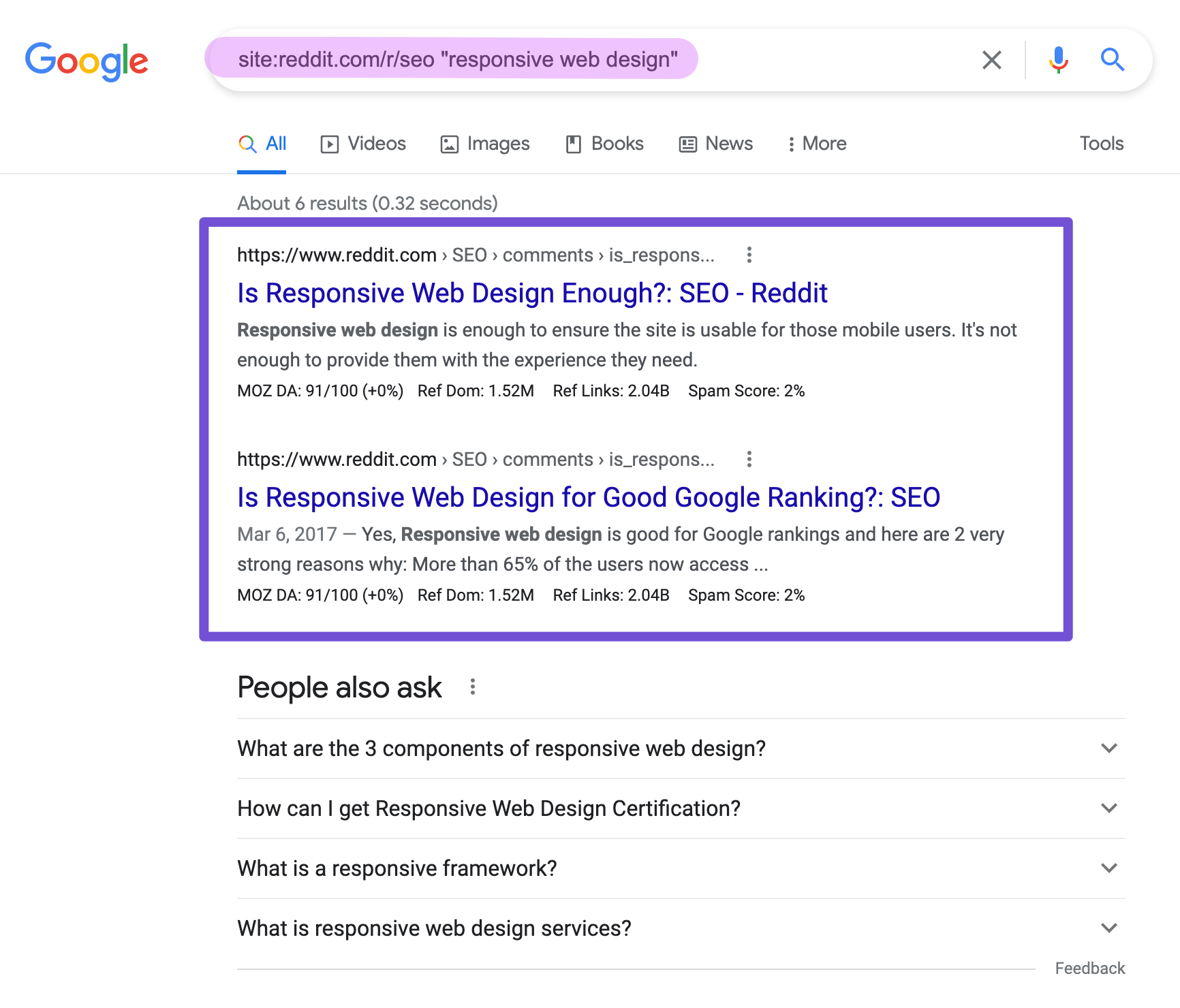 Quora
Or, if you're using Quora (the site gets 300 million monthly visitors), enter the domain into a tool like Ahrefs Site Explorer, and use its 'Top Pages' report with your keyword as a filter.
In the below example, I used the keyword "website traffic." It displays all of the related questions featuring that keyword.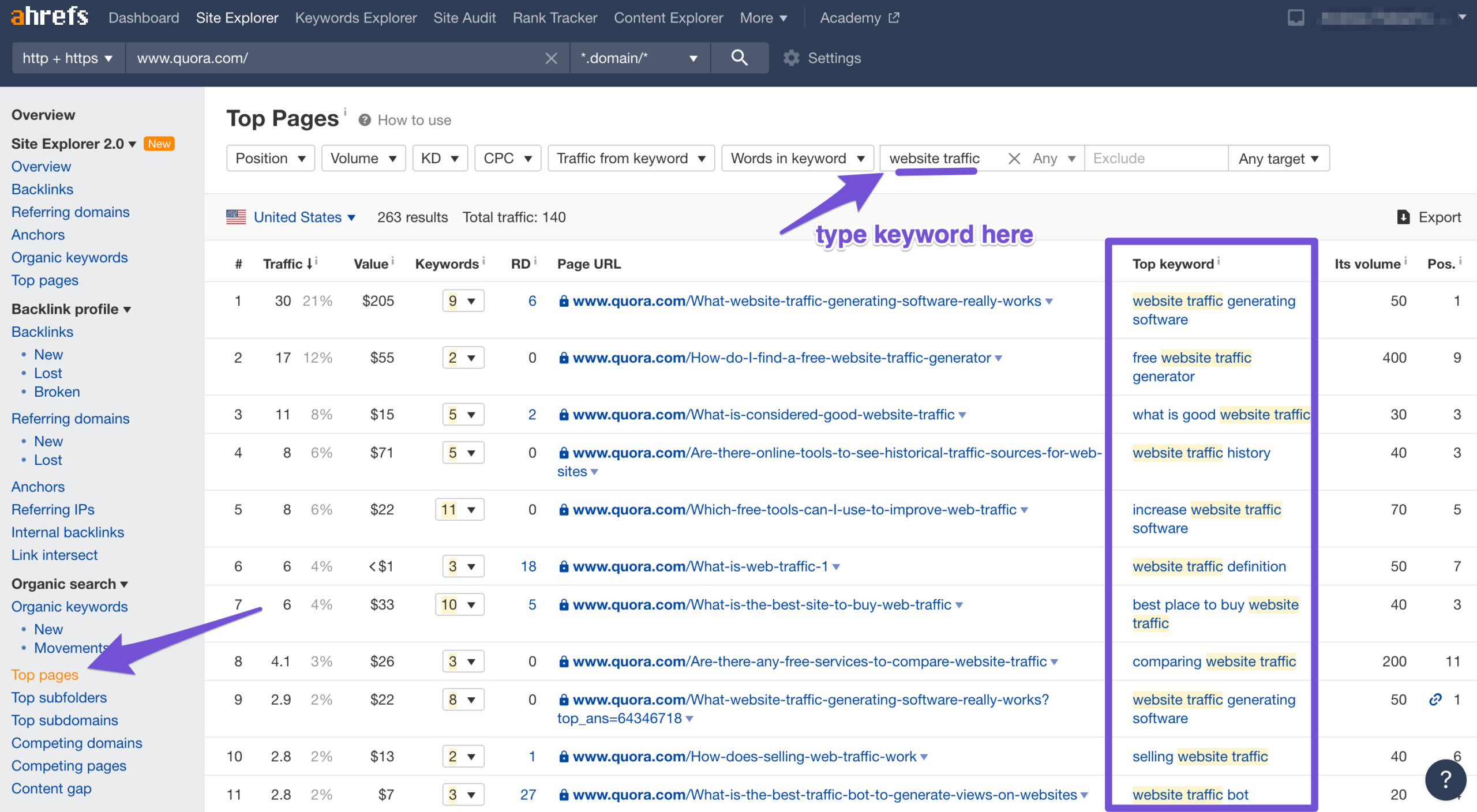 Guest blogging and answering comments in niche-specific forums are two more examples of ways you can generate traffic to your website.
When looking for industry-specific groups or forums to answer questions in, try using a search term like, "marketing questions for [keyword]" or "business questions for [keyword]"
For example:
Marketing questions for pet store owners
Sidenote: You can also search for any industry for groups on Linkedin or Facebook.
6. Pay-Per-Click (PPC) 
PPC ads appear on search results pages. You'll post one on a platform (e.g., Google) and pay for that platform whenever someone clicks your ad.
These ads typically target specific keywords meant to attract website visitors to your offer.
For example, Google Ads (formerly Google Adwords) uses real-time bidding and auctions off keywords to the highest bidder.
You can divide your campaigns into different categories, including:
Location
Keyword
Product Type
PPC and cost-per-click (CPC) are the same as both refer to the same thing.
For example, you might say you're running a PPC campaign and would like your CPC not to exceed $1.00.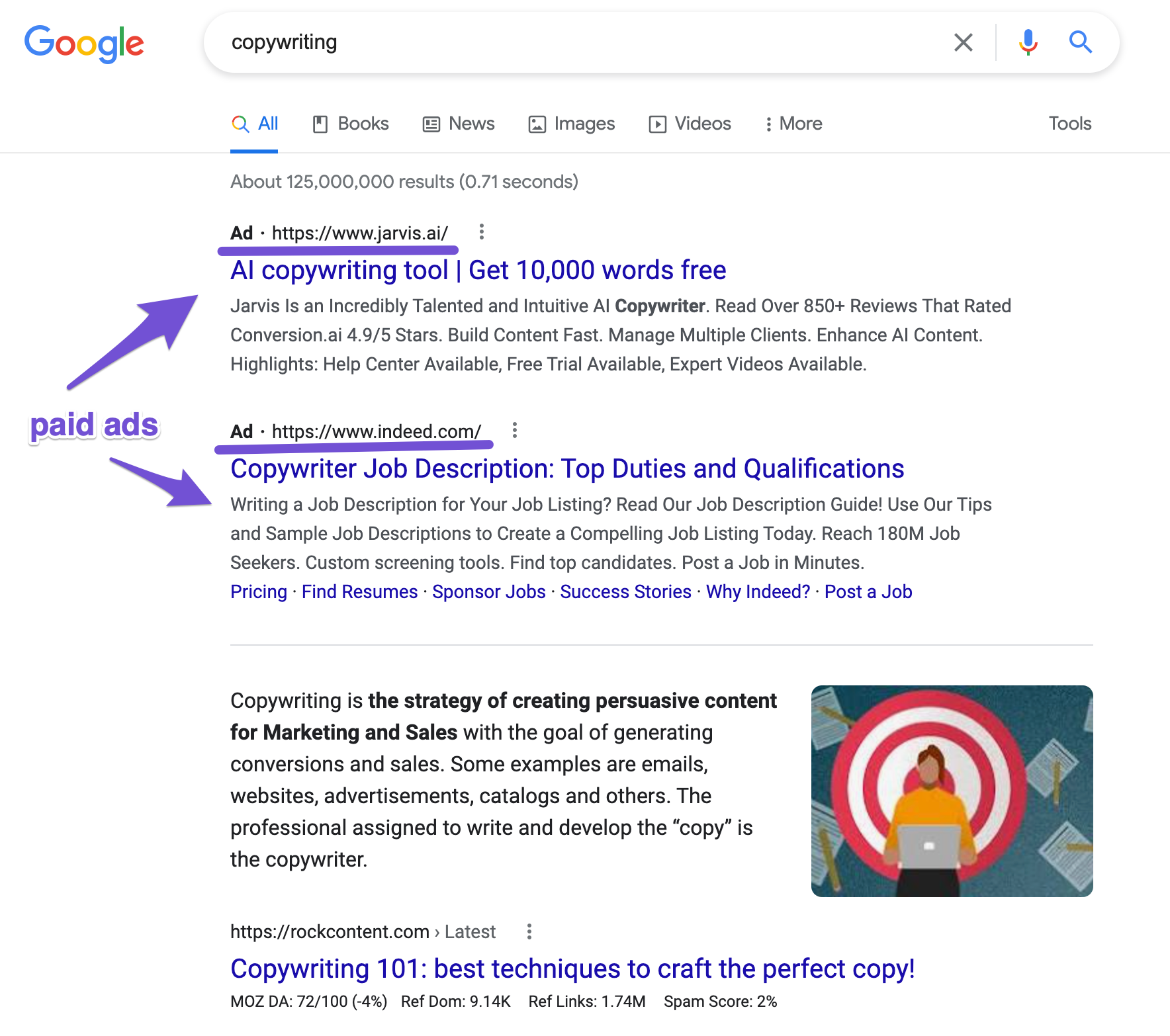 PPC ads appear at the tops and bottoms of organic search results.
When I enter "copywriting" into Google's search bar, several paid ads appear at the top before arriving at the organic results.
Other search engines also feature ad placement, including:
Baidu
Bing ads
Yahoo Gemini
Paying for search traffic is costly because you're paying for visibility.
While holding the top place in a Google search is amazing, once your money disappears, so does your spot.
A similar paid advertising model is Pay-Per-View (PPV), which employs a landing page designed to drive clicks to your website.
Further Reading:
7. Digital Media Buying & Display Advertising
You can buy ad space through places like the Google Display Network (GDN), which reaches 90% of the internet.
Your ads typically appear as banners on websites that have partnered with Google Adsense or another ad network.
Your ad will display on various domains within its network. So, naturally, the higher quality of the domain (e.g., Forbes), the more you'll pay.
You can send your potential customer to a product offer or affiliate link. Display advertising is ideal for reaching people at scale and raising awareness.
If you want to go beyond Google's network, you can employ digital media buying by contacting publishers directly and inquiring about ad placements.
8. Contextual Advertising  
Contextual advertising works similarly to PPC campaigns, except you're paying for your ad to appear only on relevant websites.
For example, if you were an SEO running an ad campaign for your keyword tool, you could create an ad to appear on sites like Search Engine Journal.
Then, your ad displays when someone reads a blog about search engine optimization.

The benefit of contextual ads is they're less intrusive. In addition, the campaign manager is betting that you'll be more likely to click on their ad because it's within the context of what you're already reading.
9. Native Advertising 
Native ads match the media format and are less invasive; you may not even notice them.
In this screenshot of Fortune's website, you can see examples of Native ads versus display ads below.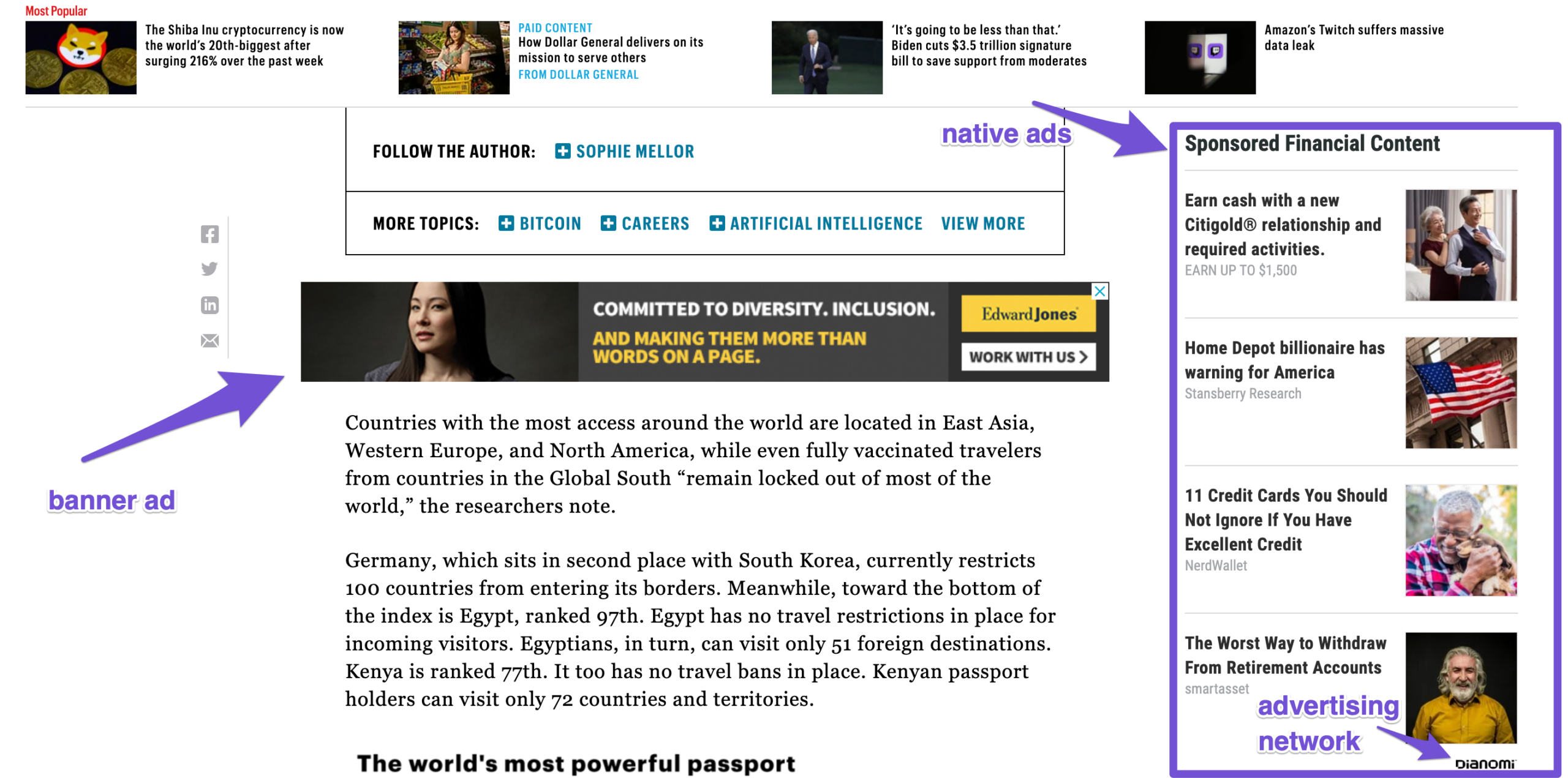 Taboola, Dianomi, and Outbrain are three advertising platforms that help marketers craft native ad campaigns.
The benefit of using native ads is they can appear everywhere:
In your search results
In your social media feeds
Recommended content (like when I scrolled through Fortune)
How Do Affiliate Marketers Get Traffic?
So far, we've covered the nine best ways to get more affiliate marketing traffic for your efforts. Here's a quick recap:
Social media
Online forums
Organic Traffic
Email marketing
Native advertising
Pay-per-click (PPC)
Contextual advertising
Social media advertising
Digital media buying/Display advertising
Now, all that's left is to show up daily, do the work, and stay consistent. This puts you lightyears ahead of hobbyists.
But how much traffic is enough?
How Much Traffic Do You Need for Affiliate Marketing?
The short answer depends on what type of business you want to build.
Corbett Barr, the co-founder of Fizzle, wrote a great article explaining two approaches to attracting enough visitors to your website to earn a living:
Approach #1: Build a massive site to attract advertisers
Approach #2: Forget advertisers and maximize your value per visitor
An infinite number of affiliate marketing traffic sources will work with the abovementioned strategies.
Will you use them all? It's unlikely.
The most successful online businesses (on average) seek to maximize their value per visitor from what I've seen. That strategy has the highest, long-term ROI.
And also, mathematically, focusing on value versus volume is simpler. Hitting scale is a byproduct of the meaningful content you've already created for your audience.
What Is the Average Conversion Rate for Affiliate Marketing?
The current industry standard seems to hover between 0.5% and 1%. Although, determining this number is difficult because every content creator differs in terms of:
What they promote
Targeted traffic
Their niche
Takeaway: To calculate your conversion rate, divide the number of visits by the number of people who made a purchase. For example, if your landing page had 4,000 hits with 50 sales, your conversion rate would be 1.25% (50 divided by 4,000).
Last Words
There are many affiliate marketing traffic sources to focus on. But, again, it's a combination of knowing where your audience hangs out and how they find you organically. Furthermore, Google Analytics can help you figure this out.
The trick is to invest in the ones with the highest business value. You don't need to use every channel on this list. There will likely be 2-3 that get you the best results, so start there.
Want to learn how to build a profitable online business in three minutes a week? Join our weekly newsletter.
Our creations in your inbox, weekly.
We've built multiple six-figure online businesses that our moms are proud of.
We'd like to help you do the same.