We curated this list of affiliate marketing tools to help you analyze competitors, increase conversions, grow your business, and more. The below list is exhaustive by no means but represents things we've either used ourselves, or that come highly recommended.
Let's go.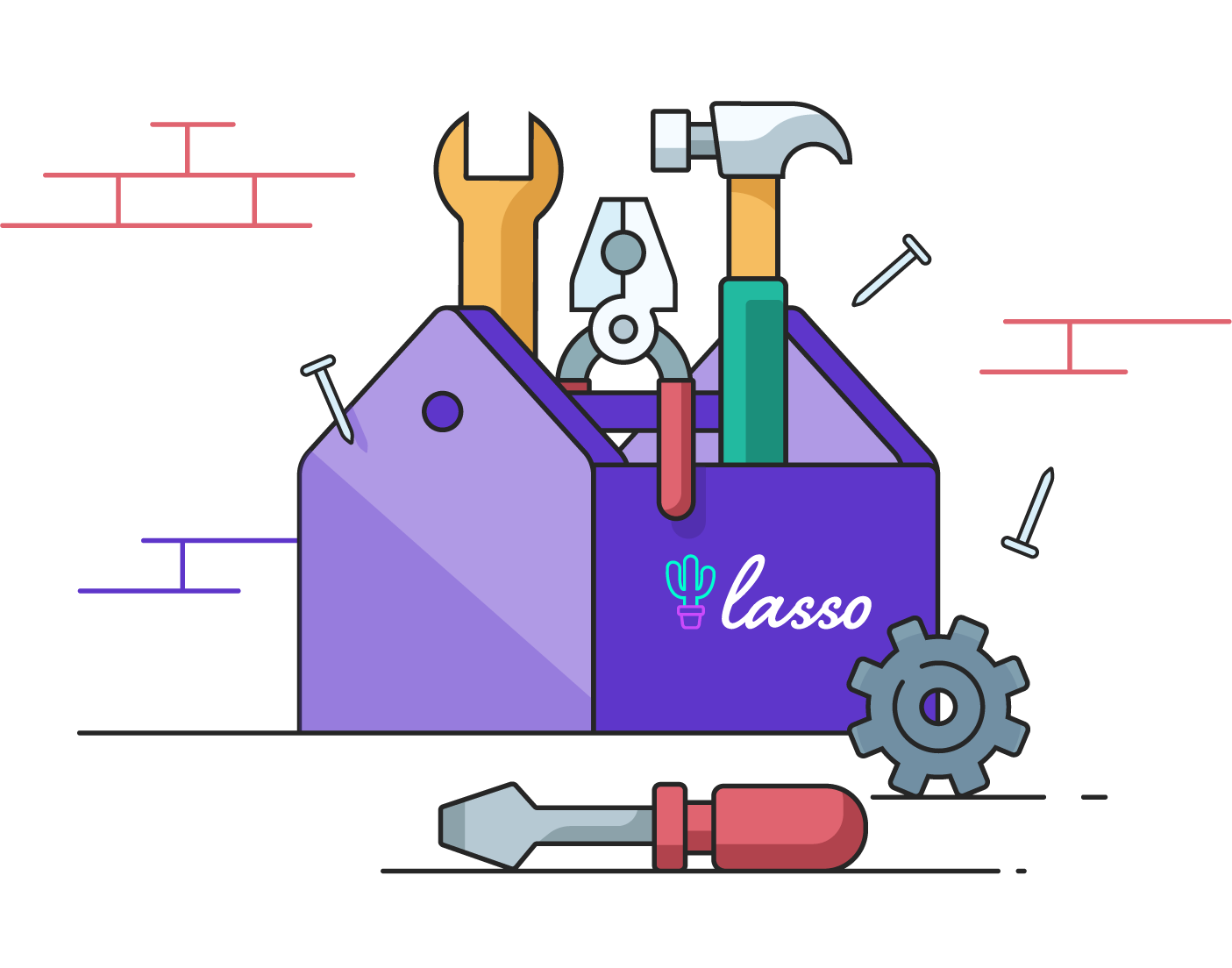 Get our FREE toolkit and checklist for writing articles that convert.
Affiliate Marketing Tools for Analytics & Research
There's an old saying, "What gets measured gets managed." It makes sense; otherwise, you have no idea how to track meaningful metrics that matter to your business.
Here are some affiliate marketing tools to help you track progress, income, clicks, revenue, and more.
Best Plugin For Affiliate Marketers
Lasso
Lasso is the best WordPress plugin for affiliate marketing. If you want to earn more affiliate income and grow your niche site, you need Lasso!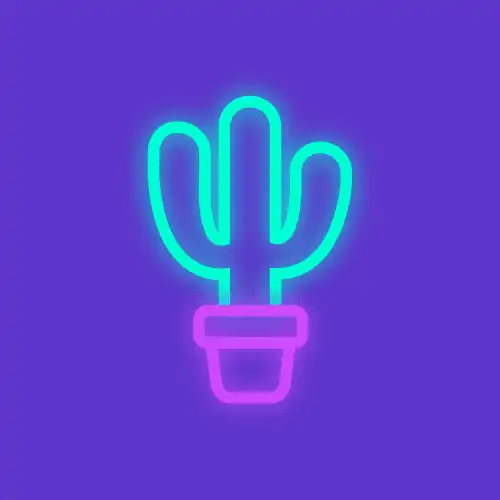 #1. Lasso
We built this WordPress plugin (Lasso), to help affiliate marketers boost click-through rates and simplify link management.
In addition, it lets you quickly create custom affiliate link displays, find unmonetized link opportunities (using its keywording tool), and find new affiliate programs for you to join based on the content you already link to.
Here's a single display we created for the book, Steal Like An Artist. 👇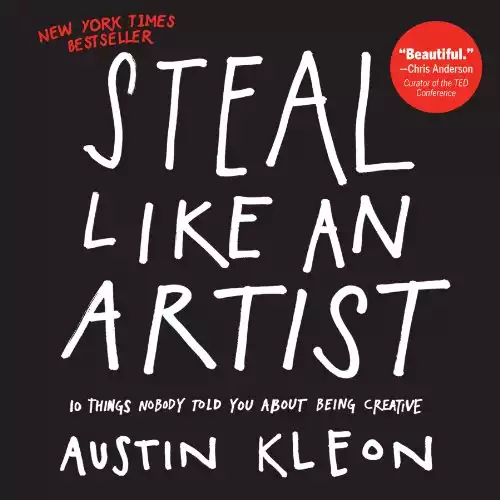 We earn a commission if you make a purchase, at no additional cost to you.
It integrates with Google Analytics, letting you track clicks so you can find your top-performers and alert you when links break.
Lasso also has:
One-click plugin import (so you can import your affiliate links from other plugins like Pretty Links or Thirsty Affiliates)
Link cloaking so your URLs look "pretty"
Full Amazon integration and automatically updates Amazon product info every 24 hours without needing API keys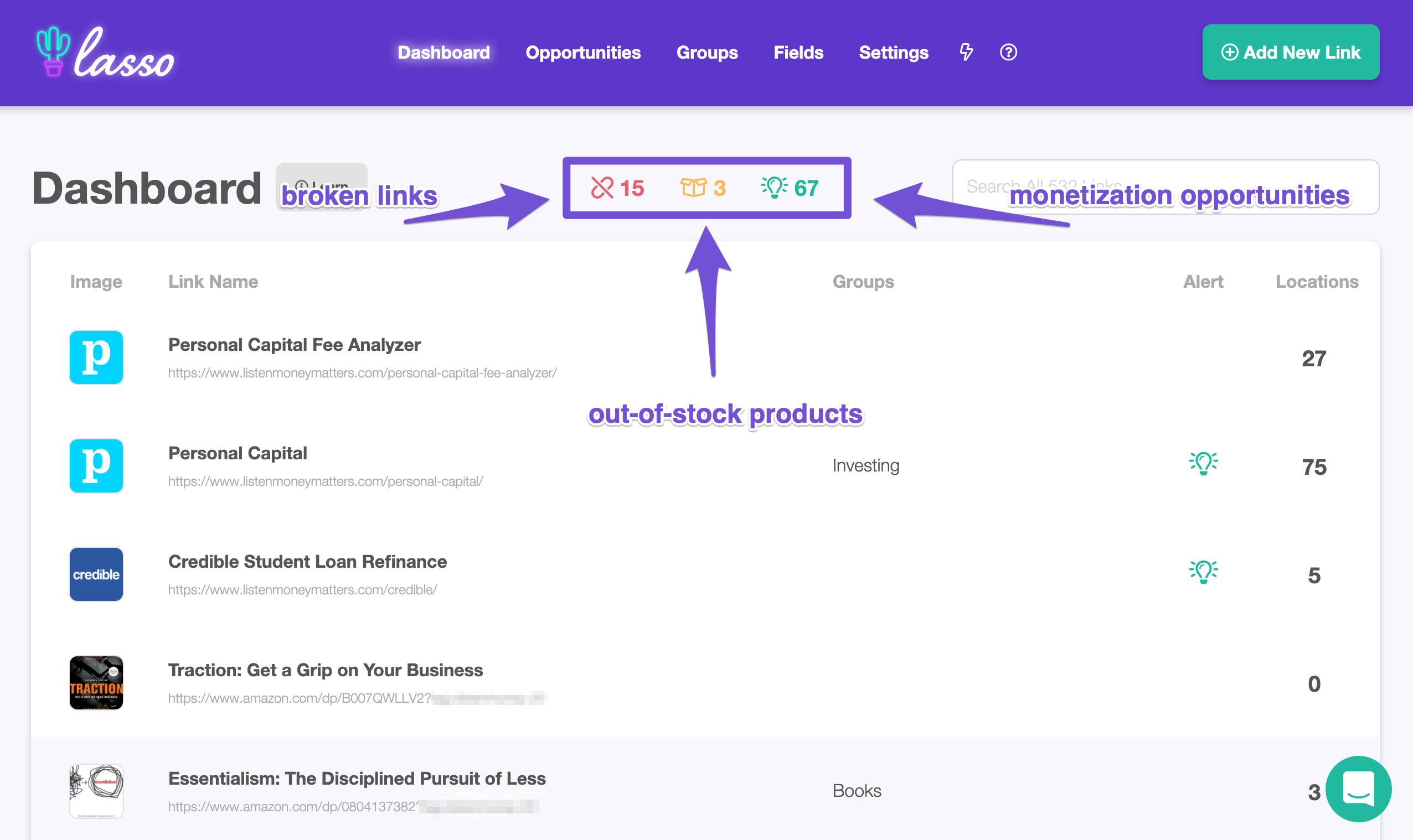 One of the things we've learned from our customers is how they're relying less on Amazon's affiliate program, creating alternative income streams, and finding new affiliate link opportunities.
Lasso is made by affiliates for affiliates. Click here to learn more.
#2. Google Analytics
Google Analytics has an amazing suite of free tools that lets you better understand your customers. It's perhaps, the BEST analytics tool you'll use considering the exhaustive list of features it performs.
You're also leveraging Google's unique insights and capabilities, making it an invaluable part of your toolbox.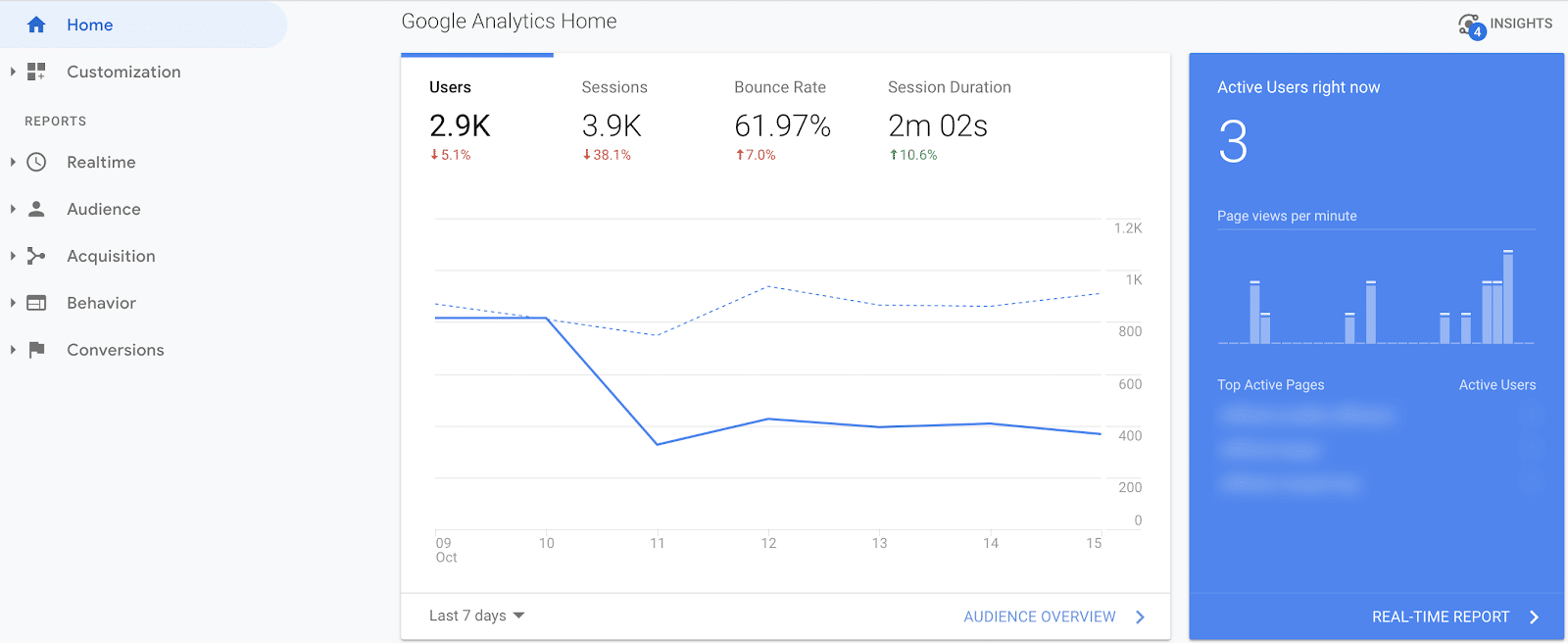 You can see data sets from both websites and apps. The amount you can collect using it is colossal and includes:
Which websites send you the most traffic
Where your website traffic comes from (i.e., Google, Bing, YouTube, etc.)
Which blog content is popular with your readers
How many visitors your website receives
Which of your website pages converts best
Ways to improve page speed
Whether your website is mobile-friendly
If you're a large enterprise, consider Google's paid version, Analytics 360. You can talk to Google's sales team and create a custom business plan which gains access to even more insights than you'd otherwise acquire through the free version.
#3. Monster Insights 
Monster Insights is a popular WordPress plugin for Google Analytics, with over two million users.
It provides similar features to Google Analytics without the complexity that comes with its set-up (as some users have reported).
You can install it on your website in minutes and instantly get real-time data.
Provides you with a "just the facts" real-time analytics dashboard including:
Universal website tracking across devices and campaigns
Ads and affiliate link tracking
Detailed stats for all of your posts and pages
Enhanced eCommerce tracking
Custom dimensions and tracking for authors, categories, users, and searches
It also integrates with most WordPress plugins and services, including WP Forms, Google AdSense, Woo Commerce, and more.
#4. Affluent 
Affluent aggregates the data of all of your affiliate platforms into a single dashboard. It makes it tons easier for tracking conversions and revenue.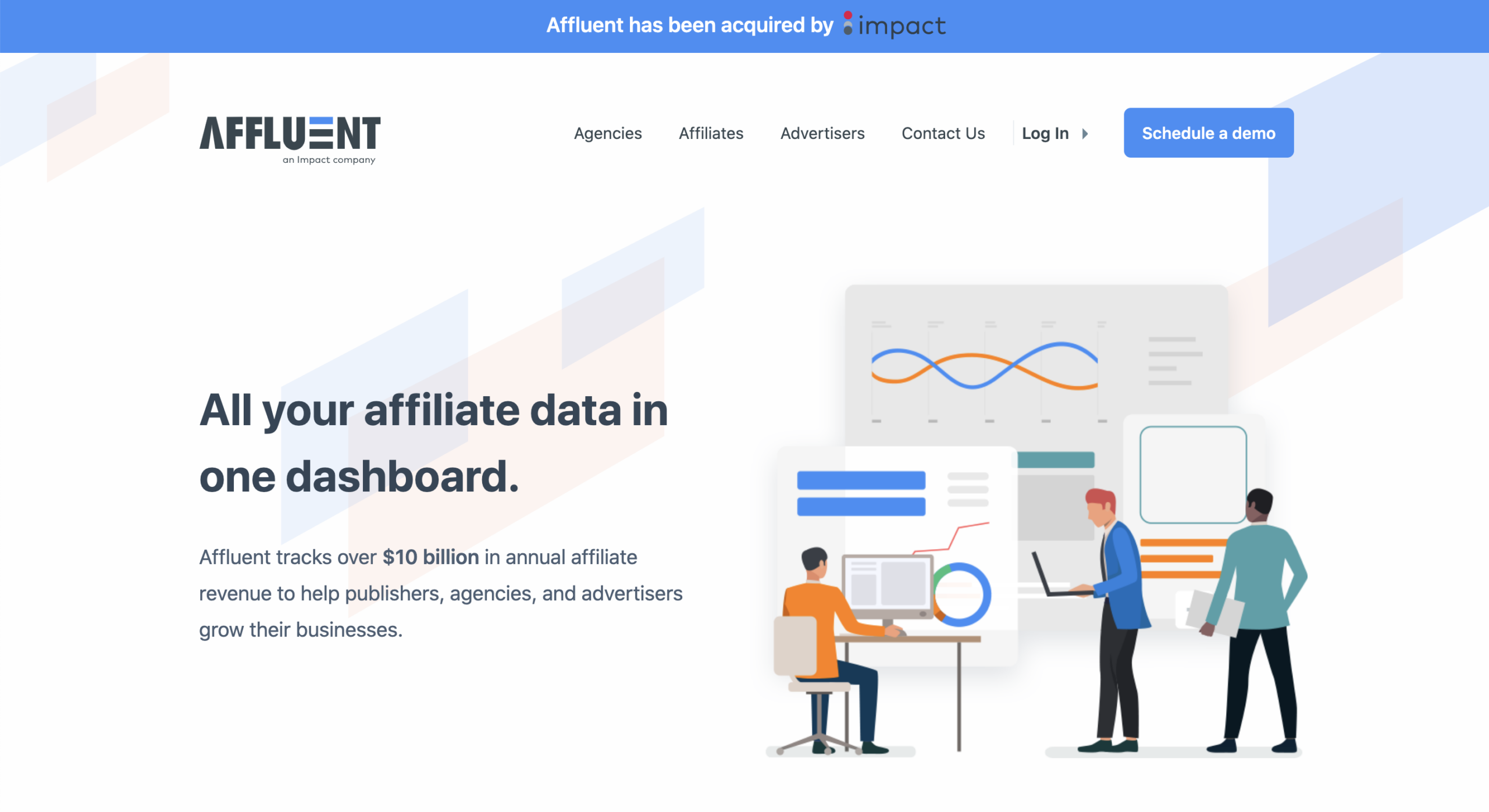 We use this tool to connect to affiliate networks like Impact, Commission Junction, Flex Offers, and Share A Sale (more on these networks below) to pull our conversion data into a single dashboard.
It starts at $35/month, and we use it to keep a pulse on our earnings across all platforms we're a member of.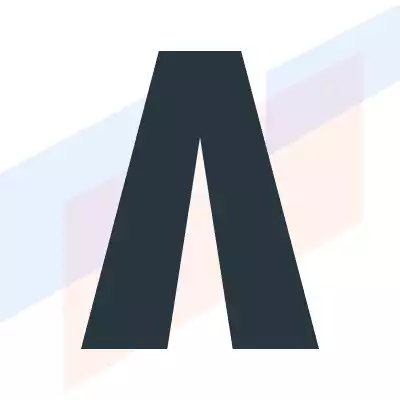 We earn a commission if you make a purchase, at no additional cost to you.
You can organize your data so that it makes sense for you, which can be by an account manager, vertical, or product – and check performance with only a couple of clicks.
SEO Tools 
SEO tools help increase your visibility with search engines and optimize your website's health. They perform multiple functions including identifying which keywords to target, executing site audits, and designing your link-building approach.
Having a fundamental understanding of SEO best practices helps when creating campaigns or determining your content marketing strategy.
#5. Ahrefs
Ahrefs started as a backlink analysis tool, but over the years, it has added features to the platform, including keyword research, rank tracking, and competitor analysis.
Its extensive list of tutorials covers every aspect of how users can benefit from its features in great detail.
A few of their tools and how they can help…
Keyword Explorer helps find keyword ideas. It provides traffic insights, search volume, click metrics (valuable for comparing a keyword's search volume against the number of times a person clicked through), its CPC (shows the amount advertisers are bidding on a keyword; the higher the amount, the stronger the buyer intent).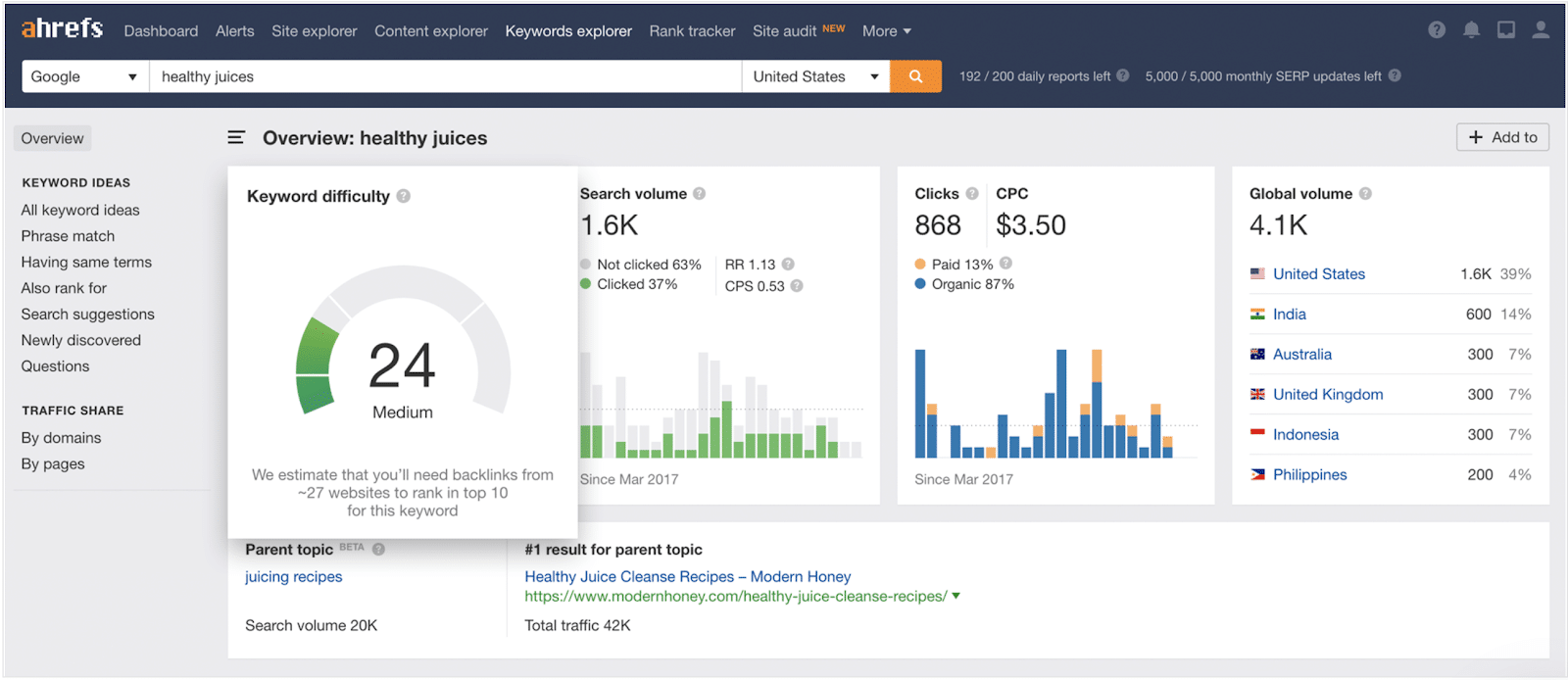 Tip: Our WordPress plugin, Lasso, has a keywording tool, which you could use in tandem with Ahrefs Keyword Explorer to find keywords across your site with high buyer intent.
Once you get the keyword data from Ahrefs, enter the same keyword into Lasso, and it will show you all of the places across your site where that keyword displays; then monetize it.
Site Explorer lets you analyze a competitor's website. From there, you can see its backlink profile (and the websites linking to it for a list of link-building opportunities in your market), its top pages, and see which organic keywords they're ranking for.
Or…
If you're running ad campaigns, you can see which keywords your competition paid for using the "paid search" function.
The above only scratches the surface of what Ahrefs does. We use it extensively to help run our three affiliate sites.
Further Reading:
#6. SEMRush 
SEMRush is an equally powerful platform similar to Ahrefs but started as a keyword research tool. It's also popular among marketing professionals.
You can use SEMRush to analyze the strength of a competitor's website, keyword research, and Google Ad campaigns.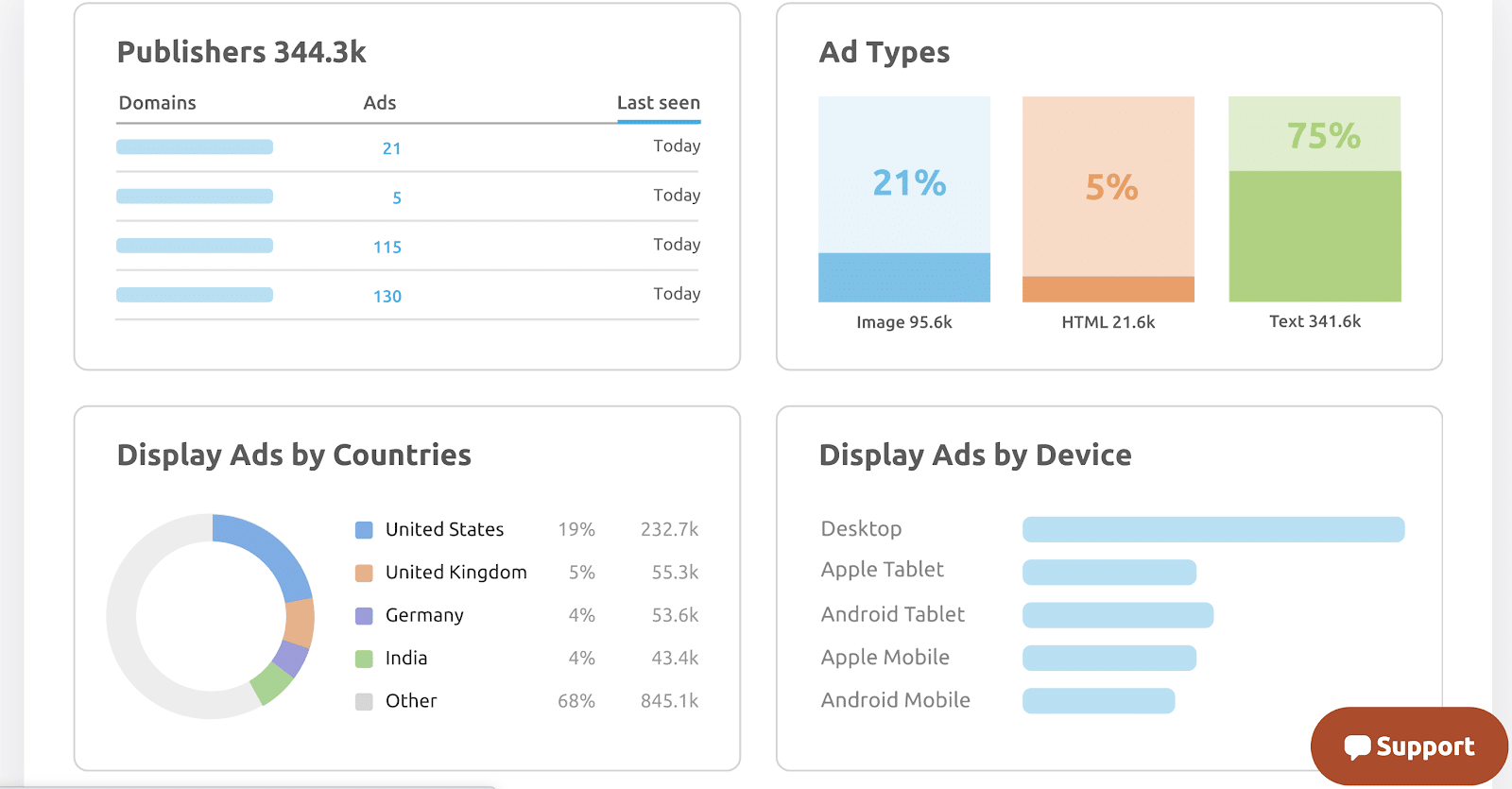 It also runs site audits, tracks competitors' keyword strategies, has an excellent keyword research tool, and helps discover new backlink opportunities.
SEMRush might be a better fit if you need both a comprehensive SEO tool and run Google Ad campaigns.
#7. Clearscope
Clearscope helps drive more organic traffic to your site through SEO content optimization (i.e., it helps Google help people find your site easier).
It tells you what phrases to target based on keywords people are already searching for and suggests related keywords for a given search term.
It breaks down existing posts further into readability scores, wordcount, and content type.
Clearscope also has a Google doc add-on and a WordPress plugin for on-page, real-time optimizations.
Its interface is user-friendly; all you need to do is:
Type a keyword phrase into its search bar, run a report, and it reveals all relevant keywords, top competitor content, and how they rank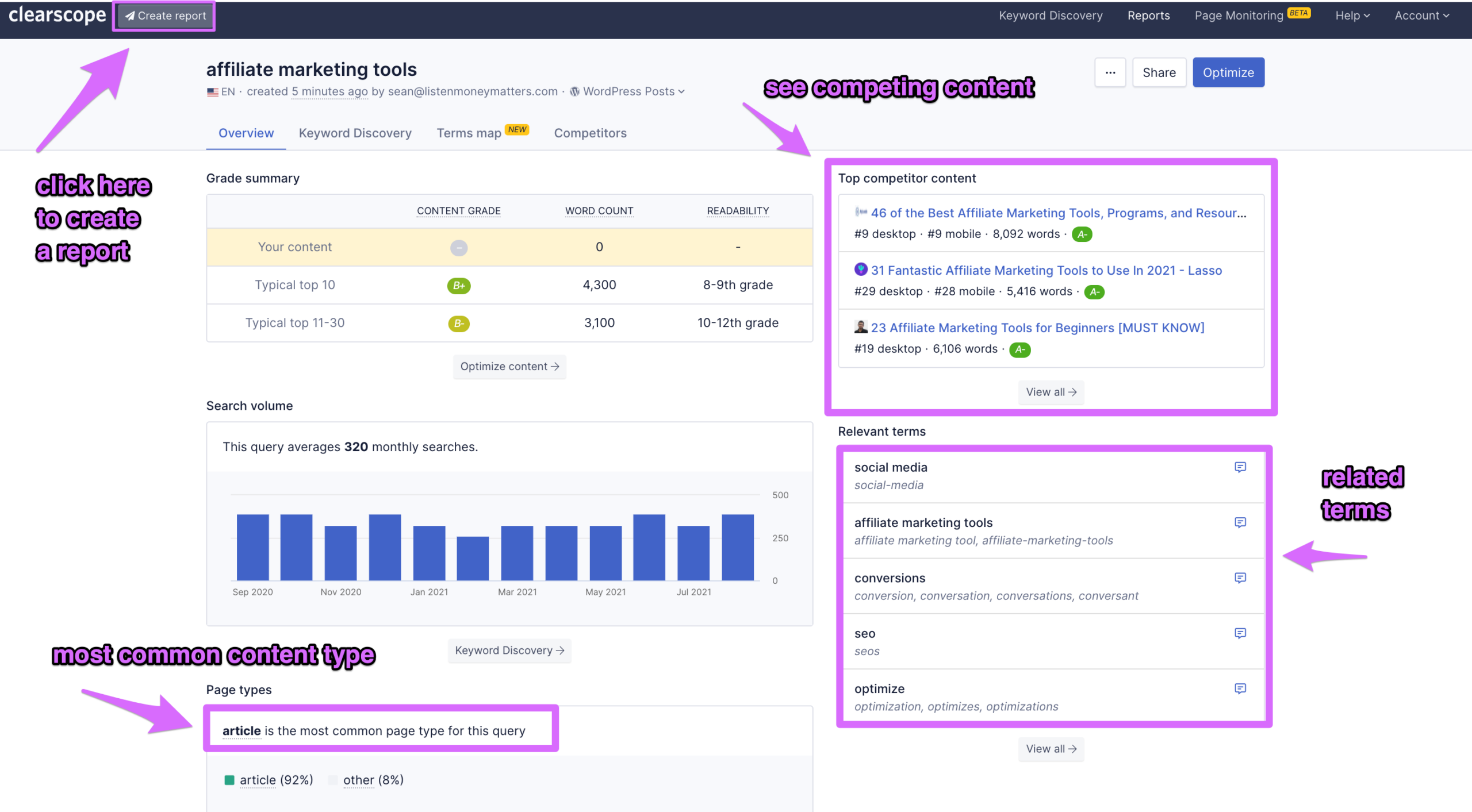 I use it to write every blog post.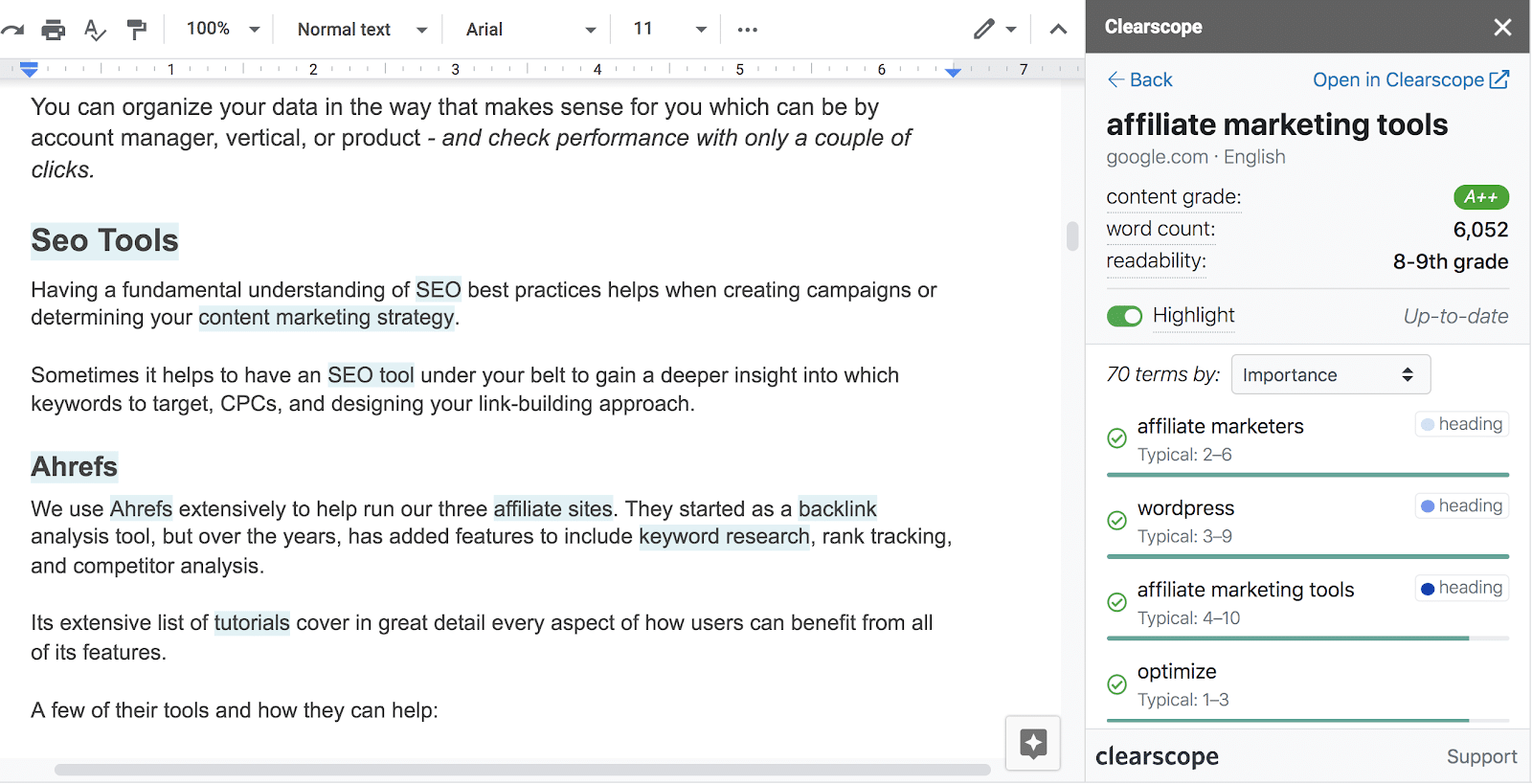 Above is how it displays when using the Google doc add-on. When you toggle the "highlight" to green, it highlights all of the related keywords in your text.
Clearscope has proven invaluable in deciding what to create and for its help with our content marketing efforts.
If you rely heavily on organic traffic for affiliate income (instead of paid traffic), a tool like Clearscope will help you make informed decisions.
#8. Yoast SEO
Yoast is a WordPress plugin that helps your site with both its technical and on-page SEO. Simply put: it helps you create SEO-friendly posts and pages.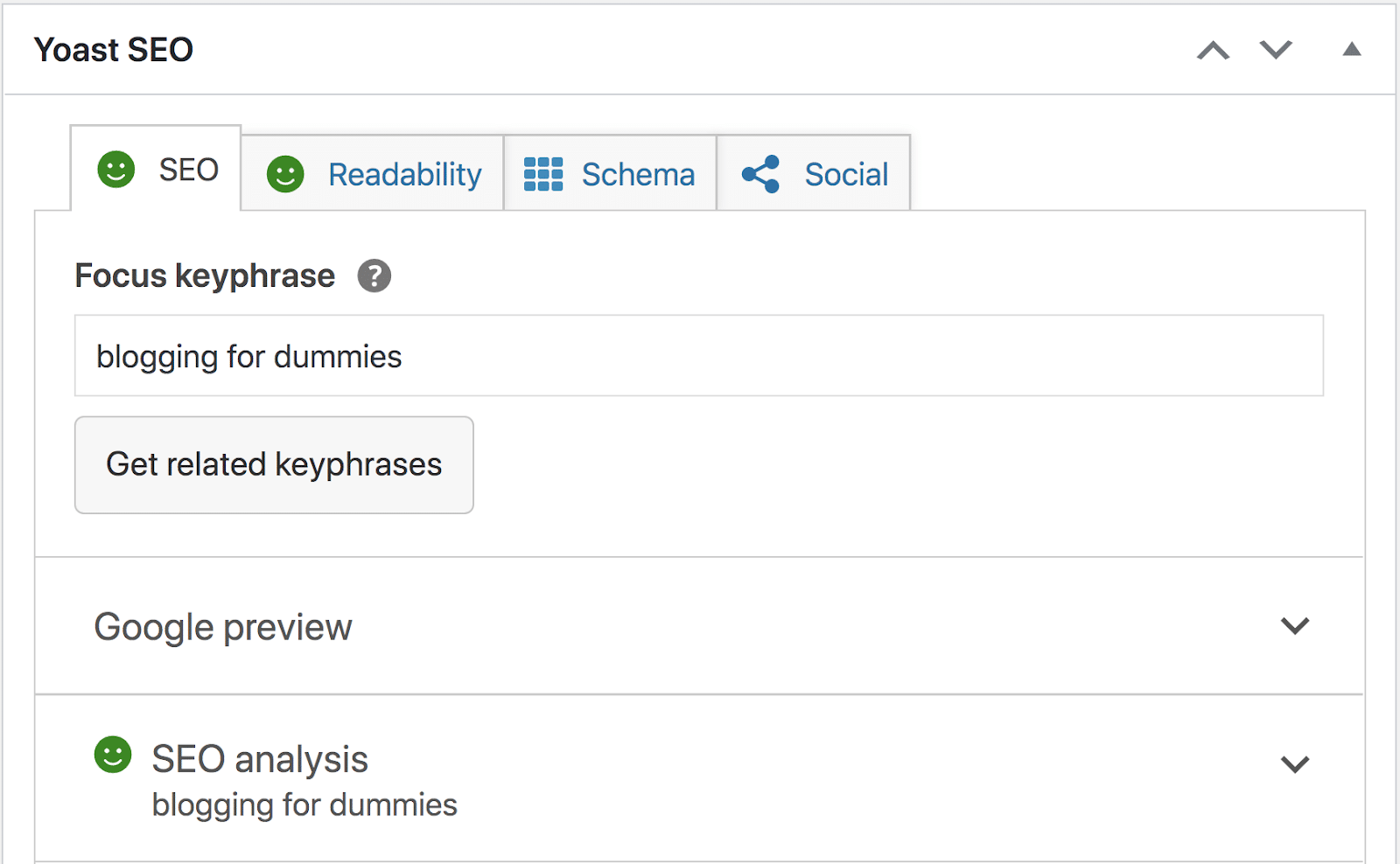 It displays your on-page metrics, readability, schema markup, and gives you a preview of how your post will display on social media (upgrade required for the social feature).
It optimizes your site on many levels and performs tasks including:
Making sure your site has canonical URLs to avoid duplicate content
noindex/nofollow options for every page
Added schema.org data, so search engines know what your page is about
And much more (for a detailed list, head here)
Much of my experience has been from a blogger's perspective, but on a post level, Yoast tells you:
When your headlines and meta descriptions are too long
Whether you've used your keyword phrase enough (this metric is an estimation based on other top-ranking posts and the number of times those posts used that keyword)
If your images have alt attributes
If you've used internal and outbound (external) links
Whether your keyword phrase is in the slug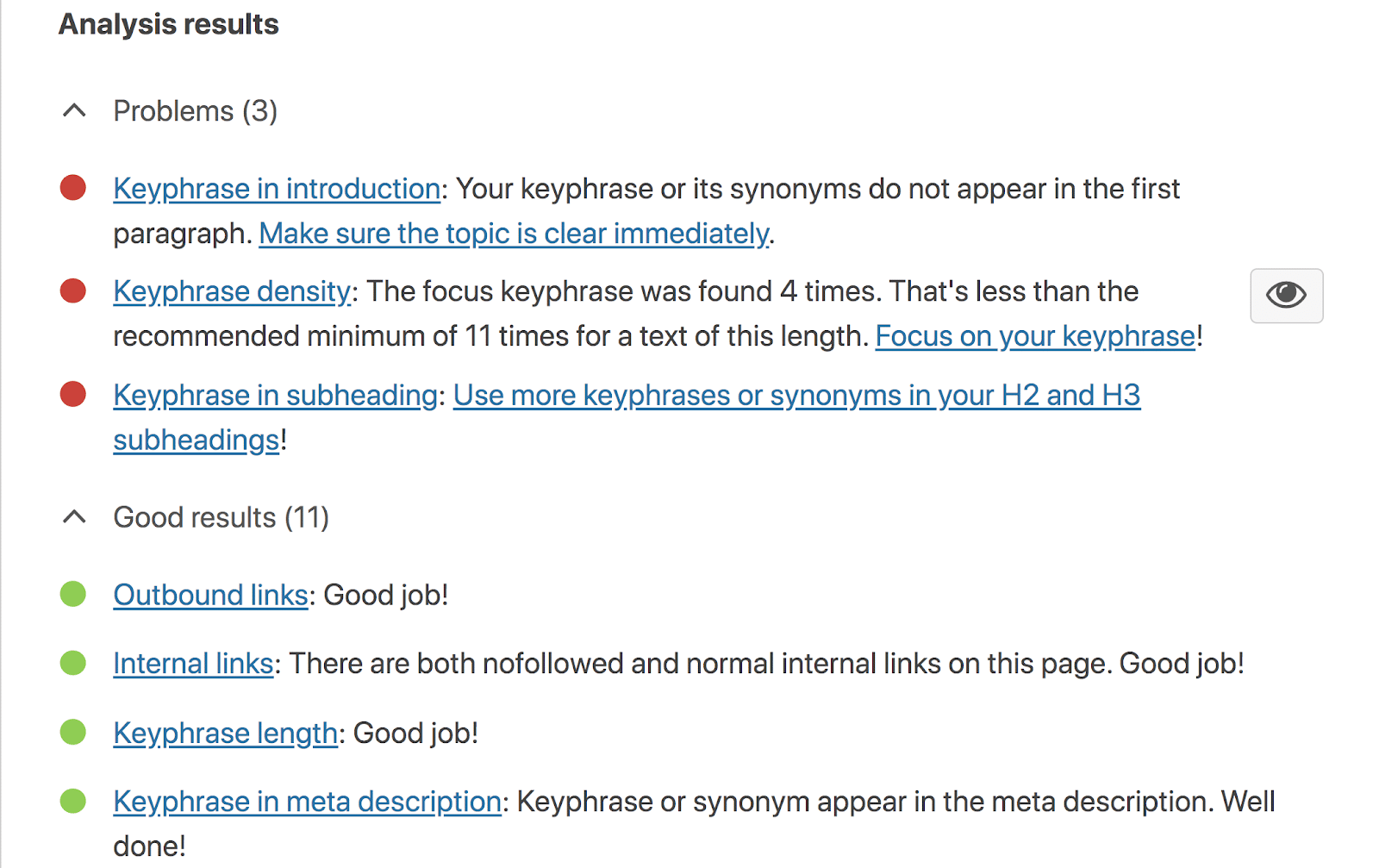 Monitoring (and understanding) these data points can boost your post's on-page SEO and improve organic traffic.
Yoast does say that using their plugin won't automatically drive traffic to your site as there are many other factors at play, but paying attention to these stats does help your chances.
We use Yoast in tandem with Clearscope to give us more detailed info when creating content.
#9. Google Search Console
Google Search Console (GSC) is a suite of tools and reports that helps monitor your site's overall performance and search traffic, fix issues, and helps make your site more visible in Google's eyes.
If you're an affiliate marketer, you want people (i.e., your target audience) to find your site, increase conversions, raise brand awareness, and boost sales.
Search Console can help with that.
For example, you can click on your site's performance report and see how many times a user clicks through to your site, the number of times your site appeared in search results, CTR, and average position.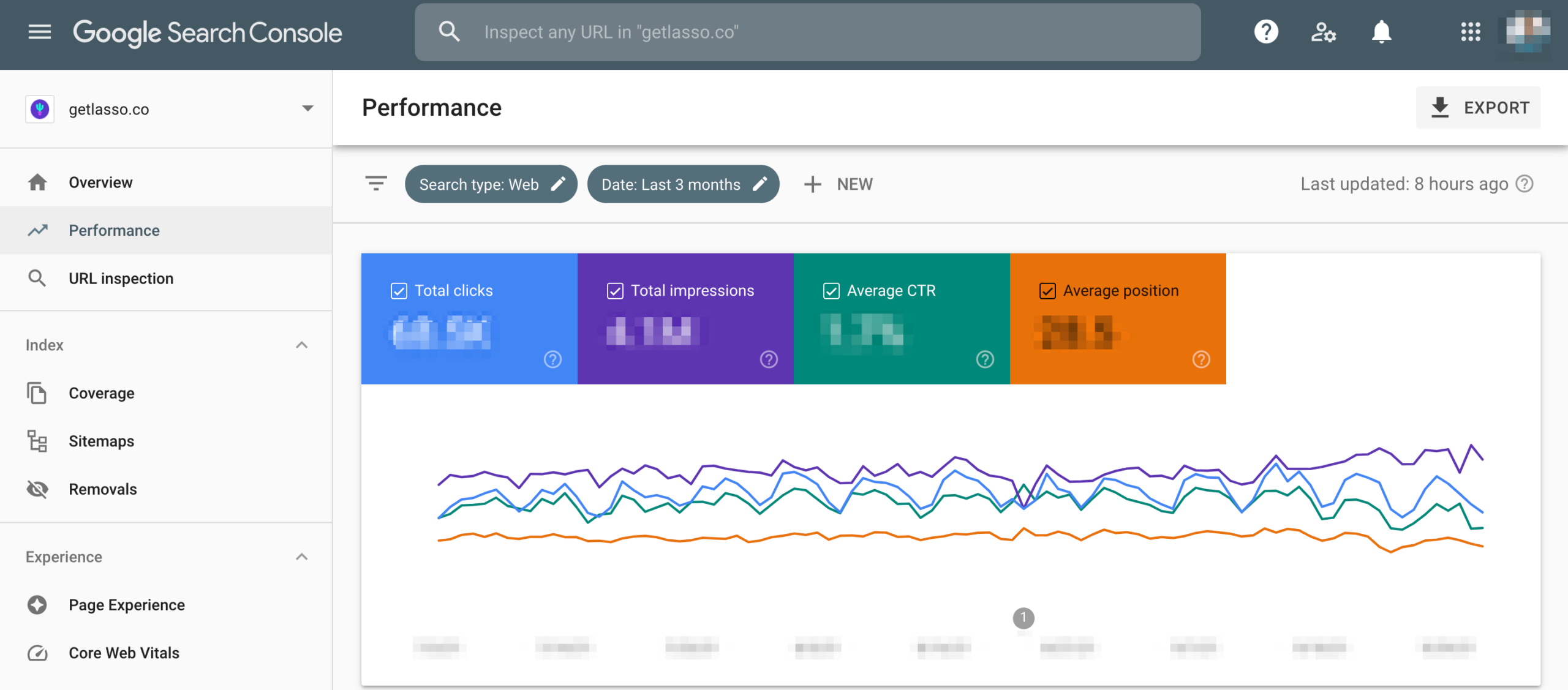 GSC also shows you the search queries driving the most traffic to your site, the number of clicks, and the number of impressions.
These are excellent starting metrics to know when creating your affiliate marketing campaigns, which affiliate products to promote, which pages bring you the most traffic, and which ones aren't.
GSC also tells you if your site has mobile usability issues, the top sites linking to your website, and shows you your web vitals and where to improve.
Search Console is free and is one of the tools we use to pinpoint which keywords drive the most traffic to our site (and which posts could use an update).
Site Speed
Speed is a ranking factor, according to Google, so if your website has a long load time, visitors are less likely to return. There are a few tools you can use to help speed things along.
#10. Cloudflare
Cloudflare is one of the largest operating networks on the web and created the edge network. An edge network acts as a bridge between your computer and a server and brings the content and services closest to you, so you get them faster.
Perhaps 99% of site owners would benefit from using Cloudflare.
And if you're a WordPress user, Cloudflare released its Automatic Platform Optimization service, which saw a 72% reduction in Time To First Byte (TTFB) and decreased slowness caused by typical issues like shared hosting congestion and erratic plugins.
Takeaway: Your site visitors see content even quicker than before via enhanced delivery of website resources.
You can install Cloudflare on your WordPress site like you would any other plugin. Then, authenticate it so it'll talk to Cloudflare (learn how to have your WordPress site talk to Cloudflare here).
Cloudflare offers its APO service for $5 a month.
Further Reading:
#11. WP Rocket
WordPress built for speed. Caching plugins improve your site's load time.
We use this in conjunction with Cloudflare to optimize our site for speed. Cloudflare does most of the heavy lifting, but we use WP Rocket for its image lazy loading and removing unnecessary WordPress Javascript (e.g., emoji's).
Removing all unused javascript really speeds things up.
Cloudflare handles caching with APO. Lasso runs on WP Rocket, and its ease-of-use makes a world of difference to us.
WP Rocket
Make your site load faster in a few clicks. WP Rocket is recognized as one of the most powerful caching plugins for WordPress. We use it specifically for image lazy loading.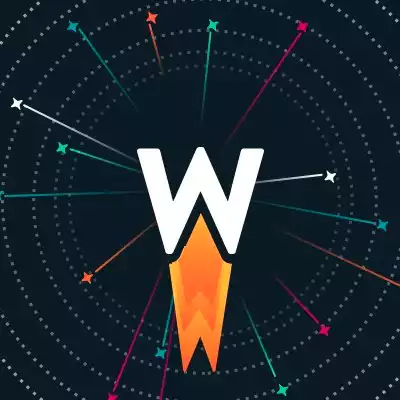 We earn a commission if you make a purchase, at no additional cost to you.
Once installed, it immediately goes to work. And you don't need to be tech-savvy to set it up.
#12. Imagify
Imagify speeds up your website with image compression and lets your page load faster. The more images your content holds, the longer it will take your visitor's browser to load.
So, instead of taking the time to format your images, they're automatically optimized with Imagify.
The plugin is free to use, and you can optimize for free 25MB of images (~250 images) per month. If you need more, plans start at $5.
You get three levels of image compression.
Content Creation & Writing Tools
These are some of the best tools we turn to for putting the finishing touches on our creations and sharing docs across devices.
#13. Grammarly 
Grammarly features both a free and paid version of its writing app. You can get the Chrome extension for free, and it will check your grammar, punctuation, and spelling across platforms from Linkedin to Slack to Twitter.
You also have the option to upgrade to Premium or Business. Our team uses the Premium plan, and I particularly like how it divides your writing into different "buckets."
For example, when writing, your screen will have a sidebar appearing to the right of your screen split into four categories:
Correctness
Clarity
Engagement
Delivery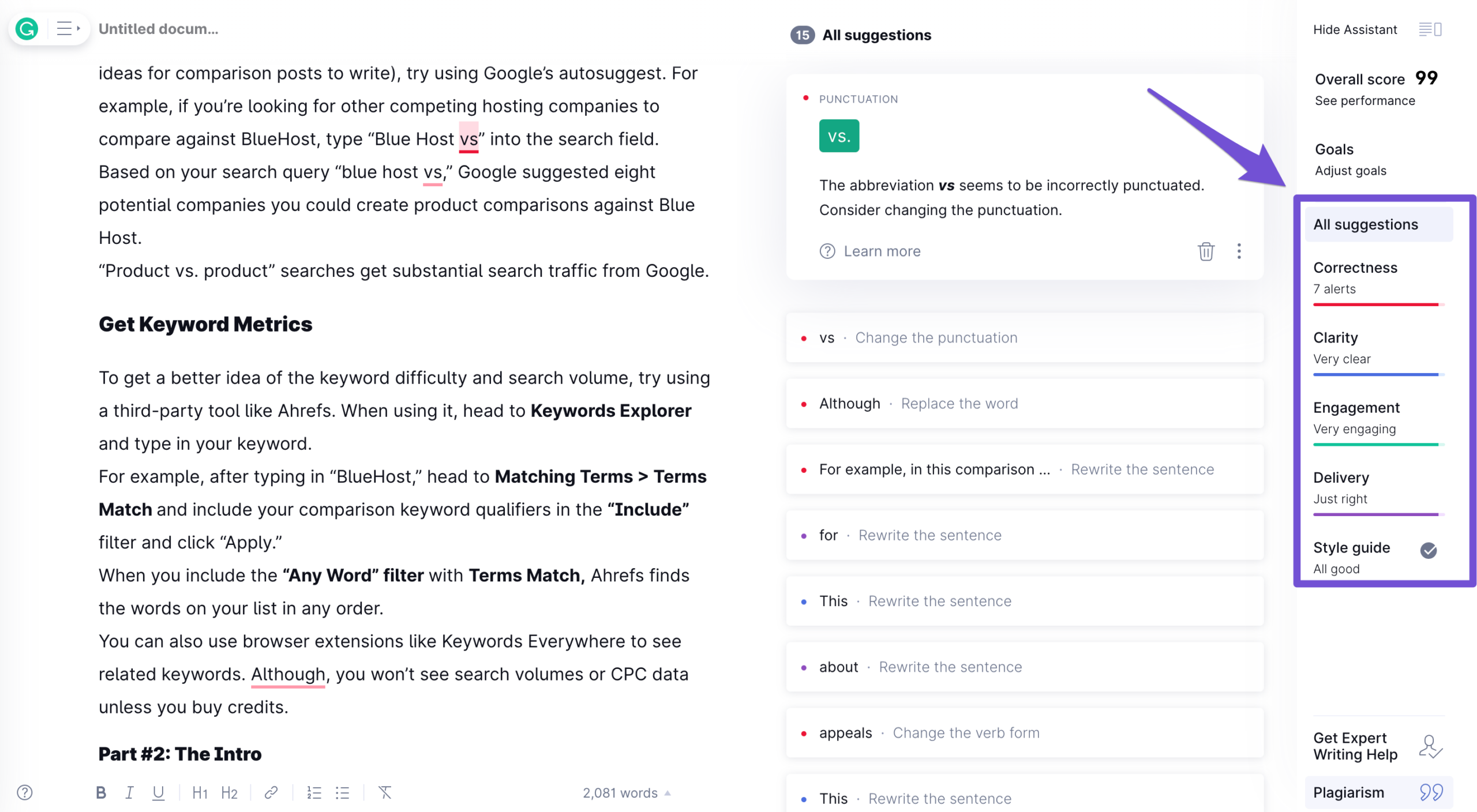 This feature helps when you're struggling to make your content more engaging or improve its readability. It also runs a plagiarism check that you can access by clicking the icon at your screen's bottom.
Further Reading:
#14. Slash Edit 
Slash Edit is a WordPress plugin that lets you quickly access your posts and pages when placing the "/edit" at the end of a URL.
For example, if I want to quickly edit a post in Lasso, I could add the "/edit" to the end of the URL, and it instantly takes me to that page I want to update.
Here's what it'd look like:

#15. Google Drive 
Google Drive is the most popular cloud storage solution in the world that syncs across all of your devices. It's a simple way to collaborate and share files with friends and colleagues.
We use it extensively to help manage our affiliate sites as it helps to keep our teams organized.
Google Drive works seamlessly with its other services and stores all of your data in one place.
For example, you can share drafts or onboarding protocols for new contractors in docs; share budgets and content lists in Google sheets, or create surveys and forms for testimonials and research.
Plus, it features an intuitive and simple-to-use UI and 15GB of free storage.
Drive also works with Microsoft Office without needing to convert file formats.
#16. Wordable 
Wordable lets you instantly export Google docs into your WordPress site. If you (like me) always write in Google docs and run a WordPress site, you'll find this tool will save you time.
It also exports any images, screenshots, or tables included in your doc. You'll no longer need to format your posts for WordPress as all raw HTML, headings, and tables export automatically.
Design Tools
If you're a new affiliate, you may not have the budget to hire a designer when first starting. This is why finding the right tools for adding an aesthetic element to your campaigns is huge.
#17. Canva 
Canva lets you create marketing materials from scratch with its drag and drop features, design types, graphs, charts, videos, and photo editing.

You can access popular designs for inspiration, how-to video guides, and their robust suite of free templates.
Their step-by-step tutorials teach you how to create anything from business cards to Instagram posts to flyers.
#18. 99Designs
99Designs is an online, global marketplace connecting professional designers with businesses to fulfill their design needs. It's a one-stop shop to get quick, high-quality designs.
You'll create a brief to give the designers an idea of what you want, then their support team helps find you an expert to match.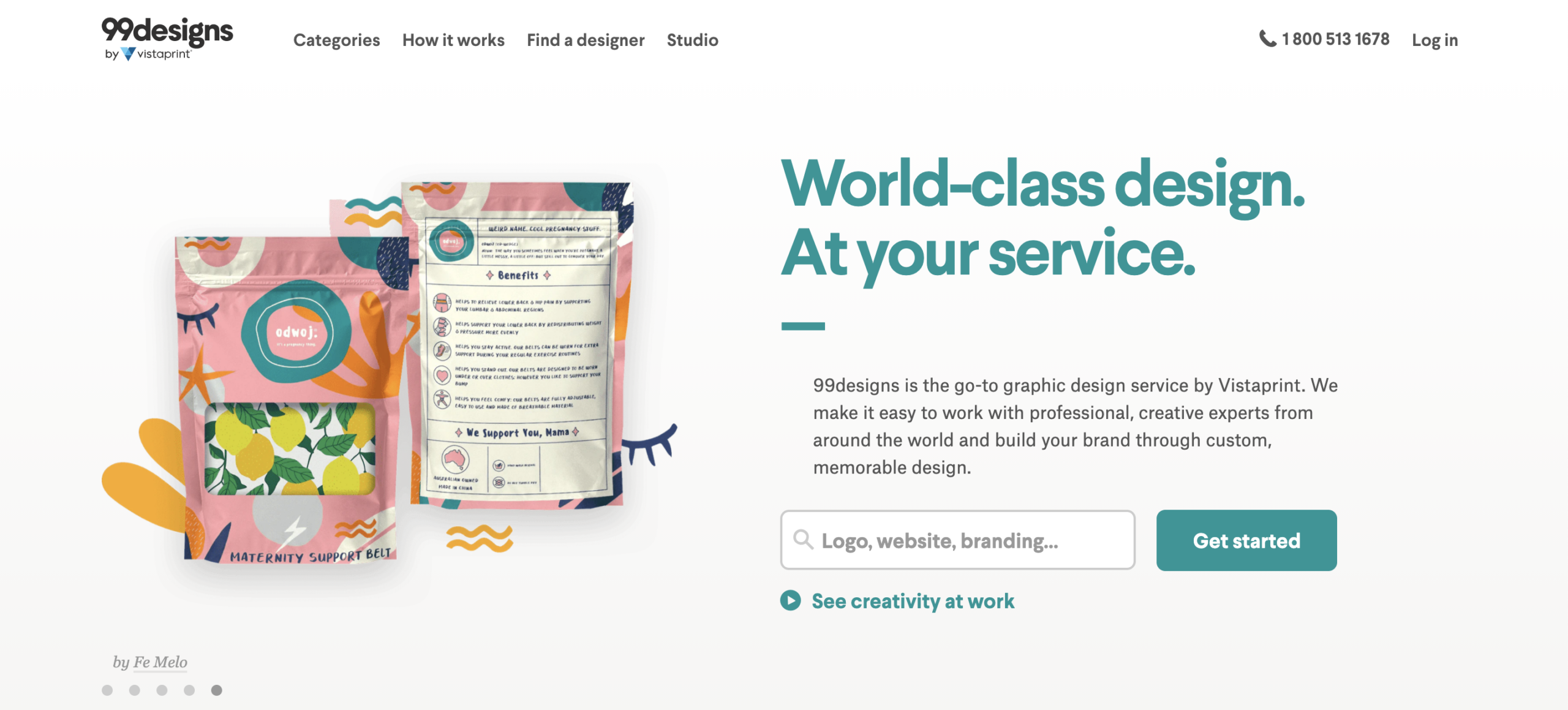 Or, you can start a contest and open your brief to the entire design community. Designers submit ideas to you, and you'll choose your favorite.
Once you've settled on a designer, you'll collaborate until the project's completion.
99Designs lets you access a substantial number of talented designers that would be challenging to reach otherwise. We used them to find a designer for the Lasso blog.
#19. Pexels
Pexels provides free, high-quality stock photos and videos to publishers, designers, and advertisers. You can search by keyword or click 'Explore' and discover photos grouped by categories.

If you're struggling to find ideas, the 'Explore' option is your best friend.
Website & Email Hosting
Hosting can be simple or complicated. You want something that gives you back your time, has robust customer support, and is user-friendly. A hosting provider should give you the least amount of headaches.
#20. WP Engine
WP Engine's platform provides white-glove service, has excellent support, and is a leading content management system (CMS). It's why WP Engine hosts all of our brands.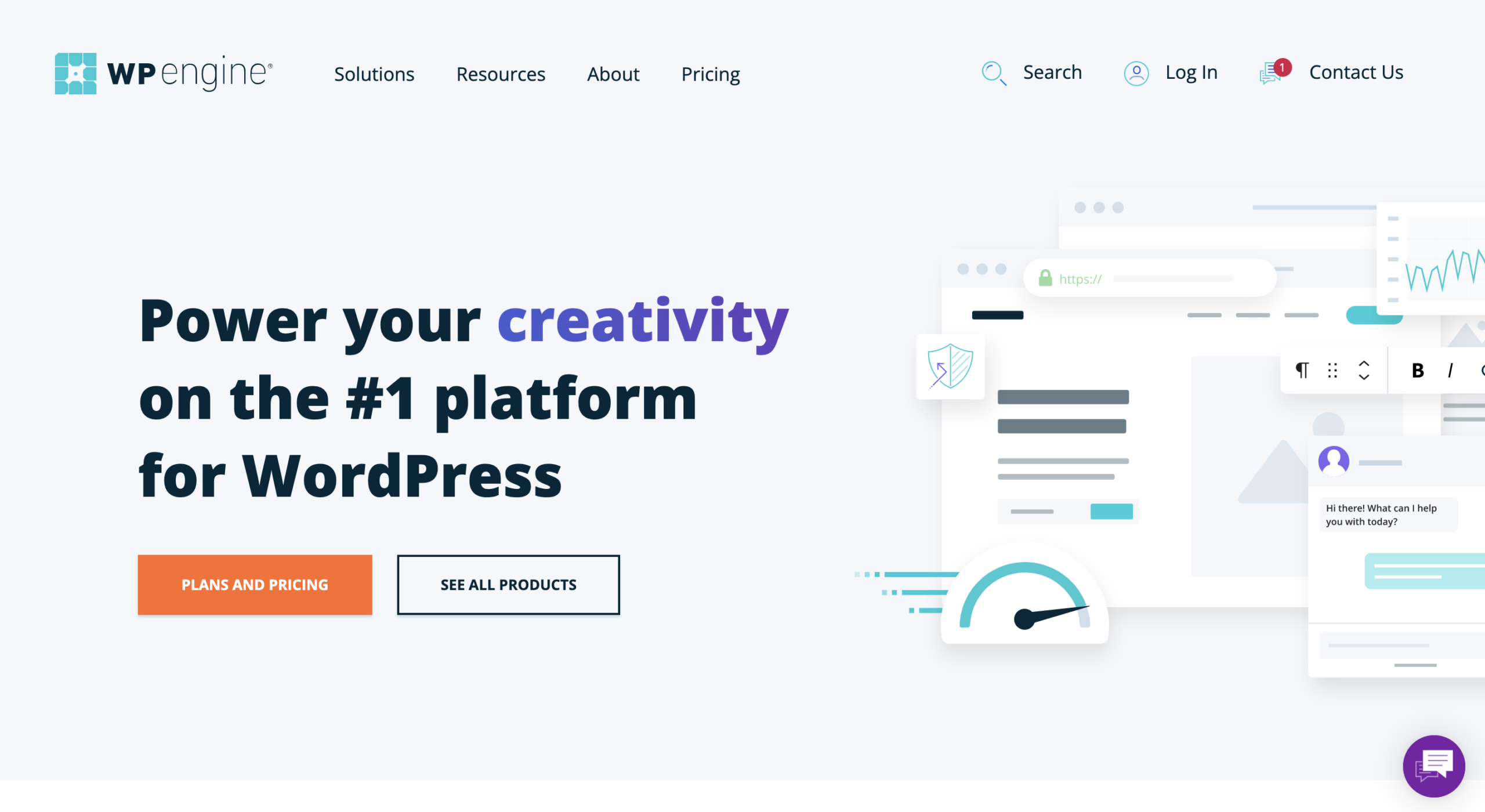 Our site owner, Andrew, has even spoken about this on his other blog. I also use their service to host my site, and it's first-rate.
Its browser caching alone is worth the premium monthly sticker price. It also has daily website back-ups, ample customer support, free SSL certificate, real-time threat-detection, and a user-friendly interface.
Our Pick
WP Engine
We host all of our sites with WP Engine, nuff said. They are the best WordPress managed-hosting service that we've found. And we've tried most of them. Nothing beats the power and ease of use of their admin tools.
Try WP Engine
Affiliate Program
We earn a commission if you make a purchase, at no additional cost to you.
In a nutshell, you get more speed, security, and support than you'd get with other hosting providers. You'll pay more money (pricing starts at $25 per month), but you'll spend less time with site issues.
#21. HostGator
HostGator is our budget pick if you want a shared hosting platform. They have the highest quality for the lowest price in that department.
They have a ton of theme selections and an easy drag and drop website builder tool with simple WordPress installs. It's entirely mobile-friendly and customizable.
You'll gain access to 24/7 tech support and all plans come with a free SSL certificate.
Plans start at $2.75 per month.
#22. Google Domains
Google connects to most of the internet, and you leverage Google's cloud DNS when registering your domain with them. If you've used Google before, you also know how user-friendly their UI and UX are.
While it's not a hosting provider, your website still needs to register a domain. Ideally, you'd want something easy to use, accessible across all of your devices, won't try to upsell you, and includes domain privacy for free.
Google provides easy domain management tools, integration between domains, and you can connect to other web hosting and email accounts.
If you're transferring from another domain to a Google domain, all of your DNS records transfer over because Google has already done it for you.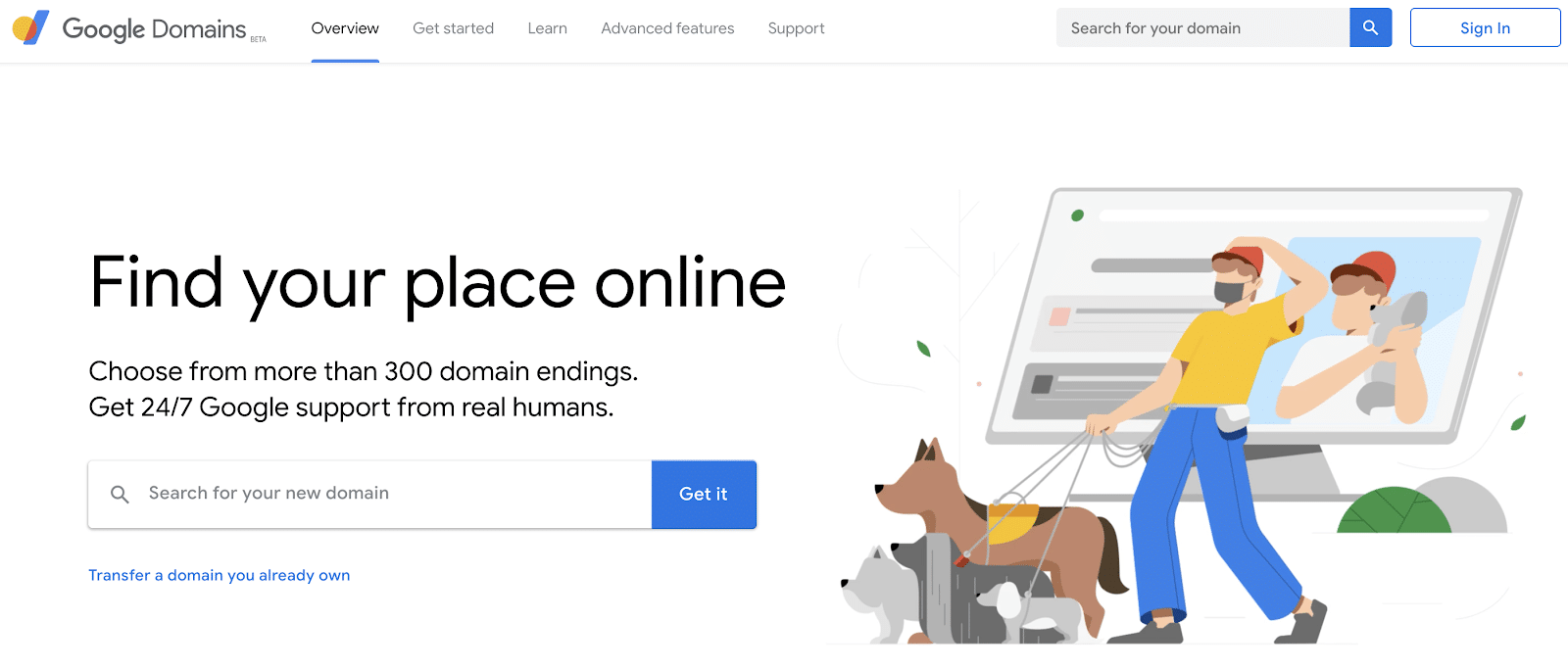 They provide fast DNS updates for domains too.
You can access all of your other Google services with Google Domains. For example, if you use G Suite, Search Console, Sheets, or Google Docs, you can access all of these through your Google account.
And Google's domain privacy is already included in its pricing without the extra cost – i.e., they won't try to upsell you.
You can also create up to 100 email aliases through G Suite or email forwarding. We've used this feature to create multiple work emails between our three businesses.
#23. Active Campaign
Active Campaign is an email marketing solution with a full suite of capabilities that help you create personalized email campaigns, build landing pages and forms, craft automated messages, and has fantastic customer support.
Your email list is THE lifeblood of your business, not your social media feeds.
Those belong to Mark Zuckerberg, Jack Dorsey, and Kevin Systrom – not you. If you've got a solid email list, the next time Twitter crashes, it won't affect your business.
The best way to grow your list is through email marketing
Ultimately, Active Campaign helps you to effectively and better engage your audience. It also integrates with hundreds of different apps and platforms.
For example, we use Active Campaign with Zapier to add contacts to our email list whenever someone purchases a course from us in Podia. The kinds of triggers and automations you can create with Active Campaign are among its top-selling points.
It's possible to create powerful automations with its flexible and ample selection of triggers and segmentation. You have an infinite number of options for how you want to run them down to the most granular detail.
It's brought our marketing to the next level, and we use it with all of our campaigns.
Chatbot Marketing Software for Enhanced Audience Engagement
Chatbot marketing lets you quickly connect with customers and promote your products using an automated computer application (aka, a chatbot).
Marketers have found substantial benefits from using this software type, including increased lead generation, revenue growth, and real-time customer support.
It's seen a substantial ROI over the years and has proven to drive increased engagement with audiences more than any other channel.
The chatbot market is set to hit $9.4 billion by 2024 and is meeting the rising demands of 24/7 customer service while simultaneously lowering a business's operational costs.
#24. MobileMonkey
MobileMonkey is a lead generation tool you can use to chat instantly with your customers in the apps they already use.
Its patented OmniChat technology lets you write conversations for multiple messaging apps and then translates every chatbot conversation and marketing funnel into its supported messaging platform.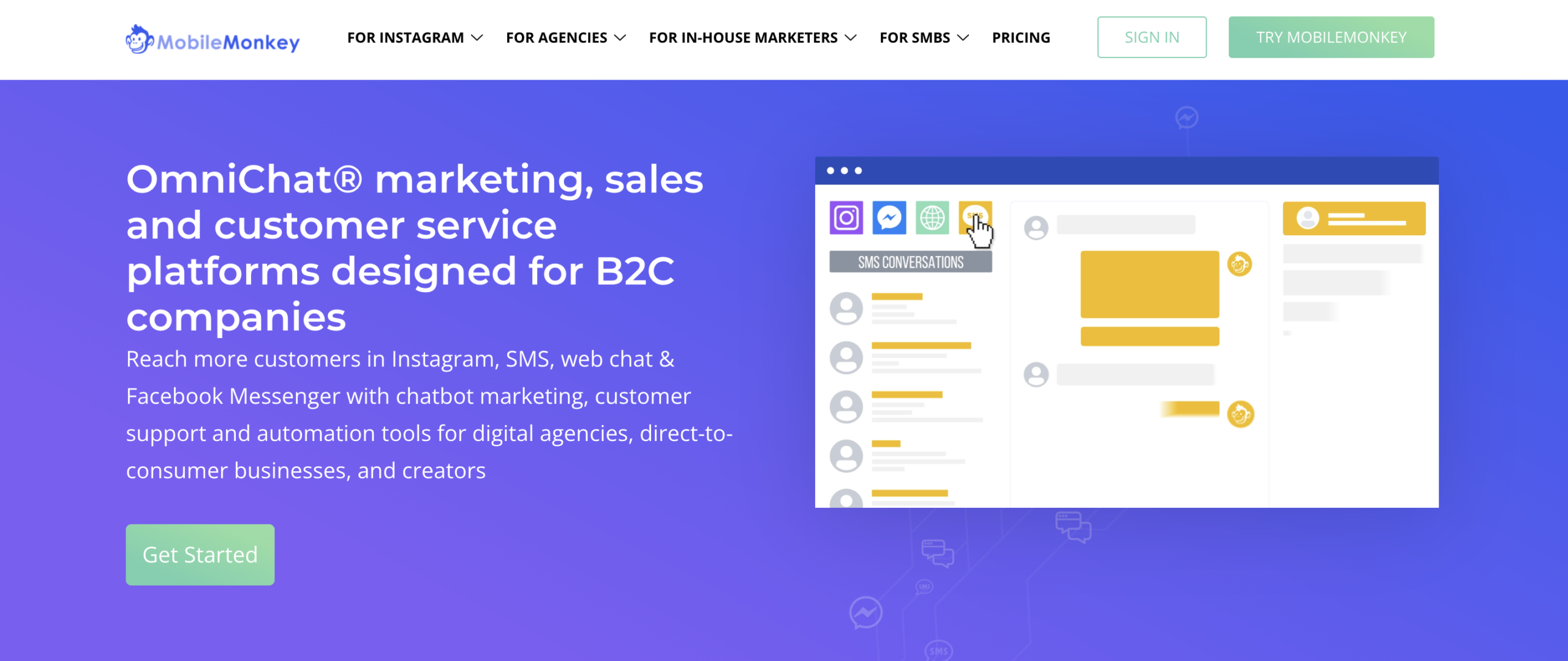 You can create Facebook ad bots, native webchat bots, SMS bots, and more, all in a unified chat inbox.
This lets you create content only once while using it across multiple channels.
The service comes equipped with a "more leads money-back guarantee" within 90 days (or your money back).
You can sign up with MobileMonkey here.
Business Banking & Accounting
Trying to play the role of marketer and bookkeeper gets tough, the bigger your business grows. Having a tool that helps streamline the process, manage invoices, and track expenses make your life infinitely easier.
#25. Quickbooks
Quickbooks lets you do many things that make running an affiliate business easier. You can create and send custom invoices, track your expenses by scanning receipts that sync with your bank accounts, and process sales via bank and credit card transactions.
Its suite of reporting tools will help you track your projects' profitability, costs, and manage the time of any employees or independent contractors.
For example, if you hired a writer to write blog posts, you could track that. It also integrates with hundreds of apps.
#26. Azlo
Azlo is a fee-free business bank account for sole-proprietors and established companies. You can pay vendors and contractors for free, easily transfer funds, and tag and track your business expenses.
Keeping your personal finances separate from your business finances will save you from frustration, headaches, and complicating your books. A user-friendly, digital business checking account is a good option.
Its mobile app lets you create, send, and manage invoices along with depositing checks.
You're able to streamline your business banking to your accounting software. For example, if you use QuickBooks Online (mentioned above), Xero, or Wave, you can automatically import transactions.
You can also monitor your payouts and charges when using PayPal, Stripe, or Square.
Password Management
Gone are the days when we try to memorize every single password. Instead, we throw everything into 1Password.
#27. 1Password 
1Password provides you with a simple way to store and manage your passwords.
Think about it…
A million logins to a million affiliate platforms.
It makes sense to have them in one location, and its apps are compatible with Mac, iOS, Windows, Android, Linux, and Chrome OS.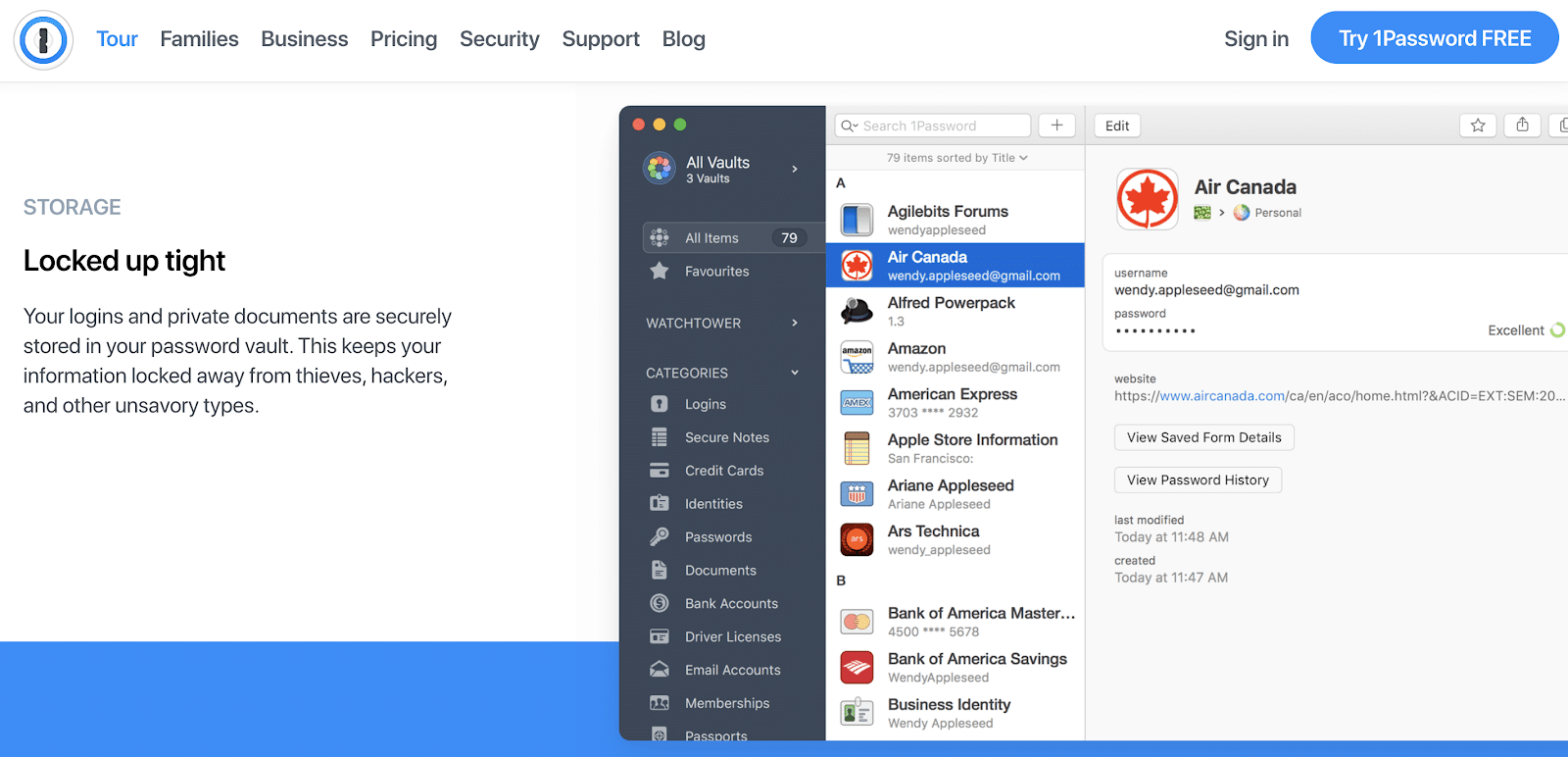 It records usernames and passwords when you sign in to apps and websites, so next time you access your accounts with a look, click, or touch.
It's also an easy way to share login information with your colleagues, friends, and family without the worry of hackers attacking your system.
You can think of it as a safe for all of your sensitive data. Its simplicity lies in the fact that you only need to remember one password, your login for your 1Password account.
Affiliate Networks 
Affiliate networks connect publishers (e.g., bloggers) to a merchant's affiliate program. Joining a network makes it easier to find programs suitable for your business needs.
Some of the top affiliates we've used and worth mentioning include:
Further Reading:
Spy Tools
Spy tools let you analyze your competitor's campaigns to gain insight into what's driving an ad's traffic, clicks, and conversions. There are many platforms available that let you see a successful campaign's metrics and use to your advantage.
#28. Adplexity 
Adplexity is a tool that lets you see which campaigns are already profitable, helps find ads promoting affiliate offers, and provides real-time insights.
You can see which campaigns drive traffic and convert best by keyword, advertiser, publisher, or affiliate network filters.
It's also made by affiliate marketers which is why it's one of the most popular spy tools available.
AdPlexity gets granular, so you see ad trends, targeted devices and browsers, and traffic sources. It also provides you with mobile, desktop, and native tracking options.
#29. Redirect Detective
Redirect Detective is a free URL redirection checker. You can enter a competitor's affiliate link and see what affiliate network they belong to by observing the final URL.
Another trick is to search our affiliate program database to determine what networks your competitors belong to.
A few other reasons why using this tool is advantageous:
Checking if the link you see redirects to a legit site
Ensure your website's links work correctly
Discovering how many redirects a specific site uses
You may also want to avoid being tracked, so using a redirection checker tells you if you're being redirected by adware or tracking sites.
Social Media Tools
Having to constantly create multiple social posts to keep audience engagement up becomes time-consuming quickly. Instead, automate the process and save time.
#30. Buffer
Buffer is a social media management tool for publishing content across your social channels. It lets you schedule every post's publishing date and time (and it'll tailor your posts to each network).
One key point users point out is its user-friendly automation; you can schedule advanced publishing dates for days you're not working (e.g., the weekend) and maintain an active presence even when you're not there.
And if you want to measure your campaign's performance, its reporting tools give insights on ways to improve engagement with your audience.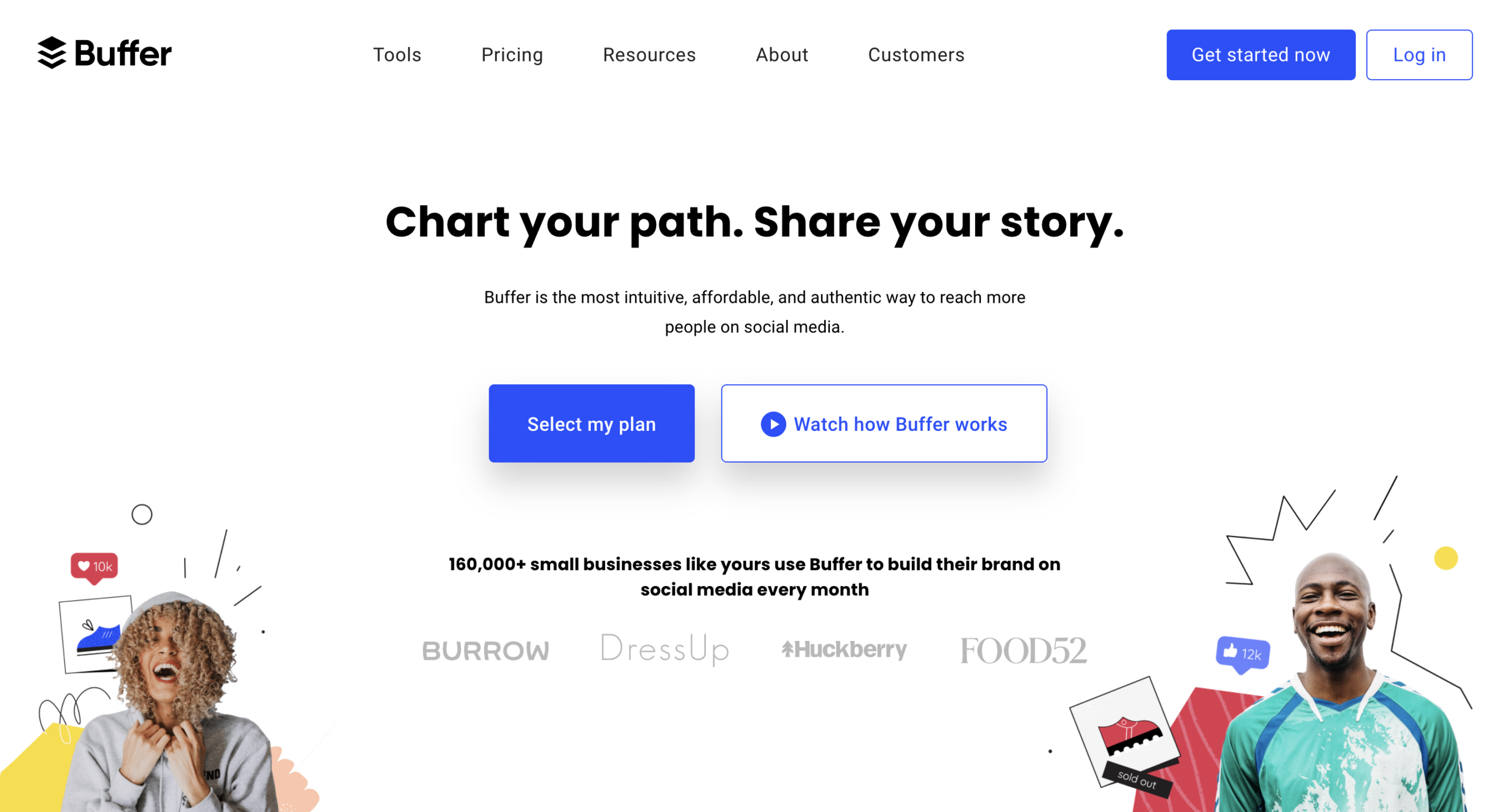 If you're active across social media channels, a tool like Buffer helps streamline the entire process.
#31. BuzzSumo
BuzzSumo is a tool that scours billions of articles across the web and social media channels to find you the most shared and popular content.
It helps plan your content marketing strategy, locating industry influencers, and getting content insights.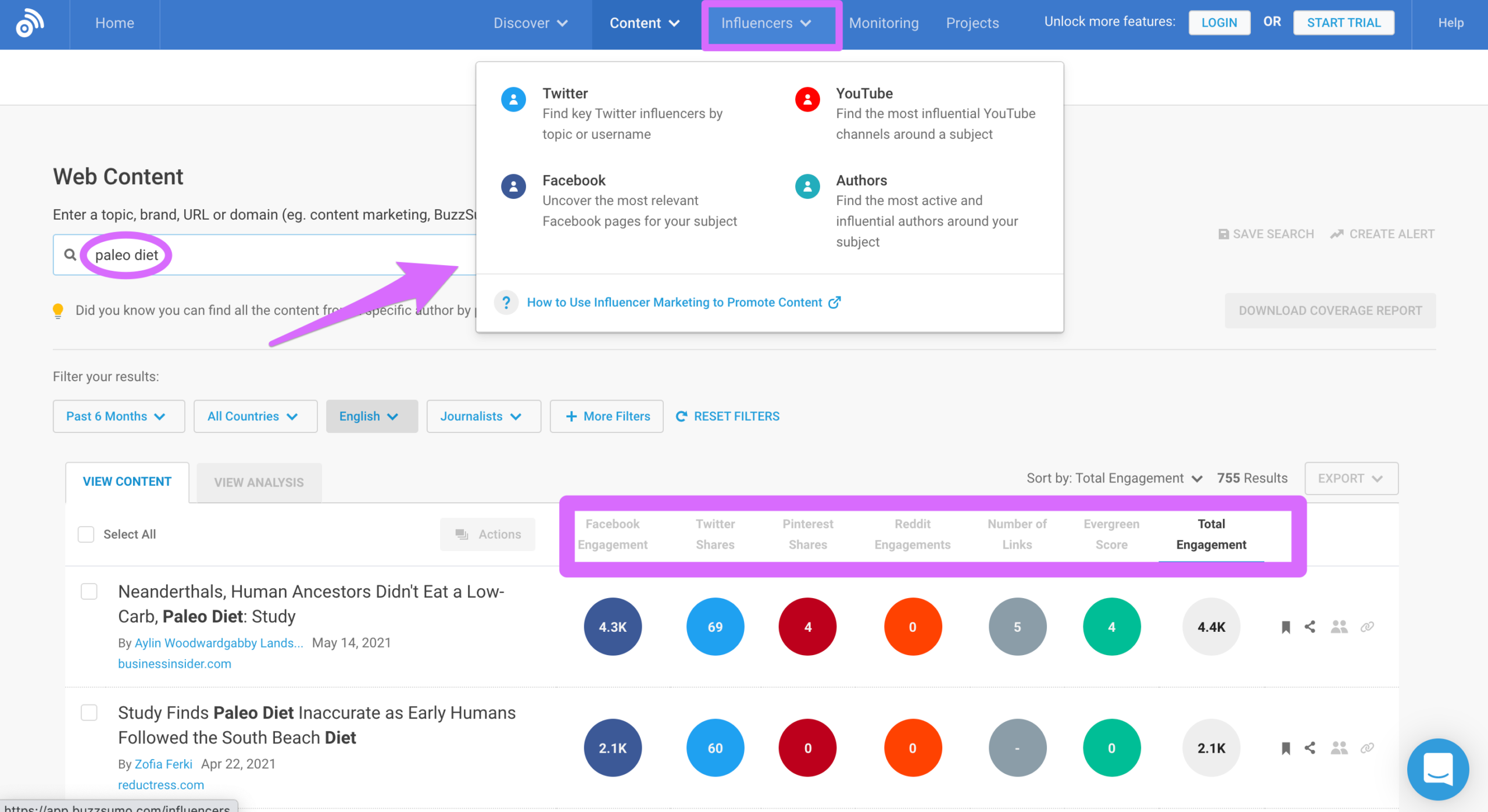 One popular feature of BuzzSumo is its ability to set up alerts for topics, competitors, and keywords that directly affect your business.
Alerts also let you stay up to date with industry thought leaders so you can be the first person to comment on their content.
BuzzSump has the largest index of social media engagement.
Which Platform Is Best for Affiliate Marketing?
You should weigh several factors like commission rates, product selection, and cookie duration before signing up for any program (like this one).
For example, Amazon Associates has a massive selection of products but a short cookie duration, and they slashed their commission rates.
Whereas FlexOffers also has a substantial selection of merchants, you might be able to earn a higher commission depending on the merchant you sign up with (and the cookie duration will also vary by merchant, so you could potentially earn a better commission AND longer cookies).
The primary benefit of using an affiliate network is leveraging their reach with merchants and products. Consider what you're promoting, and if it makes sense for your business.
Further Reading:
How Many Affiliate Programs Should I Join?
The short answer: it depends. While there is no magic number, and you can join as many as you'd like, things like the amount of time it takes to promote products and the ease of payout matter.
Promoting products through a merchant's affiliate program requires your time and effort. A wise decision is to join as many programs as you think you can promote without significantly reducing your output – if you spread yourself too thin, your work will suffer.
Tip: Focus your efforts on relevant products within your niche that make sense.
The payout method should be hassle-free and seamless. If it's too much trouble getting paid or if your country doesn't support the payment method, it's not worth your time chasing down merchants to get them to pay you.
And be aware of when you get paid.
For example, Lasso's affiliate program is Net 60, meaning you will receive your payment 60 days after a conversion. Amazon Associates follows the same model.
The Last Word
You don't need every affiliate marketing tool on this list to run a successful online business. The trick is to prioritize based on your business goals.
Choosing the right ones should make life simpler. Ready to find out how Lasso will grow your business? Try Lasso today.
Our creations in your inbox, weekly.
We've built multiple six-figure online businesses that our moms are proud of.
We'd like to help you do the same.