If you want to get more people consuming your content, clicking your product links, and ultimately creating a long-term profitable business, you need a plan. We've been building successful sites for a decade and have a good idea what works. We also know what mistakes to avoid and distractions to eliminate. Here are 15 affiliate marketing tips you can start using immediately to give you a leg up.
Let's dive in.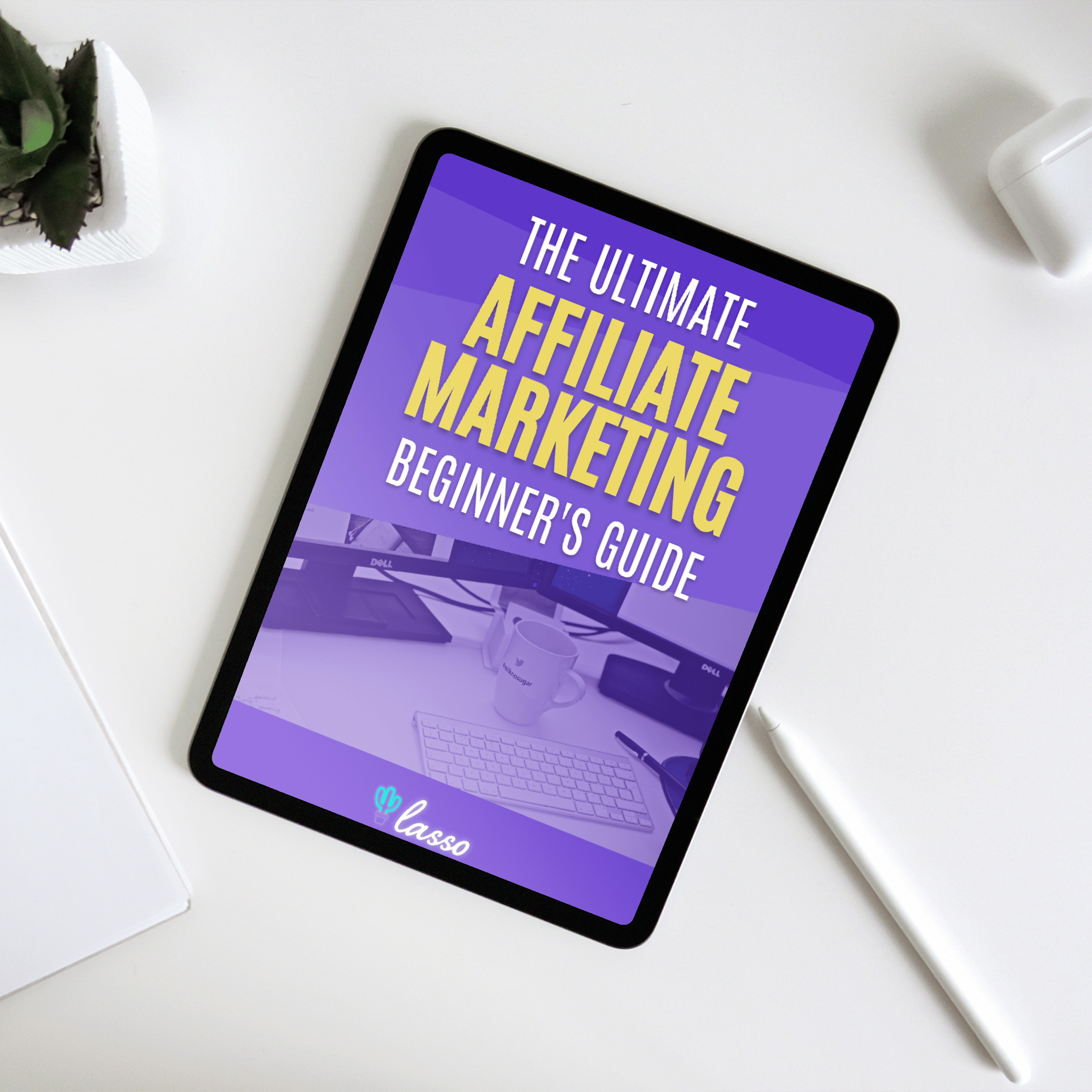 Get Your FREE 30-Page Affiliate Marketing Beginners Guide And Grow Your Site Today
1. Build Trust and Authority with the "So What" Method
The road to affiliate marketing hell is paved with those failing to follow the golden rule: Align your product as the solution to your reader's problem.
Simply put: Help people.
That's what effective marketing boils down to, regardless of your industry. People reward helpful site owners with increased organic traffic and affiliate sales.
People Google to find answers. So, with the proper positioning, they'll find you.
One way to be the source is by focusing on a single niche and creating a topic cluster around one category. Then, search engines (and people) see you as the expert.
You might be tempted to write about various subjects, adding multiple affiliate links from random niches, but this is actually the wrong approach. We've seen this backfire with inexperienced bloggers time and time again.
Takeaway: The easiest way to align your product as their solution is by answering "what's in it for me?" (WIIFM). That's how you make readers care about what you have to say.
One tried and true tactic is using the "So What?" method.
Here's how it works:
Ask yourself, "so what?" with every product feature.
Let's say you're looking at a description for an outdoor patio chair, and you see it's made with Textilene fabric. So what?
It means it's resilient and withstands the harshest outdoor elements. So, if you were writing a tutorial or product review, you might say:
This outdoor patio chair is constructed from Textilene fabric which is resilient and withstands the harshest outdoor conditions – so you can take it anywhere.
Rinse and repeat.
Building trust is a lengthy investment process. But, when done correctly, you'll have fans for life.
2. Build An "Owned" Audience
Guess what? You don't own Facebook, Zuck does. Nor do you own Twitter or Google.
These platforms are out of your control, leaving you vulnerable to algorithm updates, account lockouts (like this tweet), or being banned from the platform.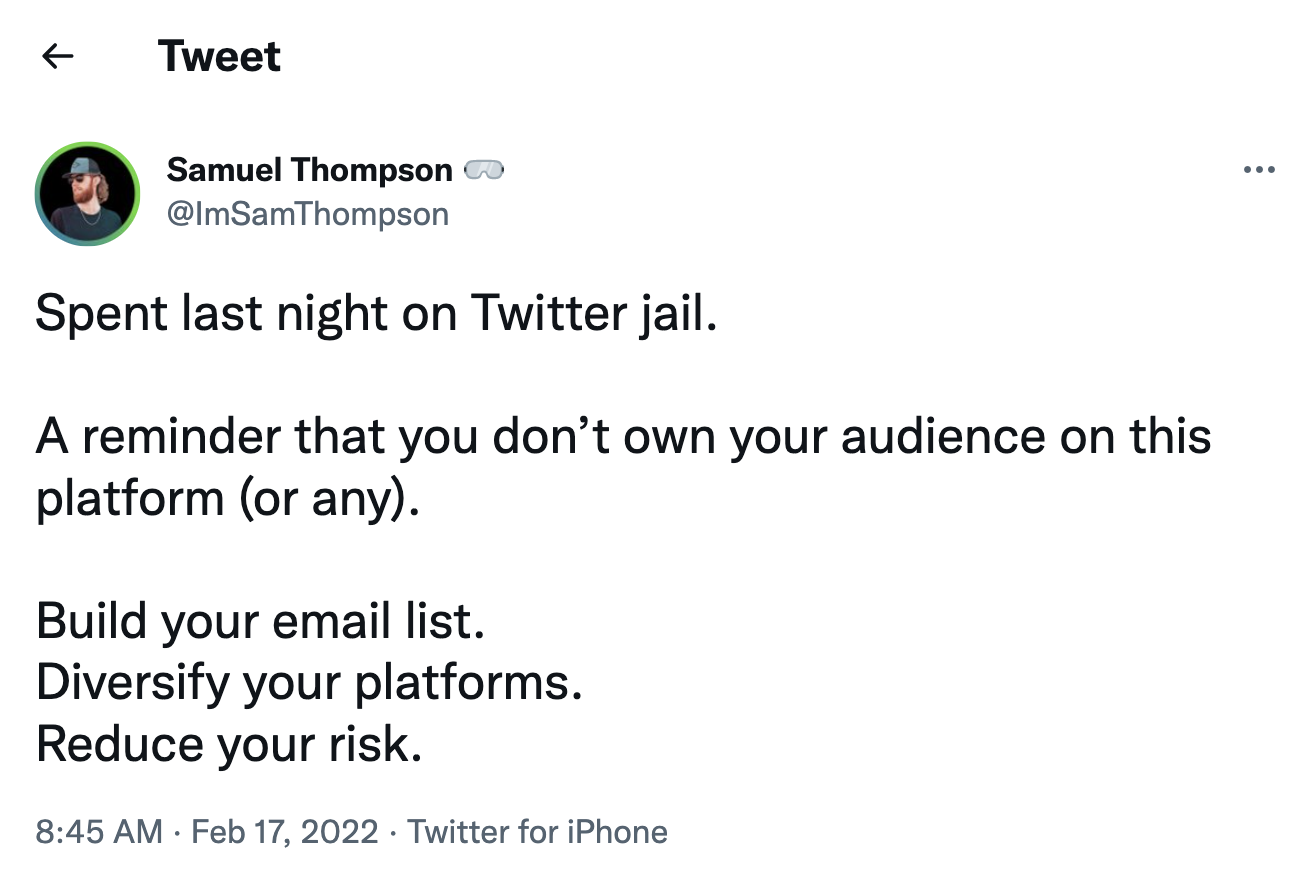 But you own your email list.
So, leverage social media and search engines to get more traffic to your content, migrate that "rented" audience to your list, and stay connected.
Sidenote: Email marketing has a $44 ROI for every $1 spent.
Building an email list is the best way to boost conversion rates because they're people who've already given you permission to contact them and are already "warm."
The money's in the list!
The best part:
Your email list isn't susceptible to algorithm updates, nor will it deny you access, and you can reach out any time you want.
How should you build yours?
Josh Spector repurposes his newsletter on Medium and runs targeted Facebook ads. This segments your list so you can start presenting them with things they're most interested in.
Takeaway: You can include affiliate links in your newsletter when it makes sense.
3. Increase Your Affiliate Link Placement
Using simple text-only links used to work, but now you need to amplify their presence.
When you position your affiliate links in multiple ways, you give people more chances to click them. It improves your earnings per click (EPC), conversion rates, and click-through rates (CTRs).
We saw higher commissions when adding product displays and embedded images with affiliate URLs to our content.
If you're using our WordPress plugin, Lasso, you can easily add displays and images from inside your post editor.
Our product boxes have been user-tested against millions of impressions and convert at a higher rate than text links alone (like the borderless version below).

We include affiliate links in the image, the title (or h2) with a clear call to action.
We've seen after much testing that users scroll past text links but stop and click our product displays and images.
Further Reading:
4. Create Content Focused On Your Products
Nearly half of all product searches start with a Google search.
So, what better way to get more clicks and boost passive income than by creating content around the products you're promoting.
Where do you start?
Write Comprehensive Product Reviews and Tutorials
Objective reviews and step-by-step guides are our personal finance affiliate site's bread and butter.
These convert higher because the people searching for things like "best robo-advisor" and "M1 Finance" review are ready to "buy." And this type of content leaves you ample room to add your affiliate link.
Further Reading:
Publish "Vs." Pages
A "vs." page compares two products against each other.
Another example of a "bottom-of-funnel" keyword (BOFU), "vs." pages have high search demand in Google. This group of commercial investigators has narrowed their search to two products and needs more information before deciding.
Further Reading:
Add "Best for" Modifiers to Segment & Qualify Readers
When writing product-focused content, it's good to have a specific demographic in mind because it helps target the "right" people to click your links.
For example, this Lasso display uses the badge, "Best for Site Speed."
Best for Site Speed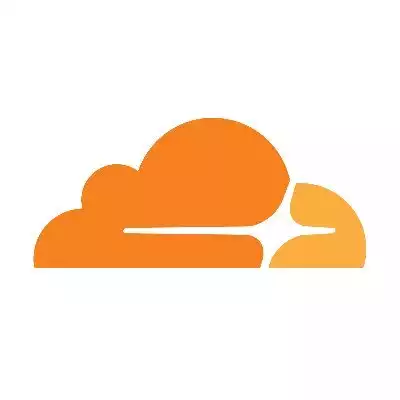 Cloudflare
If you want serious speed that just works, this is what you've been looking for. Their performance and bang-for-your-buck are unparalleled. They also deliver a ton of value on their free tier.
Speed Up My Site
We don't earn anything recommending Cloudflare. That's how great we think it is.
If your visitor searches for ways to make their site faster, that badge will catch their eye. It's a technique multi-million dollar affiliate sites use, including The Wirecutter.
Think about the kinds of "Best for" modifiers you can include with your offers.
Further Reading:
Produce Product Alternatives
Leverage another brand's popularity and write content about its competitors.
For example, suppose you're looking for alternatives to Quicken; in that case, you'd Google "Quicken alternatives" and see tons of posts on the search engine results pages (SERPs).
That's exactly what our site did to capture more traffic and nab a few more affiliate commissions.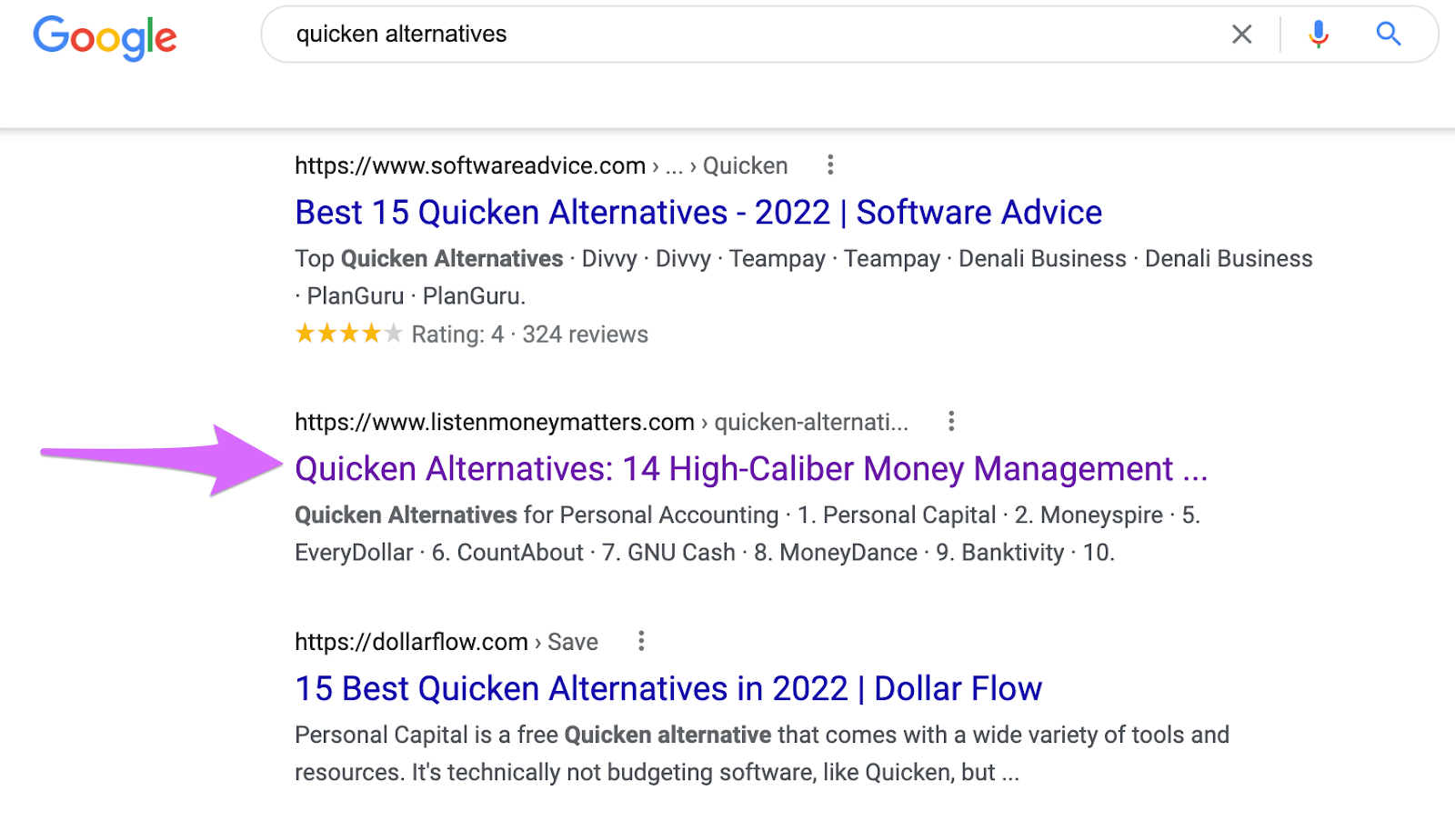 Create A Resources Page
Our Toolbox page has a 10% conversion rate.
That's nuts and way more than any blog post. You can and should create this page on your site. These products are:
Bestsellers
Things you use
Personal recommendations
Your readers gobble this stuff up.
Tip: Create this page on your site's navbar, so it's easier to find (i.e., a page that's not deep-linked buried on your site).
Further Reading:
5. Diversify Your Affiliate Marketing Programs
It's tough when affiliate partners lower commission rates, change their terms of service or go out of business.
That puts you in a financial bind when you're relying on a single program to pay ALL of your bills.
How many were pleased when Amazon slashed its commission rates in 2020?
Diversification is the solution.
Much like investing's Golden rule: Don't put all your eggs in one basket. If all of your money is behind a single stock and it goes bankrupt, it's now worthless.
The same goes for your affiliate program.
Using multiple offers is a wise move – if one slashes its rates or goes belly-up, you have an alternative.
For example, Amazon Associates is great for beginners, so many start there. But once you're getting more traffic, you can leverage it when applying to other affiliate networks.
Sidenote: You can find over 6,300 affiliate programs categorized by niche in our database. Click here to find another for your blog.
Leverage Lasso's Affiliate Partner Database
Let's say you're looking for additional CBD programs; type CBD into the search bar.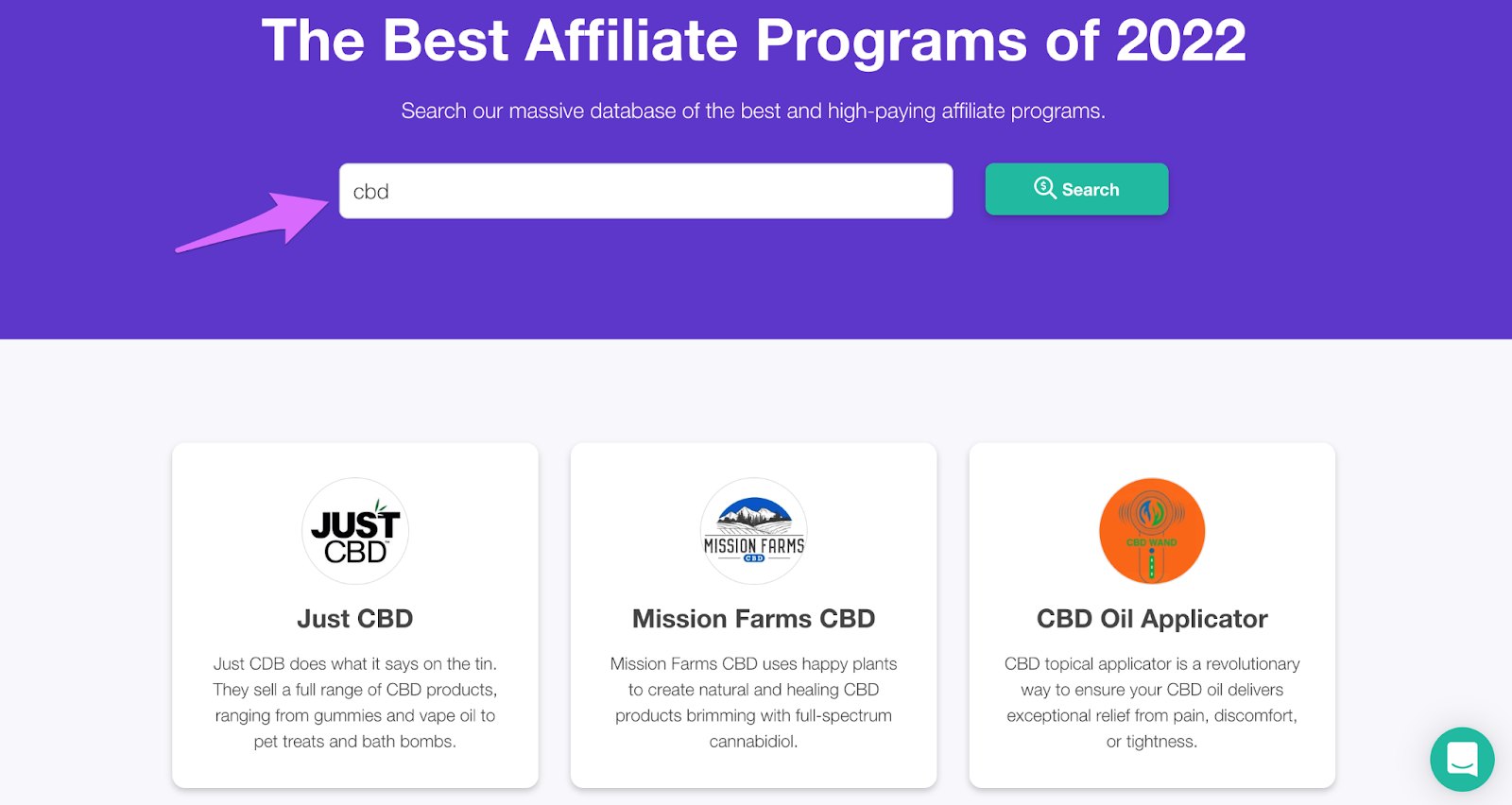 You can search by keyword or brand.
Once you find a program you like, click it and see the:
Commission rate / payout
Cookie duration
Sign-up page access
Here's what you see when clicking Mission Farms CBD located in our database.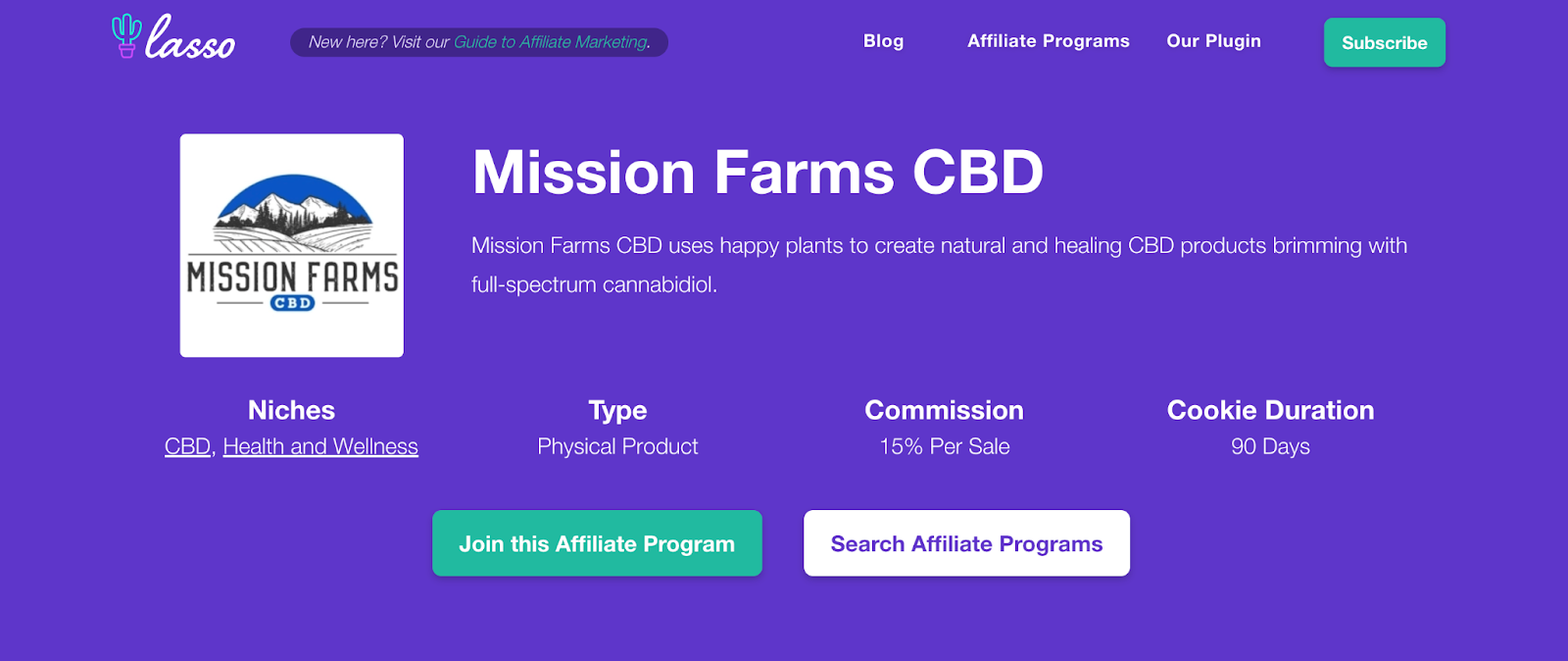 Google Search Operators
Another way to find affiliate products is to use the "related:" search operator with its domain.
For example, if you're looking for programs similar to SEMrush, type this into Google:
This is a fantastic affiliate marketing strategy that pays off over the long term.
Further Reading:
Tip: ask your readers what products they use and sign up for those affiliate programs. If they're already in demand, you'll have a better time promoting them to your target audience. For example, if you're an SEO content writer and know your audience likes RankMath, you can sign up for their affiliate program and promote it.
6. Transform Un-Monetized Mentions into Dollars
If you're looking for more ways to squeeze money from your site, try searching for specific keywords and monetizing those mentions with affiliate links.
Let's say you're a ConvertKit affiliate, and you already added your link to the word "ConvertKit," but now you want to find all of the places you mention "email marketing" across your site.
That's easy with Lasso.
Head to Opportunities > Keywords, then type your term into the search field.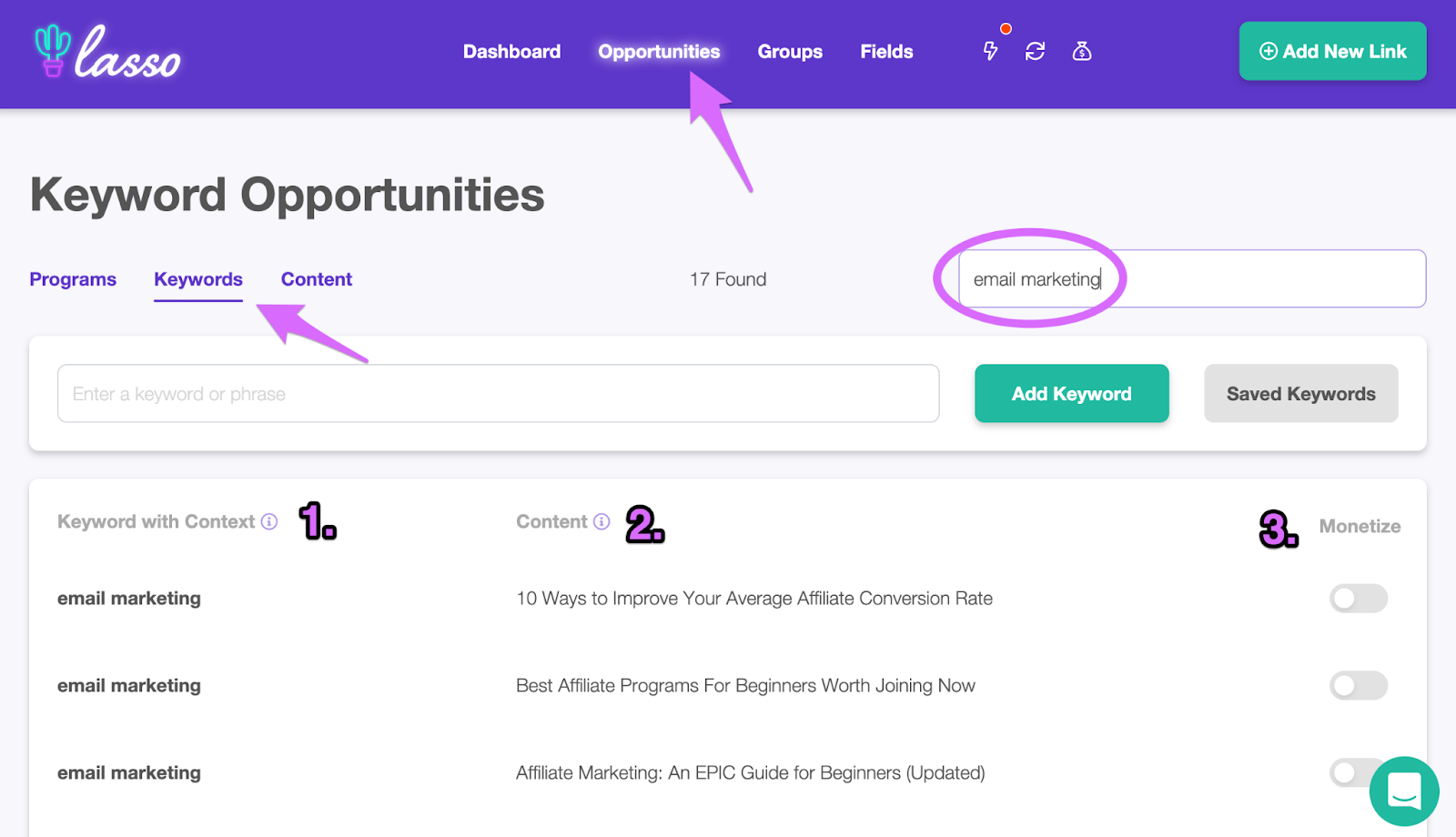 When you enter "email marketing," Lasso scans your site for every mention.
Then fetches every piece of content on your site using that phrase so you can monetize it with the flip of a toggle.
The above screenshot shows:
Keyword with Context: Shows you exactly where your phrase appears in the post
Content: the page or post displaying the keyword
Monetize: Toggle to "On" to transform un-monetized mentions into affiliate links
Our niche site used the automation and displays from Lasso to earn $1.2M in affiliate income in under five years.

Here's how to generate more revenue from your blog using our 'Keyword Opportunities' report.

🧵👇

— Lasso (@LassoWP) June 24, 2022
Further Reading:
7. Leverage Discounts, Coupons, & Bonuses to Attract More Clicks
Many affiliate programs have unique offers for their affiliate partners. It's a clever way to get more referrals.
But they don't always advertise it.
So, ask your affiliate manager whether they'll offer your readers a special discount. Then, if they say yes, you can message your subscribers and social media platforms with your link.
Tip: Test whether offering the discount on an exit-intent pop-up works. Some brands use this as a last-ditch effort to keep you on the site. Some successful affiliates say this has worked very well.
Or, try incentivizing readers with a bonus like email copywriter Chris Orzechowski. Bonuses include free webinars, tutorials, or courses explaining how to use a product.
These work well with anything you promote. Chris offers two bonuses with his digital product.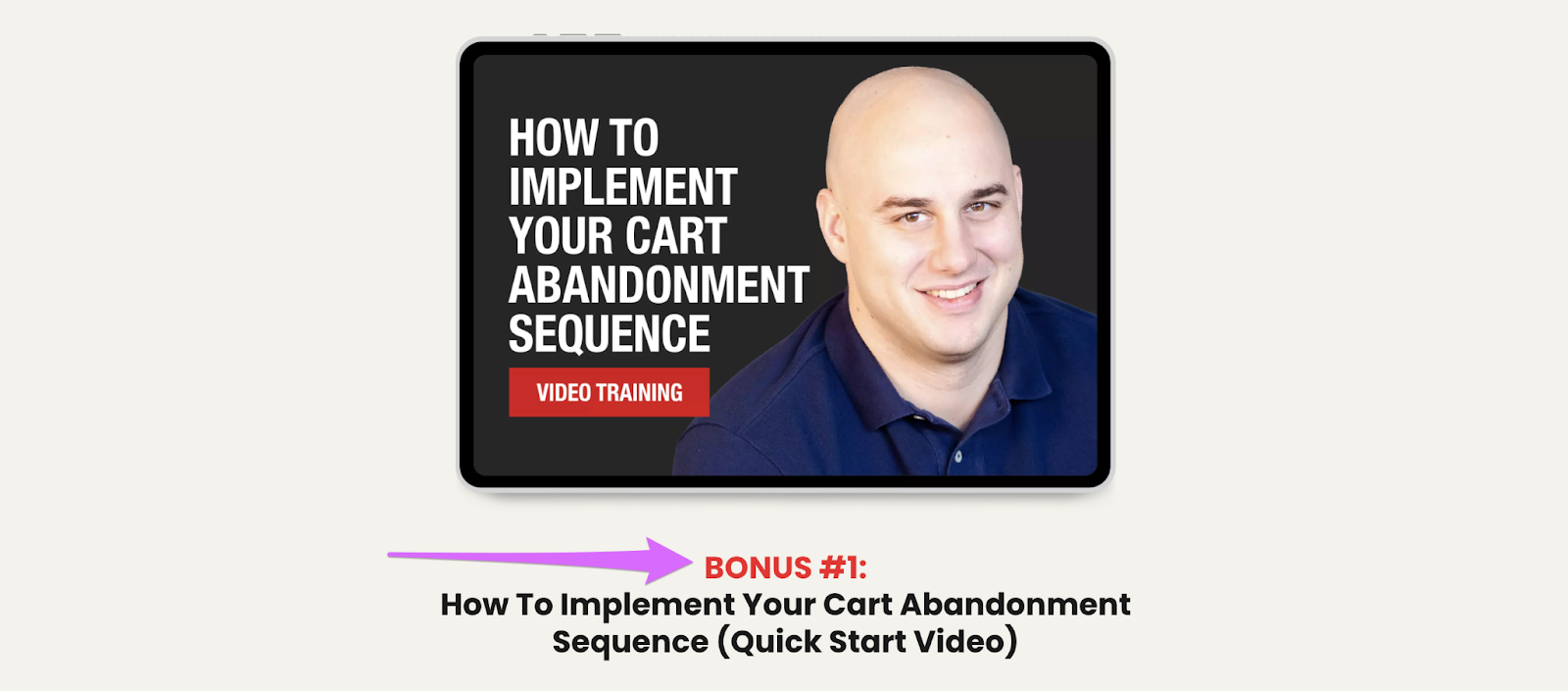 He includes two bonuses:
An over-the-shoulder quick start video
A page from his paid newsletter
Brainstorm ways you could create a free bonus for your readers. Review online course platforms, such as Udemy or Skillshare, if you're stumped.
8. Always Be Disclosing
You have to disclose affiliate links to readers on your site if you want to comply with the FTC.
These guys are the consumer's guard dog and work with their best interests in mind. Affiliate disclosures show people you're in a paid relationship with the merchant.
Failing to comply with the them could result in fines, penalties, removal from affiliate programs, and ruining your reputation.
You might wonder, "What should my disclosure include?"
If you're using Lasso, we add it to displays for you automatically beneath the call-to-action button below.
Essentialism: The Disciplined Pursuit of Less
The Way of the Essentialist isn't about getting more done in less time. It's not about getting less done. It's about getting only the right things done. It's about the pursuit of the right thing, in the right way, at the right time.
Pros:
Will make you more effective.

Quick read and highly actionable.
Cons:
You have to be open-minded.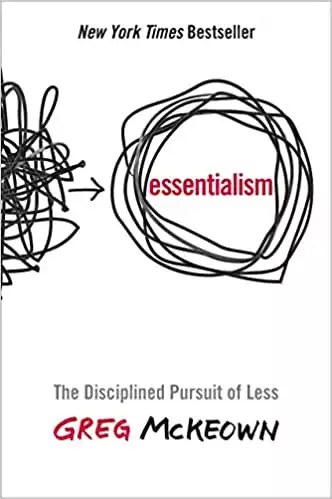 We earn a commission if you make a purchase, at no additional cost to you.
Of course, if you want to write your own, you can do that with our plugin too.
Further Reading:
8. Track Clicks So You Can Double Down On What's Working
If you want to know how well your affiliate marketing business is doing, you need to track clicks.
It lets you see metrics, so you can:
Measure what's working
Estimate monthly income
Test new affiliate programs
If you have no idea what's converting, you have no idea how to improve.
What gets measured gets managed – Peter Drucker
Tracking clicks is how we test our affiliate offers, see which products our readers like, measure audience engagement, and find underperforming links.
Continuous A/B testing ensures you're making forward progress.
One way we do this with our affiliate websites is checking performance by page. For example, we connect Lasso with Google Analytics.
This also helps us measure:
Conversion rate
Click-Through rate
Earnings-Per-Click
You can see how pages perform by heading to Behavior > Events > Pages.
Here is where you'll see blog posts you've written that get the most clicks (and most likely conversions).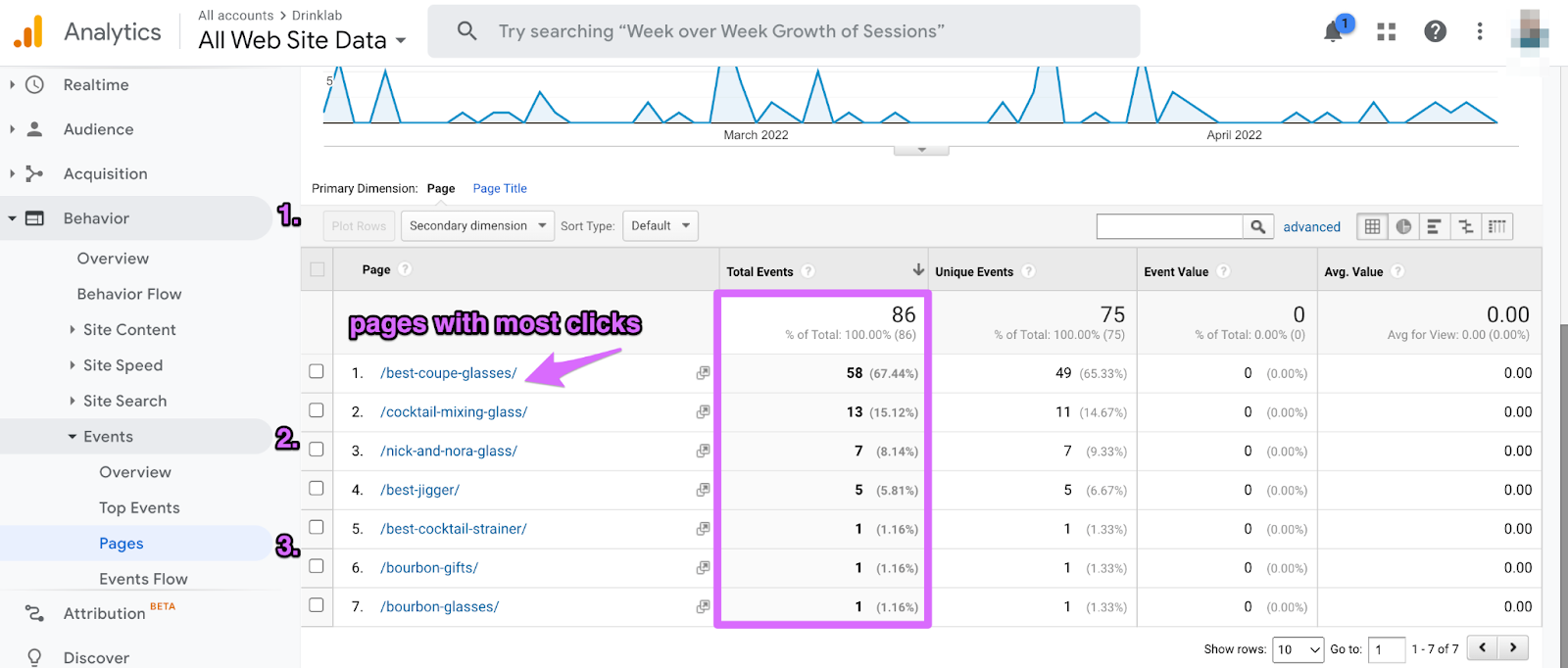 You can read all about connecting Lasso to Google Analytics so you can start measuring link performance here.
Sidenote: If you're looking for a free click tracking option, check out our other plugin, Simple URLs. It's ideal for link cloaking, link redirection, and click tracking.
Further Reading:
9. Write for SEO
Search engine optimization is in a league of its own. When you abide by it, you do yourself a favor on many levels.
Think about this:
Search engines make money from ad placement. The greater number of indexed URLs it has, the more appealing it looks to advertisers. But, it also means that you can potentially sustain that traffic for years when you rank organically (i.e., without paid ads) in a top position.
Why hang your billboard in a ghost town?
Ranking on Google's first page typically means:
You're credible
A better user experience
More eyeballs on your content
There are only three types of SEO that matter:
On-page SEO,
Off-page SEO
Technical SEO.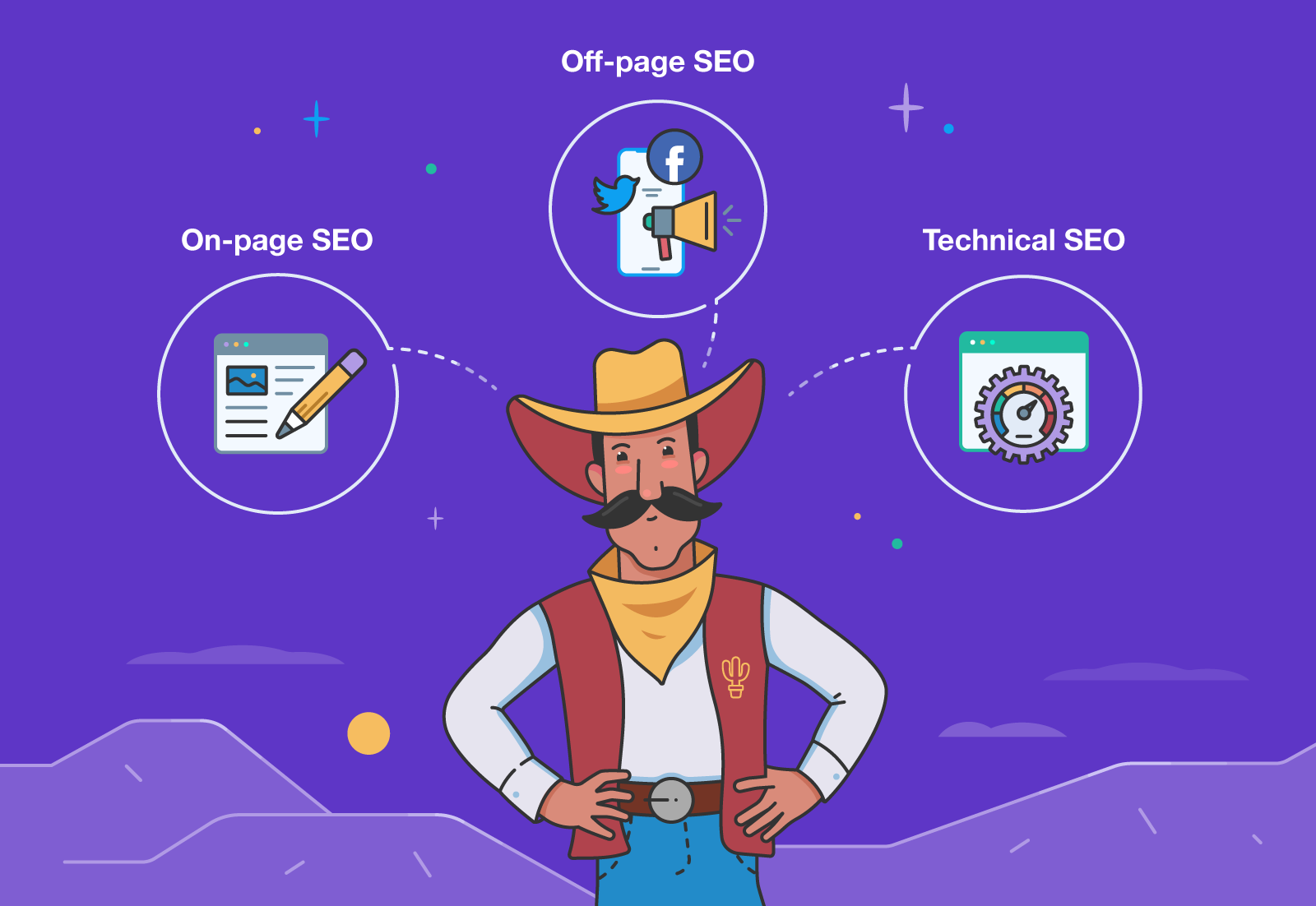 If your site's goal is to get more organic traffic, the above is what you should focus on. Beyond that, there's ecommerce, mobile, and local SEO.
Further Reading:
10. Find "New Fans" with Strategic Influencer Partnerships
You can locate influencers in your niche and leverage their audiences with a simple Google search.
For example, if you're looking for high-profile Instagram accounts in the keto niche, type 'best keto Instagram accounts to follow' into the search bar.
Then, start building relationships.
Alternatively, try Twitter. Google "Twitter advanced search" and enter your key metrics into the fields. For example, if your niche is productivity, start with that term.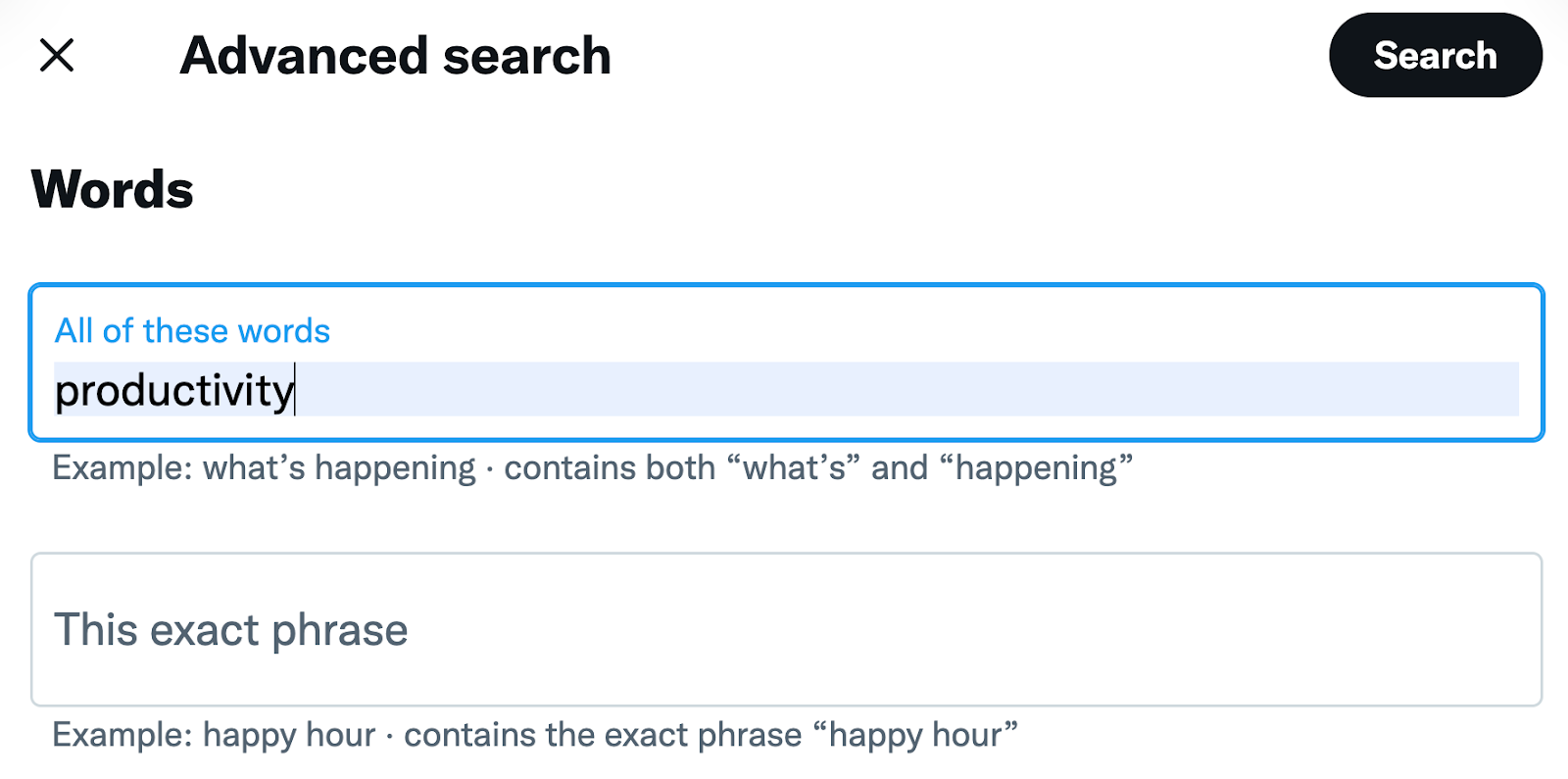 Then, enter numbers in the Engagement section with high replies, likes, and re-tweets.
Finally, click "People." This retrieves accounts matching your description.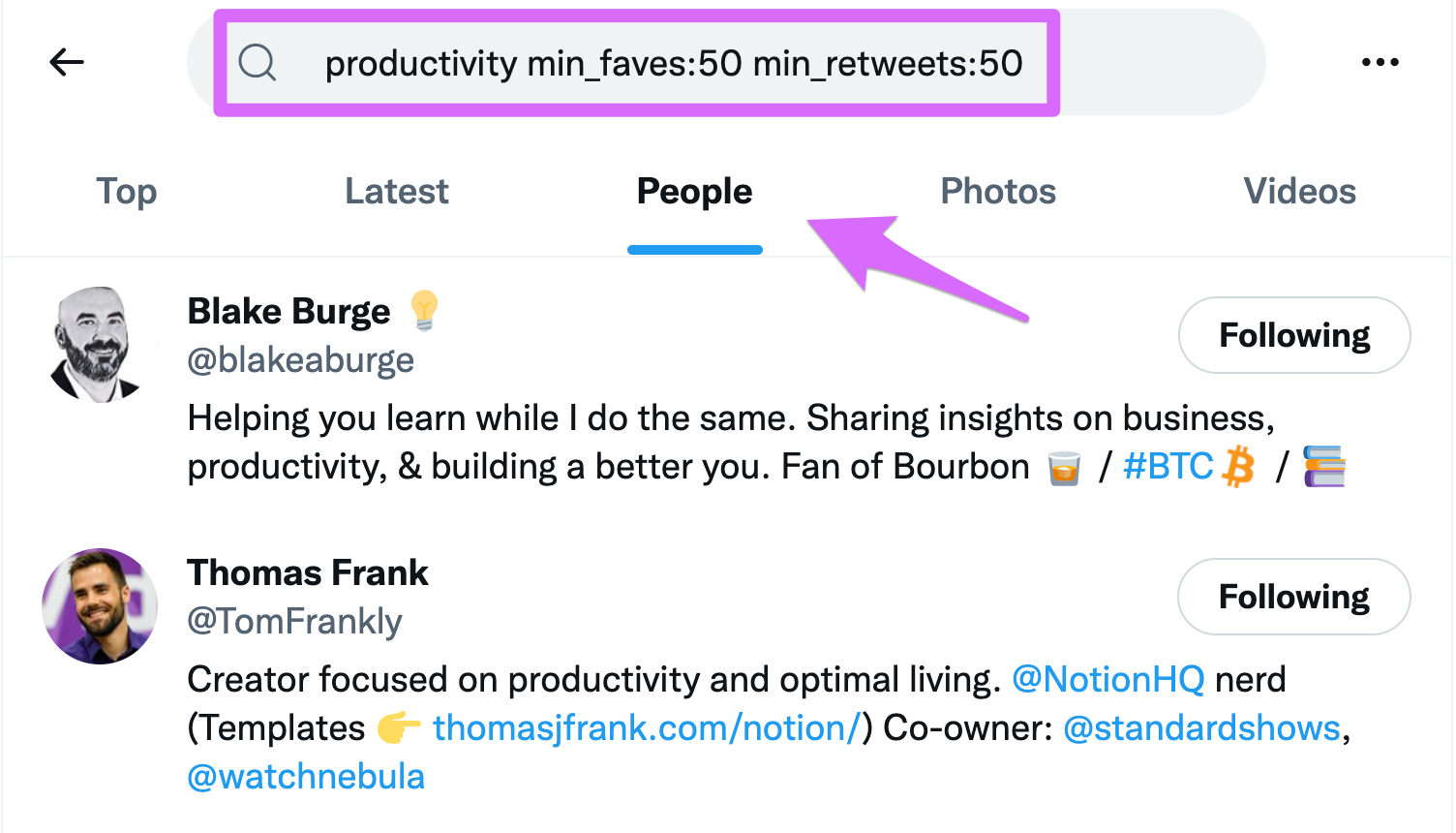 11. Get Custom Affiliate Landing Pages for Your Readers
If you've never seen Pat Flynn's website, his "Tools" page has many resources, and some are affiliate links.
One cool thing he does for his audience is customized affiliate landing pages. When you click a link for one of his recommended tools, you're taken to the company's website, but you continue seeing Pat's face!
It adds another layer of personalization and is a nice way to extend the transaction from your website to the merchant.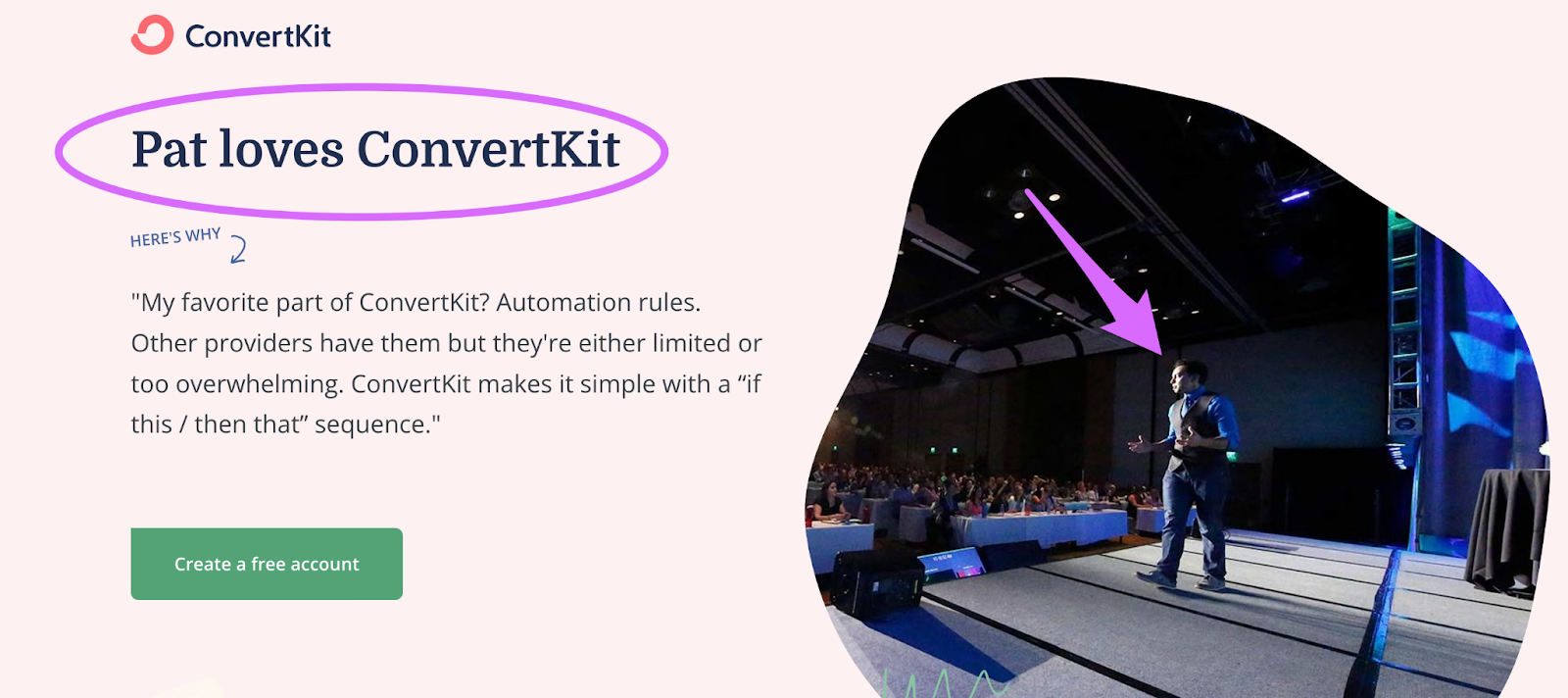 Here's why this matters:
Custom landing pages increase trust. They're also the point of conversion in affiliate marketing campaigns. So, you want to optimize them to the teeth, remove friction, and give your reader zero reasons not to buy (or sign-up).
We've seen this work with our sites too.
12. Monitor Affiliate Link Health
Broken links cost you money.
But it's hard to know which ones need fixing without diving into pages manually (which is time-consuming). The workaround is using an affiliate tool to monitor your link health.
If you're using Lasso, you can see which links are broken and which Amazon products are out-of-stock in your dashboard.

Often, hosting companies prohibit broken link checkers because they're always slowing down sites, but Lasso sidesteps this obstacle by running on its own servers.
When it's time to replace links (or update them), you can do it on your affiliate product's Link Details page.
This saves you the trouble of diving into every post and page manually.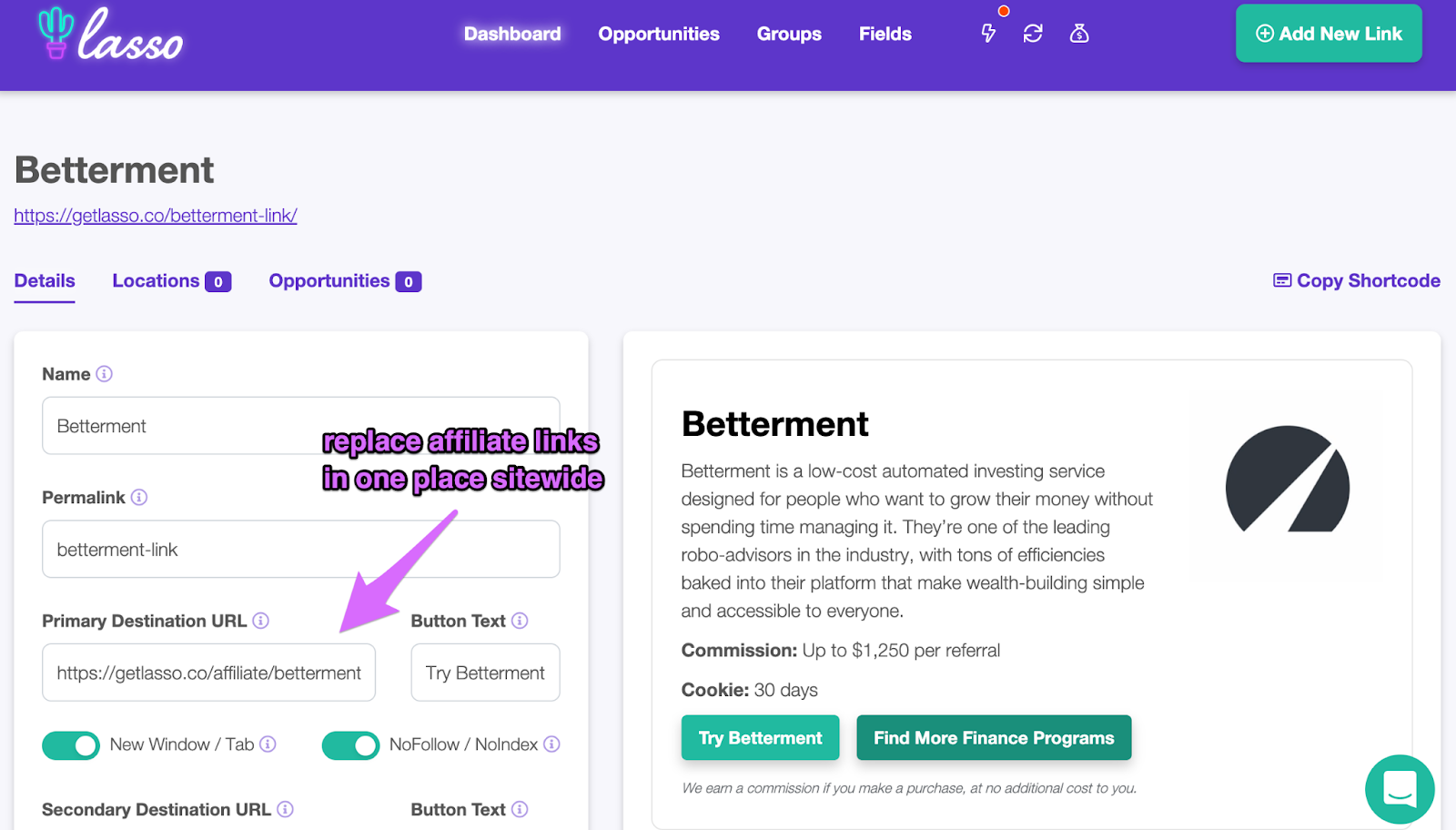 Further Reading:
13. Localize International Traffic
Chances are, your site gets international traffic.
If you're running an affiliate program, make sure you're web visitors can access your offers without leaving money on the table.
Case in point: when promoting Amazon products, ensure you've signed up for that country's affiliate program so the person visiting your site from that country gets redirected to their local store.
For example, sign up for Australia's Amazon affiliate program if you get lots of traffic from down under.
14. Attend Events So You Make More Friends
Going to events lets you meet more people in your industry, build connections, and make friends.
It can also lead to more exposure, revenue, and commissions down the road. Yes, they cost money to attend but think of it as a business investment with huge ROI potential.
If you want to scale traffic, get new leads, and discover new content marketing strategies, events like these can be goldmines.
15. Spy On Your Competitors
One of the easiest ways to get ideas about what's working is looking at your competition.
So, fire up your SEO tool of choice (we're Ahrefs fans) and run their domain through Site Explorer. Then, review their Top pages and Organic keywords. If you want to gain a better understanding of what products they're promoting, try using filters "review," "tutorial," and "how-to."
For example, when we look at the top pages for Financial Samurai, we use the filter "how-to."

What Did We Miss?
There's a billion affiliate marketing tips out there, which is why I didn't choose them all. I stuck with methods we've used or seen our customers pull off.
The above should be plenty to get you started towards success. And remember, don't feel obligated to rely only on affiliate sales. Create your own products and experience more financial freedom.
Want to see how else we help bloggers succeed? Read this.
Our creations in your inbox, weekly.
We've built multiple six-figure online businesses that our moms are proud of.
We'd like to help you do the same.