The internet is filled with affiliate marketing examples — some good, others not so much. Trying to find a winner means wading through a sea of poorly designed posts created by people who have no idea how to promote products.
That's why we curated this list from nine different industries with sites that are doing it right. If you're looking for fresh ideas, these examples will show you how to monetize your content so it turns a profit indefinitely.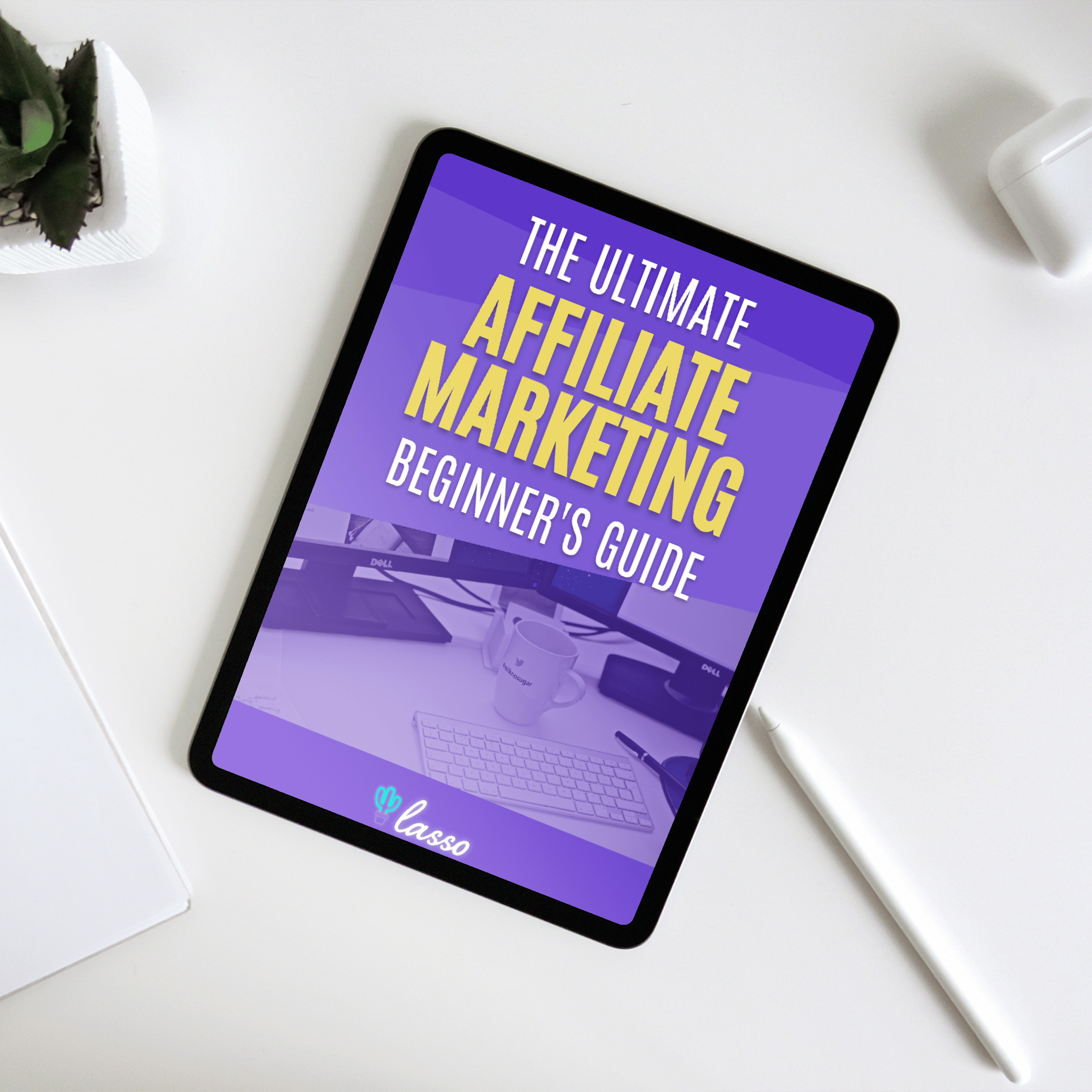 Get Your FREE 30-Page Affiliate Marketing Beginners Guide And Grow Your Site Today
What Exactly Is Affiliate Marketing?
Affiliate marketing is recommending a business's service or product and earning a commission for doing so.
The affiliate (you) promotes it to your audience. When they buy what you recommended, you make money. The sales are tracked through your unique, identifying affiliate link.
If you're reading this, you probably already have some idea of what affiliate marketing is but a lot of the information around it makes it seem a lot more complicated than it is. Why?
Because they're trying to sell you something. We're trying to sell you something too, don't get us wrong.
But the companies that make it seem like this complex web that you can only navigate with their suite of 75 tools, online courses, personal coaching, ebooks, and webinars are wrong. 
And if you need some monetary motivation, the numbers don't lie:
Takeaway: 81% of brands and 84% of publishers use affiliate marketing. There is a 10.1% increase in affiliate marketing spending in the U.S. every year. 
There's a lot of money to be made in affiliate sales, even if your site is relatively new and your traffic isn't yet breaking any records. Every piece of content you release has the possibility to be monetized. 
No one's time is free, and while the cost of starting and running a site doesn't have to be expensive, it's still money coming out of your pocket.
Affiliate Marketing Examples You Can Use to Start Earning Money
Okay, now we can take a look at some of the best in the game.
1. Personal Finance Affiliate Site Example – Nerdwallet
Money is a general category that encompasses a lot, and the best affiliate marketing examples have chosen a specific niche, be it credit cards, investing, or budgeting.
That's an essential component of any successful affiliate marketing site because no one can be all things to all people.
Nerdwallet is a review site for affiliate financial products, probably best known for its credit card reviews. The site doesn't offer its own products, nor does it run ads.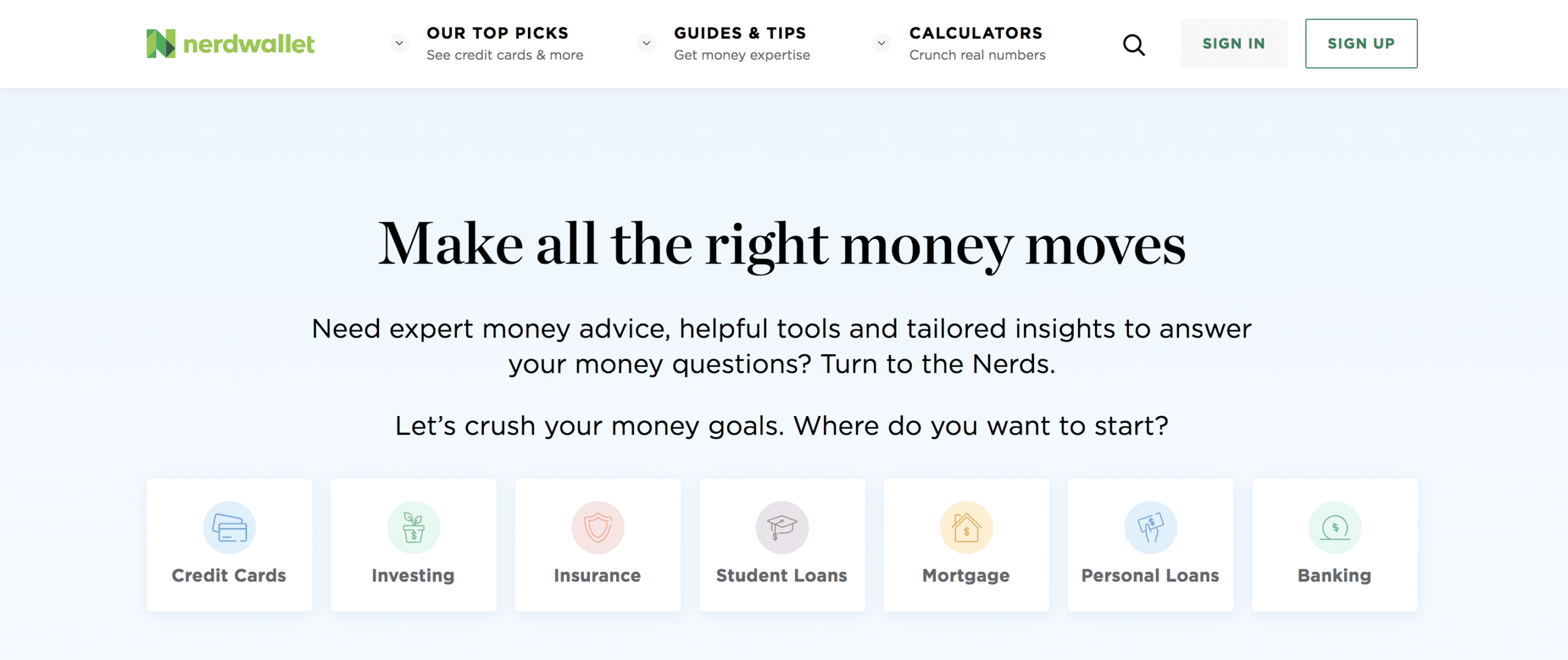 Nerdwallet provides a ton of value to readers. More than 1,000 credit cards are available; travel cards, cashback, airline, hotel, and credit cards for people with no credit.
It's a lot to wade through, and the right credit card is a valuable tool. Nerdwallet makes it easy to find what you're looking for.
Takeaway: Its revenue is entirely based on affiliate marketing with an estimated annual revenue of $100 million
2. Travel Affiliate Site Example – The Points Guy
Being a travel blogger seems like a dream job, doesn't it? Traveling to exotic locales, posting glamorous photos on social media, and getting paid big bucks to do it. Well, these bloggers are living the dream.
Flying has been a pretty miserable experience for the last 20 years or so, but it's a lot more tolerable if you can fly business or first class.
Only, most of us can't afford to do that. But if you can navigate the complex world of credit card churning, using credit cards to rack up a lot of points, you can travel like a baller for a pretty small amount of money (and sometimes for no money at all).
How to use credit cards best for free travel is what The Points Guy's site is all about. It's also a review site, with reviews of various flights, classes, trains, hotels, and airport lounges.
One of the most valuable things on the site is the monthly valuations for points from credit cards and other rewards programs because they frequently change, making it hard for a layperson to keep up.

The site doesn't make money from the affiliate programs that hotels, airlines, etc., might offer; instead, all of the affiliates are credit cards.
3. Consumer Review Affiliate Site Example – The Wirecutter
No matter what you want to buy, there is a review site for it.
The Wirecutter is part of The New York Times, but that's not how it started. It was founded by Brian Lam in 2011 and purchased by The New York Times in 2016 for about $30 million.
Between 2011-2016, the site made $150 million in affiliate income.
The site reviews a wide array of products, including digital products, appliances, credit cards, pet supplies, and more.
Its articles are high-quality, conducted by journalists who cover a particular area, researchers, and scientists.
What the affiliate marketing giant, The Wirecutter, taught us about writing high-converting content.

If you want to optimize your site to make more money, read this.

🧵👇

— Lasso (@LassoWP) July 8, 2022
The Wire Cutter is part of several affiliate marketing programs, including Amazon Associates, Home Depot, and Target.
Further Reading:
4. Health Affiliate Site Example – The Healthy Maven
Like money, health is a crowded, competitive field, but some sites have risen to the genre's top.
The Healthy Maven is devoted to whole-life wellness, at home, in the workplace, traveling, and self-care, focusing on clean eating and natural products.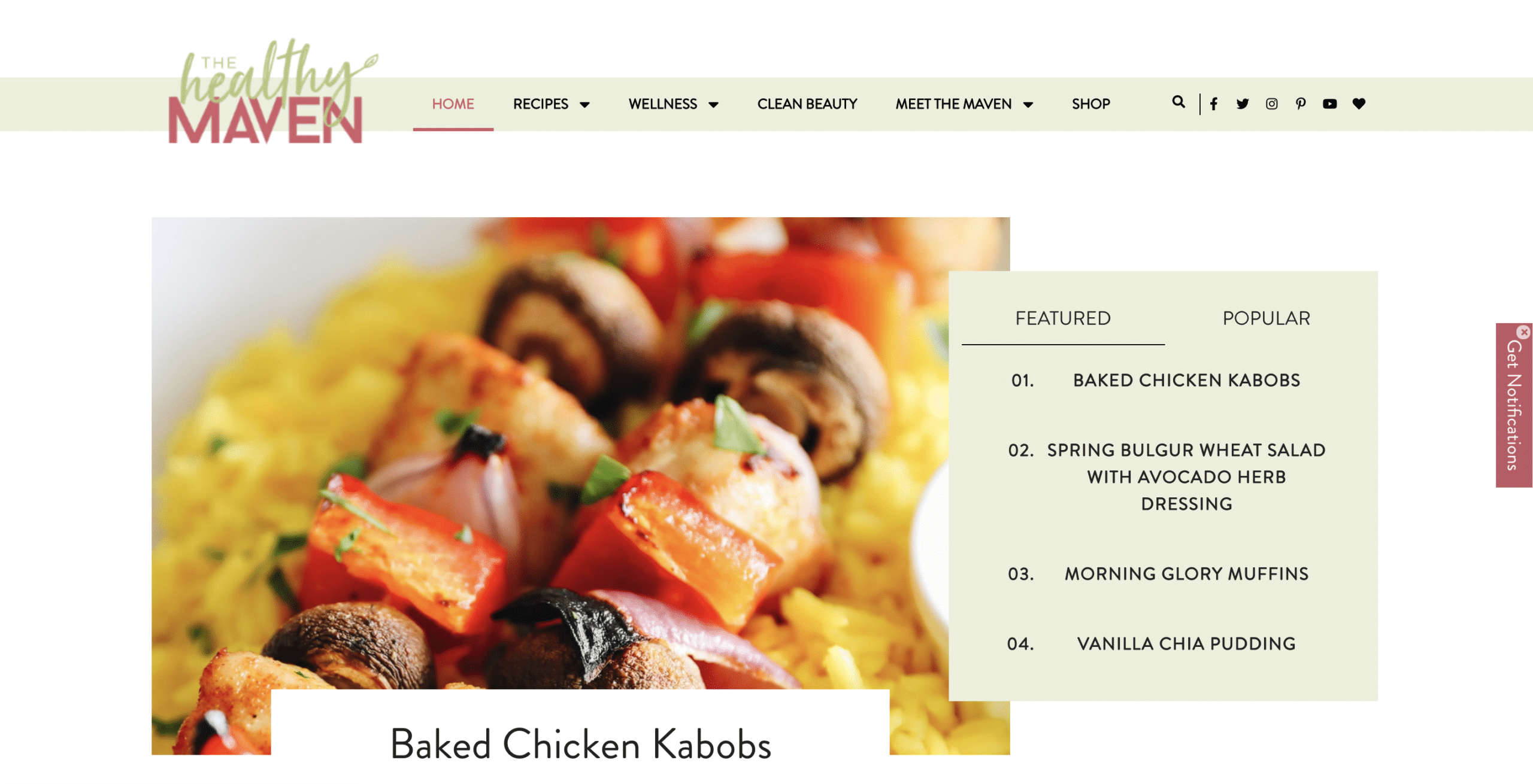 It's a billion-dollar industry right now.
The Healthy Maven is an aspirational site. It has beautiful photos showing beautiful people doing healthy things.
The site has a dedicated "Shop" page where there are affiliate offers for green beauty products and favorite product recommendations from site founder Davida Lederle.
You can purchase some of the items on Amazon and some directly through the producer.
5. Cooking Affiliate Site Example – Food52
Even if you don't like to cook, you want to eat. So, blogging about cooking has broad appeal, and they are an excellent genre to find a niche in because there are so many possibilities; French, vegan, paleo, picky eaters, gourmands.
Whatever your cooking kink, there are sites devoted to it. 
Food52 is a great recipe site. You can save and organize your saved recipes on the site, which is very convenient. I use it all the time.
You can find more than 50,000 recipes that represent all kinds of cuisines and styles of eating.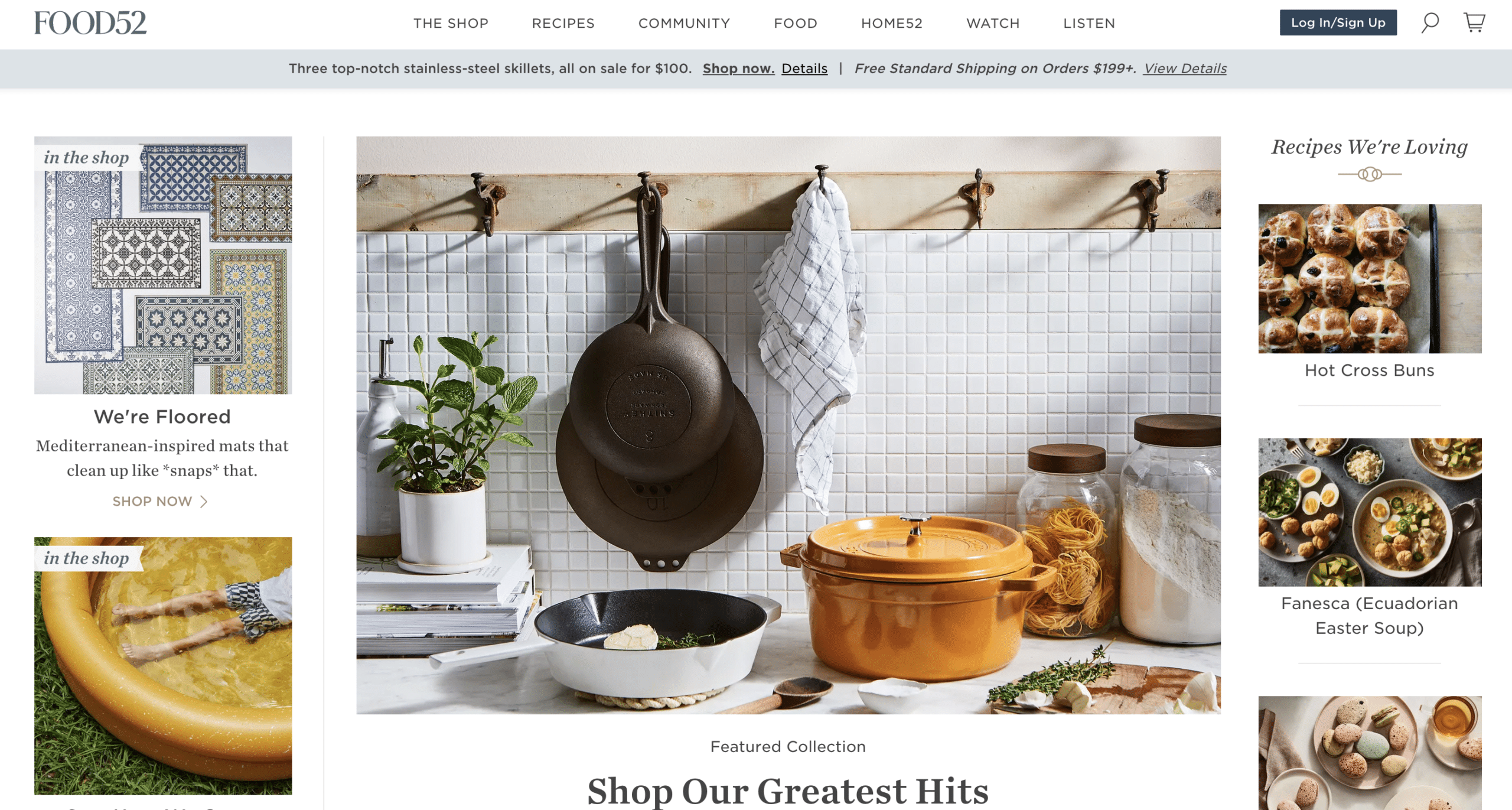 The site is no longer a simple cooking blog; it's a "lifestyle brand." Which has worked out pretty well.
The site has tons of affiliates, but you can shop and check out on Food52, it has its own e-commerce branch, and you can join its affiliate program!
Currently, there are over 5,000 items available in the shopping section of its site. In 2018, Food52 said it brought in around $30 million in total sales, and the company projects $40 million in overall revenue by the end of the year.
6. Shopping Affiliate Site Example – Cool Mom Picks
Online shopping is big business:
Consumers spent $601.75 billion online with U.S. merchants in 2019, up 14.9% from $523.64 billion the prior year.
The stuff moms buy covers a vast expanse. Kids themselves need lots of stuff, all of which they outgrow or age out of fast.
And then you have house stuff, organizing stuff, kitchen stuff. Moms are a big market.

Cool Mom Picks does an excellent job of curating its recommendations with thoughtful, practical items and gifts.
7. News Affiliate Site Example – BuzzFeed
Okay, you may feel a type of way about these two sites as news sources, but they are good affiliate marketing examples!
I know BuzzFeed is probably better known for its quizzes like "Everyone Has a Harry Potter Spell That Matches Their Personality-Here's Yours."
Still, it does also do real journalism, and its reporting on Russia in 2018 netted the site a Pulitzer nomination.
As we discussed, journalism isn't cheap, so you can't blame Buzzfeed for getting that coin through affiliate marketing. And the site is good at it.
Here's a sample: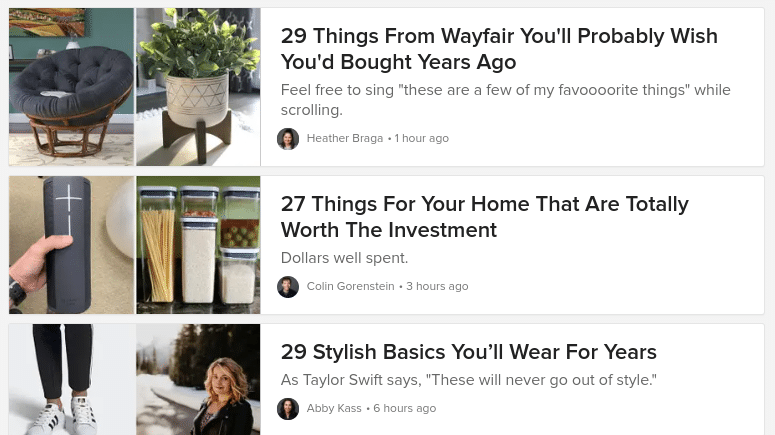 And if you're a poor gift picker outer, those lists, particularly the holiday or occasion-based ones, are helpful.
This is a lesson for all affiliate marketers, the site pushes Mike's Hot Honey, constantly, like on every single list. 
Further Reading:
8. Coffee Affiliate Site Example – Roasty Coffee
There are plenty of food and beverage blogs around the internet, from beer to cookies to coffee. For example, we currently have 77 coffee affiliate programs in our database.
In fact, there's probably a program related to whatever you like to eat or drink online right now. And that's good news for you, because it means there's a market for it with products you can promote.
Lasso co-founder Matt Giovanisci founded Roasty Coffee in 2015. He later sold it for a modest profit as his focus shifted to other projects.
The site continues to thrive and has been featured in many reputable publications, including Business Insider, BuzzFeed, and Fast Company.
Its content breaks down into three general categories:
Coffee facts
How to brew
Buying guides
All filled with tips teaching consumers how to find and brew insanely delicious coffee. The site makes money with banner ads, a digital course, and affiliate links.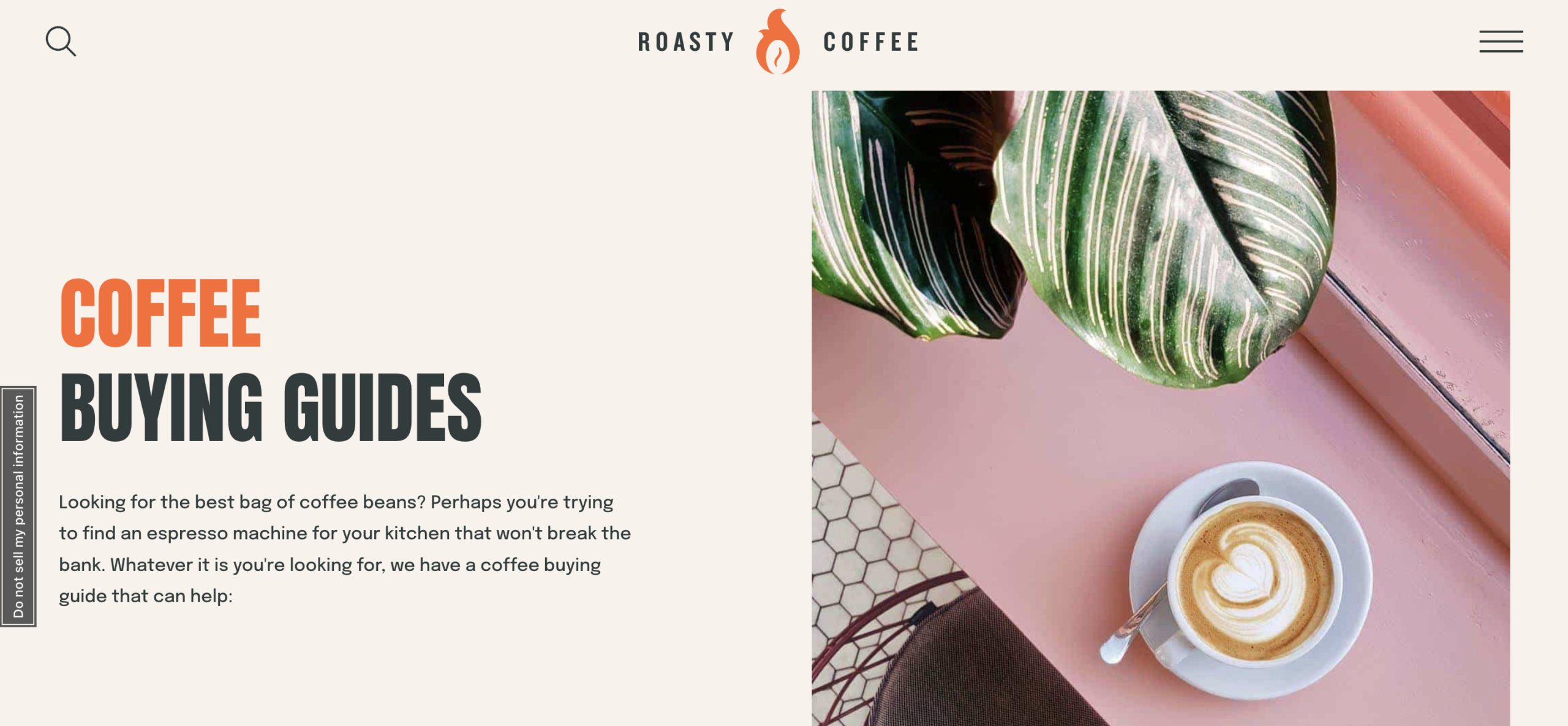 According to Ahrefs data, the site gets 267k monthly visitors relying 100% on organic traffic with zero spending on paid keywords.

There are two big takeaways here.
Takeaway #1: You don't need a buh-jillion categories on your affiliate site. Many entrepreneurs find success running a lean blog.
Takeaway #2: You don't need to rely on paid ads to get traffic. Creating comprehensive, high-value SEO-optimized content that readers happily consume should earn you more than enough page views.
9. Fashion Affiliate Site Example – Effortless Gent
Fashion is a booming niche yielding handsome affiliate commissions depending on your product recommendations.
The more premium the product, the better your payout.
Effortless Gent is a fashion site teaching men how to dress sharp without needing to buy a ton of clothes.
It was founded in 2009 by Barron Cuadro who wanted an online home where he could answer his friends' style questions.
But over the years, he's refined his approach and started creating hyper-focused content.

He and his team publish lots of style tips, outfit and buying guides, product reviews, and comparisons.
And his resources page (titled "Shop" in the navbar) lets you browse Barron's recommendations — all of which link to affiliate products.
Sidenote: Resources pages convert significantly higher than a regular post, targeting readers further along the buyer's journey. For example, ours converts at 10%, which is good. You can read how to create an insanely profitable one for your blog here.
In addition, Effortless Gent makes money using a few other methods, including:
Display ads
Sponsorships
1:1 client work
Barron is also a Lasso customer. If you'd like to learn more about his affiliate marketing journey and how he's found success with our tool, read his case study.
Affiliate Marketing Tips
Okay, we can agree that the concept of an affiliate website is pretty simple.
What isn't so simple is being good at affiliate marketing. Here are a few pointers to ensure you don't fail.
Increase Your Affiliate Link Placement
Using simple text-only links used to work, but now you need to amplify them.
By positioning affiliate links in various ways, you give people more chances to click. It also helps improve your:
Conversion rates
Earnings per click (EPC)
Click-through rates (CTRs)
We saw higher commissions when adding product displays and embedding images with affiliate URLs to our content.
If you're using our WordPress plugin, Lasso, you can easily do this from inside your post editor.
Our product boxes have been user-tested against millions of impressions and convert at a higher rate than text links alone (like the version below).

Takeaway: Try adding affiliate links to your content's images and subheadings with a clear call to action. Readers scroll past text links but stop and click product displays and images.
Sell What You Believe In On Your Affiliate Site
There's a quote that goes something like this:
You can fool some of the people all of the time and all of the people some of the time, but you can't fool all of the people all of the time, and those are pretty good odds.
Most people can spot a money grab. You don't want yours to fall into this category:
There is nothing wrong with selling something that you believe in, and there's nothing wrong with making money. But you should respect your audience and don't insult their intelligence.
There is a low bar to join some affiliate networks and programs. That's certainly not a bad thing for new sites. You can start making some money even before you have a big following (which is a good thing).
When you start seeing dollar signs, you can get a little weak in the knees. And trying to flog any and everything is widely regarded as a flawed business model.
Again, it's disrespectful to your audience with whom you're building a relationship. You want them to buy things you recommend which means you have to gain their trust. Selling anything that comes your way has the opposite effect.
You might make some quick money at first, but it won't last, and neither will your audience.
Further Reading:
Create Content Focused On Your Affiliate Products
Nearly half of all product searches start with Google.
The best way to get more clicks and boost passive income is by creating content around the products and services you promote.
So, which content type converts at a higher rate?
Comprehensive Product Reviews and Tutorials
Objective reviews and step-by-step guides are our personal finance affiliate site's bread and butter.
These convert better because the people searching for things like "best robo-advisor" and "M1 Finance review" are ready to buy.
And this type of content leaves you plenty of opportunities to add your affiliate link.
Track Affiliate Clicks and Double Down On What's Working
You need to track clicks if you want to know how well your affiliate marketing business performs.
Here are three reasons why you should do this:
Measure what's working. Every affiliate link click is a vote for one of your product recommendations. Products with high CTRs signal a strong resonation with your readers.
Estimate monthly income. Once you have a good idea of how well your links perform, you can start to determine how much you'll earn in any given month.
Test new affiliate programs. You'll quickly realize that not all affiliate programs are created equal. Some have higher payouts. Identifying partners with low commission rates lets you shop around for better opportunities and lets you scale faster.
If you have no idea what's converting, you have no idea how to improve.
What gets measured gets managed – Peter Drucker
We test every affiliate offer on our site via click tracking so we KNOW which products our readers like. Plus, it's an excellent way to find underperforming links.
Continuous A/B testing ensures you're making forward progress.
You can do this easily by connecting Lasso to Google Analytics and checking page performance.
This helps us measure:
Conversion rate
Earnings-Per-Click
Click-Through rate
Head to Behavior > Events > Pages.
Here's where you'll see blog posts you've written that get the most clicks (and most likely conversions).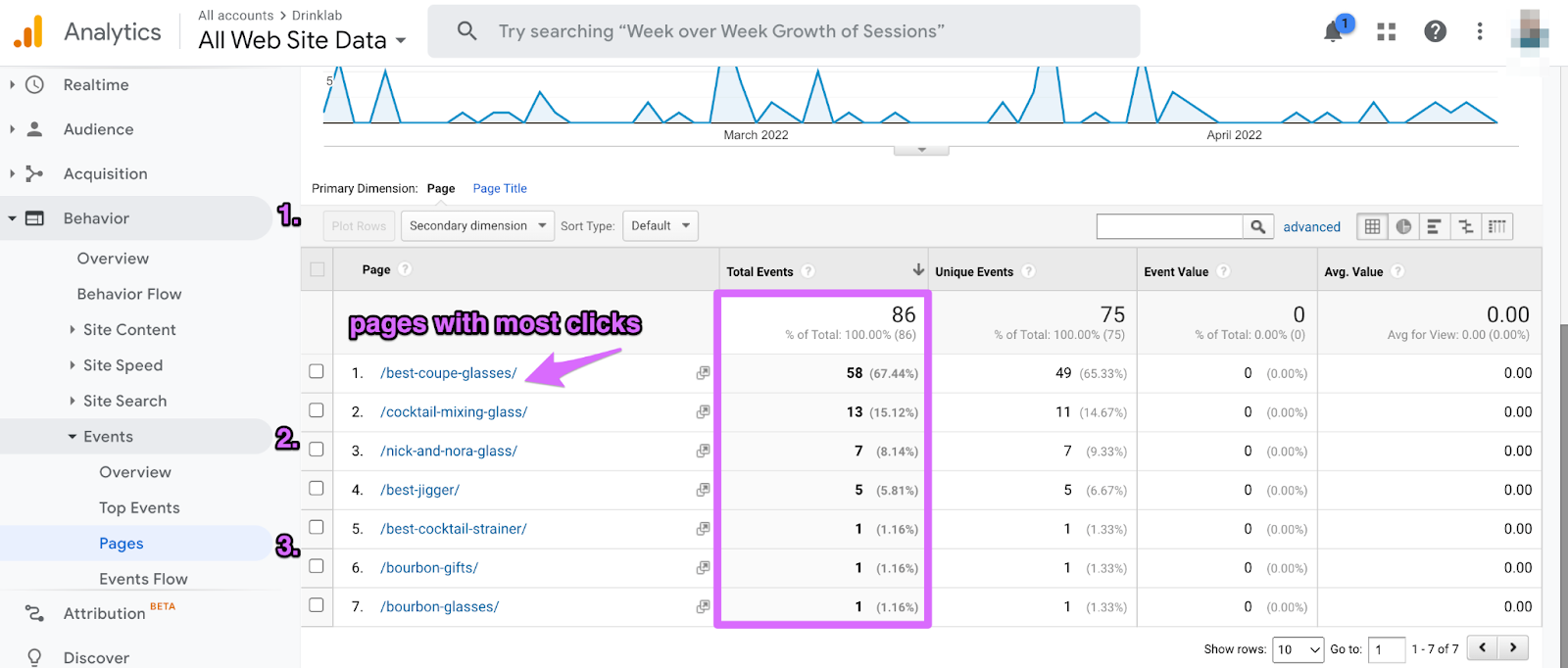 Further Reading:
How to Start Affiliate Marketing
It's cheaper than you think to start building an affiliate business. So, let's explore the primary steps for how to do it right.
Create a Free Website with WordPress & Sign Up for Hosting
You need a great content management system (CMS) to run your blog. Without it, you'll be able to do very little. There are many available, but we like WordPress.
WordPress is free, open-sourced software used by 43% of the web. Moreover, a lot of people use it, from niche bloggers to premium news sites. So it's safe to say you're in good company.
Many hosting providers offer one-click WordPress installation when you sign up with them. HostGator  is our budget pick for a high-quality, low-cost plan.
Start with the Right Niche & Products to Promote
Choosing the right niche is essential to your success. Consider these three factors when selecting yours:
Experience
Your interests
Income potential
Start brainstorming different ideas to find a shortlist of possibilities. What matters most is that you care deeply. We have customers earning $500k per year in oddly specific niches.
What's the common theme? They're willing to give more love than anybody else to their topic.
Further Reading:
Conduct Keyword Research
Keyword research is learning how people talk about (and search) for your products and services. Once you know the language people use to find things online, you can create content around that.
You don't want to make things nobody is searching for.
Once you've decided on your niche products, determine what topics you can rank for to get traffic to your website.
Create Quality Content Consistently
You need to show up and demonstrate to your readers that they can depend on you. Aim to contribute regularly.
Next, create an editorial calendar and stick to your publishing schedule. If you know your industry well, write down common questions people have and address those in your posts. 
Value = content that solves your reader's problem.
Sign Up for Affiliate Programs 
There are numerous affiliate programs available, and if you're a beginner, you won't know the good from the bad.
Here's what to look for:
Free to join
Ease-of-use
Payment frequency
Sidenote: Our database has 9,000+ affiliate programs in 100+ niches you can join right now. Find yours here.
Summary
I know there are some heavy hitters here. But there's probably a couple you've never heard of. I chose those kinds of affiliate marketing examples deliberately because this article's goal was to inspire you to get started, no matter how small or new your blog.
Learn to grow your affiliate marketing business five minutes a week and join our newsletter.
Our creations in your inbox, weekly.
We've built multiple six-figure online businesses that our moms are proud of.
We'd like to help you do the same.