Affiliate marketing is an excellent source of passive income for content creators. Still, it's not easy to get it right and make affiliate commissions your sole source of income (which is the goal for many bloggers, podcasters, and YouTubers). It can also be hard to know who's successful. Luckily, we know a thing or two about making money online. That's why we curated this list of affiliate marketing examples to help you get started.
What Exactly Is Affiliate Marketing?
If you're reading this, you probably already have some idea of what affiliate marketing is but a lot of the information around it makes it seem a lot more complicated than it is. Why?
Because they're trying to sell you something. We're trying to sell you something too, don't get us wrong.
But the companies that make it seem like this complex web that you can only navigate with their suite of 75 tools, online courses, personal coaching, ebooks, and webinars are wrong.
Let's give a simple, basic, yet all-encompassing description of what affiliate marketing is and what affiliate marketers do.
Affiliate marketing means marketing a service or product for a business and earning a commission for doing so. The affiliate (you) recommends the product or service to your audience. When an audience member buys what you recommended, you make money. The sales are tracked through your unique, identifying affiliate link.
And if you need some monetary motivation, the numbers don't lie:
There's a lot of money to be made in affiliate sales, even if you're site is relatively new and your traffic isn't yet breaking any records. Every piece of content you release has the possibility to be monetized. 
No one's time is free, and while the cost of starting and running a site doesn't have to be expensive, it's still money coming out of your pocket.
Affiliate Marketing Don'ts
Okay, we can agree that the concept of an affiliate website is pretty simple. What isn't so simple is being good at affiliate marketing. Most lists start with the Do's of something, but I think it's more critical to avoid the Don'ts. 
The Subtle Art of Not Being In It Only for the Money
There's a quote that goes something like this:
You can fool some of the people all of the time and all of the people some of the time, but you can't fool all of the people all of the time, and those are pretty good odds.
Most people can spot a money grab. You don't want yours to fall into this category:
There is nothing wrong with selling something that you believe in, and there's nothing wrong with making money. But you should respect your audience and don't insult their intelligence.
There is a low bar to join some affiliate networks and programs. That's certainly not a bad thing for new sites. You can start making some money even before you have a big following (which is a good thing).
Again, it's disrespectful to your audience with whom you're building a relationship. You want them to buy things you recommend which means you have to gain their trust. Selling anything that comes your way has the opposite effect.
You might make some quick money at first, but it won't last, and neither will your audience.
Don't Forget Your Niche
If you run a travel niche site and you decide to post an article about the best products for cleaning your grout, initially, your audience will be like, "WTF?"
Maybe the products you wrote about are wonderful at cleaning grout. But your audience doesn't care. They want to know how to churn credit cards to get free flights. It will look like what it is, a money grab.
Affiliate Marketing Dos
Now that we've covered the don'ts, let's get to the dos.
Provide Value
It's not enough to recommend affiliate products that you like. You have to explain how something will benefit your target audience.
Will it solve a problem they have? Improve their life? Get them paid? It's not enough that you like it. You have to explain why they need it.
Update
This won't apply to everyone. Some affiliate products are pretty evergreen. But if you're an honest beauty influencer and you write content like "The Best New Moisturizers For Oily Skin," you have to update that periodically.
New products are introduced, old products are removed from the market, a product may have some kind of scandal attached to its creator that you don't want your brand associated with.
Even if your content is evergreen, it's still best to revisit it and look for broken links, comments on the page if you allow them, and any opportunities to add additional affiliate links.
Think of the User Experience
There's nothing wrong with blogging an epic, deep-dive post about an affiliate product, especially if you're primarily a review site. That's your job. But when people are considering buying a product or service, they're probably going to read more than one review.
And no one, no matter how much they like to nerd out on reviews, wants to read a wall of text. Make your post punchy and easy to navigate. This is a good example from PC Magazine:
The nuts and bolts are clearly displayed in a quick and easily digestible way, and there is a link to an in-depth review under each entry.
Further Reading:
Affiliate Marketing Examples You Can Use to Start Earning Money
Okay, now we can take a look at some of the best in the game.
Money
Money is a general category that encompasses a lot, and the best affiliate marketing examples have chosen a specific niche, be it credit cards, investing, or budgeting.
That's an essential component of any successful affiliate marketing site because no one can be all things to all people.
Nerdwallet is a review site for affiliate financial products, probably best known for its credit card reviews. The site doesn't offer its own products, nor does it run ads.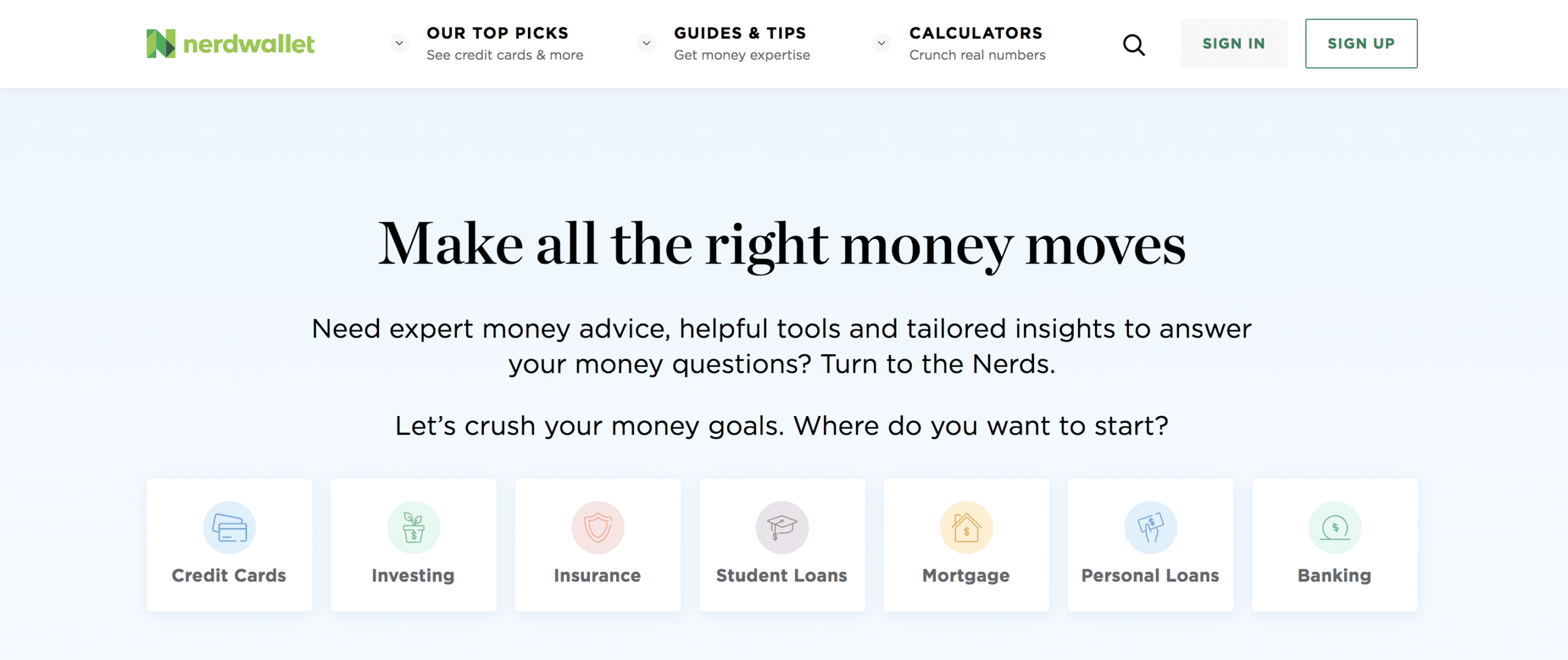 Nerdwallet provides a ton of value to readers. More than 1,000 credit cards are available; travel cards, cashback, airline, hotel, and credit cards for people with no credit.
It's a lot to wade through, and the right credit card is a valuable tool. Nerdwallet makes it easy to find what you're looking for.
Credit Karma is all things credit-related. You can see your credit score, your credit report and learn how to improve both of those things. And that's a valuable service because, like it or not, your credit score is essential.
Like Nerdwallet, the site partners with credit cards and companies that offer personal, home, and auto loans.
Estimated Annual Revenue: $1 billion
The founder of Get Rich Slowly, J.D. Roth, is an OG in personal finance blogging and a money-saving expert. The site was founded in 2006.
J.D. amassed and paid off $35,000 in consumer debt, and the journey to becoming debt-free was the inspiration for his site.
For many people, debt is a shameful thing and that J.D. is so open about his experience resonates with people. He's not some guy with a trust fund telling you how to get out of debt, having never had to do it himself.
The site has articles on various personal finance topics, several financial tools like a net worth calculator, personal finance guidebooks you can download, and recommendations to other sites and podcasts that help readers.
Like other money sites, GRS makes affiliate income through its affiliate network of financial products, including investing apps and bank accounts.
Sign up for one of the financial affiliate programs in our database here.
Wise Bread is a personal finance site that covers many topics, but its bread and butter (see what I did there?) is frugal living. This is a genius niche for a few reasons.
Frugal living is something of a cult. I don't use that pejoratively. Frugality is a good thing, and the people who practice it are super into it; it's a whole lifestyle for many. That makes them a loyal audience.
The topic of frugality also covers a lot of ground: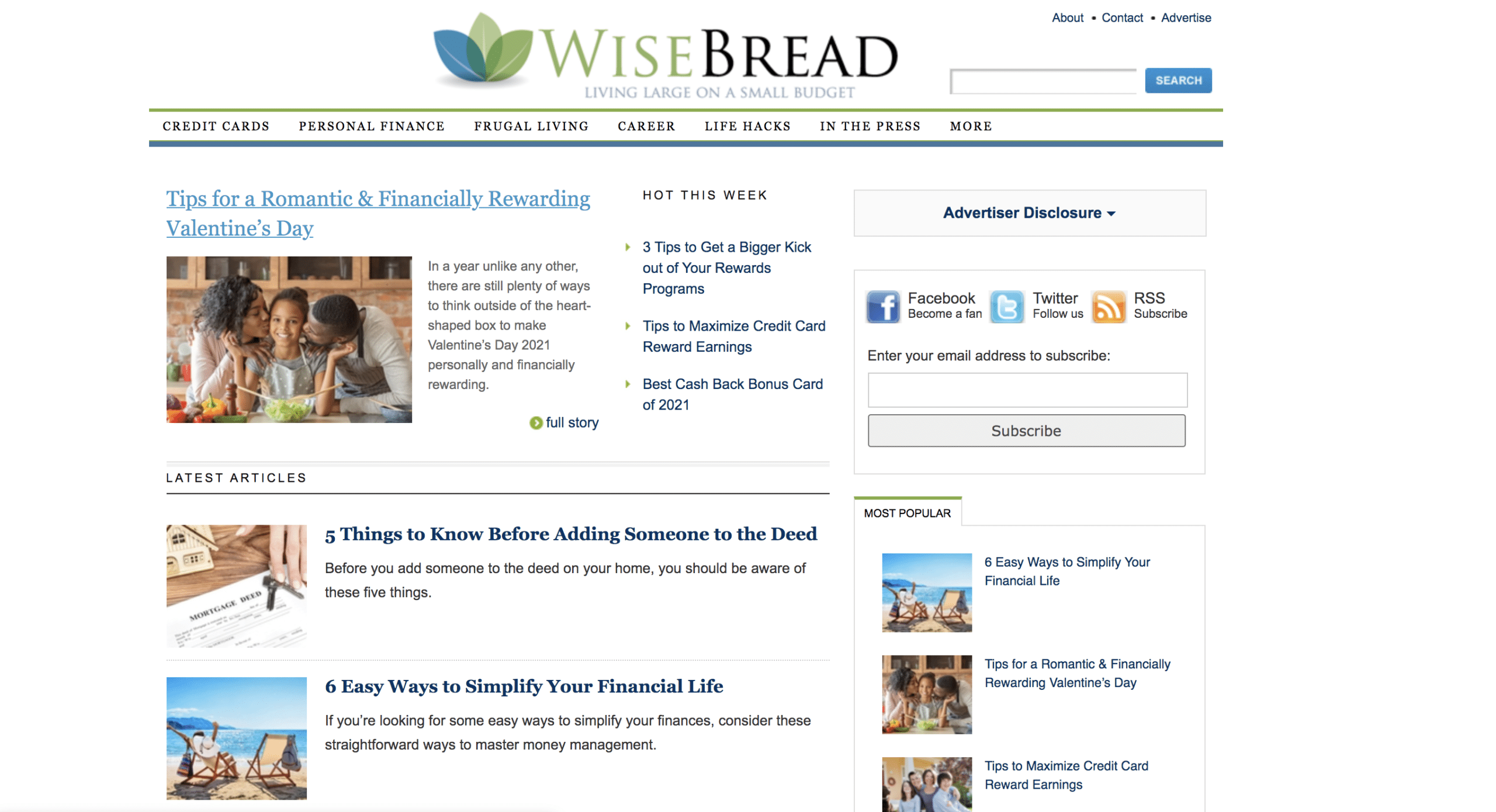 Amazing yeah? They've covered two huge areas with a ton of affiliate potential just in this one screengrab. I started to count the total number of affiliate links in each of these articles and lost count at several dozen. A lesson for us all!
Travel
Being a travel blogger seems like a dream job, doesn't it? Traveling to exotic locales, posting glamorous photos on social media, and getting paid big bucks to do it. Well, these bloggers are living the dream.
Flying has been a pretty miserable experience for the last 20 years or so, but it's a lot more tolerable if you can fly business or first class.
Only, most of us can't afford to do that. But if you can navigate the complex world of credit card churning, using credit cards to rack up a lot of points, you can travel like a baller for a pretty small amount of money (and sometimes for no money at all).
How to use credit cards best for free travel is what The Points Guy's site is all about. It's also a review site, with reviews of various flights, classes, trains, hotels, and airport lounges.
One of the most valuable things on the site is the monthly valuations for points from credit cards and other rewards programs because they frequently change, making it hard for a layperson to keep up.

The site doesn't make money from the affiliate programs that hotels, airlines, etc., might offer; instead, all of the affiliates are credit cards.
Nomadic Matt's specialty is budget travel. While we all dream of scoring free first-class sites with our credit card points, using that hack is somewhat complex and time-consuming.
It can certainly pay off as The Points Guy proves, but many of us who dream of travel can't be bothered. So a site that can teach us how to travel cheaply is a great resource.
Matt has literally written the book on budget travel, several of them.
His budget guides are sold as eBooks, and writing books can be a great source of passive income. Matt does the credit card affiliate thing but also has affiliate relationships with companies like Skyscanner, Google Flights, and Airbnb, to name a few.
Johnny Jet was so early to the travel influencer game that he started with a newsletter in 1995, and his site took off in 1999. He travels to 20 countries per year.
Like the other travel sites, he recommends places, hotels, airlines, credit cards, and travel-related products.
The value of his site is the weekly updated travel news. He aggregates stories that he feels are important for travels and conveniently offers them in one place. This is a recent example from the international travel news sections:
According to the advertising disclosure on the site, its affiliate partnerships are with credit cards.
Like most successful blogs, especially one in a crowded and competitive field as travel, Expert Vagabond has a niche. Matt does a lot of "adventure travel," things like "Camping on an Erupting Volcano in Guatemala."
The site has a nice crossover into the personal finance realm, too, with a whole section devoted to nomadic living; earning extra money, saving money, how to get paid to travel, etc.
Matthew is super open about how he makes money. Not just with a disclosure statement (something all content creators must have and Lasso provides) but with a detailed article on all of the ways he makes money.
He's got several revenue streams going, including affiliate marketing work, influencer marketing, destination marketing, and freelance writing.
Kiki from The Blonde Abroad has also found a successful niche in the world of travel blogs, solo and female travel. She quit an unhappy career and traveled alone for three months.
Bitten by the bug, she has now been to more than 70 countries. Another part of the appeal of the site is aspirational. Kiki is lovely and a skilled photographer, so there are fantastic photos of her in beautiful places worldwide.
The site makes affiliate income from recommending credit cards and travel products. It also sells its own product called Lightroom Presets, which are editing adjustments in Adobe Lightroom.
See all of the travel affiliates you can join here.
Reviews
No matter what you want to buy, there is a review site for it.
Consumer Search reviews products across several categories, including Home & Garden, Fitness & Sports, and Technology. The site offers more than just reviews.
There are "life hack" type articles with a consumer bent  like "Sneaky Car Dealership Tricks to Avoid at All Costs" and those BuzzFeed-Esque shopping guides like "Gift Ideas for the Wine Lovers in Your Life."
As you might expect, Consumer Search relies heavily on Amazon Associates and works with other affiliate programs like wine subscription company Winc.
Of all of the affiliate marketing examples on this list, Mattress Clarity was the most impressive. First of all, because of how young the site is, it was just founded in 2015!
Secondly, for the amount of affiliate income it generates, $600 million. For recommending mattresses!
Maybe it shouldn't be all that surprising, though.
Mattresses tick all of those boxes.
The site reviews other things, too, including sheets and pillows. It offers a neat quiz that will help you narrow down the list of mattresses that will be best suited to you.
Mattresses might not be the sexiest topic, but everyone needs one (so it's no wonder this site is making bank).
Digital Photography Review is another site that reviews expensive things, cameras, and camera-related items like lenses and printers. Like Mattress Clarity, DP Review reviews rather costly items.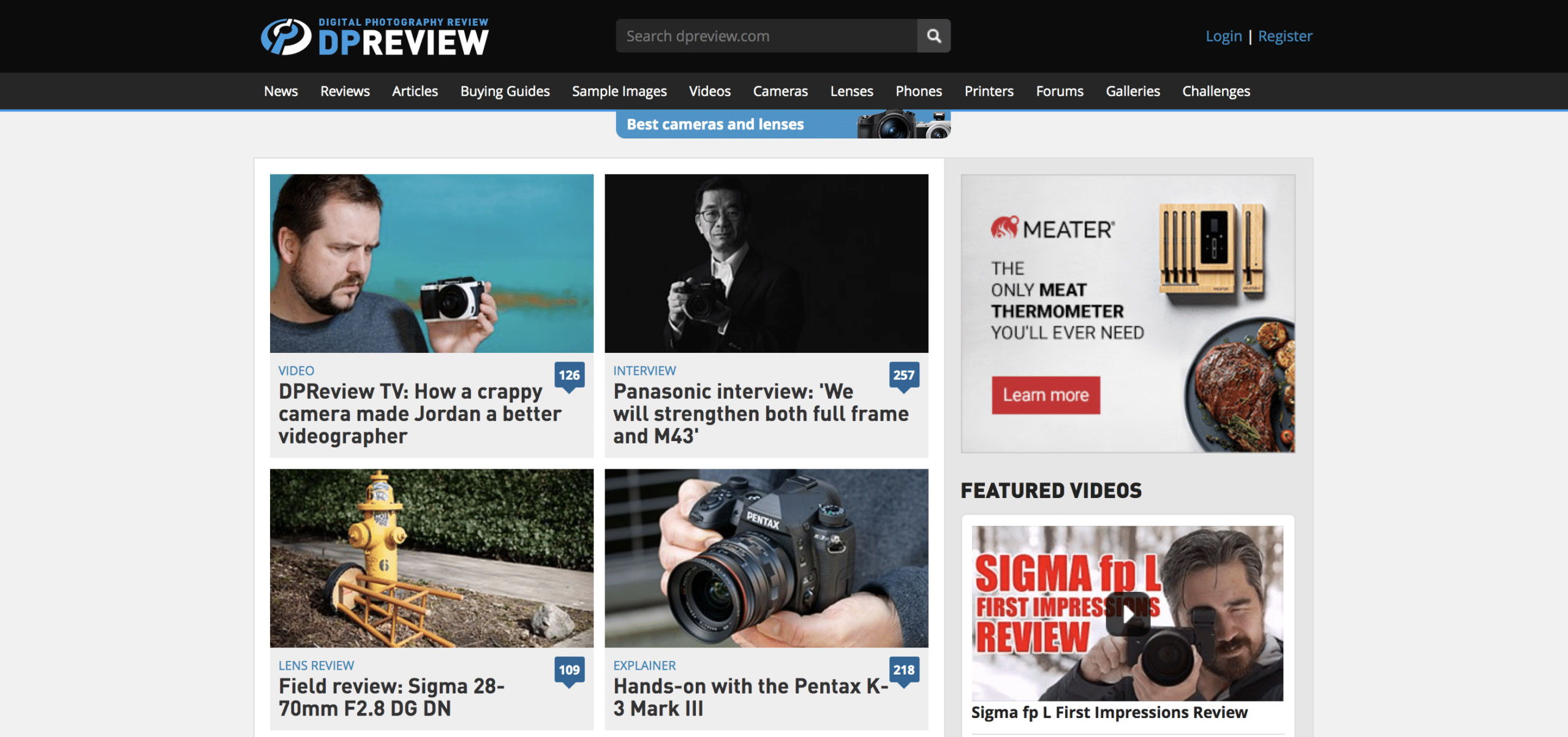 Cameras and lenses can cost thousands of dollars. Unlike mattresses, though, not everyone needs a camera.
But some people use cameras as part of their job, and other people are really passionate hobby photographers.
Both groups need detailed information before making a purchase, so while the audience is smaller than for mattresses, it's devoted.
The site also has a forums section, and there are millions and millions of threads and posts, so the site has created a little community that goes a long way to building a relationship and loyalty with users.
Again, no surprise that Amazon is the primary affiliate.
The Verge is a tech review site that is part of Vox media. It reviews several different products and gadgets, including phones, laptops, cameras, tablets, and even drones.
Again, all relatively expensive purchases. One of the things that set the Verge apart from other tech review sites is its "How To" section.
Not everyone who needs and uses tech (which is pretty much all of us) are "techies" who have the slightest notion of what we're doing, so The Verge's "How To" section provides additional value to readers.
A few of the recent offerings:
How to hide faces and scrub metadata when you photograph a protest.
How to use your Android or iOS device as a webcam.
How to choose between the iPad, iPad mini, iPad Air, and iPad Pro.
The Verge has affiliate relationships with several different companies, including Dell, Apple, and Best Buy. And Best Buy sometimes gives buyers the option to buy online and pick up the item in-store, so online shoppers can get that instant gratification making Best Buy a good affiliate partner.
Check out our database of over 1,700 affiliate partners you can use to monetize your website.
The Wire Cutter is part of The New York Times, but that's not how it started. It was founded by Brian Lam in 2011 and purchased by The New York Times in 2016 for about $30 million.
Between 2011-2016, the site made $150 in affiliate income.
The site reviews a wide array of products, including digital products, appliances, credit cards, pet supplies, and more. The site reviews are high-quality, conducted by journalists who cover a particular area, researchers, and scientists.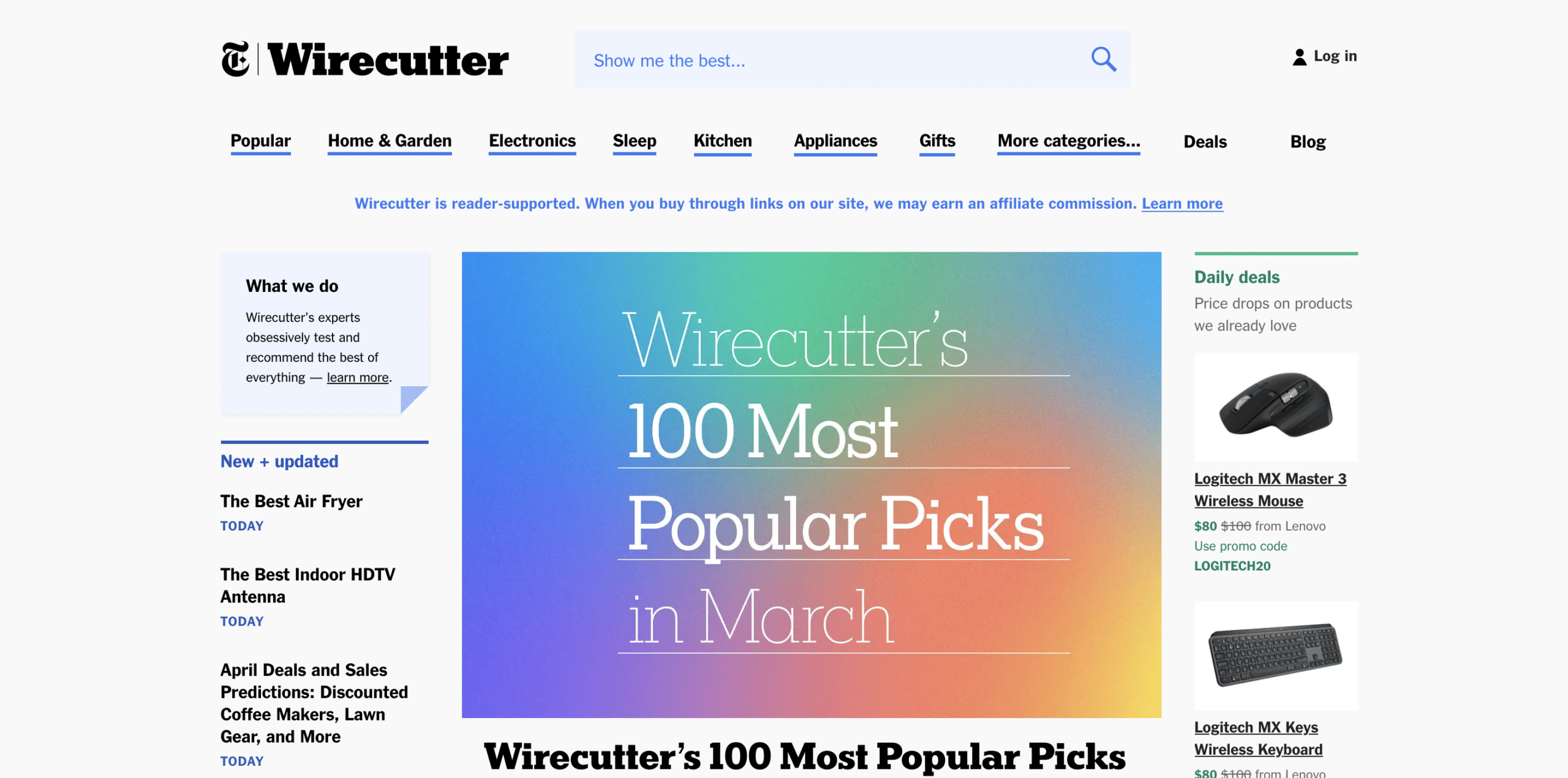 The Wire Cutter is part of several affiliate marketing programs, including Amazon, Home Depot, and Target.
Health
Like money, health is a crowded, competitive field, but some sites have risen to the genre's top.
There is a lot of woo-woo in the world of health and wellness blogs, and there are a lot that are too scientific for the average person to understand.
Healthline falls in the middle, which is why it's so successful. How successful?
By 2013, it had more than $21 million in revenue, and Deloitte ranked it as one of the top 500 fastest growing tech companies four years running. In 2009, it was listed as a top health information website. The company provides health-related content and tools to more than 40 other sites including Yahoo! Health, AARP.com, and DoctorOz.com.
That's a long way from its humble beginnings in 1999 when endocrine specialist Dr. James Norman created it.
Healthline is a part of Amazon Associates, as you would expect but has also partnered with some home testing companies like LetsGetChecked. They do STD testing in case you're asking for a friend.
Check out our affiliate programs for health and wellness.
Dr. Josh Axe is a chiropractor, certified doctor of natural medicine, and a clinical nutritionist. He's written several books and sells a line of supplements. 
The information on Dr. Axe can help you live a healthier life without taking 18 different kinds of prescriptions.
The site presents information in easily digestible ways, including lots of well-done infographics. It also has lots of links to scientific studies within its articles.
Dr. Axe promotes his line of products but also works with affiliates.
The Healthy Maven is devoted to whole-life wellness, at home, in the workplace, traveling, and self-care, focusing on clean eating and natural products.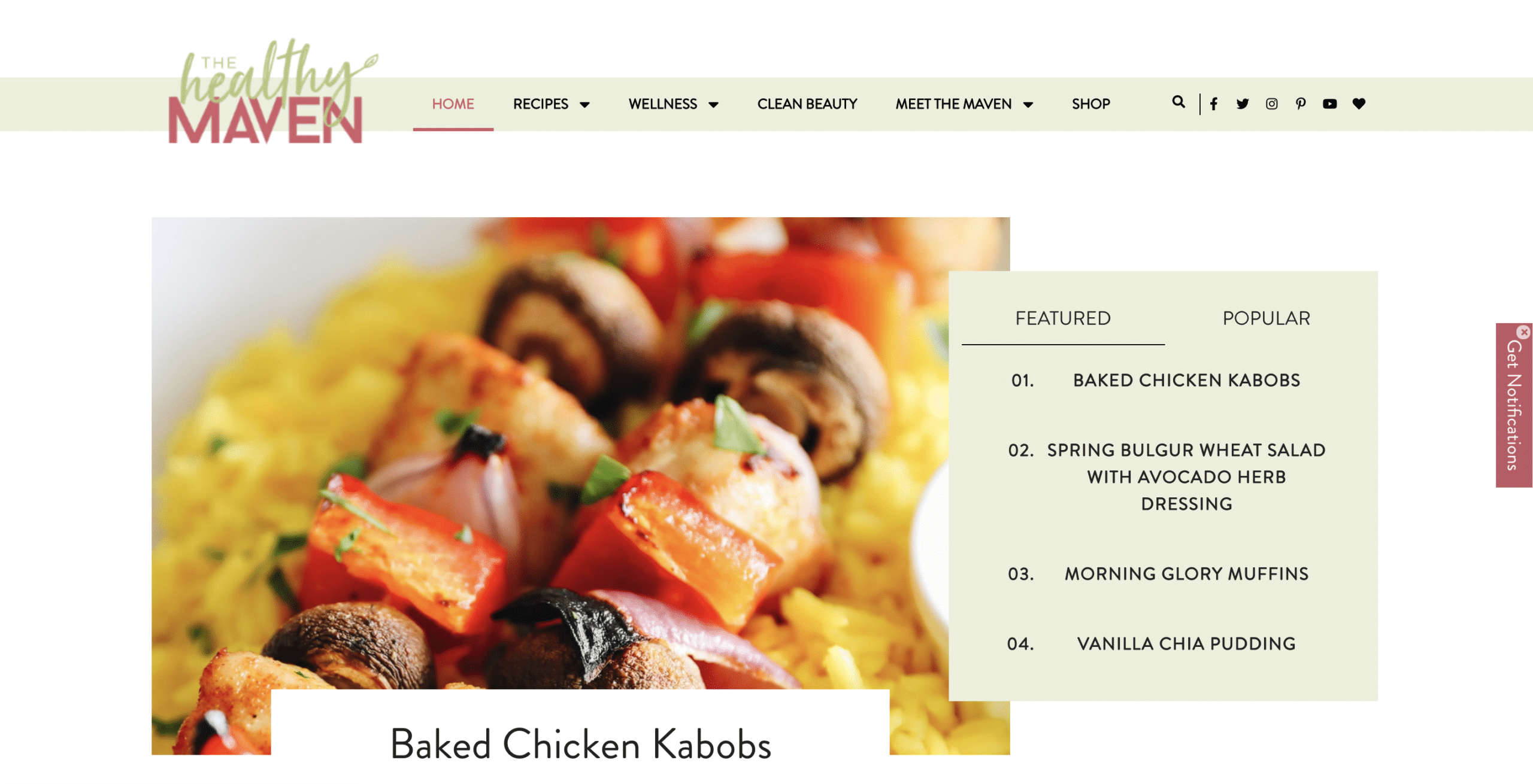 It's a billion-dollar industry right now.
The Healthy Maven is an aspirational site. It has beautiful photos showing beautiful people doing healthy things.
The site has a dedicated Shop page where there are affiliate offers for green beauty products and favorite product recommendations from site founder Davida Lederle. You can purchase some of the items on Amazon and some directly through the producer.
Well + Good started as a local New York City site dedicated to reporting on health and wellness trends in the city but has now expanded to be relevant to readers anywhere in the U.S. and many parts of the world.
The site covers all the big wellness topics, food, fitness, relationships, and holistic treatments. I mean, if finding out "5 Ways Sage Works Beyond Banishing Bad Vibes According To An Herbalist" is information you can't live without, this is the site for you.
I live in New Orleans, so I get rid of bad vibes with Voodoo.😉
Greatist is a fun site to peruse because they have some whacky headlines like "Reading Aloud is My Emotional Pillow Fort During These Times," and "The Thirst is Real! Why You Have Dehydrated Skin and How to Fix It."
It covers the usual suspects, food, fitness, beauty, and life. There is a dedicated Products page that doesn't simply take you to a shopping page but to articles with product recommendations which are, of course, affiliates.
Cooking
Even if you don't like to cook, you want to eat. So cooking blogs have broad appeal, and they are an excellent genre to find a niche in because there are so many possibilities; French, vegan, paleo, picky eaters, gourmands.
Whatever your cooking kink, there are sites devoted to it.
Sprouted Kitchen is run by a husband and wife team. She cooks, and he's a photographer, so the food shots on the site are beautiful. Most of the recipes are based on the Meditteranean diet and vegetarian.
The pair sell cookbooks and some branded items and have affiliate links for both cooking and camera equipment.
I'm a savory person, so looking at this blog makes my teeth hurt, but you know. The clue is in the name "Baking." Sally does some savory baking, but it's primarily desserts, so if you have a sweet tooth, this is the place.
If you want to start or improve your cooking blog, this is also a great resource. Sally shares a lot of information on her site, and a lot of her affiliate links are for equipment and services new bloggers will need, like WordPress and WP Engine.
Sally has also written three cookbooks.
Estimated Annual Revenue: $4.1 million
Food52 is a great recipe site. You can save and organize your saved recipes on the site, which is very convenient. I use it all the time. You can find more than 50,000 recipes that represent all kinds of cuisines and styles of eating.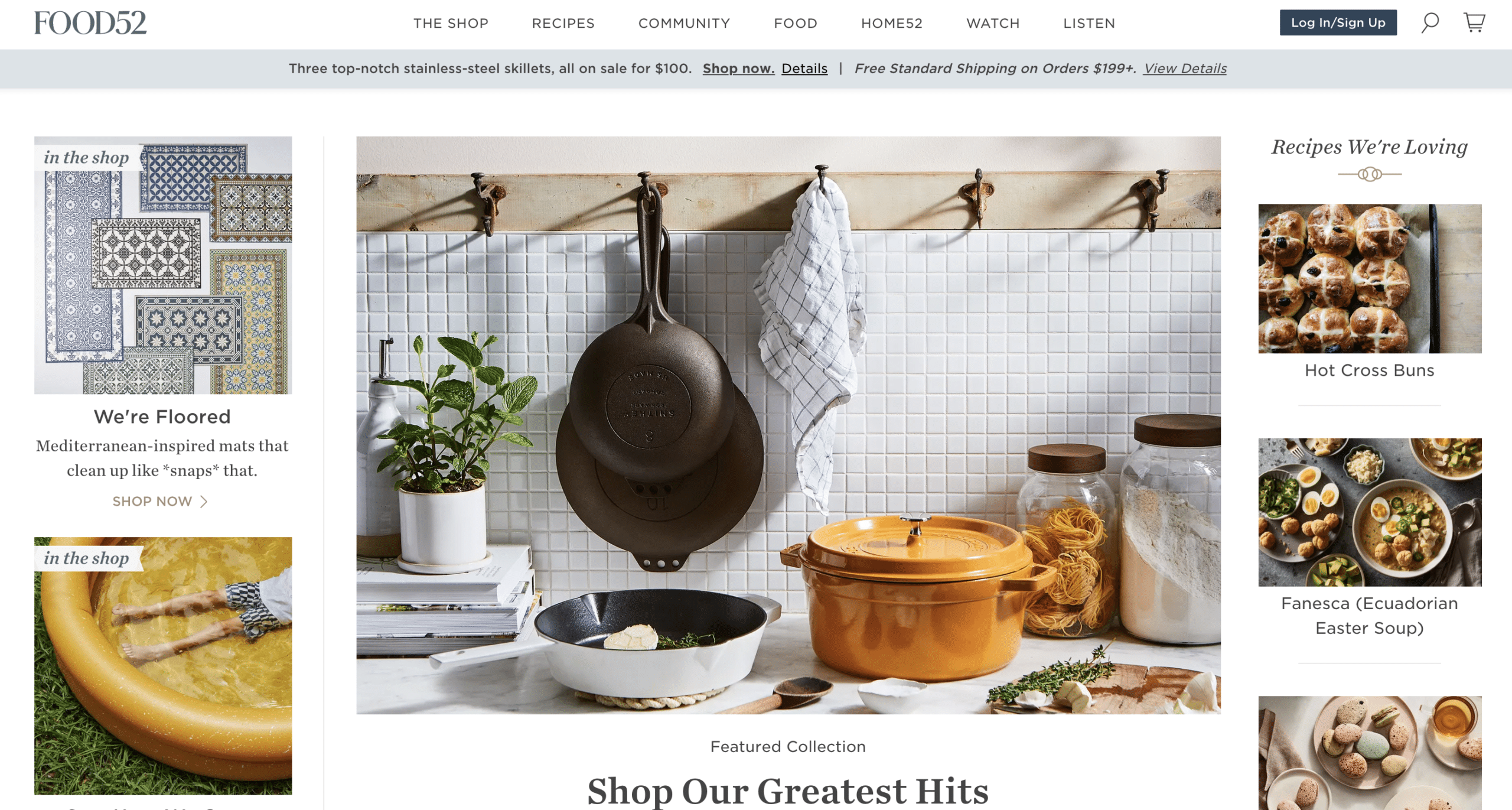 The site is no longer a simple cooking blog; it's a "lifestyle brand."
Which has worked out pretty well. The site has tons of affiliates, but you can shop and check out on Food52, it has its own e-commerce branch, and you can join its affiliate program!
Currently, there are over 5,000 items available in the shopping section of its site. In 2018, Food52 said it brought in around $30 million in total sales, and the company projects $40 million in overall revenue by the end of the year.
Estimated Annual Revenue: $30 million
I love Budget Bytes and cook from it a lot. It's great for those trying to save money on food; each recipe is broken down by cost, total cost, and cost per ingredient. It's also great for beginner cooks. None of the recipes are too hard to pull off, and each has step-by-step instructions with photos.
Beth has written a cookbook and recommends other cookbooks and kitchen supplies through affiliate links.
Estimated Annual Revenue: $4.4 million
Shopping
Online shopping is big business:
Consumers spent $601.75 billion online with U.S. merchants in 2019, up 14.9% from $523.64 billion the prior year.
Who What Wear is a fashion blog. It has fun headlines, too, like "The #1 Fabric to Avoid According to Science." I never really considered science's opinion when making sartorial choices but live and learn!
The site has its own line, which is through Target. I have a few pieces, and they're pretty good. They also have tons of affiliate links, as you can imagine when you're writing about things like clothes, bags, and jewelry.
Messy Nessy Chic isn't a shopping blog how the others on this list could be considered shopping blogs. And that's part of its charm, and it's one of the most charming, quirky sites on the internet.
It's kind of hard to explain, but it's just a really well-curated site full of really unique stuff. Here are some recent offerings:
Just as you won't find such a unique collection of articles on other sites, you won't find such a unique collection of items to buy. How about The Hungover Cookbook or some rude teacups?
You'll find a lot more than just Amazon affiliate links at MNC.
You can't argue with the numbers, although how involved Goop herself is in running the business is up for debate.
It doesn't matter, though. The kind of women buying stuff on Goop don't care about that. They care about being aspirational. 
The stuff moms buy covers a vast expanse. Kids themselves need lots of stuff, all of which they outgrow or age out of fast. And then you have house stuff, organizing stuff, kitchen stuff. Moms are a big market.

Cool Mom Picks does an excellent job of curating their recommendations with thoughtful, practical items and gifts.
News
Okay, you may feel a type of way about these two sites as news sources, but they are good affiliate marketing examples!
The Daily Mail is my guilty pleasure, and I'm not the only one. It's one of the most widely read online papers in the world. And not without reason.
The DM is on top of breaking news. It's because they employ a vast number of freelance journalists all over the world. I've read that the DM has five people on the ground for every one its competitors have.
It has fantastic photos of significant events, protests, weather, and other disasters. It's not unusual to see a dozen or more in a single story. Its SEO game is top-notch, and it updates stories constantly.
As most of us are probably aware, journalism is a dying field, bleeding money. The DM has adapted. In 2013 it began working with affiliates.
My personal weakness is beauty stuff because I want to be cute. I have bought SO MUCH on the DM's advice.  
For the fiscal year that ended on September 30, 2019, the DM grew by 15% to $183.5 million and is "solidly profitable." Not all of that is affiliate revenue, but I couldn't find a breakdown.
I know BuzzFeed is probably better known for its quizzes like "Everyone Has a Harry Potter Spell That Matches Their Personality-Here's Yours." Still, it does also do real journalism, and its reporting on Russia in 2018 netted the site a Pulitzer nomination.
As we discussed, journalism isn't cheap, so you can't blame Buzzfeed for getting that coin through affiliate marketing. And the site is good at it. Here's a sample: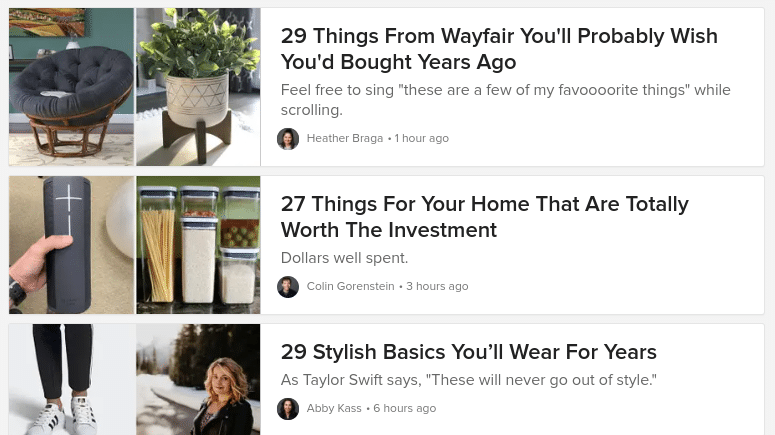 And if you're a poor gift picker outer, those lists, particularly the holiday or occasion-based ones, are helpful.
This is a lesson for all affiliate marketers, the site pushes Mike's Hot Honey, constantly, like on every single list. 
How much is the site making?
Last year (2018), BuzzFeed generated a little over $300 million in total revenue. Of that, $84 million came from Facebook, Google, Amazon, and Netflix.
Further Reading:
Summary
I know there are some heavy hitters here (Nerd Wallet), some that have built-in platforms (The Wire Cutter), some that have an unfair advantage (Goop), and some that have been around for a dog's age (Johnny Jet).
But plenty of them you've probably never heard of and are relatively new. I chose those kinds of affiliate marketing examples deliberately because this article's goal was to inspire you, no matter how small or new your blog, to get started.