"If you want to improve, be content to be thought foolish and stupid" — said Epictetus, a Greek stoic, freed slave, and surprisingly, a shrewd digital marketing strategist. Those ideas could also help you find new ways to drive conversions on your niche site.
Far fetched? Not really.
The way you drive conversions is to figure out what your audience wants and give them more of it. And the way you do it is by talking to them, seeing what works, and daring to suck (e.g., lots of a/b testing).
In this post, you'll learn simple tactics to increase conversion rates, drive traffic, and keep your website visitors engaged.
Let's go.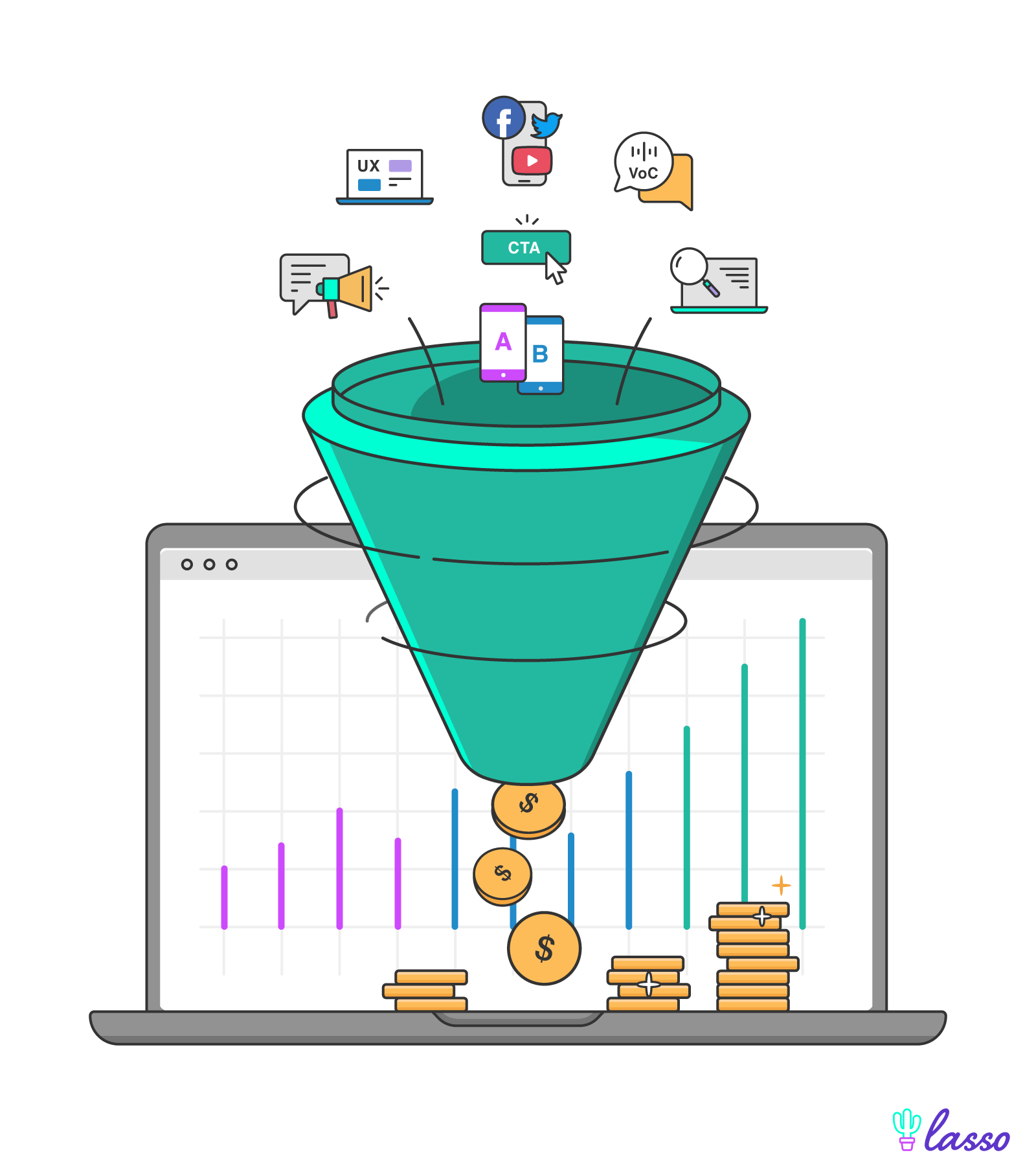 13 Simple Ways To Drive Conversions
#1. Pass the Grunt Test
In his book, Building A StoryBrand, Donald Miller mentions three questions potential customers must answer (within five seconds) if we expect them to engage with our marketing material.
They are:
What do you offer?
How will it make my life better?
What do I need to do to buy it?
Or, "could a caveman look at your website and immediately grunt what you offer?"
Processing information forces our brain to burn calories. If we have to think too hard about a website's offering (i.e., what they can do for us), we'll bounce.
So, a good rule of thumb is to make the offerings on your site crystal clear.
For example, former Head of Growth at ConvertKit, Darrell Vesterfelt's homepage clearly states what he can do for you: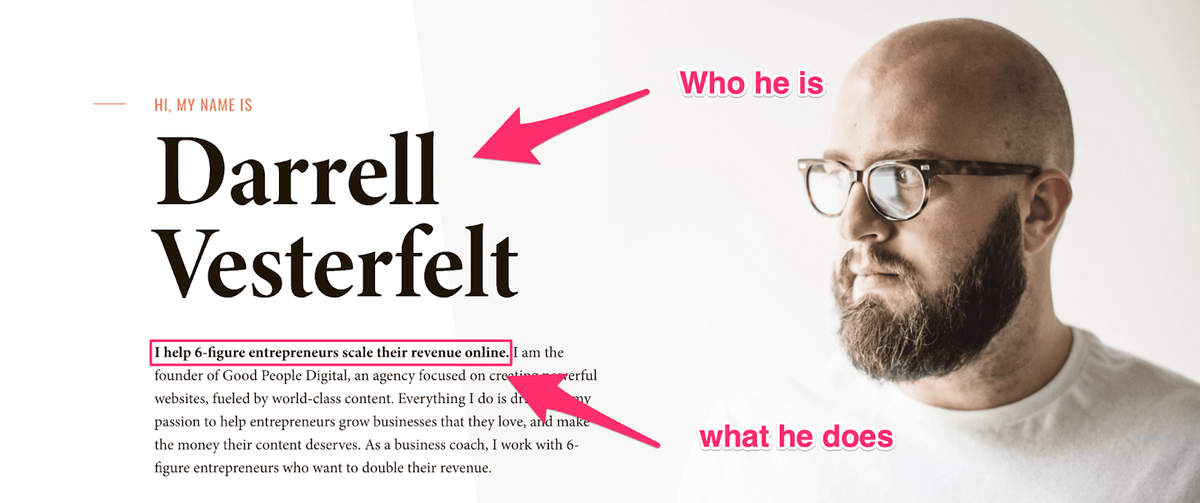 Sidenote: It's worth mentioning Darrell took ConvertKit from $98k to $625k MRR in a single year by doing 150 webinars!
Or this from one of our own subscribers: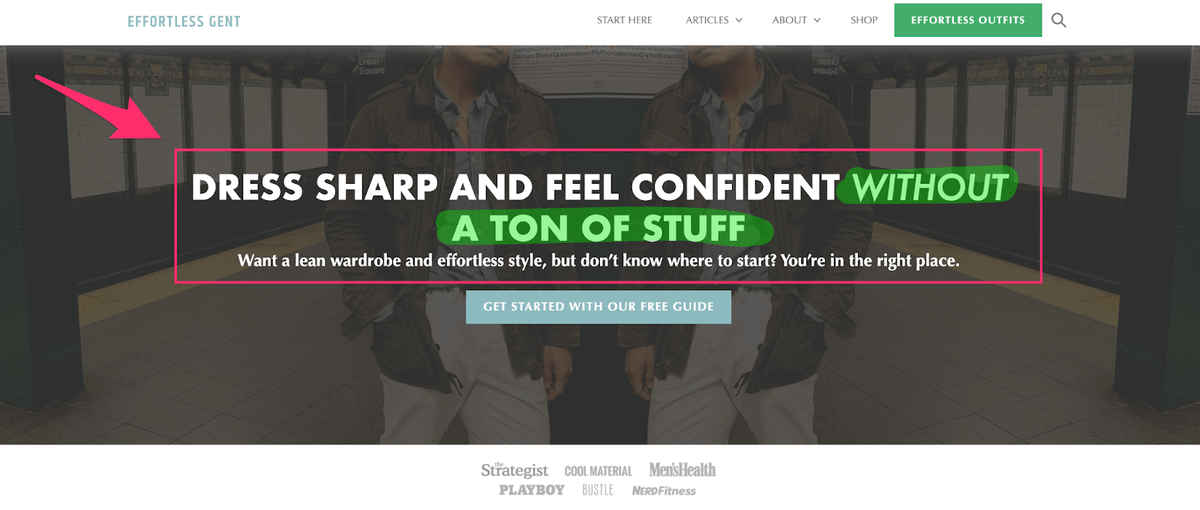 It tells you what the sites about while addressing a pain point.
#2. Try the "For Example" Hack
List building expert Bryan Harris mentions on his blog that you're like a salesman for your company with every new article you publish.
The topics you'll cover may be new and require further explaining. Whenever he would feel stuck trying to make his case, he'd use the phrase, "for example."
It's a trick that's helped him produce in-depth, high-quality content and go deeper than his competitors.
Let me explain.
Sometimes when you're writing, you get "stuck" and feel as if there's nothing left to say. Using the phrase "for example" triggers your brain to keep searching.
I've used this model countless times when writing, and I've found it makes a nice transition.
Here's an excerpt from an older post:
"Niche keywords are a specific subset of terms within a broad category. For example, cameras are a niche in the electronics industry, while dogs are a niche in the pet industry. Both of these words are smaller pieces of a larger pie."
The more detailed you make it for your audience, the less they have to think about what you mean. That's better for you (and your affiliate commissions). 
Sidenote: Using "for example" is similar to asking yourself, "so what?" when you're trying to find more facts, examples, or ideas to include in your posts. You can read more about that here. 
#3. Include Value-Based CTA Buttons
Most people like to be told what to do. So, we must guide them at every step to get them to take action (e.g., sign up for a newsletter, share a post on social media, or start a free trial).
One trick is to optimize your CTA buttons with benefit-driven copy. Here's a simple formula you can follow:
For example, which of these two CTA buttons on Crazy Egg's site look more clickable?
This one?:
Or this?:
The second option uses the simple formula "Show (verb) me my Heatmap (Benefit)." Ideally, your button copy tells them what to do and what they'll get.
Another tactic you can use to keep them engaged is by offering a secondary CTA button.
For example, maybe you want to offer your readers a second affiliate option (e.g., link to Walmart AND Target).
Or, maybe your visitor isn't ready to buy your product. Maybe they need more information. In that case, your secondary button could link to your product review. 
When using a tool like Lasso, you can create product displays with two buttons. Here's a WP Rocket display we created featuring a link to:
The sign-up page
A product review
Have a look. 👇
Our Pick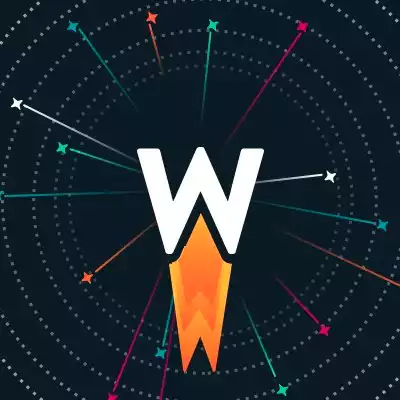 WP Rocket
Make your site load faster in a few clicks. WP Rocket is recognized as one of the most powerful caching plugins for WordPress. We use it specifically for image lazy loading.
🚀 Cache My Site
Read Our Review
We earn a commission if you make a purchase, at no additional cost to you.
Further Reading:
#4. Engineer Expectation
A way to hold a person's attention is to tease the benefits they'll get when they complete a task — e.g., reading to the end of your blog post to get a freebie.
Here's an example blog intro from a VideoFruit case study: 
"Some top brands invest heavily in SMS to communicate with customers because over 90% of SMS messages get read within three minutes of receipt. (Attention).
In addition to its reach and immediacy, SMS is affordable and offers an amazing ROI for marketers when used properly (Interest).
How would you like a 90% open rate on your messages? (Desire)
Today I'm going to show you 10 strategies to make that happen (Preview).
Also, I have a special FREE bonus to help you even further. Make sure you read all the way to the end to get it." – – Expectation with a call-to-action – –
And you can weave that expectation throughout your post. Just keep reminding them there's a bonus waiting for them at the bottom using similar copy from your intro.
If your goal is to get them to download your PDF, teasing your reader through the post makes them more likely to do it.
And once they get to the bottom, they'll want that content upgrade.
#5. Create a Content Upgrade to Get More Subscribers
Marketing strategist Robbie Richards asked 58 experts which SEO tool they thought was their favorite – and SEMrush was the winner. So, he wrote a detailed post teaching people how to use SEMrush to gain an edge over their competition.
Then, he later repurposed that content piece as a PDF and used it as a content upgrade to get more subscribers. That tactic doubled his email opt-in rate when he used a popup (more on that in a minute) to collect email addresses in relevant blog posts.
You can find ideas on content to repurpose by heading to Google Analytics. See what your top five pages are using Behavior > Site Content > All Pages. Or, find the intersection of All Pages and Landing Pages where people enter your site.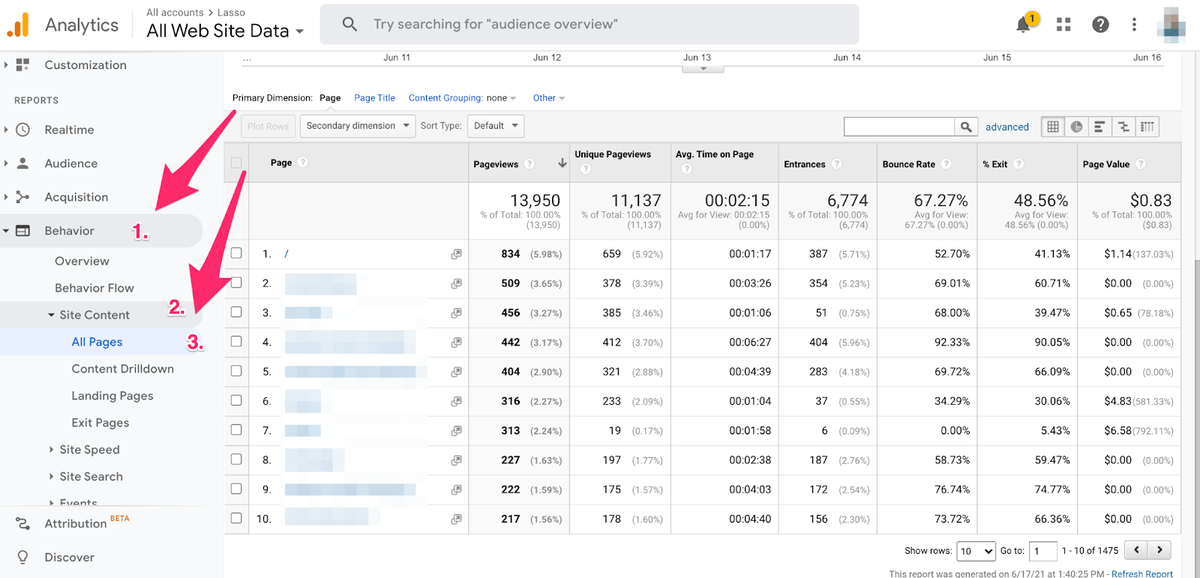 Tip: Try the Chrome extension Print-Friendly & PDF for converting your posts into PDFs quickly.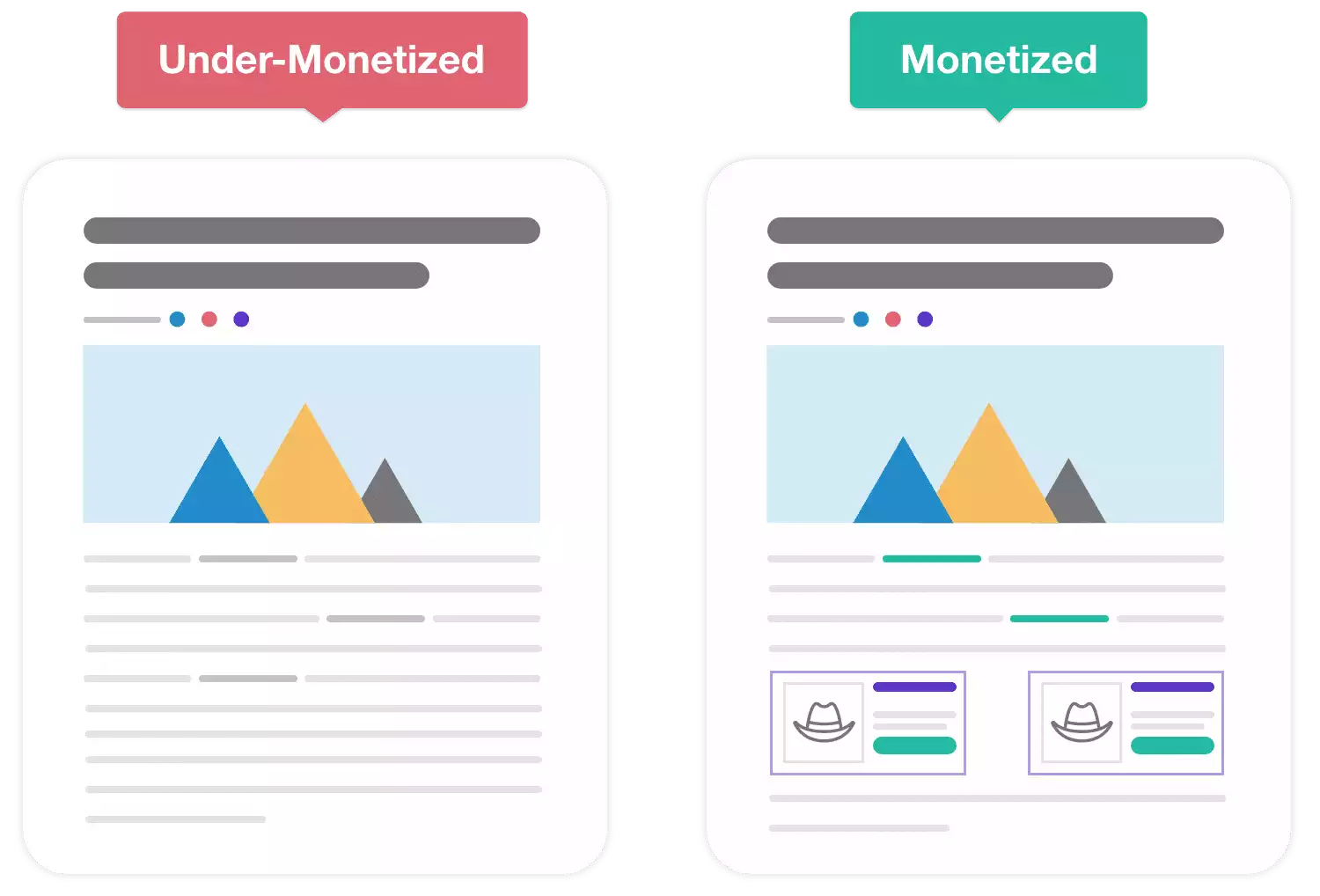 #6. Add Keyword-Rich Links
Simple, but worth mentioning. Adding contextual, keyword-rich links lets you provide greater depth by linking to another relevant page if your website visitors want more information (that's beyond the scope of your post).
For example, the below screenshot is from a post about increasing domain authority. We mention internal linking as one way to do it. Then, we link to our internal links post to give our readers something more (should they need it).
This approach has the double benefit of:
Keeping them on your site longer
Positions you as an authority 
#7. Include Popups for Driving Conversions to Your List
Pop-ups work well. Here's one from blogger Chris Guillebeau's site that appears after you're on the page for a set period of time: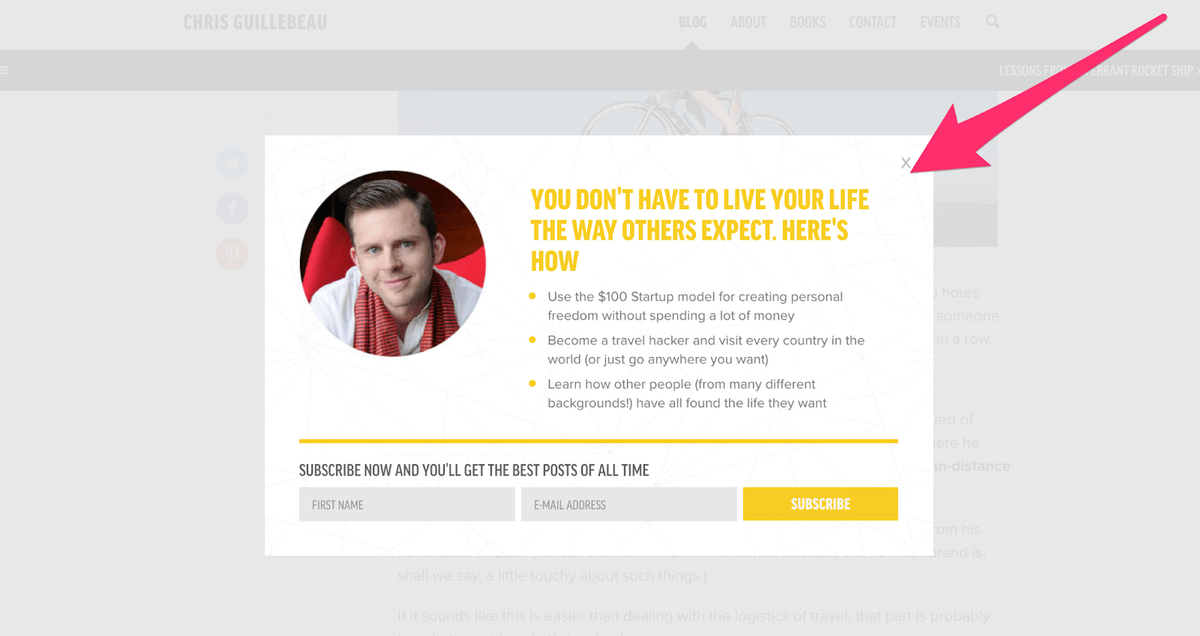 Note how Chris emphasizes desired outcomes to entice people to sign up with him as part of his marketing strategy.
Some of those mentioned are:
Creating personal freedom
Traveling anywhere you want
Finding the life you want
Pat Flynn of Smart Passive Income asks his visitors if they want to know which products to promote on their affiliate site so they can make more money (and then gives away an affiliate marketing cheat sheet):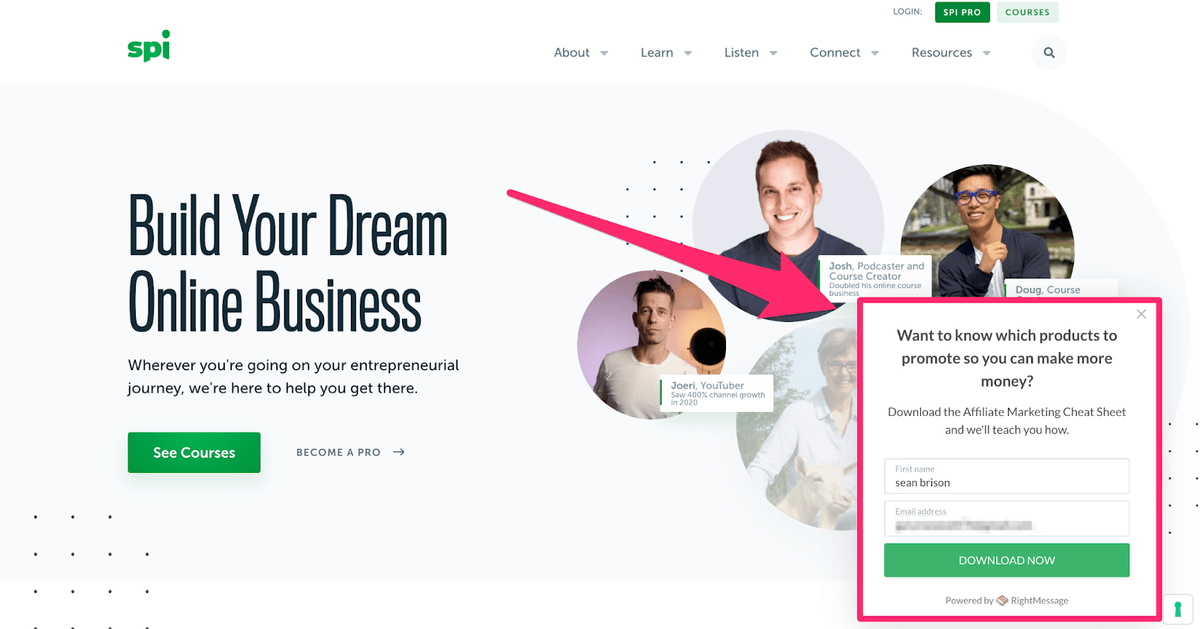 #8. Make It Mobile-Friendly
Optimization is more than how you use the words on your web pages; it's also how your pages perform. Pair that with the number of smartphone users increasing to 3.5 billion and the bulk of organic searches coming from mobile.
So, it's a good idea to ensure your website renders properly for them (or you leave money on the table). We wrote a detailed post about it (read it here), so I won't go into too much detail.
To ensure your site's up to snuff, take Google's mobile-friendly test.
Here's how they'll display your results: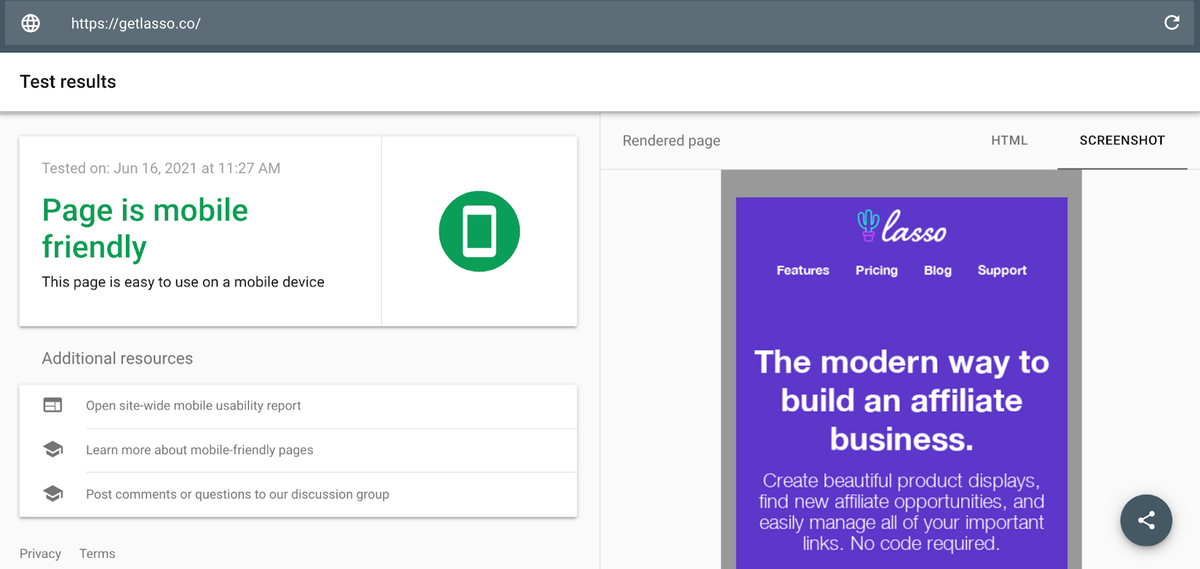 #9. Boost Page Speed
Piggy-backing off of the mobile-friendly test is page speed — it's a ranking factor.
Take a look at the free tool GTMetrix for page speed insights. You'll see the breakdown from TTFB (time to first byte) to your page's fully loaded time at the bottom.
Here's what ours looked like after running our homepage through the tool:
The faster your site loads, the greater your competitive advantage. Especially important for outranking larger sites that don't focus on page speed.
Another reason people bounce is due to a slow-loading page. Don't discourage people from getting to your site before they even land on it.
#10. Steal from Your Features Page
If you have a features page, take the copy from it, create a display box, and target specific blog posts. You can use this strategy to drive conversions on high-value areas on your site.
For example, we have several blog posts about optimizing your affiliate site for Amazon. So, we decided to take marketing copy from that specific portion of our features page and turn it into a display.
Here's one from creating a successful Amazon affiliate site: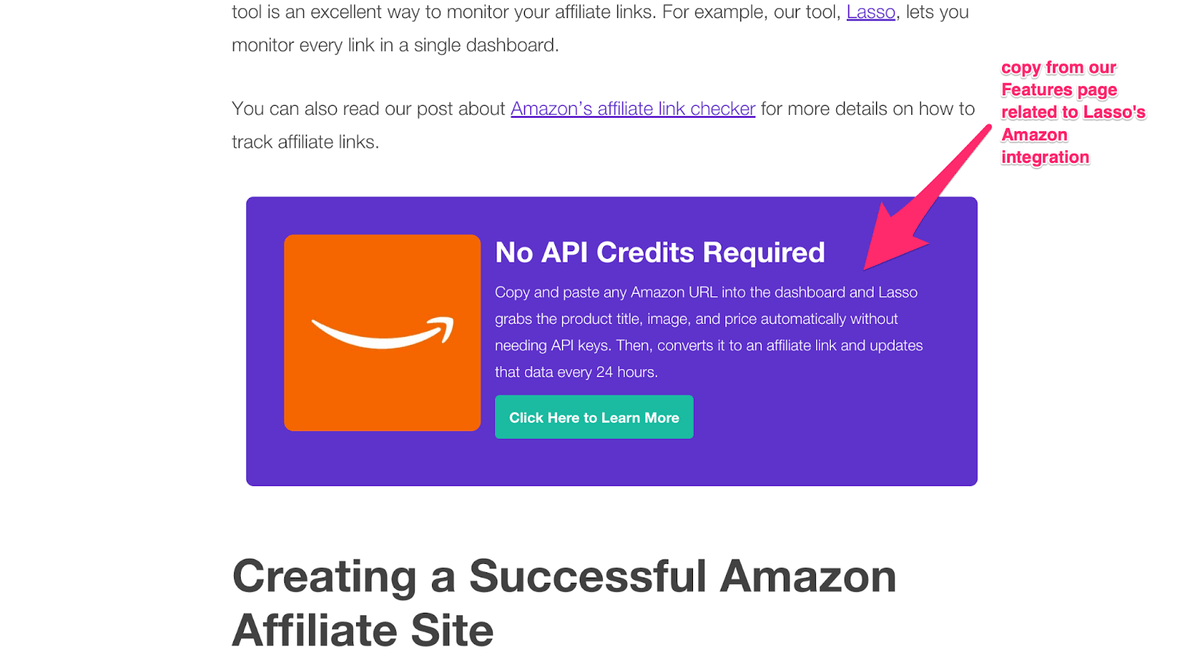 Since Lasso doesn't require API credits to use our plugin (this is a pain point for some people), we decided to add this specific display to catch the attention of Amazon Associates (who may be using another plugin that requires API credits).
To track it, we set up ITM parameters (for tracking internal campaigns versus UTM parameters). Learn more about using ITM parameters for tracking your site's internal links here.
How to do it with Lasso:
From the dashboard, select "Add New Link":

2. Paste your link with ITM parameters into the field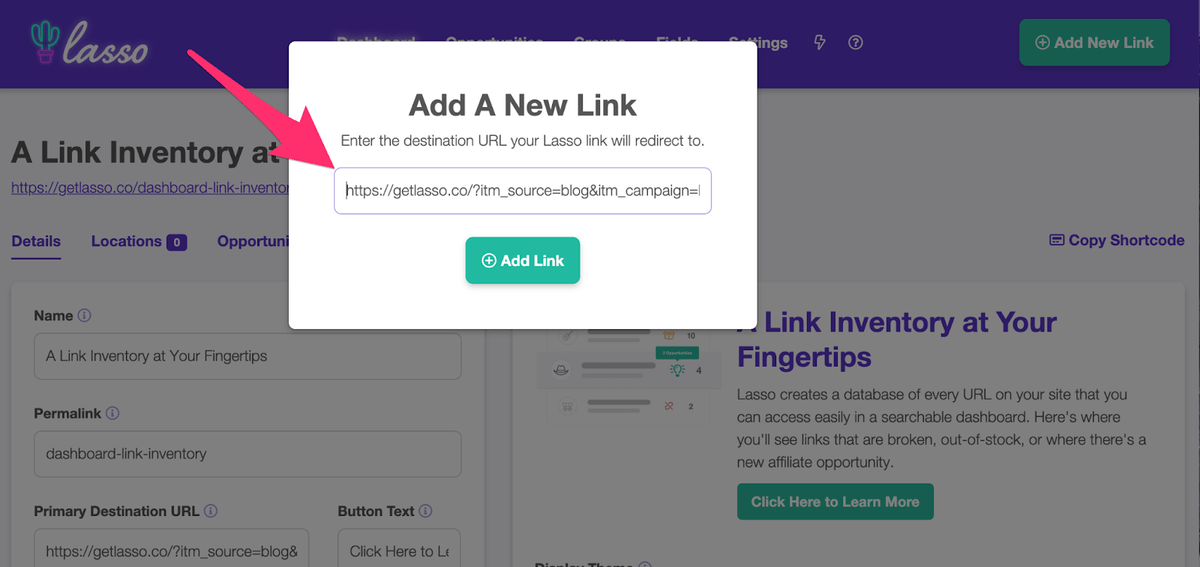 3. You'll arrive on a page that looks like this: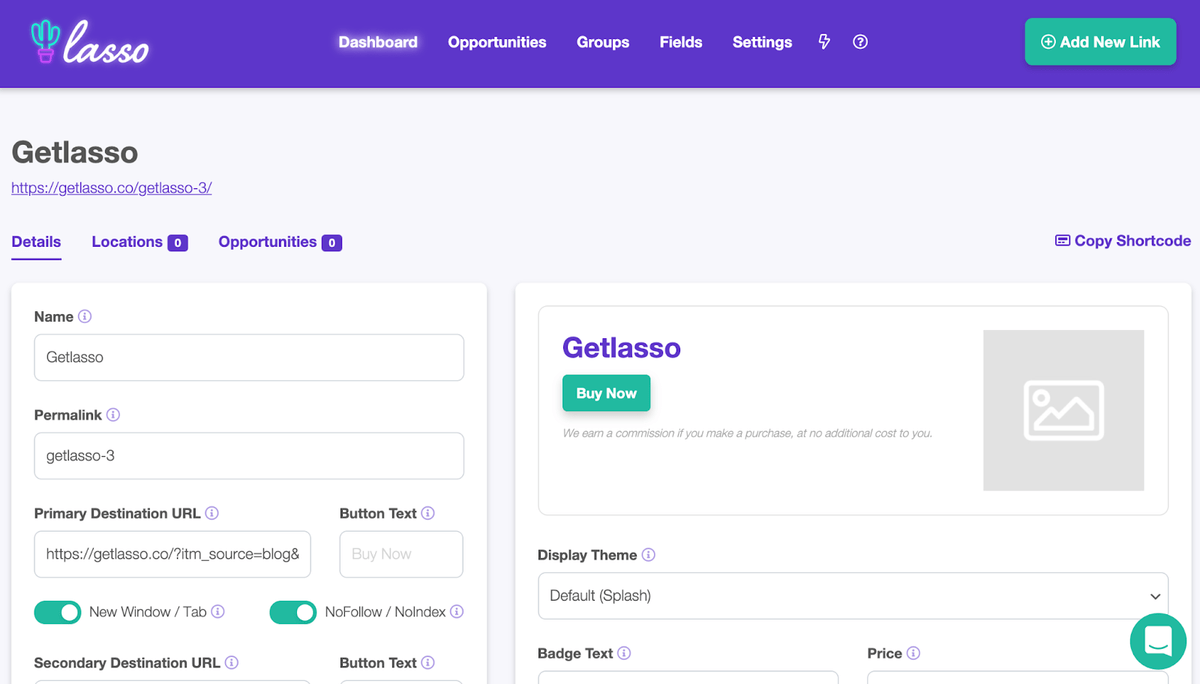 Change the title from Getlasso to whatever marketing material makes sense. I used "No API Credits Required" (per our features page copy about Amazon Integration):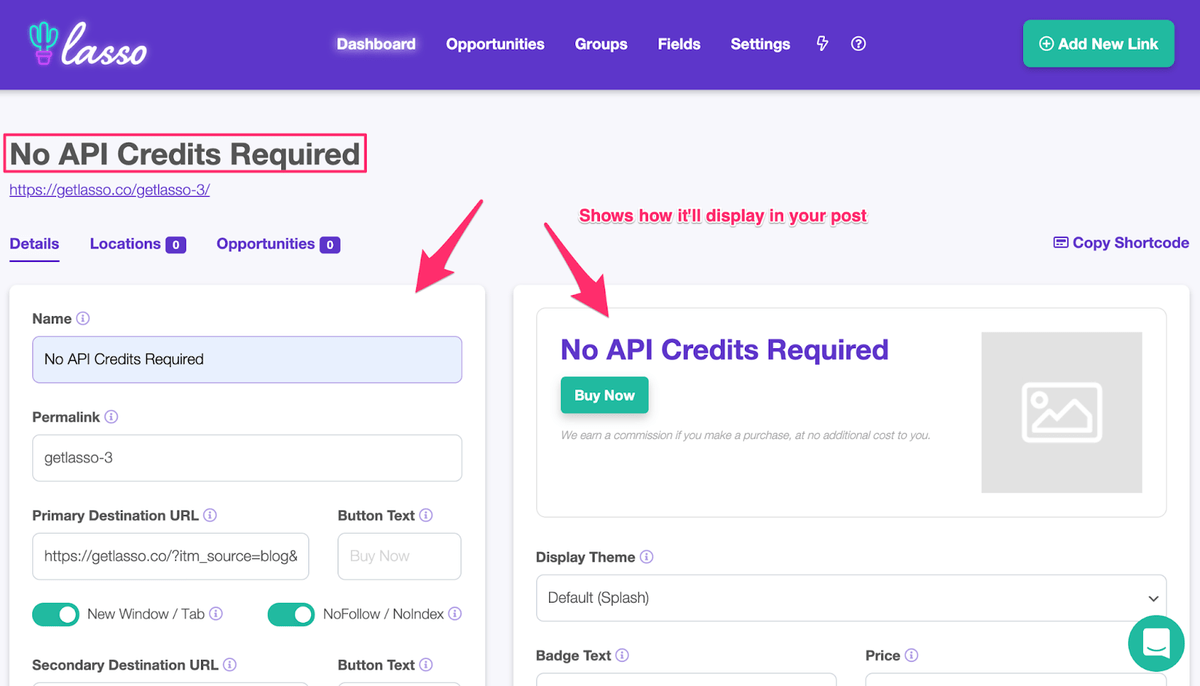 Next, change the permalink to what makes sense for your site (Hint: try something easy to remember). For example, I changed ours from getlasso-3 to /no-api/: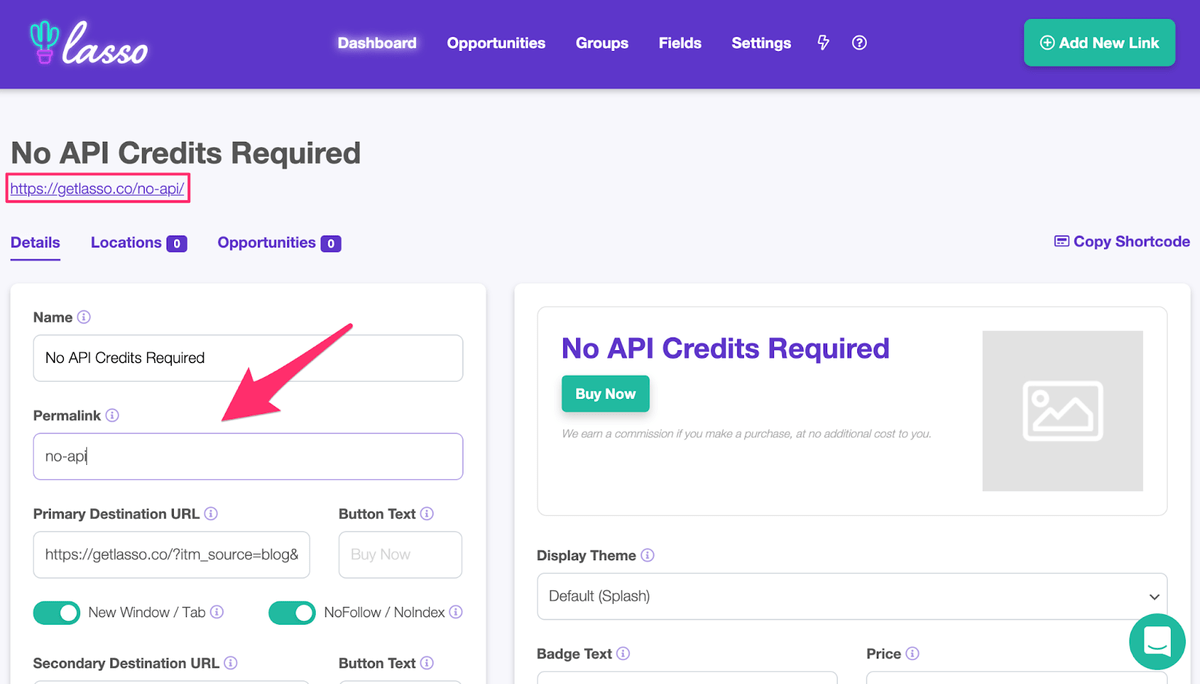 Then, change the button text (by default, Lasso shows your button text as "Buy Now"). I changed this to "Click Here to Learn More."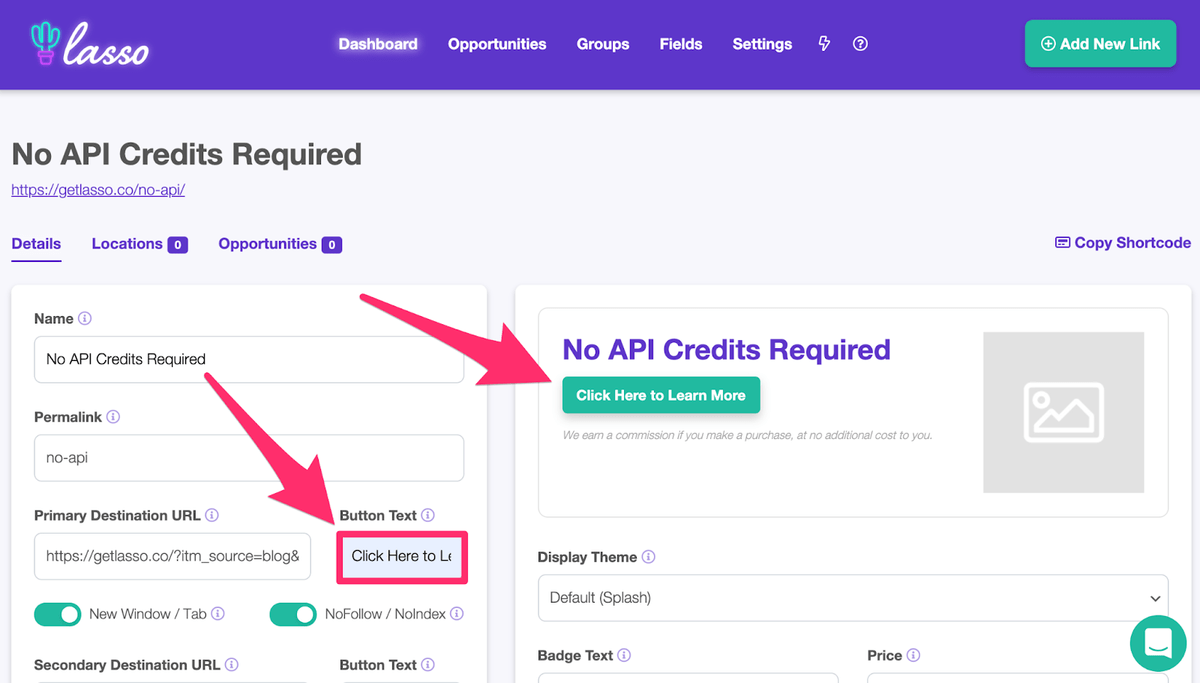 And then I pulled copy from our Amazon Integration features page: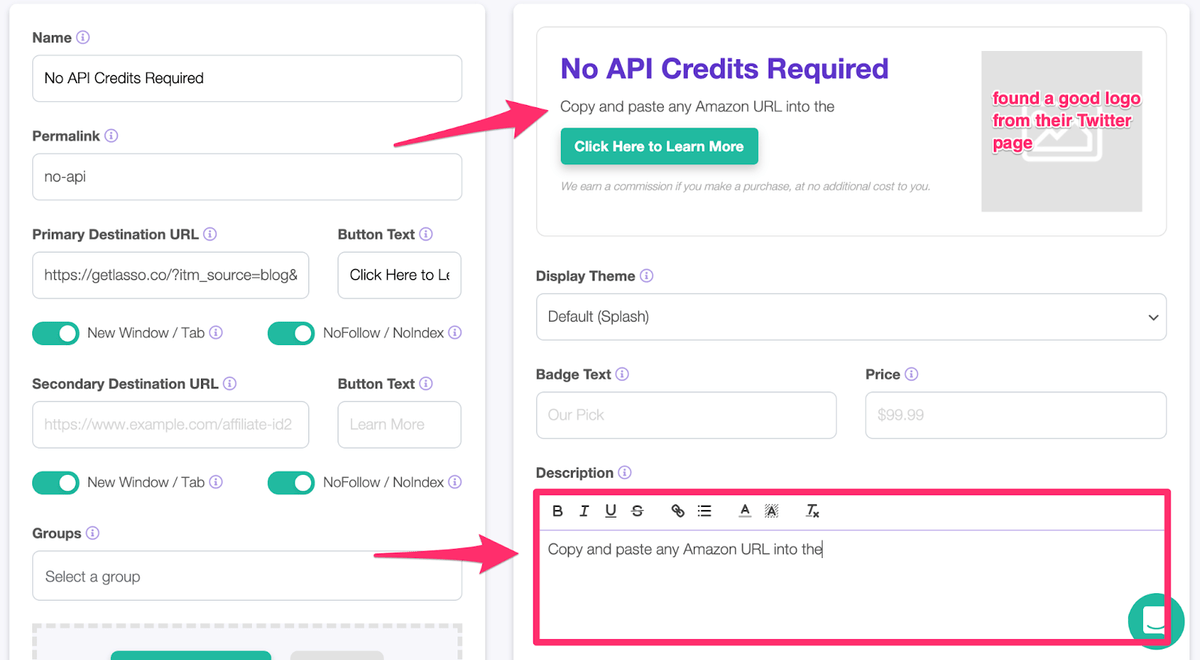 I also found a good logo to include in the "Add Image" field from their Twitter page. Try adding this ⅓ of the way through your post or before your post's third H2.
Tip: Be sure to toggle the affiliate disclosure to "Off."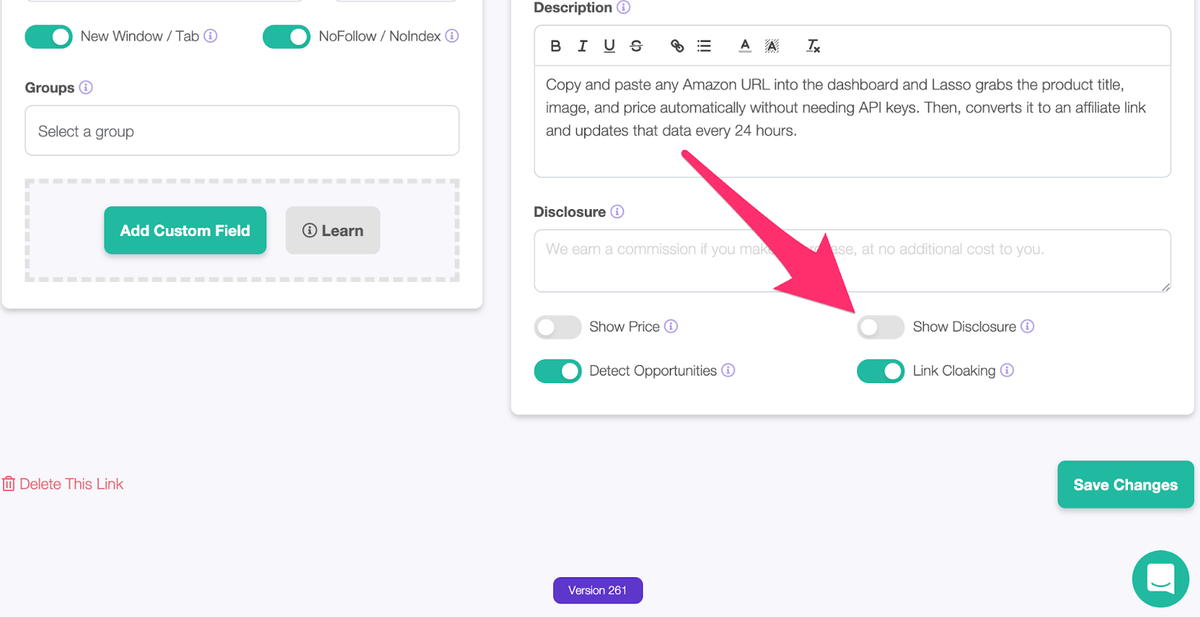 #11. Call Them By Name
If you serve a specific industry, call them out. For example, here's a sample of how we speak directly to our target audience on the homepage:

"What? They help affiliate marketers with online business? I'm an affiliate marketer. Perhaps I should take a look…"
Since our target demographic is online business owners earning money with affiliate marketing, we let them know it on the homepage.
But this doesn't have to be the only place you do it. You can use this approach with:
Blog post headlines
Product-specific landing pages
Email marketing campaigns
YouTube videos
#12. Target Keywords Your Audience Googles
Imagining what your buyers search for online is another way to find high-converting content. Start with a few seed keywords and see what you get.
For us, those would be terms like WordPress plugin, Amazon affiliate plugin, and AAWP alternative. Then create content based on those terms.
We've done that with posts, including:
Here's a more detailed framework for finding niche keywords.
#13. Use Testimonials and Social Proof
One of easiest ways to drive conversions is with social proof. We look to others for approval and for help with what to do. The more people we see doing something, the more likely we'll do it too.
Here's an opt-in from marketer Harry Dry using social proof and testimonials to build trust and establish credibility.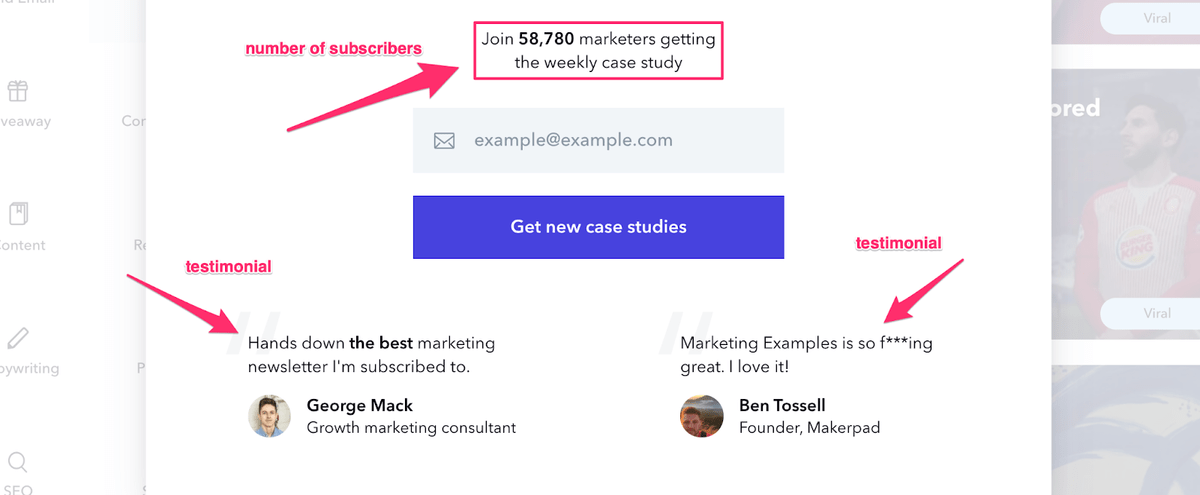 Tip: If your blog's new and you have no testimonials to include, use a quote of a well-known person in your niche you respect.
BONUS: #14. Use Trust Badges
Effective content marketing comes in many forms, and one of those is the trust badge. This can be:
HTTPS and SSL certificates
Customer testimonials
Money-back guarantees
Ratings from third-party sites
Top picks
Trust badges also add a layer of personalization to your affiliate products and services. Here's how you can do it with Lasso.
Head to your affiliate link details page of whichever product you have an affiliate relationship with. Let's use Cloudflare as our example.
From the dashboard, enter the term in the search field: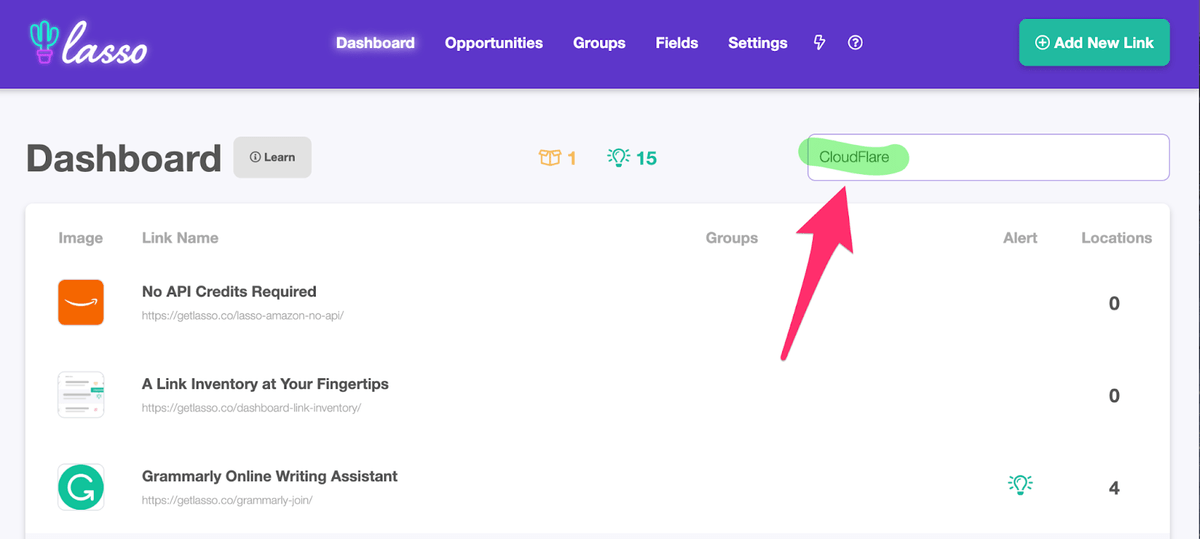 Lasso brings you to your Cloudflare's link details page: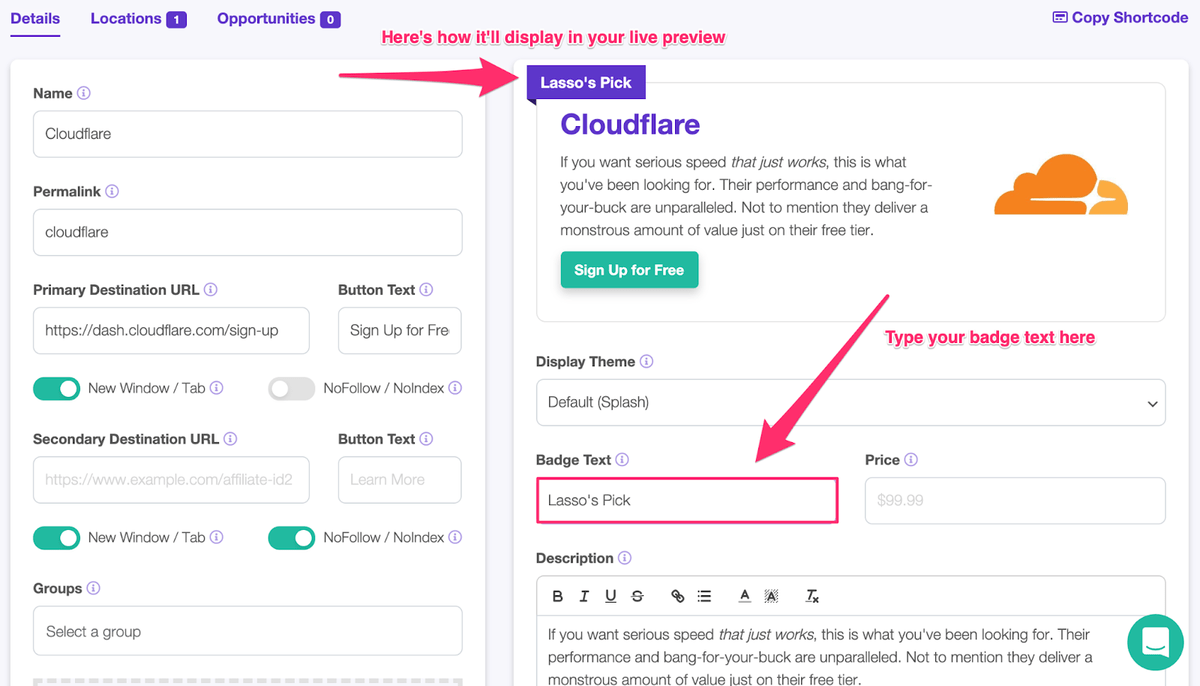 Next, type whatever you want your trust badge to read in the "Badge Text" field, and you'll see a live preview of it.
How To Drive Conversions | Final Thoughts
Obsessing over the best way to drive conversions will quickly consume your time. If this is the only metric you're tracking, you're missing out on the bigger picture – building relationships with your readers. 
Have more questions about increasing income? Read this.
Our creations in your inbox, weekly.
We've built multiple six-figure online businesses that our moms are proud of.
We'd like to help you do the same.