How do you know if people are even looking for the content you create? And, if they do find it, will they bounce or read to the very end? One way to tip the scale in your favor is by determining your topic's search demand (starting with niche keyword research).
This article outlines an approach for finding the right topics for your niche site that people are looking for (and will want to read). 
In this post, you'll learn:
What niche keyword research is
What niche keywords are and why they're important
How to find the best keywords for your niche
The best niche keyword research tools
But before diving in, let's make sure we understand each other.
What Is Niche Keyword Research?
Niche keyword research involves learning the language your audience uses to search for content about a narrow, singular topic (versus a broad category).
Once you understand the terms your customers enter into search engines (e.g., Google), it'll make it easier for you to create things they want.
What Are Niche Keywords?
Niche keywords are a specific subset of terms within a broad category.
For example, cameras are a niche in the electronics industry, while dogs are a niche in the pet industry. Both of those words are smaller pieces of a larger pie.
However, "cameras" and "dogs" are still broad search terms.
It's difficult to know what someone is looking for when entering the term "dogs" into Google. Are they looking for types of dog breeds? Dog food? Dog accessories?
This brings us to another point.
Why Niche Keywords Are Important
Niche keywords are important because the user's search intent is clear, they're easier to rank for, and have low competition.
Typically, broad topics (e.g., dogs) carry a higher difficulty level, and you don't understand what the searcher is looking for.
Sidenote: Of course, there are always exceptions. No hard and fast rule says every niche keyword will be easy to rank for. But, on average, I've found this to be true.
Let me show you what I mean with an example.
Take a look at the difficulty level if you're we're trying to rank for the term "dogs."

Using Ahrefs' tool, you'd need backlinks from over 300 websites to rank on page one. Plus, it's a competitive keyword with a difficulty level of "Super hard."
Now take a look at what happens when you niche down using a term like "dog carrier."

This term has a lower difficulty level than the broader keyword "dogs."
You can see what I mean when previewing the keyword difficulty scores for "pets," "dogs," and "dog carrier."
Both monthly search volume and keyword difficulty scores decrease the more niche my queries get.

"Pets" has a difficulty score of 94, while "dog carrier" scores 28.
If you're concerned with search engine optimization (SEO) versus relying on Google Ads, this is an eye-opening metric regarding your content creation.
Now that we understand what niche keywords are and why they matter, let's find the best ones to monetize your website.
Further Reading: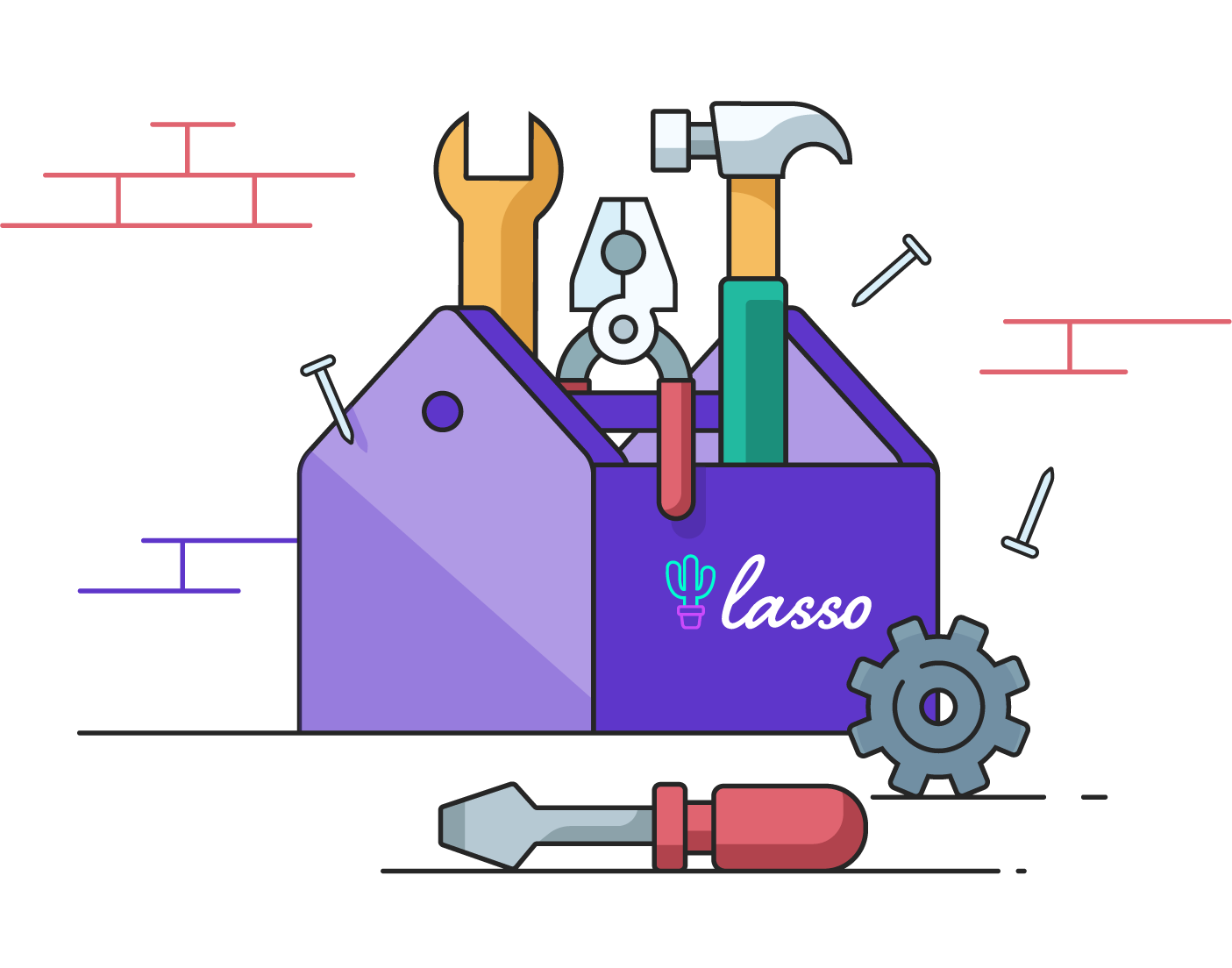 Get our FREE toolkit and checklist for writing articles that convert.
How to Find the Best Keywords for Your Niche (5 Ways)
You can find keyword ideas by:
Focusing on these two content types
Leveraging the ASP Method 
Using a keyword research tool (free or paid)
Seeing who ranks on the first page of an organic search
Observing your audience
1. Focus On These Two Content Types
The two content types that should provide you with an abundance of keyword ideas (and where you'll find the most success) are Informational and Commercial Investigation. 
Informational
Informational content helps you build trust and authority with your target audience. Typically, this type will have a modifier in the title, such as:
How
What
Guide
Tips
Resource
For example, this "how-to" article about bleeding a radiator includes affiliate links (note the Amazon affiliate disclosure below):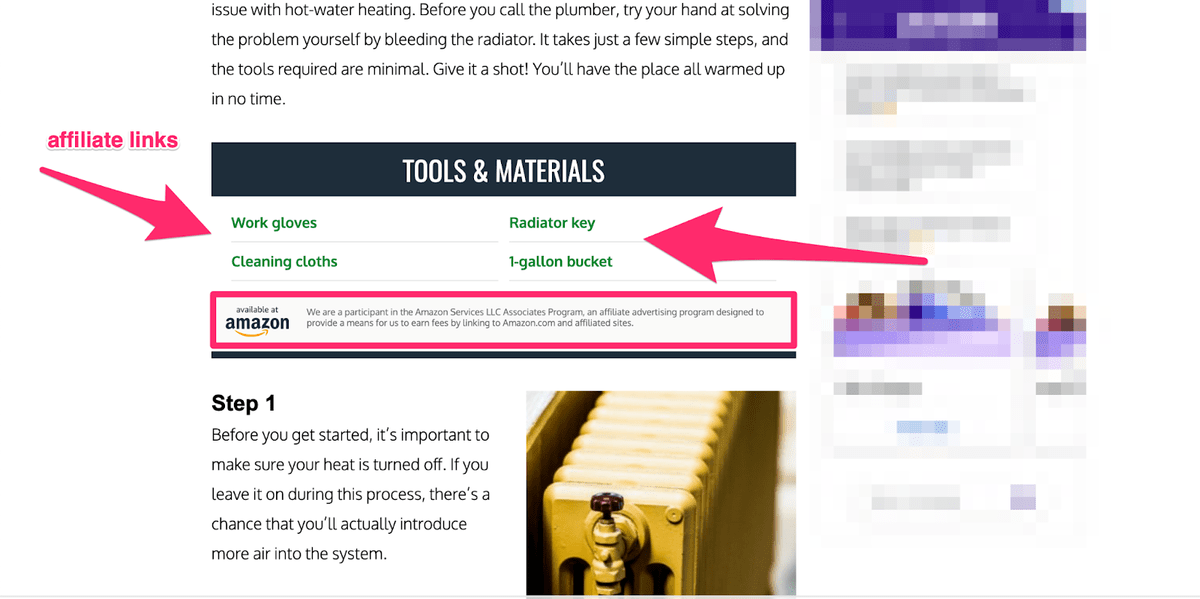 Or this men's fashion site about what an Oxford shirt is: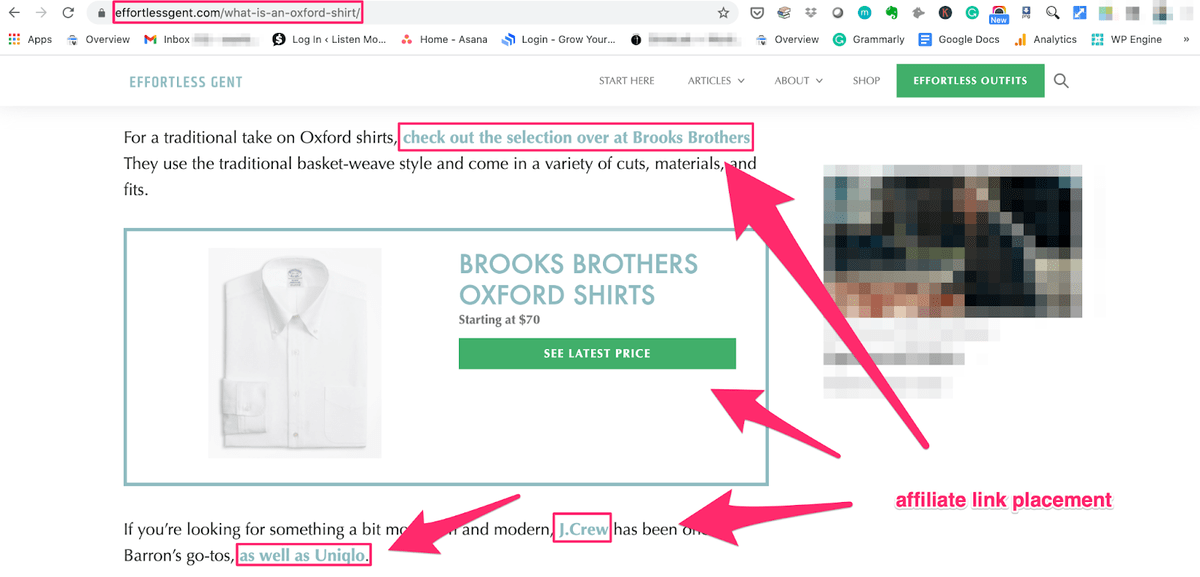 You see affiliate links placed near the end of the post after you get a detailed explanation about what an Oxford shirt is.
Writing "what is" definition-style posts fall in line with how old-school direct response copywriters writers would take you from unaware to solution-aware in a single page (i.e., you'd take your reader from top-of-funnel to bottom-of-funnel in a single blog post).
Start by asking what terms your readers are looking for (or what they'd like to learn) and create content based on that. Then, weed out terms with low search volume using a keyword research tool (more on that in a minute).
Tip: To increase commissions, create a Resource page of your favorite tools (or products). Using a tool like Lasso, you can organize your affiliate links into groups and create an entire page dedicated to that category.
Our Resource page generates 10% of our affiliate income. And that's only one page!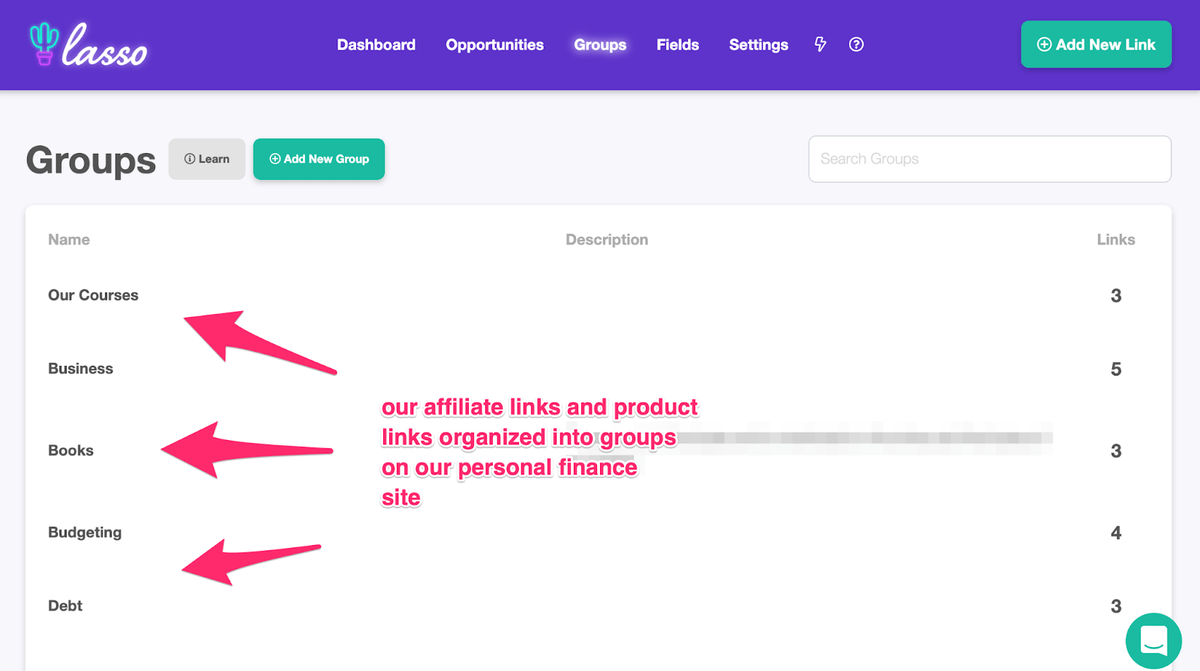 Further Reading:
Commercial Investigation
Commercial investigation is when someone is close to making a purchase and is in the process of researching the potential product(s) they want to buy.
This person is typically searching for:
Product reviews

Product comparisons

Best lists
So, whatever your niche, consider the popular products your audience uses. Then, brainstorm for keyword ideas using one of the below modifiers:
Best

Review(s)

Comparison / vs.
Try these search terms:
Best + [niche product]

[Niche product] + reviews

[product] vs. [product]
For example, if you're in the electronics niche, you could search "best internal hard drives," "seagate internal hard drive reviews," or "seagate vs. western digital."
Adding displays to your posts with Lasso is simple.
Just click the Cactus icon:
Choose your display type: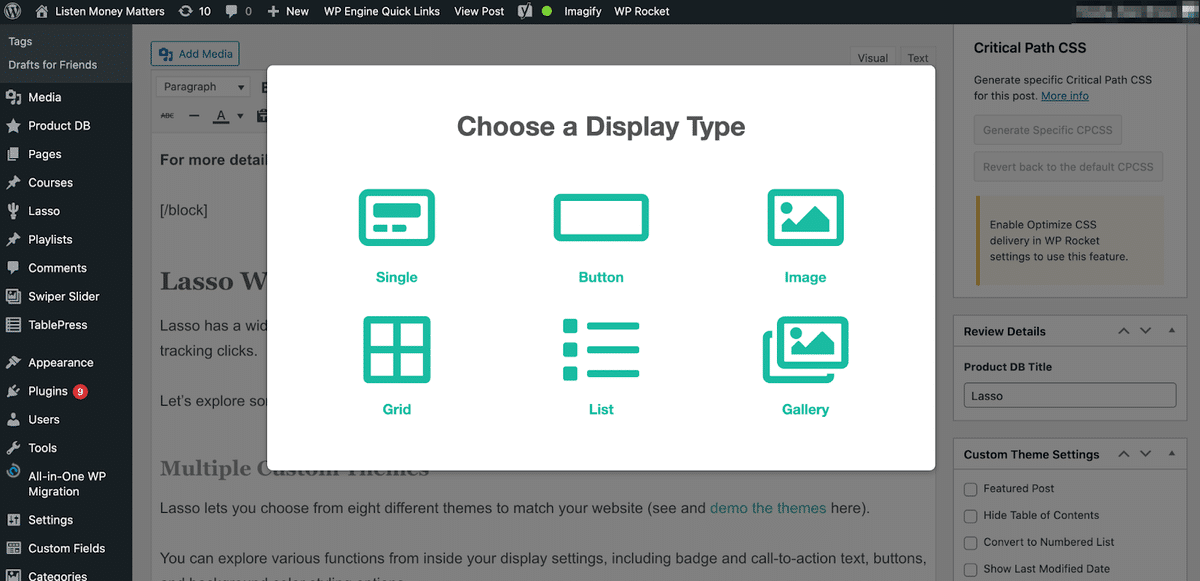 Lasso automatically adds a piece of shortcode to your post:
Done!
Below is an example of a Lasso single product display you could create for your site if you had an affiliate relationship with WP Rocket:👇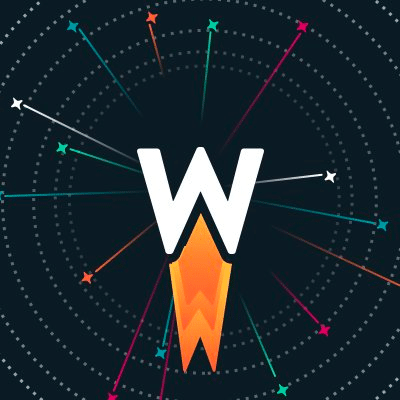 WP Rocket
Make your site load faster in a few clicks. WP Rocket is recognized as one of the most powerful caching plugins for WordPress. We use it specifically for image lazy loading.
🚀 Cache My Site
Affiliate Program
We earn a commission if you make a purchase, at no additional cost to you.
Start with a simple search including the modifiers previously mentioned, and it should provide you with a good list of keywords for potential articles to create.
Brainstorm all of the popular brands in your niche, then determine which of those are worth creating reviews, comparisons, or best lists around.
Further Reading:
2. Leverage the ASP Method
ASP is an acronym I use to remind me to "Assess Skills & Processes" whenever I'm struggling with idea generation.
Here's how it works:
Ask yourself what skills you have (or systems you've created to make your life easier) and how they translate to serving your audience.
Let me illustrate with an example for you…
Our personal finance site writes a lot of product reviews, with the bulk of its revenue coming from affiliate marketing.
When we first started writing them, it was messy. They lacked uniformity. There was no consistency from one review to the next.
With time and experience, we settled on a framework that worked.
Next, we documented it so anyone writing a product review going forward would have a clear path.
Both writers and readers would know what to expect. And since this applies to anyone writing a product review, other affiliate marketers could use it.
So, we plugged in a few terms into Ahrefs Keyword Explorer and saw some potential keyword ideas.
Both terms had low to medium difficulty scores:

So, we decided to turn our product review-writing Google doc template into an article. As a result, it's become the Parent Topic in Ahrefs for that term: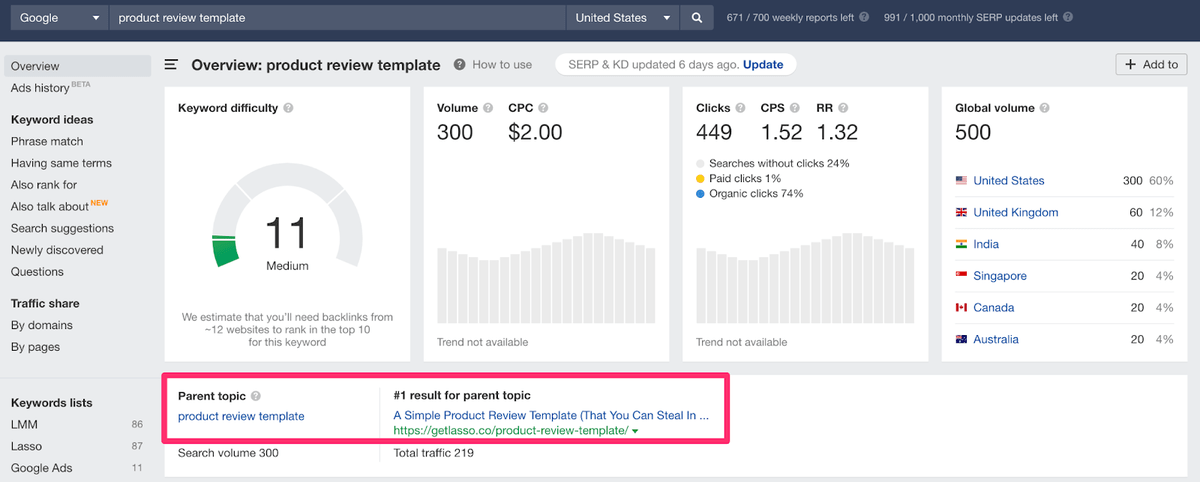 And gets the most monthly page views on the blog: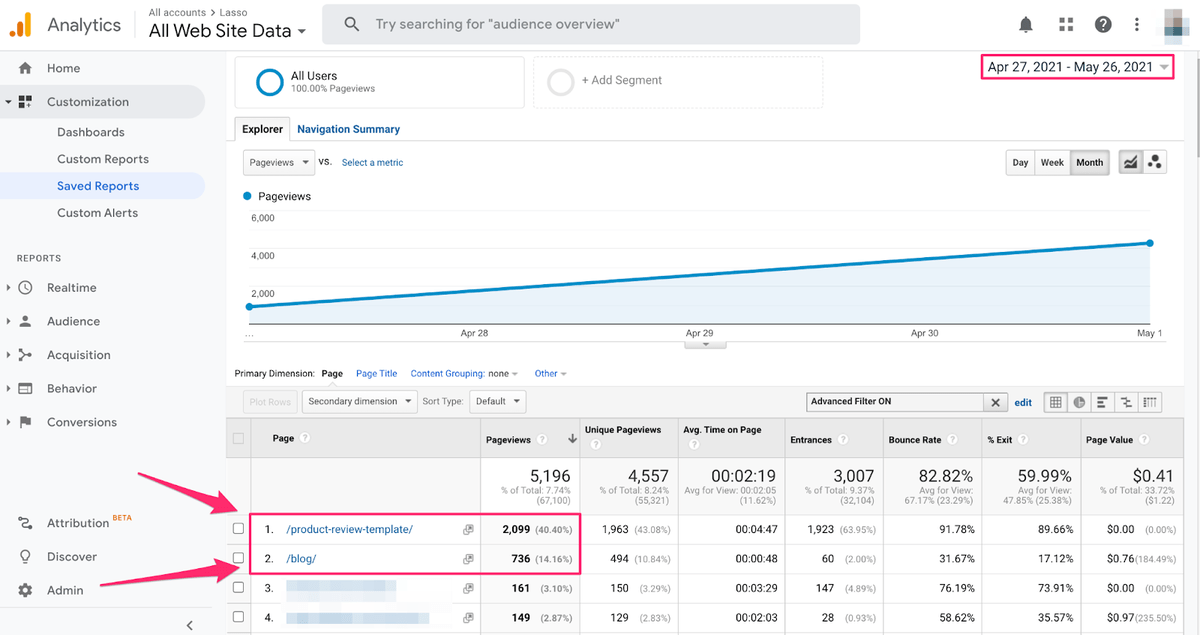 How you can model this:
Brainstorm for keyword ideas
Think about the skills you already have or documentation you've created to make your life easier (e.g., Google docs or spreadsheets)
Refine your process into useful content that helps solve their problems
Further Reading:
3. Use a Keyword Research Tool Or Search Engine Hack (Free & Paid)
There are plenty of tools you can use to help generate keywords (including search engines). Here's what's worked for us.
Ahrefs (Paid)
Ahrefs is our go-to all-in-one tool. It's fantastic for helping us with keyword research and provides other useful metrics, including:
Whether we have a chance at ranking for a keyword
Its traffic potential and search volume
A keyword's buying intent
One trick with Ahrefs is using its Phrase Match and Having Same Terms reports.
Try Phrase Match like this:
Start with a broad seed keyword
Click "Phrase Match"
Set the KD filter to "0-10"
Set the "volume" filter to (1,000 – max)
Sidenote: Using the filters is optional. It depends on the kind of keywords you're targeting and your niche. For example, a low KD filter means you'll have an easier chance to rank, while the volume filter gives you an idea about how many monthly searches the word gets.
Let's use the "cameras" example from before.
When you type "cameras" into the search field and click Phrase Match, Ahrefs generates all of the specific keywords with that exact phrase.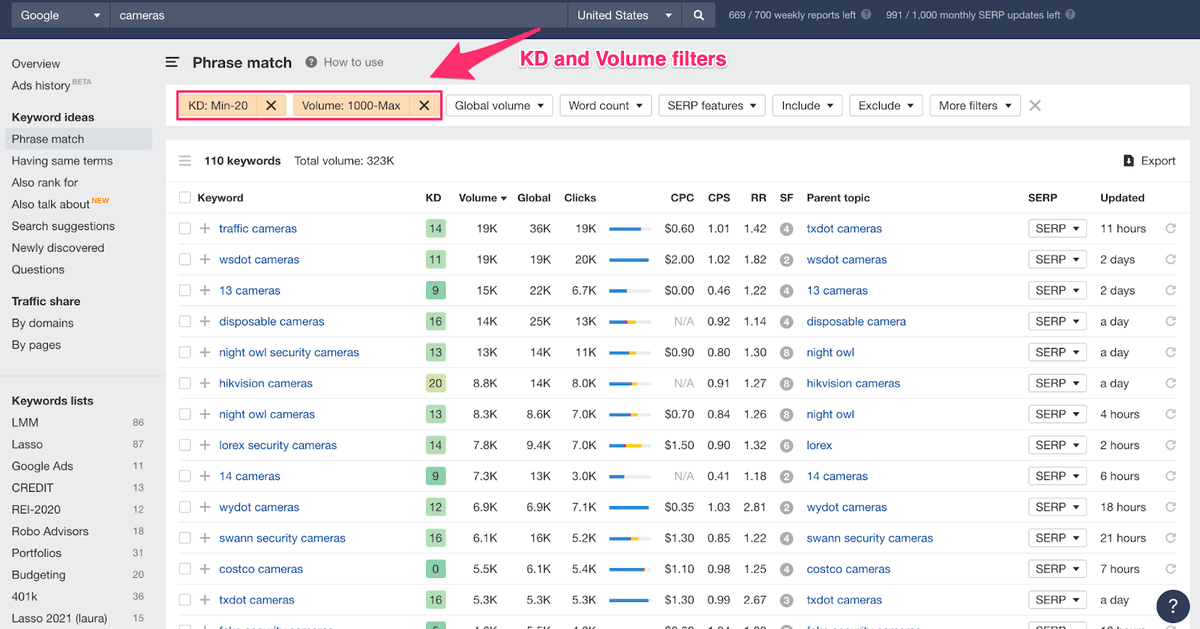 You can see results, including:
Disposable cameras
Night owl security cameras
Red cameras (below the fold)
To mix things up, try using the Having Same Terms report for the query "best cameras."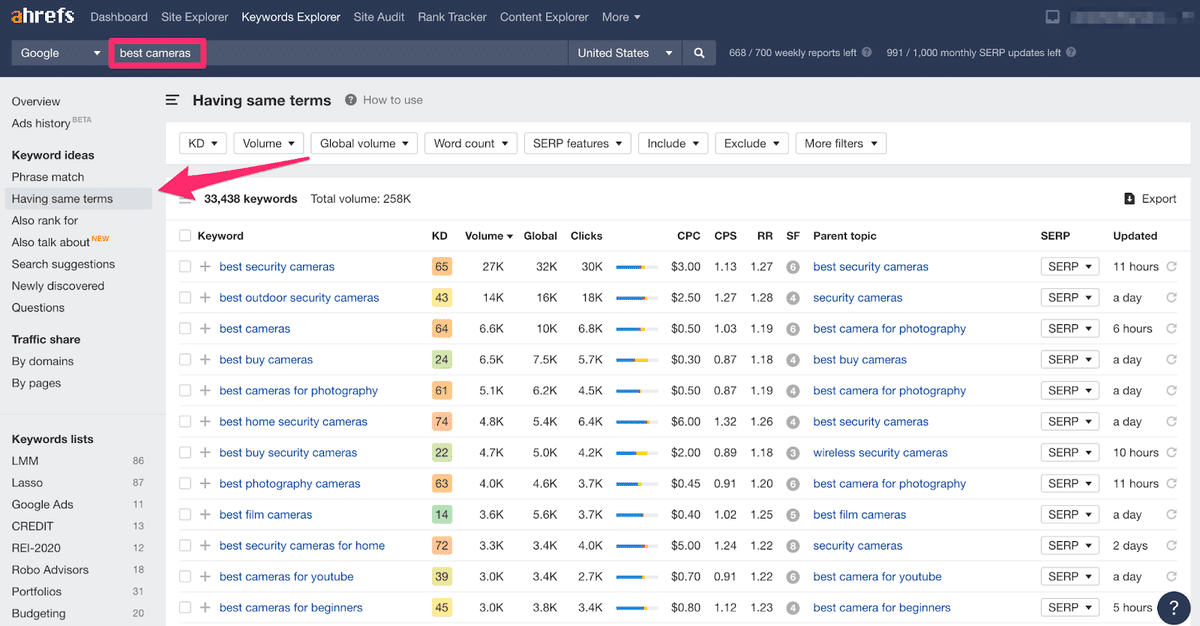 You can see terms, including:
Best cameras for youtube
Best cameras for beginners
Best outdoor security cameras
Then, set the filters to levels that make sense for you and scroll through the findings.
Use the modifiers previously mentioned (e.g., reviews, how, what, best) in the "Include" filter and set to "Any Word" to find specific queries.

Tip: To find long-tail keywords, try applying the word count filter to three or more and see what you get.
Another useful feature is the CPC metric. Let's click the "best film cameras" term and see what we get.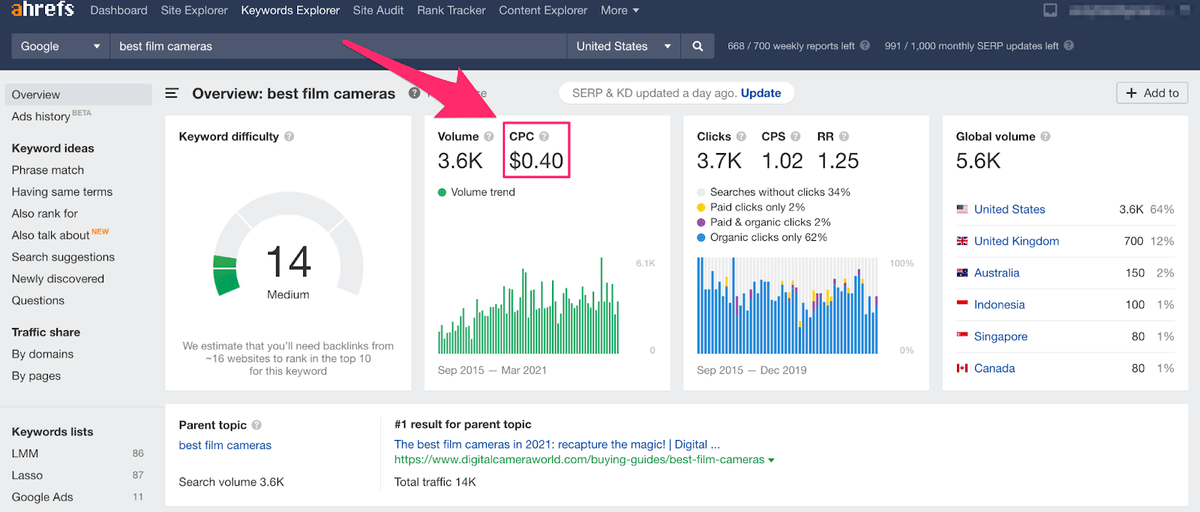 The CPC measures the average price advertisers pay per ad click. The higher the number, the higher the potential buyer intent for the keyword.
Sidenote: This metric shouldn't be the only factor when deciding. For example, if you notice your word gets more paid clicks versus organic clicks, it might make sense to use it for a PPC campaign (if you're using that strategy).
Ideally, when optimizing for SEO, you'd want a term with:
High organic clicks
Low paid clicks (if this number is high, it means Google Ads will steal clicks from you in the SERPs)
Low searches without clicks (if this number is high, it typically means Google presented the searcher with the answer in the SERP that didn't require a click. For example, the current time)
Example of the search query "what's the current time." These types of queries require no further action by the searcher because Google displays the answer in the SERP.

The below example has high organic clicks with low "paid clicks" and "searches without clicks."
Keywords Everywhere (Free)
Keywords Everywhere is a browser extension for Chrome and Firefox. It returns keywords for not only your search term but all related keywords (e.g., it pulls the People Also Search For and Related searches from Google and Bing).
For example, here's what you get when entering the query "snowboarding gear":
There is a paid version of this tool that lets you see volume data in multiple properties, including:
Google Trends
Keyword Planner
Search Console
Google Analytics
You can also see data from eCommerce websites Amazon, Etsy, and eBay that you might find useful. But, in my experience, if you're looking for keyword ideas, the free option should suffice.
Search Engine Autosuggest + Wild Card Search Operator Hack (Free)
Depending on what you need, you can always leverage the power of a search engines' autosuggest function. This works with Google and YouTube (same owners) but not so much with Amazon.
Sidenote: Amazon's autosuggest does work, but nothing happened when I tested using the wild card ( * ) operator. Most likely because Amazon's search engine isn't like Google's.
The wild card search operator (asterisk [*]) functions as a "fill in the blank" in Google's eyes and will generate contextual keywords related to your query. More on that in a minute.
Head to your search engine of choice and type in a broad keyword. For example, if you're in the home improvement niche, you might enter "cordless drill."
Now experiment with the "how," "what," and "best" modifiers to see what autosuggestions you get.
Using Google Search: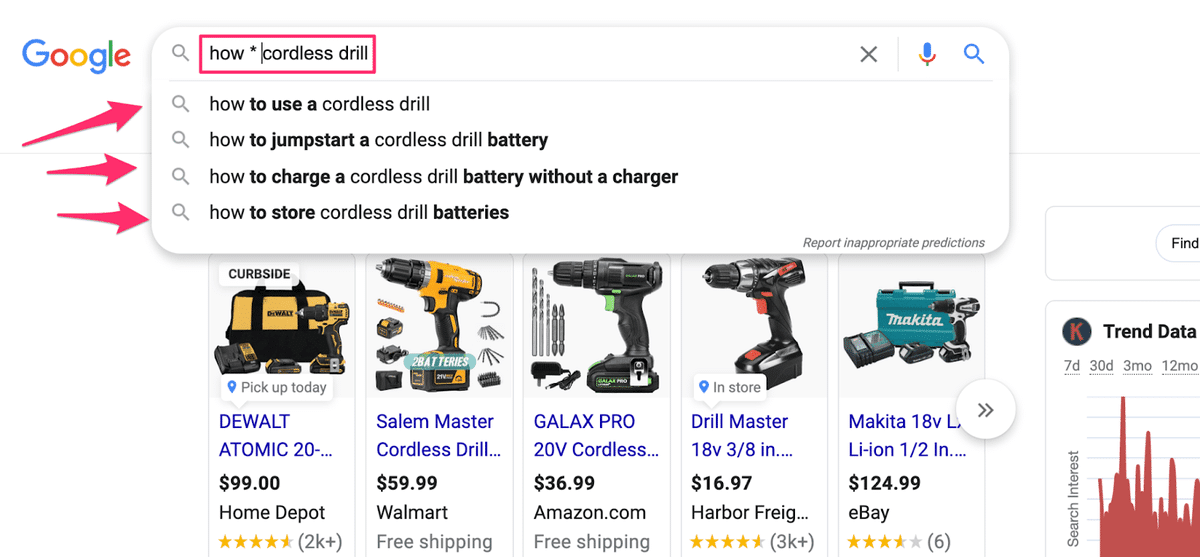 Auto Suggestions from the search term "how * cordless drill":
How to use a cordless drill
How to jumpstart a cordless drill battery
How to charge a cordless drill battery without a charger
How to store cordless drill batteries
Using YouTube: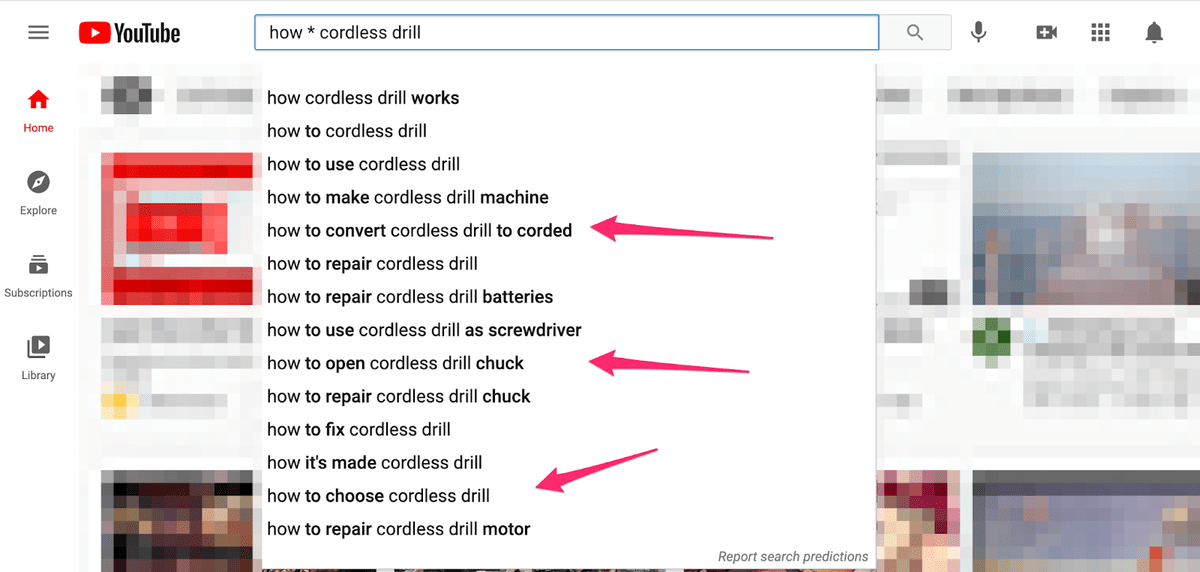 You get other keyword suggestions using the same search query, such as:
How to convert cordless drill to corded
How to repair cordless drill chuck
How to choose a cordless drill
These ideas can all be used when designing your content marketing strategy. For example, even though Google owns YouTube, you won't get identical results when using its search engine, which is good news for you.
Tip: Use Google autosuggest by testing every letter of the alphabet after your keyword.
It might take a bit of time, but you might be surprised with your findings.
Further Reading:
4. See Who Ranks On the First Page of an Organic Search
If you know your niche well, put a few keywords into Google and see what your competition ranks for. Google puts only the most relevant content on page one.
The ranking pages will provide you with clues regarding the type of content you should create and keywords to consider.
For example, if you ran a beauty blog and wanted to write a post about popular beauty products, enter that term into Google to spy on the competition.
Try using the wild card (*) search operator here. You'll get results you may not have considered.

You can see that the wild card yields more results, like:
Popular Korean beauty products
Popular TikTok beauty products
Popular Japanese beauty products
Popular 90s beauty products
These are terms you may never have thought of. Plug any of those keywords into Google and see what you get.
When I enter the search term "popular TikTok beauty products" into Google, the types of content are lists: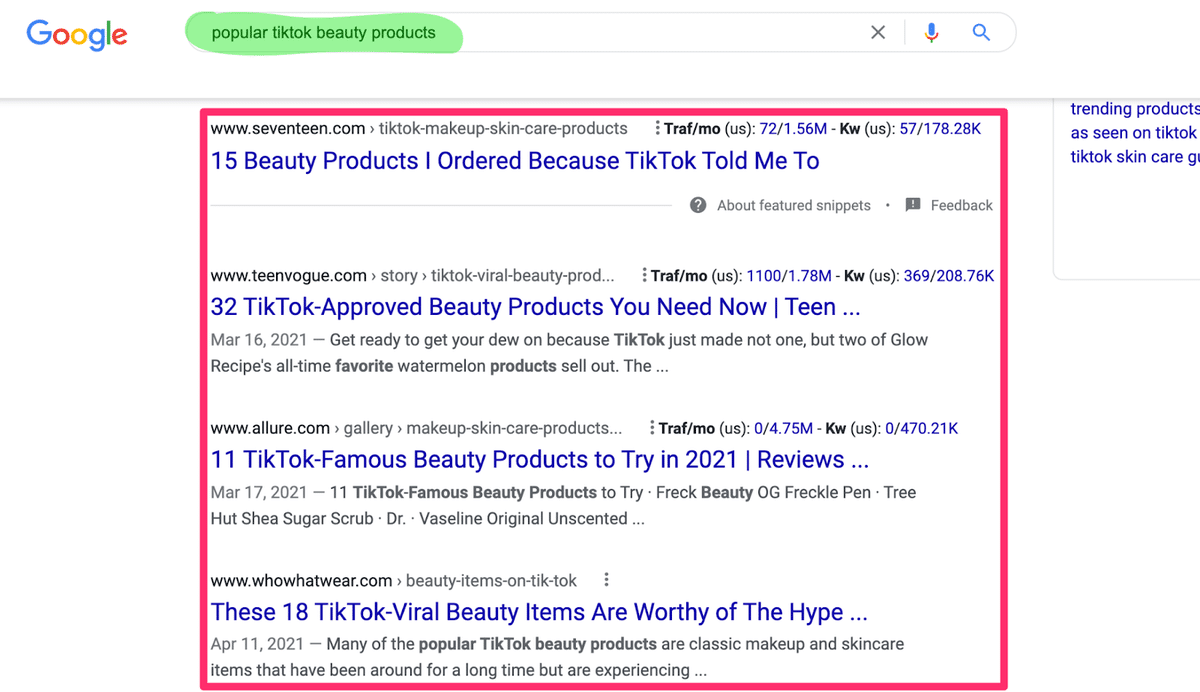 Then, analyze the top-performers to get an idea of the kinds of things your article should include (so your post is relevant).
Why?
Because not every search query displays blog posts in the search results.
For example, "pet supplies" directs you to eCommerce shops: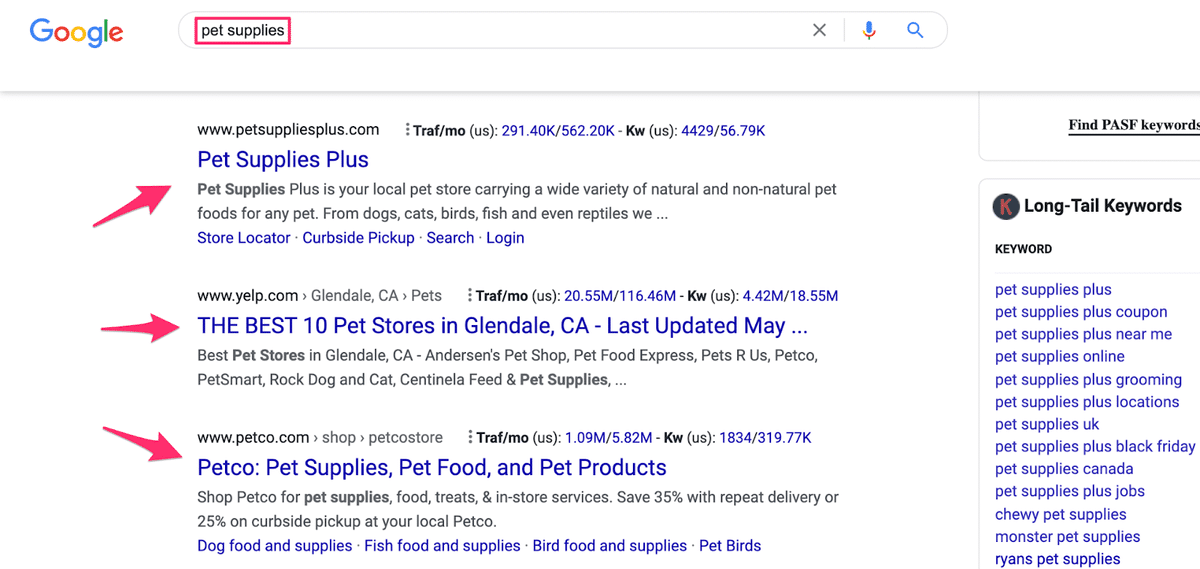 Further Reading:
5. Ask Your Audience
If you have an engaged audience, try asking them questions about what they want or what they struggle with.
We do this at Lasso.
Ask your readers to complete a short questionnaire or take a quick survey. You can create yours using a simple Google Form.
Case studies and testimonials are an excellent way to learn more about their needs.
For example, we created a Google Analytics best practices article when we learned many of our users have questions about the tool.
Sidenote: If you're a Lasso customer, head here to complete the form and get featured on our blog.
Based on your audience's feedback, you may gain fresh insights into the kinds of content (and keywords) you should target.
Some of the results you'll get will be eye-opening. Here's an example from one for our customers who completed our questionnaire:

Reading comments like this informs you whether you're on the right track with your customers.
Best Keyword Research & SEO Tools
Below are some of the best keyword research tools used by marketers to gain the upper hand over the competition.
Google Keyword Planner
You can use Google Keyword Planner to find target keywords, but you'll need to set up an ads account.
However, it's free to use and does provide useful terms you may not find elsewhere (though it's more relevant if you're running an ad campaign). You can read this post for a deeper dive.
Ubersuggest
Neil Patel's free keyword research tool. Just type in a domain or keyword to start. It lets you gain insights into what's working in the world of digital marketing.
You'll see your competitor's domain overview, top SEO pages and get keyword suggestions.
Ahrefs
If you've got a budget, I highly recommend Ahrefs Keyword Explorer. Their CMO, Tim Soulo, created a comprehensive educational resource for those wanting to expand their knowledge on the topic (you can read it here).
In addition, you can find relevant keywords by searching for terms appearing in other search results pages (e.g., find new keywords ranking in YouTube or Amazon search engines) instead of going to YouTube or Amazon's site.

And its Backlink Checker lets you spot link-building opportunities.
Google Trends
You can enter a search term into the field, and Google spits back both "Rising Data" and "Top Data."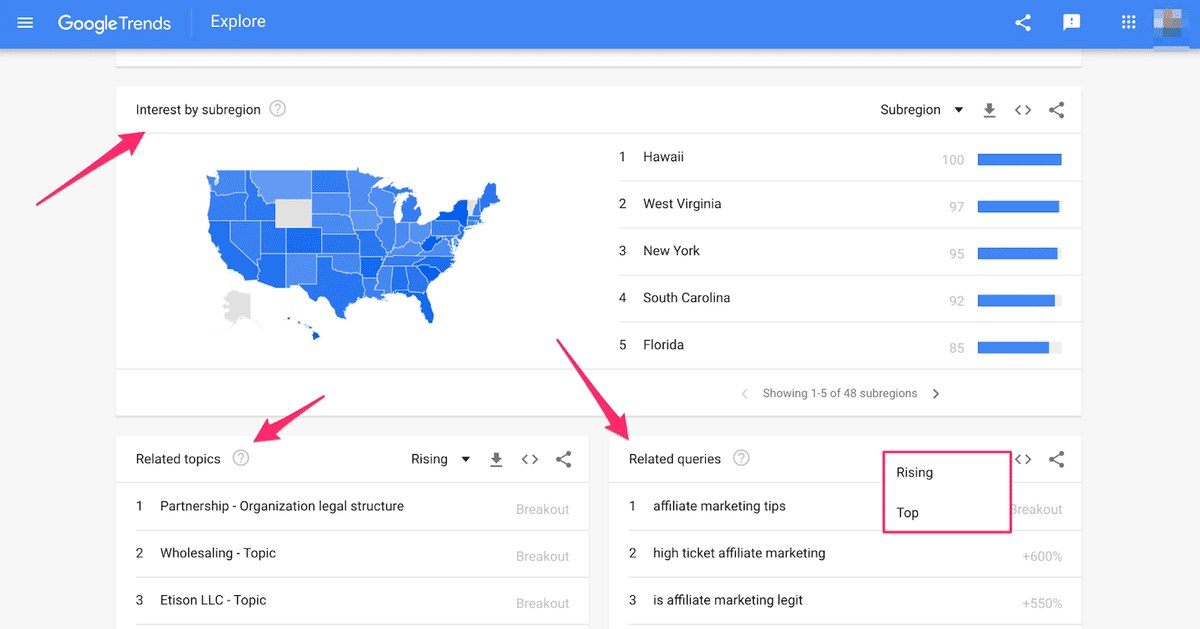 "Top" is the most popular search query in a given category, while Rising includes terms with the biggest increase in search frequency.
You'll find interest by region and over time, as well as related terms when you scroll down. You can also set up Trend alerts by clicking subscriptions in the left sidebar.
You can choose to get alerts by either topic or trending searches.
UseTopic
UseTopic lets you plug in a seed keyword, and the tool scrapes Google's People Also Ask and presents you with an aggregated data set of questions:
Google's People Also Ask and Searches Related To appearing in the SERP (scroll to the bottom of the search results page) are also excellent places to source keyword ideas.
It presents you with questions related to your search query: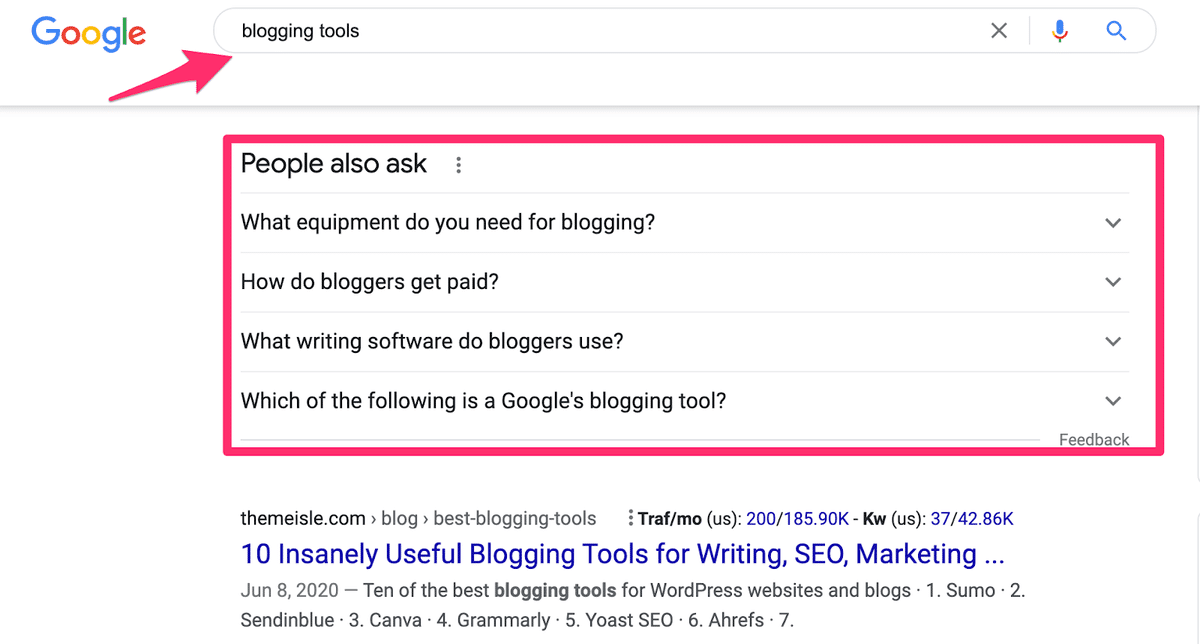 Last Words
If you've been creating content for a while but aren't pleased with your results, consider whether people are actually searching for your topics. It may be a simple case of unmet search demand.
But no worries, with a little fine-tuning of your niche keyword research approach, you should start reaping the benefits in due time.
Want more affiliate marketing tips? Read this.
Our creations in your inbox, weekly.
We've built multiple six-figure online businesses that our moms are proud of.
We'd like to help you do the same.