Product comparisons are some of the best-converting content you can possibly write, yet most articles miss out on sales by not optimizing their comparisons. 
In this article, I'll show you exactly how you should structure product comparison articles and tables, and the 6-step formula I have used to make tens of thousands of dollars with these posts.
Here is the formula for writing high-converting product comparisons:
Title

Intro and value judgment

Call-to-action

In-depth feature comparison

Alternatives (optional)

Conclusion and second CTA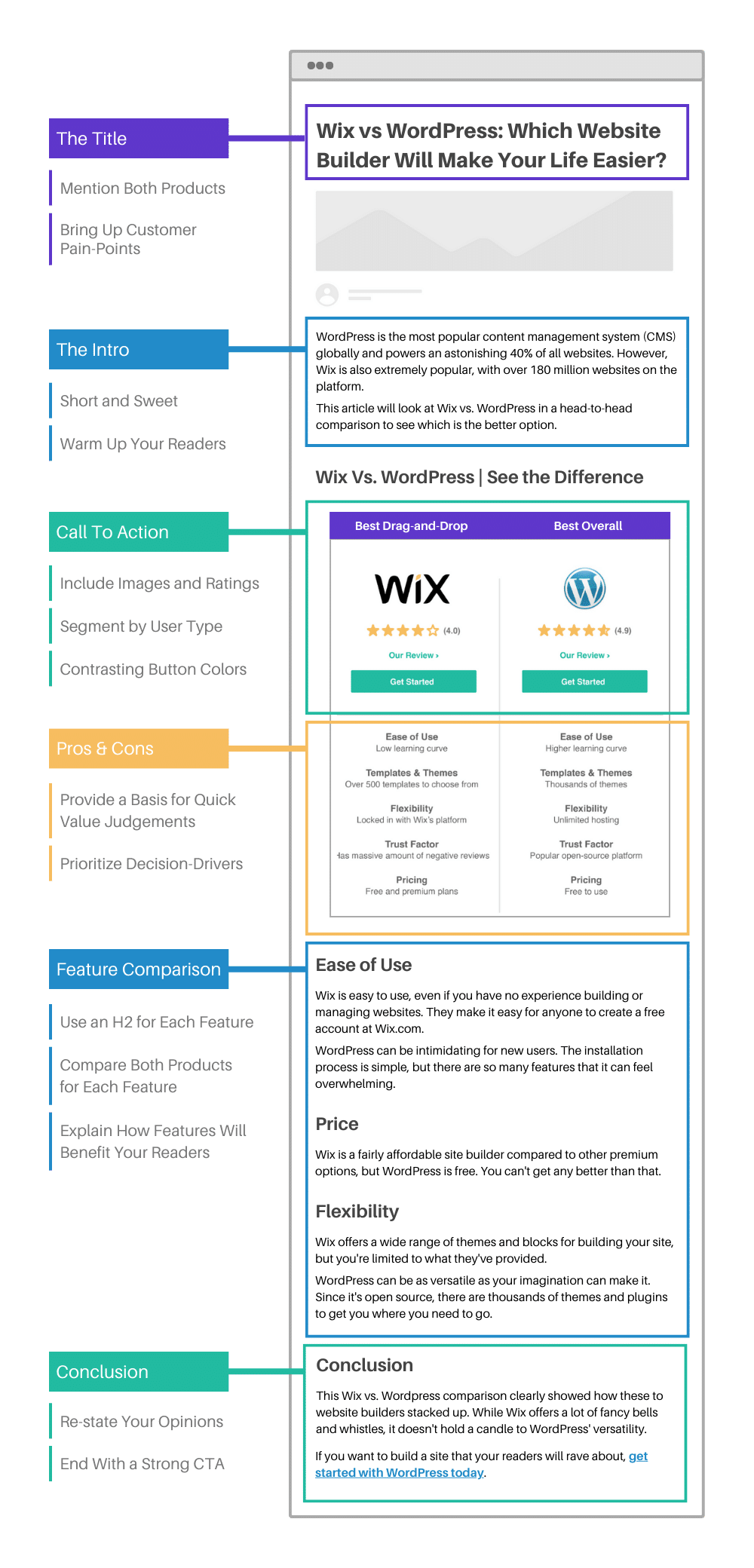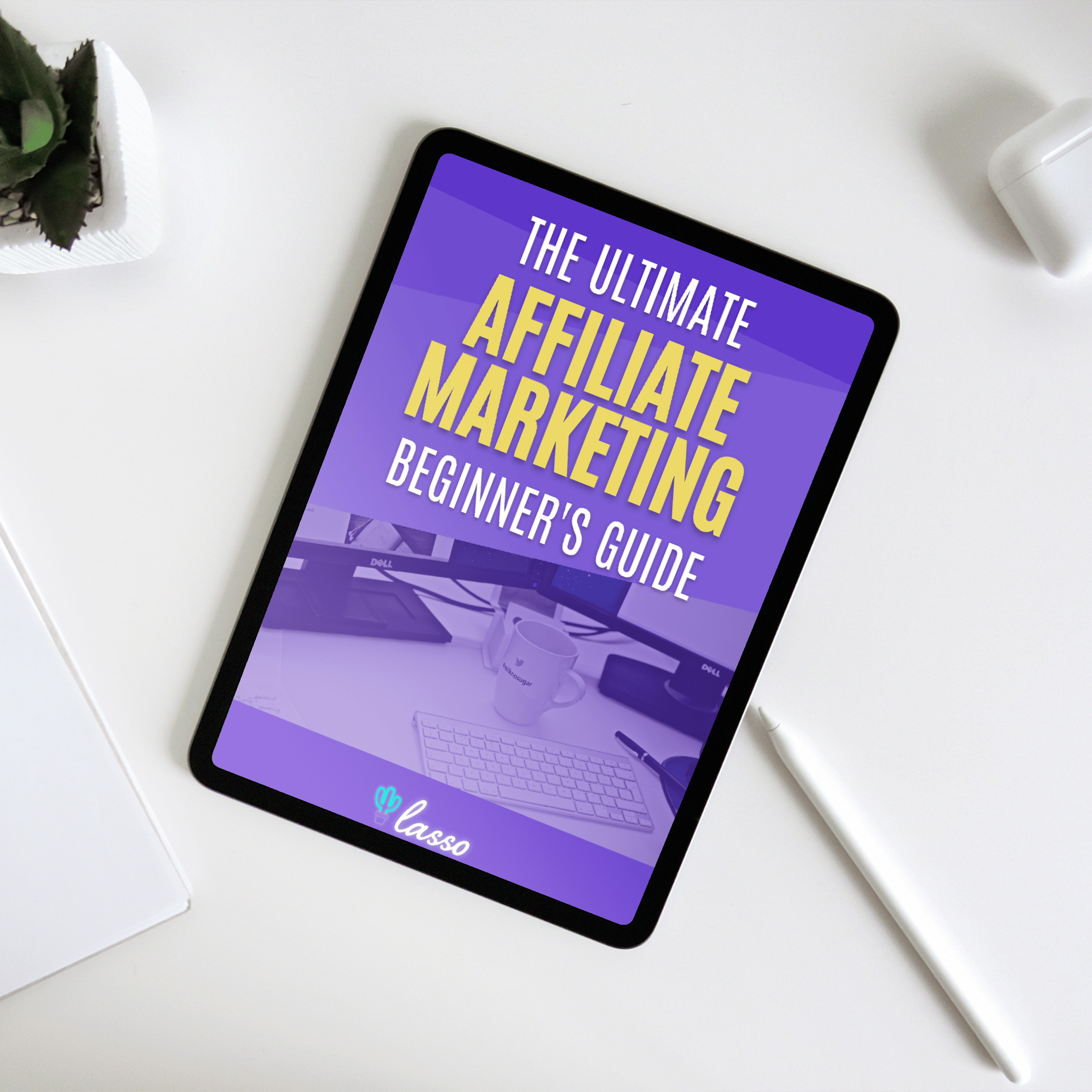 Get Your FREE 30-Page Affiliate Marketing Beginners Guide And Grow Your Site Today
Table of Contents
How To Write Product Comparison Posts That Convert in 6 Steps
What is a product comparison?
A product comparison compares two products (or sometimes more) over a range of features, giving the reader the information they need to decide which to buy. 
The best product comparisons also show the buyer the different factors, use cases, and evaluate which is the best in each category, and for which audience segment each is best for. 
Product comparisons are used in both SEO content affiliate marketing to convert affiliate sales, as well as by e-commerce stores to compare specs and sell products.
Product comparison articles are also sometimes known as:
X vs Y articles

VS articles

Which is better

The difference between X and Y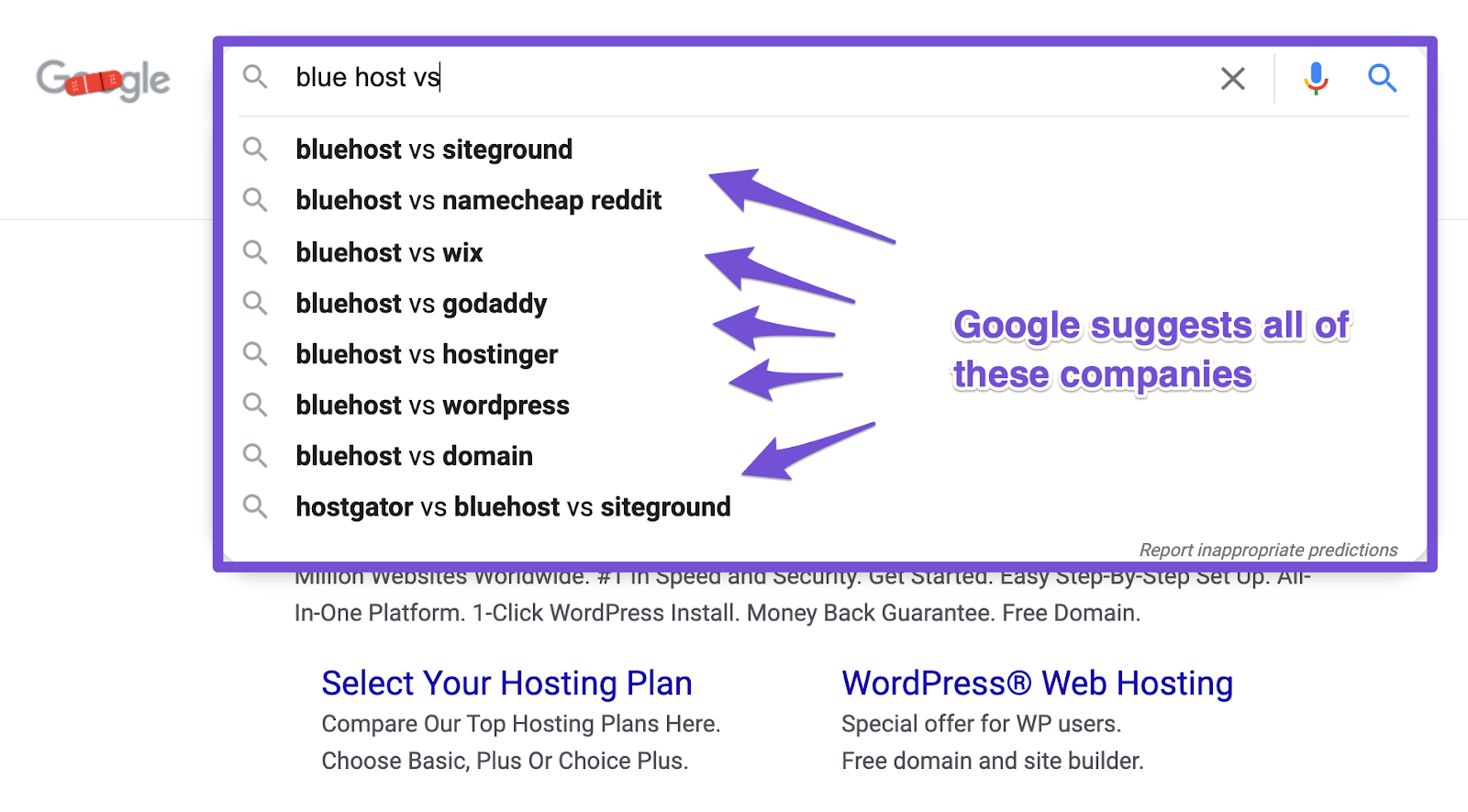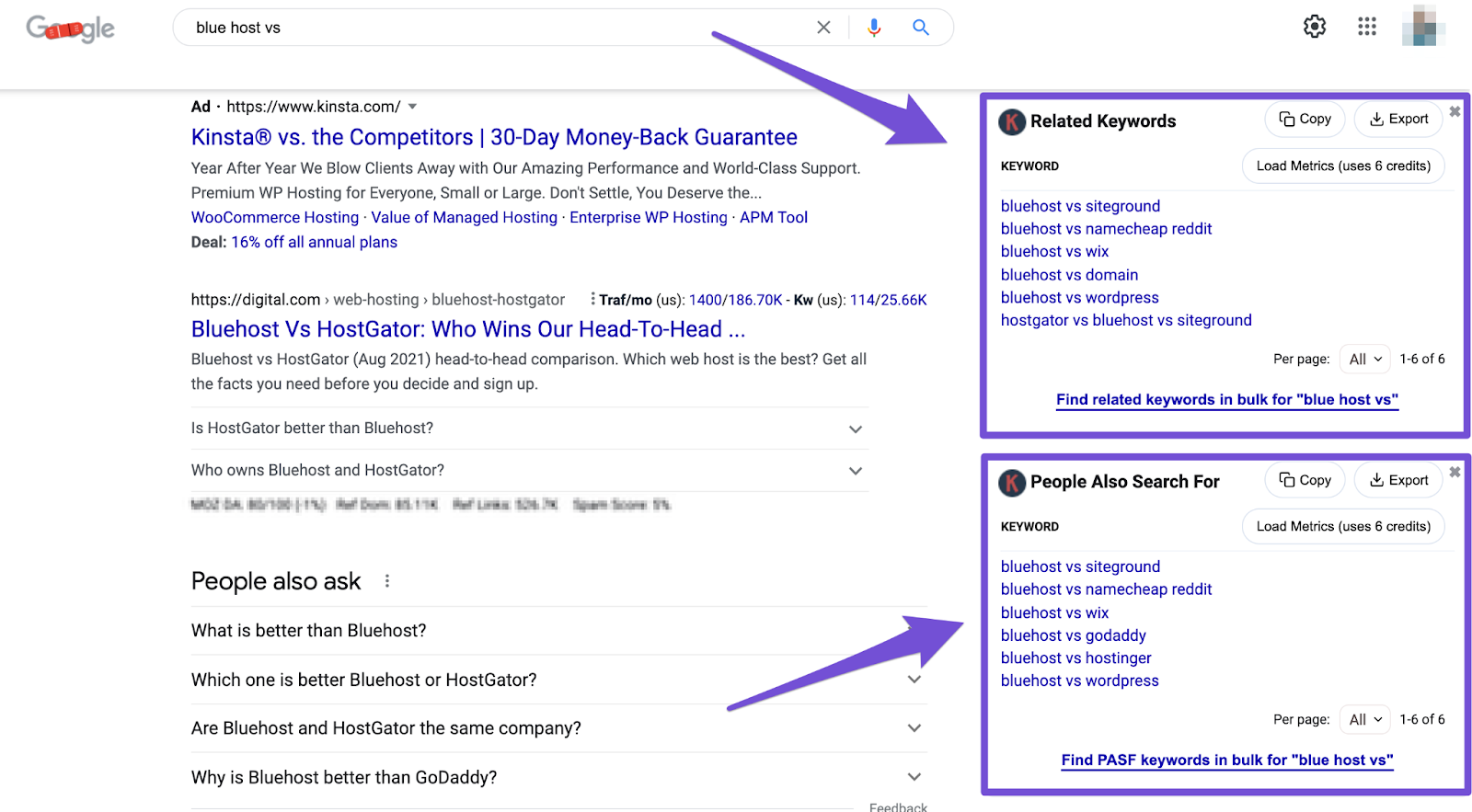 Example product comparison keywords include:
samsung s21 vs iphone 12

macbook m1 vs m2

tweet hunter vs hypefury

shark vs dyson steam mop

blue snowball vs yeti

traeger vs weber
Why should you write product comparison posts anyway?
You should write product comparison posts because they're some of the highest-converting content types, as they are right at the bottom of the funnel.
Yet, they are far easier to rank for than single product "review" keywords, and buyer's guide "best" keywords as they are much less competitive.
As a result, even smaller affiliate sites and e-commerce stores can rank for these, and convert a high percentage of visitors into buyers.
Any potential customer who searches for a product comparison article has passed through the exploration stage, past evaluating a variety of products, and now wants to know specifics about two competing products to decide on a final purchase.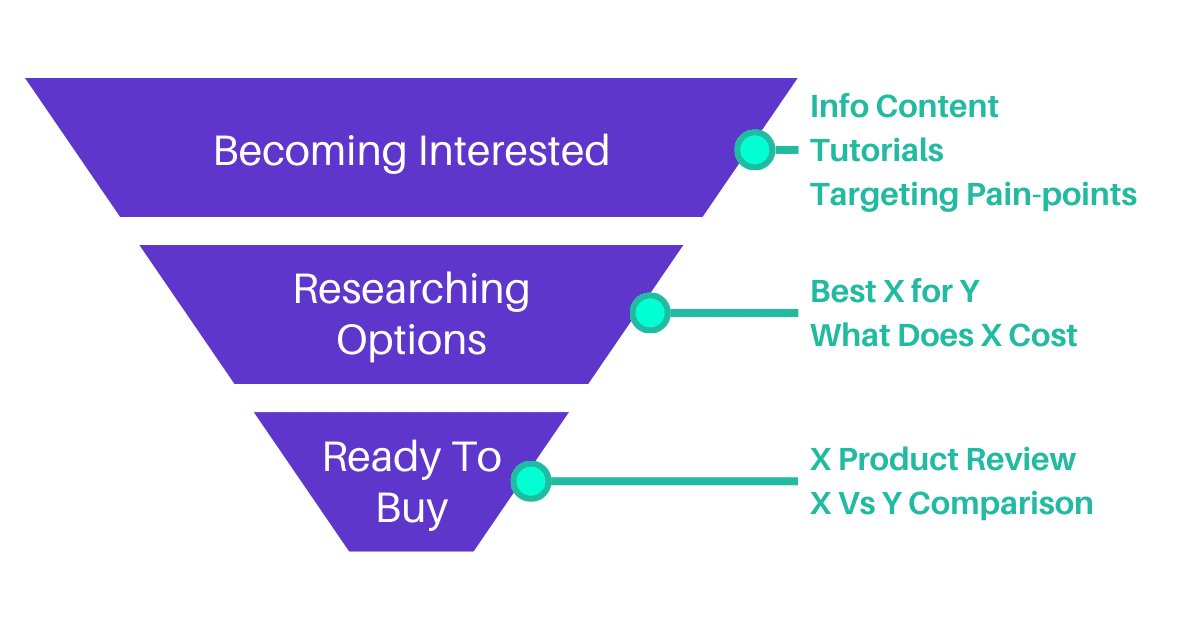 This is the highest possible buyer intent, and if you write these well, and understand your audience, you should convert the vast majority of visitors into affiliate clicks.
How to write a product comparison – Step-by-Step
This is how I write product comparison posts for two products, that have earned me tens of thousands of dollars:
Step #1: The Title
There are two main reasons to optimize and tweak your titles: 
To increase CTR (click-through rate)

To get the main keyword in the title for SEO
The main reason is to get the click, and to do this you need to understand the exact pain point in the reader's mind when they search.
Think carefully about this. For example, if you can understand that in typing a certain product comparison keyword, they are looking for a reliable product, then you can title it:
"X vs Y: Which is the most reliable?"

Or even "X vs Y: I found out which is most reliable"
This both plays off their worries (buying an unreliable product), and gives them confidence that because you can articulate their problem, that you can solve it.
For example, if I was writing a comparison about the Macbook M1 and M2, and hypothetically let's say most people wanted to use it for graphic design, then I could both hit the keyword in title, and try to garner clicks with a title like:
"Macbook M1 vs M2 Compared: Tested for graphic designers"
Here's an example of a fitness site writing about protein powder:

Alternatively, you could ask a question in the second part of your headline.
For example, NerdWallet asks the reader, "Which should you use?" with its Shopify vs. Amazon comparison.

Step #2: The Intro
The introduction of an article comparing two products is absolutely crucial to the success of your content, and how much money you make. 
I've previously estimated that 40-50% of your sales come from your intro and first CTA, and I stand by that today. But, don't waste your audience's time with fluffy intros that don't make them more confident in buying – get right to the point.
I've written the SPEAR framework which you might find useful to read for writing intros that convert and build trust. But, also do not neglect SEO: make sure the keyword features in ideally the first paragraph, so you're sending important relevance signals to Google from the get-go.
The components of a concise yet high-converting article are:
First paragraph:

should have the keyword in, but should also make the reader feel like they're in the right place, make them instantly trust you as an expert, and build rapport.

Second paragraph:

touch on the main pain points you believe the reader is trying to solve when buying either of the products to trigger action, as well as the main factors the reader should consider when buying a product in this specific category.

Third paragraph

: Make your strong value judgment on which is best, and why. But also, do not give a blanket judgment unless the product is better in every way: explain in which use cases each product is better.
The third paragraph is the most important. This is where, after building trust, you give your strong opinion, and try to make a quick sale.
Because it's very rarely a this-is-always-better situation, you need to understand every single possible audience segment visiting your page.
For example, is one vacuum better as a lightweight option, cheaper, faster, has more attachments, and compatible with more cleaning products, but the other cleans 10% more thoroughly, and is better for kitchens?
If so, make that clear. Otherwise, someone looking for a kitchen vacuum may make the wrong decision, and if you can articulate someone's pain point as precisely as possible (wanting to clean tough kitchen stains) then you have the highest possible chance of converting them.
Common segments include:
Best for beginners

Best professional pick

Best budget option / premium pick

Best for seniors / teenagers

Best for Windows / Mac / Linux
Here's an example from Brian Dean: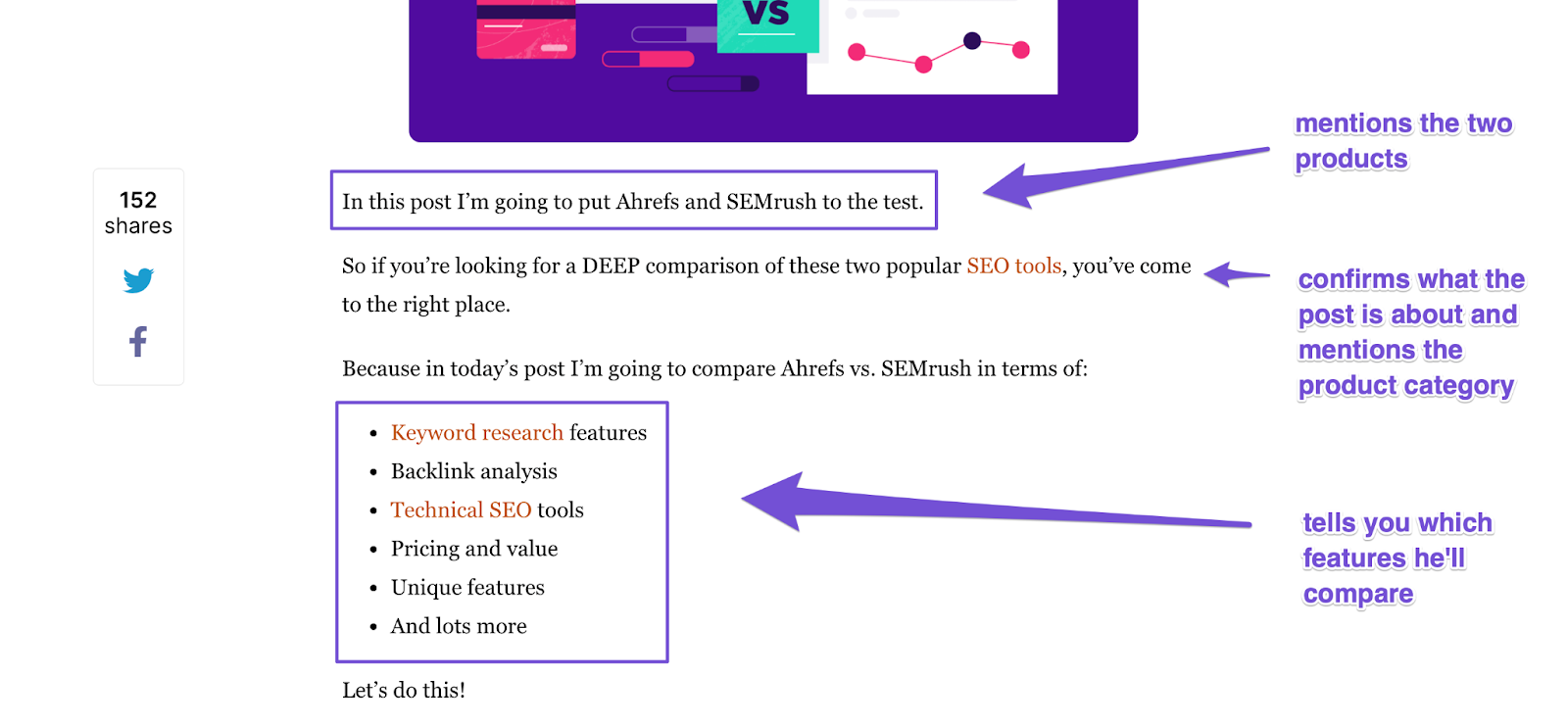 Note how Brian hits the keyword phrase "Ahrefs vs. SEMrush" in the opening before he lists which features he'll compare. That's a smart SEO move.
Alternatively, you can try copywriting formulas like PAS before transitioning into the features you'll compare.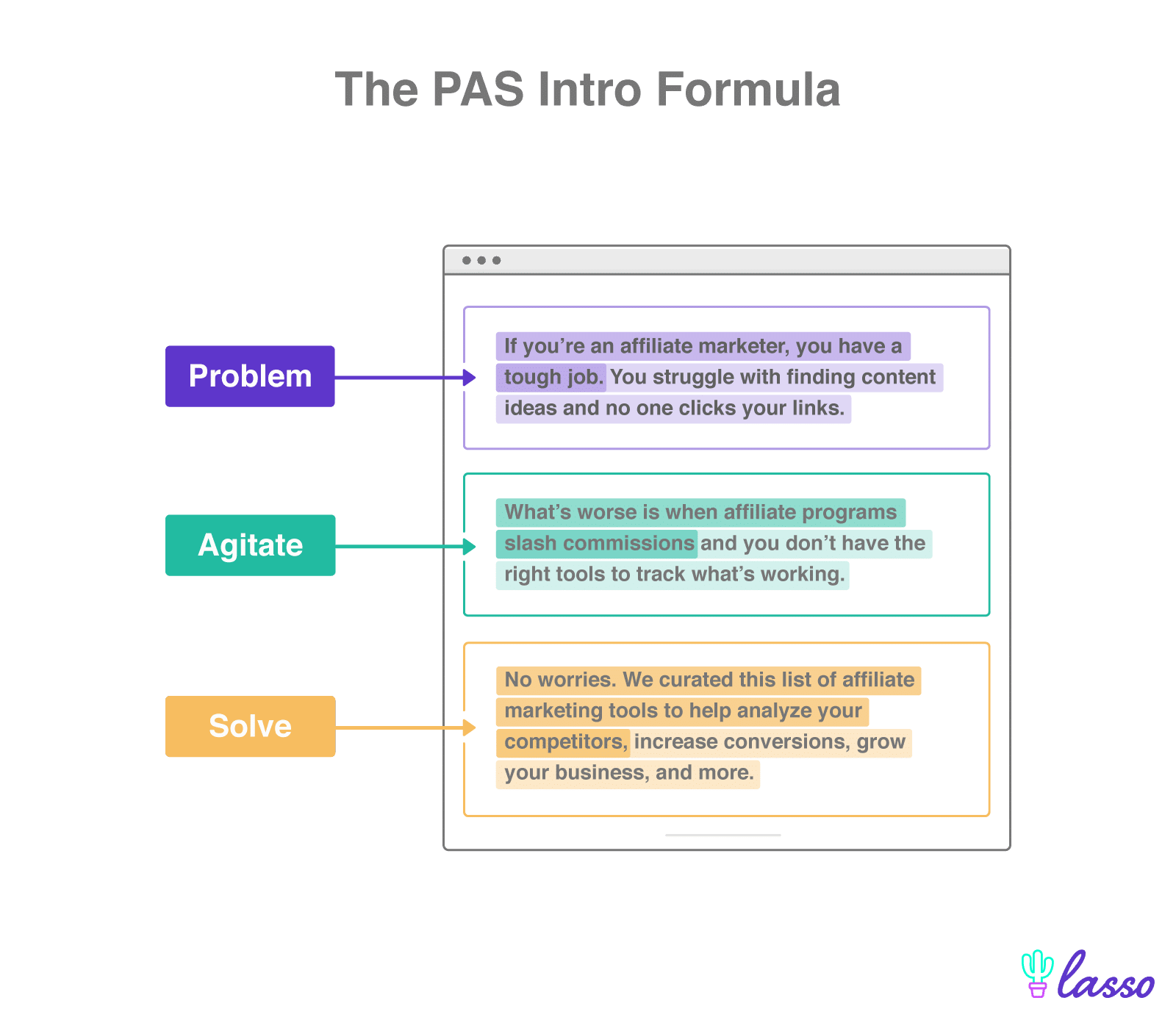 Understanding the range of people likely to visit your page is key. For laptops, it's probably a mix of people who:
want to game

want to be social

want to design things

are students needing to work
And the weighting of these segments will differ based on the products being compared.
For example, low-cost laptops will have a higher proportion of students than premium companies searching for their staff. So, focus on these segments more when comparing two cheap products.
You can optionally include a pros and cons section here. If you are, you can have this as a H2 heading, with the pros and cons as H3s for each. But, I tend to put pros and cons in the call-to-action below.
Further Reading:
Step #3: Call-To-Action and Pros and Cons
The call-to-action is how you get clicks to your affiliate links at the end of your product comparison intro. It is a display that literally calls the reader to action, and draws attention to the buttons where they can click to buy.
If you've written a good intro, they'll be ready to buy right now. But, the best affiliate CTAs still include the key specs side-by-side, as well as which audience segments each product is best for.
Don't just include any old stat and spec. Think about which are the ones that your readers care the most about, and that will lead to a purchase.
I recommend adding the following here to maximize conversions:
Star ratings for social proof

Segmentation: "best for X" 

Bite-size pros and cons for each

Comparison of the most important specs or features

Buy button in the most contrasting possible color
I love using Lasso tables to create these. It's the easiest plugin for adding custom star ratings, banners at the top for segments, choosing any button color you want, and using the custom fields to add in any spec or feature to compare the products over.
Here's an example of a product comparison table made in Lasso, on popular UK personal finance site Up The Gains, for an article comparing Trading 212 and eToro for investing with.
While it isn't perfect (I'd make the buttons a different, contrasting color), there is some segmentation for the "best overall" vs "best ISA option" parts (I'd add more segments if there were more types of people visiting though), and a quick run-down of the pros and cons, and a star rating to encourage purchases.
This table is built in Lasso, and has driven increased clicks since the site began using the Lasso plugin. You can build your own tables like this with Lasso here.
Alternatively, you can mention which product is better suited for which demographic or where they excel.
For example, the Sprout Social comparison notes that Sprout Social is best for customer service while Hootsuite is best for teams.

This further qualifies your reader because now you've added another segment mentioning who it's best for.
And here's another example using a product comparison table via TablePress: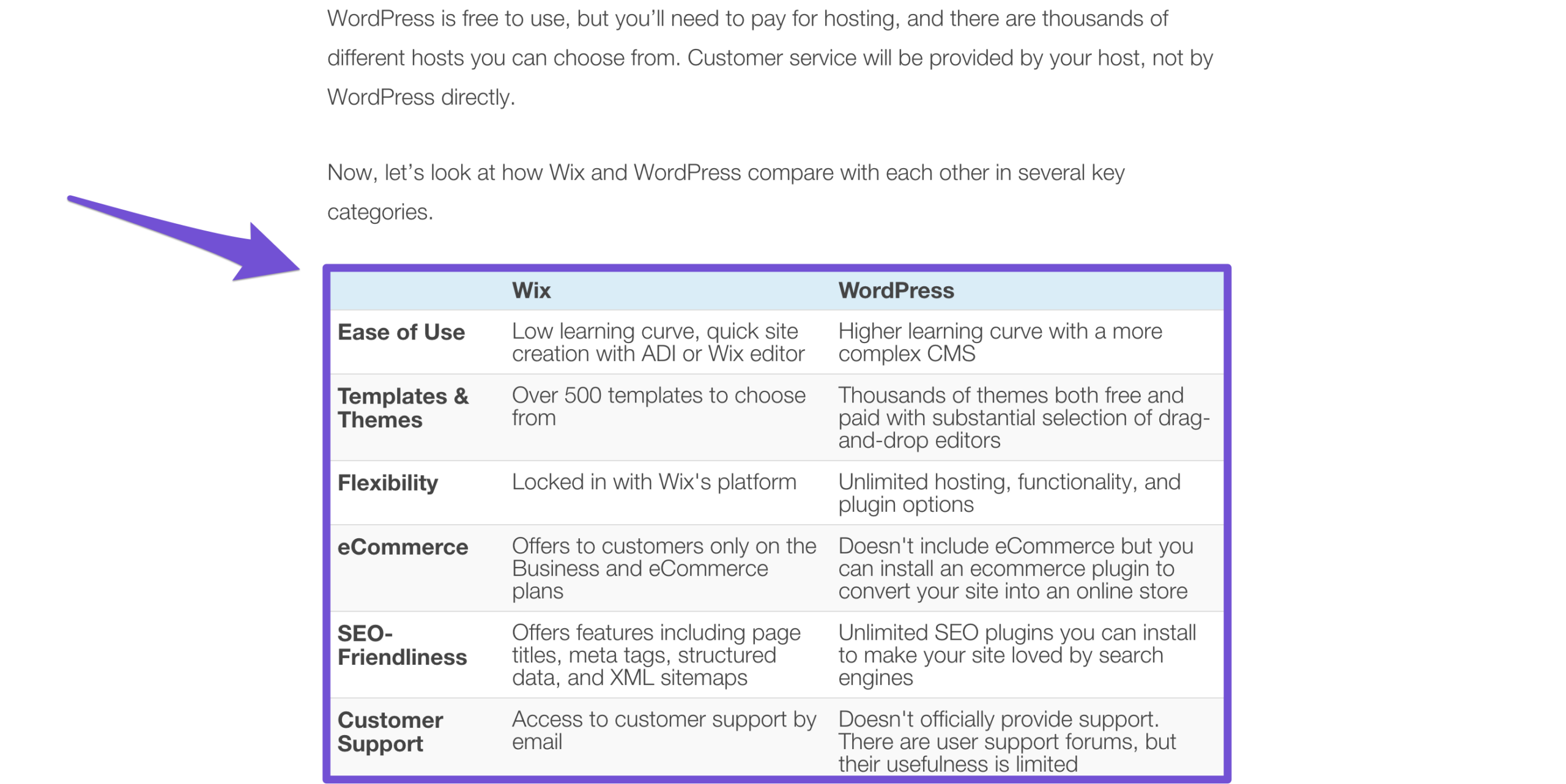 Further Reading:
Step #4: In-depth feature comparison
Now it's time for the main content. If your reader didn't convert and click their favorite option from the intro and call-to-action, it's now time to cover each main point of comparison in more depth.
The more high-ticket and emotional the product, the less likely the bite-size intro is to convert, and the more work you'll need to do here.
So now, have a H2 heading for each main feature or spec to compare your products over. Order them based on which points are the most important, and the most likely to lead to a sale – based on the principles of Dynamic Spec Relativity.

Within each section, discuss which of your compared products is best, and why.
Beyond just comparing it over the numbers (for example, 8 hours vs 4 hours battery life), explain how this affects the user's experience, and write visual scenarios that this helps them in.
For example, in a section for "Battery Life" in a laptop comparison post, the better option has an 8-hour battery life vs 4 hours for the other product. You could then emphasize how stressful it is to run out of battery when you're working while traveling, or how comforting it is to be able to get through an entire work day without running out of charge.
The key is to put the reader in the story and have them interact with the product through your visual and active language. And if you understand the audience segments coming to this page well enough, this will maximize the chance of them taking action and buying.
You can give your readers "at a glance" features to better understand the product. These sections appeal to skimmers and the TL;DR crowd.
List the features most relevant to your product comparison that informs your reader what you plan to evaluate.
Tip: Link to your product review and include a "Sign-up" or "Get Started" CTA with your affiliate link. Here's one way you can do it: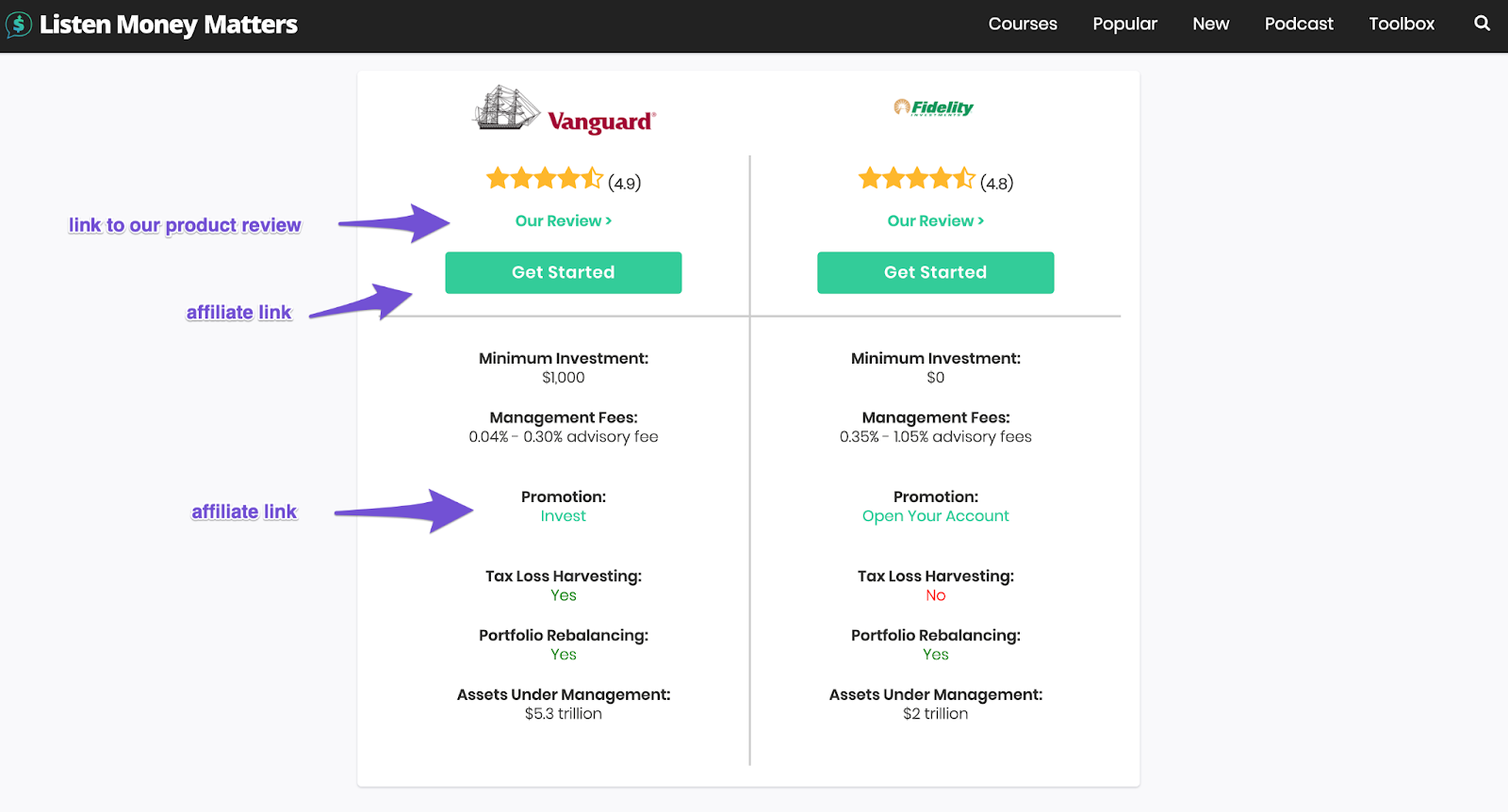 Tip 1: Alternative options within each feature
And, for each of these sections, if you know a completely separate product that isn't in this comparison, but is particularly good for this feature, you can recommend this alternative at the end.
For example, if a certain laptop has a 16-hour battery life, you can mention this for anyone who puts a premium on long-lasting charges – with either an affiliate link to buy it, or an internal link to your in-depth product review. 
This ensures you have the most helpful possible content, giving your readers complete understanding of their best option – both out of the two products you're comparing, and any other options for particular specs or features.
Also, if a spec, like price, weight, or anything else is an easily comparable quantitative number, you can also add a mini-table to that H2 under the title, so it's easy to scan through. It also makes it easy for Google to understand.
Tip 2: Check how these product comparison tables look on mobile
One way to determine if the tables on your website are mobile-friendly is to use Google's dev tools.
Here's how to do it using Chrome (if using Safari, go to Develop > Show Web Inspector from your top menu bar).
Open up any web page you think might have issues and right-click (or double-click your trackpad).
Click "Inspect"
Click the "Toggle device toolbar" in the 'Inspect' window (looks like an icon of a mobile phone appearing in front of a tablet)
Select "Responsive" at the top menu bar and view your page by mobile device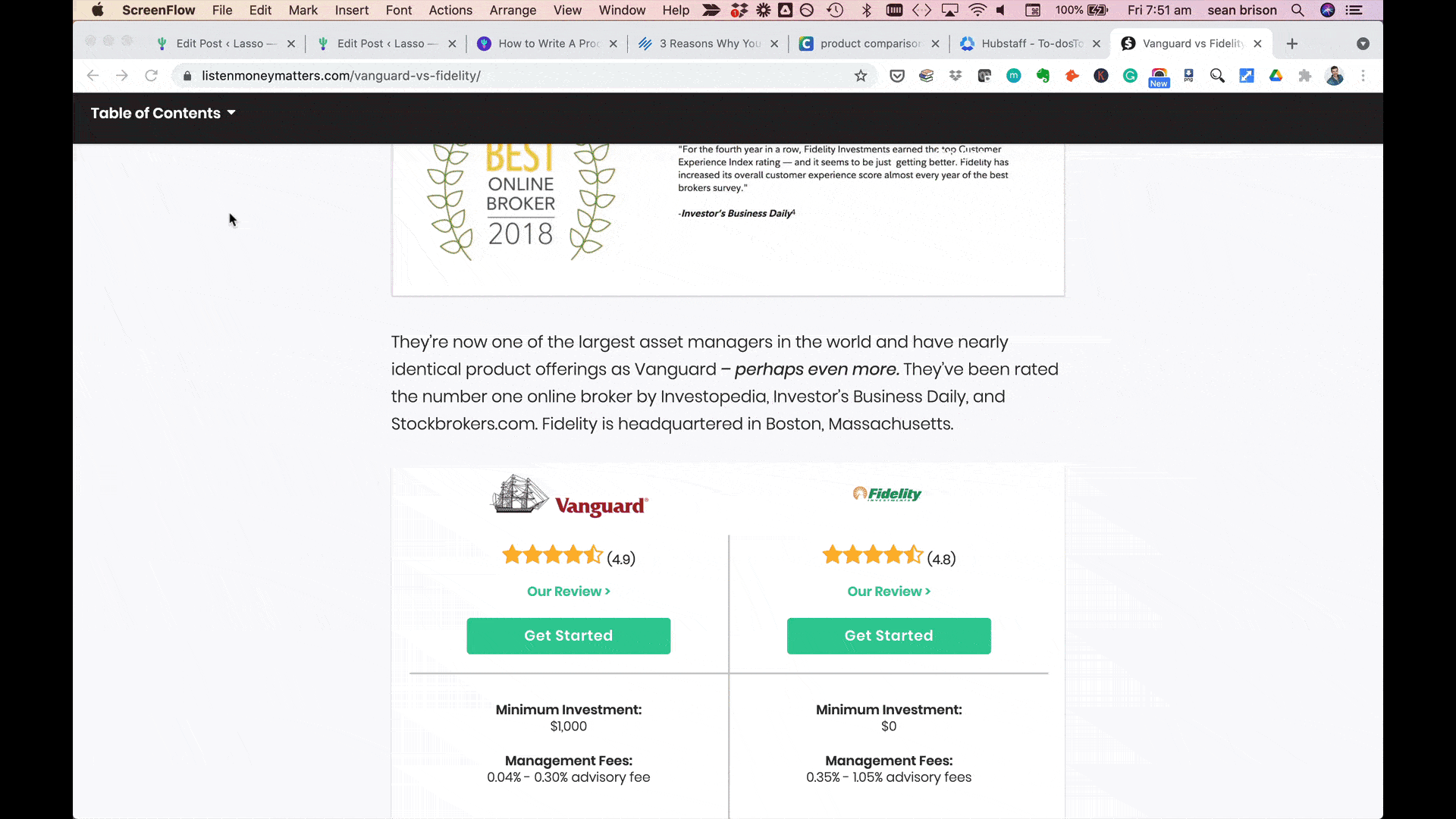 Step #5: Alternatives (Optional)
This is optional, and if you've included good alternatives in each of the sections before then it won't add much value, but you can also add an alternatives section at the bottom.
This is especially true if you think there is a better alternative to the two products being compared.
This should just be very short round-ups of alternative products, and what type of person you'd be to prefer this over the two main products being reviewed.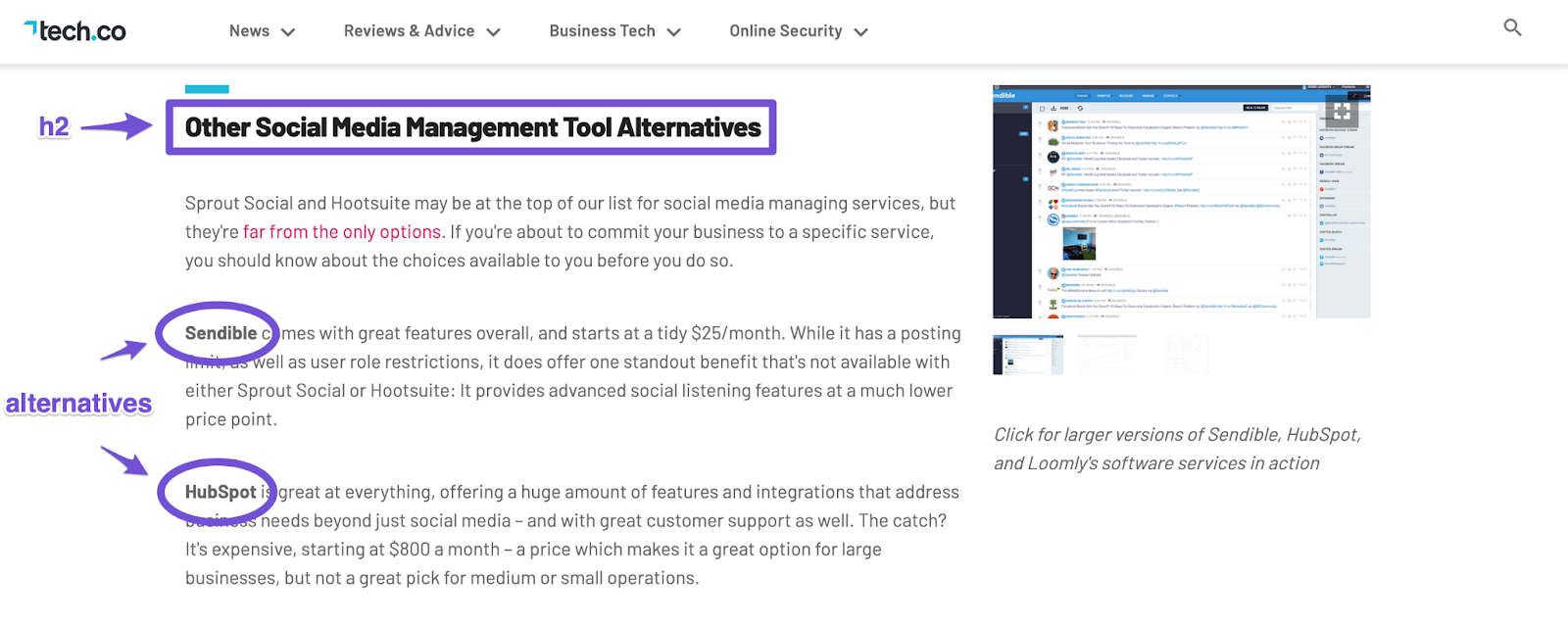 Remember: if they've reached this point, then they weren't ready to buy, or you didn't write in a way that triggered action.
So, this is a last Hail Mary to try to find something they will like, and to get an affiliate click to a different product.
Step #6: The Conclusion and final CTA
This section is where you conclude your overall verdict again, and I recommend you can add another affiliate display – perhaps just a single display for the product you think is best overall.
Lasso makes this seamless to add, and has proven to get the most affiliate clicks.
If you believe you know why someone would not convert by this point, then you should also recommend a "further reading" article (or articles, if multiple reasons) that are best for the user experience, and ideally lead to some kind of conversion for you.
For example, if you're comparing two vacuum cleaners that are premium products, you could internally link to:
The "best budget vacuums" if they didn't convert due to the high price

The "best alternatives" to one of the vacuums you compared

Or even an article on "how much does a vacuum cleaner cost" to better understand how much they should expect to pay
You provide an impartial recommendation based on your research and personal experience here.
Winner and Best Overall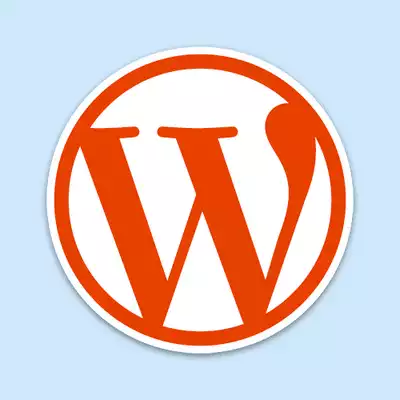 WordPress
WordPress comes out ahead thanks to unlimited flexibility, powerful themes, and awesome plugins (like Lasso) available through the community. There's a bit of a learning curve for new WordPress users but the platform's raw power more than makes up for it.
Pros:
eCommerce & SEO-friendly

Flexible hosting options

Extensive template library
Cons:
Lacks "official" customer support team
Explore WordPress.org
Read Our Review
Bonus: Create Product Comparison Pages to Get More Search Traffic
You can create comparison pages to get more affiliate marketing search traffic and (ideally) customers.
These extra pages on your site can help wrangle additional page views and potentially convert more website visitors.
For example, we created a hub of comparison pages on our site at getlasso.co.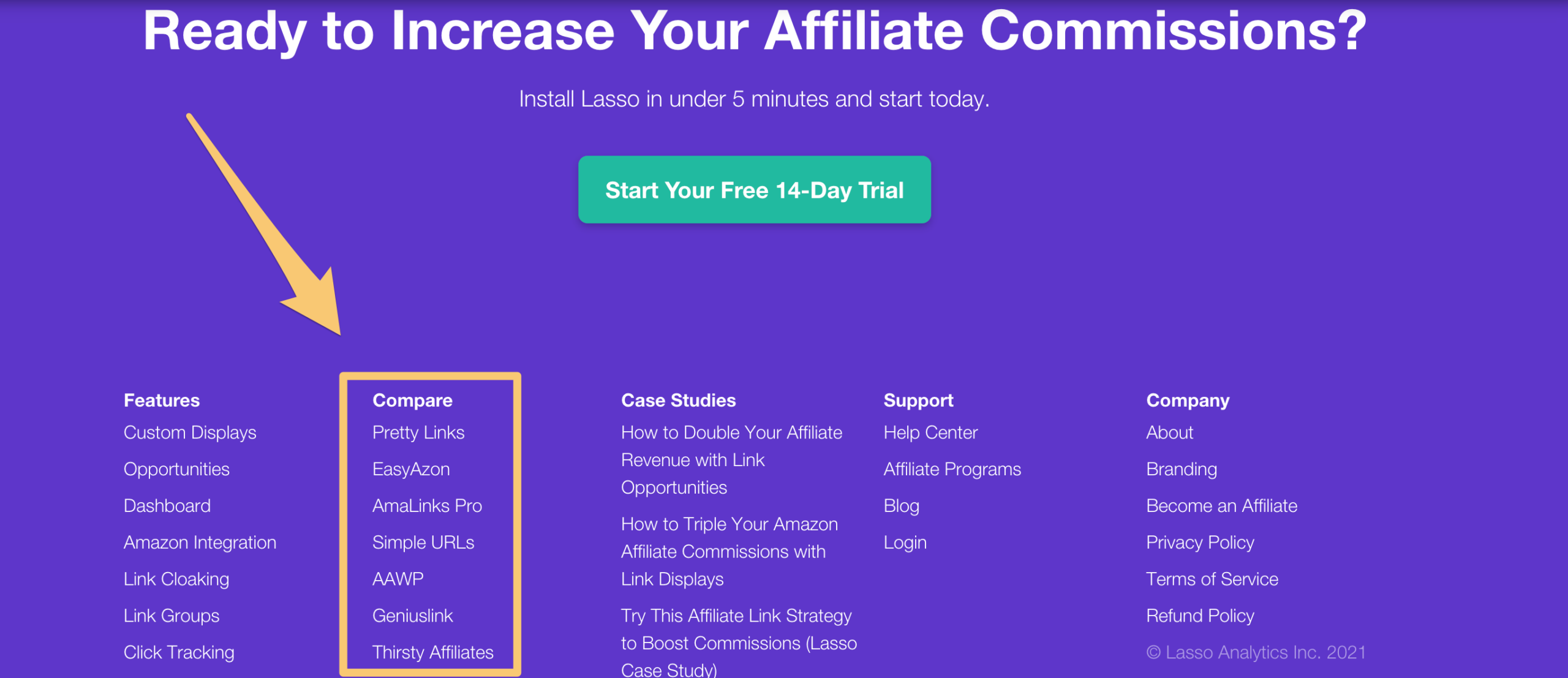 You can design your page to rank for terms like [your competitor's name + alternatives]. For us, it was terms like "AAWP alternatives," "Pretty Links alternatives," and "Thirsty Affiliates alternatives" since those are some of our top competitors.
How to research for product comparison posts
Here is how I recommend you research your product comparisons to write the highest-converting article:
Study the products (and really test them)

Find the unique selling points (segmentation)

Understand your customers (DSR)

Build your comparison based on the features customers care about
1. Study the products
I highly recommend you really do test the products you're comparing. Not only will you really understand the benefits and cons of each, and the specifics based on your hands-on review, but you'll also have great images that increase conversions on affiliate content.
Images build trust with the reader, pulling them directly into the story as you show the product in use.
Beyond this, you can further understand the products via:
Reddit

: looking for feedback and product discussions

Quora

: look for questions on the products, and answers from real customers

Amazon reviews

: you can even filter these by certain queries, which is key for understanding the unique selling points in the next step.

Niche forums

: find forums dedicated to the product niche and see what these experts think.
2. Find the unique selling points
Once you've read up on all the information about each, you should understand the unique selling points. 
It's essential to find these and keep them in mind from the beginning, as you'll base your entire product comparison review on these.
3. Understand your customers
Use Dynamic Spec Relativity, and your understanding of your customers, to prioritize which features to discuss most prominently. This is key to maximizing your sales.
If you know your customers, you'll know which main segments they fall into, and you can promote each product for each segment most clearly, or offer alternatives for any segments that the two (or more) products being compared do not fall into.
4. Build your comparison based on the features customers care about
And based on steps 1-3, you can write your product comparison with these frameworks in mind.
Additional tips for writing product comparisons that convert
1. SEO basics
Make sure you have the keyword in title, H1, H2, first paragraph, and last paragraph. 
Avoid stuffing the keyword in every H2 heading (for example, instead of "X vs Y: Speed", just write "Speed"), and avoid repeating it in every image's alt text, as you'll end up over-optimizing.
2. Check the search intent for how many products to compare
Some X vs Y keywords actually return X vs Y vs Z articles, where a third product is compared. If these articles are ranking above the X vs Y articles, this is a sign you should do the same.
It's essential to search your keyword and see what Google returns as the rankings articles. This shows you what Google thinks the correct search intent of the article is.
But, as a general maximum, avoid more than 4 products in a product comparison article. And even 4 is a lot, I've only ever compared 3 before. 
Any more than 4 products compared and you'll reduce affiliate link clicks with decision paralysis from too many options, and your product comparison tables will look less sleek and be more difficult to scan. 
3. Give strong value judgments
Don't just generically say both products are good overall, or they're good for everything. Say where one is amazing, and one is terrible. 
People need to have confidence that they're picking the best product for them, and if you don't clearly show where one is ideal for them, and one is absolutely not the right option, then you won't give them this confidence. 
4. Show your real product tests
Add images showing your real product tests, and use the first person wherever possible. Google wants to see real reviews, and unique images as well as using "I" gives Google positive signals that you are to be trusted and ranked higher.
5. Reach out to the companies
If you say nice things about a product or company during your product comparison review, you can reach out to the company and see if they'll link to you, or at least share on social media. 
If you haven't hands-on tested the product, they may also offer to send it to you so you can add images that improve conversion rates, or send you another product in their range that you can review separately. 
FAQs
What information should be included in a product comparison page?
You should include the information that is most important to the customer, and most likely to lead to them buying the product. Prioritize the specs, features, or any other information that leads to sales, based on your understanding of the customer. This most likely includes price, and other main specs, but consider other lesser-known comparison points that are key to the buying process.
How do I narrow down my options when comparing multiple products on a comparison page? 
Your keyword research should show up which products people are searching for to compare, as well as knowledge of your niche to understand the most compared products.
What are some common mistakes to avoid when creating a product comparison page?
Make sure you clearly segment the products you're comparing, so that each audience segment that visits the page is shown which option is best for them. Also, make sure to clearly show which product is not for a certain segment, not just who it's good for. This will earn your readers' trust.
Last Words
Product comparisons are low-competition, high-converting content that makes them ideal for smaller affiliate sites to write, and for e-commerce brands to create.
If you're serious about increasing your affiliate clicks and conversions, Lasso is an affiliate plugin that creates the highest-converting product comparisons around. You can try it here.
Want to learn how to build a profitable online business in three minutes per week? Join our newsletter.
Our creations in your inbox, weekly.
We've built multiple six-figure online businesses that our moms are proud of.
We'd like to help you do the same.