If you're struggling with how to write product comparison posts, you're in the right place. This post details the six components to include, plus a bonus tip at the end. It's an excellent content type for bloggers, especially if you want to boost affiliate commissions.
I've learned much over the years, creating reviews and comparisons. In this post, you'll learn why you should write one, what to include, and how to create yours to get more search traffic. Let's dive in.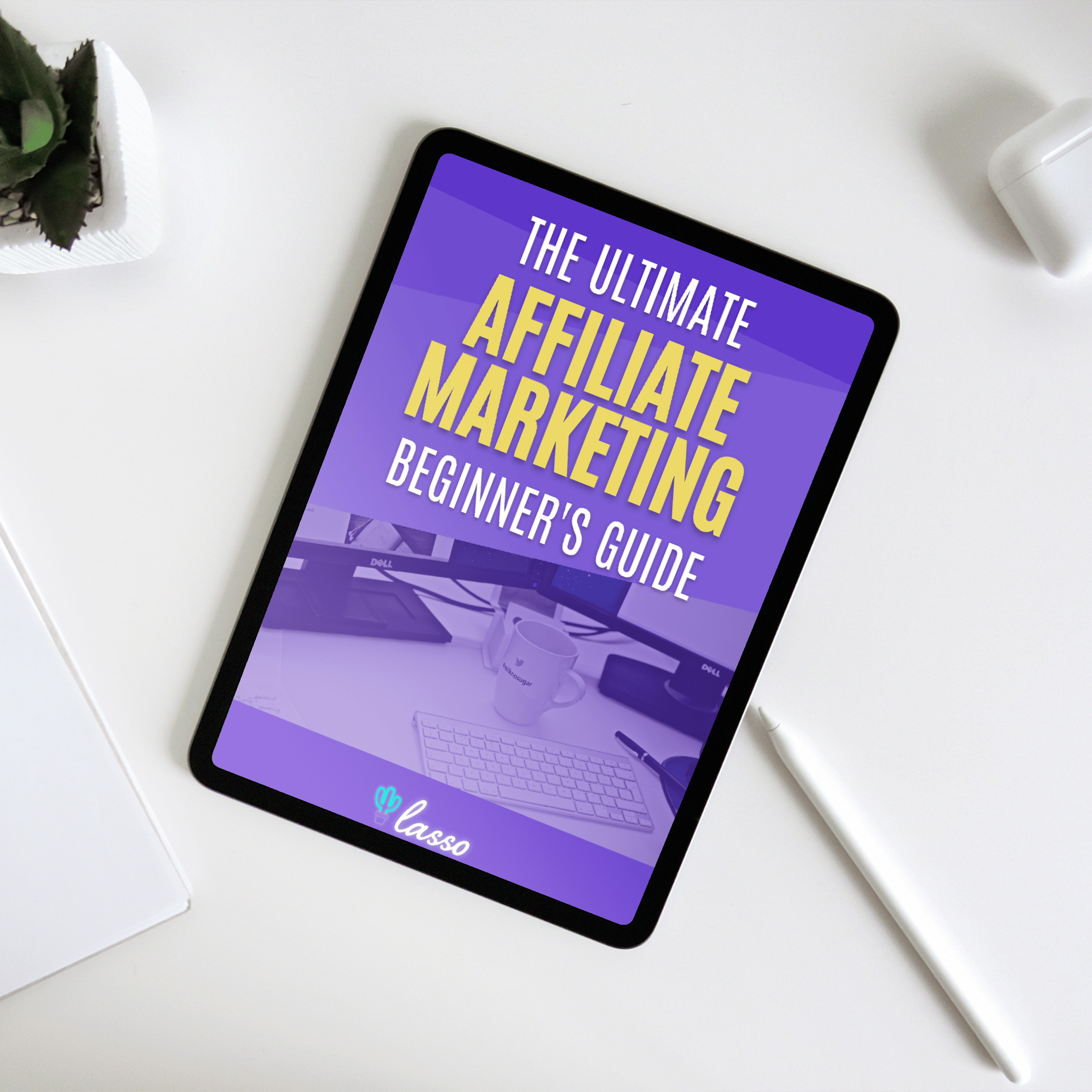 Get Your FREE 30-Page Affiliate Marketing Beginners Guide And Grow Your Site Today
Why Should You Write Product Comparison Posts?
Product comparisons are one of three content types you should sharpen if you want higher conversion rates (the other two are "best" lists and product reviews).
These styles focus on promoting products. Then, when people search for them on Google, they're ready to buy. Comparisons weigh the pros and cons of two things.
For example, a person running a Google search for "Samsung S21 vs. iPhone 12" is much closer to making a purchase. Compare that to "how to transfer data from iPhone to Samsung."
The former has likely narrowed their investigation down to these two brands. A thoughtful comparison article should nudge them in one direction.
But the most important reason these content types are worth creating is that they help attract qualified readers to click your affiliate links.
How to Write Product Comparison Posts Step-by-Step
Like with any piece of content, certain types call for certain parts. And comparing two different products is no different.
So, here's a breakdown of which details to include in yours: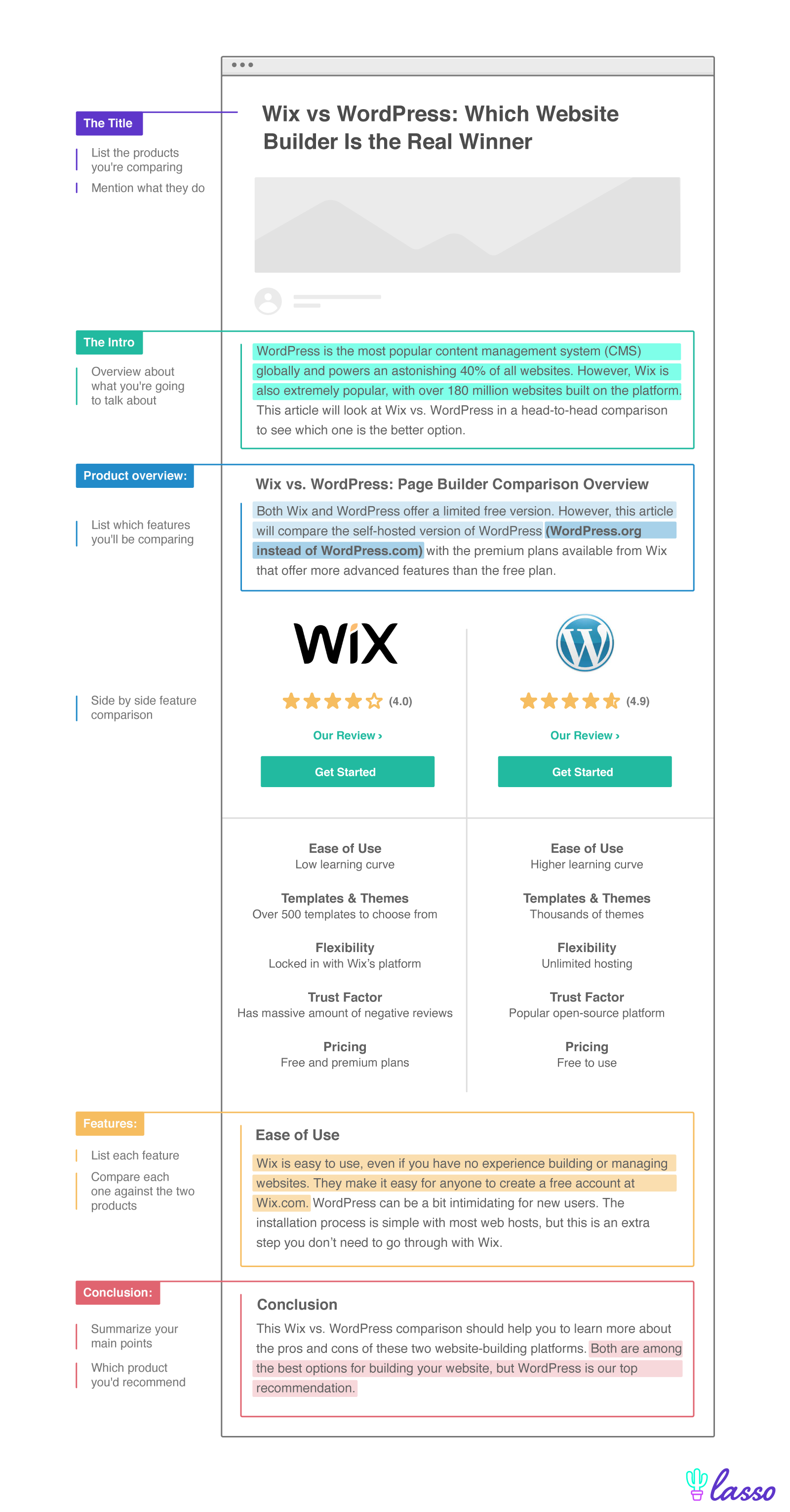 Step #1: The Product Title
The product title should do two things:
Name the products
Mention what they do
For example, in this post from our blog, the title reads "Wix vs. WordPress: Which Website Builder Is the Real Winner."

You can see how various industries follow a similar formula.
From software platforms Sprout Social and Hootsuite:

To fitness sites writing about protein powder:

Alternatively, you could ask a question in the second part of your headline.
For example, NerdWallet asks the reader, "Which should you use?" with its Shopify vs. Amazon comparison.

That question is already top-of-mind and speaks to your reader's pain.
Typically, people search for product comparisons because they wonder which one to buy.
Other phrases to try are:
Which is better?
Which brand is best?
What's the difference?
Which one is right for you?
So, stealing from the fitness headline from above, you could rework the headline to read:
Quest vs. Isopure: Which One Is Right for You?
Sidenote: Points for working in the product category in these phrases like BarBend did. Instead of saying, "Which one's best?" they included what the product does, "Which Low-Carb Protein Powder Is Best?"
Use Comparison Keyword Qualifiers
Here are some helpful keyword terms people often use in their search:
Or
Vs.
Against
Compared
Showdown
Alternatives
Tip: If you're unsure who the competitors are in an industry (or want more ideas for comparison posts to write), try using Google's autosuggest.
For example, if you're looking for other competing hosting companies to compare against BlueHost, type "Blue Host vs" into the search field.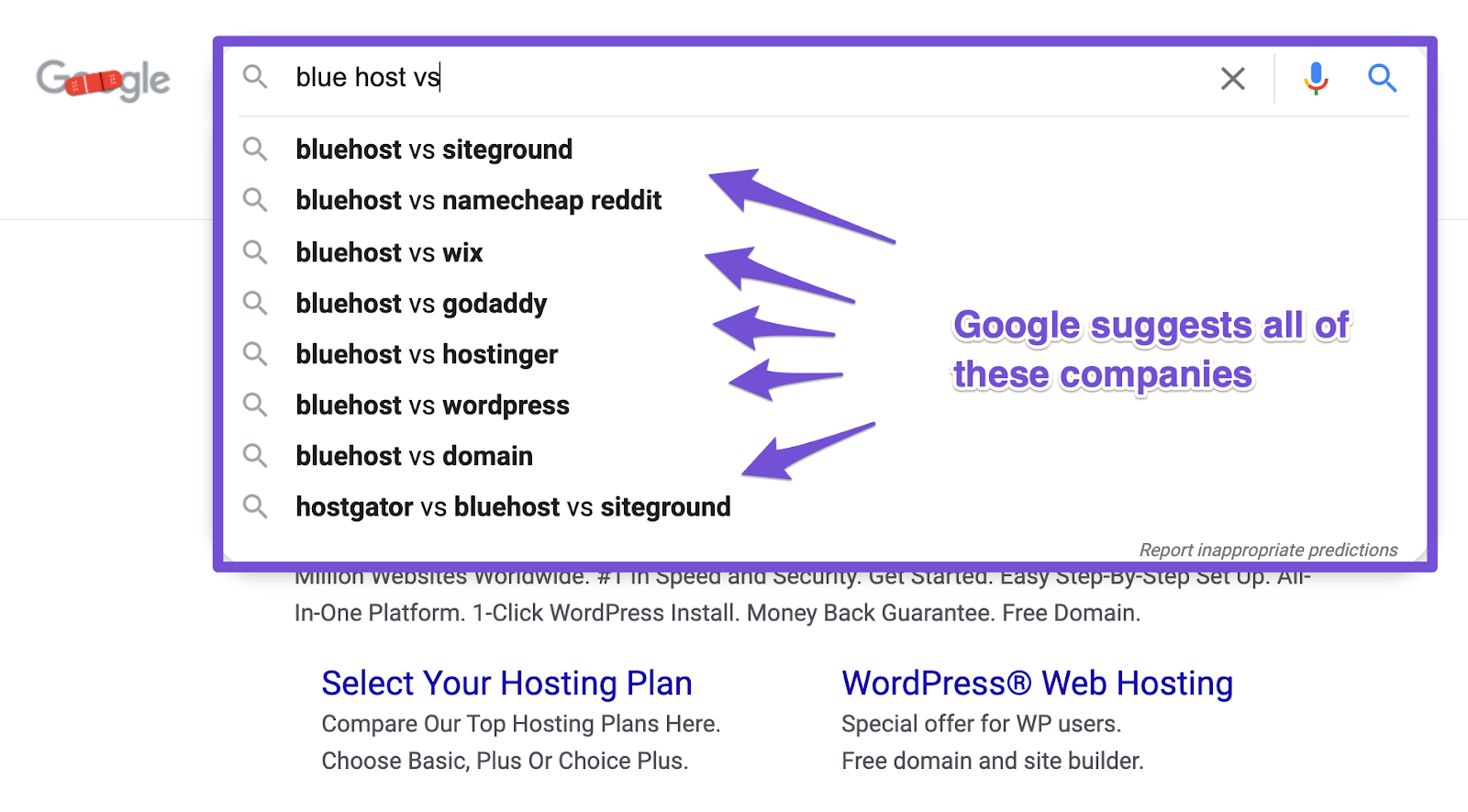 Based on your search query "blue host vs," Google suggested eight potential companies for which you could create product comparisons.
"Product vs. product" searches get substantial search traffic from Google.
Get Keyword Metrics
To get a better idea of the keyword difficulty and search volume, try using a third-party tool like Ahrefs. When using it, head to Keywords Explorer and type in your keyword.
For example, after typing in "BlueHost," head to Matching Terms > Terms Match and include your comparison keyword qualifiers in the "Include" filter, and click "Apply."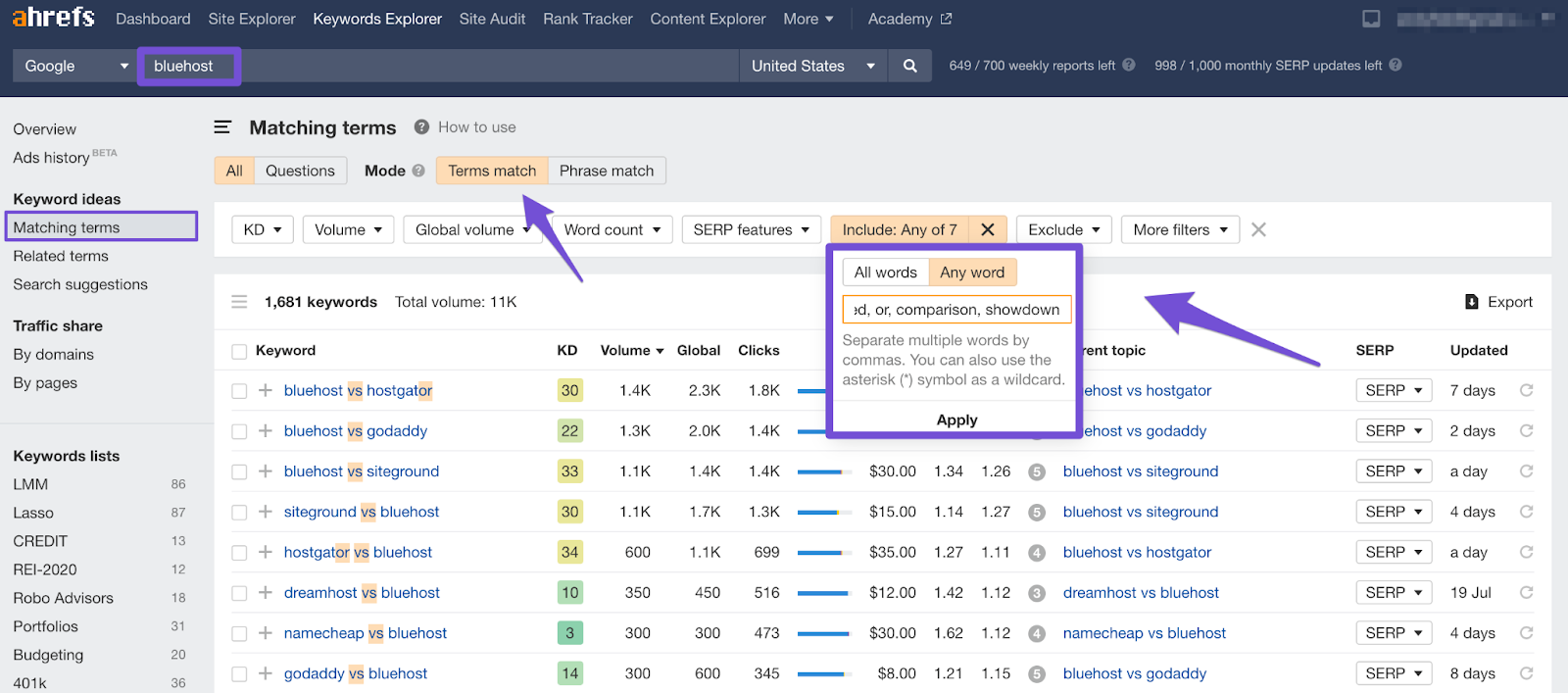 When you include the "Any Word" filter with Terms Match, Ahrefs finds the words on your list in any order.
You can also use browser extensions like Keywords Everywhere to see related keywords. Although, you won't see search volumes or CPC data unless you buy credits.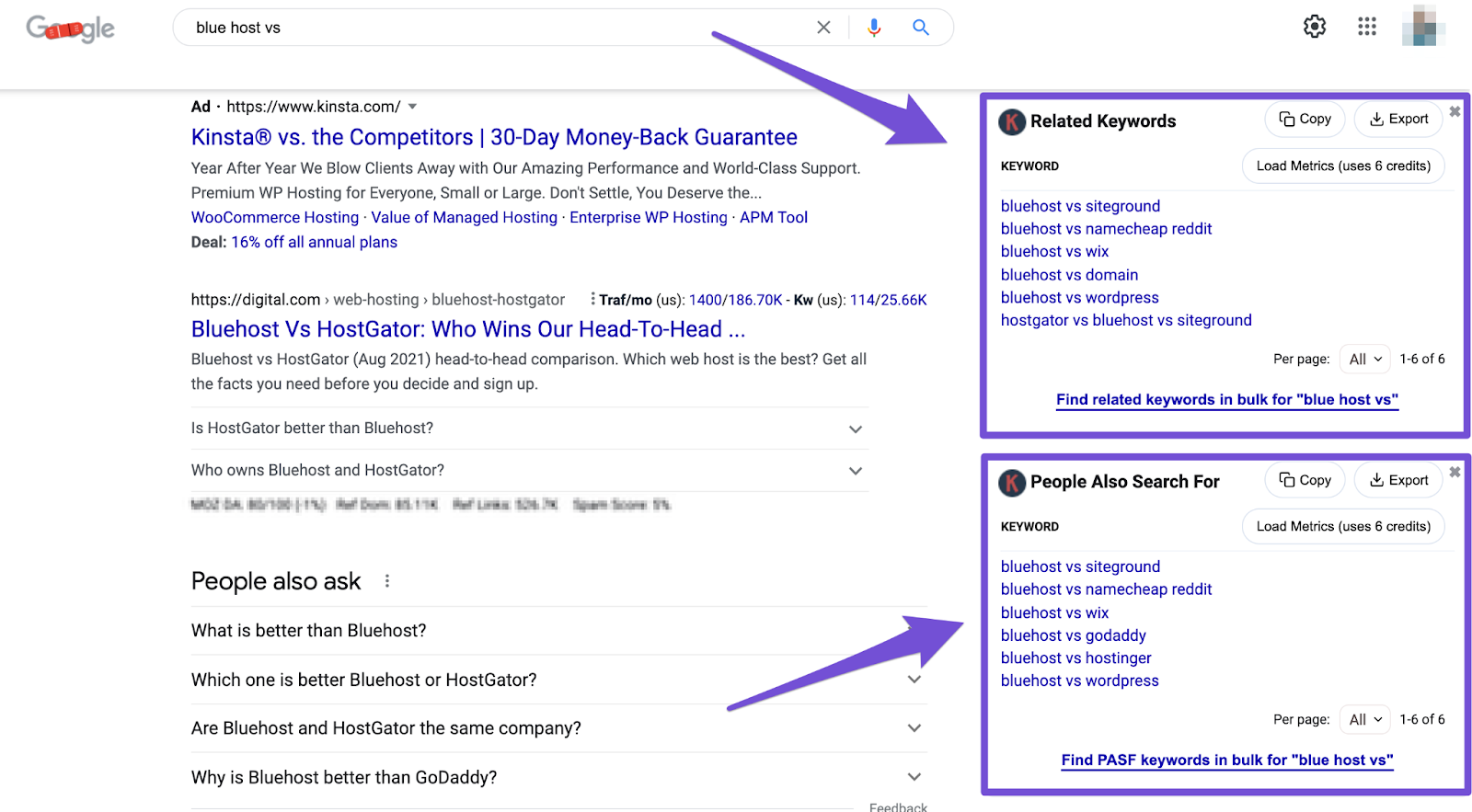 Step #2: The Intro
Your intro is an opportunity to mention the two products you're comparing, assure your website visitors they're in the right place, and list the specific features you'll compare.
So, if your intro was a post about Sprout Social vs. Hootesuite, your intro could look like this:
"In this post, I'll be comparing Hootsuite and Sprout Social." (mentions both products)
Now pull them down the slippery slope and mention the product category:
"Both of these social media management tools have plenty to offer, but sifting through the details trying to determine the best option is time-consuming." (mentions product category and addresses pain point)
Next, hit them with the specific features that matter most to your readers and preview what your post will cover:
"In this Hootesuite vs. Sprout Social (use keyword phrase) review, my research compared the five feature categories people find most appealing:
Analytics
Listening
Publishing
Organization
Engagement
Finally, add a call to action (CTA).
"Read on to find out which one is right for you."
Brian Dean does a great job of this in his intros: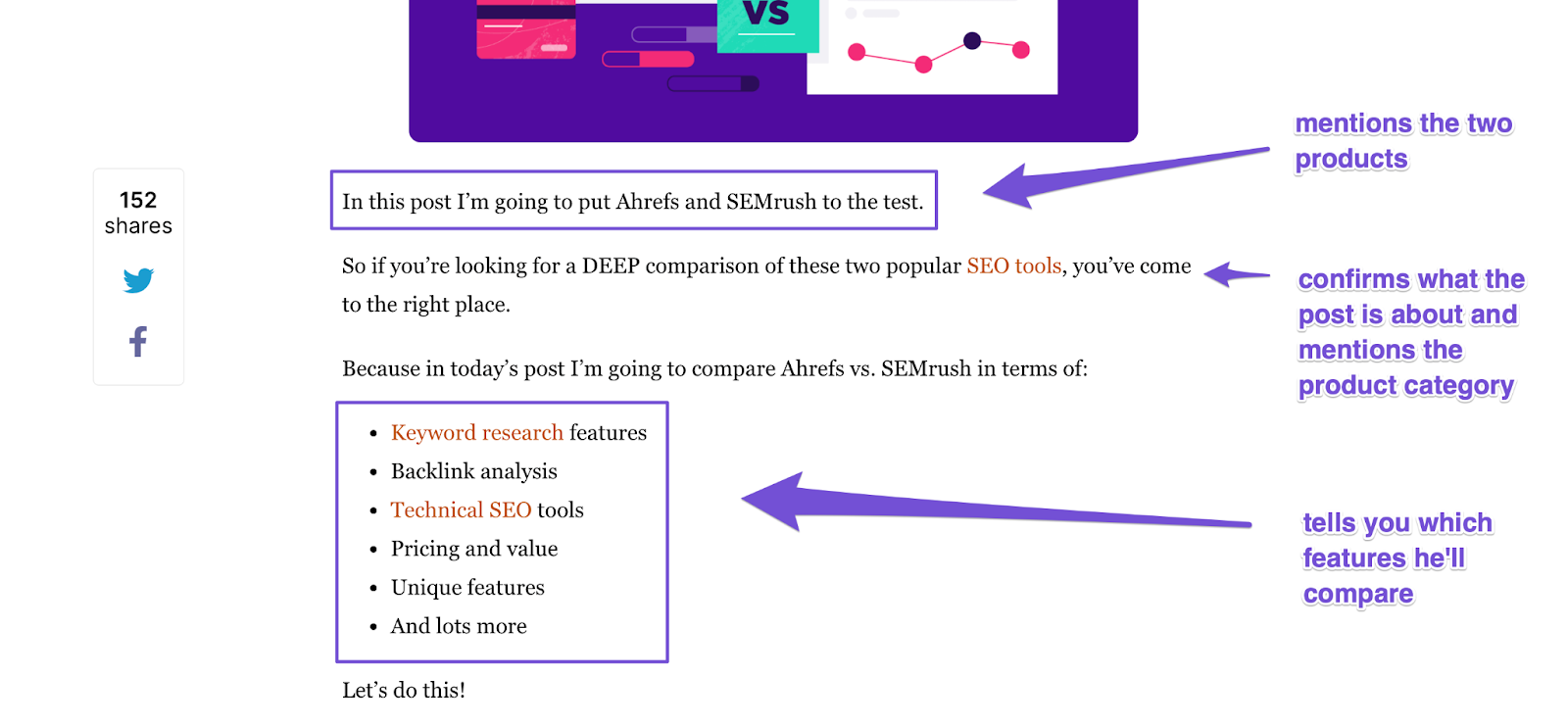 Note how Brian hits the keyword phrase "Ahrefs vs. SEMrush" in the opening before he lists which features he'll compare. That's a smart SEO move.
His intro has three pieces:
"In this post, I'm going to put Ahrefs and SEMrush to the test." (mentions the two product names)
"If you're looking for a deep comparison of these two popular SEO tools, you're in the right place." (mentions product category "SEO tools")
"In today's post, I'm going to compare Ahrefs vs. SEMrush in terms of:" (set of bullet points with features he'll evaluate)
Alternatively, you can try copywriting formulas like PAS before transitioning into the features you'll compare.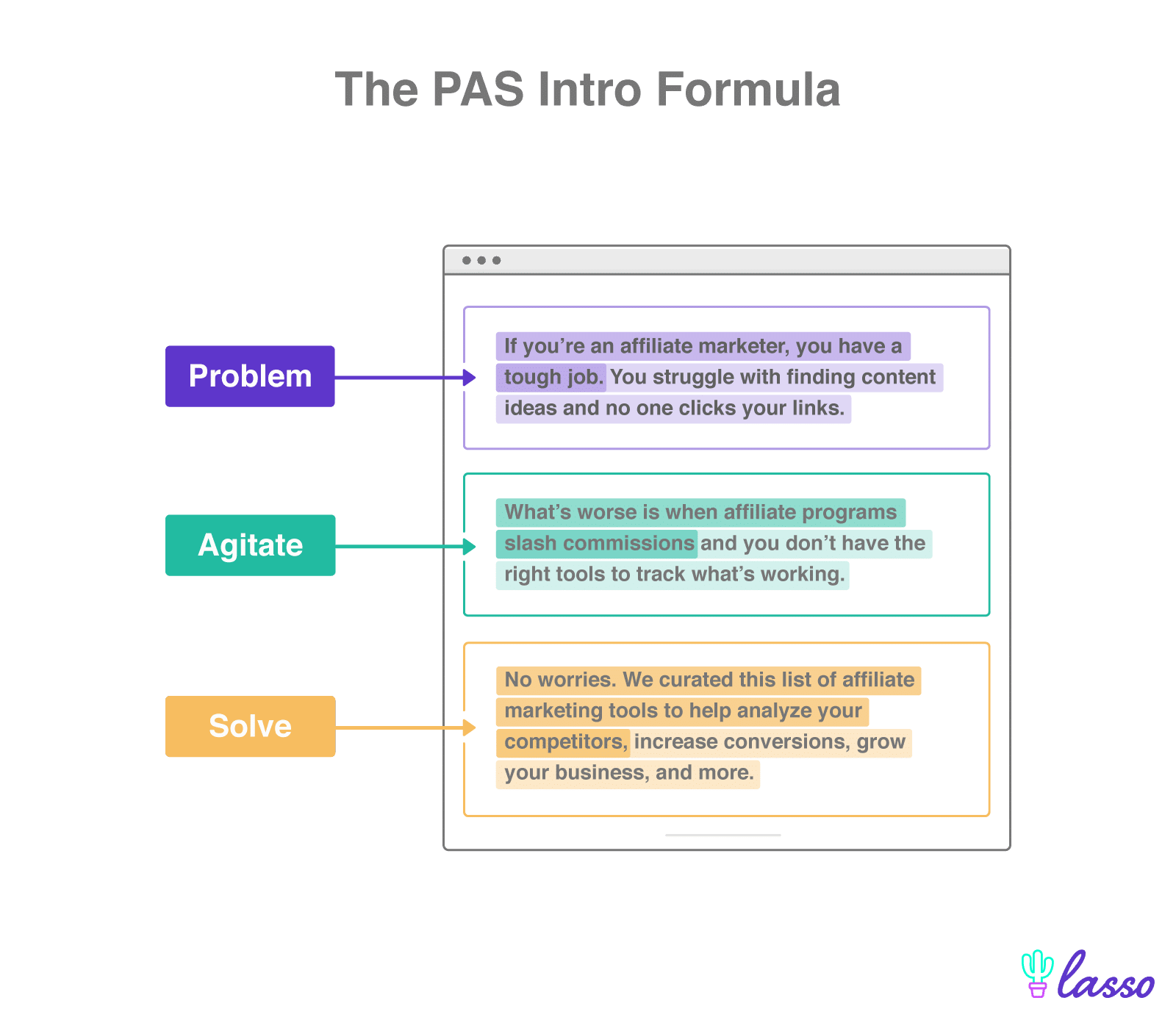 Further Reading:
Step #3: The Product Overview (aka Who Are They?)
Here's your chance to give some background on the two products before diving into specific features. Some topics worth mentioning are:
How they got started
What they're known for
What makes them different
New features they've adopted over the years
For example, this comparison post about Vanguard and Fidelity mentions noteworthy things about each company and when they started to provide readers context.
For example, here's what I wrote for Vanguard:
"John Bogle founded Vanguard in 1975 and created the first index fund. Since then, their assets under management (AUM) ballooned to $5.3 trillion and are the largest provider of mutual funds in the world."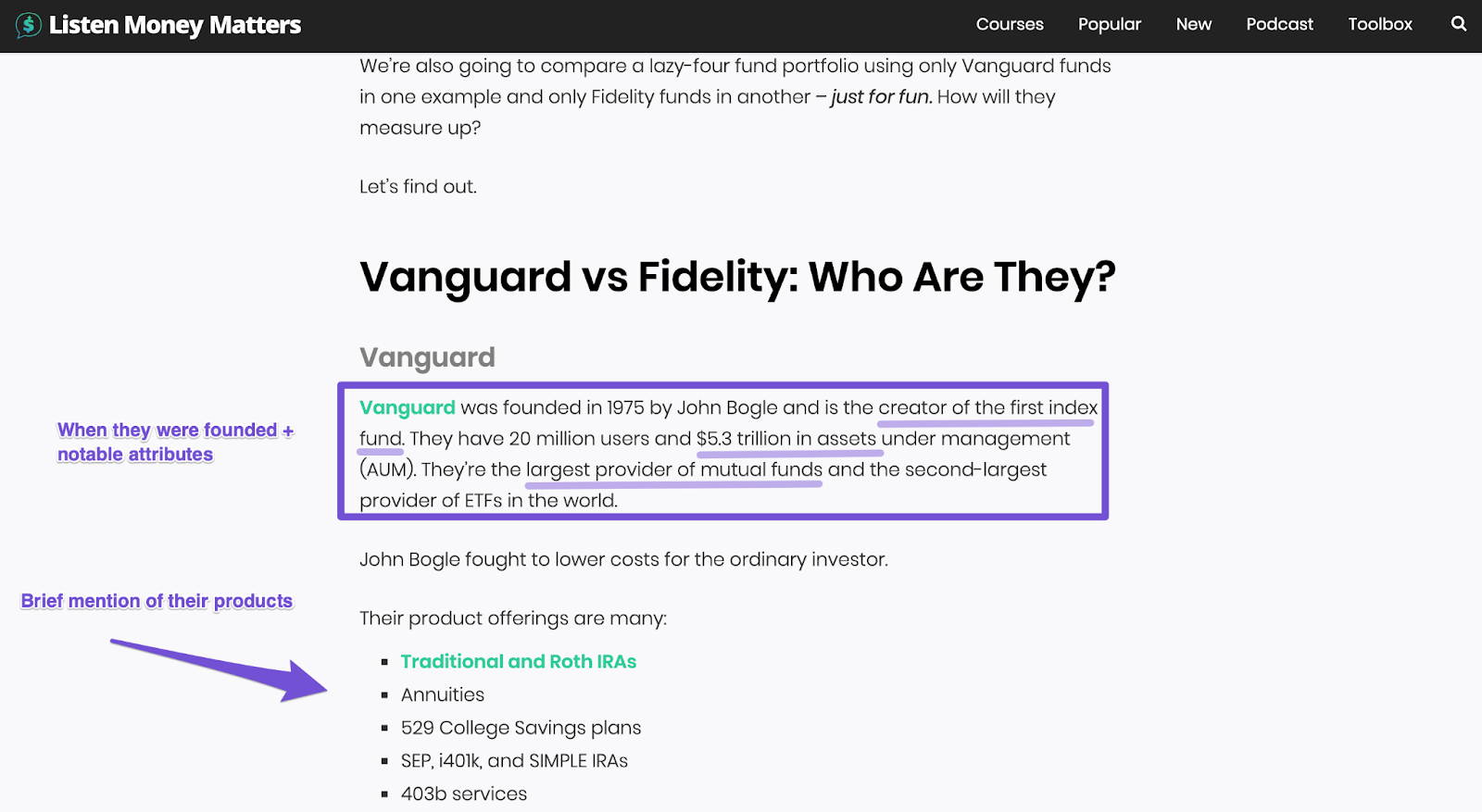 And then mention Fidelity:
"Fidelity opened its doors in 1946 under Edward c. Johnson's leadership and AUM of $13 million. He established the first income-oriented mutual fund to invest in a portfolio of common stocks."
An easy formula to use when writing your product overview is:
When the company was founded + notable attribute (s)
You can also give an overview of the similarities between your products.
For example, if they're both popular brands with large followings and a substantial customer base lead with that. Then, transition into where they differ in your side-by-side comparison.
WP Beginner does this with their comparison between Yoast SEO and All In One SEO (two SEO WordPress plugins): 
Note their header "About Our Contenders," which is a nice touch.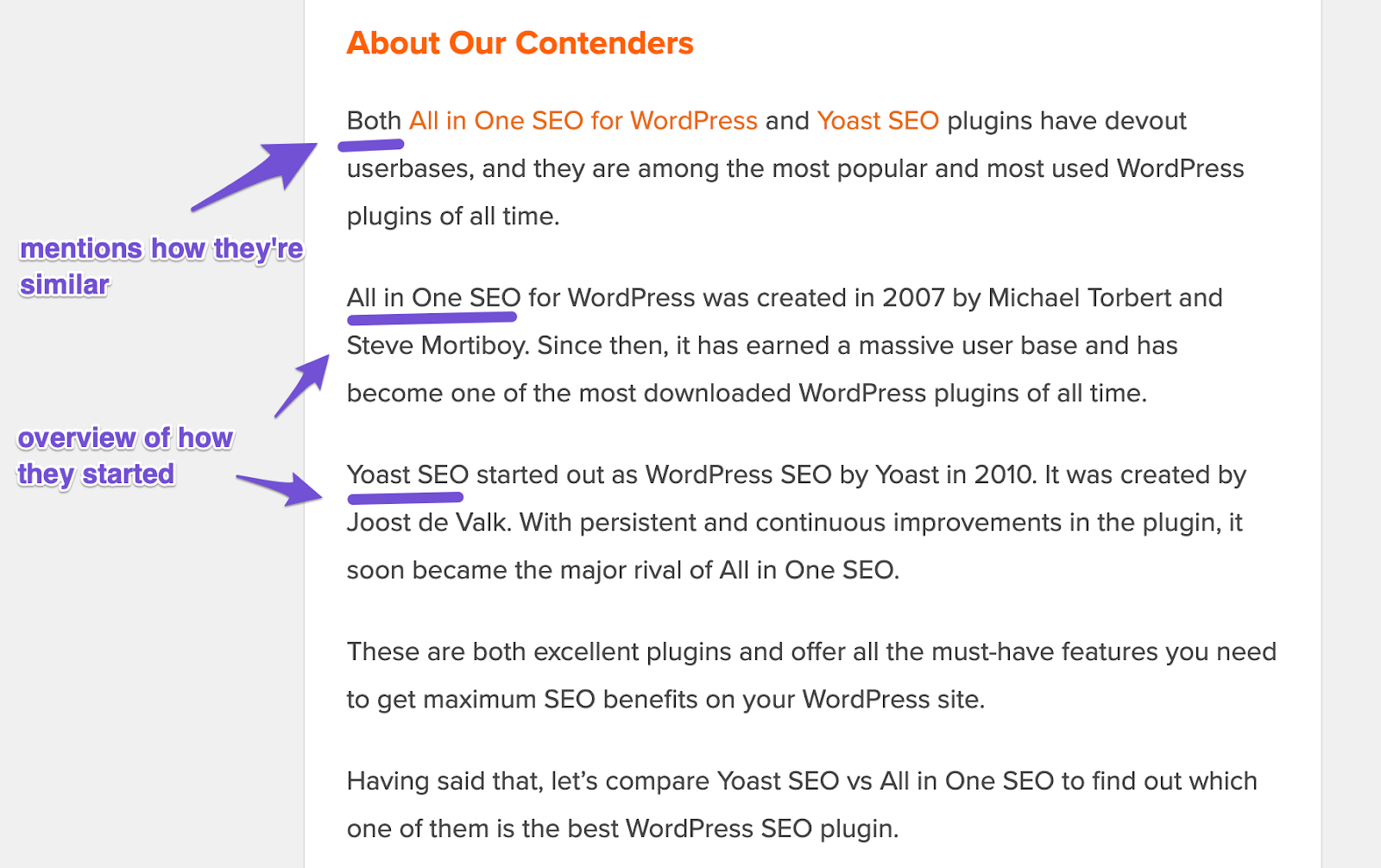 Alternatively, you can mention which product is better suited for which demographic or where they excel.
For example, the Sprout Social comparison notes that Sprout Social is best for customer service while Hootsuite is best for teams.

This further qualifies your reader because now you've added another segment mentioning who it's best for.
So, another way to approach your product overview is to:
Mention similarities 
Mention how they started
Transition into the feature-by-feature section
Further Reading:
Step #4: The Side-by-Side Comparison
This is where a comparison chart or table can come in handy.
For example, our template illustration from above shows Wix and WordPress displayed side-by-side in a custom comparison table.
You can also use simple plugins like Table Press to differentiate between two products, as we did in our Wix vs. WordPress post.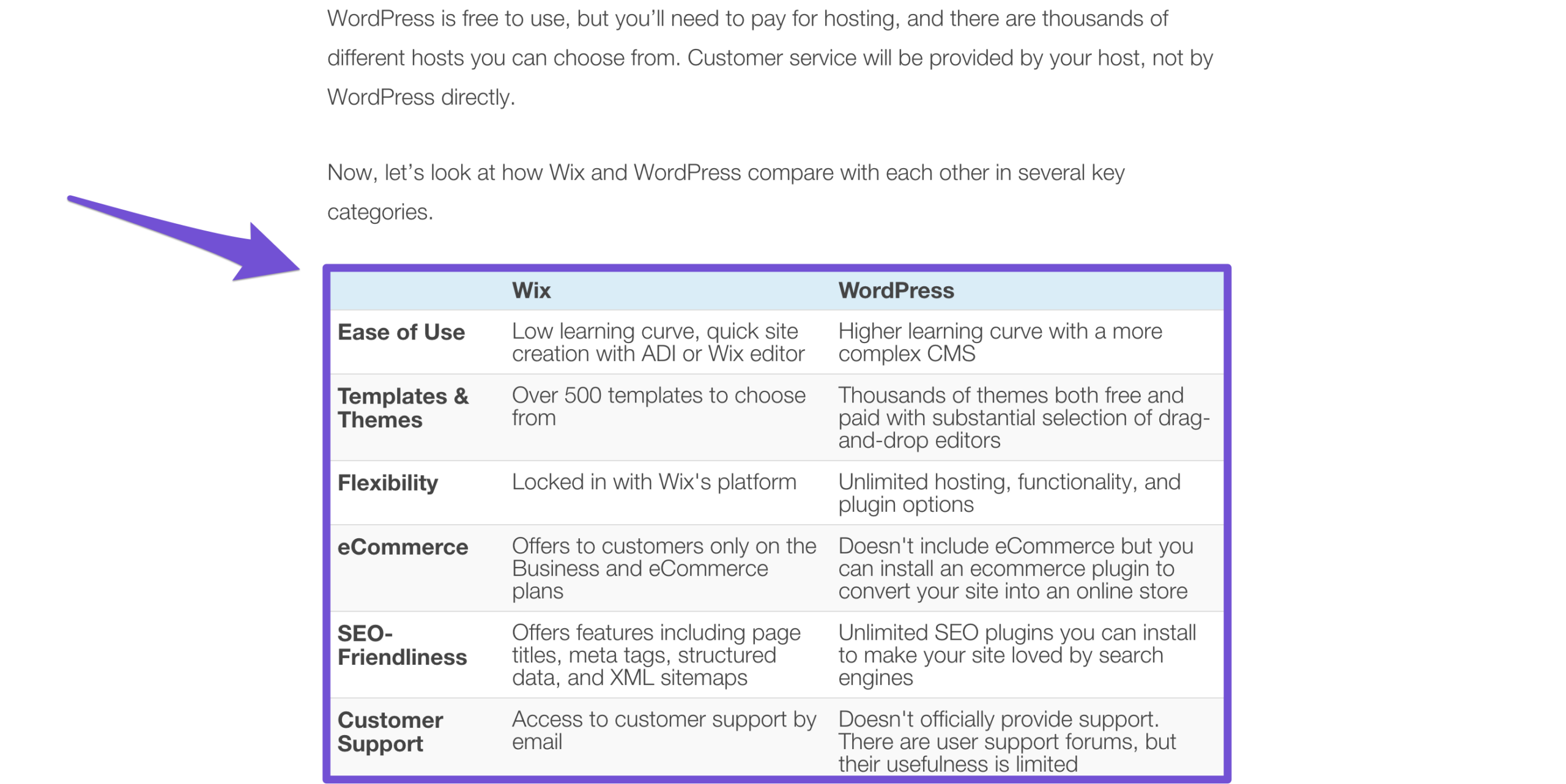 You can give your readers "at a glance" features to better understand the product. These sections appeal to skimmers and the TL;DR crowd.
List the features most relevant to your product comparison that informs your reader what you plan to evaluate.
Tip: Link to your product review and include a "Sign-up" or "Get Started" CTA with your affiliate link. Here's one way you can do it: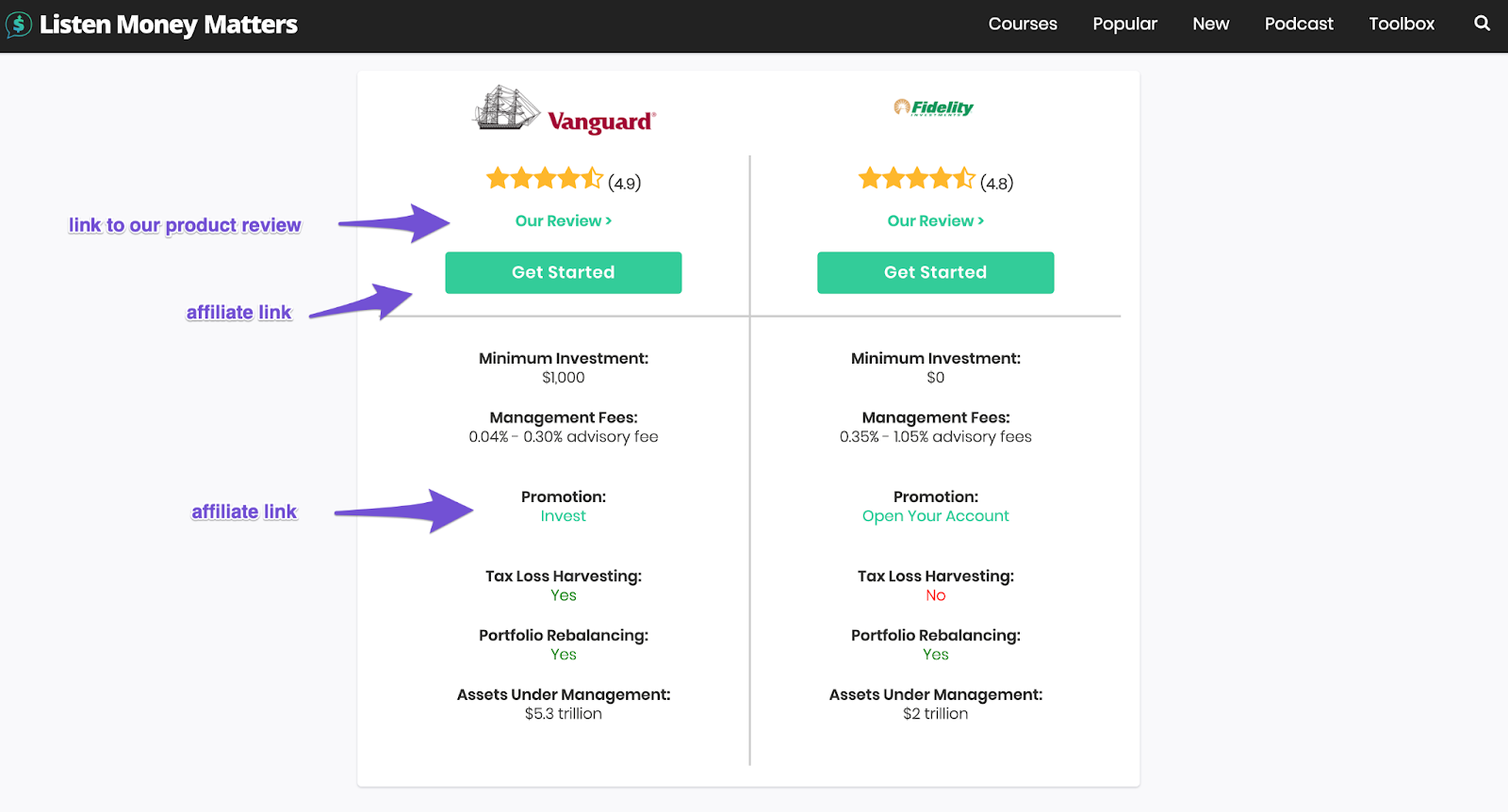 Most product comparison tables are NOT mobile-friendly because tables occupy more space, and smartphones have smaller screens.
Be sure you structure yours in a user-friendly way.
Troubleshooting Comparison Tables
One way to determine if the tables on your website are mobile-friendly is to use Google's dev tools.
Here's how to do it using Chrome (if using Safari, go to Develop > Show Web Inspector from your top menu bar).
Open up any web page you think might have issues and right-click (or double-click your trackpad).
Click "Inspect"
Click the "Toggle device toolbar" in the 'Inspect' window (looks like an icon of a mobile phone appearing in front of a tablet)
Select "Responsive" at the top menu bar and view your page by mobile device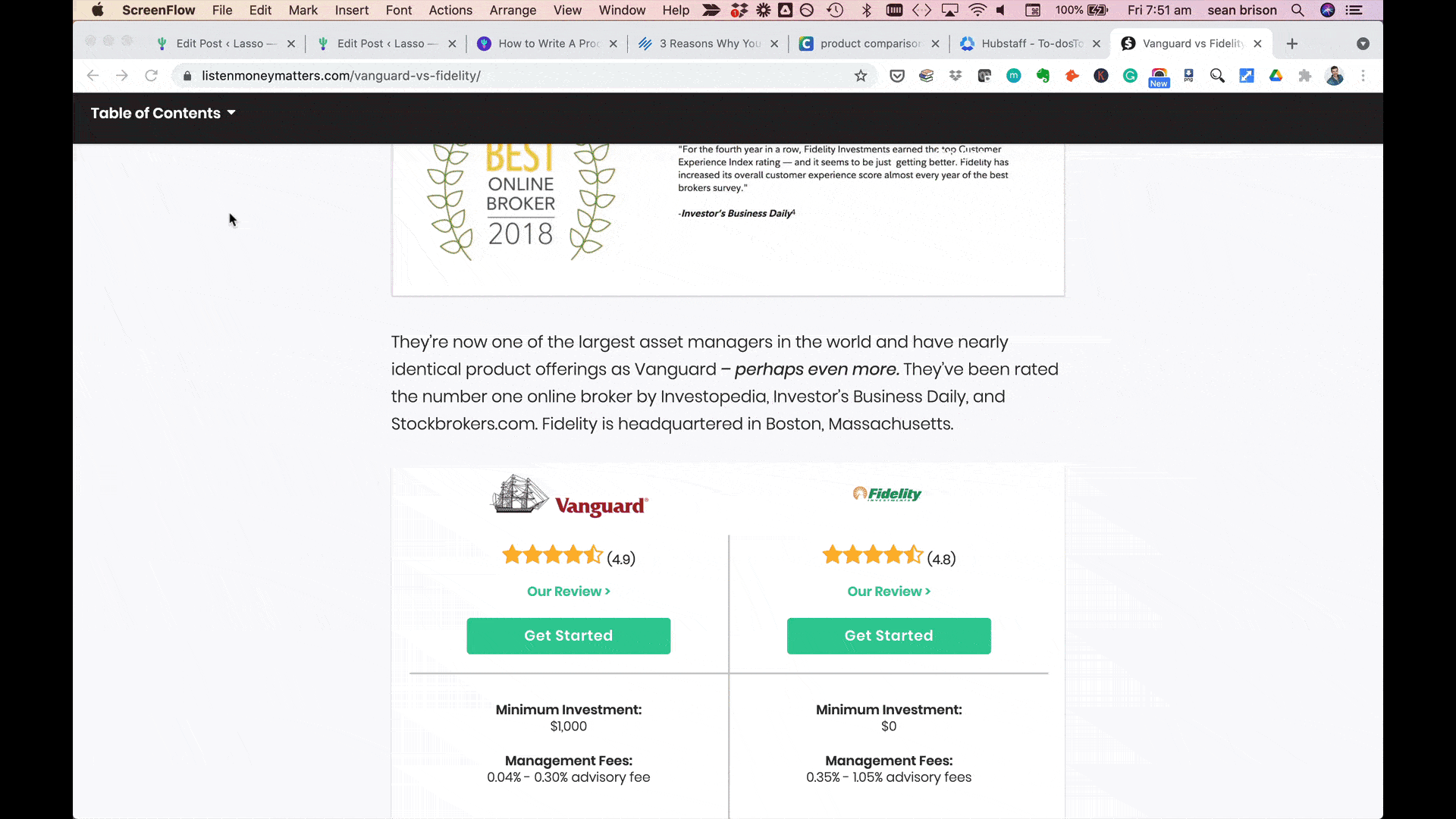 You can see how your page appears to mobile viewers by the device. You're in good shape if 90% of the devices can view it.
You can also see which mobile device screen resolutions view your pages the most.
To do this, open Google Analytics and head to Audience > Technology > Browser & OS. Then, under "Primary Dimension," click "Screen Resolution."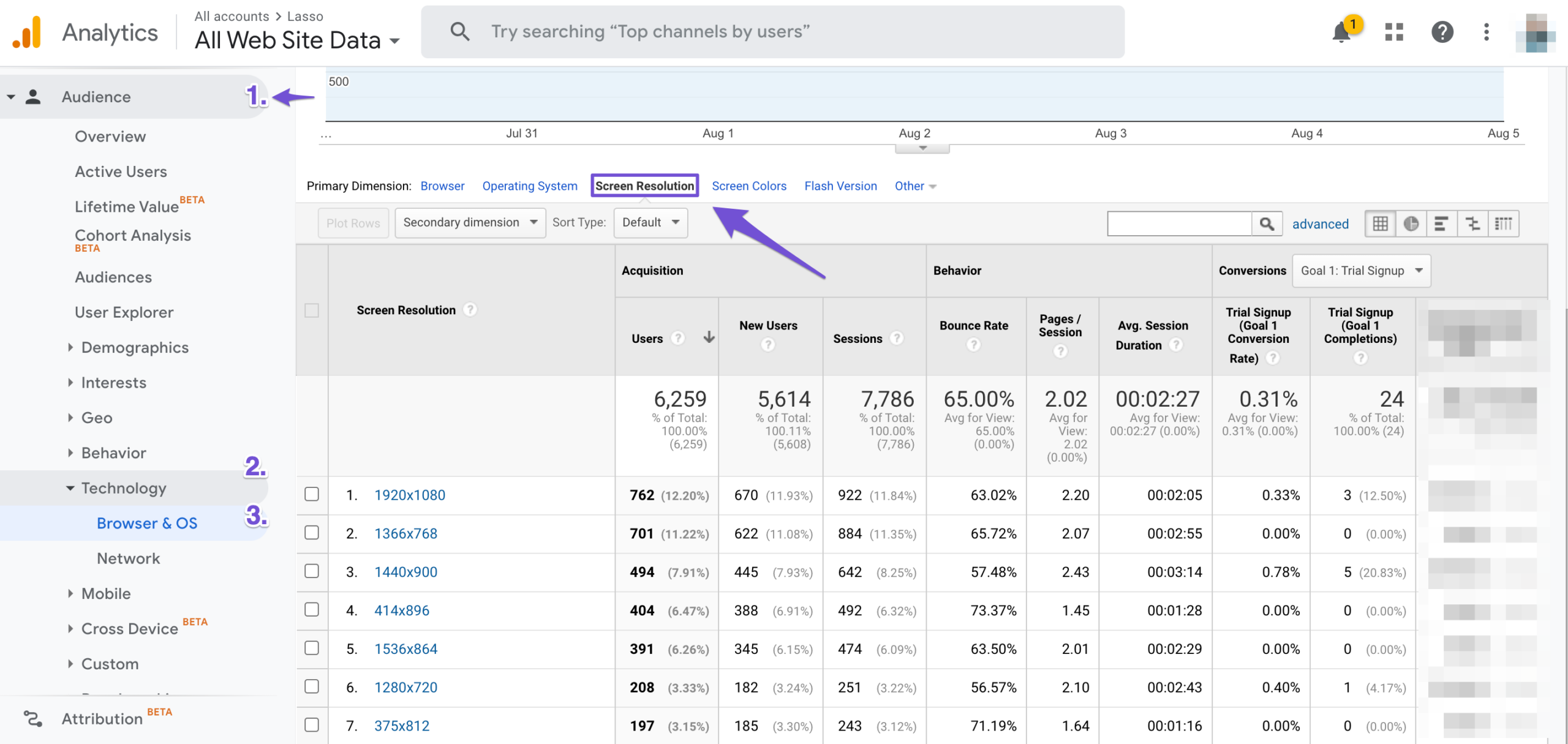 You can also better understand which mobile devices view your website and optimize for that. Go to Audience > Mobile > Devices to see the ones your visitors use when landing on your site.
Takeaway: When creating tables, you need fewer columns and less data per row to keep them lean for mobile.
Further Reading:
Step #5: Comparison Features
People love to compare products.
This is where you list the differences between the two competing brands. In addition, here are some tips for finding which features to include.
Start with:
What the brand is known for
Why your reader needs the product
The product features pages on the company's website

Other places to look are industry-specific third-party websites.
For example, if you compare two similar products in the software niche, you could check out G2.com or Capterra.
If you're in the travel industry, try TripAdvisor or Booking.com.
Sidenote: Review sites are goldmines of information. You'll find customers talking candidly on various topics, from functionality to pricing to customer support.
For example, if you were writing a comparison post about Hootsuite and Sprout Social, you could start by heading to their features, pricing, and contact us pages.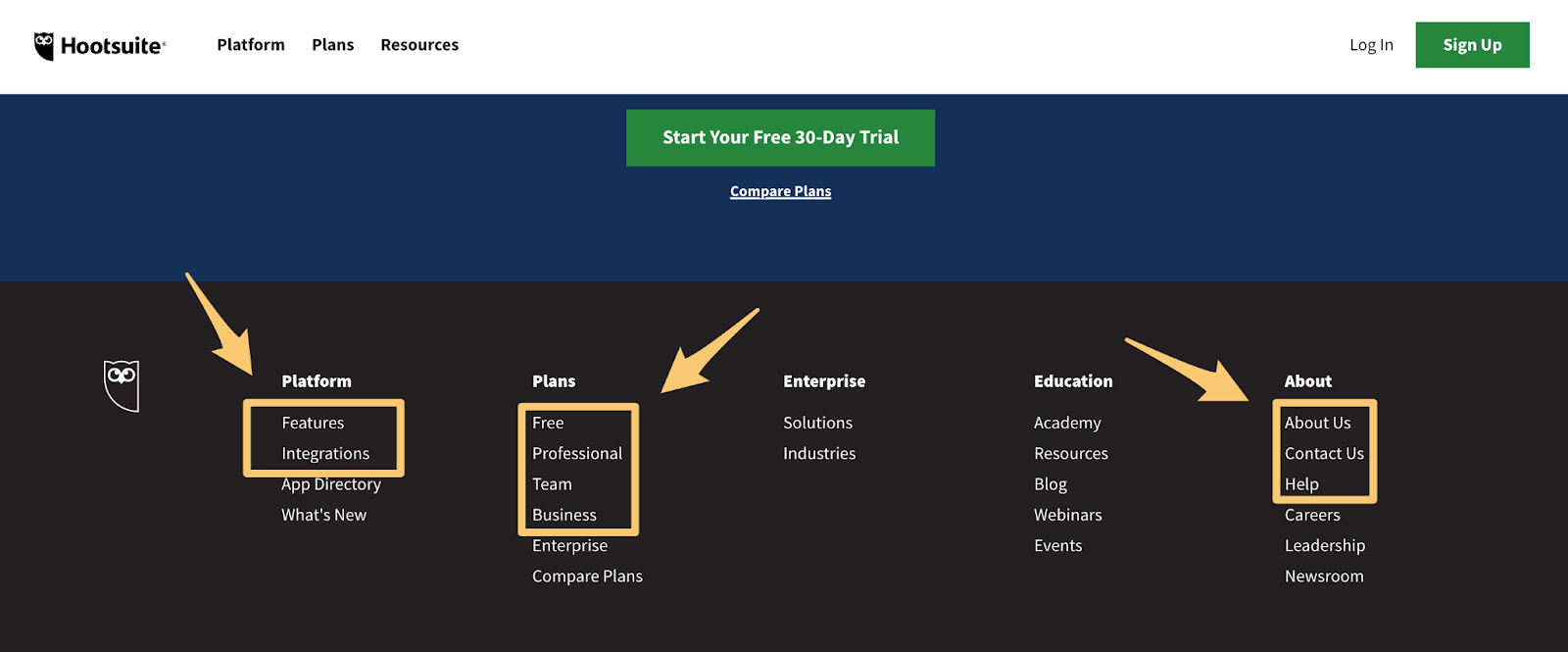 Typically, people want to know specific product descriptions, how much it costs, and how to contact customer support.
This provides essential information and an excellent starting point for gathering research.
Tip: Scroll to the website footer to find more information and links to help you.
Then, head to G2 and Capterra to see what people say about them.
Finally, include any personal experience you've had using the products. This last step is the most important and builds trust with your website visitors.
For example, when comparing brokerage firms in the finance niche, you could start with, "Whose fees are the lowest?" or "What's the minimum investment?"
For social media management:
"Who has the best reporting and scheduling options?
Travel:
"Which hotel has the best amenities?"
Website builders:
"Which page builder is easiest to use?"
This gets into the product details, where you can show what each one does.
For example, you might be considering whether to use Wix or WordPress because you're thinking of running an eCommerce store and wondering how easy it'll be to build the site.
Our Wix vs. WordPress post covers those parts in detail under the "Features" section.
In addition to your feature-by-feature comparison, you could also mention other items in your headers and subheadings, such as:
Alternatives
Frequently asked questions
These can appear as h2s or h3s within your article.
For example, Tech.co mentions other social media management alternatives near the end of their review: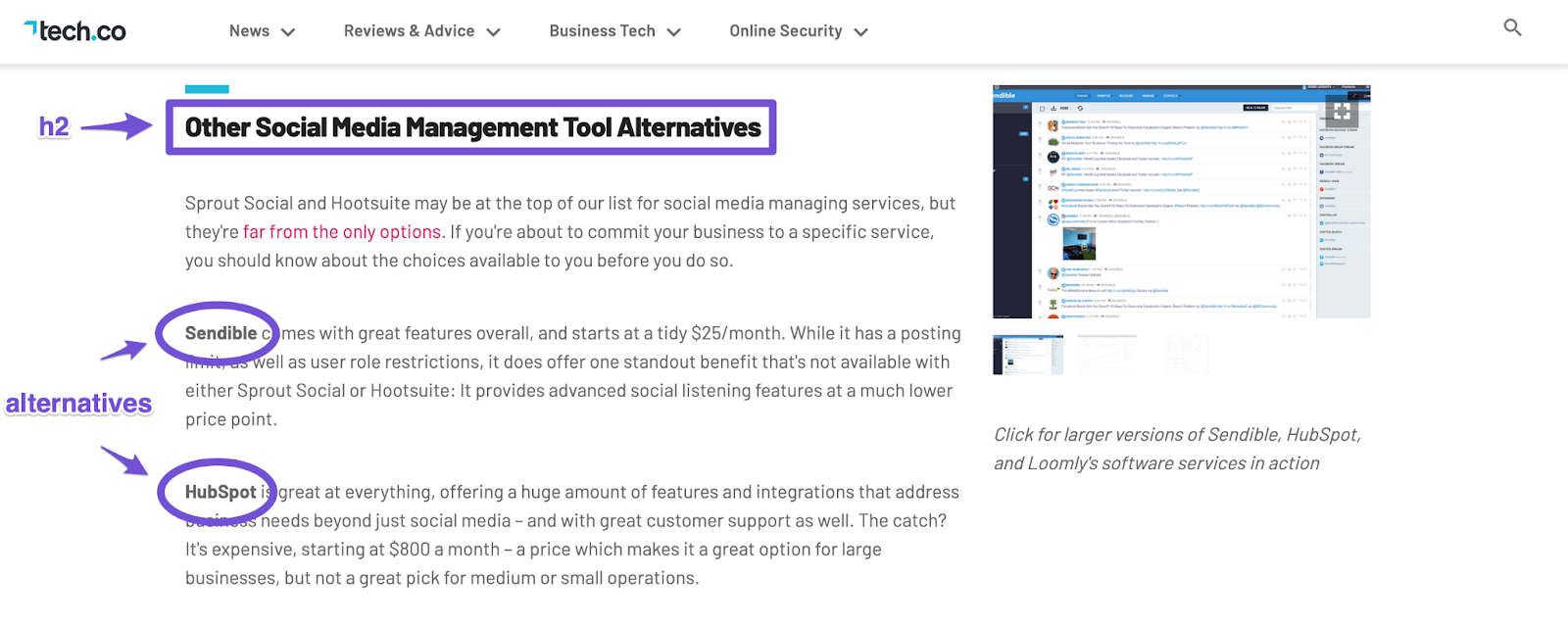 Adding these sections to your post casts a broader net of keywords and searchers to capture.
Step #6: The Conclusion
You provide an impartial recommendation based on your research and personal experience here.
And, if you're using a tool like Lasso, you can provide your recommendation in a custom display (like the Wix vs. WordPress display below) with:
Badges
Pros/cons
Star ratings
Product descriptions
Secondary CTA buttons
Winner and Best Overall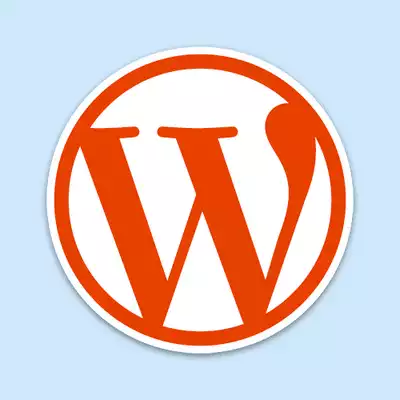 WordPress
WordPress comes out ahead thanks to unlimited flexibility, powerful themes, and awesome plugins (like Lasso) available through the community. There's a bit of a learning curve for new WordPress users but the platform's raw power more than makes up for it.
Pros:
eCommerce & SEO-friendly

Flexible hosting options

Extensive template library
Cons:
Lacks "official" customer support team
Explore WordPress.org
Read Our Review
As far as what to say in your close, here's a formula that works well:
"This Wix vs. WordPress comparison should help you better understand their platforms. While both are among the best options for building your site, our vote goes to WordPress.
Its unlimited hosting and plugin options are the best we've seen. Plus, it has a popular open-source platform with a substantial user community. It has, by far, the most support on the internet."
The two points to hit are the summary of what your post is about and your personal recommendation. I suggest listing one or two features that stand out to you because they add specificity and strengthen your argument.
This is what could tip your reader to click your link if you've done a thorough job.
Further Reading:
Bonus: Create Product Comparison Pages to Get More Search Traffic
You can create comparison pages to get more affiliate marketing search traffic and (ideally) customers.
These extra pages on your site can help wrangle additional page views and potentially convert more website visitors.
For example, we created a hub of comparison pages on our site at getlasso.co.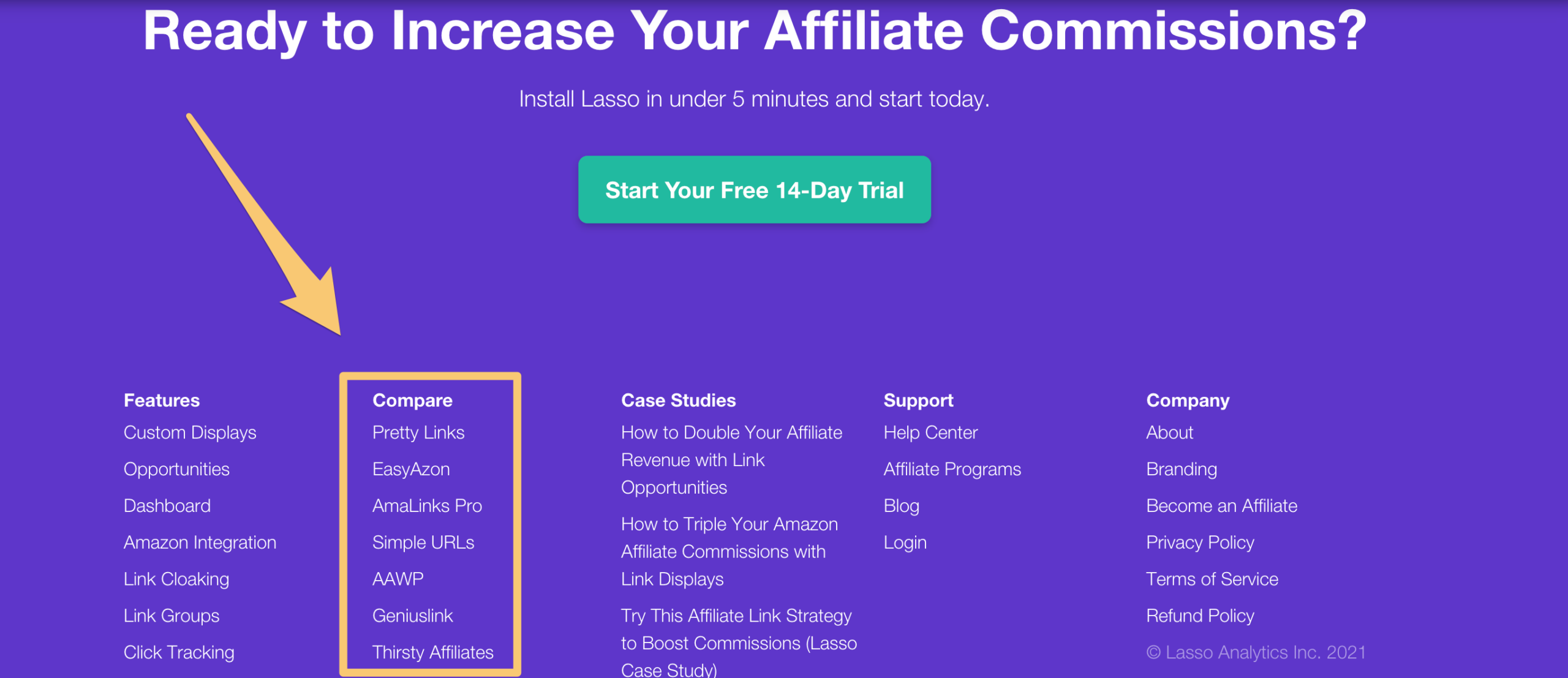 When looking at Google Analytics, those pages brought in an extra 800 pageviews in the last 30 days.

You can design your page to rank for terms like [your competitor's name + alternatives]. For us, it was terms like "AAWP alternatives," "Pretty Links alternatives," and "Thirsty Affiliates alternatives" since those are some of our top competitors.
When done strategically, you can create a hub of comparison pages and attract more website visitors.
Or Google "How to create competitor comparison landing pages" for more details.
Takeaway: Instead of writing single posts, you could build comparison landing pages on your website to appear in organic search and nab more traffic. 
Alternatively, you can try creating a glossary hub of industry-specific terms related to your niche so that when people Google those terms, they find your pages in the SERPs.
Last Words
Your product comparison could be the deciding factor for your readers. Since these search queries are primarily commercial investigations, conversion rates tend to be higher.
Staring at a blank page is the worst, especially when unsure where to begin. So, steal a page from our playbook to get your ideas going when writing your next post.
Want to learn how to build a profitable online business in three minutes per week? Join our newsletter.
Our creations in your inbox, weekly.
We've built multiple six-figure online businesses that our moms are proud of.
We'd like to help you do the same.