Are you looking for a list of profitable niches? That's the age-old question newbie marketers continue to ask when starting an online business (or veteran's who want to double-down).
I still ask it.
This post shares 11 niche markets you can use to get started earning on the web.
Let's do this.
Web Hosting
In 2019, the global web hosting market size carried a $56.7 billion value. It's estimated to increase at a compound annual growth rate (CAGR) of over 15% through 2027.
Hosting a website costs between $2.49 to $730 a month.
Falling beneath the broader web hosting market are several sub-niches, including:
Shared hosting
Managed hosting
Virtual Private Server(VPS)
Colocation
Dedicated hosting
Cloud hosting
Bloggers have an abundance of choice when it comes to selecting the type of content to create and designing their marketing strategy.
You can choose material based on building a WordPress or ecommerce site, starting a blog, hosting reviews, product comparisons, and more.
There are niche markets within web hosting where you can go an "inch wide and a mile deep."
Many commissions are subscription-based and could potentially yield you recurring passive income.
Depending on the type of plan your reader signs up for, you could earn upwards of $200 per conversion.
Examples of affiliate programs to join include:
TechRadar is one example of how you can use detailed reviews and in-depth tutorials to make money online as an affiliate.
Explore our database for more affiliate programs in the web hosting niche.
Travel
Global tourism and travel spending nearly hit $3 trillion, with the U.S. alone spending over $580 billion.
People pay to visit the world (less so in a pandemic, however).
This niche market encompasses so many industries, including:
Transportation
Travel companies
Lodging
You can niche down into even smaller sub-niches like RV Travel or vegan travel.
From there, you could share the resources you use, including gear (e.g., backpacking or photography), as well as partner with travel companies to help your audience find cheap flights and hotels.
The list is endless.
Affiliate programs in this industry include:
Expert Vagabond is an example of an industry-leading travel blogger. You'll find travel resources (e.g., find cheap flights & travel gear), the best travel cameras, and a backpacking checklist on his site.
Find more travel affiliates in our database here.
You can also read about how to create a Resources Page using Lasso here.
Business Software & SEO
Creating content for your audience who use business products and services is another way to make money online.
The global business software and services market topped $320 billion and looks set to grow over 10% annually through 2025.
This niche market offers a wide range of categories, from accounting to marketing to co-working spaces.
More so, there's a variety of sub-industries, including:
Information Technology (IT)
Legal
Recruiting
If you enjoy writing about helping people find their dream job or how to grow a business, there's plenty of opportunities in this space.
Selling online courses, finding profitable niches, SEO, keyword research, and website monetization are all areas you can specialize in when honing your content marketing strategy (and to provide value for your audience).
You can be THE go-to source for what these items are.
Affiliate programs include:
Authority Hacker is an example of website in this niche. Its focus is teaching people how to create profitable websites. They have content on WordPress site building, SEO, affiliate marketing, and more.
They also offer courses to both beginner and advanced marketers.
Take a look at more business affiliate programs or explore the best software affiliate programs in our database.
CBD
U.S. consumer sales of CBD expect to hit $1.8 billion by 2022. It's currently a fast-growing market worth roughly $400 million and growing by 30% through 2027.
One significant market driver has been the increased legalization of cannabis, leading to widespread commercialization.
Check out the varieties of CBD product segmentation:
Tinctures & edible oils
Gummies & bites
Snacks & bars
Topicals
Vape products
Bath & soaps
And that's the tip of the iceberg (there are even CBD products for pets).
Affiliate programs to sign up for include:
Because it's a newer affiliate marketing niche, you may even see higher commissions.
It makes it attractive to newcomers entering the space with a keen interest in these product types.
CBD Living is a blog worth exploring if you're thinking of getting started in this niche market. It's a wellness blog focused on the medicinal applications of CBD.
For a deeper dive on affiliate programs in this niche, check out our best health and wellness programs worth recommending to your audience.
Personal Finance
The U.S. alone generated over $4.7 billion in the financial services sector this year. It's a huge market with thousands of products and high competition.
This niche market plays by a tougher set of rules as it falls under Google's Your Money/Your Life (YMYL) category.
It's because the content you provide could negatively impact your audience if it's wrong:
You're recommending financial products to your readers, so you must know what you're talking about.
That's why it's more difficult than niches in other categories (e.g., lifestyle or electronics).
Possible ways to create a profitable website include:
Investing (via robo-advisors and brokers)
Real estate
Credit cards
Banking
Debt management
Budgeting
Here are a few ideas about affiliate programs worth joining:
Our site, Listen Money Matters, has expanded to cover all of the above sub-categories mentioned.
You can see a complete list of our financial affiliate programs here.
Beauty
Social media channels, including YouTube and Instagram, have helped boost this niche market's popularity over the years.
With demand climbing, the worldwide market value of skincare alone is set to top $145 billion.
If you're blogging (or vlogging) about beauty products, there's a handful of sub-categories where you can narrow your focus, including:
Skincare
Perfumes
Haircare
Makeup
Toiletries
Wondering which beauty affiliate programs to sign up for?
Check out these:
Total Beauty is a blog with topics ranging from skin, hair, and nails, as well as reviews of beauty products.
Here's a product review template you can steal (if you need help writing yours).
Check out our complete list of beauty affiliates.
Weight Loss & Fitness
The weight loss services industry generated $2.5 billion in the U.S. alone this year. And with adult obesity rates climbing, increased demand has meant more growth opportunities for marketers.
There are infinite opportunities, and while it's a crowded niche market, you can still find your footing.
Here are some profitable niche ideas:
Keto diet
Powerlifting
Yoga
Vegan
Weight loss supplements & pills
Available affiliate programs to join could include:
Mark's Daily Apple is a website focused on keto, recipes, and fitness.
Check out our best fitness affiliates page for more.
Or, read our post on how you can use Lasso to find new affiliate programs to join.
Pets
The pet industry market topped $223 billion in value and is set to grow at a CAGR of nearly 6% through 2026.
Industry drivers include increased pet adoption, mobile pet grooming, and nutritional food content.
Animal lovers consider their pet's quality of life incredibly important and will pay top-dollar for premium products.
A few evergreen niches in the pet care industry worth modeling:
Specific dog breed
Pet food (e.g., dog, cat, fish, bird, reptile)
Cat healthcare
Kittens
Reptiles
Fish
Pet toys
Affiliate programs to sign up for are:
CyberPet is a website focused on teaching dog and cat lovers to become better owners through pet advice, articles, and product reviews.
Tech Gadgets & Electronics
This year, the electronics industry market is valued at $380 million, with numbers estimated to reach $487 million by 2025.
This market has many best-selling sub-niches within it where you could create a successful online store and write blog topics about:
Wearable technology
TVs and video
Cell phones and accessories
Cameras (Photography)
Security and surveillance cameras
Car electronics
Computers
There are plenty of affiliate programs in this niche, including:
Apple is a premium electronics brand redefining the industry with every new product launch. As an Apple Performance Partner, you'll earn 1% per sale with a 15-day cookie duration.

Become An Affiliate Find More Tech Programs

Bose is an industry-leading producer of high-quality headphones and speakers. You'll earn 2%-3% per sale as an affiliate. Cookie duration lasts 30 days.

Become An Affiliate Learn More

Verizon is one of the largest providers of wireless services in the United States. Commission rates are $75 per sale with a 60-day cookie duration.

Become An Affiliate Learn More
TechPP is a website centered on reviews, curated lists of the best software and app downloads, in-depth guides, and more.
You can see our complete list of electronic affiliate programs here.
Tip: If you're using a tool like Lasso, you can quickly monetize your site using keywording.
Home Decor & Home Improvement
If your interests lie in the DIY home improvement or decor space, there are plenty of online niches to choose from.
And with the global home improvement market size exceeding $800 billion while carrying an estimated 4.5% CAGR through the year 2025, it suggests it's a good niche worth pursuing.
A few ideas of creatable content could be:
Kitchen & dining
Heating, cooling, & air quality
Home fragrance
Oil lamps & accessories
Rugs, pads, and protectors
Vacuums & floor care
Furniture
There are amny affiliate programs available in this industry too:
DIY Show Off writes about all things DIY, essential oils for a healthy home, and detailed tutorials.
Head here for our home decor affiliate programs and here for home improvement.
Survival
Nearly 52 million people said they spent money on survival materials this year. And over 30% of Americans said they always have survival gear on hand.
It's a big business.
Here are a few subcategories in the survival (aka "preppers") industry you could create content around:
Urban, outdoor, and nuclear survival skills
Home invasion defense & security
Tornado survival
Natural disaster survival
Food storage and preparation
Growing your own food
Affiliate programs in this niche include:
The Organic Prepper focuses on prepping with articles about self-reliance, homesteading, hunting, gardening, and more.
How Do You Find A Profitable Niche?
Finding a profitable niche requires a bit of research. Checking out Amazon's best sellers is one quick way to determine if your idea will bear fruit.
Google Trends is another.
While this subject is grounds for another article, I'll give you a quick primer on how to do it.
Let's tackle Amazon first.
Using Amazon Best Sellers
Head to Amazon's best sellers page. You'll see it at the top left of the home page.

Click on "best sellers" and then find a niche you're interested in on the left side of the page.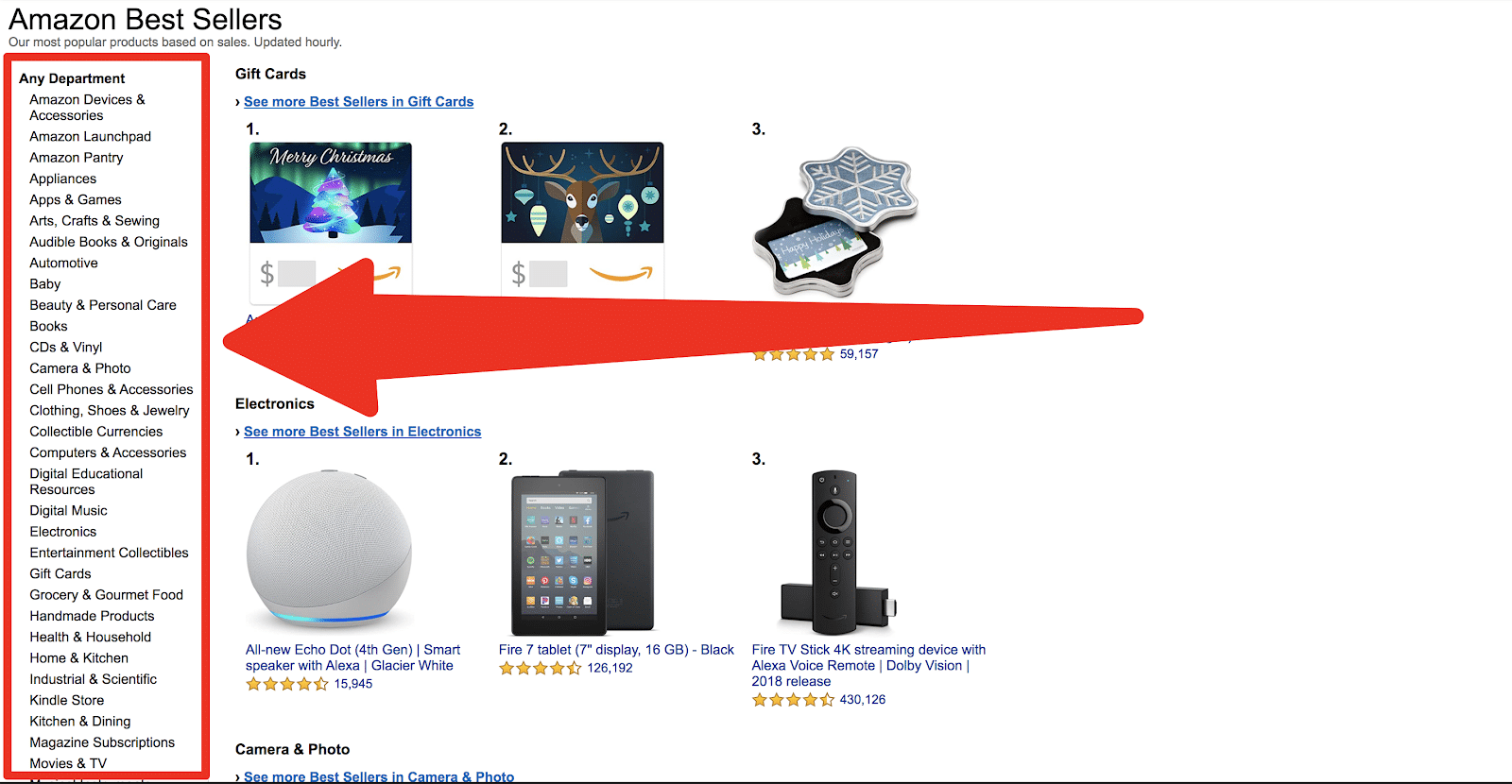 Typically, these are already huge markets, so you know there's search volume and profit potential.
Read our Amazon Associates Guide to learn more about monetizing your site with Amazon
For example, if you were interested in the beauty industry, you could click "Beauty & Personal Care" to find more sub-niches.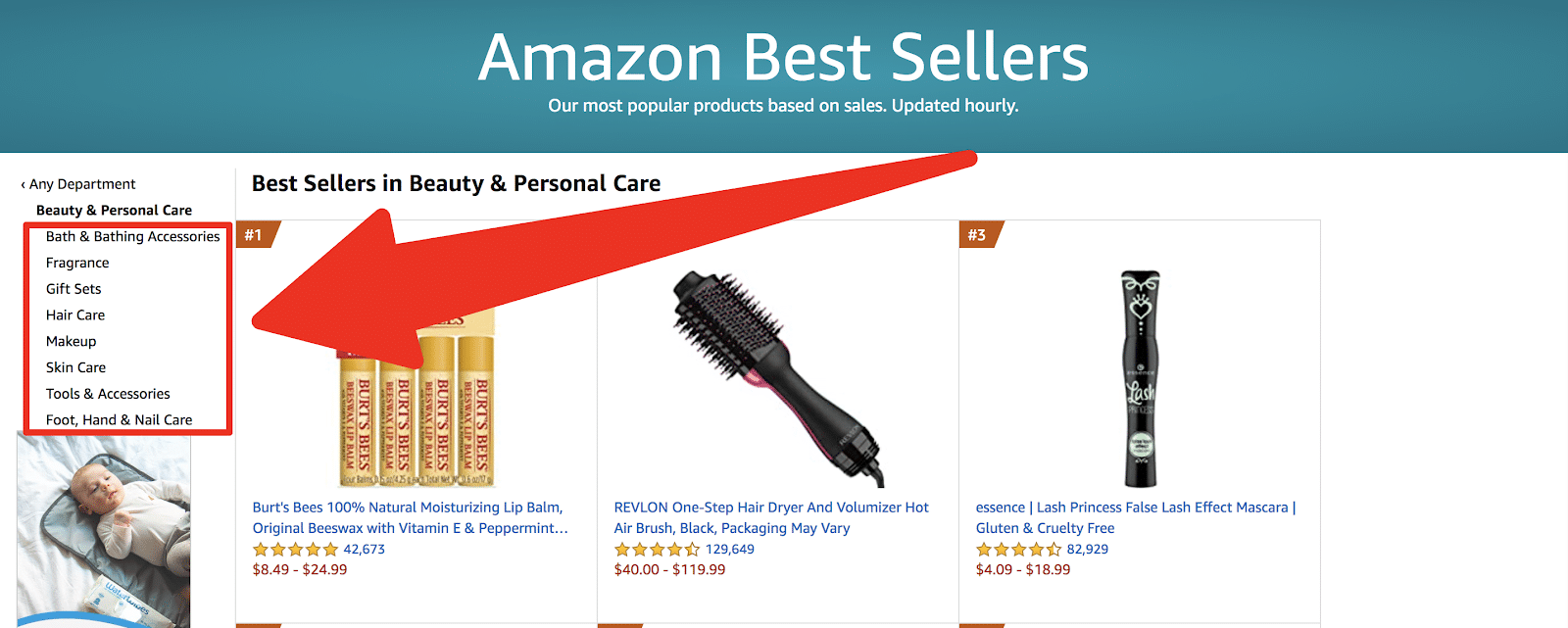 From here, it's just a matter of deciding:
What niches and subcategories you find interesting
Where's the market demand
I also check out the number of reviews. The higher the number, the more people are buying the product, and are either:
Both are insightful metrics for you.
Check out our guide (including best practices) on creating affiliate links that earn money.
Using Google Trends
Type the keyword of your search into the field and press "Enter."

For this query, I chose "beauty products."
Then I'll set the date range from "2004 – present."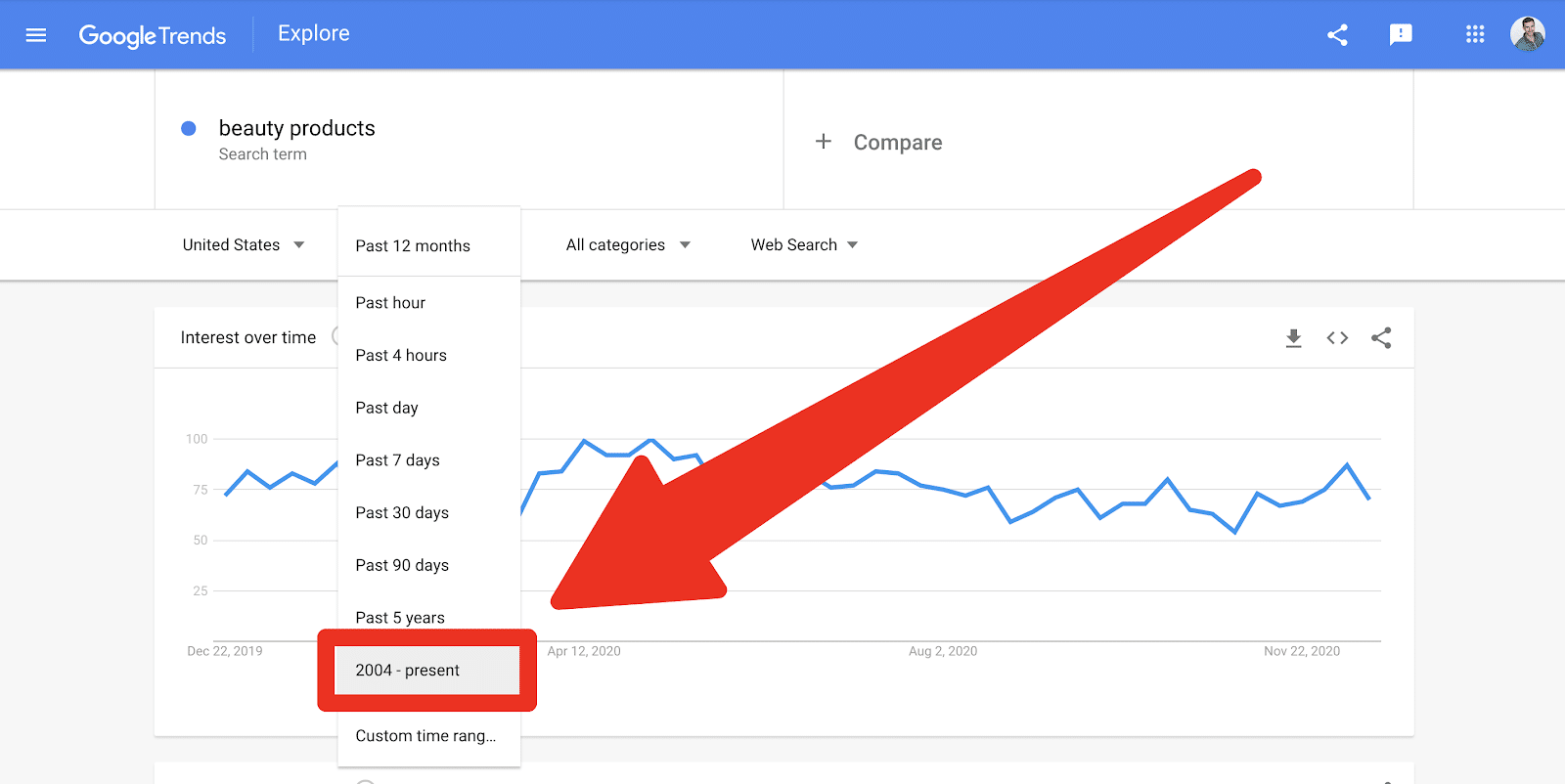 Next, I'll scroll down to "Related Queries" for sub-niche ideas.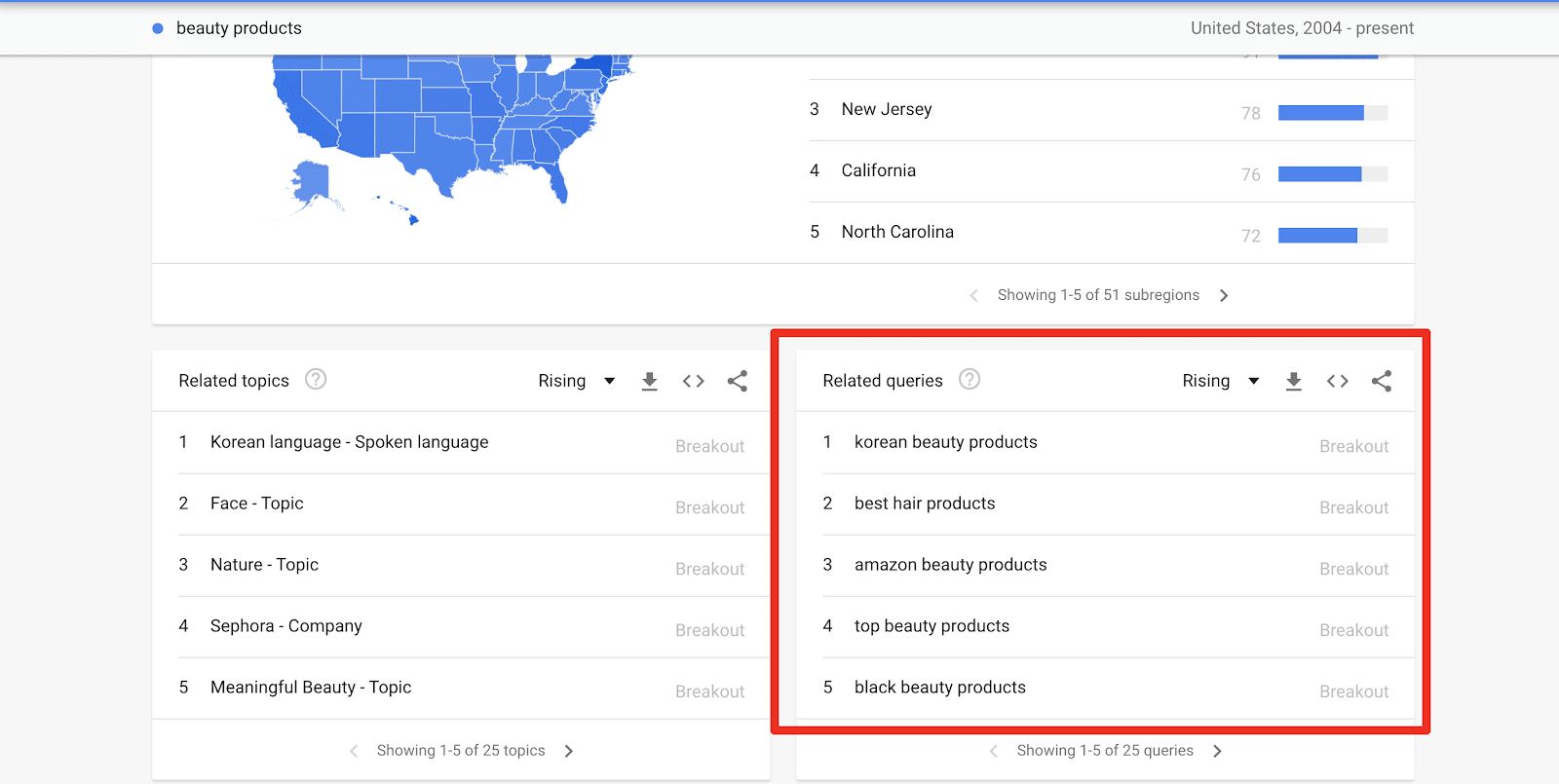 When I click on "best hair products," I get this result: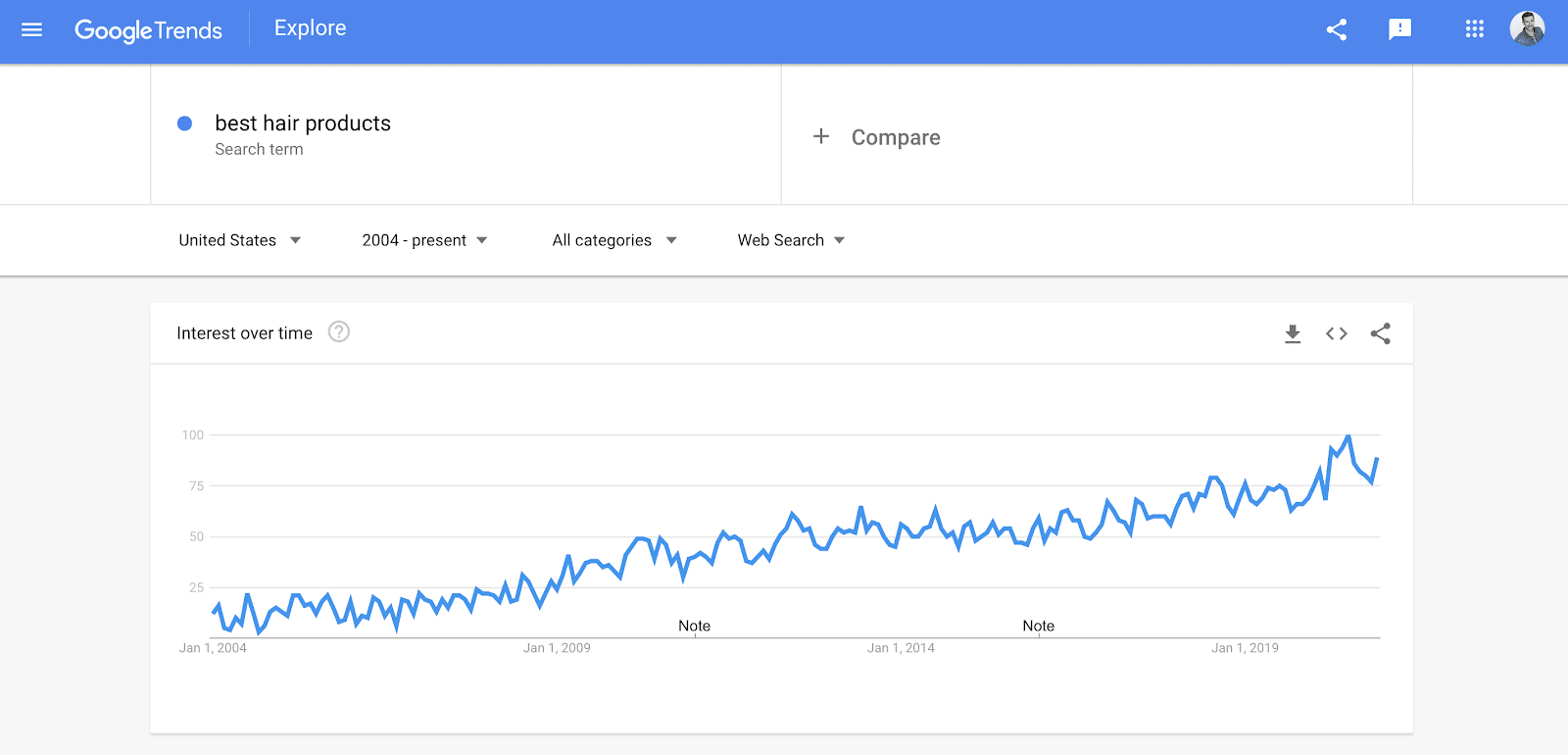 So, you could potentially create content focused on hair products as it's been slowly trending upward.
Tip: Return to Amazon Best Sellers and find the best hair products under "Beauty & Personal Care." Next, visit our comprehensive list of beauty affiliate programs to join.
Then design your affiliate marketing strategy.
Read about how Lasso's co-founder Matt used our custom displays to triple his site's affiliate revenue.
Again, both of these strategies could be articles unto themselves, but there's enough here to get started.
Wrapping It Up with Profitable Niches
Whether you're building an ecommerce site, blogging, an affiliate marketer, or running a podcast, there are many approaches available you can use that will resonate with your target audience.
The best niche for you is where your interests and market demand intersect.
However, it will take a bit of research (and TONS of hard work) before you're making money online. Slow and steady wins the race.
Looking for more, read this.
Or, explore other niche affiliate programs in our database to help you grow your business.
Our creations in your inbox, weekly.
We've built multiple, six-figure online businesses that our mom's are proud of.
We'd like to help you do the same.