A call to action (CTA) tells your website visitors what to do next. When done right, it moves your readers to take a desired action. You can find call to action examples everywhere: blog posts, landing pages, emails, and more.
Without a compelling CTA, it's like having a conversation stop mid-sentence. That's why it's a best practice to show your target audience what to do next.
This post details why they're important, how to write effective CTAs, and 11 examples you can steal for inspiration.
Let's go.
Table of Contents
11 Call to Action Examples and Tips for Crafting the Perfect One
Why Are Call to Action Buttons Important?
Call to action buttons are just as important as your headline because that's where the conversion occurs.
People don't always know what's on the other side of a button. And if it sounds like work is hiding on the other end, likely, you won't get as many clicks.
So, the more desirable you make your buttons appear, the more likely that people click (which means potentially higher conversion rates). They also help maintain engagement. 
These simple actions that move the conversation along could be:
Email optin (i.e., more subscribers)
Downloading an ebook
Completing a survey
Making a donation
Reading another blog post
Slide-in pop-ups with a gentle ask
These tiny actions are micro-conversions that move readers from one web page to the next in your sales funnel.
Your CTA's only job is to get clicked.
If you're unclear with the next action you want your visitors to take, they'll leave. It's not only for long-form sales copy; you can have a simple CTA at the end of your blog post asking them to read another article.
For example, this post could have a simple CTA at the end with something like, "Want to learn more persuasive writing tips? Read this."
CTAs don't always need to come in the form of a "Buy Now" button.
They help identify actions you want your readers to take and move them closer to becoming subscribers, customers, or something else.
When done right, they show your prospect what's in it for them (which increases your odds of getting more clicks).
Now let's dig into how you can use them in your marketing campaigns to increase conversions.
How to Use CTA Buttons That Attract Potential Customers
You can use a few frameworks in your posts and pages that will make your CTA copy more clickable. Here are some quick tips.
Try the "I Want to" CTA Formulas
The simplest ways I've seen CTAs explained (and some of the best call to action formulas worth using) come from Copy Hackers.
There are two basic formulas. First, when writing, complete the desired outcome you want your visitor to take using the phrases:
I want to __
I want you to __
Include what you want them to do next. Then, make that your CTA.
For example, if you have an affiliate product guaranteed to stop hair loss, your CTA button could say, "I want to stop losing hair" or "I want to keep my hair."

Another tip is to align your CTA button with the headline, header, or product title (depending on where the button appears on your site).
This one mirrors what the header says in the first person.
Sidenote: Using the first person can turn a bland statement into a micro-commitment for your reader and make your button more persuasive.
So, start with:
Asking what's the desired outcome of your product
Making that your button copy
Remove Friction from Your Words
Believe it or not, you can also de-optimize buttons by making them sound undesirable. Some use this strategy on pricing pages.
For example, if you have two versions of a product, one standard, and one premium, you might make the button for the standard unattractive (e.g., Learn More). While the premium version might say, "Keep My Hair!"
Avoid using words that sound like "work" or words that sound like they'll lose something. 
For example:
Sign up: requires effort and time from them
Buy: means they'll lose money
Learn more: they lose time (and possibly happiness if learning sounds like work. E.g., studying sounds like work)
Sidenote: There are exceptions to this. Sometimes it's best to have a clear call to action when a prospect is about to pay, or a specific action is needed. The above idea typically works better when readers are at the top of your sales funnel (when there's still doubt in their minds). In other instances, you have no choice because an affiliate program insists on specific language inside their button copy (e.g., Amazon).
People don't always know what's on the other side of a click. And, if it sounds like work is hiding behind it, your clicks will be low.
So, it's a best practice to make people feel comfortable about what's on the other side of your button.
Replace Call to Actions with Call to Values
Call to actions work great, but call to values can be more impactful. These are benefit-driven buttons that show what's in it for your reader (i.e., what they'll get). Recall our hair loss CTV from earlier?
For example, here's a button example of a Lasso display on our site: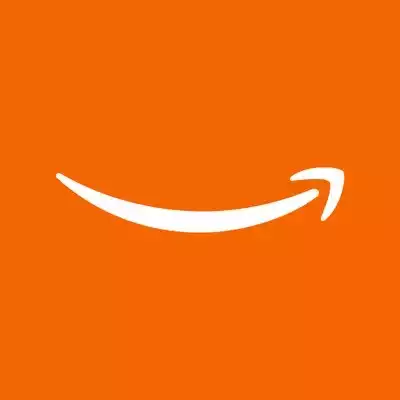 No API Credits Required
Copy and paste any Amazon URL into the dashboard and Lasso grabs the product title, image, and price automatically without needing API keys. Then, converts it to an affiliate link and updates that data every 24 hours.
Convert Your First Amazon Link
"Convert Your First Amazon Link"
Since the person reading this post may be unfamiliar with how our tool works for Amazon Associates, that phrase might entice them.
Pointing this out quicker makes for a more effective call to value.
Use CTA Triggers
Surround your CTA buttons with click triggers. These are words and phrases that make you feel good about clicking and show the value of moving forward.
Click triggers make the action feel safe. These can be things, including:
Star ratings
Testimonials
Value propositions
Security or privacy messaging/icons
Hard data
They're meant to address concerns your readers may have and nudge them to click.
For example, if you're using a tool like Lasso, you can optimize your product boxes with star ratings, pros/cons, and trust badges.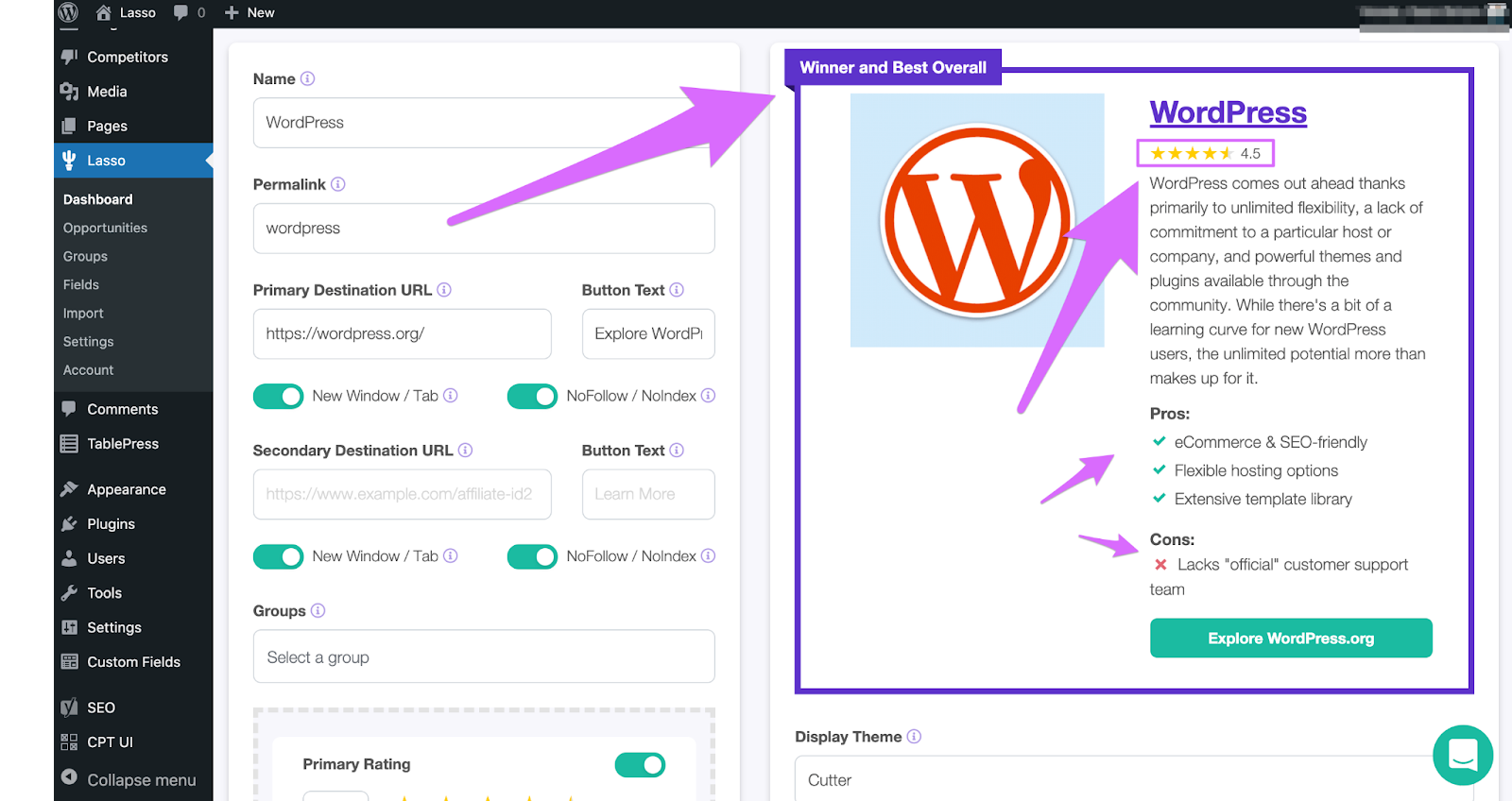 Two of the best button optimization elements to include help to:
Reduce fear
Highlight benefits
These can make for a more compelling call to action.
Further Reading:
Use Verbs and Action Phrases
Many times, button copy is boring. Sure, "Shop Now" has its place, but it's far more appealing when you match your button copy with your value prop.
For example, "Download ebook" is a bit drab. However, if your ebook's goal is to help marketers generate more leads, then say it with your copy.
So now, "Download eBook" becomes "Generate more leads."
Tip: Brainstorm on the expected outcomes of whatever you're promoting, then make that your button copy.
Another easy win for your buttons: Use the word "Get." For example, "Get my free consultation" or "Get the case study."
People love getting stuff. Tell them what's going to happen after they click. Please don't make them wonder or hint that there's work waiting on the other side.
Here's one from Code Canyon's homepage:

"Get Unlimited Downloads"
Action verbs prompt people to do something. It could be to join your email list or sign up for a webinar. So, use language that pushes them into action.
You can also create a sense of urgency by adding an expiration date – people hate missing out. For example, "Enroll Before Midnight Tonight!"
Make Them Obvious
Action words are excellent, but it won't matter if it's not obvious where to click. Make sure your readers can spot your CTA buttons. This might mean making them a contrasting color with your website's homepage.
This example from Social Media Examiner uses a bright yellow CTA button in a sea of dark grays and blacks: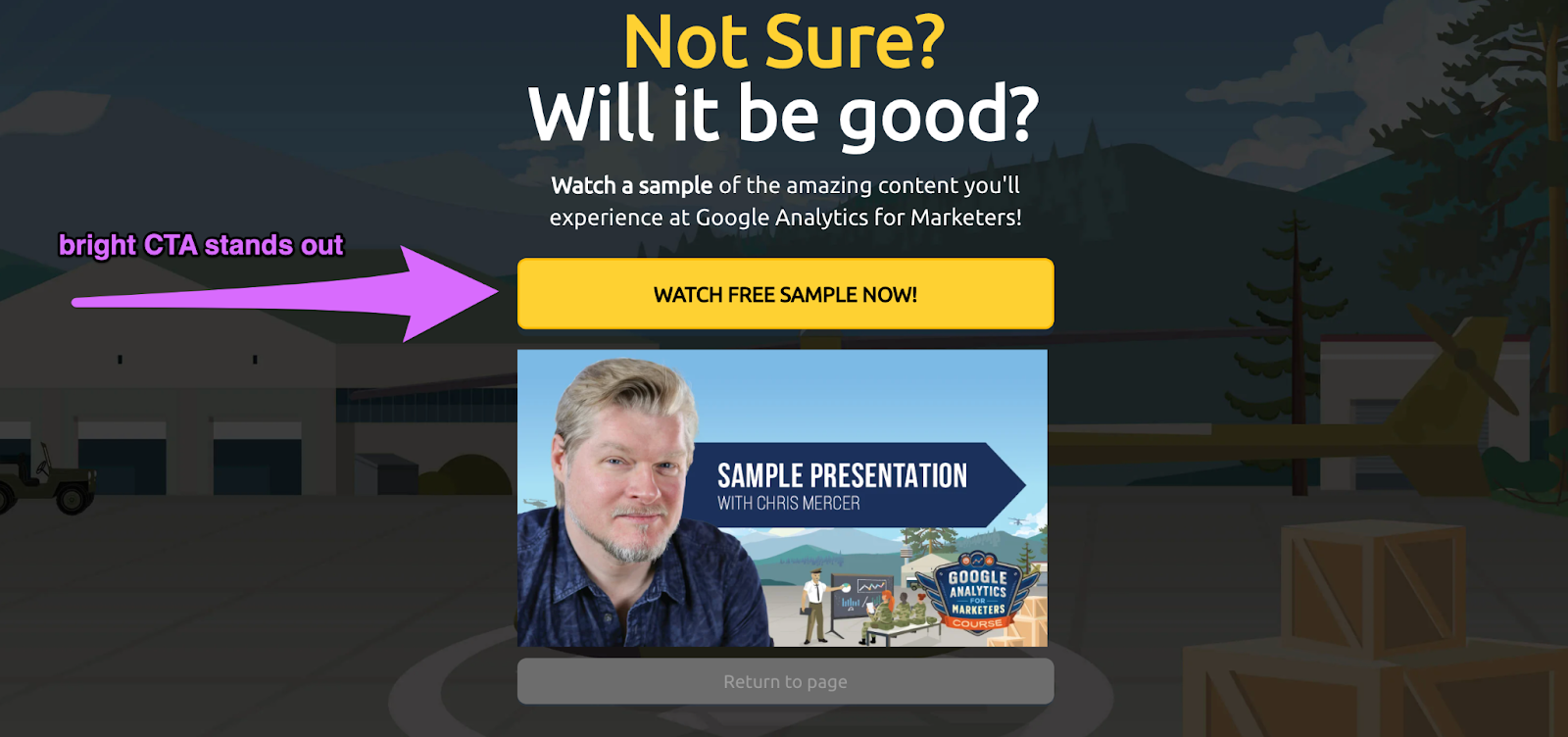 11 CTA Examples (and Why They Work)
Here are 11 digital marketing CTA button copy tactics you can test on your own website.
#1. Jarvis.ai
Here's a landing page I hit after clicking an ad for the AI copywriting tool, Jarvis. The word "claim" implies a sense of entitlement which makes it feel like a "friction-less" word.

Also, uses a verb paired with what they'll get (plus trigger word "Free")
#2. WP Rocket Display (Created Using a Lasso Display)
If you're using Lasso, you can create product displays from inside your link details page (more on that below).
WP Rocket
Make your site load faster in a few clicks. WP Rocket is recognized as one of the most powerful caching plugins for WordPress. We use it specifically for image lazy loading.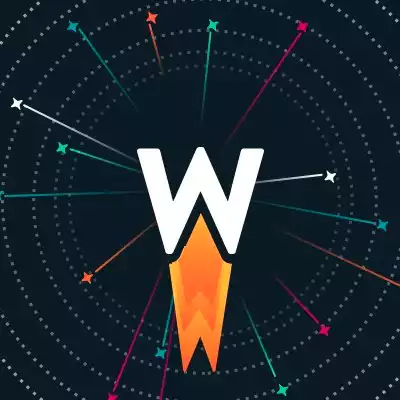 We earn a commission if you make a purchase, at no additional cost to you.
"Speed Up My Website"
You can design custom CTA buttons like this one with WP Rocket. It follows the "I want you to __" formula.
If you're an affiliate for any program type, it's a perfect chance to promote your offer in a custom box with enticing copy.
#3. Basecamp
The phrase "Give us a try" is pretty casual. Basecamp keeps it low maintenance.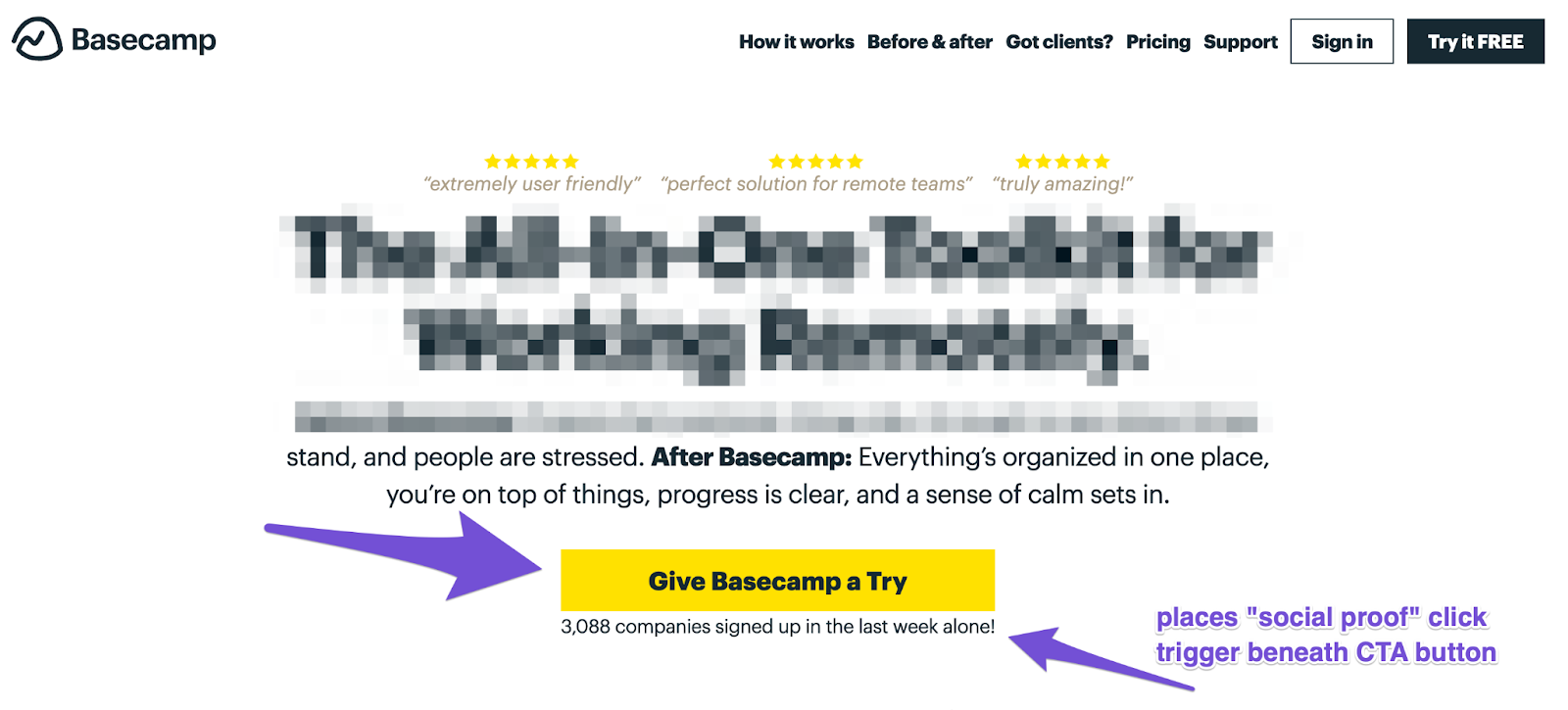 It also uses a click trigger strategically placed beneath the CTA, making it a great call to action.
#4. Everydae
This one addresses the "price" objection. Who wouldn't try something for a dollar? If you're thinking, "I don't have money right now," the CTA debunks that by telling you that you can get started now for virtually nothing.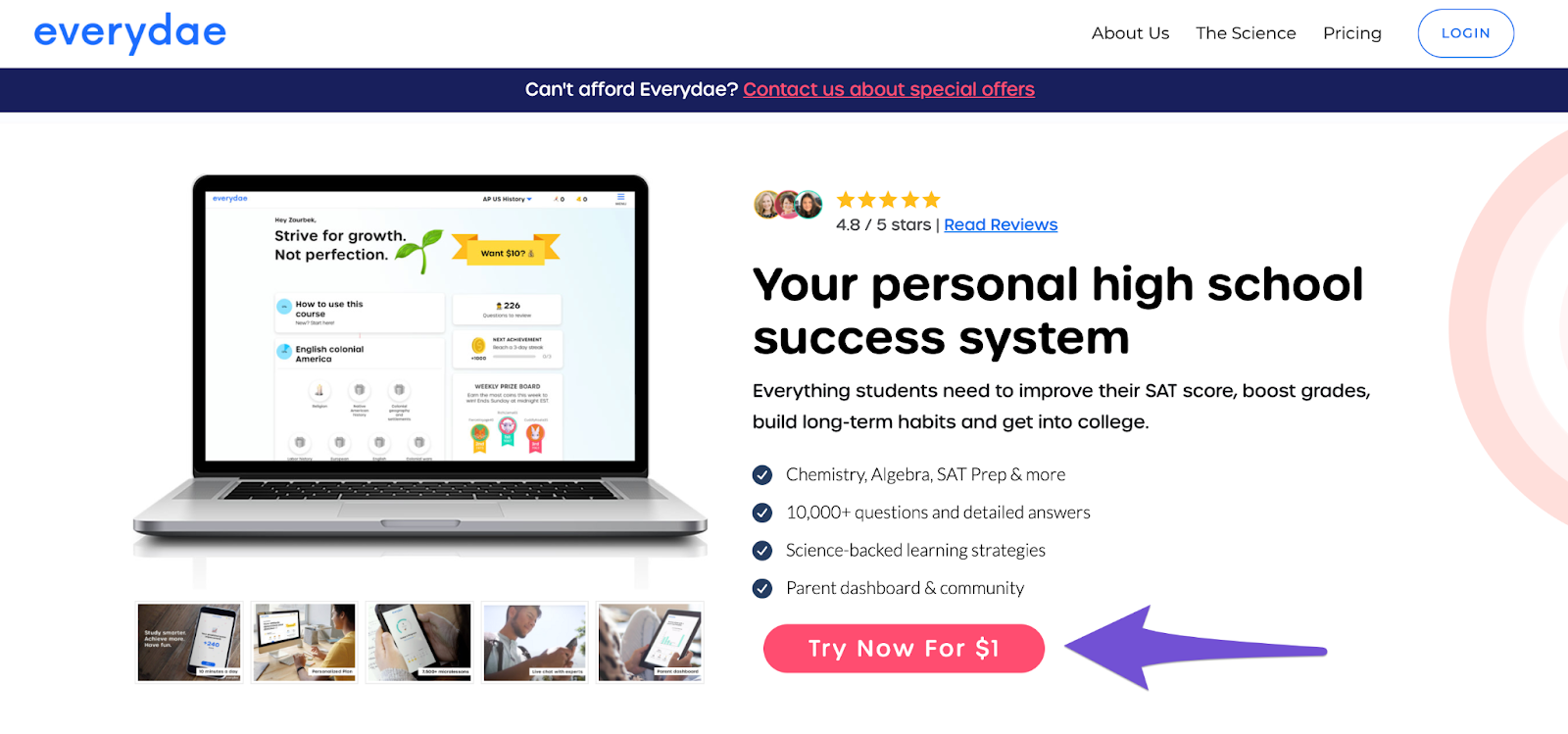 #5. Contently
Contently's marketing platform connects writers with businesses who want to publish awesome content. So, what better way to communicate that to potential customers than with their CTA: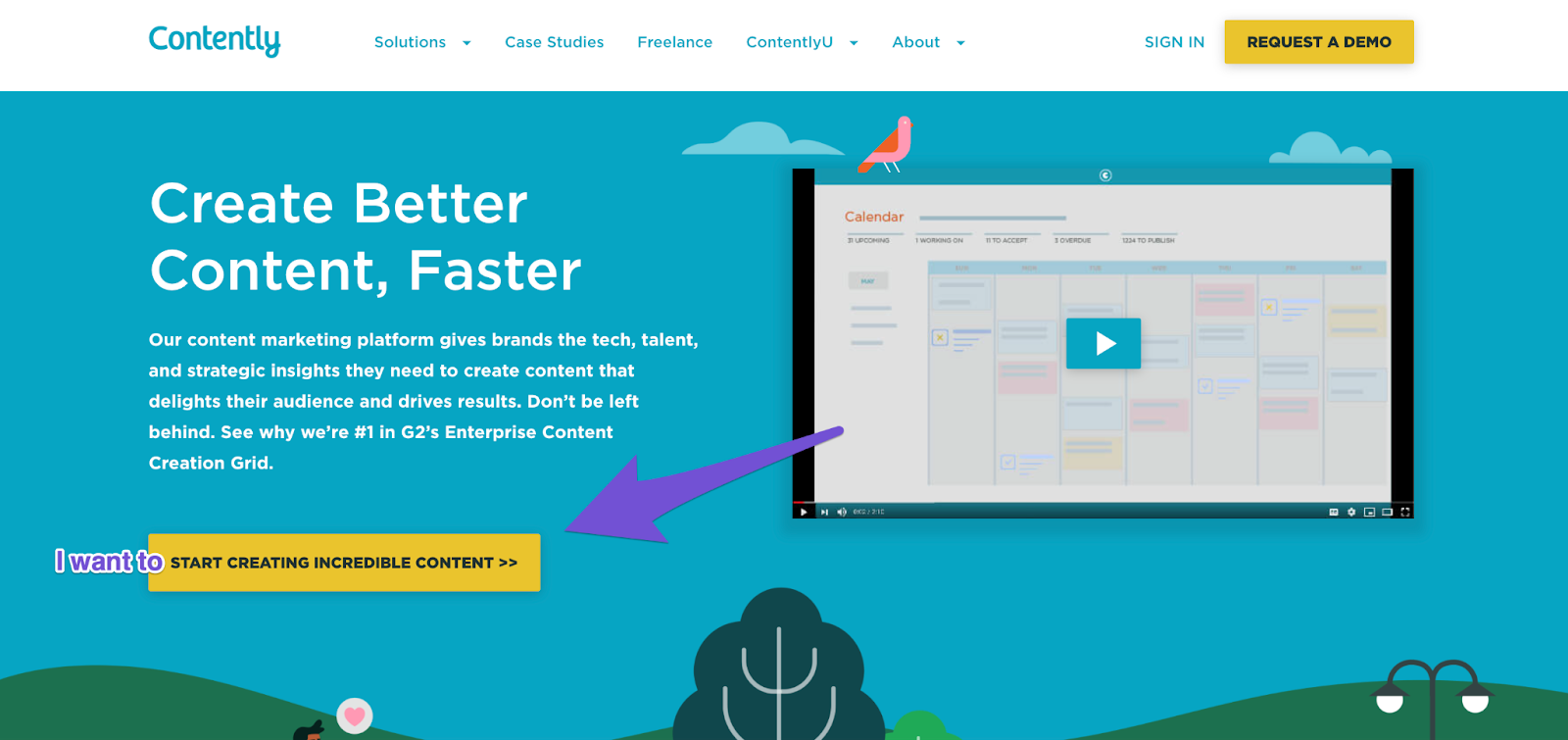 This call to action example states a benefit: creating incredible content (because incredible content gets noticed, drives SEO traffic, and more).
#6. Snappy
Gifting platform Snappy encourages you to try their service yourself with no commitment. Just click the button, and you get a free gift.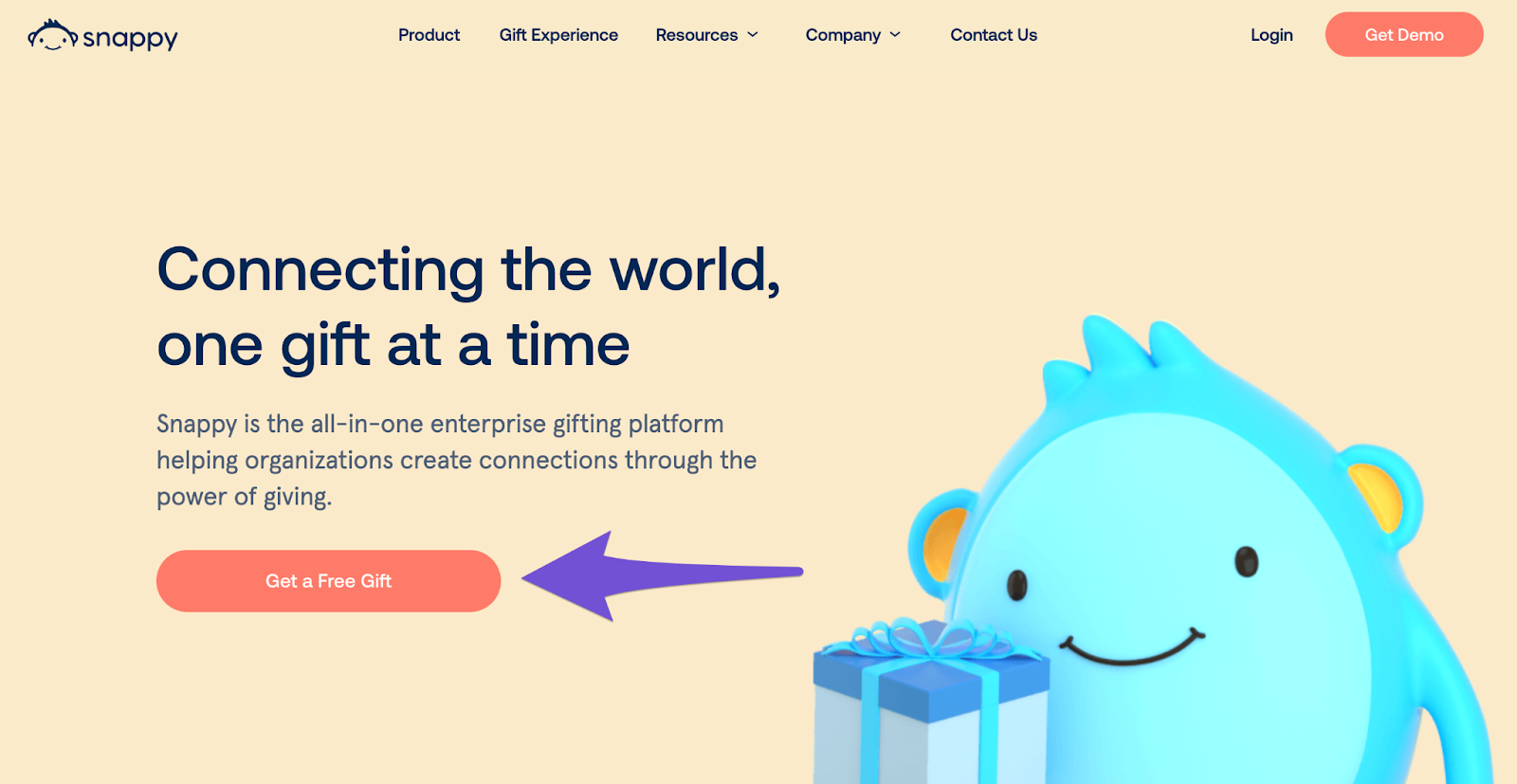 This example may be better equipped to handle your own products versus an affiliate program.
Sidenote: However, if Snappy has an affiliate program, you could promote them exactly how they do on their own site.
Further Reading:
#7. Crazy Egg
Crazy Egg's A/B testing tools (which let you optimize your website whether you run a Saas or eCommerce business) spell out exactly what's behind the click.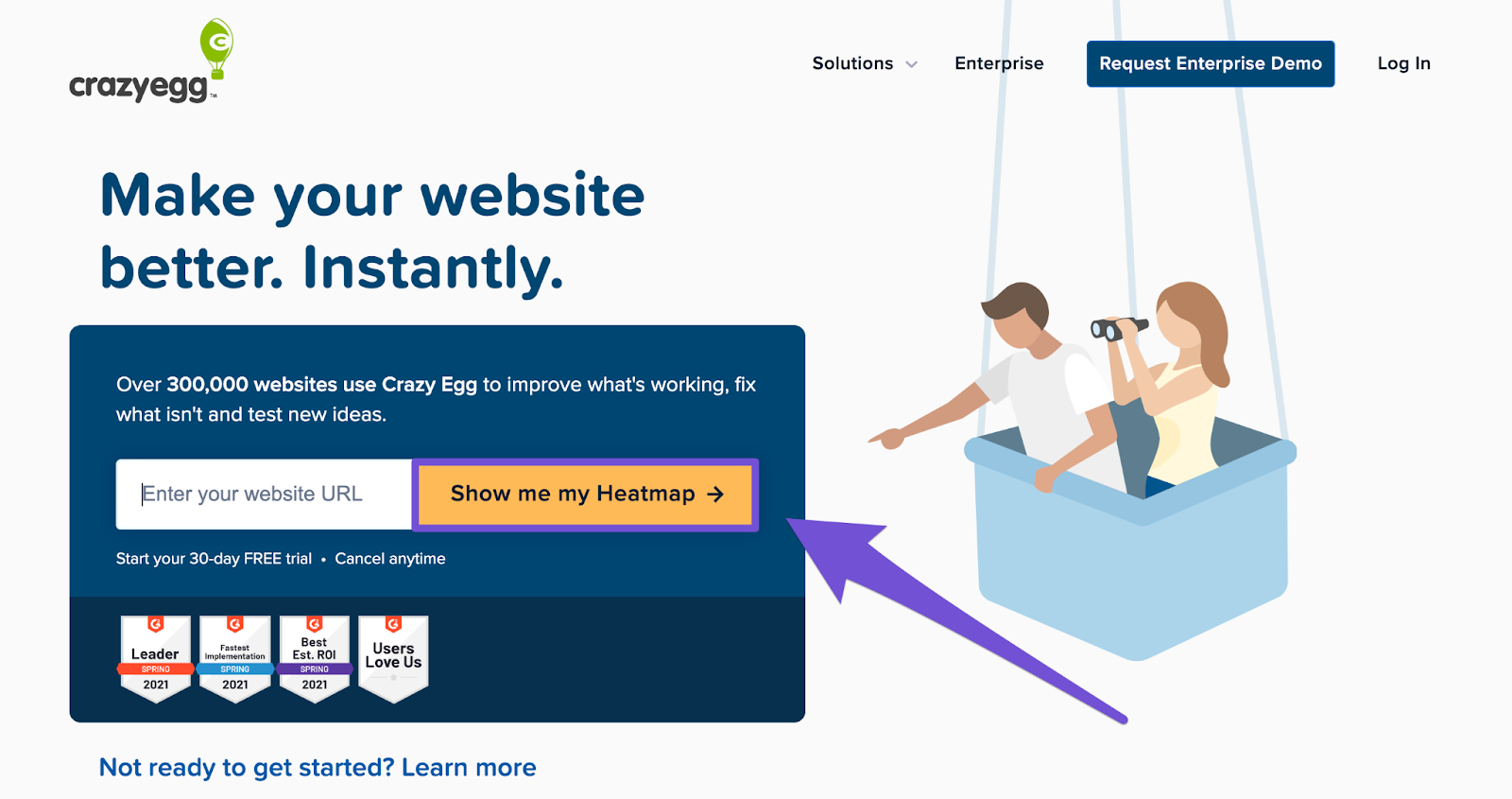 "Show me my heatmap."
"I want you to show me my heatmap" It's the easiest formula for crafting your CTA. It also addresses objections and uses social proof CTA triggers around the button by:
Telling you over 300,000 websites use their product 
Letting you try it for 30 days free, and you can cancel anytime
#8. Referral Factory
Lead generation is Referral Factory's specialty. See how they entice clicks by offering a discount with their CTA button.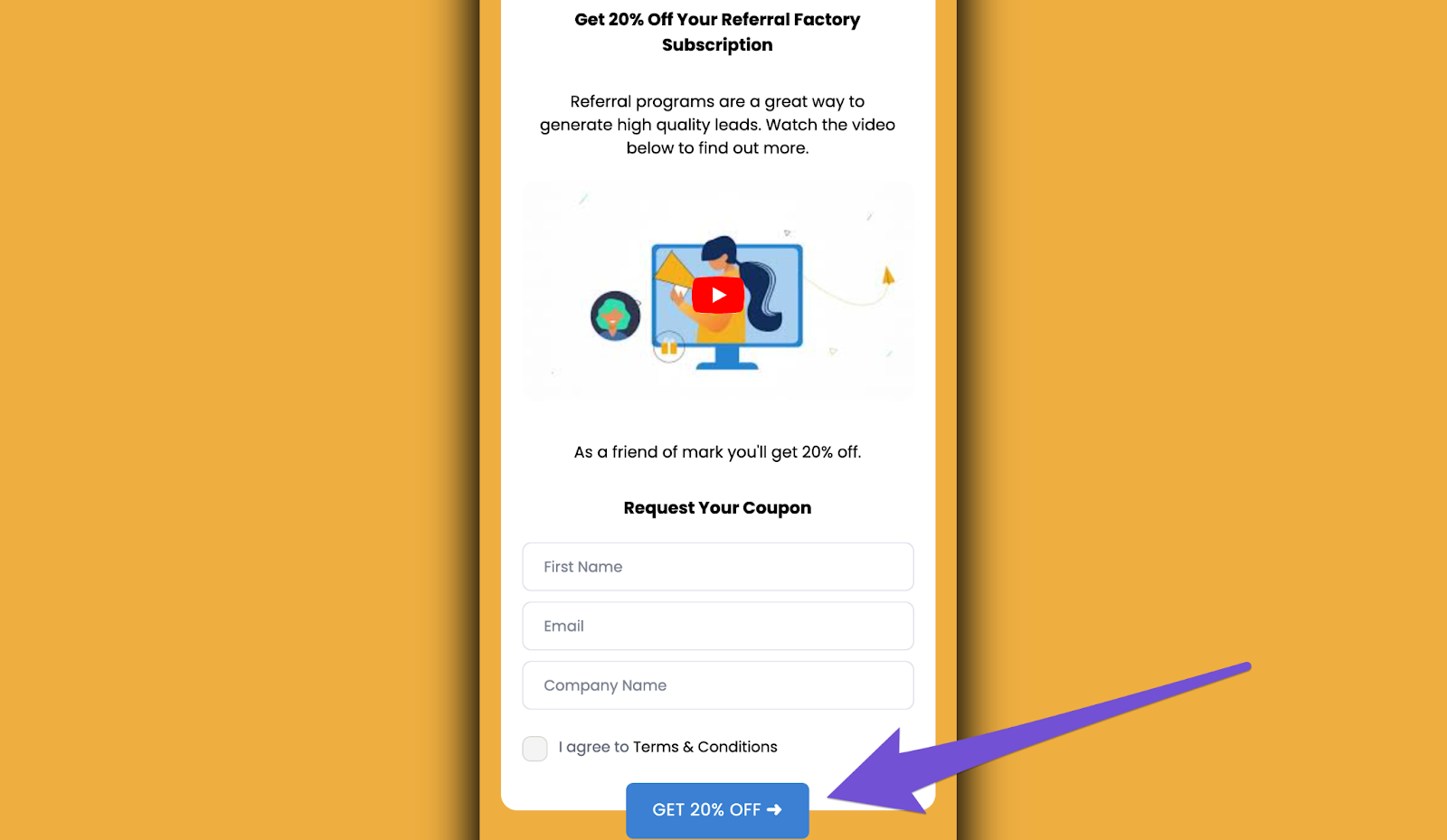 Many companies use referral programs in their email campaigns with a unique landing page. This makes it easy for them to share your newsletter using a special referral link.
Morning Brew does this with great success offering free swag and exclusive content to top referrers.
#9. PUNCH Newsletter
This one comes from a newsletter I subscribe to called PUNCH. It's a site devoted to cocktail-making. While the button leaves a bit to be desired (I think it could pop a bit more), I do appreciate the simple call to action: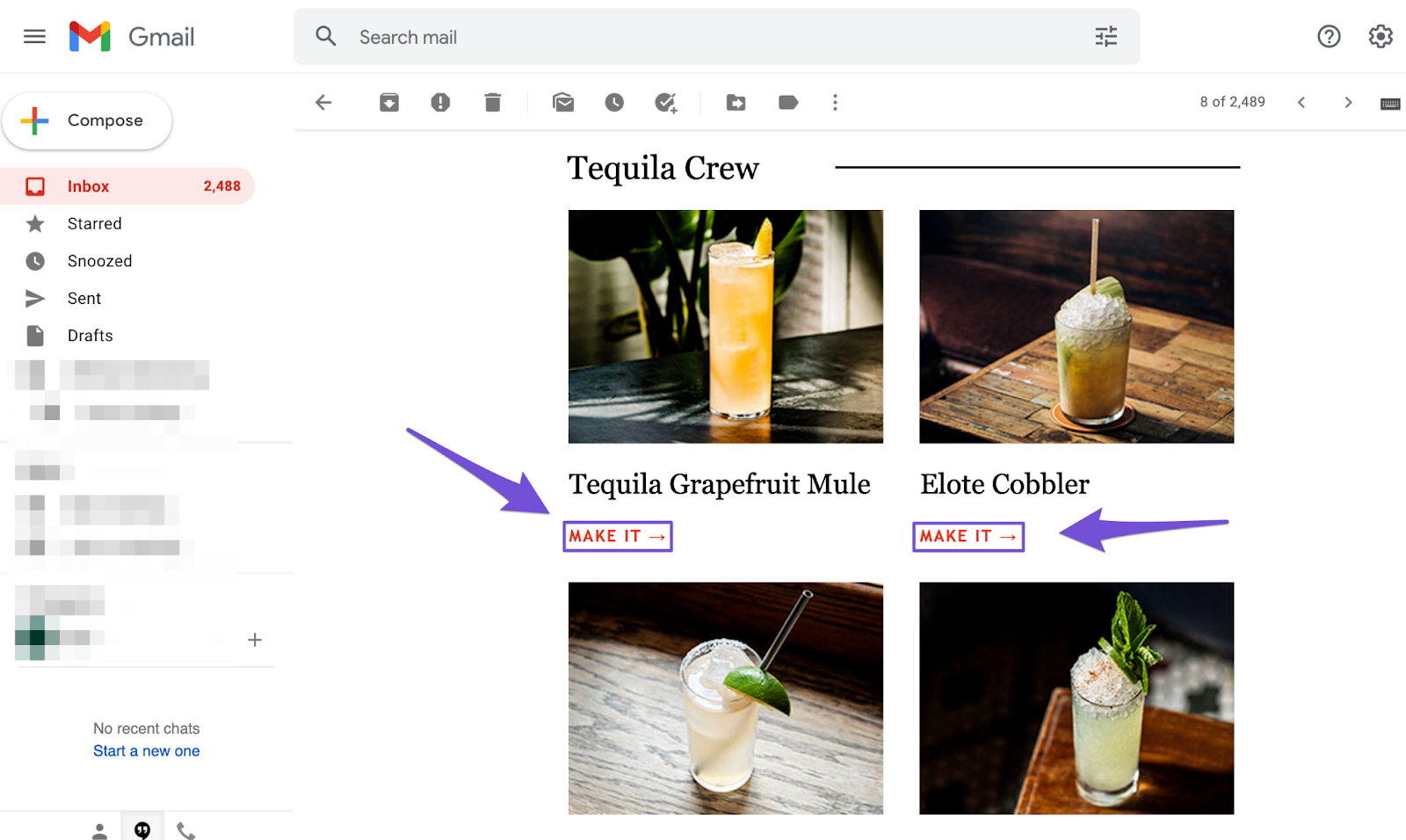 "Make it," says exactly what you can expect when you click.
#10. Oreo
Cookies. That's right. This call to action example interests me because:
The unique CTA button with image
It previews what your customized cookie can look like
Check it out: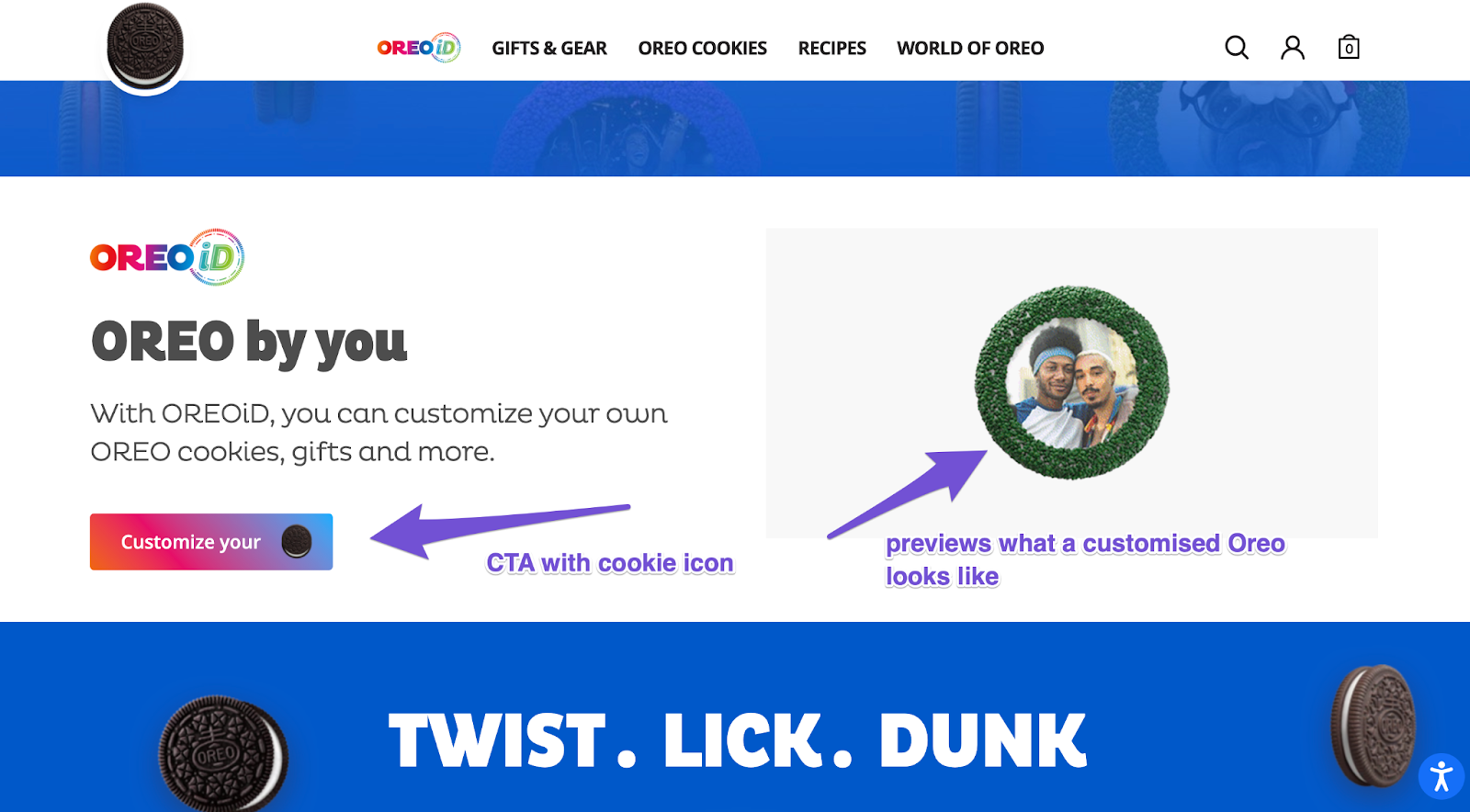 I'd want to A/B test that button against another version without the cookie image. Instead, replace it with the word "Oreo" to see which is more powerful: an image or a word.
#11. Innocent Drinks
Innocent Drinks has an interesting origin story. They started by taking their smoothie stand to a music festival. Then, the founders hung a sign asking people if they thought they should give up their day jobs to make drinks out of crushed fruit (at the time, the founders still had day jobs).
Underneath the sign, they placed two bins: one reading "Yes" and one reading "No." Then, they asked people to answer with their empties.
After the festival, the "Yes" bin was filled to the brim while the "No" bin was empty. The rest is history.

Here, they use specificity in their CTA by telling them to "find an offset provider."
Sidenote: Their Twitter page is worth following. This is one brand that knows how to use humor in its messaging.
How to Use Effective CTA Buttons with Lasso
If you're using a tool like Lasso, you can create fully customized buttons to match your site's theme.
Inside your link details page (of whatever product or affiliate link you're promoting), head to the "Button Text" field and type in your CTA.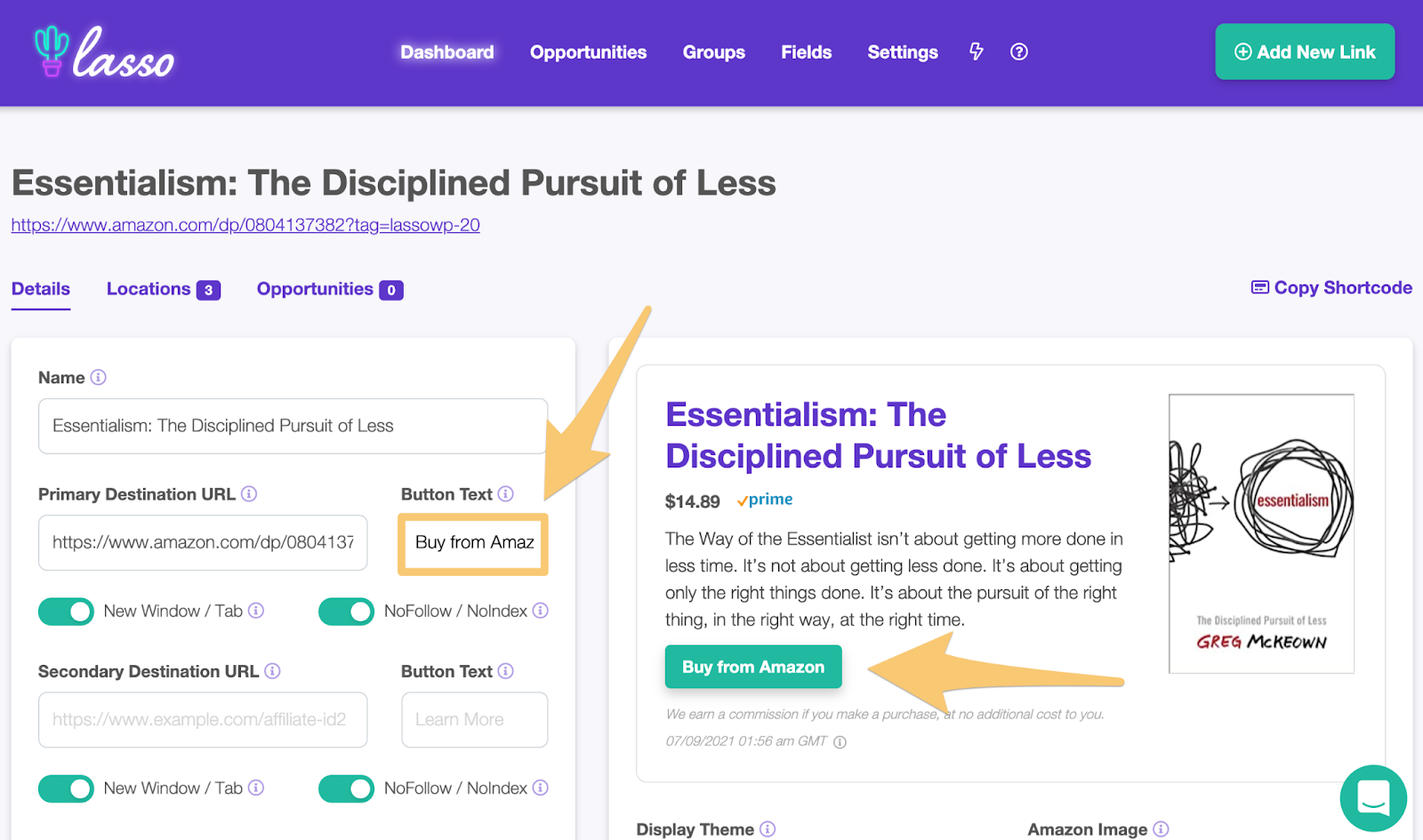 You can also add a secondary CTA button if you want your reader to take another action. For example:
Send them to another store
Read a product review
Sign up for an affiliate program.
Again, from inside your link details page, in the Button Text for the Secondary Destination URL, add your text: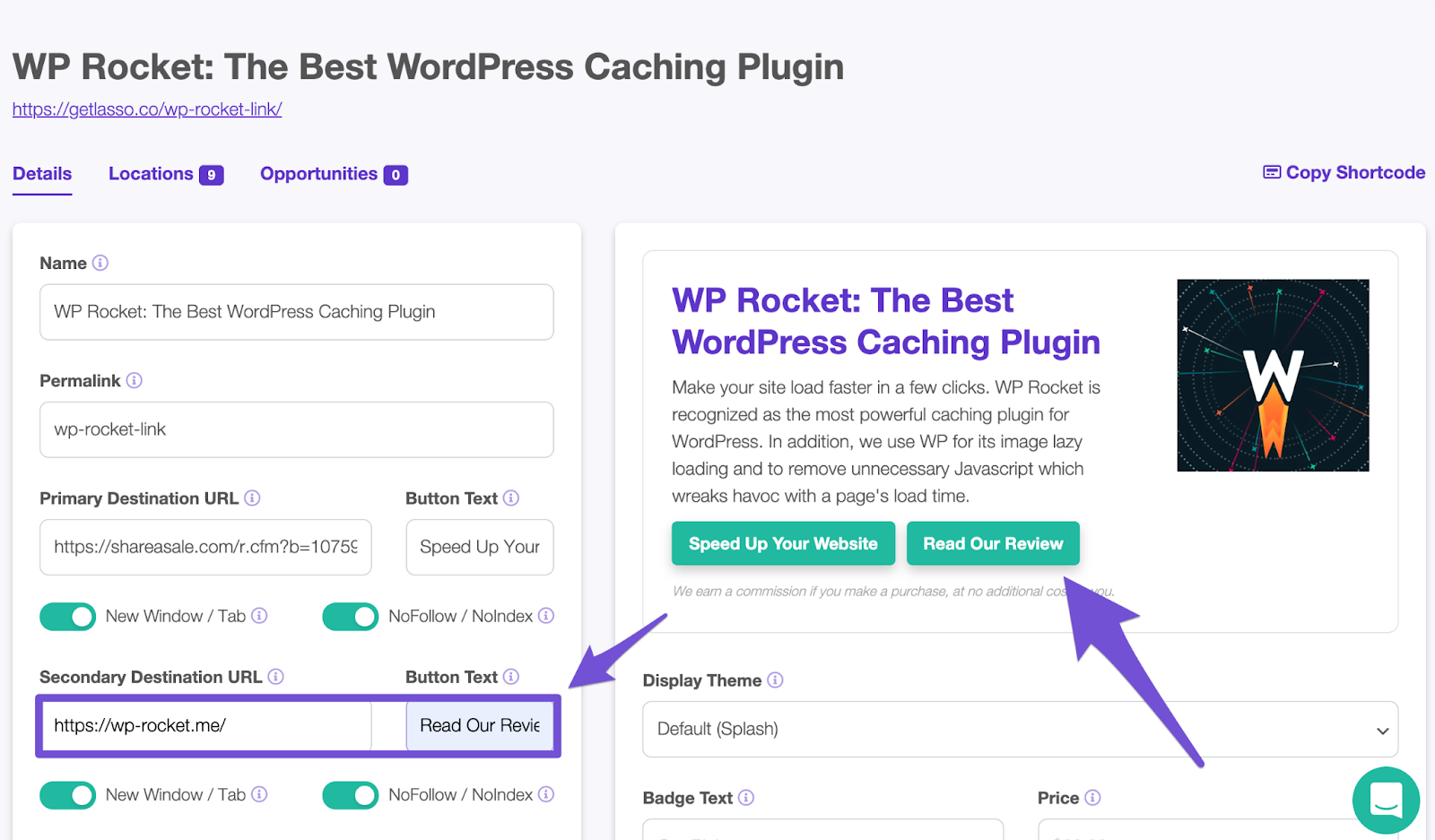 You can choose to have alternate colors with your CTA buttons too. Inside your dashboard, head to Settings > Display: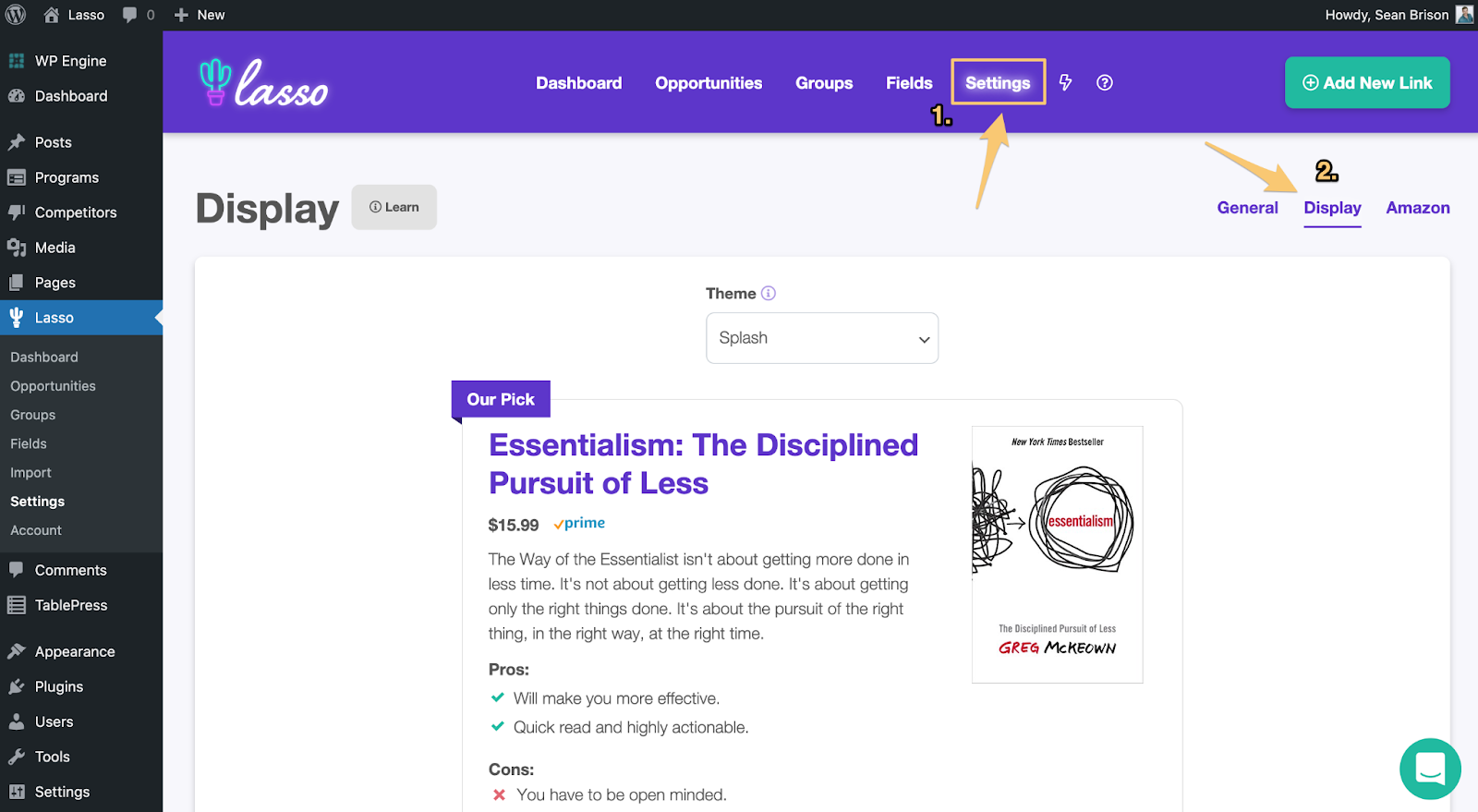 From there, scroll down to your color palette and adjust as needed: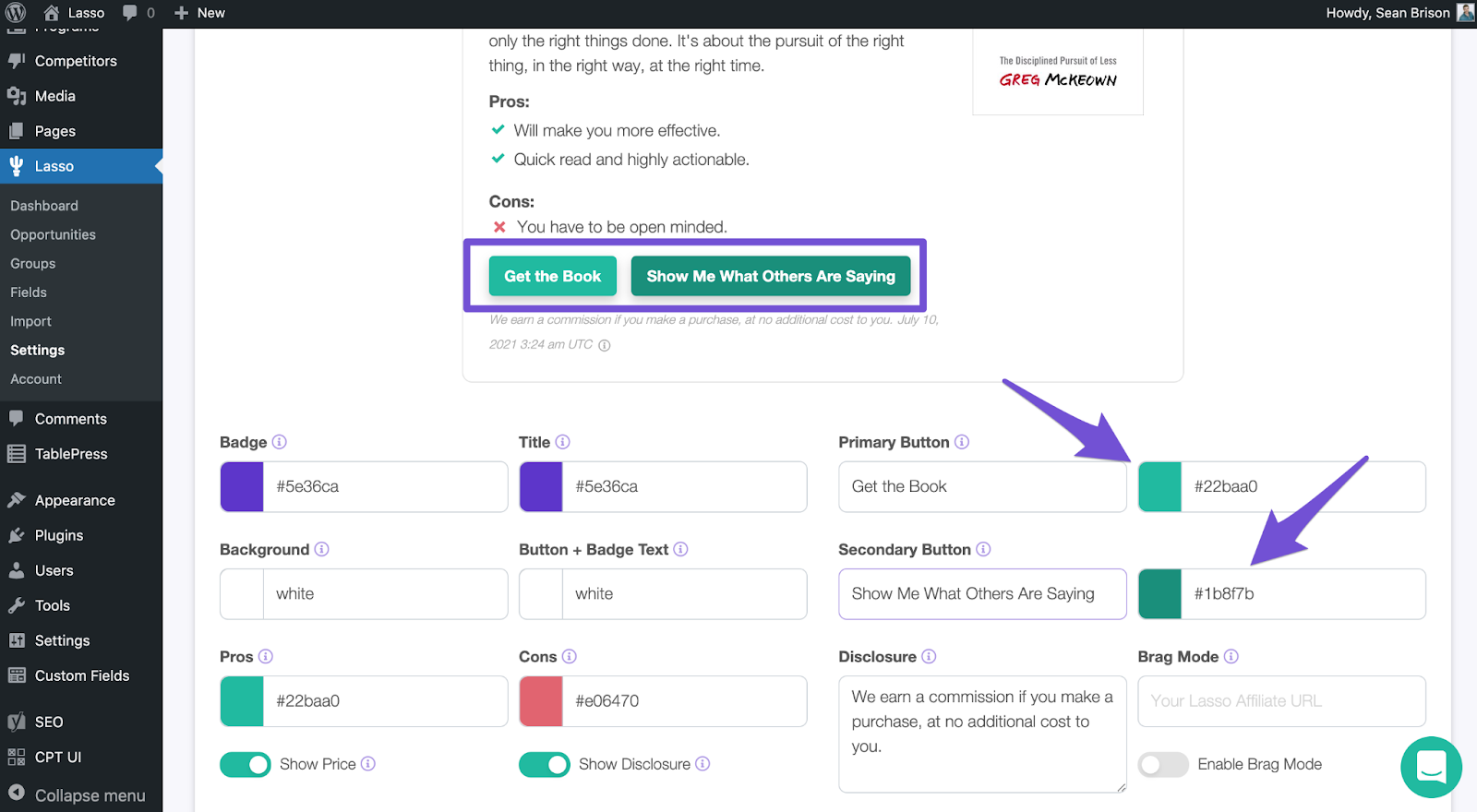 Further Reading:
Last Words
The best CTAs share commonalities: They're benefit-driven, specific, and answer your reader's "What's In It For Me? (WIIFM)." More importantly, they tell them what to do next.
So, which of these call-to-action examples will you swipe to help boost your bottom line? Message me on Twitter.
Want more marketing tips? Read this.
Our creations in your inbox, weekly.
We've built multiple six-figure online businesses that our moms are proud of.
We'd like to help you do the same.