Search Engine Optimization may seem overwhelming if you're new to digital marketing. Thankfully, you can learn the basics pretty quickly, and those core fundamentals are all you need to know to start seeing results. In this SEO for dummies overview, we'll look at the most necessary details to understand, the pillars of SEO that impact where your content ranks in the search results, and how you can create an SEO strategy to attract more traffic to your website or blog.
What Is SEO?
Search Engine Optimization (SEO) is the process of getting targeted traffic to a website through organic search engine rankings. The goal is to get the website to rank at or near the top of the search engine results pages (SERPs) for specific and relevant search phrases with search engines like Google, Bing, and others.
The "organic" part of the definition refers to free or unpaid listings in the search results. An alternative method for getting search traffic is to use pay-per-click (PPC) ads to buy traffic.
However, SEO focuses on building traffic you don't need to pay for.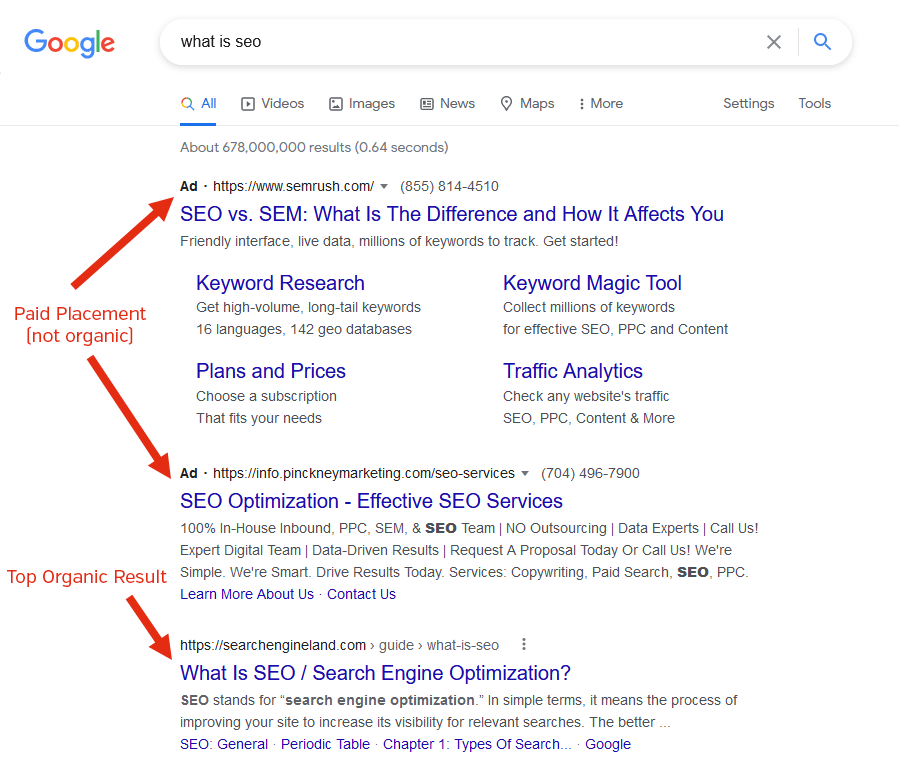 Why SEO Matters
While paid traffic can be highly effective, it only lasts as long as you're paying for it. Earning a top spot in Google's organic search rankings should continue to produce traffic for weeks, months, or even years to come.
For this reason, SEO is one of the essential aspects of digital marketing.
Social networking is another popular traffic source. Sites like Facebook, Twitter, and Pinterest can send visitors to your site, but social media marketing requires constant time or effort.
If you stop putting in the time, your traffic will dry up. On the other hand, achieve top search engine rankings, and you won't need to work as hard for every visitor your site attracts.
There are billions of searches conducted each day. The first five organic results account for more than 67% of all clicks (source), so you can see why it's critical to get your content to rank as high as possible.
Search engines (Google, in particular) represent the leading source of traffic for many websites. In addition to the number of visitors you can earn through SEO, the quality of that traffic is equally important.
Visitors who arrive at your site from a search are valuable because they're actively seeking your site's content. They want what you have to offer. Higher-quality traffic leads to better conversion rates for email optins, lead generation, and sales.
SEO should be one of your top priorities if you hope to build a website or online business that experiences long-term success.
Further Reading:
It's Not About "Tricking" Google
Search engines are infinitely smarter today compared to just 5-10 years ago. In the earlier days of SEO, you might have reached the top spot in search results by tricking the search engines.
With Google's algorithm being as intelligent as it is today, relying on tricks is no longer a practical approach.
Google wants to provide searchers with the best, most relevant, and most up-to-date search results. The most effective approach to achieving top search rankings is to provide exactly what Google and searchers are looking for – the best content.
If you're looking at your SEO strategy as a way to sneak your content onto the first page of Google, you're taking the wrong approach.
Instead, take the time to understand what searchers are looking for and work to produce the best content available that answers their questions or provides the information they need.
Further Reading:
The Pillars of SEO
There are more than 200 factors used to determine Google rankings, and here are the primary categories you should be focusing on.
On-Page Optimization
On-page optimization is the practice of creating pages intended to rank for a particular keyword or search query. Each page you want to rank should have a primary keyword that you're optimizing for.
Naturally, the page's content will also include a lot of similar and related keywords, and your page will have a chance to rank for those keywords as well.
Multiple pages on the same site should not be targeting the same primary keyword. Search engines may get confused, and the rankings of both pages might suffer.
Several on-page factors play a role in determining where a page will rank, including:
URL Structure – Ideally, your primary keyword should be in the URL of the page. For example, the URL of our page targeting the keyword "internal links" is https://getlasso.co/internal-links/.
Title Tag – The HTML title tag should include your primary keyword. If you're using a content management system (CMS) like WordPress, the post/page title will be the title tag by default. WordPress users can customize the title tag through a plugin like Yoast SEO.
Header Tags – Header tags help search engines understand your article's structure and what the content is about. The page or post title should be an h1 tag, and subheaders can use h2, h3, etc. tags as needed. Ideally, at least one of your subheaders should include your primary keyword.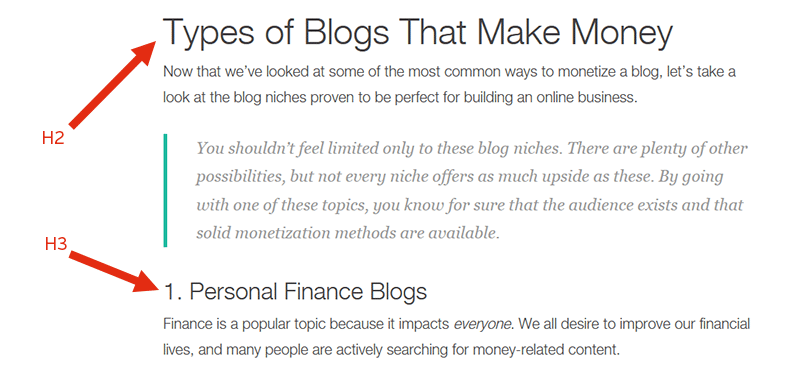 Images and Alt Tags – You can also have keywords in the file names of photos and images (such as "your-keyword.jpg"). Screen readers use alt tags to assist blind users in knowing what a picture shows, but you can also incorporate keywords into the alt tags.
Meta Description – Google may display the search results' meta description (see the screenshot below). The most important job of the meta description is to entice searchers to click through. Higher click-through rates (CTRs) can positively impact rankings.

Site Structure – The way your site's pages link to each other can also help with SEO. It's a good practice to link to other pages on your site that cover related topics. The concept of having several interlinked pages each targeting a specific related keyword, is often referred to as a "content cluster" or "topic cluster."
LSI Keywords – LSI (Latent Semantic Indexing) keywords are phrases that search engines see as related. Search engines use LSI keywords to understand the content of a page and its overall topic. You can use a tool like LSIGraph to generate a list of words and phrases to include on your page to improve optimization.
Further Reading: Learn more about on-page site optimization in our SEO copywriting post.
Backlinks
Backlinks are links from other websites that lead to your site. Google essentially views backlinks as an endorsement for your content, and as a result, links are among the most critical ranking factors.
Both quantity and quality of links matter. Getting links from many different sites is generally helpful for SEO, but you also want to be getting links from the right websites.
One link from a trusted, high-authority website will be worth much more than a hundred links from low-quality sites with no authority.
Tip: The relevancy of the site linking to you also matters. For example, if you run a personal finance website, you should be attracting links from other sites that cover similar topics.
A link from a site about video games would be less relevant and less helpful for SEO.
Link building is one of the significant aspects of SEO, and for most businesses and websites, it's an ongoing effort that never ends. Many different techniques can be effective, including:
Writing guest posts for other blogs.
Appearing as a guest on podcasts.
Creating infographics republished by other sites.
Offering free resources that attract links.
User Experience
Over the years, factors related to user experience have become increasingly important for SEO. We've seen this several times through past Google algorithm updates, and it's a relevant topic right now, thanks to the news that Core Web Vitals will soon become another ranking factor.
Google wants to provide searchers with the best experience possible, rather than sending people to sites that offer a poor user experience. In general, what's good for the user is also good for SEO.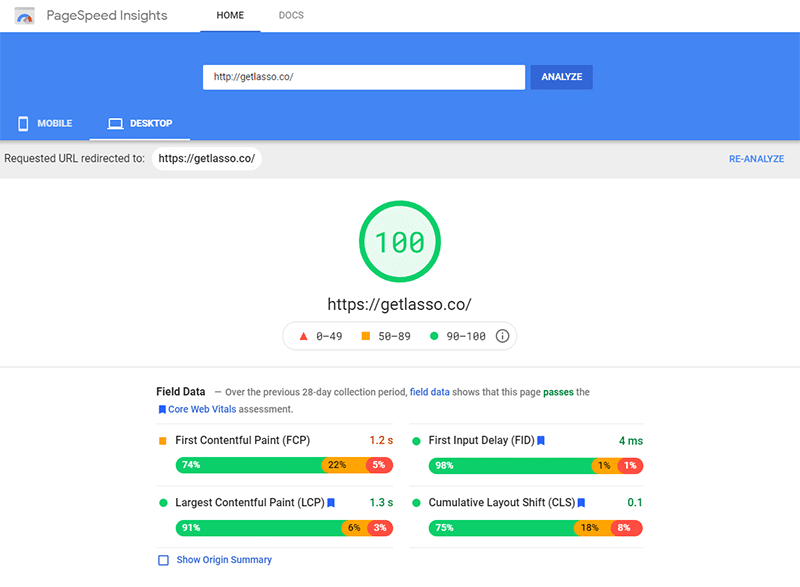 Some of the specific ways user experience can impact SEO include:
Mobile Friendliness
Page load speeds
The location and intrusiveness of ads
Bounce rate (the percentage of visitors that leave your site after viewing just one page)
Dwell times (the amount of time average users spend on your pages or your site)
Regardless of SEO, user experience and details like page speed should be a priority. Since those factors impact SEO as well, they're even more critical.
Relevance
Google also considers the relevance of your site to the search phrase. You could create content that's perfectly optimized for a particular keyword, but if the topic isn't relevant to the rest of your site, it's unlikely to rank very well.
In contrast, a small website that doesn't have much authority might outrank larger, more authoritative sites because of relevance. As a result, it's beneficial to keep your site's content highly focused and on-topic.
Sidenote: If you have a website about surfing, all the content should be somehow related to surfing. A page about opera published on the surfing website would be unlikely to rank well since the content isn't relevant to the overall topic.
Include too much off-topic content, and Google may become confused about the primary topics of your site.
Crafting an SEO Strategy for Your Content
Once you understand the basics of SEO, it's time to develop a plan to create content that'll rank on the first page of Google.
1. Keyword Research
To optimize your content, you need to know which keywords you want to target. There are several keyword research and SEO tools marketers use to see estimated search volume and keyword difficulty for any search query.
Some of the top keyword tools are:
Each of those tools will cost you some money, but they have much more to offer than any free keyword tool. If budget is a concern, Ahrefs offers a 7-day trial for $7, KWFinder provides a 10-day free trial, and Moz provides a 30-day free trial.
There's no hard and fast rule when it comes to the level of search volume you should be targeting. Keywords with higher search volume provide the potential for more traffic, but they'll often be harder to rank for due to increased competition.
You may prefer to go after lower search volume keywords that also present less competition to land your content on the first page.
Each keyword research tool will have its own keyword difficulty or competitiveness ranking (it may be called something different, depending on which one you're using).
The is typically a score from 0 – 100 that indicates how easy or difficult it will be to get your content on the first page of Google's search results. A higher number means the keyword will be more competitive.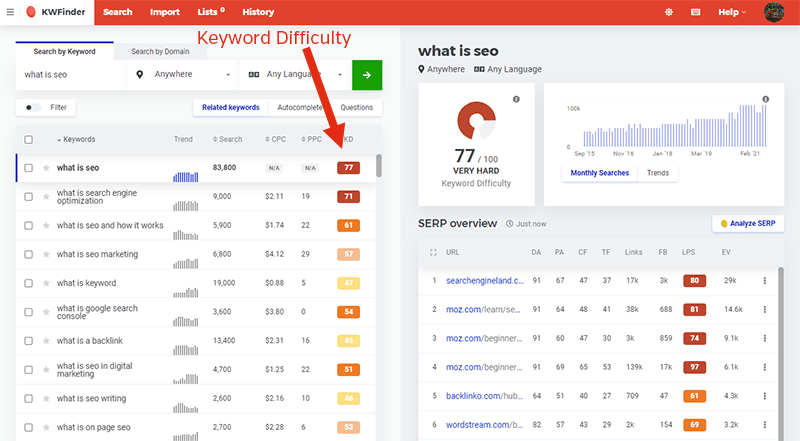 Keyword difficulty scores are not perfect, but they'll give you a general idea of which keywords present a realistic chance of attracting search traffic.
Remember that difficulty scores vary significantly from one tool to the next, so pick the tool you want to use.
When you're doing keyword research, decide on the minimum monthly search volume and maximum keyword difficulty scores for the keywords you want to target.
When you're first getting started, it's a good idea to go after easier keywords and work your way up. Use a spreadsheet to organize keyword ideas that meet your criteria and are a good fit for your site.
Takeaway: Remember to think about content clusters or topic clusters. Try to find related topics that fit together so you can create cohesive content rather than a bunch of random articles that target unrelated keywords.
Further Reading:
2. Content Creation
After you've identified some keywords to target, it's time to get started on content development. Whether you're going to be writing the content yourself or outsourcing it, you don't want to rush through this process.
The better your content is, the better chance it will have to attract search engine traffic.
Before writing anything, you should check the content currently ranking on the first page of Google (or at least spots 1-5) for your target keyword. Check to see:
What type of content is it (informative blog post, story, e-commerce page, etc.)?
How long is it (the Word Counter Plus Chrome extension makes this easy)?
What information does it include?
What questions does it answer?
Are there any trends among the top search results?
You'll get a feel for the content Google thinks is most helpful and relevant for a search phrase by looking at the current top results.
If you notice all of the top-ranked web pages are a similar type of content (long-format blog posts, for example), that shows you the kind of content you should expect to create to have a chance at ranking on the first page.
Analyze the top results to see what content you should create and how you can make your content better than anything else out there.
While it's not necessary, using tools like Clearscope, MarketMuse, or Frase can help you create high-quality, optimized content that works to advance your marketing strategy. Tools like Grammarly can also help to clean up and polish your content.
3. Tracking and Monitoring
The next step is to track your rankings. You can use free tools like Google's Search Console to get some valuable data, or you can upgrade to a paid version. Most keyword research tools include this functionality.
Getting your content to rank can take some time and patience. Sometimes, new content might rank for your primary keyword in a matter of hours or days. Other times, it might take months for your page to work its way up the rankings. And of course, sometimes your content won't rank at all.
Over some time, you may be able to identify some trends that show how Google views your site. If your pages on a specific topic or category tend to rank well, try to find other related content you could create.
If Google doesn't rank any of your content on a particular topic, you may be facing an uphill battle to get other similar content to rank.
4. Improving and Updating
When it comes to content creation and SEO, most of the focus is on creating new content.
However, improving the content you already have may be a quicker process, producing better results.
To get the most out of your SEO efforts, you shouldn't ignore this opportunity.
Improving your content and republishing it with the current date or changing the "last updated" date is a very effective way to improve your Google rankings. Google likes to see fresh content, so updating older content is an easy way to get a boost.
If you're looking for some easy wins that can produce quick results, an excellent place to start is by finding content on your site that ranks in spots 5-10 on the first page or anywhere on the 2nd page for your target keyword.
Google already sees some value in this content, but if you're able to improve that ranking a bit, you should see a nice traffic increase.
For sites that have a lot of content, improving and updating content could be an ongoing task.
Final Thoughts
If you're new to the subject, this guide to SEO for dummies lays out the most important details you need to know. While the topic may seem intimidating at first, the basics are easy to grasp.
You don't need to be an expert at search engine optimization to have a search engine-friendly website or blog that attracts the traffic you're looking for. With some effort, you'll get your content to rank on the first page, and checking your stats in Google Analytics will be an exciting experience.
Our creations in your inbox, weekly.
We've built multiple six-figure online businesses that our moms are proud of.
We'd like to help you do the same.