Long complex URLs confuse your visitors, hurt your  SEO, and costs you money. Shortening them is a quick fix that not only enhances their appearance but also lets you track clicks and boosts social sharing. We'll show you step-by-step how to use a WordPress URL shortener to create custom short links for your website so you can get organized and monetized like a pro.
This article will cover:
But first, let's make sure we're on the same page.
What Is A WordPress URL Shortener?
A URL shortener is a tool that condenses long URLs into shorter links. Sometimes, the web address you send people to has a vast string of numbers and characters. Decreasing its length improves link management and shareability.
Some URLs have descriptive attributes that contain product info, session info, and transaction paths, producing an unwieldy link with hundreds of characters.
Using a URL shortener reduces the length while sending your readers to the intended web page.
What Is A Custom URL Shortener?
A custom URL shortener trims the link while attaching your own domain name to it. For example, if you were using bit.ly's link shortening service, instead of having a URL looking like this:
You'll see this:
You're essentially replacing the "bit.ly" portion with your brand name. Here's an example of a custom shortened link used by CoSchedule: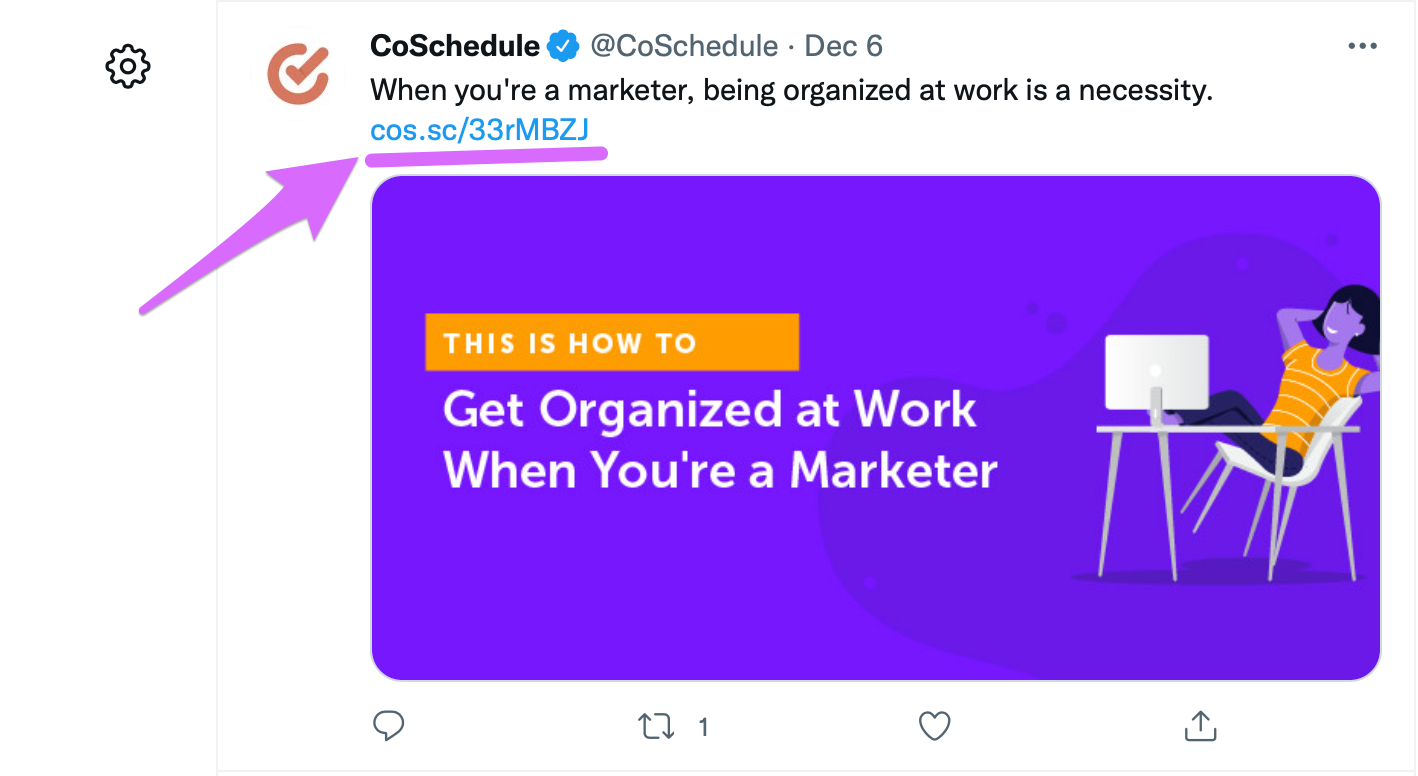 Many URL shortening services exist for WordPress websites. If you're looking for bit.ly, TinyURL or Pretty Links alternatives, here are our picks.
Further Reading:
How to Create Custom Shortlinks In WordPress with Lasso
Lasso is a WordPress plugin that boosts click-through rates and simplifies link management. In a few steps, you can shorten any URL inside the dashboard.
All of your links will include your own custom domain which makes them more memorable, shareable, and increases click confidence. More clicks equal higher commissions.
Here's how to do it.
#1. Activate the Lasso Plugin for Your WordPress Blog
To do it, head to app.getlasso.co and create your account. Once completed, you'll arrive on your account details page to download the plugin.
Once set up, a Lasso navigation link gets added to your WordPress admin in the left sidebar. Now you're ready to shorten links.
You can read more about getting started with Lasso and downloading the plugin here.
#2. Create a New Link In the Lasso Dashboard
First, you'll need to create a link in Lasso. To do it, click "Add New Link."
A pop-up window appears across your screen with the text "Add A New Link." Paste the URL into the empty field.

Next, Lasso redirects you to the Link Details page of the URL you created. Here's where you can adjust the title and permalink to create a branded URL.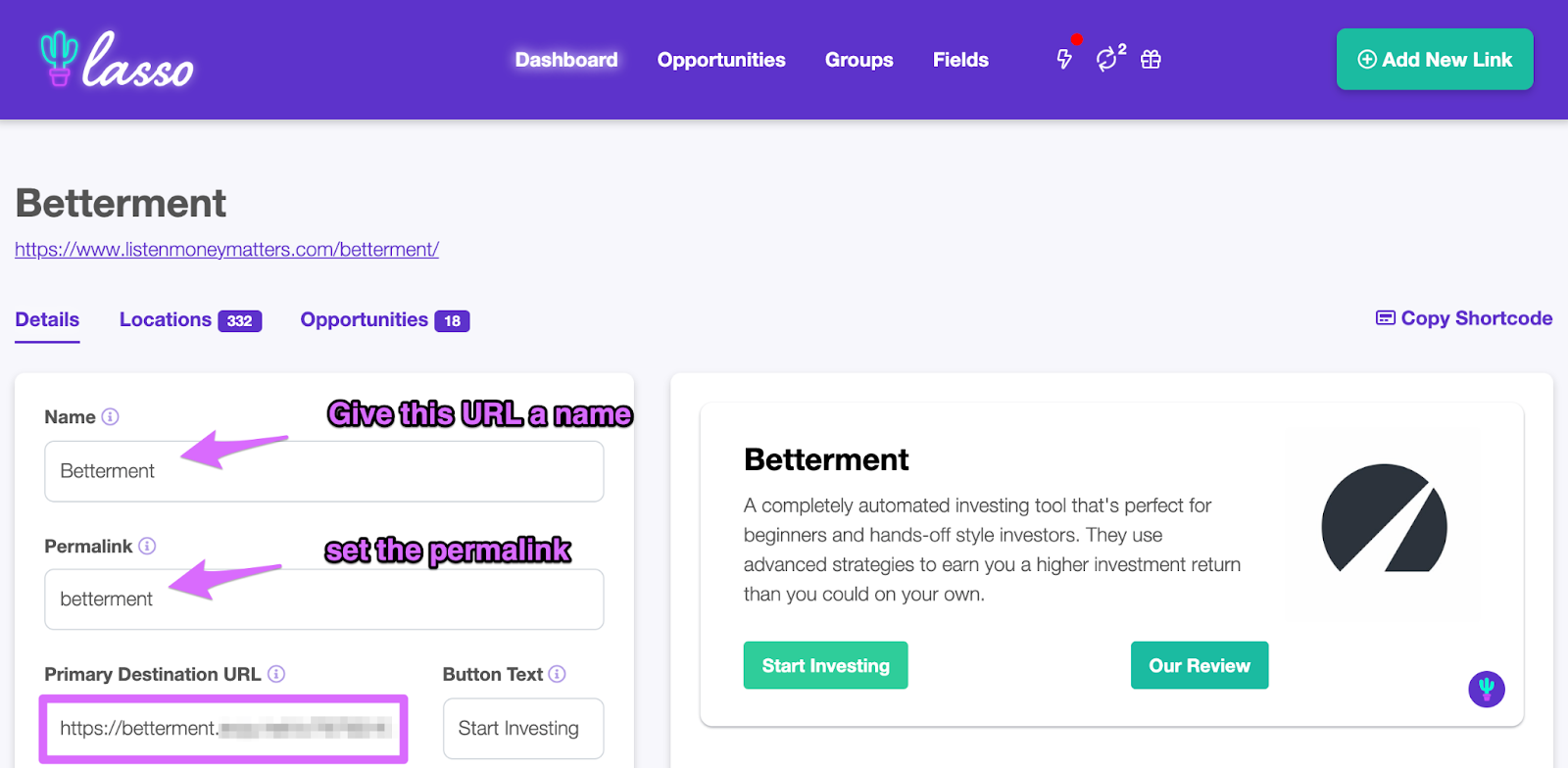 On this page, you can adjust the:
Primary destination (aka the target URL): this is where you'll send visitors
Permalink: you can shorten this to whatever you want, and is what people will see
Name: Helps to remember and keeps you organized
Your links will be branded with your website's domain name. This helps with building authority and raising awareness.
You can see where your newly-created links are across your site. Under the "Locations" tab, Lasso shows you every place you can find that specific link.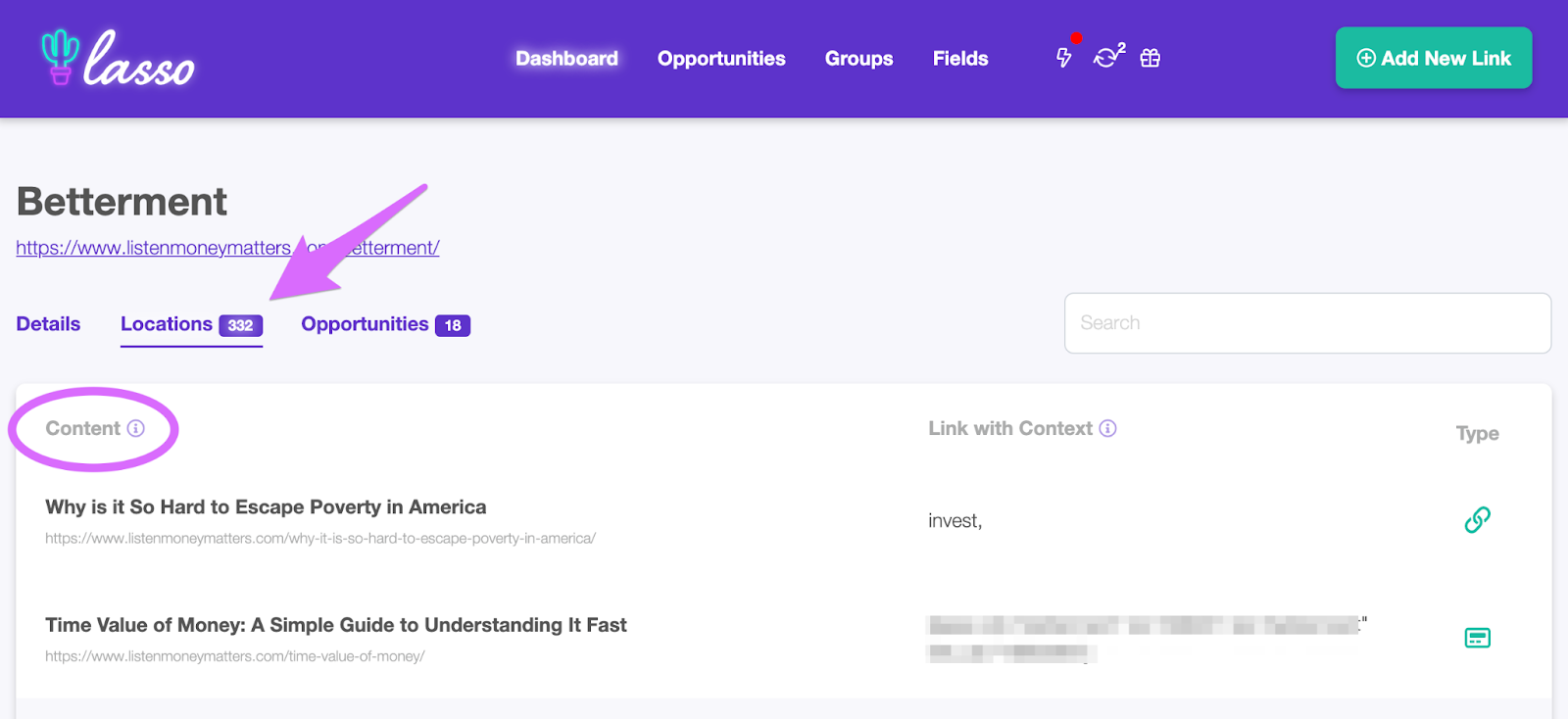 Takeaway: You can add any link to Lasso you want to be shortened, from affiliate links to referral links to custom post types.
Once you start adding links, you can search for them by name or URL. The search field also displays the total number of links you've created in Lasso.
#3. Configure & Customize Your Shortened URLs
When adding links, Lasso lets you configure them in specific ways.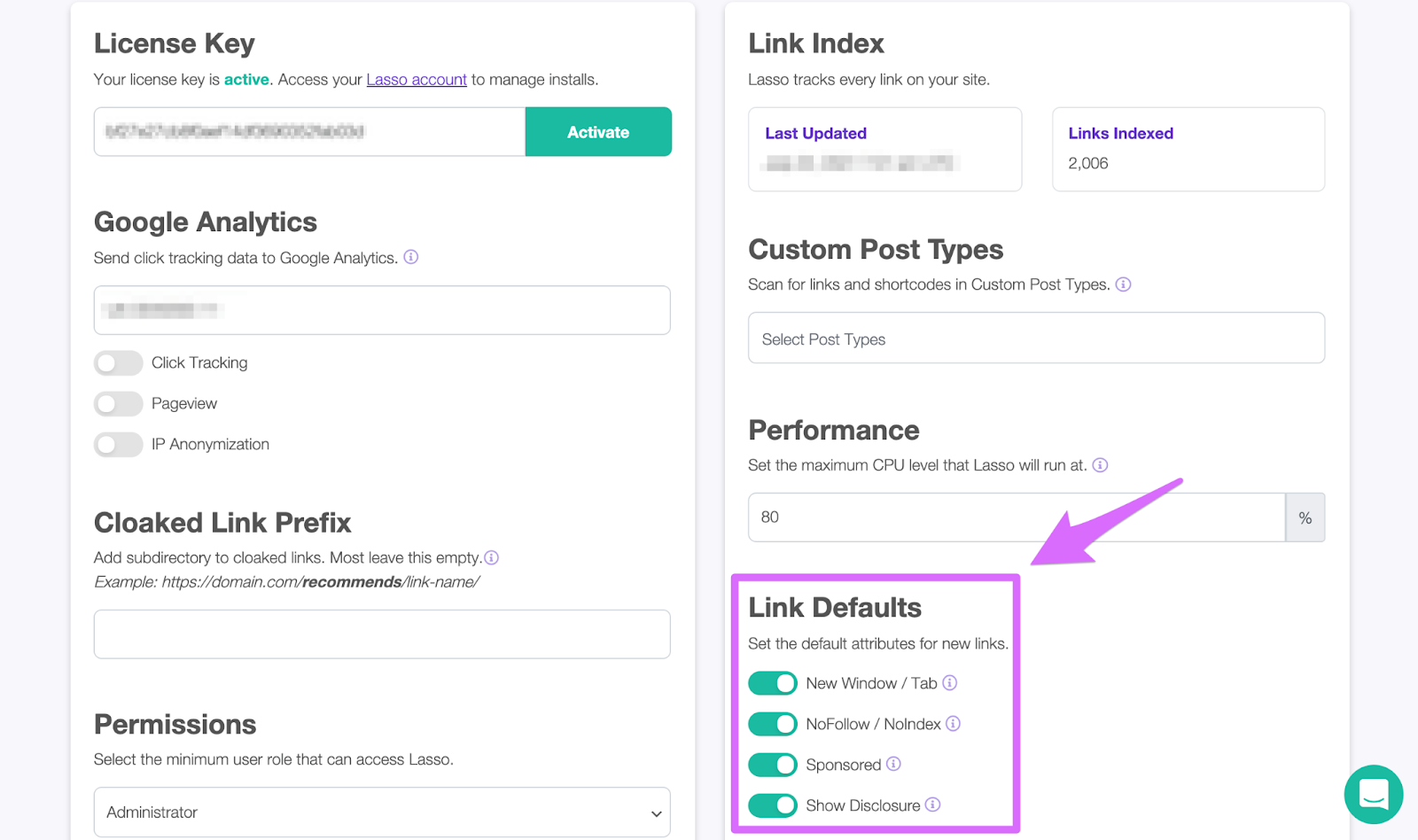 You can toggle "On" or "Off" any of the below defaults:
New Window / New Tab: This ensures when visitors click your link, that it will open in a new tab
NoFollow / NoIndex: To prevent search engines from following and indexing links, enable "NoFollow." For example, all affiliate links should be nofollow.
Sponsored: Indicates the link is a promotional link to search engines and that you're in a paid relationship with the URL.
Show Disclosure: Informs your readers that your link is monetized, and you get paid when people click it.
You can also override these settings for individual links in that URL's Link Details page.
Sidenote: Lasso also supports pass-through parameters for enhanced customization, which you can read about here.
#4. Track Clicks So You Can Measure Performance (and Double-Down On What's Working)
Connect Lasso to Google Analytics (GA) to measure how your links perform. Head to Settings > General and paste your GA tracking ID into the empty field.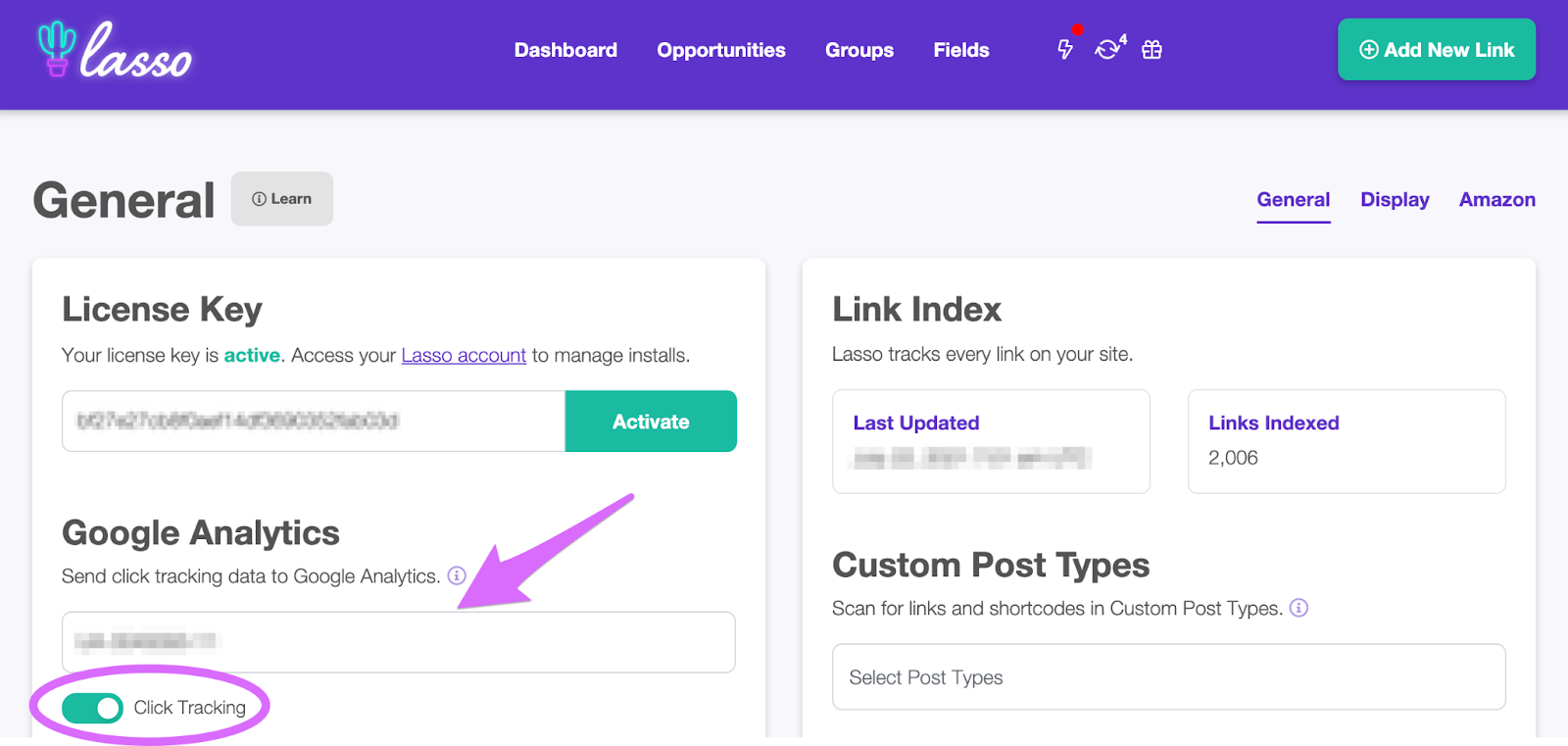 Then, enable "click tracking."
Lasso starts sending your site's click data to GA. To see the data, go to Behavior > Events > Top Events.
You'll see your site's top events organized by their number of clicks (from highest to lowest).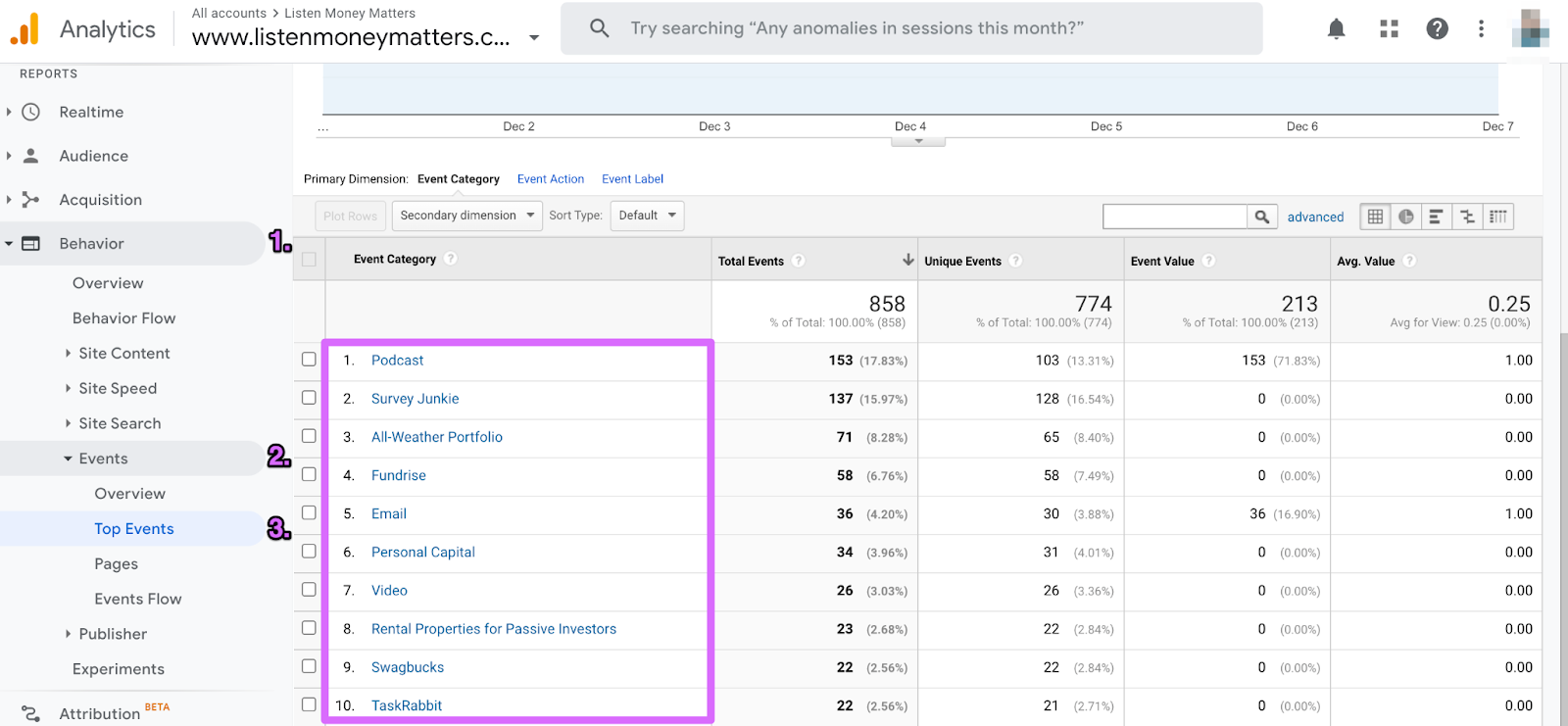 Click on any of those events, and you can see the number of clicked text links versus product displays.
For example, if you wanted to see the number of times people clicked a Survey Junkie product display versus the number of times they clicked a text link, click on Survey Junkie to see those details.
Tip: To see which pages have the most clicks, open "Pages" (located beneath "Top Events"), and you'll see each URL's most-clicked links on your site.
Further Reading:
How to Create Shortlinks Using Simple URLs
If you want to start with a free version before going premium, our Simple URLs plugin offers bloggers a budget-friendly alternative.
Simple URLs also let you create branded URLs with your site's own domain name and see all of your links in a single dashboard inside your WordPress site.
Head to the Plugins page from inside the WordPress dashboard and type "Simple URLs" into the search field.
Once installed, a Simple URLs link will appear in your WordPress admins left sidebar. To create a link, click "Add New."
There you name your link, then add the target URL in the "Redirect URL" field. Finally, click "Update" and you're done.

In your Simple URLs dashboard, you'll see your link's:
Title
Target URL
Permalink 
Number of clicks

6 Reasons Why You Should Have Custom Shorter URLs
There are many reasons why should shorten URLs on your website. Here are our top six.
Cloaks affiliate links: We all know how indecipherable an affiliate link looks. Plus these URLs occupy so much space with exceedingly high character counts.
Since your affiliate links are there to make you money, you want ones that decrease friction and doubt with your readers. Clean short URLs will do this for you.
It's also particularly useful with sharing affiliate links on platforms other than your website, as that's not the only place you'll make money.
Boosts trust: Using custom descriptive URLs looks less intimidating to website visitors. On the other hand, long links are ugly, increase doubt, and decrease click confidence. So, you want to keep your brand name with every link you add when possible.
Streamlines link management: Seeing all of your links organized into groups makes it simpler for you to manage and track. Lasso lets you organize your links into groups, lists, and galleries so you can find them easier.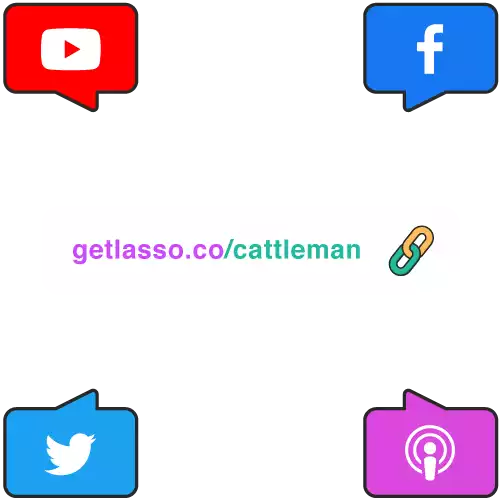 Reach A Wider Audience
Monetization doesn't only happen on your website. There's social media and email too. Whether it's on a podcast or YouTube, Lasso makes it simple with branded URLs that are both easy to say and remember.
Grow Your Audience
Helps with SEO: Short keyword-rich URLs are an on-page SEO best practice and help search engines index your site. They allow you to tell people what your web page is about before they click. There's also a greater risk of broken or malformed links the longer your links are.
Improves social sharing: Short links are easier to manage across social media platforms and let you reach a wider audience. YouTube, podcasts, forums, Linkedin, and your email list are all places to do it, and shorter links make it easier.
Simplifies tracking: If you want to measure a link's performance, you can see its number of clicks. A high number signals people are interested. It can also help you with additional content ideas.
For example, if you notice a specific topic has a higher engagement rate, double down on that by creating more of it. Some services also let you see who's sharing your links.
Should You Use the Bring Back the Shortlink Button Plugin?
While this may create a shorter link, it appends your URL with a "?p=" followed by a number. So, for example, when trying it on my site, it removed the already SEO-friendly "tequila-gifts" permalink with "?p=419."

This does nothing to improve shareability. And without customization, they're less memorable.
It's probably why WordPress removed the Get Shortlink button after WordPress version 4.4. So, although WordPress still creates shortlinks for your site, they hide the button.
You can bring it back by heading to the Plugins page, installing and activating it. Once activated, the "Get Shortlink" button displays next to "Edit" in the Classic Editor.
If you're not keen on adding another plugin to your site only for a single button, you can add the code snippet to your theme's functions.php file.
Tip: If you're not a developer, try the Code Snippets plugin. It lets you add custom code to your site without needing to dive into your theme's functions.php file and works similar to how you'd add a new post into WordPress.
Set Your Permalink Settings to Post Name for Quick SEO Wins
We mentioned this earlier, but it's worth repeating. It's a good SEO best practice to include short, keyword-rich URLs with every post you write because it tells people what your post is about before they click.
Before creating your first post, set the slug to "Post name." You can do this by heading to Settings > Permalink Settings.
Using "Post Name" lets you keep your URLs short and descriptive without adding the day, month, or alphanumeric strings.
For example, you don't want to include the month or year in your URL because when you update your post later, the older date will remain and won't indicate freshness to search engines.
Once you've created your post, you can edit the slug to a shorter version. This functionality is baked into WordPress already.
When creating a post, WordPress grabs your entire headline and uses it as the permalink.

To fix this, click "Edit" and shorten the slug accordingly.
Last Words
Using the best WordPress URL shortener plugins can help your site in all kinds of ways – from boosting positive SEO signals to masking affiliate links to improving link management. You want to give your audience the best user experience possible, not only for them but for yourself too.
Re-configuring long links into short links is a small part of the puzzle – but an important one to play.
We hope you found this tutorial helpful. Looking to learn more about how Lasso can help improve your site? Have a look here.
Our creations in your inbox, weekly.
We've built multiple six-figure online businesses that our moms are proud of.
We'd like to help you do the same.