Khris Steven is the founder of Khris Digital, a website that educates marketers on the latest tools, trends, and strategies to scale revenue.
Or, as Khris put it: he'll "arm" you with the resources, strategies, and tactics to help you make an impact, serve more people, and skyrocket your income so you can live life on your terms.
His journey started with a hunger to reach financial freedom and the unlimited opportunities provided by the internet. Having a passion for helping people succeed doesn't hurt either. 😉
Khris started his site in early 2018 and has grown it to roughly 10,000 monthly visitors:

His monthly earnings fall between $8,000-$12,000, with 90% of that coming from affiliate marketing. The remaining 10% are from private consultations.
Khris belongs to 20 different affiliate programs. Since many appear in multiple dashboards, he was kind enough to send a couple of screenshots to give us an idea.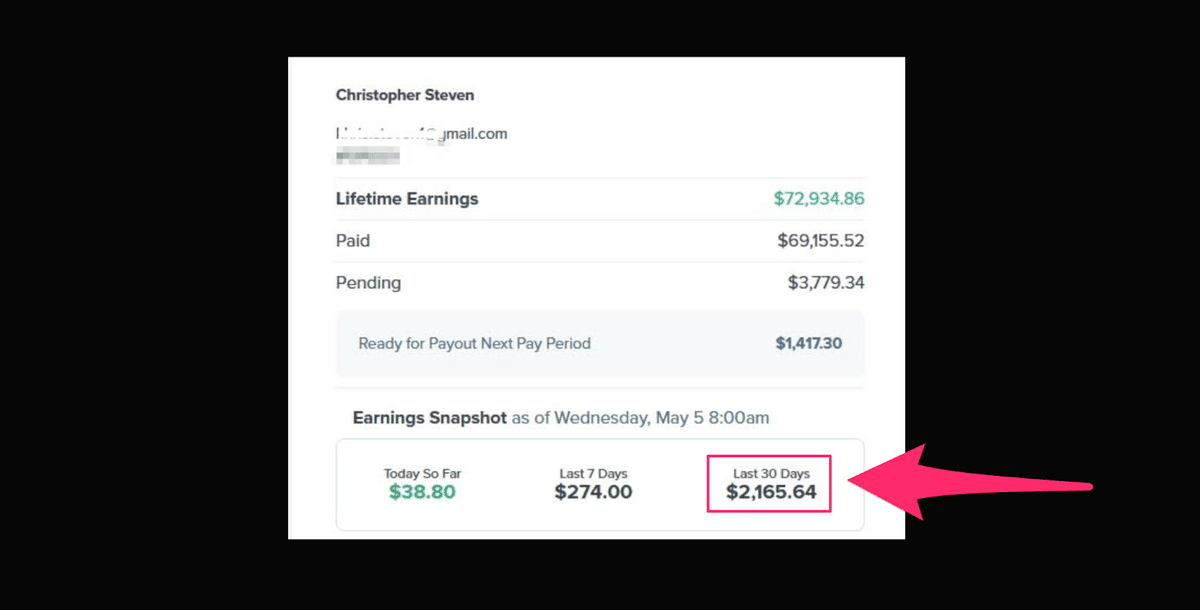 The two screenshots you see here are from programs he uses via ClickFunnels.

You can explore the ClickFunnels program via Lasso's database. 
The bulk of his earnings are from affiliate marketing, with no ads appearing on his site.
Further Reading:
Table of Contents
How to Make Your Affiliate Offers Stand Out (Lasso Case Study)
Before Lasso: How Did You Display Affiliate Links?
Many of our customers have said they primarily used text links to promote their affiliate offers before discovering Lasso. As we found, Khris followed a similar pattern.
He used mostly text-only links to display affiliate promotions with a little call-to-action button usage too.
Khris also mentioned struggling to improve clicks and commissions because the only method available to him when first starting his blog was using a mix of button and table plugins and text links.
Since using Lasso, he's been able to streamline his entire process, making it seamless without the need for multiple plugins.
And the addition of customizable product displays has been a gamechanger.
Having a link management tool that can also help you promote your links is a huge deal and makes a difference with website monetization.
The Problem
Khris was looking for a better way to manage his links. He had been using a combination of Google Sheets, and the Thirsty Affiliates link cloaking plugin but needed something more.
Another problem Khris had was his listicles, product roundups, and comparison posts lacked visuals and clear CTA buttons.
He saw his competitors using sophisticated product display boxes, which made their articles (not to mention affiliate promotions) stand out.
He wanted something similar with a superior design and improved call-to-actions.
While inspecting the source code of competing sites, he discovered their secret – Lasso. Once he made the leap with Lasso, he hasn't looked back.
Lasso is more than just an affiliate link manager; it enables me to squeeze more revenue from existing traffic using sleek product display boxes.
The Solution
Khris needed a way to both manage his links and promote them. Unfortunately, this was something Thirsty Affiliates was unable to solve for him.
His idea was to integrate Lasso with his site so he could start testing the product display boxes. He discovered various ways to draw attention to his links with images, informative product descriptions, and badges.
A Lasso Product Display Teardown with KhrisDigital
There are many ways to display your Lasso links, but Khris has been sticking to the single displays for now.
His strategy involves using them on his comparison, review, and round-up posts. He's found this tactic helps highlight and drive clicks to his product recommendations.
With every single affiliate post, Khris starts with a catchy intro, states one or two facts, then dives into the meat.
He uses Lasso product boxes for his most recommended (or most lucrative) affiliate offers at the start of his list posts with:
Enticing product descriptions
A badge reading "My Best Pick"
The product image or logo
A single call-to-action button
A typical example is his sales funnel software listicle: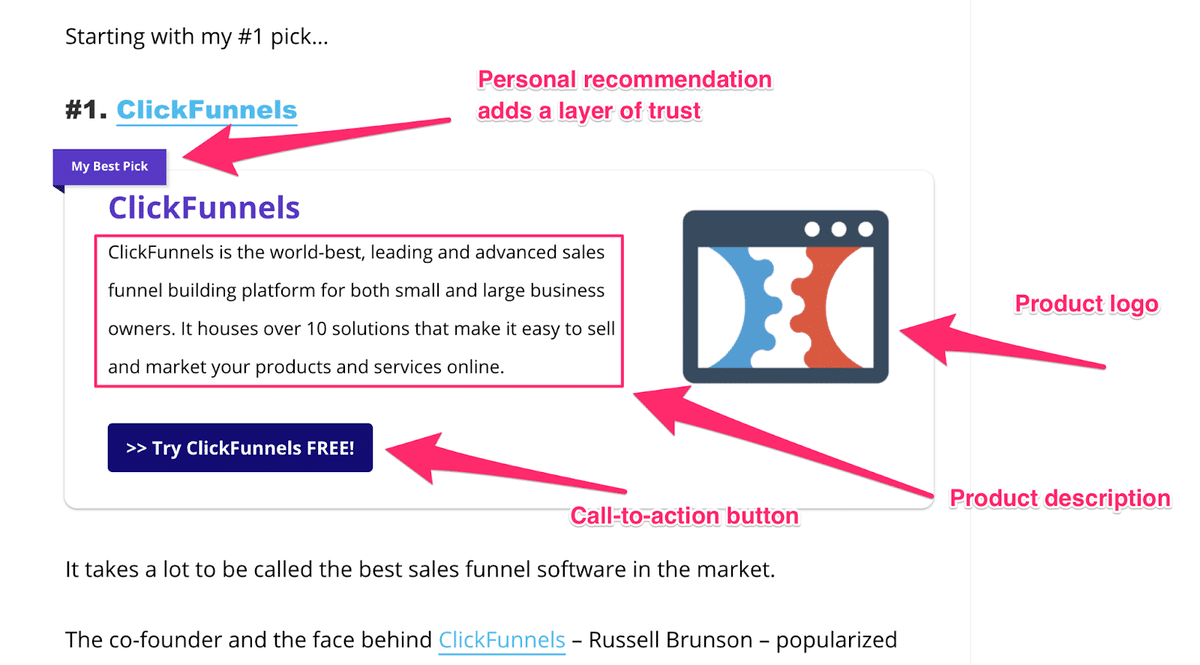 He'll also use additional Lasso product boxes with the other tools featured in the list to beautify the page (but without badges).
Khris told me this post had made him thousands of dollars over the past year. He follows the same approach with his comparison posts.
His WebinarJam vs. Zoom article is another example: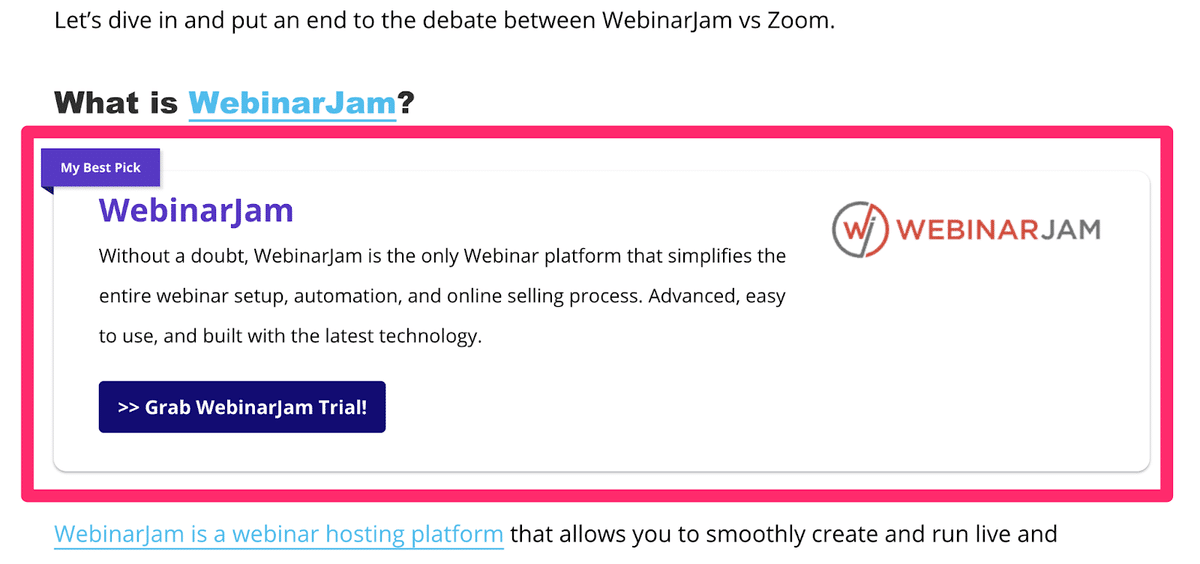 So far, Khris says his favorite Lasso features have been:
The ability to customize his product boxes
Create custom badges with descriptions
Add images, pricing, and buttons
He'll then rinse and repeat this process to use the displays repeatedly across different pages on his site.
There are many blog types you can use with Lasso from product reviews to comparisons to listicles. You can even add displays to "How-to" posts where you walk your readers through using a specific product.
Further Reading:
How Does Lasso Look On the Backend?
We'll use our "Essentialism" Single product display from our homepage so you can see how Lasso looks for users like Khris.
When you head to your affiliate link product page (e.g., Essentialism), your screen displays in two columns with the right side letting you preview as you create it: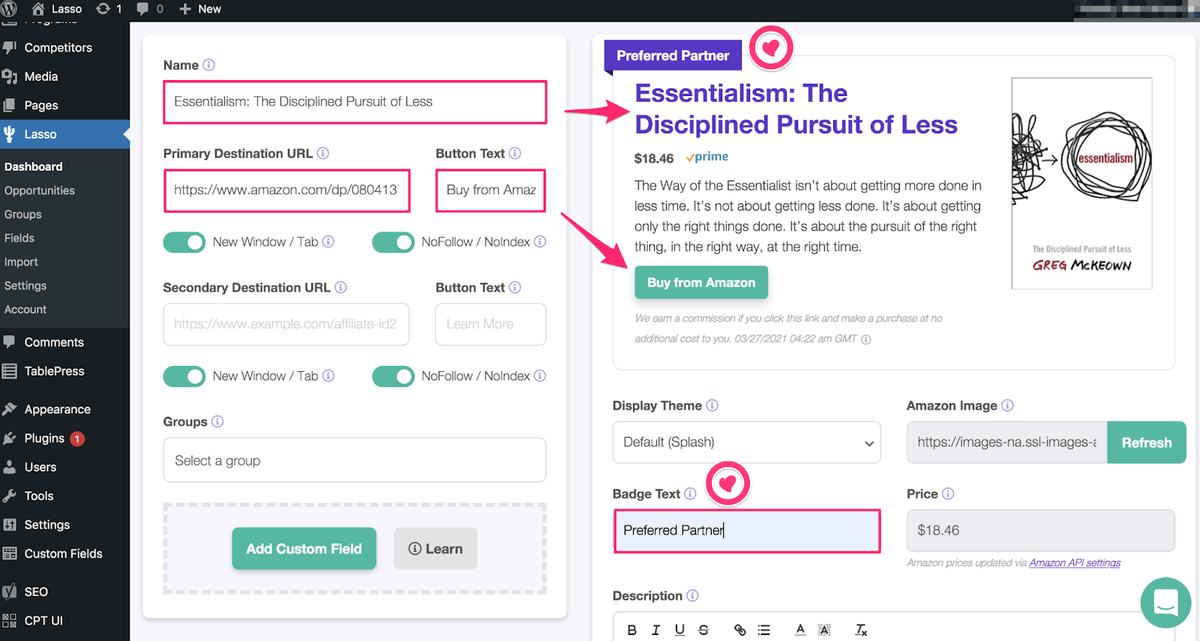 I've annotated the features Khris mentions:
Name: Your product title will go here
Primary Destination URL: Copy and paste your affiliate link into the field.
Button Text: You can add customized call-to-action text. In this example, ours reads "Buy from Amazon."
Badge Text: Add a personal recommendation to your products. In this example, we added the words "Preferred Partner," which displays in the upper left corner of your product display.
From inside the same page, you can scroll down and add your product description and affiliate disclosure:
Sidenote: Your affiliate disclosure displays beneath your call-to-action button.
Further Reading:
Integrating Lasso with Your Site and Developing a Workflow
It didn't take Khris much time to acquaint himself with Lasso. He noted one of the fastest and easiest ways he got around was replicating how other bloggers used it on their sites.
Sidenote: The Digital Merchant and Fat Stacks were two websites Khris drew inspiration from when getting started with Lasso. In fact, Jon Dykstra (of Fat Stacks) shared a few ways he uses Lasso with Khris via his newsletters.
The support center also played a massive role in helping him to understand the plugin better. Lasso offers 24/7 customer support with typical response times within hours.
It's worth noting Khris doesn't have any skills in design or coding. Because of that fact, he thought Lasso wouldn't be user-friendly.
But after getting started, he soon realized that wasn't the case.
I was scared initially on how to create those types of boxes. But after playing around with the plugin for minutes, I was astonished at how easy it was to customize things and manage my links.
It's only been a few months since he started using Lasso, and he's yet to explore it to the fullest. So far, Khris has recorded a few thousand dollars in commissions from his Lasso links.
Further Reading:
His initial plan was to try it and see if it's worth paying for. After the trial and one-month subscription, Lasso paid for itself multiple times, making him decide to keep it.
Why Lasso?
Khris cites the custom product displays with informative descriptions that draw more attention to his affiliate links.
The more information you can provide to your visitors upfront increases their confidence and makes it more likely they'll click your link.
Adding a Lasso display from inside your WordPress site is straightforward. When inside the editor, click the Cactus icon at the top of the toolbar:

Next, choose your display type: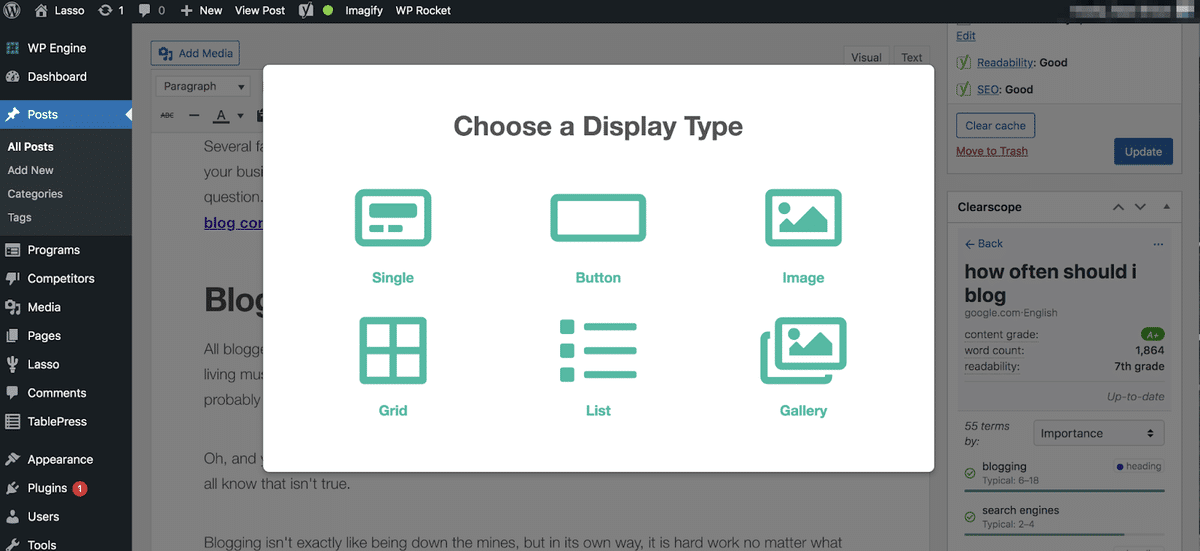 If you're using a single display like Khris, click "Single" and choose the link you want to add: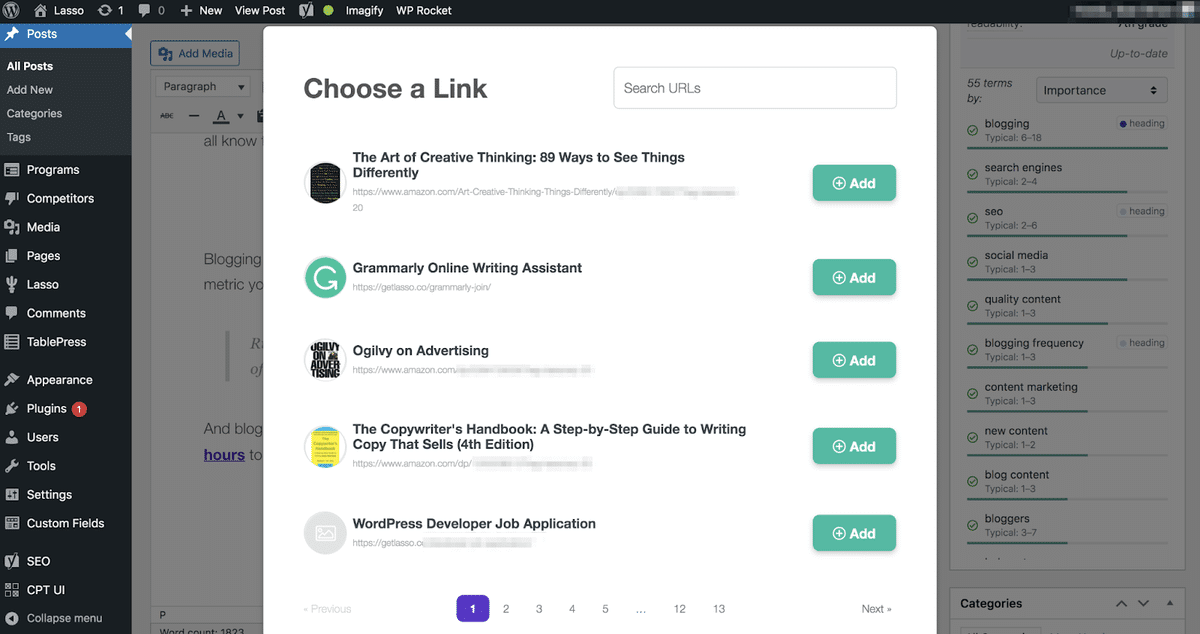 Lasso adds a piece of shortcode to your post automatically of whichever link you choose.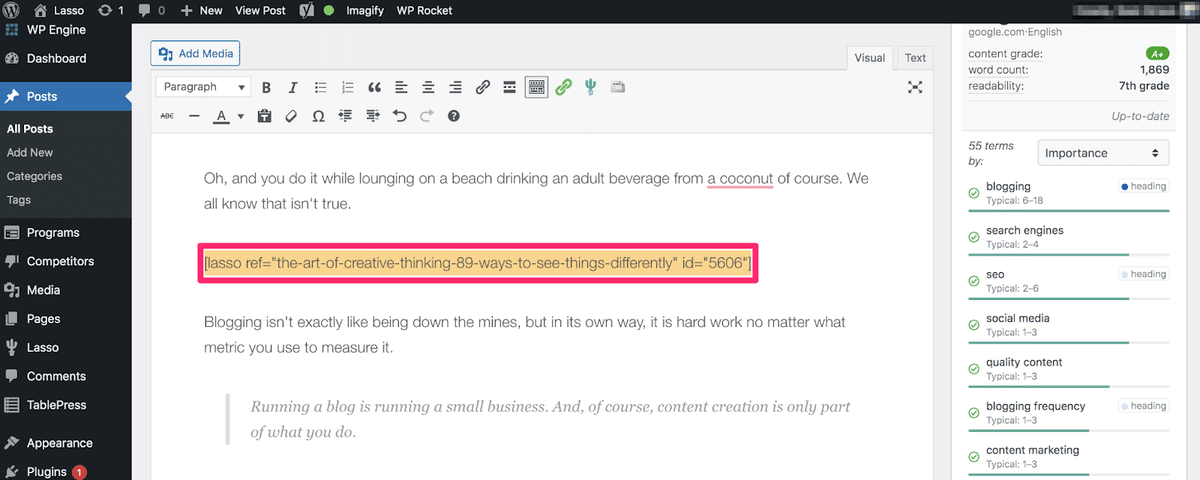 Further Reading:
How Does Lasso Compare?
Khris obsesses about conversion rate optimization (CRO) and is always on the lookout for new methods. Unfortunately, while he's invested a substantial amount to achieve this, only a select few paid off.
Lasso is one of my special CRO tools that I wouldn't want my competitor to get a hold of!
Ready to take Lasso for a test drive? Discover all of the ways you can use it to your site's advantage. Sign up for Lasso today.
Our creations in your inbox, weekly.
We've built multiple six-figure online businesses that our moms are proud of.
We'd like to help you do the same.