Elizabeth Harrin is the director and founder of A Girl's Guide to PM, a website that teaches people how to get things done in the real world. Her students learn to manage projects with increased confidence (and less stress).
Her site provides training, mentoring, and education to people managing projects even if they don't have 'project manager' in their job title.
She'll also help improve your team management, work organization, and leadership skills.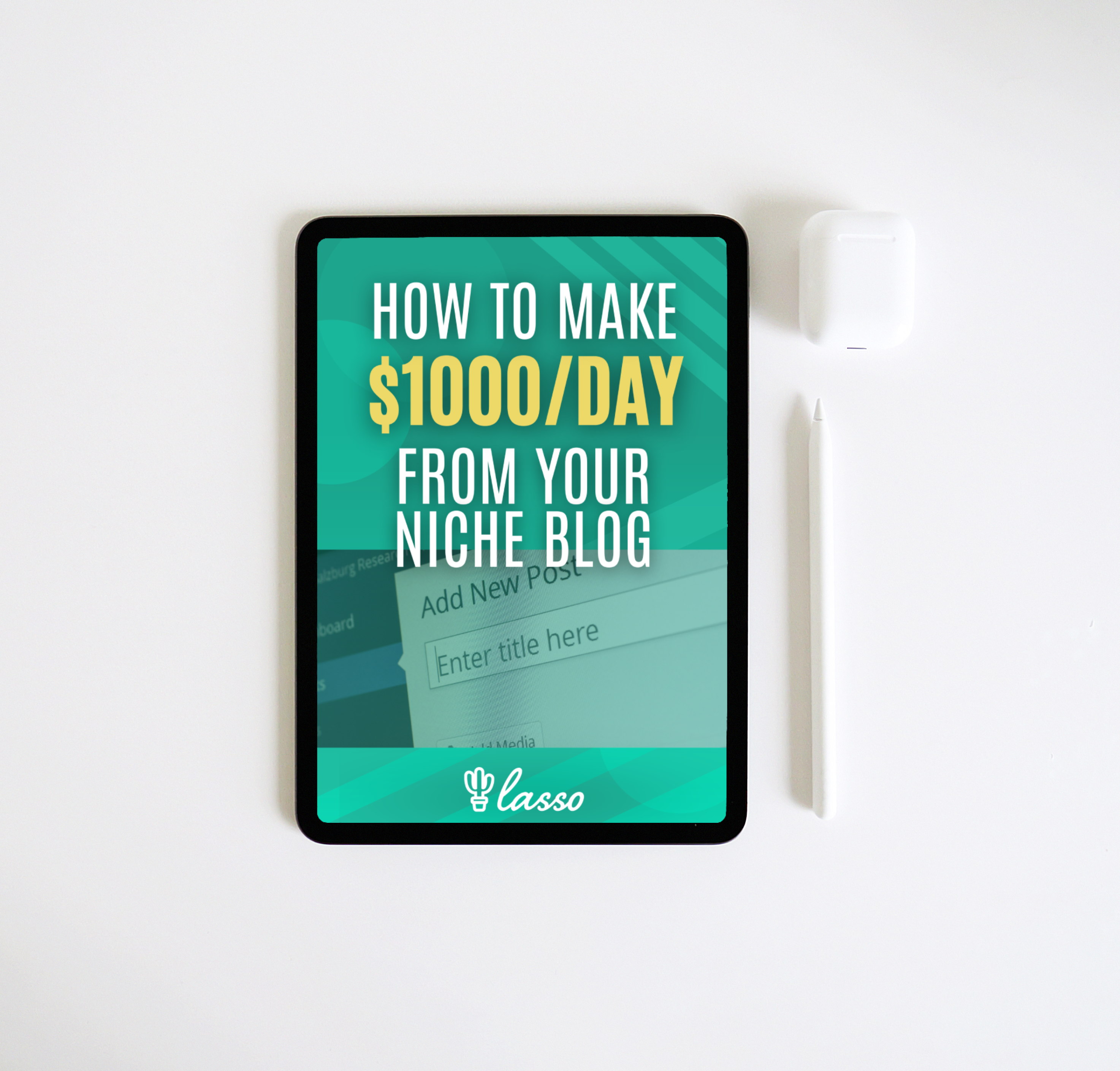 Get Your FREE 20-Page Guide To Making $1000/Day From Your Niche Blog
Her site uses practical, battle-tested tactics to solve common workplace problems. The methods actually work and are not typical things you'd read in textbooks.
She's been refining her project management strategies for 20 years and has tried and tested many ideas.
Trajectory: Elizabeth grew her blog into a community of 16,000 project professionals, become a Fellow of the Association for Project Management, and published six books.
Her site primarily focuses on teaching people how to manage their projects effectively via live and video training.
Girls Guide to PM has been around for over ten years and produced over 1,000 articles (both written and curated).
Elizabeth's site helps her students using:
Templates (documents and files Elizabeth created to help her manage projects)
Training (where you'll find various project management certifications, approaches, and methods)
Mentoring (power hours where you'll get Elizabeth's undivided attention via phone or video conferencing)
A Girl's Guide to PM Monthly Visitors
A Girl's Guide to PM gets between 67 and 74,000 monthly visitors. Her total for the past 12 months toppled over 800,000.

Her monthly average affiliate marketing earnings are £565 (or $785). Those affiliate earnings represent 8% of her total income.
She also earns revenue in multiple ways, including:
Corporate copywriting clients
Live online training
Mentoring via Zoom
Digital products (eBooks and courses)
Book royalties
Speaking fees
Ad revenue
As one of the first rules of affiliate marketing is not to "rely only on affiliate income," it's great to see Elizabeth diversify her revenue streams and use Lasso for more than only affiliate links (more on that in a minute).
Affiliate revenue is not a big part of my income but it's passive (mostly) and with over 1k blog posts, I feel like it's something I need to develop further. Lasso is helping me do that by making it super easy to drop up-to-date links into articles and present them nicely.
Table of Contents
How to Make Long Blog Posts Readable (Lasso Case Study)
Before Lasso
Elizabeth had never tried using another affiliate marketing plugin  (she hadn't even considered it an option). Her process for managing links before Lasso was a spreadsheet.
She kept them there and then copied and pasted them into articles as text links. Sometimes she'd use an Amazon display box, but that was rare; she never felt Amazon's display boxes looked very modern.
Elizabeth hasn't used other tools in the past because she thought they looked ugly and wouldn't have any useful features.
There was no process for improving clicks or commissions other than sharing an article on social media or mentioning it to her newsletter subscribers.
Sidenote: Broadcasting content to your social media channels and newsletter subscribers is an excellent way to boost engagement and keep your readers updated.
The Problem
Elizabeth needed an easier way to manage the growing number of affiliate links she had. She was frustrated that every product seemed to have a different affiliate system to manage it, and she was forever logging in to get links.
I do still have to do that, but at least I've upgraded from a wonky spreadsheet to a convenient way of searching, displaying, and managing them all easily.
The Solution
Then one day, while devouring some of Pete McPherson's excellent content at Do You Even Blog, she stumbled upon his Lasso plugin review and tutorial.
Elizabeth said she was attracted to Lasso because it was cheap and did something she needed.
Other tools cloak links or didn't do any more than her current redirection plugin (and she didn't need another one of those).
She was also attracted to Lasso because it has customizable displays, and she could present links in a way that breaks up her blog post's text.
"It's more than just the link," says Elizabeth, "it's also a graphical way of showing information that fits well with my blog's theme. I'm trying to make longer articles more interesting without filling them with stock images."
When using Lasso displays, you'll find you have multiple ways to break up your text: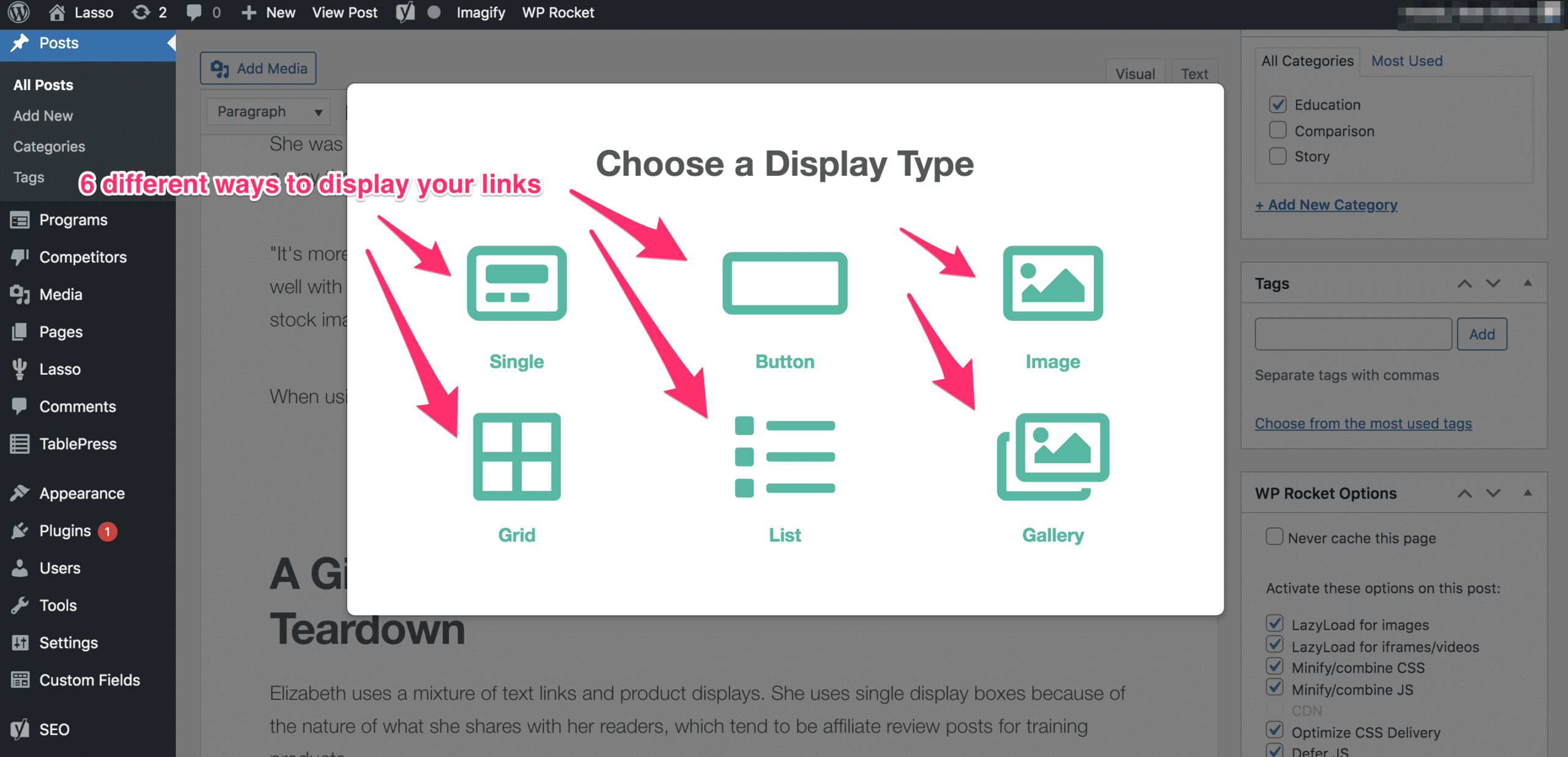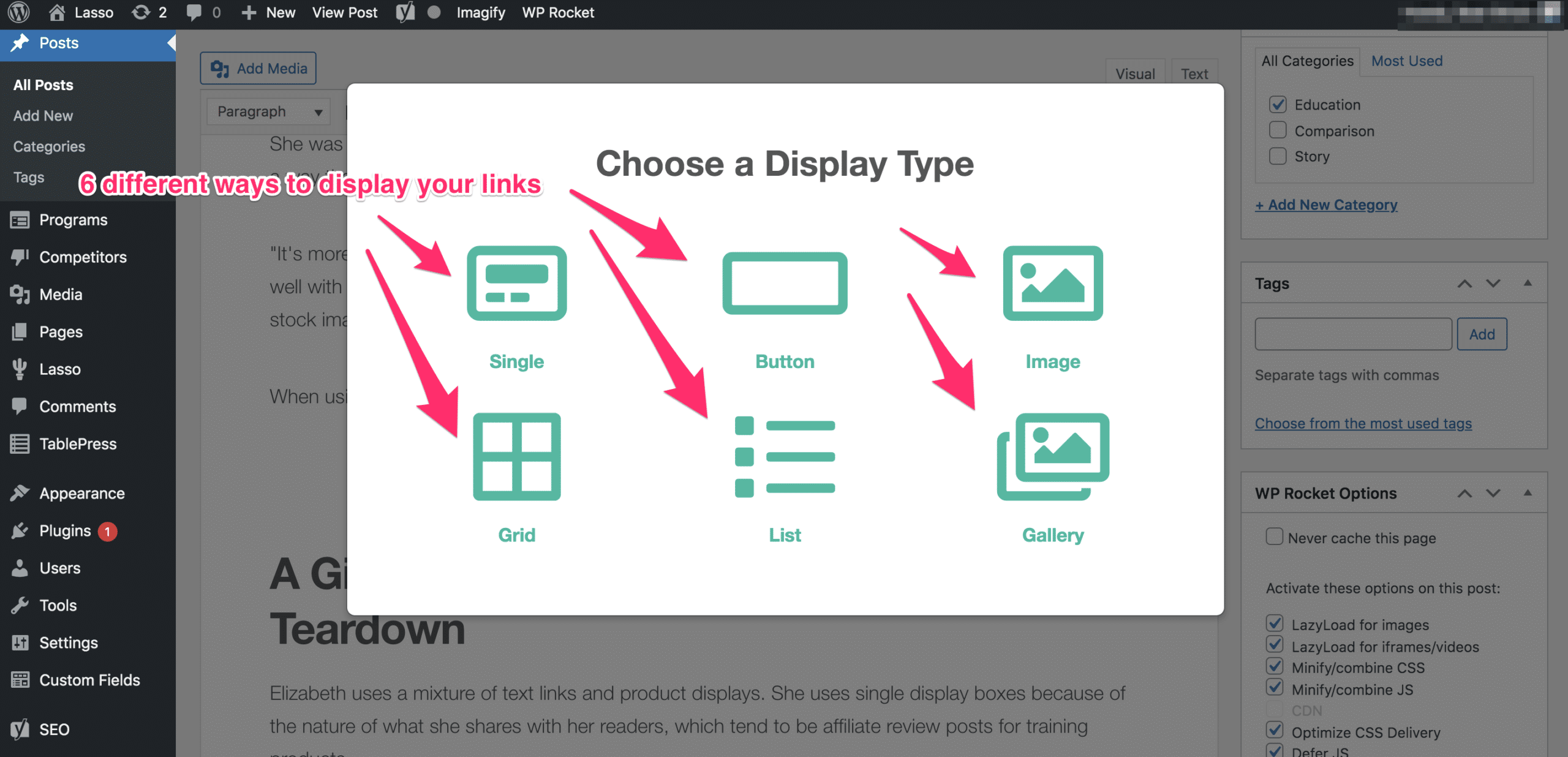 A Girl's Guide to PM Lasso Display Teardown
Elizabeth uses a mixture of text links and product displays. She uses single display boxes because of what she shares with her readers, which tend to be affiliate review posts for training products.
What she's found particularly helpful with these display types: how easy it is to include the proper affiliate disclosure.
I'm in the UK and it's really important for me to disclose affiliate links. It annoys me to see other sites not do this! I do the very best I can to be transparent for my readers at all times and Lasso helps with that because the disclosure is built right in.
Content Types
A Girl's Guide to PM uses both informational "How-tos" and commercial investigation (product reviews) style posts when displaying her Lasso links.
Using Non-Affiliate Links: Elizabeth also uses Lasso to promote her own digital products along with her affiliates.
Her post How to Earn Leadership PDUs for PMP Renewal (below) uses a Lasso display to promote her digital product: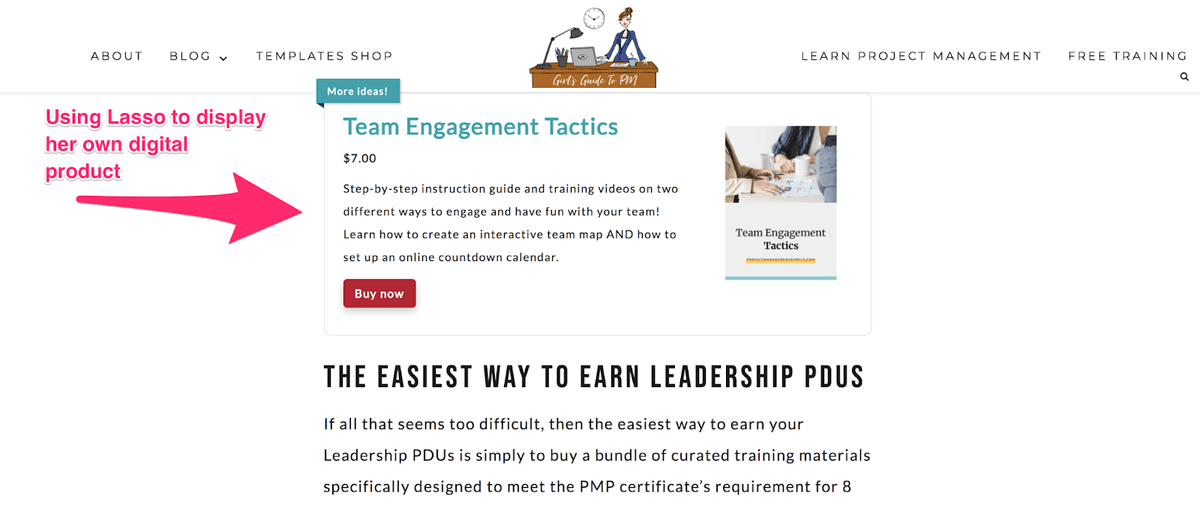 And here's how she uses it to display an affiliate product in the same blog post:

When using Lasso, you can use the default affiliate disclosure or write your own.
Sidenote: Lasso generates disclosures with every single display, but you can choose to toggle it to the "off" position inside your product URL's page.
Toggling the disclosure "off":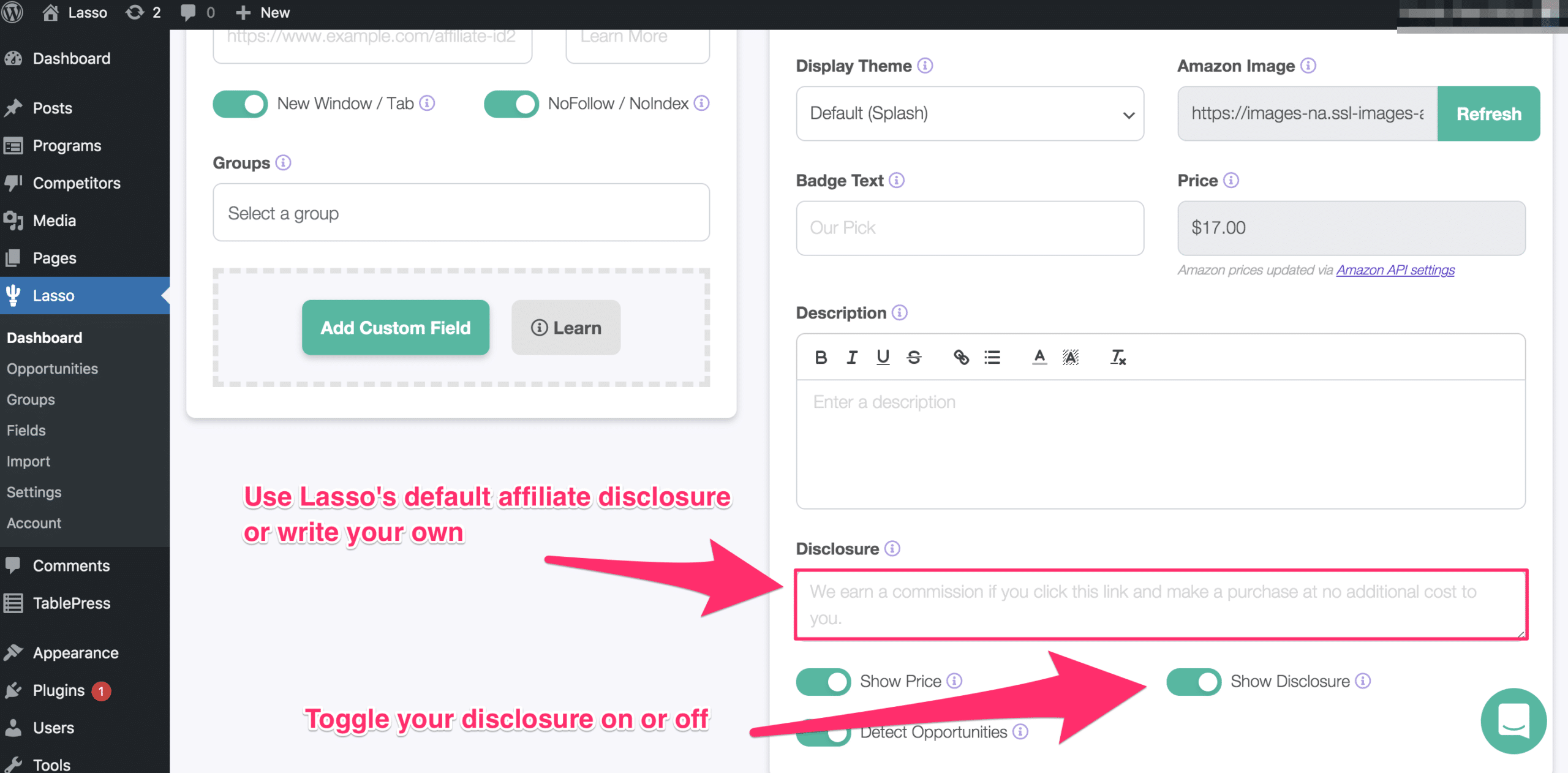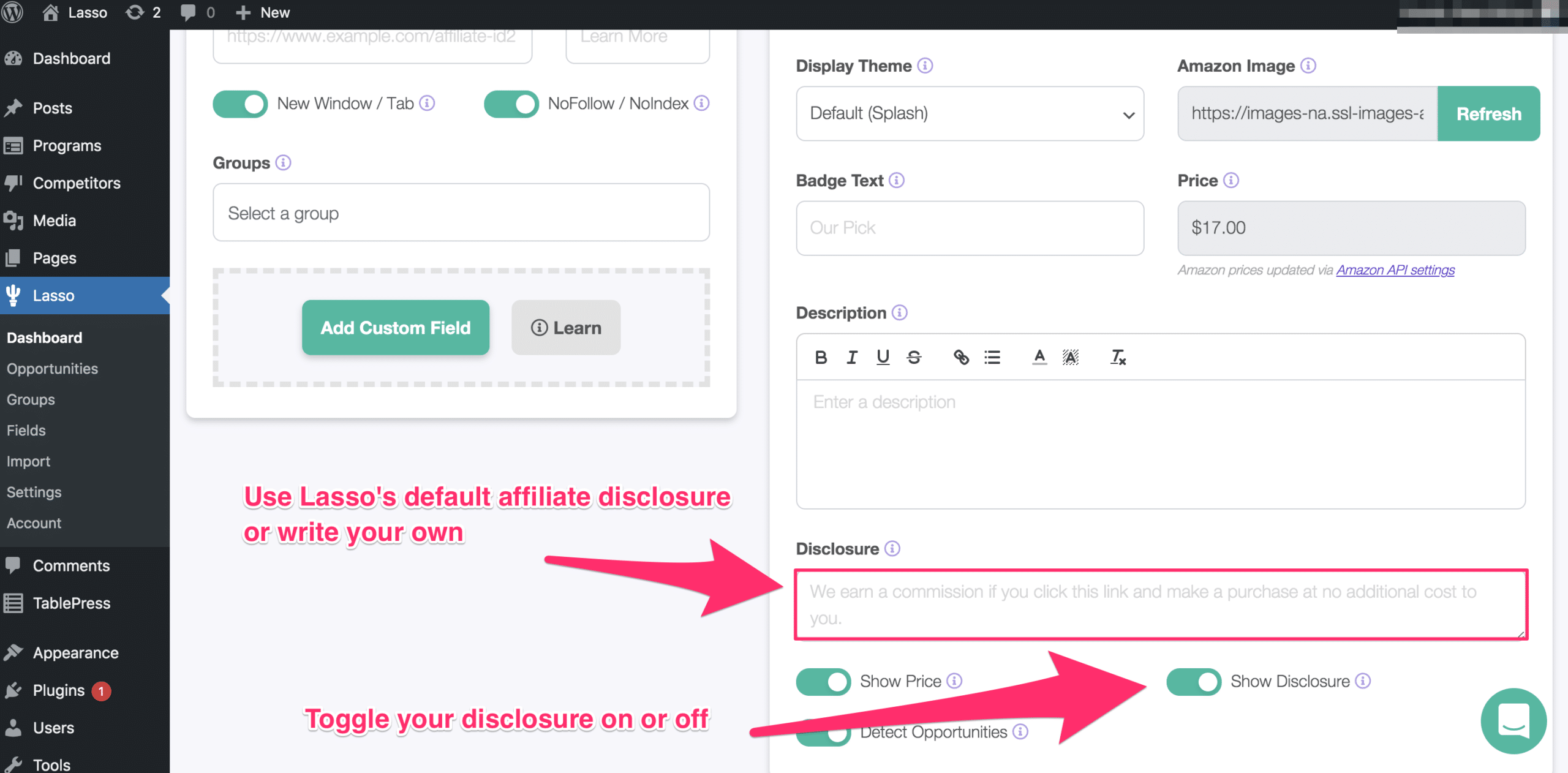 You can also add badges to any product display with customizable text.
The above example informs her readers of a unique product feature that produces a desired outcome (Earn PDUs) when you listen to a specific podcast.
In the below example, Elizabeth uses a badge in her BrainBOK product review to include a personal recommendation as an "Essential Read."
To customize your display's badge text, head inside the product's page here: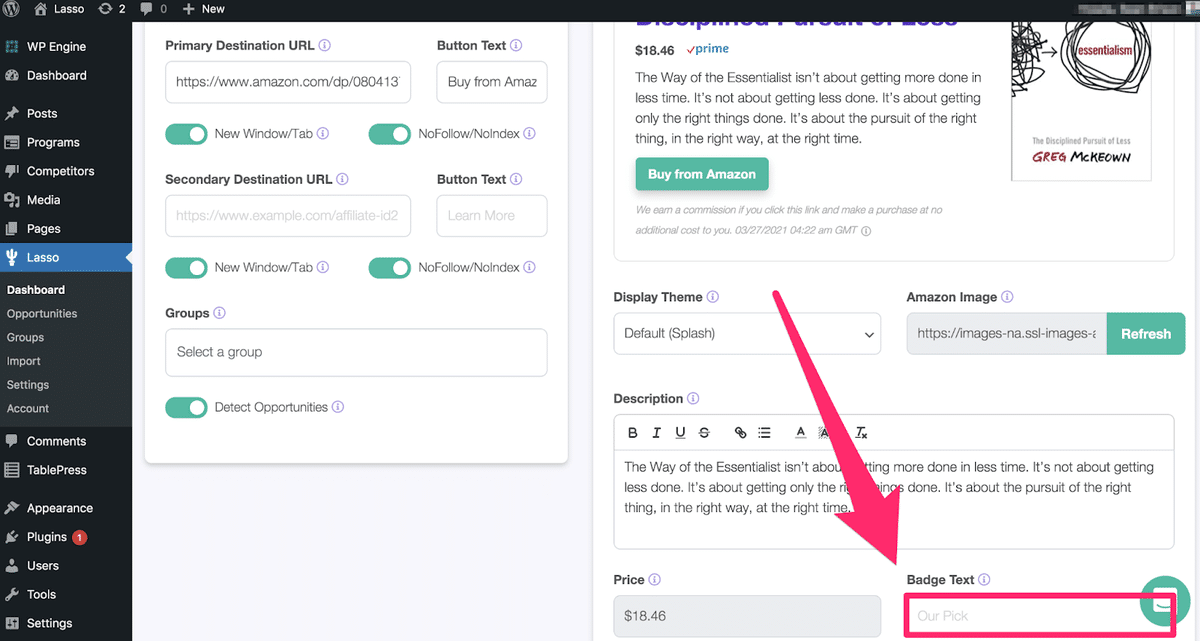 Further Reading:
Lasso automatically includes the Prime logo with all eligible products. And if you ever want to hide the Prime badge, head to Settings > Amazon and toggle the "Show Prime Logo in Displays" to off.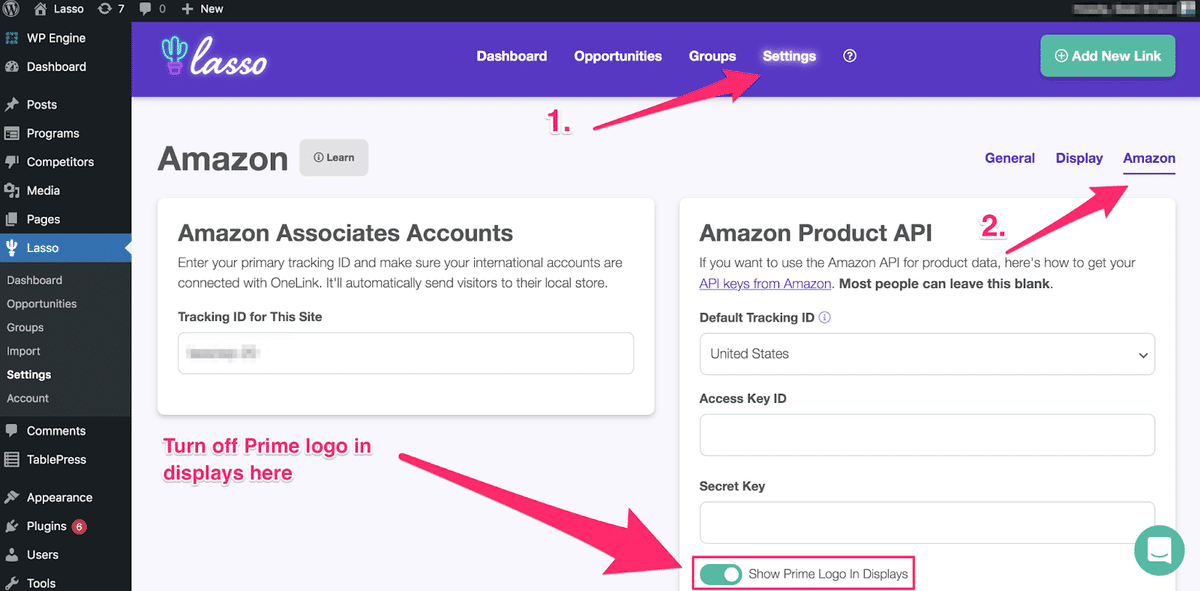 Why Lasso?
With so many plugins only offering one or two features (or designed poorly), Lasso outshines competitors with the enormity of tasks it helps its customers achieve.
As Elizabeth mentioned, updating links with one click is great. Still, the default affiliate disclosure feature, the ability to add images, the custom displays, and the Opportunities report (more on that below) have all been game-changers for her.
I also appreciate the modern feel and look of Lasso.
How Does Lasso Compare?
Elizabeth admits it was an effort to get started but doesn't recall it taking a substantial amount of time. When setting up Lasso, it also allowed her to check all of her links were still relevant and updated with the posts.
FYI: Lasso sends link alerts to your dashboard to inform you if they're broken are directing your readers to an out-of-stock product.
The most time-consuming part for Elizabeth was optimizing her links using the Opportunities report.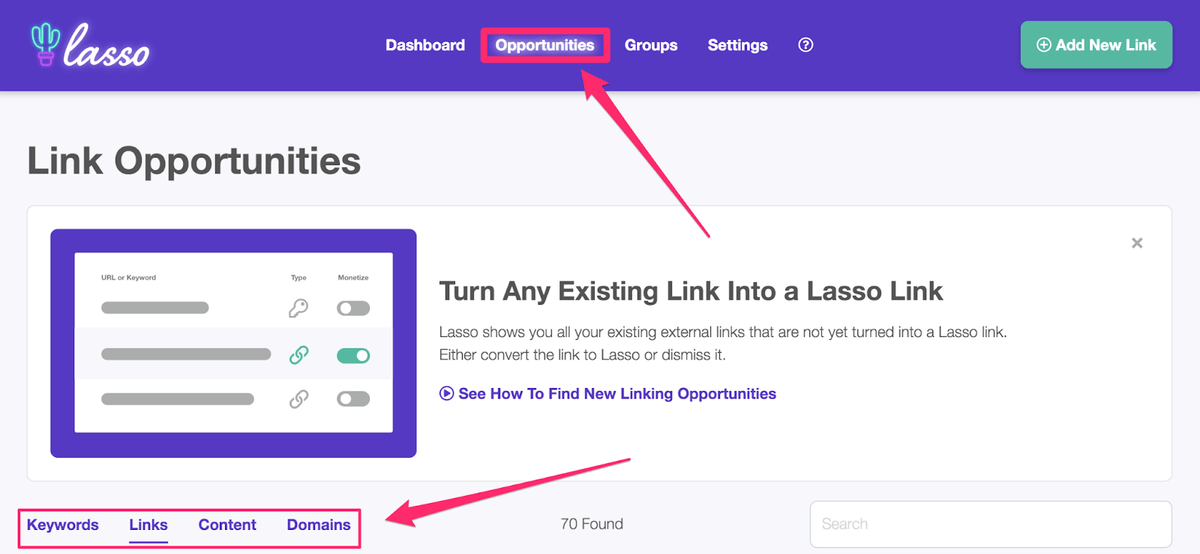 Sidenote: Lasso's "Opportunities" report recommends where you could potentially monetize your links. 
You can scan your site for income opportunities with these filters:
Keywords
Links
Content
Domains
For example, if you link to a specific domain's homepage a lot, find out if they have an affiliate program.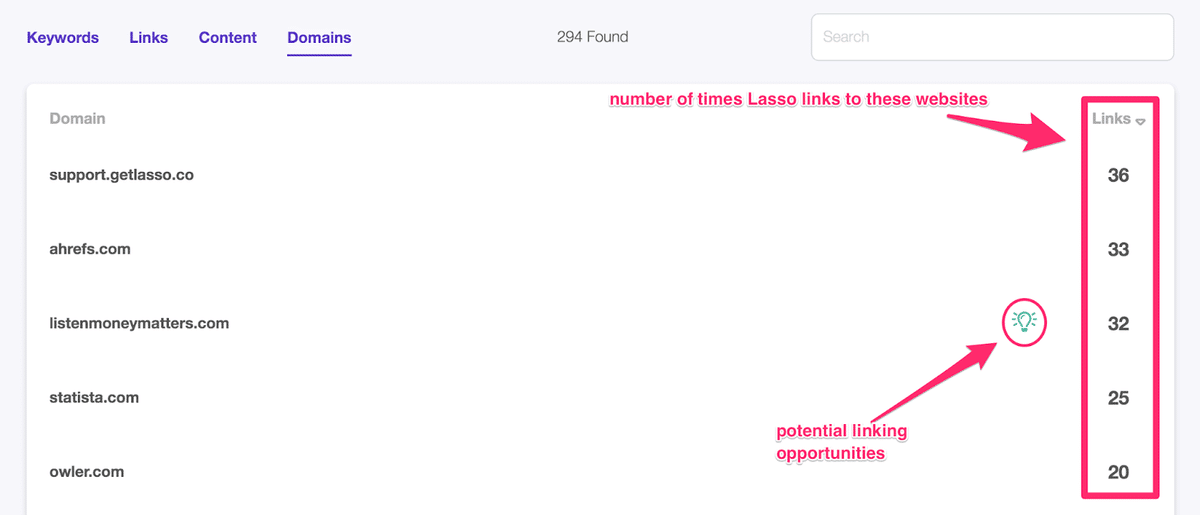 If we use Lasso on our own site as an example,  you can see we link to Ahrefs 33 times when using the Domains report.
Head to Opportunities > Domains to gather data from this segment of your site.
If we wanted to monetize those links, we could find out if Ahrefs has an affiliate program (they don't) by either heading to Lasso's affiliate program database or running a Google search using the query "Ahrefs affiliate program."
Tip: For finding an affiliate program in your niche, replace "Ahrefs" with relevant brands from your industry. So it'd look like "[company name] affiliate program."
Imagine running this query with another domain you already link to multiple times. Instead of linking to their homepage, link to their affiliate program.
You could sign up for that company's affiliate program and convert all of those mentions into monetized links.
Further Reading:
Earnings Example Before and After Lasso
Elizabeth did share with me a couple of earnings reports. One is from a course at Teachable, and the other is her total affiliate commissions.
I have about a dozen different small affiliate programs, all on different platforms, unfortunately. So that's another reason why Lasso is helpful for me.
She's paying more attention to her affiliate revenue since installing Lasso (as it seems earnings are trending up).
Here's an example of her commissions for the 12 months before getting Lasso:
And here's the same report after: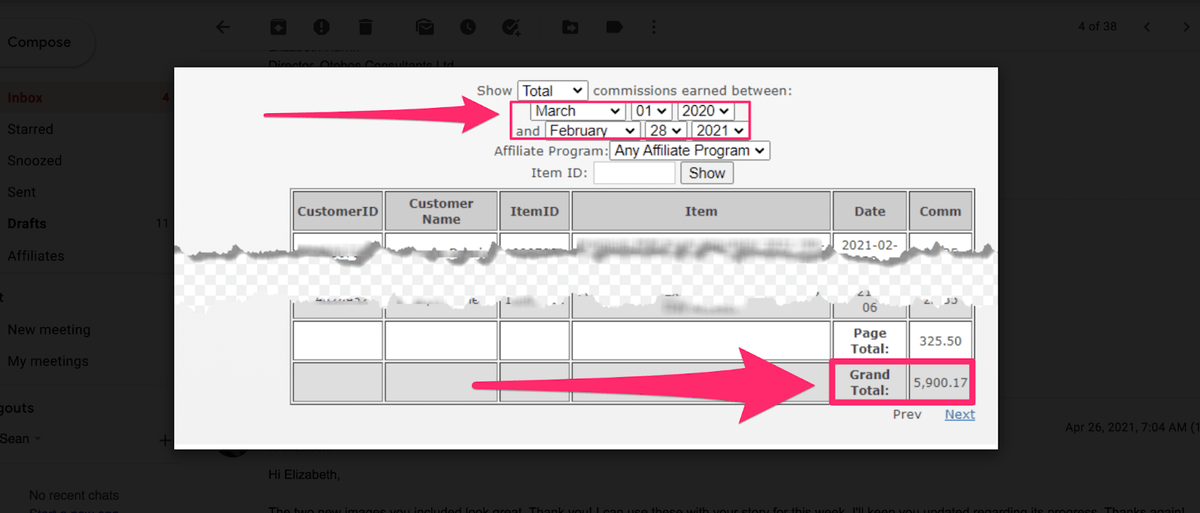 A 352% increase!
And here's a before Lasso shot of one of her courses in Teachable:

And here's one from after:

Most of her revenue is processed via Nanacast, which only gives numbers and not a graph. She doesn't use companies like Samcart, Impact Radius, or CJ.
So, Elizabeth doesn't have an 'affiliate dashboard' similar to how most affiliate networks display earnings.
Elizabeth mentioned she hadn't been actively tracking which specific displays perform well. But collectively, she notes an increase from before and after Lasso.
Elizabeth started using Lasso in March 2020. She notes that some data isn't conclusive, but it does look like an upward trend in affiliate revenue, which she hopes continues.
I'm not looking to switch products any time soon.
Ready to take Lasso for a test drive? Discover all of the ways you can use it to your site's advantage. Sign up for Lasso today.
Our creations in your inbox, weekly.
We've built multiple six-figure online businesses that our moms are proud of.
We'd like to help you do the same.