Are you looking for a list of WordPress Amazon affiliate plugins to make running your business easier? You're in the right place.
After building multiple successful affiliate sites, we've learned a thing or two. We know what challenges affiliate marketers face because we've experienced it first-hand.
This post covers 13 WordPress affiliate plugins that'll help with the Amazon Associates program.
Let's get started.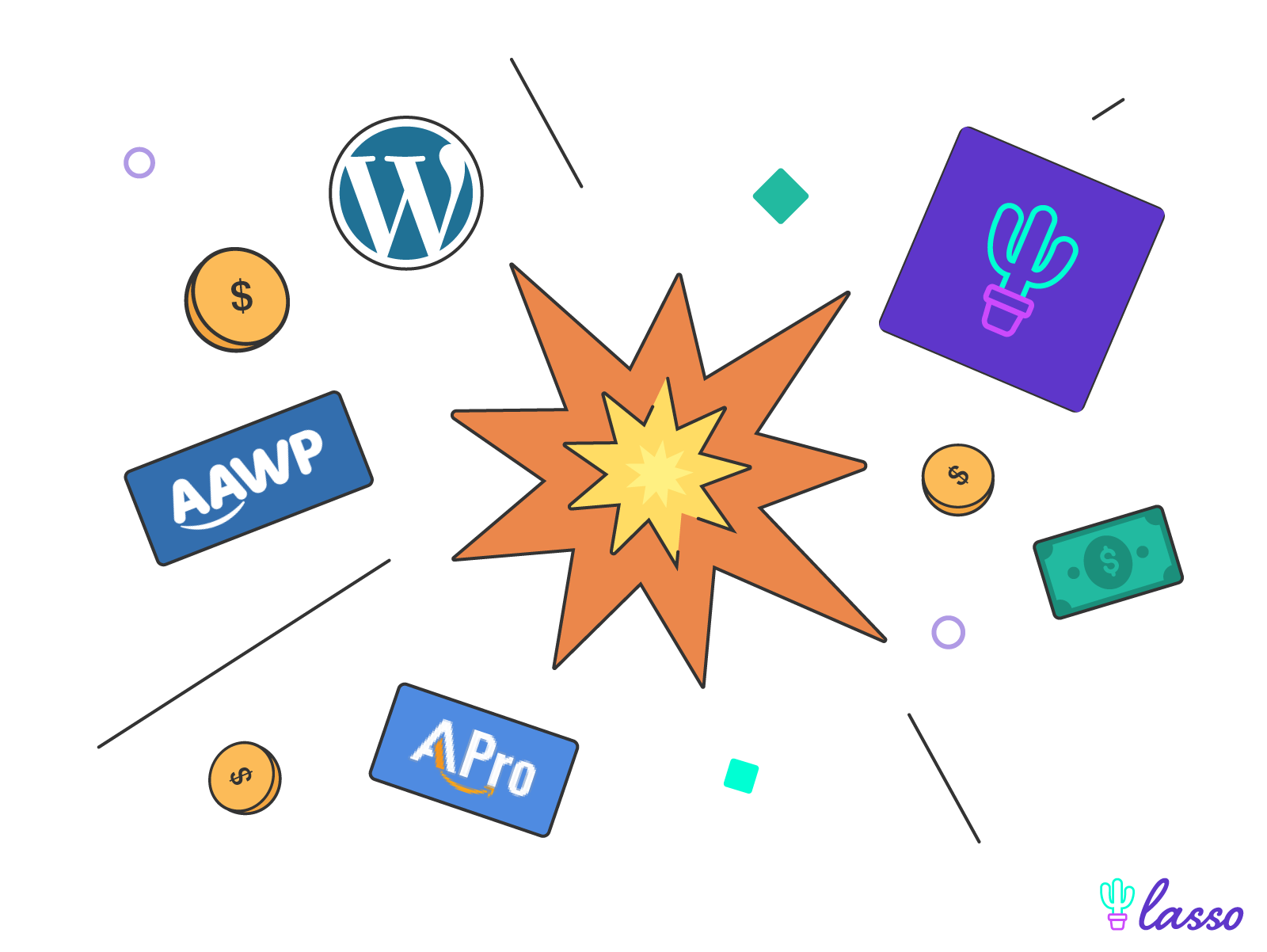 1. Lasso
Lasso is a suite of affiliate marketing tools to help boost conversions on your WordPress site. It's a plugin that works with every affiliate program on earth.
We built it to help you (quickly) create custom displays, find unmonetized link opportunities, and manage all of your affiliates in one place.
Our Pick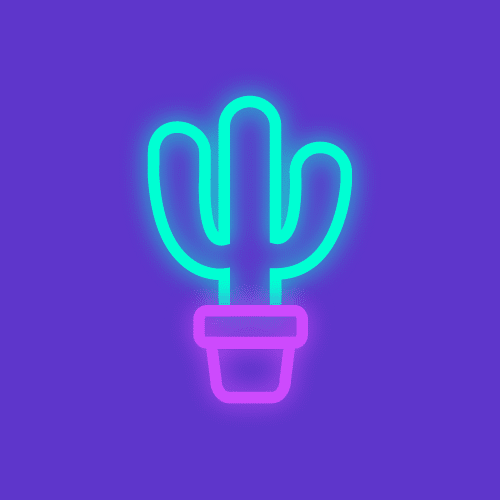 You can add Amazon affiliate links to your content using display boxes, which are updated every 24 hours. You'll only need to add the Amazon URL without needing API keys.
When Amazon makes a price or image change, Lasso instantly updates the displays across your site. And you'll get alerts when products are unavailable or out-of-stock.
You'll be able to monetize your international traffic through link localization. Whenever someone from another country clicks a link, Lasso sends them to their country's local Amazon store.
A few other ways it can be useful for affiliates:
You can organize your links into groups and showcase them as lists or grids
Enable specific text to appear as a badge in your product boxes when flipping on the "Badge Text" function
Using the "Detect Opportunities" feature to locate unmonetized affiliate link opportunities via keywording
It also features Google Analytics integration so you can track your top-performers.
Lasso comes with a 14-day free trial. For a full features list, read this.
2. AAWP (Amazon Affiliate WordPress Plugin)
AAWP is a WordPress plugin designed specifically for Amazon affiliates.
Its core functions include customizable text link placement via shortcode, enhanced single and multiple product boxes, and use of data fields to display individual product information.
The plugin generates affiliate links for you with a personal tracking ID, and all of the product data gets updated automatically through the Amazon Product Advertising API.

You can use multiple, customizable displays to showcase a product's price or description and then add them to your pages.
If you're creating comparison tables, you can design them yourself using its table builder.
You'll have a couple of creative ways to display your affiliate products as well, which include:
Bestseller lists by product group or keyword
New release lists of the latest products
Another means of highlighting your product information is through widgets. You can integrate them into your sidebar using the above-mentioned functionality.
For more adjustments, you can also place shortcodes in a text widget or Visual Composer.
AAWP is responsive, mobile-friendly (features Google Accelerated Mobile Pages support), and supports caching, which boosts performance and minimizes API requests.
And via Geo-targeting, AAWP sends international users to their local Amazon store, letting you keep the commission.
The plugin also lets you earn extra commissions when you refer Amazon Prime customers.
Pricing starts at €39 (~$46 U.S.)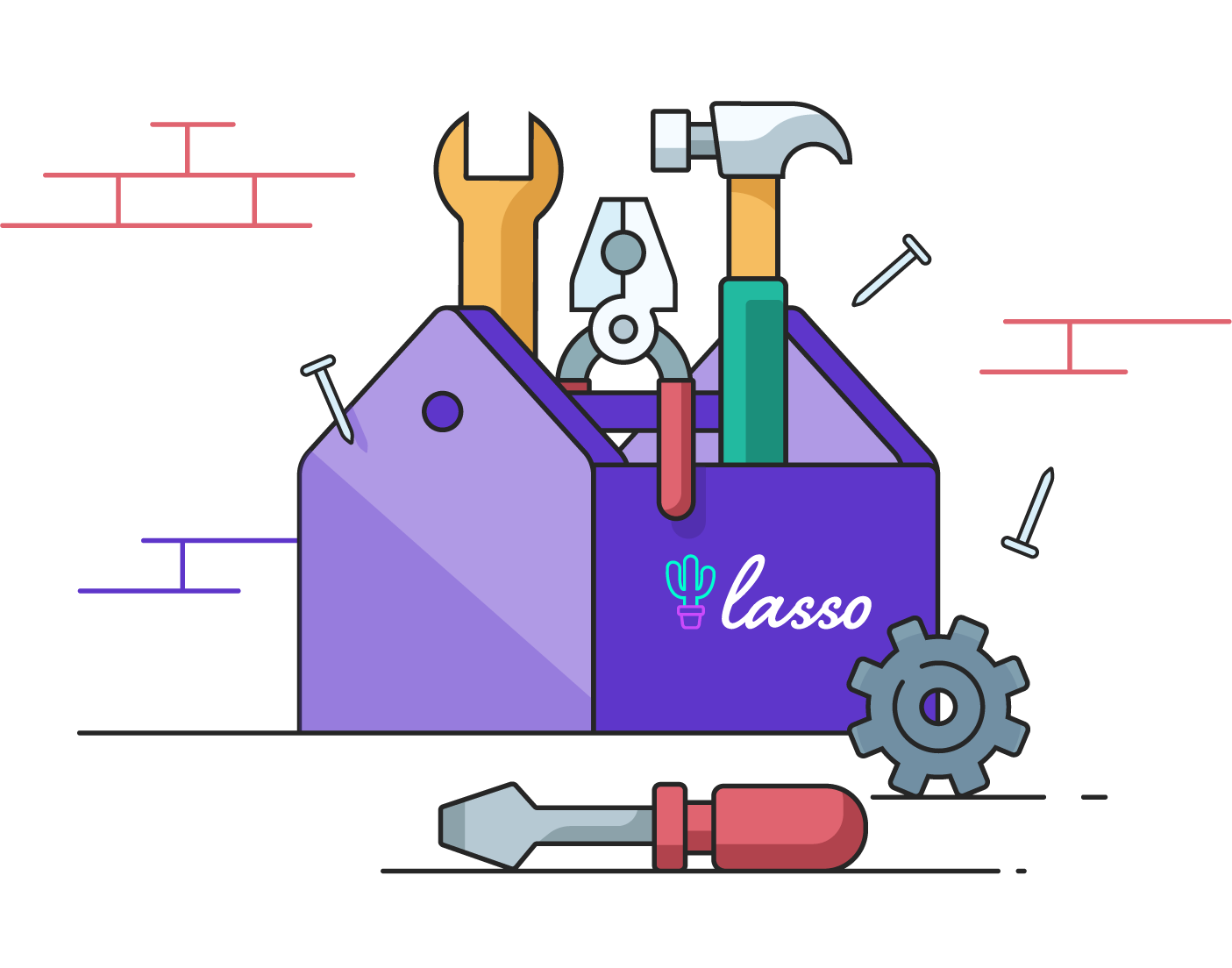 Get our FREE toolkit and checklist for writing articles that convert.
3. AAPro 
AAPro (Amazon Affiliate Pro) is a plugin for e-commerce, works hand-in-hand with your online store, and connects to Amazon.
It features an on-site shopping cart where your customers can add products to their Amazon cart (without leaving your site), which then syncs to their Amazon account.
When they're ready to pay, they're taken to Amazon's checkout page where you'll get a commission after they make a purchase.
In addition, AAPro can:
Create wishlists
Alert you when there's a change in price on Amazon
It's compatible with any woocommerce plugin but also has its own customizable, responsive theme.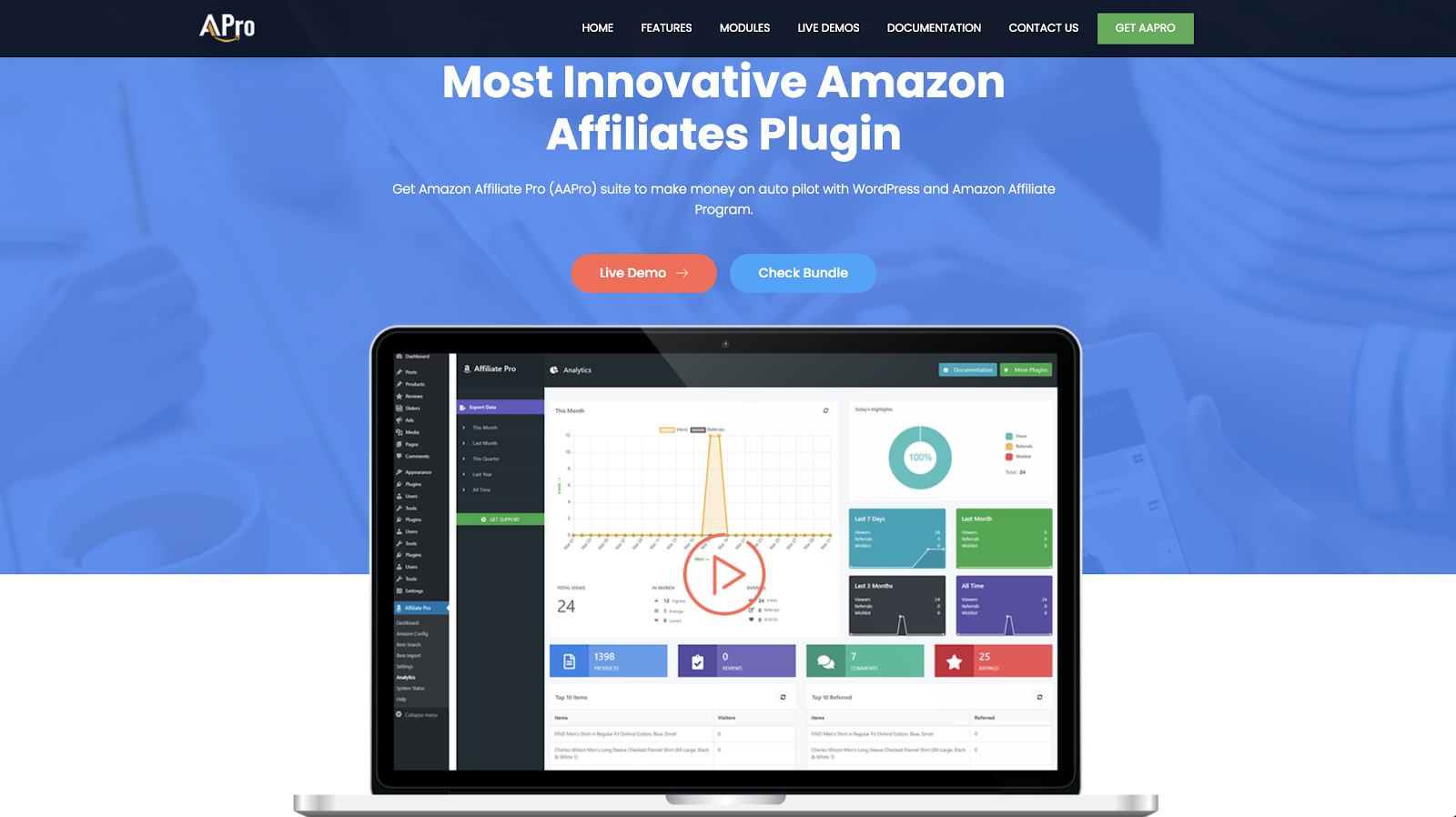 The theme is SEO-optimized with unlimited layouts and product badges. And you can easily display product information on your pages via shortcodes.
AAPro also lets you:
Import multiple products simultaneously
Integrate widgets with sidebar displays using drag and drop features
You'll also have API usage control so that you can determine its limits.
4. Amazon Link Engine
Amazon Link Engine (ALE) is a tool by GeniusLink that converts Amazon links to "localized links" (also called localization) whenever a user loads a page.
If your site gets substantial international traffic, ALE might make sense.
Essentially, it directs a shopper who clicks on your link from another country to their country's local Amazon store.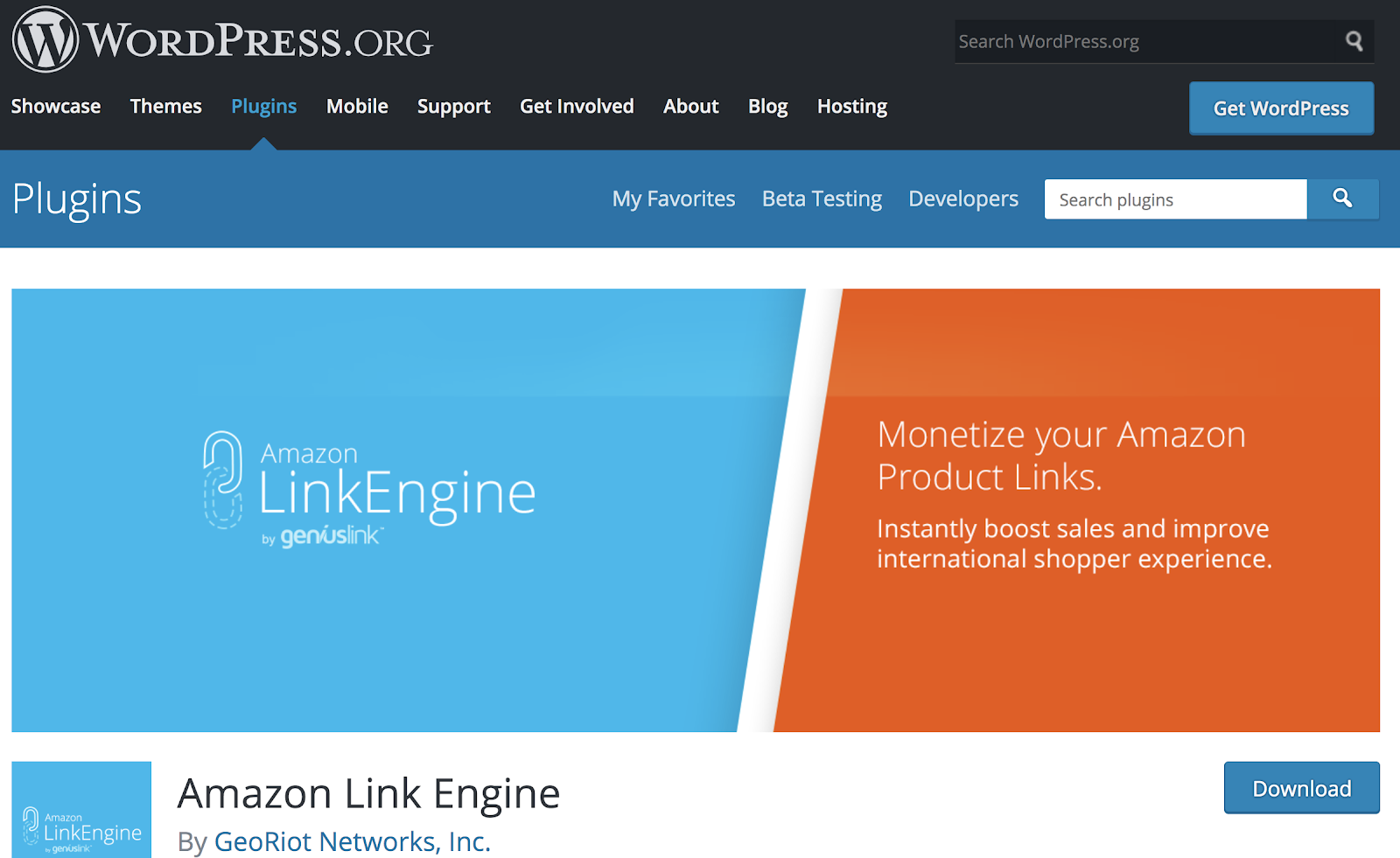 One Caveat: Using ALE is free, but you'll need to create a GeniusLink account (more on that below) to earn affiliate commissions from international traffic.
Once you install the plugin, both your current links and any future links you add instantly convert or "localize" to your visitor's home country.
ALE and GeniusLink differ from similar plugins by matching website visitors to products using more than just a product ID (different stores use different IDs, appear overpriced, or are out-of-stock).
This technology prevents sending your customers to a blank page (or one displaying a product is out-of-stock).
5. GeniusLink
GeniusLink is a plugin that helps affiliate marketers monitor and localize links. It also generates affiliate links automatically and helps you create specialized landing pages.
Once you add your affiliate ID, you only need to copy and paste the URL, and GeniusLink instantly turns it into an affiliate link.
You'll have the ability to organize links into groups, campaigns, or products, and you can instantly change a link's destination based on your visitor's location.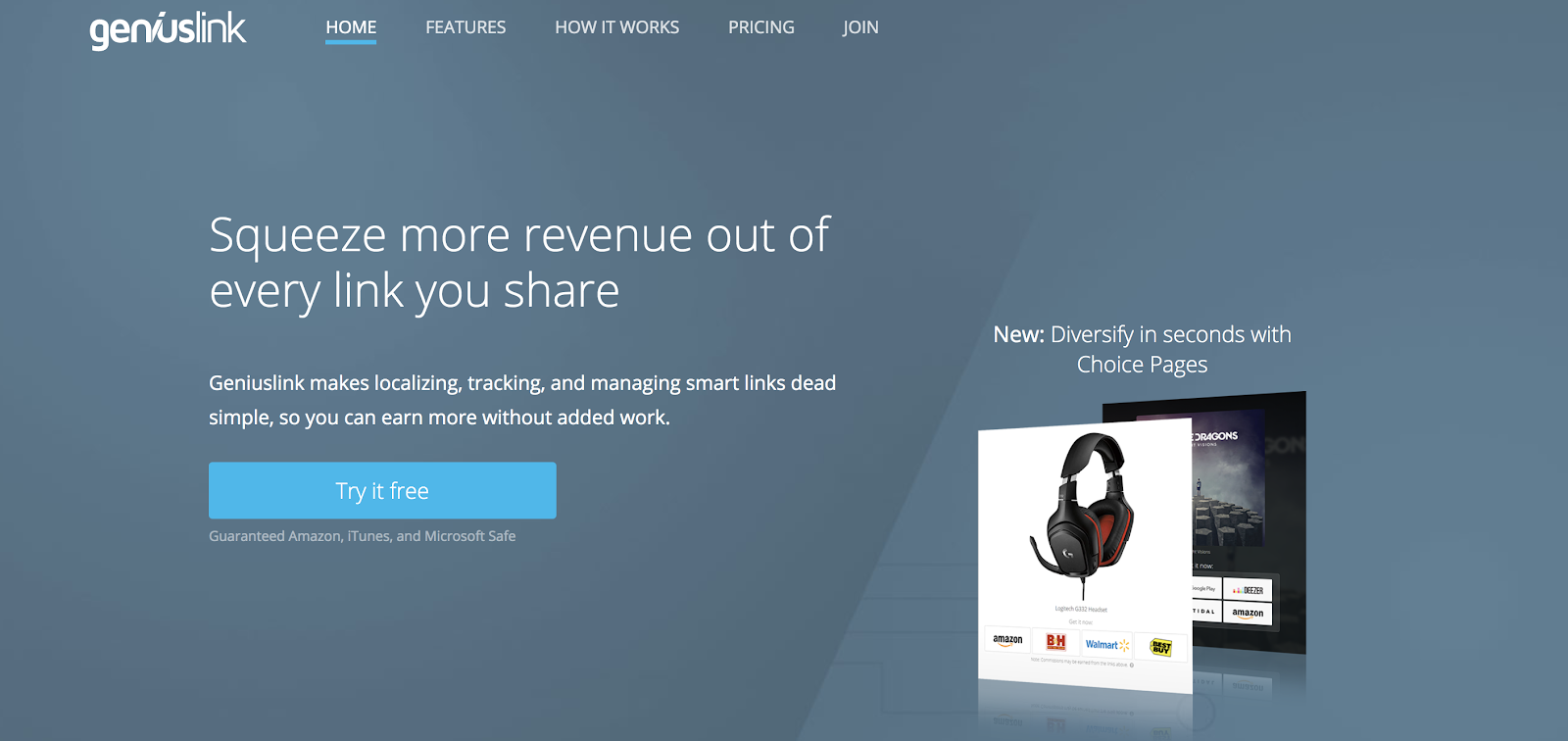 It's reporting tool lets you track, tag, and A/B test by sending particular clicks to different destinations.
You can attach UTM tags on links to compare traffic sources, campaigns, ads, and more.
GeniusLink differentiates itself from Amazon OneLink because it uses more than just a product ID when localizing links; it detects your shopper's country, language, and device.
And you can't correct the destination of a link using Amazon OneLink.
It also has substantial coverage with all Amazon affiliate stores worldwide, ensuring your customers get sent to the best page for them.
GeniusLink offers Choice Pages, which are its version of a product landing page. You'll have the option to promote a product with multiple CTA buttons.
For example, let's say you're promoting a pair of headphones on your blog.
Choice Pages lets you create multiple CTA buttons for not only Amazon but other storefronts like eBay or Best Buy.
And it'll grab the images for your product if not using your own.
6. AmaLinks Pro 
AmalinksPro is an affiliate marketing plugin that lets you add product displays and Amazon affiliate links to your website's pages.
Its showcase boxes pull the product's image, listed highlights, and updated price into a desirable display.
You can display products without accessing the API key, and it lets you insert customizable comparison tables using its table builder add-on.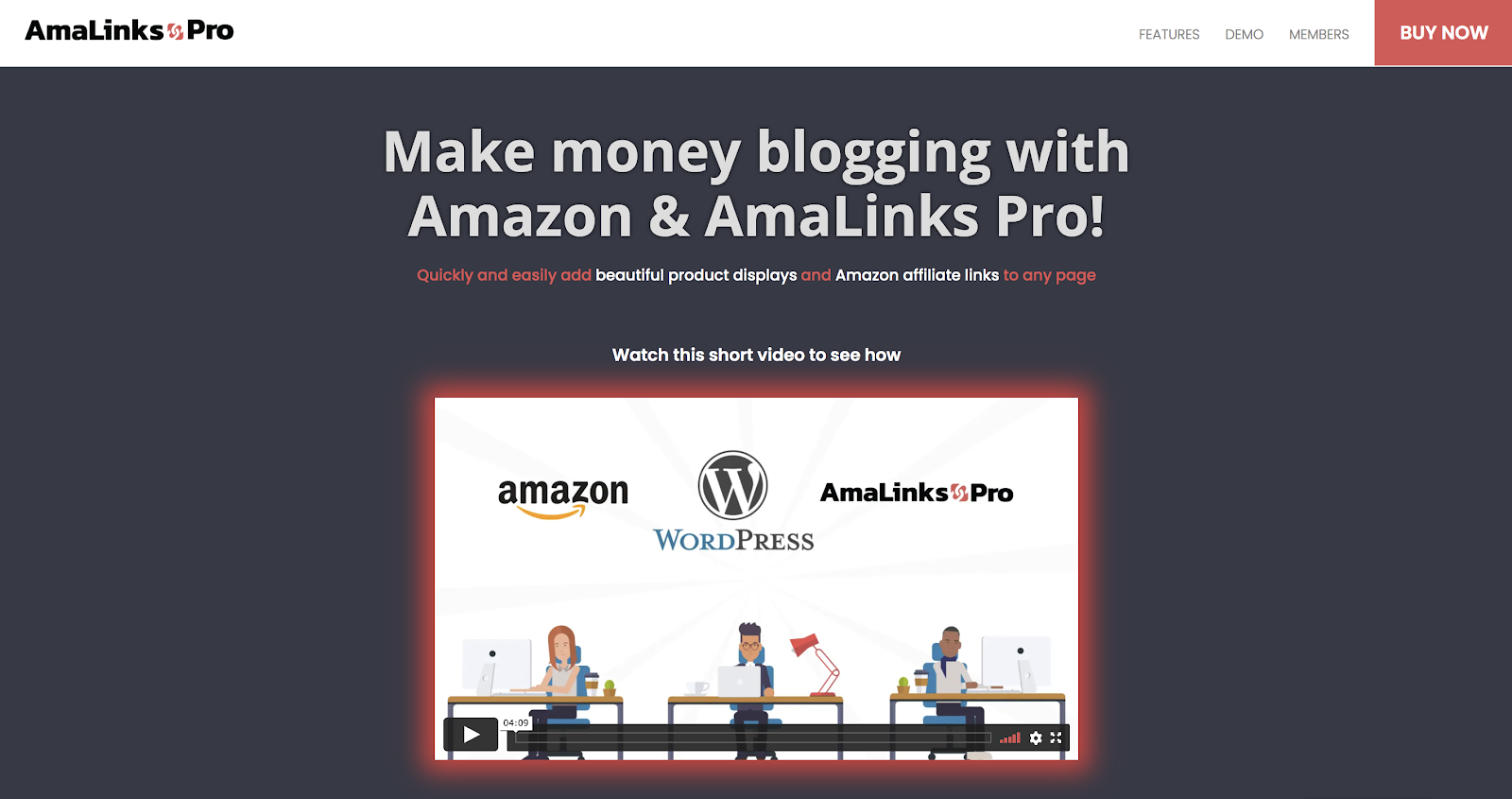 The plugin lets you perform a few other actions, including:
Inserting text and image links
Adding Amazon-compliant CTA buttons
Display product images, ratings, and reviews using Amazon API data
AmaLinks does fall short in a few places as its "No API" feature often fails, leaving the user waiting for the display to load (which may increase bounce rates); its mobile responsiveness is inconsistent, and it's not as user friendly as some of the other plugins listed here.
7. WZone (WooCommerce Amazon Affiliates)
WZone is a WordPress plugin that lets you import and promote Amazon products on eCommerce websites.
Once you install the plugin, you'll search for items by keyword and import directly.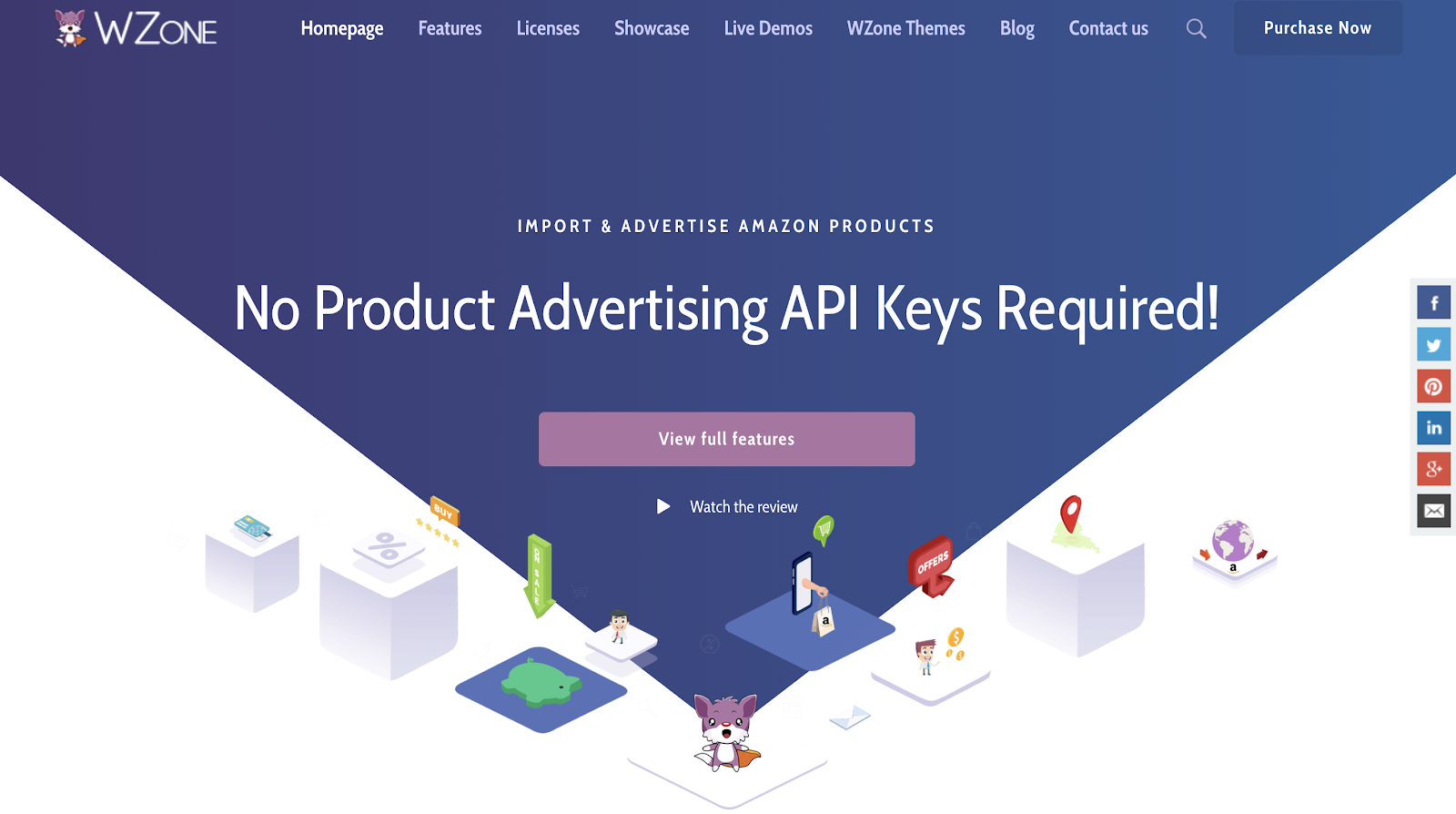 By using the APIs, product details update automatically to reflect an item's current price.
If you don't have access to the API key requirement, you can use WZone's synchronization module to keep all product info up-to-date.
You'll have two options when doing this:
Use frontend synchronization when a customer lands on a product details page
WP Chron synchronization which syncs multiple products simultaneously
WZone's "product availability by country" box lets you know a product's availability on every affiliate program you belong to.
There's also a cross-selling feature that works similar to a "frequently bought together" module like what you see on Amazon.
On each product you import, you have the option to display its related products.
And when using the dropshipping feature, your customers can buy items directly from your site.
They have four available WordPress themes with pricing at $49 per website install.
WZone offers no group plans, so if you have multiple websites, you won't receive a discount for buying in bulk; you need to buy a license per each install.
8. AzonPress
AzonPress is a premium plugin for creating affiliate links, product boxes, and comparison tables. You'll install it to your WordPress site, link your Amazon Associates account, and add links automatically.
Its functionality extends beyond simple product boxes, as you can create grids, lists, and even add "Best Pick" to specific items using pre-built templates.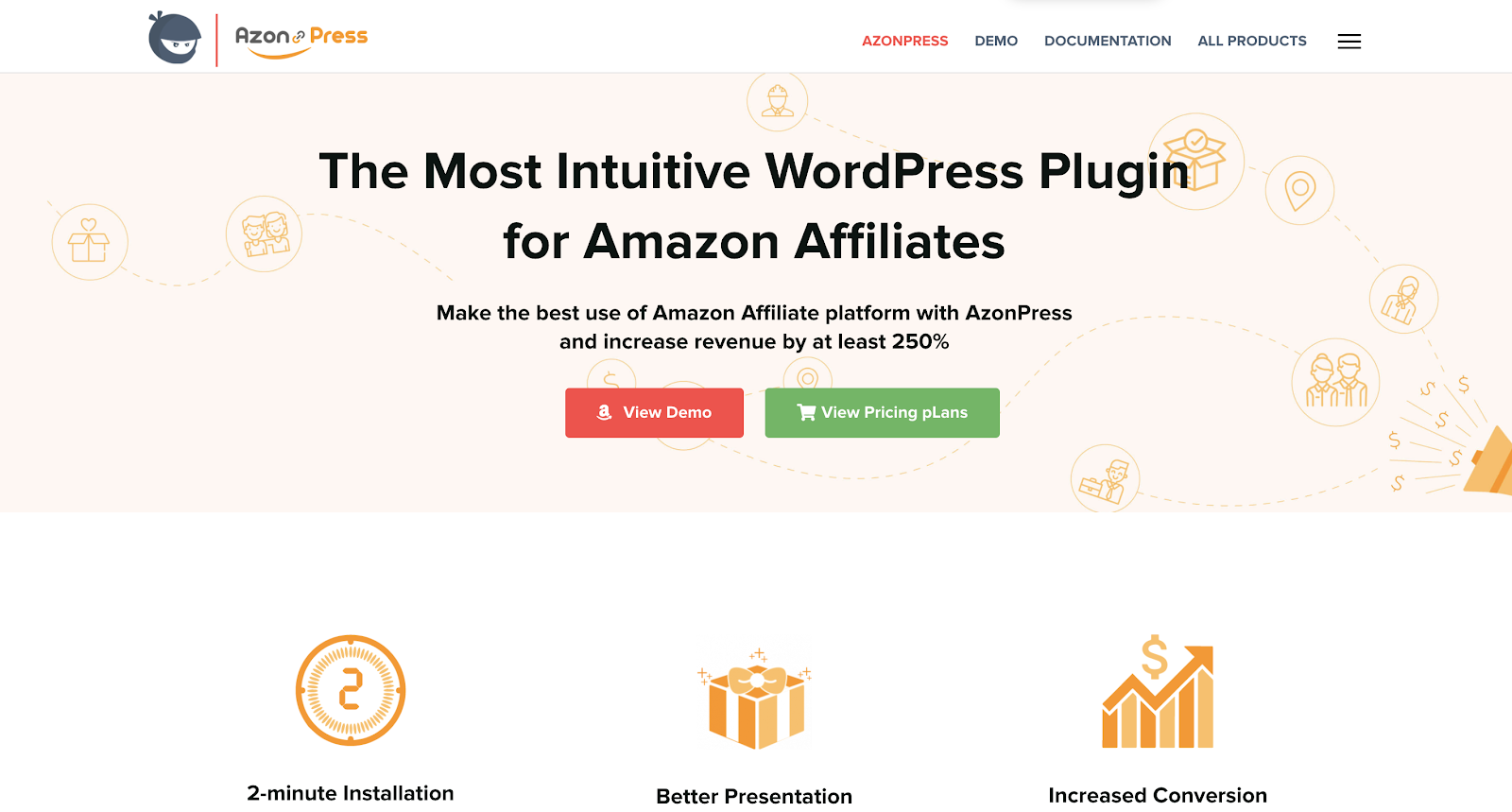 You can search for products to use in your displays by keyword or ASIN, and it pulls up all relevant information.
Affiliate links can display as either:
Text links
Image links
CTA buttons
AzonPress also features geo-targeting, so your shoppers get redirected to their local Amazon stores.
Pricing starts at $39 annually.
9. AMZ Image
AMZ Image is a plugin that lets you easily insert Amazon product images into your website using its API.
You can search for images directly from your WordPress site without having to leave it and open a new tab in Amazon.
This tool makes the most when you only need to grab a photo for your product page versus an entire display box.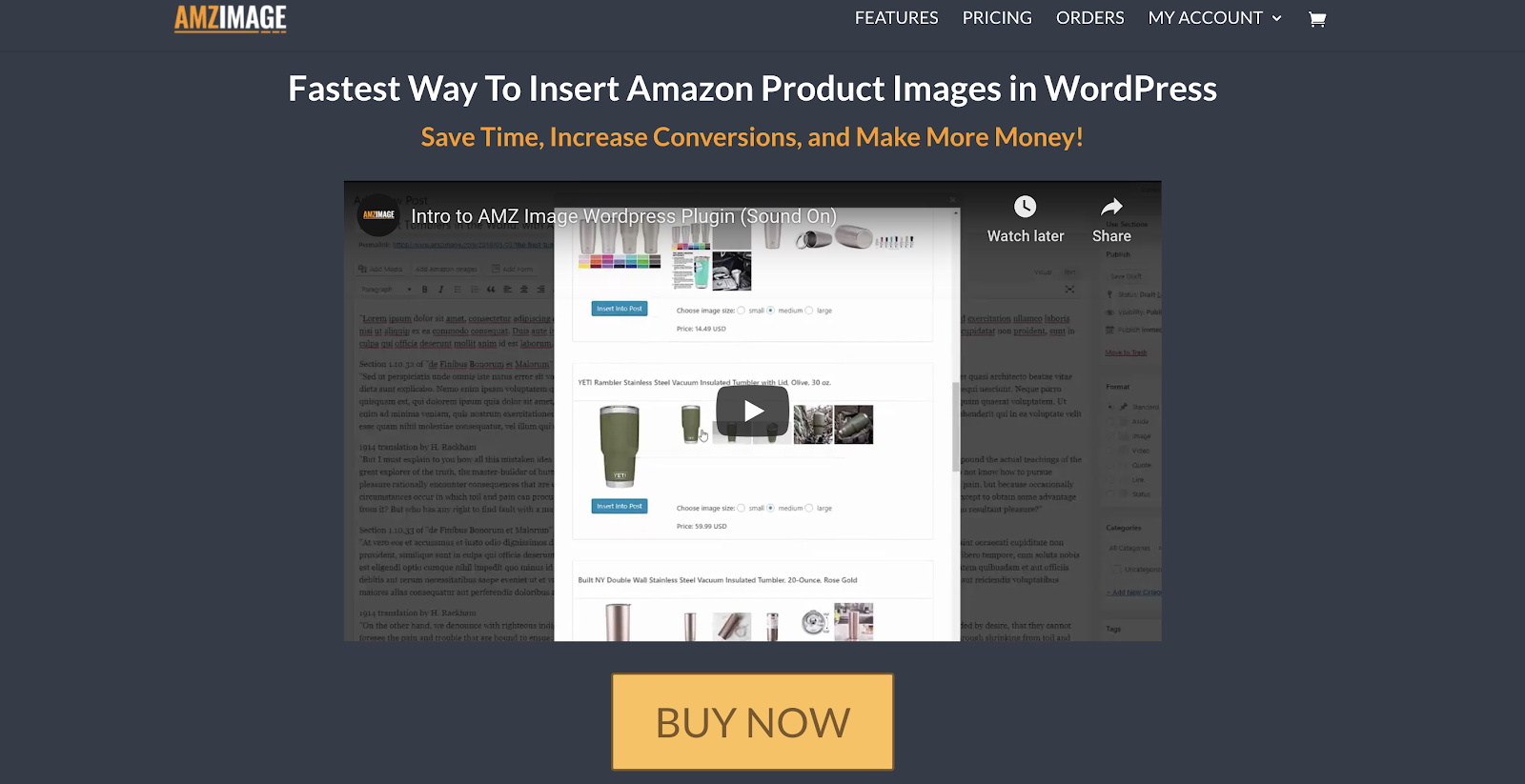 It's a good option to have as Amazon usually has a wide variety of photos. You'll also have control over the image size.
AMZ Image comes with a 30-day trial.
10. WP Table Builder
WP Table Builder lets you create an assortment of tables, including pricing tables, product lists, menus, and recipe lists, even calendar schedules.
All tables are responsive and sensitive to different device thresholds. Its drag and drop function is simple to use without needing to understand how to code.
With WP Table Builder, you can adjust cells, rows, and columns or duplicate them.
Its suite of functions also lets you:
Migrate data from Table Press or CSV spreadsheets
Add images, text, icons, and star ratings
Create and embed tables using the Gutenberg editor
All tables are pre-built and customizable with modifiable content. There's also the option to save your existing custom tables as presets.
Plans start at $39.99
11. AmazonSimpleAdmin
AmazonSimpleAdmin(ASA1) lets you add Amazon products to your WordPress site and display your products in various templates across your product pages.
You'll also have the option to display products as featured collections.
Once you deploy the shortcode, it pulls data from its APIs on Amazon stores worldwide — be sure to include the Amazon API details for all programs you wish to include.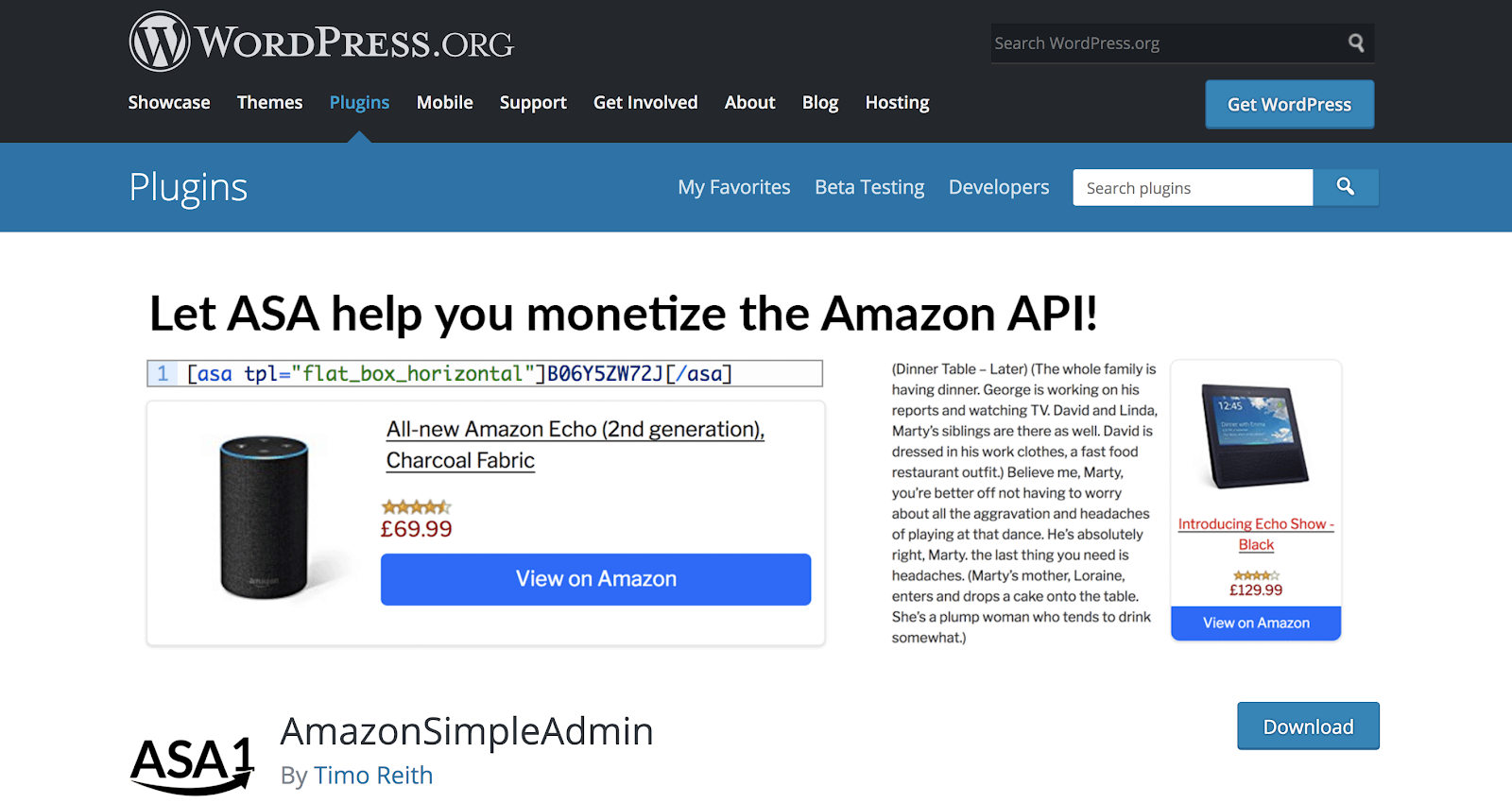 ASA(1) is a free plugin, but when you upgrade to the pro version (Amazon Simple Affiliate or ASA 2), you gain access to more features, including:
Customizable templates
Multiple caches for improved speed
Geolocation for rerouting site visitors to their origin country's store
Another upgraded feature is the ability to manage multiple Associate IDs in sets and create bestseller lists.
12. EasyAzon
EasyAzon helps add product links and CTAs across your site, which saves you from having to adjust every link manually.
You only need to integrate the plugin with your Amazon associates account to start.
Activating the plugin enables geo-targeting once you add your affiliate tracking IDs, so you can start monetizing international traffic.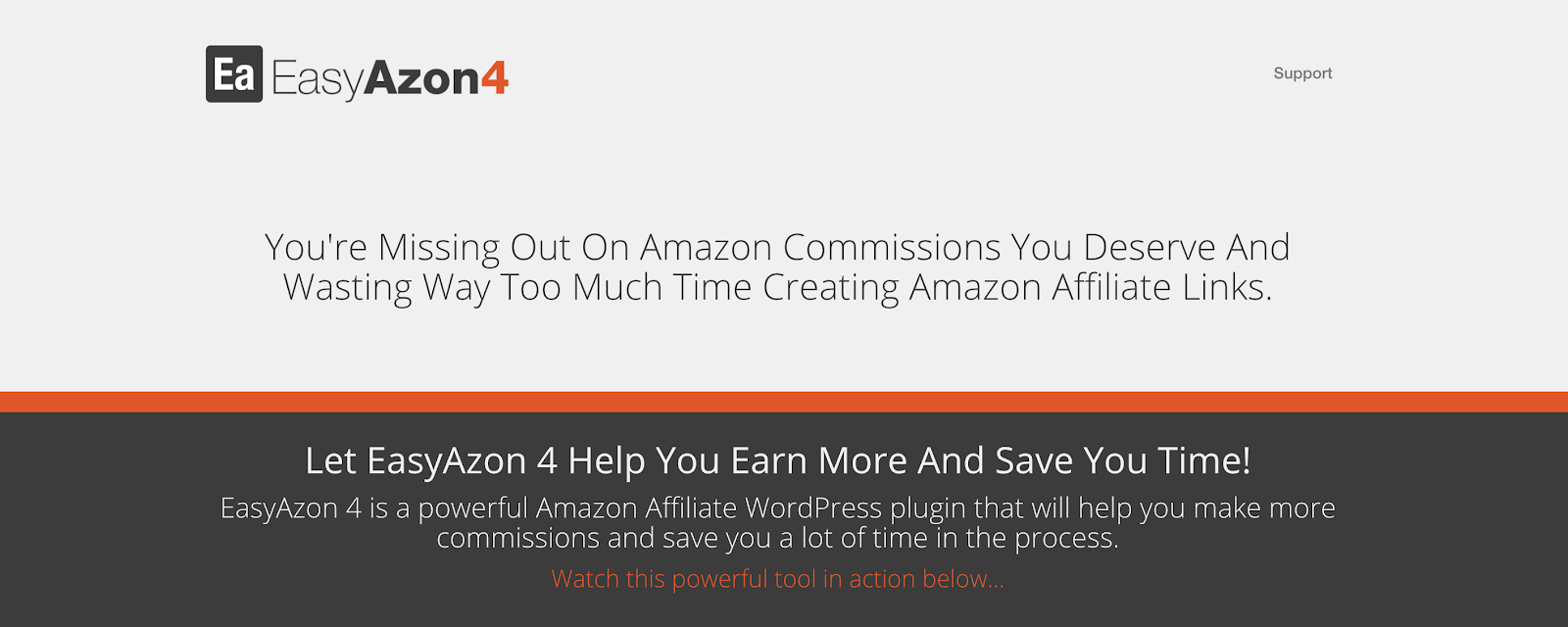 The plugin lets you automatically localize affiliate links and sets your links to open in a new tab when clicked. You can also sign up for other amazon affiliate programs for other countries.
Another feature you have access to is popups. These will appear whenever your customer's mouse hovers over a product.
Popups contain all of the product's relevant details a buyer would want to know, for example, price or size.
You'll also have an "Add to Cart" feature whenever your shopper clicks on a link.
Tip: Test this to determine when it's appropriate to use. Having your customer prompted to add an item to their cart every time they click a link is annoying and makes for a poor user experience – even with a 90-day cookie extension.
Amazon gives any person shopping a 90-day cookie – you don't need a special plugin for this. It's also not a cookie; it's an 89-day extension of only the products added to their cart from that link.
You can enable/disable the "Add to Cart" for individual links or across your whole site.
EasyAzon's newest version is EasyAzon 4 for use on unlimited websites starting at $47.
13. Amazon Auto Links
Amazon Auto Links is a plugin for Amazon Associates that keep their website updated with the latest products.
It supports all Amazon locales.
The benefit here is sidestepping the labor-intensive tasks of manually adjusting product affiliate links across your site. Why?
Because all of your links are tagged with your Amazon Associate ID, it essentially replaces outdated products with new ones.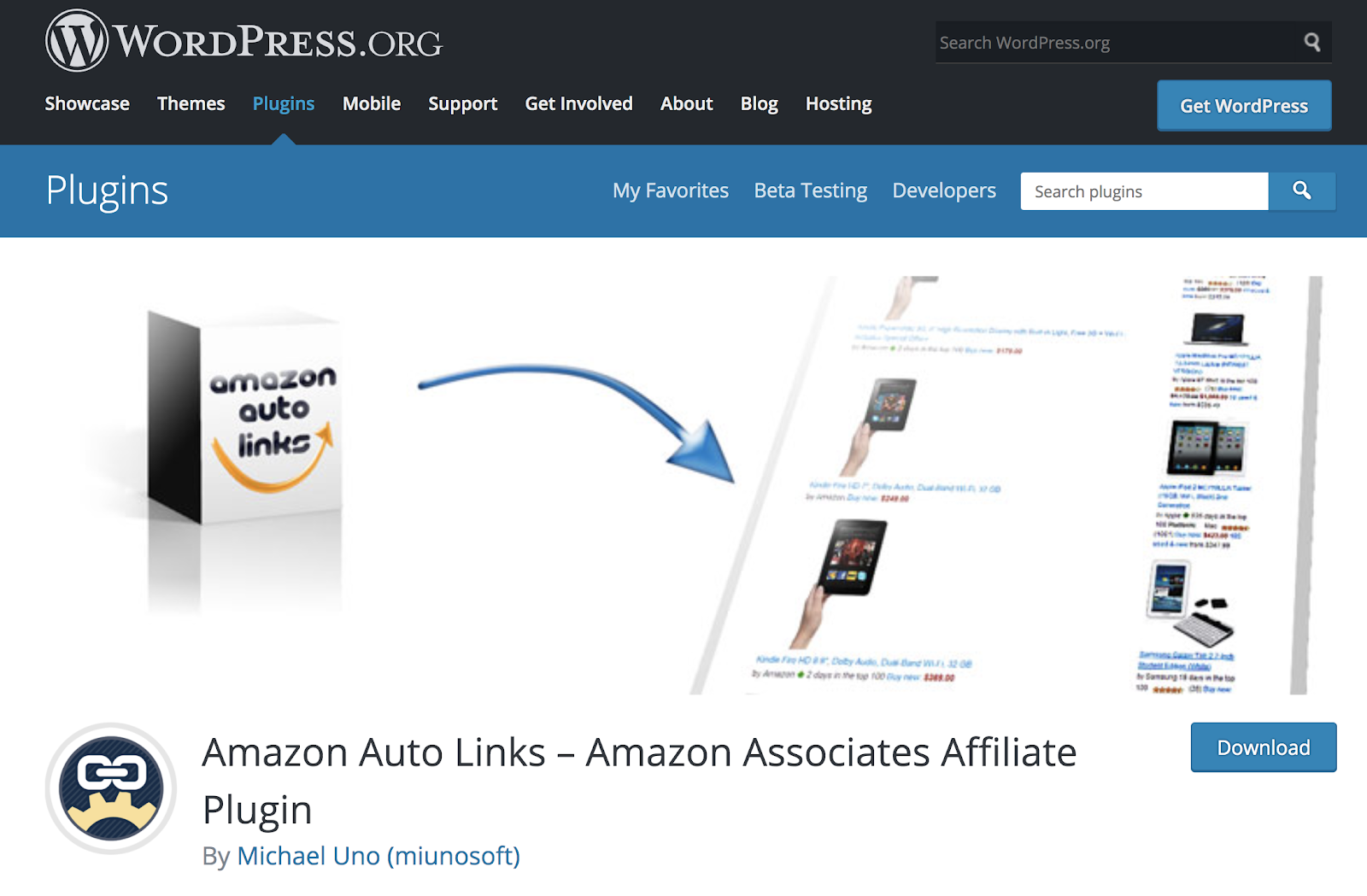 And because it's customizable, you can choose how your products display. You can show products as widgets or use shortcodes to display on your pages.
There are even advanced settings if you're familiar with CSS.
Another interesting feature is that it works without Javascript.
Let's say someone turns off Javascript to prevent ads from displaying in their browser, Amazon Auto Links still displays.
Creating lists of desirable or unwanted products only requires filtering based on a description, title, and ASIN.
You can also migrate existing links from the Amazon Associates Link Builder plugin.
Final Thoughts
If you're an affiliate marketer, staying organized is vital to your business's success. So, using tools like those mentioned above is a no-brainer.
You could manage your product details across your affiliate site without one, but why? It'd take too much time.
Plugins make your life easier. It's that simple. These are some of the best Amazon affiliate WordPress plugins we've encountered.
It's easier to optimize your site with a little help.
Want to know more about tools that help you stay on track? Read this.
Our creations in your inbox, weekly.
We've built multiple six-figure online businesses that our moms are proud of.
We'd like to help you do the same.