If you've been wondering how to monetize your website, you're in the right place. This post explains common ways to make an honest living online, plus the best platforms for getting started. Everything you read here is either a strategy we use or comes highly recommended. You'll also learn:
What to consider before monetizing
Finding a profitable niche
Using the right tools
Let's go!
Table of Contents
How to Monetize A Website from a Hobby to a Business
Website Monetization Methods
If you want to earn money from your site, here are 12 proven ways to do it.
1. Affiliate Marketing
Affiliate marketing is the gateway drug of money-making strategies because it's pretty easy to do. In addition, most affiliate programs don't require a certain amount of website traffic to sign up.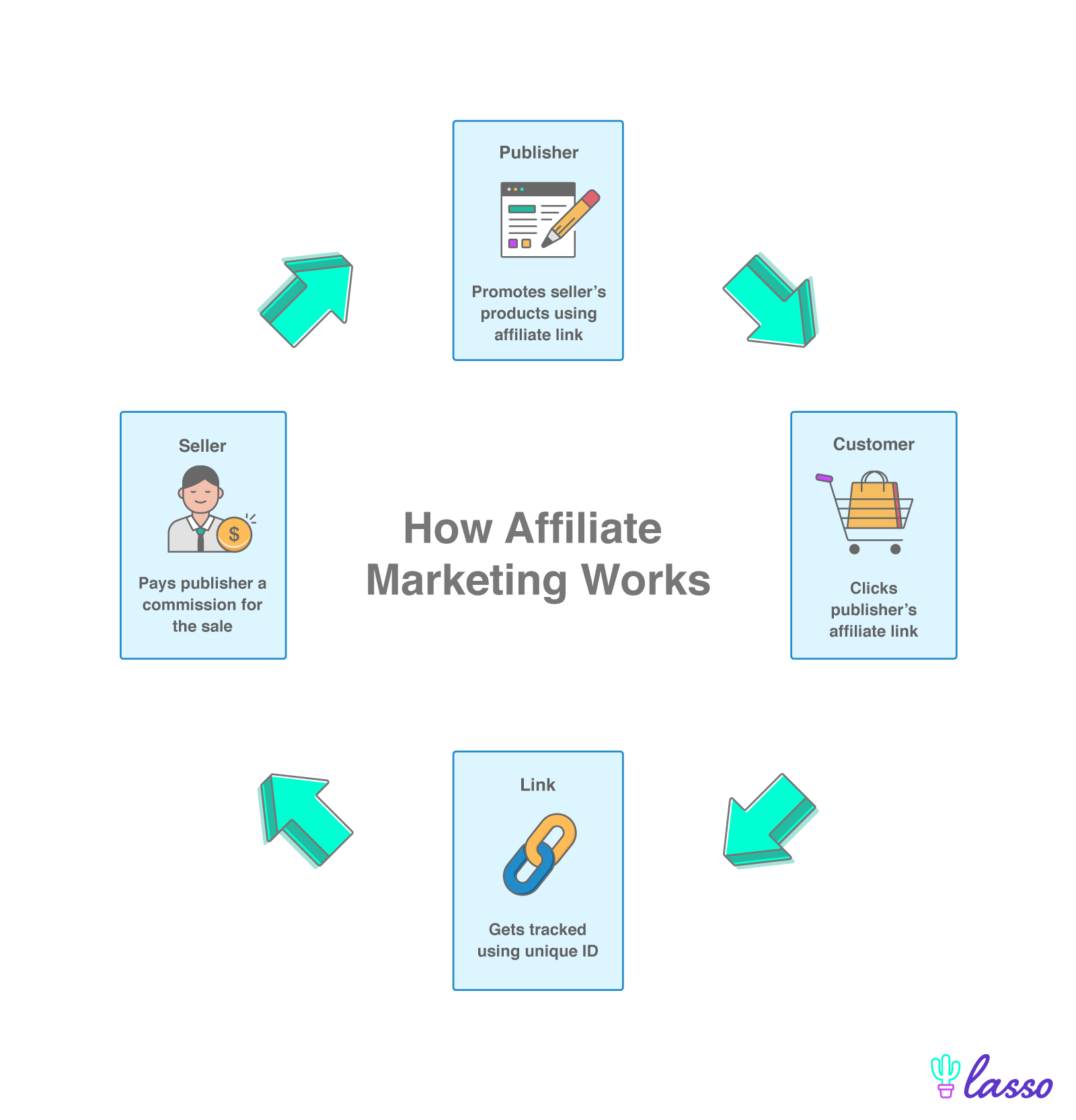 Join an affiliate program and choose relevant products or services useful to your audience. Promote those things in product reviews, best lists, and product comparisons, then include affiliate links to them.
Why reviews, best lists, and product comparisons?
Product reviews are three types of content higher conversion rates because the person searching is in commercial investigation mode. For example, when people search for "iPhone SE reviews" or "WP Engine reviews," they're likely considering buying these products.
Best lists fall under the "commercial investigation" category too. So, for example, a person searching for "best iPhones" or "best hosting platforms" is more likely to buy.
And it's a win for you because you get to round up all of these "best products" on a single page displaying your affiliate links. The more links you have in one place, the higher your chances of making a sale.
Product comparisons pit two or more products against each other. This is another high-converting content type because the searcher has narrowed their commercial investigation to these two products. "Product vs. product" posts also have substantial search traffic.
These three content types work well because they attract qualified readers to click your links.
Resources pages account for over 10% of our site's revenue. As a result, this page type can become the most trafficked destination on your site. They can be anything from best-sellers to a list of your favorite tools to popular products.
You can head to our Toolbox page here to see it in action. Simply put: A Resources page can make you more money which is why we highly recommend you create one.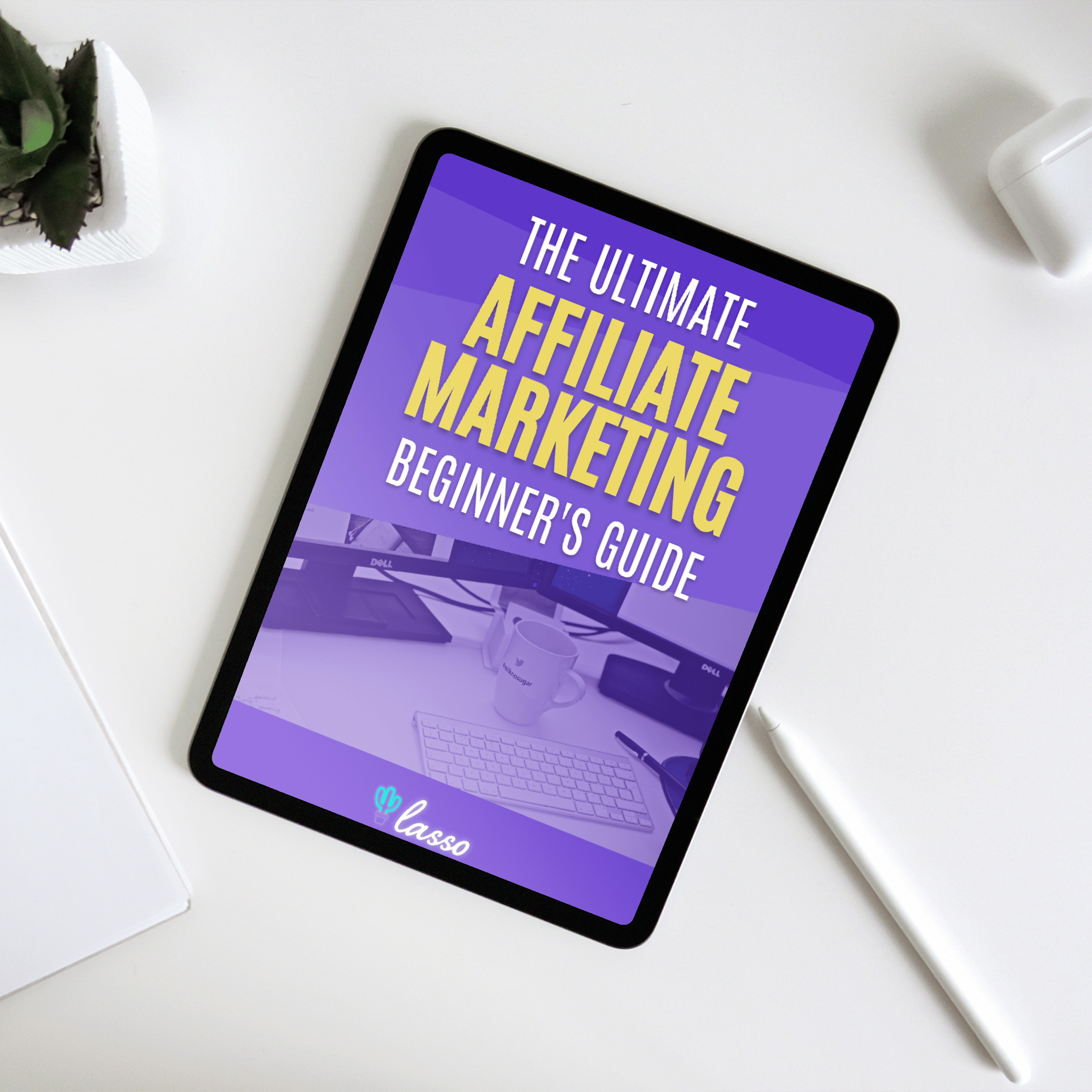 Get Your FREE 30-Page Affiliate Marketing Beginners Guide And Grow Your Site Today
Where to find products to promote
Head to large affiliate networks like CJ Affiliate (formerly Commission Junction), Shareasale, or Amazon to get your links.
Tip: If you're still struggling to find more ideas for products to review, watch this video at the 7:50 timestamp, Finding "vs." and "review" keywords at scale.
Find the Best Affiliate Programs to Join
Our database lists over 2,100 affiliate programs in 65 niches you can sign up with to monetize your website. Check it out below.👇
Further Reading:
Here's how to squeeze every dime out of your affiliate marketing site with Lasso in 5 steps.

[Thread] 🎤 — Lasso (@LassoWP) September 1, 2021
2. Sell Digital Products
You can create an online course or ebook and sell it on your site forever. You frontload the work, so once it's done, there's little to do after. Selling your own products is not the easiest method on our list of monetizing a website, but doing so can be a great form of passive income.
You write an ebook, create online courses, an app, or a game, for example, and sell it on your site.
Most of the work is done once you've created the digital product and a landing page to promote it. For example, our site in the personal finance niche built several online courses that provide us with a nice stream of income.
If you're selling online courses, you can host them on platforms like Podia or Gumroad. These are large online spaces where you can leverage their resources to get more eyeballs on your product.
We use Podia, which is a great place to both sell and market your work.
Podia
Podia lets you sell online courses, memberships, downloads, and more. We use their platform exclusively for every course we've created. You can also market your work via email marketing and custom websites - even start your own affiliate program. Their support has been top-notch at every step.
We earn a commission if you make a purchase, at no additional cost to you.
We also built an affiliate marketing plugin for WordPress that we sell for a monthly/yearly subscription. You can read more on that below.
3. Monetize Your Email List
Capturing emails doesn't generate income unless you sell your email list (we don't advise this). But a big email list can help you make money with your website.
If you write an ebook, create a course, write sponsored content, launch premium content, etc., your list allows for email marketing to your target audience. You've already earned your reader's trust once they permit you to appear in their inbox.
That means they want to hear from you. This is the best way to keep them informed regarding your site updates.
Building long-term relationships with your customers compound over time and are one of the smartest ways to grow and monetize your site.
You can sign up with platforms like Convertkit or Active Campaign to run your email marketing campaigns. These platforms handle the heavy lifting for you, so your Gmail isn't overwhelmed with your readers' messages.
4. Pay Per Click Advertising via Google Adsense
Google Adsense is the best-known PPC (Pay Per Click) program. The PPC provider will create ads based on your website's content that target your audience.
You can choose which ads to run and where they'll display on your site. Here's how a banner ad displays across Search Engine Journal's site.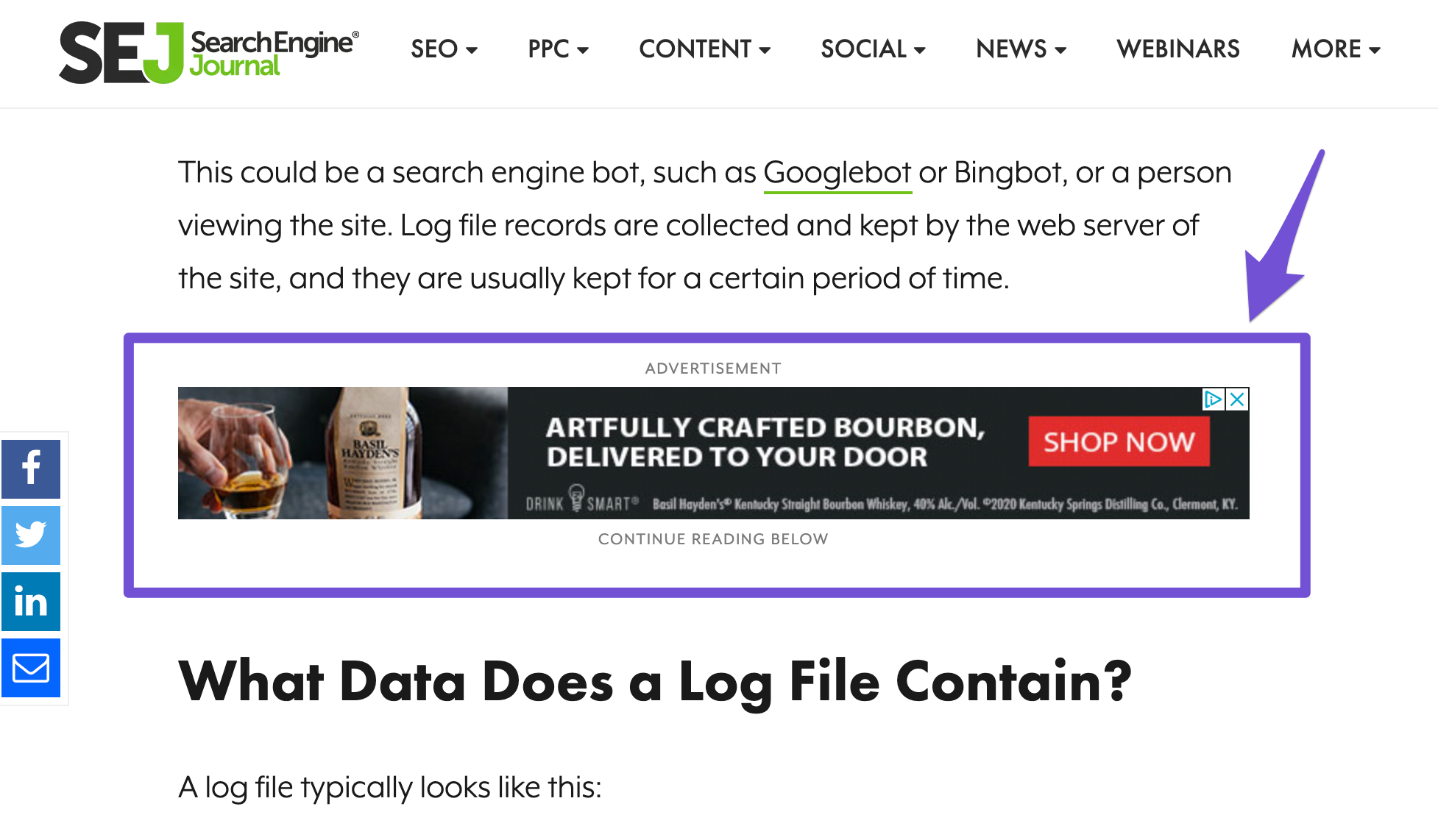 Google runs ads that are relevant to your reader. If it's not your site's content, the ad can be based on your browsing history (like mine above). Each time a reader clicks on an ad, you earn a small commission.
Once you're approved, you'll add a piece of code. Google does provide a tool on its home page where you can calculate an earnings estimate.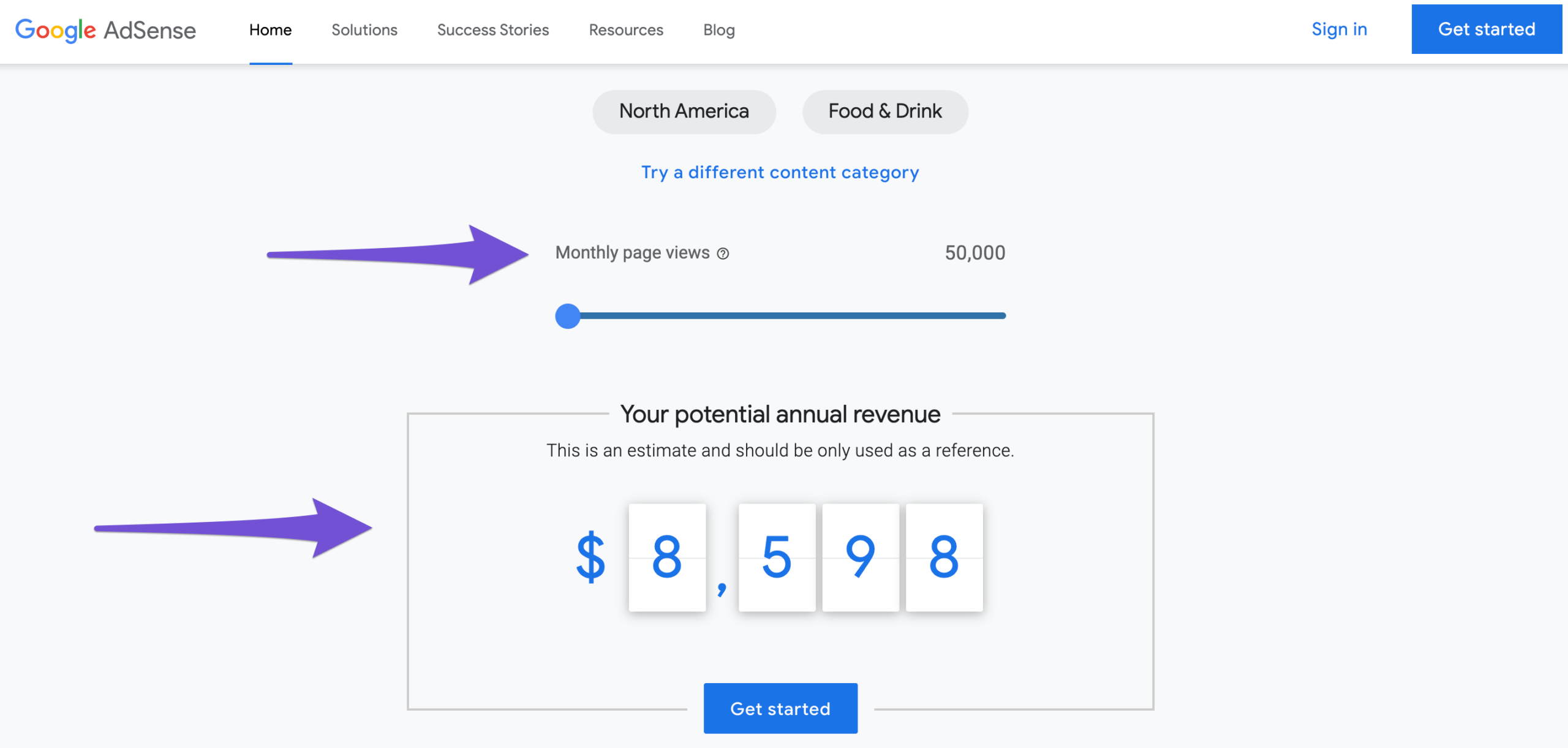 However, it's only an estimate. You'll also need a substantial amount of page views to make decent money. For example, in the above screenshot, Google's lowest page view number starts at 50,000.
Further Reading:
5. Sell Ad Space
Piggybacking off of the Adsense example, you can directly sell ad space if you have a heavily trafficked site. There are several types to use, including pop-up ads, banner ads, and display ads located in your site's sidebar.
Typically, direct ads are sold on a CPM (Cost Per Mile, more commonly known as Cost Per Thousand Impressions).
But they can also be sold as CPA (Cost Per Action), which means you're paid when a reader takes a desired action (like adding their information to an email list for a newsletter or giving a like on a social media platform).
Find advertising networks to join
You can sign up on various networks, including:
Some have minimum page thresholds or other requirements, so be sure you read their terms before creating an account. To make good money from this, your site needs hundreds of thousands of visitors per month.
Further Reading:
6. Generate Leads
Lead generation is similar to affiliate marketing, but you don't have to entice the reader to purchase to earn a commission. Companies pay you to send traffic to their site, and the reader you send doesn't have to complete any action, including:
Stay on the page for a certain length of time
Buy products
Sign up for anything
This strategy lets you introduce the two parties to each other, and that's it.
Find lead generation services
You sign up on places, including:
Peerfly
OfferVault
Global Wide Media
7. Publish Sponsored Posts
Many companies will pitch a sponsored post, also called native advertising, to bloggers whose content is relevant to the company's products or services.
Be sure to disclose any sponsored posts and only accept them for things your readers will find helpful. It's better to turn down offers that are unrelated than trying to sell something inferior to your audience.
Readers trust your opinion, and if you let them down, you'll lose it. You can see why they coined the term "native advertising" in the below screenshot.
The sponsored content blends in with the original site, and the ad network's name displays very small.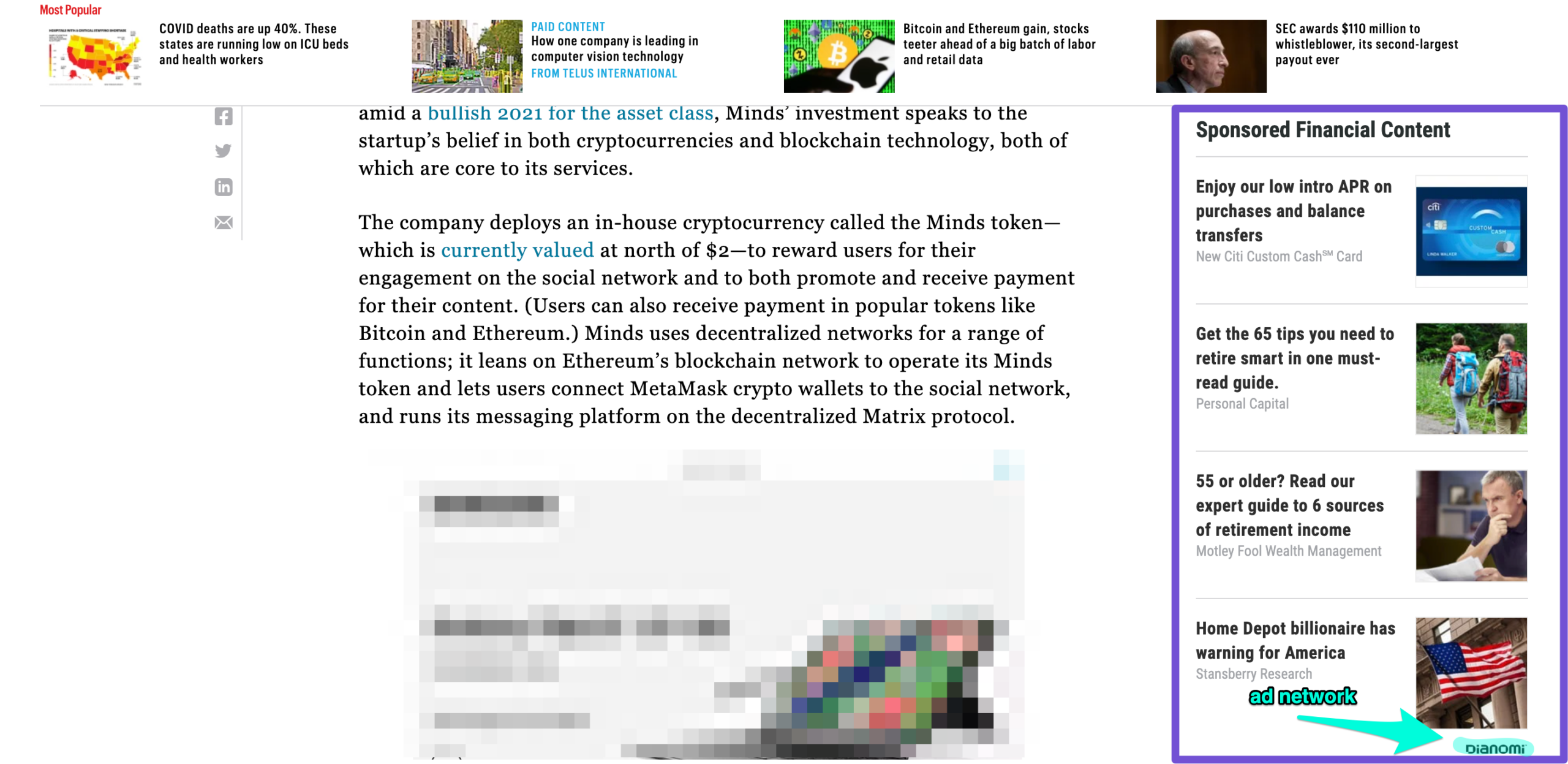 Find sponsored posting opportunities
You can sign up on platforms, including:
Takeaway: The primary benefit of this advertising style is that it's less disruptive and gives your visitors a better user experience.
8. Offer Premium Content
To sell premium content and make money, you could create a paywall for an "Only Fans" account. But, of course, it would help if you had a substantial following, so this method of monetizing a website isn't ideal for those new to blogging.
One of my favorite sites, Messy Nessy Chic, offers premium content for "keyholders."

These are the things keyholders get access to for $4.99 per month:
City and restaurant guides, maps, travel eBooks
Access to a travel concierge, social club, and secret content
No ads
15% off all Messy Nessy books, gear, and gifts
As you can see, the site offers a lot for $4.99 a month. People are used to seeing everything online for free, so if you want to entice them to pay for content, you have to make it tempting.
Your premium content can come in the form of a membership site where readers pay you monthly to gain access to material not readily available to everyone else.
9. Hold a Paid Webinar
Holding a webinar is similar to selling your consulting services but allows you to address a group rather than speaking one-on-one.
So, if you don't have a lot of free time and have a few interested readers, a webinar is more efficient than working with people individually.
You could potentially generate passive income if your webinar is somewhat evergreen by making it available for a price on your website.  
Another benefit of paid webinars is you can run them from anywhere.
10. Ask for Donations
Some people may have a problem asking readers for a donation, and others may be offended by seeing a donate button. However, I think those people are in the minority.
Most people know that maintaining a website and creating good content isn't easy; it's time-consuming (and no one's time is free).
You can join Patreon, add your PayPal or Venmo address to your site, and let people know they can help support what you do by joining your Patreon or donating.
11. Add a "Hire Me" Page
Consider offering your content marketing or consulting services on a "Hire Me" page. Your website is your portfolio, and you don't have to go through a freelancing site like Upwork or Guru that takes a cut of your earnings.
As website owners, we put a lot of hard work into building a site that offers a great user experience, whether it's a passion project or strictly a way to earn money.
This method can be one more tool in your kit. Below is a screenshot of successful blogger and entrepreneur Ryan Robinson. He monetizes his site in many ways, and his "Work With Me" page is only one of them.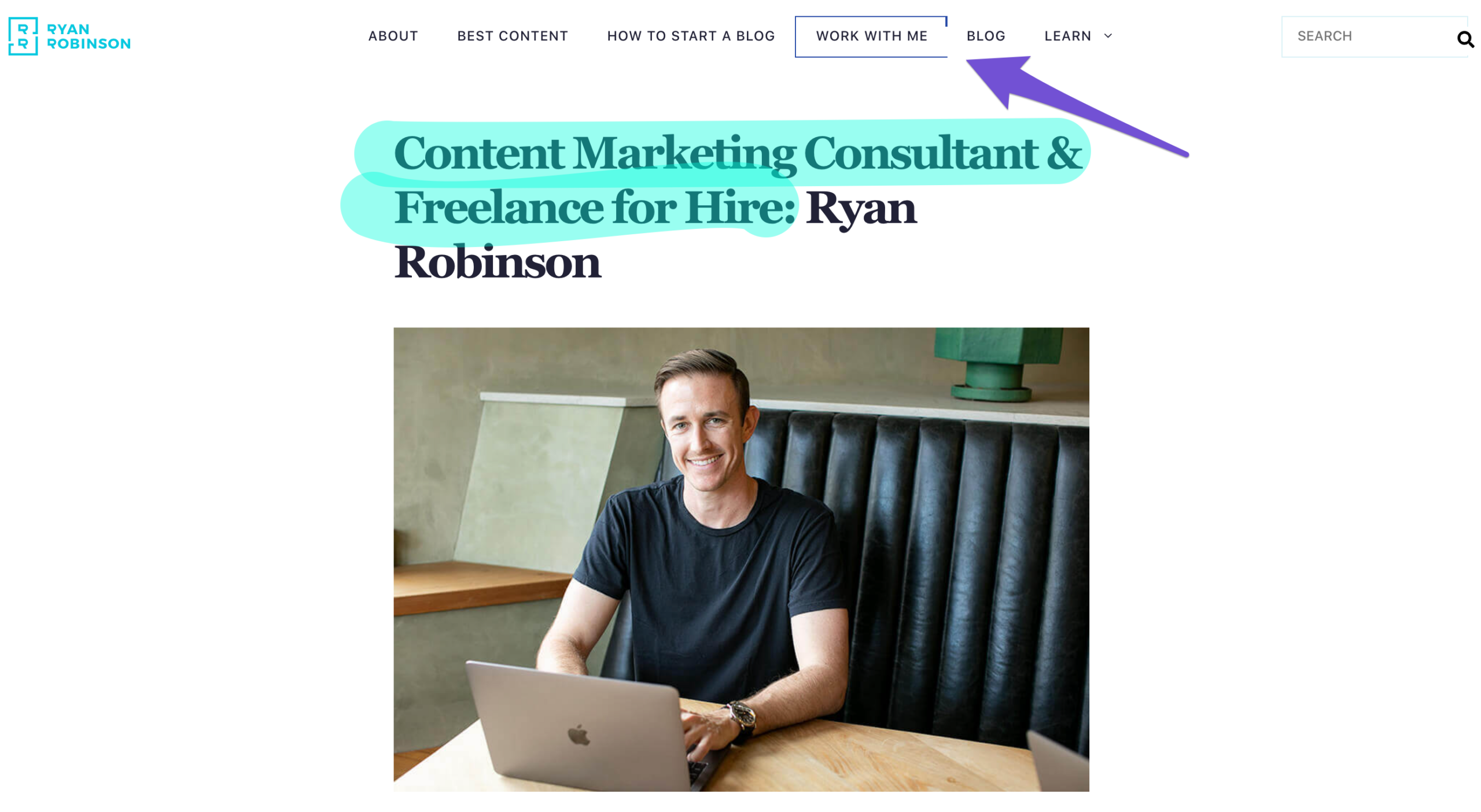 12. Sell Merch
If you'd like to create buzz around your brand, selling merch to your audience is a fantastic way to do it. You can create an online store on your website and use a dropshipping platform to warehouse and ship it.
Check out how Thomas Frank from College Info Geek added a "Merch" page to his blog.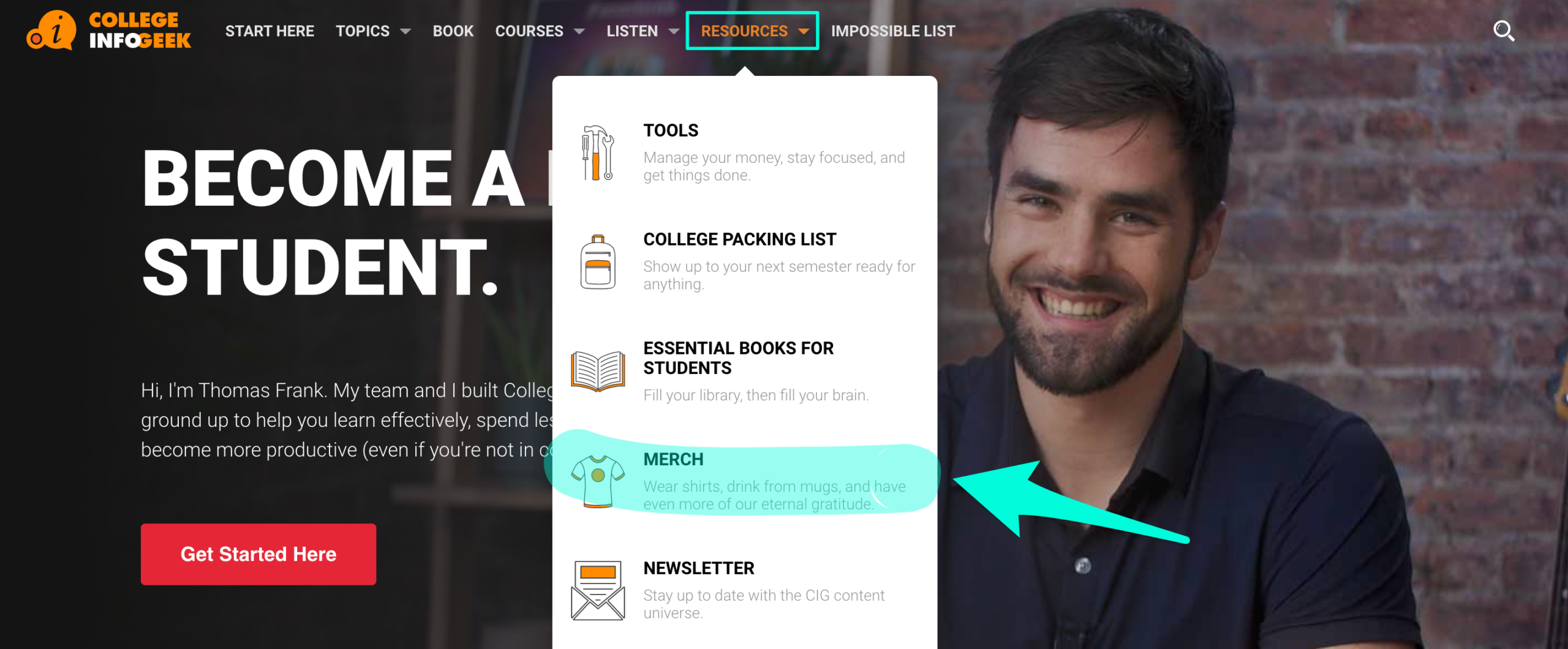 You can sell anything from branded pint glasses to stickers to coffee mugs to t-shirts.
Choosing the Best Monetization Method
If there is a one-size-fits-all answer to how to monetize a website, it would be affiliate marketing. It doesn't take a ton of time, and using the right tools (e.g., Lasso) can help make the job easier and faster.
It's easy to join most affiliate networks, it's usually free to do so, and it's a good way to start making a little money even if your site is pretty new and not yet generating traffic.
But most of the other methods aren't a fit for everyone.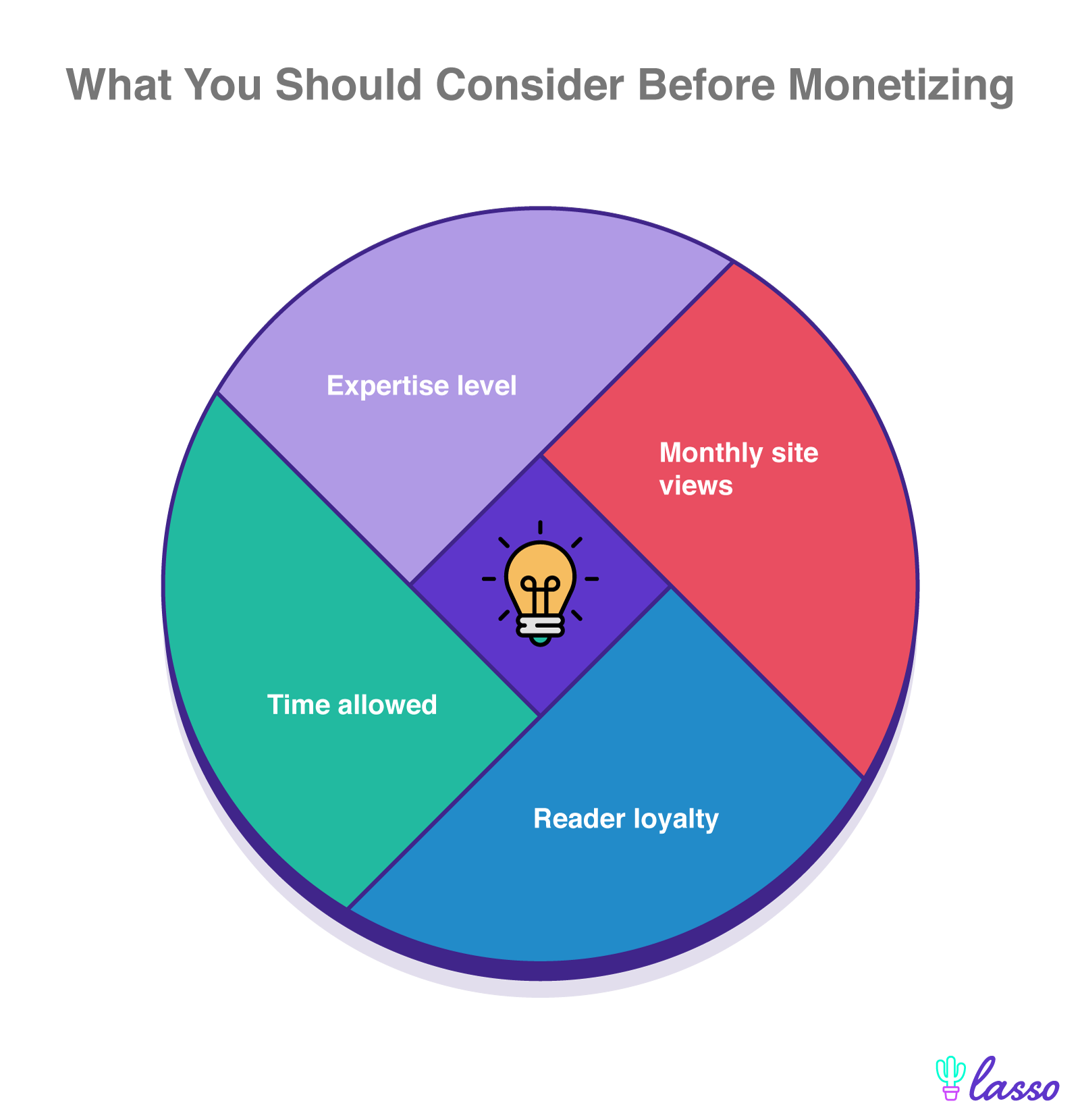 While it's a good idea to try a few different ways, you don't want to spend time and effort setting up something that isn't suitable for you.
These are some things to consider when choosing monetization methods:
The number of monthly site views
How loyal your readers are
How much time you have to create products or content
Your expertise level in your site's subject
If you get less than 200,000 page views per month, you probably can't sell ad space directly, but you might be able to make money using Google Adsense.
Have a loyal audience? They might be willing to pay for premium content or donate to your site. Unfortunately, if you're still working a full-time job, you may not have time to write an ebook or create a course.
Do you have a lot of experience in your subject? You might do well by offering consulting services or hosting webinars. Don't get discouraged if your site isn't making money in the beginning.
Like any business, growing a website that makes money takes time. But it can be done, and plenty of people do it. Lasso's co-founders have done it with multiple websites in diverse industries, including:
Coffee (sold the website for a profit)
Using Lasso to Boost Your Website's Revenue
Lasso lets you promote products on your site using custom displays, adding a visually appealing layer to your content. Its founders built this WordPress plugin out of necessity to run and manage their affiliate sites.
But it's not only for affiliates; it's a link manager that monitors every URL across your site (even links for products you sell).
We've found the more product information you give your website visitors, the more likely they'll click when it's presented in an attractive box.
This one strategy improves your website visitor's "click confidence."
Instead of using text-only links, provide them something more enticing. Here's an example of a single product display using Lasso. 👇
Winner and Best Overall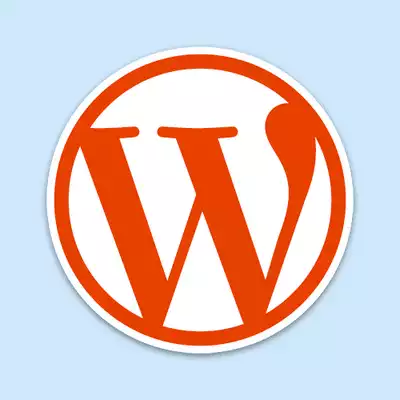 WordPress
WordPress comes out ahead thanks to unlimited flexibility, powerful themes, and awesome plugins (like Lasso) available through the community. There's a bit of a learning curve for new WordPress users but the platform's raw power more than makes up for it.
Pros:
eCommerce & SEO-friendly

Flexible hosting options

Extensive template library
Cons:
Lacks "official" customer support team
Explore WordPress.org
Read Our Review
You can choose which elements to add to your displays, including:
Trust badges
Star ratings
Pros/cons
Further Reading:
You can choose from multiple display options. To get started, click the Cactus icon displaying at the top of your WordPress menu bar: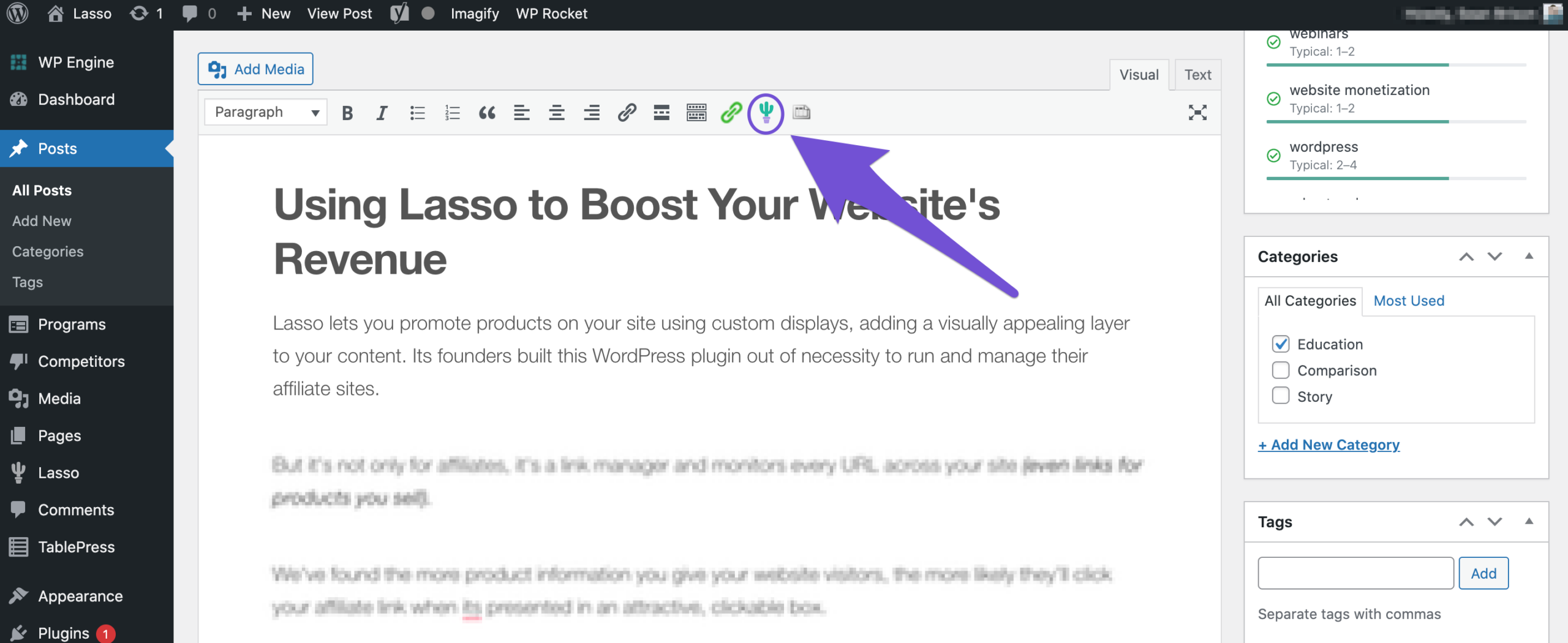 Then choose your display type.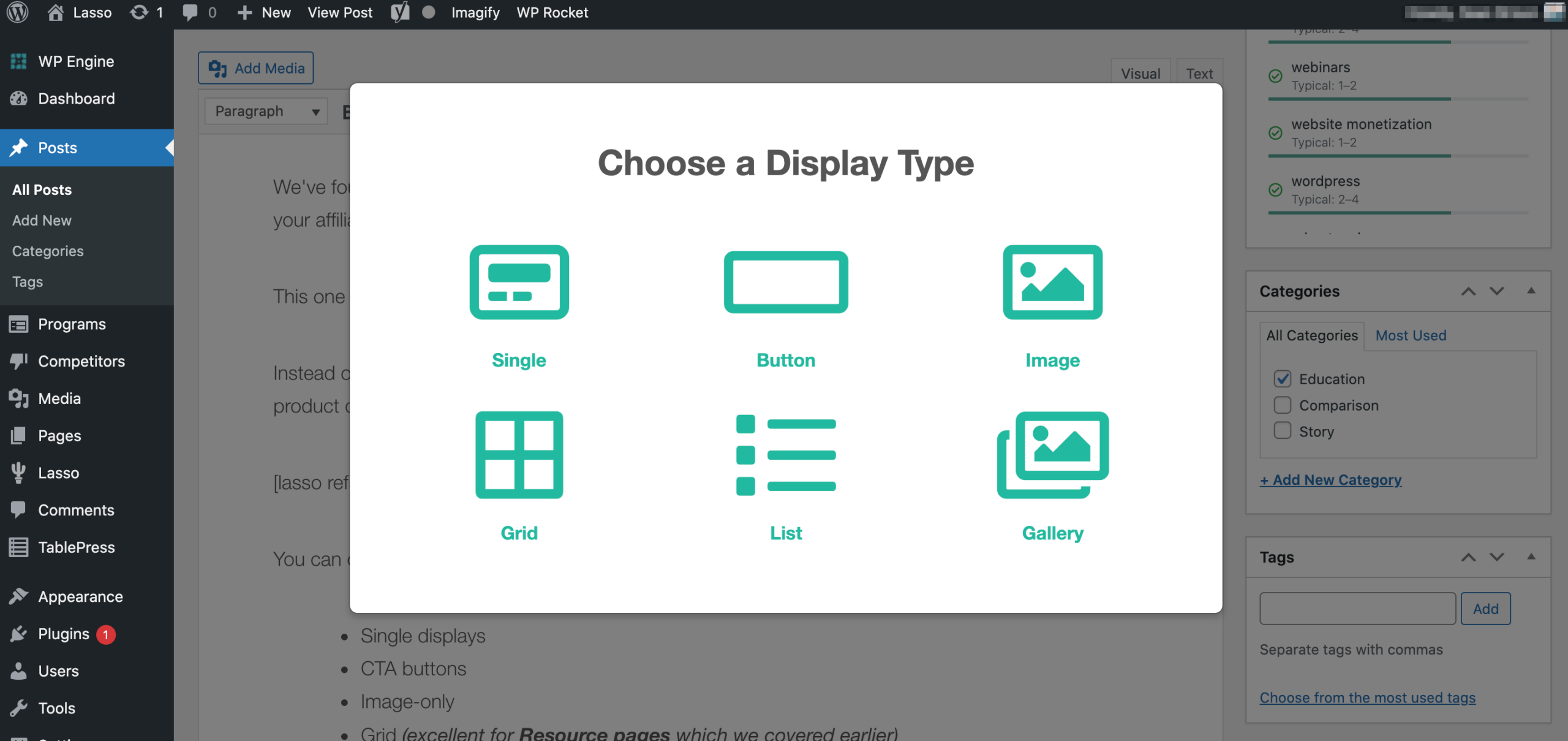 When building your displays, you'll get a real-time preview as you add every component.
Further Reading:
Sidenote: If you haven't already, scroll back up to section #1 and read our Twitter thread on squeezing every last dime out of your site using Lasso's Keywording Tool.
Finding A Profitable Niche
We've written about this already. So, we won't go into much detail, but a few things to help you with this endeavor include choosing a profitable niche.
Ideally, you will be able to find a topic that can make you money and that you enjoy, even if it's not something you're wildly passionate about. If your goal is to make your website a career, it's better to choose a topic that makes money.
These are among the most profitable blog subjects:
Technology
Digital marketing
Finance and Investing
Fashion
Travel
Personal Development
Further Reading:
Recommended SEO Tools
Creating high-quality content will only get you so far when it comes to the amount of traffic your site gets. Great content is a big part of monetizing a website, but your website traffic won't grow unless search engines are finding it.
Below, we've included some of the must-have tools we use daily to run our online businesses. SEO (search engine optimization) is the way to drive traffic to your site, and the below tools can help.
Ahrefs
Ahrefs is an SEO keyword tool. It's the second biggest website crawler next to Google. In addition, Ahref's Site Audit tool shows what parts of your website could be improved to help you rank higher.
The competitor analysis shows your competition's backlinks, which you can use as jumping-off points for your content. You can also use Ahrefs to find the most linked content within your topic niche.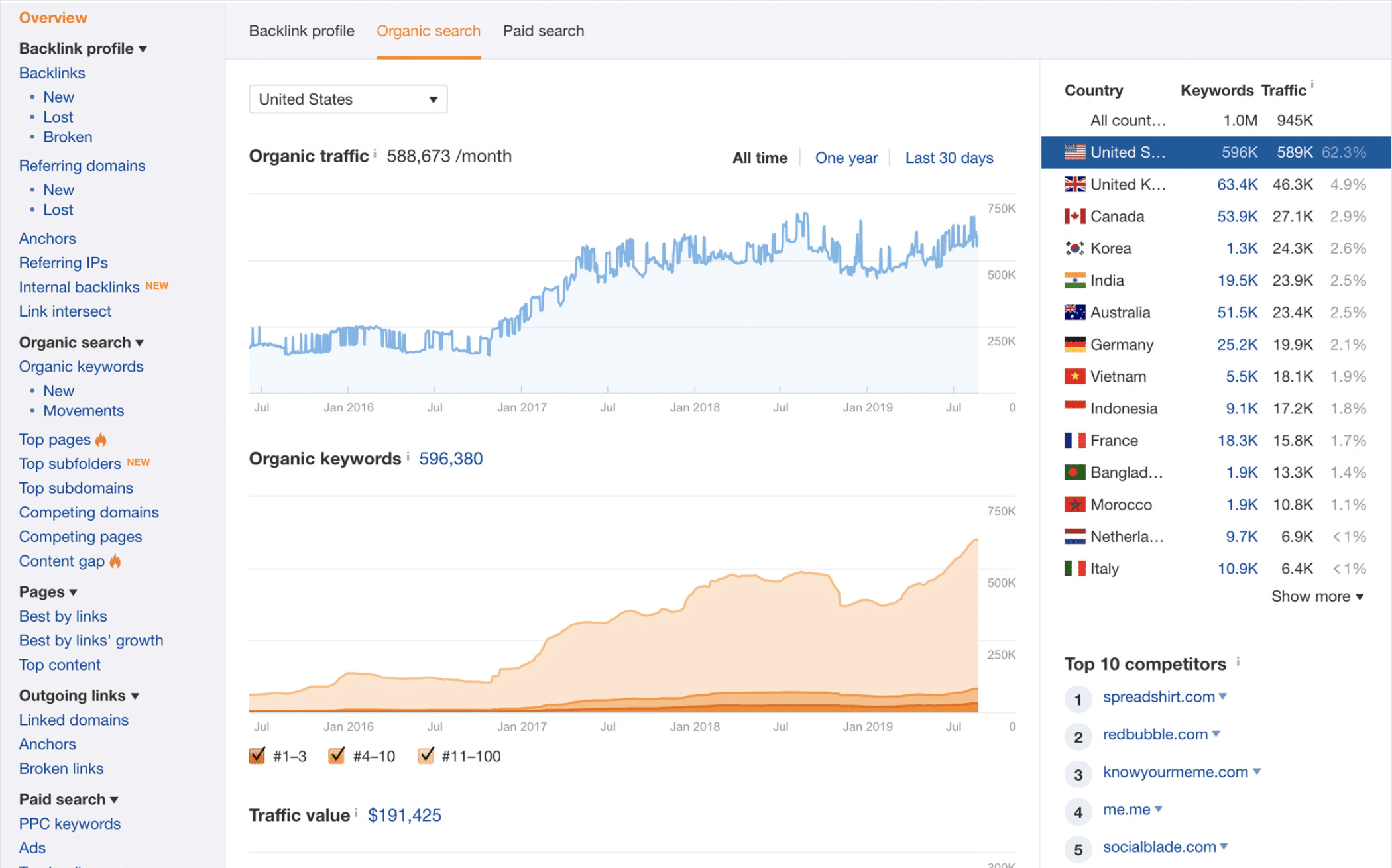 If you're not entirely sure what your niche should be yet, it might be worth investing in Ahrefs so you can research keywords before deciding. In addition, it might save you from choosing a niche that you won't be able to monetize.
Clearscope
Clearscope is a keyword research and content optimization tool. The main feature is the "Optimize" function. It provides a list of keywords that should be included in your content and gives you a letter grade based on how many appear.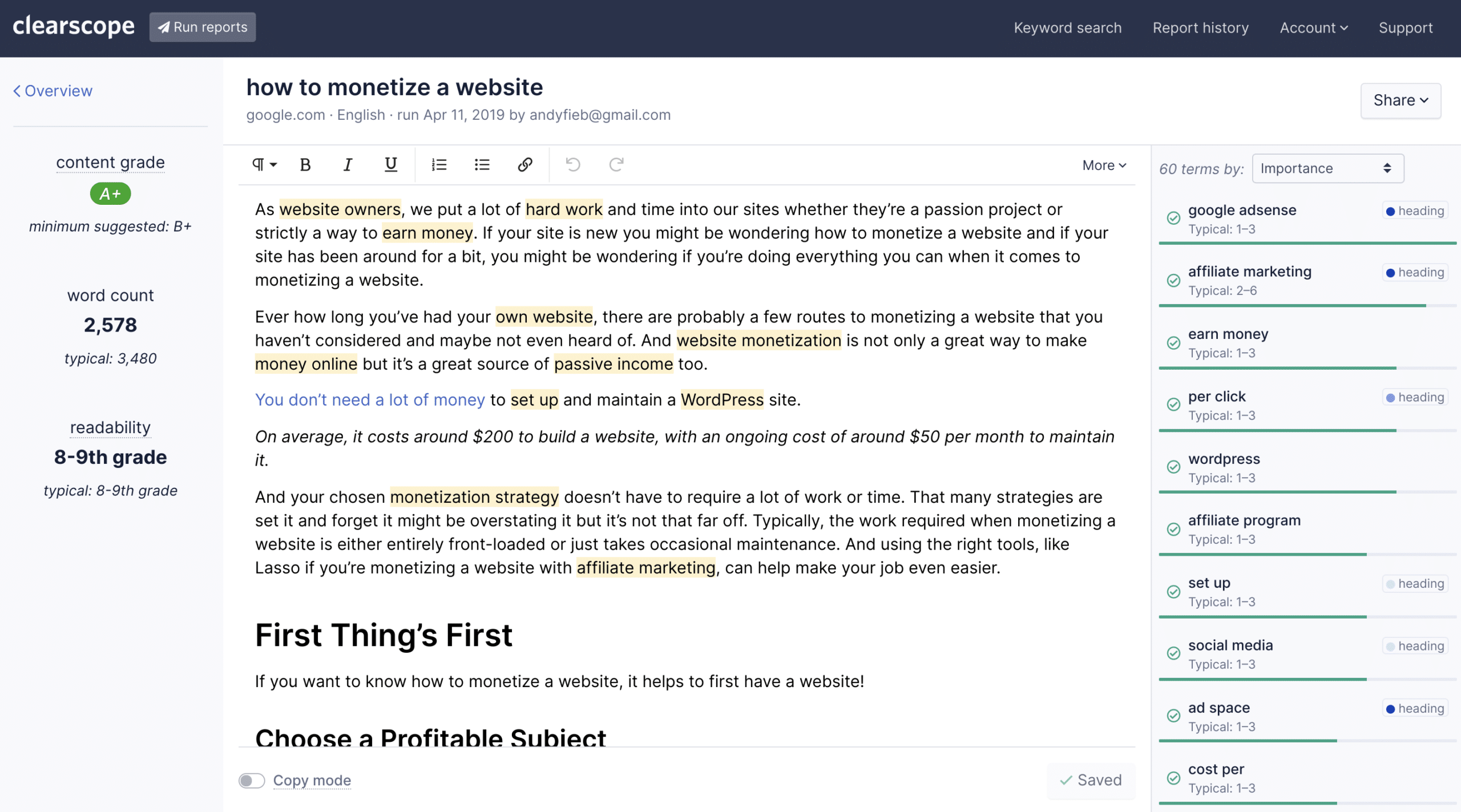 I use Clearscope for every article I write, and it's my favorite SEO tool.
Yoast SEO
Yoast is a WordPress plugin that helps your site with both its technical and on-page SEO. Simply put: it helps you create posts and pages that search engines can find.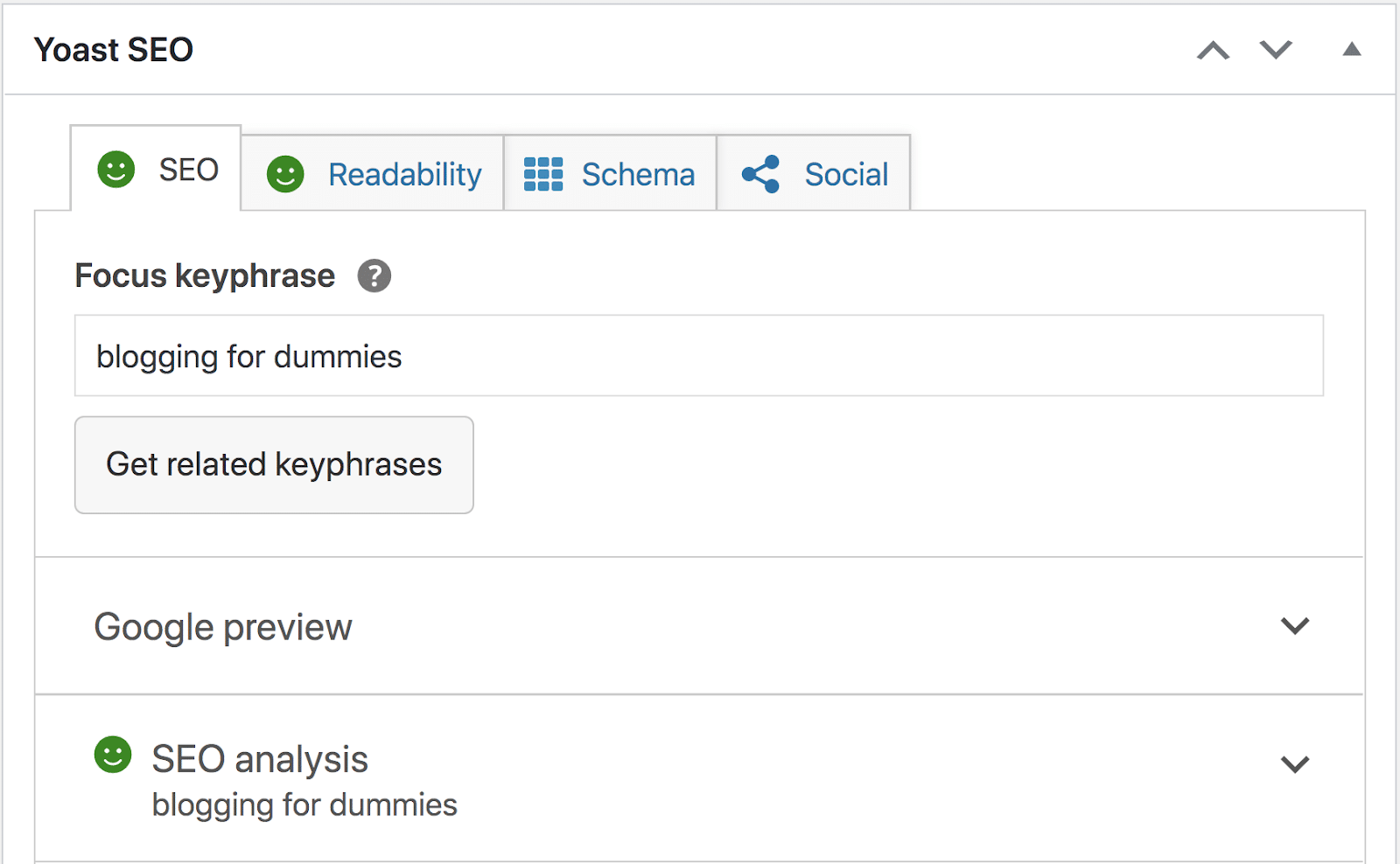 This is important because it's how people find you – online. So making it easy for Google to locate your brand makes getting it in front of the right people better business.
That's why using an SEO plugin like Yoast or Rank Math is vital to your website's success.
Further Reading:
Last Words
You don't need a lot of money to set up and maintain a WordPress site. On average, it costs around $200 to build a website, with an ongoing cost of around $50 per month to maintain it.
Of course, these prices will fluctuate. But your chosen monetization strategy doesn't have to require a lot of work. Typically, the required effort is either entirely front-loaded or takes occasional maintenance.
But, again, having the right tools helps make your job easy. Ready to find out how Lasso will help grow your business? Try Lasso today.
Our creations in your inbox, weekly.
We've built multiple six-figure online businesses that our moms are proud of.
We'd like to help you do the same.