Are you looking to add amazon affiliate links to your WordPress site? You'll want to create your Amazon Associates account first. Once you do, you'll gain access to the affiliate dashboard, where you can easily search for products to promote and monetize.
This post details two ways you can approach adding links to your website:
Via the Amazon Associates dashboard
Using an affiliate marketing plugin
The second way is how we do it. Using a plugin saves us time by automating the entire process. We've also seen a boost in affiliate income as a result.
You can read about how we tripled our affiliate commissions here.
The first strategy will detail a step by step process from inside your Amazon affiliate account. The second method will show you how to add Amazon affiliate links to WordPress using a plugin.
Let's get started.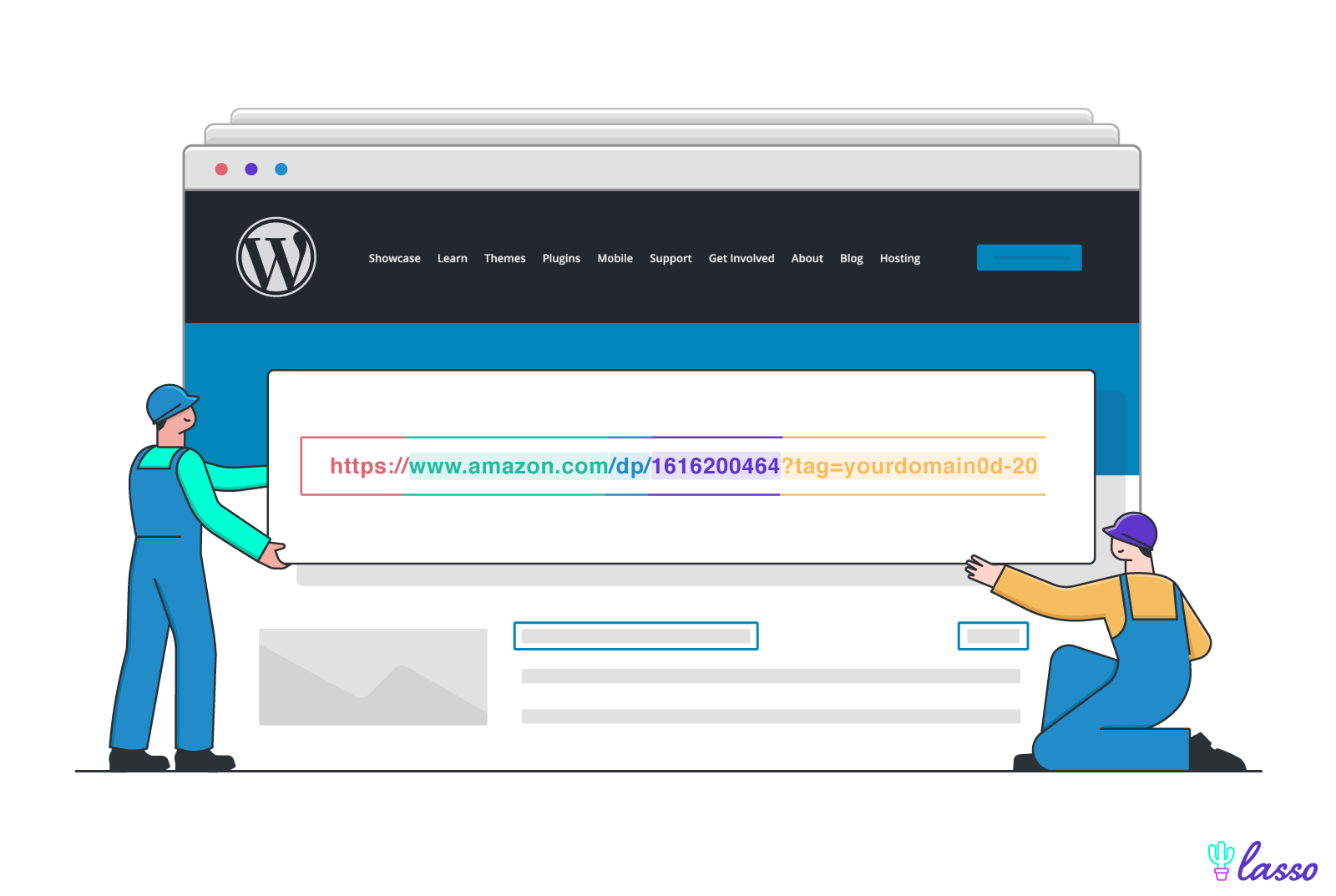 Method #1: How to Add Amazon Affiliate Links to WordPress Using Your Associates Account
The Amazon affiliate program, Amazon Associates, is substantial and is perhaps THE most widely used program on the planet.
This stat from Built With estimates over 250,000 live websites use Amazon Associates with over 1.3 million who used Amazon Associates historically. So, understanding its platform is a good idea.
For a deeper dive into what it's all about, check out our Amazon Associates Guide.
Create An Amazon Associates Account
First, sign up for an Amazon Associates account.
It's a quick 3-step process where you'll enter:
Account information: Your name and address
Your domain: The website(s) you intend to send referral traffic to Amazon
Profile: Informs Amazon about your site, how you plan to monetize it, and additional topical information. For example, it'll provide a dropdown menu asking you which of the below topics best describes your website, how you drive traffic, and how many monthly visitors your site gets.

Your profile is also where you'll get your Amazon affiliate ID, which will let Amazon track the affiliate links you're using to generate sales (and affiliate commissions for you).
Then you're taken to Associates Central, where you can start using your account, add affiliate links, and monetize your website.
You'll also need to provide tax information for IRS reporting purposes.
Caveat: You must generate sales from at least three affiliate links within 180 days, or Amazon closes your associates account.
Find Amazon Products to Promote
Once inside your Amazon Associate account, you can search for specific products you want to promote on your website.
You can search by ASIN or keyword.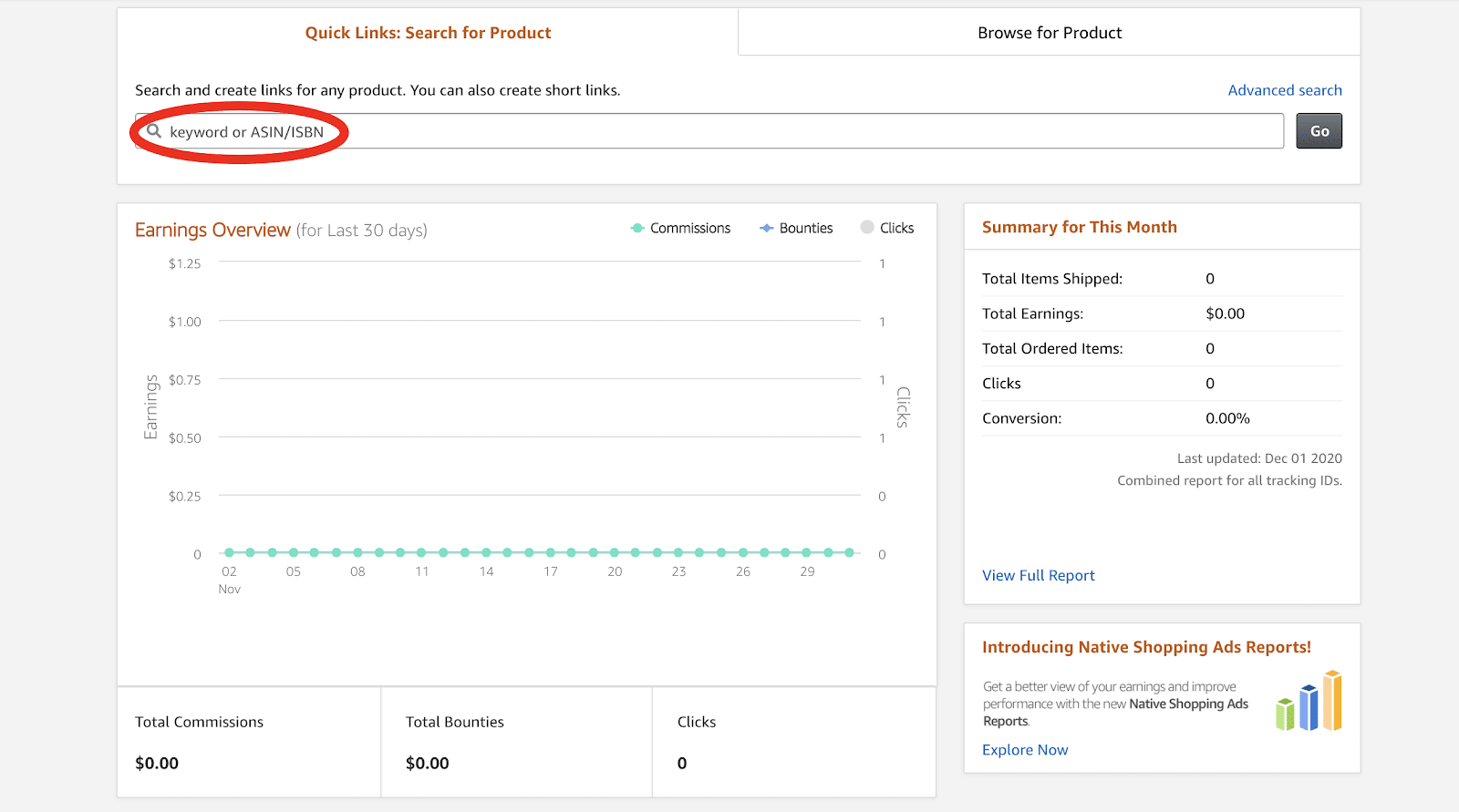 For example, let's say you're creating a list post about the best cocktail shakers.
When you enter the word "cocktail shaker," Amazon tells you how many products it has with that keyword.
Here, you'll see there are 3,752 results for the keyword "cocktail shaker."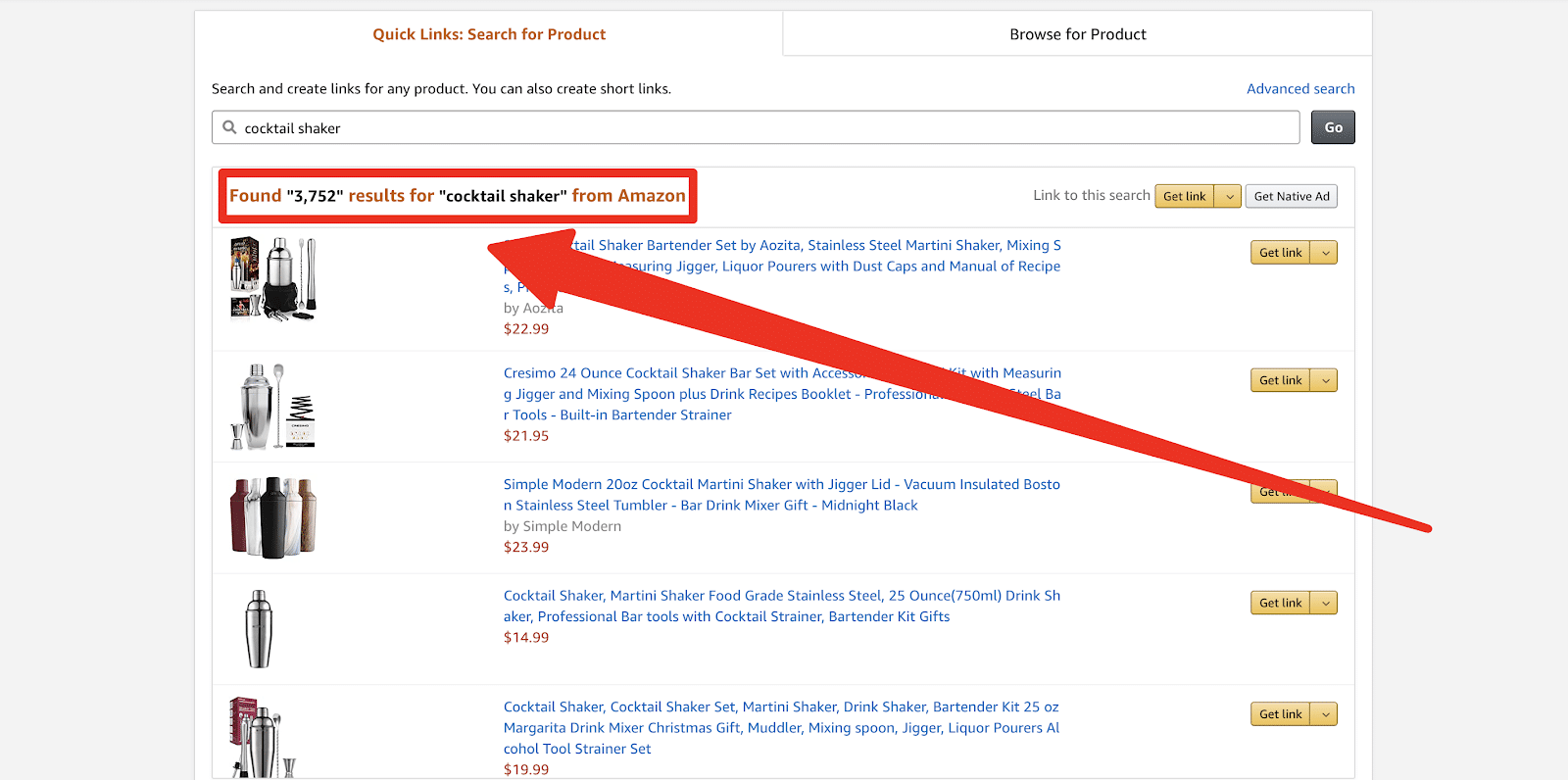 You can refine your search by brand, make, or model, then choose which ones to include on your site.
Decide Which Type of Affiliate Link to Use
Amazon gives you three options on how you can use the affiliate link:
Text only
Image only
Text and image
If you only care about using text links, you can click the drop-down arrow to the right of the "Get Link" button.
A window appears with a link that you can copy and paste into the anchor text of whatever words you want.

For the below example, using a post from my website, I could choose the anchor text, "cobbler shakers," and insert the Amazon affiliate link.
If you want more options such as an image only or text and image links, click "Get Link."
When clicking "Get Link," you're prompted to the Link Builder page, where you're given more customization options on how to promote the Amazon affiliate product on your WordPress website.

Here you can choose to:
Open the link in a new window.
Show the border around your image.
Adjust the title color
Adjust the price color
You'll also see a live preview whenever you make changes.
Add Your Amazon Affiliate Link to WordPress
Once you decide which type of affiliate link to insert into your post, you'll embed the HTML into your WordPress site.
Head to your text editor inside WordPress and paste the above code into your website.

The link includes your affiliate ID, so Amazon knows to pay you for the referral. You can also use its link checker tool to test whether your links are valid.
Once you've pasted it into WordPress, you'll see how it'll display on your site:
The above is only one example using a text and image affiliate link display.
You can also rinse and repeat the steps when using "image-only" or "text-only" displays.

Along with adding links into the body of your posts and pages, you can also add sidebar widgets if your website features that functionality.
Further Reading:
Include Your Affiliate Disclosure
Read the Amazon Associates Program Operating Agreement and place a disclosure on your website once you start adding affiliate links.
It helps to be 100% transparent that you may earn a commission when someone clicks on your product links.
Amazon says you must comply with the agreement to participate in the Associates Program and earn commission income.
There's a simple model you can use which says, "As an Amazon Associate, I earn from qualifying purchases."
When using a tool like Lasso, you'll automatically have that disclosure appear on your displays.
Here's a sample disclosure appearing at the bottom of your display box, which can be configured on your product page:
Lasso includes a default affiliate disclosure but feel free to write your own.
It's essential to inform your audience that you're in a paid relationship with that company or product.
Failing to do this puts you at risk of being fined and kicked out of the affiliate program.
For a detailed explanation, read our post: The Affiliate Disclosure: Dos, Don'ts, and Best Practices (we include more disclosure examples you can steal).
Amazon Associates Additional Features & Tools
You can add features to assist with your Amazon affiliate marketing efforts. Head to the top of your dashboard and explore:
Product linking
Promotions
Tools
Reports

Click on any of those, and a drop-down menu appears with more options.
Tip: Careful not to go overboard here. While it may seem like a good idea to stuff your page with links to make more money, things like popups, banners, and comparison tables aren't the best idea because space is limited on mobile devices.
Mobile traffic accounts for over 60% of organic traffic, and things like comparison tables and popups occupy more space.
Be mindful to keep your website mobile-friendly.
One tool you may find helpful is SiteStripe.
It's a toolbar displaying at the top of the Amazon page you're visiting and lets you grab a copy of the link without having to head into your Associate account's home page.
SiteStripe also provides social media shareability (if that's an integral part of your affiliate marketing traffic).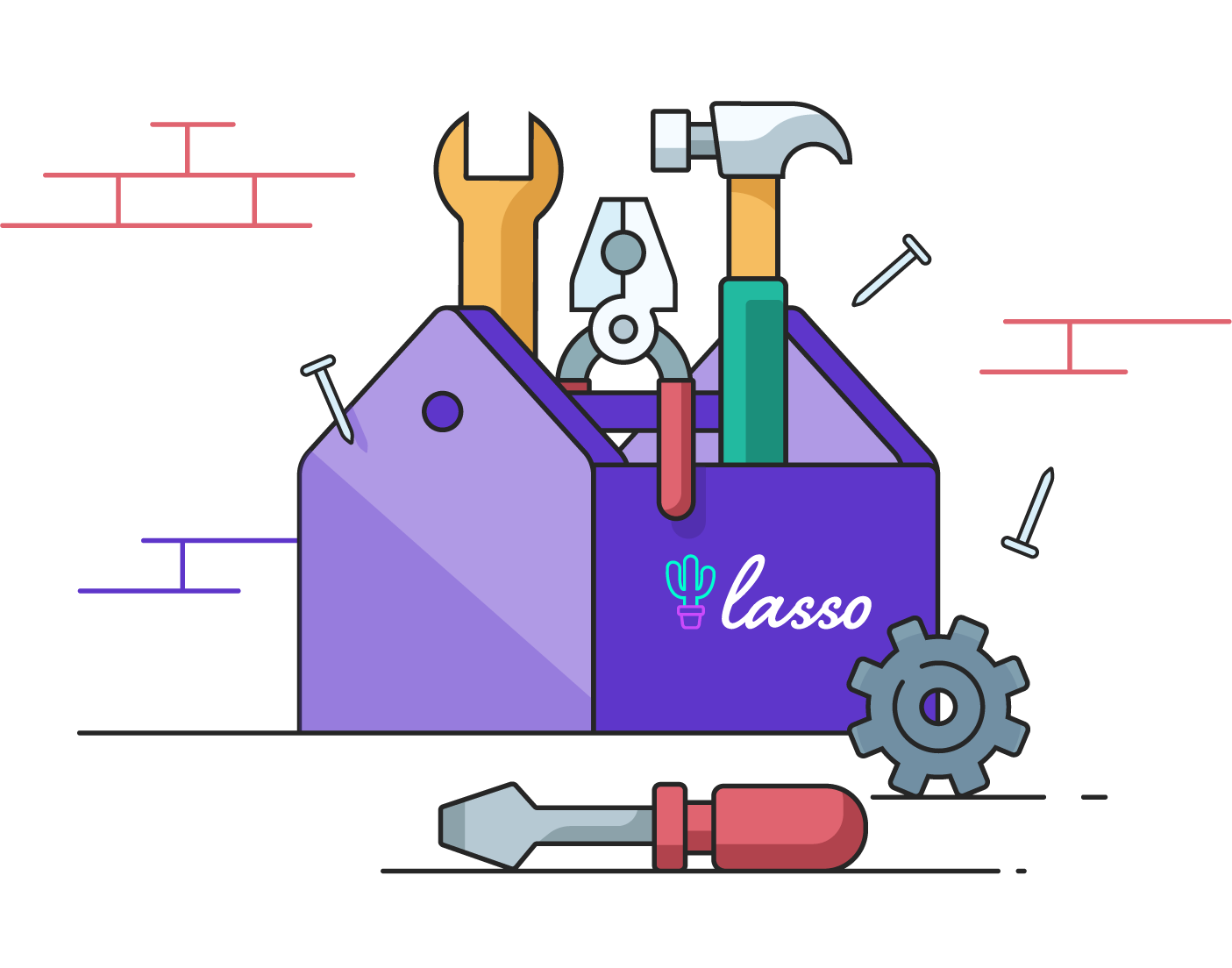 Get our FREE toolkit and checklist for writing articles that convert.
Method #2: Using a WordPress Plugin to Add Amazon Affiliate Links
Now that I showed you how to snatch affiliate links from Associate Central, a faster way (and our preferred method) is to use our plugin Lasso.
Using Lasso's Affiliate Plugin & Searching the Amazon Website
If you're using our affiliate plugin, all you need to do is copy and paste the product URL directly from Amazon's website into Lasso.
For example, say you're writing a review about this Igloo ice maker machine. You'd only need to copy the URL and paste it into Lasso.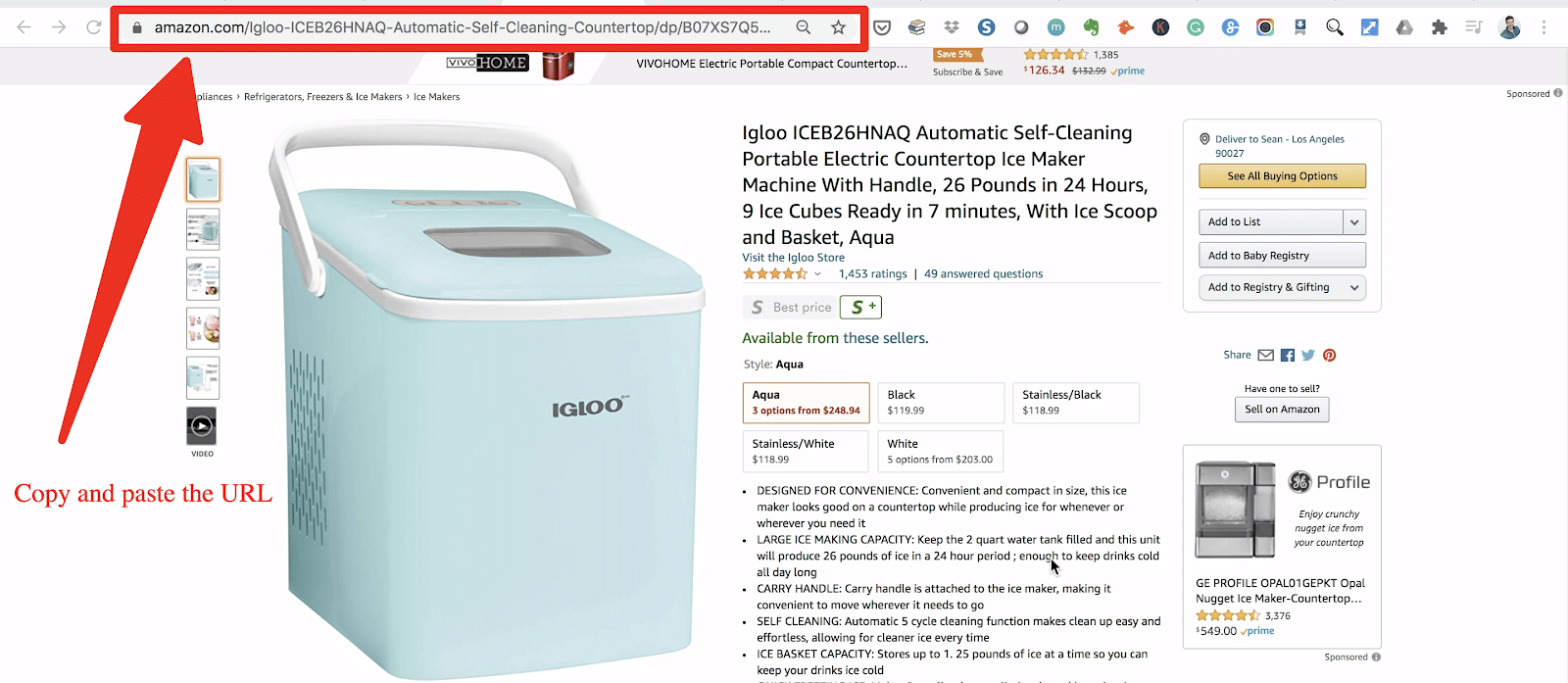 Grab the Product URL & Paste into the Lasso Dashboard
Head to your Lasso dashboard and click "Add New Link."
You're prompted to this screen where you paste the Amazon link directly into Lasso.

Lasso auto-populates all of the link's data (with product image and pricing) into a product page, and your Amazon URL automatically converts into a ready-to-use affiliate link.
Use the Cactus Icon to Insert Affiliate Displays
When you're writing a post, you can click the Lasso cactus icon in your WordPress text editor and insert your affiliate display into your post instantly (without having to leave the WordPress post you're writing).

Click the Cactus icon, and Lasso presents you with options as to how you want to promote your products.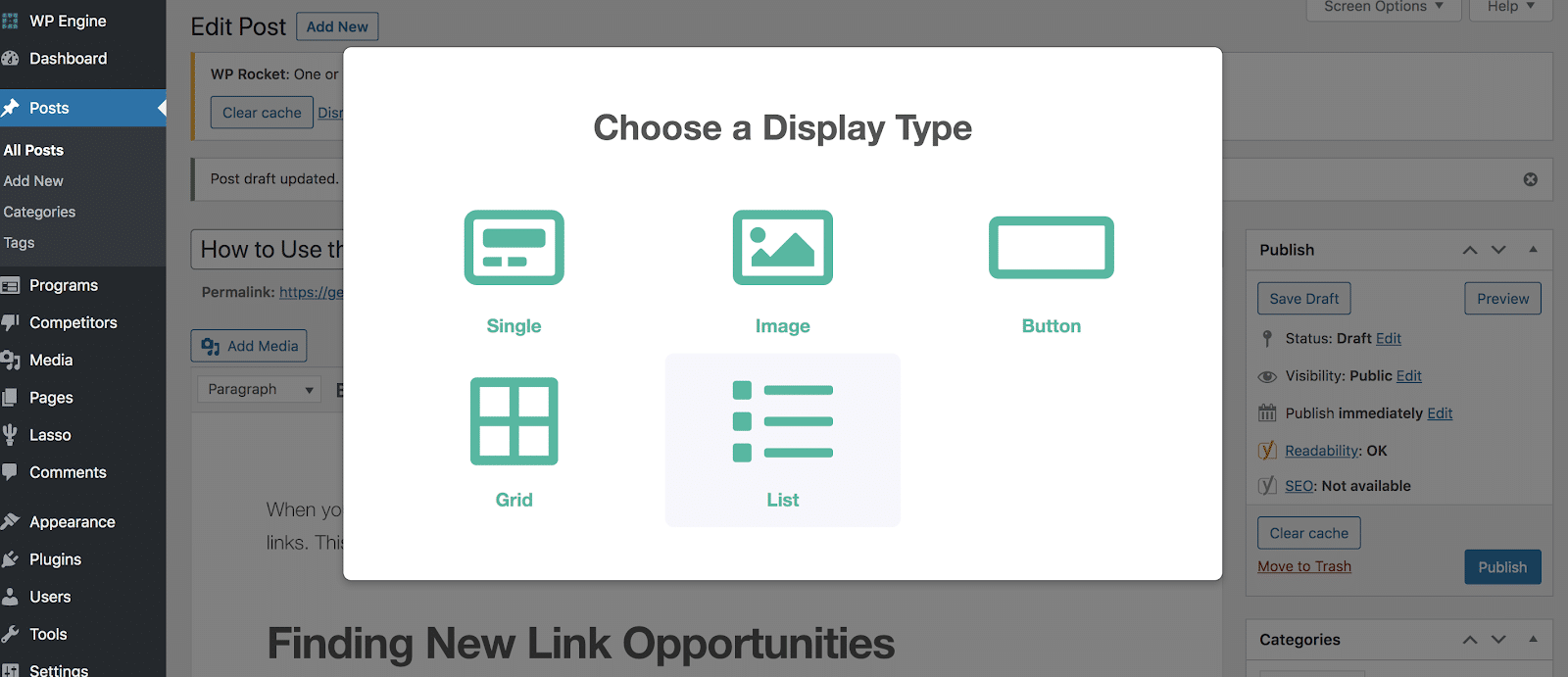 And Lasso's shortcode functionality adds further customization options for your affiliate links.
You have five options, including:
Single product display
Images
Call-to-action button
Grids
Lists
Our Pick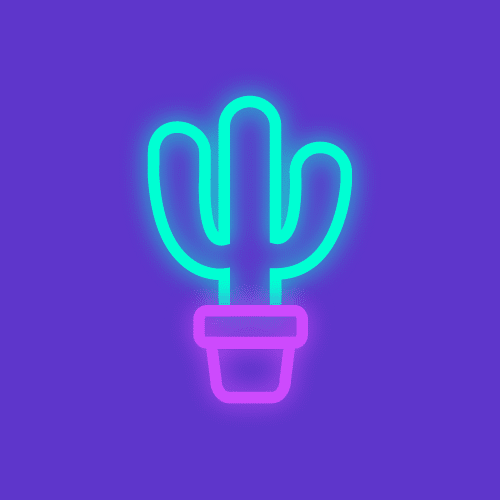 The above is an example of a single display box using Lasso's tools.
Read our Shortcode Reference Guide to see all of the various detailed ways to promote your affiliate products.
You'll still be able to add Amazon affiliate links without API keys. Lasso pulls data from Amazon's Product Advertising APIs, so you won't need to update pricings manually.
The product advertising API gives you access to all of Amazon's data, including:
Product details
Customer reviews
Promotions
Because Amazon doesn't allow link cloaking, your product URLs will not be altered to stay compliant with Amazon's terms.
If you're building an Amazon affiliate store, the process will vary slightly.
For example, if you're an affiliate marketer running an eCommerce store (and not a blogger), you'll most likely be using additional plugins (like Woocommerce)
And you'll probably use a more appropriate WordPress theme designed specifically for online store owners.
No matter which business model you choose, you'll want to make your site SEO-friendly to be found easier by search engines.
There's no single template that rules all, only the one that helps you hit your business goals.
Many themes and plugins are built with this in mind to make it easier for Google bots to crawl and understand what your site is about.
Last Words
Adding Amazon Affiliate Links to your WordPress blog isn't too complicated. You can do it directly inside your Amazon Associates account or use a plugin that quickly automates the process.
Want to learn more? We have plenty of tutorials.
Or, take Lasso's 14-day free trial for a spin here.
Our creations in your inbox, weekly.
We've built multiple six-figure online businesses that our moms are proud of.
We'd like to help you do the same.