You're an Amazon Affiliate with a substantial amount of product links on your website with no way to track them. What's worse is some of those links are broken or feature out-of-stock products. The short answer: you need a tool to monitor your links. This post details what the Amazon affiliate link checker tool is, how to tell if your links are working, and more.
Let's dive in.
What Is the Amazon Affiliate Link Checker?
Amazon's Link Checker Tool verifies the tagging for URLs linking to Amazon.com. It's one way Amazon Associates (its affiliate program) can tell if they're getting commissions from their affiliate links.
Amazon uses a Tracking ID or Associate ID to monitor every referral sent to Amazon.
It's the only way Amazon can know who is sending them traffic and who should get credited for sales.
Your Associates or Tracking ID is how you get paid for all of your referrals.
How It Works
You'll log in to your Associates Account, click "Tools," and once the dropdown menu appears, select "Link Checker."
You're prompted to paste the URL of the link you want to check in the search bar below.

After copying and pasting the URL and running a check, you'll see a notification from Amazon telling you whether your link is good.
Amazon says the tool is best for any modified links created outside of Associates Central. And, the links you create inside Associates Central will be coded correctly.
However, it's always a good idea to know at all times whether your links work.
Note: The Link Checker won't check the tagging for its served links, including Recommended Product Links and Widgets.
How Do You Tell If a Link Is An Amazon Affiliate Link?
You can check whether your links are tagging to your account by looking at the URL. All links generated from Associates Central have three things:
A detail product (dp) indicator
Amazon product ID or ASIN number
Store or Tracking ID (your unique affiliate tag)
Anatomy of an Affiliate Link
Affiliate URLs are a hot mess of garbled numbers, letters, and characters. They're impossible to remember and not easy to say on a podcast.
Here's a real-life example of an Amazon affiliate link:
https://www.amazon.com/dp/1616200464?tag=seomax0d-20
What's all that mean?
www.amazon.com is the domain
/dp/ stands for "detail product"
"1616200464" is the product ID / ASIN number
?tag=seomax0d-20 is your store Tracking ID
Typically, your ID starts with "?tag=" so next time you're taking a look at whether your link is tracing back to your website, check there first.
It will usually look like this inside your URL:
?tag=YOUR STORE TRACKING ID
Then, to confirm your links are valid, you can contact customer support to see if your ID is connected to your website URL displaying those links.
If this sounds time-consuming, you're right. It's easier to automate the process, which we'll talk about below.
Do Amazon Affiliate Links Expire?
Amazon affiliate links don't expire, but the "click" on an affiliate link does. When someone clicks a link on your website, they activate a cookie, which starts a timer.
If the person purchases before the timer expires, you get credit for the sale.
Amazon's cookie lasts 24 hours. It works like this:
Someone clicks a link on your website
The click activates a "cookie" in the person's browser
Cookies have a set timeframe from the time a person clicks to when they make a purchase
If the person purchases within that period, you'll get a commission for the sale
Yes, 24 hours is a short time, but the upside is that if the person who clicked your link adds the item to their cart, the cookie window extends for another 89 days.
For example, if someone adds an item to their cart and leaves it there for another week, and then buys it, you'll still get credit for that sale and earn a commission.
That's the only way you can get an extended cookie duration with Amazon.
Once you put an Amazon affiliate link (or any affiliate link) to your website, that link will stay active unless another variable comes into play (i.e., the link breaks, affiliate network changes or the cookie expires).
How Do I Promote My Affiliate Link?
There are many ways you can promote affiliate links. You can guest post or write product reviews. You could also try:
Creating in-depth guides and tutorials focused on using a product
Email marketing linking to your affiliate links
YouTube
For example, if you're writing a product review, you could show your readers how to use the product, the benefits, pain points, etc.
Your audience will LOVE you for it.
You create a TON of value for them by creating a product review about something that would make their lives easier (while adding your affiliate link).
It's an easy way to monetize your website.
We have a substantial amount of product reviews on our personal finance site, Listen Money Matters.
And that's only the tip of the iceberg. Read our post How to Promote Affiliate Links: 11 Simple Strategies for a deeper dive.
Can I Buy Through My Amazon Affiliate Link?
No, you can't buy through your own Amazon affiliate link because it's a violation of their Associates Program Participation Requirements.
You can't even ask your friends or family to buy products via your links.
If Amazon notices you're soliciting friends and family to buy through your links, you won't earn a commission or, worse, you'll lose your affiliate account.
From Amazon:
You will not directly or indirectly purchase any products or take a bounty event action through special links… and you will not permit, request, or encourage any of your friends, relatives, or employees to directly or indirectly purchase any product…
They're strict when it comes to this. Play it safe and rely on your SEO, organic traffic, and high-quality content to get clicks and commissions.
Read Amazon's Participation Requirements full policy for all of the details.
How Much Do Amazon Affiliate Links Make?
Earning money as an Amazon affiliate can be lucrative, but commissions vary based on the product category and the number of people you send to Amazon who make a purchase.
It will also depend on the types of products that will determine if you have a profitable niche.
For example, if you're promoting high-priced electronics or appliances, you'll potentially earn a larger commission.
Your audience size will also play a role: the larger its size, the higher your potential commissions.
Here are Amazon's Fixed Commission rates by category: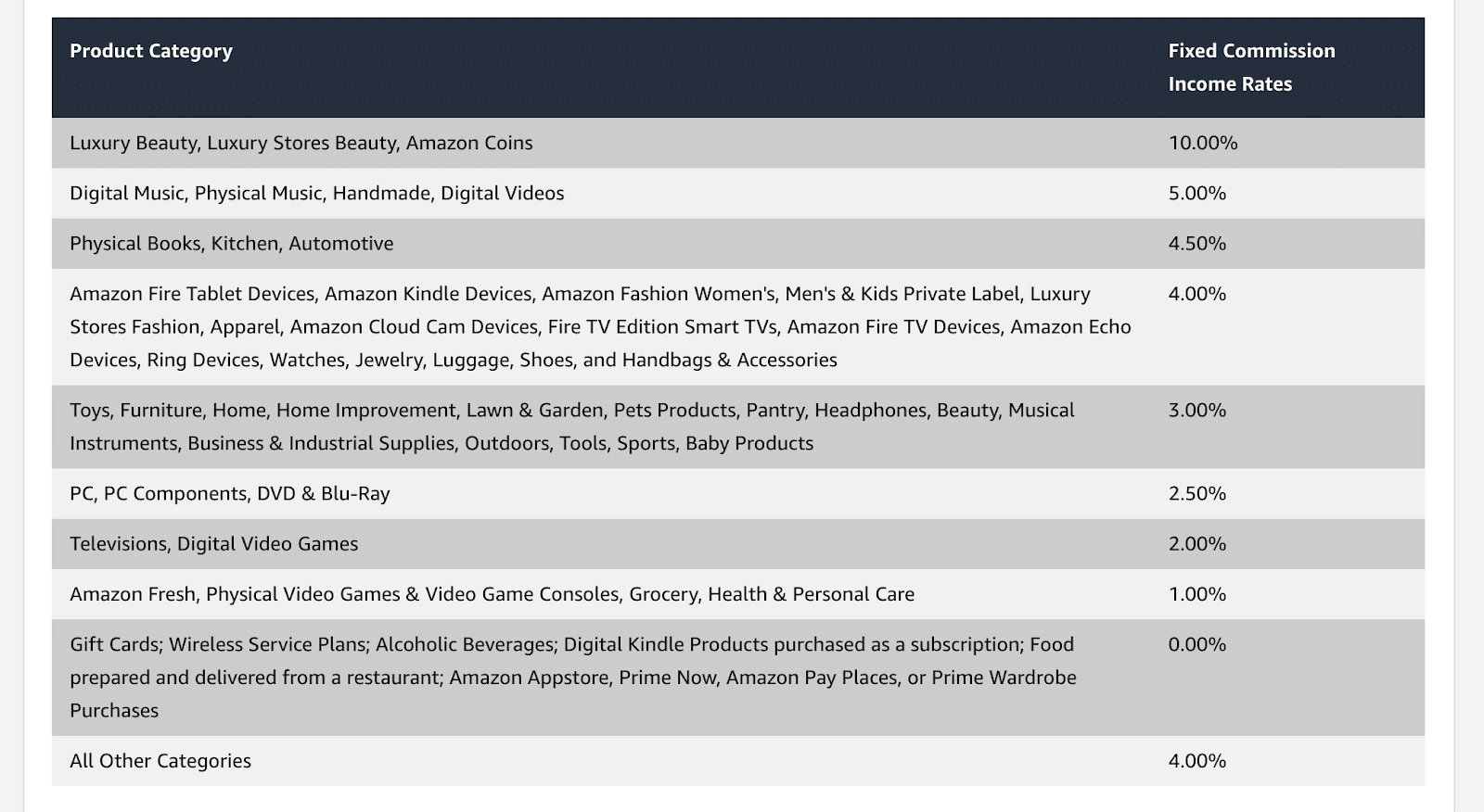 Depending on your strategy, you could target this list based on income rate percentage or product category.
Then, weigh your interest level per category before deciding on which topic to start blogging about.
The Advantages of Using A Link Checker Tool
One of the best ways to optimize your affiliate marketing content is to check for broken links.
Links can become unreliable, broken, or malformed. If you don't know where they are, you're losing money every time you send visitors to those destinations.
URLs can link to:
Unreliable product listings
404 pages (broken links)
Unavailable products
Another reason to use a link checker tool is to find monetization opportunities.
If you link to other products, brands, or keywords with an unmonetized affiliate link, that's another missed opportunity.
For example, let's say you mention Asana in your blog content, and you link to their domain.
Then you join their affiliate program, and now you want to turn those links to Asana's domain into monetized affiliate links.
Link checker tools can streamline the process with instant alerts without needing to copy and paste URLs into a search bar manually.
That's an extremely time-consuming process.
Alternatives to the Amazon Link Checker
If you're looking for other ways to monitor your affiliate links, use an alternative. Several tools are quick, easy, and automate the process, so it consumes less of your time.
For example, suppose you were using Lasso to monitor your affiliate links.
In that case, you'll get notified when your links are broken, products are out of stock, and any monetization opportunities available on your site.
It's an excellent way to avoid sending your visitors to a broken link, but also for finding new income opportunities you may haven't thought of.
You can install Lasso's plugin in a few steps on your WordPress site.
Once that's done, Lasso scans your entire site's current affiliate link health. It'll detect which links are broken, out of stock, and look for opportunities.
Side Note: It's also a good idea to use alternative affiliate programs to diversify your income so that you're not relying only on Amazon. Check out our database of 1,200+ affiliate programs.
Finding Link Issues with Lasso
You can troubleshoot affiliate link issues with Lasso from inside your dashboard.
It displays all broken URLs and out-of-stock products in a single location, as well as income opportunities.
Lasso runs on its own servers to check for broken links so it won't slow down your site. Most broken link checkers don't integrate with your server resulting in your hosting provider banning them.
If you want to search broken links, for example, click the red broken link icon:

Lasso will show you all of the posts on your site where broken links appear.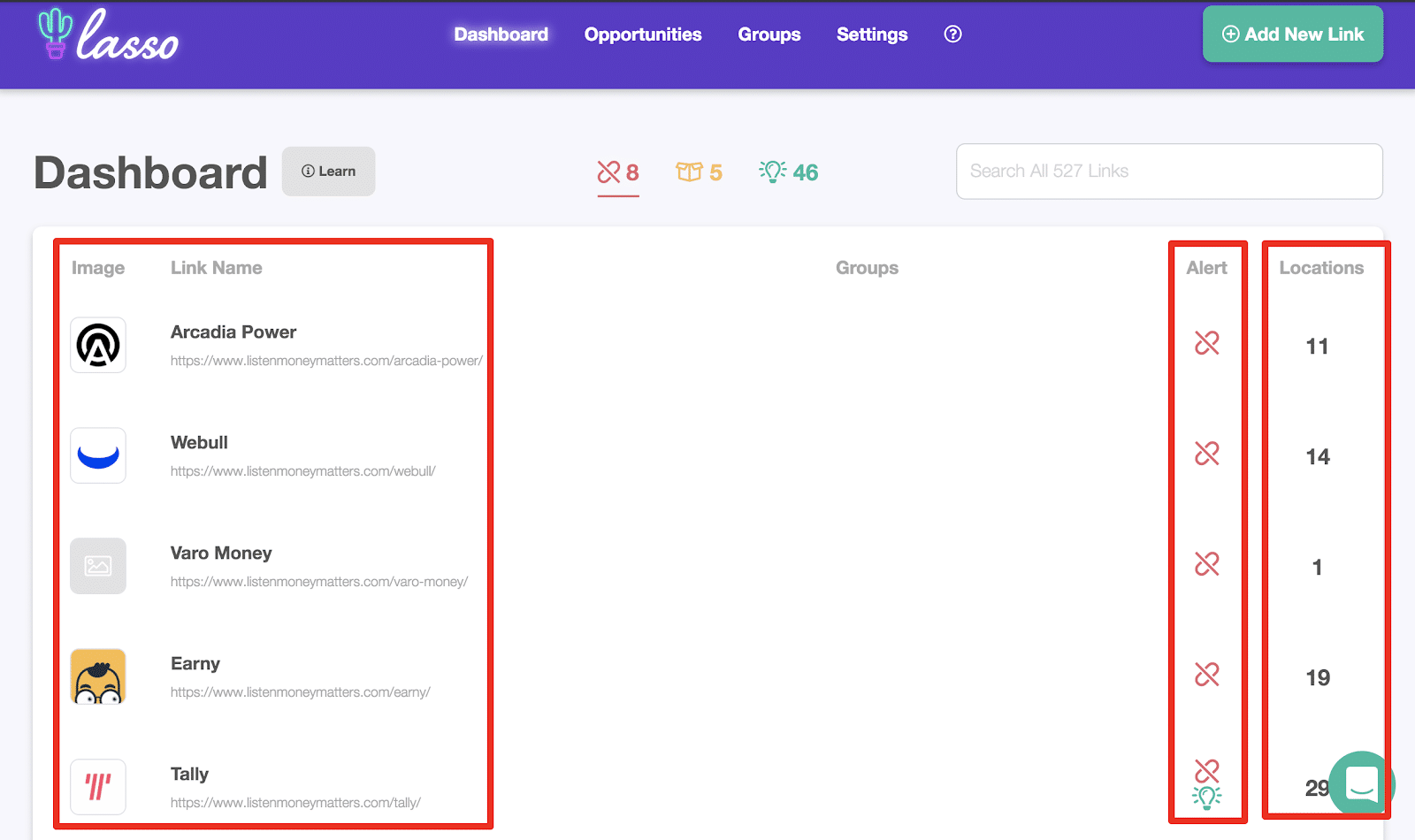 You'll see three columns:
Products (along with an image) with broken links
The alert type (in this case, "broken links")
Number of locations where those broken links appear on your site
When you click "Locations," Lasso shows you each post with the broken link.
For example, if I use the first affiliate product link on the top of the list, Arcadia Power, when I click "Locations," I see this: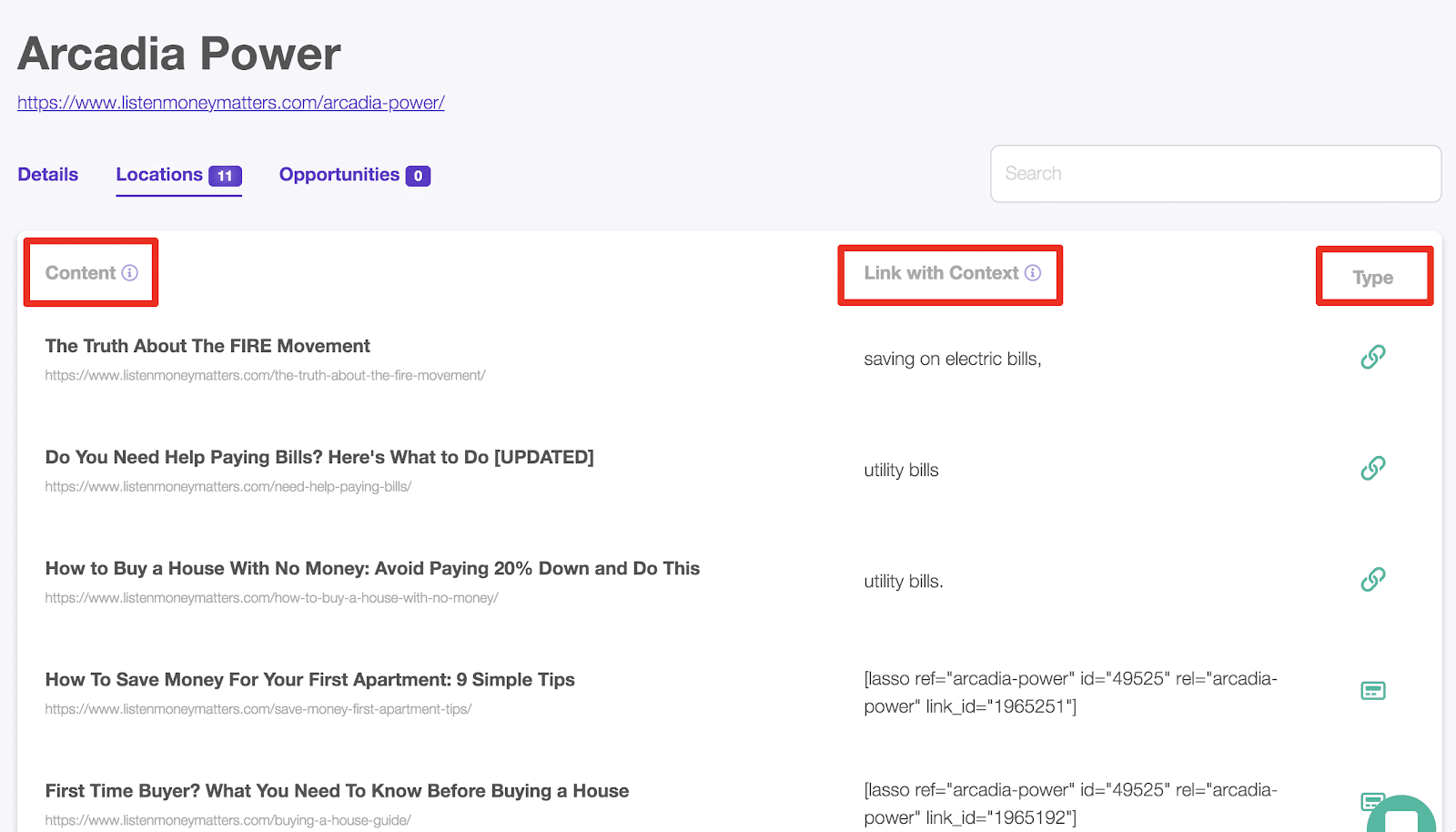 This page shows you three things:
The content the link appears (e.g., a blog post)
Link with context (anchor text used)
Link type (whether it's a text link, image link, etc.)
Tip: Fix links getting the most clicks first. If they're already performing well, make sure you address your money-makers.
An easy way to do this is with Google Analytics. Lasso integrates with Google Analytics so you can track every click's performance.
It will help you see which posts get the most clicks and by what affiliates.
All you need to do is enter your Google Tracking ID and enable click tracking in Lasso's dashboard. You can read about how to do that here.
Then, you'll know what posts perform best. Adjust your site links as needed so you can incrementally make improvements and *ideally* boost conversion rates 😉
Just rinse and repeat this process to check for out-of-stock products or monetization opportunities.
The Last Word
The Amazon affiliate link checker is a useful tool when conducting one-off checks for your affiliate links.
However, if you're running a site with a substantial amount of links, a streamlined process might make more sense.
One drawback of relying only on Amazon's Link Checker is that it won't automatically alert you when links are broken unless you MANUALLY paste the link into the tool.
For that reason alone, using a tool like Lasso will help as it does this for you automatically.
If you're still curious, read this.
Or, check out Lasso's feature page for a complete list of how it can help your affiliate marketing business.
Our creations in your inbox, weekly.
We've built multiple, six-figure online businesses that our mom's are proud of.
We'd like to help you do the same.