Affiliate link tracking is essential if you want to make the most money possible. Without tracking, you're blind to valuable data and insights, and it's impossible to optimize properly. I'll show you exactly how you can track every single affiliate click on every location on your site, and surface the insights you need to optimize your conversions.
All the other articles on this topic online really only give you a level-1 view on affiliate link tracking. They just show you how to track them in Google Analytics.
But this is only the basics. 
Beyond just tracking these clicks (and we have a tool that can instantly do this for you at Lasso), I'll show you how to get the complete breakdown of affiliate revenue from each affiliate link, type of product, and how much each page on your site makes.
So, let's get into it!
Table of Contents
How To Track Affiliate Links & Instantly See Revenue Breakdowns
What Is Affiliate Link Tracking for Bloggers?
Affiliate link tracking is the process of monitoring an affiliate URL's performance across your site.
This involves tracking which affiliate links drive the most clicks, which pages on your site drive those clicks, and how much each click is worth to you on your site.
Affiliate links are URLs with identifying attributes appended to them.
They contain:
Landing page info

The merchant's details

Your unique affiliate ID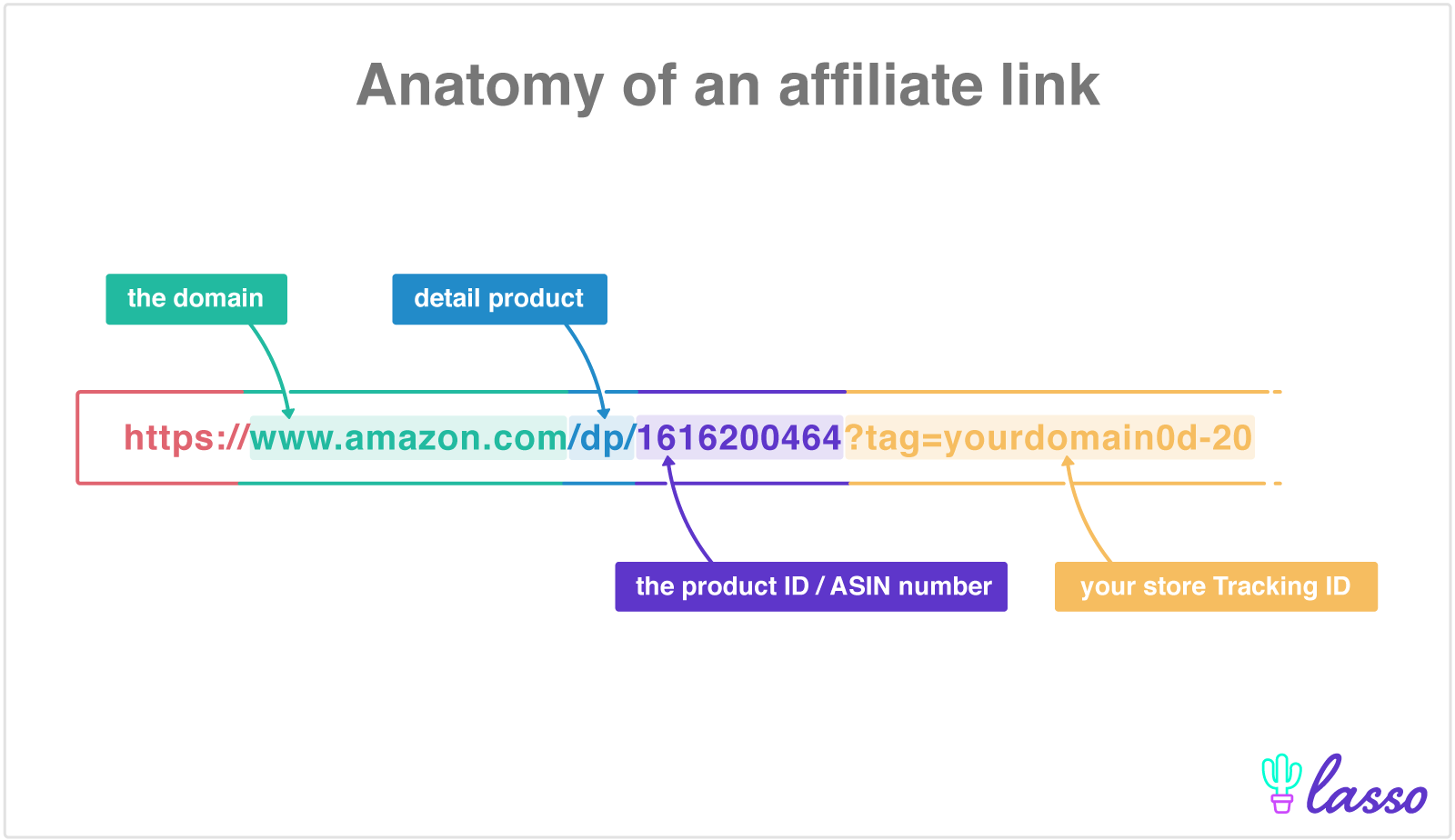 More advanced link tracking, which we offer at Lasso, involves using automation to add a unique SubID to every link on your site. With this, you can track:
The earning per click (EPC), revenue, and conversion rates of every link

The different EPCs of these links in different locations, and compare them

Collate each link's revenue performance to show how much revenue each page on your site earns
And best of all, it's all set up for you. To guess conservatively, this level of affiliate tracking and reporting should at least double your affiliate revenue.
Why You Should Track Affiliate Links On WordPress: The Benefits
So why track affiliate links? The short answer comes from Peter Drucker:
What gets measured gets managed.
Here are the 4 main reasons to track affiliate links:
See clicks, revenue, and compare affiliate link performance in one report

Prioritize your highest-earning links and pages

See broken affiliate links, or out-of-stock links

Get data to ask for higher commission rates from affiliate managers
1. See all click, revenue, and EPC data in one report
The only way you'll improve at anything is if you monitor progress. Affiliate link tracking matters because it lets you discover which links and pages generate the most:
Clicks

Visitors

Conversions
For example, this screenshot from Lasso Performance shows some of the affiliate links on one of my sites. It shows the clicks, EPC, and the revenue from these clicks, which is only possible because of the affiliate link tracking:
And by collating all this data together, you can quickly surface the insights you need to make more money.
Such as which your highest-performing links and pages are.
The main two insights I recommend searching for are:
Star players

: the products you're making lots of sales of, to further promote and add to more locations on your site, and put in all the top positions.

Sleeper hits

: the products that don't get many clicks, but have very high EPC and convert well. These should be expanded across your site, and given more chance to become a star player.
2. Spot Your Money-Making Links & High-Converting Pages
Most people don't know which page on their site makes the most affiliate revenue. This data is absolutely essential if you want to scale your website income, and double-down and focus your time on the pages and strategies that really move the needle.
If you connect to Lasso, you can see all of this data in one dashboard. You can then view your highest-earning pages, links, affiliate programs and networks, and more.
Here's an example of some of the top-earning pages on one of my sites, as shown in Lasso:
Once you've learned which products and programs are converting best, you can then prioritize these. By only focusing on these high-revenue products, you can scale much faster and earn more.
Scaling these includes writing more content that feature these products, writing more content around these particular niches that the data shows perform well, and focusing on conversion rate optimization (CRO) on these high-performing posts to earn even more revenue.
Examples of types of affiliate content you can expand into include:
Comparison posts (also known as "vs" or "X vs Y" posts)

Buyer's guides (also known as "best" articles or "product round-ups")

Alternatives posts
3. See Your Broken Affiliate URLs
Broken affiliate links cost you money every day, leaking water like a bucket out of your wallet.
Imagine you have an affiliate article that gets 3,000 page views per month. And one particular product gets clicked 30% of the time.
3,000 multiplied by 30% = 900 clicks.
Of those 900 clicks, 100 convert. Every conversion equals $100 to you.
100 conversions x $100 = $10,000.
Imagine your link is broken, and you don't realize it for a month. You're out $10K!
It's one of the reasons we designed broken link notifications and functionalities into our tool, Lasso. When inside your affiliate dashboard, you can see every busted URL sitewide in real-time.
You'll also be able to locate Amazon links that are out-of-stock. This is a game-changer for optimizing your pages and an excellent starting point for managing links.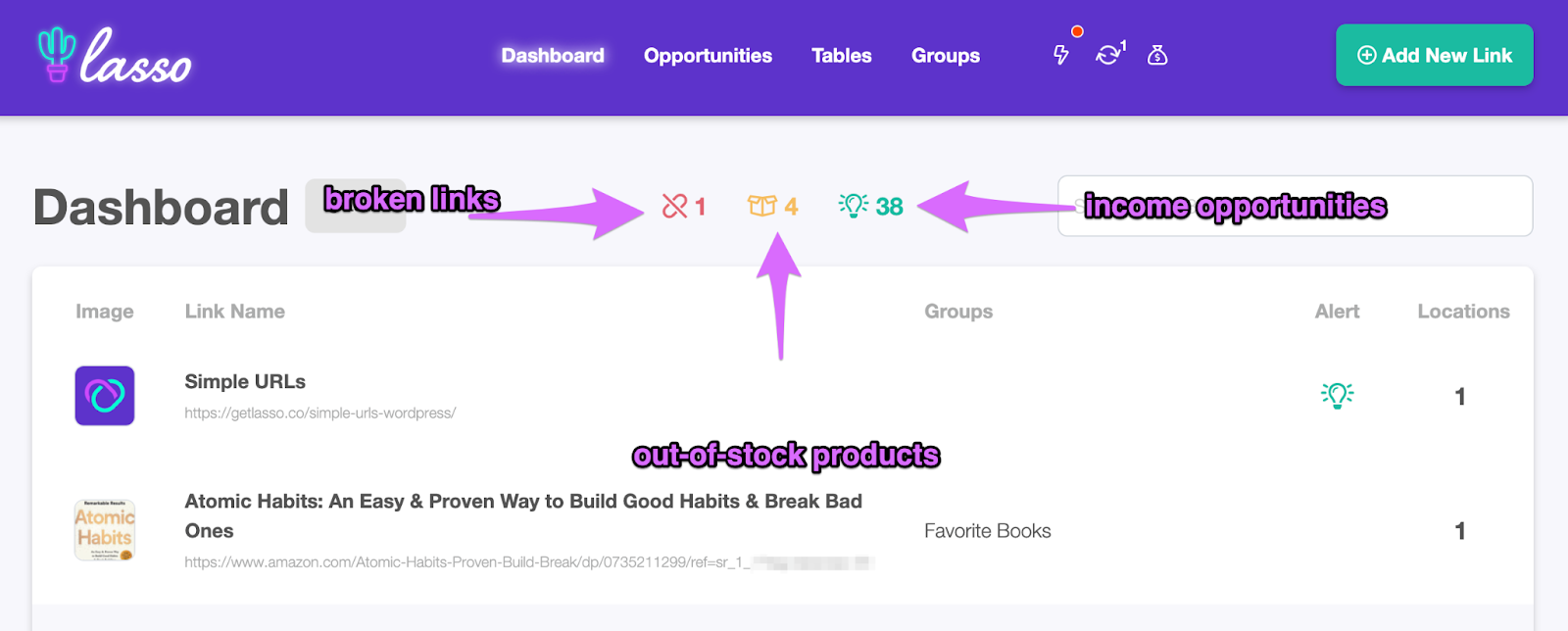 The above screenshot shows:
Out-of-stock products
4. Get Data To Ask Affiliate Managers For Higher Commission Rates
With more data on which products are converting well, and which pages you know can drive results for the brands and affiliate programs you work with, you're now armed with more leverage to ask for more money.
Communicate clearly how you have delivered good sales results for them via tracked affiliate links, naming specific high-performing pages on your site, or products you have converted for them.
Then, ask for a higher commission rate – perhaps offering to add them to more locations on your site in return.
For more details, here's a thread I wrote on this:
I added an extra $3,500 revenue EVERY month from my niche sites WITHOUT a single extra page view 🤯

Using this 1 KEY affiliate marketing trick 🔑

🧵 👇 – RT if you found this useful 🔥

— Jamie I.F. (@Jamie_IF) November 30, 2022
How to Track Affiliate Link Performance: 2 Methods
At Lasso, we've invented both of the two easiest ways to track affiliate links on your website, so I'll explain those here.
We've focused on making this as simple as possible, so you can spend your time using the reports to increase your affiliate revenue, instead of spending all your time figuring out how to track things.
The best part? You do not need to be technical whatsoever. It's two steps and done.
1. Measuring Affiliate Link Performance with Lasso Performance
We built Lasso Performance to add a much deeper level of affiliate link tracking, and affiliate analytics, so you have as much data on your affiliate sales as you currently have on display ad RPM data from Mediavine or Raptive.
If you're a Lasso customer, you'll have access to Performance in our dashboard. To access it, simply go to app.getlasso.co and sign in with your account.
Then, add Performance on to your site with one snippet of JS code – I recommend using the WPCode Insert Headers and Footers plugin.
And that's it!
From there, all your affiliate links will have custom, unique SubIDs added so they can be tracked individually and collated to give you insights across your entire website.
For example, our software can tell when different affiliate links across your site lead to the same product, and tracks them both separately and together, so you also have an EPC and revenue for that product across your site.
You can then investigate why it performs so much better in some locations than others.
It also tracks links across your entire page, giving you a full revenue breakdown for each page. With this, you can see which affiliate links are the most profitable, and focus on sending more traffic to these links to earn even more.
This is the most automated and advanced way to track your affiliate links, and it's also the easiest, as there is only one JS code snippet, and no manual tracking.
2. Measuring Affiliate Link Performance with Google Analytics
Google Analytics (GA) isn't "official" affiliate tracking software, but you can see how your links perform via "Event Tracking."
To see it, head to Behavior > Events > Overview.

Pay attention to these metrics:
Event Category: The affiliate link name
Event Action: Tells you whether the click came from a text link, display primary button click, or secondary button click
Event Label: The actual URLs getting clicked
When using Lasso, it connects easily to Google Analytics (read how to do it in less than 2 minutes so you can start tracking clicks here).
Simply add your GA tracking ID to Lasso, and it'll start sending click data labeled as an "Event."
Et voilà! You're ready to track your affiliate links.
When looking at your Events inside GA, examine these two metrics:
Pages: Shows you which affiliates convert best on a page-level
Top events: Displays your top-performing affiliate links across your site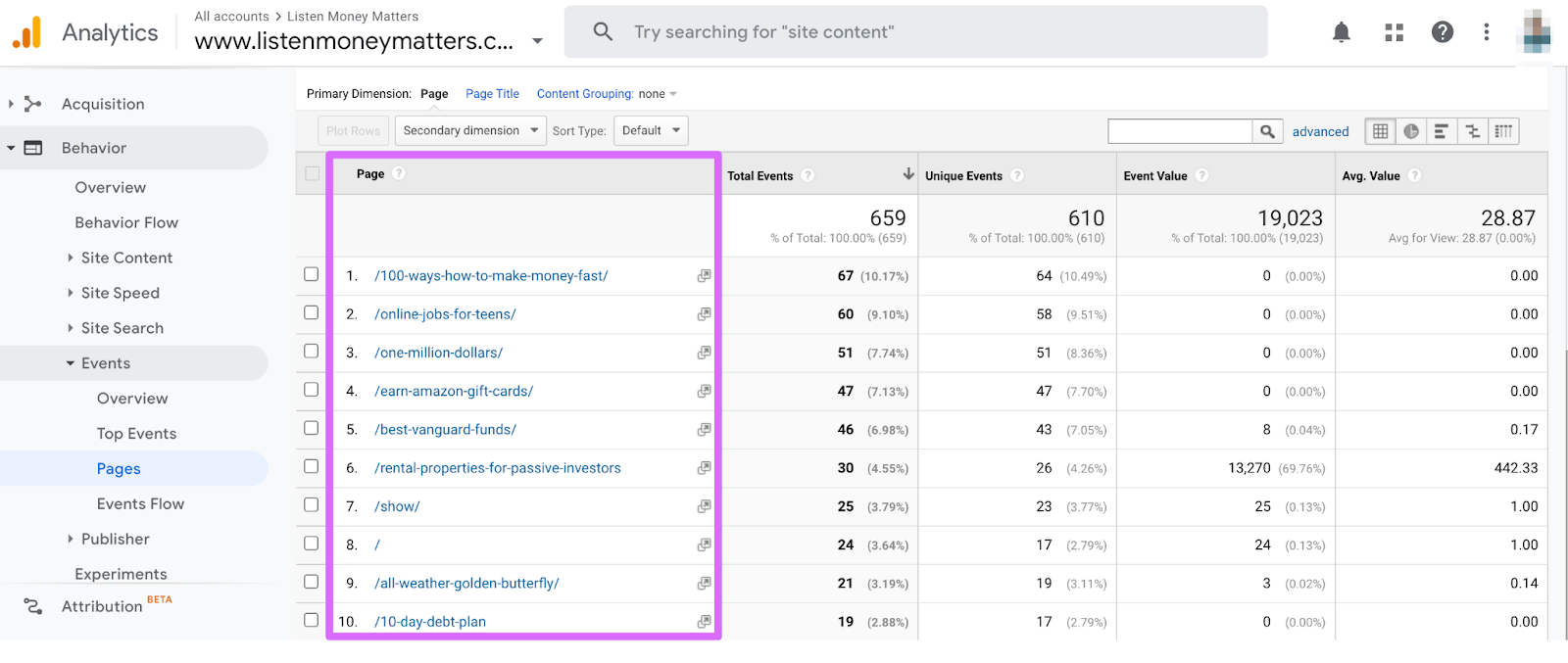 Reviewing our "Pages" data from above, you can see the articles with the most affiliate clicks.
For example, when clicking on our /one-million-dollars/ post, you'll see the affiliates on that page descending from most-clicked to least-clicked.

Examining the above screenshot, you see Fundrise, Personal Capital, and M1 Finance are in the top five.
Since this post is a listicle, if you didn't have any additional content about those three products, this presents you with an opportunity to create it because your readers are expressing an interest.
Just from looking at that data, you could create product reviews and step-by-step guides on using their platforms.
This page is pretty optimized already, but one minor tweak we could make is moving Personal Capital above Bloom (because Bloom gets fewer clicks than PC). Then monitor the switch for 30 days to see whether our Personal Capital commissions increased.
Sidenote: This post represents evergreen content and will never "expire" because people are always searching for ways to make more money. Creating evergreen content should be part of your digital marketing strategy because it brings recurring revenue and traffic year after year.
You could take this a step further by creating a goal in GA and assigning a monetary value to your affiliate link clicks.
For example, dividing the number of your site's total affiliate clicks by total commissions to get an average earnings-per-click (EPC).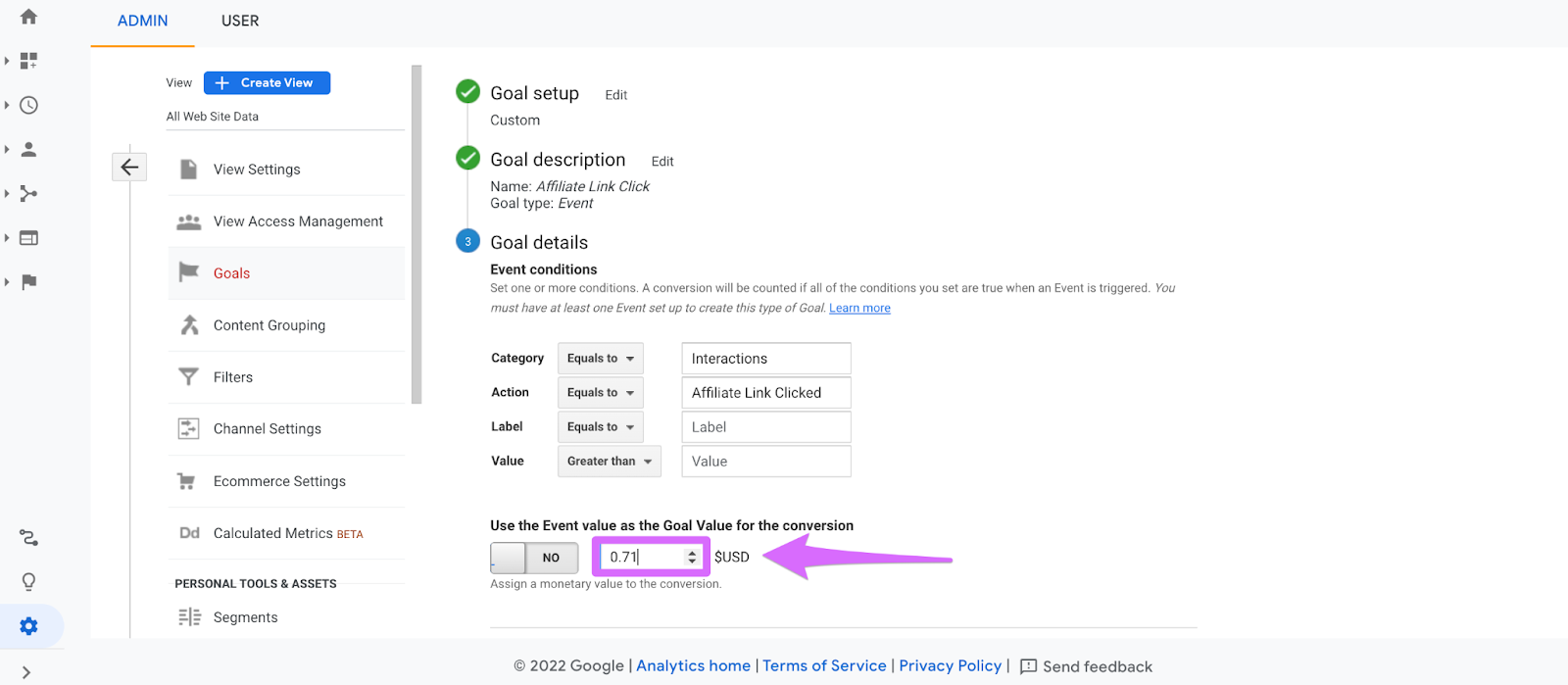 This lets you see a dollar amount behind every page.
Tip: Another best practice is cloaking your links as an affiliate marketer. It makes them easier to distinguish, remember, and share. This makes tracking heaps easier.
When using Lasso, it cloaks your links automatically when you add a new link. (To uncloak it, simply toggle it off as in the below GIF).💥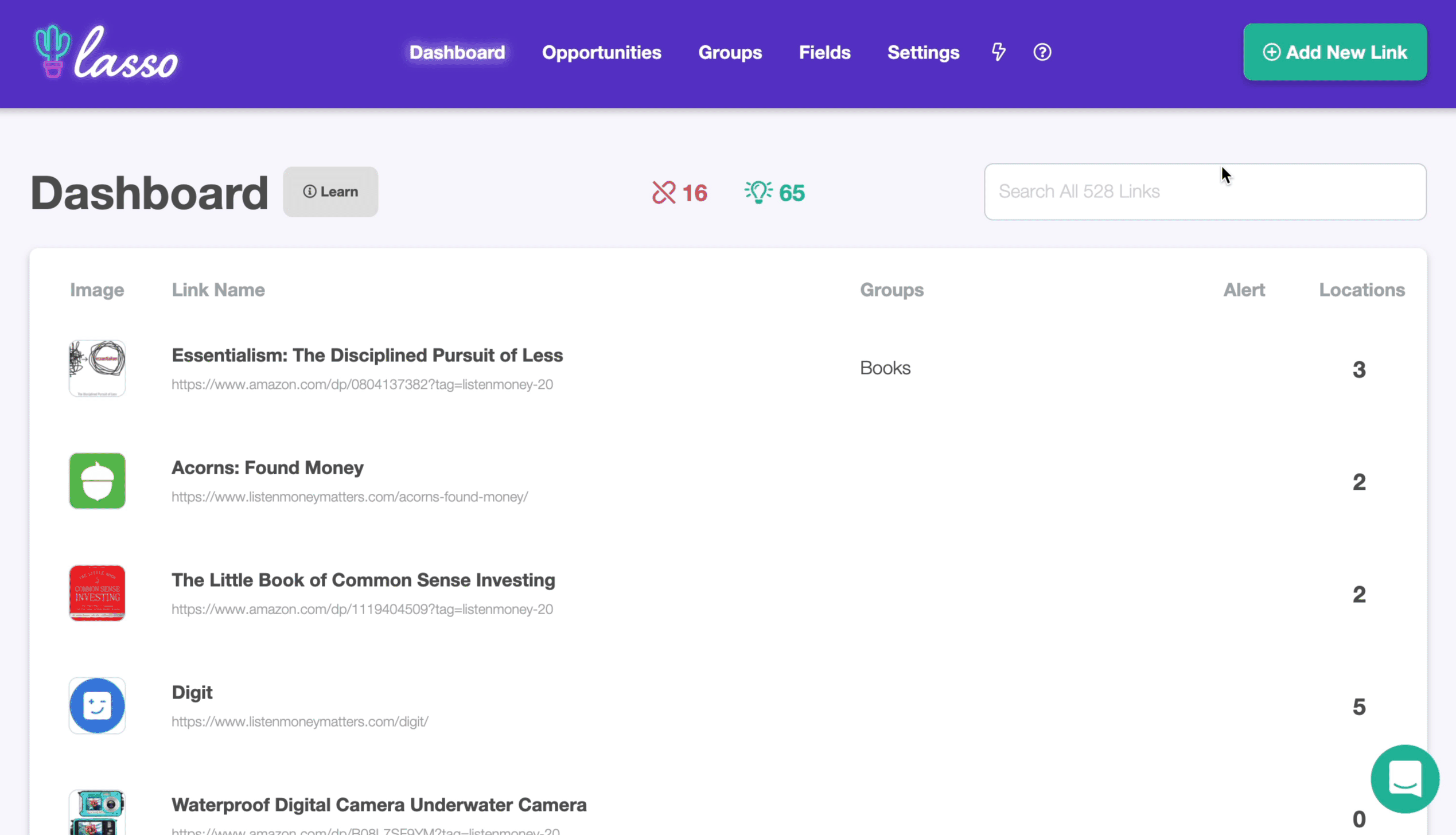 Imagine trying to track un-cloaked affiliate URLs that looked like this:
That's not nearly as SEO-friendly.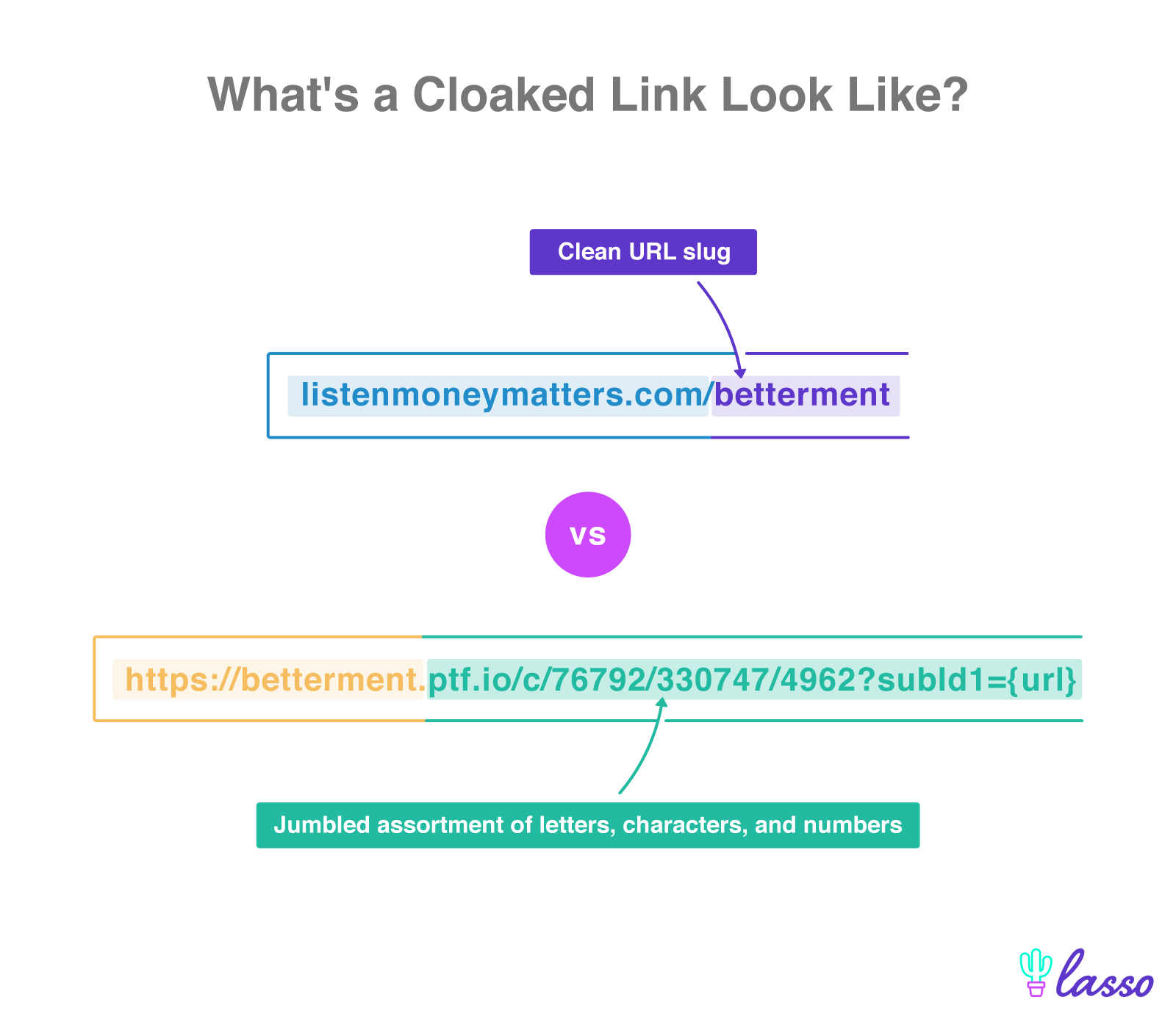 Another way to measure link performance is by grouping them. When using Lasso, you can create any affiliate link group you want.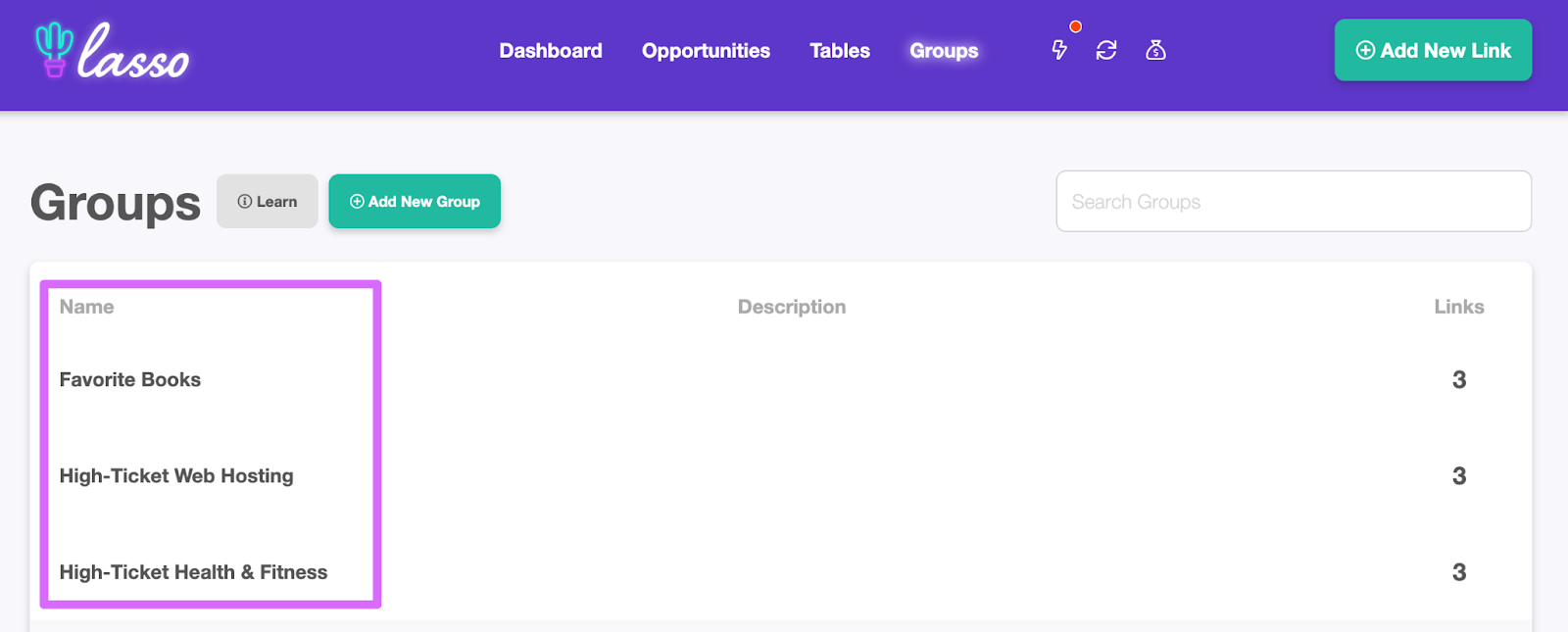 All URLs are easier to find within fixed categories across your site. You can even group them by permalink.
For example, if you wanted to categorize links on a specific web page, you could title it /best-cocktail-books/ instead of the above screenshot, "Favorite Books."
Your affiliate URLs can belong to multiple groups inside their Link Details page.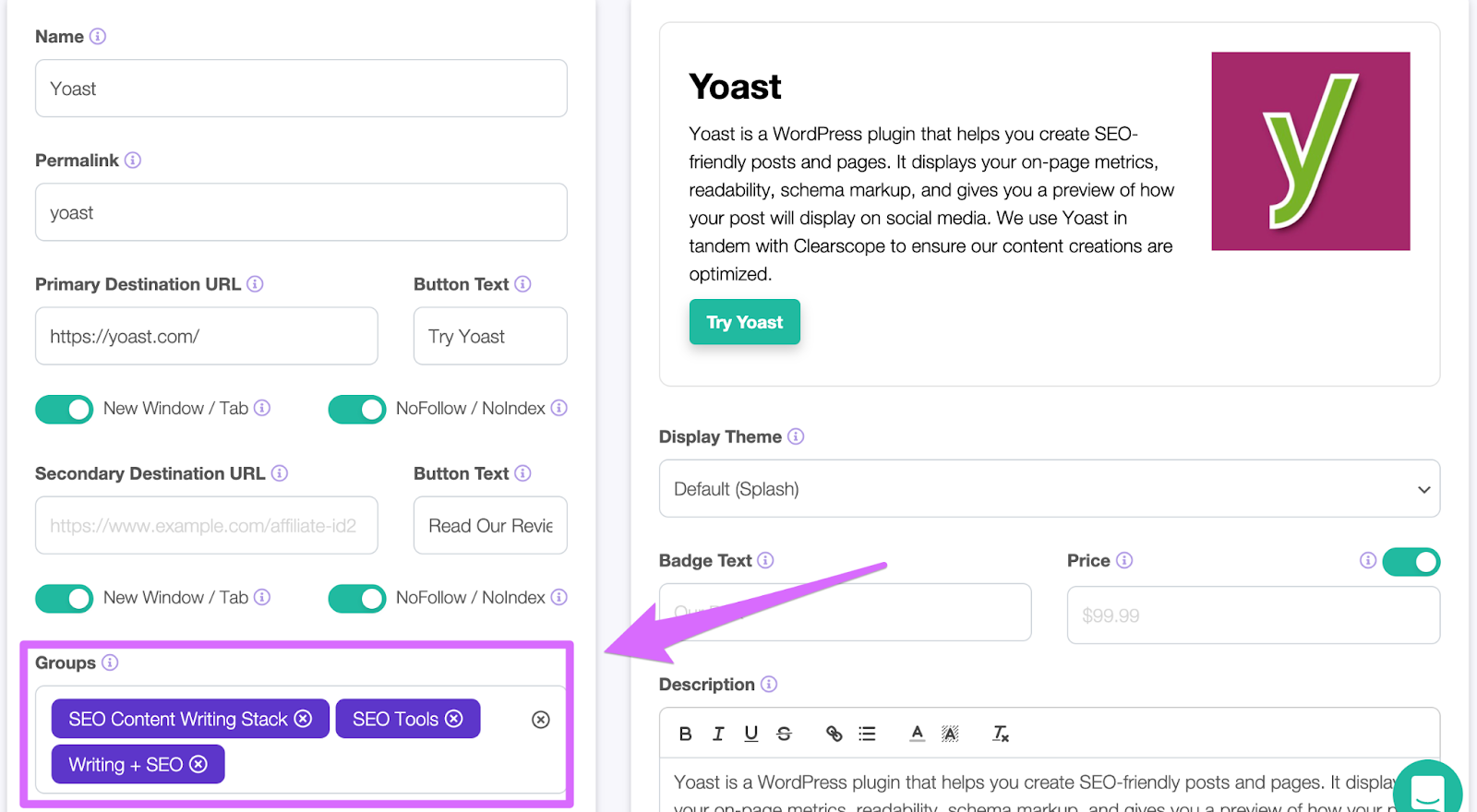 Further Reading:
You Can't Afford to Ignore Affiliate Link Tracking
Affiliate link tracking carries many benefits, with the pros exceeding the cons by a mile. You may not have much to monitor if you're a beginner, but it's best to start the habit now.
If you don't do it, you risk underperformance, sending visitors to broken pages, and leaving money on the table. In our experience, it's worth doing. It's simple to track and takes little time.
And at Lasso, we've built the easiest way to track your affiliate links, and get the data you need to make very profitable optimizations.
You can try Lasso out on your site by clicking here.
Our creations in your inbox, weekly.
We've built multiple six-figure online businesses that our moms are proud of.
We'd like to help you do the same.