There's every type of Amazon affiliate WordPress plugin under the sun. Some excel at doing one thing well. And while that's great, it means you need multiple plugins to manage your affiliate site. You might need one for tracking clicks, another for product promotion, and a third for link management.
This post details 11 ways how Lasso does all of these and more, making it an all-in-one affiliate marketing tool for Amazon Associates. 
1. See Your Link Inventory in a Single Dashboard for Greater Control
You can monitor all of your affiliate and product links in one place. And that's the first step towards maintaining accuracy and ensures every URL is current.
When opening Lasso's dashboard, you'll see a screen displaying:
Every affiliate URL
Product name
Image
Link group
Total number of links across your site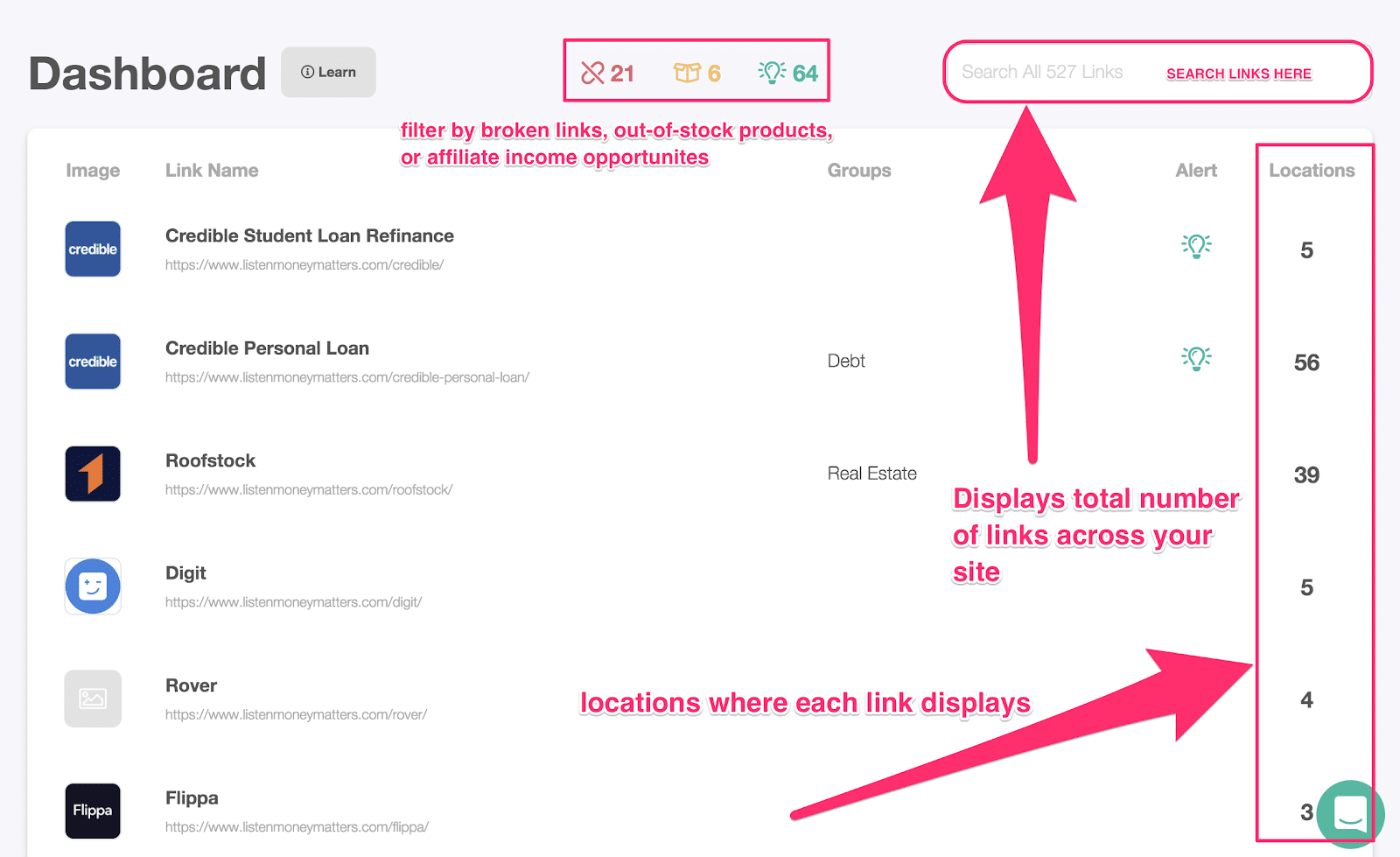 Rather than spend time diving into individual posts and pages, you can update any link sitewide from the "Locations" column.
Use the search bar to find any affiliate product by name, keyword, or URL. Or find broken and out-of-stock product links using the filters at the top.
2. Create Custom Product Displays that Attract Clicks
While you won't be running sidebar widgets or comparison tables across your site using Lasso, the customization and extended functionality of its product displays add a visually appealing layer to your content.
The more product information you give your website visitors, the more likely they'll click your affiliate link. When you present Amazon products in attractive, clickable boxes, you gain trust and improve "click confidence."
Instead of giving your affiliate store text-only links, provide readers with something more enticing. Here's an example of a single product display using Lasso 👇.
Best for Monetization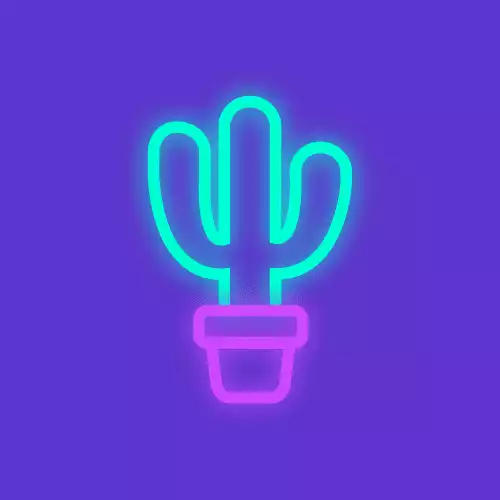 You can choose from multiple display options, including:
Single displays
CTA buttons
Image-only
Grid (excellent for Resource pages – more on that below)
Bulleted lists
Gallery displays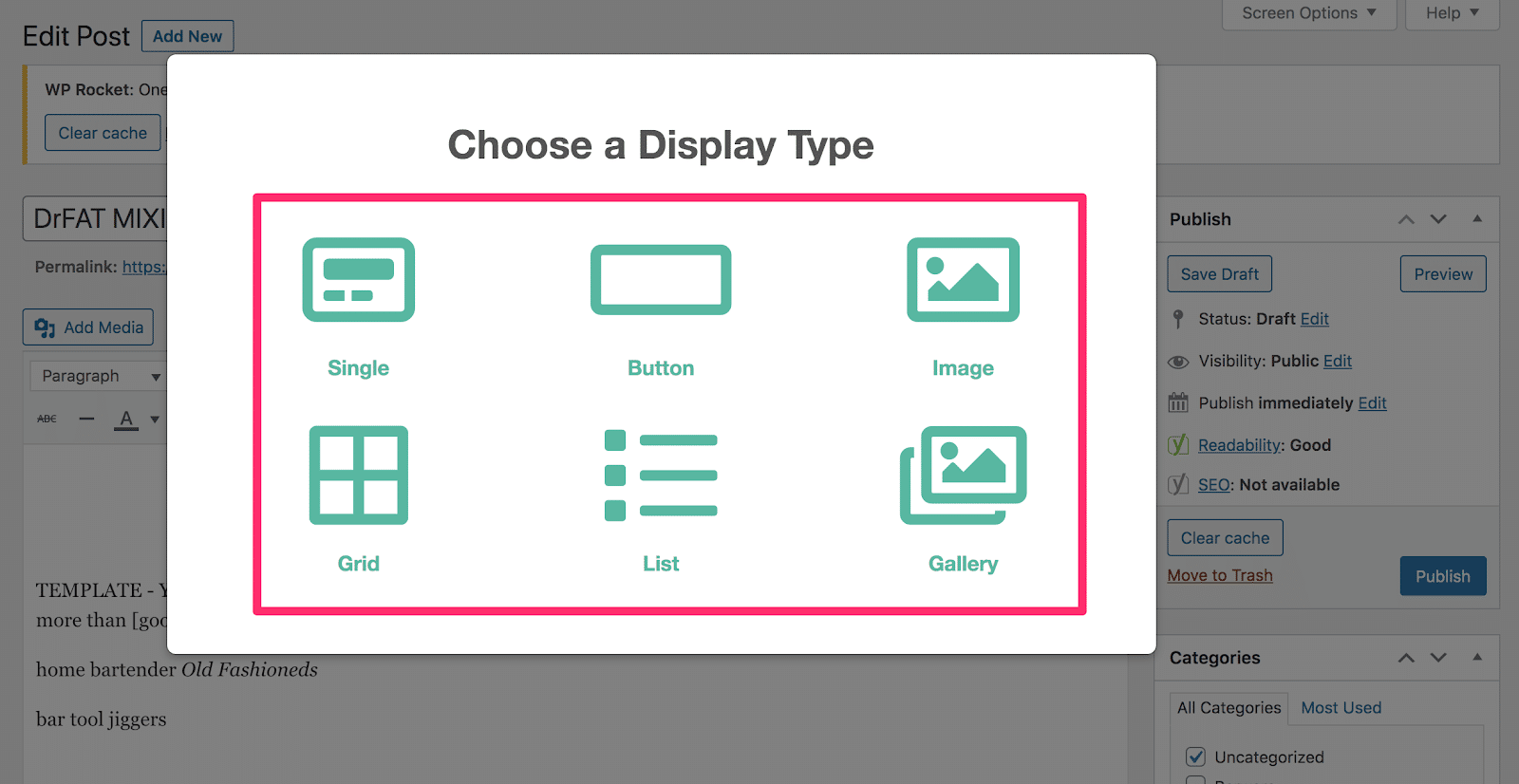 When you show your readers what's behind the click with detailed product descriptions, FAQs, images, and CTA buttons, the easier your job gets.
You only need to click the cactus icon when adding displays to your post inside WordPress. Then, Lasso inserts a piece of shortcode precisely where you want it to appear in your article.

From your dashboard, head to Settings > Display.
Once inside, you can choose between eight themes for your site, along with:
Primary and secondary theme colors
CTA Button & badge text colors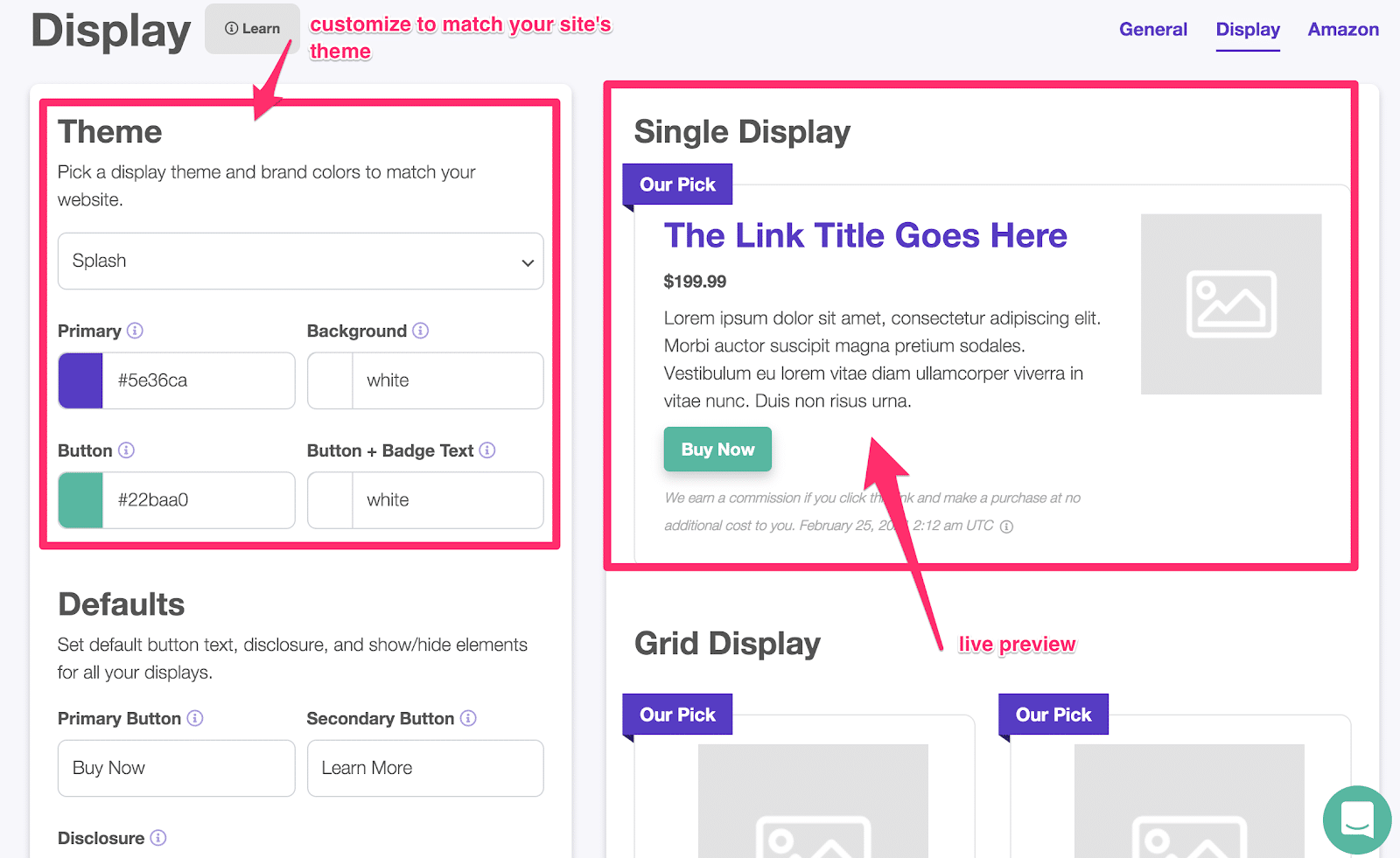 Read up on adding Lasso displays to your Amazon affiliate site here.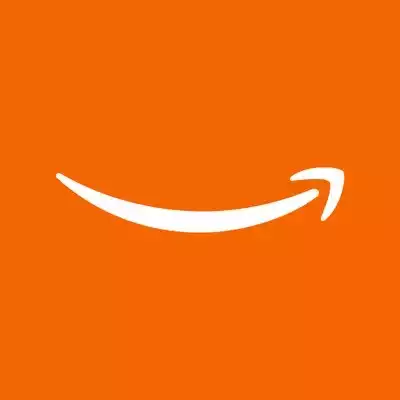 3. Add Affiliate Links Quickly and Easily
When you're ready to add affiliate links to your posts, head to Amazon and grab the product URL. Then copy and paste it into Lasso's dashboard.
Let's say you have an electronics affiliate site and you were writing a product review about this on-camera video light; all you'd need to do is copy the product link in the address bar: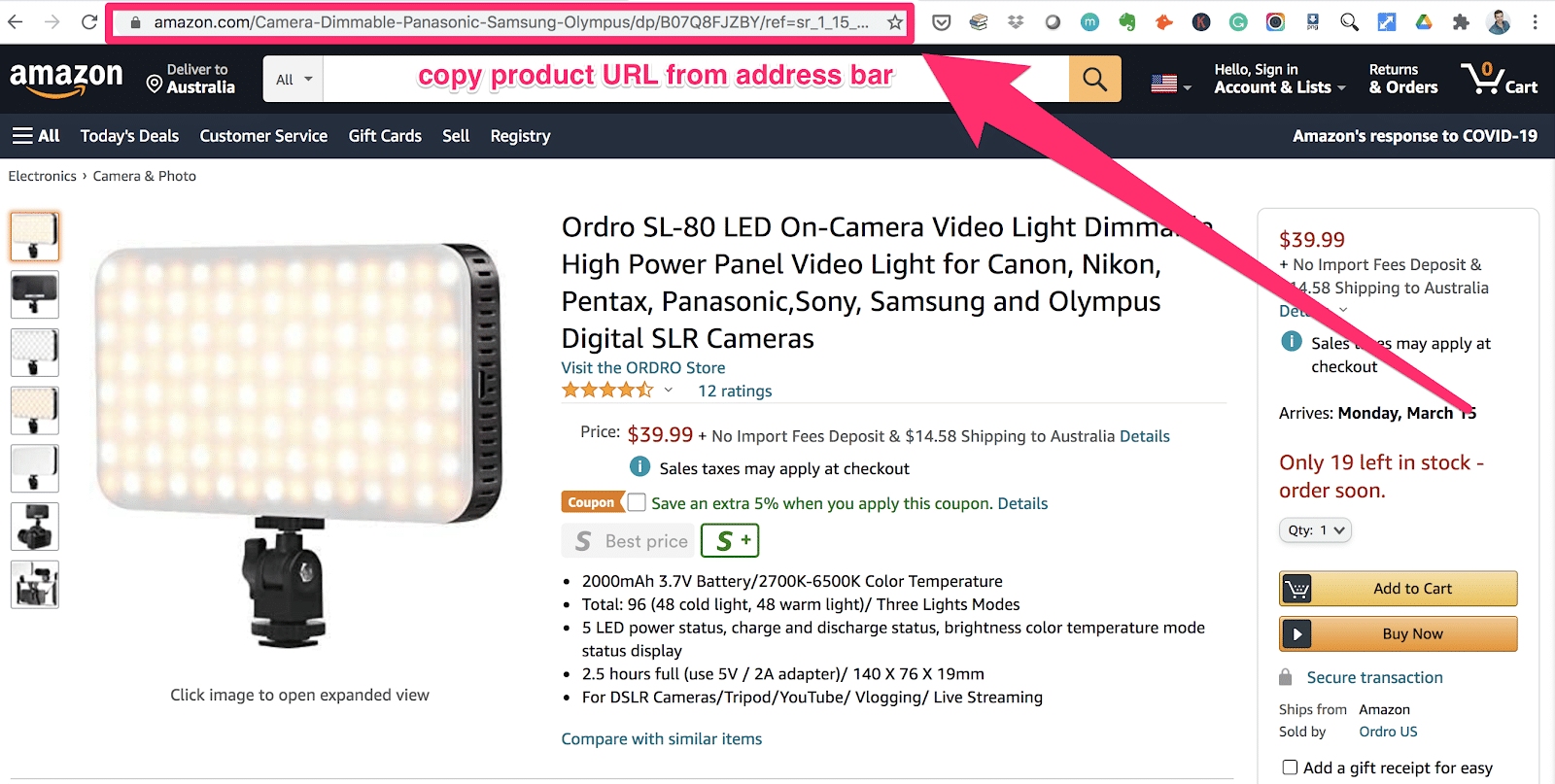 Then, head to Lasso and click "Add New Link" and paste the URL into the dashboard:

Lasso produces a new affiliate URL for your on-camera video light product: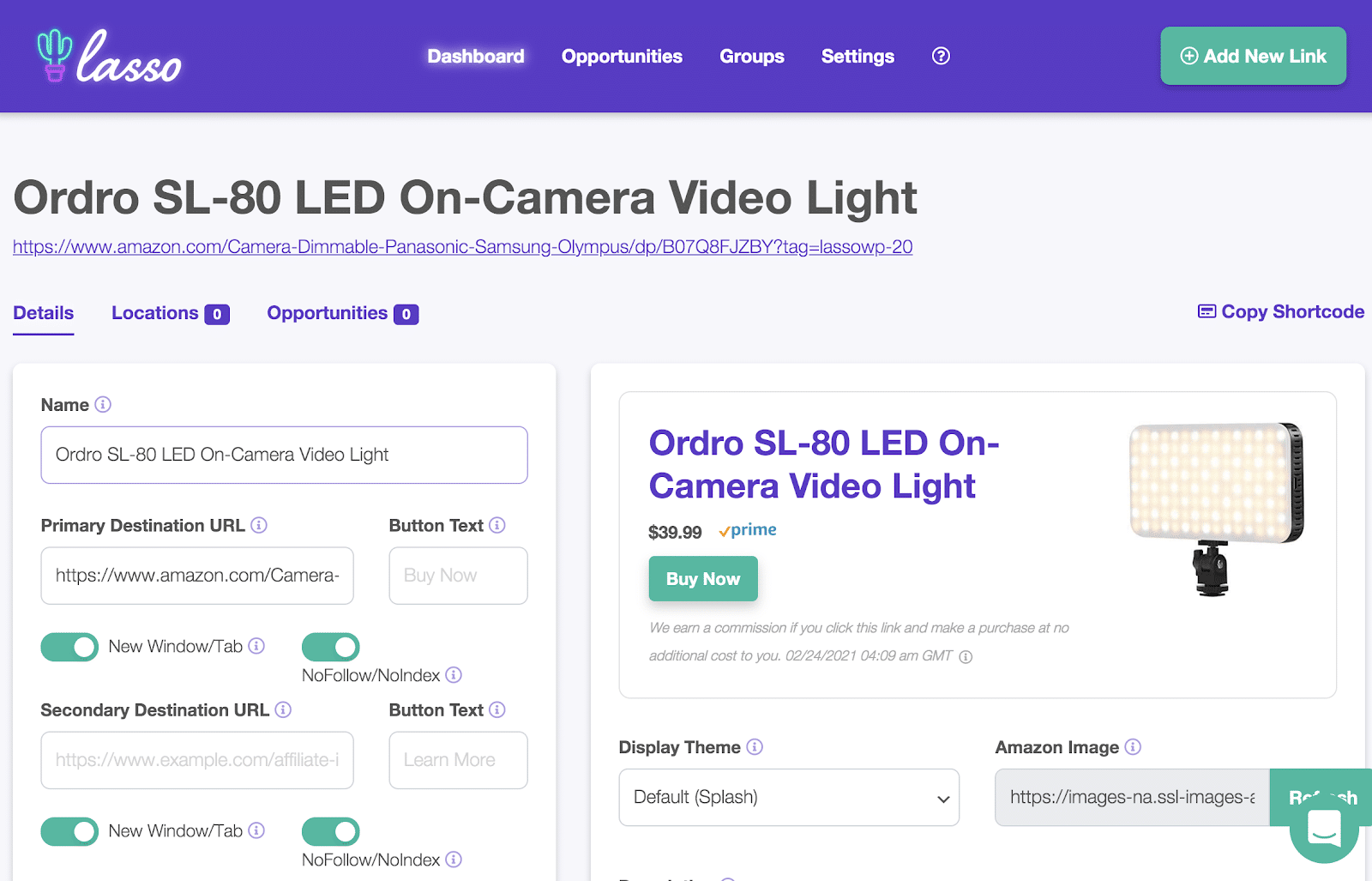 Doing this saves you time as you won't need to generate a product URL from inside your Amazon Associates account or Site Stripe.
When you're ready to add the text link to your post, do it the way you usually would using WordPress's editor:

Takeaway: All of your affiliate links will be labeled "Lasso" when adding them to your posts (so you can find them easier).
Watch this short video on how you can add new links to your site using Lasso.
4. Pull Amazon Product Information Automatically (without API keys)
Using the above on-camera video light example, Lasso pulls all product details and generates crucial info for your affiliate URL, including:
Product title
Product image
Price
Prime logo (where applicable)
URL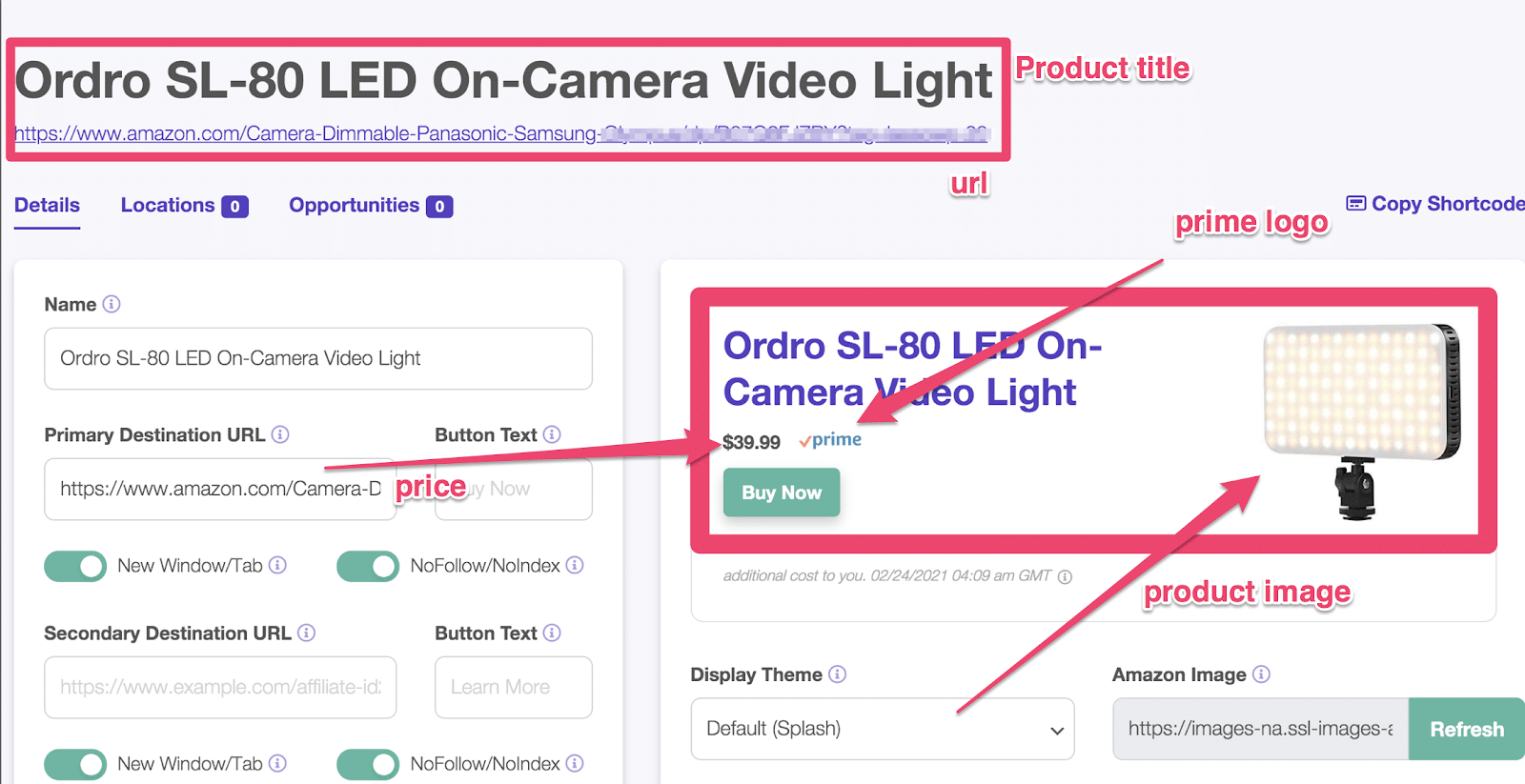 All of these elements display in your product box automatically.
If you're concerned about being unable to use Lasso because you lack API keys, you don't need to worry.
You only need API keys if you want to keep your listing price current. Lasso updates it every 24 hours.
Other than that, your Amazon associates tracking ID works fine for getting all product details, including the image, title, and URL – which Lasso updates automatically.
Test this: Some marketers choose not to display the price in a better effort to capture the cookie when a visitor clicks their product link.
Once the cookie stores in the visitor's browser, it can increase your chances of landing affiliate commissions.
If Amazon changes the price or image, Lasso updates it across your site instantly.
To update the product image of an Amazon URL, click "Refresh," or you can copy and paste the primary destination URL into the image field: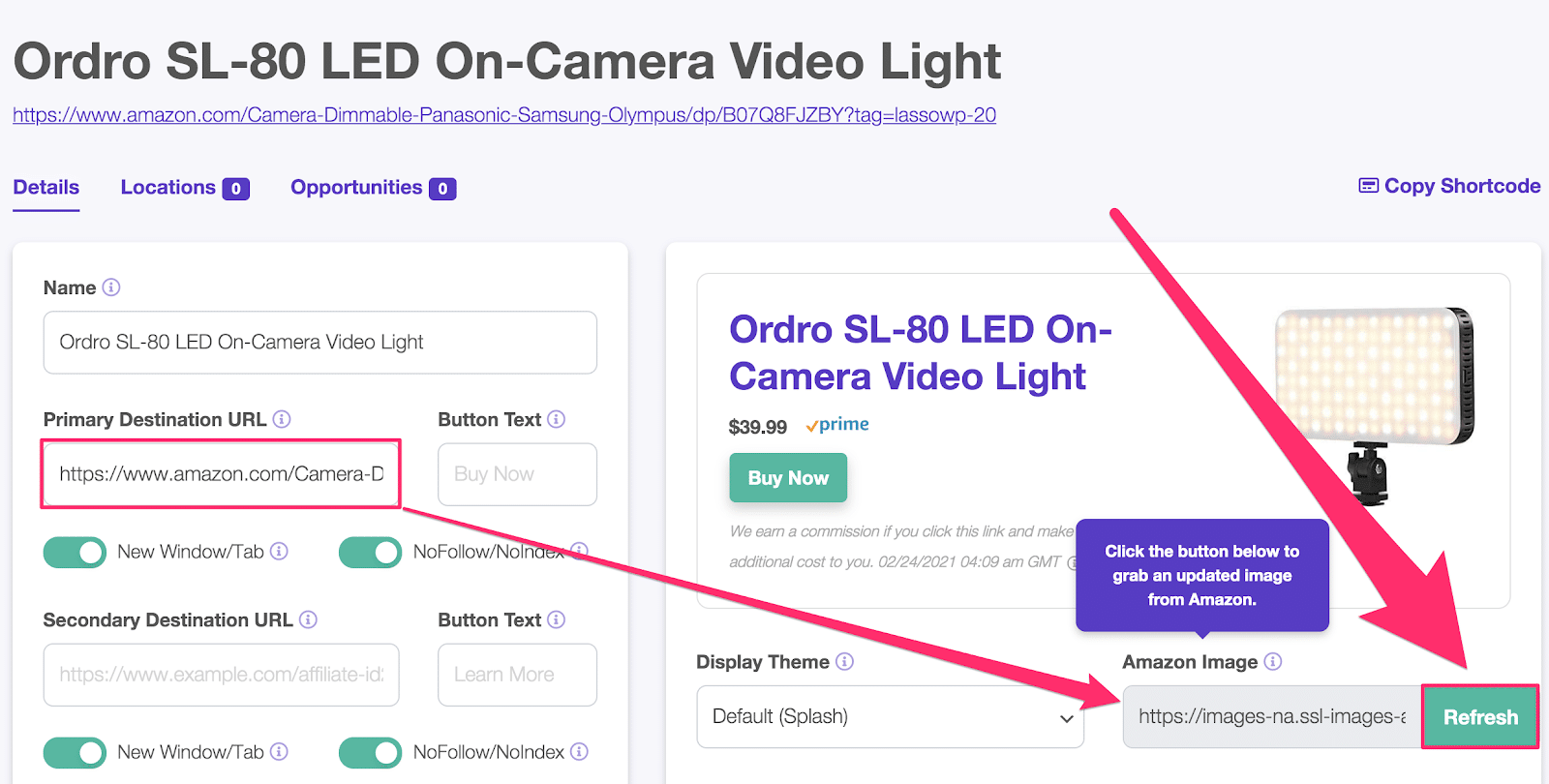 It will ensure your photos stay current.
Note: Lasso is always on the latest version of the Amazon Product Advertising API. If you get emails warning you to upgrade to the newest version, you can disregard those.
If you're an eCommerce seller, sign up for Amazon's FBA program to make your products Prime-eligible.
5. Get "Out-of-Stock Product" and "Broken Link" Alerts
Items become unavailable on Amazon frequently. When it happens to one of your affiliate links, you'll get an alert inside your dashboard.
The same goes for any broken links occurring on your website. You can see them in the same place.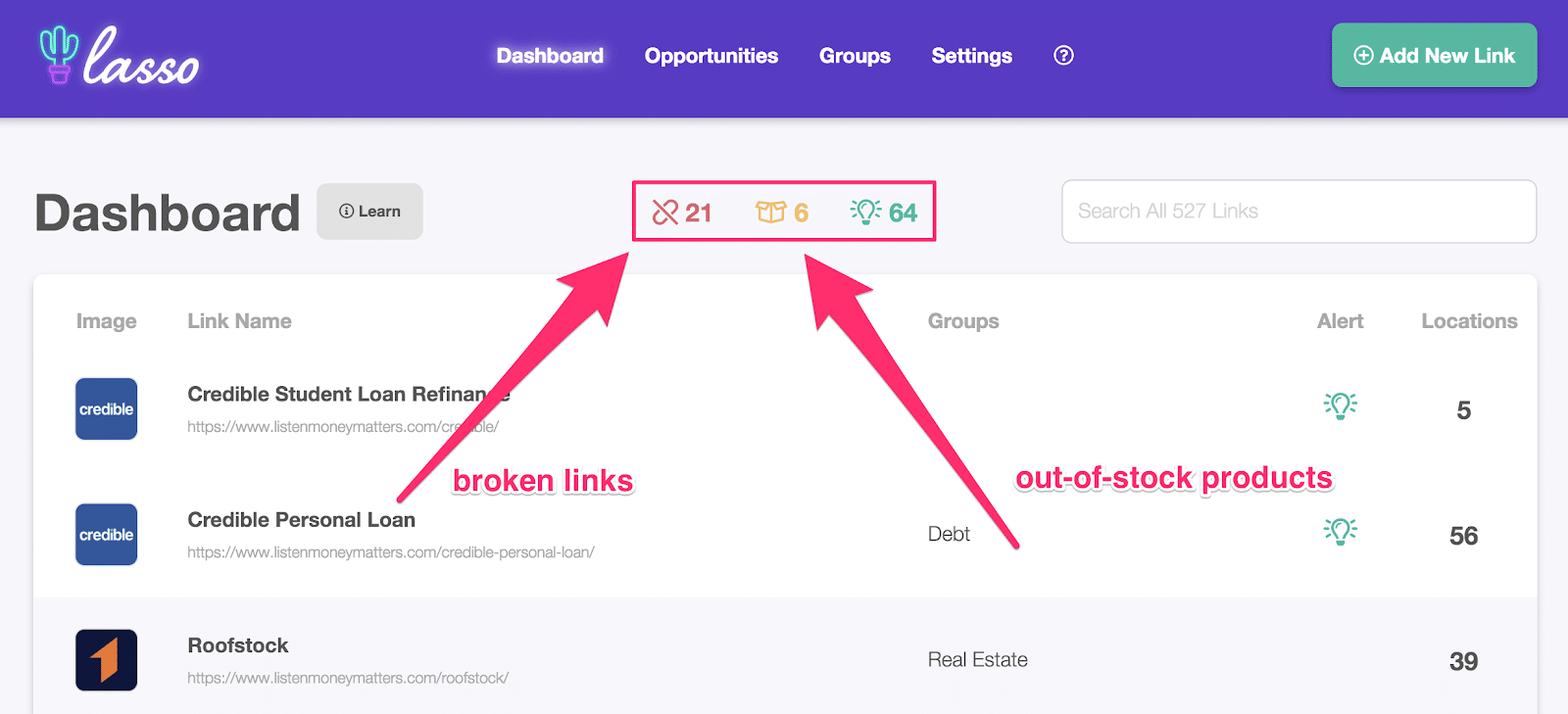 So, rather than send your visitors to product pages with out of stock products or broken links (and lose money), you can replace them with something else.
Case Study: You can read how thankful Barron is for getting broken link alerts on his men's style site, Effortless Gent, and how he uses Lasso here.
6. Earn Amazon Commissions from International Traffic
There are 13 Amazon locales supporting associates programs. If you generate revenue from multiple countries within them, sign up for those programs.
Amazon's standalone tool, OneLink, uses geotargeting (aka link localization or geolocation technology) to send shoppers to their local Amazon online store.
Previously, website owners needed to insert an HTML Javascript code snippet (called OneTag) in their site's footer to redirect international traffic.
This is no longer the case thanks to Amazon OneLink. And Lasso users don't need to do anything else except sign up for all international associates accounts where you get traffic.
Lasso redirects all of your international traffic supported by Amazon OneLink.
Note: Currently, Amazon OneLink only lets you monetize traffic in six of its 13 locales.
If you get substantial traffic from a source unsupported by OneLink, you may want to consider free plugin options like Amazon Link Engine.
However, it seems like Amazon will start adding more support to OneLink now that it's simplified.
Tip: Sign up for every country's Amazon Associates program to capitalize on all international traffic opportunities.
To check where your visitors come from, use Google Analytics.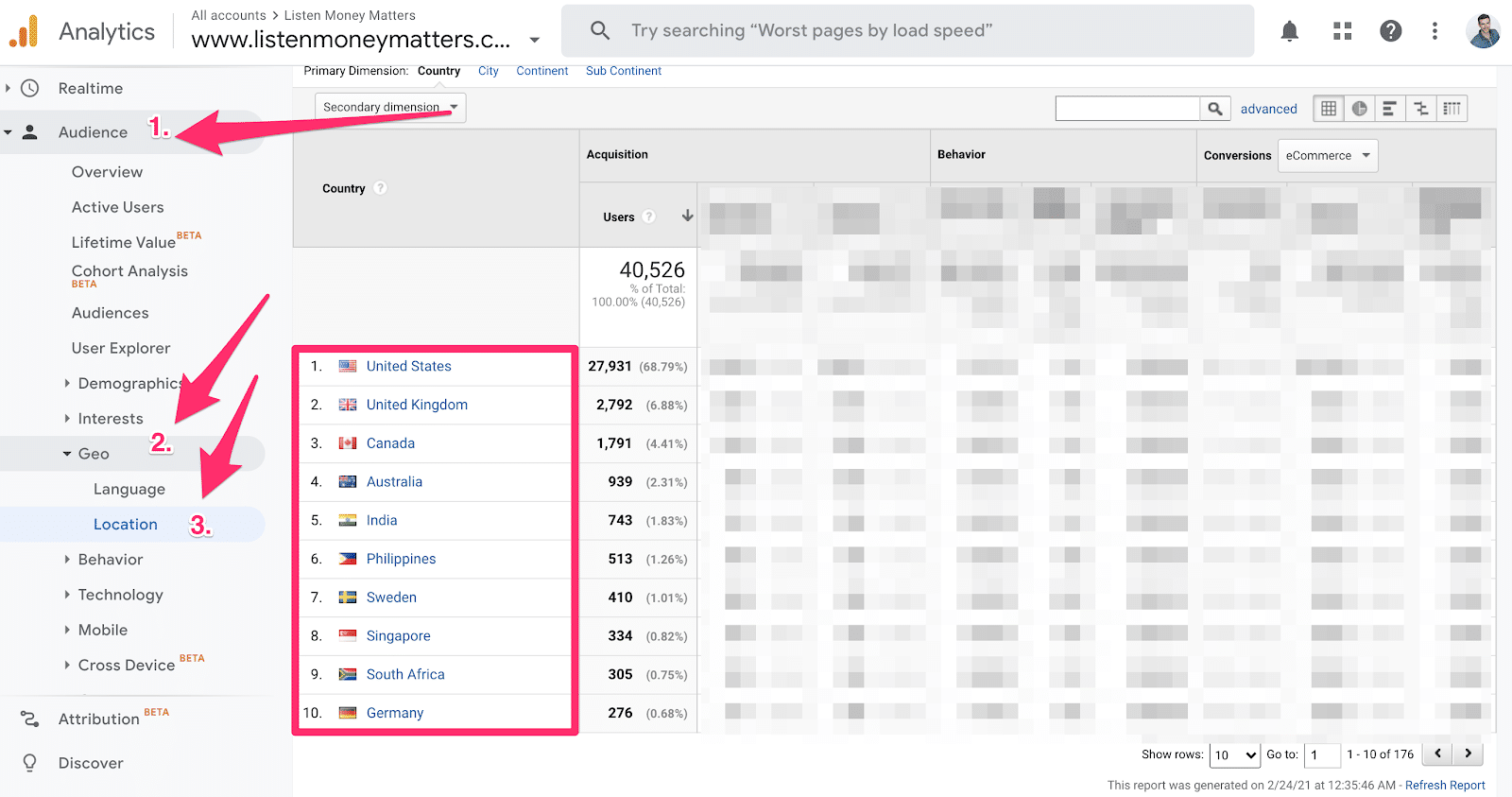 In Analytics, head to Audience > Geo > Location.
You'll see all of your sessions by country. Once you know who they are, sign up for those Associates programs.
In the above example, you'd probably want to sign up for stores in:
U.K.'s associates program
Canada
Australia
India
Germany
Your international Associates accounts link to your Amazon store's ID, so no further action is needed from you.
7. Helps with On-Page SEO (and Won't Affect Site Speed)
A common concern bloggers have is whether a plugin will affect its site's speed. Many (particularly plugins with large file sizes) can harm performance.
Lasso won't slow your site down.
Here's why…
Uses no external scripts
It runs on its own servers (which is why it can perform routine tasks like broken link alerts)
The downloadable zip file is only 9.7 MB (the equivalent of two MP3 songs)
Only one small CSS file gets added to your theme.
All Lasso displays use div tags, which have no adverse effects on SEO. Lasso text links use rel= "nofollow" tags which helps Google better understand what your links are.
The rel="nofollow" is Lasso's catch-all for all monetized content. And you have the choice to flick it on or off.
You can see in the screenshot here:
By default, all your links are rel="nofollow."
Google says to qualify your outbound links, it understand the relationship between your website and the external link on the page.
8. Works with the Classic Editor, Gutenberg, and Any WordPress Theme
You can use any WordPress theme with Lasso. And while the classic editor works best, Gutenberg is still an option.
In fact, the Gutenberg block is built-in to Lasso, which makes adding display links easier.
You also have the choice to copy any link shortcode and add it to theme builders like Thrive Architect, Elementor, and Divi.
9. Complies 100% with Amazon Associates Terms of Service
The Amazon affiliate program has a lengthy Terms of Service page, which is why we distilled it down to four essential pillars that affiliate marketers (you) should know.
Lasso is compliant with Amazon, and we adhere to the requirements of its affiliate program. Here are four tips to prevent you from getting kicked off the program:
Update pricing every 24 hours. If you don't have API keys, this is the only feature Lasso can't do for you automatically. And you must add a date and time stamp (Lasso does this for you automatically with API keys.)
Disclose all affiliate links. Lasso lets you add disclosures to every single display box and comes with a default disclosure so you don't need to write one.
Don't link to another affiliate with the same product using amazon's price and image. We created primary and secondary CTA buttons to give your visitors more options. But if your display links to a product on Amazon's site using Amazon's price and image, but then you also include a secondary call to action button linking to another online store, Amazon frowns on this.
Don't cloak Amazon links. Lasso, by default, cloaks all non-Amazon affiliate links – except Amazon's. Cloaking Amazon links goes against their terms of service.
The above are the "Big Four" rules for operating your affiliate WordPress site.
And if you do have API keys, Lasso updates your price with a timestamp every 24 hours.
Head to Lasso's Amazon Associates Integration page for all details on compliance with Amazon.
10. Built-In Affiliate Disclosure So You Don't Waste Time Having to Write One
Lasso has a default disclosure you can use if you don't want to spend time thinking of what to include. It will automatically add it to all single displays.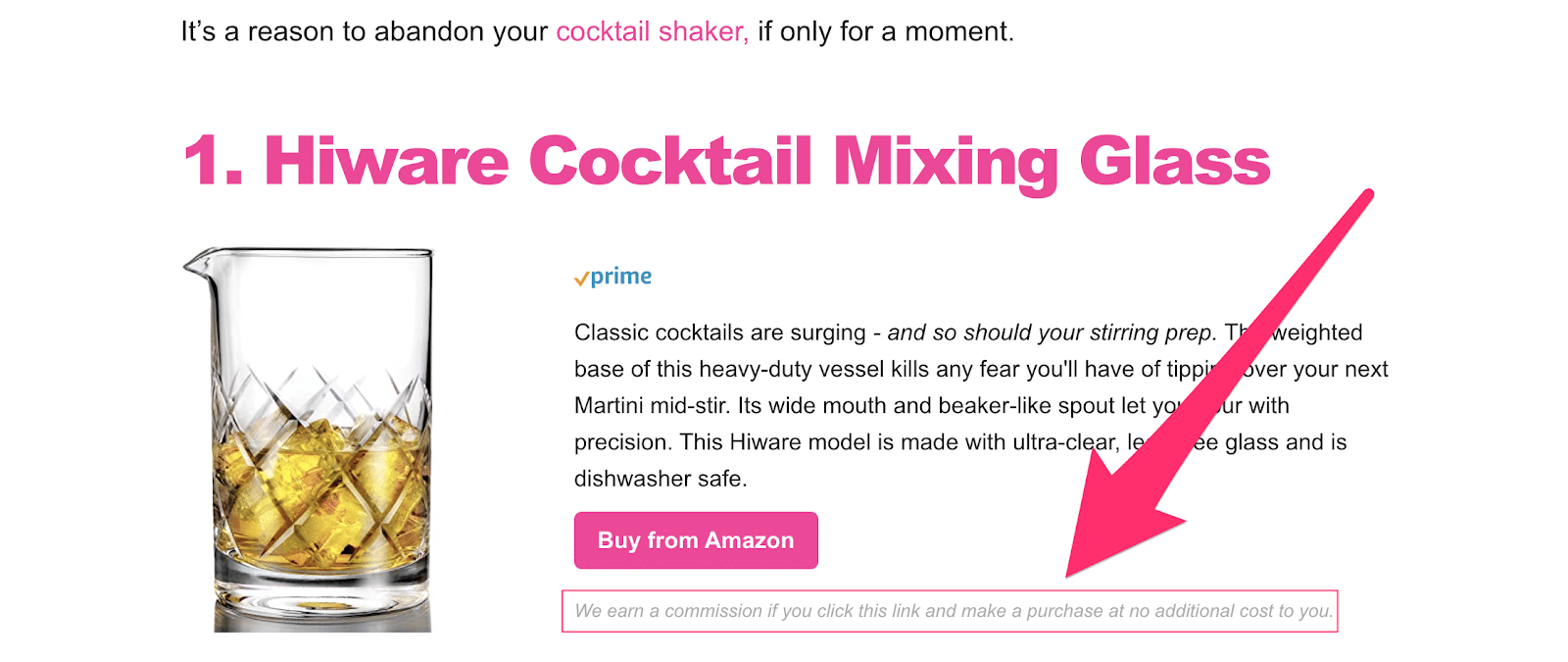 If you prefer an alternative affiliate disclosure, you can change it inside the specific product URL's page under "Disclosure."
You can also choose to display certain disclosures on your site like in the below example:

11. Change Amazon Tracking ID Sitewide
One dilemma faced by affiliate marketers with multiple sites is changing the tracking ID. If you have several Amazon Associates accounts and need to consolidate, just bought a new site, or are recovering from an account closure, you have a simple option with Lasso.
When you have thousands of links pointing to your website, updating it feels impossible. Here's how you can do it with Lasso in four steps:
Once you've consolidated your accounts, head to "Settings" in the Lasso dashboard and click "Amazon."
Next, update your tracking ID.
Then, click "Save."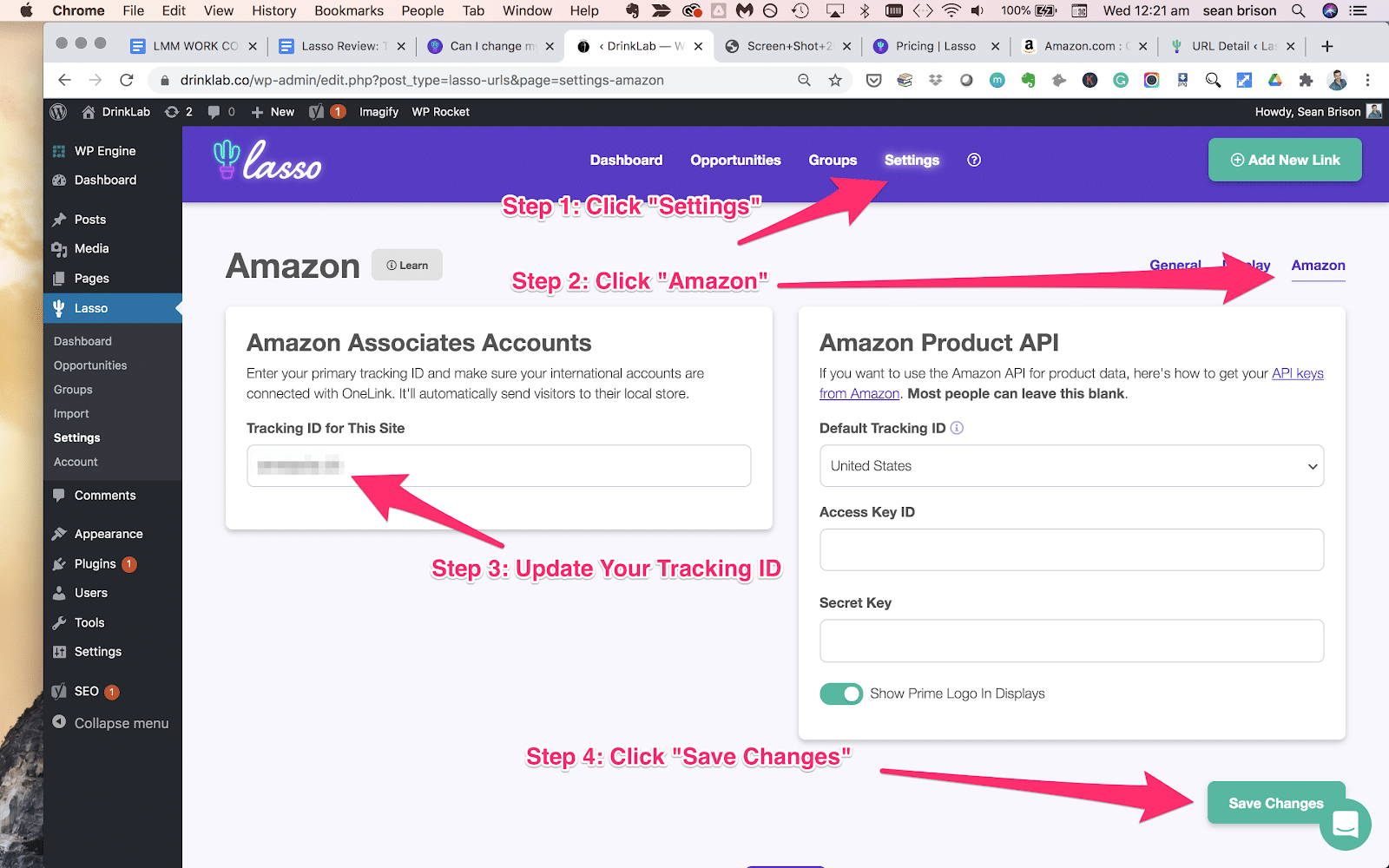 Done!
Advanced Lessons for Getting the Most Out of Lasso with Your Amazon Affiliate Site
Here are a few bonus tips for using Lasso's premium plugin to your advantage.
Connect with Google Analytics to Track Clicks
You can monitor top-performing pages in your WordPress site when you connect Lasso to Analytics. Each click gets treated as an 'Event.'
Doing this helps you think strategically about how you'd like to build your pages. You can see a quick video tutorial on how to connect Lasso to Analytics here.
Add Badges to Your Displays for Greater Trust
Highlight useful information that your audience is looking for. Or, add a personal recommendation badge to your product display.
Top-review sites like The Wirecutter also feature badges on their product displays. It's an excellent way to promote products.
You can see how we add the "Our Pick" badge here:
Personal recommendations instill a vote of confidence for your readers which can make them more willing to buy.
You can change what your badge says in a specific product URL's page here: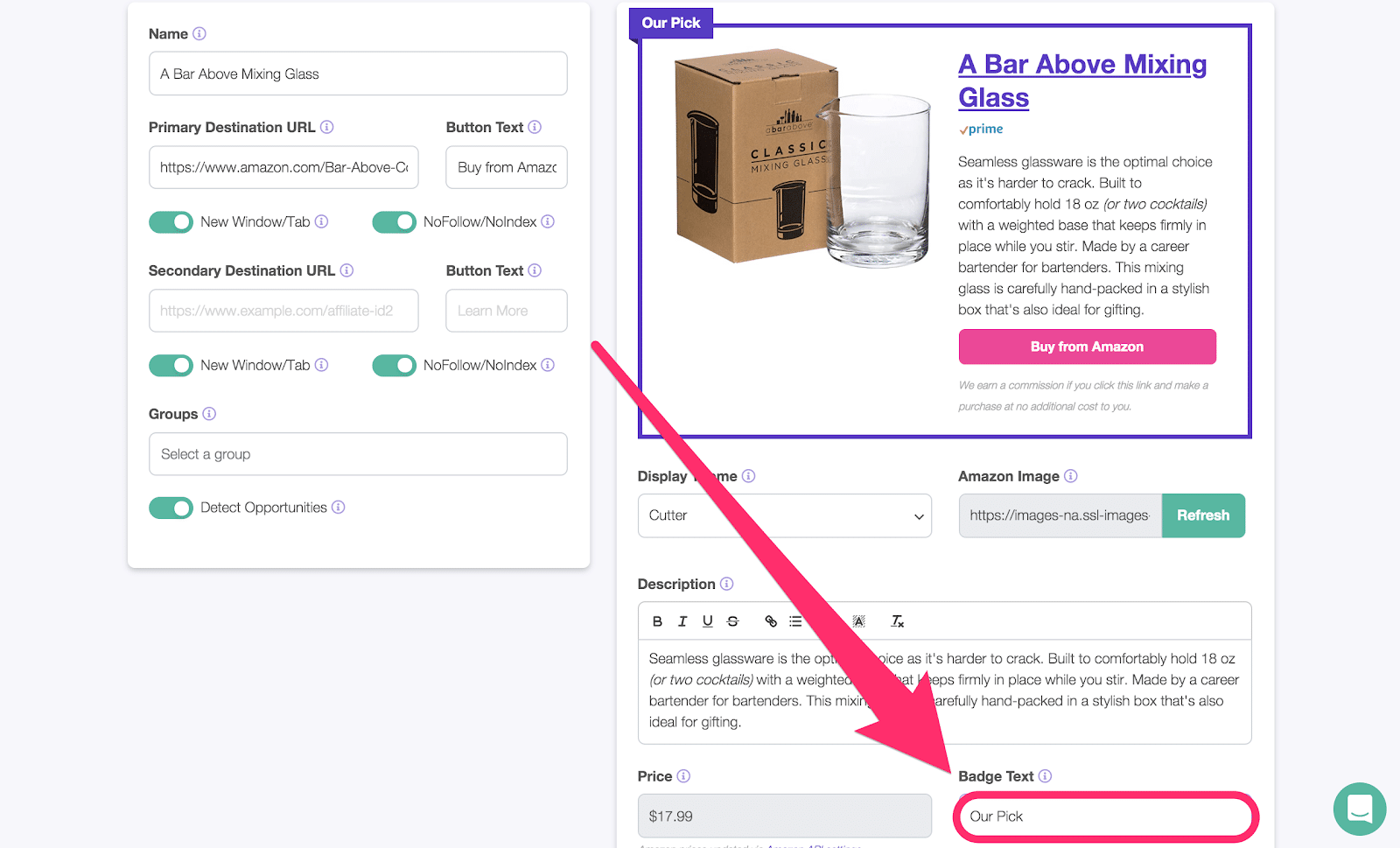 Use a Domains Report to Find More Affiliate Programs to Join (besides Amazon)
If you've wondered where else you can make money from your website, consider the domain names you already link to. Lasso built this tool so you can scan every linked domain on your site and then see if there's an affiliate program to join (check our 1,500+ affiliate program database).
Read this to learn how to get the most from Lasso's reports.
Create a Resource Page of Bestsellers
Organize your affiliate links into groups and display them on your site as resources pages, a toolbox, favorite products page, and more.
Generate more revenue by showcasing your best affiliate links on one page. You can learn how to do it using Lasso here.
Our Resource page generates 10% of revenue – from a single page!
Watch the below video to learn more about building a Resource page using Lasso.
Find New Income Opportunities Using Keywording 
You've probably mentioned products you love on your website. Why not add that product name as a keyword so Lasso can find every mention of it and you can monetize accordingly.
Watch our Keywording and Branding videos here for more information (or take a look below). 😉👇
How to Connect Your Amazon Tracking ID to Lasso
To connect Lasso to your website, you need to add your Tracking ID. You can find your tracking ID by logging into your Associates account.
From the home page, click the upper right corner drop-down menu under your email address: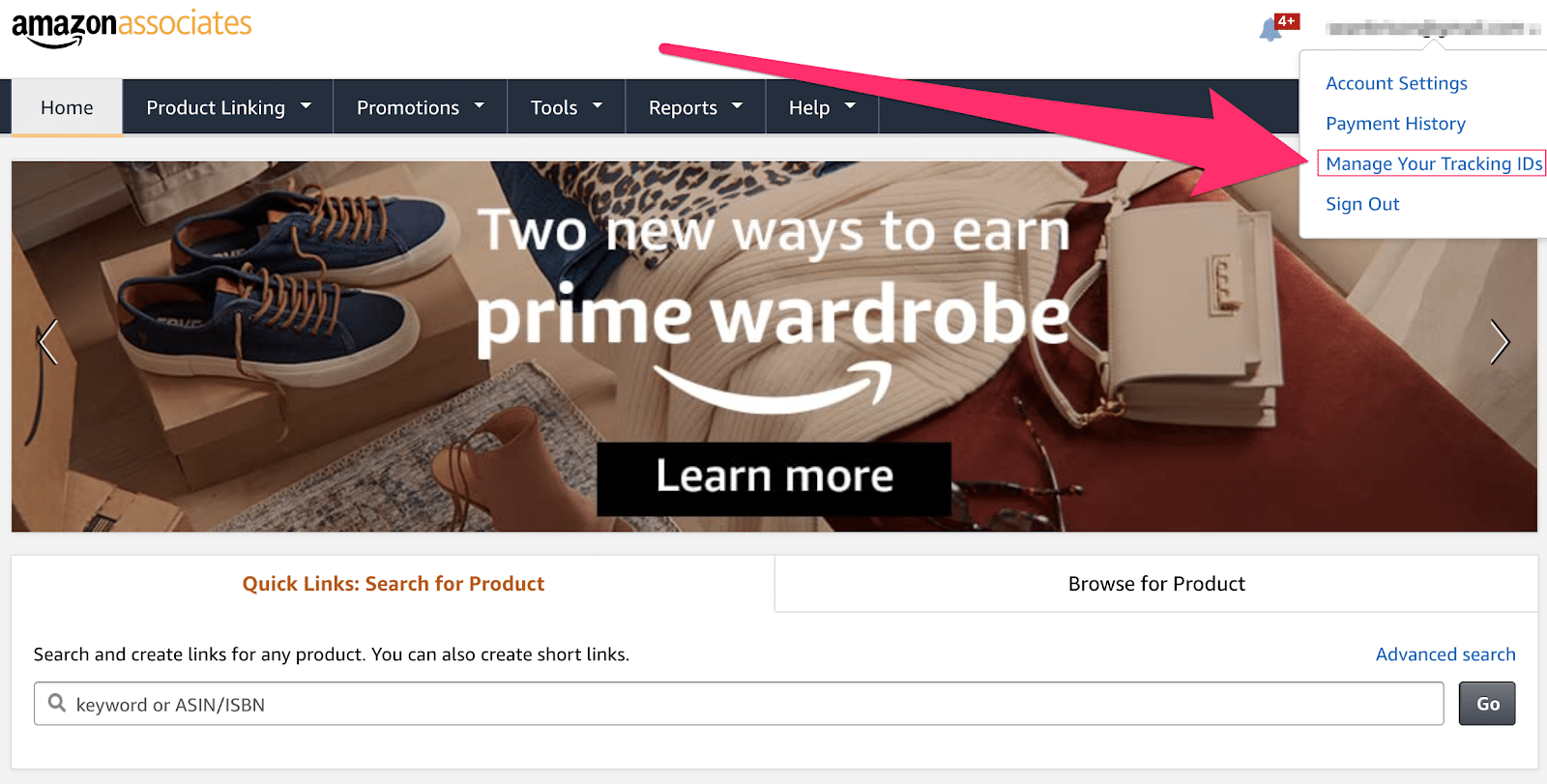 Then, it'll show you all of your tracking IDs. If you want to add one, click "Add Tracking ID;" otherwise, grab the tracking ID you wish to connect to Lasso and then head to the dashboard.
Next, click Settings > Amazon.
From there, add your tracking ID and you can start monetizing your site with Amazon affiliate links.
Tip: You can enable the Prime logo across your site by flicking the toggle to green.
Amazon lets you create multiple tracking IDs per Associates account. If you run three different websites, you can create three different tracking IDs.
Just know that Lasso only supports a single tracking ID per Associates account.
What If You Already Use Another Affiliate Link Plugin?
Import product links from other plugins using Lasso's "plugin import."
You can test Lasso on your site by only importing one link at a time. And Lasso imports links from popular WordPress plugins, including:
AmaLinksPro
GeniusLink
AzonPress
AAPro
EasyAzon
AAWP
Amazon Auto Links
You can manage every imported link from a single page all within Lasso's dashboard. If you decide Lasso isn't a good fit, you can revert those links to their original state.
Any link to import will appear in Lasso > Settings > Import.

From there you can toggle individual links or initiate a bulk import of all links simultaneously.
Last Words 
It's not a bad idea to manage your links. It's also not a bad idea to find visually appealing ways to promote them. This includes displaying links with detailed product descriptions, high-quality images, compelling copy, and more.
Finding an Amazon affiliate WordPress plugin that's user-friendly and does all of that will help you run your site more efficiently. Learn more about Lasso.
Our creations in your inbox, weekly.
We've built multiple six-figure online businesses that our moms are proud of.
We'd like to help you do the same.