Blog taglines don't have to sound cute or clever. However, those big brand names, with their playful jingles and catchy words, can make any budding blogger feel inferior because they couldn't hire Don Draper to execute a chic marketing campaign.
However, it's perfectly possible to write one without any witty wordsmithing. This blog post teaches you how to write a catchy blog tagline in just minutes.
You'll learn the following:
What are blog taglines?
Why do blog taglines matter?
How to create a tagline for your blog
Blog tagline examples
Let's go.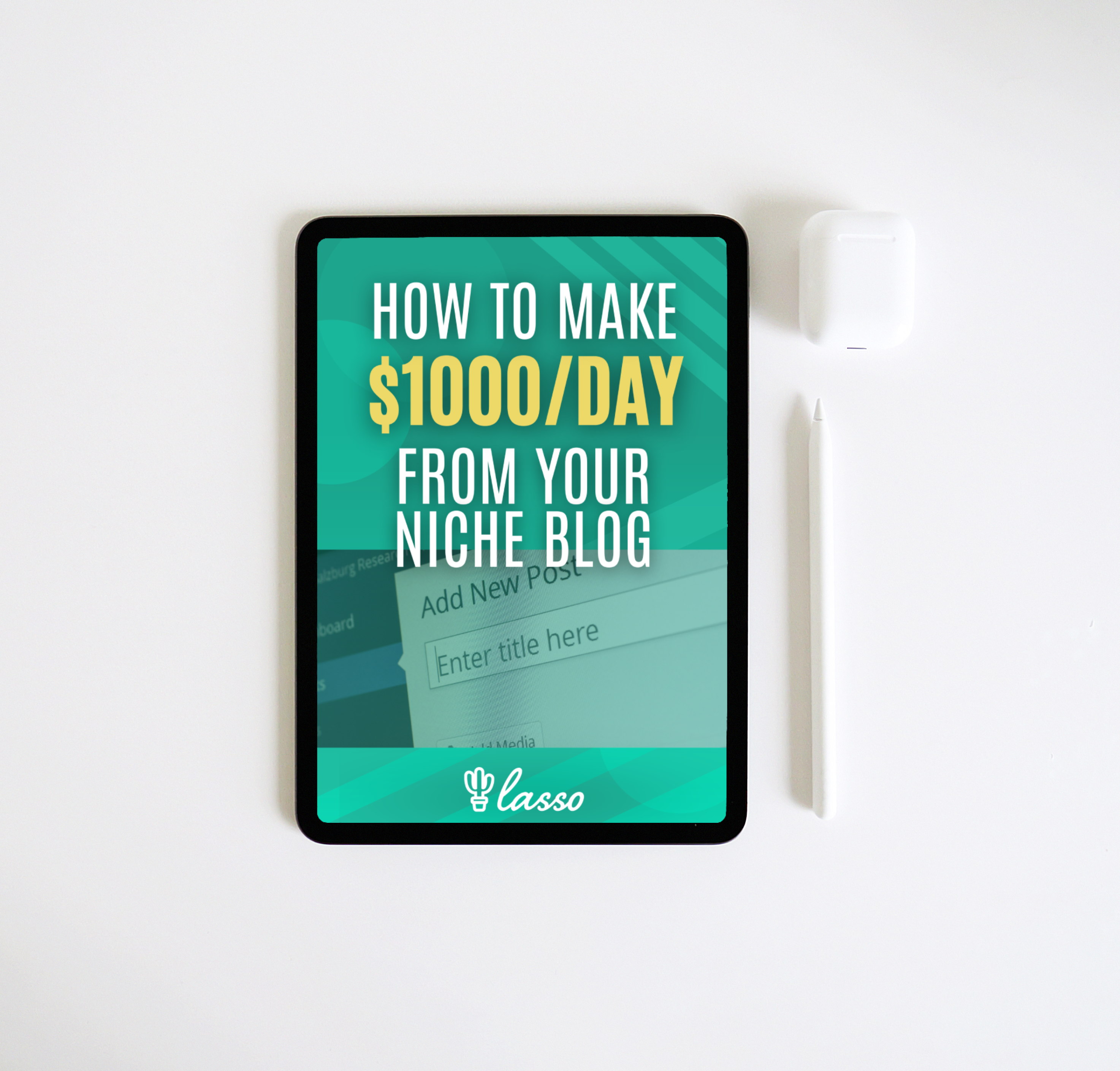 Get Your FREE 20-Page Guide To Making $1000/Day From Your Niche Blog
Table of Contents
How to Write Blog Taglines (+20 Catchy Examples)
What Are Blog Taglines?
Your blog's tagline appears next to your blog name in the search results, and it's one of the first things your readers see. It's both a description of your website, and forms part of your site title tag.
A good blog tagline instantly shows what your blog is about, conveys your brand's personality, and displays your blog's purpose and mission statement.
Here's how they typically appear on Google:

Notice how the search result contains three elements:
The blog's name (or company name)
The tagline
A meta description
If you only saw the company name "Expressfy," you'd have no idea what they did. It's not until you read the tagline that you understand how they can help you.
Why Are Blog Taglines Important?
A good tagline is essential for three reasons:
It explains what you do
Qualifies your reader
Is a ranking factor
Explains What You Do
Your tagline is a 10-second elevator pitch telling visitors what you do. And with any great pitch, it's best to make it as clear and concise as possible.
It serves as the front door for your business – people know where they're headed because they read the sign.
Marketer Donald Miller refers to this as passing the "grunt test." Could a caveman look at your website and immediately grunt what you offer?
Using the above Expressfy screenshot, if you're starting a dropshipping business with Shopify, you're likely to remain on that site to find more details about how they can solve your problem.
Qualifies Your Reader
A good tagline also makes sure the right people are on your site – your exact target audience.
The quicker you get them nodding in agreement, saying, "Yep, this site's for me!" the easier it'll be to retain readership.
For example, if you're searching for pet supplies, you're not going to waste your time on Expressfy's website you're not searching for a dropshipping business.
You can also use your blog's header on the homepage to do this job. For example, take a look at Morning Brew's: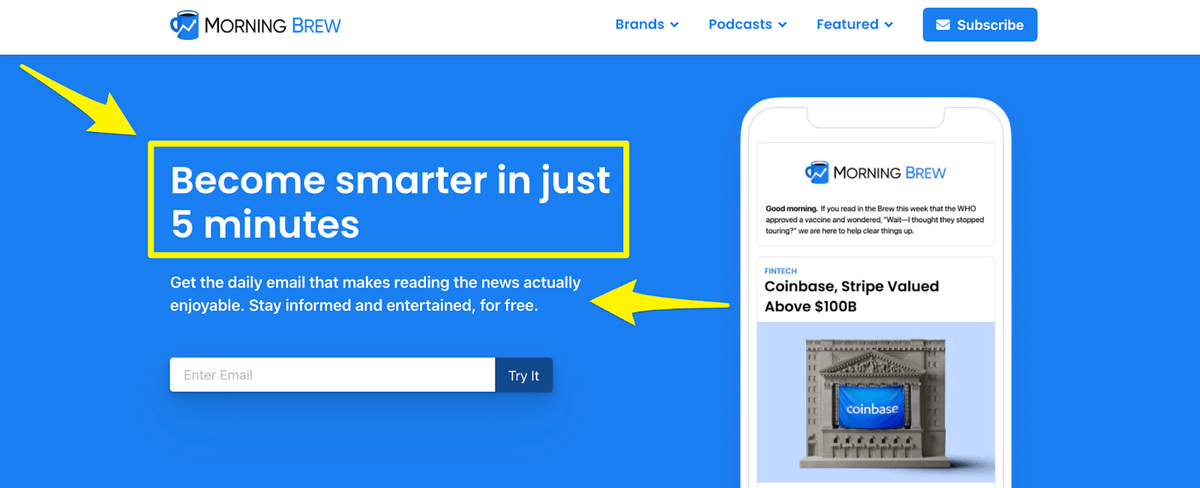 Further Reading:
Helps with Rankings
Your site tagline is indexed and added right next to your blog's name in the search engines. By using the right keywords, you can help rank for specific terms your blog is related to.
Also, a catchy tagline that gets clicks is more likely to rank higher. Click-through rate (CTR) is considered an SEO ranking factor.
How To Write A Good Tagline for Your Blog
Writing a blog tagline isn't as hard as it sounds.
If you follow these ingredients, you should have no trouble creating clear, concise copy that signals to readers they've reached the right spot.
Here's a 3-step system you can use. First, start by answering these questions:
What does your blog do?
Who does your blog help?
What will your blog readers get?
For example, if you're an affiliate for ConvertKit, you could say, "ConvertKit helps you optimize your email marketing so you can earn a living as an online creator."
Now, shorten that for a tagline (ConvertKit's):
Email marketing (what they do) for online creators (who they help)
As well as this, keep these factors in mind:
Keep it as a short, simple summary

Clearly communicate exactly what your blog is about

Be memorable and clickable – stand out in your niche

Focus on what your readers want to see (and click on)
What You Do
You may decide you only need one of the components.
For example, Lasso's co-founder Matt runs a site called Money Lab. His tagline only tells you what he does:
"Real-time experiments in making money online"

Writing a tagline can also feed into writing your blog's bio. The difference being your bio will be an expanded version of your tagline.
What They'll Get
Alternatively, emphasizing the desired outcome is helpful because people always want to know what's in it for them.
Try focusing on what they'll get, like Ahrefs:
"Get better at SEO and marketing"

Who You Help
If your blog name (or product) has a short title, you can add plenty of modifiers to the tagline, like Flipping Fifty's Fit U:
"Weight Loss for Women Over 50 with 20 lbs to Lose"

Super specific!
Your blog can't be for everyone. So, it's a good idea to keep it simple and focus on your specific target audience.
Further Reading:
7 Helpful Tips For Writing Catchy Blog Taglines
Here's a short list of additional strategies to try if you're still coming up short.
1. Experiment with Inversion Thinking
If you're struggling to write your tagline, start with what your blog IS NOT.
This can help with idea generation. Sometimes starting from the negative helps overcome mental blocks.
Bestselling author James Clear mentions on his blog how inversion thinking helps eliminate barriers and challenge the status quo:
Great thinkers, icons, and innovators think forward and backward. Occasionally, they drive their brain in reverse.
This process can help you discover things you want your blog to avoid.
Starting from the negative also addresses your readers' pain points (which you can call out in your tagline or header).
2. Mention Your USP
Here's where mentioning your unique selling proposition (USP) comes in handy.
Tell them what you do and how it's different from everyone else. People love novelty.
For example, Death Wish Coffee uses the bold claim "World's Strongest Coffee" as their tagline and header:
You have the opportunity to surprise and delight them with your copy. It's rooted in what you do, but how you do it can make you stand out.
Tip: Try adding a bold claim to your tagline to get attention.
Side Hustle Nation's Nick Loper's tagline mentions how his site teaches you to earn money in your spare time:

You don't typically think about making money in your spare time, as most people associate that with leisure activities.
3. Reflect Your Personality
Every blog is different.
For example, This Is Why I'm Broke (TIWIB) is a different kind of affiliate site than The Wirecutter.
And their taglines reflect that. For example, TIWIB reads:
Compare that to The Wirecutter's:
New Product Reviews, Deals, and Buying Advice
Mark Manson's slightly irreverent personality shines on his personal development blog: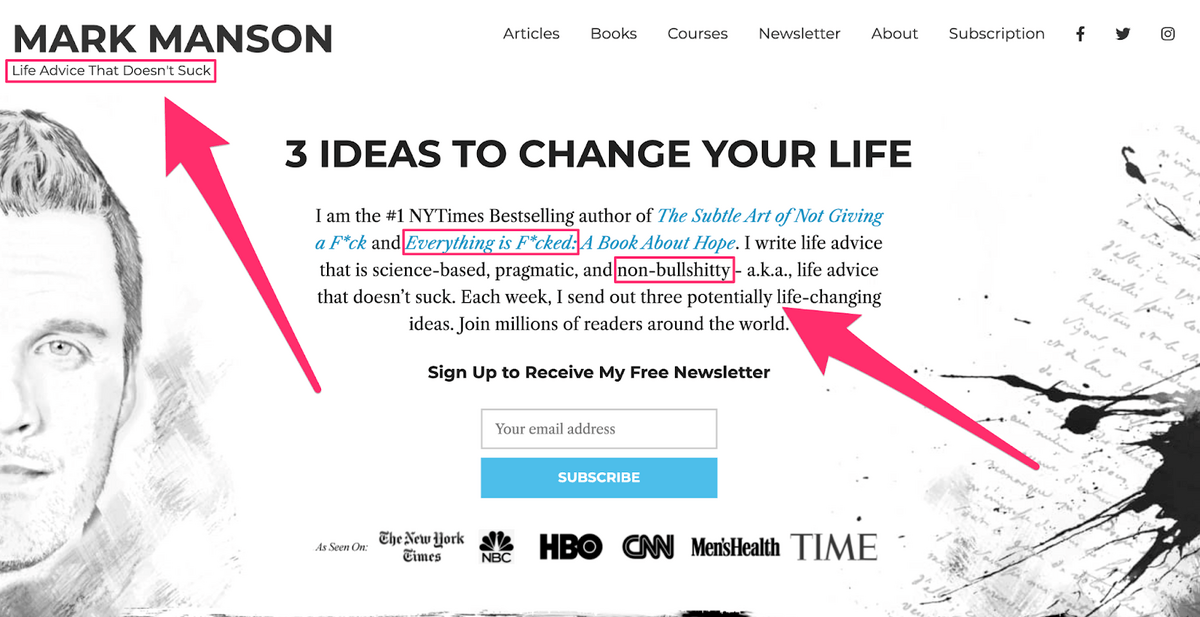 Profanity isn't usually expected, but it gets your attention and reflects Mark's unique outlook.
4. Make It Timebound
Addressing how quickly your readers can accomplish something in this digital age is attractive copy. For example, using Morning Brew's model from earlier:
This follows the formula of the desired outcome they get + timeframe.
Get smarter (desired outcome) in 5 minutes (timeframe)
Tip: You can mix and match these formulas to fit your blog's style. For example, try using "what you do" + "timeframe" or "what they get" + "who you help." Experiment with different models until you find a catchy tagline.
Or, combine your USP with a timeframe. Using Death Wish Coffee again, your new tagline could be "World's Strongest Coffee In 5 Minutes."
5. Use Antithesis
Antithesis is a fancy way of saying "use opposites" in your writing.
It's a simple and effective way to pair contrasting terms. Remember Neil Armstrong's famous line?: "One small step for man, one giant leap for mankind."
So, how can you use it when you're blogging? Consider Tiny Buddha's tagline:

"Simple wisdom for complex lives."
A framework for coming up with ways to use Antithesis is to start with these two elements:
What you offer
A pain point your readers have
So, Tiny Buddha's would be:
Wisdom (what they offer)
People living busy, complex lives (pain point)
Then, mix and match opposite adjectives for your offering and the customer's pain point.
Sidenote: Sometimes, all you need to do is precede your offering with words like simple, easy, or quick to get their attention. For example, "quick tips" or "simple solutions."
6. Brainstorm Related Keywords with a Thesaurus
Good 'ole fashioned brainstorming helps jumpstart ideas too.
Try Googling your primary topic, plus its synonyms. For example, enter the term "travel + synonyms if you run a travel blog."
There are a couple of great online resources to help with this. OneLook Thesaurus lets you apply filters for things, including:
Letter (e.g., if you need a word that starts with a specific letter)
Number of letters
Also related to
Rhymes with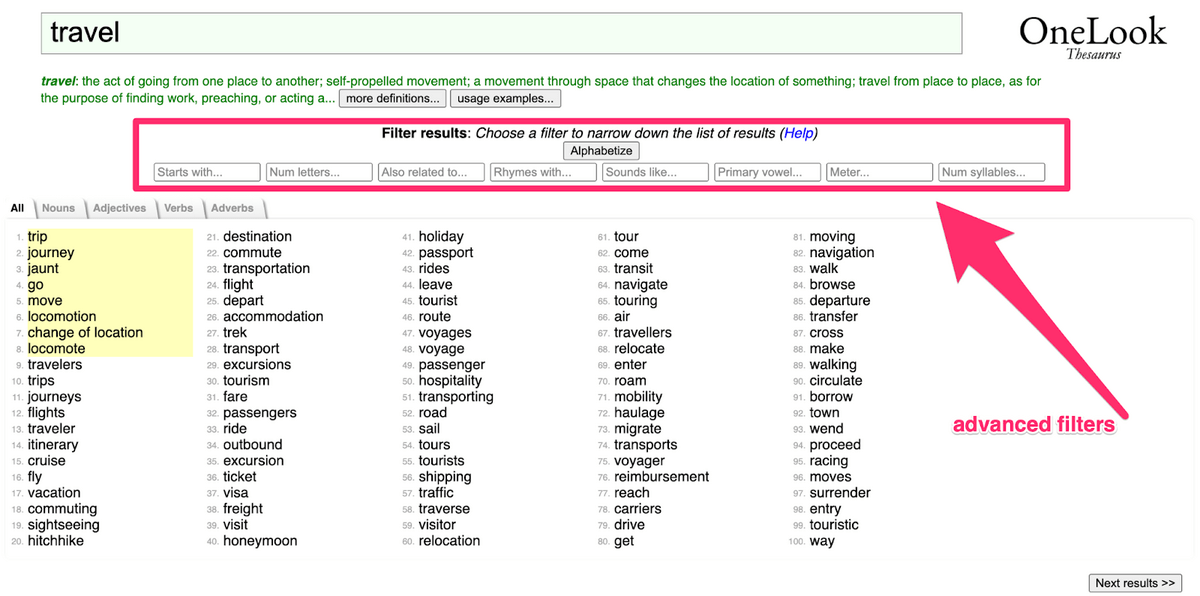 Free Thesaurus gives you a mind map of related words. Here's what I got when testing the term "ketogenic diet":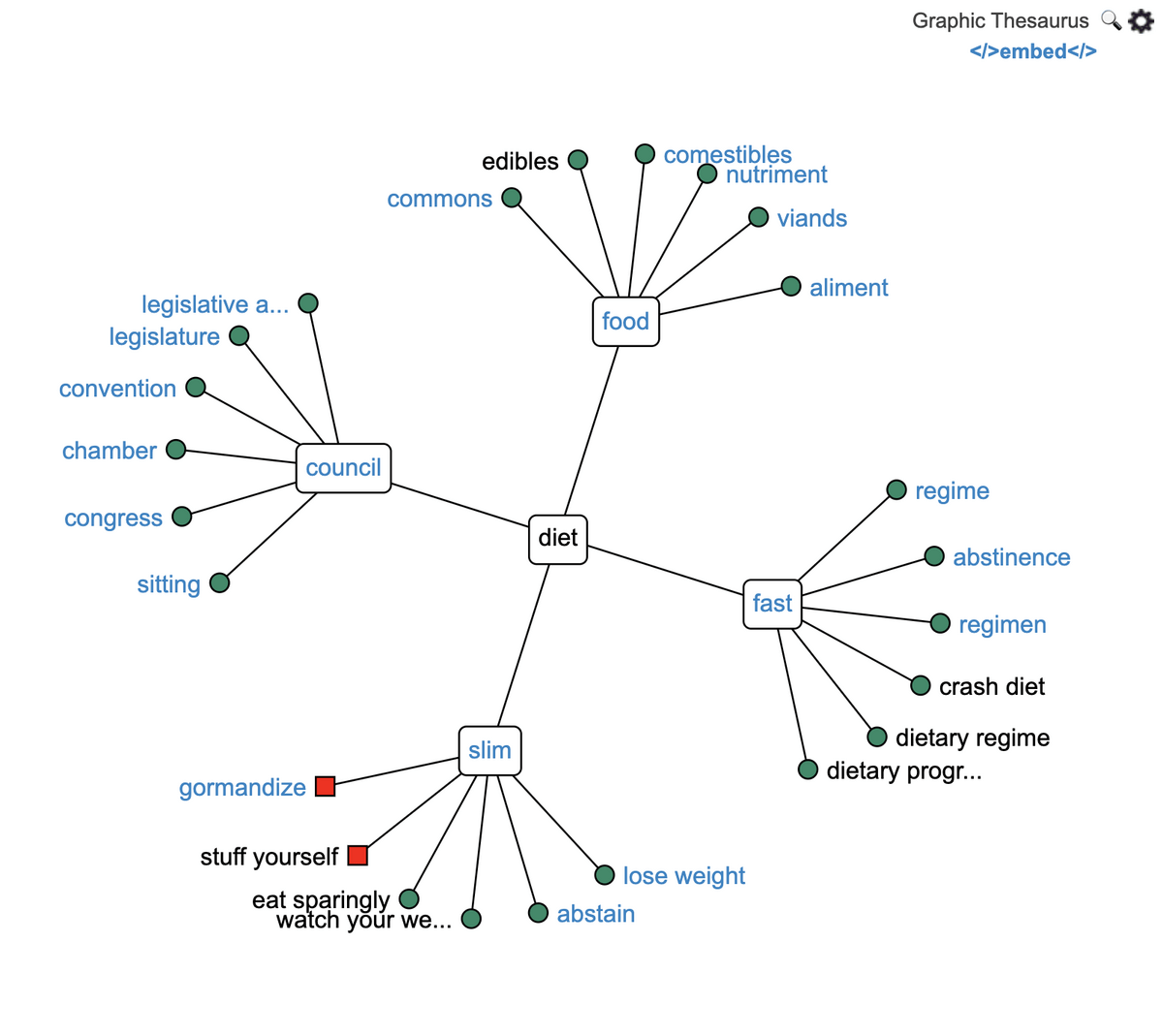 Idioms.TheFreeDictionary lets you find expressions of a specific word.
For example, if you're looking for an expression using the word "bang," type it into the box. "A bang for your buck" appears along with hundreds of other expressions featuring the word "bang."
Further Reading:
7. Use Powerful Words & Keep It Short
Blog taglines should only be 30-60 characters long, so make it count.
Use words that inspire action, and create powerful responses in your readers' minds.
For example, words like:
Quickly

Skyrocket

Master

Instantly

Growth
20+ Best Blog Tagline Examples
Some of the best taglines to swipe. 
| Website | Tagline | Why It Works & Strategy |
| --- | --- | --- |
| Deadspin.com | Sports news without fear, favor, or compromise | Addresses an objection people have with sports commentary |
| Gawker.com | Today's gossip is tomorrow's news | Antithesis technique pairing  "today" with "tomorrow" |
| NerdFitness.com | Level up your life | Uses his audience's language ("level up your life" is a gaming expression) |
| MaiTaiUK.com | Dinner dates for busy professionals | Uses the "what they do" with "who they help" formula |
| RainbowPlantLife.com | Outstanding vegan recipes | Uses "what they do"(who they help is implied) |
Classic Examples of Great Taglines
Here are a few models to inspire you further. What's worth noting is how vague these slogans are despite having been around a long time.
Apple | Think different 
Nike | Just do it
L'oreal | Because you're worth it
Mcdonald's | I'm lovin' it
M&M's | Melts in your mouth, not in your hands
Big brand names can get away with that. Since so many people already know them, they can afford to be "vague."
For example, Apple's "Think Different" doesn't mention what they do, who they help, or what you'll get — but it doesn't matter.
Here's another thing:
The online world displays items differently.
When Googling Apple, McDonald's, and the rest of the brand name examples (except Nike), the taglines were simple descriptions displayed in the SERPs — not catchy slogans.
Great Blogging Taglines
Yoast:

SEO for everyone

Lifehacker:

Do everything better

Smashing Magazine

: For web designers and developers

Slashdot:

News for nerds, stuff that matters

Lasso:

The all-in-one affiliate marketing plugin for WordPress

Get Rich Slowly:

Personal finance that makes sense

Niche Pursuits:

Learn SEO, niche websites, and online marketing

Up The Gains: Money made simple
Shoutmeloud:

Become your own boss

Authority Hacker:

Learn how to build authority sites

Moneylab: Real-time experiments in making money online
Ahrefs:

Get better at SEO & marketing

ConvertKit

: The creator marketing platform

This Is Why I'm Broke:

The internet's mall

Wirecutter:

New product reviews, deals, and buying advice

Side Hustle Nation: Make money in your spare time
Tiny Buddha

: Wisdom quotes, letting go, letting happiness in

Retro Dodo:

Retro gaming reviews & news

Growann:

Elevate your partner marketing strategy

Increasing.com: Grow your affiliate site to $30K per month
For example, McDonald's:

Or M&M's:

People turn to the web for information. So, it's a good idea to lean towards simple descriptions catered to what you do, what they'll get, or who you help.
Does My Blog Need A Tagline?
While there's no hard and fast rule saying you NEED to have the perfect tagline, it can't hurt.
It gives you an excellent chance to make a good first impression (especially if you're running a new blog).
More people are likely to click the search result with a clear tagline versus an ambiguous one (or none at all).
How to Add Your Own Tagline In WordPress
There are two ways you can do it.
From inside your WordPress dashboard, head to Settings > General.
In the field labeled "Tagline," add (or update) it there: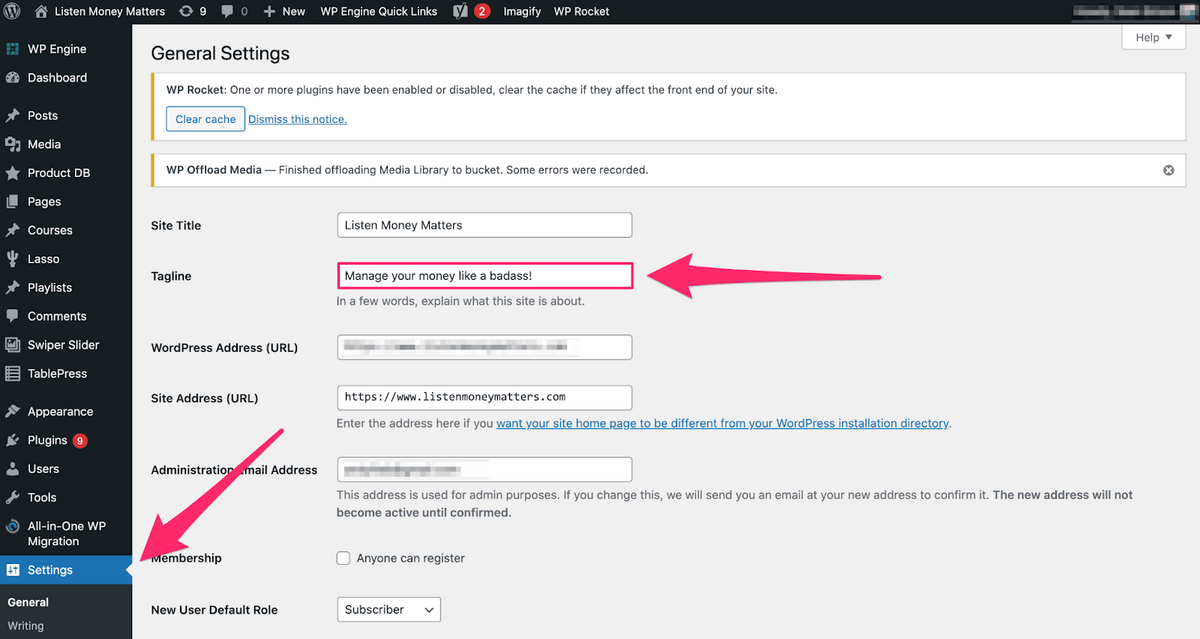 Then, scroll to the bottom and click "Save Changes."
You can also do it by clicking Visit Site > Customize from your WordPress dashboard.
But, first, click "Visit Site" in the upper left corner of your screen.

Then, click "Customize."

Next, click "Site Identity."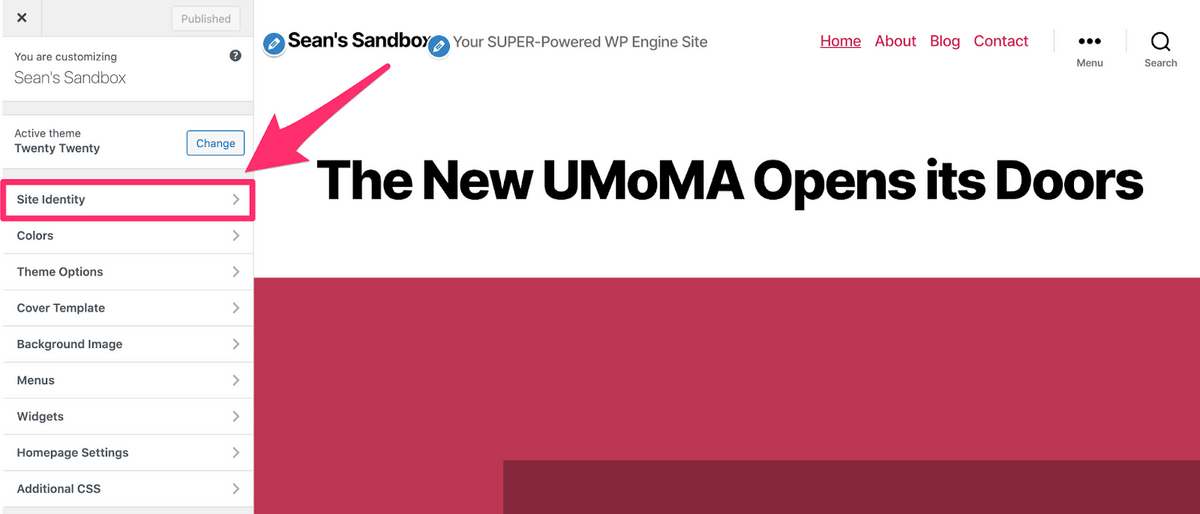 Then, enter yours into the field labeled "Tagline" just below your blog's title:

Last Words
You don't need a witty catchphrase for your website.
It's better to be clear about what you do using a few words than trying to be clever. Even those big brand names didn't use cute blog taglines (as displayed in the SERPs).
All you have to do is implement the tips described here, and you'll be fine.
If you'd like to learn more about creating epic content that hooks readers, gets traffic, and generates revenue, join our newsletter, The Monday Marketer.
Our creations in your inbox, weekly.
We've built multiple six-figure online businesses that our moms are proud of.
We'd like to help you do the same.