If you've been in the digital marketing game for a while, then you're probably familiar with writer's block. I always have trouble coming up with cool affiliate marketing content ideas, and, since you're reading this, I'll bet you do too.
I've learned that mixing up the type of content you write is a great way to get the creative juices flowing. If you follow the same format for 50 articles in a row, you're going to burn yourself out.
I've put together ten affiliate marketing content ideas that you can steal, as well as some examples from the best affiliate marketers in the industry. You're guaranteed to find an idea here.  If not, it may be a sign to go for a walk and try again later.
Do these things before you start coming up with ideas
Before you reach out into the abyss and start fishing for content ideas, you need to lay some groundwork. These steps will help you know where your content is headed.
"Success occurs when opportunity meets preparation" – Zig Ziglar
Keyword research
Every now and then, Lasso customers reach out to me and ask how to increase their organic traffic.
You'd be surprised how many bloggers are brushing over keyword research or skipping it altogether. It's a super common mistake among beginners.
So, my first response is always this question:
"How are you conducting your keyword research?"
I'd argue that conducting good keyword research is almost as important as the content itself. If you have a small affiliate site and you're trying to get out of the sandbox, you're not going to rank for "best laptop." It's just not possible.
But there's hope if you follow the right strategy.
We've written about keyword research in the past, but here are the types of keywords everyone should look for in their niche:
Competitor Keywords: What do other affiliate websites in your niche rank for? Pay special attention to sites that are around the same size as you.
Matching Terms: Brainstorm a few of the big keywords in your niche, then search for keywords with matching terms.
Long-tail keywords: The longer and more specific you get with keywords, the less competition you'll find. I mentioned before that you won't rank for "best laptop". But, you could probably rank for "best laptop for photoshop under $500". Scrape up the long-tail keywords and build up from there.
Questions: Question keywords are ignored by big sites because they're difficult to monetize. However, in my experience, you can monetize any keyword by finding the right angle.
Competitor research
There are over one billion websites on the internet. It's exceptionally rare to come up with a unique idea these days. If you find a great keyword to write about, there are certain to be many sites ranking for that keyword already.
The fact that those pages are ranking is proof that Google likes what they've written for that keyword. There's no sense in coming up with something entirely different because search engines like what your competitors have written.
Before I decide on any content idea, I look at what others have written. Before I started writing this article, I looked at what other sites have published. I jotted down their headings and post structures, and I noted their word counts. Then, I mixed all that together with my own ideas and outlined this article.
Note: I'm not telling you to plagiarise your competitors' content. I'm telling you to take inspiration and follow the formats that Google has already rewarded.
Consider search intent
Now it's time for me to contradict what I just told you. Google is pretty good at knowing what searchers are looking for, but it's not perfect. You should optimize for SEO, but search intent is even more important.
If you're looking at the SERP for a keyword, and you're sure that the results are irrelevant, then it might be best to go with your gut. If you're searching for the "best inflatable paddleboard," and all the results are roundups of fiberglass paddleboards, then you have a golden opportunity to fill a need.
I'd only go against what's already ranking in Google if you're absolutely sure that what you're writing is better. Even then, you might not be able to rank for the keyword. But it's better to deliver an answer to people's problems than to chase easy rankings.
Now that all that's out of the way, we can run down the list of content marketing ideas. There are a lot more out there than this, but these are the affiliate marketing ideas I've seen work the best.
1. How-to guides
Right out of the gate, we have a type of content that many affiliate marketers blow off. How-to guides, tutorials, and info content get a bad rap for being hard to monetize.
Tip: Your content isn't hard to monetize. You just didn't think about monetization while you were writing it.
When you write info content, you should think about monetization from the beginning. There are almost always affiliate products related to whatever process you're explaining, and you should be ready to promote them.
For example, if I were to write a comprehensive site-speed guide, I'd make sure to mention WP Rocket. Not only would I mention it, but it would be necessary to the process. If I were writing about email outreach, you'd need Hunter to follow my guide.
Tutorial content is my favorite type of affiliate marketing content because it follows the #1 rule of sales: solve a problem.
Example:
How to grow potatoes in containers from The Spruce.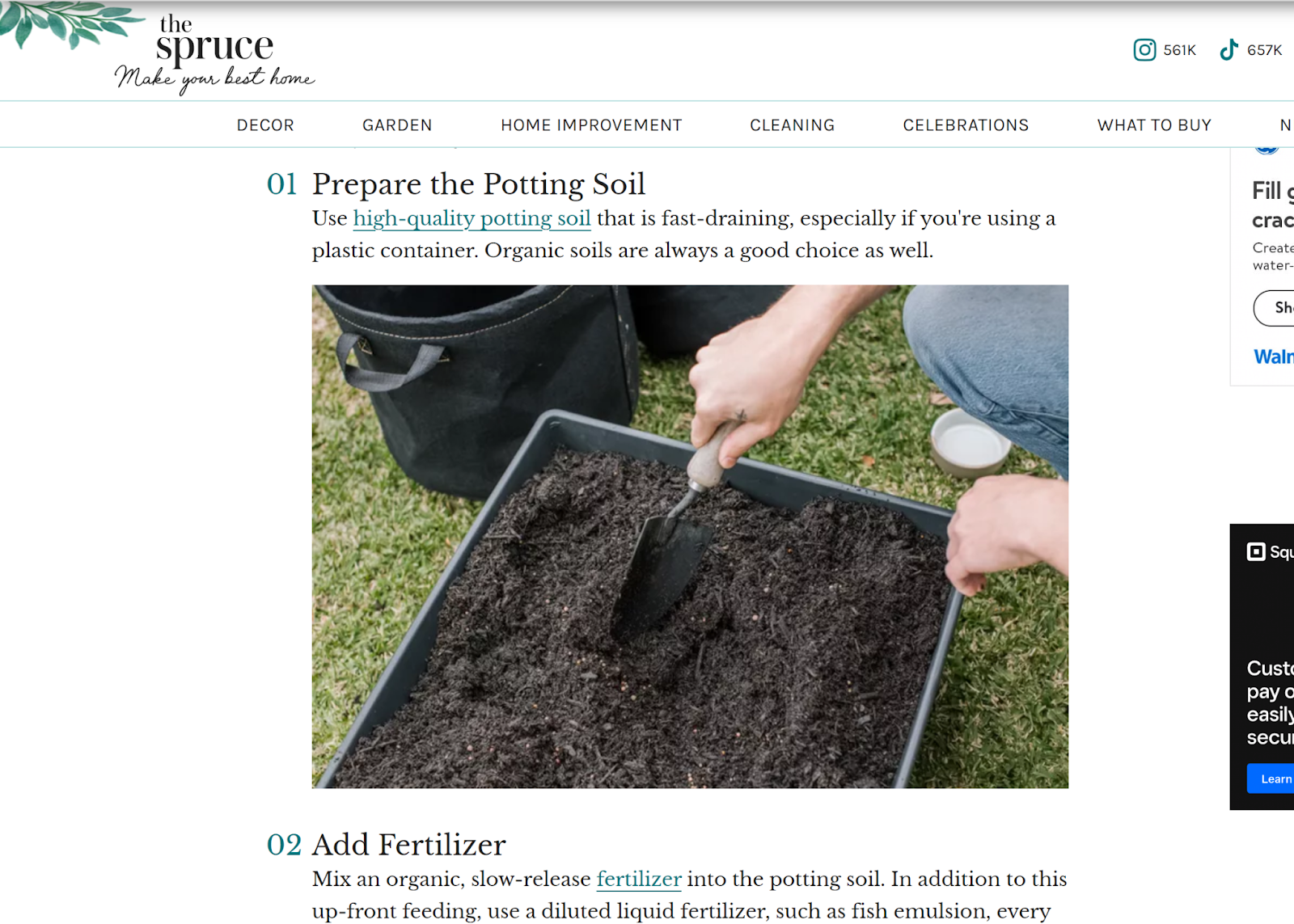 2. Branded product reviews
When I started blogging for money in college, people told me to never write branded product reviews. These keywords tend to have low search volume or are very competitive.
However, I found that branded keywords are a great way to create second-tier engagement. If someone visits a piece of info content on your website, maybe you can point them to a product review (that's optimized for conversions).
If you don't think individual product reviews are worth the time, then ask yourself why tech blogs publish so many of them. Even simple landing pages can generate a ton of affiliate commissions if you leverage them the right way.
Example:
Dell XPS 13 (9310) Review from PCMag.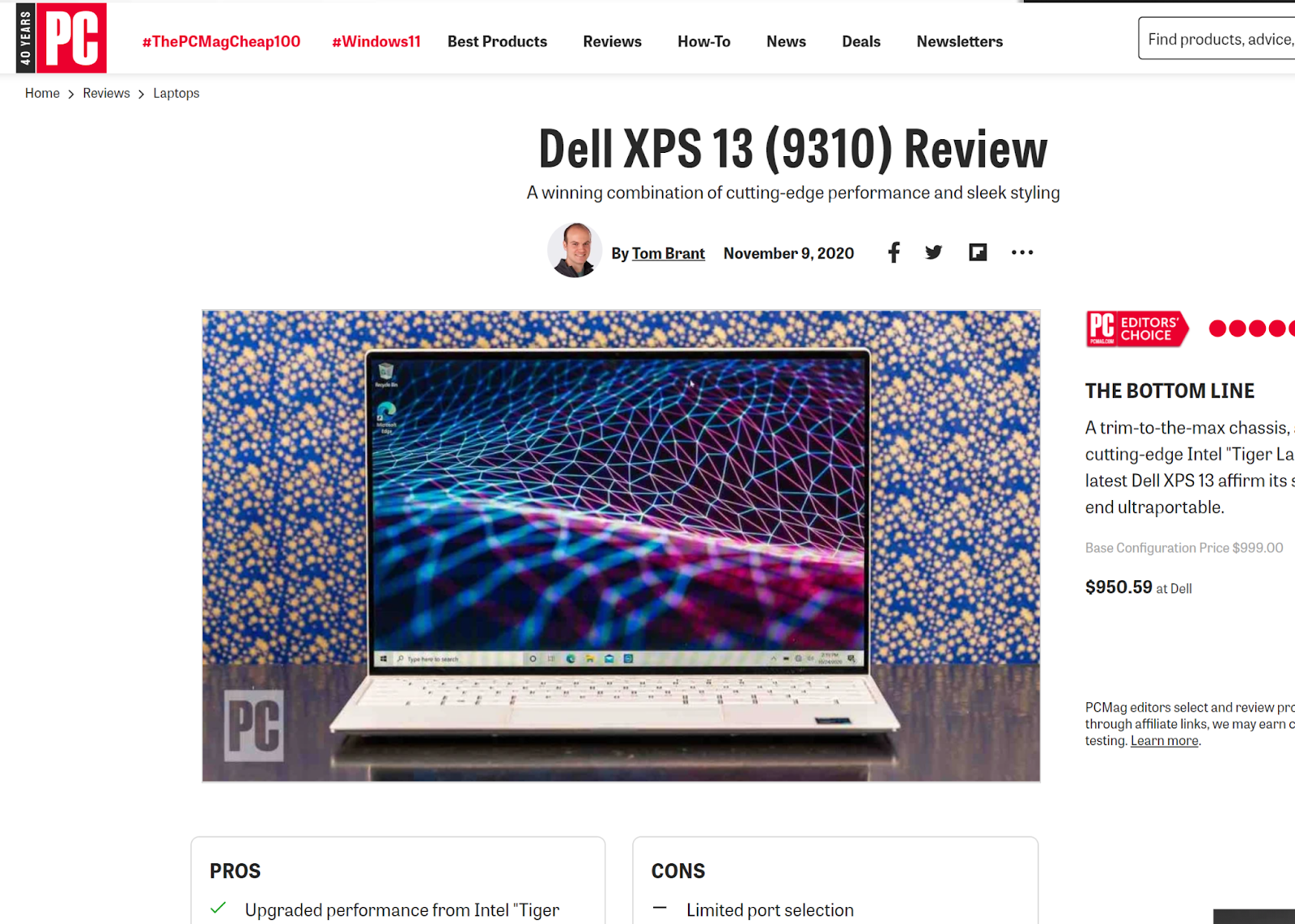 3. Vs. pages (product comparisons)
Even the best products have unsatisfied customers. It's just a part of doing business. Unsatisfied customers still have a problem to solve, so they're going to look for a workable alternative. That's where the power of vs. pages comes from.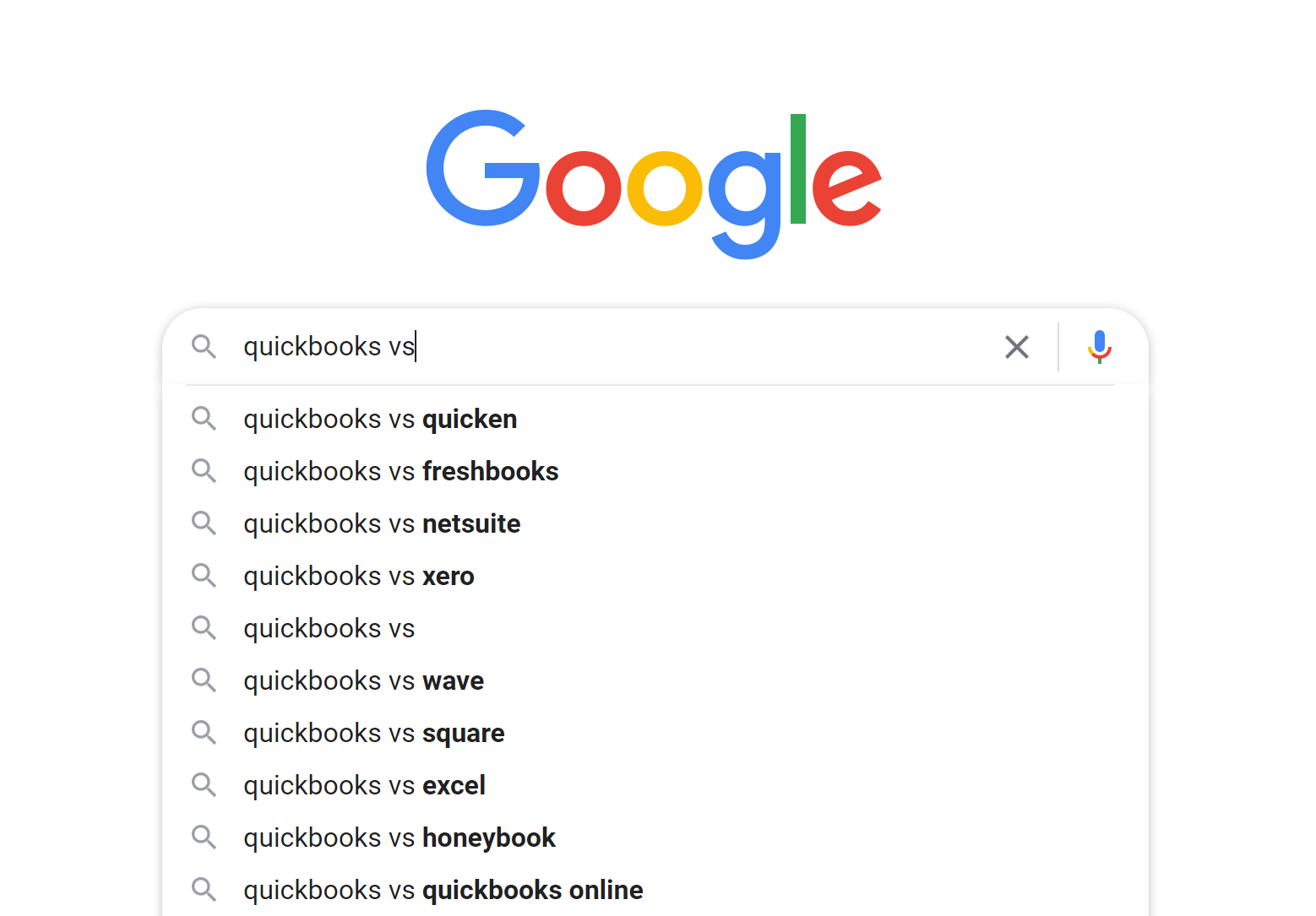 If you type for "[Your product] vs." into Google, you'll see what other people are searching for. They want to see how another product stacks up against what they've tried before. And that's where you can swoop in and create a resource for them.
Making incredible comparison pages has never been easier. If you use Lasso, you can easily make awesome product grids that convert like crazy. They look like this: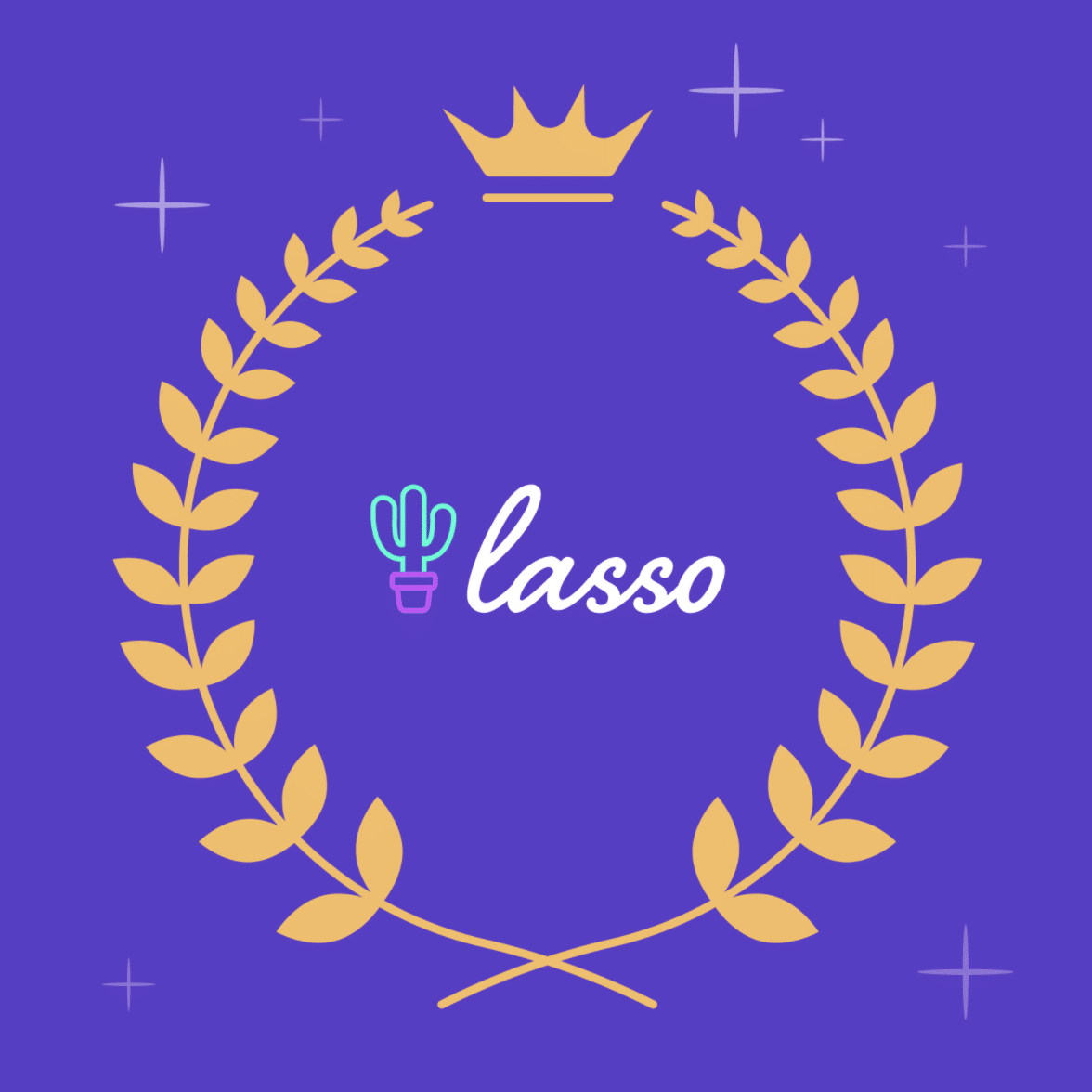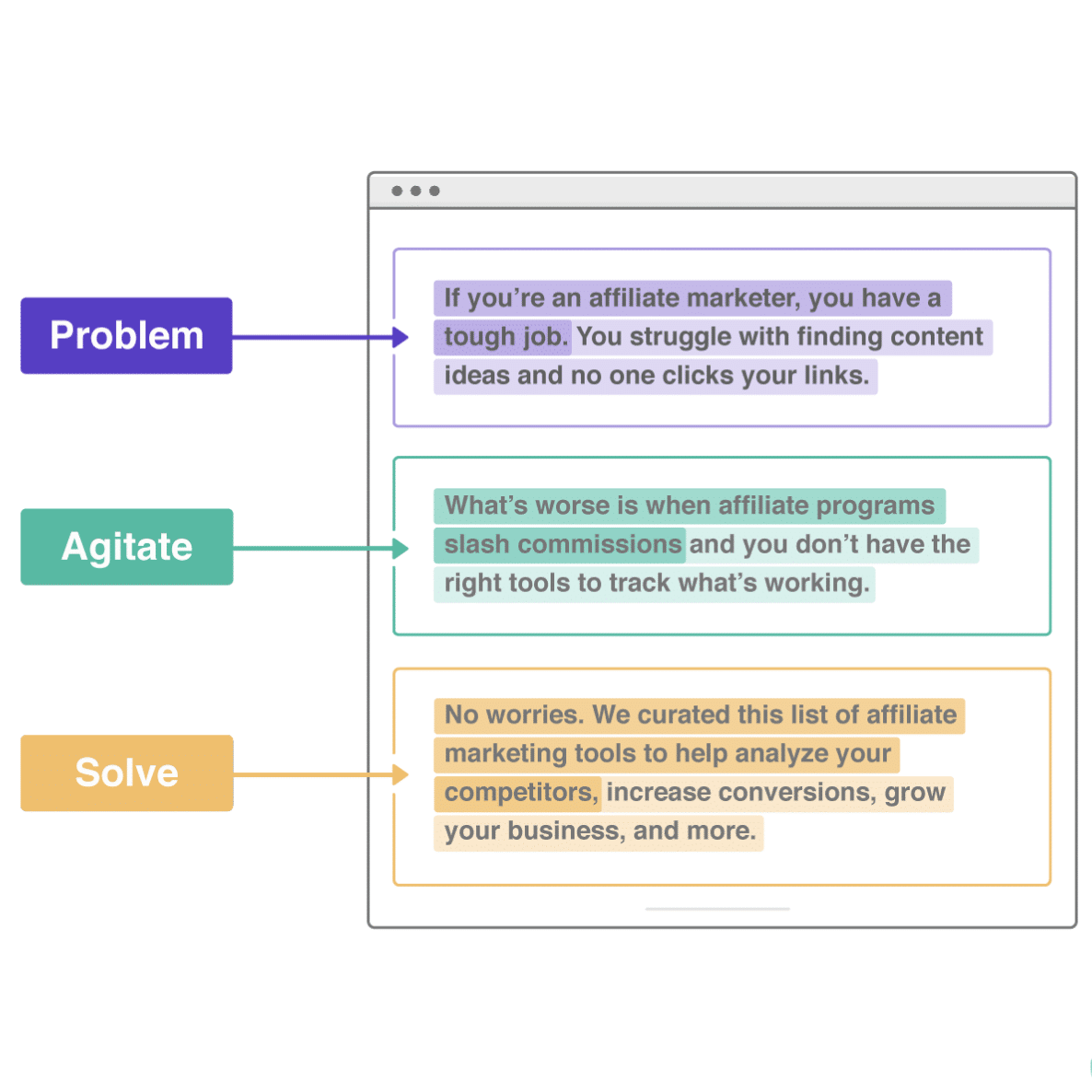 If you want to create incredible versus pages using grids like this, try Lasso on your site for free.
Example:
Quickbooks vs. Quicken: What's the Difference? from Investopedia.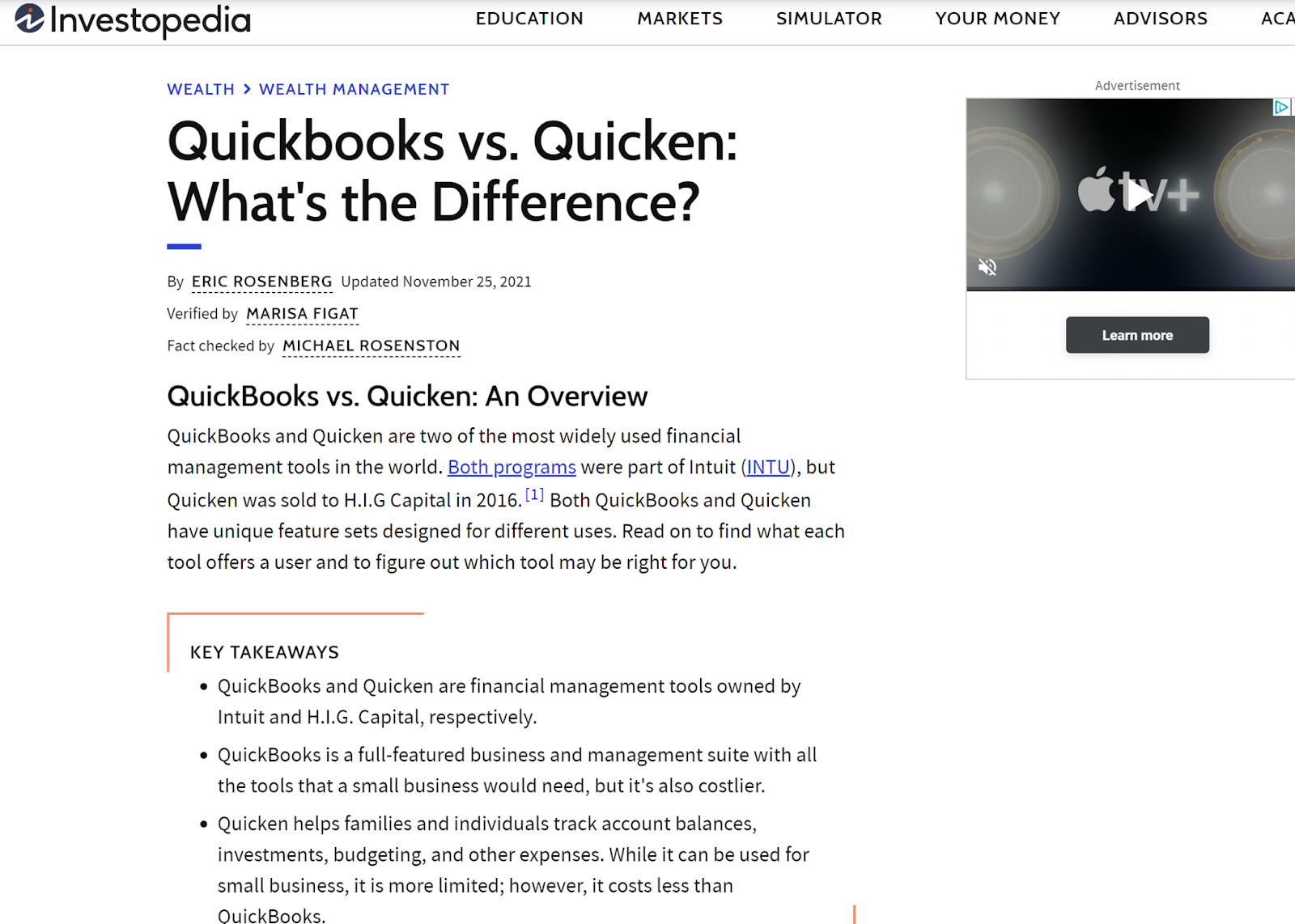 4. Resource pages
Managing the affiliate program at Lasso, I've seen a lot of different affiliate marketing strategies. One thing I've noticed is that resource pages convert exceptionally well.
It makes sense. If you've built an audience, it's because they trust you as an authority in your niche. So, they want to see what products you deem "essential."
You can learn how to create awesome resource pages with lasso here.
Example:
The Financial Toolbox from Listen Money Matters created using Lasso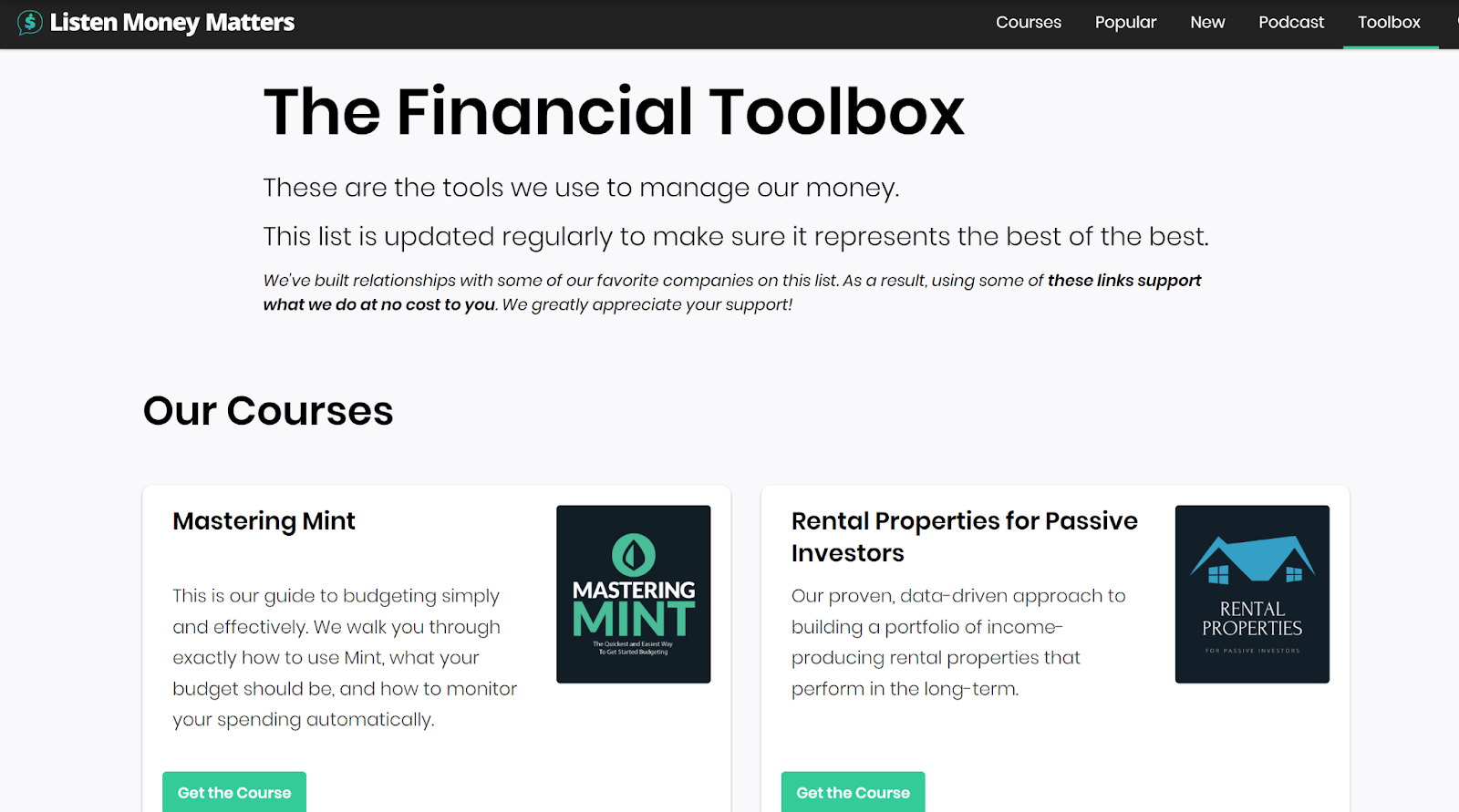 5. Product roundups
Product roundups (or "best x for y" posts) are by far the most popular type of affiliate marketing content strategy. The keywords are uber-competitive because they convert incredibly well.
If you want to write product roundups and rank, you need to be sure you have your keyword research dialed in. Long-tail keywords are your best asset here. If you can find an open space in your niche, product roundups can pay dividends for you.
Example:
5 Best Silk Shirts for Men from The Adult Male.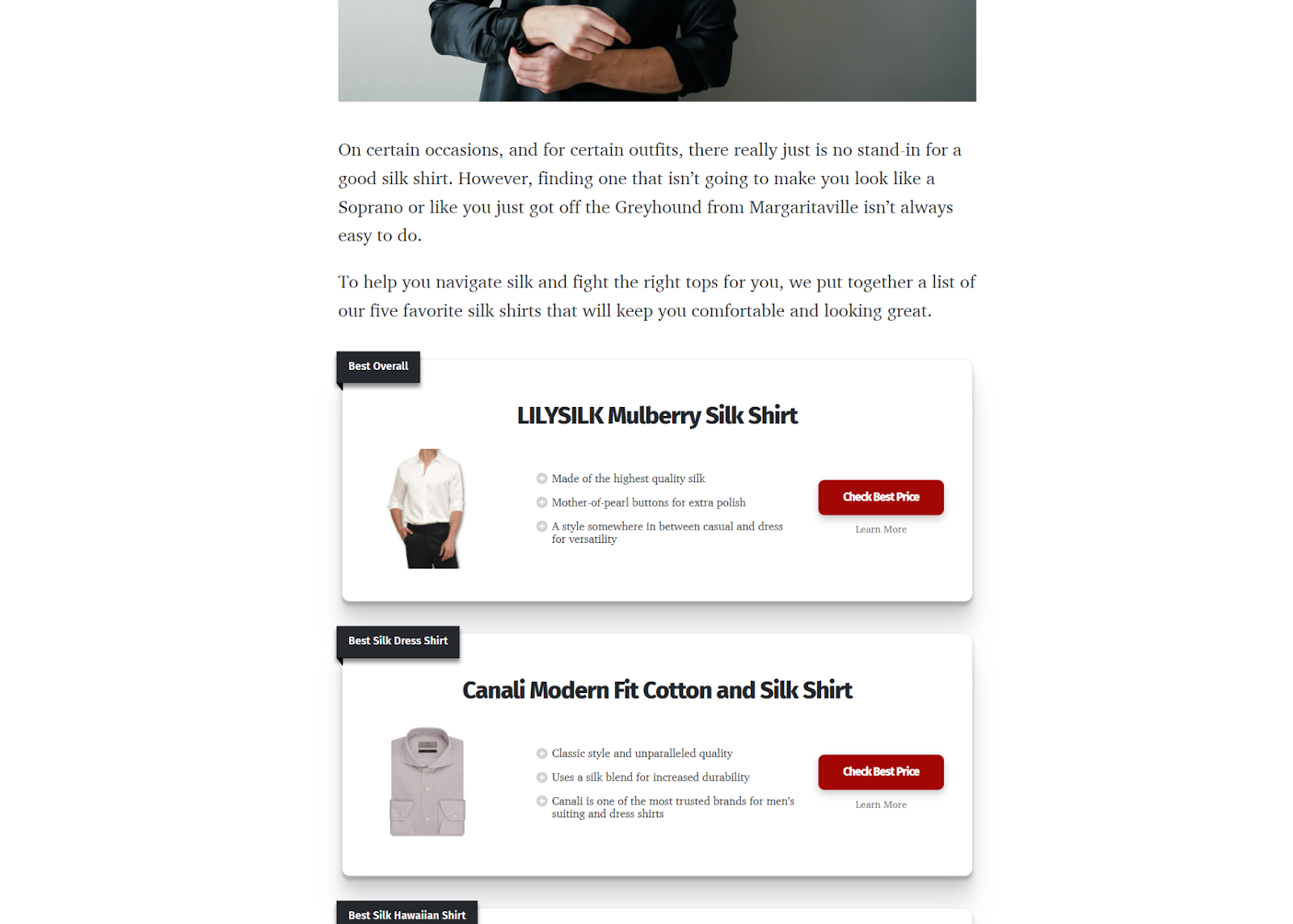 6. List posts
List posts can look a lot like product roundups, but instead of products, we're talking about short bits of information.
If you want to write about the "best ways to clean a car," you can summarize a few ways to clean a car, along with the benefits of each.
Then, inside each list item, you can outline a process and promote related products. It's like packing a bunch of info articles into one!
List posts are great because they're easy to write, easy to consume, and extremely sharable. Make sure to promote your posts on social media, along with a statement like, "You won't believe number 7!"
Example:
23 of the Best Online Jobs for Students by College Info Geek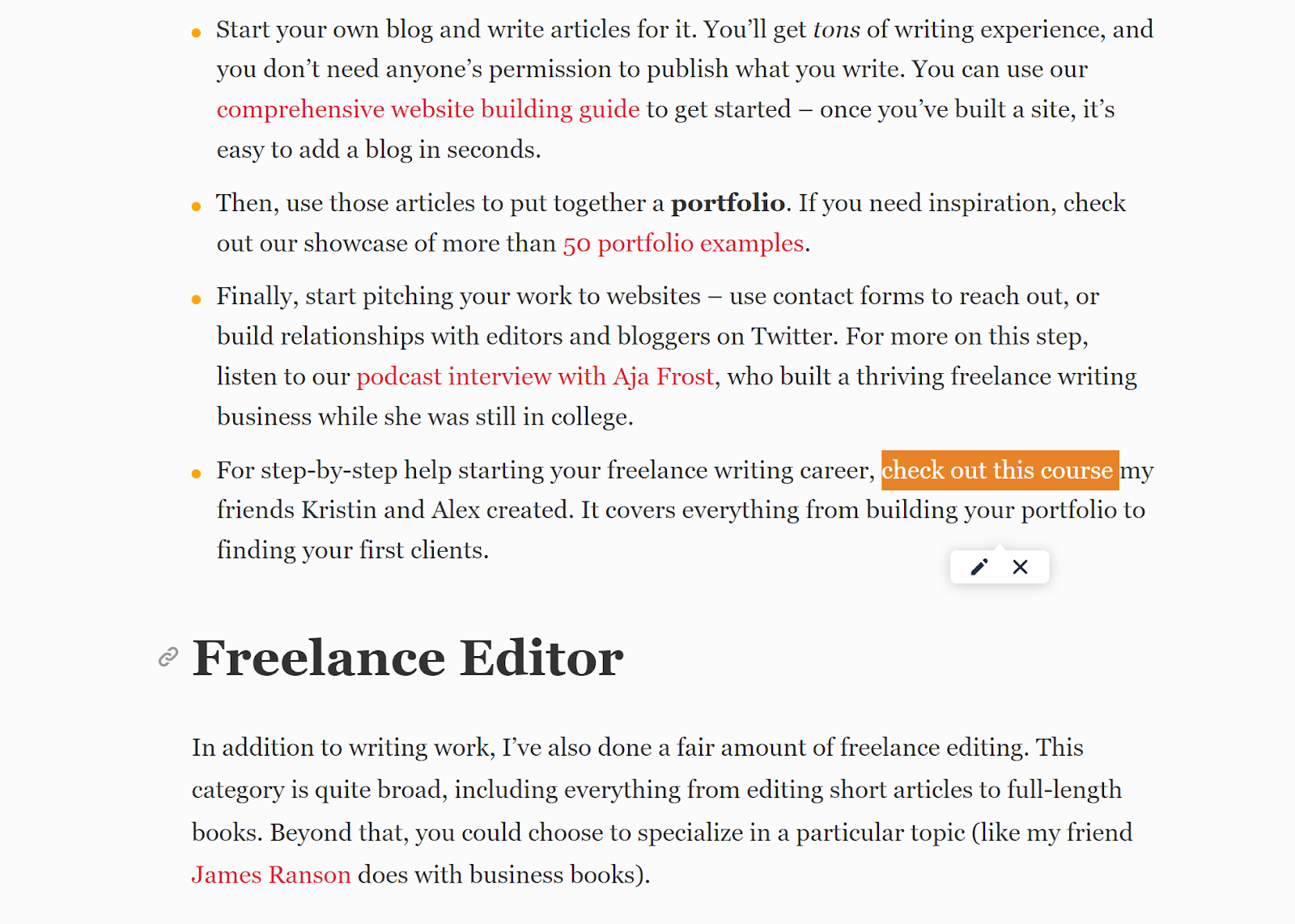 7. Gift guides
Gift guides take things back to the old days of marketing strategies and target audiences. Instead of finding keywords that target things that moms, dads, bosses, teachers, etc. want to buy, target the people who buy gifts for those people.
Gift guides are like product roundups, except the products can span multiple categories. All that matters is they fit what the recipient may want. These posts are easy to write, and they convert super well.
Example:
31 Cool AF Gifts for the Teenage Bro-ski in Your Life from GiftLab.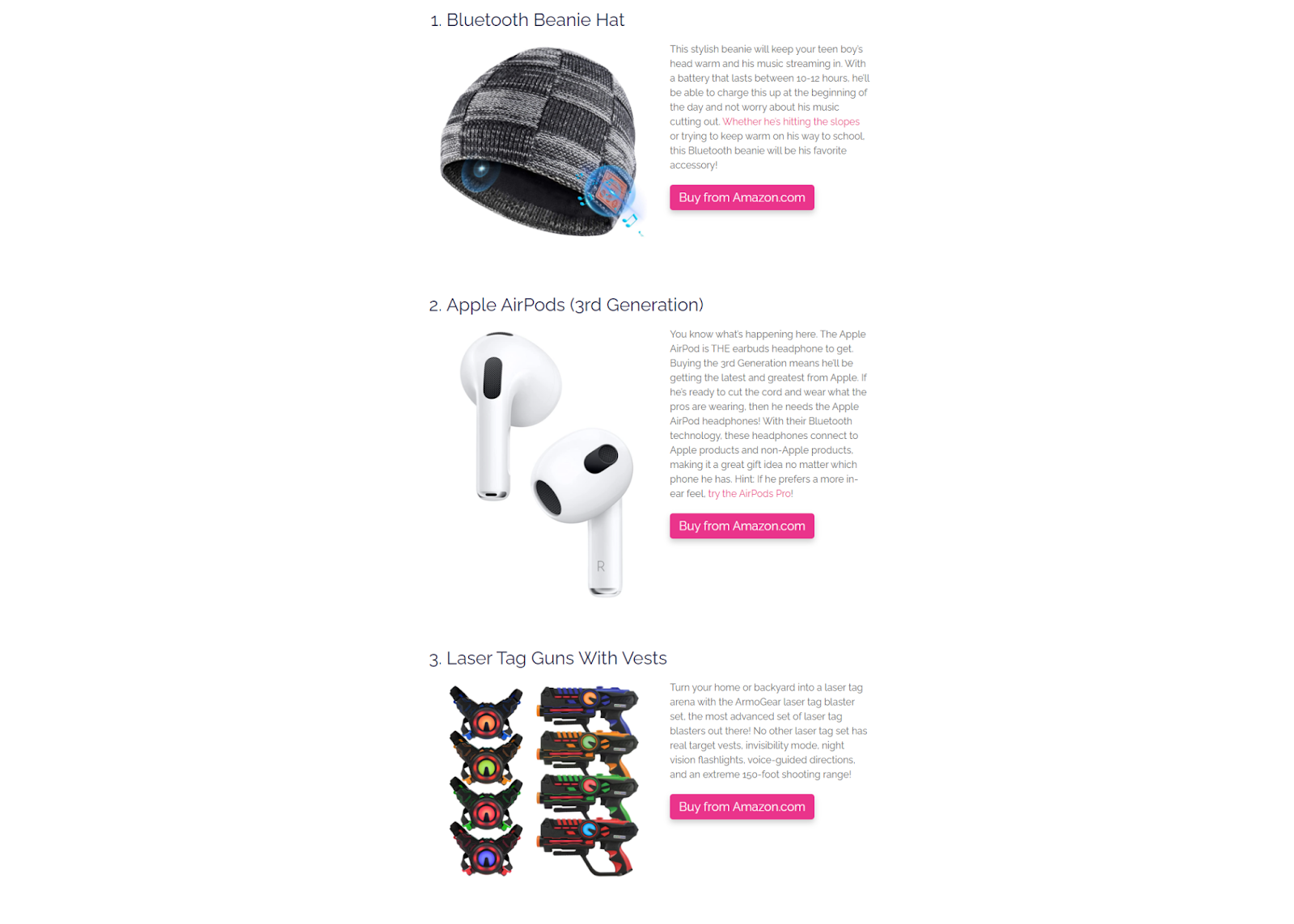 8. Current event posts
Do you remember a few years ago when kids in the US lost their minds over fidget spinners? They were sold everywhere for months, and then they just disappeared.
I hear a lot of content creators make fun of people who started fidget spinner websites. But, websites in the kids' toy niche weren't laughing; they were getting paid.
There's a difference between jumping on a bandwagon and staying current. If you want to be taken seriously as an authority in your niche, you should always be writing about what's going on now. That's also a great way for you to make some extra affiliate sales.
If I had a site about surfing equipment, I'd be sure to publish recaps of major surfing tournaments. I'd also make sure to slip in an Amazon link to the winner's surfboard of choice.
These posts aren't evergreen passive income; they'll have a limited earnings window. But if you're willing to put in the effort to publish timely content, you'll reap the rewards.
Example:
3 bullish reasons to buy Netflix and chill from Financial Post.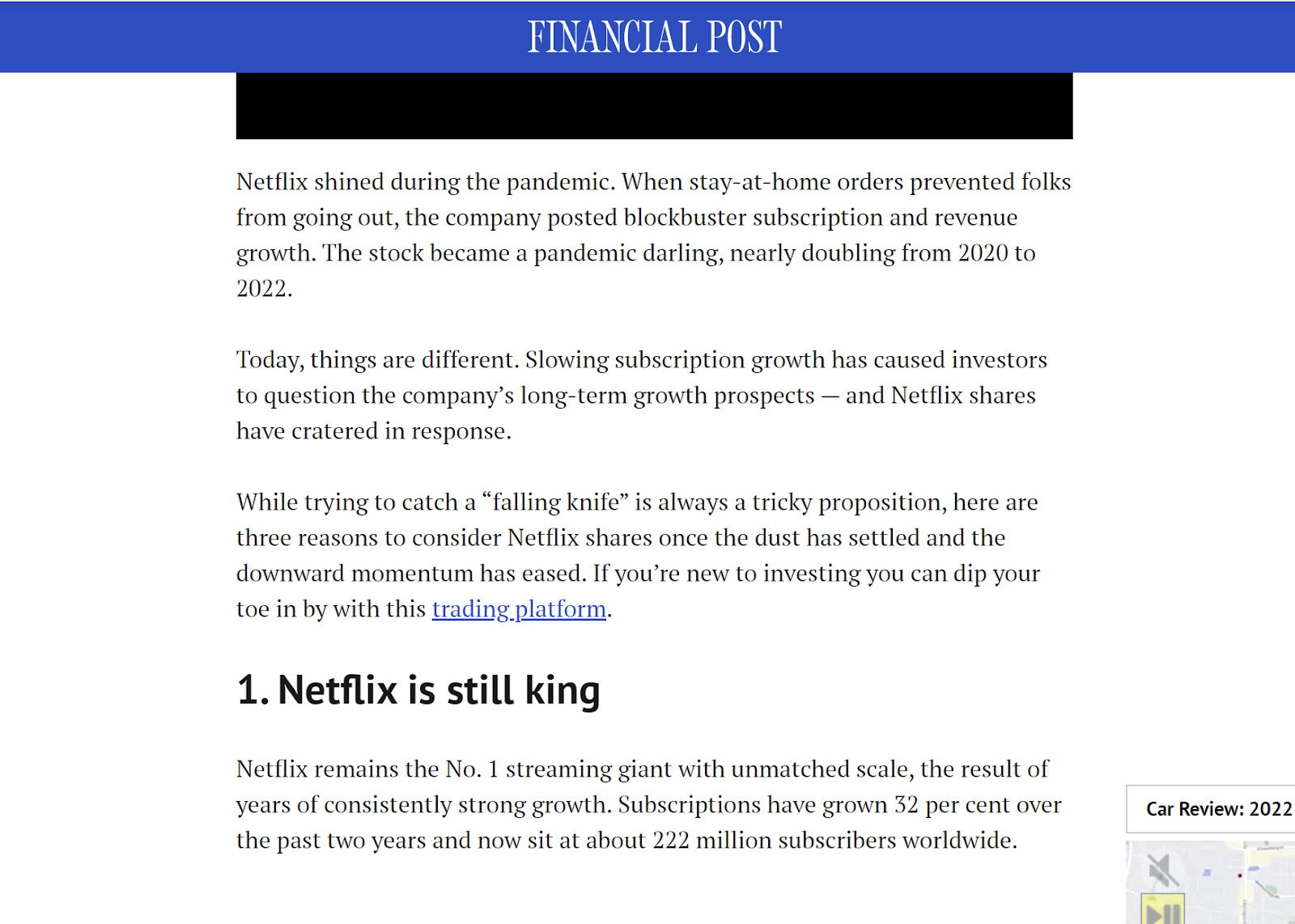 9. Case studies
I've mentioned that one of my duties at Lasso is to oversee our affiliate program. And I've seen firsthand that the best way to increase conversion rates is to recommend products that you actually use.
Audiences can tell when you're faking it, or when you're recommending a product you don't know a lot about. You can still make sales, but it's nothing compared to what you'd get with case studies.
Your readers want to know which products you use, and whether or not they actually work. Case studies are great for that. Document yourself using a product, and the results you have. If a product doesn't work, be honest, and recommend an alternative.
The name of the game here is empathy. If you can show your audience that you understand their issue, they'll accept whatever solution you give them.
Example:
The $10,000 Per Month Agency Story from Content Mavericks.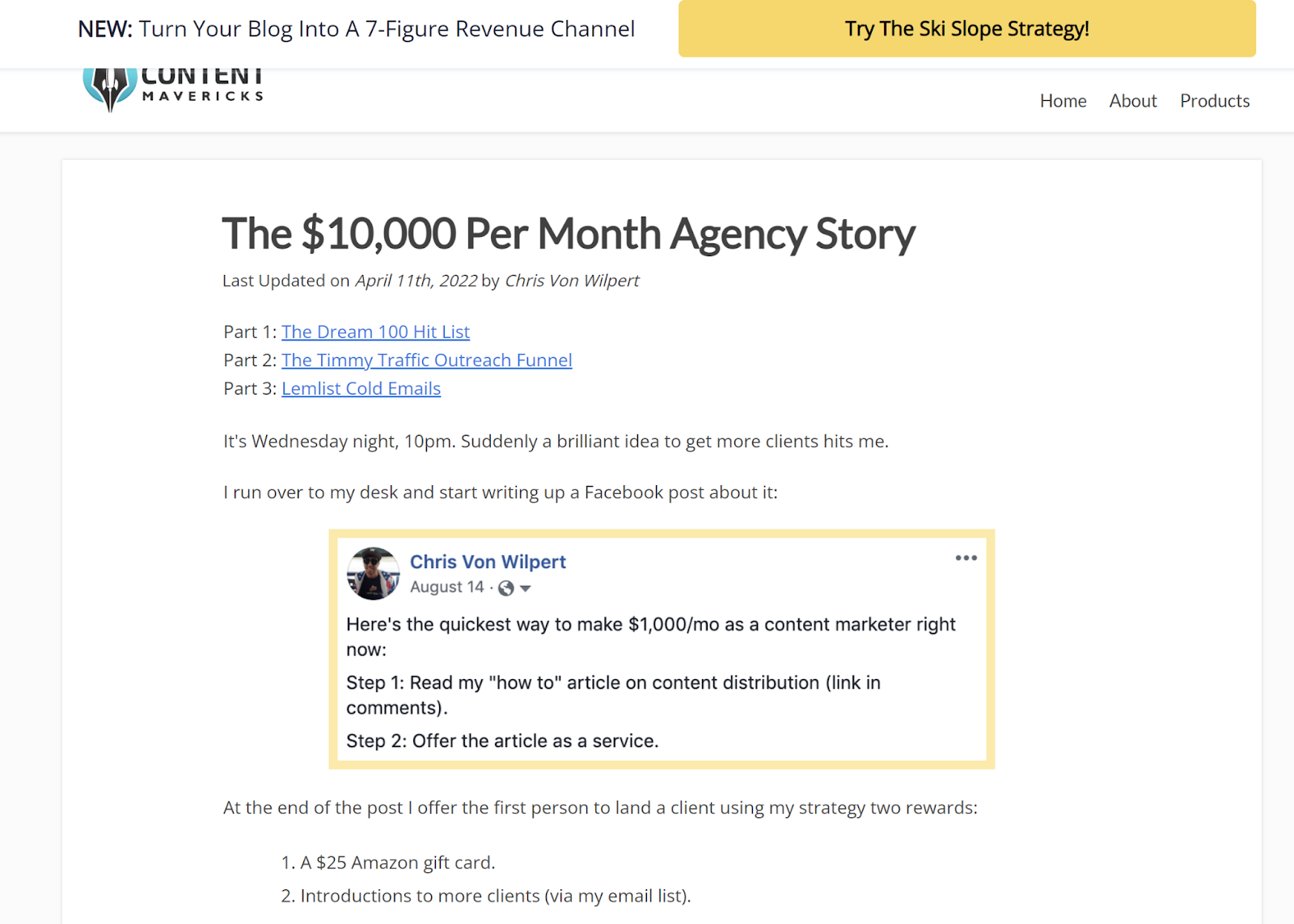 10. Ebooks
Did you know that you can insert affiliate links into ebooks? As long as it's not against your service agreement with the affiliate network, it's no problem.
Ebooks are a great way to promote affiliate offers and build an email list as well. And you can do it with affiliate content that you've already written.
All you have to do is put together some of your existing site content into a PDF in an order that makes sense. Do some light editing, label your chapters, and you've created a short ebook. Congratulations, you're an author.
I recommend offering the finished ebook as a free download on your website. Your readers give you their email addresses (and sign up for your newsletter), and you send them the PDF. And now you can create an email marketing campaign with your new leads.
Your visitors probably haven't read all of your content, so it's unlikely they'll complain about more free content. You can make conversions from the links in the book, and you've created a lead magnet that will generate affiliate income well into the future.
Example:
Free Zero Waste Crash Course Ebook from Going Zero Waste.
Take your affiliate marketing content to the next level
I hope by now you've found a content idea that you like, but it's not enough to have great ideas. You have to execute!
I've written before about how to write affiliate marketing content that converts, but here are a few tips:
Write an outline first – start with a solid foundation
Increase your mentions per page – mention a product at least 7 times to ensure a sale
Optimize your page with images and displays – Lasso is the best way to optimize your content
With great ideas and great execution, you'll have no problem overcoming writers' fatigue and creating awesome content. Go launch some incredible affiliate marketing campaigns. If you get rich in the process, make sure to let me know!
Our creations in your inbox, weekly.
We've built multiple six-figure online businesses that our moms are proud of.
We'd like to help you do the same.