Every successful entrepreneur takes pride in their work. Many times, they attribute that success to having the right tools. Ever heard the saying, "Give me six hours to chop down a tree and I'll spend the first four sharpening the ax."?
It boils down to preparation and execution.
If you're struggling in either category, this post is for you. We reviewed our favorite content creation tools we use to run our online businesses. We also found some hidden gems in the process from around the internet. Here's what works for making things so badass your mom will want to hang them on her fridge.
Want actionable affiliate marketing advice delivered straight to your inbox? Join our newsletter, The Monday Marketer.
Marketing Tools for Affiliate and Digital Product Promotion
Once you create your content, you want to promote it in a visually appealing way to attract clicks and increase conversions. This is why built our WordPress plugin, Lasso.
1. Lasso
Lasso lets you make more money from your creations using high-converting product displays. They've been A/B tested against millions of impressions and revenue – that's how we know they work!
Here's one example of a product display you can create with us. 🎯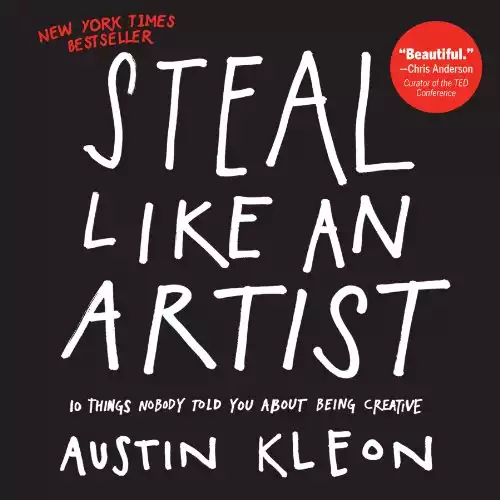 In addition, our tool alerts you to broken links, finds monetization opportunities, and lets you organize your URLs in a single dashboard. We even find new affiliate programs you can join from your existing links.
We've been building successful affiliate sites for a decade and found product displays to be an absolute game-changer so much that they've become an integral part of our monetization and content strategy.
Further Reading:
Content Creation Tools for Research, Ideation, & Planning
Before you start creating, you need to know WHAT to create, and that's where research comes in handy. Here are some excellent resources for getting ideas and inspiration.
2. YouTube
Here's a simple framework for finding content ideas on YouTube. Now, it may be filled with videos, but it's still an excellent place for finding ideas on what you can create for your website.
Here's how it works.
Enter your keyword phrase into the search bar. In the top left, there's a "Filters" tab you can click, which lets you sort by various attributes, including:
Upload date
Type
Duration
Under the "Type" column, filter by "Channel." For example, here's what you see if you type 'Paleo' into the search field and filter by channel.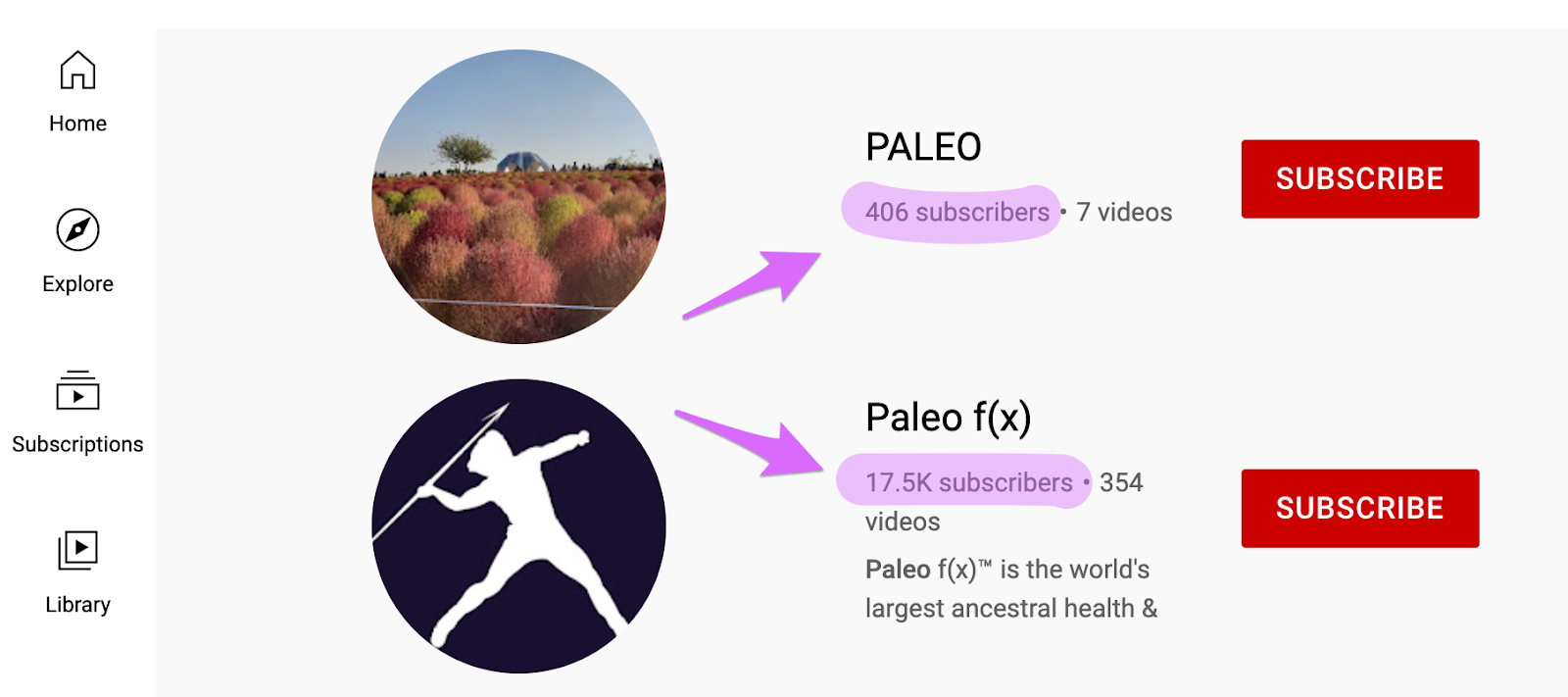 Next, choose 2-3 channels with a high number of subscribers. Now, check out their video content sorted by popularity and date added.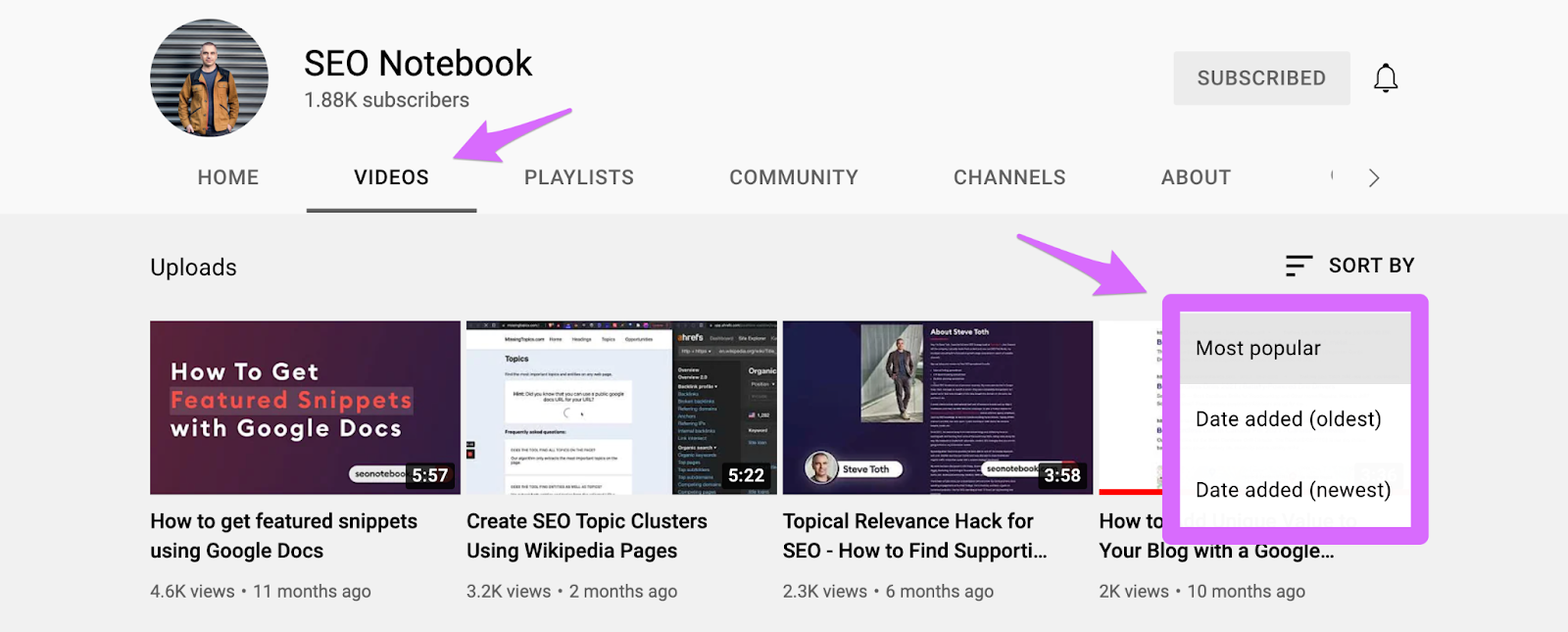 This lets you determine two things:
Date added: If the video was uploaded recently and already has a high number of views, that signals it's trending and resonating with your audience. On the other hand, it could signal evergreen content if added a while ago and continues to get views.
Most popular: An easy way to find popular topics with a high view count. The higher the number of views, the more popular.
Once you've found a few videos meeting your criteria, examine them to see what topics they cover. Then, look for ways you can add your perspective to the conversation.
Scrape the comments section of your selected videos. You might find valuable insights and ideas. Sometimes people tell you what's missing, so you can create something that fills the gaps.
Further Reading:
3. Ahrefs Content Explorer
You can use paid SEO tools like SEMrush or MOZ for finding topic ideas. We use Ahrefs. Here's what to do if you want to find popular content ideas for your readers.
Head to Content Explorer and enter the topic you're researching. Let's use 'guest blogging' as our example.
Set the filters to:
Published in the last 12 months
A minimum domain rating of 50
This finds recently published content that attracts high-quality backlinks.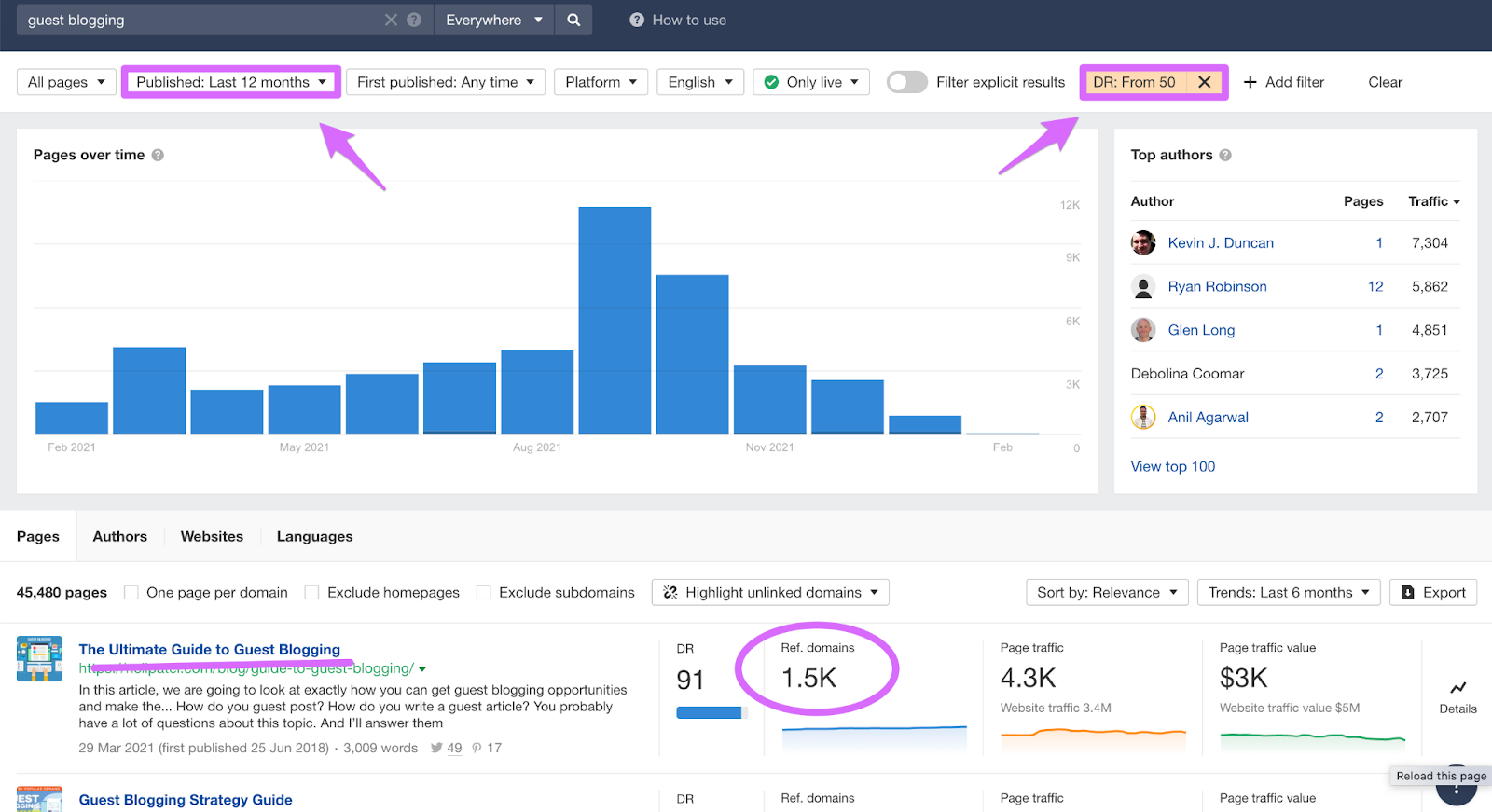 Next, look for commonalities between those posts. For example, people may be more inclined to link to particular types.
In the above example, the results display many ultimate guides and tips. So, you might want to match that style when writing your post.
Another helpful metric is the Top Pages report. Enter a domain into Site Explorer and click "Top Pages.".

Ahrefs displays that domain's most popular pages. Look for exciting content that you could create for your niche based on what you find.
Resource: I highly recommend Ahrefs Blogging for Business course if you're a content marketing and SEO practioner. It's free, and the content is easy to consume.
Additionally, you can also try a blog ideas generator like HubSpot's.
4. Subreddit Visualizer
Forums are excellent places to find content ideas. People are typically quite candid. And Reddit is one of the biggest. So here's an easy way to find related subreddits for your niche.
Let's say your niche is the 'Outdoors.'
Start with typing "Outdoors" into the search field. You'll see a graph displaying the related subreddits linked to each other.
To niche down, click any one of those. When I click 'Survival,' it fetches the comment threads in the sidebar.
Its creator makes open-source libraries and software, all of which you can check out here.
5. AlsoAsked.com
Also Asked aggregates Google's People Also Ask data in one place. Your broad keyword is the base and then branches off into related terms based on your seed keyword.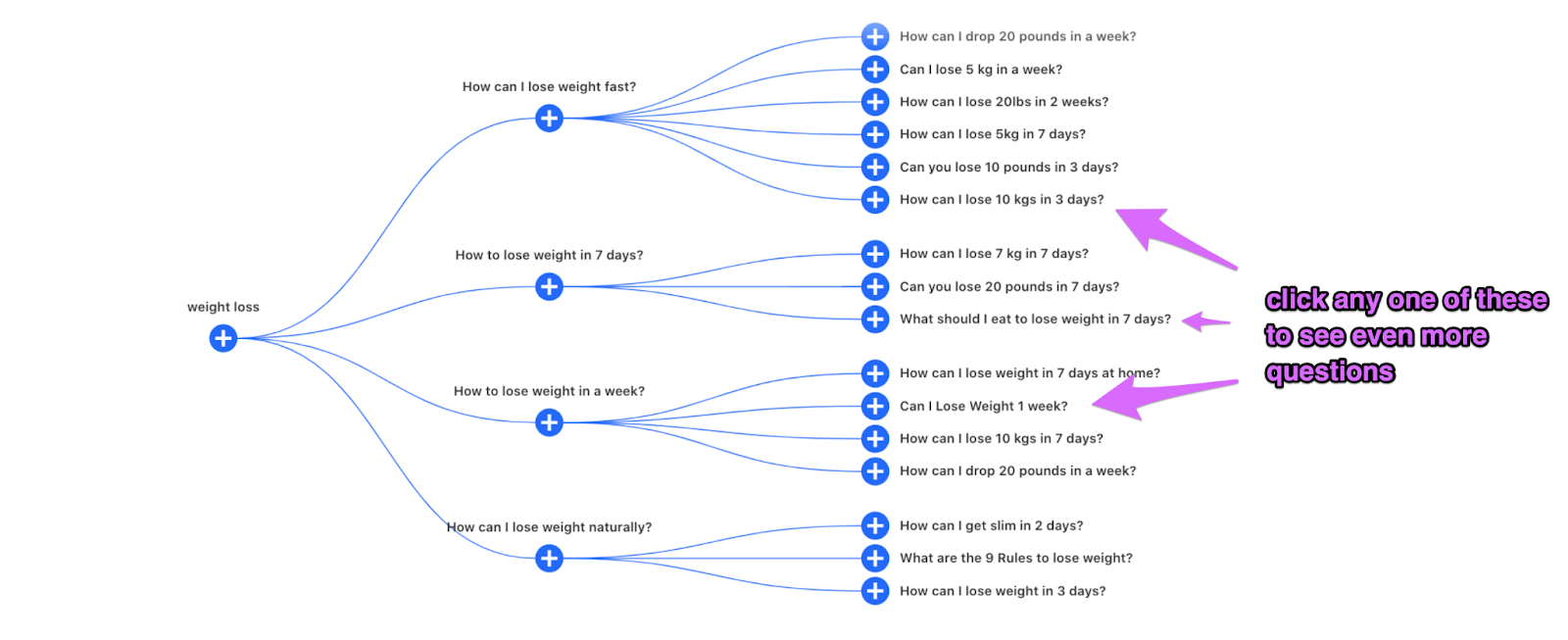 In the above screenshot, I used 'weight loss' and Also Asked populated several related questions.
Click any one of those for a deeper dive into your topic and find more questions you can answer. This process works well for creating your outline.
6. Sparktoro
SparkToro finds where your target audience hangs out online. If you're trying to gain more insights about your customers, this curation tool will help.
You can filter by:
What your audience talks about
Words in their profile
Social accounts they follow
And lots more.
For example, if I'm trying to learn more about our audience, I might enter 'website monetization' into their search field using the filter 'My audience frequently talks about.'
SparkToro generates the following report: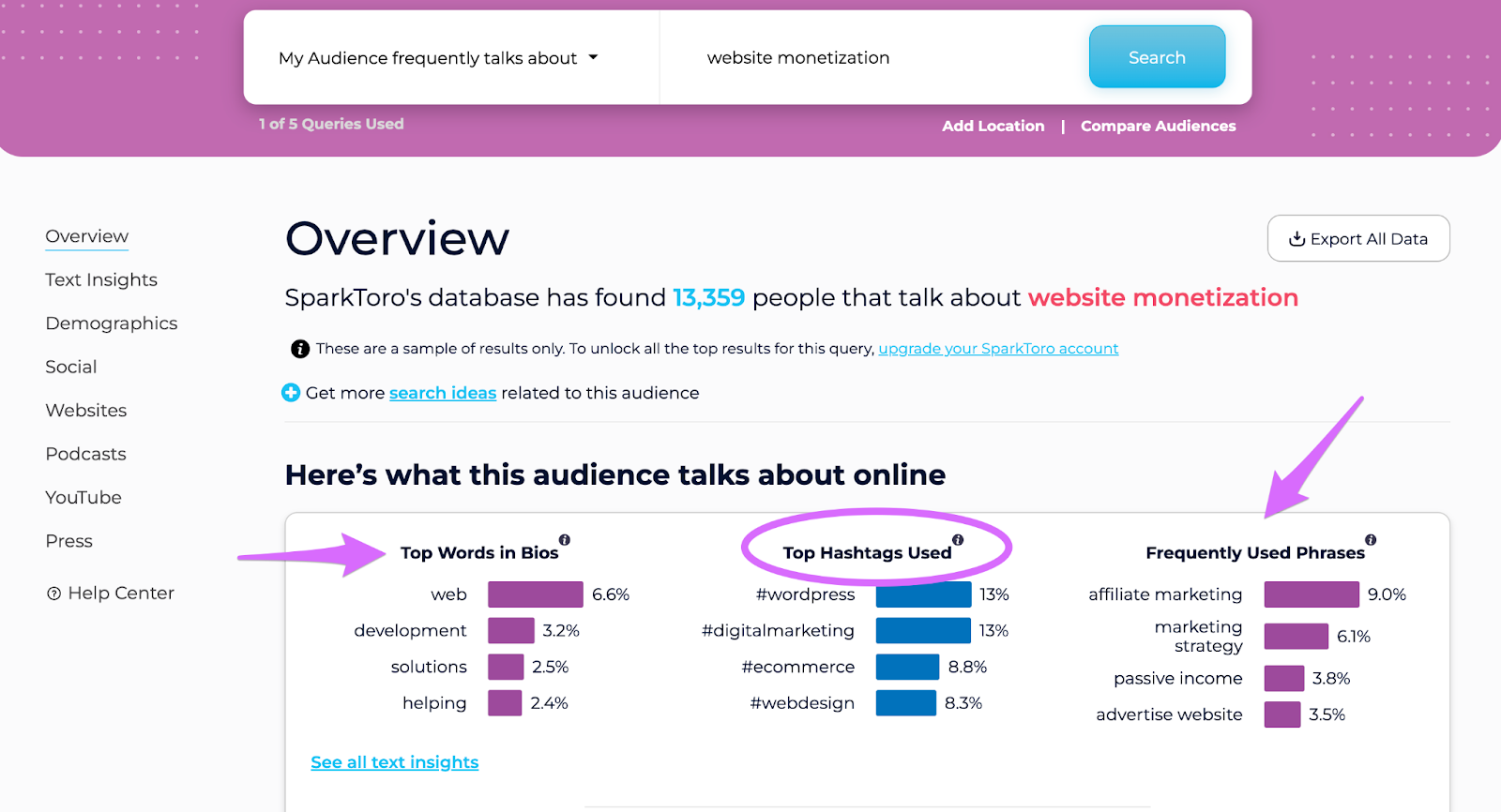 It fetches top hashtags, words in bios, and common phrases. When I scroll down, it lists more details, including:
Social accounts they follow
Websites they visit
What they watch, listen to, and read
It even displays some hidden gems in my niche. Finally, they offer a tutorial to show how you can apply this data to your campaigns.
You can use this to uncover industry pain points experienced by your audience. Read this thread from SparkToro's VP of Marketing for other ways you can use it to find more content ideas.
You can use the free tool for up to 5 monthly queries or upgrade starting at $38 per month.
7. Asana
We use Asana for all of our projects, from our editorial calendar to biz dev to customer success. It's insanely simple to use.
We follow every project from inception to publishing. You can assemble by team or workflow, so it's easy to track your team's progress. It makes things easier to focus on and what to do, why it matters, and when to complete it.
It's easy to message co-workers within the app so that you can chat on work-specific tasks.

Above is a snapshot of our Editorial calendar workflow. You can also switch to list, calendar, and dashboard views.👆
Writing and Editing Tools for Content Creation
Your writing needs to be clear, concise, and error-free, whether you're writing a detailed how-to guide, a product review, or a list post. Of course, you also need to optimize for search engines—the below tools help with that.
8. Clearscope
We've been using Clearscope for a while now with great results. It helps you capture more related keywords in your content (a huge SEO benefit). This optimization type gives your articles more opportunities for Google to find you.
It works like this:
When you're writing, a sidebar displays to the right side of your screen, telling you which phrases to target based on your primary search term. It also comes with a Google doc add-on and a WordPress plugin that helps you find the best words in real-time.
Its interface is user-friendly.
To operate it, just:
Type your keyword into the search bar
Run a report
See all relevant keywords, top competitor content, and their rankings.
We use this tool with every post we write to give us an edge.
You can also see how your content measures up against the ranking posts regarding your post's specific terms versus competitors.
Here's a screenshot of how it looks inside your WordPress post editor.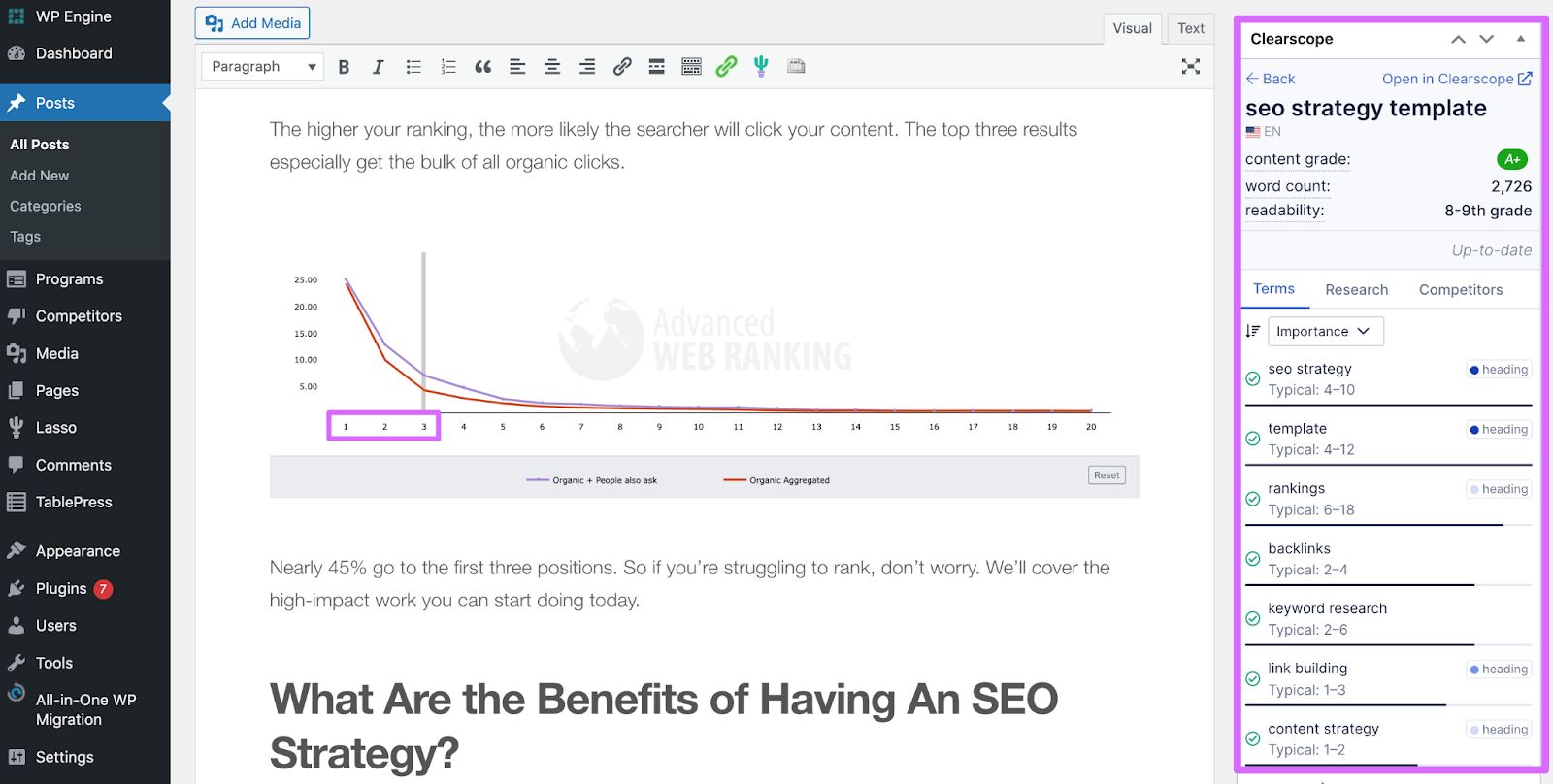 Two other tools work similarly (we haven't yet but are worth a look):
Further Reading:
9. Grammarly
Grammarly uses artificial intelligence (AI) systems to find grammatical and spelling mistakes. But, it also provides stylistic suggestions.
For example, when writing, your screen will have a sidebar appearing to the right split into four categories:
Correctness
Clarity
Engagement
Delivery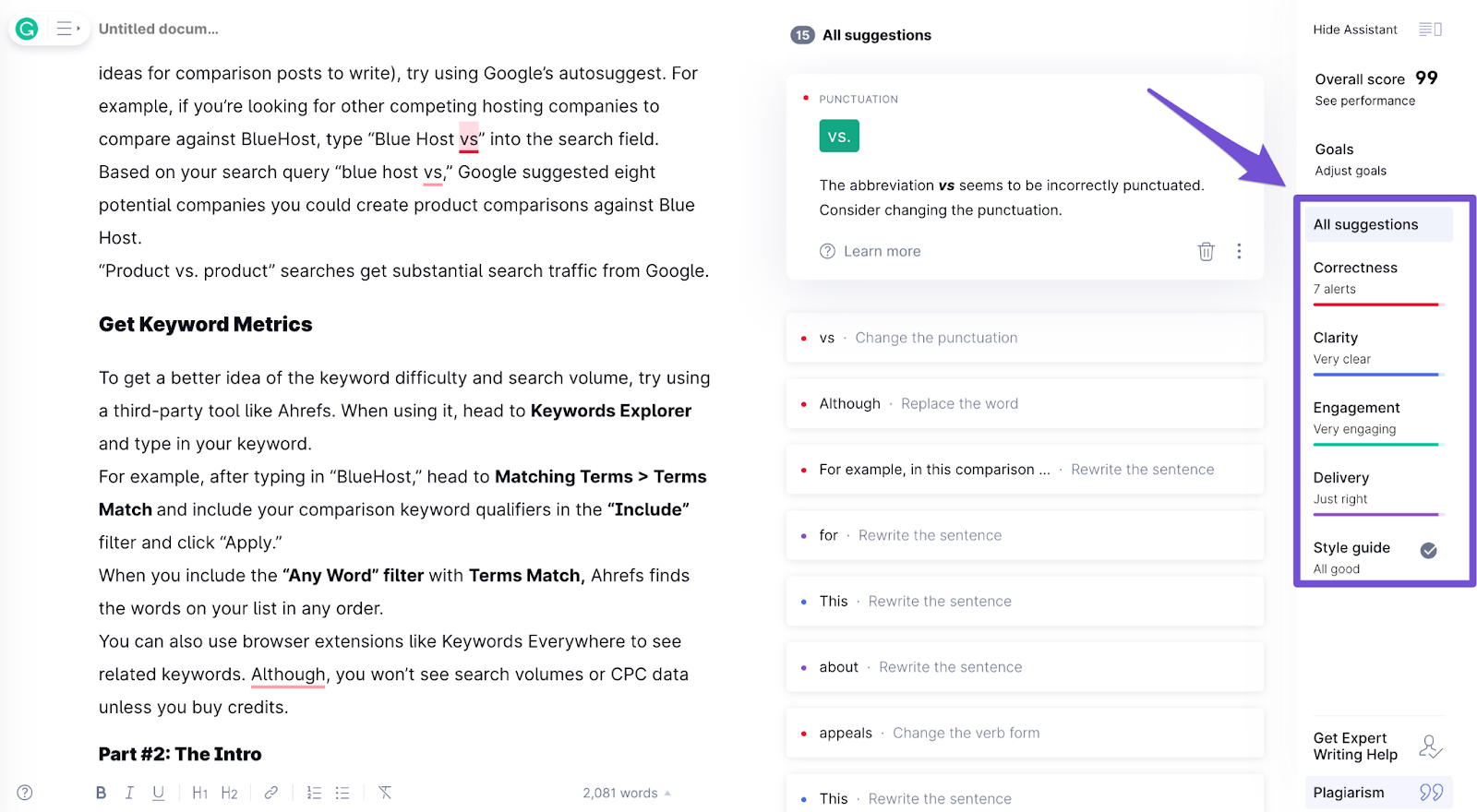 Grammarly has both a free version and a paid version. Our team uses the Premium plan, which offers more stylistic suggestions. IMHO, it's worth the extra cost.
The free Chrome extension checks your grammar, punctuation, and spelling across platforms from Linkedin to Slack to Twitter. If you're on a budget, this is the best way forward. Read our review below.
Further Reading:
10. Coschedule
Coschedule's Headline Analyzer helps you do just that – craft the perfect headline. Type yours into the empty field, and you'll get a score of how well its tool thinks it'll perform.
For example, when I type one of our headlines into the interface, it grades based on the kinds of words your title uses, including:
Common
Uncommon
Emotional
Power
Suppose you can strike the right balance between these four groups, the higher your score. Each word category has its own word bank. When you click "open word bank" beneath each type, you get a list of synonyms.
The Headline Studio Browser Chrome extension is free, but you'll have to upgrade if you want even more detailed analytics.
Further Reading:
Tools for Visual Content
Here are a few tools and platforms that we either use or come highly recommended – definitely worth examining if you're using any kind of visuals or graphics on your website.
11. Canva
No graphic design experience? No problem. We've used Canva multiple times for creating illustrations for our content. You can build something from scratch or choose from their extensive template catalog.
Its drag and drop features make it incredibly user-friendly, and you can create so much, including:
Designs
Charts
Graphs
Videos
It even lets you perform photo editing.
There's a series of step-by-step tutorials on their website that show you how to make anything, and you'll gain access to popular designs for inspiration.
Canva's ideal for marketers making logos, blog banners, email newsletter templates, and more. It's been our visual content go-to resource for years.
12. Flourish
This interactive tool lets you tell stories with data in unique ways. It's also part of the Canva family of design tools.
You can do lots with it, like this dynamic bar chart race. 👇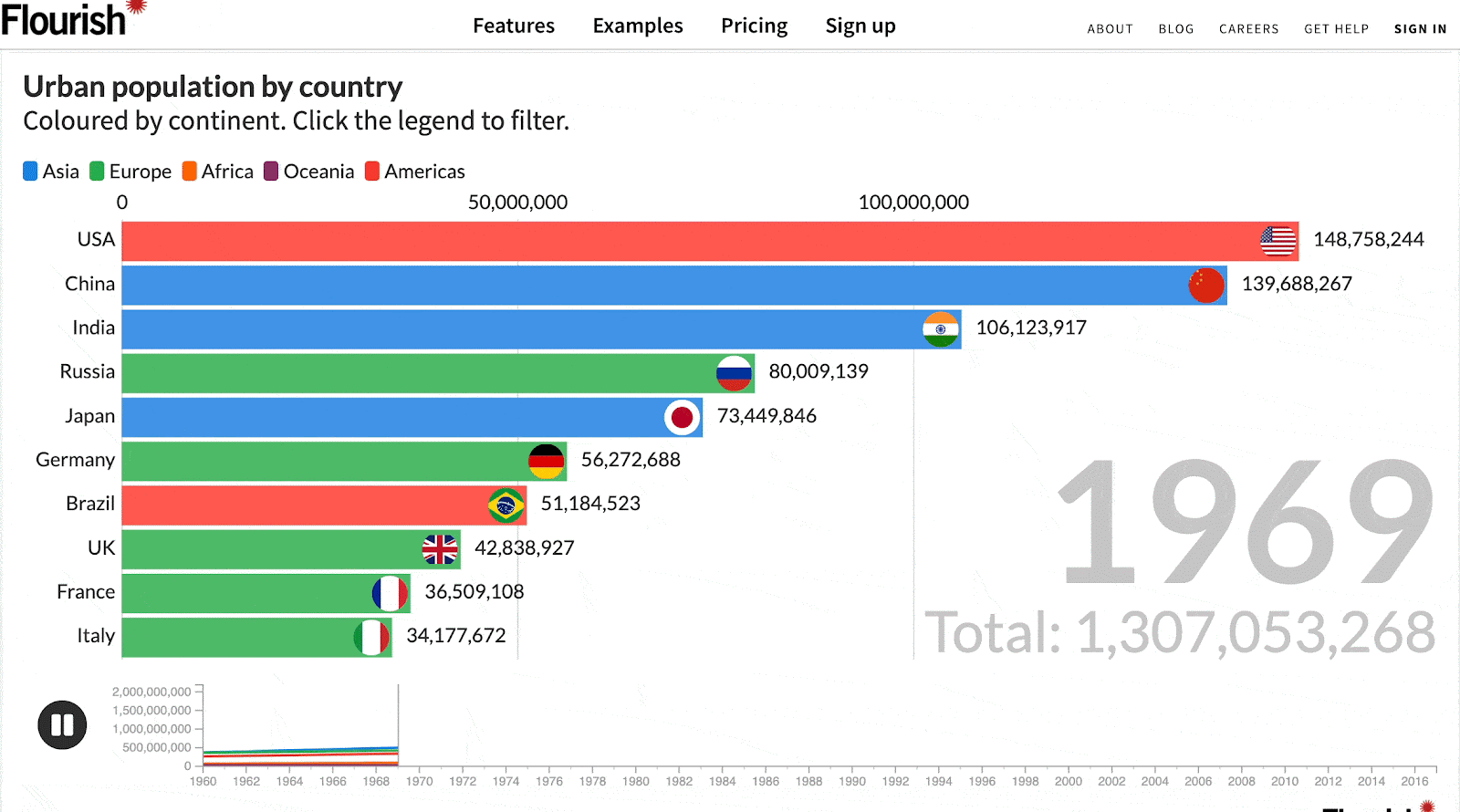 If you like the idea of turning your data into charts, maps, infographics, or interactive stories, Flourish is worth exploring.
It produces a substantial amount of visualization types with little work required. In addition, you can embed your graphics seamlessly into your content and get custom themes to match your brand.
It is especially appealing to the data-savvy but not code-savvy crowd. There's a free version for solo creators.
13. Skitch
Skitch is a product from Evernote: the note-taking and project-planning tool. We're fans because of how easy it makes taking branded annotated screenshots on our blog—all of the screenshots you've seen in this post we're taken with Skitch.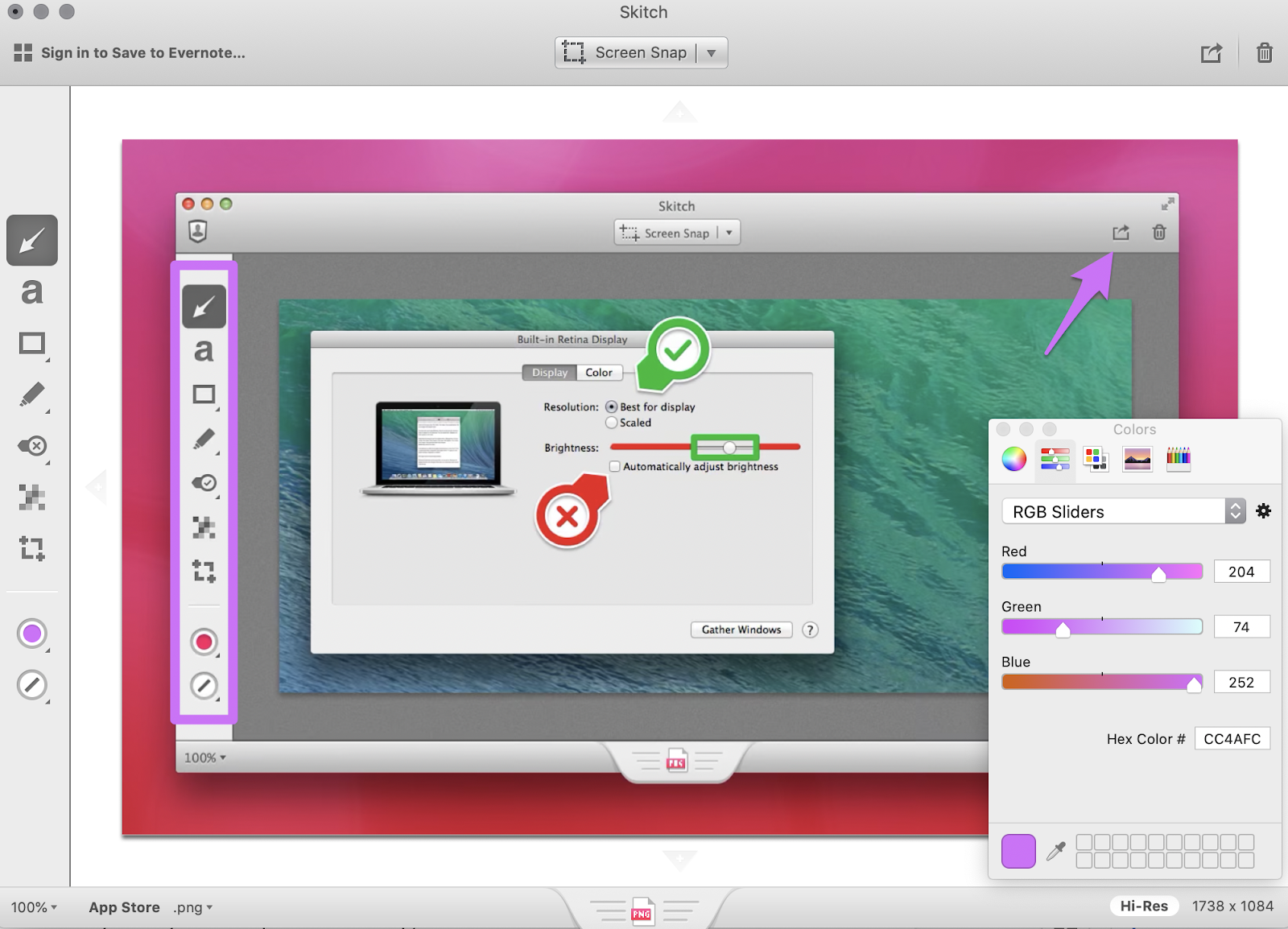 The left sidebar is where you'll find several essential editing tools, including:
RBG sliders for customizing colors
Blur function
Highlighter
You also have access to all shapes, letters, and arrows. Perfect for creating simple markups that are easily shareable.
14. Screenflow
Screenflow is a video editing and screen recording software for Mac users. We've used it countless times to create recordings of using the Lasso interface for our customers (like this one below about how our Link Cloaking feature works).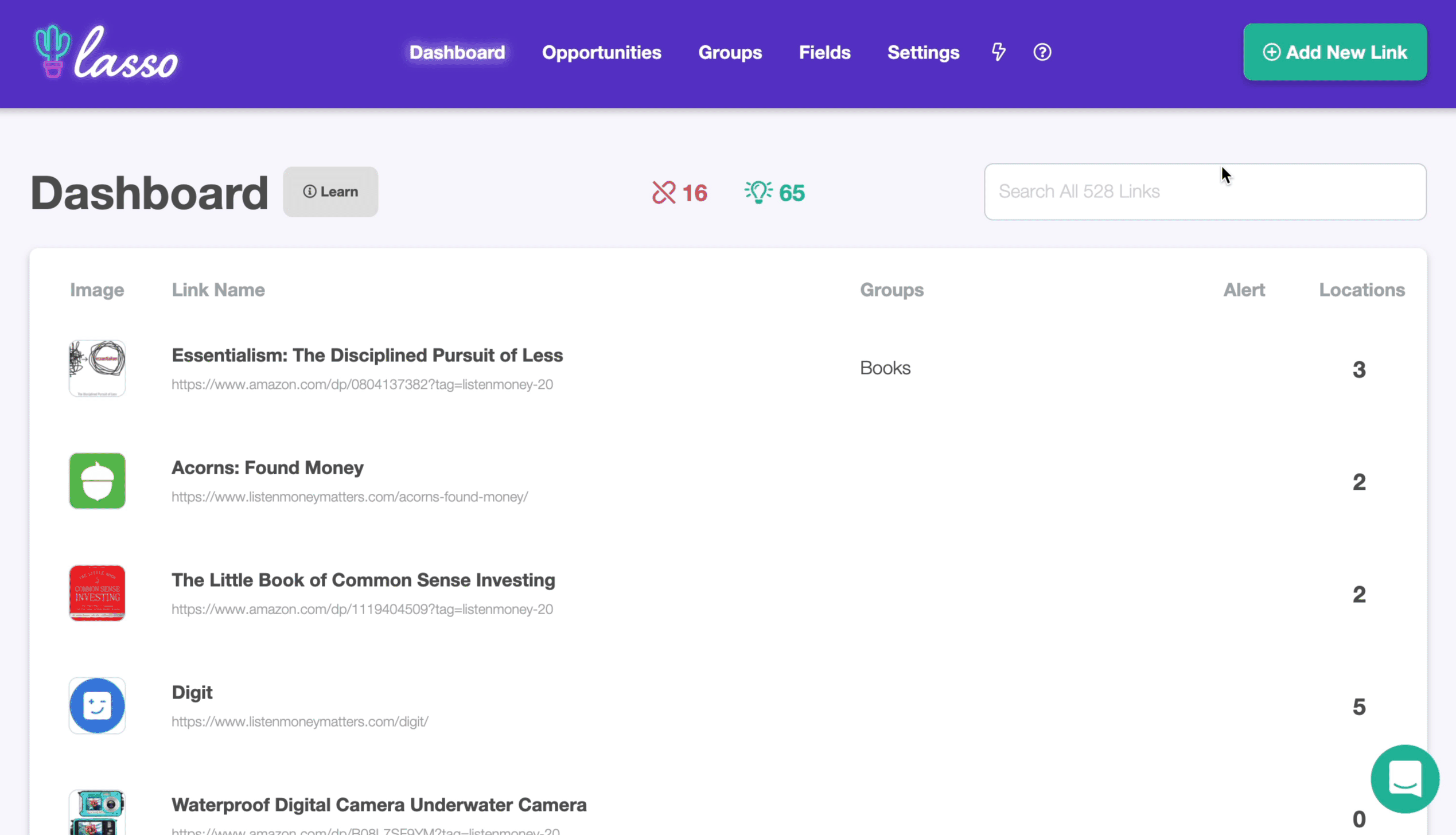 It's pretty easy to use as you can drag and drop various assets, including audio, video, and image files, in a multi-layered format beneath the viewport.
Below is a screen recording capture of a select portion of a web page we then exported as an animated GIF to display in our newsletter.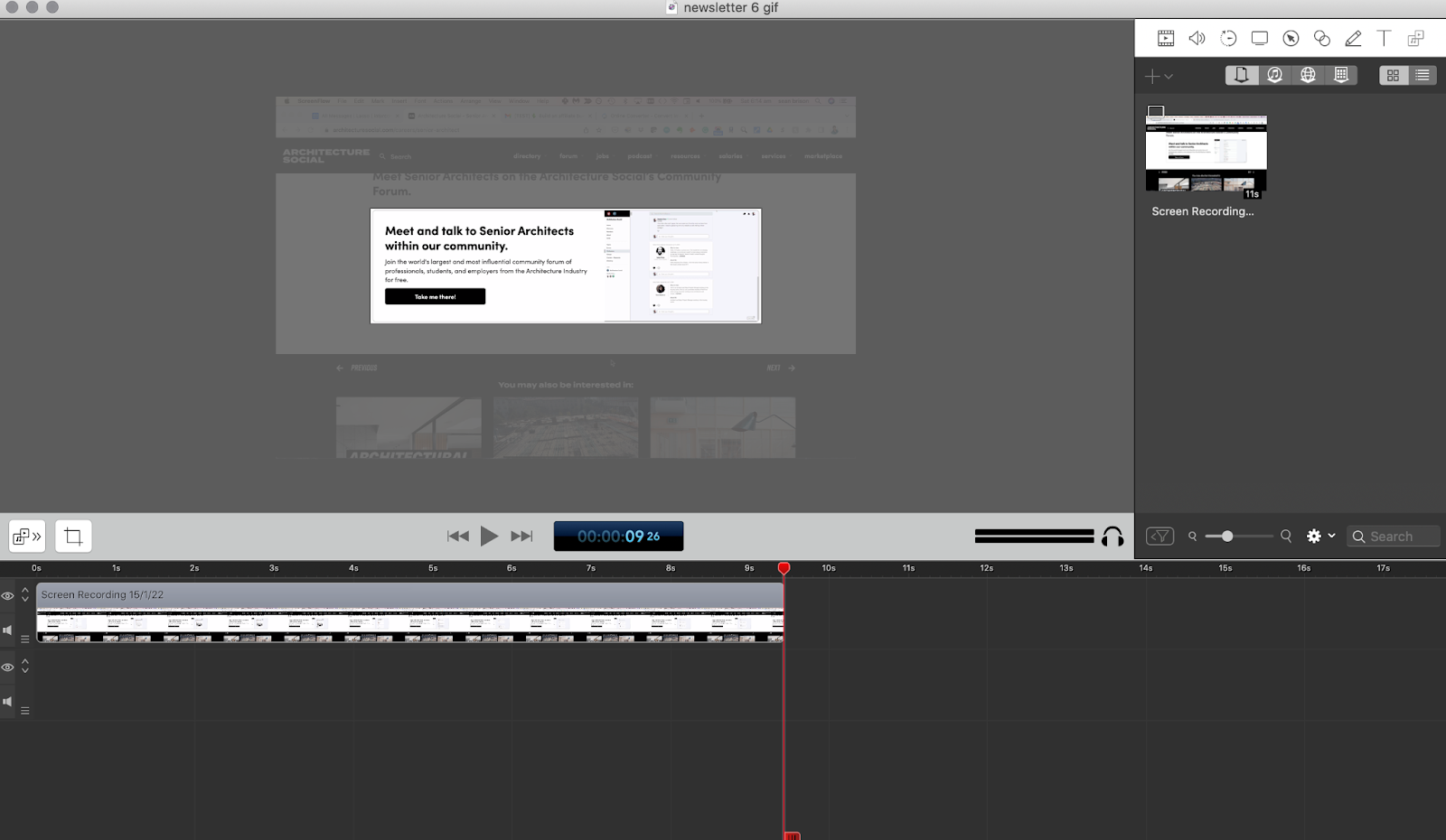 You can also do animations and graphics with its software and PNG export. It even comes with a suite of video filters and multi-app recording functionality.
It starts at $149 annually but does have a free trial.
15. Pexels
Pexels is a stock photo library similar to Unsplash, with thousands of free stock images to choose from. However, what I've found the most helpful is its 'Explore' tab.
Click it, then examine the Discover Photos and Popular Searches tabs in the drop-down menu. For example, when I click on 'Bar' in Popular Searches, it presents filters so you can sort by category and phototype.
Restaurant
Pub
Party
Cocktail
You can also arrange by orientation (vertical or horizontal), size, and color. If you need high-quality photos for your next project, Pexels is an intelligent choice.
16. GIPHY
GIFs have taken the world by storm, from blog posts to email marketing to social media; they're everywhere.
Amirite?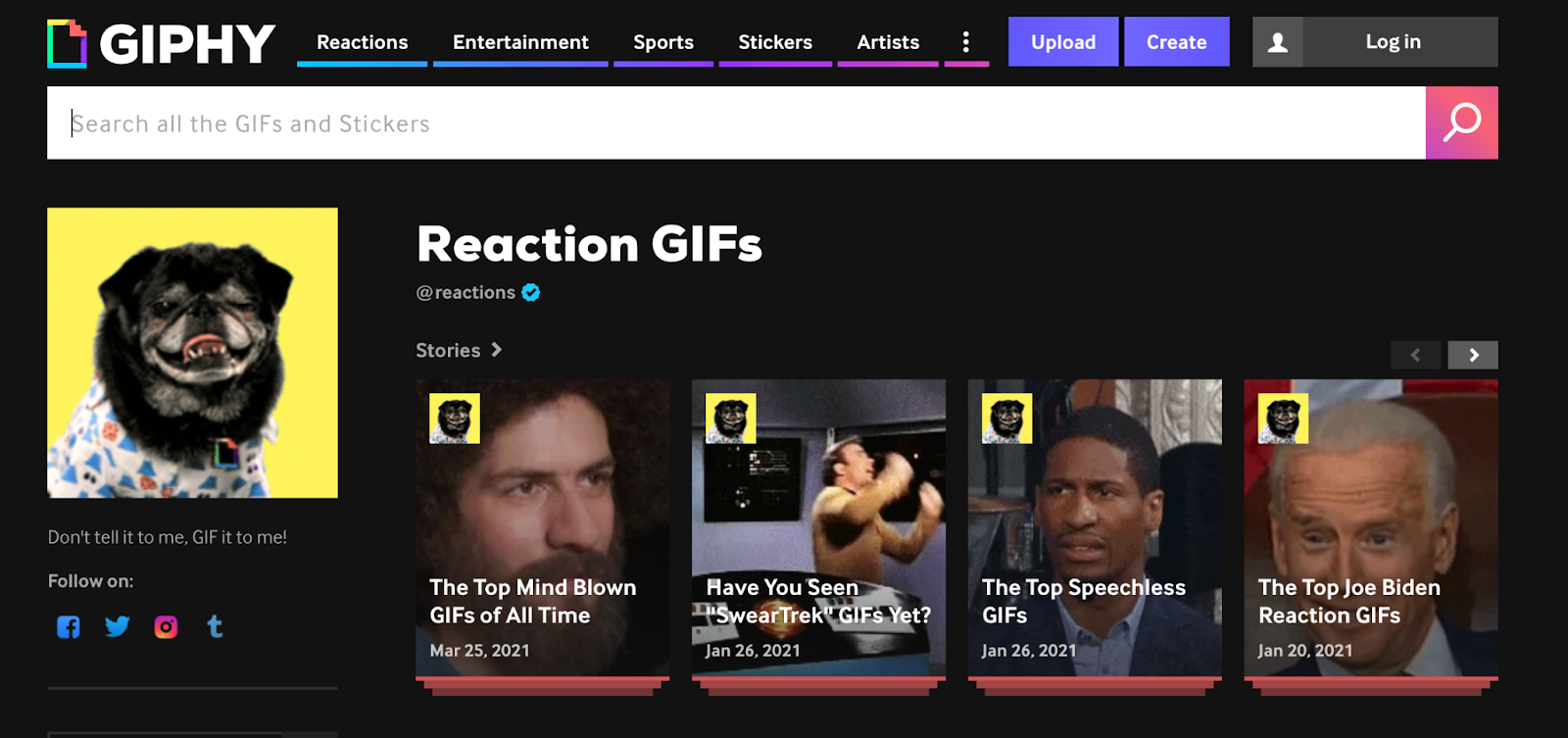 GIPHY is perhaps the most popular with its extensive GIFs available, from reactions to entertainment to sports. Simply copy the HTML to your clipboard and embed it in your content.
Et voilà!
There's even an option to make your GIF responsive, so it renders correctly regardless of your visitor's device.  You can also upload your images or create from scratch.
Further Reading:
17. Animaker
Animaker's platform has helped 10 million beginners and non-designers create animation and live-action videos with simple drag and drop functions.

You can choose from over 100 million stock images and photos, while the character builder lets you create thousands of personas. In addition, its 1000+ template library enables you to create something in under five minutes.
Dubbed the "Swiss Army knife of creativity," you can use it for:
Video making
GIF and shorts
Live video editing
Webinar & Other Video Creation Tools
If webinars and videos are more your cup of tea, we've got a few on this list that'll help you with all of your visual needs.
18. Loom
I'm a fan of Loom because I can create video replies and post questions to my team while sharing my screen. Also, it's difficult trying to explain a highly technical concept without showing them – which Loom lets me do with ease.
You'll access its screen cam and bubble recording, instant video editing, and viewer restrictions in the free version. In addition, it comes with a personal library and a video length cap at five minutes with a 25 vid limit.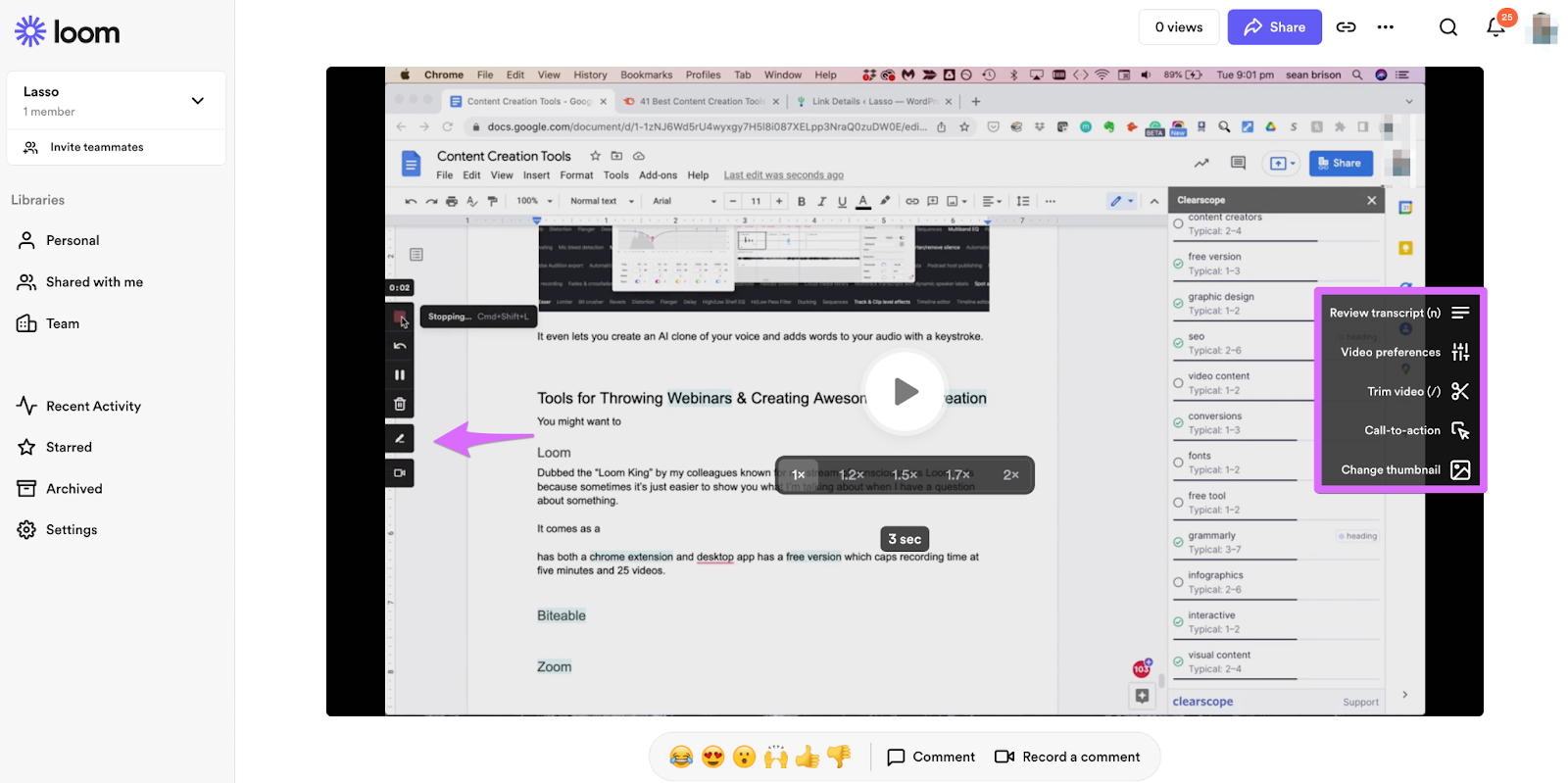 However, suppose you upgrade to the Business plan for $8 per month. In that case, you get unlimited videos and recording minutes along with the drawing tool, filler word removal, and call-to-actions – well worth it, IMHO.
It has both a chrome extension and a desktop app.
19. Storyblocks
Storyblocks gives you unlimited downloads for creating studio-quality videos, flexible licensing, and a user-friendly editor. In addition, its subscription model is a helpful alternative to paying per asset like many stock image sites.
Especially helpful for adding quality b-roll content to your videos.
Storyblock's robust search functionality makes finding anything simple with easy-to-use search criteria and keywords.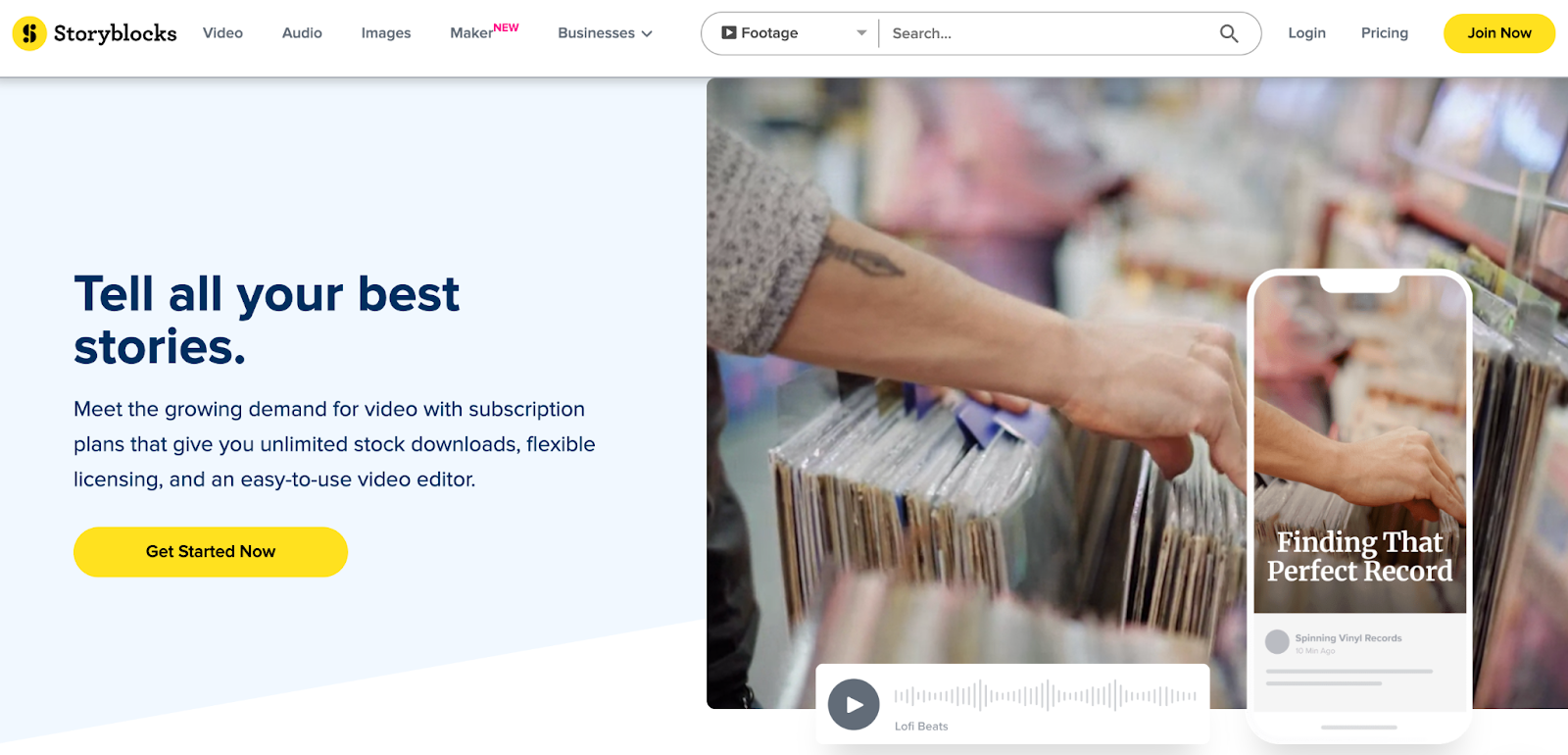 You can choose from footage, backgrounds, and after-effects. In addition, you can find virtually any audio file, from sound effects to background noise.
Choose from millions of stock video, audio, and image assets to create a custom production to match your branding.
An all-access plan (video and audio) starts at $30 monthly.
Further Reading:
20. Biteable
Biteable lets you create high-quality videos as well as animations. It's an all-in-one platform containing everything to help with video creation. In addition, you'll find a library of professional stock footage from more than 800,000 clips you can drag and drop.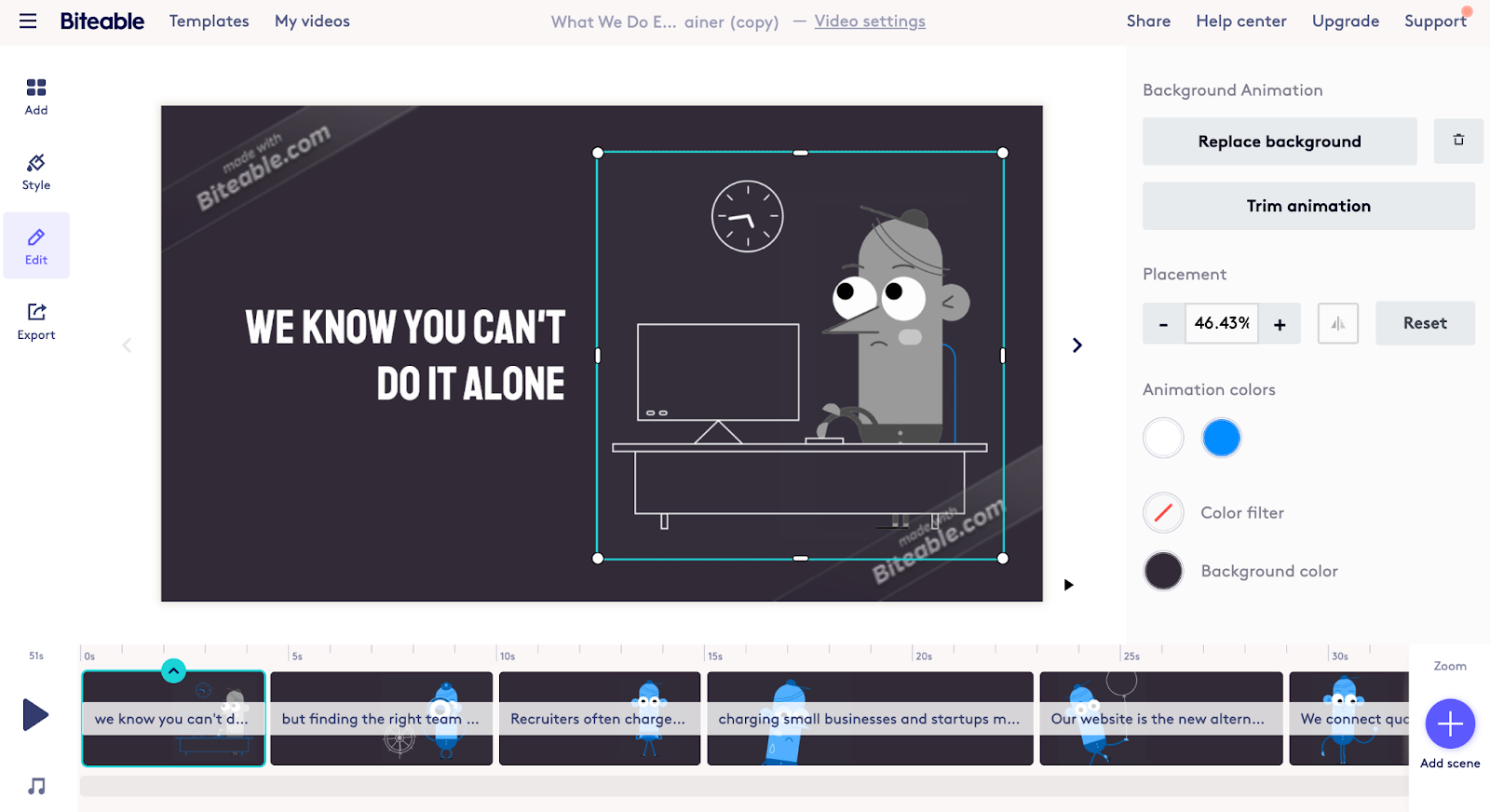 Its premade templates offer a suite of categories like:
Digital marketing
Promos
Onboarding
Education & training
You can also create from scratch and build from their inventory of scenes, characters, and animations.
Sidenote: The free version includes the Biteable watermark, so you need to upgrade if you want it removed from your videos. After that, plans start at $49 monthly.
Biteable is one of the more popular solutions available, with over 7 million users.
21. Zoom
Zoom is a video chatting service for computers and smartphones. It's replaced Skype as the go-to conferencing solution, and since the pandemic, the company's stock has soared.
It's user-friendly and offers a free tier as well as paid plans.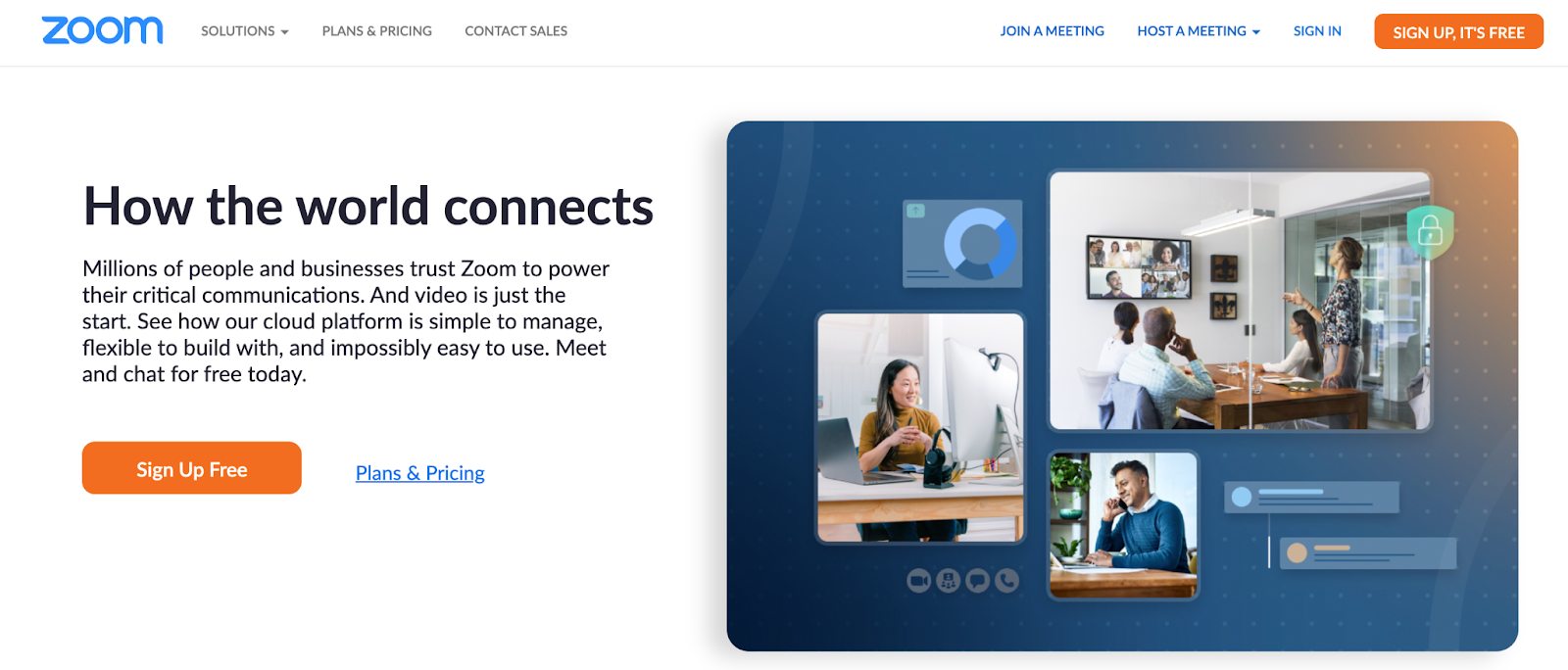 With Zoom, you can:
Conduct HD video meetings with audio collaboration
Create digital rooms and workspaces
Host full-featured webinars
Its platform also makes sharing links and files seamless while letting you operate efficiently in a remote work environment.
Additionally, features like screen sharing, annotation, and security make it a no-brainer. There's a free version with unlimited participants that caps at 40 minutes. You can also have endless one-to-one meetings without a time limit.
Podcasting Tools to Make You Look Like A Pro
Our personal finance site has a podcast in addition to our blog. We know the importance of having the right gear, so you don't sound like a rookie. Here are a couple worth checking out.
22. Blubrry Podcast Hosting
Blubrry is a full-service podcast hosting company with tools, stats, and publishing solutions. Launch a single show or build and monetize a network. Their support and resources were instrumental in helping us grow our personal finance podcast.

Especially helpful if you're just starting as you have access to a free managed WordPress site. This is already included in your plan if you decide you want it.
Further Reading:
23. Descript
Descript is an all-in-one audio and video editing software. It removes the need for any serious engineering experience and is noob-friendly as you edit the audio like editing text.
But it still has a heavy-hitting multitrack production engine.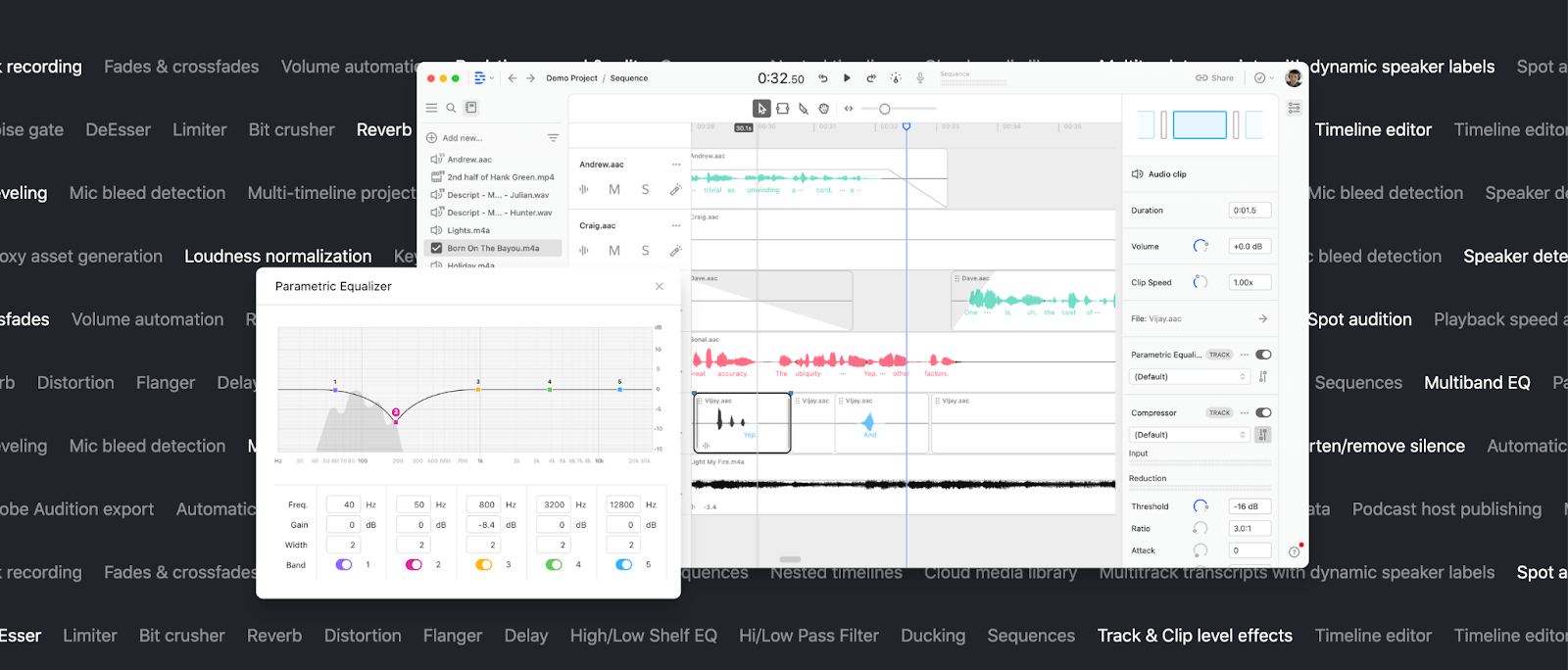 It even lets you create an AI clone of your voice and adds words to your audio with a keystroke.
Great Content Creation Tools for Social Media
Most people have a social account, so let's examine some tools that'll help you automate your scheduling process (and even give you ideas for what to post) and reach more influencers.
24. Buffer
Buffer helps manage your social media scheduling and posting across channels by scheduling every post's publishing date and time (and it'll tailor your posts to each network).
Many distinguish its user-friendly automation as a strong selling point; you can schedule advanced publishing dates for days you're not working and maintain an active presence even when you're not there.
Its free plan lets you analyze three channels per month. These can be three from the same account or three different accounts.
The browser extension lets you open the composer on any web page and add posts to your queue. In addition, it integrates with many apps, including Zapier and Feedly.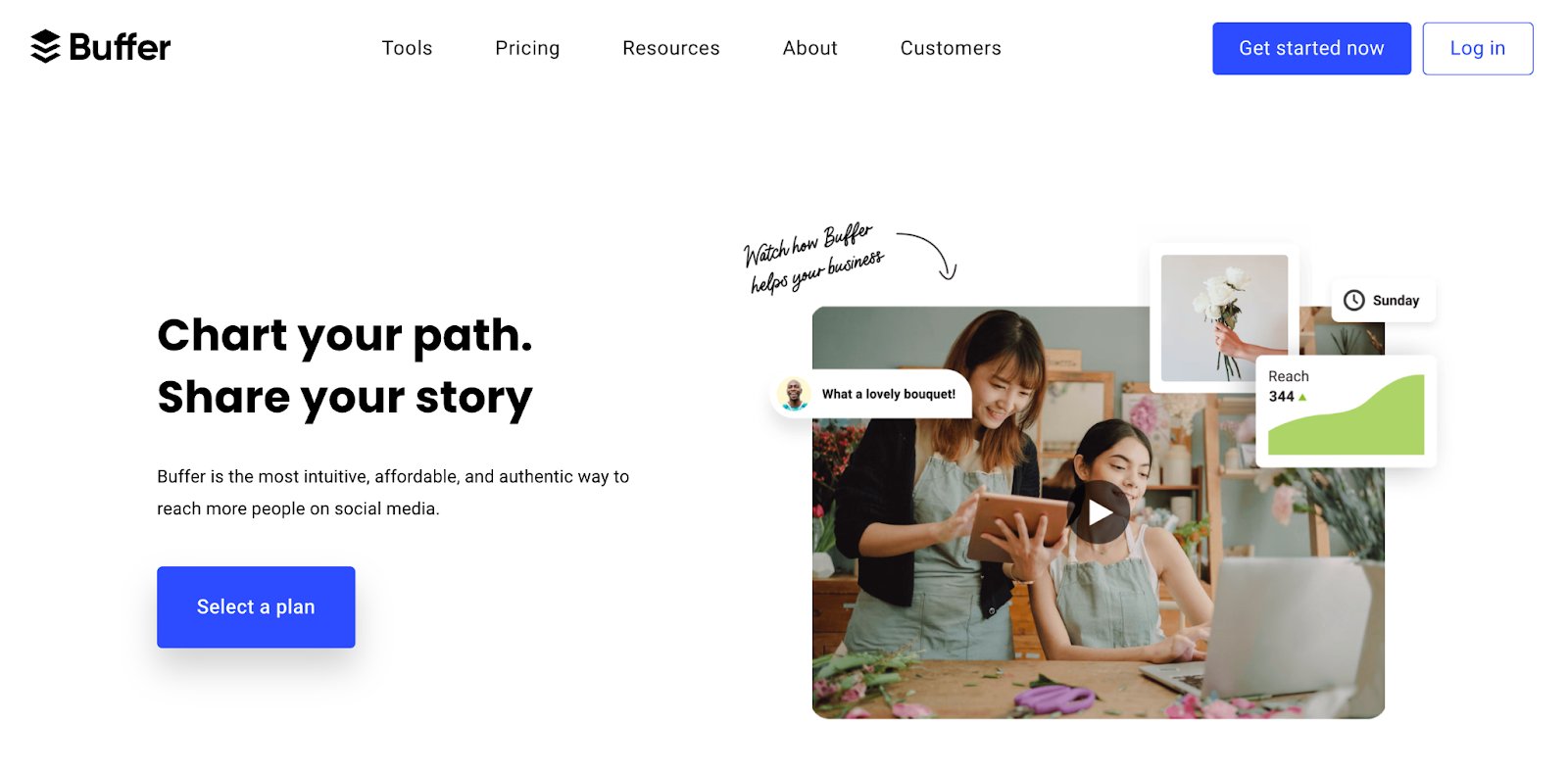 You can upgrade for $5 per month per social channel if you want to access its analytics and reporting tools.
25. Hypefury
Initially created to help grow your Twitter audience, Hypefury has expanded its integrations to include social media platforms Facebook, Instagram, and Linkedin.
The tool comes with a suite of prompts, quotes and templates to spur creativity and crush writer's block.

I've been testing Hypefury's free trial, and so far, I'm impressed. They also have an awesome newsletter filled with tips to get more engagement, followers, and build and monetize your audience.
You can also do things, including:
Schedule retweets of your original post later that same day (helps gain favor with the algorithm when you retweet the original)
Create recurring Tweets for particular days of the week, as well as define categories for different kinds of content
Add follow-up Tweets (known as auto-plugs) when your post hits a specific engagement level
There's also robust analytics reporting inside the app so you can track your growth. Additionally, if you sell digital products on Gumroad, you can link your account to Hypefury to help with product promotion.
How's About the World's Largest Directory?
This list is by no means exhaustive. But whatever you're focused on, there's enough here to get you started.
Looking for something else not mentioned here. Check out StartUpStash[dot]com – it's the world's largest directory of tools and resources for entrepreneurs.
Curious to know how else Lasso helps digital content creators? Head here.
Our creations in your inbox, weekly.
We've built multiple six-figure online businesses that our moms are proud of.
We'd like to help you do the same.