Looking to become a better writer (so you can sidestep that awkward grammatically incorrect memo you sent a colleague)? One trick is finding a suitable writing tool. This Grammarly review explains how to get the most out of its features (even if you're not a professional scribbler).
What Is Grammarly?
Grammarly is an AI-powered writing tool that finds your grammatical errors and spelling mistakes. But, it also provides stylistic suggestions such as your text's clarity, delivery, and tone.
You can use it on various platforms, from desktop app to browser extensions to mobile keyboards.
Grammarly offers both free and paid versions. The idea being you'll use its free service and eventually upgrade. The app has 30 million users and over 34,000 positive Chrome store reviews.
How Does Grammarly Work?
Grammarly uses artificial intelligence (AI) systems that combine machine learning with natural language processing (NLP).
Machine learning teaches algorithms to carry out tasks that essentially learn from experience (or by "doing"). NLP is another branch of AI that teaches computers to comprehend human language. And, on a deeper level, understand its meaning. 
Getting Started with Grammarly
You can create your account by heading to Grammarly.com and downloading the app. Or by visiting the Chrome store and installing the web browser extension.
Adding the browser extension makes the most sense if you spend a lot of time online. It gives you quick access to its tools.
It works with:
Chrome
Safari
Firefox
Microsoft Edge
I'll walk you through how to get set up on Chrome (but similar setups are available when using another web browser).
Head to Grammarly.com.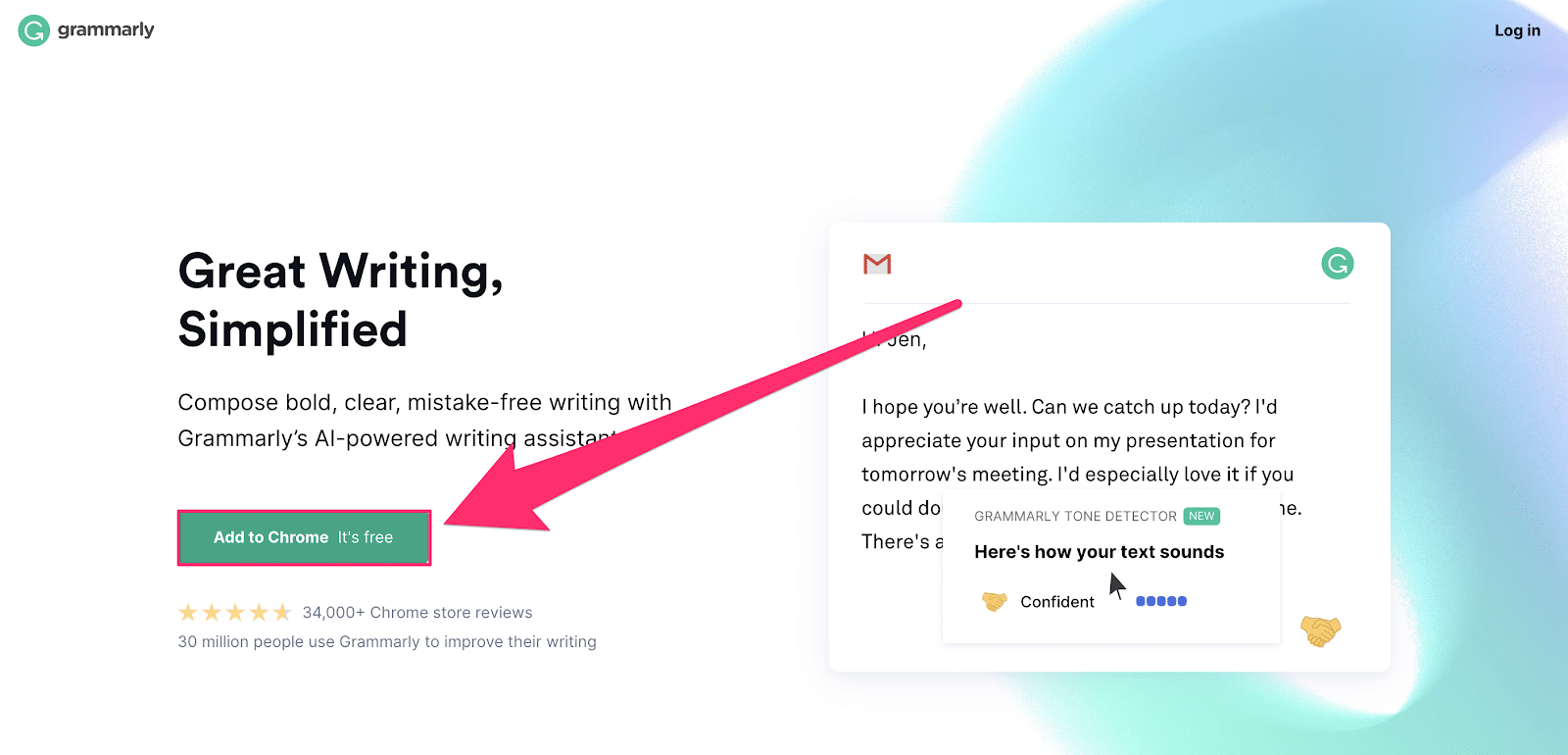 When you click the "Add to Chrome" button, you're taken to the Chrome store for installation.
When downloading completes, you'll see a green "G" icon in your browser's menu bar:
To get started using the extension with one of the other browsers, head to Grammarly's tips and tutorials section.
Once it's set up in your browser and start typing, you'll see a spinning "G" icon in the lower right corner of your screen:
The number within that circle indicates the number of suggestions Grammarly made.
If you want to adjust or disable specific settings, click the green "G" icon in your menu bar (more on that below)
Your Grammarly Settings: Double-Click Words to See Synonyms & Definitions
When you double click a word inside any doc, Grammarly shows synonyms of that word to help with your writing: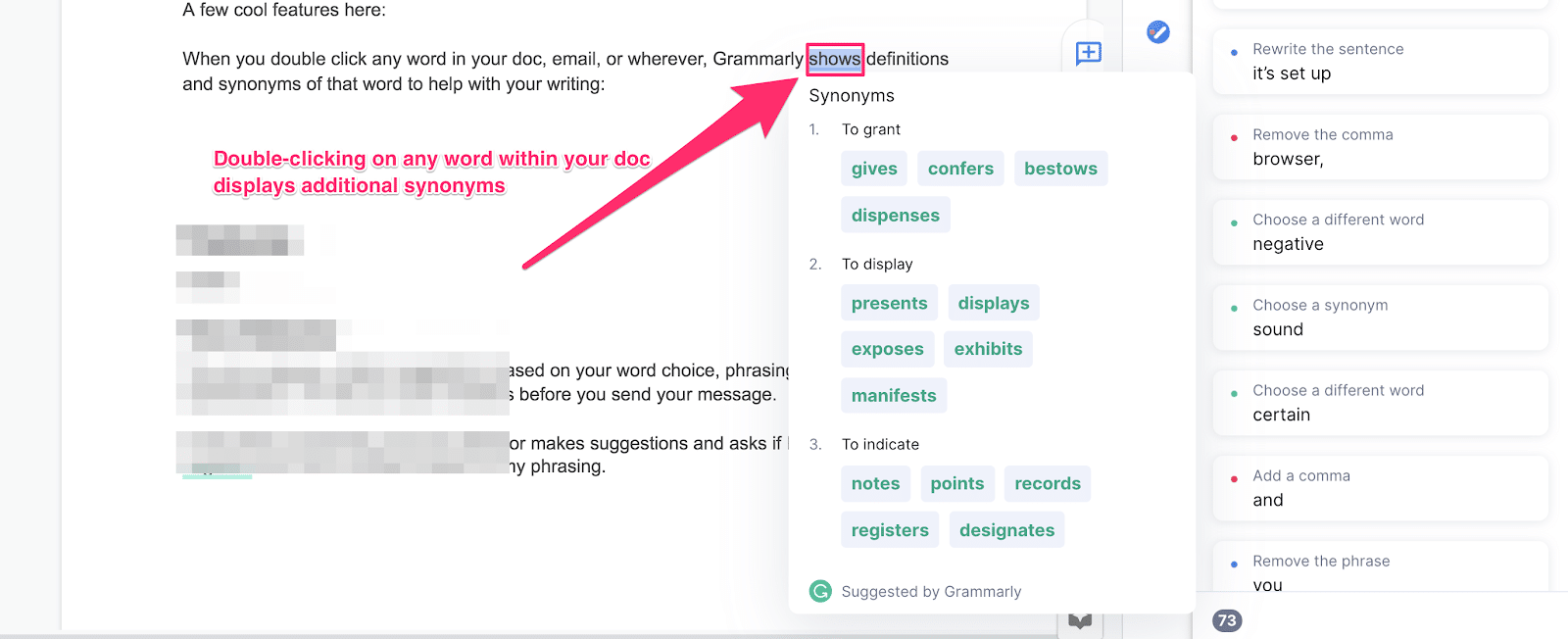 It's beneficial when you're editing because you can find alternative words inside your doc without needing to open or jump between tabs (e.g., your thesaurus).
When you're reading any website online, if you encounter an unknown word, double-click it, and Grammarly displays its definition:

You'll also get phrasal predictions from Grammarly. It can anticipate what it thinks you'll write in certain instances:

Here, it added the term "using a thesaurus" based on words I'd previously written.
From the "G" icon in your menu bar, you can adjust all of these settings, including:
Show definitions and synonyms with double clicks
Automatically correct spelling
Adjust language preferences
Draft a new document or access your dashboard
Show phrasal predictions
Deactivate Grammarly's browser extension for a specific website
Just click the "G" icon in your menu bar to enable or disable specific settings as shown below: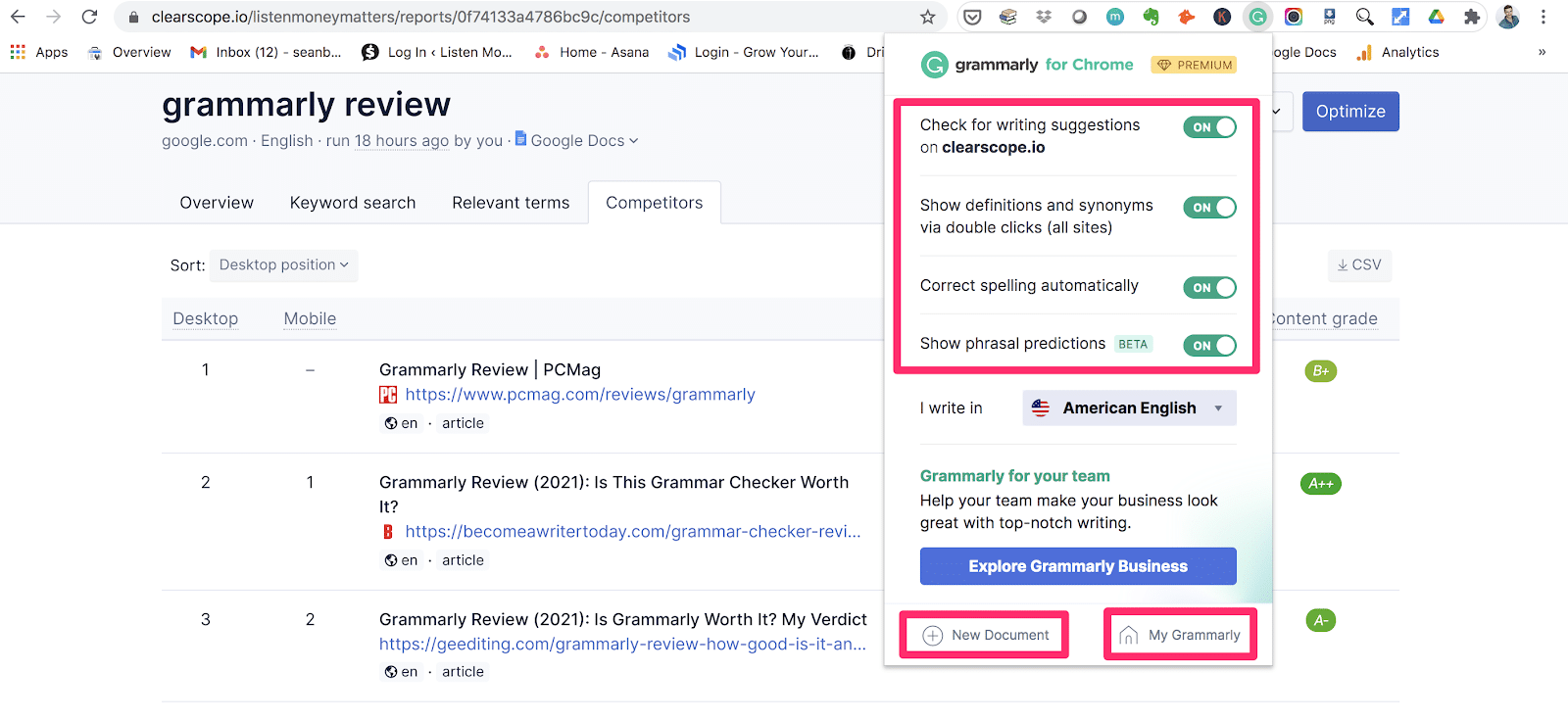 Sidenote: You can also set your English preference from your dashboard to American, British, Canadian, or Australian. It's currently unavailable in other languages and offers no translation features.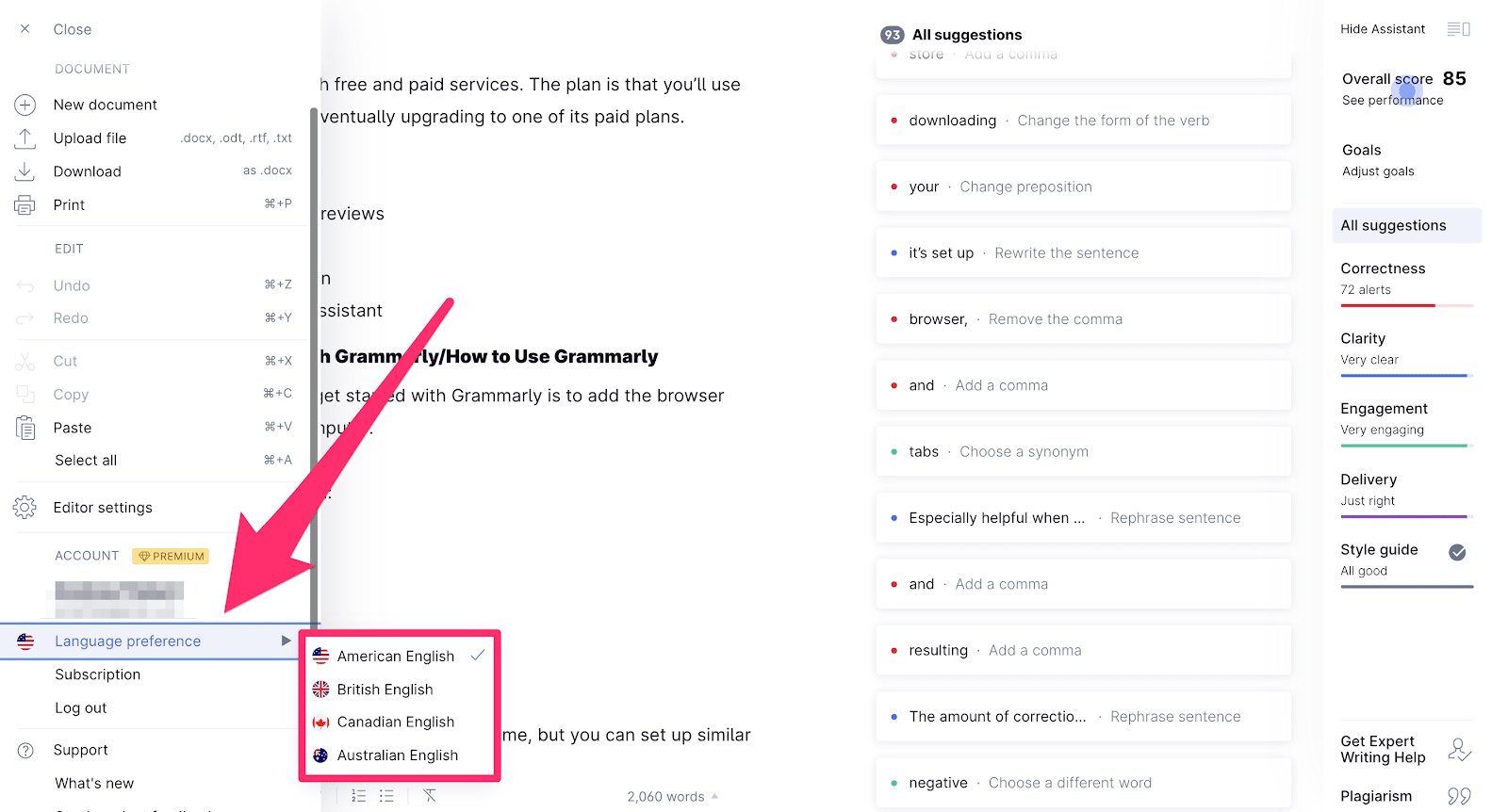 Disable the spell checker when writing your rough draft. You'll see too much distracting "red ink," which can disrupt your writing flow. See below screenshot example:

Above sample of how your draft will look with the spell check left "on." It's a good idea to turn it off until you're ready to edit.
Grammarly Features
Grammarly has a few admirable features that deserve closer attention. Read on for more examples of what its tools can do for your writing. 
Tone Detector
The tone detector makes suggestions based on your word choice, phrasing, punctuation, and capitalization. It'll help you spot mistakes before you send a message.
In the below screenshot, the tone detector makes suggestions and asks if I want to sound less negative and more confident based on my phrasing.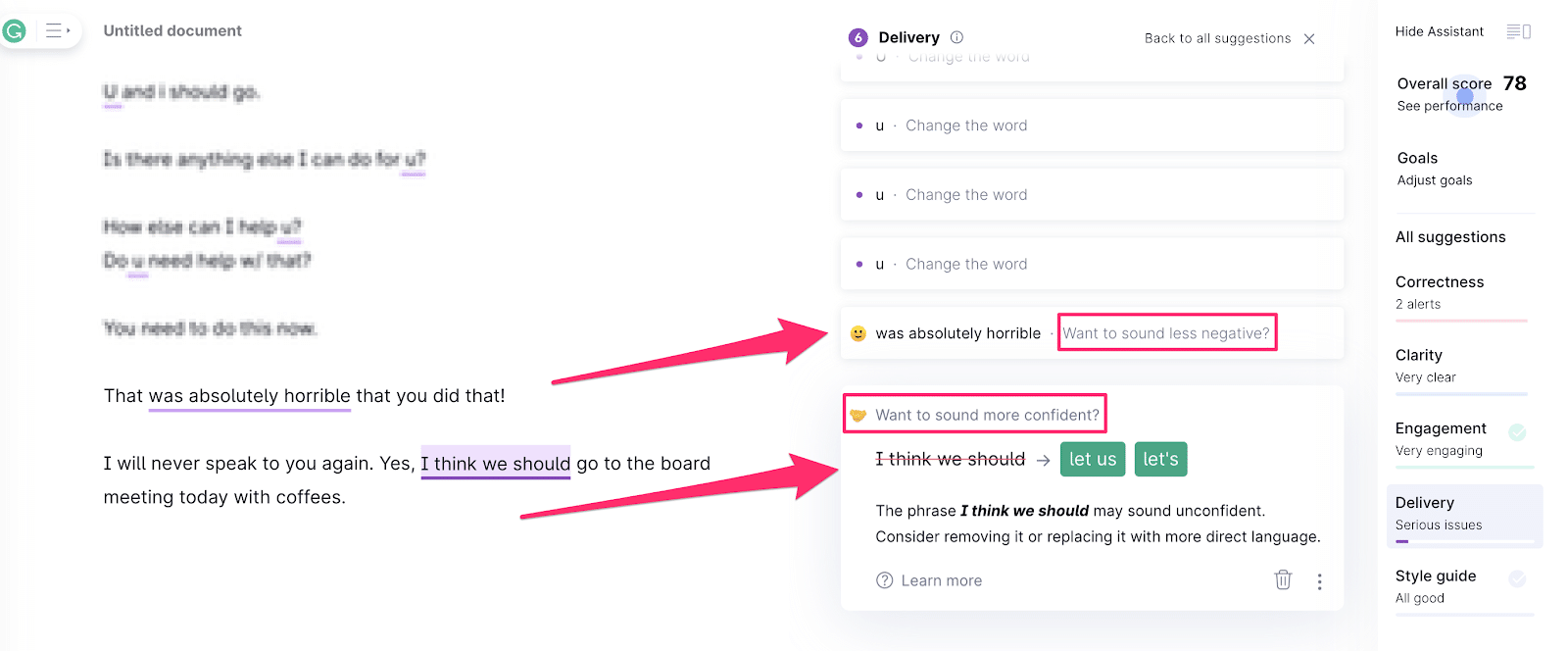 Grammarly's formatting is reader-friendly with highlighted suggestions using soft colors (e.g., light purple for its tone detector).
Its AI systems are intuitive. Grammarly draws from a vast pool of emotions, from angry to unassuming to optimistic.
It'll call you out if your writing sounds too informal or if your tone matches your "academic" goal: 👇

It helps improve your content's readability.
Grammar Checker
The grammar checking tool accompanying the Free plan covers basic grammar mistakes, spelling errors, and punctuation errors.
However, with the Premium version, you'll see the added benefits of:
Clarity (makes your writing easy to understand)
Engagement (helps your writing be more interesting)
Delivery (helps makes the right impression with your reader)
It underlines all of the grammar suggestions in red, blue, green, and purple in your Google doc.
Clicking any of those underlined words prompts you to Grammarly's recommendations to take action.
Sidenote: The different colors signify specific suggestions. For example, "red" for correctness or "blue" for clarity.
The below example, clicking the green box reading "The fluency," will automatically correct it in your doc.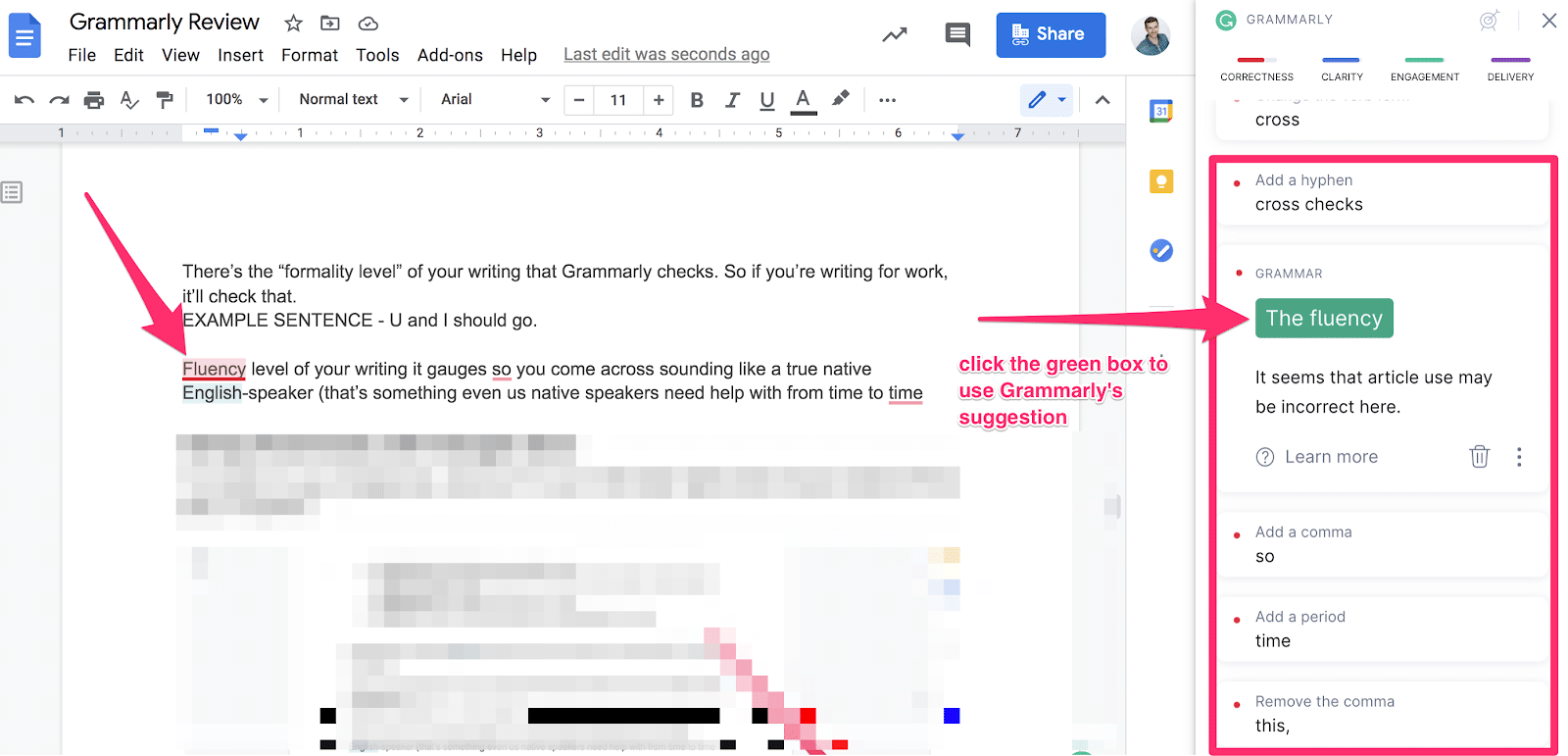 You can also click:
"Learn more" to see an expanded definition of the word with examples
The trash bin icon to remove the suggestion
The vertical three dots to turn off specific recommendations, mark them as incorrect suggestions, or offensive content
Tip: If you only want to edit a specific part of your content, e.g., you want to edit the "Clarity" recommendations, click "Clarity," and Grammarly will only show you those suggestions.
However, this only seems to work while editing in the app and not in the Google doc. See the in-app screenshot below.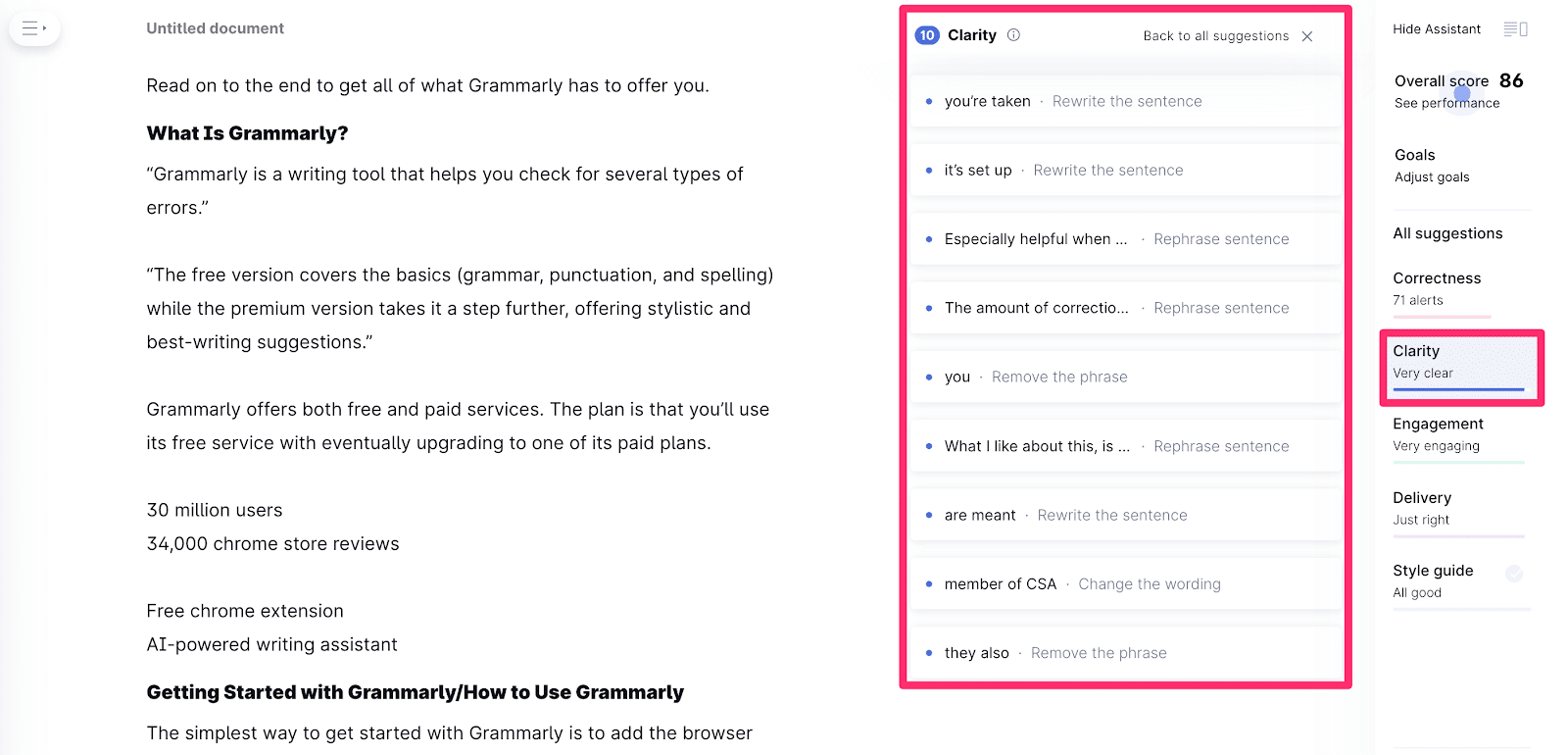 Bottom Line: When trying to compel your readers to action, your words matter. If you're writing is full of typos or you're unable to communicate exactly what you want from them (e.g., sign up to your newsletter or start a free trial), you're leaving money on the table.
That's why a writing tool is a massive help when it's time to put pen to paper.
Plagiarism Checker (to Ensure Your Work Is Original)
When writing inside the Grammarly app, you can check your work using its plagiarism checker found in the lower right corner of your screen.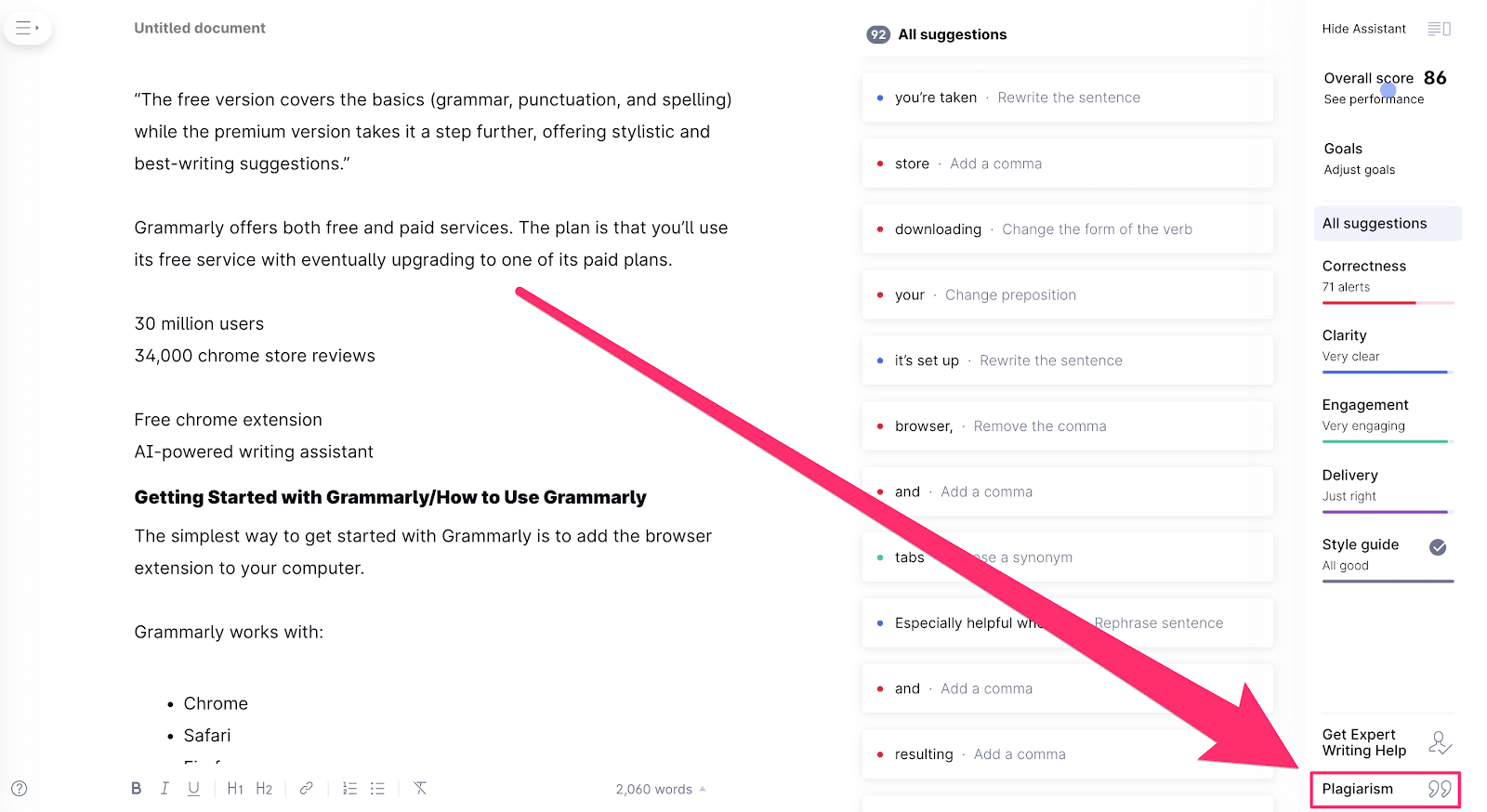 It runs your content through over 16 billion web pages and academic papers stored in ProQuest's database.
When a portion of your work matches text from other sources, you'll get an alert with a link to the source article.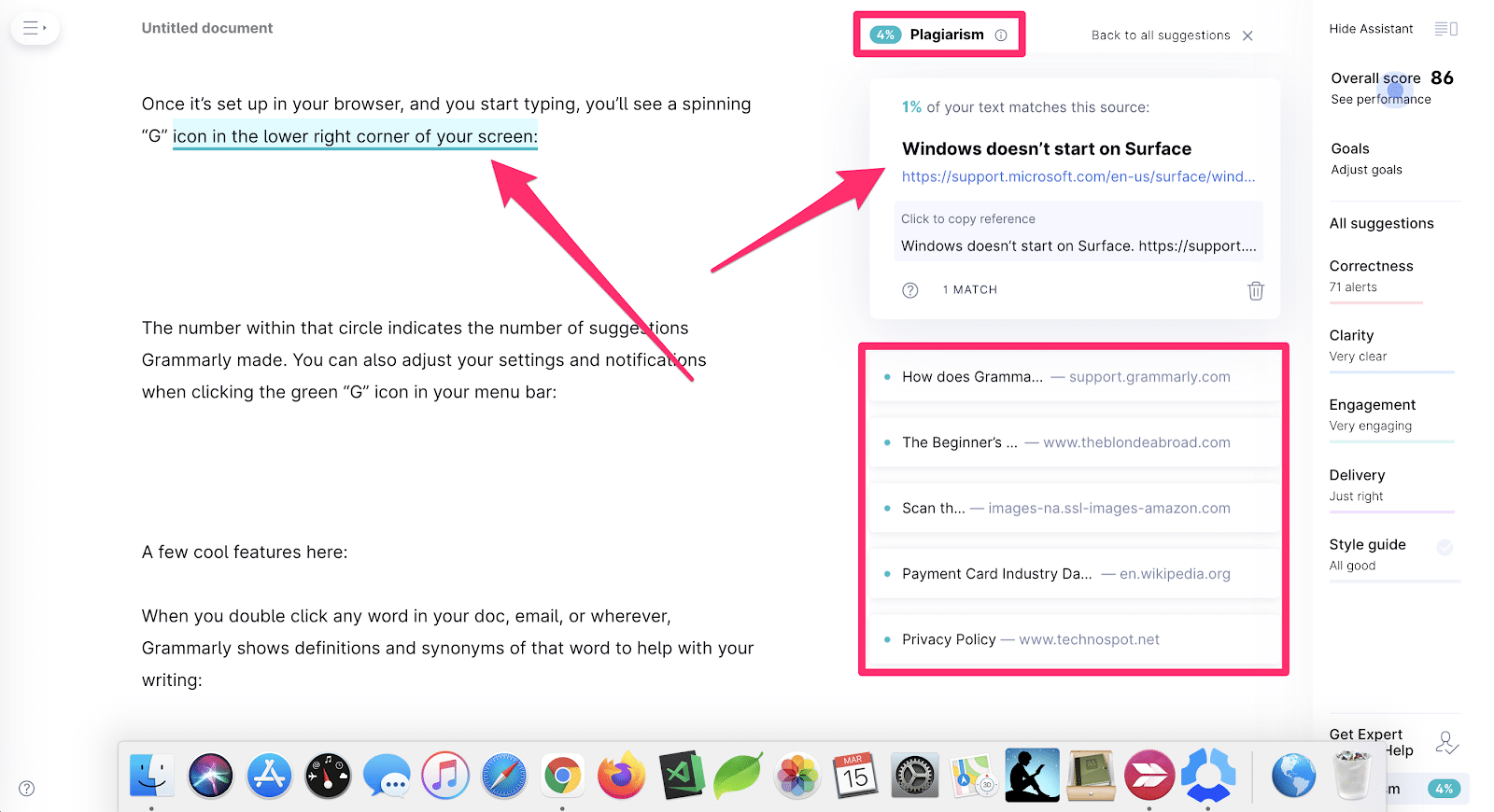 Unfortunately, you'll have to upgrade to the Premium plan to gain access to this tool.
Head to Grammarly's site to upgrade your writing by clicking the box below. 👇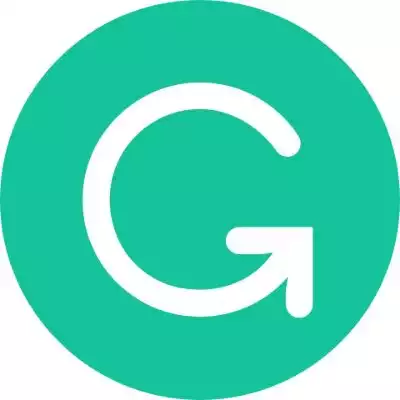 Grammarly Online Writing Assistant
Grammarly is an AI-powered writing tool that finds your grammatical errors and spelling mistakes. But it also provides stylistic suggestions such as your text's clarity, delivery, and tone. You can use it on your desktop app, as a browser extension, and on mobile keyboards.
Pros:
Improves readability

Awesome browser plugin

Advantage in ranking
Try Grammarly
We earn a commission if you make a purchase, at no additional cost to you.
Sidenote: The above Grammarly box uses a Lasso display to promote an affiliate link. We've found using custom affiliate link displays to endorse products we use and recommend increases our readers' "click confidence."
Human Proofreading
If you need additional help and prefer to hire an editor, Grammarly has a "Get Expert Writing Help" option you can tick at the lower right corner of your screen.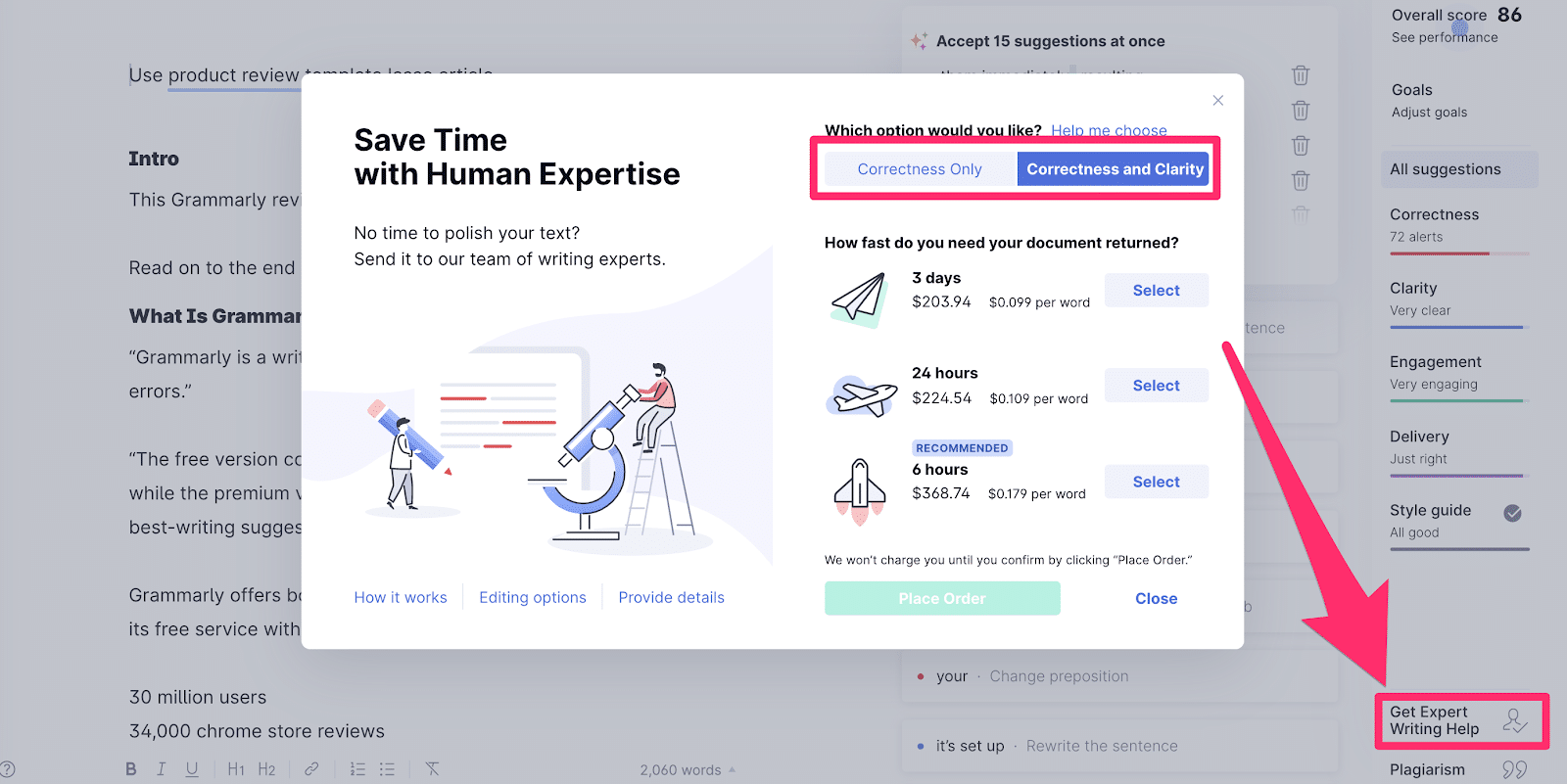 It's a bit pricier, so it depends on your needs. You can choose between basic grammar and spelling help, or, for a little more money, you can get help with your writing's conciseness too.
Insight: In my experience, Grammarly's Clarity feature helps make my writing easier to read without needing to hire human proofreaders. However, if I were using this service, I'd choose the "Correctness and Clarity" option.
You can get something proofread in as little as six hours or as long as three days. It's up to you.
Plans & Pricing 
You'll have several plans to choose from, but typically, they fall into either:
Free (for individuals): This includes basic writing suggestions along with spelling, grammar, and punctuation
Premium (for individuals starting at $11.66 per month): Premium members have the option to choose monthly, quarterly, or annual billing. Monthly billing is the most costly, at $29.95 per month ($359.40 annually). Quarterly payments run $59.94 (totaling $239.76), and annual is a single payment of $139.95 ($11.66 monthly)
Business (for teams starting at $12.50 per member per month): You have the option to pay monthly or annually for teams of three or more. The cost depends on the number of users for the annual plan. Head here for pricing details.
Free Version
The free version includes basic grammar mistakes, a spell checker, punctuation, and conciseness. It's for the person on the go only worried about catching simple grammatical errors.
Sidenote: If you're a writer in any capacity (e.g., you're a blogger or run an affiliate site), I highly recommend upgrading to the Premium plan. You'll get advanced suggestions not found anywhere else.
For example, if you frequently forget to add commas, this plan's for you.
Grammarly Premium Version
The premium version has everything the free plan has, plus a whole lot more. The robust sidebar functionality includes four additional categories labeled:
Correctness for punctuation (colored red)
Clarity for catching awkward, wordy phrases and sentence rephrasing (underlined in blue)
Engagement for finding the best word choices (green underline)
Delivery to help you "strike the right tone" (purple)
Plus, it confirms whether you've plagiarized existing content by cross-checking your writing against 16 billion web pages.
You'll know your writing's formality level, so if you're writing for work, it'll check that. For example, here's how it looks in action: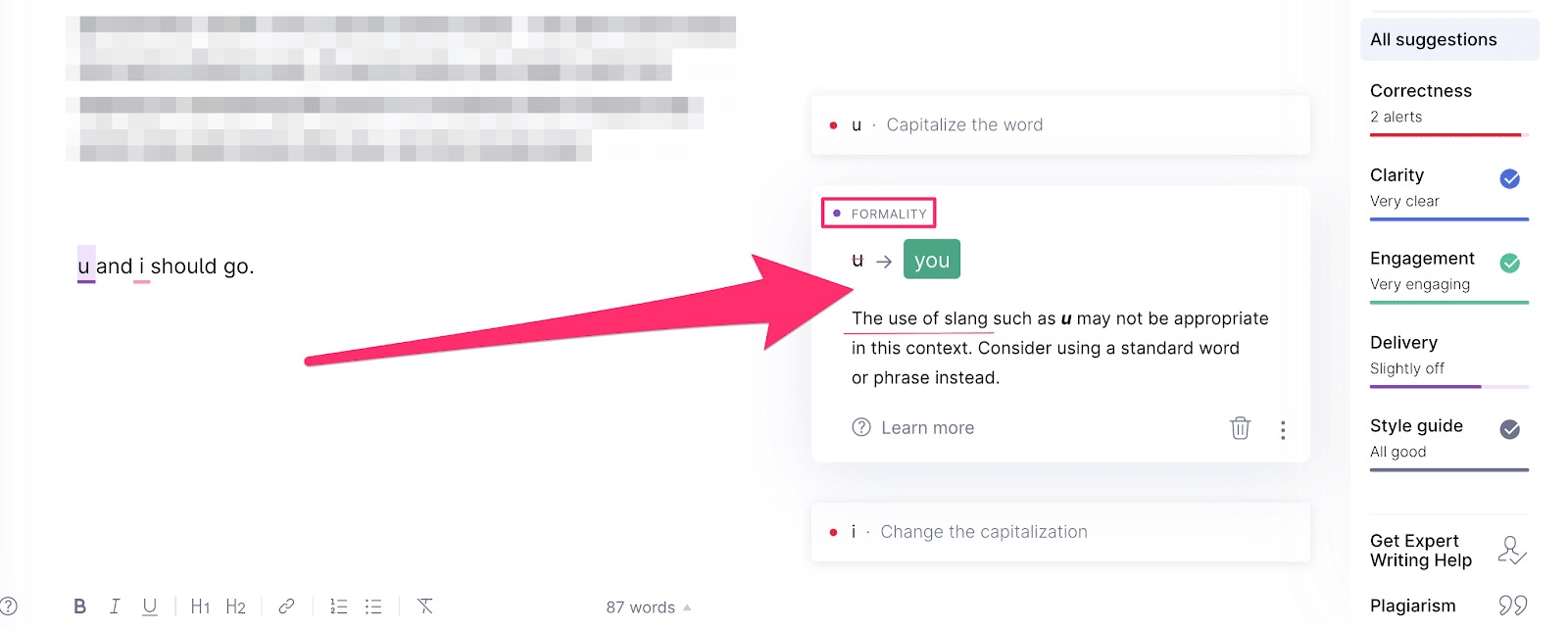 Grammarly also does its best to ensure your writing sounds like a native English-speaker wrote it by gauging its fluency level (even if you're not one).
Using Grammarly with Google Docs
To enable Grammarly in your Google doc, click the "G" icon in the lower right corner of your screen.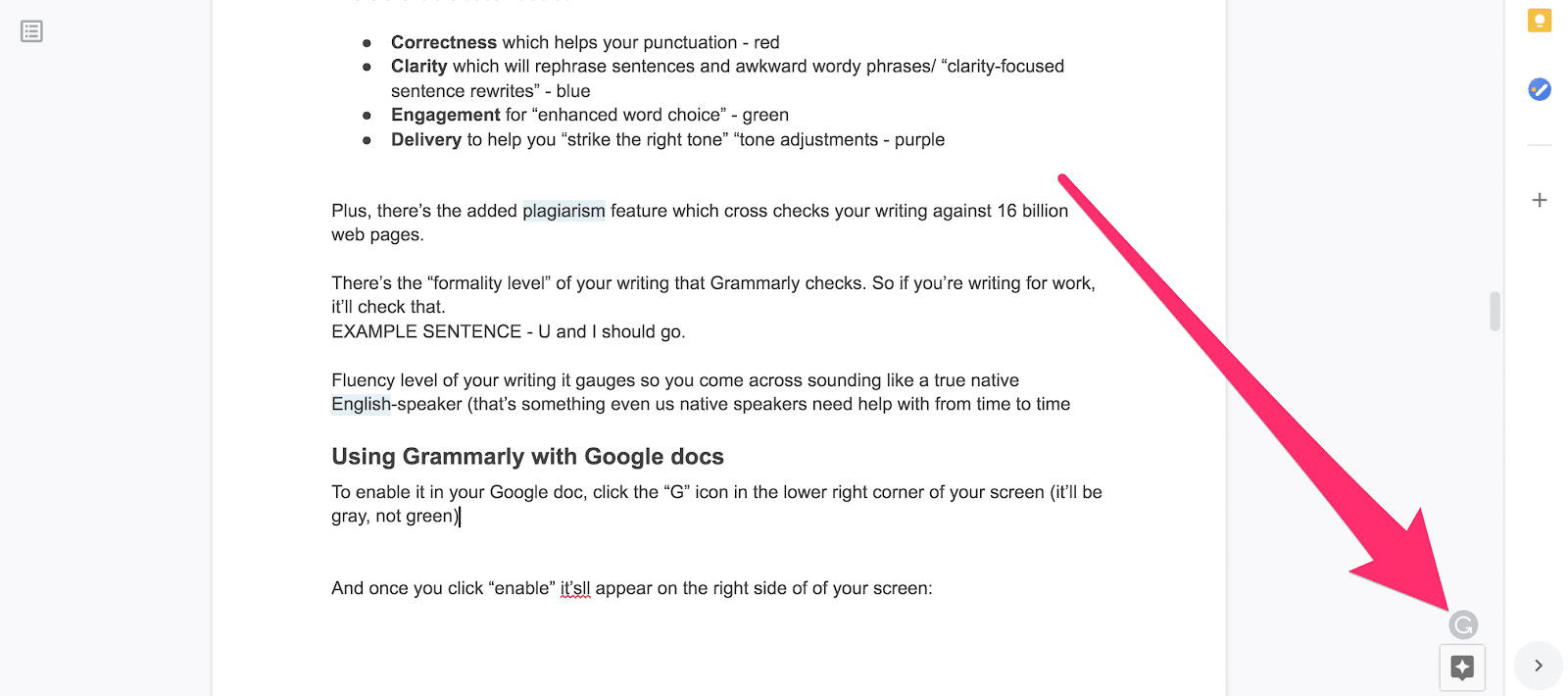 Once you click it, a sidebar appears on the right side of your screen: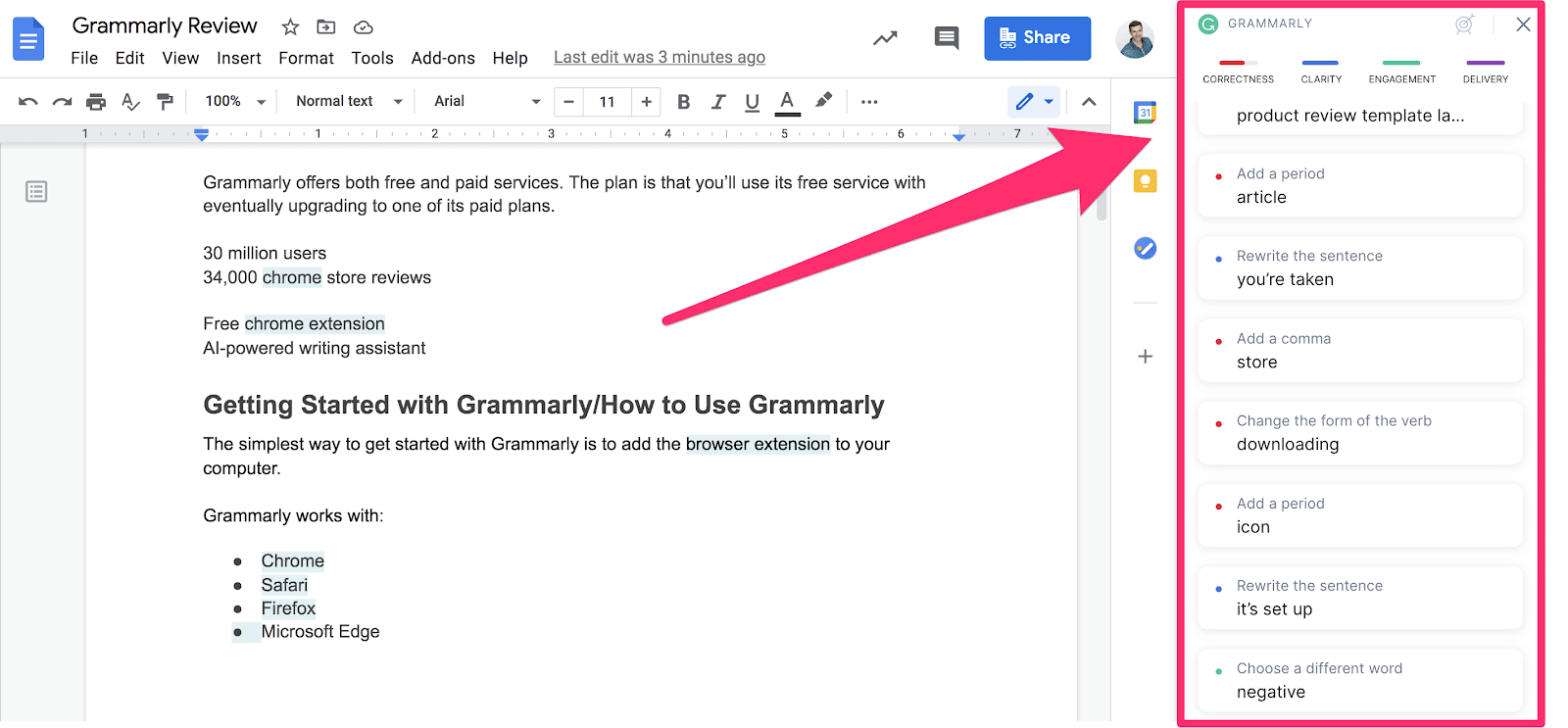 After you enable it, you can adjust your writing goals by clicking the bullseye icon:

Then, choose your goals: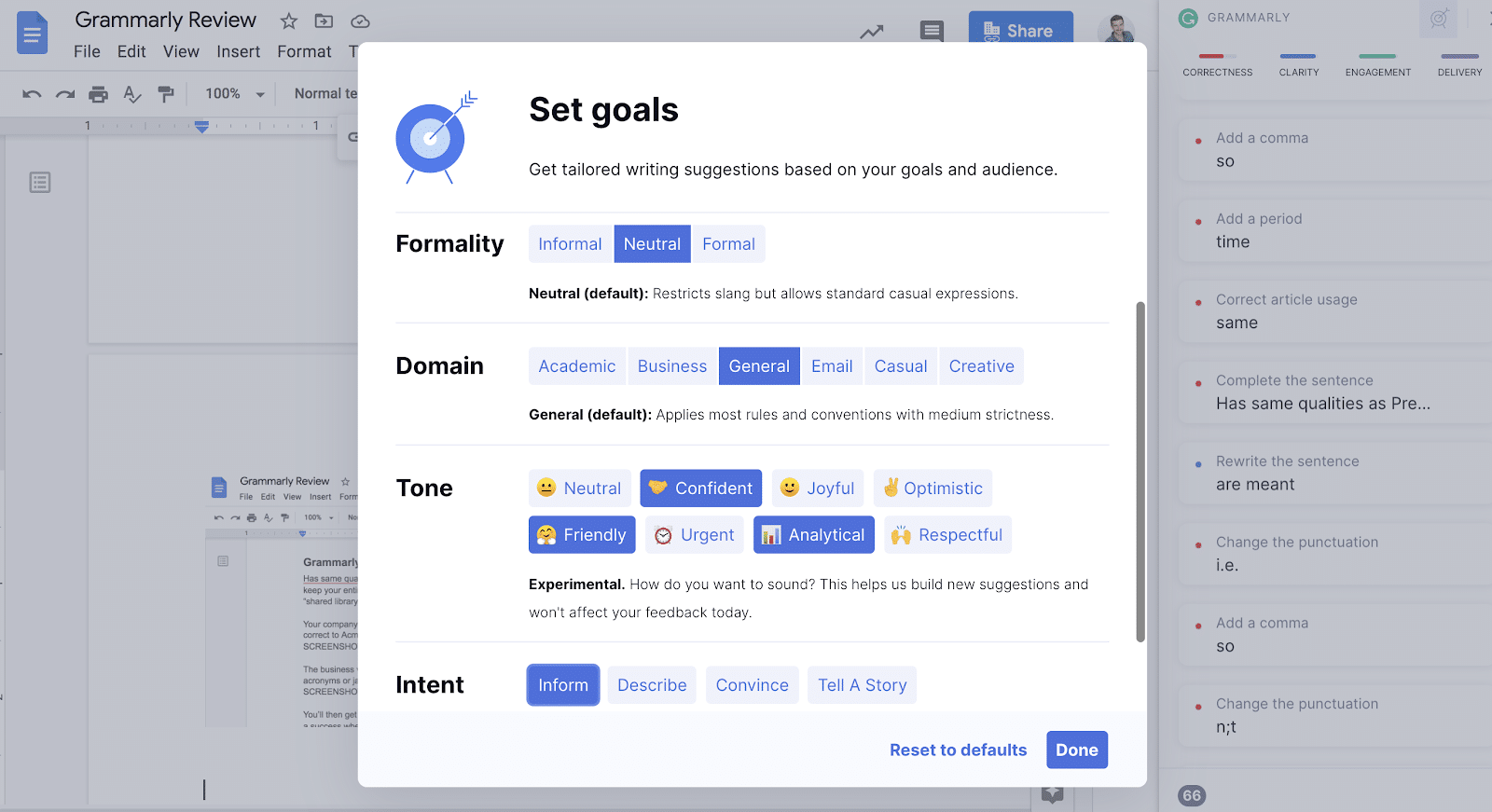 This feature is beneficial for matching the tone of a specific audience.
You can choose:
Intent: (currently experimental)
Tone: (currently experimental)
Domain: Is it an academic paper or an email?
Formality: If you're writing for a casual audience, you may want to choose "Informal"
Audience: Grammarly gauges the type of person likely to be reading based on this choice. It could be an "Expert" or "General" (meaning your readers can read it with minimal effort as opposed to "Expert").
There's also a floating sidebar you can place anywhere. Click the "G" icon while writing in places like Gmail, and it'll appear: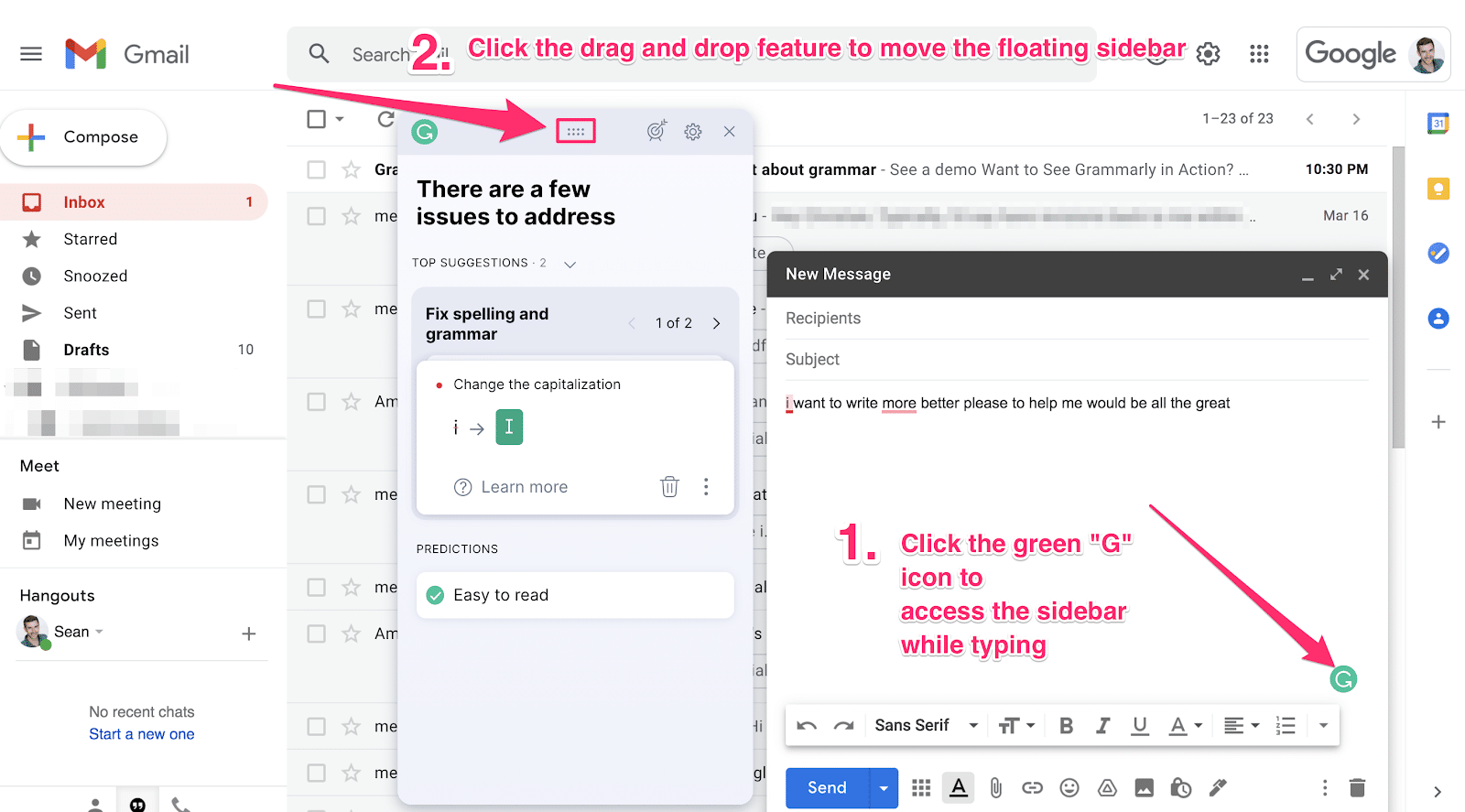 Grammarly Business Version
The business version makes the most sense for teams. It has the same features as the Premium version with added perks like Style Guides.
Style Guides keep your team communicating in the same language (i.e., using the same shared terms unique to your brand) and your messaging consistent.
For example, if your company name is misspelled, Grammarly will suggest you correct it as it does here: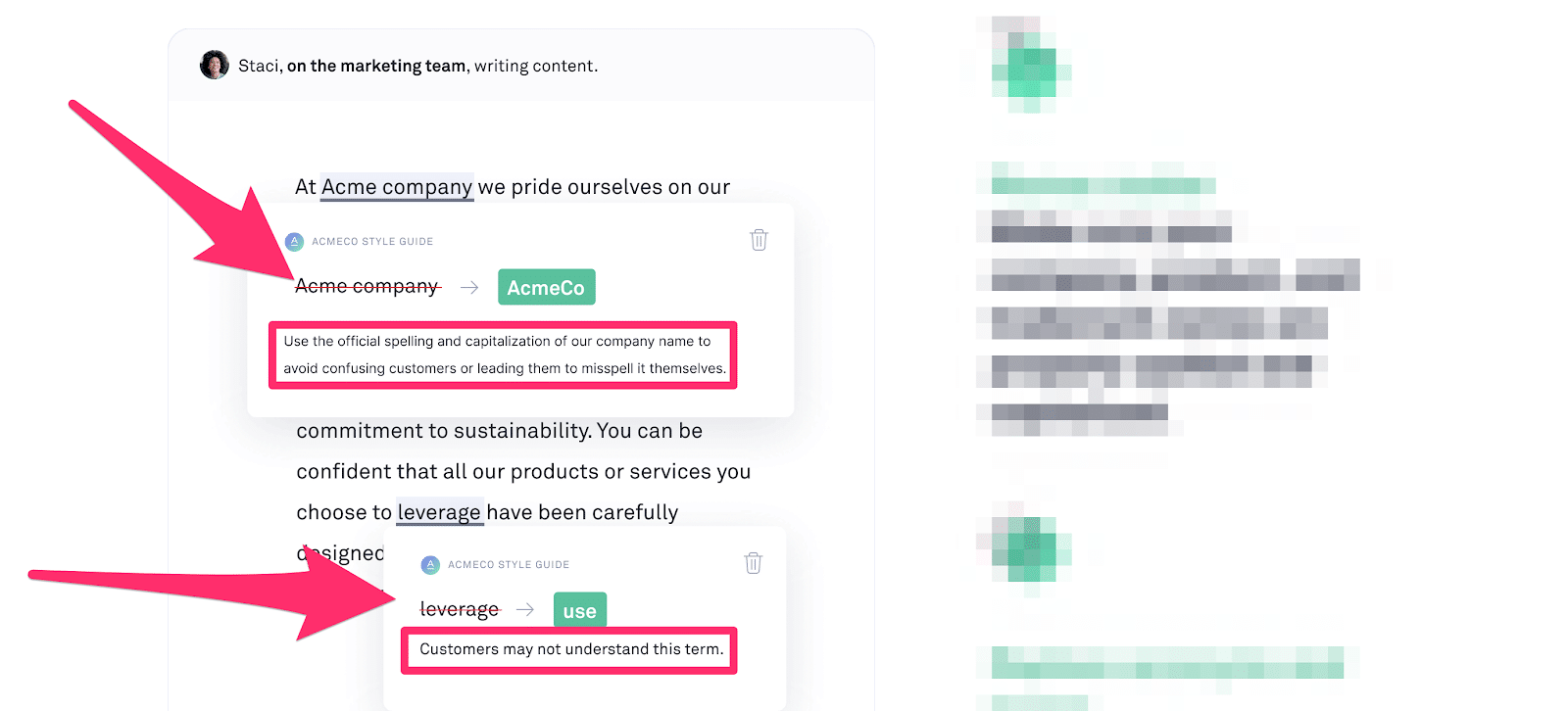 The business version also creates rules for your team, so you don't confuse customers with work jargon. You can explain your reasons for including it in the style guide too.
Once you create the style guide, you'll get data-driven reporting of how readers interact with your team's communication.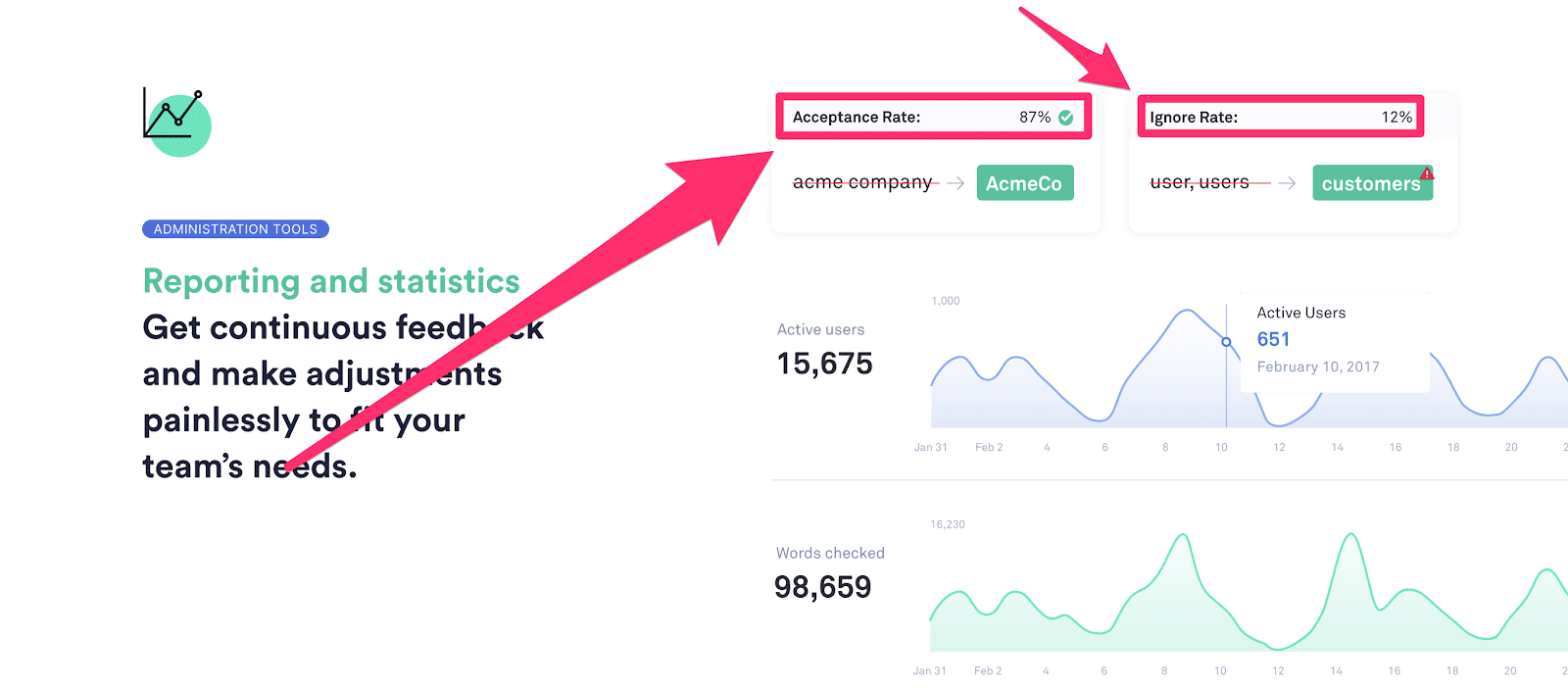 The Style Guide appears on the right side of your screen for easy access.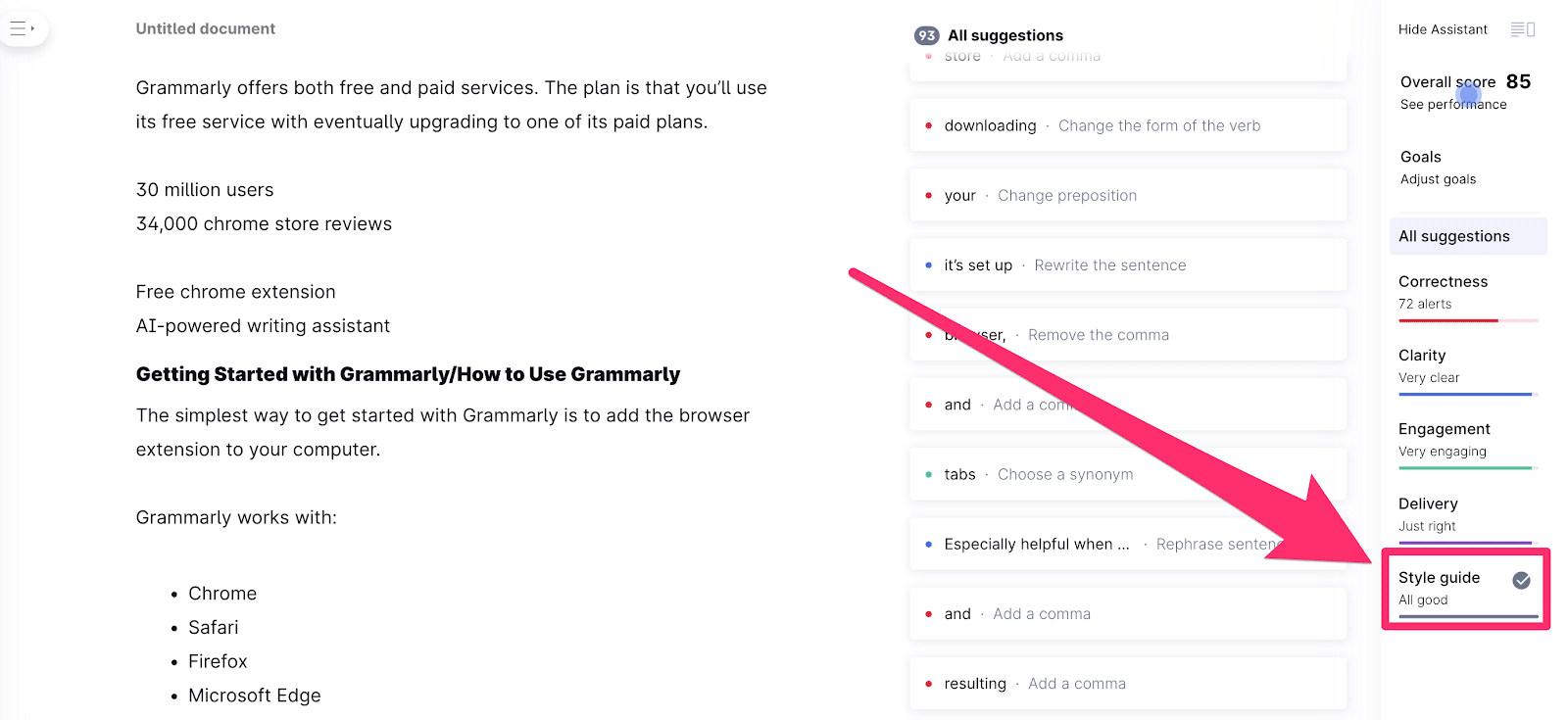 Grammarly@edu
This program tailors to schools and academic institutions. If your organization exceeds 20 members, you'll have to contact Grammarly for a quote.
Its pricing plans list 20 members as the threshold, which caps at $1,200 annually.
The @edu offers:
400+ grammar check types
Plagiarism checks
Microsoft Add-in
Vocab enhancement tools
24/7 support
Grammarly Desktop Apps
You can get Grammarly for your desktop if you prefer not to access it through your browser. Head to the homepage and download the app for Mac.
Use Microsoft Word On Your Mac
Grammarly has a Microsoft Word feature for Mac which you'll need to install as a Grammarly add-on.
Microsoft Office
You can get the add-in for Microsoft Word if you're a Windows user. You'll simply open a Word Document, then:
Go to "Add-ins" and click "Get Add-ins"
Search for Grammarly on the Office Add-ins Store. Click "Add," then click "Continue"
Open a Word document and click the "Open Grammarly" button in the upper right corner of your screen
Suggestions appear in both Word or Outlook.
Grammarly Browser Extensions
If you prefer using your web browser, Grammarly works on:
Chrome
Safari
Firefox
Microsoft Edge
For a list of other places it works, head to the homepage.
Grammarly Keyboard for Your Mobile Device
Scan the QR code with your phone, and Grammarly integrates across every app. You can download it from the App Store for Mac or Google Play for Android users.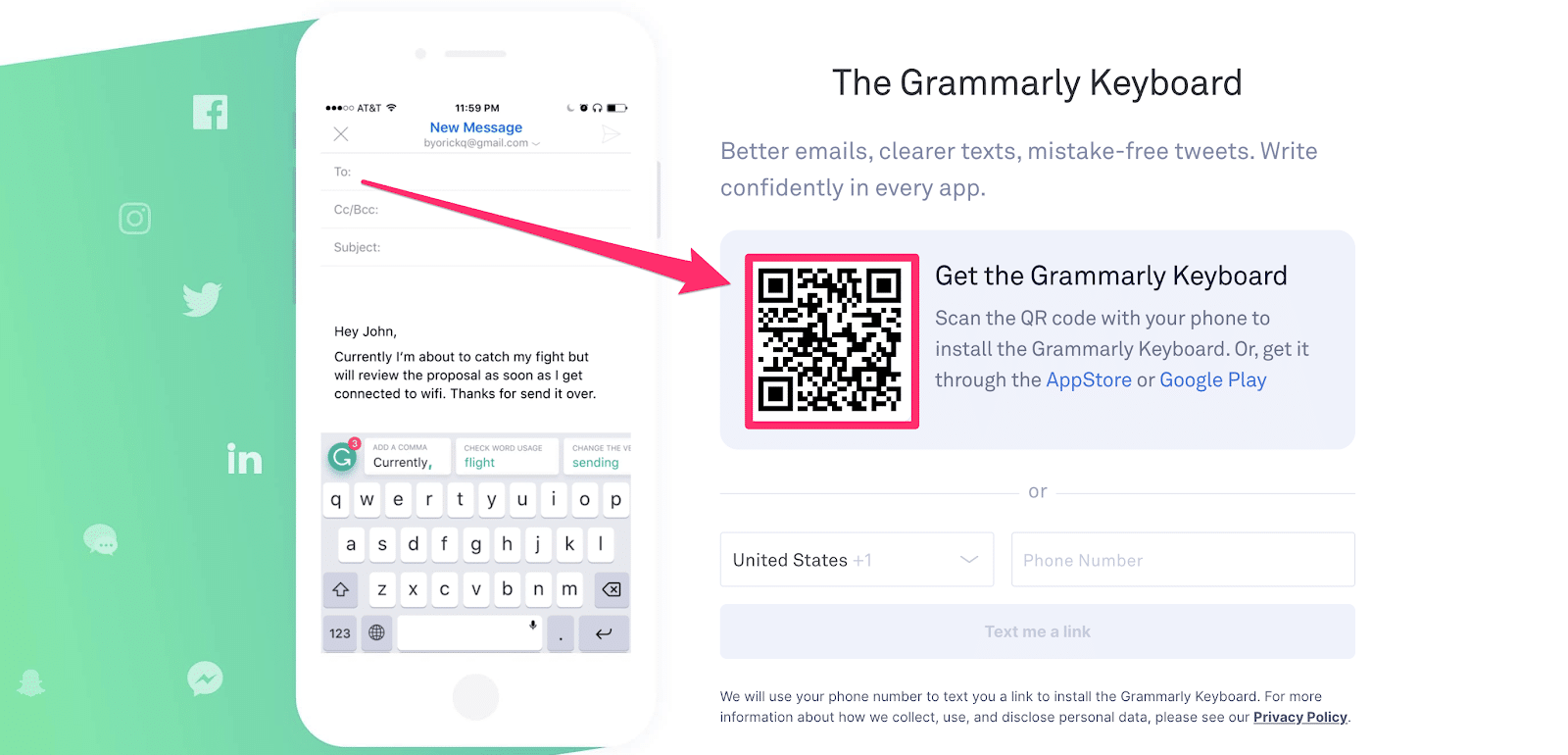 FAQs
A few of the most common questions answered for you upon further reviewing Grammarly's features.
Is Grammarly Safe?
Yes, Grammarly is safe. Your writing is protected, and they adhere to several regulatory guidelines. You can read the full details on its Security page or its Privacy Policy.
Also, Grammarly:
Won't sell or rent your team's info or personal data
Will not help third-parties advertise products to you
Has industry-standard data protection
Says you can exercise your GDPR and CCPA rights at anytime
Is Grammarly a Keylogger?
Grammarly isn't a keylogger. A keylogger records every keystroke you make, which hackers use to steal personal data. Grammarly doesn't record every keystroke. It only accesses your writing when you use a Grammarly product. And it avoids information marked "sensitive."
Is Grammarly Free?
Grammarly does offer a free version of its tool. You'll get basic grammar, spelling, and punctuation alerts. If you're impressed, you can upgrade to its Premium or Business plan.
What's the Difference Between Grammarly Premium and Business?
Premium is for individuals looking to improve their writing skills with Grammarly's style suggestions, clarity improvements, and advanced corrections. Business is for teams who want to stay on-brand with a unified message and clear communication.
How Much Does Grammarly Cost?
Grammarly's base plan is free. You'll get alerts including spelling, grammar, and punctuation. Its next level up, Premium, starts at $11.66 monthly, while its Business plan for teams costs $12.50 per member per month.
Grammarly Alternatives
If you're not sold with Grammarly's premium features, you can always check out other players in the industry. Below are a few other recommendations from professional writers.
Ginger
Ginger is a writing app that works on multiple platforms, has browser extensions for Chrome and Safari, and an Android keyboard.
While it fixes your grammatical mistakes and features a sentence rephrasing tool, it also has a text-to-speech feature, that reads aloud text in a document as a native speaker would say it.
It also has a translate feature with access to over forty languages.
It's handy for non-native speakers. It comes with a free plan, and then you'll have to upgrade to a paid version (starting at $19.99 per month) for enhanced functionality. The downside is there's no app for Mac users.
Whitesmoke
Whitesmoke lets you check your work and find typos, spelling mistakes and analyze sentence structure. It has a translation feature that interprets full text and word-to-mouth translation to and from 55 languages (helpful for non-native speakers).
They don't have a free version, but there's a 3-day full version trial. Plans start at $5 per month, and you have to pay for either an annual or three-year billing.
One downside is their plagiarism detector is credit-based, meaning you have to pay for more once you exceed your 500 credit allowance.
ProWritingAid
ProWritingAid is a style editor, grammar checker, and teacher in one. You can get the free Chrome extension (also plays nice with Safari, Edge, or Firefox). It integrates with MS Word and Outlook, Google docs, Scrivener, Open Office, and Final Draft.
Its reporting feature highlights writing cliches, wordiness, and vagueness.
One downside is that it also charges you credits for using its plagiarism checker, starting at $10 for ten inquiries.
Its pricing is slightly less than Grammarly, starting at $20 per month.
Is Grammarly Worth It?
If you're wondering whether Grammarly is for you, let's recap what's good and bad about them so you can decide for yourself.
What's to Like
Multiple Ways to Access the Platform: You can use Grammarly from virtually every device. It offers several browser extensions, installation for both PC and Mac, and mobile keyboards for Android and iPhone users.
Spell Checker and Grammar Tools: If you're only looking to improve your emails, social media posts, or catch real-time, basic grammar errors, the free version of Grammarly should suffice. Its tool is excellent for detecting grammar issues.
Writing Style Suggestions: I find it helpful how Grammarly divides your writing into different categories (e.g., clarity, engagement, delivery) so you can see specific areas to improve.
Tone Detector: The tone detector makes suggestions based on your word choice, phrasing, punctuation, and capitalization. It distinguishes between a casual email and a business letter.
Mobile Keyboards: Grammarly works on both Android and iPhone. All you have to do is scan the QR code from your phone,and you'll start getting suggestions across the apps you use.
Synonym and Definition Double-Click: You can double-click any word when writing or reading, and Grammarly displays its synonyms and definitions.
Free Starter Plan: If you'd like to sample the writing tool and get schooled on basic grammar rules, the free plan is suitable for anyone.
What's Not to Like
Higher Cost: The monthly and quarterly plans are considerably higher than others with similar features. If you decide to upgrade, get the annual plan and pay less.
No Translations: A couple of the Grammarly alternatives mentioned above had language translations listed as a feature. If you're a non-native English speaker, you may encounter difficulties as Grammarly has nothing to help with this.
Final Thoughts
If you're blogging or writing regularly, the premium version mentioned in this Grammarly review may be what you need. If you want to become a better writer, this tool will help. If you'd like to find out more about their affiliate program, head here.
Our creations in your inbox, weekly.
We've built multiple six-figure online businesses that our moms are proud of.
We'd like to help you do the same.