One of the reasons for WordPress's incredible popularity is the selection of fantastic resources available to users. The platform owes its success to the best WordPress plugins that make it tick.
As the WordPress community continues to grow, developers create more plugins to add specific functionality for websites and blogs powered by the world's most popular content management system (CMS).
A plugin exists for just about anything you could want to do with WordPress. Here we'll highlight some of the best WordPress plugins relevant and valuable for most blogs and small business websites.
The Best WordPress Plugins
Many of the plugins on our list offer both a free version and a premium or pro version. We've included links to both so you can access whatever you need.
1. Yoast SEO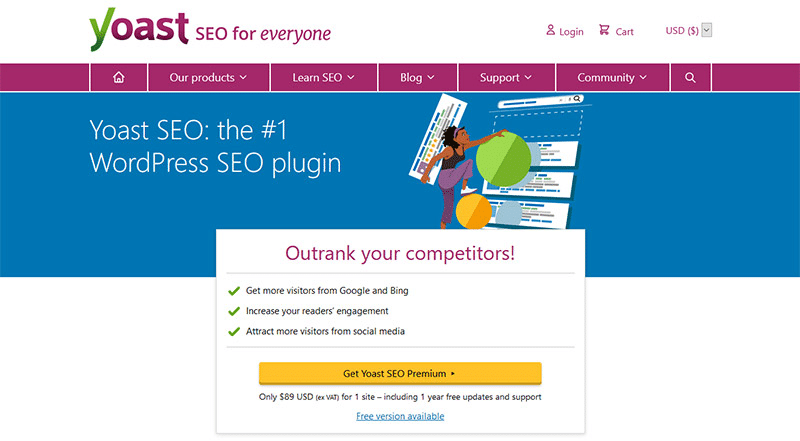 Every WordPress-powered website or blog should be using a search engine optimization plugin. Yoast SEO is the most popular option and one of the most popular free WordPress plugins of any kind.
The SEO settings and options provided by WordPress are somewhat limited, but with Yoast SEO installed and activated, you'll get complete control of everything you need to optimize your site.
You'll be able to earn higher rankings in the SERPs and grab search snippets to get more traffic.
There are free and premium versions of Yoast SEO available, but the free plugin will meet the needs of most WordPress users. The free version includes:
Optimization ratings for your posts and pages, based on the target keyword you enter
Readability ratings
Suggestions to improve the SEO and readability ratings
Control over page and post title tags
Control over meta descriptions
Support for Schema.org and structured data
Creation of XML sitemaps
Download the free plugin | Get Yoast SEO Premium
Further Reading:
2. Rank Math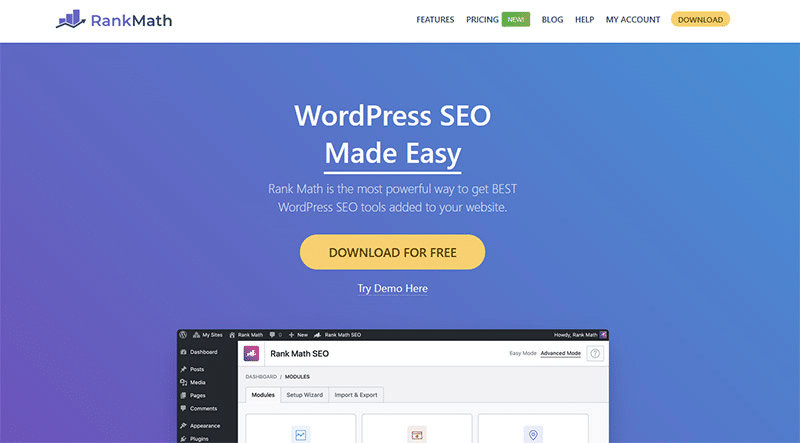 Rank Math is another popular WordPress SEO plugin and a Yoast alternative. Like Yoast SEO, Rank Math is available as a free plugin with an optional upgrade to the Pro version.
While Yoast SEO and Rank Math are both capable of helping you increase traffic from search engines, Rank Math offers a few features not included with Yoast, like:
Integration with Google Search Console. View Data from Search Console directly in WordPress.
Optimize for unlimited keywords. By default, you can optimize posts or pages for five keywords, but there's a tweak that changes this to an unlimited number.
Track your keyword rankings. Always know where your content is ranking in Google searches and track changes.
Download the free plugin | Get Rank Math Pro
3. Lasso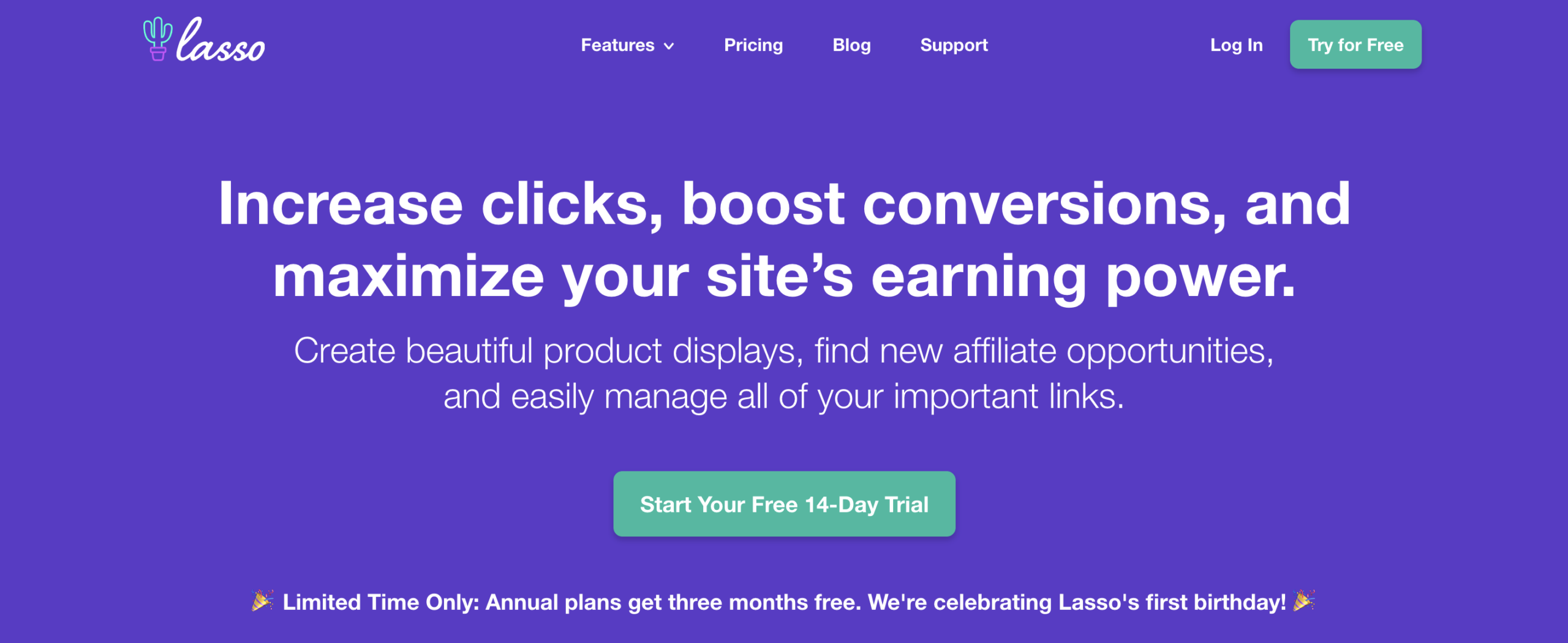 The SEO plugins listed above can help you get more traffic, and Lasso makes it a breeze to monetize that traffic. It's easy to create custom affiliate link displays and boxes with Lasso to ensure your affiliate promotions stand out and get clicks.
Here's an example of a Lasso display:👇
Best for Monetization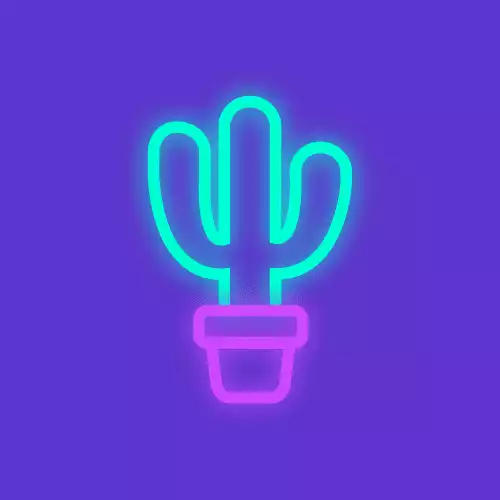 Lasso integrates with Amazon's API to create product boxes and promos updated with current details, like price changes. Of course, you can also create display boxes for products from any other affiliate program.
In addition, it includes functionality that allows you to track and monitor clicks by synching with Google Analytics.
Use this data to know what's working and optimize your promotions. It will even find affiliate opportunities for you, easily turning regular links into monetized affiliate links.
This is just scratching the surface of what our plugin can do for your monetization efforts, but you can learn more in this Lasso review.
Or, if you're ready, you can sign up for Lasso right now.
Further Reading:
4. WooCommerce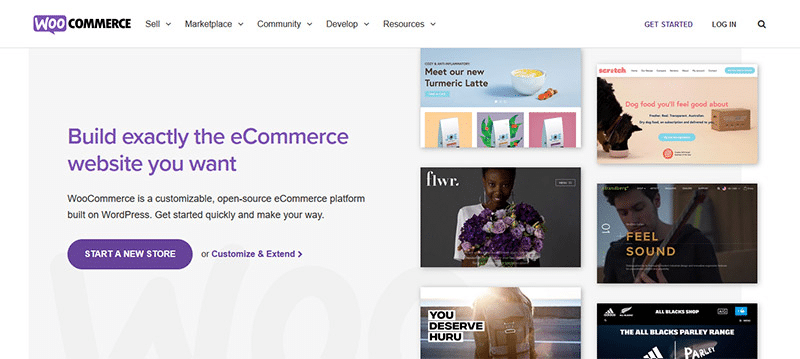 Turn your WordPress-powered website or blog into an e-commerce website by installing the free WooCommerce plugin.
This powerful plugin works for everything from a small shop that sells a few digital downloads to a massive online store that sells thousands of physical products.
You'll be able to use your choice of 100+ payment gateways, configure shipping settings and calculations, manage sales, tax, and more.
There are also thousands of WordPress themes that are ready to use with WooCommerce.
WooCommerce is extremely popular, and there are many add-ons available for all kinds of purposes and functionality. There's an add-on available for just about anything you could want to do with your online shop (some of the add-ons are free, and others you'll need to purchase).
Because millions of websites use WooCommerce, integrations are available for all of your favorite lead generation and marketing tools, including email marketing managers, to grow your email list of subscribers.
5. EWWW Image Optimizer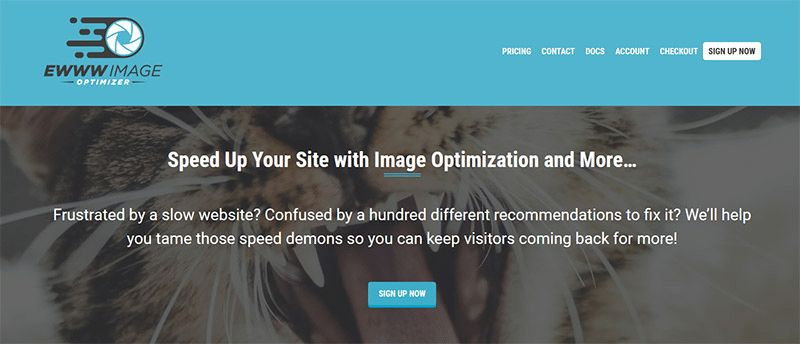 The performance of your website or blog is essential. Slow loading pages will chase visitors away, and it may even damage your Google search rankings.
Sidenote: Images often slow sites down because they're large files, and they take time to load.
EWWW Image Optimizer will speed up your site and improve user experience by optimizing images to reduce their file size. The plugin will optimize all JPG, PNG, and PDF files on your site for improved performance.
EWWW Image Optimizer is different and better than some other similar plugins because it optimizes all of the images already on your site, not just the ones you upload going forward.
The paid plans will deliver your images from a global CDN and convert them to WebP format, but the free version will meet the needs of most users.
Download the free plugin | Get an EWWW Image Optimizer Premium Plan
6. Smush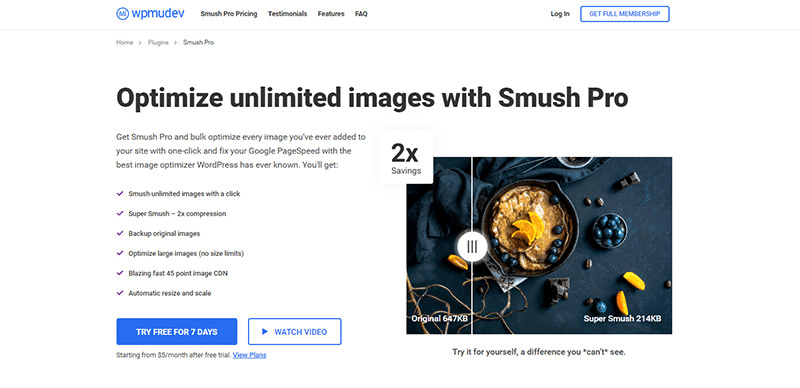 Smush is another popular image optimization plugin that can help improve your page load times by reducing the file size of images.
You can compress up to 50 images at a time, set a maximum width and height to have images automatically resized, and turn on lazy loading to defer the loading of offscreen images.
The free version will be sufficient for most WordPress users since it has no monthly limits. In addition, you can optimize all of your images up to 5MB in size without paying anything.
Download the free plugin | Get Smush Pro
7. Optimole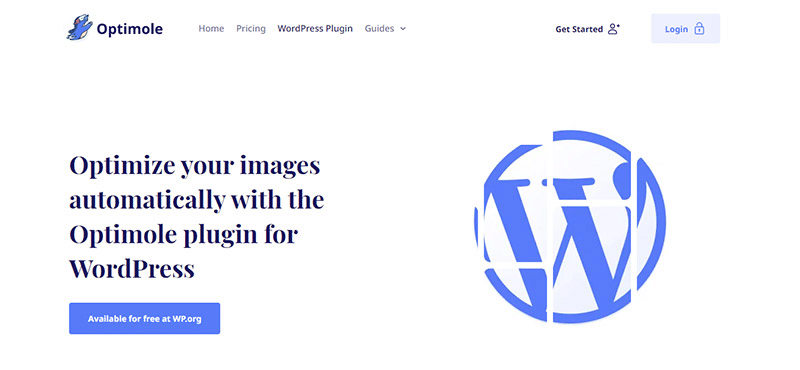 The last image optimization plugin we'll look at isn't quite as popular (yet) as EWWW or Smush, but Optimole has a lot to offer.
The free plugin supports all image types, converts images to WebP format for smaller file sizes, and serves images from a global CDN.
The downside to the free version is that you're limited to 5,000 visits per month. If your site has a higher level of traffic, you would need to go with one of the paid plans.
Download the free plugin | Get a paid plan with Optimole
8. WP Rocket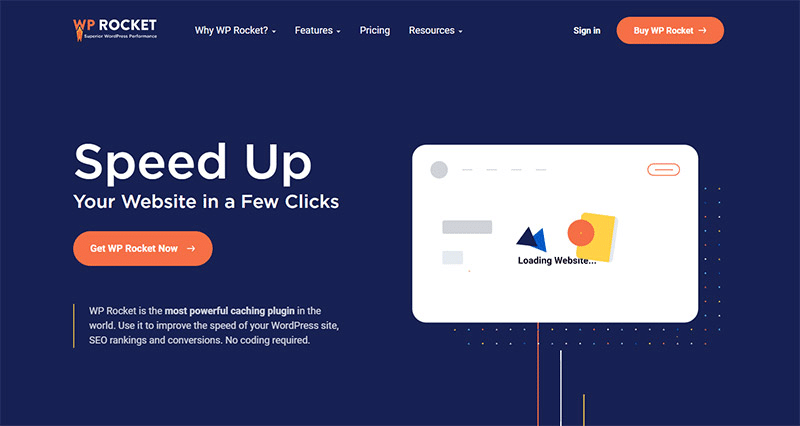 One of the most effective ways to speed up your WordPress website is by using a caching plugin. The typical page or post on a WordPress website requires a lot of PHP to be processed to load the page.
Definition: A caching plugin will serve up a smaller static HTML version of the page, making a dramatic difference in the site's speed.
Several caching WordPress plugins are available, like W3 Total Cache and WP Super Cache, but many of them are challenging to configure. If you make a mistake in the settings, the plugin might slow down your site instead of speeding it up.
WP Rocket stands out as the caching plugin that's easiest to use. All you need to do is activate the plugin, and it will take care of the rest. There are plenty of settings you can change if you want to, but it will function well out of the box.
There's no free version of WP Rocket available, but for those who don't want to mess with settings they don't understand, it's well worth the price.
9. UpdraftPlus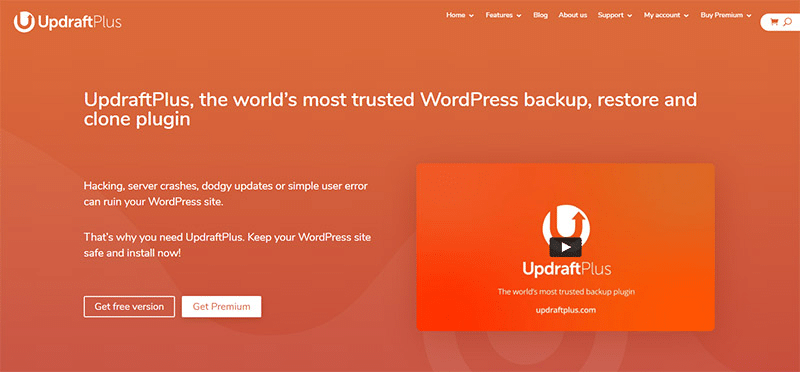 Having a backup system in place is a critical aspect of securing your website. The last thing you want is to lose all your hard work due to a server issue or a hack.
There are several WordPress backup plugins, but many of them cost money. With UpdraftPlus, you can handle backups and restoration with a free plugin.
Tip: You can set the plugin to upload backed-up files to cloud storage like Dropbox, Google Drive, or Amazon S3, which is a perfect way to ensure you don't lose backups due to a hard drive failure.
You can easily set a schedule, so your site is automatically backed up. UpdraftPlus will also handle restoring your backups if needed.
A premium version with some additional features is also available, but the free plugin will meet the needs of most users.
Download the free plugin | Get UpdraftPlus Premium
10. Limit Login Attempts Reloaded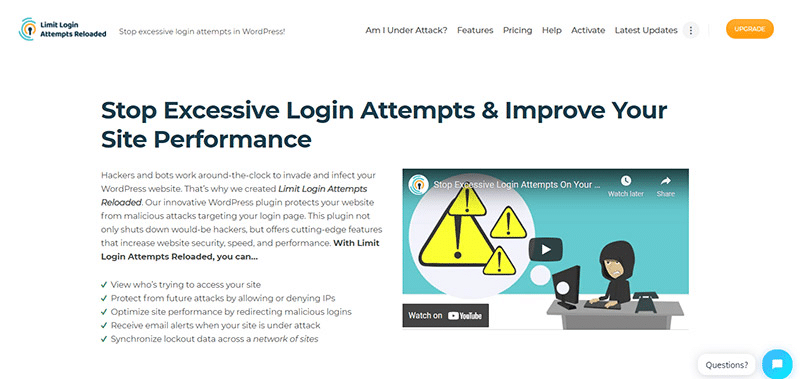 Your website or blog may be susceptible to brute force attacks because WordPress, by default, does not limit login attempts. This free WordPress security plugin changes that so hackers and bots can't gain access by trying an unlimited number of passwords.
With Limit Login Attempts Reloaded, you'll be able to set the number of login attempts allowed before an IP is blocked.
You'll also be able to select the length of time the block will last. It's a simple free plugin that helps to keep your site secure.
A premium version is also available, but the free plugin will be enough for most website owners and bloggers.
Download the free plugin | Get Limit Login Attempts Reloaded Premium
11. Sucuri Security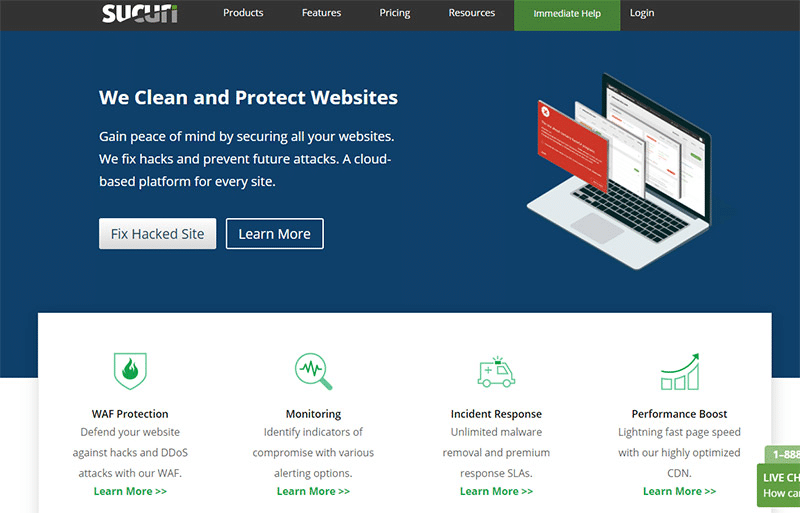 Continuing on the topic of security, Sucuri Security is another excellent plugin. The free version includes features like:
Security activity auditing
File integrity monitoring
Remote malware scanning
Blocklist monitoring
Security notifications
Sucuri is one of the trusted names in the security industry, so this plugin is a solid option for any website owner. Paid plans include some additional features like a website firewall.
Sucuri also offers some one-off services (like fixing a hacked site), but the free plugin is a great start.
Download the free plugin | Get Premium Services from Sucuri
12. Google Tag Manager for WordPress

Google Tag Manager allows you to manage analytics and marketing tags on your site. This plugin makes it easy to add the code to your WordPress website.
If you're doing any remarketing with Google Ads, this free plugin allows you to build advanced remarketing lists. It also integrates with WooCommerce, so it's perfect for your e-commerce website.
Further Reading:
13. MonsterInsights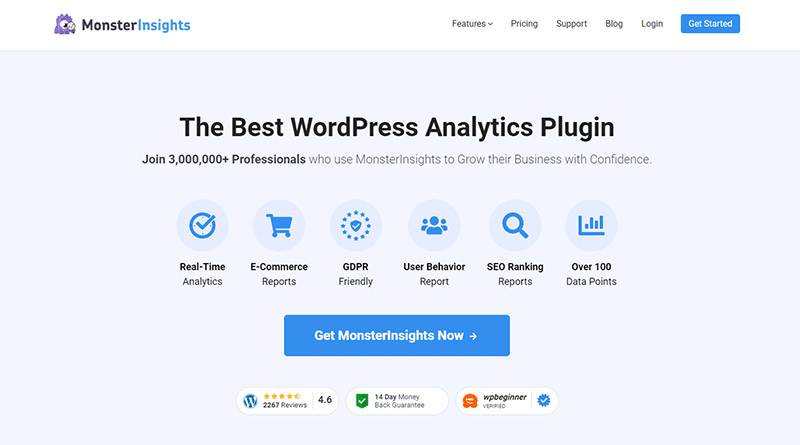 If you want to use Google Analytics to get stats and data about your users (and I'm sure you do), MonsterInsights is a simple option.
Instead of needing to add the Analytics code to your site manually, you'll connect MonsterInsights to your Google account, making it quick and easy to set up.
MonsterInsights also provides you with an analytics dashboard. You won't have to log in to Google to see basic stats since MonsterInsights provides customized reports from your WordPress dashboard.
Download the free plugin | Get MonsterInsights Pro
14. Redirection 
Redirection is a free plugin that makes it easy to create and manage redirects on your website. For example, have an old page that you want to delete?
You can use this plugin to redirect visitors to another similar page on your site so you don't lose traffic or hurt your search engine rankings.
The plugin also keeps track of 404 errors and provides you with a log to address broken links and other issues as needed. In addition, you can set up conditional redirects, migrate permalinks after changing permalink structures, and more.
15. WPForms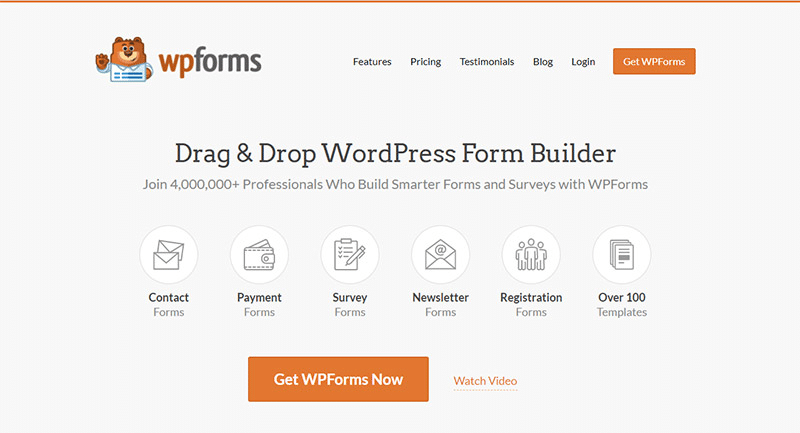 The contact form is an integral part of most websites. If you want to add a contact form to your site easily, WPForms is a handy plugin.
Although there are many other contact form plugins, WPForms is probably the easiest to use. It offers a drag-and-drop form builder so you can quickly create a form that meets your needs.
There are templates for a few different form types you can choose to get your form online in no time.
There is a premium version of WPForms that includes a long list of features with different form types you can create and various integrations with mailing list managers and payment processors like PayPal.
However, the free plugin is all you need to set up some basics like a contact form.
Download the free plugin | Get a Premium Plan With WPForms
16. Kadence Blocks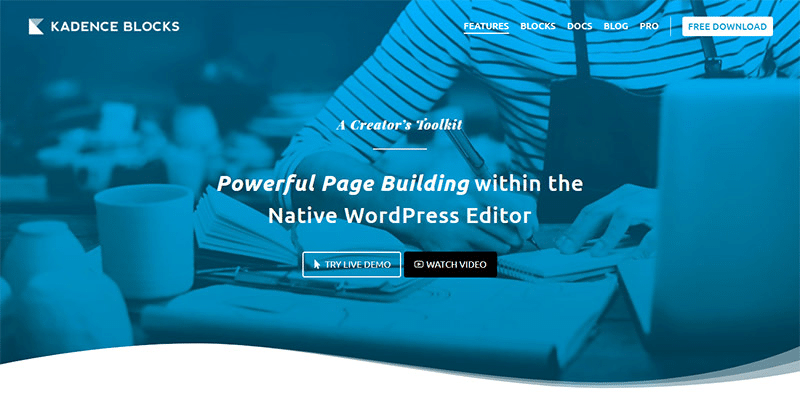 One of the most significant developments related to WordPress in the past few years has been the addition of the Gutenberg Editor.
Thanks to the block editor, creating customized designs and layouts is easier than ever before.
Not only is it easier, but WordPress pages created with blocks tend to be lighter and load faster than pages created with visual builders like Elementor.
Author's Pick: One of my favorite plugins is Kadence Blocks, which adds a collection of custom blocks to extend Gutenberg's capabilities.
There are 12 different block types added, including the Row Layout, making it easy to create multiple columns and design custom layouts for WordPress blog posts or landing pages.
Other blocks include:
Buttons
Testimonials
Forms
Advanced galleries
Info boxes
Icon lists
And more
When you add any of these blocks to your page or post content, you'll be able to control the design elements with simple changes and no need for custom CSS.
A Pro version offers additional block types, but the free version is very capable.
Download the free plugin | Get Kadence Blocks Pro
17. Stackable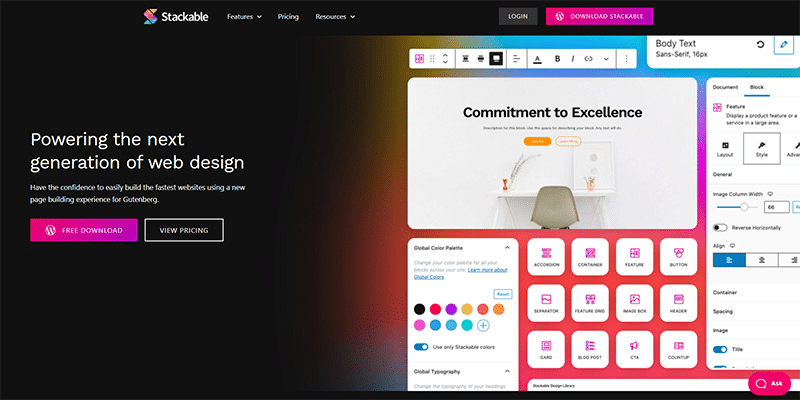 Stackable is another page builder plugin that extends the possibilities with Gutenberg for customization of your WordPress site.
Like Kadence Blocks, Stackable is available as a free plugin, and you also have the option of purchasing a paid plan for some additional features and functionality.
The free version includes 28 different blocks like:
Call-to-action
Advanced columns and grid
Notifications
Pricing boxes
Video popups
The premium version comes with a more extensive selection of pre-designed elements that can speed up your creation, as well as some advanced features.
Download the free plugin | Get Stackable Premium
18. Social Warfare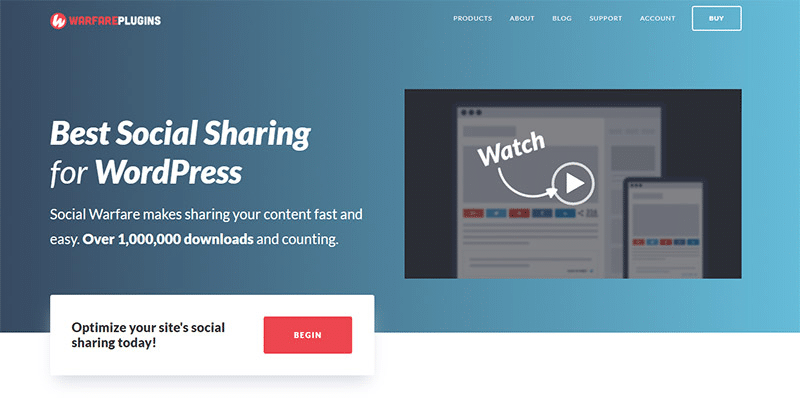 Want to get traffic from social media sites like Facebook, Twitter, Pinterest, and LinkedIn? Social Warfare will add social sharing buttons to your site to make it easy for visitors to share your content with their friends and followers.
You can add share buttons at the top or bottom of your posts (or both). You can also add floating buttons that will follow readers down the screen as they scroll.
Sidenote: There also are options for displaying the share count or hiding those numbers.
The paid version of Social Warfare adds some options like shareable quotes, popular post lists, and control over the images that you can pin on Pinterest.
Download the free plugin | Get Social Warfare Pro
19. TablePress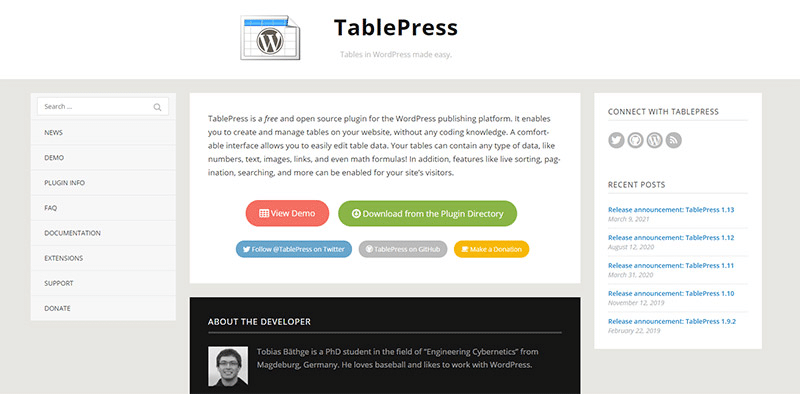 Including tables within your page or post content can be helpful for many reasons. TablePress is the best WordPress plugin for quickly creating tables to add to posts or pages using shortcodes.
The table data can be sorted or filtered by visitors (optional), making it possible to create user-friendly tables.
Row colors can be alternated or highlighted, and you can even import data directly from Excel.
TablePress is a free plugin, and there are almost 20 extensions available to add specific functionality. Some of the extensions are free, and others are available for purchase.
Download the free plugin | Get the TablePress Extensions
20. Editorial Calendar 

This free plugin makes it easy to stay on top of your publication schedule and content development.
First, it creates a calendar so you can see when your posts are scheduled. Then, simply drag and drop to change a post's publication date.
If you publish a high volume of content or feel like the WordPress dashboard makes it difficult to visualize the status and schedule of your content, you'll appreciate Editorial Calendar.
Final Thoughts
Many of the best WordPress plugins covered here are extremely popular and are used by many people.
While you don't want to install plugins just for the sake of having them, chances are, this list includes at least a few plugins that could add some beneficial functionality to your site (and of course, you can always find more at WordPress.org).
Think about your visitors and how you might be able to serve them better or meet their needs with the help of some plugins. And if you'd like to read more, check out this post on some of the best Amazon WordPress affiliate plugins.
Our creations in your inbox, weekly.
We've built multiple six-figure online businesses that our moms are proud of.
We'd like to help you do the same.