Do you feel clueless whenever you log in to your Analytics dashboard? It might feel painful at first, but once you get acquainted with this powerful tool, you'll have a wealth of data to deploy (sometimes it feels like cheating). Discover these nine Google Analytics best practices to ensure you've got a leg up on your competition. 
What's the Best Way to Use Google Analytics?
Once you've created your Google Analytics account and determined your KPIs, there are some steps you can take to start optimizing your website and tracking performance. 
1. Install the Tracking Code On Your Website
Installing the tracking code on your website is the first step to harvest all of your analytics data. This is how your website communicates with Google Analytics (GA). First, head to your GA dashboard and head to Admin (the gear icon):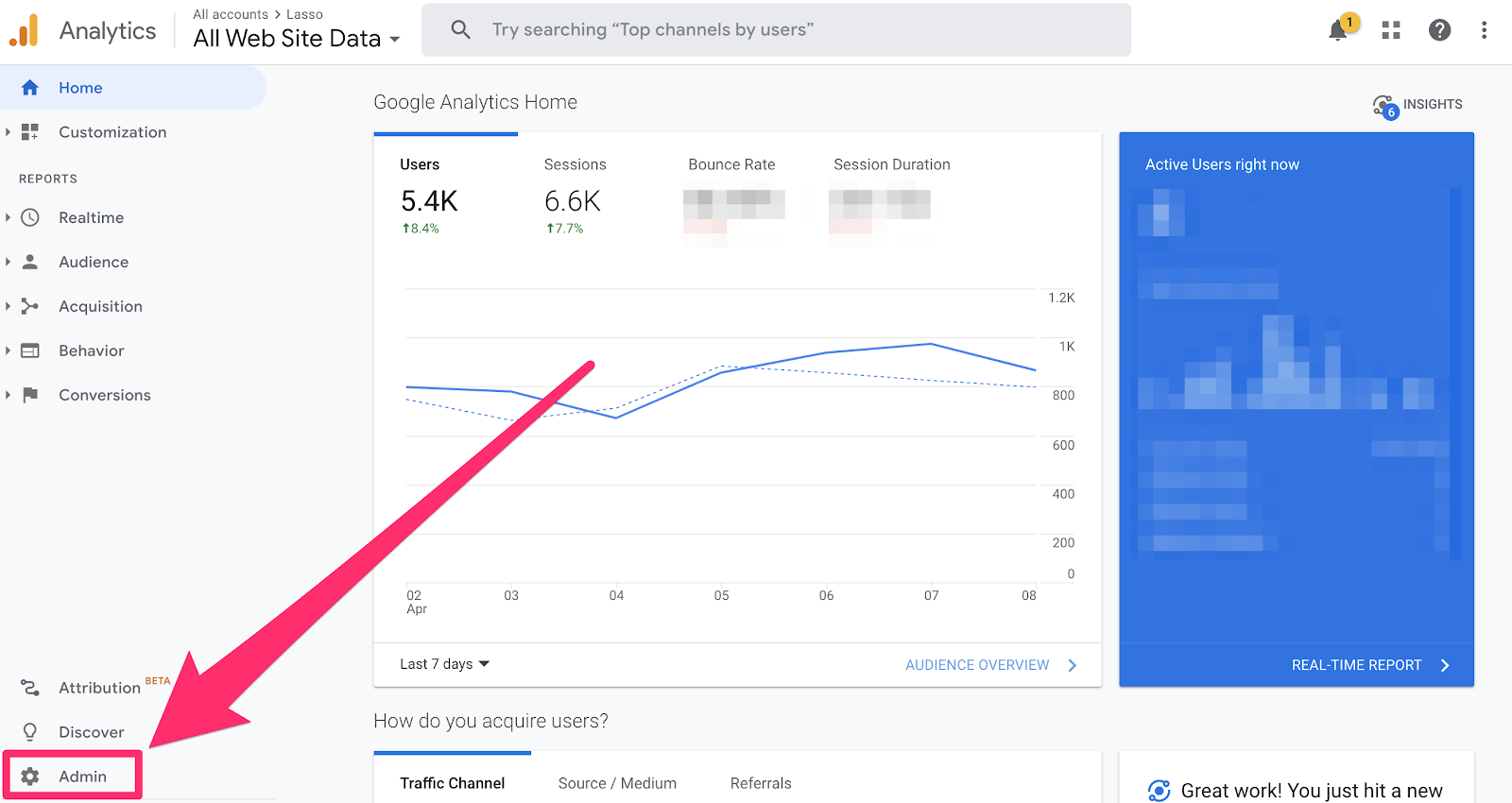 Under the "Create Property" column, click Tracking Info. A drop-down menu will appear. Select "Tracking Code."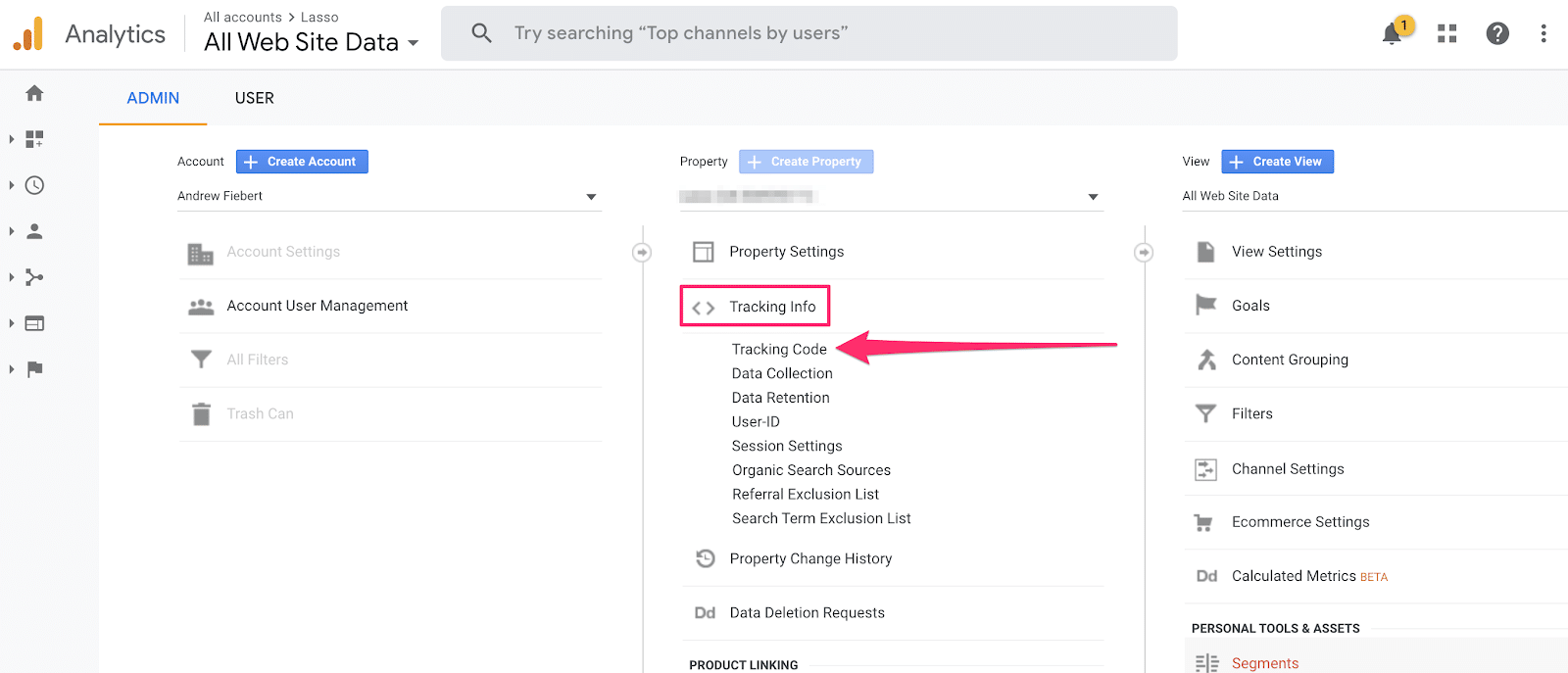 Here's where you'll grab your Global Site Tag. This is the code snippet you'll add to the header of your website.
First, copy and paste the Global Site Tag from here: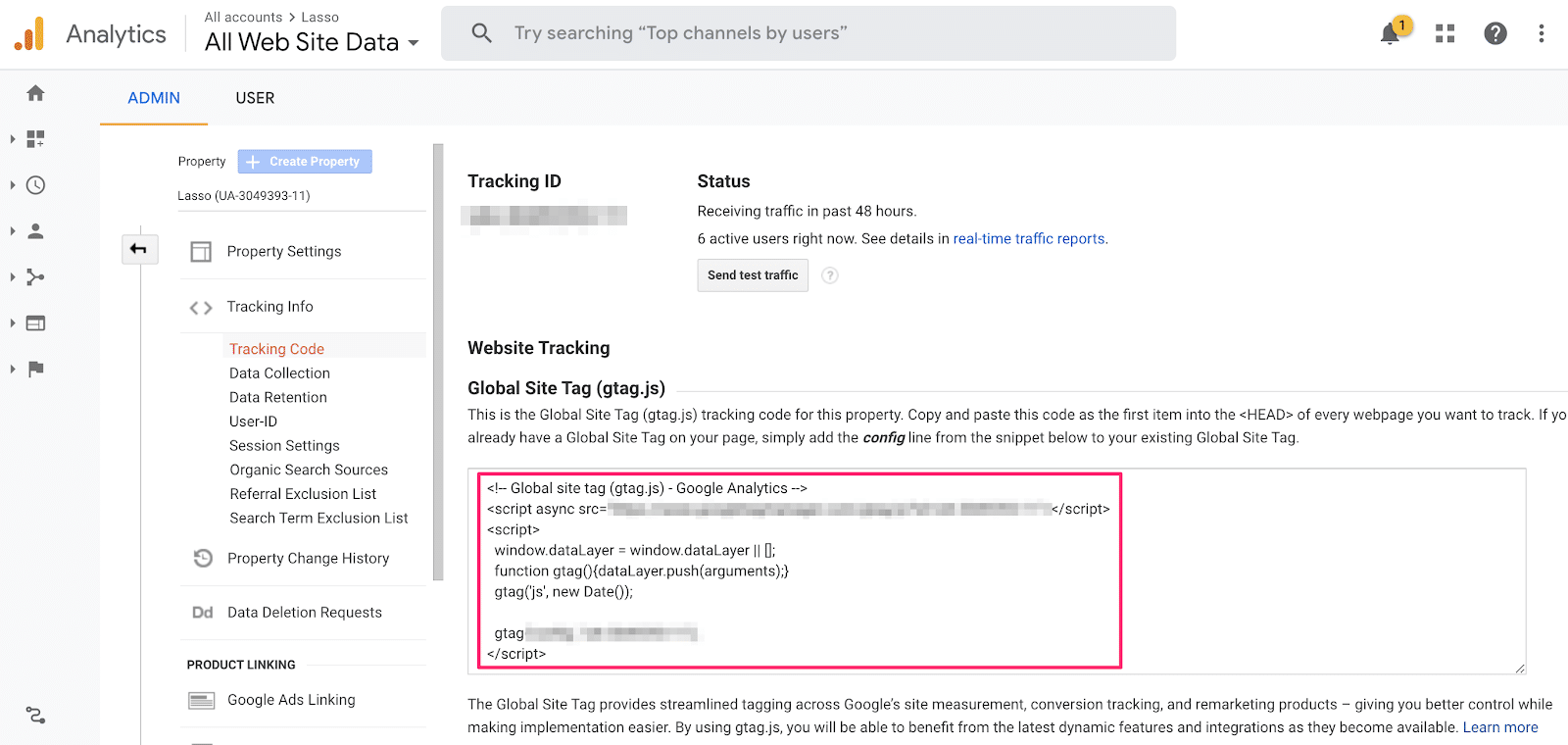 This is a unique tracking code for your property (website). And helps Google monitor your site and every action taken by website visitors.
Once you've copied the site tag, if you're using a WordPress site, head to the sidebar and click Appearance > Theme Editor > Theme Header

You'll paste the snippet of code immediately following the first <head> tag. Then hit "Update File."
Now Google can track your site's data. It may take 24 hours before it registers on your website.
Tip: Test whether you set it up correctly by having Google send test traffic to your site. This way, you'll know it's working.
If you want to send test traffic to your site, return to your Analytics account where you found your Site Tag and click the "Send test traffic" button above it.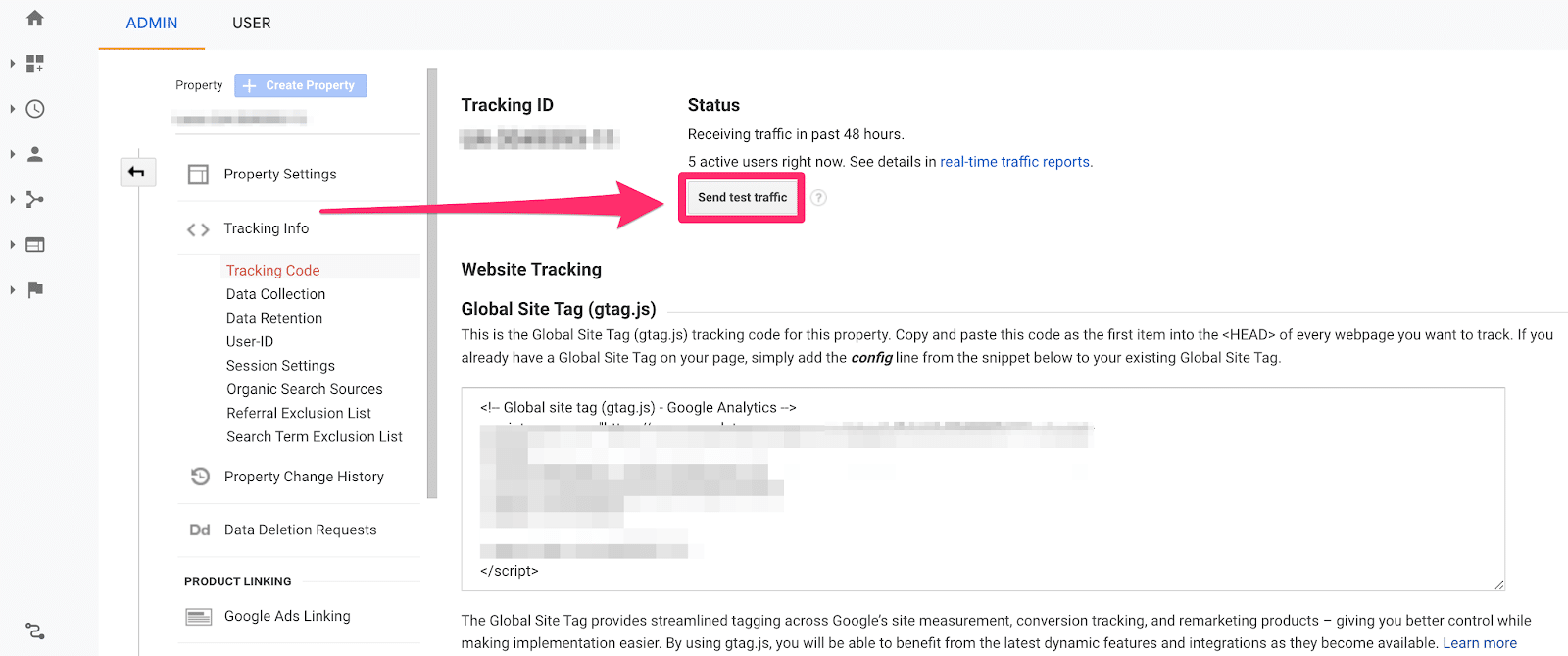 2. Exclude Irrelevant & Internal Traffic
Excluding traffic from yourself, bots, and spiders ensures you're tracking Analytics data that matters. 
To exclude traffic from your IP address, head to the Admin panel in the lower-left-hand corner of your screen, then under the "Create View" column, click "Filters."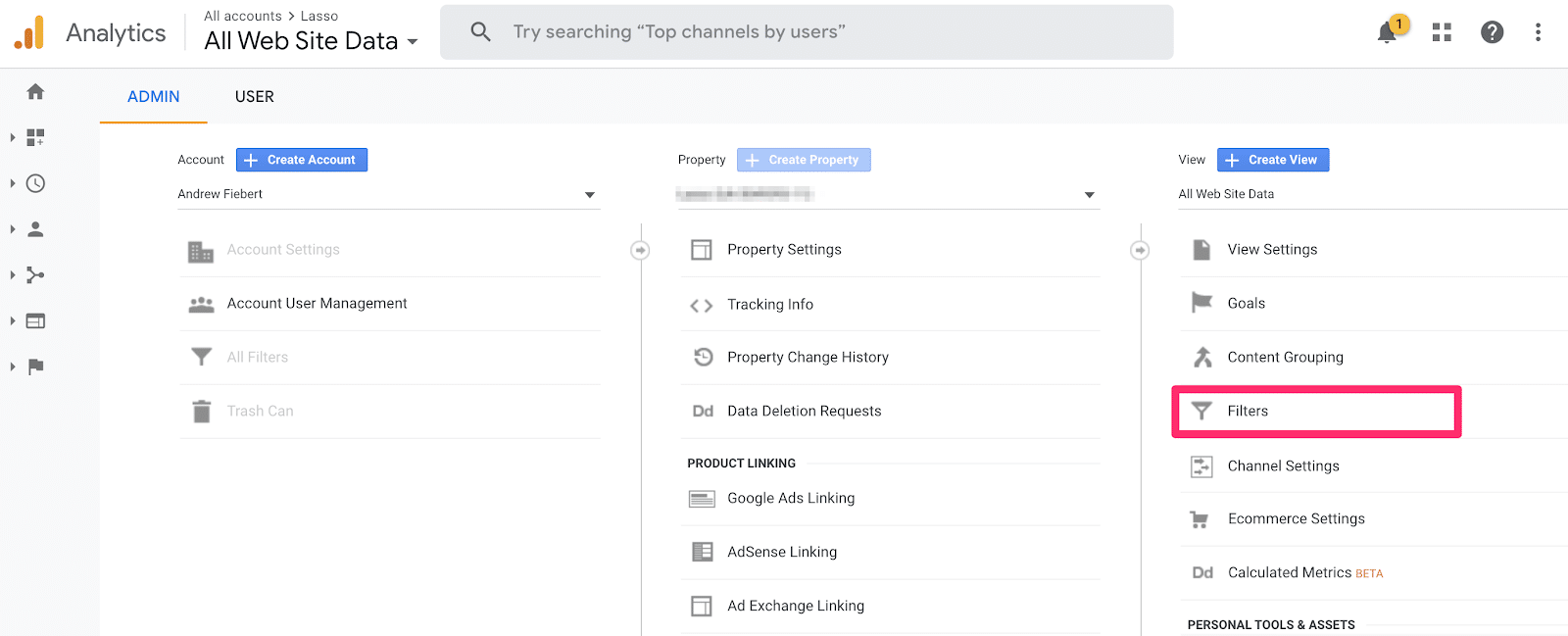 Next, click the red "+ Add Filter" button.
Give your filter a name.
Now, set "Filter type" as "Predefined," then set the three dropdown menus as follows:
Set Filter to "Exclude"
Set source to "traffic from the IP addresses"
Adjust the expression to "that are equal to"

Now enter your IP address in the box.
Tip: To find your IP address, run a Google search using the query "what's my IP address?" Then copy and paste it into the box.
Click "Save," and you're done.
To exclude all website hits from bots and spiders, return to the "Create View" column and click "View Settings."
Scroll to the bottom and tick the Bot Filtering box reading "Exclude all hits from known bots and spiders."

You can also set up multiple views if you prefer. Some like to have different views to filter data which are:
Master view
Raw data (unfiltered view)
Test view
For help on how to do that, head to this guide about view filters and using them on your site.
3. Set Up A Dashboard
For things you'll regularly check, setting up a dashboard helps sift through data you're uninterested in. You can also add key graphs and lists.
This will save you an infinite amount of time as you'll rarely find yourself digging as many times. But rather, you're just "checking in."
Decide which metrics you see yourself monitoring daily. Here are some ideas:
Conversions
New vs. returning visitors
Audience overview
Active Visitors
Top Pages
Email subscribers
Average pages per visit
Top keywords
Average visitor duration
Bounce rate
There's no hard and fast rule telling you what you should have, only what makes the most sense for your digital marketing goals.
To create a dashboard, head to Customization > Dashboards, then click "Create."

You can make your own or import pre-built dashboards from third parties. Viewing existing dashboards are great places to find ideas.
After hitting Create, you'll have two options:
Blank Canvas
Starter Dashboard

The blank canvas lets you customize yours with widgets you choose, while the starter dashboard is pre-made by Google.
If you don't want to spend time with this, the starter dashboard makes a good choice.
Here's a snapshot of what it looks like: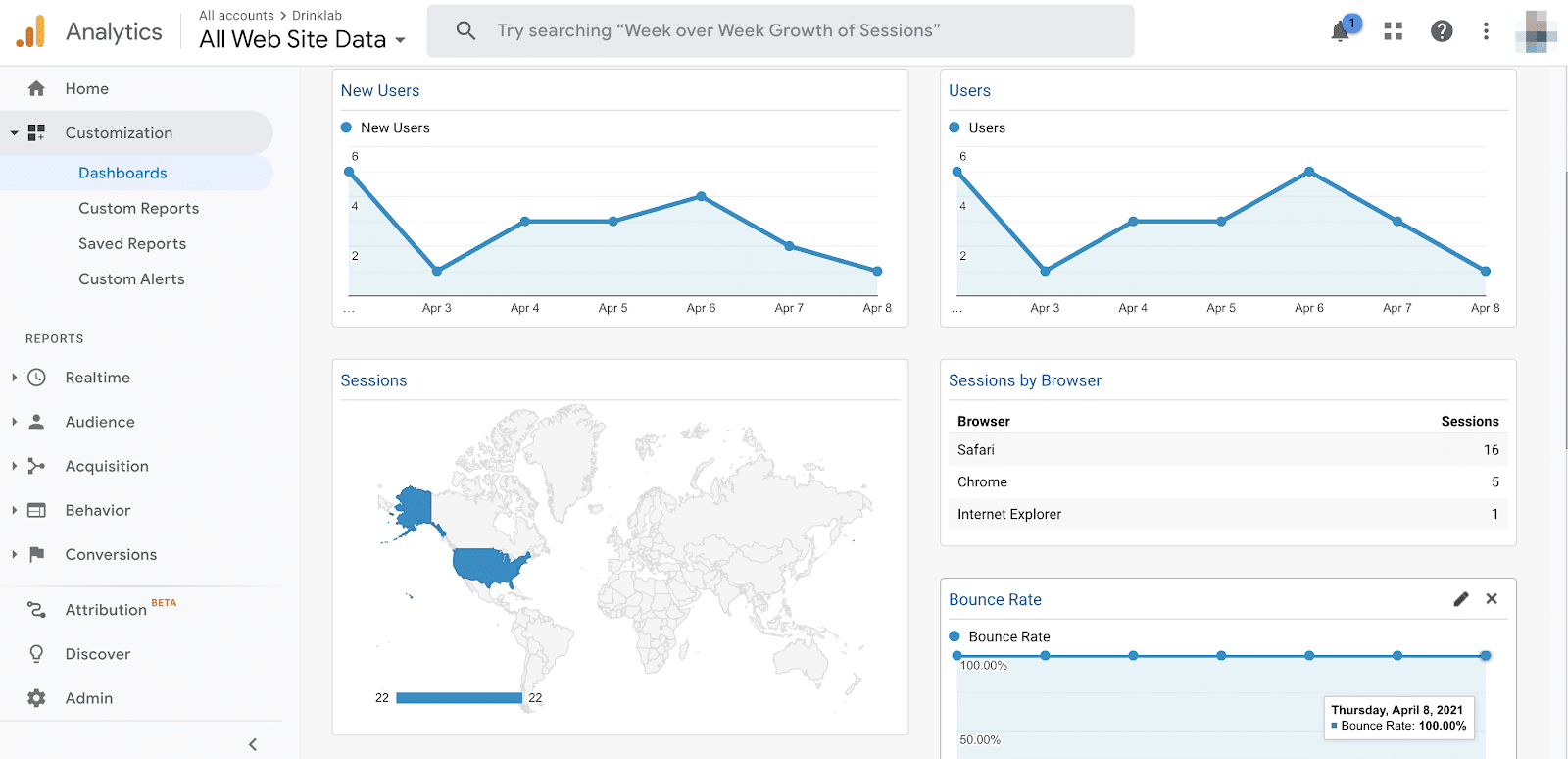 It provides basic data, including:
New Users
Users
Sessions
Sessions by browser
Bounce rate
Average session duration and pages/Session
Goal completions
Sidenote: All of those data points are moveable boxes. For example, you can drag and drop the Sessions box to the top of the page if you prefer.
You also have the option of importing a more sophisticated dashboard from the gallery.
Click Import from Gallery beneath the Starter Dashboard. These are ones others have created. Then scroll through the list of options.
For this example, we'll create our own and get prompted to the widget suite.
Give yours a name (or leave it as "Untitled Dashboard" for now) and click "Create Dashboard."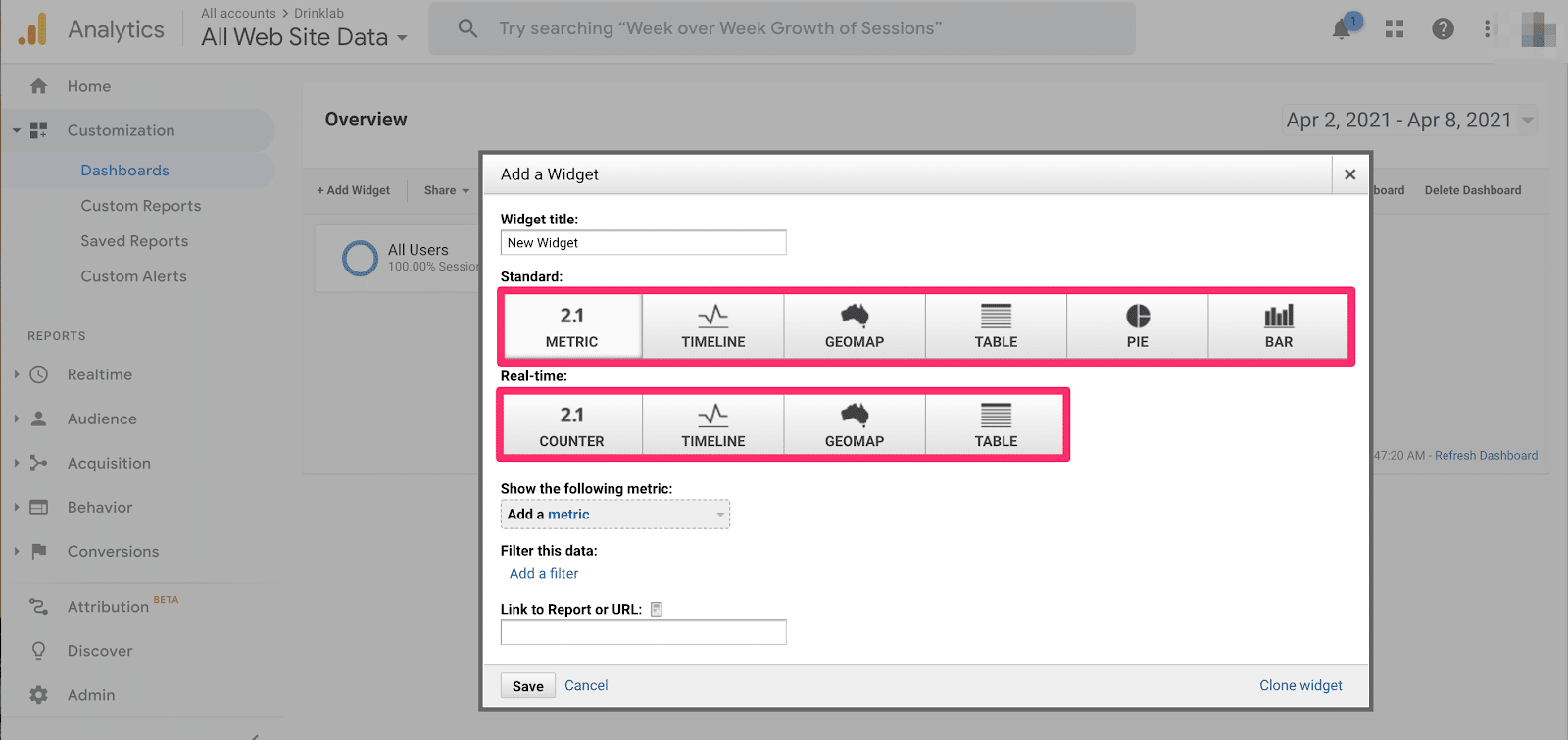 You can choose from several metrics (up to 12 widgets per dashboard).
Make a real-time analytics dashboard so you can see active users and pageviews.
When clicking "Metric," you'll see commonly used data worth tracking.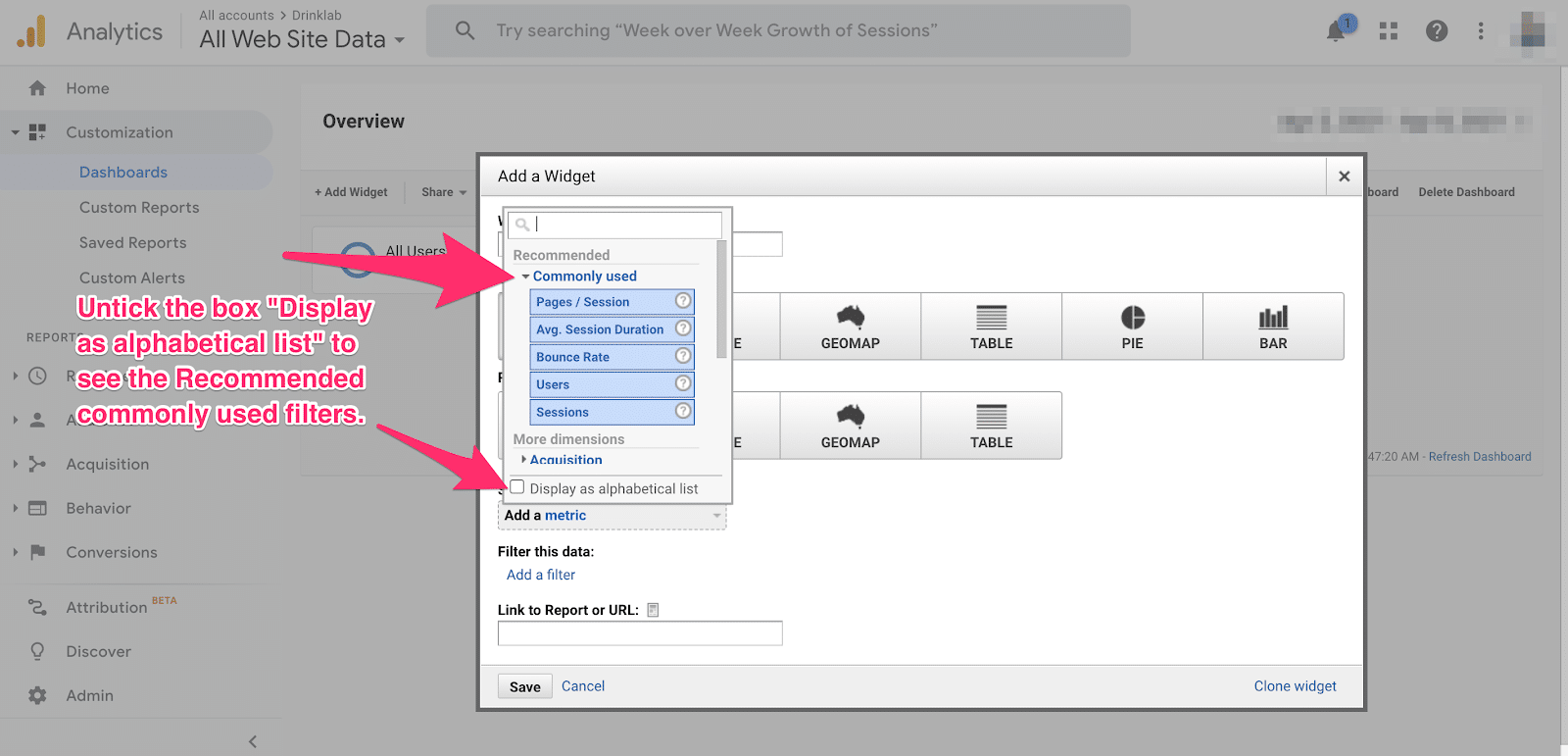 Let's say you want to start with tracking your site's users, select "Users," and hit "Save."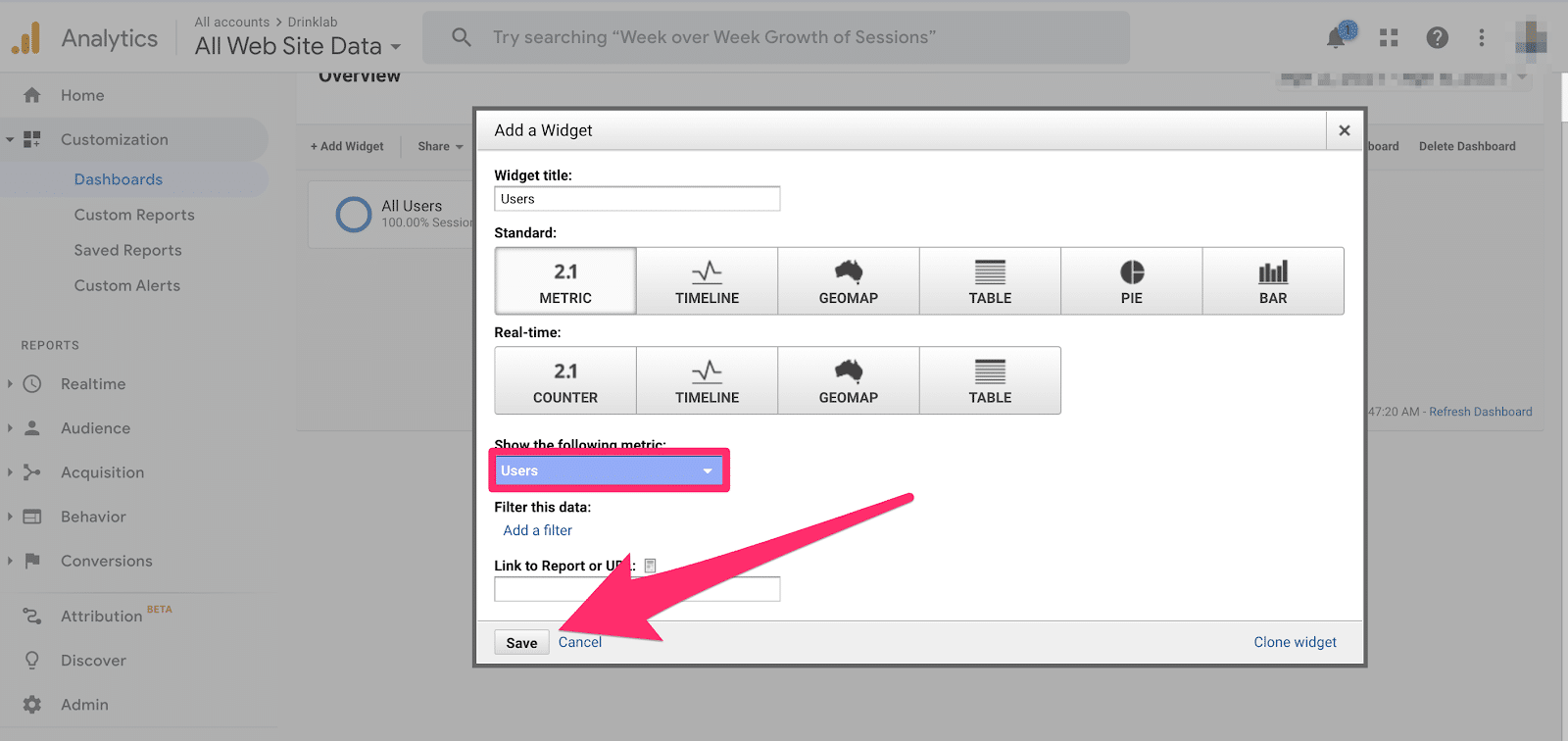 That metric now becomes part of your customized dashboard and displays there.

For more help on setting up your dashboard, head to the Analytics Support page.
Tip: To find commonly used filters easier, untick the box "Display as alphabetical list" at the bottom, then click Commonly Used at the top. Then choose from the drop-down menu.
4. Set Up Site Search Tracking
If your website has a search bar, setting up site search tracking is an easy way to know what your visitors look for when navigating your site.
How do your visitors use your site's search function? What queries do they make?
This report shows:
Search queries taken by website visitors
The frequency visitors leave after executing a search
Pages visitors start searching from
To set this up, perform a search on your website.
I'll use the search term "betterment" on our finance site.

Note the URL generated when performing the search. 
Mine looked like this:

Now with that URL fraction, head to your Google Analytics account.
Head to the Admin > Create View > View Settings.
Scroll down until you see "Site Search Tracking." Once there:
Toggle it to "On"
Enter the letter "s" in the Query parameter box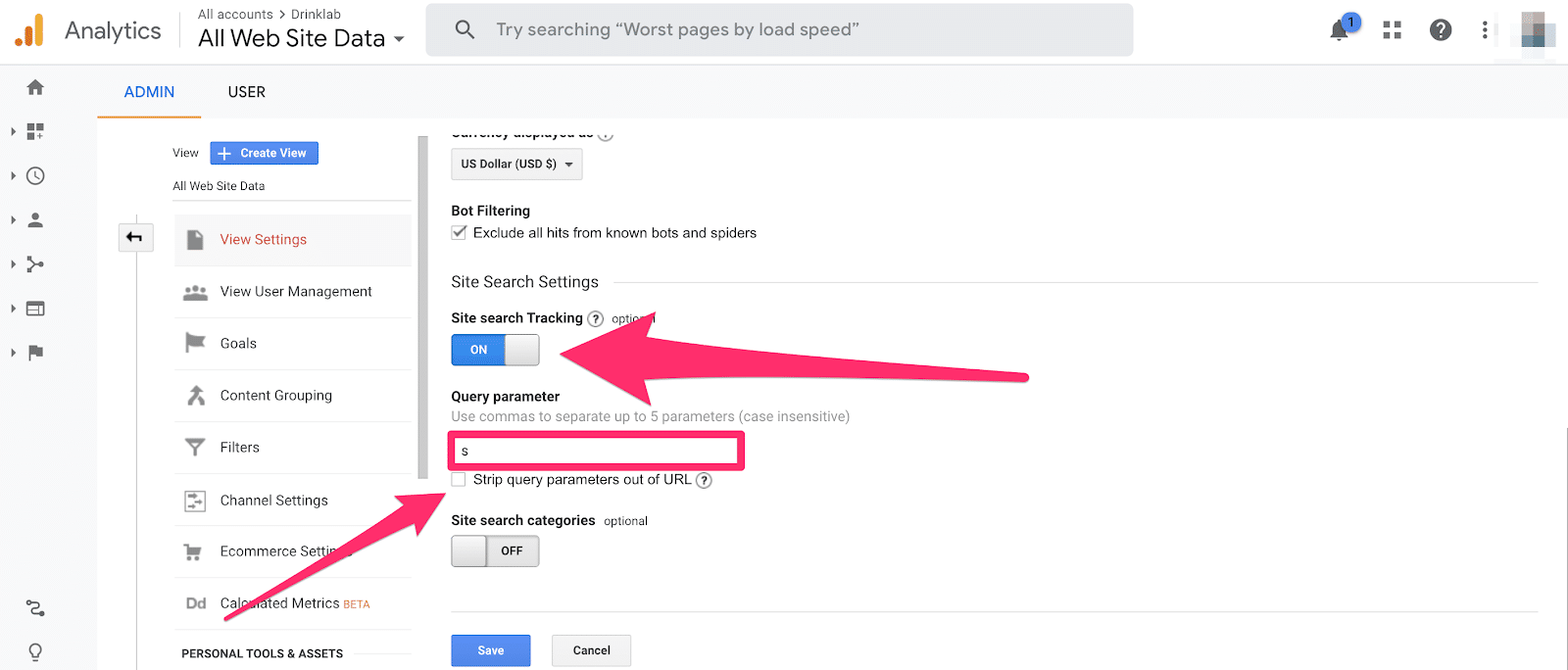 Then click "Save."
Sidenote: The letter displaying before the equal sign and keyword you searched for is the query parameter. Common query parameters can be s or q. WordPress sites typically use "s." Looking at what I searched for, you can see the letter "s" followed by my query.
If you want to have the query parameter excluded from all reports, tick the "Strip query parameters out of URL" box.

Further Reading:
5. Create Goals
This will depend on the type of site you have. At Listen Money Matters, it's our course pages and thank-you page for subscribers.
For our affiliate site, it's an external link click since 100% of those are monetized.
To take it a step further, you can assign values.
For Lasso, that would be the LTV of a customer (accounting for our trial conversion rate), for our affiliate site, it would be the distilled earnings-per-click (EPC) for an external link.
At Lasso, a Goal is making it to the Congratulations page to track a trial start.
You can use goal templates or custom goals, but you should be satisfied with the goal templates provided by Google Analytics.
To create a goal, go to Create View > Goals.

Then hit + New Goal

Under goal setup, you can choose either a goal template or a custom goal. 
Now choose the goal type:
Revenue (e.g., reservations and completed purchases)
Acquisition: (e.g., creating an account)
Inquiry:  (e.g., completing a contact form, viewing deals, or getting referrals)
Engagement: (e.g., shared on social media or newsletter sign-up)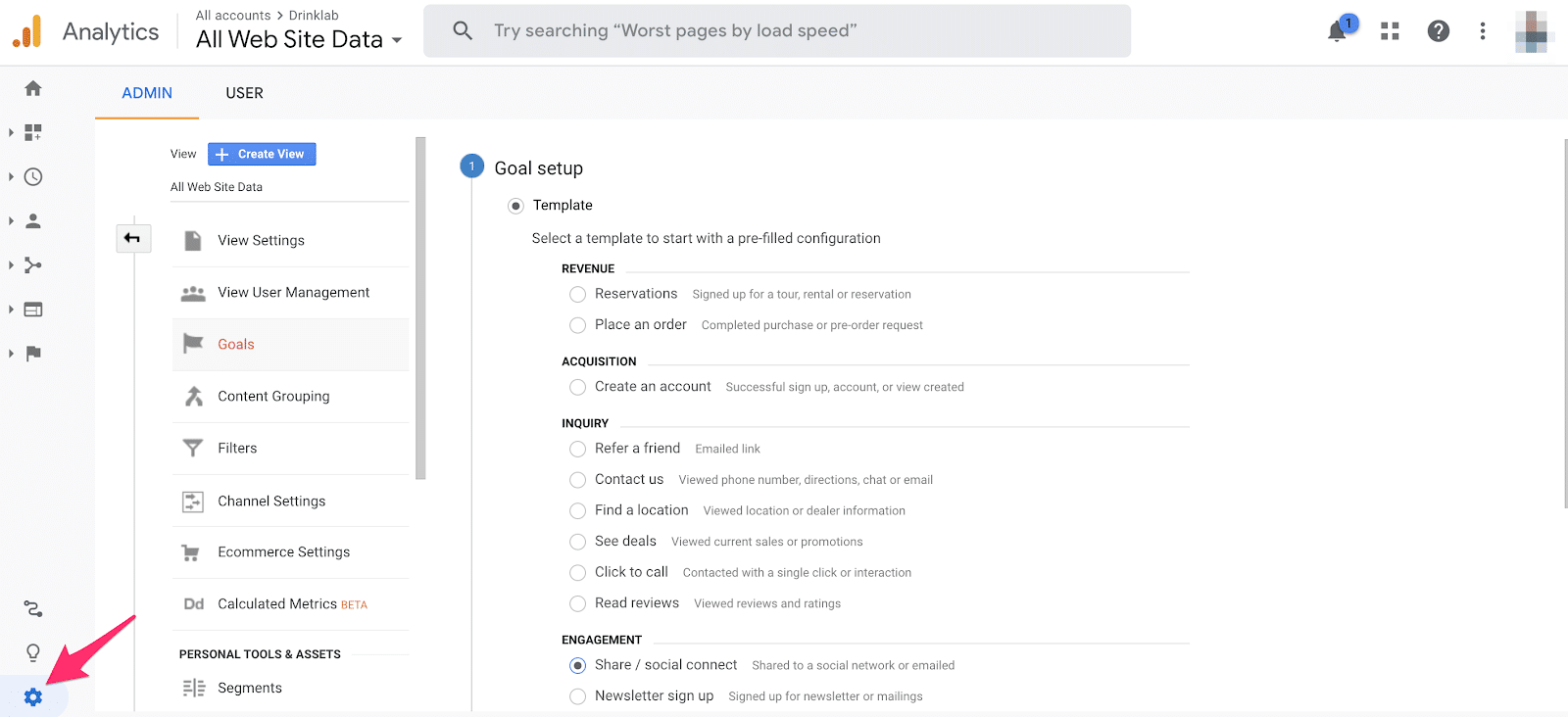 Under Goal Description, name your goal and the goal type:
Destination (at Lasso, it's making it to the "Congratulations" page for new trials)
Duration
Pages/Screens per session
Event

Have a destination goal that sends users to a separate page (i.e., like when a user signs up for a newsletter or starts a free trial and then gets taken to a "thank you" page or "congratulations!"
It'll make monitoring this goal easier.
Set the Destination to "Equals to" and then the URL slug of the page you want to track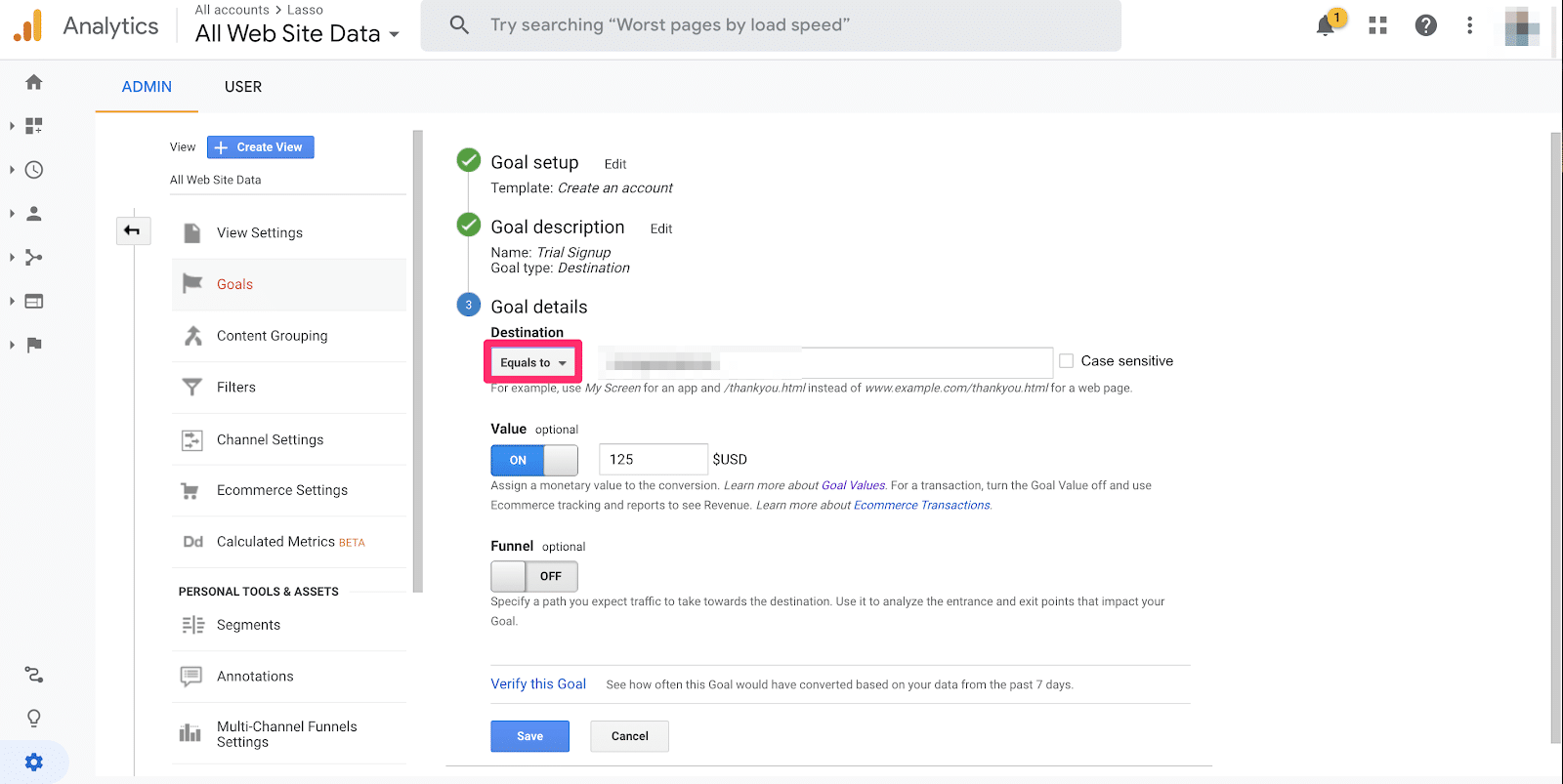 If you're taking it a step further, assign a monetary value to your goal. Then click "Save." The URL slug serves as the destination meant to complete the goal conversion.
Sidenote: The URL slug appears after your domain name. For example, "drinklab.com/thanks" where "/thanks" is the slug and the portion you'd enter in "Destination equals to" box.
This is only one way you could do it. For more details, head to Google's setting up goals page.
6. Connect Your Site to Google Search Console
Link Google Analytics with Search Console so you can bring that data together and draw conclusions from it. For example, you can look at pages with high impressions or a high rank with a low CTR and assume that:
You can improve upon your title and meta description
You're ranking for something where you're irrelevant, so you need to reposition
While you can keep these separate, it's nice having the data in one place. 
Head to the gear icon for your Admin panel in the lower left and then click Create Property > Property Settings.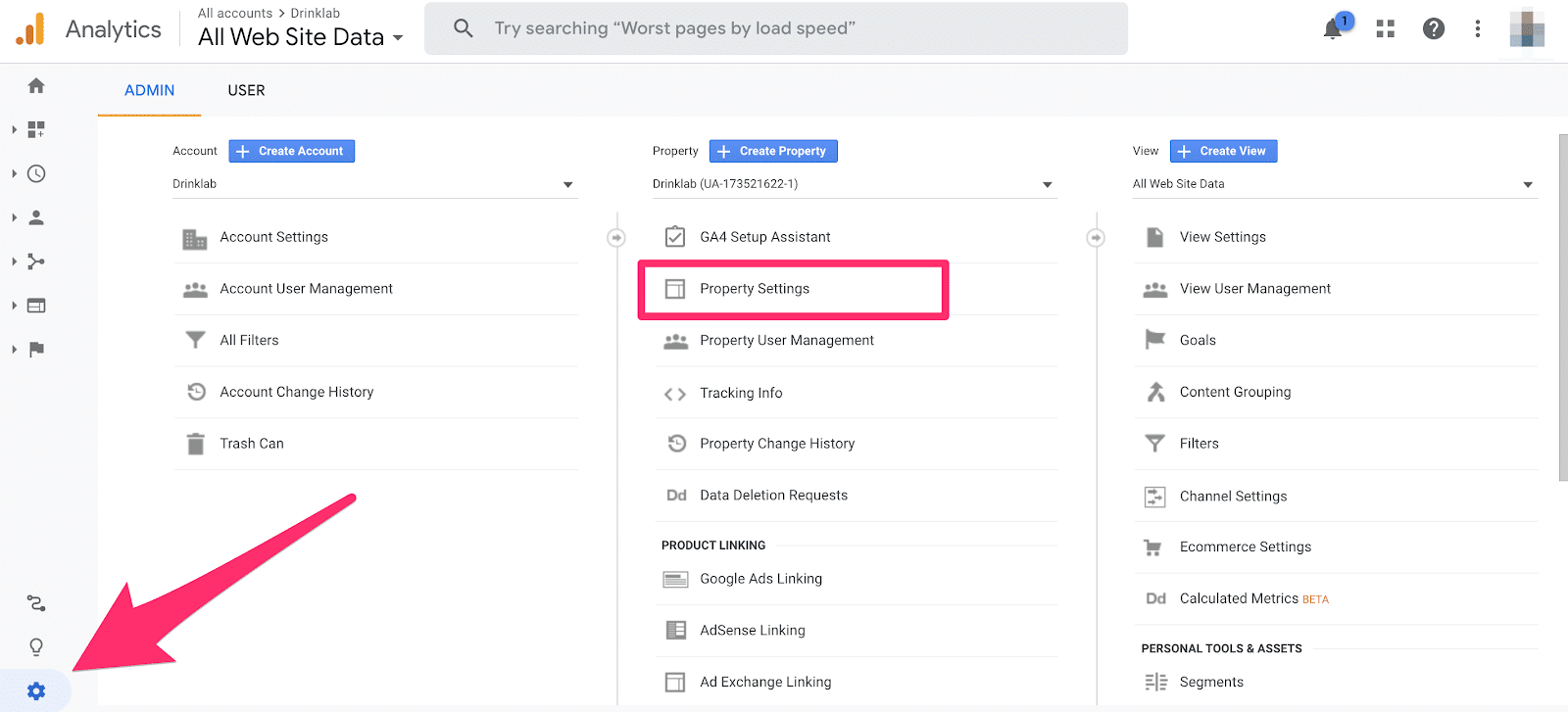 Then scroll down to "Adjust Search Console" and click it.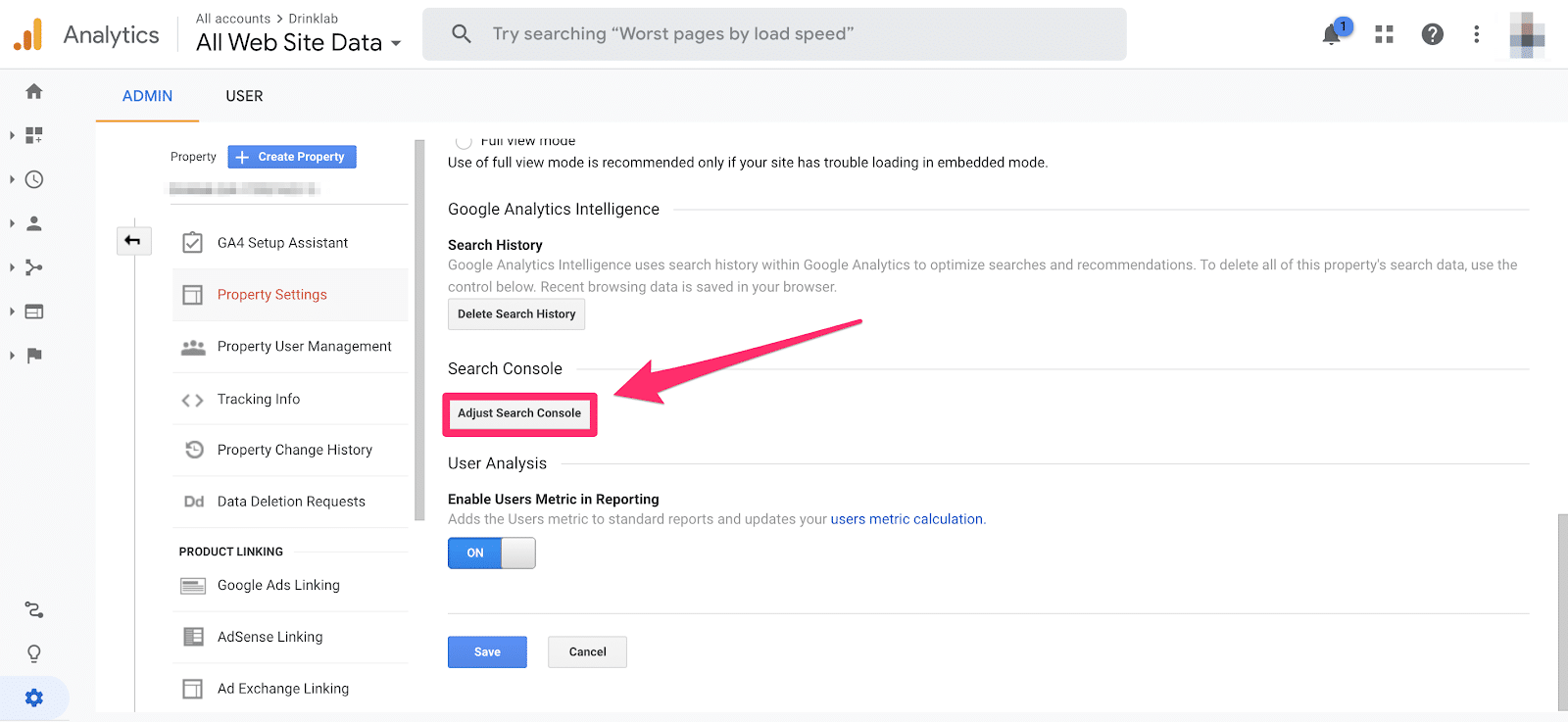 Then choose which property (i.e., your website domain) you'd like to connect with Google Analytics and click "add."
Once you're done, click Save.
Then, once Google has your data, you can find it inside your Analytics dashboard. If you want to find out which queries drive traffic to your website, try Acquisition > Search Console > Queries.
The Queries report shows you which phrases your site ranks for with search engines.
Here you'll also see:
Clicks (number of times people click on your article after seeing it display in the SERPs
Impressions (number of times your articles appear in search results)
CTR (value based on the number of clicks divided by impressions. e.g., your post appears 100 times in search results and gets ten clicks — that's a 10% CTR)
Average position (how high your articles rank)
7. Add Campaign Tracking Code
To measure the engagement and learn more about where your visitors come from, you can add tracking code to campaigns.
Tracking code (aka UTM tags) are additional parameters appearing in your URL. For example, a regular link might look like this:
https://getlasso.co/conversion-copywriting-course
That same link with tracking code now appears:
getlasso.co/conversion-copywriting-course?utm_source=pinterest.com?utm_medium=social?utm_campaign=pinterest%20ads
These could be affiliate links, blog posts, email campaigns, digital products, social media posts, or ads.
Why are campaign tags important? Because they let you see how your link was seen.
For example, you might have an online course you're promoting in your newsletter and your Pinterest account.
You can track it easier by setting up campaigns for both mediums.
Sidenote: You'll need a URL builder for this. Google has one, or you can run a Google search for "best URL builder."
Here's a URL builder I tried that worked like a charm.
Once you copy the link, paste it into your email newsletter or ad before sending it out (instead of the regular URL linking to your blog without the tag).
For Lasso, a few examples worth tracking might be newsletter subscribers, new trials converting from Facebook ads or paid subscribers who upgrade via a special link.
To see your campaigns, head to Acquisitions > Campaigns >  All campaigns.
Then you can track:
Where people see your message
How you communicated the message
The specific marketing campaign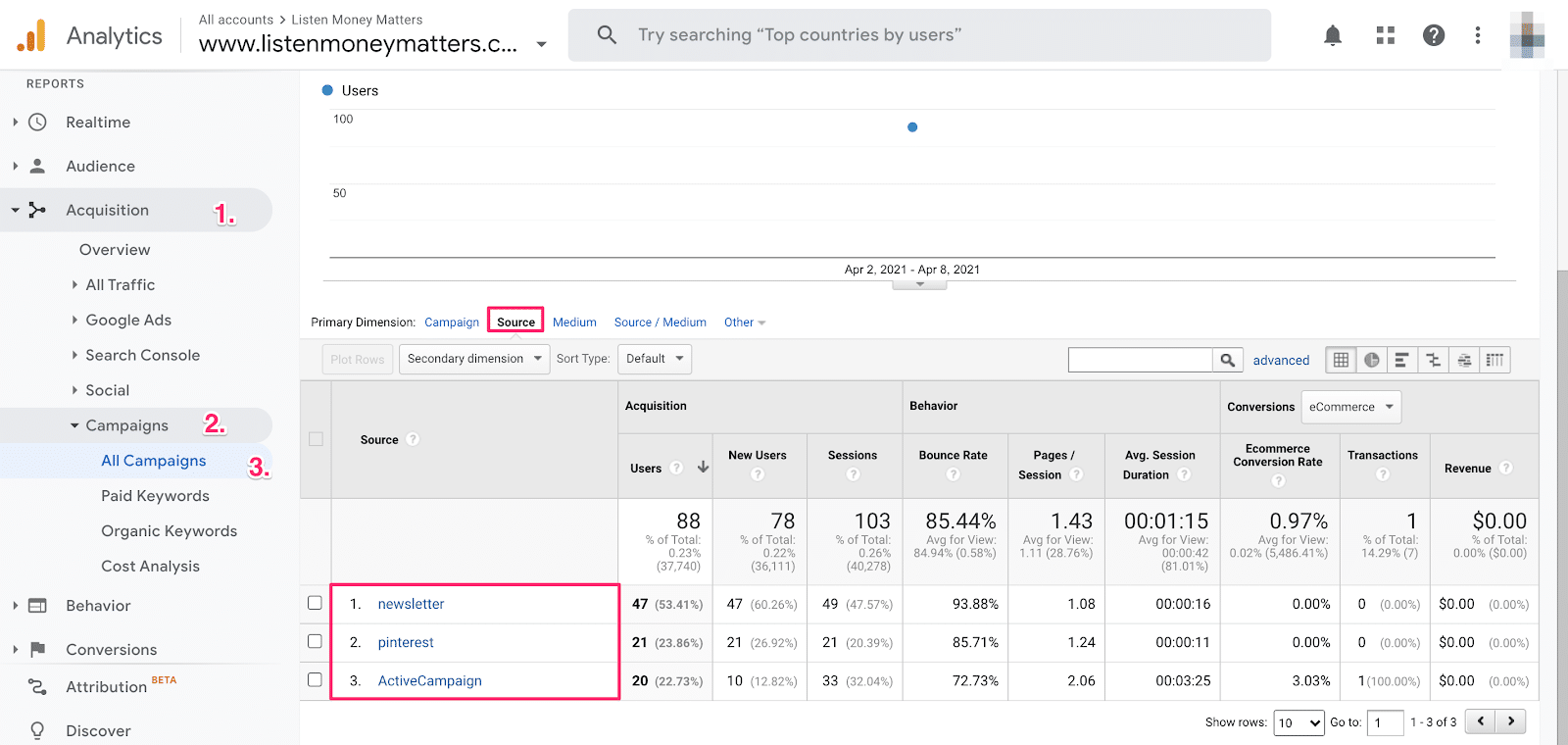 Here's an example of tracking our newsletter, a Pinterest experiment, and testing Active Campaign as an alternative email hosting service.
8. Create a Saved Report
Saved reports are ideal for tracking a limited subset of data. We do this with all manner of things within Lasso.
An example of this is tracking only blog visits. Once you set your filters, you can repeatedly revisit this information without continuously adjusting your settings.
Here's how we did it with your blog: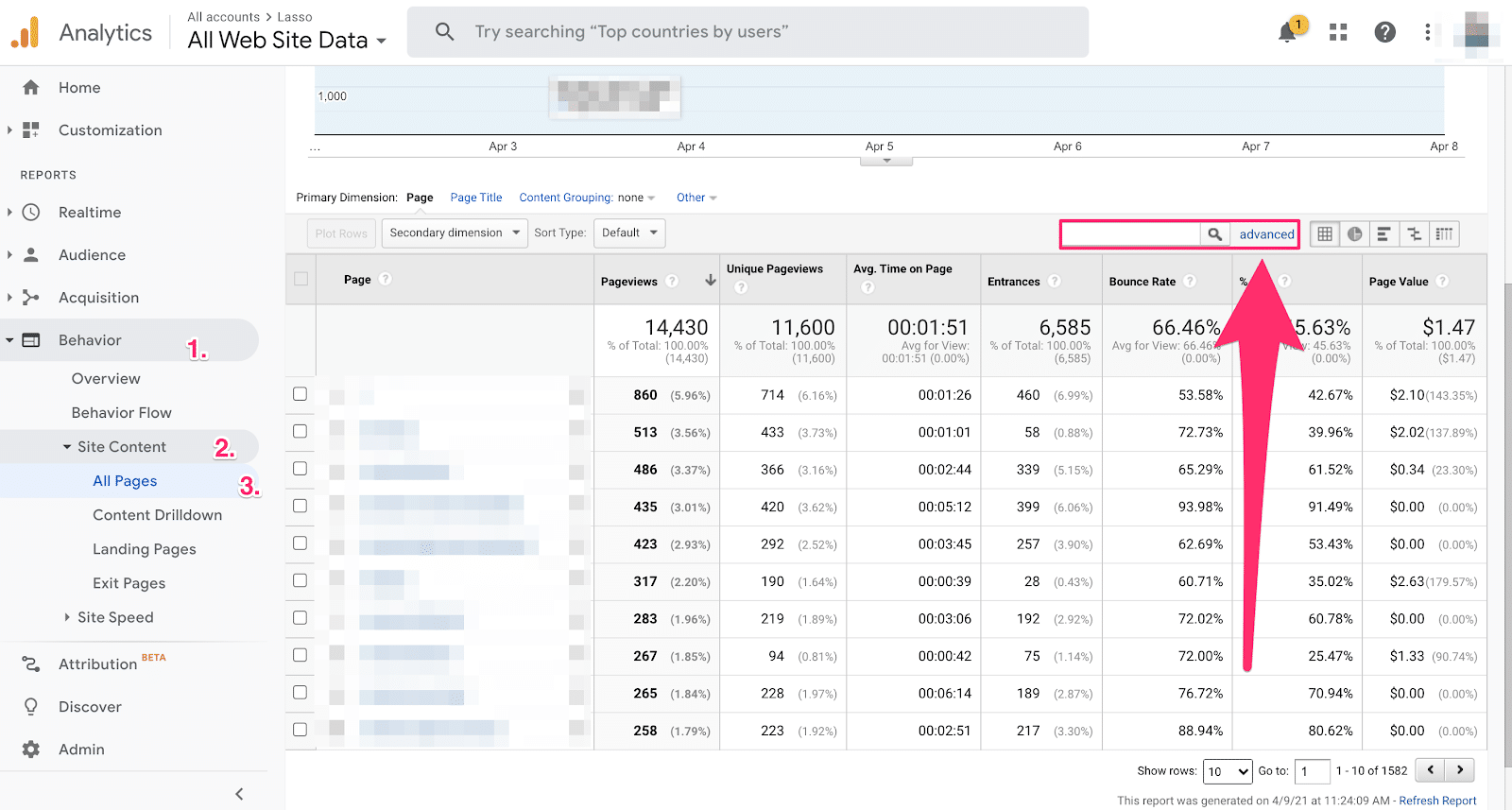 Head to Behavior > Site Content > All Pages and click "advanced" next to the search bar.
For the filters, we tried selecting various settings from the drop-down menu:
Set to "Exclude"
Set to "Page"
Adjust to "Begins with," "Exactly Matching," or "Containing"
Enter the URL slug of the pages you DO NOT want appearing in the saved report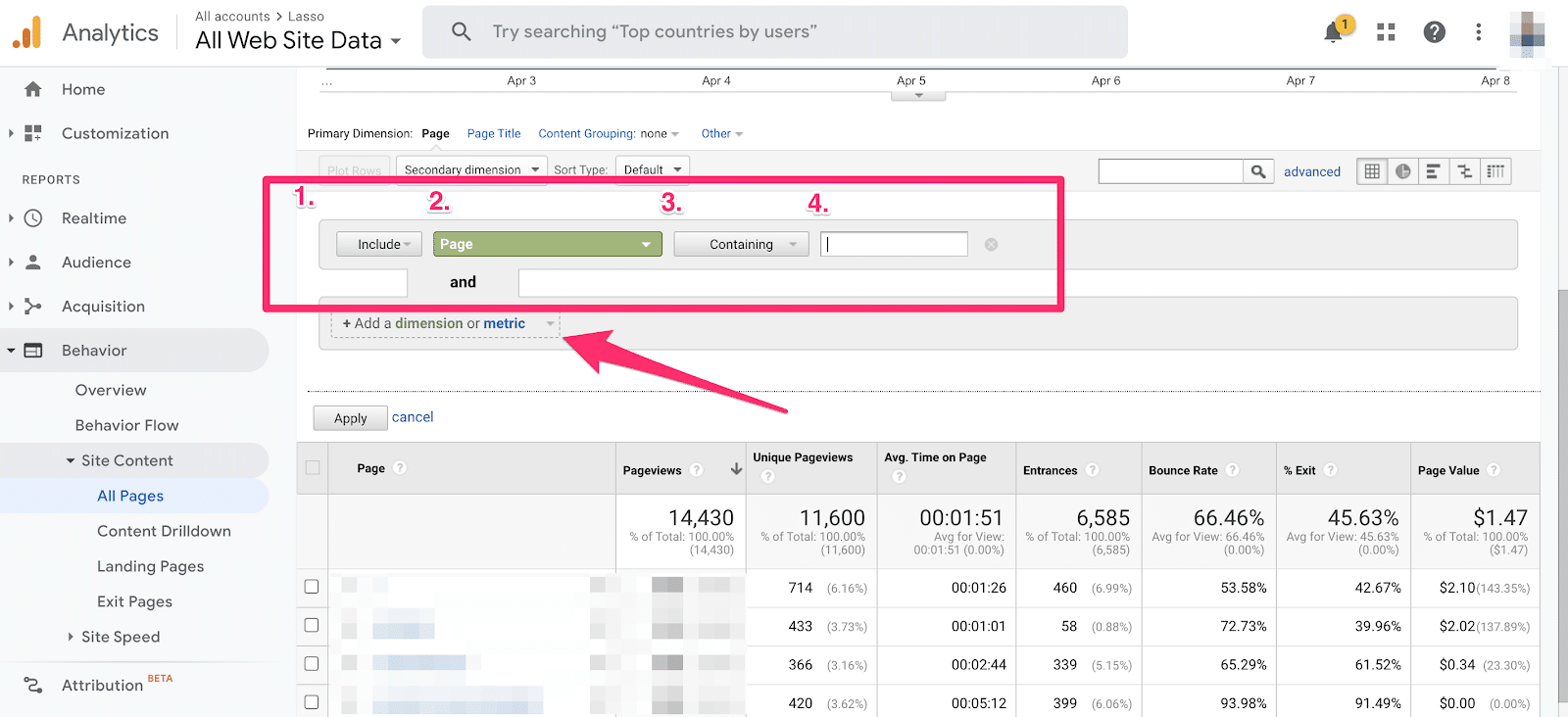 Here's what ours looks like when excluding specific pages: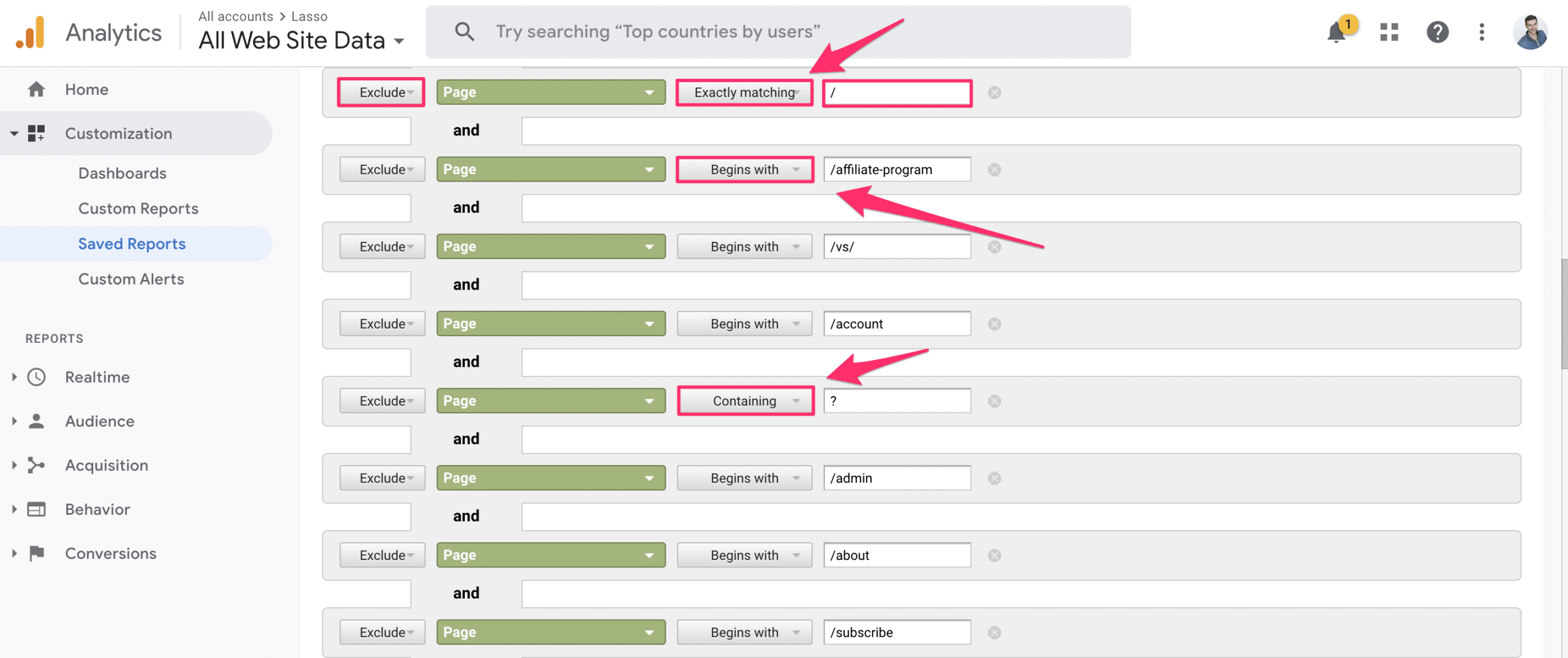 Yours will look differently depending on what you want to be excluded. 
When you're done, hit "Save" and give it a name.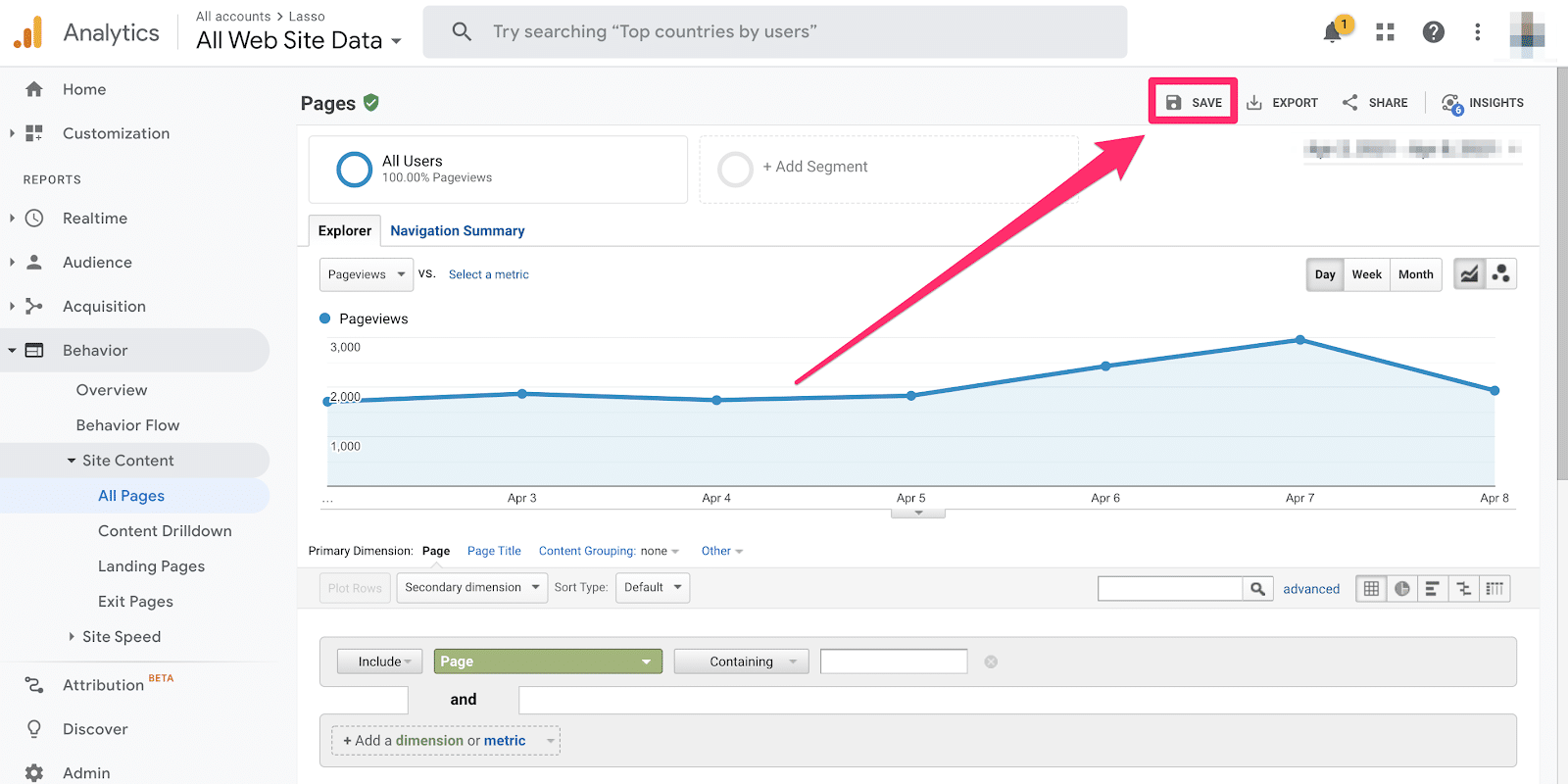 Now head to Customization > Saved Reports. Your saved report now appears here (be sure and give it a name), and you no longer need to reset your filters each time you want to track only your blog visits.

If you're running a content-first site, you could use it to monitor a specific subset of pages (perhaps top-level category pages or key top-of-funnel pages).
9. Content Grouping
We use this to segment by topic on our finance site (income, debt, budget, invest) or segment by author (who's creations perform best and on what).
To set up a content grouping, head to Behavior > Site Content > All Pages.
Then click "advanced" and select Author (Content Group) from the drop-down menu. Now include the author's name.
Then every post written by that person displays along with its performance.
If you run a site with multiple authors, this is an excellent way to track their success. Or, if you segment by topic, you can see which topics perform well.
If you have several category pages, head back to "Secondary dimension" and scroll down to "Page Category."
These are only a few ways you can use segmentation for refined custom reports. You can head here to learn more about segmenting your audience with Analytics.
What Are the 4 Scopes of Google Analytics?
Google Analytics reports use four scopes (i.e., custom dimensions and metrics) to filter and organize your data. They are:
Hit data
User data
Session data
Product data (eCommerce only)
Hit data is a single action on your website (e.g., downloading a PDF). User data comes from the client ID (i.e., tracking code) assigned to every user who visits your website.
The piece of tracking code generated by GA is stored in a cookie on the person's browser. Google tracks cookies – not people – when analyzing user data.
Takeaway: When a single person visits the same website from different devices (each with its own cookie), Google interprets that as two visits – not one.
Google says session data is user interactions taking place on your website within a given timeframe. All actions taken on your site fall under this category (e.g., multiple pageviews or transactions).
Actionable Lessons for Making the Most of Your Google Analytics Data
Here are a few examples of the things you can do now that you've set up Google Analytics.
Users
Head to Audience > Overview
Users split into "users" and "new users." Users are people who've visited your site multiple times while new ones have never visited before.
GA uses cookies to help monitor your website traffic, but it's not always accurate because people can use different browsers, block cookies, or use an incognito tab.
What to do with this
One useful thing to do with the people visiting your site is to enable the Demographics and Interests report.
Once enabled, it'll say "Congratulations!"
This report lets you analyze users by age, category, and interests. But it further segments into affinity categories.
These can help you personalize your reader's experience depending on how you segment your list of customers. e.g., technophiles, sports fans, or travel buffs.
Once enabled, head to Audience > Interests > Affinity Categories.
Potentially craft offers, content, or products based on your top 2-3 affinity categories.
Enhance Articles That "Almost Rank On Page 1" 
I read this fantastic post by Andy Crestodina a while back about using the Queries report to improve Google rankings.
In it, Andy mentions that we all have posts that rank on page two of the SERP that we'd like to appear on the first page.
So this could be an opportunity to reposition those posts or improve their title and meta description, as I mentioned earlier.
Here's how.
Go to Acquisition > Search Console > Queries. Then set an advanced filter to include:
Average position is greater than 10
Click "Apply"
Now you see all of those pages that are close to hitting page one.
Take a look at posts ranking in positions 11-15 in Analytics. Then run a Google search in an incognito browser to see if your search for the same keyword phrase appears where Analytics says it does.
For the ones that do rank close to the top ten positions, troubleshoot your post to make sure it:
Matches search intent
Is relevant
You may need to update your title, or perhaps the content itself needs adjusting. Try running your article against the top-ranking pages using Ahrefs Content Gap report for a little extra help.
Use Event Tracking with Your Affiliate Links
If you use a tool like Lasso, you can connect it to Google Analytics to monitor your links. Once you connect to GA, head to Behavior > Events > Top Events.
Every click registers as an Event in Google Analytics. Seeing your top-performing affiliate links can help with their placement.
For example, if you have a keto website, and your Bulletproof coffee product gets a lot of clicks from a text-only link at the bottom of a blog post, you could move that product link higher up the page and try using a custom Lasso display to test whether it attracts more clicks.
As an affiliate marketer, more clicks can lead to more sales which mean higher commissions for you.
Using Lasso can help you measure your affiliate links' performance.
Harvest Data from Your Top Conversion Paths
You can access which channels bring the most traffic and conversions if you head to Conversions > Multi-Channel Funnels > Top Conversion Paths.
This report lets you see the flow of your conversions and their sources.
We can see most of our conversions come from organic search while only one comes from a social network.
This presents an opportunity to either:
Double-down on what's working (organic traffic)
Improve our social media presence to drive more conversions there
Compare Data Against Previous Periods
This is especially helpful when tracking progress and monitoring your website's improvements over time in key areas.
For example, if you're monitoring your monthly blog visits for growth and you want to compare this quarter to the last quarter.
You can use the date ranges to compare the current period to the previous period.
Let's say I'm using my Saved Report "Performance of Key Pages – Blog Visits." I could head to Customization > Saved Reports and find it there.
Then set the date range to compare Jan 1, 2021 – Mar 31, 2021, against the previous quarter when clicking the dropdown menu.
Hopefully, things are improving, and if not, here's a chance to discover why. In this example, blog pageviews are increasing with a 126% increase from last quarter.
Last Words
Whether you're trying to improve your website's search engine optimization (SEO) or run an Adwords campaign, these Google Analytics best practices should help boost your site's chances of success.
Thirsty for more? Read this.
Our creations in your inbox, weekly.
We've built multiple six-figure online businesses that our moms are proud of.
We'd like to help you do the same.