One of the biggest obstacles to running a profitable online business is finding the right affiliate programs. Without them, it's tough to build long-term relationships with merchants, track sales, and get paid for your marketing efforts.
There is a myriad of ways available and we've found nine simple approaches you can use immediately to identify and vet your offers so you continue to make money.
Let's dive in.
1. Lasso's Opportunities Report
If you're unfamiliar with our affiliate marketing WordPress plugin, Lasso, it does many things, like creating product displays and managing your links. It also helps you find potential affiliate programs to sign up for.
From inside your dashboard, click Opportunities > Affiliate Programs.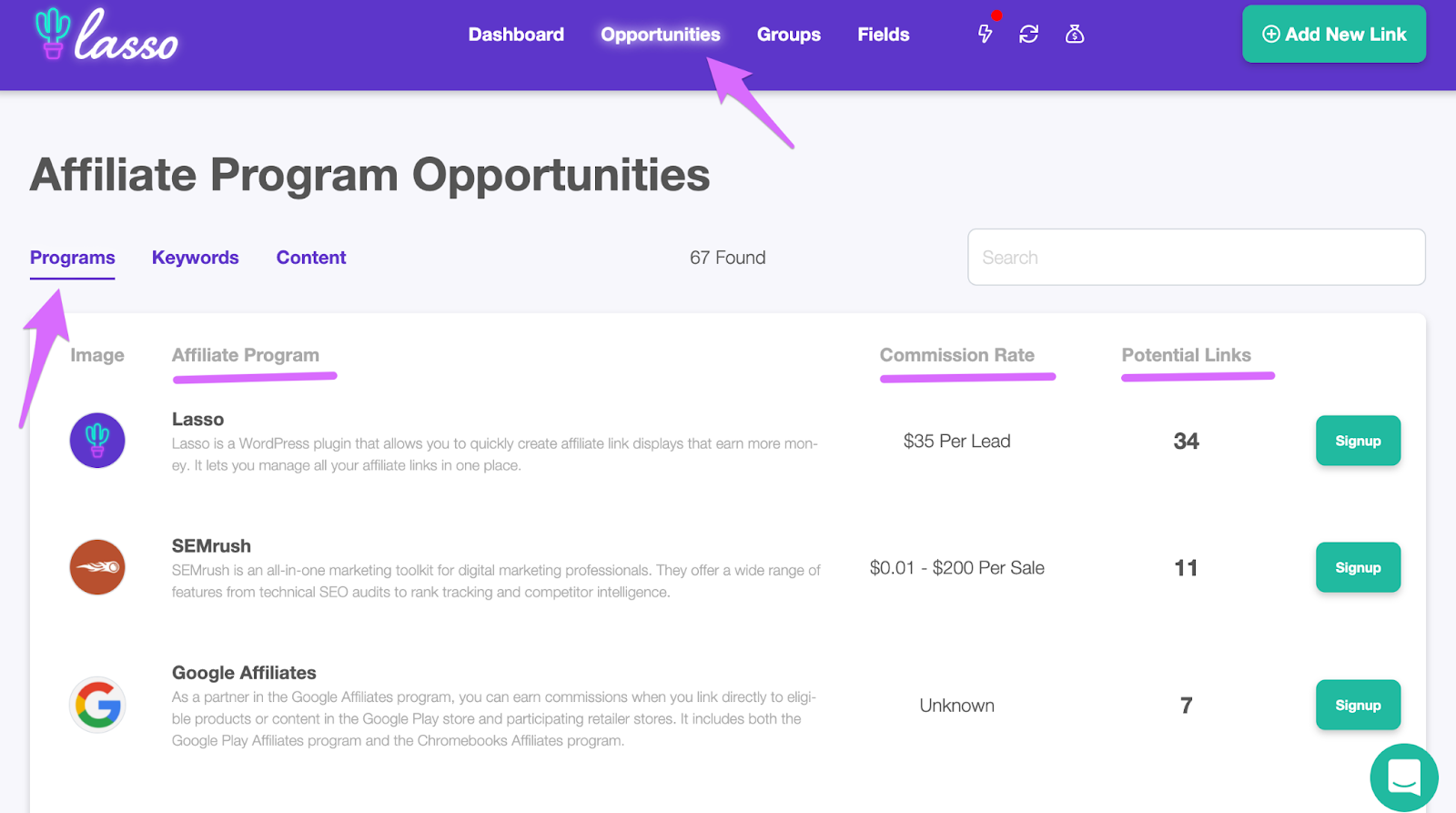 This shows you:
Potential affiliate programs based on the domains you already link to
The commission rate for those programs
Potential link location across your site
Then, you can sign up for those programs from inside your Opportunities tab.
Once you've added some programs, you can look for contextual keywords related to your brand and add affiliate links.
You've added WP Engine's affiliate program to your site, but now you want to find every instance you've mentioned the term 'web hosting' so you can monetize that phrase.
Lasso lets you do it.
Head to Opportunities > Keywords and enter the term 'web hosting' into the search bar. Lasso scans your affiliate site for every place the keyword appears. Then, it lets you monetize it with the flick of a toggle.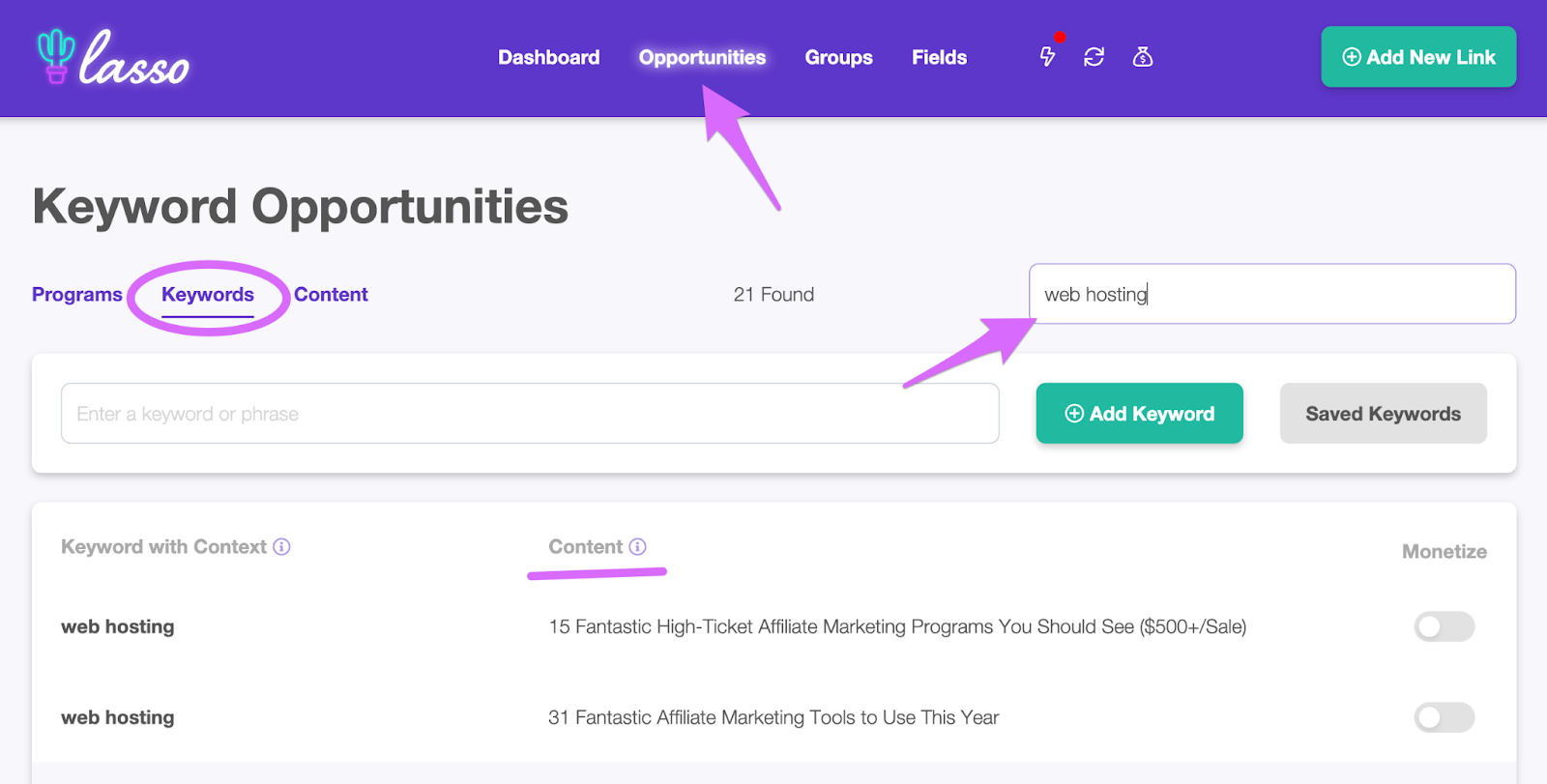 Further Reading:
2. Use the Affilitizer Browser Extension
Affilitizer is a browser extension that lets you find affiliate programs directly in Google. It's compatible with Firefox and Chrome.
Affilitizer's icon displays next to it when you google a brand in the search engine results if it has an affiliate program.

So, for example, when I enter Semrush into Google, you see the icon appearing to the left.
Next, click the icon, and you'll see where you can sign up along with links to the landing page.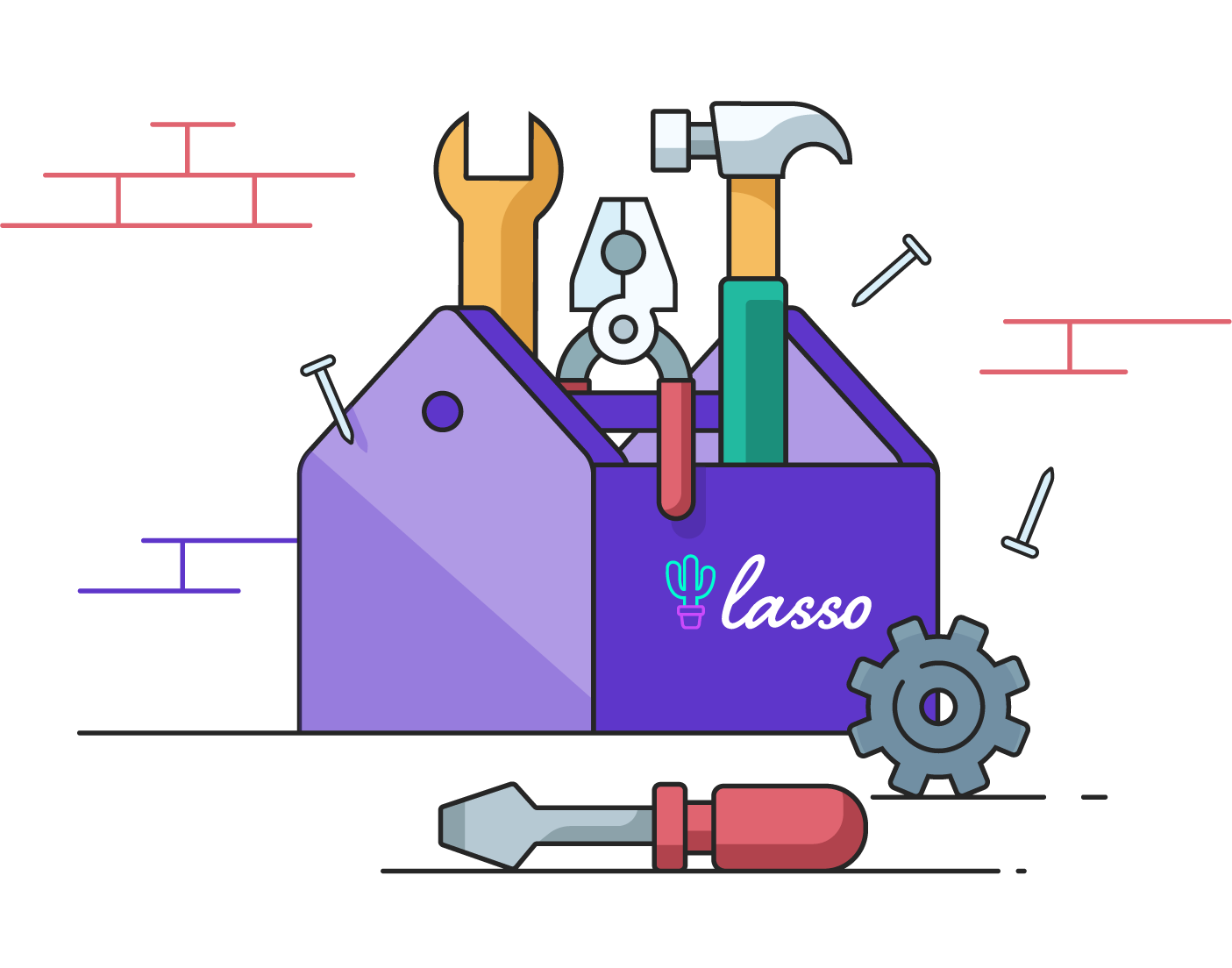 Get our FREE toolkit and checklist for writing articles that convert.
3. Run A Google Search
Perhaps the easiest way to find programs is with a simple Google search. Type a brand into the search field with the words "affiliate program."
For example: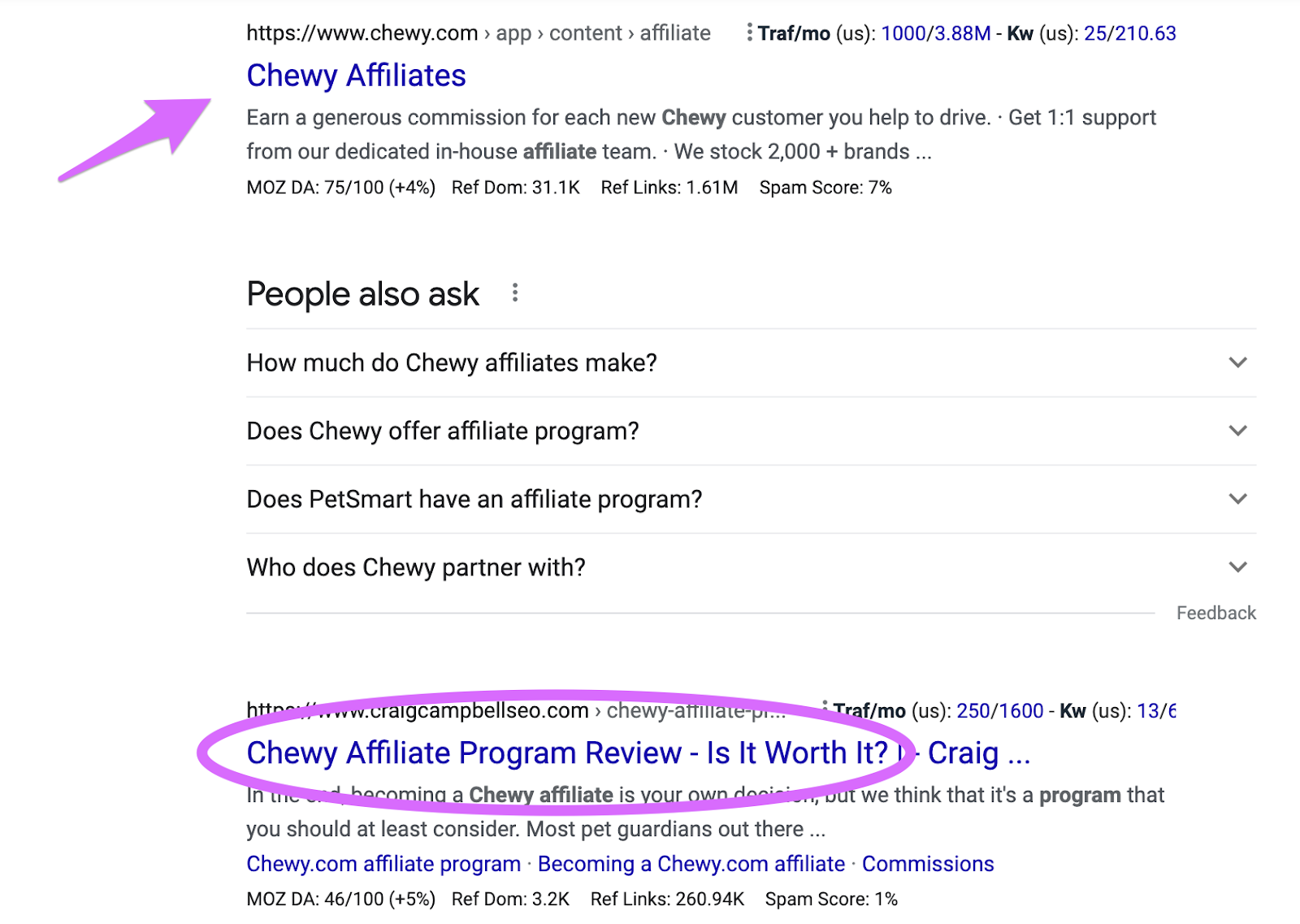 Another good thing to do when evaluating potential programs is to read their reviews. It helps you vet prospects. For example, you can see beneath Chewy's affiliate program; there's a review.
4. Find Your Competitor's Affiliate Links
You can run your website URL into a tool like Ahrefs to see competing domains in your niche. Head to Site Explorer, enter your site, then head to the Competing Domains report.

Select a competitor, find some of their product reviews and best list posts, and go spy.
For instance, when we look at Millennial Money's Best Money Making Apps article, we can find good ideas about which products have affiliate links.
Here's what we get when clicking on Truebill.

Sometimes the affiliate network's name displays in the URL. Other times, you'll see something like this:
It's a good indicator that it's an affiliate link. Explore competitor products by either clicking or hovering over the link and inspecting the URL string.
5. Examine Tracking Links
You can also play around with the affiliate links themselves.
For example, suppose you wanted to see the backlink profile of domains linking to Clickbank's affiliate program. In that case, you'd take the root tracking domain, run it through Ahrefs Site Explorer > Backlinks, and adjust the filters.
In the below example, I set the filters to:
Nofollow links
Backlink type: in content
Ref page: English
Anchor with surrounding text: web hosting (swap my keyword or brand with yours)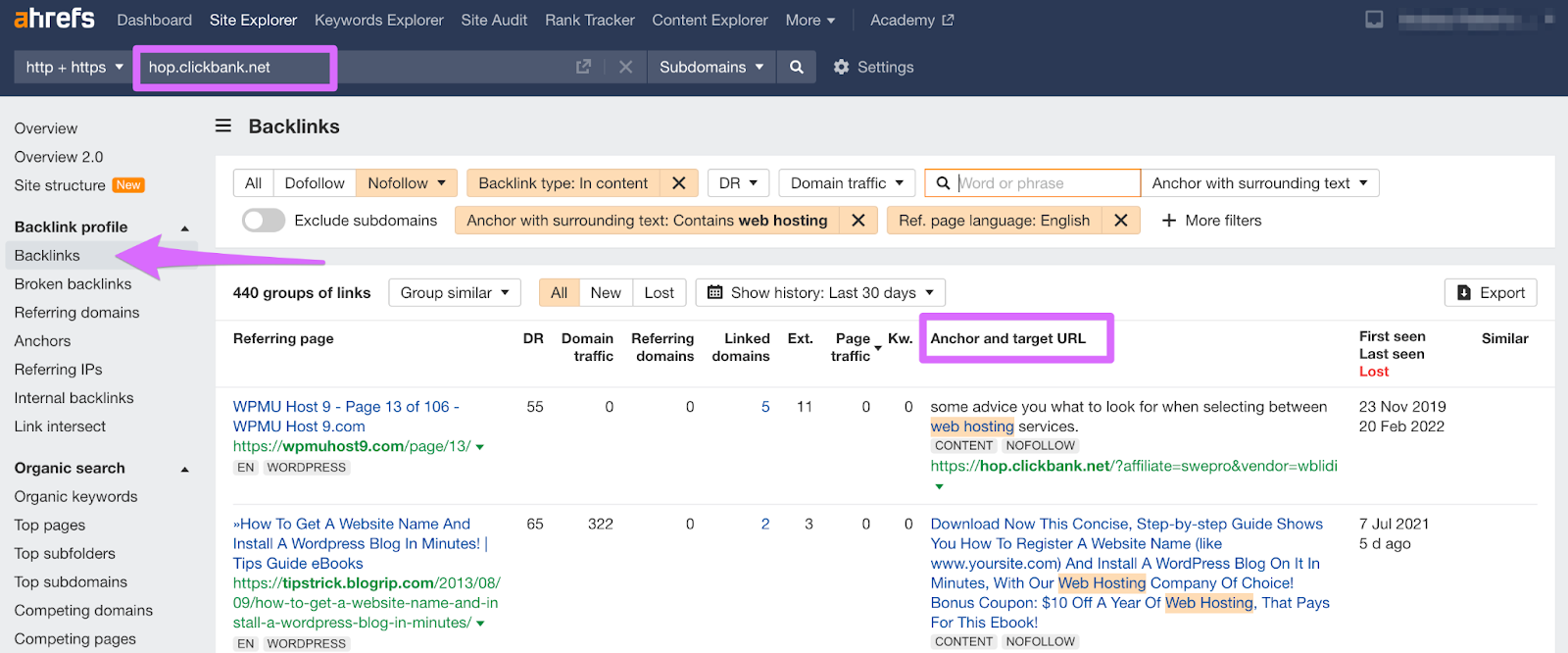 The "Anchor and target URL" column on the right indicates the affiliate programs promoted there.
Alternatively, you can try using no filters and seeing what programs display in the Anchor and target URL column.
Here are some popular tracking domains you can test to see which brands link to which programs:
Amazon Associates: Amzn.to
ShareASale: shareasale.com/r.cfm
CJ Affiliate (formerly Commission Junction): www.kqzyfj.com
Sidenote: Once you find a program, run the page URL it's on through Ahrefs Site Explorer to see its monthly organic traffic. If that number is high, it might be a good program and product for you to promote.
Further Reading:
6. Review Affiliate Directories
Affiliate directories compile all of the affiliate programs into a database so you can search for them in one location. Then, if you find one relevant to your niche, you can sign up.
Sometimes, Google searches won't always display the programs (or bury them deep in the SERPs). So, an affiliate directory comes in handy.
Sidenote: You can check our database and sign up with over 5,600 of the best affiliate programs on our site here.
7. Connect with Affiliate Managers On Linkedin
You may already know of a brand, but perhaps you want to build a relationship with its affiliate manager. One way to conduct outreach is on Linkedin.
Type 'affiliate manager' into the search field and filter by:
Next, enter the name of the brand or retailer you'd like to contact.
For example, if you wanted to become a Lasso affiliate partner, you could type 'Lasso Analytics' into the field.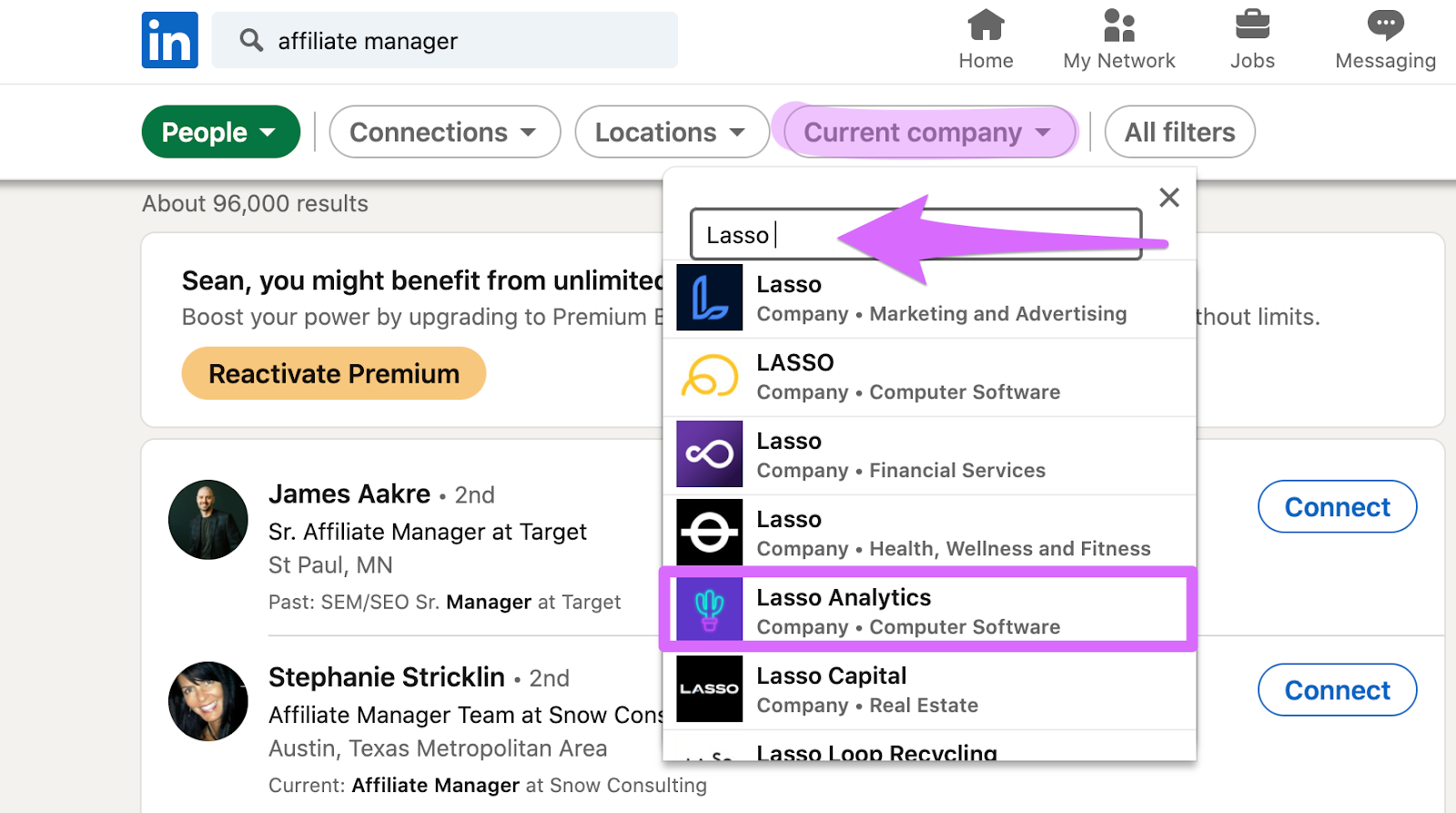 Finally, click "show results." Rinse and repeat this process for every person you want to contact.
8. Explore Online Forums
Online forums are excellent places for finding new affiliate programs. You can also get advice on which products others have successfully promoted.
Start with Quora or Reddit.
For Quora, type 'affiliate program' into the search bar.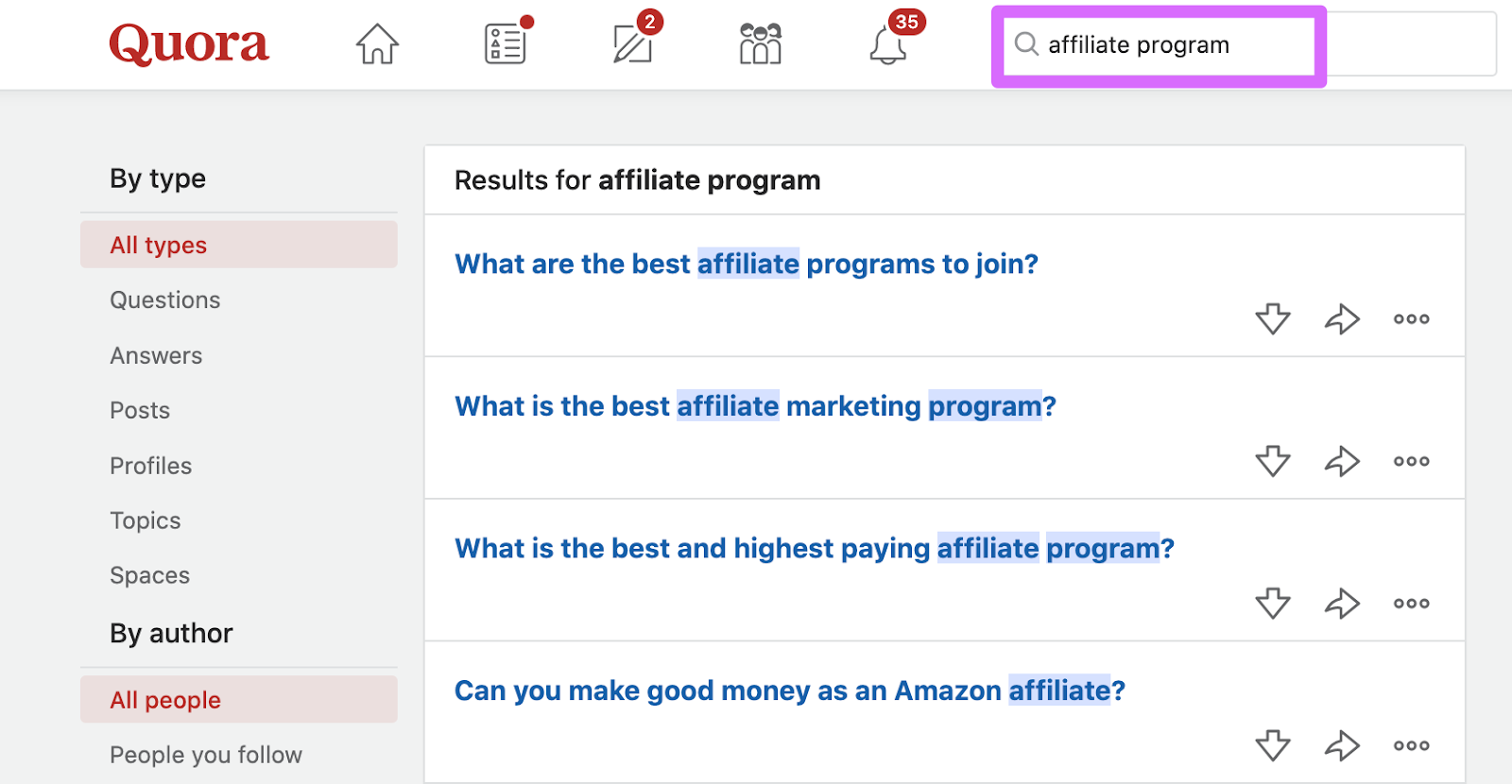 To refine your search, adjust your filters to:
This will give you the most updated and relevant replies. In addition, Reddit has an active 15k+ affiliate marketing community you can tap for advice.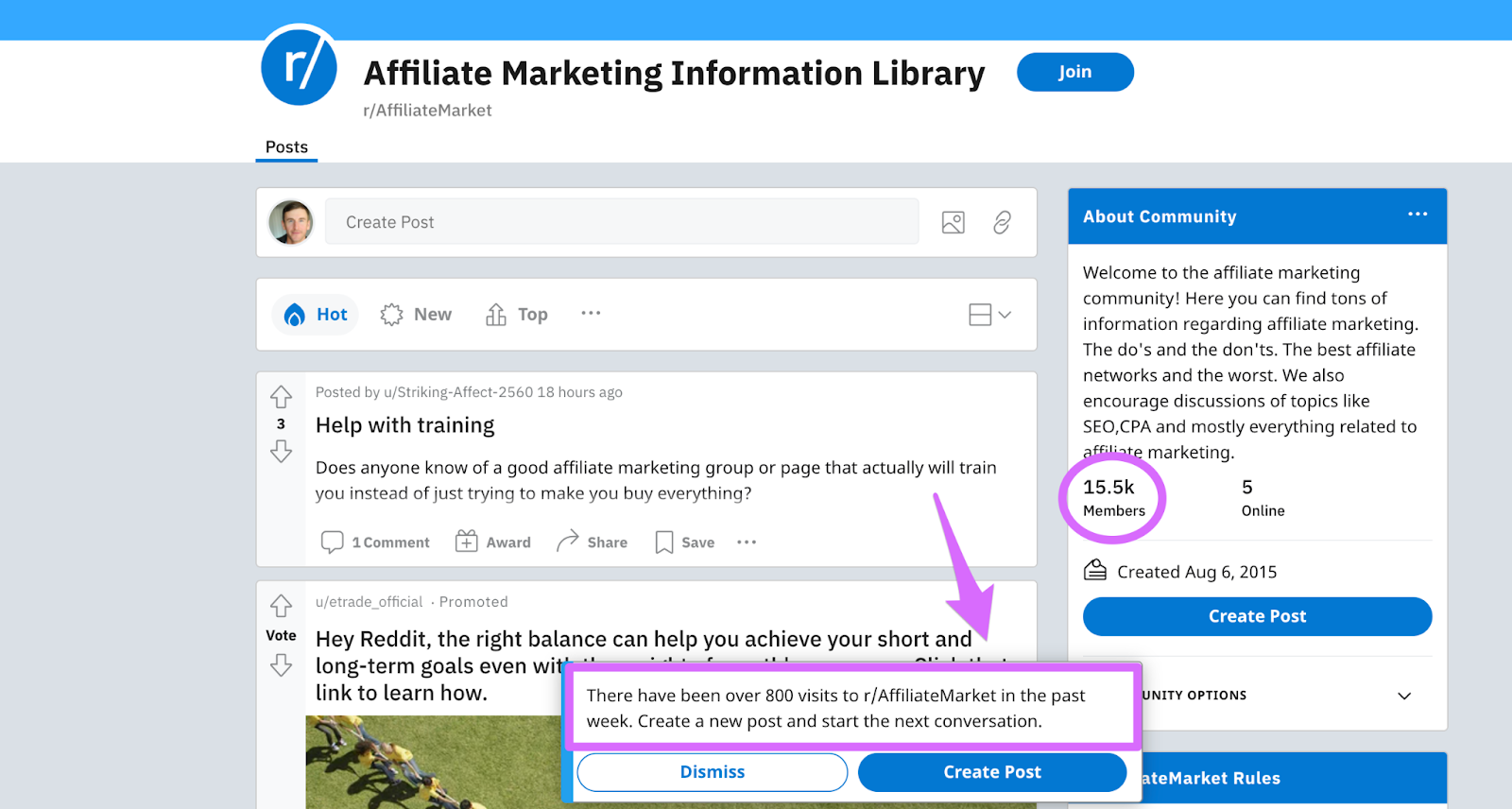 Search for affiliate program-related questions. To speed up this process, use an advanced search, such as:
site:reddit.com "affiliate program*"
9. Leverage Affiliate Marketing Facebook Groups
Social media is a great way to connect with people. And Facebook has a substantial number you can join for free. Head to Facebook and search using the term "affiliate marketing," then filter by "Group."
A couple worth checking out:
Note how active the groups are, and the questions people ask. On the other hand, some groups are low-quality and definite time-wasters.
You can also build relationships with influencers to test promoting your offers on their pages for a fee.
What if they don't have an affiliate program?
If a business has no affiliate program, check whether there's a referral program or partner program. Use your best judgment as not all of them pay in cash.
Some may only offer discounts or bonuses on their products, but nothing gets deposited into your bank account. Worth investigating if you're on the fence about a brand.
How to Vet Affiliate Programs
Many factors come into play when deciding on an affiliate program. Some will boast high EPCs and conversion rates while others flaunt high commissions.
Take all of these with a grain of salt.
Affiliate Network "Success" Metrics
Many of the more extensive affiliate networks list program details, including:
Conversion rates
Average order value (average sale)
Here's an example from ShareASale: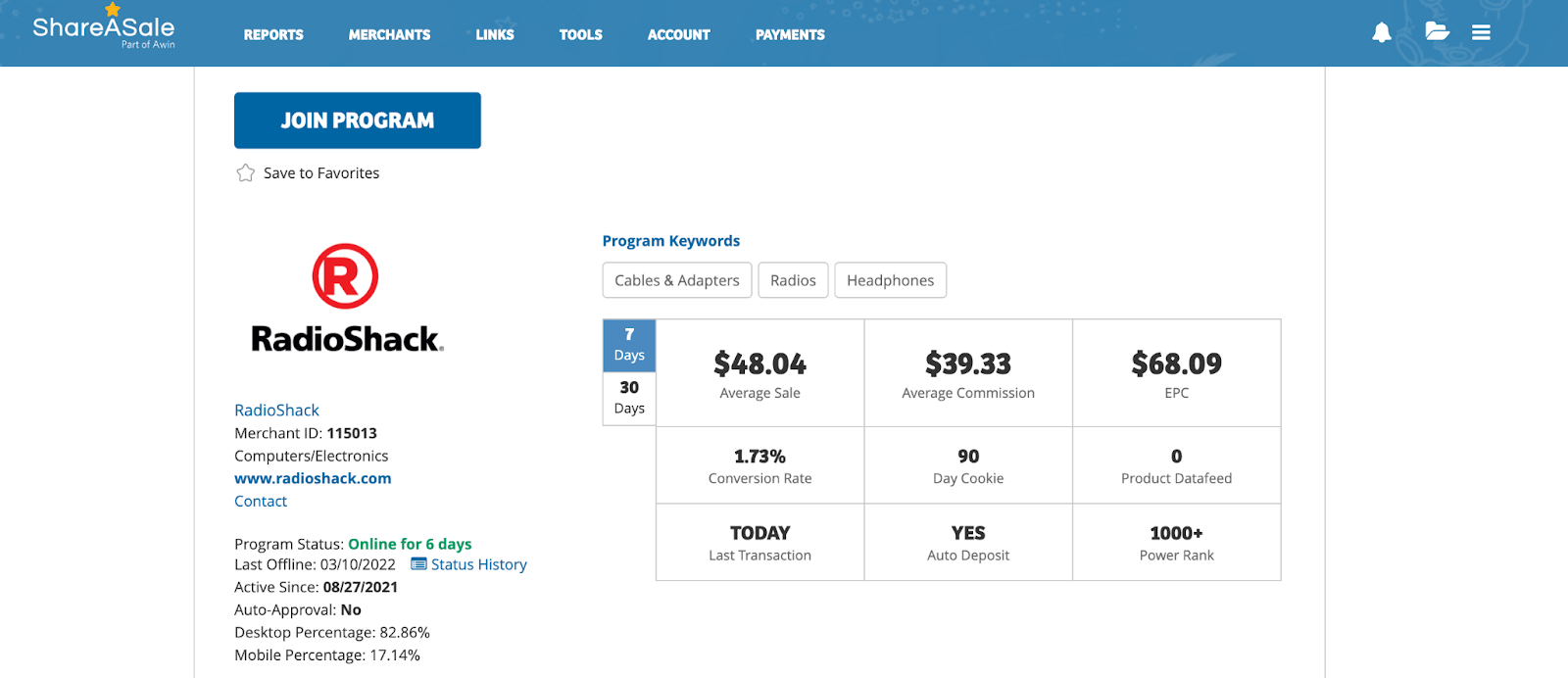 These are all things you should consider when integrating with your audience. Some products have a high EPC because some affiliates crush it. But, results vary.
Takeaway: Don't put too much faith in a program's EPC.
For example, we have affiliates who send us hundreds of clicks per month but make zero affiliate sales. On the other hand, some send us targeted traffic with far fewer clicks but convert like gangbusters.
Your traffic matters. Quality > quantity when it comes to higher commissions.
Another thing to consider is the brand's creative assets and sales page. Again, if they appear low-quality and are poorly designed, you're SOL.
For example, we built our displays to convert, and our numbers reflect that. As an affiliate promoting a product, ensure you send your visitors to a user-friendly landing page with an easy check-out.
If it's tough to use, you'll convert fewer people. Who would you rather be?:
Affiliate A: Sends us 1,000 clicks with 0 conversions
Affiliate B: Sends us 15 clicks with 5 conversions
Another thing to consider is how often people leave negative reviews or return items. For example, you can see the number of returned items in the Amazon associate dashboard.
Or another metric that programs reveal is the sales velocity (or Gravity), as Clickbank refers to it. This measures an affiliate product's conversion rate within a period.
The higher the number, the higher the number of people selling it.

What to Know Before Signing Up with An Affiliate Program
Locking in a solid program feels fantastic. First, however, make sure you know what you're signing up for.
Commission Structure
The payout matters but so does product quality. Nobody will buy crap from you twice. So earn trust the first time and promote great things.
Consider how you'll get paid. Compensation models include:
One-time payout
Recurring commission
CPA (cost per action)
Some brands offer a flat dollar amount, while others use a percentage of the sale. Then there are second-tier commissions where you earn affiliate income from the referrals of your referrals! You can also test your success in promoting physical vs. digital products.
Cookie Policy
A cookie is what gets stored in your visitor's browser when they click your affiliate link. As long as it remains there is how long you have to get credit for the sale. Once the cookie expires, you lose the opportunity.
Longer cookie durations extend your chance to earn commissions. For example, Amazon's cookie lasts 24 hours while Shopify's is 30 days.
Payment Frequency
The commission structure is worth noting, but so is how often you get paid. Some programs pay fortnightly while others pay monthly. Then, there are some that pay every 60 days. So, consider when the brand pays.
You should also understand how the money arrives in your bank account. Most businesses pay via Paypal or mobile deposit nowadays. Try to steer clear of programs paying by check, not worth the wait (or the risk of it getting lost in the mail).
Further Reading:
Affiliate Support
If you're serious about the products you promote, you should expect a serious and dedicated affiliate manager. Ideally, their platform will be user-friendly and provide you with marketing materials that get the job done.
Sidenote: For example, we give our affiliate partners custom pages and offers upon request to help them promote Lasso. Incentives can turn a good offer into a great one.
If it's too much hassle working with a specific program, walk away.
What Is the Best Affiliate Program to Use for Your Blog?
The best affiliate program for your blog is the one that lets you create monetization opportunities while helping your target audience. That said, there are many programs available.
Here are a few questions to ask if you're unsure:
Who are you helping?
What's their expertise level?
What products and services do they need (or already use)?
Once you've answered those questions, you'll have a good idea about what to focus on. Obviously, Amazon's ecommerce platform is an easy place to start because they sell everything.
But they have low commission rates. So, try reaching out to the brands directly because some don't always advertise they've got one.
You can also run a quick Google search as previously mentioned. But instead of searching by brand, search by your industry.
For example:
"best fitness affiliate programs" or "best beauty affiliate programs"
Alternatively, visit their website and check the FAQs or footer sections.
If you need some help, we've got over 5,600 affiliate programs categorized by niche you can read here.
What Is the Highest Paying Affiliate Program?
Short answer: it depends. It's tough because there are so many different programs with high payouts across industries that it's challenging to find a definitive answer.
Plus they're always changing.
For example, the digital marketing brand, Hubspot, lets you earn up to $1,000 per sale while the private jet chartering service, Villiers, pays content creators 30% recurring. However that 30% could be attached to a $10,000 price tag!
If high-ticket affiliate marketing is something you're considering, read this post.
Your Ideal Affiliate Marketing Program Lets You Earn Money While Helping Your Readers
You want to give your readers value and solve their problems. However, you miss the point when starting with a "money first" mindset.
It's also what gives affiliate marketing a bad name because there's so much spammy content. When you know your niche, you know what "high-value" looks like. Those are the offers you want to present to your readers.
Finding great affiliate programs and products takes a bit of research but is well worth the investment.
If you want to learn more about what we do and how we help bloggers, head here.
Our creations in your inbox, weekly.
We've built multiple six-figure online businesses that our moms are proud of.
We'd like to help you do the same.