Affiliate marketing is one of the best ways to make money with a blog or website, and it's a legit option in any niche or industry. Not only can you start making money without the need to have products to sell, but the amount you can earn is unlimited. Many of the highest-earning websites and blogs use it as their primary method of monetization.
If you're looking to make money as an affiliate, you need to know about the best affiliate networks that make it easy to find products and services to promote. Several top networks are well established in the industry, and a few newer players are worthy of being mentioned.
Table of Contents
9 Best Affiliate Networks to Monetize Your Website This Year
What Is Affiliate Marketing?
Affiliate marketing is a way to make money online without selling products or services. In fact, It's possible to make money as an affiliate without a website. Some programs allow you to promote through social media or paid traffic, like pay-per-click (PPC) ads.
As an affiliate, you'll earn a referral fee based on an action that takes place. Affiliate marketing programs may offer a commission if you refer a visitor who makes a purchase, fills out a contact form (CPL or cost-per-lead), or clicks on a link (CPC or cost-per-click).
You'll get a unique tracking link to use. Then, whenever a visitor clicks on your link and heads to a landing page, you're credited with a commission if the visitor takes a specific action.
Affiliate marketing is a favorite monetization method for many bloggers and website owners because it's possible to earn passive income if you have visitors arriving at your site through SEO or other methods that don't require constant effort.
Further Reading:
What Is an Affiliate Network?
Affiliate networks bridge the gap between the merchant (advertiser) and the affiliate (publisher) by functioning as a middleman. You can create a free account at an affiliate marketing platform to find available affiliate programs from many different companies.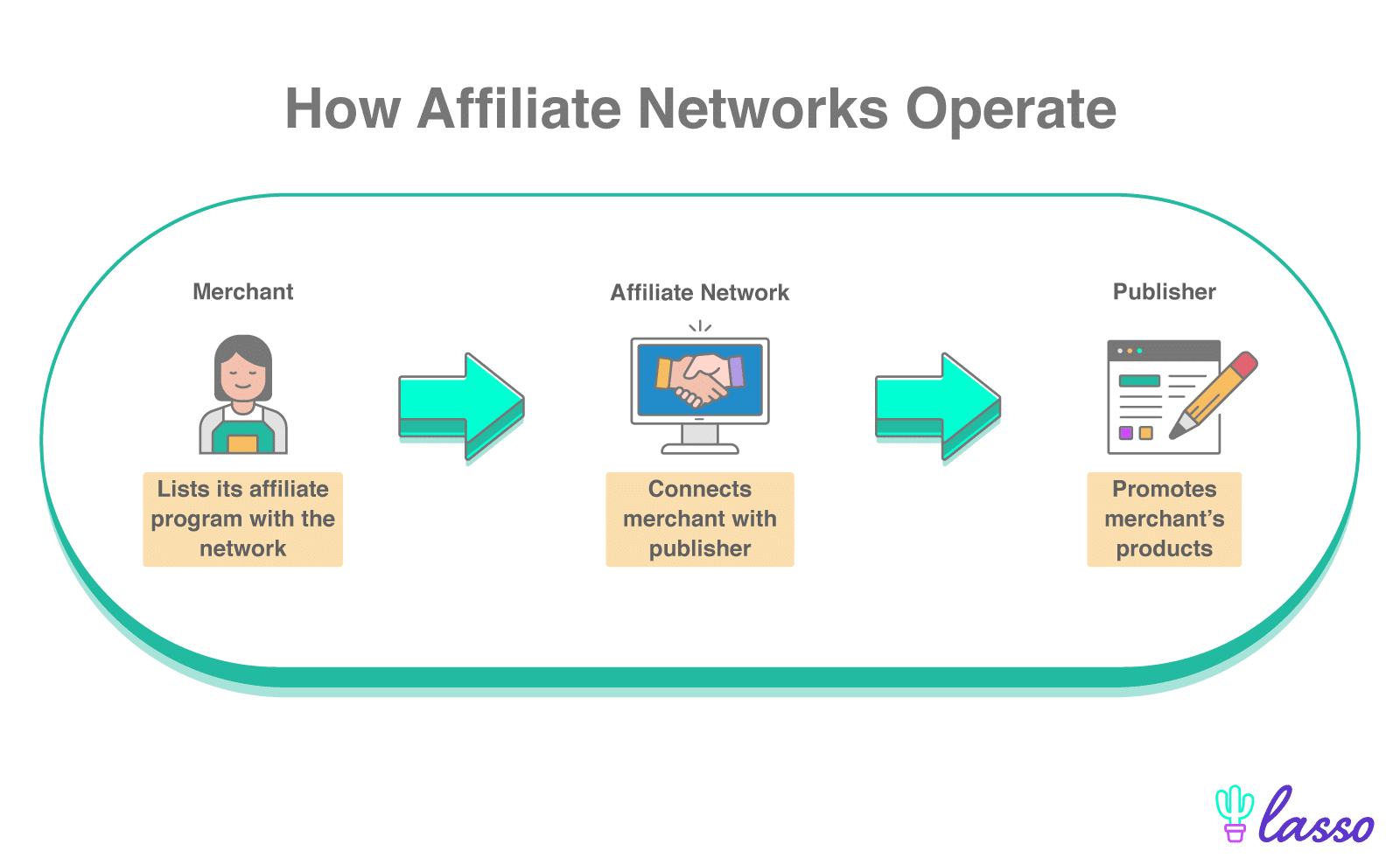 In addition, you can manage several affiliate programs from one place through the network, which adds convenience compared to having logins at many places. You can also search or browse to find products and services to promote through your blogging or digital marketing.
Sidenote: Most affiliate networks also pool your earnings from various merchants together, so you'll get one paycheck or direct deposit from the network rather than getting a separate payment from each merchant.
A single payment simplifies your record-keeping and also helps for meeting minimum payout requirements.
Not all affiliate programs run through networks. Some companies choose to manage their affiliate program privately. If you're an affiliate, you'll probably use a combination of networks and direct programs operated by the merchant.
Further Reading:
The Top Affiliate Networks and Platforms
There are many different affiliate marketing networks out there, but here are the ones we consider to be among the best options.
1. CJ Affiliate (Formerly Commission Junction)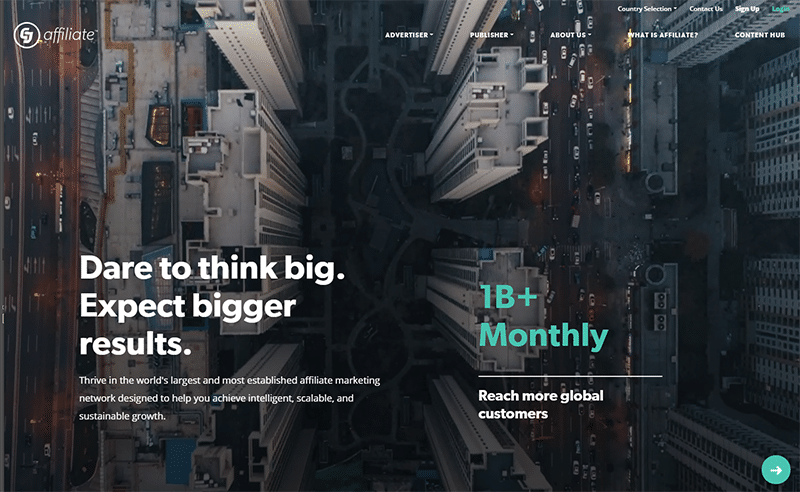 CJ Affiliate has been a leader in the industry for more than two decades. Anyone can create an affiliate account with CJ to get access to a wide variety of programs.
You'll find them from major retailers that sell physical products, websites that sell digital products, smaller companies you've never heard of, and an excellent selection of cost-per-lead programs as well.
When you sign up, you'll create your profile and include the details of your website or however you'll be promoting. Before you can earn a commission, you'll need to get approval for the specific merchants or advertisers you want to promote.
Most will review applicants manually, which means you may need to wait a few days or longer to get approved. Some advertisers automatically approve affiliates as long as you agree to their terms.
Details of CJ Affiliate:
Trusted brand with more than 20 years of experience.
Affiliate programs for about 3,000 brands across all industries.
Monthly payout by direct deposit or check.
Minimum payout of $50 for direct deposit or $100 for a check.
CJ also offers monetization opportunities through VIP Influencer campaigns, which may involve a flat fee for publishing a blog post. However, these opportunities are often only available for those with established audiences.
Examples of advertisers using CJ:
Overstock
Priceline
Barnes & Noble
Office Depot
Bluehost
HostGator
Explore CJ Affiliate using Lasso's database here.
2. ShareASale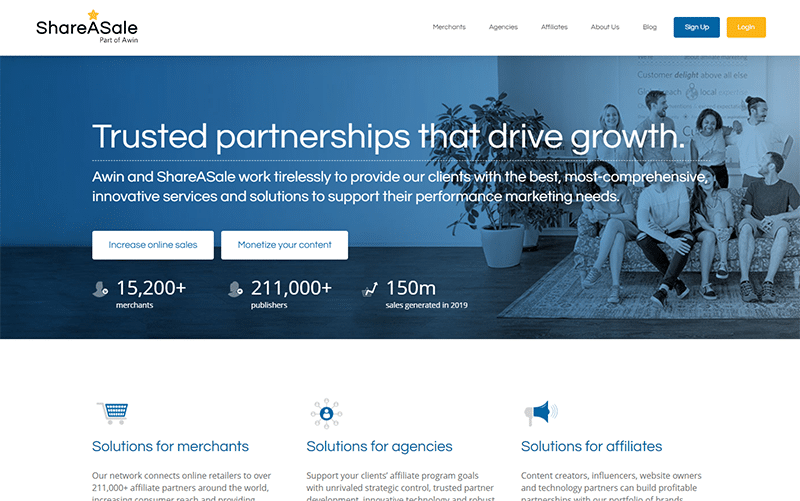 ShareASale is very similar to CJ in a lot of ways. Both are trusted leaders that have impressive track records. However, ShareASale offers a much larger selection of advertisers, with more than 15,000 merchants on their platform.
Affiliate marketers can create a free ShareASale account to browse and search the available programs. Once your account is open, you can apply to the specific programs you want to promote.
Tip: Take advantage of this opportunity to convince the affiliate manager to approve you for the program based on having solid promotion plans.
The application takes just a minute, but you have a chance to provide details about how you'll promote the brand.
Details of ShareASale:
More than 20 years of experience in the industry.
Affiliate programs for 15,000 brands across all sectors.
Excellent selection of digital and physical products.
Monthly payout by check, direct deposit, wire transfer, or Payoneer.
Minimum payout of $30.
Now owned by Awin.
Like CJ, ShareASale is another affiliate platform that every affiliate should join. There's such a vast selection of programs available. You're sure to find something relevant to your audience.
Examples of advertisers using ShareASale:
Etsy
Semrush
WP Engine
OptinMonster
3. Impact (Formerly Impact Radius)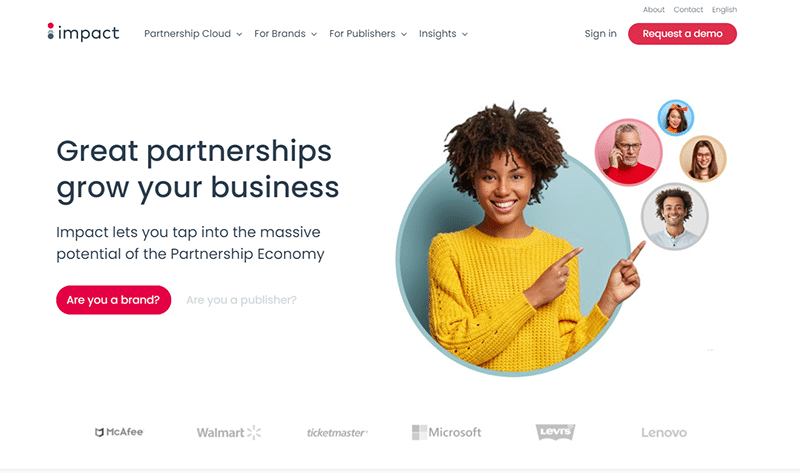 Impact is a relatively new addition to the list. For several years, Impact offered merchants and brands a platform to manage and track their affiliate program but did not function as an affiliate network.
However, that changed as Impact opened up a marketplace, making it easier for affiliates to browse and search available programs.
Log in to your Impact dashboard and click on "brands" to view the marketplace.
Details of Impact:
Affiliate programs for thousands of brands through the marketplace.
Selection of digital and physical products.
Receive payout on a set day each month or whenever your account reaches a certain balance.
Get paid by direct deposit, PayPal, or BACS in any currency.
As a newer network, you won't find as many advertisers in the Impact marketplace as you'll find at CJ or ShareASale. However, there are plenty of great programs to join, and Impact offers an excellent user dashboard and reporting options.
Examples of advertisers in the Impact marketplace:
4. ClickBank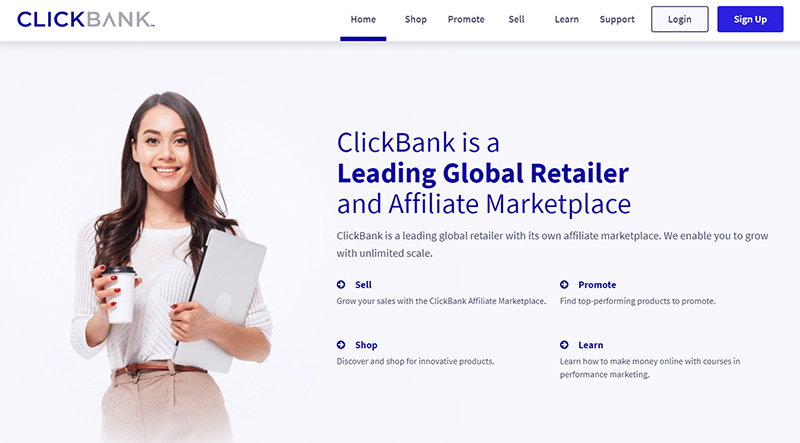 If you're looking to promote digital products, ClickBank is a natural fit. They specialize in digital, downloadable products, and there are many high-paying offers available to affiliates.
Sidenote: Affiliate commission rates tend to be higher for digital products because there is no cost to produce or ship the product. Many of the products you can promote through ClickBank will pay around 50% per sale, some as high as 90%.
Like CJ and ShareASale, ClickBank has been a force in the industry for more than 20 years. They've paid out more than $4 billion in commissions over the years and never missed a payment.
One of the nice things about ClickBank is that affiliates can promote most products without getting approved for each program, making it one of the best for new affiliates.
Details of ClickBank:
Specializes in digital products.
High commission on many products.
Marketplace of more than 4,000 different products you can promote.
Flexible payment methods in terms of when and how you get paid.
The minimum payout of just $10 is among the lowest in the industry.
Although ClickBank is a well-established network with a long history, you need to be careful about the products you promote with them.
There are plenty of high-quality products, but there are also many junk items that will lead to remarkably high refund rates (customers can get a refund for any purchase from ClickBank by reaching out to customer support).
As a best practice, you should only promote products that you've personally used or tested to be sure you're only recommending the best ones.
Since Clickbank focuses on digital products, the selection is not quite as diverse as what you'll find at CJ, ShareASale, or Impact. Some industries like online marketing/business and health/wellness have many products to promote, while other sectors may have relatively few options.
Examples of products available through Clickbank:
Carb Shifting Keto
Ted's Woodworking
Mend the Marriage
5. Rakuten Marketing (Formerly LinkShare)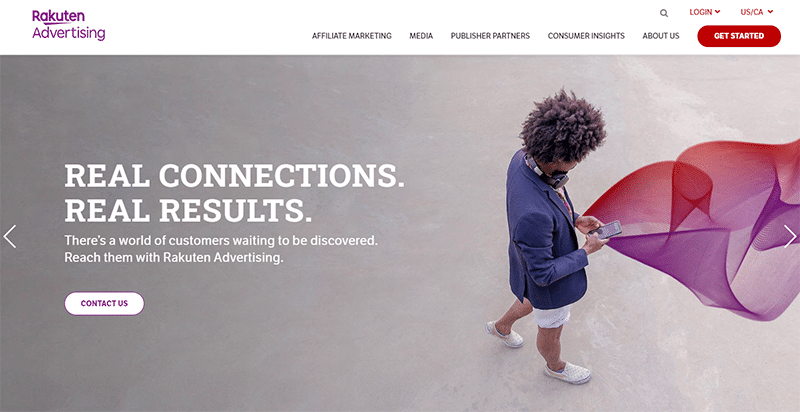 Rakuten is another company in the industry for well over 20 years, although it was known as LinkShare most of that time.
Despite its long history, Rakuten does not offer the huge selection of programs you'll find at some other affiliate networks. Instead, Rakuten offers about 1,000 different programs, which is still a great selection.
Details of Rakuten:
Long history as a leader in the industry.
Offers ad rotation to use different banners on your site.
Can automatically convert standard links on your site to affiliate links.
Rakuten pays affiliates only after the merchant has paid them, so your payout schedule can be erratic.
Payment by direct deposit, PayPal, or check.
Minimum payout of $50.
Although you won't find as many programs at Rakuten as you will at CJ or ShareASale, Rakuten manages the programs of a lot of big names.
Examples of advertisers using Rakuten:
Microsoft
Macy's
Lyft
JetBlue
6. FlexOffers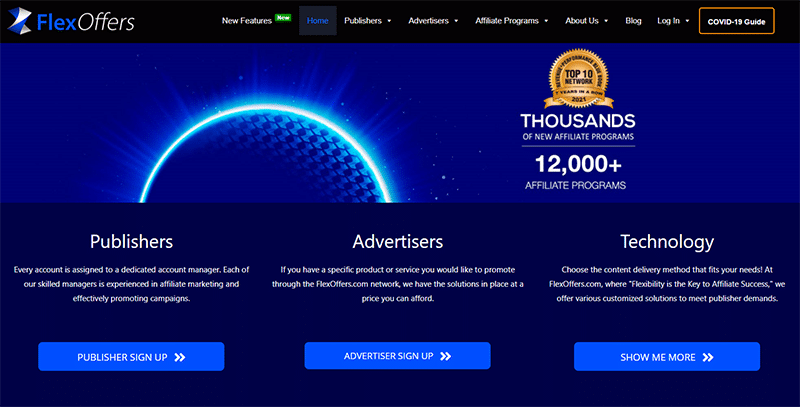 FlexOffers has been around since 2008. Although FlexOffers hasn't been around as long as some others, they still have a strong history.
If you want to have a wide variety of affiliate programs to choose from, FlexOffers is a network you should join. They're constantly adding new merchants as well, including physical and digital products from all industries.
Takeaway: One of the ways that FlexOffers stands out is fast payment. In general, FlexOffers pays commissions in 30 days or less.
Like most other networks on this list, you'll need to apply to the specific programs you want to promote through FlexOffers.
Details of FlexOffers:
Huge selection with more than 12,000 affiliate programs covering all industries and niches.
Fastest payout in the industry.
Minimum payout is $50.
Payouts by check or direct deposit (or PayPal for affiliates outside the US).
The programs you'll find at FlexOffers include merchants and brands of all sizes.
Examples of advertisers using FlexOffers:
Vrbo
Samsung
SimpliSafe
H&R Block
7. Awin (Formerly Affiliate Window)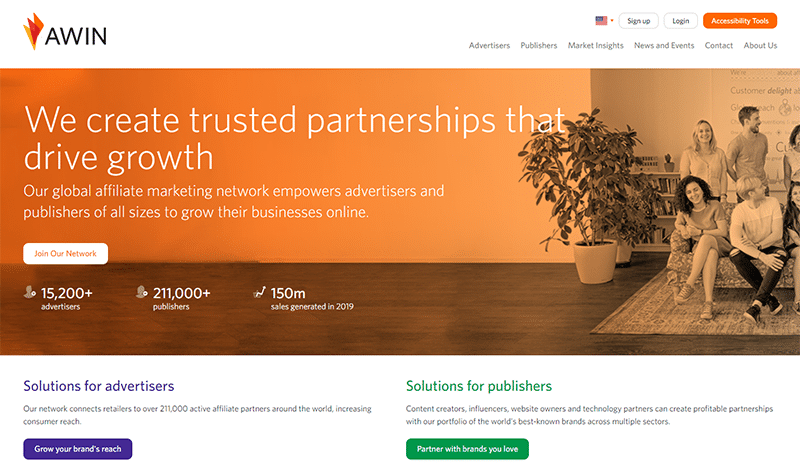 Awin offers a vast selection of affiliate programs, but many of them are from outside of the US or are companies that aren't household names. However, there are some well-known companies you can promote through Awin, most notably Etsy.
Details of Awin:
More than 15,000 brands you can promote through the network.
Many of the brands are outside the US or not household names.
Payouts are made monthly by direct deposit.
Minimum payout is $20.
Like most other networks, you'll need to get approval to join the specific programs you want to promote.
Examples of advertisers using Awin:
Etsy
Booking.com
AliExpress
8. Amazon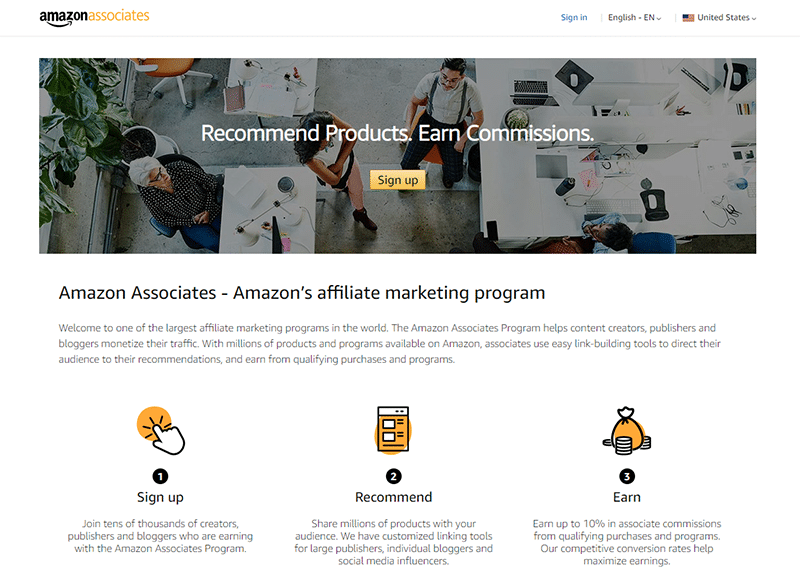 Amazon isn't technically an affiliate network like the others listed above. Instead, they manage their affiliate program called Amazon Associates.
However, Amazon is a massive site. Customers can buy just about everything under the sun, so it offers some of the same benefits of using an affiliate network.
It doesn't matter what topics your website or blog covers; Amazon sells products you could be promoting. As a result, Amazon Associates is extremely popular with niche affiliate website owners that monetize their sites with search engine optimization and affiliate programs.
One reason why Amazon is so popular among affiliates is that just about anyone can join the program. As a result, it's an excellent option for newer sites.
However, applications are not reviewed until you generate at least 3 sales within the first 180 days. That means you don't want to apply to the program before you start sending traffic.
Affiliates are typically able to generate high conversion rates by promoting Amazon products, partly because so many of your visitors are already existing Amazon customers.
You can also earn a commission for products that are unrelated to what you're promoting.
For example, you might link to a dog toy, but if the visitor browses Amazon and winds up buying a TV too, you'll earn a commission on both.
The downside to Amazon Associates is the low percentage of the sale you'll earn. The commission rates vary by product category, but many are around 3%.
Amazon affiliates need to be aware of Amazon's terms and take the necessary steps to stay in compliance, which includes displaying a disclosure on every page.
Amazon suspends affiliates for violating the terms, even if it's unintentional, and it's not easy to get your account reinstated.
Be careful with the plugins you use because not all of them follow Amazon's terms of service. We've created Lasso to help keep you in compliance.
Further Reading:
Details of Amazon Associates:
Promote a wide range of products.
Enjoy high conversion rates since many people routinely buy from Amazon.
Earn commission for sales unrelated to the products you're promoting.
Commission rates are among the lowest in the industry and have been reduced a few times in recent years.
Monthly payout by direct deposit.
Explore the Amazon Associates program here.
9. Walmart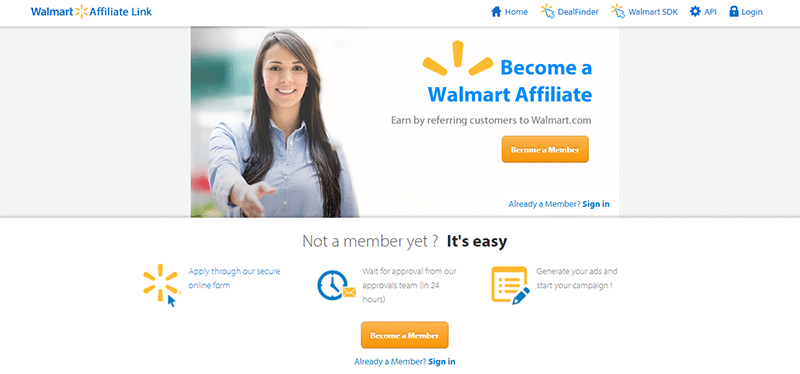 Walmart is another option that's like Amazon.
It's not technically an affiliate network, but Walmart sells an extensive range of products, especially now that they're making a more significant push to grow their e-commerce presence and increase the number of third-party sellers on their platform.
Like Amazon, Walmart's affiliate program can be used by just about any blogger or website owner.
In addition, some sites link to the same products on both Amazon and Walmart so visitors can easily compare current prices and buy from their preferred merchant.
Tip: Savvy affiliate marketers can use the Lasso WordPress plugin to promote affiliate products from multiple programs. The Lasso display boxes can include two call-to-action buttons, so you can give your visitors a choice rather than pushing them to one particular website.
Further Reading:
Details of Walmart's affiliate program:
Walmart manages the affiliate program through Impact.
Promote a wide range of products.
Most sales will generate about 4% commission.
Explore Walmart's program here.
Can Newbies Join Affiliate Networks?
Each affiliate network will have its policies, but anyone can create an account with most of them. You don't need to have an established blog or affiliate sites with a lot of traffic or have years of experience with digital marketing.
However, with most networks, you'll need to apply to the specific programs you want to promote, and you must get approval before you can start promoting and earning commissions.
Some companies are open to approving new websites and new affiliates, but that's not always the case. When you're just getting started, you may get rejected by a few programs.
That's ok. There are plenty of affiliate programs open to newbies, so don't let a few rejections get you down. You can also go back and apply to those programs later after gaining experience.
Further Reading:
Conclusion
Affiliate networks are beneficial for managing several affiliate programs in one place. You won't have to log in to a million different websites, and you'll get one payment from the network instead of getting lots of smaller amounts from separate programs.
You can find all of the networks and platforms covered in this article using Lasso's 1,700+ affiliate program database to find the ones that are a good fit for you.
Our creations in your inbox, weekly.
We've built multiple six-figure online businesses that our moms are proud of.
We'd like to help you do the same.