How many affiliate programs should I join? That's a question bloggers ask us all the time.
On the one hand, you want to get the most from your content creations, but on the other, you don't want to spread yourself too thin.
That's why I'm going to help you find the right balance and give you some optimization tips to build passive income with affiliate offers.
Let's dig in!
How Many Affiliate Programs Should I Join?
The short answer: it depends. There's no set rule which is why answering this is challenging.
Ask yourself these questions before signing up.
Will it reduce my productivity?
Creating content requires time and effort. Sometimes joining more affiliate programs could distract you. So, the sweet spot is joining as many programs as you can promote without reducing productivity.
Some may feel comfortable juggling multiple programs and product promotions. Others not so much.
If you're struggling to write comprehensive articles because you belong to too many programs with too many products, it's wise to reduce that number.
Can I find all of the products in one location?
Sometimes you only need one affiliate program because it has all the necessary products. Typically, these are affiliate networks, not programs.
Joining an affiliate network reduces the mental bandwidth of needing to track every program you belong to because they're housed under one roof.
Having more affiliate programs in a single location makes tracking simple.
Sidenote: An affiliate network connects merchants with bloggers. Creating an account is free; you can find affiliate programs in various niches on its marketing platform.
That said, two things you want to avoid:
Spamming your audience
Promoting irrelevant products
What's my expertise level?
If you're a beginner, start small. It's the best way to build relationships with your affiliate managers and familiarize yourself with their catalog.
If concentrating on only one product feels limiting, here's a suggestion. Pick three items from different categories relevant to your blog.
For example, if your niche is online marketing, you could choose from:
Seo services
Email marketing tools
Web hosting providers
Select one from each.
Alternatively, experienced affiliate marketers will likely juggle multiple offers, and that's ok. Your experience level will determine how many products you feel comfortable promoting.
Using our WordPress plugin Lasso, you can easily find affiliate programs inside your dashboard.
Head to Opportunities > Programs.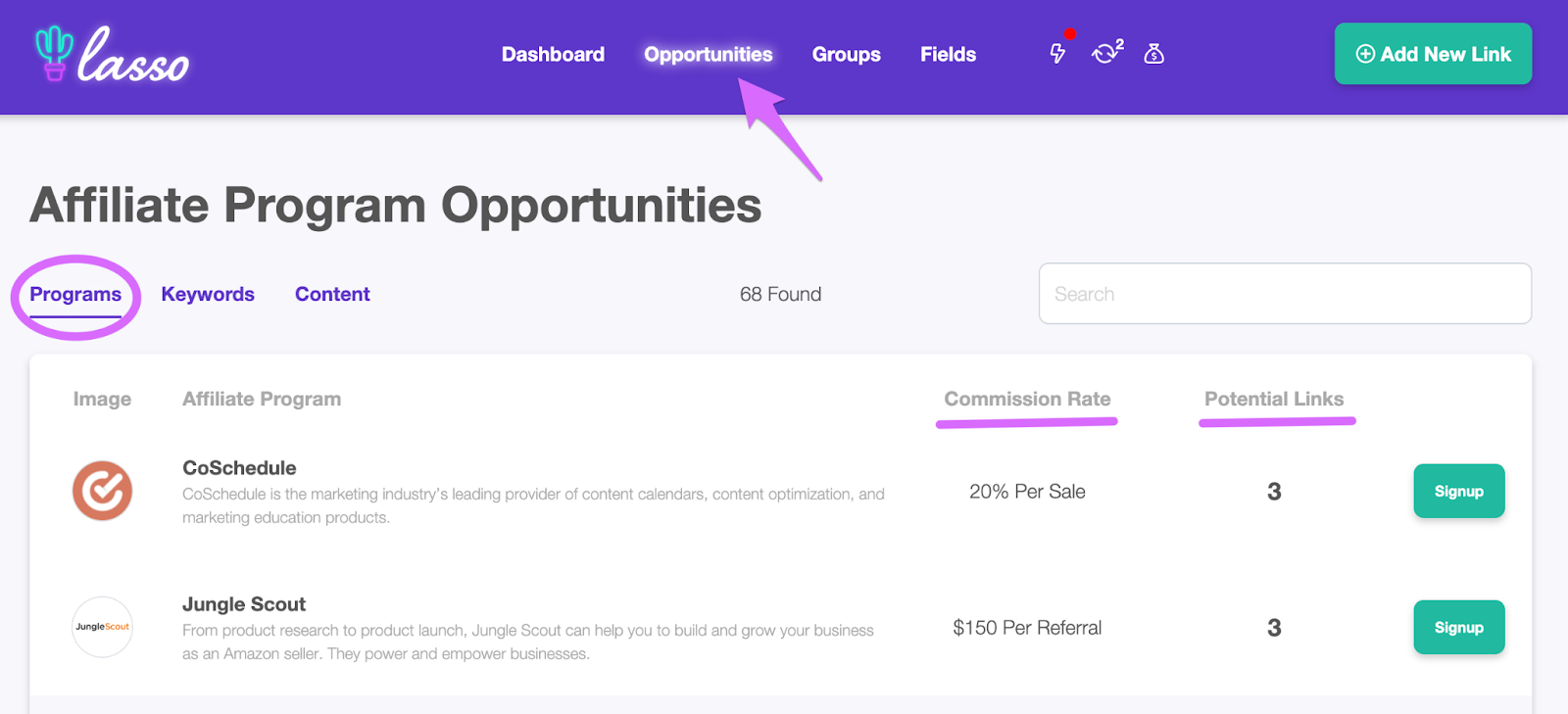 Lasso scans your site for potential programs you could join based on domains you already link to. This report displays:
Additional affiliate programs
Commission rates
Potential links
Pick the ones most relevant and sign up for them inside your dashboard.
Alternatively, if you're a content creator, check out our database with over 5,800 affiliate programs categorized by niche.👇
Further Reading:
What to Consider Before Signing Up for Your Affiliate Program
Signing up for an affiliate program feels empowering because you're taking control of your financial destiny. If you want to avoid getting burned, know the rules before joining.
Why?
Because every program has different conditions, you don't want to screw yourself out of money because you didn't read the fine print.
A few things worth examining…
1. Commission Rate
How will the retailer pay you, and how much? The higher the rate, the higher the affiliate commissions. Look out for:
One-time payouts
Recurring commissions
2nd tier
Some affiliate marketing programs pay a percentage of the sale, while others pay a flat amount. In addition, second-tier commissions let you earn affiliate income from your referrals's referrals.
Next, consider how often you get paid. For example, our Lasso affiliate program pays $35 for every person you refer who becomes a paying customer.

From our affiliate page:
"You will get paid on the 15th for all leads that remained a customer until their second payment."
In other words, 60 days before you get paid.
When you rely on your online business income to pay the bills, it's worth noting when the money hits your bank account.
Know whether there's a minimum payout threshold. Some merchants require you hit a specific amount of affiliate sales before they pay you. In other words, your commissions need to total a particular dollar amount.
For example, ShareASale's minimum is $50 in commissions, while Amazon affiliates only need $10 ($100 if paying by check).
Sidenote: One perk of using an affiliate network is how they combine your earnings from the various programs on their platform. So, you may hit your payout threshold quicker.
Is the payment method available in your region? Perhaps a no-brainer but worth mentioning: make sure the payment method is supported in your region.
For example, some countries don't accept PayPal. So you might have to use an alternative. In this instance, we'd use Payoneer, which covers areas that don't accept PayPal.
Ensure you monetize your international traffic. For example, when people from other countries visit your site.
For example, eCommerce giant Amazon lets you monetize your international traffic by redirecting visitors from your affiliate website to their local Amazon store using One Link.
Further Reading:
2. Cookie Policy
The cookie stores in your visitor's browser for a specified period when they click your affiliate link. It's how long you have to earn affiliate commissions.
When the cookie expires, you lose the opportunity. Some last 24 hours (e.g., Amazon Associates), while Shopify's lasts 30 days.
Longer durations = greater odds you'll get credit for the sale.
3. Is the program reputable and has relevant niche products?
Not getting paid sucks. But it happens. Perform due diligence and understand the program behind the product.
Successful affiliate marketing works when you recommend items that help your readers, and you get paid.
Here are two questions you can ask before signing up:
Are they trustworthy?
Would you recommend other bloggers join?
Here are a few established networks if you're short on ideas:
Clickbank
Rakuten
Cj Affiliate (formerly commission junction)
eBay partner network
AWIN
Further Reading:
Can You Use Multiple Affiliate Programs On A Single Website?
Yes, you can. Again, there's no hard and fast rule saying how many you can use on your affiliate site.
Just make sure you know all of their rules. Sometimes you might have to get creative with how you promote your offers.
For example, Amazon won't let you include affiliate links in emails. But, what you can do is link to a landing page on your blog containing your affiliate link.
Why You Shouldn't Join Too Many Affiliate Programs
You shouldn't join too many affiliate programs because you may find yourself spread thin, promoting irrelevant offers, or experience difficulty tracking every link.
Many newbies make this mistake, thinking they'll add random affiliate URLs to their blogs and social media accounts.
This is bad for two reasons:
You're not building expertise in a single area (i.e., you're not becoming the "go-to" person in your niche)
It's seen as a cash grab by your readers
Most people visit websites to solve a problem. So the best advice is to align your affiliate offers with your audiences' needs.
So, find your niche before signing up for an affiliate program.
Ask yourself:
Does the merchant have products related to your industry?
Do those products help your readers?
How Do You Keep Track of Your Different Affiliate Programs?
You may sign up for multiple programs with several affiliate URLs as your site grows. Congrats!
Tracking them all in a spreadsheet may have helped initially, but you'll need a different approach over time.
There are a couple of ways you can do this.
Connect Lasso to Google Analytics
If you're using Lasso, connect it with Google Analytics. You can measure which affiliate links (and their affiliated programs) perform best.
Examine these two reports in your Analytics dashboard:
Top Events: Shows you affiliate links getting the most clicks sitewide. In the below example, Survey Junkie, Fundrise, and Personal Capital are a few of our top performers.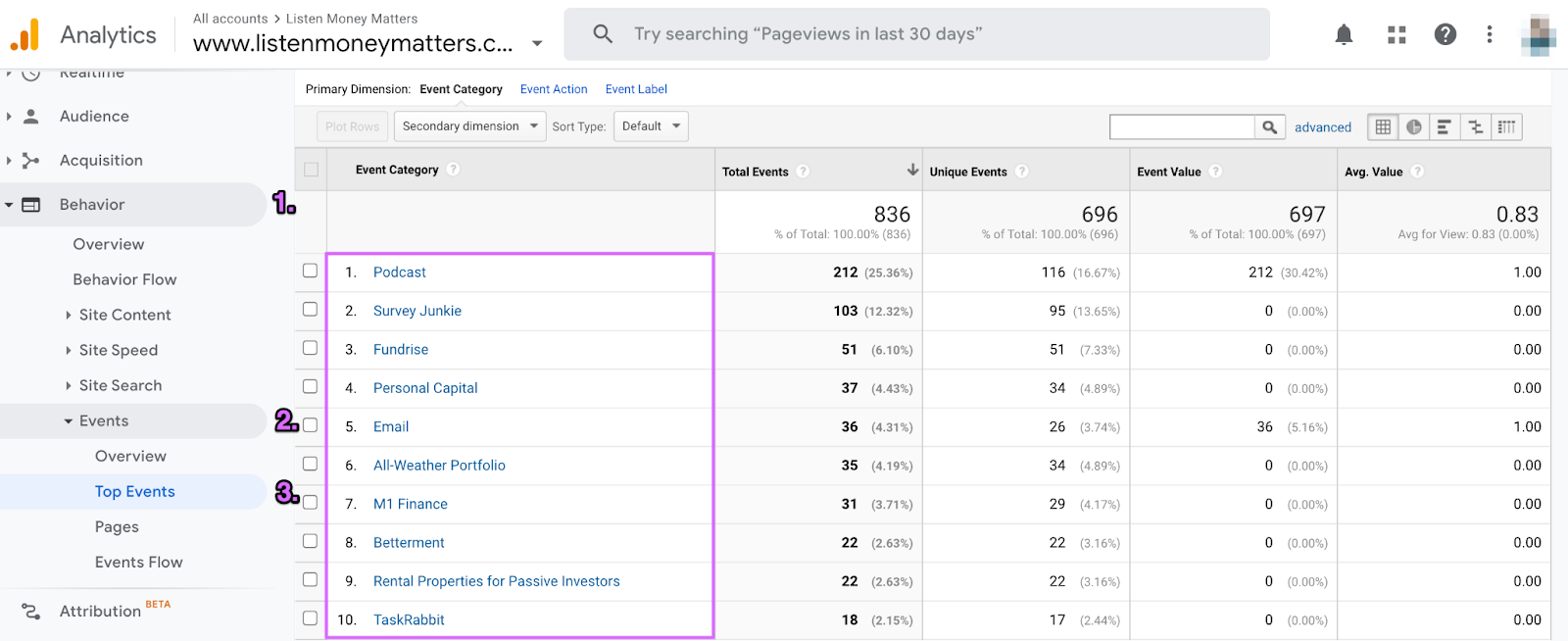 Pages: This shows you which blog posts get the most affiliate clicks. It helps determine which of your links perform well on the page level.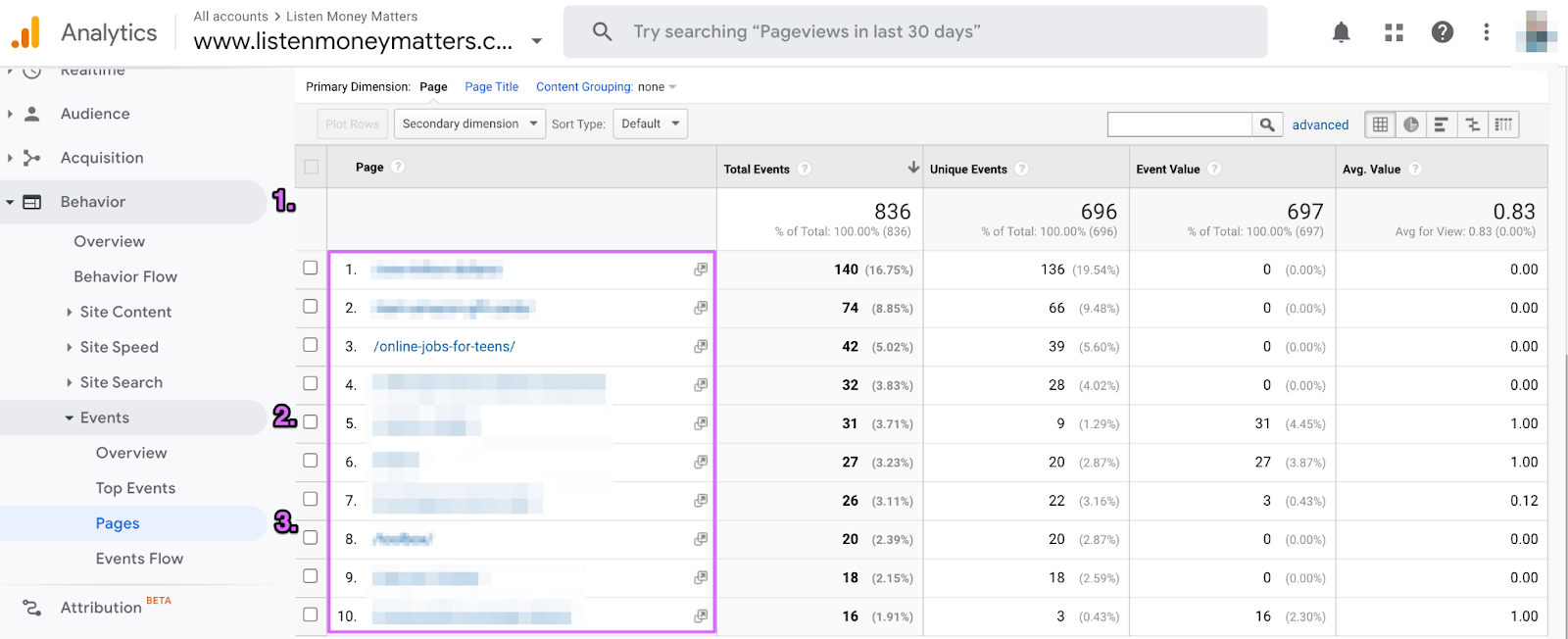 Managing URLs in multiple locations across your website is tricky. So, when you need to update or add new affiliate links, you can do it on your product's Link Details page and roll those changes out sitewide.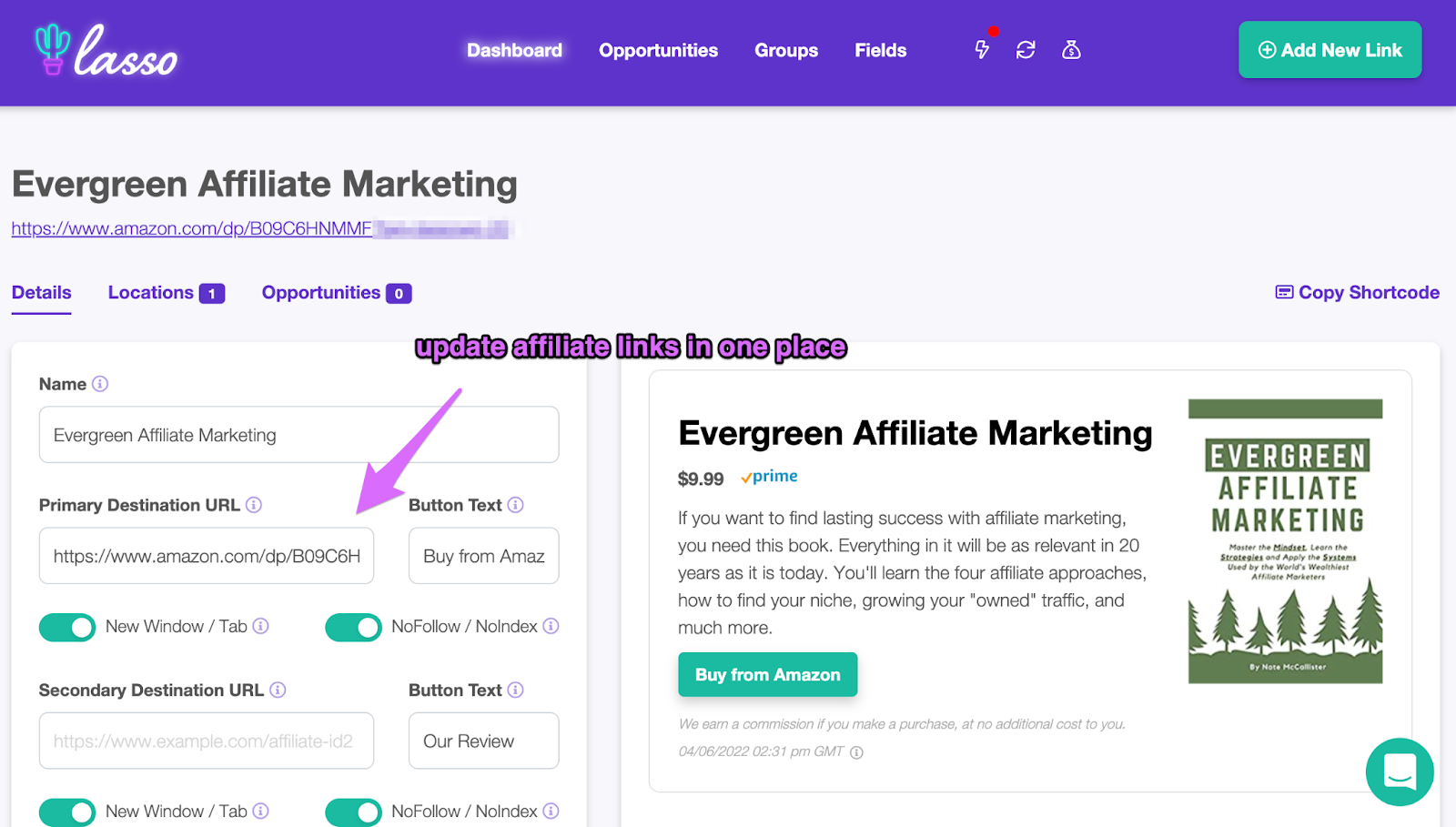 Aggregate Your Affiliate Data into A Single Dashboard
If you want to see additional data, including commissions or conversion rates, you can use tools like Affluent or AffJet.
For example, we use Affluent, which lets you view clicks, commissions, impressions, and metrics (e.g., EPCs and conversion rates over time) from your affiliate programs and networks.
You can compare periods against each other, export your data, and view all of your transactions in one place.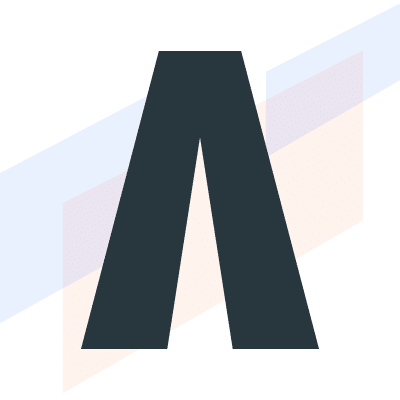 This carries the added benefits of:
Tracking your payouts
Simplifying the reporting process
Measuring overall success with each affiliate program
How Many Affiliate Links Is Too Many?
This is another one of those "it depends" answers.
The simplest way to think about this is by adding links where they naturally fit into your content without sounding spammy.
Examining one of our 2,500-word product reviews from our personal finance site, we include affiliate links five times:
2x in the summary box at the top
1x in a comparison table
1x in our high-converting product display
Once at the post's conclusion
Too many affiliate links can ruin the user experience. In addition, since Google considers UX a ranking factor, this can negatively affect your site's SEO and how search engines rank you.
Additionally, too many outbound links signal "thin content." So if Google thinks your content has little information, it'll rank lower.
Further Reading:
How Many Affiliate Programs Will You Join?
Any successful affiliate marketing strategy follows a couple of basic principles:
Publish regularly
Create high-quality content aligned with your readers' needs
More content = more affiliate sales. It also increases the odds more people find your site.
Measure what resonates with your readers, including offers (e.g., online courses, digital products, discount coupons, services, etc.).
The number of affiliate programs you should join depends on your strategy.
You might decide to focus on affiliate programs with high commissions where you're only promoting a single offer. Or you might have many products from several programs.
Perhaps it's only a tiny part of your marketing efforts, and you're reading this post to decide the best way to integrate it onto your site.
Whatever the reason, if you're curious how else Lasso can help, head here.
Our creations in your inbox, weekly.
We've built multiple six-figure online businesses that our moms are proud of.
We'd like to help you do the same.