Do you really know the value of a single click on your affiliate offers? To determine whether the content you create generates you more affiliate sales and marketing revenue, you need to understand what EPC means in affiliate marketing. But what does EPC mean in affiliate marketing, why is it important, and how is EPC calculated?
Earning per click (EPC) is a metric that calculates the average amount of revenue earned per click on an affiliate link. To calculate earning per click, simply divide your total affiliate marketing earnings by the total number of clicks on those links.
It's probably the most important metric to measure for both affiliate marketers, and for affiliate marketing networks and managers promoting their brand. 
I'll explain why, as well as how to track the EPC of every affiliate link on your site, as well as strategies to increase your earnings per click.
Want actionable affiliate marketing advice delivered straight to your inbox? Join our newsletter, The Monday Marketer.
Table of Contents
What Is Earnings Per Click (EPC) In Affiliate Marketing?
What Is EPC In Affiliate Marketing?
EPC means earning per click, and is the average amount an affiliate marketer makes when somebody clicks your affiliate link.
As affiliate marketers, we want to maximize our EPC to earn the most possible from our content – or get the best ROI (return on investment) from our paid ads. 
And merchants want to show the highest possible EPC, so that big affiliates are encouraged to promote their brand and drive sales. EPC is shown publicly on a lot of affiliate partners, such as on Shareasale, giving you an instant look into how the brand is performing.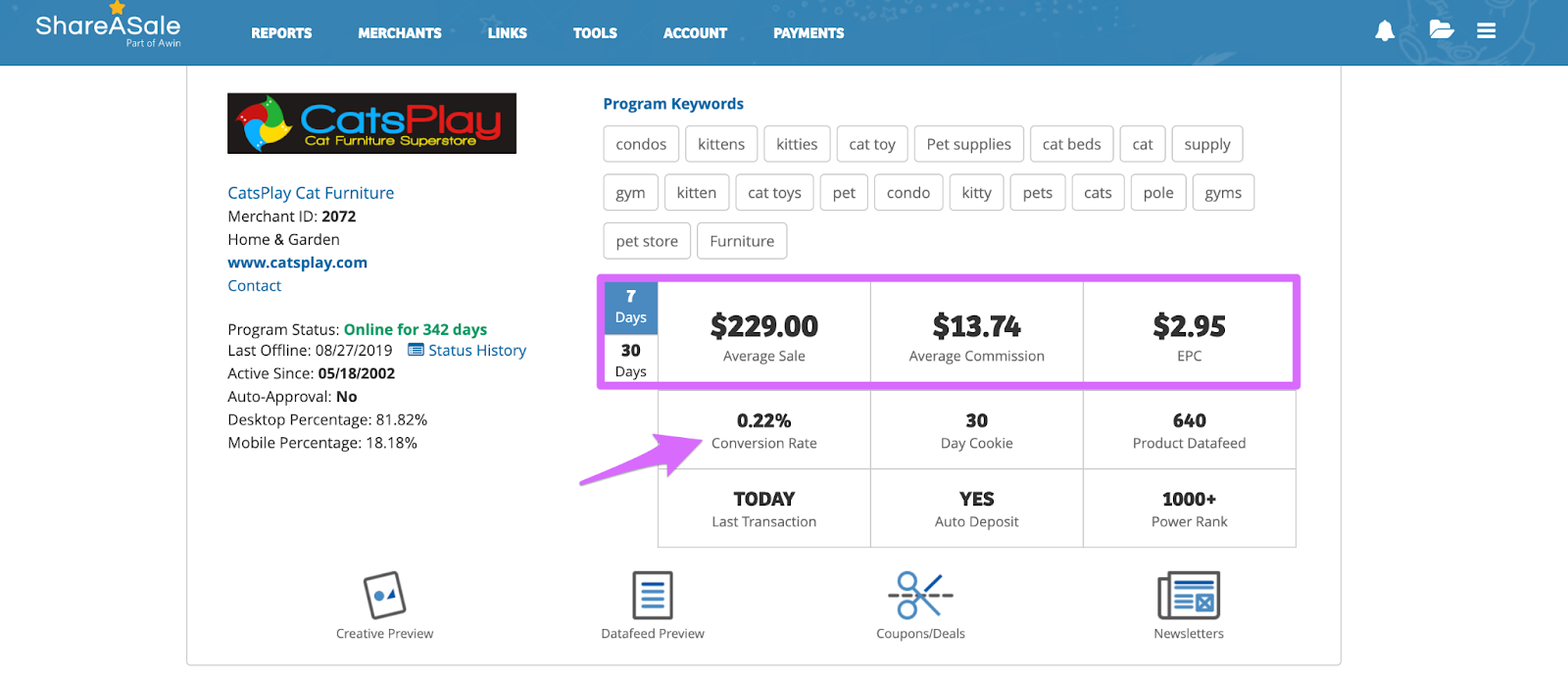 How to Calculate Your Earnings-Per-Click
To calculate EPC, divide the total earnings by total clicks.
For example, here's the EPC formula. Imagine you join a new dog food affiliate merchant, and send 200 clicks in a month, earning $150 in affiliate commissions. 
For this, simply divide 150 by 200 to get your affiliate EPC:
150 / 200 = 0.75
Your EPC equals $0.75 per click.
Some affiliate networks, such as Shareasale, show network EPC per 100 clicks, instead of per individual click. So, be aware of this when looking for a potential affiliate network partner.
7-day EPC means the average earning per click for that merchant website in the last 7 days, and 30-day EPC means the average EPC across the last 30 days.
Some programs, such as Amazon Associates, don't reveal your EPC. But, using Lasso Performance and our innovative analytics technology, we can reveal EPC on your Amazon affiliate links directly to help you measure affiliate link performance.
Why Does Knowing Your EPC Matter?
Earning per click is probably the most important metric for affiliate link tracking and measuring. It combines the commission rate and conversion rate into one actionable data point. 
By knowing your EPC, and the EPC of different pages, or specific links across your site, you can:
Prioritise creating content around affiliate products with high EPC.

Know the CPC (cost per click) you can purchase PPC ads at and be profitable.

Improve affiliate link placement for these high-performing links so they are more prominent and get more clicks.

Use this data as leverage to ask for higher commission rates.
Commission rate is simply the percentage of the product's price the affiliate earns. Beginner affiliates often just look at commission rates, instead of earnings per click.
This is a mistake. The commission rate alone doesn't account for conversion rate, which is the percentage of clicks that lead to sales.
Though low in commission rate, Amazon has a higher earning per click than many affiliate programs, because the conversion rate is so high.
Your commission rate, multiplied by your conversion rate, is your total revenue. Then, divide this by the number of clicks, to get your earning per click.
How To Track Your Earnings Per Click
The easiest way to track earnings per click is with Lasso Performance, which automatically tracks and shows you the EPC for every single affiliate link across your entire site, as well as the average EPC across each page on your site.
This is better than the EPC tracking offered by most affiliate networks. Mostly they just give you the average EPC for each affiliate merchant – whereas to be really effective, you want an exact breakdown of every link on your site.
Most affiliate networks do allow you to create custom tracking links. But, this is still very manual, takes a long time, and is more difficult to manage.
Lasso Performance uses unique SubIDs to track all your links automatically and displays all this data in one dashboard, saving you the hassle of managing your links and EPC manually.
The Lasso plugin will also identify out-of-stock or broken links that are affecting your EPC, so you can quickly fix these and plug your revenue leaks.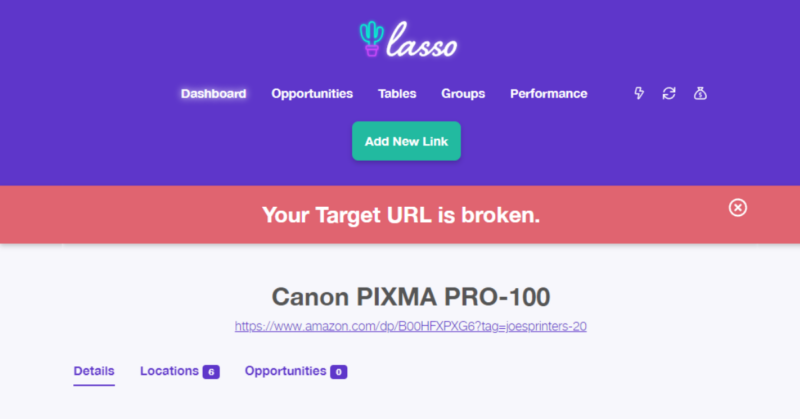 7 Ways to Increase Your Earnings Per Click (EPC)
The strategies below focus on increasing the quality and buyer intent of your affiliate clicks, in order to increase your EPC.
1. Promote Affiliate Links In High-Converting Displays
If you only use text links for your affiliate links, you are leaving a lot of money on the table.
Text links don't grab the reader's attention, and they also don't show your reader where they'll go when they click the link. As a result, you get lower buyer readiness when clicking, and therefore lower conversions and lower EPC.
The solution? We built the highest-converting affiliate displays in the world.
We used Hot Jar to test this. What we found was a game-changer when we saw how many more people clicked our product displays – like this one below: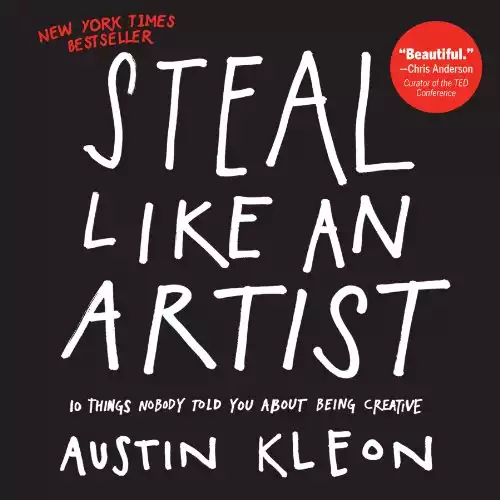 We earn a commission if you make a purchase, at no additional cost to you.
Our scroll-stopping displays command attention, have fields where you can add the pros and cons, a star rating, a label (for example, "best for beginners"), and a description to help convert.
This gives people all the info they need about your affiliate offer, so not only are they more likely to click, but they're more ready to buy when they click. This is key in getting a high EPC.
You can try Lasso here.
2. Track Your Highest EPC Links and Pages
Using Lasso Performance, you can get a complete breakdown of which affiliate links, and which pages on your site have the highest EPC.
You can then prioritize optimizing these high EPC pages further for an even higher EPC.
Generally, high EPC comes from commercial, product-focused content where people are ready to buy.
These content types include:
Affiliate product comparisons (Nike vs. Adidas)

Best lists (Best 2-person camping tents)

Product reviews (e.g. Personal Capital review)

Tutorials (how to use SEMrush to outrank your competitors)

Resources pages

(a list of tools, best sellers, or popular products)
These convert far better than informational "what is SEO" posts, as people are at the bottom of the funnel, and ready to purchase. So, writing more of these posts is a good strategy for the highest possible earnings per click.
3. Maximize Commission Rates
Geting higher commission rates increases the amount you earn per sale, increasing your earnings per click.
You can easily compare merchants on affiliate networks like Shareasale, CJ, Impact, Awin, and others to see the offered commission rates. But, you can always ask for more in private deals.
Especially if you've proven you can drive sales, you have the leverage to ask for higher rates. They won't always say yes, but it's worth asking! 
For example, last year I sent one email to a merchant I was promoting, and I had my commission rates more than doubled, from 6% to 12.5%. This was worth more than $5K per month. Just from a single email!
4. Increase Your Average Order Value (AOV)
You might also consider another affiliate marketing term: high-ticket affiliate marketing. This is where you focus on premium, expensive products that you can earn much for each sale you drive.
Because these products carry commissions ranging in the hundreds to thousands of dollars, super-affiliates can easily earn five or even six figures per month while moving less volume.
If you're looking for the best affiliate programs in your niche, simply Google your product/brand + affiliate program.
So, if you're in the fitness industry, it might look like this:
Fitbit affiliate programs

Fitness affiliate programs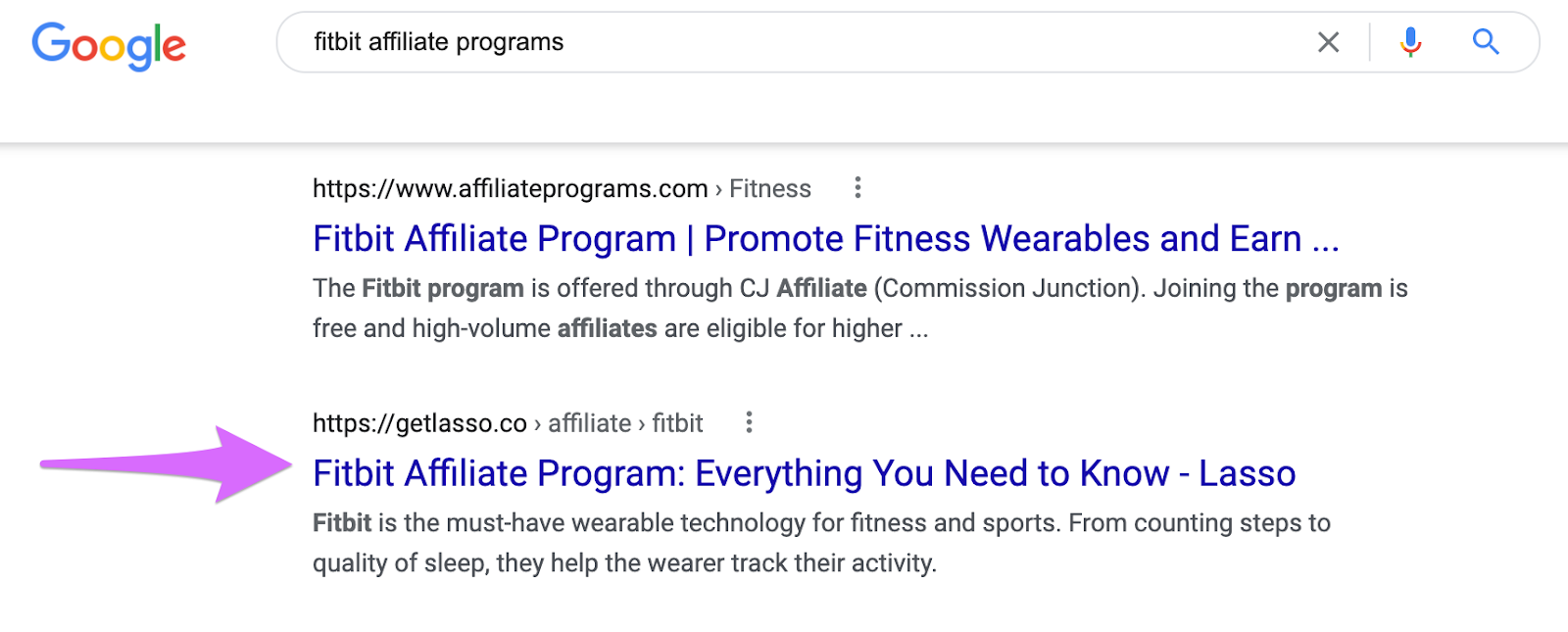 Alternatively, the Lasso plugin will automatically surface Affiliate Programs suitable for you in the Opportunities tab.
From your dashboard, head to Opportunities > Affiliate Programs. Lasso scans your site for additional programs you can sign up for based on domains you already link to.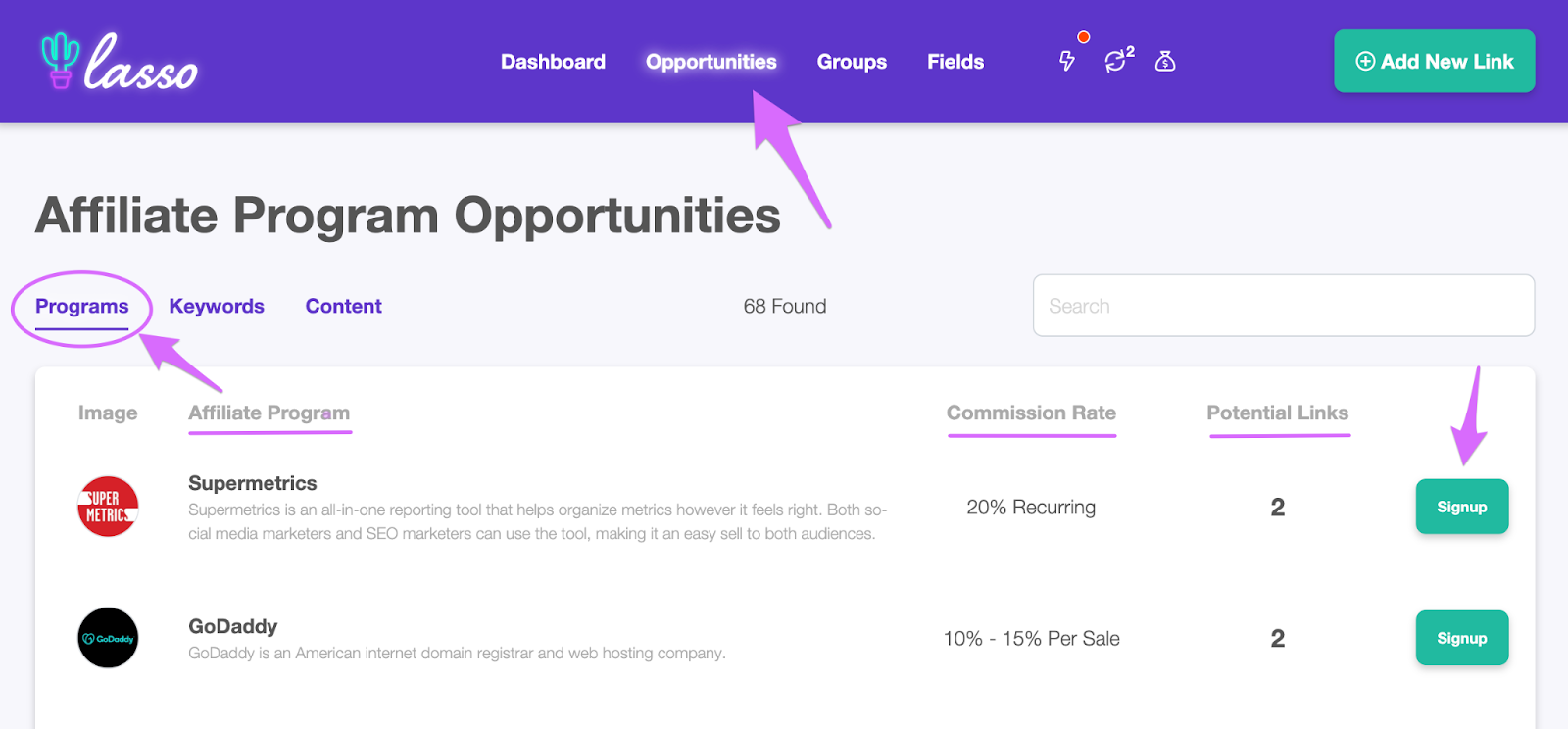 You'll see:
Sign-up link

Affiliate program

Commission rate

Potential linking opportunities
Even if you're not using Lasso yet, you can still search our database for over 6,500 affiliate programs categorized by niche.
4. Focus On High-Quality Traffic
You might think it's great that you're getting thousands of page views per month, but if nobody clicks your affiliate links, you might need to re-evaluate your:
Traffic quality

Traffic sources

Offer relevancy
Your affiliate offer might not be what your market wants. In other words, it's not solving their problem.
Consider Countries with a Higher GDP
For example, if you get lots of traffic from the USA, UK, Canada or Australia, you can safely expect that more people, on average, will have the budget to buy the product. 
So, it's best to target more affluent economies.
You can see your website's traffic sources in Google Analytics by going to Audience > Geo > Location.
Test Multiple Traffic Acquisition Channels
You might be dabbling in various traffic sources to determine your affiliate marketing campaign's effectiveness.
Perhaps you see how paid ads fare against your email marketing efforts. For instance, when your email list gets more clicks versus paid ads, maybe double down on your list.
Head to Acquisition > All Traffic > Source/Medium.

For example, our personal finance site gets the bulk of traffic from Google, so we've done our best to optimize for SEO. We've even gone as far as hiring a consulting firm (shout out to Marie Haynes!)
Tip: Instead of Source/Medium, inspect "Channels" just above. It's another bird's eye view of email, social media, direct, and organic search traffic.
Then isolate traffic from each source to determine its EPC. Don't be afraid to "kill your darlings" when a particular channel doesn't pan out.
Only focus on acquiring traffic that improves your EPC long-term.
6. Monitor Affiliate Campaigns For Downtime
Some affiliate networks display how long affiliate marketing campaigns have been active on their platform. This helps to know the reliability of a particular vendor.
For example, if you're using ClickBank, you can head to Affiliate Marketplace > Advanced Search and filter by date.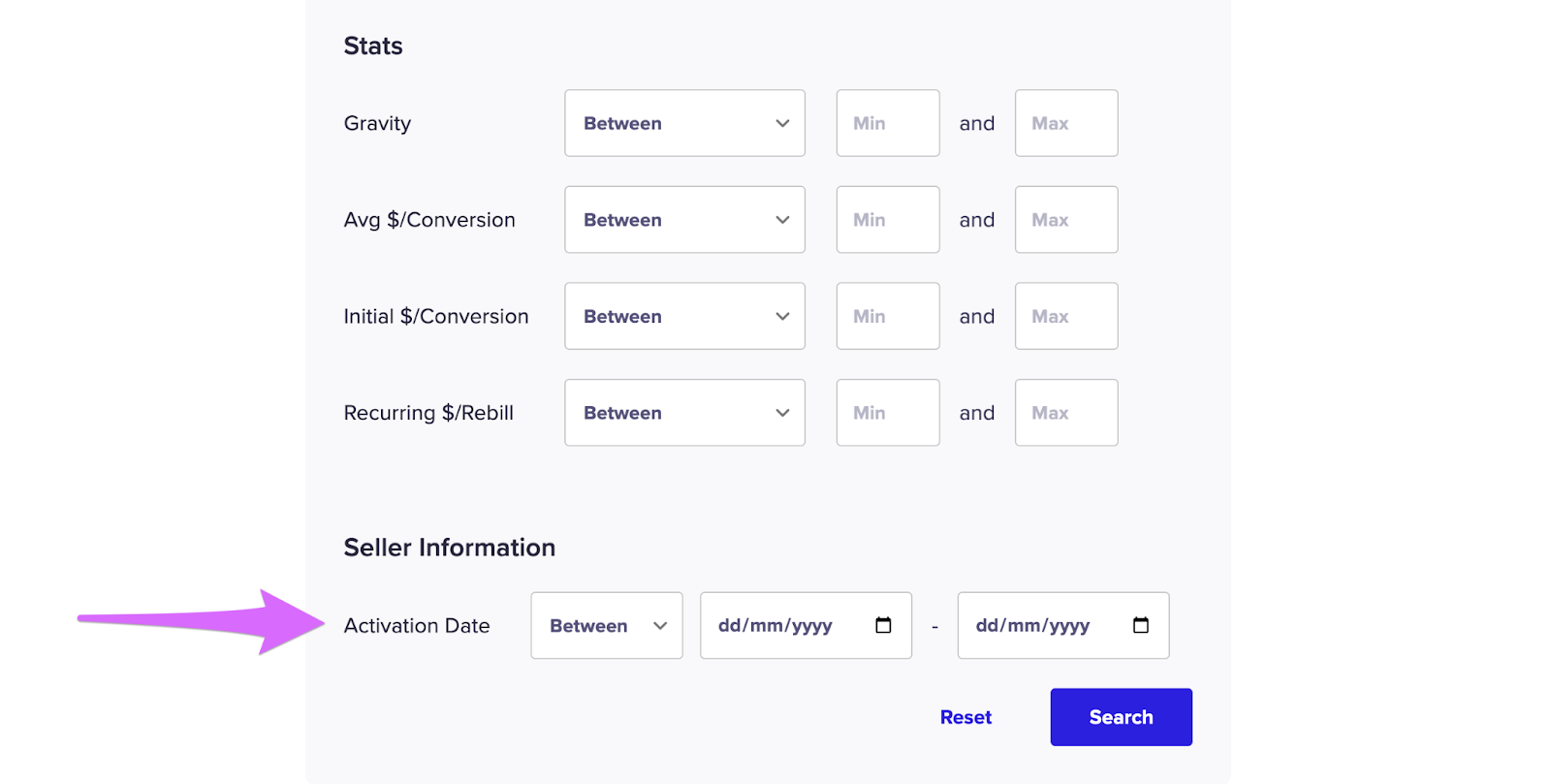 ShareASale goes a step further and indicates merchants with low funds.
To see this, head to any seller's affiliate program page and click "Status History." This also displays how long they've been online.

Generally, avoid merchants with an unreliable history. If they are closed, then you won't be getting paid for the clicks you send, reducing your EPC.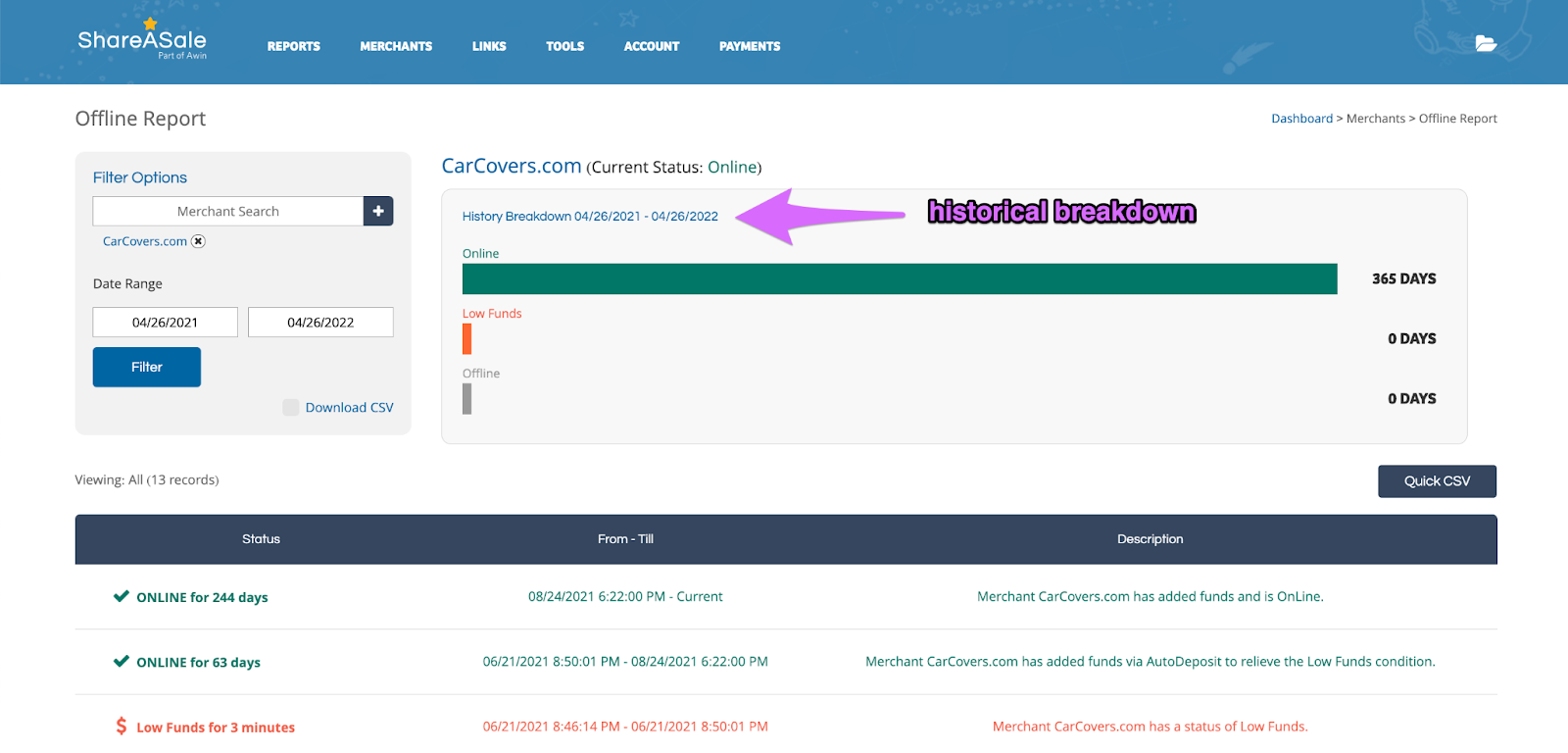 7. Troubleshoot Your Offers
If you've ticked the above boxes but are still coming up short, here are a few moves you can make.
The Offer Is Irrelevant
You might encounter two offers in an affiliate marketplace, and one will have a higher average commission rate and EPC, but it won't be in your niche.
The other affiliate product in your niche, will have a lower payout, and EPC, and is considerably more relevant to your target audience.
Which should you choose? The one in your niche!
For example, if you blog about social media marketing but see a "Yoga Burn" product with a higher payout, and decide to pitch that, you'll confuse your readers because nobody's coming to your site to solve that problem.

You'd be better off promoting a social media offer because it's in your niche and highly relevant.

Yes, the average commission is lower, but it will convert better, and lead to a higher earning per click overall.
High Price Point
Is your audience high-earning, high-spending ballers? Or are they more money conscious? 
For example, if you're promoting high-priced items in a more frugal niche, you'll struggle to make sales.
Don't be a budget travel blogger promoting a private jet chartering service.
Further Reading:
What Are Good Earnings-Per-Click?
The short answer: it depends. Average earnings per click differs across niches, audiences, and across individual affiliate sites and merchants.
The best thing you can do is test all the offers available in your niche, and keep optimizing to increase EPC on the highest-performing offers.
If you're running ads to an affiliate sales page (or any landing page), you'd want an EPC higher than your cost-per-click.
Your profit equals your EPC minus ad spend. You should adjust your affiliate marketing strategy when you pay more money per ad click than what you're earning per click.
For example, if your EPC is $2, but your CPC is $3, you're losing money.
EPC vs CPC vs PPC: What's the Difference?
EPC is not the same as CPC, or PPC.
CPC means cost-per-click. This is the cost advertisers pay. It's when advertisers pay based on the number of times someone clicks their ad. This number defines how much you spend. This can be across Google, Facebook advertising, and various other platforms.
PPC means pay-per-click. This is the paid advertising model where you run your campaign. For example, Google's Ad Words is their PPC platform.
Beware of External EPC Factors
There are other factors that affect your earning per click that you should be aware of.
These include:
Low commission rates (though these are generally negotiable)

Low converting affiliate landing pages

Unreliable merchants

Short cookie durations – for example Amazon has just a 24-hour cookie
So, always know the affiliate marketing terms before signing up. Then, if it's more trouble than it's worth, look elsewhere.
Further Reading:
Start Boosting Your Earnings Per Click Today!
So, there you have it. You've learned what EPC is, why it matters, how to calculate it, and ways you can improve it.
To save you time calculating EPC on each link manually, we build Performance to give you a complete revenue breakdown across your site. You can read more about Performance here.
If you want to learn more about how to build a profitable online business in three minutes per week, join our newsletter.
Our creations in your inbox, weekly.
We've built multiple six-figure online businesses that our moms are proud of.
We'd like to help you do the same.