Making passive income on Amazon can feel daunting when you're first starting. But, with some work, you can generate a modest income (or one that even lets you quit your full-time job). We'll show you how to find more financial freedom with a profitable online business because we've done it ourselves.
Want actionable affiliate marketing advice sent straight to your inbox? Join our newsletter, The Monday Marketer.
What Is Passive Income?
Passive income is money made with little or no effort on your part.
For example, if you own a rental property and collect rent from your tenants or receive royalties every time the commercial you booked airs on TV — those are passive income examples. You're not trading your time for dollars (unlike a 9 to 5, which is the traditional way most people make it).
But here's the thing: There's really no such thing as passive income.
That commercial you booked and now collect residuals from required you to work a 14-hour day. The rental property you receive rent from needed fixing up before you found tenants.
There's no such thing as a free lunch. 
You usually make passive income from frontloading the work once and then making money on it indefinitely.
Can You Really Make Passive Income On Amazon?
The short answer is yes.
Their e-commerce platform is ripe with opportunities to make online money, and there are various business models. For example, many have found the Amazon FBA program lucrative, while others pursue dropshipping.
Some buy products at a discount and flip them for a profit (aka retail arbitrage). However, we've found heaps of success with affiliate marketing.
We like it because we have no physical overhead to worry about nor customer service issues to solve – we only promote other people's products that will benefit our readers.
What's also great is that you can set your own hours (perfect for new side hustles).
How to Make Passive Income On Amazon
We'll start with our bread and butter, affiliate marketing because we've been wildly successful doing it. But what worked for us doesn't mean it'll work for you.
So, here are five Amazon business models you can use to make passive income.  
1. Start An Amazon Affiliate Site
An Amazon affiliate site promotes products selling on Amazon. You'll create content and then place Amazon affiliate links in it.
You earn a commission whenever you send Amazon merchants qualifying sales through your affiliate link.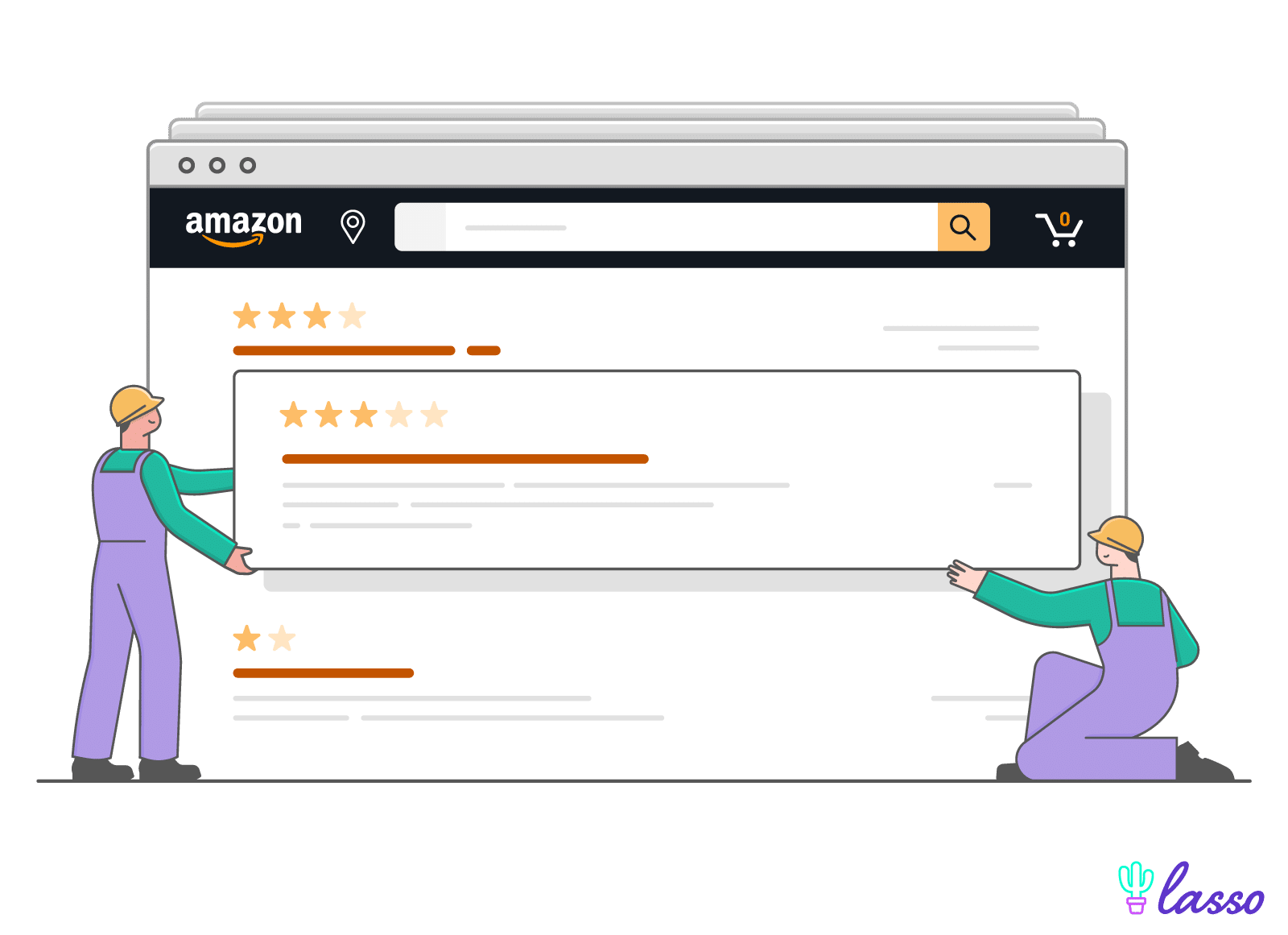 The Amazon affiliate program (aka Amazon Associates program) lets you make money by driving sales to Amazon.
It is perhaps THE most extensive affiliate marketing program on the planet, which is why it's so appealing.
Sidenote: Our niche site, Giftlab, earned $1.2M in affiliate income almost exclusively with Amazon Associates in under five years.
Bloggers, social media influencers, content creators, and website owners participate in its program. It's also free to sign up. 
Amazon is the most popular eCommerce app in the U.S., with over 150 million mobile users. 
With so many people reaching for their wallets to shop there, it's no wonder their affiliate program is so popular. 
You can read our founder's story about building successful affiliate sites in this Twitter thread.
I have built two niche sites that have generated over $2.6M million in *just* affiliate revenue since Jan 2018.

That's an avg of $51.4k/month for 4+ years. 🤯

I'm going to share what I've learned.

My first thread 🧵👇

— Andrew Fiebert (@andyfieb) June 6, 2022
How Does the Amazon Affiliate Program Work?
We wrote a step-by-step guide explaining how Amazon's affiliate program works, which you can visit below. But in a nutshell, the 5-step process works like this:
Create your Associates account
Get your tracking ID
Create affiliate links
Promote Amazon products on your site
Earn commissions every time someone clicks your affiliate link and makes a purchase
Becoming an Amazon affiliate is easy and is a perfect route for beginners because the barrier to entry is low.
The only caveat is you must make three qualifying sales within 180 days, or Amazon will close your Associates account.
Further Reading: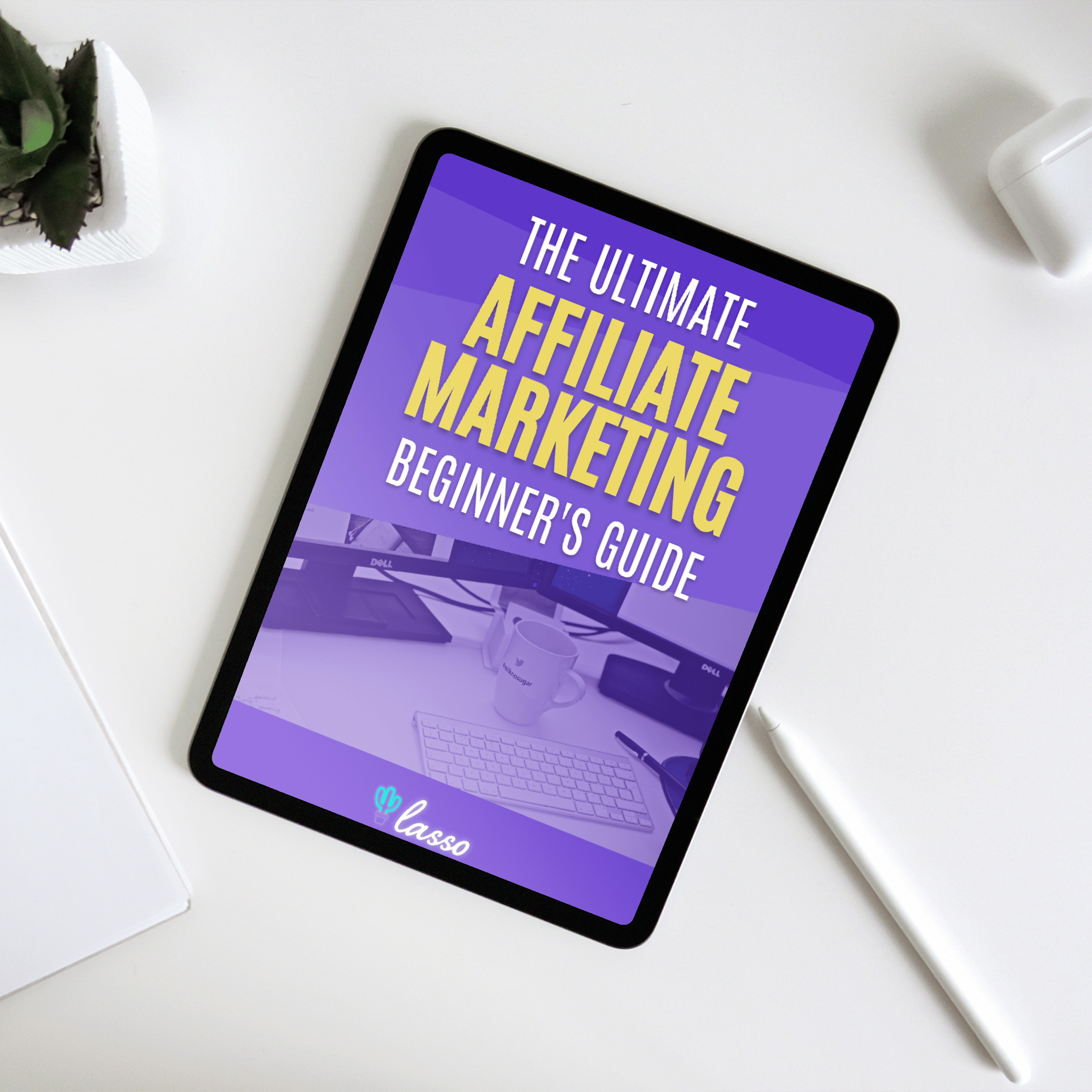 Get Your FREE 30-Page Affiliate Marketing Beginners Guide And Grow Your Site Today
2. Build An Amazon FBA Business
FBA stands for "Fulfilled By Amazon," and they do the bulk of the work for you.
Starting an Amazon FBA business lets you leverage their massive list of resources — everything from shipping and receiving to order fulfillment to customer service. 
Here's how you start:
Find products 
Locate a supplier
Order the products
Package and ship them out
Amazon handles fulfillment because everything gets stored in their warehouses. So not only do they handle all shipping, but refunds and returns.
All you have to worry about is product sales and keeping your inventory stocked. Of course, you'll have to pay a small fee to Amazon, but the trade-off is you gain access to their 24/7 support team.
Sidenote: Discounted shipping rates are another perk of using the FBA model. Amazon is a shipping behemoth, so using its network costs less money. You'll also get more storage space out of the deal — which means no warehouse rental costs.
3. Publish eBooks Through Amazon KDP
Amazon's Kindle Direct Publishing (KDP) is an easy, low-cost way to get your written work into the world.
KDP lets you self-publish ebooks, paperbacks, and hardcover books for free. Then, you can list it on Amazon with its product details page and quickly scale it to readers worldwide. Amazon's ebook market share is ~68%, so accessing their platform gets more eyeballs on your content quicker.
You'll get full rights to your book which isn't permitted with traditional publishing houses. 
It means Kindle readers can access your book easily. Another perk is tracking book sales and accessing free file conversion. There are even special tools to help with specialized book formatting.
To start, create an Amazon Kindle Direct Publishing account. Once logged into your dashboard, follow the prompts and:
Add a new Kindle eBook title
Enter the book title, subtitle, and author's name
Add your book's description
Choose the keywords and categories 
Upload the book's text and  book cover
Once completed, choose your selling price. Amazon will populate a product page for your book.
Further Reading:
4. Sell Your Designs Through Merch By Amazon
Amazon's Merch On Demand lets you create unique designs and sell them.
Here's how you can start.
Upload your design to Amazon. Next, choose a product where you'll display it (e.g., coffee mugs or t-shirts). Finally, write a product description.
Et voilà!
Amazon handles the rest. You'll have a product page on Amazon so people can buy directly.
The best part: Amazon handles all the fulfillment and customer service.
You don't have to worry about housing your product in a warehouse because Amazon does it for you — and they only make your product when someone orders it — hence the name "merch-on-demand ."
If you have tools like Adobe Photoshop or Canva, you can quickly start creating logos, graphics, and designs for your shop.
There's no upfront cost; once you upload your design, you'll collect royalties whenever your product sells.
Amazon determines profits by:
How many units you sell
How much it costs Amazon to sell it
Merch On Demand is non-exclusive so you can upload your designs to other platforms and collect royalties there too.
Plus, your customers get the exact shipping options as any other product Amazon sells – which means you have Prime's free two-day shipping feature.
5. Retail Arbitrage
Retail arbitrage is buying inexpensive products and selling them for a profit.
For example, buying an item for $2 and selling it for $10. It's the classic adage: buy low, sell high. Doing this on Amazon is pretty simple.
To start, you'll need to:
find products to sell
create an Amazon seller account
Next, you'll want to get the Amazon seller app. This lets you scan products you find in retail stores. Then, it'll populate your feed with product data, including its sales rank and whether you're allowed to sell it on Amazon.
But its most attractive feature is determining the profitability of your item based on how much you pay for it.
Tip: When considering retailers, try Walmart, Target, and Dollar General (or similar thrift stores). These outlets carry many low-cost goods and make excellent starting points.
When running your retail arbitrage biz, you'll have two fulfillment options.
You can either do it yourself using Amazon's Fulfillment By Merchant (FBM) or have Amazon do it for you using Fulfillment by Amazon (FBA).
One advantage of retail arbitrage is the lower starting costs. According to Jungle Scout's seller report, 33% of sellers doing it launched their business with less than $500.
The second advantage: it's a quicker set-up, with 41% of sellers launching in six weeks or less. 
The trick is knowing where to find products cheaply (because items don't cost the same everywhere).
Tips for Making More Passive Income On Amazon
When creating your passive income stream, there are other things you can try to boost earnings. Since our primary method is affiliate marketing, this section outlines a few strategies you can use.
Sidenote: Some of these tactics work regardless of the business model you choose, so keep reading.
Find Desirable Products In Amazon's Trending Section
You can find this section by clicking "Best Sellers" in the upper left corner across the top menu bar. You'll see Best Sellers, New Releases, and Movers & Shakers when you click it.
Chances are, you'll find products here related to your niche.
Once you've sourced products, create a Best Sellers page. It can be a real revenue booster. Much like the Resources page on our site, Listen Money Matters generates 10% of our affiliate income.
A best sellers or popular products page serves the same function.
Further Reading:
Sidenote: The Movers and Shakers are the biggest gainers in sales, updated every 24 hours.
Leverage "Amazon Explore" In Your Niche
Amazon Explore offers live streaming experiences. In addition, the platform provides an assortment of virtual classes and experiences from the comfort of your laptop.
The commission is currently 10% which is the second-highest rate.
Tip: Find high ticket experiences by setting the filter to "$75 and above." If you find ones your audience will love, you can promote them. And if there's enough, you could create a best list of these online classes and workshops in your niche.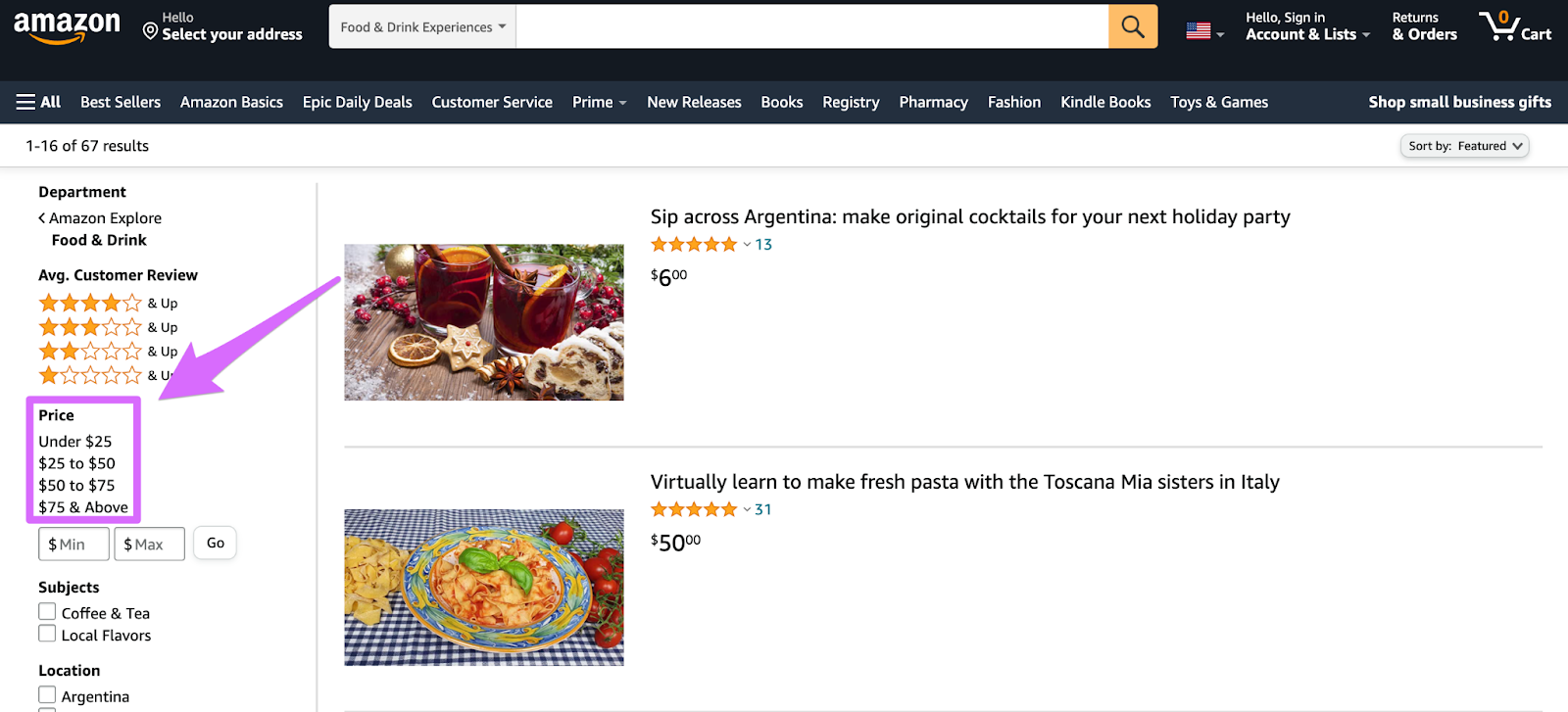 Further Reading:
Increase Clicks with More Affiliate Links Per Post
Boost your chances of someone clicking your affiliate link by giving your readers more opportunities. Instead of only using text links, add links to images, buttons, and header tags (h2s and h3s).
Our gift site uses three affiliate links per list item with great success, adding them to our h3s, images, and buttons.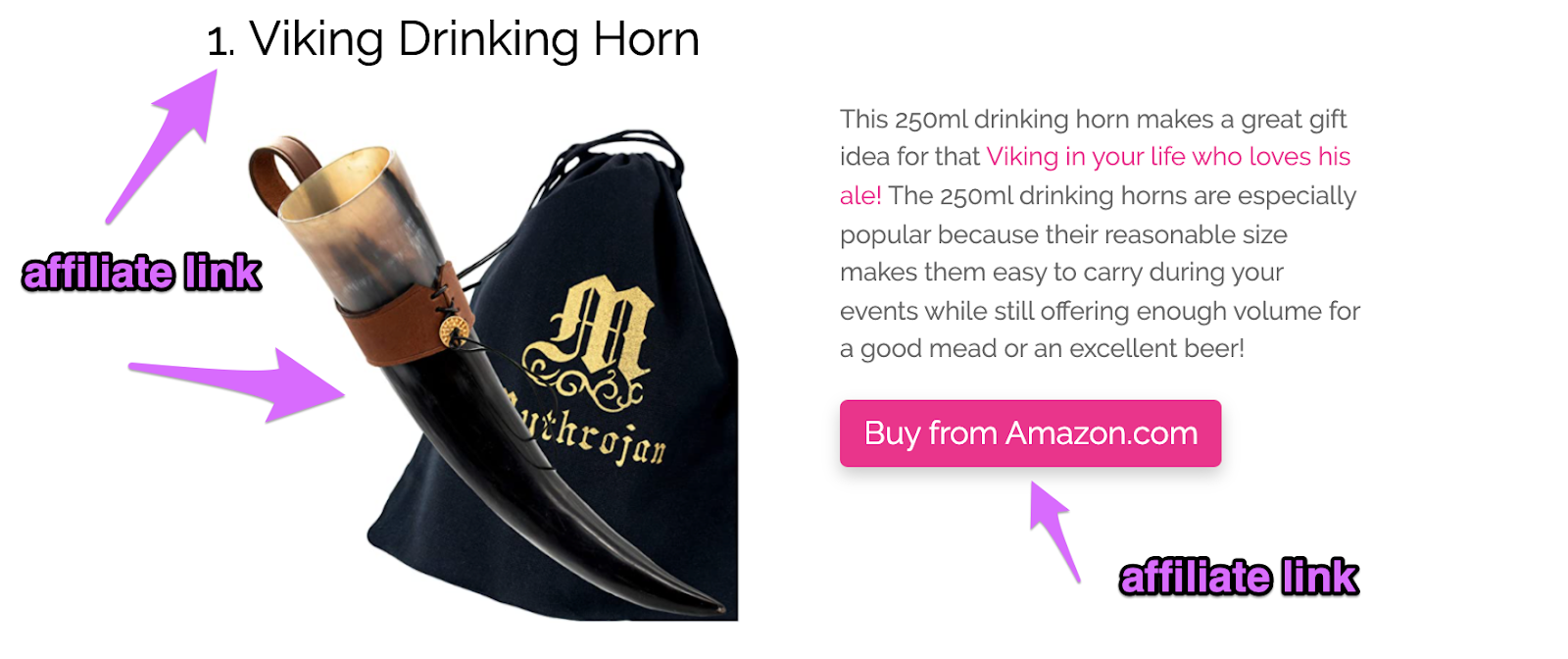 We've tested methods like this against millions of impressions, so we know what converts best – and this is one you can adopt to your list posts to boost conversions.
Further Reading:
Omit the Price to Capture the Click
If people are interested in your product, they'll click to get more details (e.g., the price). This lets you capture the tracking cookie, so even if they don't buy that product, it's still attached to your reader's browser for 24 hours.
Something else worth noting is when a website visitor adds an item to their cart (but perhaps doesn't buy immediately), it extends the window to 90 days (as opposed to 24 hours).
Takeaway: You've just increased your odds of earning a commission.
The alternative to hiding the price would be showing the discount with the higher original strikethrough price. This way, your reader sees they're getting a bargain.
In one study between Claremont Graduate University and Coupons.com, displaying discounts to shoppers boosted oxytocin levels and reduced stress, driving more sales.

Further Reading:
Target Products Featuring the Amazon's Choice Badge
Amazon's Choice badge attracts more clicks because shoppers trust it. Therefore, the more significant amount of these products display in your posts, the likelihood your conversions will increase.
Look for the badge appearing alongside your products like this one: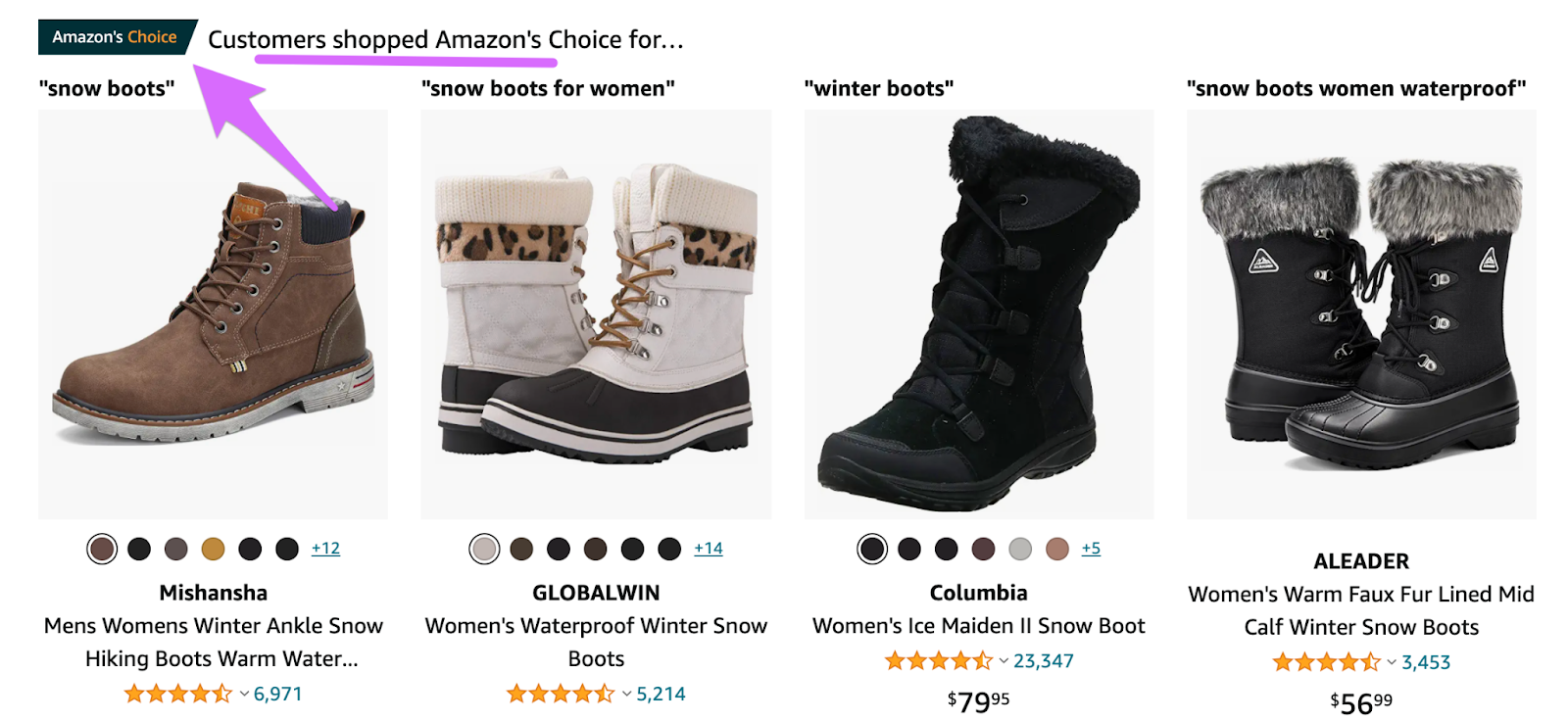 This study revealed the "Amazon's Choice" badge increased conversions by 25%.
Last Words
Learning how to make money online is a slippery slope when first starting. But even if you're a beginner, there are frameworks you can follow to smoothen the process. Researching your niche and picking the right products – are all concepts you can apply.
Passive income ideas come in all shapes and sizes, from real estate investing to self-publishing to selling products on eBay; any of these can become a new revenue stream.
We focus on affiliate marketing because that's what we know best and where we've found financial success.
Want to learn how to grow an affiliate business in five minutes a week? Join our newsletter, The Monday Marketer.
Our creations in your inbox, weekly.
We've built multiple six-figure online businesses that our moms are proud of.
We'd like to help you do the same.