Internal links and external links are critical parts of a good SEO strategy, something all affiliate marketers prioritize. And managing your links correctly can improve your SEO and make your life easier.
If you have a WordPress website, you probably use its links manager. But its manager is far from the only one available. Instead, consider these seven better alternatives to the WordPress links manager.
Some content creators may not be aware of just how vital link management is. Proper link management provides more accurate analytics.
To accurately track the number of visitors to your site and which of your pages are most successful, you have to avoid forced new windows openings because they skew your results.
While there's no set number of links you should have on your web pages, you don't want to cram as many as possible. Every link you add should be valuable to the reader.
If you're trying to artificially boost your SEO rankings with junky reposts and purchased backlinks, you can hurt your credibility.
Using dynamic linking can further engage and educate readers. Using internal links keeps them on your site, and using external links can help further explain a concept on your page without adding hundreds of words to an article.
It's all about the links kids, so let's get to managing.
Table of Contents
WordPress Links Manager Alternatives: 7 Better Plugin Options
In A Hurry? Here Are Our Favorite Link Management Plugins:
Description:

Lasso is the best WordPress plugin for affiliate marketing. If you want to earn more affiliate income and grow your niche site, you need Lasso!

Description:

Linker is a simple plugin that will cloak your links and help you track clicks using an external tool like Google Analytics.

Description:

ThirstyAffiliates is a popular if outdated link management plugin that allows you to cloak and reuse links across your WordPress site.

Description:

Pretty Links is a very popular link management plugin for cloaking links and making them "prettier." When using Pretty Links, be sure not to cloak Amazon links, or your account will get banned.
Links Basics
There's a lot to know about links, but we'll break it down to the bare bones.
Internal Links
Internal links take readers from one web page on a site to another page on the same site. Using internal links lets readers navigate a website, establish an information hierarchy for that site, and help power ranking around sites.
Best practices use descriptive keywords in the anchor text so readers know what topic or keyword the link is related to.
External Links
An external link is a hyperlink that takes readers to another website. When other sites use external links to link their readers to your site, it can increase your site's ranking. The more external links to a page, the higher it ranks.
In SEO, external links to your site are more important than your internal links. It's why getting backlinks is essential.
How Links Open
Using internal and external links is an excellent way to engage your audience and provide them with additional information that you think will be entertaining or useful. But there are two ways those links open, and choosing the right one keeps the reader on your page.
One choice is to open a new page in a new window, so it doesn't take the reader away for your site or the current page. The other is to open the link in the existing window, which means to go back to the original page, the user will have to use the back button.
Keeping readers on your site is a priority, so using code that will open links in a new tab is the better option.
Anatomy of a Hyperlink
We'll explain how you create a link and how search engines like Google and others interpret them.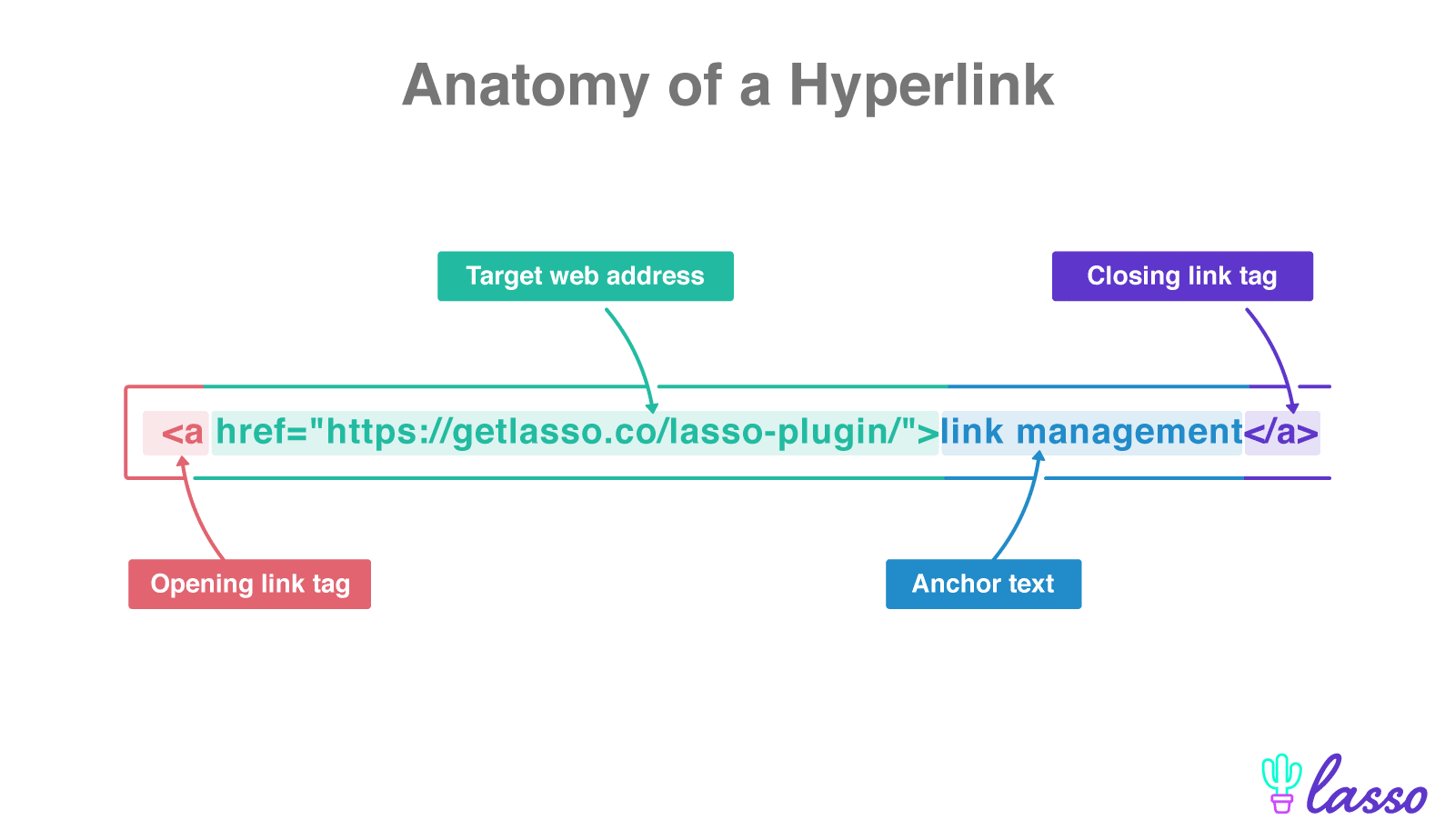 Anchor tag: At the beginning of a link is the anchor tag. It opens the link tag and tells search engines that a link to a different page will follow.
Hyperlink referral: The href stands for hyperlink referral and the text inside the quotation marks indicates the URL the link points to. The URL doesn't have to be for a web page; it could lead to an image or a downloadable file.
Anchor text for the link: This is the text readers click to open a link. It's usually blue or sometimes underlined to show readers that it's clickable.
Link tag closure: This indicates the end of the link tag to search engines.
WordPress Links Manager
If you're a blogger, odds are you have a WordPress site.
WordPress.
Pretty damn impressive. WordPress offers a links manager tool, and many creators use it as a default, perhaps unaware there are better alternatives.
The WordPress Links Manager is a tool available on the WordPress site that helps creators manage a set of links. From it, you can add links, edit links, and remove links from the admin panel.
There's also a widget you can add to a sidebar that displays links, and you can create your links to the dedicated API.
But for serious affiliate marketers, the WordPress Links Manager often falls short.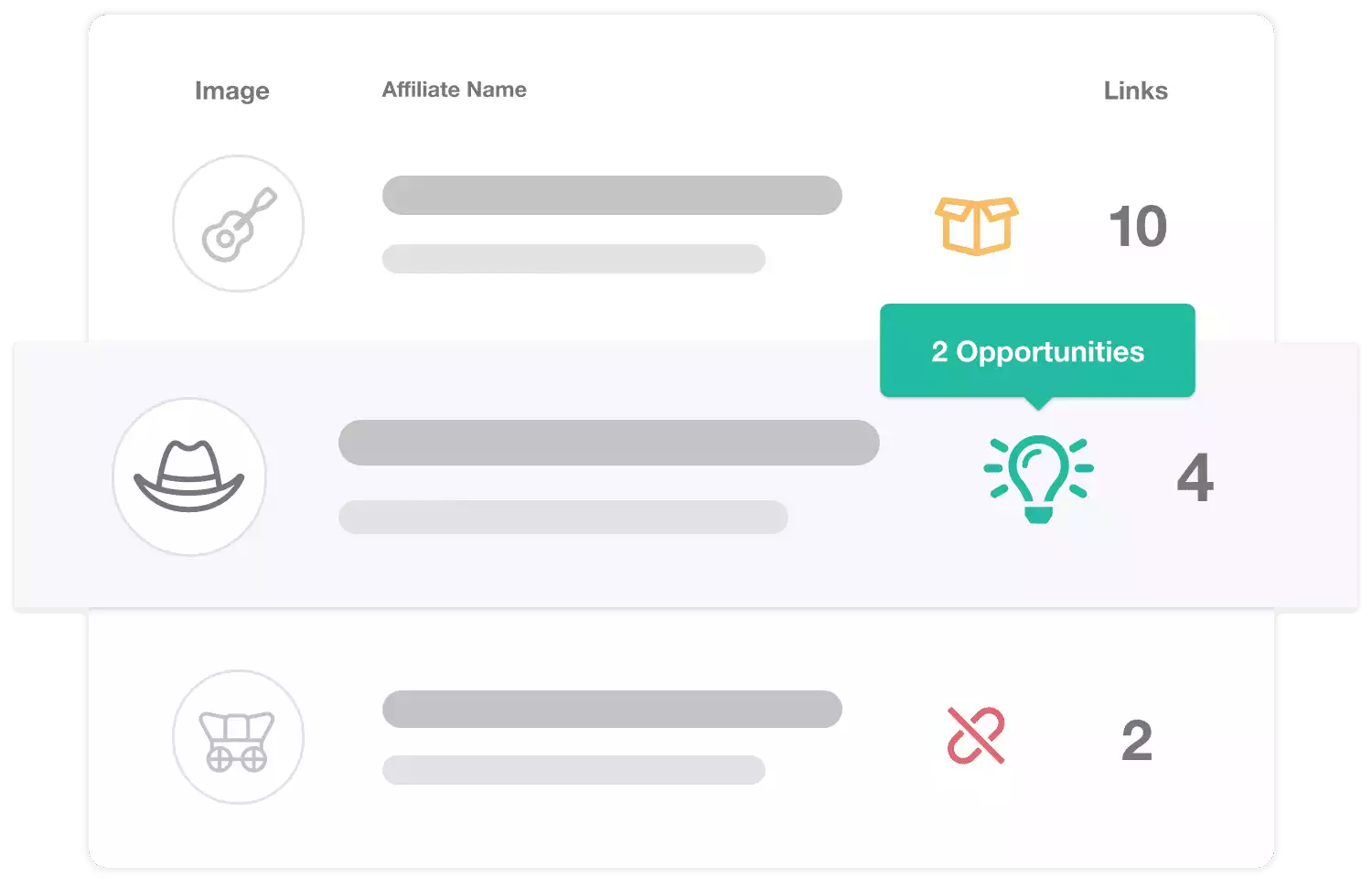 Alternatives to the WordPress Links Manager
If your needs have outgrown WordPress Links Manager, these are the 7 better alternatives.
Lasso
Lasso is a links plugin management system, but it's a lot more than just a link manager. With Lasso, you can also;
Create custom link displays
Get updated Amazon product information
Notify you of broken links
Track clicks
Organize and sort links and create a display grid or list on your web page
Best Plugin For Affiliate Marketers
Lasso
Lasso is the best WordPress plugin for affiliate marketing. If you want to earn more affiliate income and grow your niche site, you need Lasso!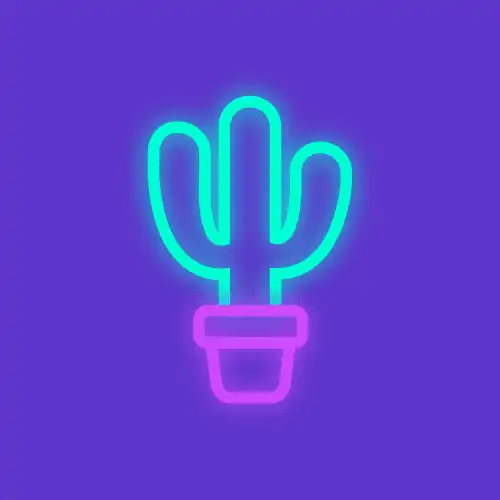 Linker
Linker is a tool that will generate a short link within your domain and track external link clicks from your website using Google Analytics.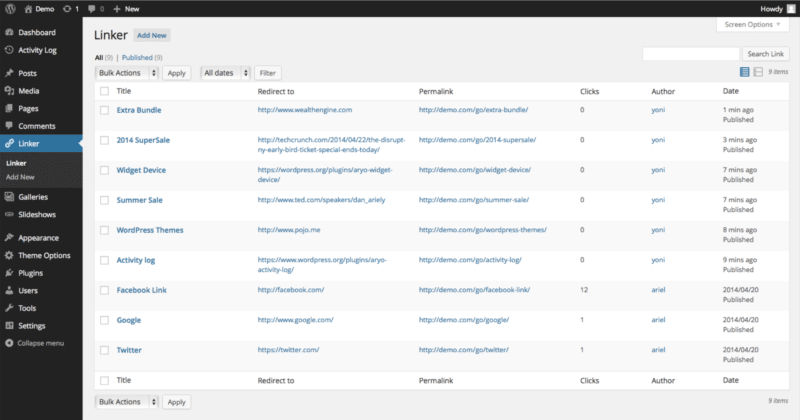 With Linker you can also:
Create vanity URLs using your domain
Redirect links to any inbound or outbound location using 301 redirects
Set up tracking
Urlink
Urlink lets you manage your links and group them by link category or tags. Each link can be set using direct or redirect and opening them in a new tab or the current tab. With Urlink you can also:
Link thumbnails
Customize redirect and direct
See total clicks for each link
Meta key ordering
ThirstyAffiliates
ThirstyAffiliates helps affiliate marketers monetize their WordPress sites. With ThirstyAffiliates you can also:
Group a list of links into categories
Choose from 301, 302, or 307 redirects
Uncloak links so as not to violate terms of an affiliate partner
Shorty Pro
Shorty Pro is a WordPress plugin to optimize and automate clicks to get more conversions. It also offers:
Conversion tracking
Affiliate network integration
Conversion timeline
Geolocation
Pretty Link Pro
Pretty Link Pro helps you create vanity URLs for your website, social media posts, and offline materials. With Pretty Link Pro, you can also:
Name custom slugs for your URL
Track the number of clicks per link
Track the number of unique clicks per link
View click details
ShortLink Analytics
ShortLink Analytics is a plugin that generates short links and tracks visitors. With ShortLink Analytics, you can also:
Track unique visitors
Tracks statistics by browser, OS, country, and city
Track statistics by date, day of the week, month, or custom
Manage Your Links, Not Your Plugins!
There is such a thing as installing too many plugins. Not all of them are of high quality, and they can slow down your site. To have all of the same features Lasso gives you in a single place, you'd have to install, manage, and pay for several different plugins.
It means the longer you're not taking action, the more money you're losing. No, you don't have time or money for all of that! Lasso is the WordPress Links Manager alternative; it'll do the work for you.
Our creations in your inbox, weekly.
We've built multiple six-figure online businesses that our moms are proud of.
We'd like to help you do the same.