Getting started with affiliate marketing can feel awkward in the beginning. You're trying to get traffic, build an audience, and create content. But some of that content revolves around things you promote. So, how do you find those items? What makes a great choice? Identifying them isn't always obvious (I know it wasn't for me). This post will show you how to find affiliate products for any niche.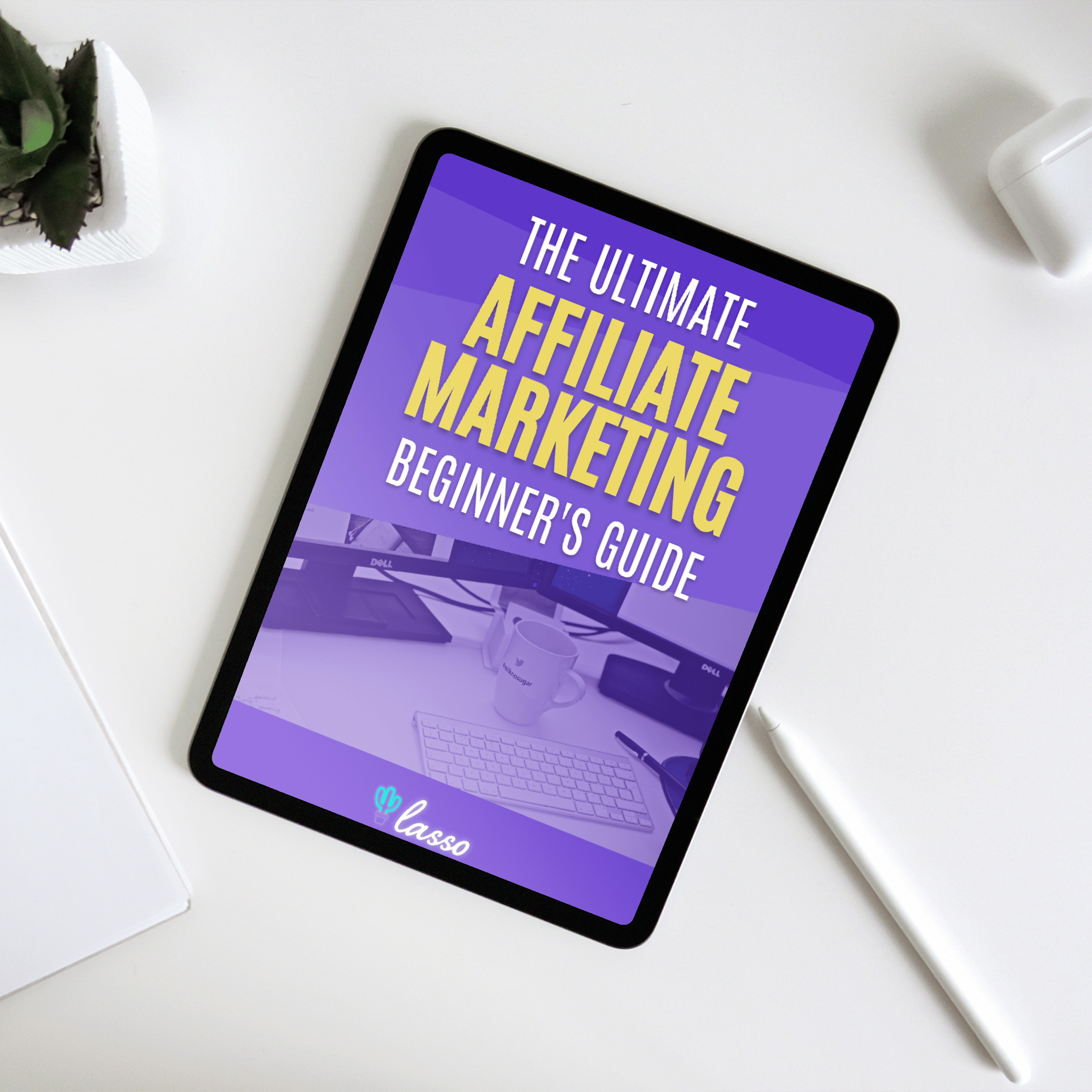 Get Your FREE 30-Page Affiliate Marketing Beginners Guide And Grow Your Site Today
Table of Contents
How to Find Epic Affiliate Products for Any Niche
What Are the Benefits of Affiliate Marketing?
Successful affiliates have found this marketing strategy an excellent source of passive income. As a result, many created financial freedom for themselves and were able to ditch their 9-5. That's what Lasso's founders did!
All you have to do is helpfully recommend useful products to make money. You're simply connecting buyers with merchants. Then, when those buyers make a purchase, you get a commission from the affiliate sale.
Because it's performance-based marketing, there's also the potential for higher commissions depending on your content quality and the affiliate programs you partner with.
Joining programs is low-risk. Startup costs are minimal, and you lose nothing if you decide not to pursue them.
There's also no customer service involved either. It's only you and your website. There is no need to build product pages or leverage an e-commerce platform to sell your wares, deal with warehouse costs, or anything else.
You hold no product inventory.
But the best things:
100% remote (i.e., work from anywhere)
Set your own hours
Low barriers to entry (no college degree required)
Now let's get to the meat of this post with nine ways you can find fantastic affiliate products to promote.
How to Find Affiliate Products
Here are a few searches you can run that yield tons of product ideas.
1. Run a "best products for [niche]" Google search
Whatever your niche, type "best products for + niche" and see what Google populates.
For example, when I run a "best products for CBD" query, I see many 'best list' posts in the search engine results.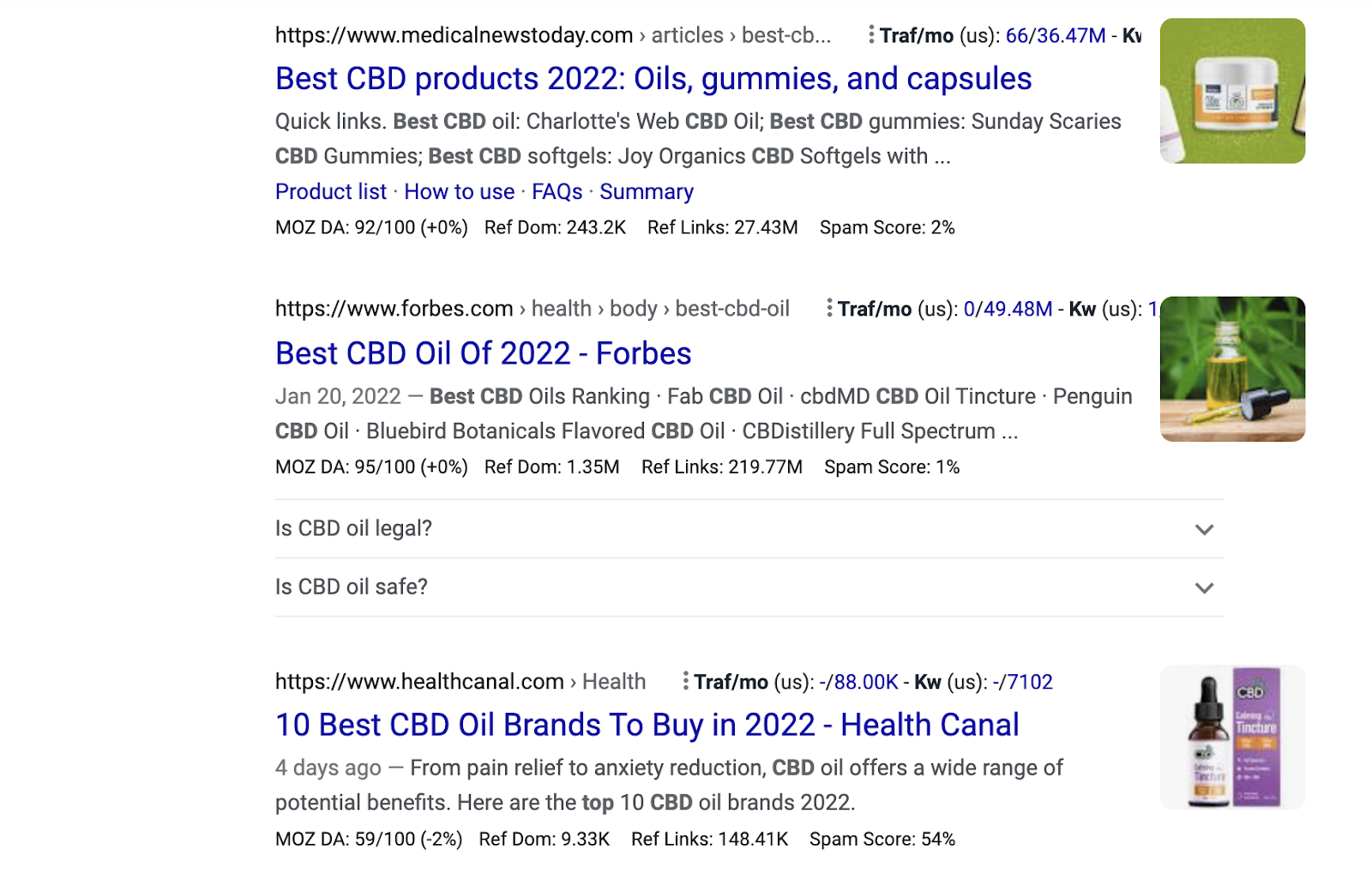 A perfect starting place. Now let's refine it.
Click the "Shopping" tab for enhanced features
Run the same query but click the 'shopping' tab beneath the search bar. This lets you add filters, such as:
Display only nearby results
Products on sale
Price range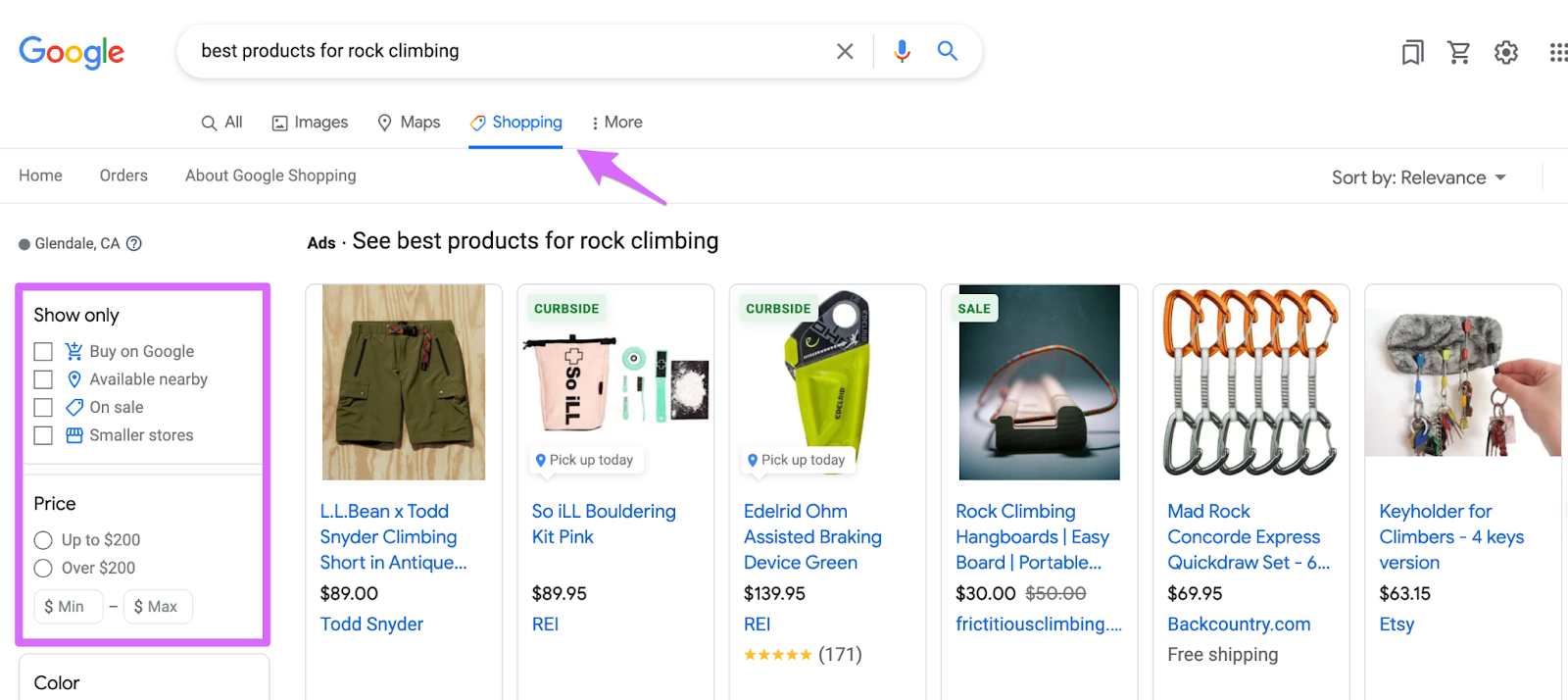 Filtering by prices is perfect for finding your premium and budget picks.
Once you find the right products, you can showcase them in product displays that highlight your offers, like the one below.👇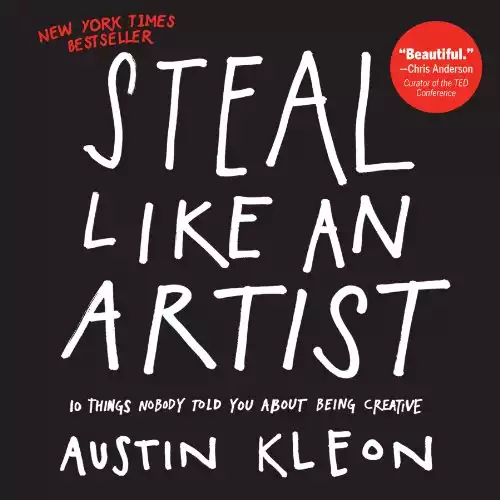 Our WordPress plugin Lasso lets you create high-converting product displays and manage your links in one place.
Tip: Add "Budget Pick" and "Premium Pick" custom badges to your affiliate offers. This will speak to a specific demographic and qualify visitors. You can read more about how to do this with Lasso in the "Further Reading" section below.
Further Reading:
2. Use the "Vs." Autosuggest
Suppose you run a niche site dedicated to jogging. If you want to find more products in your market, try typing a well-known brand into Google followed by 'vs.'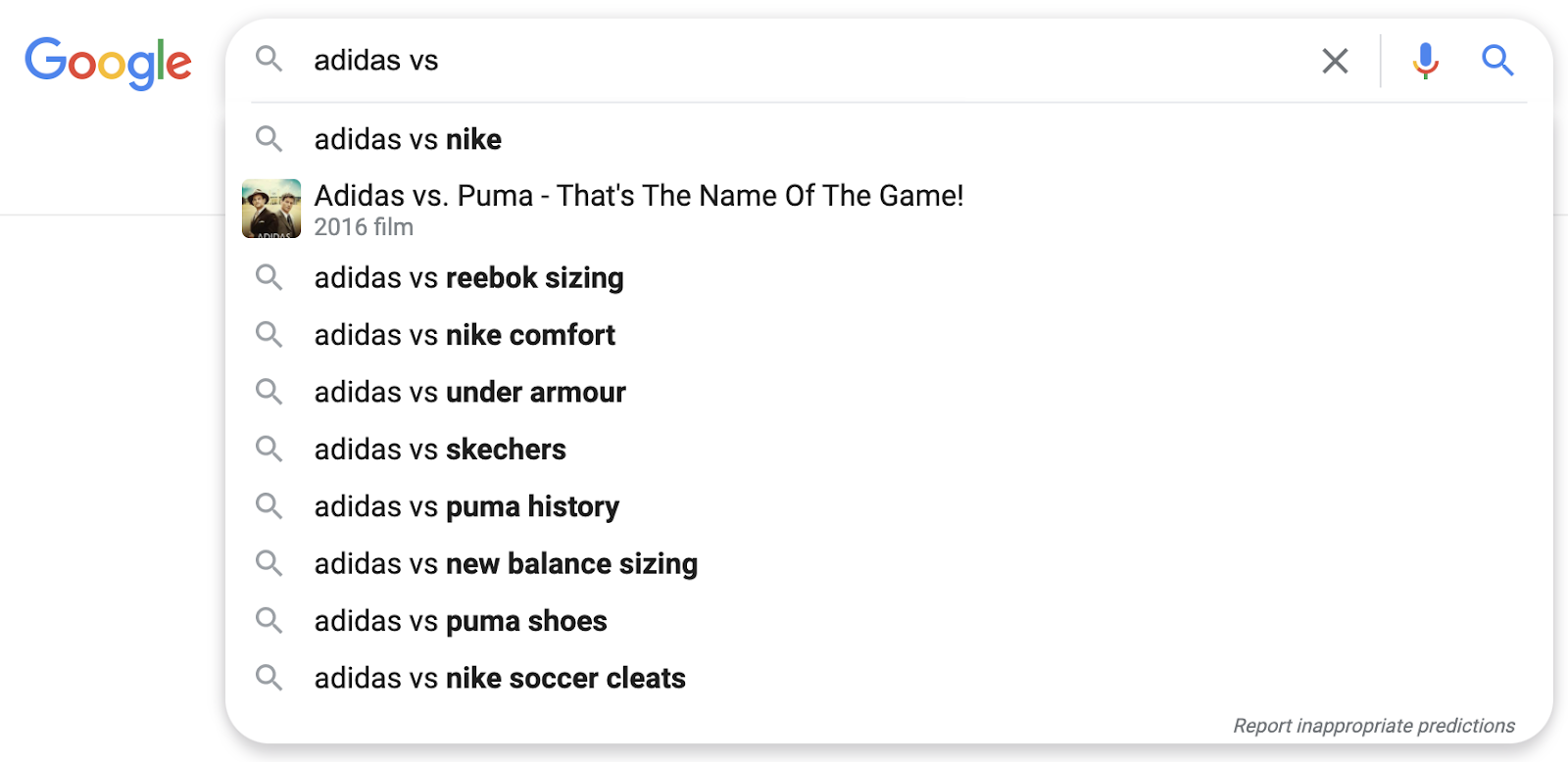 Google fills in the blank with additional products. Plenty of ideas with this approach. You can also try searching ecommerce stores in your industry.
For example, "best jogging ecommerce stores" or "best online running stores." Google displays tons of retailers selling products in your category.
Sidenote: Try Googling "best services" and "best courses" in your niche. For example, "best CDN services" or "best real estate investing courses." Then check those places to see if they have affiliate partners worth joining.
You also try adding extensions to your browser, such as Affilitizer. This free tool lets you identify affiliate programs while surfing the web.
3. Find Alternatives to Top Products
What's a best-selling product in your niche?
Type that into Google, followed by the word "alternatives." For example, MOZ is a popular SEO tool. But you want to find other brands to promote.
So, enter "MOZ alternatives" into the search field and see what you get.
4. Peek At Amazon's Best Sellers
Amazon affiliates have boatloads of products to choose from. But you don't have to belong to their program to find ideas.
Head to "Best Sellers" in the upper left corner, then filter by department (i.e., your niche).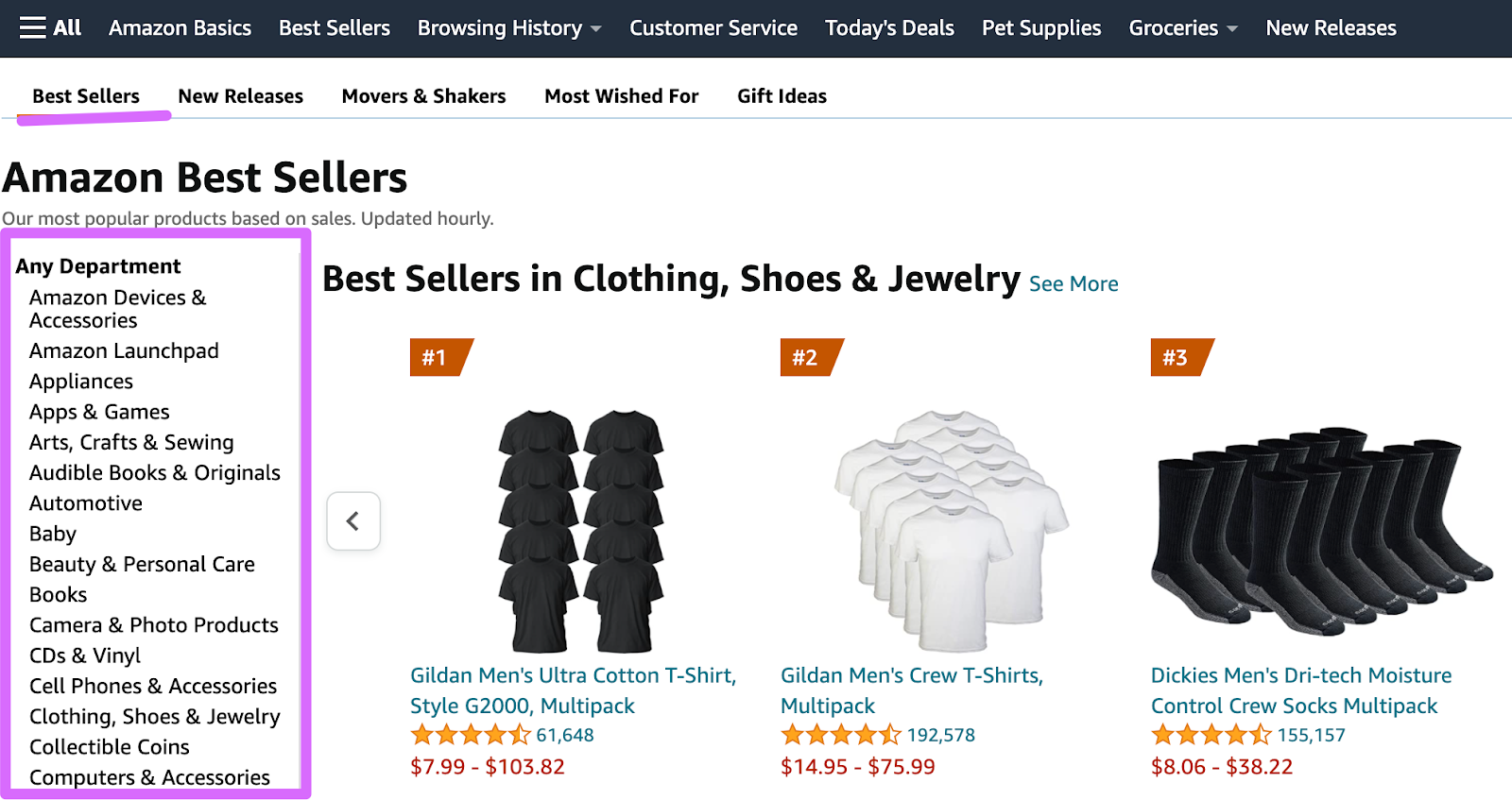 You can also use their filters in the left sidebar to search for specific brands, price ranges, and star ratings.
Further Reading:
5. Search Your Affiliate Networks
Sounds like a no-brainer, but worth saying. You can find lots of products in your affiliate network by product category. If you don't belong to any, you can sign up for free.
Aside from Amazon Associates, you can try:
ShareASale
Clickbank
Rakuten
CJ Affiliate (formerly Commission Junction)
eBay Partner Network
Affiliate networks connect merchants with bloggers by functioning as a middleman. You can also oversee multiple programs in one place.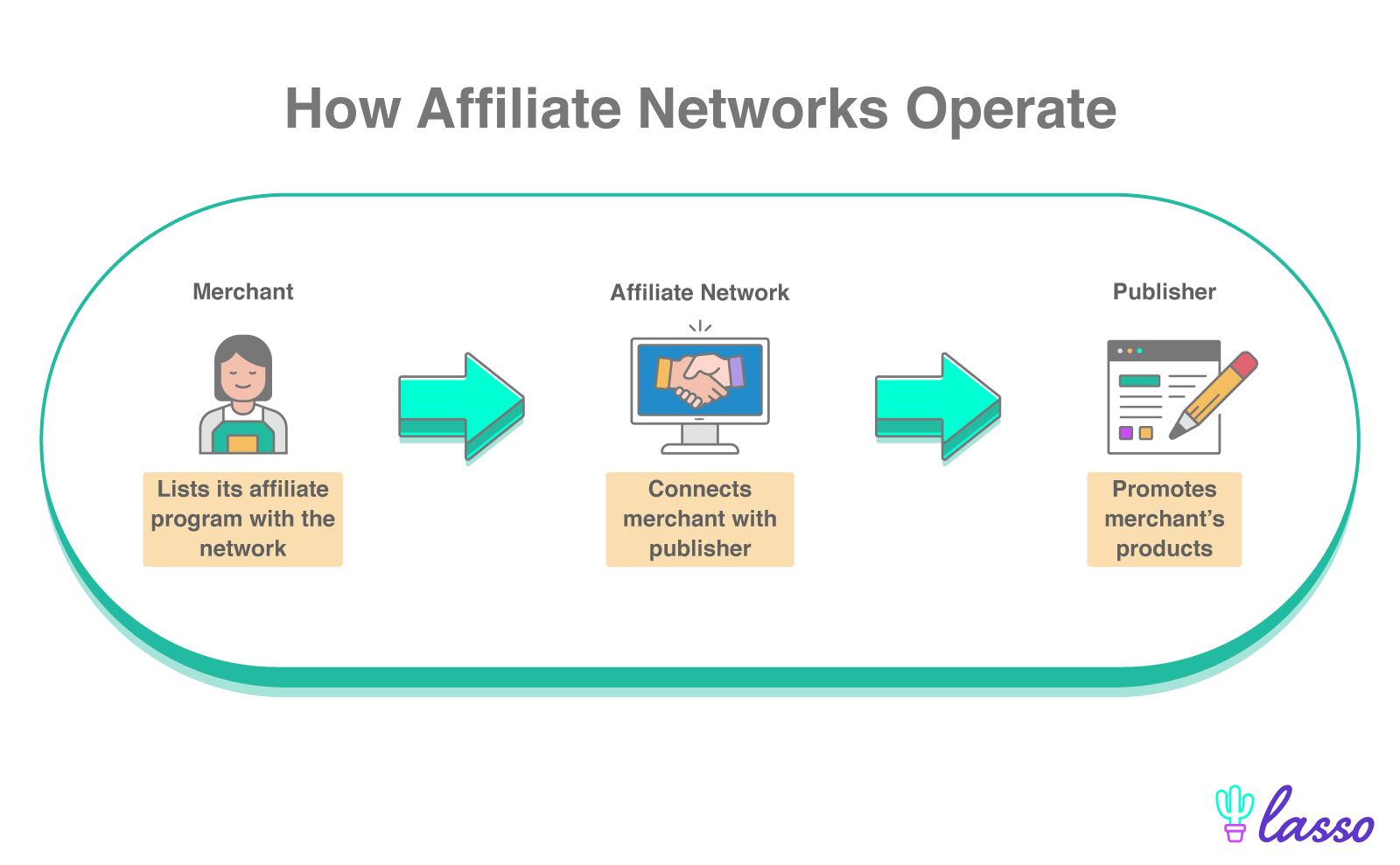 Another benefit of searching affiliate networks is identifying program details, including their:
Commission rates
Conversion rates
Payout frequency
This gives you an idea of the types of affiliate programs with high commissions and potential affiliate products to promote.
Another suggestion is running a Google search for "best affiliate programs + niche" or "popular + niche + affiliate programs."
Sidenote: Try checking affiliate directories—these list programs in various niches. You can check our database of over 9,000 affiliate programs here.
Tip: Run your affiliate program through a keyword research tool to check search volume, like how I did for HubSpot.

Further Reading:
6. Find Products with Google's Keyword Planner
Google's Keyword Planner is primarily for advertisers for knowing a keyword's cost-per-click (CPC).
However, you can use it to find products.
For example, if you're in the beauty niche and enter "buy makeup," you'll see a list of terms (including several makeup brands).

Observe the CPC (aka bid range) for your keywords. High CPCs signal strong purchase intent and could mean more affiliate clicks to your links.
7. Ask Your Audience
When in doubt, ask your readers. Send them a quick email asking:
What products, services, or tools do they already pay for
What products, services, or tools would eliminate their problems
What are they struggling with
You can also gauge your readers' expertise level. If you're catering to a beginner crowd, find products that'll help people just starting.
Alternatively, if your target audience is experts, you'll avoid wasting time creating content for newbies.
Sidenote: You can use tools like Exploding Topics which reveal rapidly growing topics before going viral. Muncheye lists product launch dates. So, you could find a product or service in your niche and write a review just before going live. This can boost your SEO rankings.
Further Reading:
8. Review Your Purchase History
Look at your bank statements. These are items you already use.
Chances are, you're already using niche-related items. For example, if you ran a health and fitness blog and happened to buy an Oura Smart Ring for sleep tracking, you could create content about it.
Examine items you bought over the past 90 days.
Books
Amazon is great, but you can also look for creators doing self-publishing.
For example, run a Google search for iTunes or podcasts with the phrase "author of."
This lists anybody whose written a book they're promoting on those platforms. Then, filter by niche or person.
Try this advanced search:
site:apple.com/itunes/ "author of"
Tip: Reach out on social media and see if the author will answer questions about the book that you can use in your content. If you're unsure, ask whether they have an affiliate program.
These items often carry a higher commission than what you'd find on Amazon but aren't always advertised.
Software & Mobile Apps
Think about the tools and apps you use in your daily life (or ones to help run your affiliate site). Then search for the products related to your niche.
Tip: Offer a bonus tutorial to anyone who buys the product via your affiliate link. Incentives like these will land you more sales.
Along with apps, you can promote music. Have a cool playlist you listen to when you write? Then, you can make money from your song recommendations.
Apple's Performance Partner's Program lets you earn affiliate commissions on qualifying Apple Music memberships and movie, tv-show, book, and audiobook sales.
If you don't use iTunes, try Google Play's affiliate program.
Online Courses
Identify courses on sites like Udemy or Skillshare, then find out if they have an affiliate marketing program. Try searching for:
your niche + online courses
Reach out to the influencer or course creator directly if Google yields zero results. Once you've chosen a course, create your content, including:
Product reviews
Best lists
Tutorials
Further Reading:
9. Examine Niche-Related Coaching Services
That's right; you can promote coaching services too!
These people need more clients to grow their business, and some rely on affiliate marketers to promote their brand.
For example, Tony Robbins offers a myriad of coaching and other services with an excellent affiliate program.

Think of the people in your industry, conduct a little research to find out if they offer coaching and whether they'd be open to you promoting them.
Visit their website or try an advanced search, for example:
site:domainname.com "coaching"
10. Explore Social Media Platforms
Every industry has its groups, Facebook, Linkedin, Twitter. Run a search on your platform to see what groups they have in your niche.
You can try Twitter by Topic: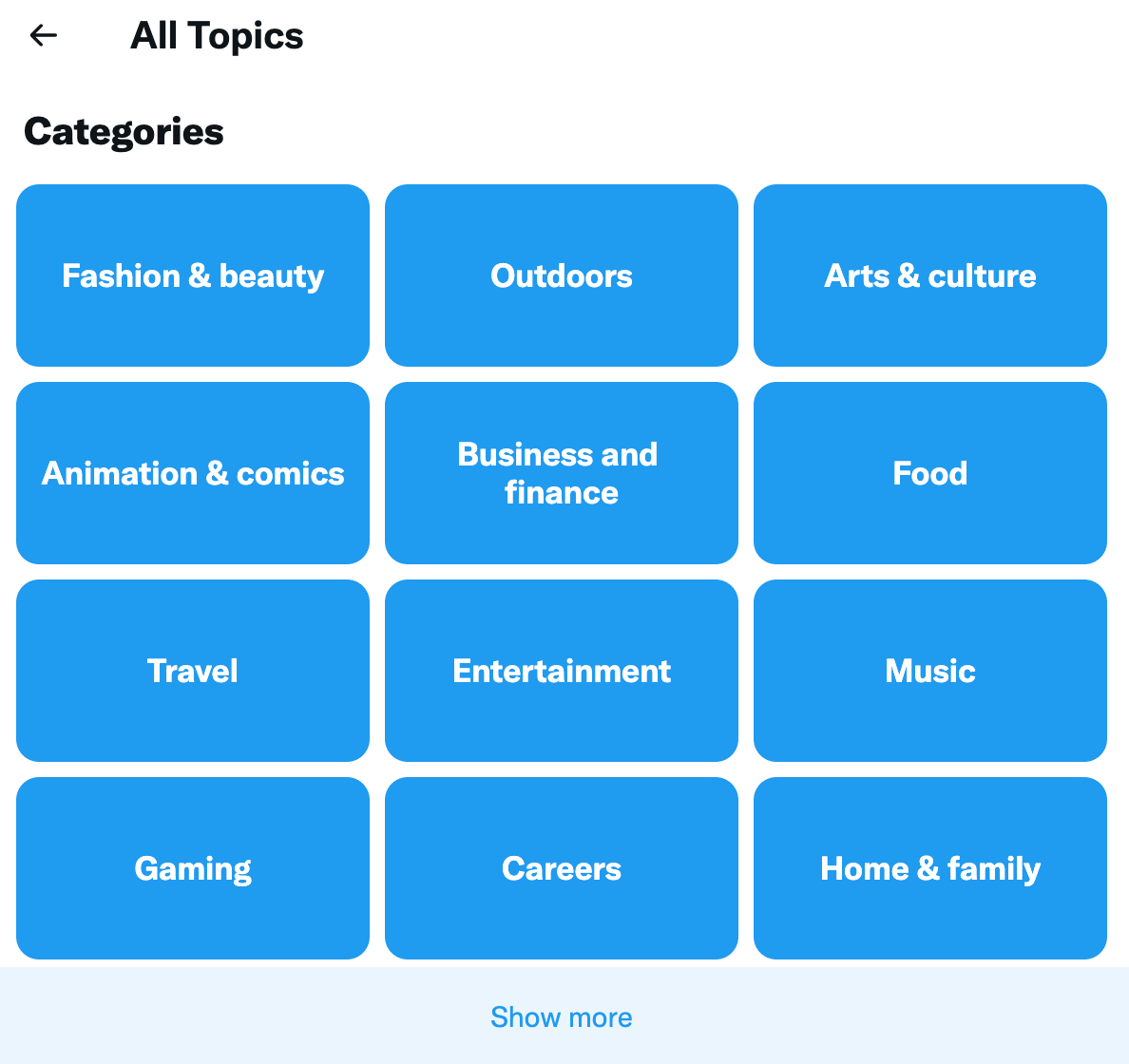 Twitter will also fetch relevant categories based on who you follow and read. Alternatively, you can try your luck with niche-specific Facebook groups.
For example, if you run a camping blog and are looking for product ideas, join a group to see what others use or recommend.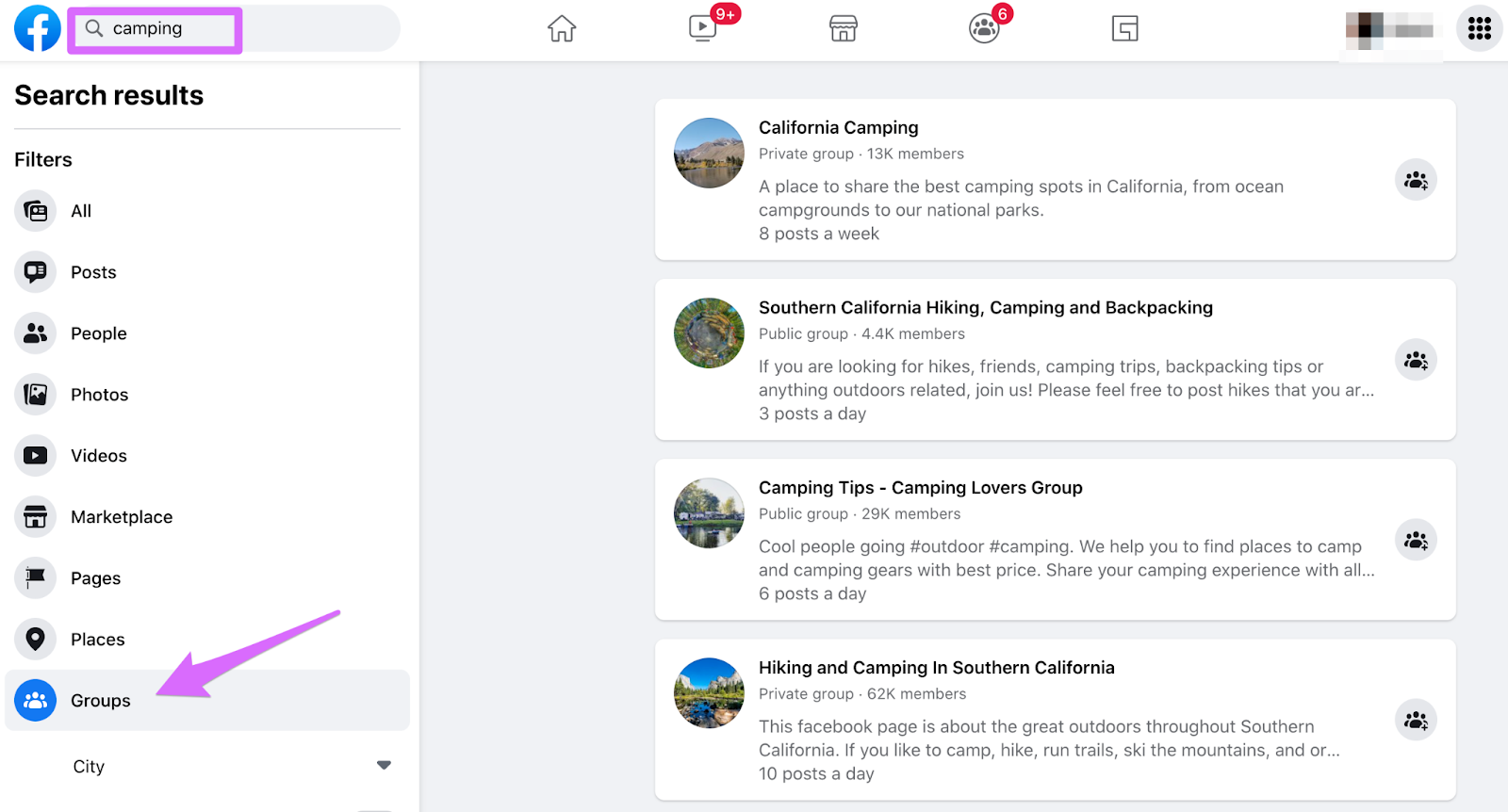 Tip: Try leveraging online forums like Quora and Reddit to see what successful affiliates promote.
Testing Your New Affiliate Products
The easiest way to test new affiliate offers is by identifying one of your site's top pages and replacing your existing link with your unique affiliate link.
Lasso lets you see your top affiliate pages in Google Analytics. Head to Behavior > Events > Pages.

Pick the page with a high number of events. For example, we could use our top page with 146 events (i.e., clicks).
Then dive into that page to see which affiliate link got the most clicks. Finally, replace it with your new URL.
Run this test for 30 days and track earnings. If your test was successful (i.e., you made more money), try it in another location on your site.
When it's time to roll out your new affiliate link sitewide, you can replace it in your Lasso dashboard, like the screenshot below.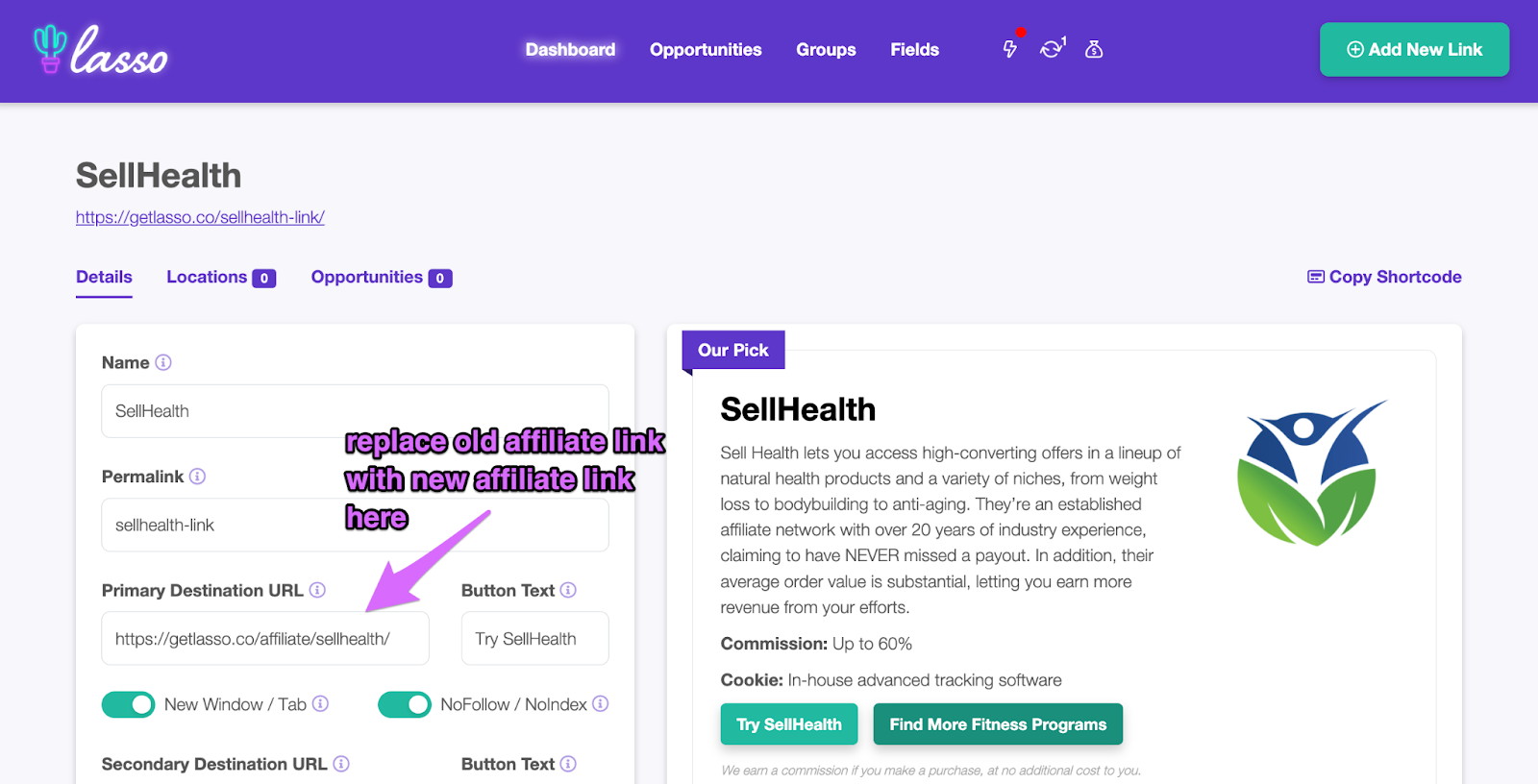 Final Thoughts On How to Find Affiliate Products
Finding affiliate products that help your audience is time well-spent. Choosing the right ones establishes yourself as an industry expert, solves your reader's problems, and makes your online business money.
The quickest way to start is by recommending products you already use. Then, when you're ready to promote them, head here and try one of our high-converting displays so you can boost commissions.
***This one took a while to write. A share with your friends on Twitter would be much appreciated. Thank you!***
9 simple ways to find affiliate products in any niche.

(that your readers will LOVE)

🧵👇

— Lasso (@LassoWP) June 17, 2022
Our creations in your inbox, weekly.
We've built multiple six-figure online businesses that our moms are proud of.
We'd like to help you do the same.