Can't seem to get your content to rank high in the SERPs? It's time to rethink your search engine positioning strategy. But how do you do it, and where should you start? Well, you're in luck because that's exactly what we're going to walk you through in this post.
Let's dive in.
What Exactly Is Search Engine Positioning?
Search engine positioning is when you improve your site's web pages to rank higher for specific keywords. Whenever you type a query into search engines like Google, Bing, and DuckDuckGo, they display results they think are most relevant.
The content that is displayed is what's called search engine results pages (SERPs).
If you can get your content to rank higher (or occupy multiple spots), you stand a better chance of getting more organic traffic to your website.
Here's what I mean:
When I type 'link building' into Google, Ahrefs has three places in the SERP for that search query (one blog post and two YouTube videos).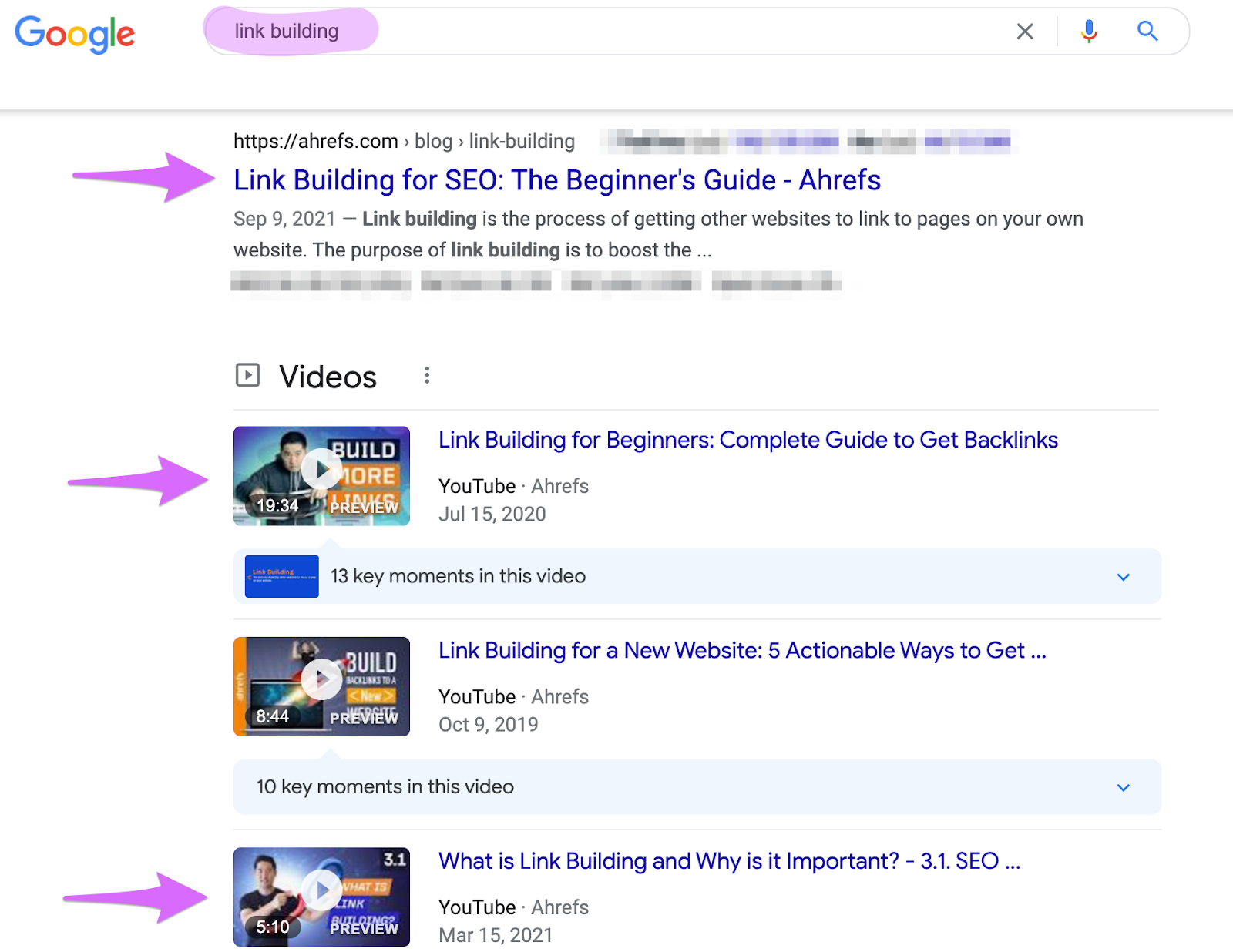 Owning multiple spots gives them a strong position for the keyword phrase 'link building.'
Why Does Search Engine Positioning Matter?
Search engine positioning is important because the higher the SERP placement the more clicks to your site.
What's worth noting is the number of clicks your content gets drops significantly from spots one to two. In contrast, the top three positions get the most with a gradual decline after that.

According to the most recent click-through rate (CTR) data from Advanced Web Ranking, position one nabs almost 40% of the clicks while positions two and three get 11% and 8%, respectively.
Sidenote: This snapshot is for 100% organic search results without displaying other SERP features. The CTR fluctuates when adding in other elements such as featured snippets or People Also Ask as these features compete for clicks.
So, it's crucial to optimize your content as much as possible.
Another benefit to improved search engine positioning is more revenue. You probably have products you promote as an affiliate or sell yourself on your site. When you direct warm leads to those pages, you stand to make more money.
More income means more growth because you can invest back into your business.
If you're ranking high for target keywords in search results, chances are you're outranking your competition too.
Builds Credibility
Have you ever noticed when a brand seems to be everywhere?
People talk about them on a podcast; you always see them in the SERPs; they're guest-posting in high authority sites. Even if you've never used their product or service, you become curious. You start thinking, "Maybe I oughta try them out."
The more places your content displays will establish your authority. Now you're a thought leader, and more people trust you.
Especially true in search results: if you saw a brand occupying three places in search results compared to a brand with only one, which one would you more likely click?
It's like the classic advertising adage; consumers need to see a brand name seven times before it sticks in their mind.
Further Reading:
How to Improve Your Search Engine Positioning
Let's unpack some of the high-impact tactics you can try to optimize your site for increased visibility, traffic, and revenue.
1. Write Epic Content That People Can't Wait to Read
I know, that's obvious (but worth saying). High-quality content tends to promote itself. While content creation extends beyond the scope of this article, there are a few places you can start for getting quick wins.
Platforms such as AlsoAsked.com and Answer the Public aggregate all search data for search queries focused on a target keyword. This lets you see all of the questions and problems people Google.
Turn those queries into valuable content by answering their questions.
You can also find more ideas with a paid tool like Ahrefs Content Explorer. Type a keyword into the search field and see what content people create around that topic. Also, notice how high-authority sites structure their posts.
Alternatively, enter a keyword in Google and see the ranking posts and what they're creating. Then see how you can write something equally extraordinary with your unique angle.
Sidenote: We wrote a post detailing content ideation, creation, and the best tools. Read it here.
Create Skimmable Content
Hard truth: People skim.
Reading online is different from physical books. This is why breaking your content into chunks with a subheading hierarchy, bullet points, and images is critical.
The same holds when promoting products.
If you want to capture more clicks, showcase your offers in eye-catching product boxes. This does two things:
Makes your content skimmable
Highlights your affiliate offers in eye-catching ways
When testing scroll behavior, we noticed our readers clicked our product displays but rarely clicked text links. This is why we built Lasso.
You can create skimmable content while showcasing your offers like this one below.💥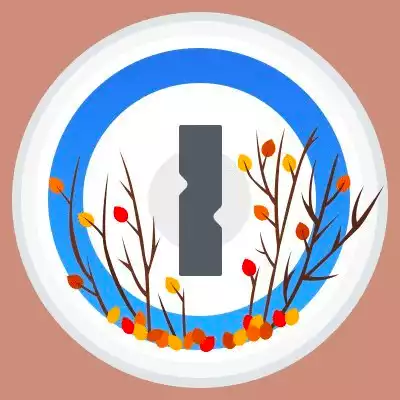 1Password
1Password is the easiest way to store and use strong passwords. We no longer need to remember a million logins to a million platforms. It's also the safest way to share login credentials with friends, family, and colleagues. All your data is safely stored with one master key.
Try 1Password
Affiliate Program
We earn a commission if you make a purchase, at no additional cost to you.
Further Reading:
2. Get More Backlinks with the Teammate Technique
Backlinks are one of the most significant factors for better search engine positioning. But conducting link-building campaigns is tough. You don't want to come across as spammy or needy in your outreach.
So how do you do it?
One digital marketer, Itamar Blauer, increased the number of referring domains to his site by 553% in a single year using The Teammate Technique.
It's a 3-part approach to building backlinks:
Create content confirming your expertise
Find websites with knowledge/content gaps
Reach out like a teammate
The trick is reaching out to people who've written about your topic but haven't mentioned specific parts of it (parts that you have discussed on your site).
For example, if you ran a fitness site and wrote an article about bodyweight workouts and detail how to do pistol squats.
You could reach out to similar sites that write about bodyweight workouts, but DON'T cover pistol squats. You can easily find these websites using Google Search Operators like this:
intitle:bodyweight workouts -"pistol squat*"
This advanced search finds content with "bodyweight workout" in the article title but doesn't mention "pistol squats" in it.
Sidenote: The asterisk (*) at the end of squat* is a wild card. When you place it at the end of a word, it catches all its variations. For example, squats or squatting. So you can use the asterisk anywhere with search operators as a catch-all.
The Teammate Technique has two benefits: increased traffic and more relationships. You can try it with any niche.
3. Improve Your Site Speed
Page speed is one of the most important optimizations you can do for your site. If you have fantastic content that takes ridiculously long to load, people will bounce and you'll get crickets.
Your web visitors are too impatient. Even a 0.1% change in page load time makes a difference. This can be the deciding factor whether someone buys from you.
So here's what to do:
Run your site through platforms like GTmetrix, Pingdom, or Google Page Speed Insights. Then, fix whatever recommendations those platforms suggest.
Many times it boils down to HTTP requests. When your site makes too many, it slows down. There are several ways you can reduce the number of HTTP requests, including:
Removing bloated WordPress plugins
Resizing and compressing your image files
Minifying CSS, HTML, and JavaScript files
There's plenty more which we wrote about below.👇
Further Reading:
4. Leverage Ad Words to Boost CTR
Click-through rates matter because it sends a strong signal to Google that people find your material interesting. But why focus on ad words?
Because advertisers pay good money for their placements to earn your click.
Here's what I mean:
Check out the descriptions in these paid ads for the search query 'seo tools.'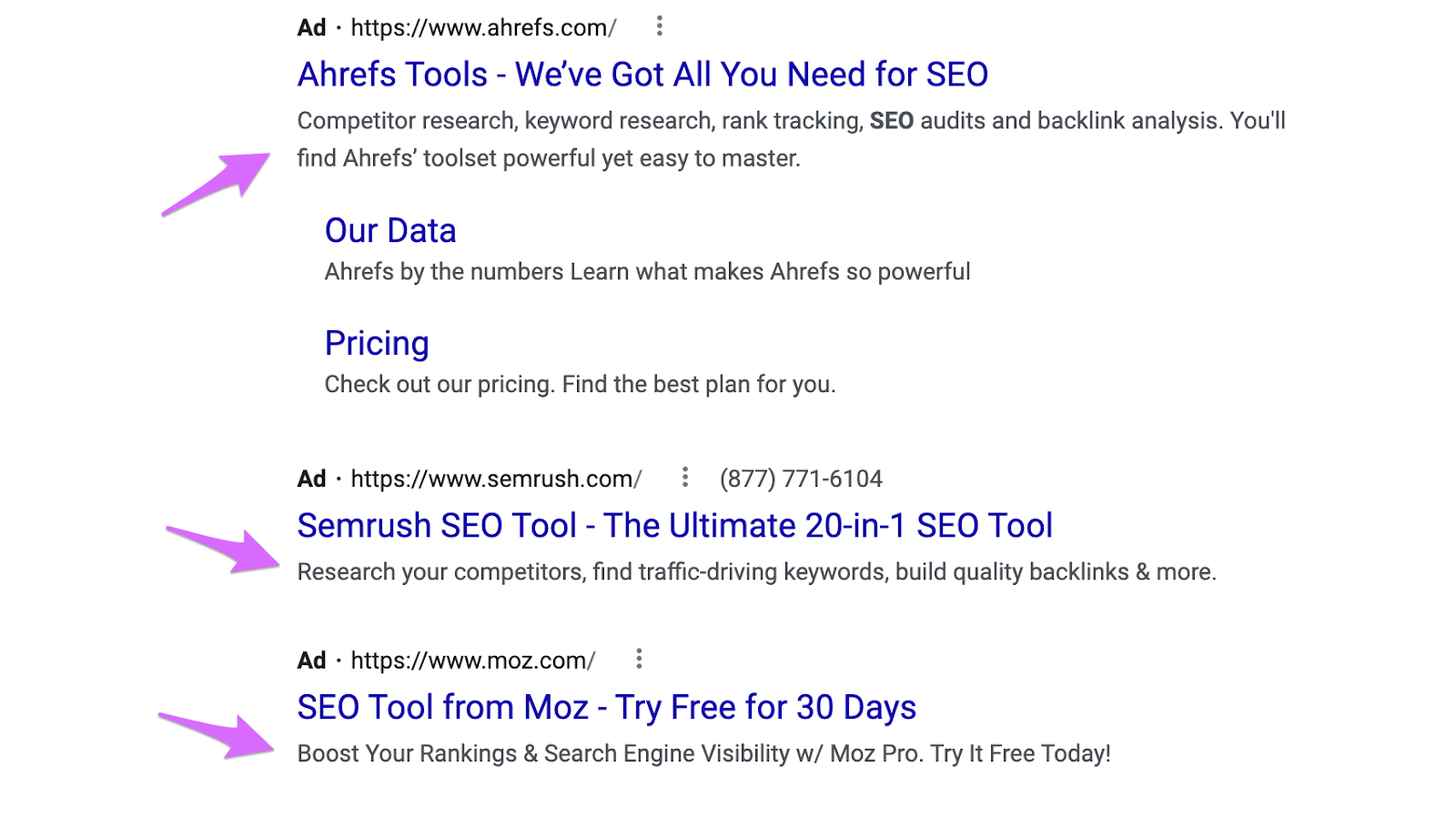 Common terms like "keyword research," "backlinks," and "rankings" appear frequently. So, you'd want to include them in your titles and meta descriptions.
Next, you can check the dollar amount advertisers are willing to bid for 'seo tools' (CPC data) using either Ahrefs (somewhat accurate) or Google Ad Words (very accurate).
Google's Keyword Planner shows an average top-of-page bid at $18.

High bids usually mean the specific keyword has a high commercial/transactional intent for a business. So, if you're in the SEO niche, creating a post about the best tools could generate more income for your site.
Tip: Align your blog title with search intent. This ensures more people click because it (your headline) addresses the problem they need to solve.
Further Reading:
5. Implement Structured Data for More Click Opportunities
If high click-through rates signal to Google that your content's popular, doesn't it make sense to give people more places to click that display in search results?
Another way webmasters optimize their web pages for better search engine positioning is with structured data (aka schema markup).
Structured data is the "language of search engines" and helps tell web crawlers what your content's about.
This can mean richer results in the SERPs for you that make it more engaging for readers. It allows for a more attractive representation of your content.
For example, this FAQ-style result similar to Google's People Also Ask:
Or this Site Links Search Box:
You can use structured data in a myriad of ways. Google has an entire section about it which you can read here.
In their words:
Structured data is a standardized format for providing information about a page and classifying the page content; for example, on a recipe page, what are the ingredients, the cooking time and temperature, the calories, and so on.
Structured data leverages technical SEO expertise, so be sure you understand HTML or have a developer's help before making changes sitewide.
Further Reading:
6. Upgrade Existing Content
Once you create content, you can forget about it, right? Absolutely not! You've got to ensure it's updated otherwise, it grows stale.
So, examine your site's content and meta tags and look for places you can re-optimize.
Sidenote: Once you've updated your content, promote it to your email list and social media platforms. This is the perfect moment to generate more traffic to those pages.
Go through your site and look at surface-level items, including:
Search position: Is it still in the top ten or underperforming? If not, what are the ranking posts doing, and how can you do it better? Do you have more link authority than posts outranking you?
Title tags and meta description: Sometimes, just a title tag tweak or adding a meta description is all that's needed.
Focus on a single keyword: If you're creating content targeting the same keyword multiple times, it affects your ability to rank. It's called keyword cannabalization and you want to avoid it. Consider combining or eliminating these posts that are similar.
You can also run a content gap analysis. Here's how to do it.
Take your article and three top-ranking posts and run it through Ahrefs Content Gap tool.

This will show topics your competitors rank for but you don't. Make adjustments accordingly.
7. Check Your Site's Core Web Vitals
Core Web Vitals show how your site performs "in the wild" based on real user data. So, if you give them a poor experience, you can see it.
You can access your site's vitals in Google Search Console.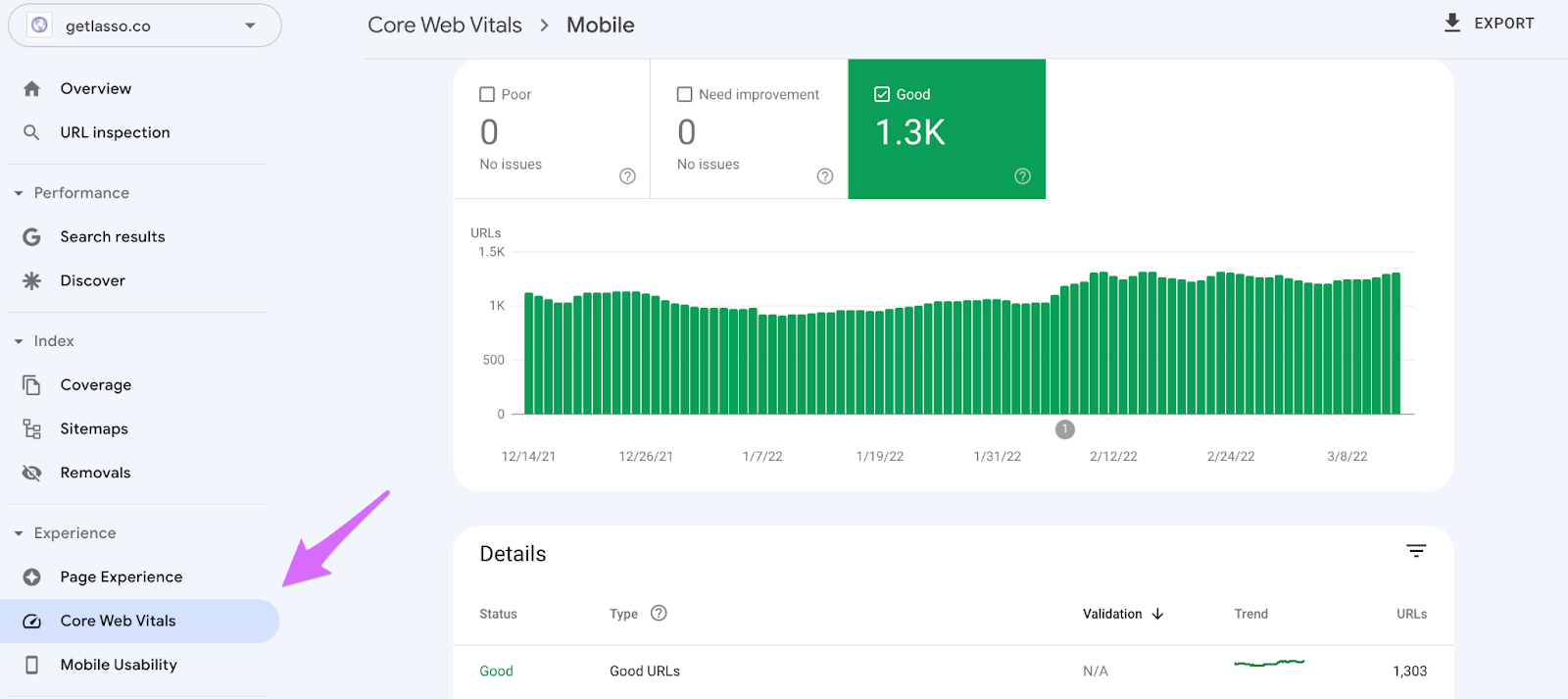 The report divides by device:
And groups all data by status:
Poor
Needs improvement
Good
Core Web Vitals gives you a holistic picture of how your site interacts with visitors (i.e., it's not for testing specific pages).
The three metrics Google reports are:
Largest Contentful Paint (LCP): Measures 'perceived' load speeds and reports the 'render time' of the largest image or text block above the fold.
First Input Delay (FID): Measures 'load responsiveness.' This is the time from when a visitor clicks anywhere on your site to when the browser starts processing it.
Cumulative Layout Shift: Measures 'visual stability.' I think we've all been on a site that jumps around as it loads. Google calls these 'unexpected layout shifts.'
8. Use More Related Keywords
Sometimes referred to as LSI or semantic keywords, these are similar terms and phrases people use when talking about your target phrase.
The more words and phrases you use make your article comprehensive and let you rank for more terms.
Several tools like Market Muse or Clearscope help you do this. These are perfect for identifying more related phrases but also reveal keyword gaps your competition doesn't cover.
We use Clearscope with every post.
How Search Engines Rank Your Pages
Every search engine has an algorithm it uses to determine which posts to display in the SERPs. Those that best match a user's query appear at the top.
It decides who to display on page one based on several factors, such as your content's:
Keyword usage and density
Backlinks
Location
Freshness
Site credibility
External links, internal links, and anchor text
How to Check Your Page's Position In the SERPs
Head to Google Search Console > Performance > Search Results. Then, click the inverted triangle carat in the upper right corner and set the filter to Smaller than 10 to find your top-performing keywords and pages.

You'll see the average position your content ranks and which of them get the most impressions and clicks.
Sidenote: You can also use your browser's Incognito mode, enter a keyword and see how your content measures up against the SERPs.
Where Does My Site Appear In the SERPs?
Your site will only display in either organic search results or paid ads. Typically, you'll see simple 'blue ink' ads at the top or bottom of the SERPs labeled with the word 'Ad' next to the URL.

However, with organic search, there are various ways your domain can appear, such as:
Enhancement
Rich result
Knowledge panel entry
Featured snippet
OneBox result
Discover
For example, this Rich Result for 'how to chop an onion' in a recipe carousel.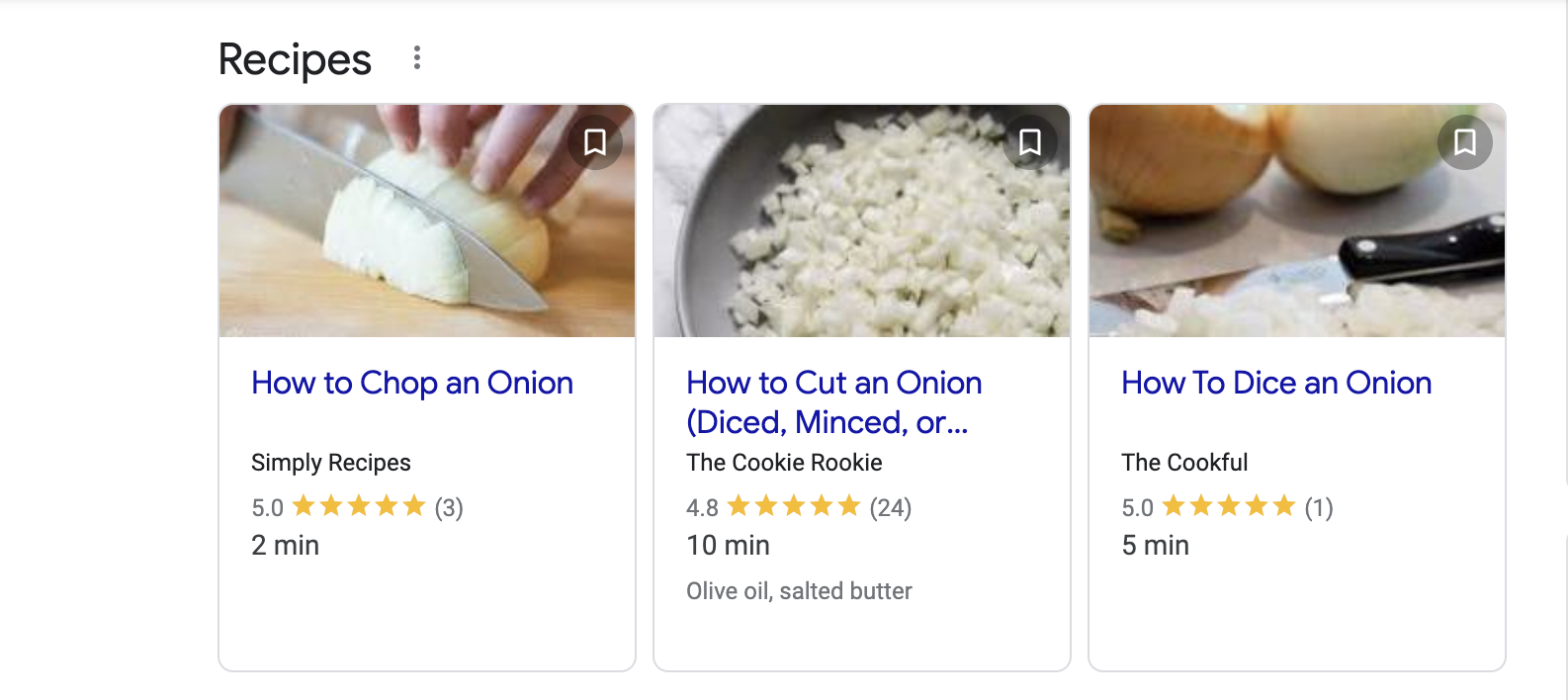 You can read which ones make the most sense for your site and how to enable them here.
Why Should You Specify Special Search Features?
You should specify special search features because it'll attract more clicks.
For example, a case study from Google and The Food Network revealed a 35% increase in visits after enabling search features to over 80% of their content (The Food Network's).
Anything that'll give you a leg up is worth doing if it means getting more people to your website.
Search Engine Positioning vs. SEO vs. Search Engine Marketing: What's the Difference?
The main difference between search engine positioning vs. search engine optimization (SEO) is that SEO takes a holistic approach covering on-page, off-page, and technical SEO.
Search engine positioning focuses on getting particular keywords to rank higher in the SERPs and is a smaller component of SEO.
Search engine marketing (SEM) focuses on paid advertising (e.g., PPC campaigns) and organic traffic, while SEO focuses on acquiring more traffic organically via content marketing.
However, all of these efforts share a common goal: To maximize exposure to your target audience.
It's Time You Start Moving Up the SERPs
As you've probably noticed, having a good search engine positioning strategy carries a myriad of benefits from higher rankings to credibility to more revenue.
The higher up you are on the first page of Google, the better your odds of getting more website visitors. It's not terribly hard, you just have to be tactful with your approach.
Curious to learn more about how we can help you earn a meaningful income online? Head here.
Our creations in your inbox, weekly.
We've built multiple six-figure online businesses that our moms are proud of.
We'd like to help you do the same.