The internet has unlimited earning potential. The trick is to treat your website like it's a business (and not a hobby).  Wanna learn how to make money blogging but unsure where to start? Let's fix that. Here are 11 proven ways to do it.
1. Affiliate Marketing
Affiliate marketing lets you earn money whenever you send merchants qualified leads, traffic, or sales. The reason affiliate marketing is an attractive option for bloggers is that you're the product promoter – not its creator.
That means no:
Inventory
Customer service call center
Shipping and receiving
You only need to promote products and services relevant to your audience ethically. When someone clicks your affiliate link and performs an action (usually from making a purchase), you earn a commission.
Perhaps the most significant affiliate program to join with the lowest entry barrier is Amazon Associates(i.e., becoming an Amazon affiliate).
They're perfect for first-timebloggers. Amazon has hundreds of thousands of affiliate products to promote on your website. It's free to join and you're instantly approved.
Product Reviews & Tutorials
A simple way you can monetize your website as an affiliate marketer is by writing product reviews or in-depth tutorials. If you're a new blog, this is a good way to generate traction and grow your audience.
One way you can increase clicks is to turn your affiliate links into attractive clickable boxes. For example, our tool, Lasso, lets you create custom displays for all of your links.
This way, you entice readers while showing them what's behind the click with an informative product description.
Read our recommendations for more of the best affiliate marketing tools to grow your business this year.
2. Email Marketing
Email is the BEST way to engage with your audience. They've already given you permission to turn up in their inbox which means they're more likely to buy from you.
The easiest way to grow your email list is to have an opt-in on your blog's home page. Bonus if you've got an opt-in at the footer (or header) of your articles.
Start building your list immediately. Put the pieces in place to have your website ready to collect addresses.
You can use your emails to drive traffic to specific landing pages on your website.
Perhaps it's a sales page for an online course, affiliate product, or service you're promoting. Whenever they click your link, you'll earn a profit (or a commission)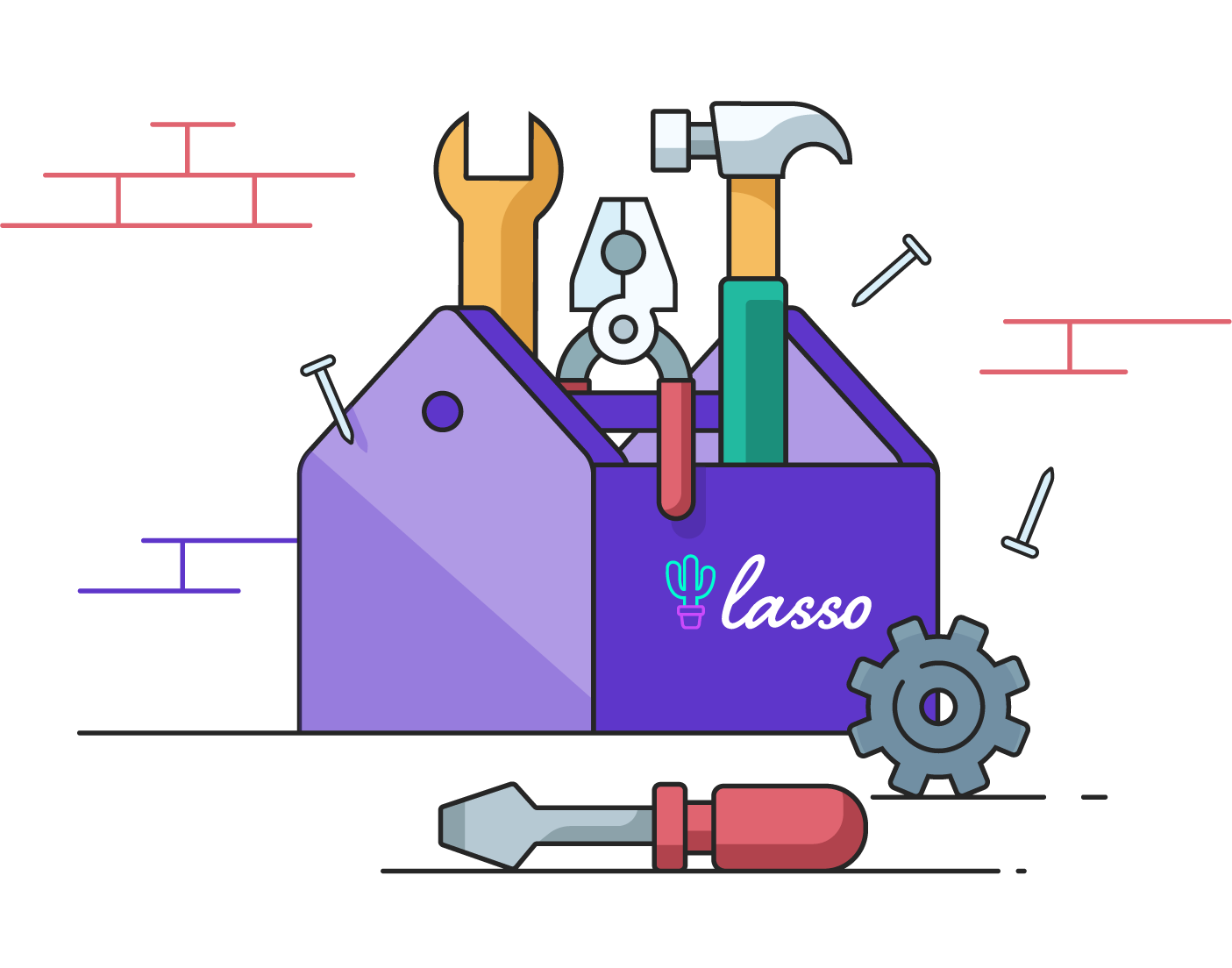 Get our FREE toolkit and checklist for writing articles that convert.
3. Sponsorships
Sponsorships come in several forms. Let's break them down into the most common.
Sponsored Posts
Sponsored posts are a great way to earn money from advertisers looking for more exposure. Typically, they'll pay you to publish an article on your blog.
The amount of monthly traffic you get determines how much money you'll earn. Bloggers with a substantial audience can command rates exceeding $2,500 for a single post.
While our personal finance blog earned $750 per post.
These are a win-win because:
You (the blogger) get paid a flat rate in advance
The advertiser gets to access your base and (if done right) increase leads, sales, and brand awareness
The brand benefits because they don't have to write the content themselves and gain exposure. You get paid to promote a product or service that could potentially help your audience.
Sponsored content should be treated as something that will help your readers and not only a cash grab for you.
If it's irrelevant to your blog, it doesn't belong.
Tip: You can also get sponsored posts for your social media feeds. For example, advertisers will pay you to include a post to your Facebook group. If you're an influencer within your industry, small businesses will pay you good money for your endorsement.
Sponsored Podcasts
Similar to sponsored posts, sponsored podcasts make an excellent money-making opportunity. You can charge higher rates based on your audience size and exposure level you can offer advertisers.
Our personal finance podcast generated up to $150,000 annually from podcast ads.
One idea for getting started podcasting is to repurpose your existing blog content into a spoken narrative. Then air it on your podcast. If you do this regularly, you'll slowly build your number of listeners.
Your content is malleable and you can reshape it to access audiences who you wouldn't otherwise reach.
For example, repurposing your content into videos to play on YouTube for the people who "don't read blogs."
4. Ad Networks
Ad Networks display ads in various places on your website or blog tailored to your target audience.
They'll appear in your site's header, footer, or sidebar. The below example is a banner ad across the site's footer.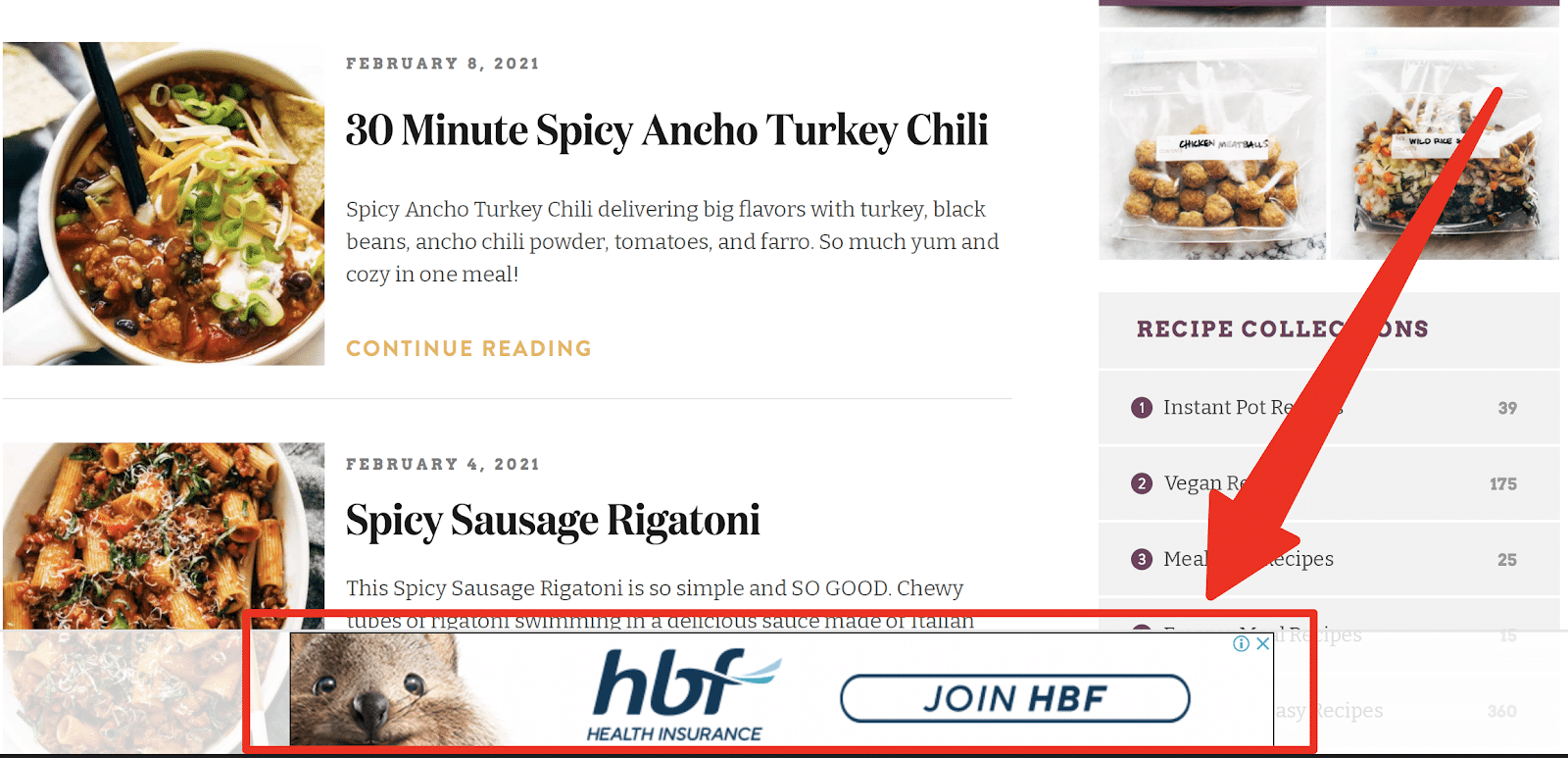 One of the better-known ones is Google Adsense.
If you sign up for a program like Google Adsense, you can get an estimate of your annual revenue based on three metrics:
Your country/region
Niche category
Monthly page views
For example, if you had a food and drink blog based in North America with 50,000 monthly page views, your estimate might look like this: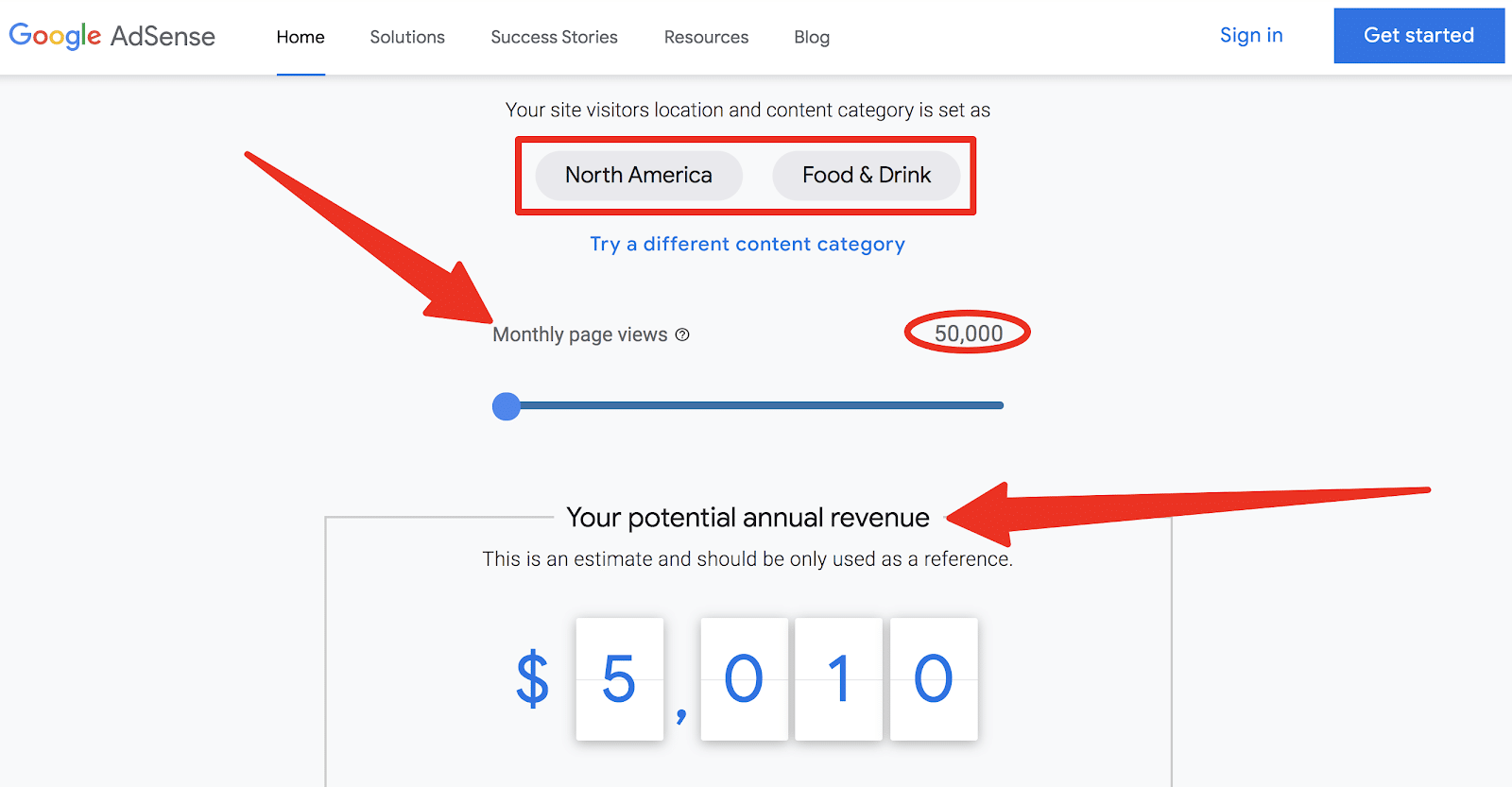 Google stresses these are only estimates, but it's a good starting point.
Takeaway: Notice that number is $5,000 in annual revenue with 50,000 monthly page views. So, you'd need a generous amount of traffic to earn a decent living (considerably more than 50K monthly page views).
Adsense displays relevant ads next to your online content.
Adsense optimizes its ads to fit desktop or mobile (read our post on why you need a mobile-friendly site for more details), which increases your odds someone will see it and click.
Sidebars and popups might be better suited for desktop but not so with mobile because your screen is smaller.
Two models you might see are CPC (cost per click) and CPM (cost per 1,000 impressions)
The amount of money you earn with CPC ads depends on the number of times a user clicks on your ad.
Advertisers determine the cost of the ad by how much they're willing to bid. Some advertisers will pay more per click than others.
CPM ads pay you based on the number of times people see your ad – not how many times it's clicked. CPM only works if your website gets monthly visitors in the hundreds of thousands.
So, new bloggers would most likely not benefit from this monetization strategy.
Some ad networks require a minimum of monthly visitors. For example, AdThrive requires a 100,000 minimum monthly page view count and takes a 25% cut of your profits.
So be sure to investigate and know the platform you're applying to before signing up.
Further Reading:
5. Digital Products
Have you heard of Ramit Sethi? He's a multi-millionaire who started a personal finance blog out of his college dorm.
He came from humble beginnings and has now amassed an audience in the hundreds of thousands of readers. Over the last decade, he's created several premium courses focused on entrepreneurship, personal finance, and self-improvement.
Here's the kicker…
His online courses generate millions of dollars in passive income.
If you possess topical knowledge that someone else is willing to pay top dollar for, you can create an online course and teach what you know.
You don't have to be Ramit to do it either. Plenty of online business owners sell courses on their blogs.
Tip: Don't have a website yet? Use platforms like Skillshare or Udemy to host your online courses.
eBooks
You can create another digital product in the form of an eBook and sell it to your readers. Instead of creating an entire online course, wrap your knowledge bomb into a downloadable PDF.
The cost of doing this is low. Ebooks make terrific lead magnets for getting people to opt-in to your email list.
And they have a low startup cost.
If you're knowledgeable in a topic and growing your blog's traffic, you're winning readers over with great content. In that case, go the extra mile and create an ebook to sell.
Selling on your own blog is the better choice as platforms typically carry fees.
6. Software & WordPress Plugins
Our website, Lasso, is an affiliate marketing plugin for WordPress users. Our tool lets you create custom product displays and manage your links in a single dashboard.
Here's one of our displays 👇
Our Pick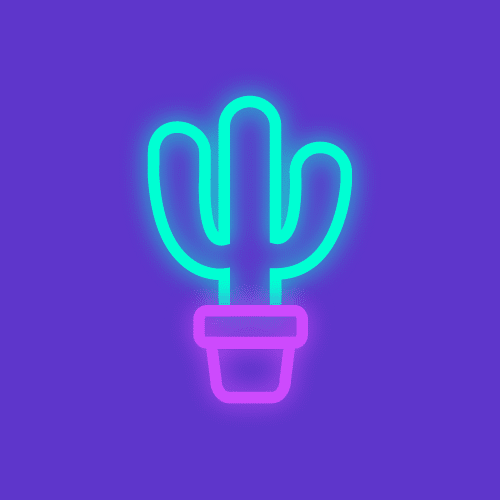 We also have a blog.
It's a core educational component we use to show people how they can succeed with our product.
If you have technical expertise, consider building software that compliments your website. Lasso is an affiliate marketing plugin built by developers.
They built it out of necessity because they were unsatisfied with the available options. Is there a product gap that you could fill?
Your options are unrestricted to plugins. You can build software that makes it easier for people to accomplish a task.
For example:
Cloud-based accounting software (FreshBooks)
Customer relationship management (Pipedrive)
Team collaboration software (Slack)
All of the above examples have a successful blog.
7. Paid Memberships
Paid memberships can give you access to a specialized community, VIP treatment, or unique one-on-one consults unavailable to the rest of your readers.
If your material is mind-blowingly good, you can get away with charging a premium price for access to its material.
These only work if your stuff is world-class. If you're starting as a new blogger, a paid membership site probably won't work in the beginning because you're still an unknown.
But it pays off in spades if it makes sense for your website visitors. Some people like paying for the exclusivity accompanied with a paid membership. People want to feel special.
If you know your audience, chances are you'll know if a paid membership would be worth it.
8. Freelancing & Coaching
Many people are willing to throw money at a problem so that they can do something else. Or they're trying to learn something new, need assistance, or accountability.
That's where you can offer services as a freelancer, coach, or consultant. This business model is typically one-on-one so it won't scale the same as selling an online course.
But you can charge a premium price if you're providing high-quality expertise.
Being mindful of search engine optimization (SEO), you can position your blog to drive traffic to your website's services page.
Takeaway: Many freelancers will include a blog and a 'work with me' page in their site's header.
The best way to showcase your fantastic hireability is by showing how your services solve a problem. And an easy way to do it on your blog is to document everything you do.
Every problem you've helped a client solve can be transformed into a blog post addressing that specific pain point.
Chances are if one person had it – and you solved it for them – others have it too. You showing how you did it boosts your credibility when others see the results you got for your client (or yourself).
For example, Laura Belgray's site Talking Shrimp is an example of how she uses her services as an email copywriter on her blog by including a "Work with Me" section on her homepage.
And she helps other writers solve their biggest pain points. Here are some of her headline examples from content on her blog to attract both students and clients:
"What If My Life Is Boring?" – How to Find Great Stories For All Your Content, Even If Your Life Is Dull AF
Every Kind of Writing I've Ever Been Paid For (and two kinds that paid $zero)
I'm a Born Procrastinator Who Hates Homework – Here's How I designed a "no homework career"
9. Speaking Gigs
If you're unlike most people and lack the fear of public speaking, advertise on your blog that you're open to speaking gigs.
Some businesses hold industry conferences where you could earn a place as a keynote speaker.
If your blog has a substantial following, you can command higher rates.
For example, best-selling author James Clear promotes this on his website and makes it easy for readers to contact him.
See below how he uses this set-up on his website.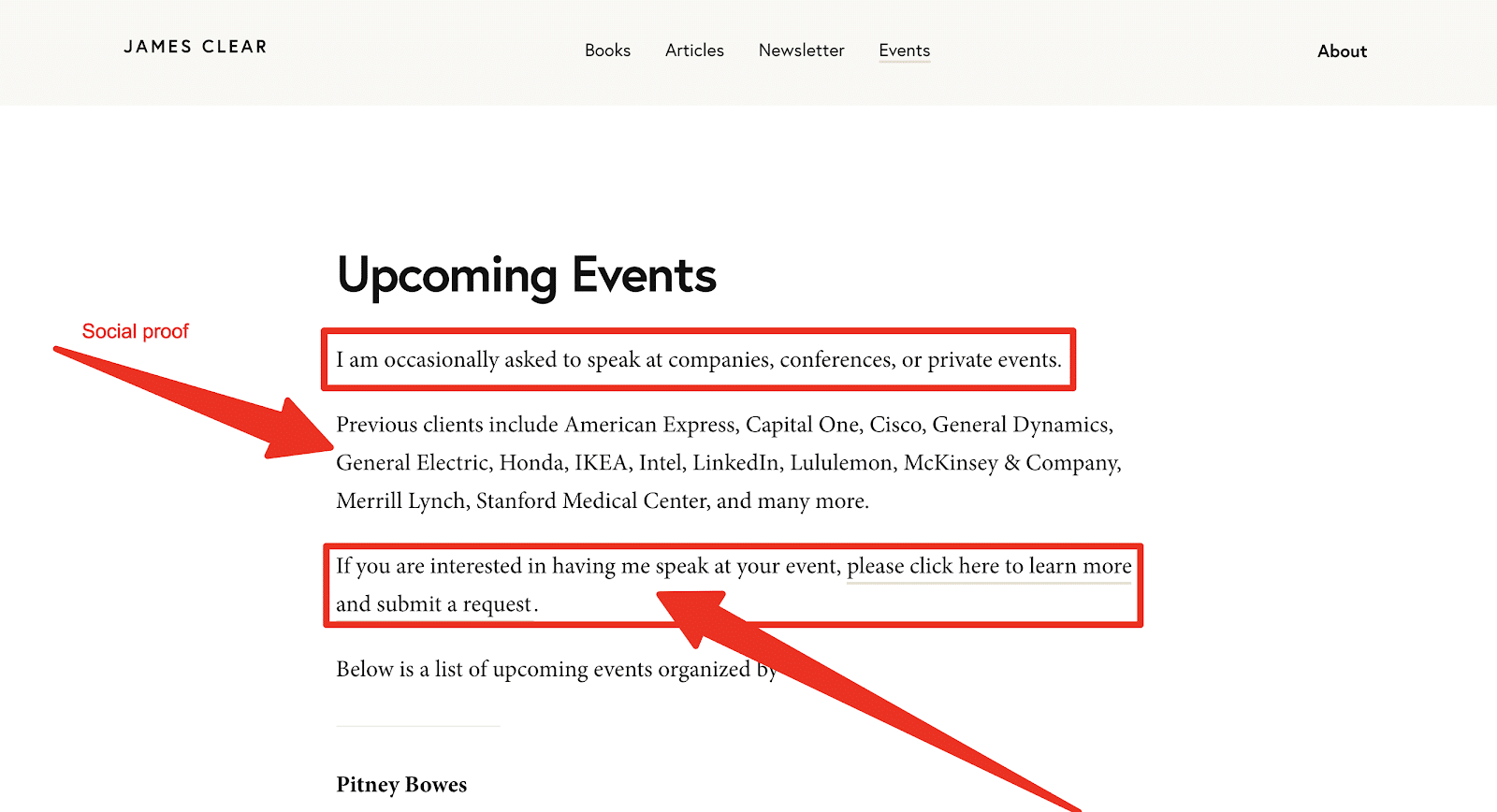 James Clear's newsletter started small, and he now has hundreds of thousands of subscribers.
He can charge a premium price for his speaking services – which is another way to repurpose quality content – instead of doing it for a podcast – rework it to be part of a public speaking gig.
10. Host Webinars
I paid money to view a live webinar of acclaimed author and marketer Donald Miller. He sat in front of the camera, shared his expertise with us, and I learned.
Webinars make for great monetization opportunities.
Key Point: Think of every class you've ever paid money to attend. Now turn that into a paid, online event. 
If you have a product you want to promote, live, online events are great because:
You can get to know your audience better
It gives you a chance to explain your offering in more detail
You'll get ideas for future content to create from your readers
You can choose between various formats, including interactive experiences, solo talks to larger crowds, and interview style.
There are options you can try like Google+ Hangout, Skype, and Zoom. Consider what your needs will be, the number of participants, and the ability to change speakers.
Webinars require planning but are a low-risk way to connect with your audience, build trust, and generate revenue.
11. Sell Physical Products
You don't have to run an ecommerce business a la Shopify to sell your own products on your blog. Websites like Thomas Frank's CollegeInfoGeek (see below) sell merch.
His blog focuses on productivity and helps people become better students.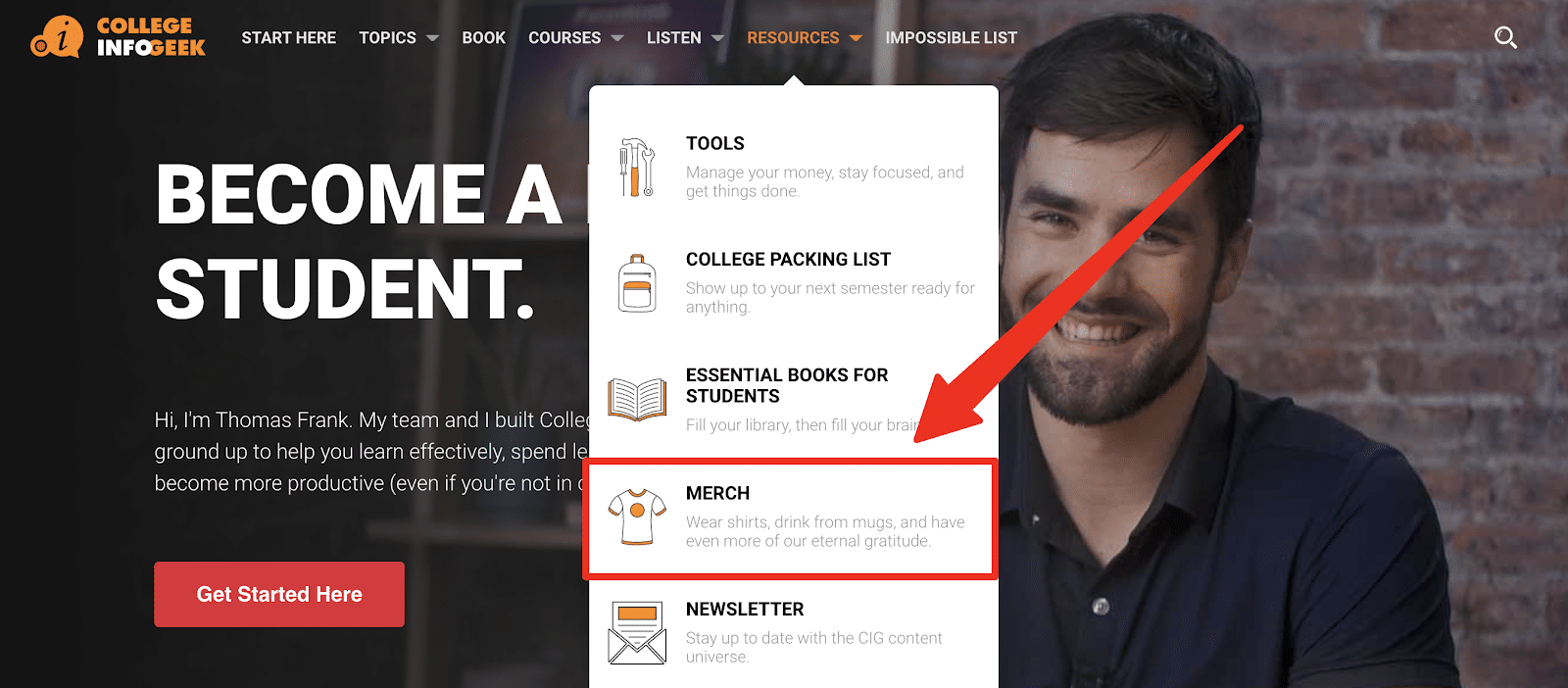 You can always sell physical products on your blog as one income stream component.
If you decide you want to sell merchandise but don't want to hold any inventory, try dropshipping.
Whenever you sell something using the dropshipping model, the consumer buys it from a third-party sent directly to them.
Dropshipping removes the hassles associated with running a shipping warehouse.
How Much Money Can You Make Blogging?
Lasso co-founder, Andrew, wrote a blog post titled Learn How to Start a Blog That Earns Over $400K A Year.
If you're curious whether blogging can turn into a full-time income, the answer is a resounding YES!
His post is a step-by-step guide covering everything he's done to turn his blog into a multi-six-figure business.
He details everything from web hosting to choosing a domain name to the amount of traffic you'll need to be profitable in your niche. As well as what you should expect when getting started and how to prepare for setbacks (you'll have them).
So, yes, you can make a lot of money as a full-time blogger.
If you're still not convinced, Google '[successful blogger's name] + income reports' to find the most successful people in your niche. These are always revealing for getting an idea of how much you can make.
Or try a simpler search and Google 'blogger income reports.'
Last Words
There are numerous ways to make money online, and learning how to make money blogging is an excellent approach with a low barrier and startup costs.
What's even better is there's no approval process to build a blog (so you can quickly start monetizing yours).
It's hard work, and you'll have to hustle. The trick is to create valuable content that attracts a substantial amount of people long-term.
But it can be done, so stick with it. Over time, you'll find yourself with a successful blogging business.
Our creations in your inbox, weekly.
We've built multiple six-figure online businesses that our moms are proud of.
We'd like to help you do the same.