Running your blog like a business is tough. Some of the biggest obstacles to shipping your work include content creation, time management, and consistent publishing. It's time you create a blogging schedule you can stick to so you never have to worry about those things again.
But first, let's make sure we're on the same page.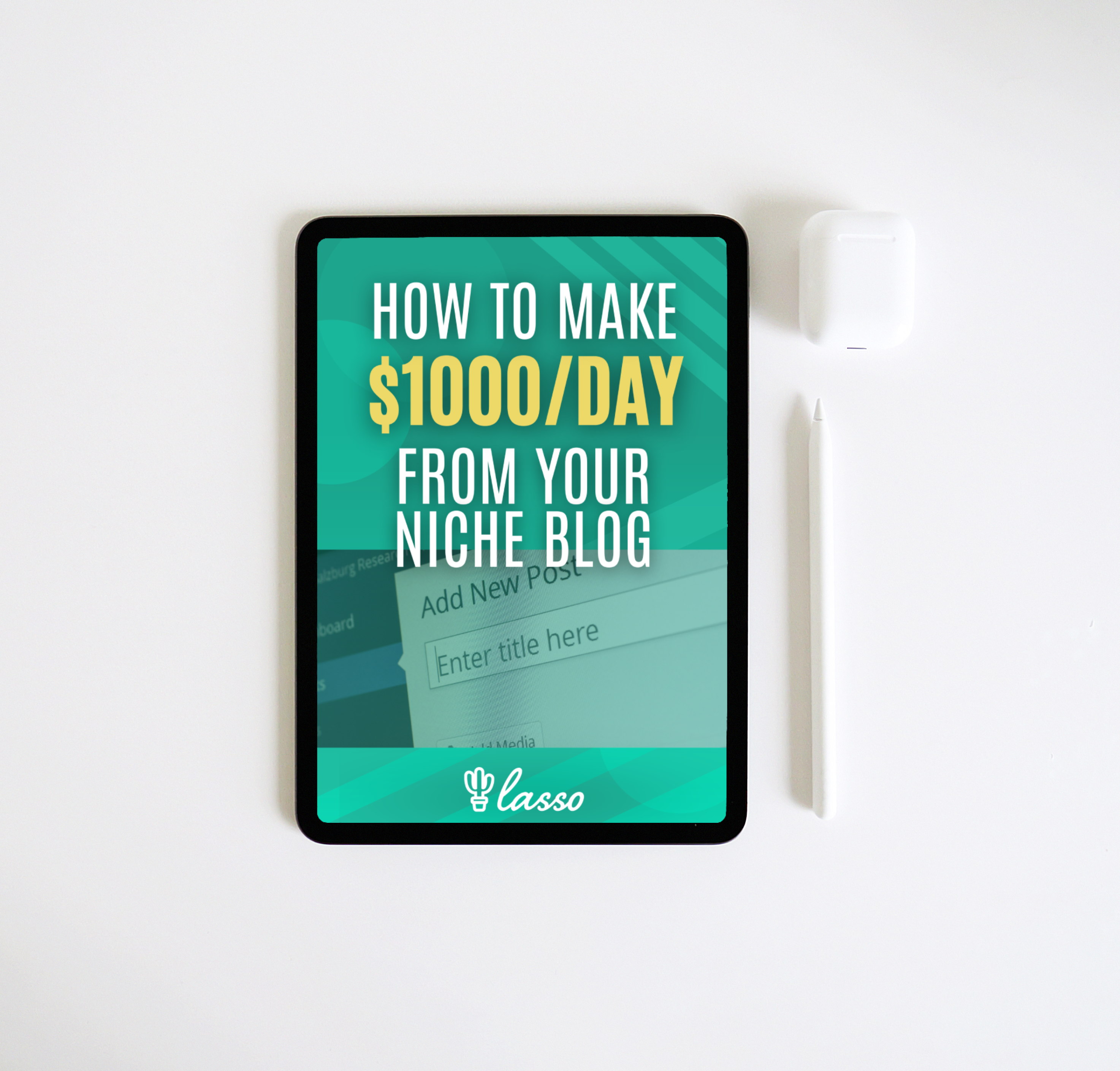 Get Your FREE 20-Page Guide To Making $1000/Day From Your Niche Blog
Why Does Having A Blogging Schedule Matter?
There are a variety of reasons why using a schedule is important. Let's unpack a few.
Builds Trust with Your Audience
Part of running a successful blog means your readers trust you. And that comes from having a consistent posting schedule. They can rely on you to publish content regularly that helps them.
That single factor can lead to increased growth in email subscribers, social media followers, page views, and conversions.
Creates Curiosity Gaps
You can easily view your calendar to see upcoming content.
This provides clarity and alleviates any stress. In addition, zooming out helps you carve a roadmap for future creations set to publish. What's great about that is you can use that info to tease your readers about what's on deck by creating a curiosity gap.
Think about a movie trailer. They give a taste of what the film's about without giving anything away.
You can do the same with your articles by hinting at what's in store, making them want to come back for more.
Removes Guesswork
When it's on the calendar, you already know what to write about, and it allows you room to work on other components, such as design or promotion.
You can see when those fall, so you know what to focus on that day. Looking at your content calendar is like looking at an assembly line – you know what the jobs to be done are and when to do them.
Aligns with Your Blogging Goals
This boils down to knowing your 'why.'
If you've sat down to determine what you want to accomplish with your blog, you have a clearer understanding of why you're making what you're making. And everything on your calendar should reflect that singular goal.
Need help with that? Read the next section. 🧐
How To Create A Blogging Schedule To Keep You On Track
Define Your Goals Before Scheduling Anything
The content you create should lead to the desired outcome you want.
That differs for everyone, but an easy formula for this is creating content that has a high business value for you AND serves the needs of your target audience. That's the sweet spot.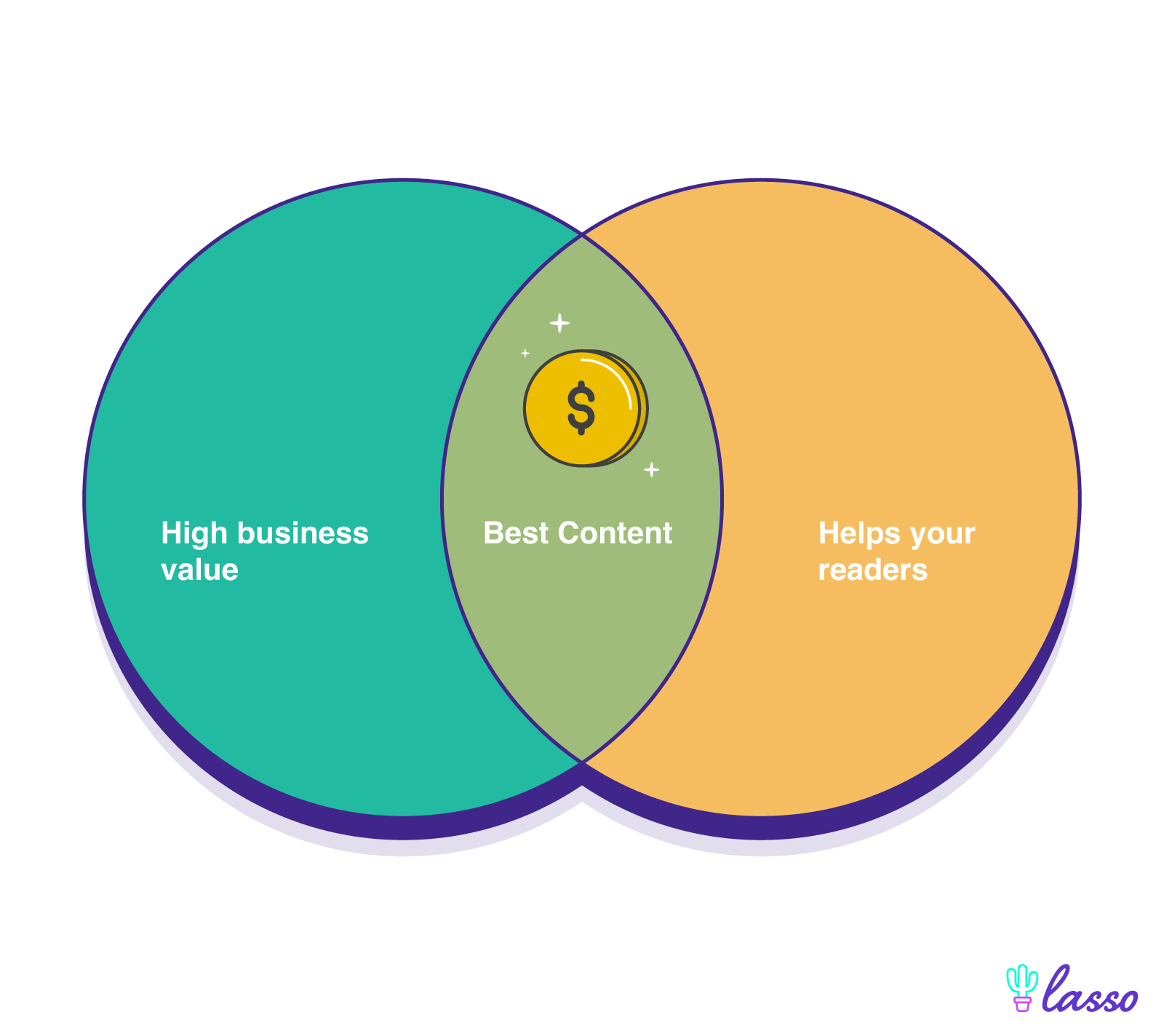 You can create a few content types, each with a singular goal. Ask yourself, "What do I want to accomplish with this post?"
For example, are you writing a product review to meet a reader's commercial investigation query, or is it a 'how-to' guide that instructs?
Some posts convert higher than others.
Consider whether your content marketing's focus is conversions or engagement with every post. Then, think about how you're positioning your expertise to align with the people you help.
Pick The Right Tools To Complement Your Marketing Strategy
Now that you've set your goals and decided on content objectives, choose tools to help you achieve them.
Is the goal to drive traffic from search engines? Then you'd want to optimize your content for SEO with WordPress plugins like Rank Math, capture more related keywords with Clearscope, and conduct keyword research using Ahrefs.
If your budget's limited, you can try free browser extensions like Ahrefs SEO toolbar to study the SERP features of ranking pages. For example, click "Links" and check out the 'Anchor' text column and see what words your competitors link to.
That'll help you gather ideas for related keywords and additional topics to include in your content.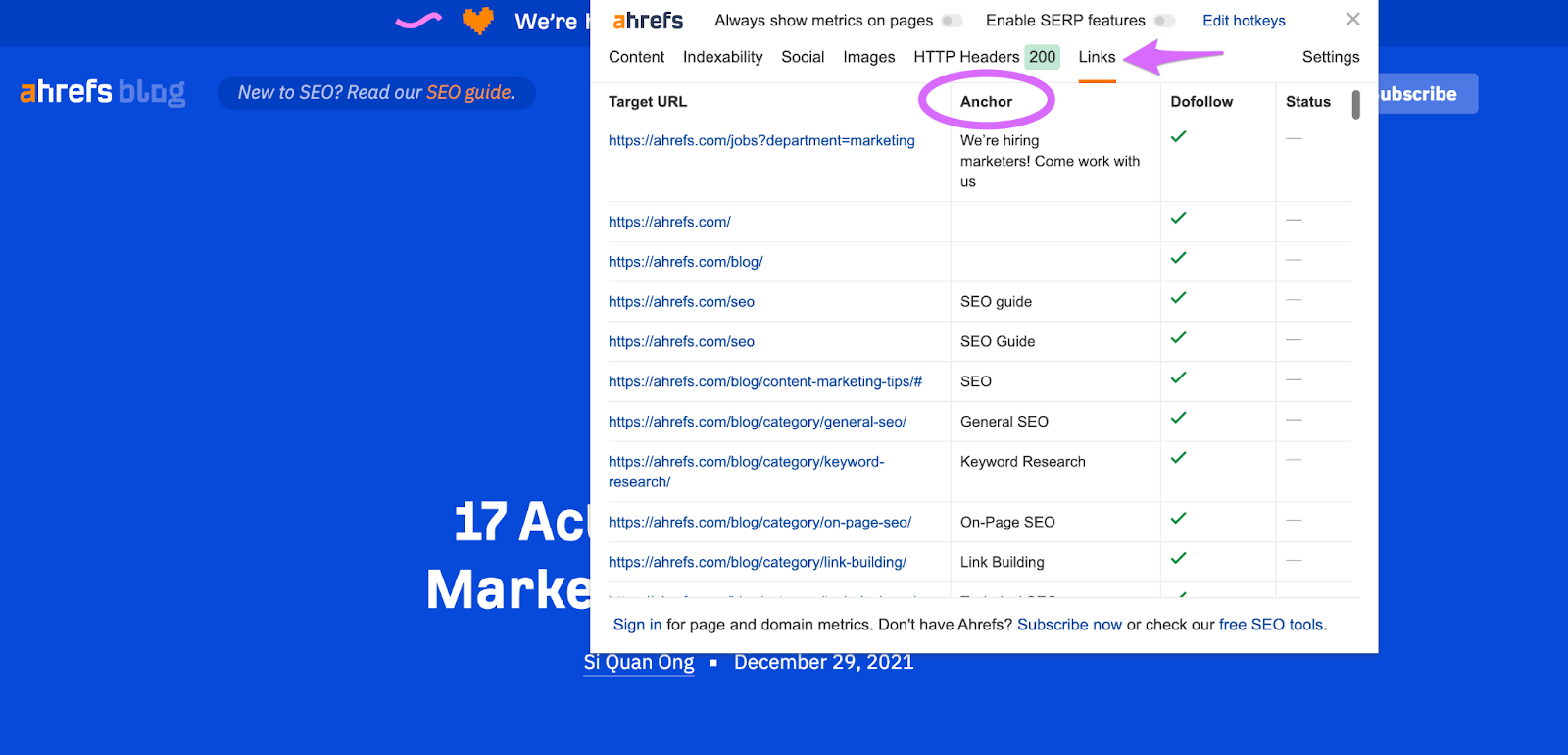 Alternatively, if you're in the affiliate marketing business like us, you need to consider how you'll monetize and promote your affiliate offers.
Decide How You'll Monetize Your Content, Then Showcase It with Eye-Catching Displays
One thing I've learned from working with Lasso founders Andrew and Laura is stepping back and asking, "How will you monetize this article?"
That's one thing always top of  mind when creating affiliate content and why they built Lasso.
Yes, you want to give your readers high-quality material, but you also want to make money. So one thing you can do to boost affiliate commissions is to promote your products in high-converting displays like the one below. 👇
Essentialism: The Disciplined Pursuit of Less
The Way of the Essentialist isn't about getting more done in less time. It's not about getting less done. It's about getting only the right things done. It's about the pursuit of the right thing, in the right way, at the right time.
Pros:
Will make you more effective.

Quick read and highly actionable.
Cons:
You have to be open-minded.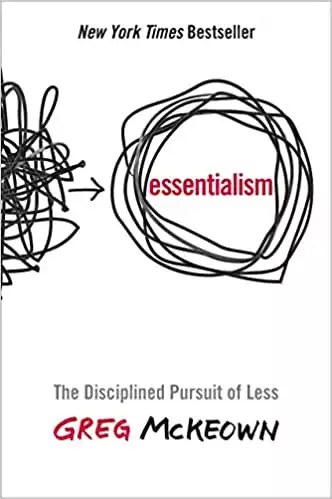 We earn a commission if you make a purchase, at no additional cost to you.
We learned that presenting our affiliate offers in visually appealing ways increases the likelihood that they'll stop readers scrolling past text links and examine our product displays.
Still not convinced?
Read our case studies:
Tip: Leverage additional affiliate programs in your niche to make more money. For example, if you monetize heavily with Amazon, consider contacting the brands you promote directly and ask whether they have an affiliate program. Many times, their payouts will be much higher.
Luckily, we have a database with thousands of affiliate programs categorized by niche. Click it to find yours.
So, have the right tools in place to help you with the jobs to be done.
Brainstorm Topics & Conduct Keyword Research
Now comes the fun part – brainstorming. 🤓
When you're thinking about what to create, there are a few ways to find ideas. This is by no means an exhaustive list – only a few to get your juices flowing.
Look at your competitors: Which of their articles rank high in Google? Can you create similar content but add your unique perspective?
Brain dump: Grab a pen and paper, set a timer for 30 minutes, apply constraints (e.g., scheduling tools), and write everything that comes to mind on that subject.
Subreddit visualizer: Type your topic into this field and watch it populate every niche related to yours 'mind map' style.
Once you've found some ideas, run them through a keyword search tool to learn whether they have a high search volume.
Further Reading:
Theme Your Days & Task Batch to Keep Focus
Ever heard of context switching?
It's when you jump from task to task without spending much time on a single subject. It's also a productivity killer because it takes your brain longer to return and focus. Imagine a car engine getting turned off and on repeatedly – that's your brain, and it's exhausting.
The American Psychological Association says that performing multiple tasks simultaneously takes a toll on productivity.
Brief mental blocks created by shifting between tasks can cost as much as 40 percent of someone's productive time.
We've all been there.
We think multitasking is the ultimate productivity hack when it actually makes us slower and LESS productive.
The solution is to schedule time to work on specific activities. For example, block out an hour to work on admin blogging tasks in the afternoon and four hours in the morning to write the first draft.
Theme Days
Once you've decided when you'll work, assign it to a themed day.
For example, you might want Mondays and Tuesdays to be writing-heavy days while Wednesdays are for conducting outreach and building backlinks.
Perhaps you have responsibilities that extend beyond writing. Maybe you design every blog image with Canva or create screencasts with Screenflow.
In that case, your model might look like this:
| Day of the Week | Task |
| --- | --- |
| Monday | Research and outline |
| Tuesday | Write first draft |
| Wednesday | Edit |
| Thursday | Create designs/illustrations |
| Friday | Format in WordPress |
| Saturday | Promote to email list and social media |
| Sunday | Admin tasks/website maintenance |
That's a rough example of how you could create a blogging schedule. We also use Asana as our editorial calendar and to track our writing workflows divided into:
Ideas
On-deck
Writing
Editing
Published

Once you start writing, you'll have a better idea of how long it'll take you to create new blog posts. For example, 2000 words might take you ten hours. Then, as you start writing more, you'll be able to plan how much you can publish monthly.
Beginners might need more time, and that's ok. However, the more you do it, the quicker you get. And once you know, you can start scheduling publishing dates.
Task Batching
You can increase productivity by doing specific tasks at once.
For example, I batch writing into three buckets:
Research & outline on Mondays
Write the first draft & brain dump on Tuesdays
Revise and edit on Wednesdays
This prevents context-switching and keeps me focused. For example, I'm not concerned with editing when I'm writing a first draft, so I just pour everything onto the page. Then return the next day when I'm wearing my 'editing' cap.
Another way to think about this is like a filmmaker.
Let's say you're making a movie and shooting scenes in a bar, a hotel lobby, and a courtroom. To make life easier, you'd task batch and shoot everything in the bar one day and everything in the hotel lobby another.
You'll get much more done in less time versus shooting everything chronologically, jumping from location to location in a single day.
Here are a few ways to apply it to your online business:
Designing marketing plans on Monday mornings
Complete 30-minute admin task blocks only twice per day (e.g., replying to emails and Slack messages, hiring writers or VAs)
Implementing new software Saturday evenings
Renowned entrepreneur and venture capitalist Paul Graham penned an excellent piece called Maker's Schedule, Manager's Schedule.
In it, he describes there are two types of people:
Makers
Managers
Managers are on a command schedule and break their day into 1-hour blocks. But makers operate in units of half days because they require time to do deep work and build
Takeaway: Determine when your maker and manager times will be.
For focus sessions, set your maker time when you're less likely to get interrupted, usually at the edges of the day (either early morning or late at night), and manager time in the middle of the day.
To improve efficiency, create checklists for doing specific tasks. For example, when it's Friday, and I'm formatting a blog post in WordPress, I run a list of steps to ensure I don't forget anything. Below is a snapshot of it we created in Asana.

As you start performing your blogging tasks, track how long they take using an app or a notebook.
This helps refine your process and informs you how long things take once you start removing yourself from your business. For example, if you're outsourcing a task that normally took you five hours to complete, that's five hours you've gained to work on other more important jobs.
Further Reading:
Tips for Establishing A Successful Blogging Schedule
Constraints are perhaps the most important thing you can do when trying to stick to your schedule.
They also ensure you work without distractions. So, turn off notifications and focus on the work at hand.
Here are three constraints to apply:
Set a time limit. 3 hours? 30 minutes? Depending on the task, you should know how much time you need to complete your work.
Determine your blog topic. Fitness? WordPress SEO? Stick to what you're writing about.
Posting schedule. The frequency with which you can reasonably create content for your audience. This also determines your growth rate.
You can use these constraints with other tasks you perform daily. For example, perhaps only allow yourself 15 minutes to fire off emails twice per day. Or 30 minutes when it comes time to add screenshots and images to an article.
You can read our thread on how to put together a 30-for-30 plan to supercharge your blogging productivity here.👇🔥
Are you a blogger struggling to get more done?

Here's a simple solution.

It's called the 30-for-30 plan.

It goes like this. 👇

🧵

h/t to @SahilBloom

— Lasso (@LassoWP) May 20, 2022
Put It On Your Calendar
Once you've decided on your blog content and have a good idea of how much you can publish, jot in on your content calendar.
Pick one day per week and release new content on that day. If you're a new blogger, starting with two posts per month might make more sense, especially if you have other commitments like a full-time job and a family.
If you're more established, 4-8 times per month might be more fitting, especially if you have a team behind you.
Sidenote: Quality > quantity. Don't publish a lot of mediocre articles; publish great content that your readers can't wait to devour – even if it's less than what you'd like. You can always scale once you're more established.
Consistency matters.
Our site, Lasso, has experienced steady growth over the past two years as we continuously rank for more keywords and grow organic traffic with every piece of content we produce.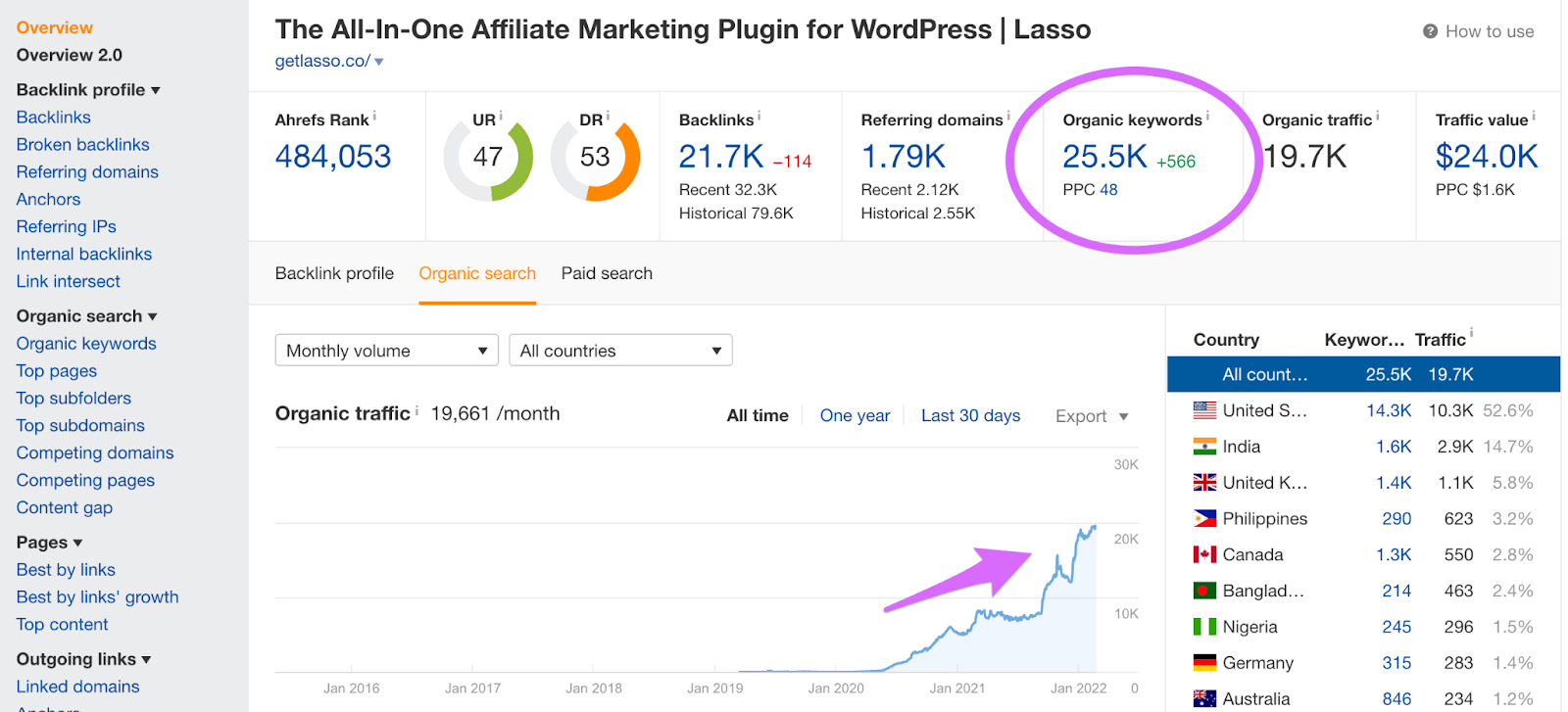 Here's how to approach your blogging strategy:
Determine the jobs to be done and who will fill those roles
Decide which tools you'll need to complete those jobs
Know the time commitments required to publish regularly
This three-part framework can save you a lot of time down the road, especially in your blog's early days.
How Often Should You Blog?
This gets tricky to answer because there's no one size fits all. Since you're likely using your blog to help people and make money, here are some things to consider.
Your Time Constraints & Niche
We've already mentioned the importance of knowing how long it'll take you to write a post.
If your goal is to create long-form content like we do, posting daily will drive you nuts. So, consider who you're writing for and how often they should expect content from you. Review your analytics and note reader engagement.
Take a lesson from the other sites in your niche and notice how often they publish and the size of their team. Then, determine how much time you can devote to content creation.
For example, we love Ahrefs. But we don't try to publish as often as they do because they have a larger team. Takeaway: Know your limitations.
Further Reading:
How Do You Schedule Posts In WordPress?
If you want to put your scheduling on auto-pilot, you can do it inside the WordPress post editor.
Here's how to do it:
Inside your post editor, click "Edit" to the right of the phrase 'publish immediately.' Once you click it, a drop-down calendar appears. Set the date to when you'd like to publish your post.

Boom! 💥 Post scheduled.
Common Obstacles Bloggers Face
Several scenarios unfold as you start writing content. The three common pain points we see the most are:
Finding topics
Motivation
Time management
Finding Topics
When you're stuck, turn to what others are doing. For example, examine other blogs in your niche (or look for alternative ideas in other industries).
You can also try looking at what products people buy in your market. Try Running a Google search with the term "best products" for [your niche].
For example, when I enter 'best products for camping' into Google, I see many options, including:
Cabin style tents
Survival shovels
Portable wood-burning camp stoves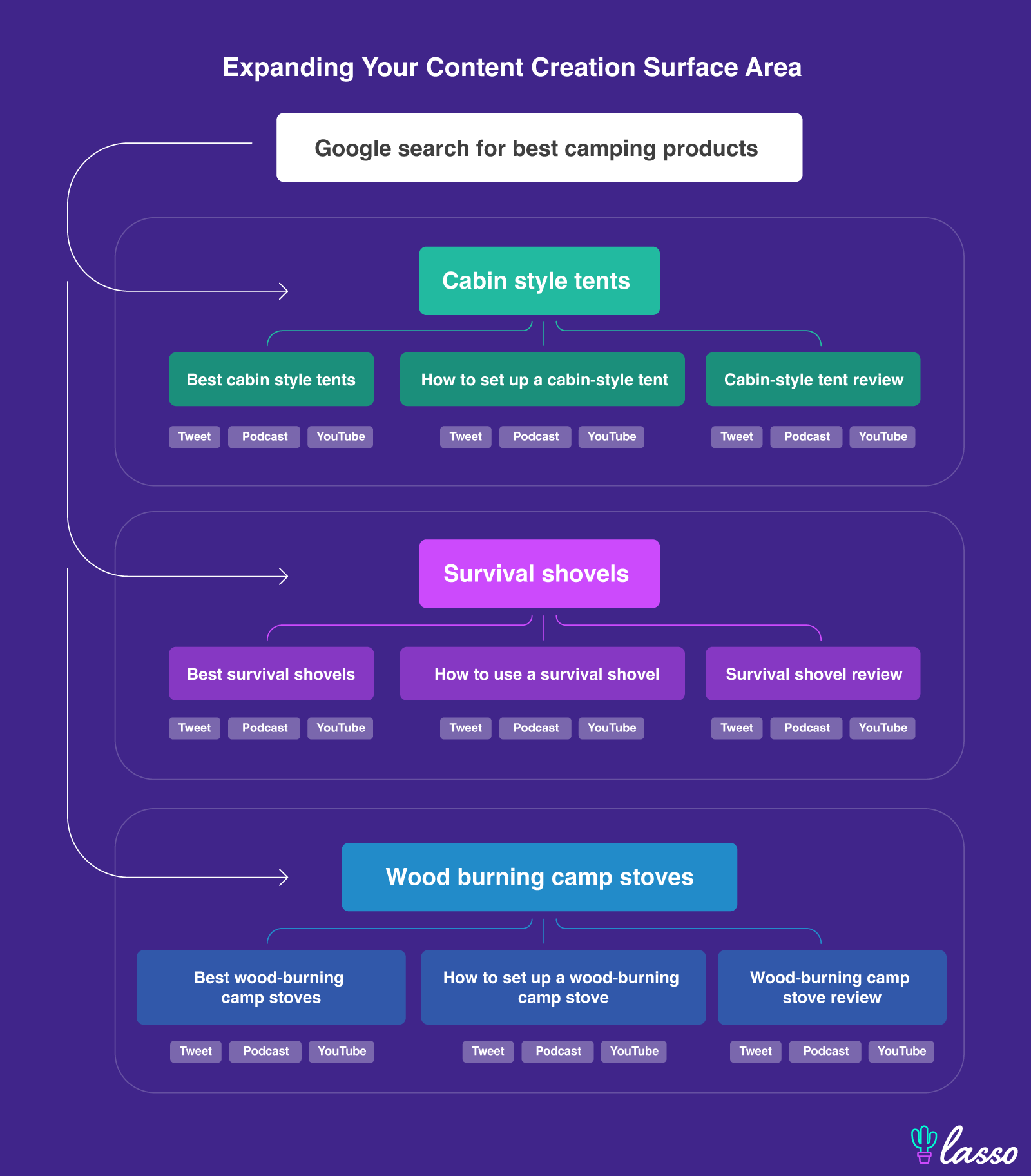 Then apply the three high-converting content types (best list, how-to guide, product review) to each above. Let's use cabin-style tents as an example of content to create:
Best Cabin Style Tents Under $200
How to Set Up the Core 9-Person Instant Cabin Tent (In Under 10 Minutes)
WhiteDuck Prota Canvas Cabin Tent Review (2022)
Rinse and repeat for each of the three items, and now you have nine things to blog about. Then, you could repurpose those nine into Tweets, podcast episodes, or YouTube videos.
This helps expand your content creation surface area.
Further Reading:
Motivation
Lasso's Head of Customer Success rockstar, Caitlin, suggests a simple formula to overcome this:
Replace "motivation" with "stubborn determination."
Motivation is fickle and only strikes when you're in the mood. But when you're determined to do something, that's another mindset. Think about it. When you're hungry, you're determined to eat. Treat writing the same.
Time Management
How do you differentiate between the time-wasting activities and ones that create the most value?
Audit your workweek. I treat my Moleskin notebook as a logbook, divided into four columns:
Start
Task (with a dollar value attached)
Stop
Time (duration spent on task)
| Start | Task | Stop | Time |
| --- | --- | --- | --- |
| 7 am | ($100) Blog post | 9:45 am | 2.75 hours |
| 10:30 am | ($100) Blog post | 1:30 pm | 3 hours |
| 1:45 pm | ($10) Slack/email replies | 2:15 pm | 0.5 hours |
| 2:45 pm | ($1,000) Plan webinar | 4 pm | 1.25 hours |
| 4:15 pm | ($10) Slack/email replies | 4:45 pm | 0.5 hours |
| 8 pm | ($1,000) Write sales page for SaaS startup | 10:30 PM | 2.5 hours |
Then at the end of the day, I tally how I spent my time. The dollar value exists to show me high and low-impact work.
For example, I divide tasks into three categories:
$10/hr work
$100/hr work
$1,000/hr work
The dollar value is arbitrary. I'm not earning $10 per hour to send an email or $100 per hour to write a blog post. It's my way of categorizing how closely my work ties to revenue.
For example, posting a tweet that gets lots of social shares doesn't generate the same income as a high-converting sales page. This is because the social media post qualifies as $10/hr work, while the sales page is $1,000/hr.
Stay On Track with A Blogging Schedule That Works
Choosing how you'll schedule content doesn't have to be tough. Start with the desired outcomes you want and work backward. Simple tricks like task batching and theme days ensure you'll stay focused.
Then, schedule it on your calendar in time blocks and track each activity's business impact. We're obsessed with productivity, tracking, and spreadsheets over here. So let us know what your ideal schedule looks like.
Our creations in your inbox, weekly.
We've built multiple six-figure online businesses that our moms are proud of.
We'd like to help you do the same.