Blogging is a competitive business providing multiple income streams to savvy digital marketers. And the best part, you can write about practically anything.
You might not think of a personal blog as an income source, but perhaps you've noticed the sheer volume of people making money blogging these days. There are several ways bloggers can turn their site into an asset that produces recurring revenue – we know because we've done it. Let's dive in!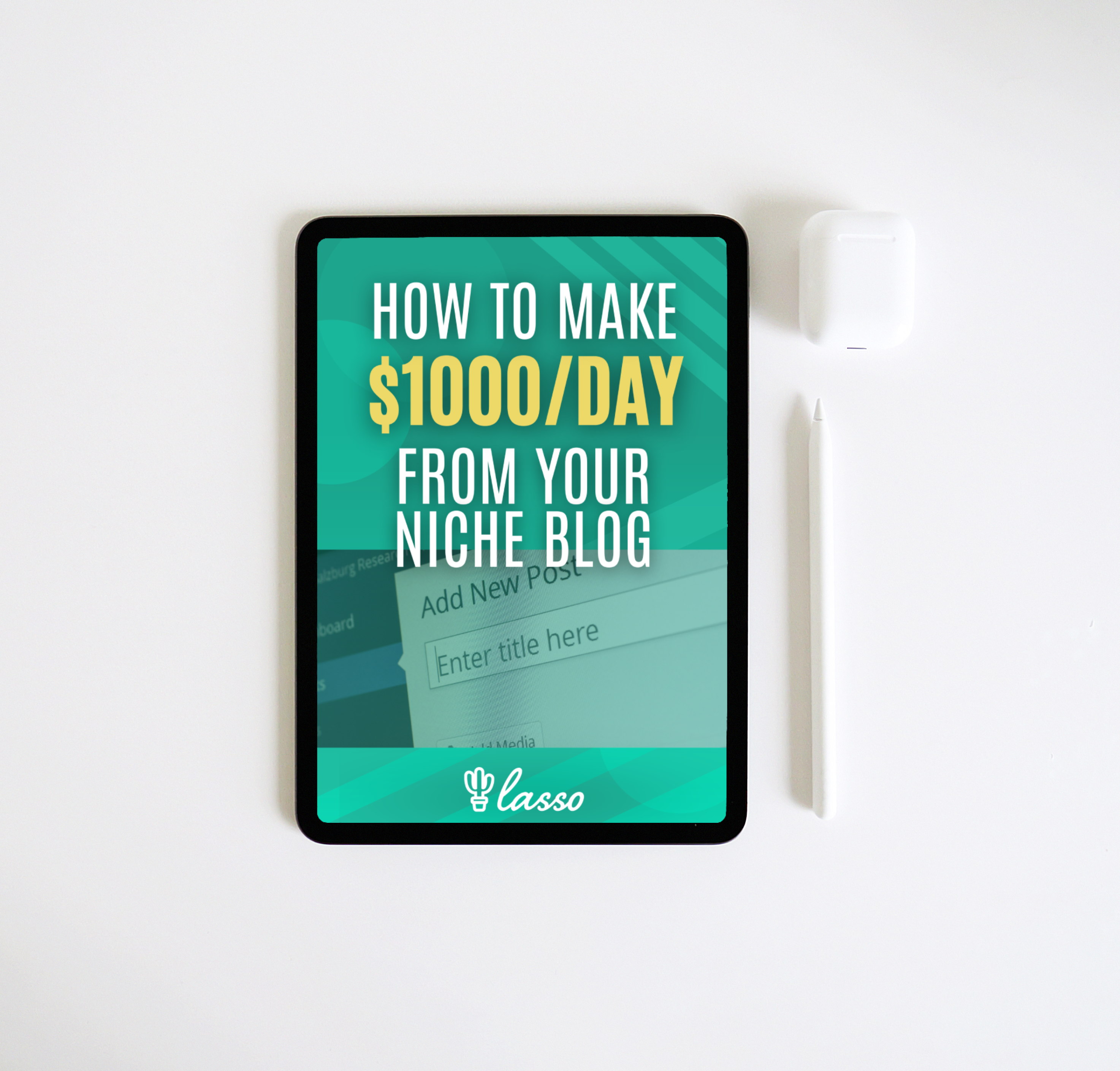 Get Your FREE 20-Page Guide To Making $1000/Day From Your Niche Blog
What Exactly is a Personal Blog?
A personal blog focuses on the author's life experiences and personality while revolving around specific topics. 
Unlike personal blogs of the internet's early days, which were largely unmonetized, online diaries, nowadays they have transitioned into helping the reader by promoting products (while injecting their own opinions, beliefs, and experiences into the narrative). These stories add a personal touch and feel more human.
Most people who subscribe to a personal blog do it for the author's charisma and writing style.
A perfect example is Steve Kamb's blog, Nerd Fitness. It chronicles his experiences as a skinny kid trying to build muscle which has acquired over one million backlinks.

IMHO, successful blogs weave the author's personal experiences into the content while offering a solution.
What Is A Personal Blog Used For?
Whether it's a new blog or you've been on BlueHost's dedicated web hosting plan for a decade, you can use your own blog in a variety of ways.
Connect with People Who Share Your Values
Personal bloggers don't necessarily have to seek monetary compensation (although I'm sure you are otherwise, you wouldn't be reading this post ; )
Sometimes it's connecting with folks who share your experiences. Then, when you write for those people, they read your posts and think, "Hey, this person just gets me."
This builds trust, credibility, and a devoted audience over the years.
Track Your Progress
Some people start a personal blog to chronicle their journey. For example, Scott Young's MIT challenge where he learned the entire 4-year MIT computer science curriculum – without taking any classes – in 12 months.
If people have a shared interest in what you're trying to accomplish, they'll happily tune in to check your status. In Scott's case, his focus was accelerated learning.
Alternatively, you might want to record your life, document everything, and pass it on to your kids as a digital logbook.
Grow An Audience
Kevin Kelly penned an article titled 1,000 true fans. In it, he defines a true fan as "someone who will buy anything you produce."
Sidenote: To be a successful creator in virtually any discipline, building a loyal audience can help fuel your lifestyle and sustain you financially over the years. In addition, it's easier to market your creations to these people because they've already given you access (typically with their email address).
If you created a course, you could use your blog to educate people on the topic while positioning your product as the solution.
For example, if you run a food blog, your course could teach busy moms how to prepare healthy meals in five minutes using only a handful of ingredients.  A good blog knows how to leverage its readership.
Find Clients
Your blog content is like a digital business card you're passing out across the web and can be an excellent way to attract new leads. When building your personal brand and positioning yourself as an industry expert, a blog can be a quick way to accomplish it.
For example, Chris Orzechowski's website, The Email Copywriter, uses his "Email of the Week" articles to reach more people and pitch his services.
Similar to how Saas businesses use their blog to educate their readers on using their tool (search engine optimization and marketing blog, Ahrefs excel at this), as a freelancer, you can write about how your solutions solve your clients' problems.
How Personal Blogs Make Money
Many people make money with their personal blogs. However, the income potential can be insanely high depending on how you monetize your site. You'll probably want to focus on more direct methods like affiliate marketing or creating your own products to be truly profitable.
One example you can model is blogger Ryan Robinson. His site has multiple income streams, which he has thoughtfully built over the years.
He earns money by:
Recommending products he uses with affiliate marketing (monetizing both his podcast and blog) 
Selling services as a consultant
Creating and selling courses
His navbar on the homepage makes it easy to find them all. He also leverages social media to reach more like-minded entrepreneurs.
Find Monetization Opportunities and Capitalize on Them
It may not seem obvious – it wasn't for me at first – but there are several ways to monetize your blog – regardless of the niche.
#1. Drive Conversions with Product Displays
Product displays are the cornerstone of our monetization strategy and were a gamechanger for our businesses. Once we saw how our visitors interacted with displays versus text links it was a no-brainer – we started adding more product displays.
Bottom line: Many times people would scroll past our text links, but when they encountered a display, they'd stop and click. Our affiliate income increased dramatically because of this.
You can use displays to promote:
Affiliate products you recommend
Digital products you've created
Free content upgrades for email list building
For example, if you're running a personal DIY blog, try a product display instead of promoting a specific toolset with text links.
Our plugin, Lasso, lets you create ones to match your blog site's WordPress theme (like the below Amazon example💥).
Our Pick
Hammer & Tongs Blacksmith Tools Starter Kit
The Hammer & Tongs Blacksmith Starter Kit from Whitlox is a 6-item bundle great for the beginning blacksmith, with high-quality tools that will be used for years to come. The set also comes with A Chicago Electric leather apron designed to protect you and your clothes from hot sparks.
We earn a commission if you make a purchase, at no additional cost to you.
Our displays convert better and have been tested against millions of impressions (and revenue). For example, our personal finance site doubled its affiliate revenue in two months by learning which partners performed best and then rolling them out sitewide.
Tip: Try using a secondary call-to-action (CTA) button as we did in the above example linking people to a buying guide or review. This maintains engagement and can also nudge your reader towards clicking your affiliate link (because sometimes they need a little more convincing). We found people who migrate to our guides from a secondary CTA button convert at a higher rate than those finding the same articles organically.
Further Reading:
#2. Boost Sales of Your Own Products
You don't have to rely only on affiliate income – you may create your products in the form of books, guides, and courses – then promote those.
Our personal finance blog gets income from several sources, one of which is digital products on our Toolbox page. You can peddle your wares and present them in attractive displays on your site.
For example, we display our course about using the budgeting app Mint in a custom display on every one of our budgeting posts.
Think of it as a billboard to catch more clicks.
When you're driving down a highway, you're more likely to notice the billboard for Tropicana orange juice versus the guy standing on the side of the road selling oranges.
Even if you're only promoting a free guide to grow your email list, you want people to stop and take notice.
Using custom displays is an excellent way to achieve this, even for email capture. Here's how we do that on our site to promote a content upgrade. Product displays make your job easier while boosting clicks.

#3. Group Products You Mention Regularly By Category (Then Create A Resources Page to Boost Income)
Arguably, this is one of the most important things you can create. This single page can become one of your most heavily trafficked (and valuable) tools. A Resources page also helps readers find what you promote faster because it's in your navbar (unlike blog posts that require a bit more digging to find).
Think of the products and tools you can't imagine working without. Or brands you enjoy. These all have the makings for a great Resources page.
Alternatively, if you create digital products, add these too.
For example, if you run a fashion blog, you could promote your most recommended pants as part of a Resources page to your readers.
The Toolbox page on our site generates 10% of our income.
Depending on your blog's traffic, that could mean an extra $100 or an extra $1,000 in monthly revenue (or more!). You can quickly create a Resources page using Lasso in under ten minutes without writing a single line of code.
All you need to do is group your URLs by category, then add the links you want in that group (like we did with our Site Speed category below).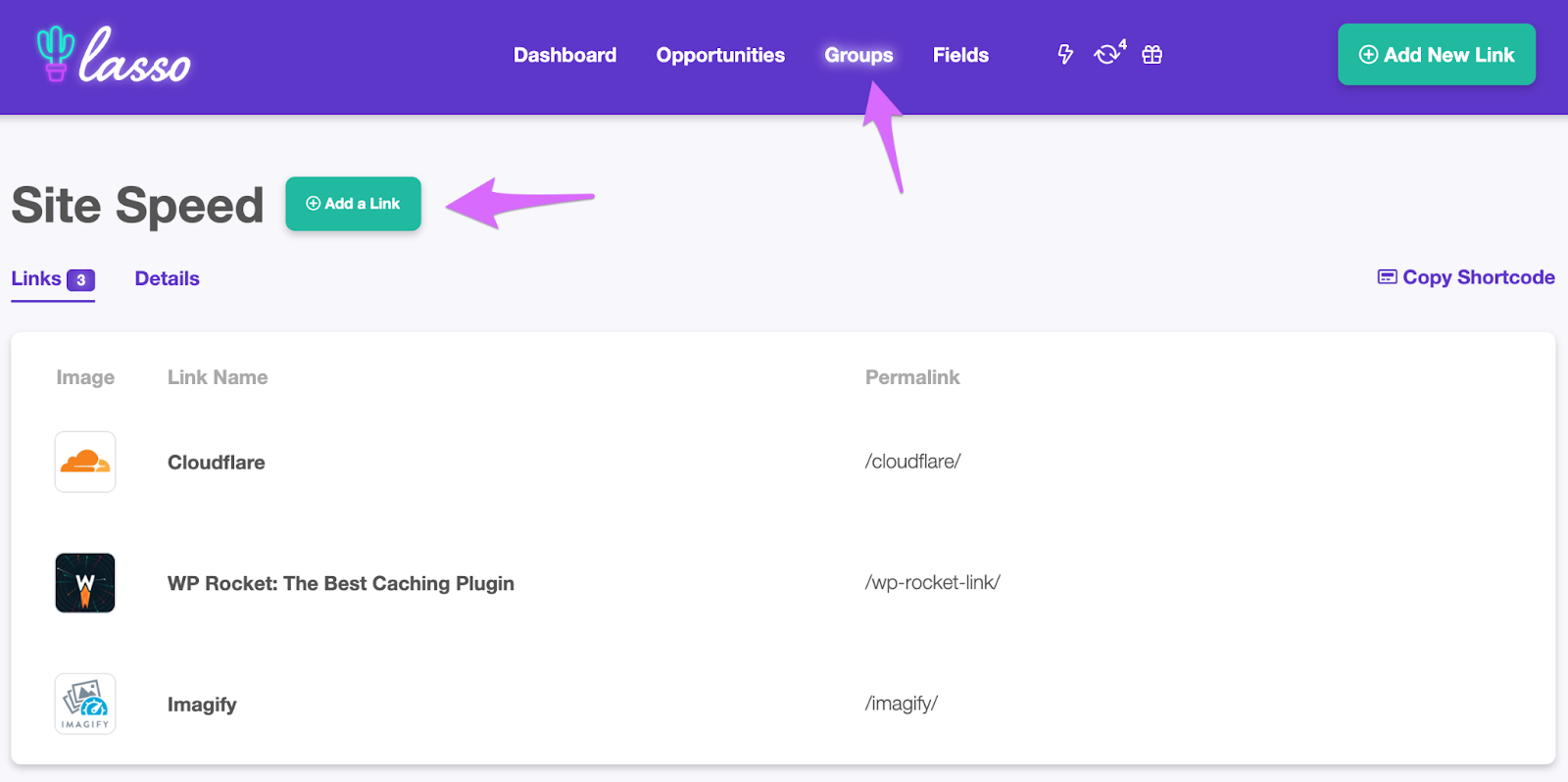 Grids showcase products side-by-side and typically tend to convert better than comparison tables; much like you'll see big sites including The Wirecutter using.
Further Reading:
#4. Locate Resources Already Mentioned In Your Content
Does your personal blog feature tutorials or offer step-by-step guides that require special equipment, clothing, or tech gadgets to make your job easier? Those resources are all opportunities you can monetize with affiliate links. Here's how to find them.
Let's say you run the Amber Fillerup beauty blog and wanted to find mentions of the word "mascara" to monetize across the site.
Try using a Google advanced search like this: site:amberfillerup.com "mascara"
Google will find mentions of your keyword, and you can monetize accordingly. The drawback to this approach is that it's time-consuming.
Another way to do it is with an affiliate marketing WordPress plugin like Lasso. It features a Keywording tool that detects unmonetized mentions of keywords and domain names.
For example, if I wanted to find how many times I mention the phrase "bar spoon" on my site, I could head to Opportunities > Keywords, type that word in, and click "Add Keyword."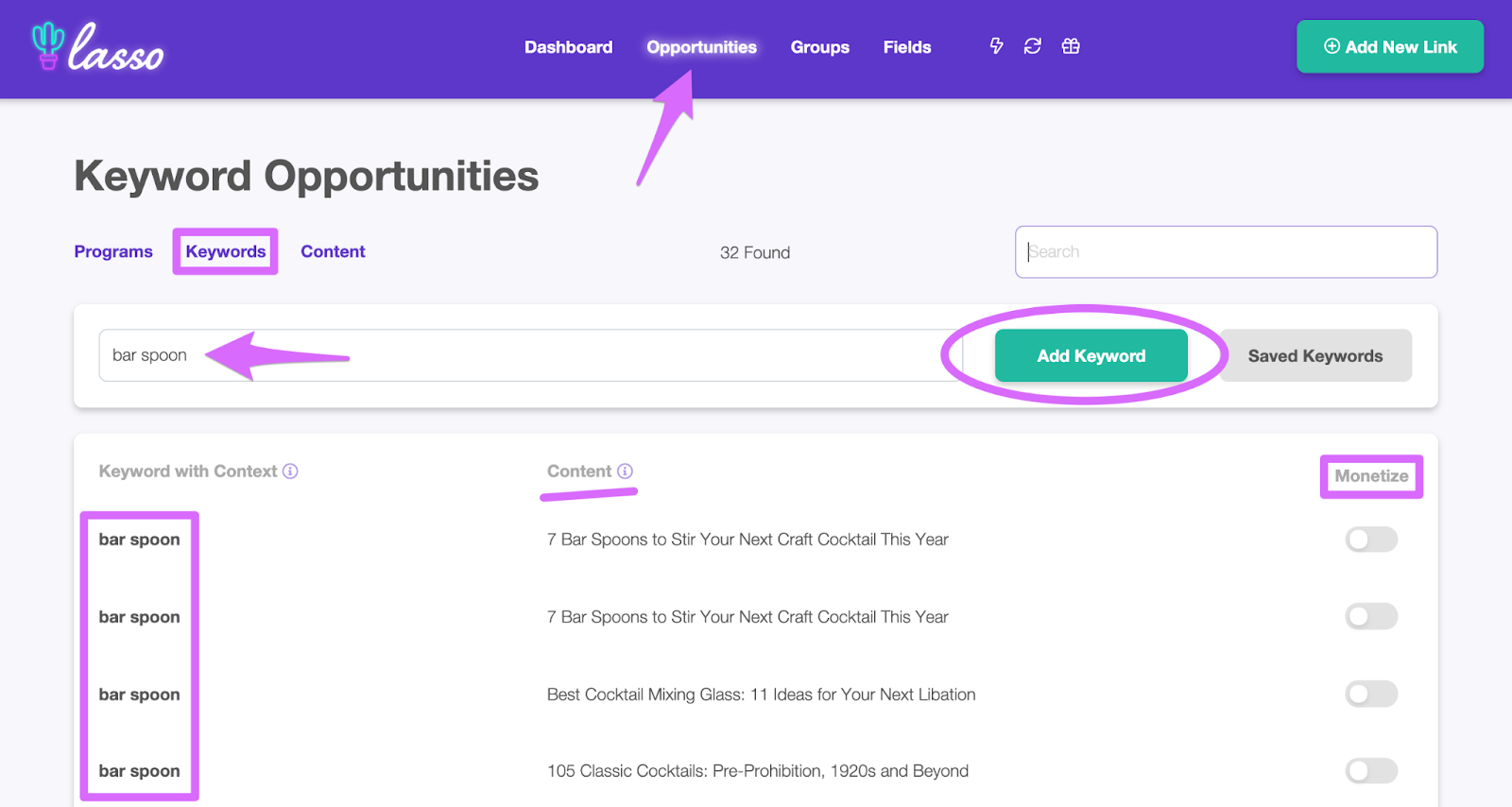 Then, once I search for that specific phrase, Lasso finds every mention sitewide.
This report shows you the following:
Keyword with context
Content your phrase appears in
Monetization toggle (monetize from there without having to dive into every post manually)
Our niche site used the automation and displays from Lasso to earn $1.2M in affiliate income in under five years.

Here's how to generate more revenue from your blog using our 'Keyword Opportunities' report.

🧵👇

— Lasso (@LassoWP) June 24, 2022
Consider popular travel blog Nomadic Matt, who has several step-by-step guides on ways he travels cheaply, finds airline deals, and how he saves money traveling.
Within those articles, he uses affiliate marketing to monetize those posts. It's his endorsement of products he recommends.
For example, his "how to book a cheap hotel" article mentions Booking.com and Agoda as tools he's used over the years.

If you wanted to boost clicks to those text links, you could showcase them in eye-catching product displays (more on that in the next section).
Further Reading:
Creating a Successful Personal Blog
Personal blogs can be incredibly successful. Today, you'll most likely find ones that merge personal experiences with blog topics in a specific area of interest.
As the above examples have illustrated, anything from personal food blogs to fashion blogs to lifestyle blogs can profit.
Combining SEO, high-quality content, and posting regularly can yield the quickest results – regardless of the blogging platform.
Last Words
So, that's how you can spot monetization opportunities and generate revenue on your personal blog. They're no longer for online journaling, as many have turned theirs into a full-time income.
Ready to learn how else Lasso can help you do this? Give us a try here. 
Our creations in your inbox, weekly.
We've built multiple six-figure online businesses that our moms are proud of.
We'd like to help you do the same.