If you want to learn more about what a subID is so that you can attribute specific link locations to where revenue is coming from, you're in the right place. This post outlines what they are, why they matter, and how to create your own unique URL parameters.
Let's go.
But first, let's make sure we're on the same page.
What Is A SubID?
Sub Ids are tags you attach to the end of affiliate links for tracking purposes. They enhance your data so you can get a clearer picture of what links convert best. Every affiliate network has its own abbreviated version.
They're similar to UTM query strings that let you monitor all inbound traffic sources to your website so you can see where your visitors come from.
With sub IDs, you can track specific user attributes, link placement, and more. Here's a shortlist you can monitor, including:
Landing pages
Sub-affiliates
Referral URLs
Link placement
Websites
Calls-to-action
Keywords & ads
Traffic sources (e.g., organic, PPC, email, etc.)
User-types 
You can get as granular as you want, but these are a good start.
What Does a SubID Look Like?
Sub IDs are part of the alphanumeric strings added to the end of affiliate URLs. They specify unique traffic source values.
All affiliate links have common traits that make them easy to track, which are:
The publisher's ID (or referrer)
Merchant ID
Product details
Campaign
Sub IDs are just another extension of the link. For instance, you could have three parameters inside a "best" list post with an affiliate link and sub ID like this:
yourwebsite.com/dp/product?ref=789&m=123&subid=best-cocktail-shakers
Your three parameters in this example are:
ref with the value 789 (the publisher or 'referrer')
m having a value of 123 (the merchant)
subid with the value 'best-cocktail-shakers' (sub id)
These values matter because it shows who sent the merchant traffic and who should get the commission.
Sub ID Values Vary
Different affiliate programs will have various sub ID values. Typically, it's the larger networks using and sharing them (e.g., ShareASale or ClickBank).
I say "sharing them" because some use the same parameter. For example, JV Zoo and ClickBank both use 'tid.'
For instance, you'll see four parameters using Impact:
The unique tracking domain
Your media partner ID (mpid)
Assigned ID for the ad (adid)
Assigned ID for the brand's campaign (campaignid)
And here's how it can look:
example.com/mpidcxz/adid1234567/campaignid65432/4321?subId=desired-thing-you-want-to-track
Or an example from ShareASale:
shareasale.com/r.cfm?b=731549&u=1305425&m=45652&afftrack=best cocktail-shakers
b=banner
u=user
m=merchant
afftrack=subid
Sub IDs vary by network, which makes them confusing at times as you have to enter a different version per affiliate program.
For example, ShareASale's is afftrack while ClickBank's is tid. So, if you were creating a sub ID for a ClickBank affiliate link, replace 'afftrack' with 'tid.'
Usually, if the program doesn't support multiple values per affiliate link, there's a max number of characters you can use. So, you could add as many values as you like as long as:
you separate each one with an '&' symbol
It doesn't exceed the character limit.
For example, an Impact link lets you add multiple values:
someimpactlink.net/c/123/456/789?subId1=value_1&subId2=value_2&subId3=value_3
Some affiliate networks let you add more than one value per link; it just depends.
If you're using our tool, Lasso, you can add any pass-through parameter you'd like to your cloaked links to any post when inside the editor.
You can make up as many as you want by adding:
?anything=any-other-thing.
Sidenote: You would do it as you're writing the post inside the editor – not inside Lasso.
If you're adding a sub ID to a product box display, image, grid, gallery, or button, you'll override the shortcode like this: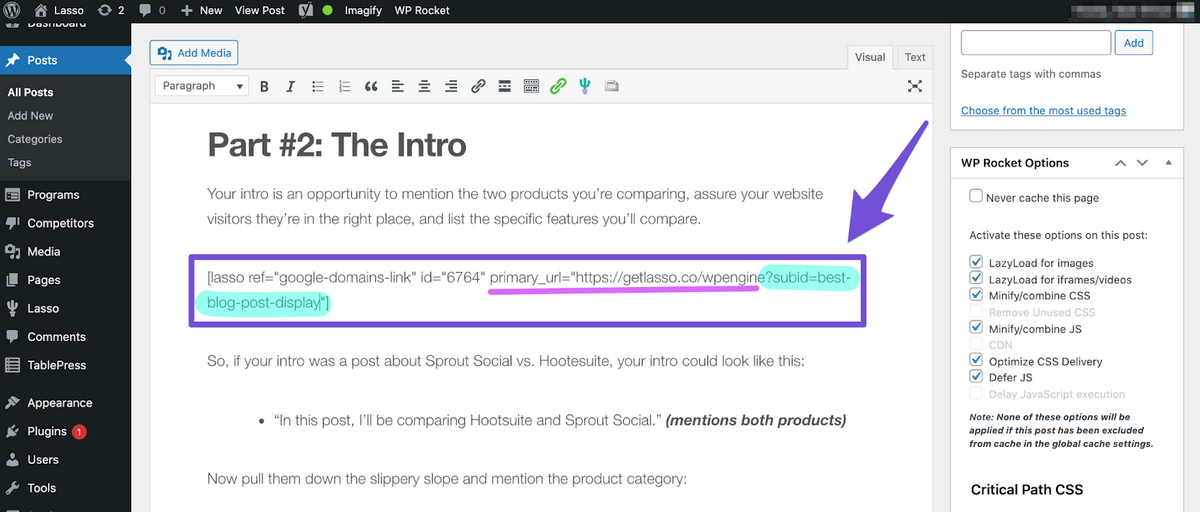 What you see above is the shortcode for a single display with a URL override. Let's unpack that. The normal shortcode for this Google Domains product box appears like this:
lasso ref="google-domains-link" id="6764"
But if you want to add a sub ID to that display, you'd append the URL using the attribute:
Following the '=' sign, you'd include your:
Complete cloaked URL (underlined above in glow purple)
Sub ID immediately following it (highlighted above in glow green)
For the sub ID, I noted the link as my best blog post and that it's a display.
Further Reading: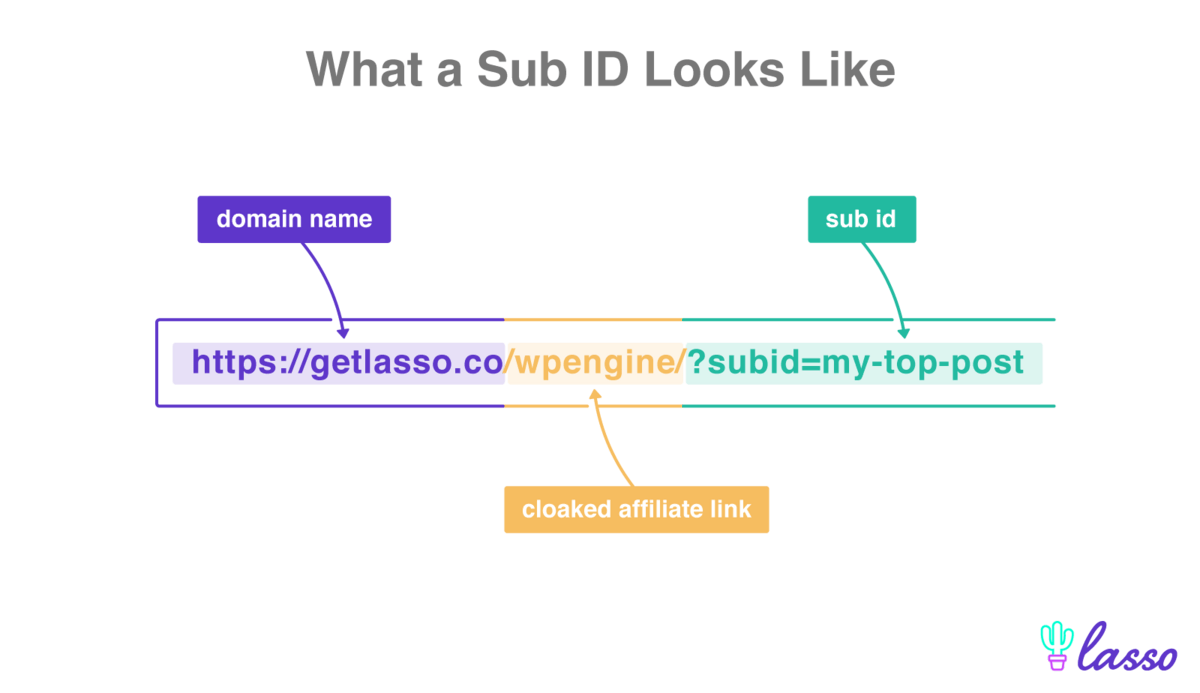 It's all helpful for conversion tracking your various creatives so you know which performs best.
Examples of how you can use sub IDs:
| Data You're Tracking | Appended URL |
| --- | --- |
| Landing page | example.com/en/?id=1234&subid=landing_page |
| Side banner on a blog post | example.com/?id=1234&subid2=blog&data1=side_banner |
| Call-to-action button | example.com/en/product-details?subid=blog&data1=cta1_value |
| PPC campaign | example.com/en/product-details?afftrack=PPC&data1=campaign_id&data2=keyword |
Why Sub IDs Matter
The larger your site gets, the more challenging it is to track everything. With so many moving parts, it's difficult to tell what's working and what's not.
For example, you might want to track click IDs within a campaign or across multiple campaigns. Alternatively, you might want to see traffic from a specific website or uncover how many clicks your homepage sends traffic.
They inform you of the behavioral patterns behind individual clicks and allows for an added layer of segmentation. It also helps when promoting the same affiliate link across different channels (e.g., AdWords vs organic).
Sidenote: A sub ID can also come in handy when postback URLs or tracking pixels are unavailable.
Having this information lets marketers better optimize their content.
Tracking Affiliate Conversions with Sub IDs
You can see some of the most popular affiliate network parameters below. If you want to use a specific sub ID to track conversions, just append your affiliate URL with the platform's corresponding value.
Affiliate Sub ID Parameters
| Affiliate Network | Sub ID Parameter |
| --- | --- |
| Awin | clickref, clickref2, clickref3, clickref4, clickref5, clickref6 |
| ClickBank | tid |
| Commission Junction (CJ Affiliate) | sid |
| eBay Partner Network | customid |
| HasOffers | aff_sub, aff_sub2, aff_sub3, aff_sub4, aff_sub5 |
| Impact Radius | subId, subId2, subId3 |
| Rakuten | u1 |
| ShareASale | afftrack |
Example using ClickBank: https://hop.clickbank.net/?affiliate=AFFILIATE&vendor=VENDOR&tid=blog_feb_2021 
Problems With Sub IDs
There's no universal language for them because every affiliate network has a different version. This can get confusing. For example, Awin uses 'clickref' while Rakuten uses 'u1.'
Also, manually entering all of this data takes time, which is why it's a good idea to use a third-party tool for doing it at scale.
Affiliate Tracking Software
Several tools are available, like Voluum, which uses server-to-server postbacks (so you can forget cookie-dependent pixels) and conversion attribution.
Or Supermetrics recommends setting up affiliate marketing dashboards across channel categories relevant to your business (e.g., an email marketing dashboard or PPC marketing dashboard). 
If you're focused on SEO like us, you will start there.
For any kind of SEO campaign to work, you need to grow your audience. Your content also needs to:
Match search intent
Be visually appealing (which is one of the reasons we created Lasso)
Be optimized for search engines
Traffic from organic content marketing is free and compounds over time but takes the longest of all acquisition channels to build.
Alternative Tracking Methods
Sub IDs can make a great choice for extracting additional data from your affiliate links. It's worth mentioning the other two ways affiliate marketers can get data.
Postbacks
Postbacks (aka cookie-less tracking) pass data between servers and are the ideal method for conversion tracking (especially involving ad campaigns). It's an alternative to the tracking pixel and uses query string parameters instead of browser cookies.
Sidenote: Some browsers use ad blockers which prevent the tracking pixel's cookie from displaying. That puts you, the affiliate marketer, at a disadvantage.
Postbacks can send a signal for any event type and are the most flexible option, albeit, harder to implement.
Tracking Pixel
A tracking pixel is a 1×1 dot that's loaded to a person's browser whenever a person opens a webpage. They go unnoticed by readers and help marketers get information about their visitors (including what's converting best).
It can also help send relevant ads that you'll find the most interesting as if your browser is a mind reader.
Tracking pixels are easier to implement but aren't as reliable because they're browser-based. It's a piece of HTML code that's placed on any page where you want to track an event (e.g., thank you pages or landing pages).
This is ideal for affiliates who own the offer and can implement the code themselves.
Further Reading:
3 Affiliate Marketing KPIs Worth Tracking
There are several things to focus on as an affiliate marketer. Below are three that make an excellent starting point.
Revenue
Metrics like high pageviews, clicks, or new email subscribers are great, but if you're not earning any money, something's wrong.
For example, if you're getting high clicks with little sales, there could be a disconnect with your sales copy. Or perhaps the product itself doesn't quite fit your audience. Take a look at the number of clicks versus the number of sales to get a better idea.
Conversions
We've written about this before, but if you want to increase your conversions, the content types that convert higher are product-focused, including:
Product reviews
Best lists
Buyer intent tends to be higher with these groups as they're narrowing their search through commercial investigation. Your well-written product review or comparison could drive them to click using your affiliate links.
Further Reading:
Clicks
Clicks indicate the number of people seeing your link and signal interest. You're also building awareness with every click. If you're consistently creating high-quality content and refining your marketing copy, the sales should follow.
Further Reading:
Let's Wrap This Up
This post outlined what sub IDs are, why they matter, and how to create your own unique URL parameters. Attributing specific link locations to where revenue comes from is the only way you can know for sure what's working.
I hope this guide can serve as a foundation to build upon the various ways you can use link attribution to grow your affiliate business.
Curious to learn more? Read this.
Our creations in your inbox, weekly.
We've built multiple six-figure online businesses that our moms are proud of.
We'd like to help you do the same.