One of the biggest challenges in affiliate marketing is getting the data you need to optimize your affiliate content. SubIDs are one of the best ways to track this extra data, giving you all the information you need to maximize your affiliate revenue.
With SubIDs, you can see the specific link locations that led to the conversion, the traffic source, the exact product, and much more. In this article, I'll explain what SubIDs are, why they're essential for affiliate marketing, and how you can create and track them to make more money.
Table of Contents
SubIDs Explained: How To Use For Affiliate Link Tracking
What Is A SubID?
SubIDs are alphanumeric strings you add into affiliate links for tracking extra information. Affiliate marketers use SubIDs to gain an extra layer of data beyond the basic data most affiliate networks provide by default, giving you a deeper understanding of what converts best so you can make the right optimizations.
SubIDs are similar to UTM query strings that let you monitor all inbound traffic sources to your website to see where your visitors come from.
You can track specific user attributes, link placement, and more with sub IDs. Here's a shortlist you can monitor, including:
Landing pages

Sub-affiliates

Referral URLs

Link location on the page

Websites

Calls-to-action

Keywords & ads

Traffic sources (organic, PPC, email, etc)

User-types

User clicks
You can get as granular as you want, but these are a good start.
What Does a SubID Look Like?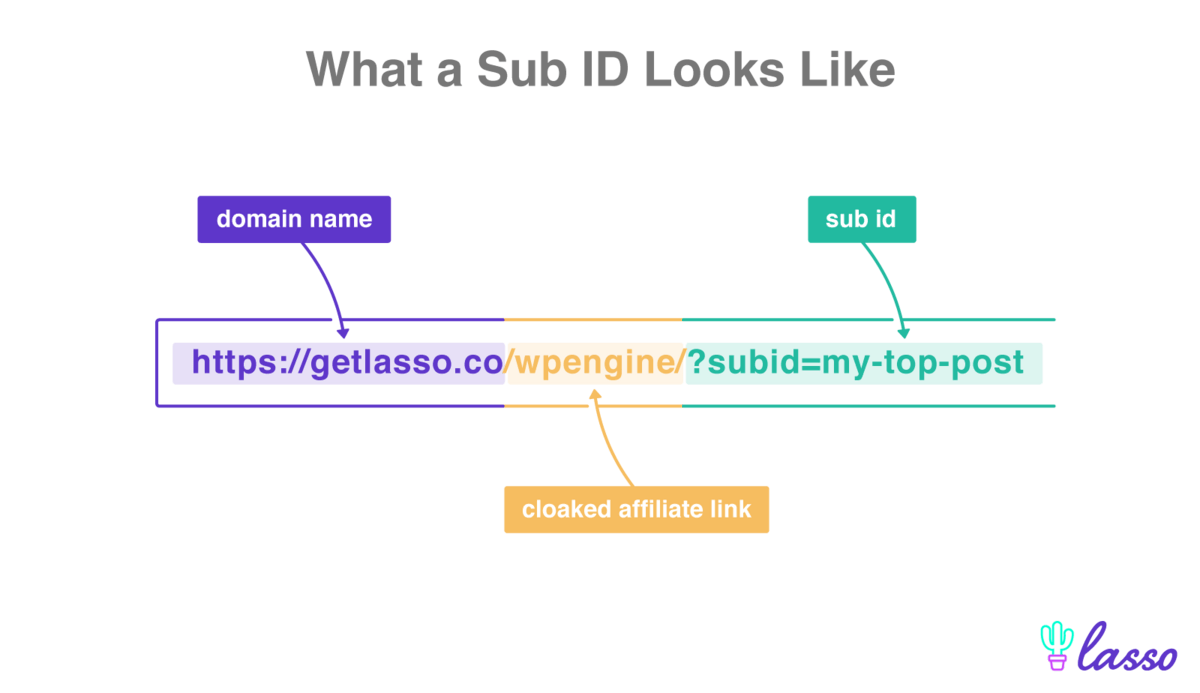 All affiliate links have common traits that make them easy to track, which are:
The publisher's ID (or referrer)
Merchant ID
Product details
Campaign
Sub IDs are just another extension of the link. For instance, you could have three parameters inside a "best cocktail shakers" list post with an affiliate link and sub ID like this:
yourwebsite.com/dp/product?ref=789&m=123&subid=best-cocktail-shakers
Your three parameters in this example are:
ref with the SubID value 789 (the publisher or 'referrer')
m having a value of 123 (the merchant)
subid with the value' best-cocktail-shakers' (sub id)
The merchant value is your affiliate ID, which credits the sale to you, and the SubID allows you to see that this sale came from your "best cocktail shakers" page. You could even choose to add SubIDs to each link on your page to get an even more detailed picture of what is converting best.
Sub ID Values Vary
Different affiliate programs will have different SubID values, but they sometimes overlap. For example, JVZoo and ClickBank both use 'tid' as their SubID value.
Because different networks use different values, it can get confusing and difficult to track over a large number of affiliate links. 
But, we have a solution to this issue further on in this article.
To use Impact as an example, Impact affiliate links have four parameters:
The unique tracking domain

Your media partner ID (mpid)

Assigned ID for the ad (adid)

Assigned ID for the brand's campaign (campaignid)
And here's how it can look:
example.com/mpidcxz/adid1234567/campaignid65432/4321?subId=desired-thing-you-want-to-track
Or an example from ShareASale:
shareasale.com/r.cfm?b=731549&u=1305425&m=45652&afftrack=best-cocktail-shakers
b=banner
u=user
m=merchant
afftrack=subid
Sub IDs vary by network, which makes them confusing at times as you have to enter a different version per affiliate program.
For example, ShareASale's is afftrack while ClickBank's is tid. So, if you were creating a sub ID for a ClickBank affiliate link, replace 'afftrack' with 'tid.'
Usually, if the program doesn't support multiple values per affiliate link, there's a max number of characters you can use. So, you could add as many values as you like as long as:
You separate each one with an '&' symbol.
It doesn't exceed the character limit.
For example, an Impact link lets you add multiple values:
someimpactlink.net/c/123/456/789?subId1=value_1&subId2=value_2&subId3=value_3
Some affiliate networks let you add more than one value per link; it just depends.
If you're adding a sub ID to a Lasso product box display, image, grid, gallery, or button, you can override the shortcode like this: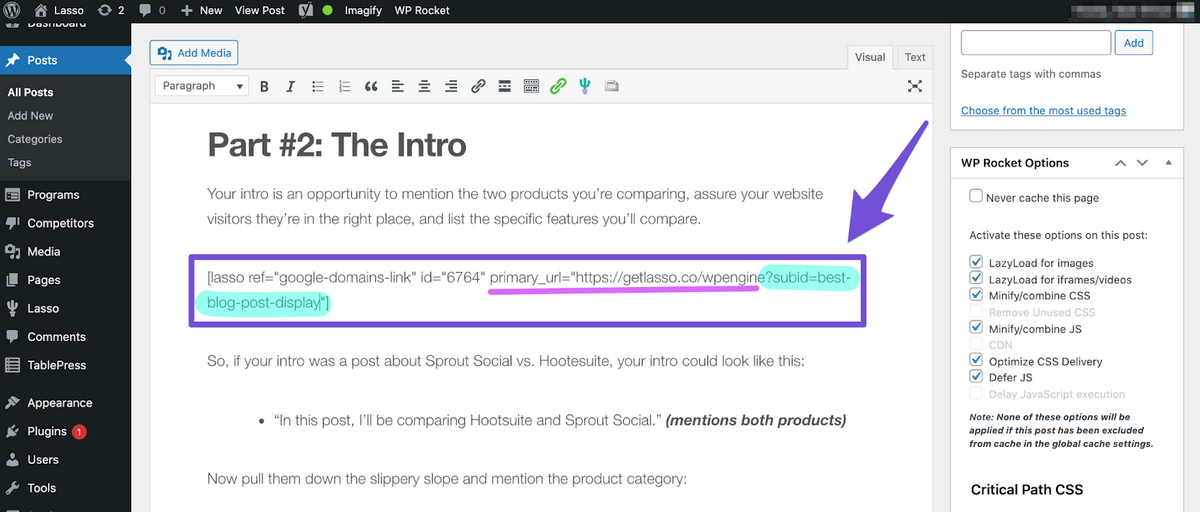 Examples of how you can use sub IDs:
| Data You're Tracking | Appended URL |
| --- | --- |
| Landing page | example.com/en/?id=1234&subid=landing_page |
| Side banner on a blog post | example.com/?id=1234&subid2=blog&data1=side_banner |
| Call-to-action button | example.com/en/product-details?subid=blog&data1=cta1_value |
| PPC campaign | example.com/en/product-details?afftrack=PPC&data1=campaign_id&data2=keyword |
Benefits of Using SubIDs in Affiliate Marketing
The larger your site gets, the more challenging it is to track everything. With so many moving parts, it's difficult to tell what's working and what's not.
For example, you might want to track click IDs within a campaign or across multiple campaigns. Alternatively, you might want to see traffic from a specific website or uncover how many clicks your homepage sends.
SubIDs show you the behavioral patterns behind individual clicks, and allow for much more segmentation. SubIDs also help track different traffic sources, so you can evaluate whether particular traffic sources are delivering enough ROI, for example across paid ads vs organic traffic.
However, there are some key downsides. Fortunately, though, I'll explain a simple solution.
How To Track Affiliate Conversions with SubIDs
You can see some of the most popular affiliate network parameters below. If you want to use a specific SubID to track conversions, just append your affiliate URL with the platform's corresponding value.
Then, add the information you want to add, for example the product's name, and measure the performance.
Tracking Affiliate Conversions with Sub IDs
You can see some of the most popular affiliate network parameters below. If you want to use a specific sub ID to track conversions, just append your affiliate URL with the platform's corresponding value.
Affiliate Sub ID Parameters
Affiliate network SubID parameter differences include:
| Affiliate Network | Sub ID Parameter |
| --- | --- |
| Awin | clickref, clickref2, clickref3, clickref4, clickref5, clickref6 |
| ClickBank | tid |
| Commission Junction (CJ Affiliate) | sid |
| eBay Partner Network | customid |
| HasOffers | aff_sub, aff_sub2, aff_sub3, aff_sub4, aff_sub5 |
| Impact Radius | subId, subId2, subId3 |
| Rakuten | u1 |
| ShareASale | afftrack |
Example using ClickBank: https://hop.clickbank.net/?affiliate=AFFILIATE&vendor=VENDOR&tid=blog_feb_2021 
Downsides of SubIDs (And How To Solve This)
Unfortunately, there are some drawbacks with using SubIDs.
1. Manually creating and tracking SubIDs is very time consuming
Creating custom SubIDs is a boring and time-consuming process – you have to create the affiliate link, append your custom ID based on the factor you're tracking, and then add it to your website.
Let's assume you have 10 affiliate links on each page, and 80 pages on your website, for 800 total links to add custom SubIDs to.
If each takes 3 minutes to create and add to your website, this is 2400 minutes, or 40 hours, of work.
And once you've created them, you still need to then track and measure them so you can make any optimizations.
2. SubIDs are confusing and vary across networks
There's no universal language for SubIDs because every affiliate network has a different version. This can get confusing. 
For example, Awin uses 'clickref' while Rakuten uses 'u1.'
Also, manually entering all of this data takes time, which is why it's a good idea to use a third-party tool for doing it at scale.
Fortunately, there's a solution that automatically adds custom SubIDs to every link on your site, and tracks it in a central dashboard to instantly surface opportunities to increase your affiliate revenue and conversions.
How To Automatically Add and Track SubIDs With Lasso
Lasso's new Performance feature was built to track as much affiliate data as possible, and do it automatically so you save time, and make more money.
Using our software, SubIDs are automatically added to every single product link on your website, so you can track the exact location, product, page, merchant, on every link.
As a result, you can not only see the locations, but we can also tell you the CTR of each link, and the revenue each link is worth for you. Here's an example from one of my sites below: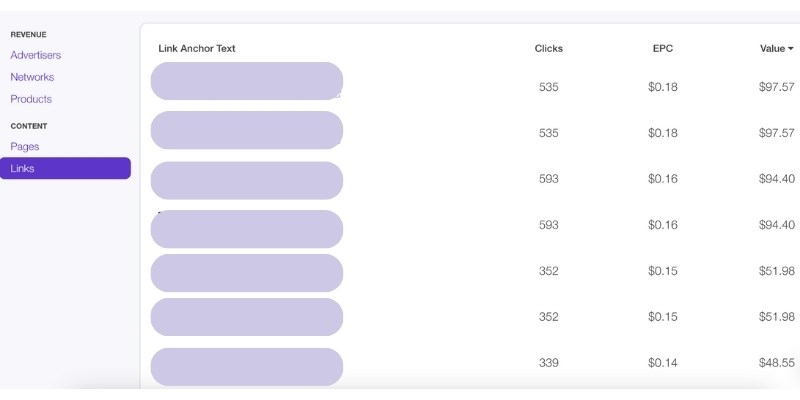 Even better, Performance then compiles this data for you using all of these links, and combines it with other data such as CTR (click-through rate), EPC (earning per click), and the total revenue of each page on your site, in one central dashboard.
Here's some pages on my sites as an example:
With this data, you can see your top-performing pages to prioritize, your best-converting products to add to more locations and move higher up on your affiliate posts, and find your most profitable traffic sources.
Most importantly, it saves you dozens of hours of your valuable time tracking these links, so you can focus on what you're best at: creating incredible content that gets traffic and earns you money!
You can sign up for Lasso Performance here.
Final Words
SubIDs bring a new level of insight into your affiliate content performance. They're easy to create manually, but this takes time, and is more difficult to track accurately.
With Lasso's Performance tool, you save time creating these links, and take advantage of our analytics software to collate all your data into a dashboard that surfaces the main leaks in your income, so you can maximize your revenues.
We're also the cheapest affiliate analytics tool around, no matter your earnings. So if you earn $1K per month from affiliate, or $200K, we can help you take your affiliate marketing game to the next level.
Our creations in your inbox, weekly.
We've built multiple six-figure online businesses that our moms are proud of.
We'd like to help you do the same.